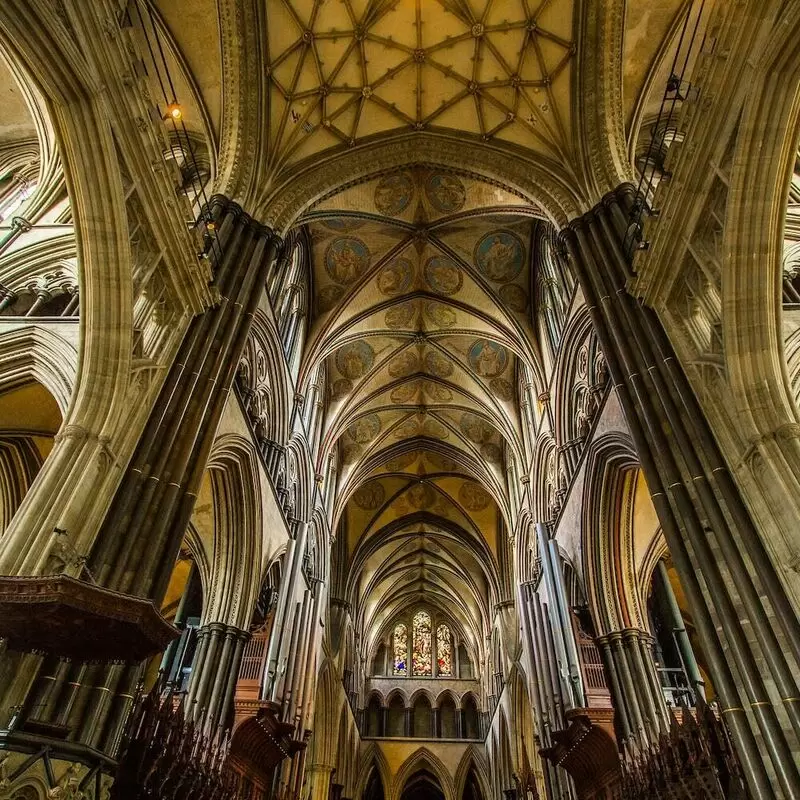 1. Salisbury Cathedral
Discover the architectural wonder of Salisbury Cathedral, home to the tallest spire in the United Kingdom! Marvel at the oldest working clock in Europe and the original Magna Carta, one of the most important documents in history. Enjoy the tranquil beauty of the surrounding area and take a walk. Just a short drive away is Stonehenge, a prehistoric monument of international renown. Don't forget the famous Salisbury Ghost Tour for an unusual, eerie experience after dark!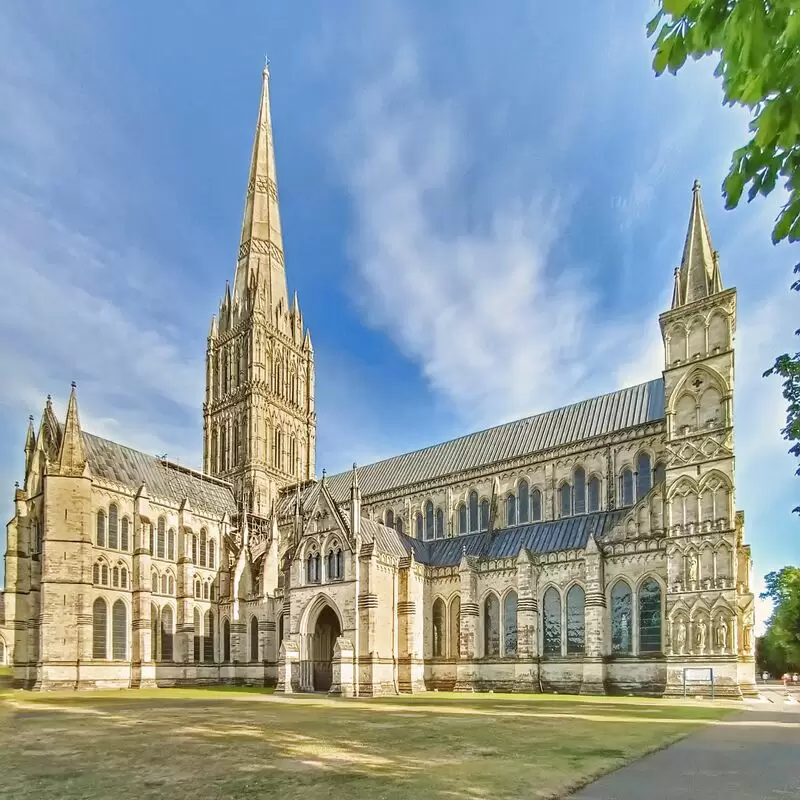 Salisbury Cathedral
Salisbury
Monday - Saturday: 9:30 AM – 4:15 PM
Sunday: 12:30 – 3:15 PM
2. Old Sarum
Discover Salisbury's ancient roots at Old Sarum, an Iron Age hill fort with more than 3,000 years of history. Stroll through the atmospheric ruins where kings once held court and admire panoramic views of the Wiltshire countryside. Here's a tip: Bring your binoculars for bird watching. Just a few miles southeast is another must-see historical spectacle, the famous Stonehenge. So buckle up, history buffs, Salisbury is your time capsule waiting to be explored!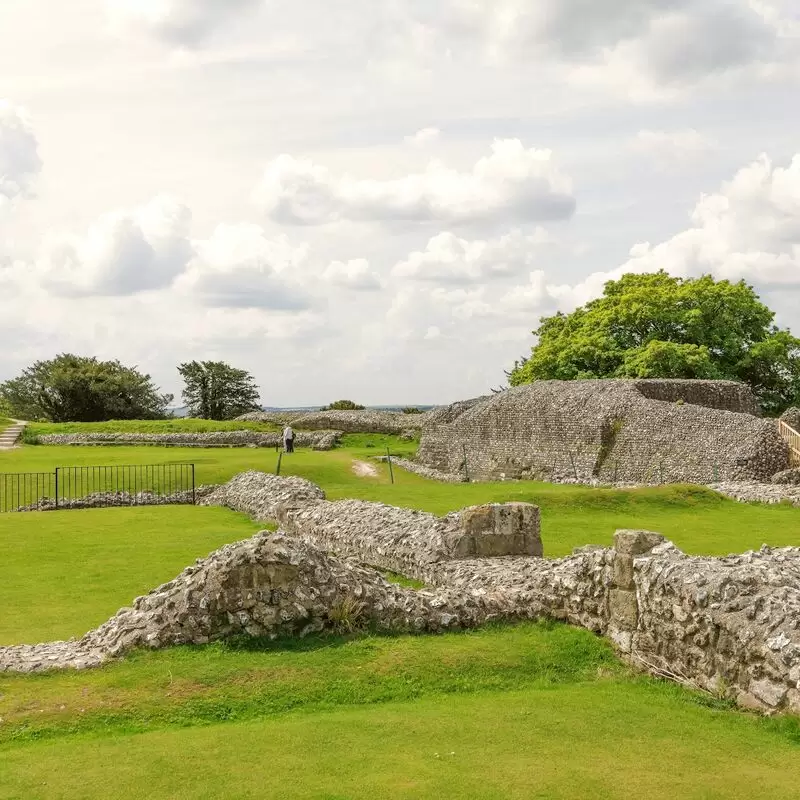 3. Old Wardour Castle
Explore the romantic ruins of Old Wardour Castle amid the lush Wiltshire countryside. A relic of England's turbulent past, the castle's history ranges from a ruthless Civil War battle to the setting for the Hollywood film Robin Hood: Prince of Thieves. Explore the labyrinthine grounds and secret dungeon, then picnic on the tranquil grounds. While you're there, don't overlook the grotto built around 1792. Not far away is the famous Stonehenge, another historical marvel that you must visit.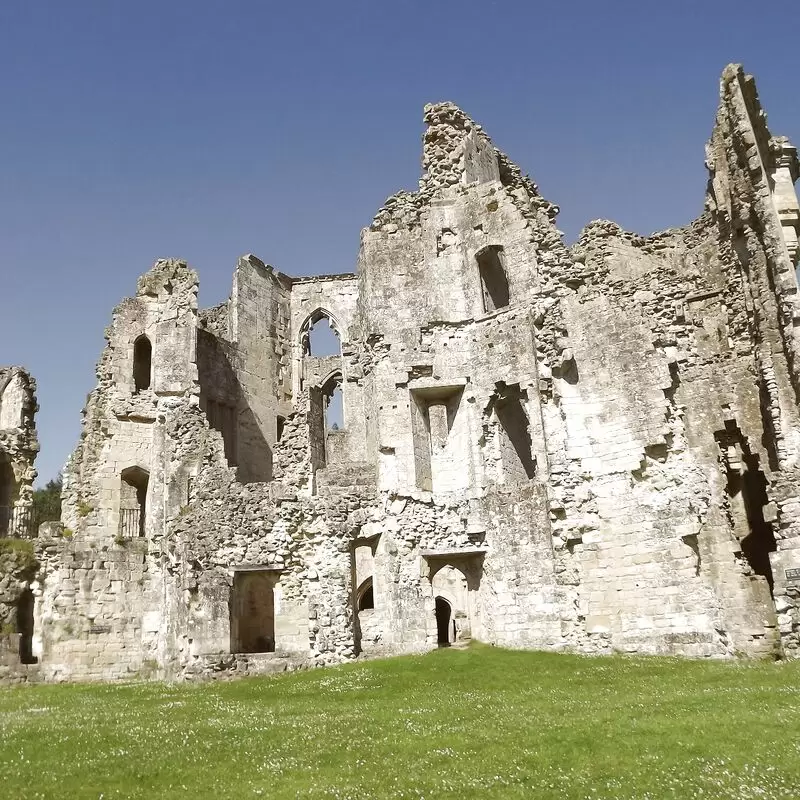 4. Wilton House
Enjoy the magic of Wilton House, Salisbury's architectural jewel. Its 460-year history and stunning 21-acre landscaped grounds exude nobility and grandeur. Sink into the incomparable collection of Van Dyck's portraits and enjoy the ornate interiors, like the Double Cube Room. Little insiders whisper that it's a movie star and starred in Pride and Prejudice. Barely 5 miles away is picturesque Old Sarum, a remarkable Iron Age fort that adds even more historical depth to your magical journey.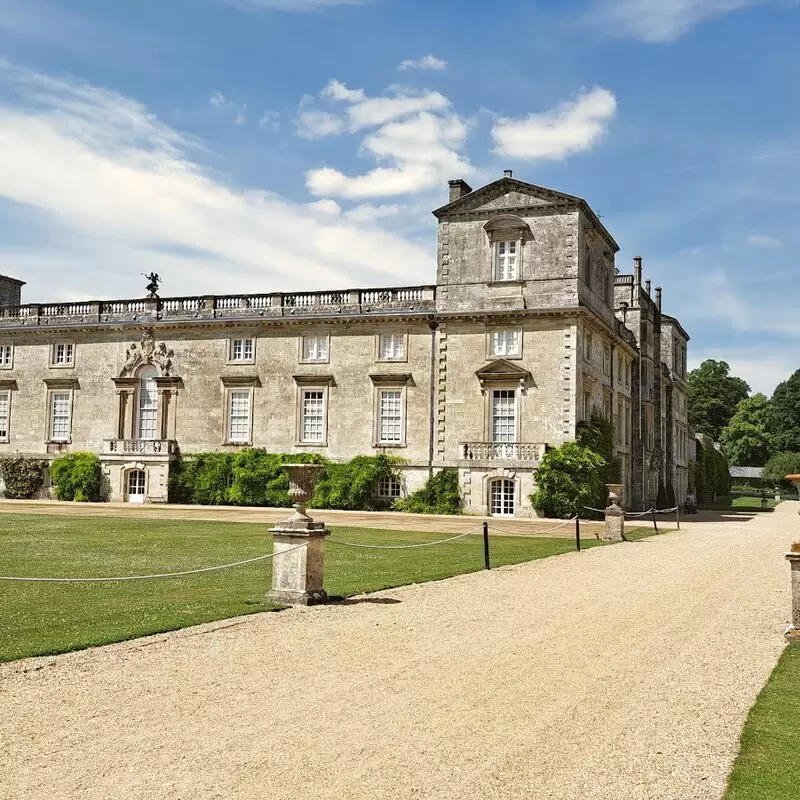 Wilton House
Wilton, Salisbury
5. Boscombe Down Aviation Collection
A true haven for aviation enthusiasts, the Boscombe Down Aviation Collection in Salisbury displays an impressive collection of vintage aircraft and aeronautical equipment. In this interactive museum, you can experience the cockpit of a real jet plane! Nearby, Salisbury Cathedral - an architectural marvel and home of the Magna Carta - awaits your visit. Treat yourself to a day of history and aviation wonder at Boscombe Down!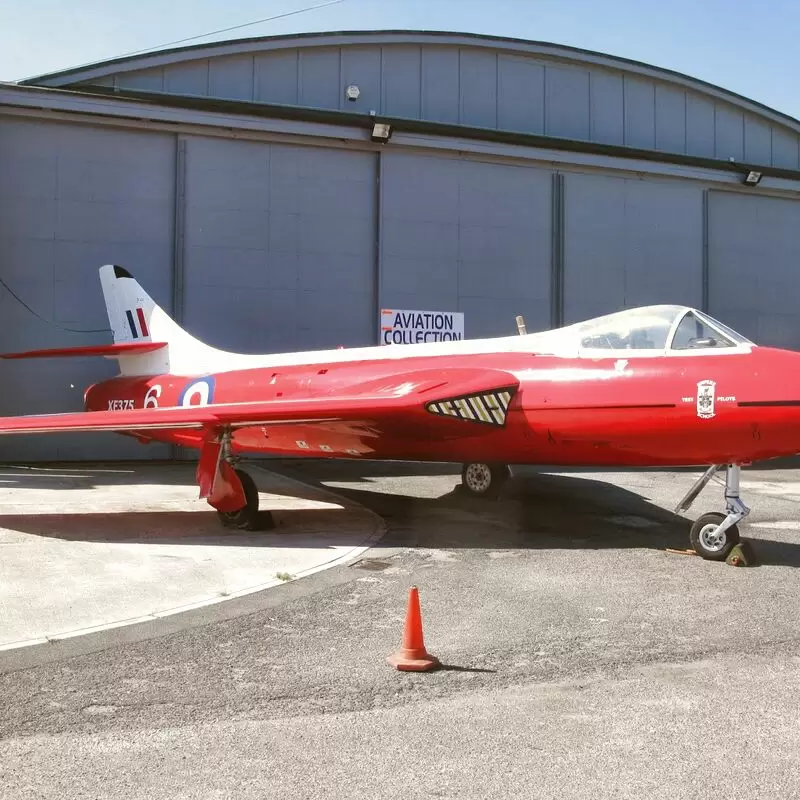 Boscombe Down Aviation Collection
Hangar 1 Old Sarum Airfield, Old Sarum, Salisbury
Monday: Closed
Tuesday - Sunday: 10:00 AM – 5:00 PM
6. The Salisbury Museum
Immerse yourself in 500,000 years of British history at Salisbury Museum. Marvel at the collection of archers, unique in the United Kingdom, admire gold from the Stonehenge period, and marvel at the huge Warminster Jewel. The listed King's House exudes historic charm with every brick. Did you know it's just a short walk from the famous Salisbury Cathedral, making it an essential duo on your historical tour?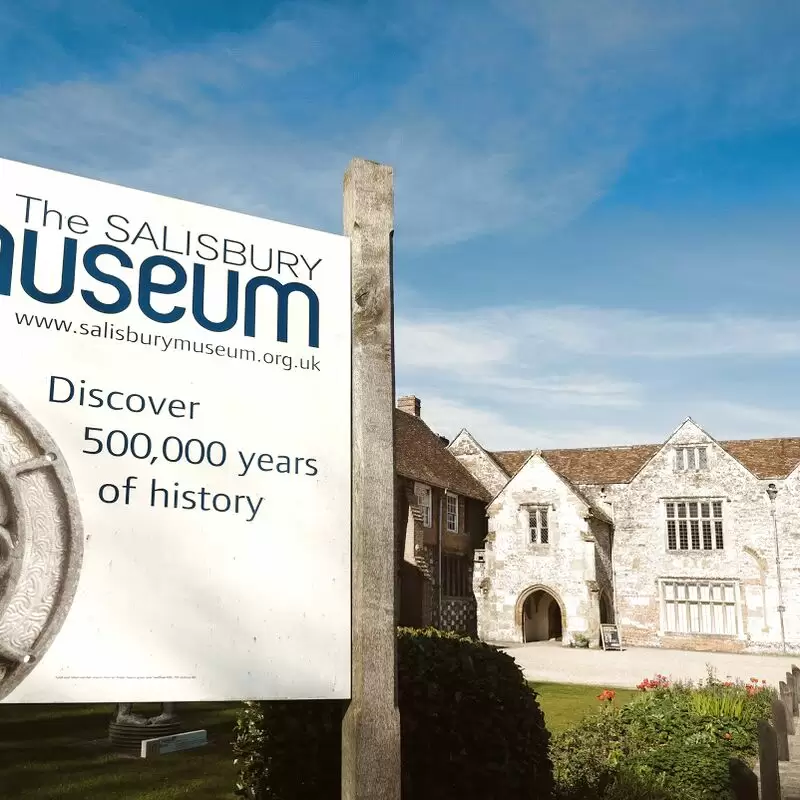 The Salisbury Museum
The Kings House, 65 The Close, Salisbury
Monday - Sunday: 10:00 AM – 5:00 PM
7. Salisbury Market

Salisbury Market adds a lively accent to the city's rich historical setting. An array of colorful stalls selling local produce, artisan foods, unique crafts and a lively atmosphere - a visit is a must!

An insider tip: try the traditional Cornish pasties. Just minutes away is the famous Salisbury Cathedral, home to the oldest working clock and the tallest church tower in the UK.

Salisbury Market
The Guildhall, Market Place, Salisbury SP1 1JH

Monday - Sunday: Closed
Tuesday: 8:00 AM – 3:30 PM
Saturday: 8:00 AM – 4:00 PM
8. National Trust Mompesson House
Fancy a trip back in time? Then be sure to visit the National Trust - Mompesson House, located in Salisbury's spectacular Cathedral Close! This 18th-century Queen Anne townhouse boasts elegant interiors, ornate stucco work, and impressive collections. Rumor has it that tea lovers love the hidden oasis of the charming garden tearoom. Check out the fascinating Turnbull collection of 18th-century drinking glasses. Nearby, Salisbury Cathedral is another sight to explore. A visit that feels like a living drama of the times!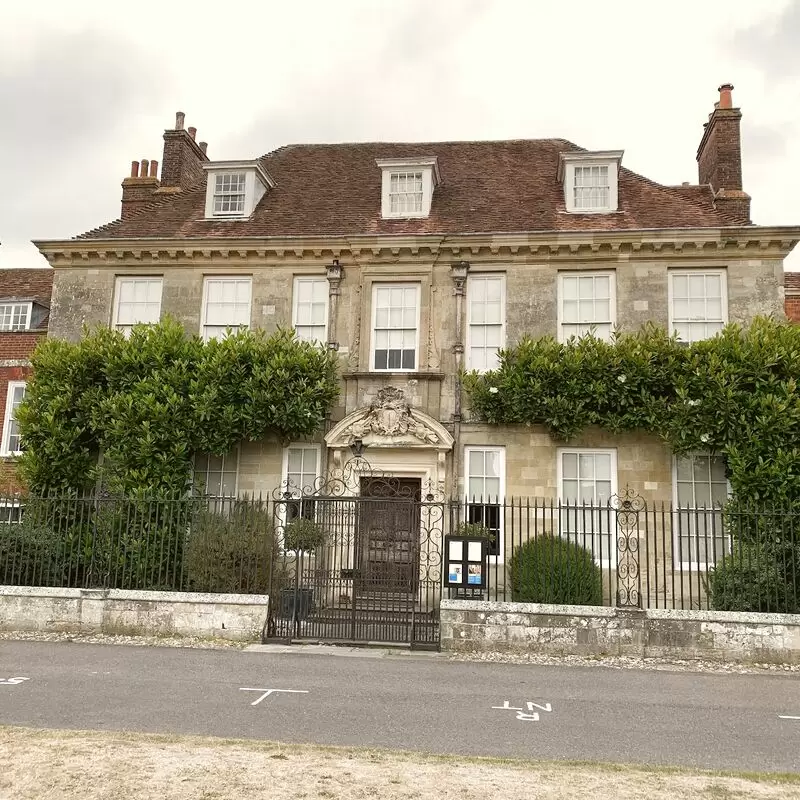 National Trust Mompesson House
The Close, Salisbury
Monday - Sunday: 11:00 AM – 4:00 PM
Wednesday - Thursday: Closed
9. Arundells
Arundells is more than just a historic house - it's a journey through time. Once the home of former British Prime Minister Sir Edward Heath, it now serves as a charming gallery of his personal art collection, memorabilia and passion for sailing. Enjoy the lively private English garden and picturesque views of the cathedral spire. It's just a stone's throw from the magnificent Salisbury Cathedral. A must for history and art lovers, offering a unique, intimate glimpse into Sir Edward's vibrant life.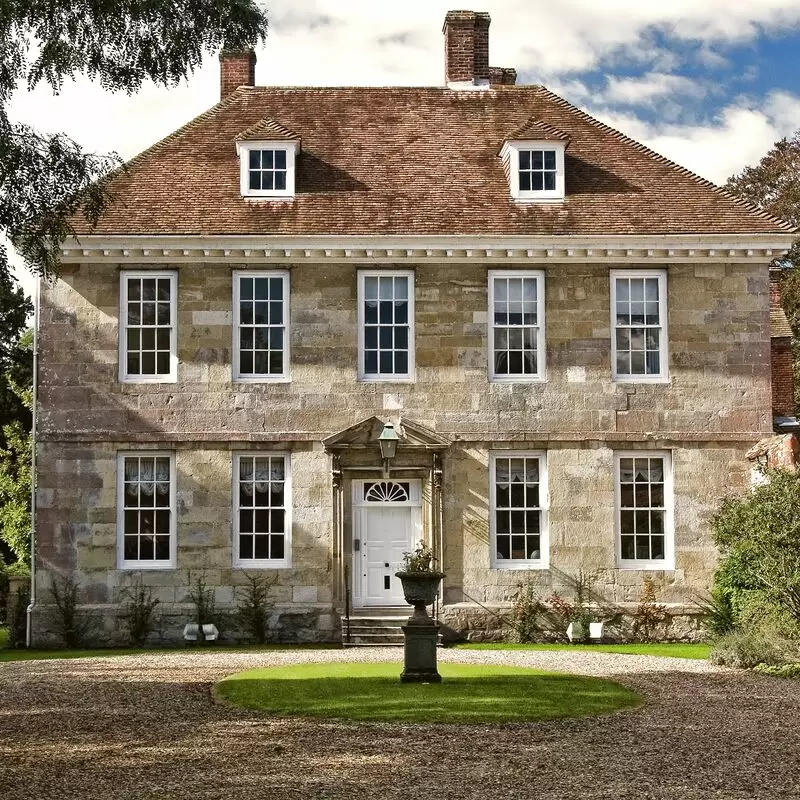 Arundells
59 Cathedral Close, Salisbury
Monday - Sunday: 10:00 AM – 5:00 PM
Tuesday: 10:00 AM – 3:00 PM
Wednesday: Closed
10. Cholderton Rare Breeds Farm
Immerse yourself in the rustic charm of Cholderton Rare Breeds Farm! Get up close and personal with rare British farm animals, take enchanting walks in the woods and tractor rides. Young or old, this place offers an authentic country experience. The farm's café serves the best homemade cakes - a local secret! Just a short drive away is Stonehenge, the world famous prehistoric monument. A day surrounded by nature and history is promised here in Salisbury.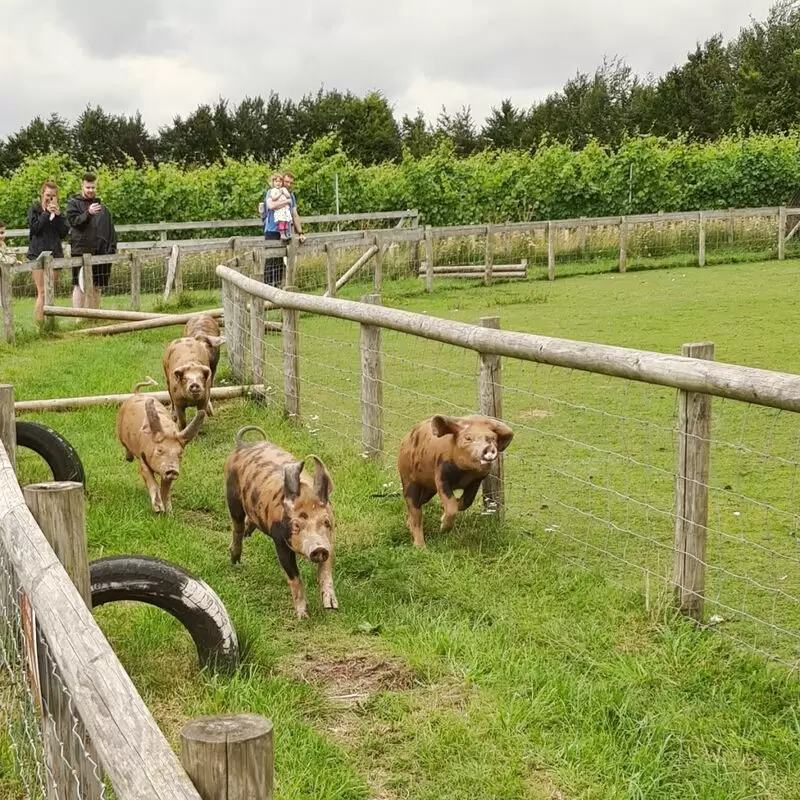 Cholderton Rare Breeds Farm
Amesbury Road, Cholderton, Salisbury
Monday - Sunday: 10:00 AM – 6:00 PM
11. St Thomas s Church
Visit the stunning St. Thomas's Church, a masterpiece of medieval architecture adorned with one of the oldest surviving doom paintings in the country. You can experience a pivotal piece of Salisbury's rich past in this beautiful lighthouse of tranquility, which stands in the middle of a bustling market. Just a stone's throw away is Old George Mall, a centerpiece of Salisbury's shopping scene, and the renowned Salisbury Playhouse, where you might be lucky enough to catch a live performance.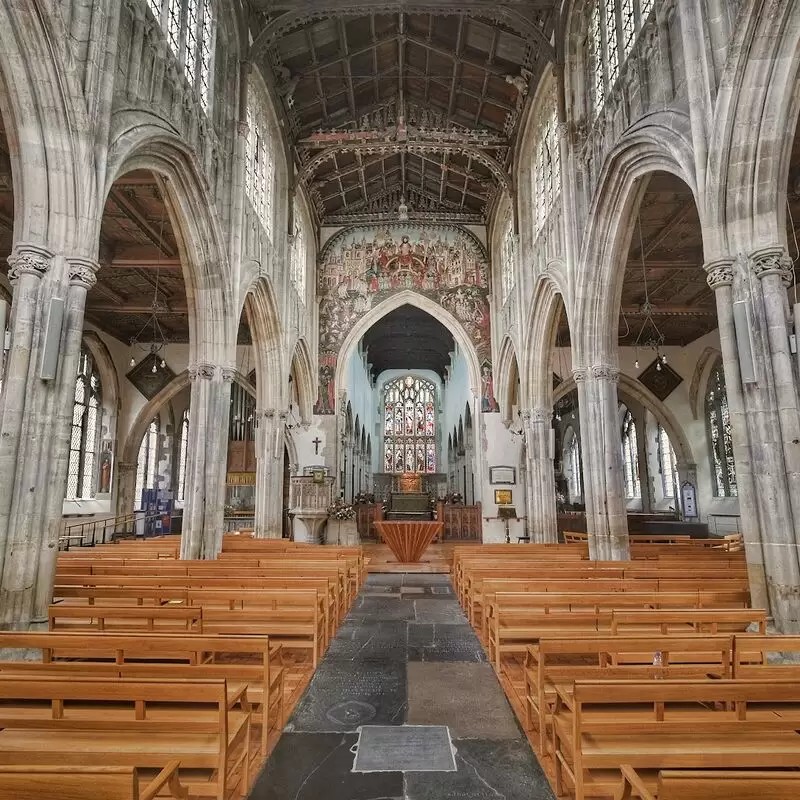 St Thomas s Church
St Thomas's Square, Saint Thomas Square, Salisbury
Monday - Saturday: 8:00 AM – 5:00 PM
Sunday: 8:00 AM – 7:00 PM
12. Langford Lakes Nature Reserve Wiltshire Wildlife Trust

Langford Lakes Nature Reserve is a secret oasis teeming with wildlife - here you can spot kingfishers, otters and dragonflies amid the lush foliage. A walking trail follows the course of the Wylye River, adding a tranquil touch to your wild journey. As you relax in the birdhouses, you may spot unique bird species.

Here's an insider tip: arrive early to catch a serene sunrise at the lake. Just a few miles away, the ancient mysteries of Stonehenge beckon, rounding out an unforgettable experience in the beautiful countryside of Salisbury.

Langford Lakes Nature Reserve Wiltshire Wildlife Trust
Duck St, Salisbury

Monday - Sunday: Open 24 hours
13. Harnham Water Meadows
Harnham Water Meadows in Salisbury is a tranquil paradise for lovers of nature and wildlife. These ancient meadows offer a rare glimpse into traditional farming methods. Take in the beautiful scenery reflected in the River Avon and observe unique bird species on a leisurely stroll. The view back across the meadows to Salisbury Cathedral is iconic - a sight even the famous artist Constable loved! Nearby, the legendary Stonehenge awaits, taking you even deeper into England's rich history.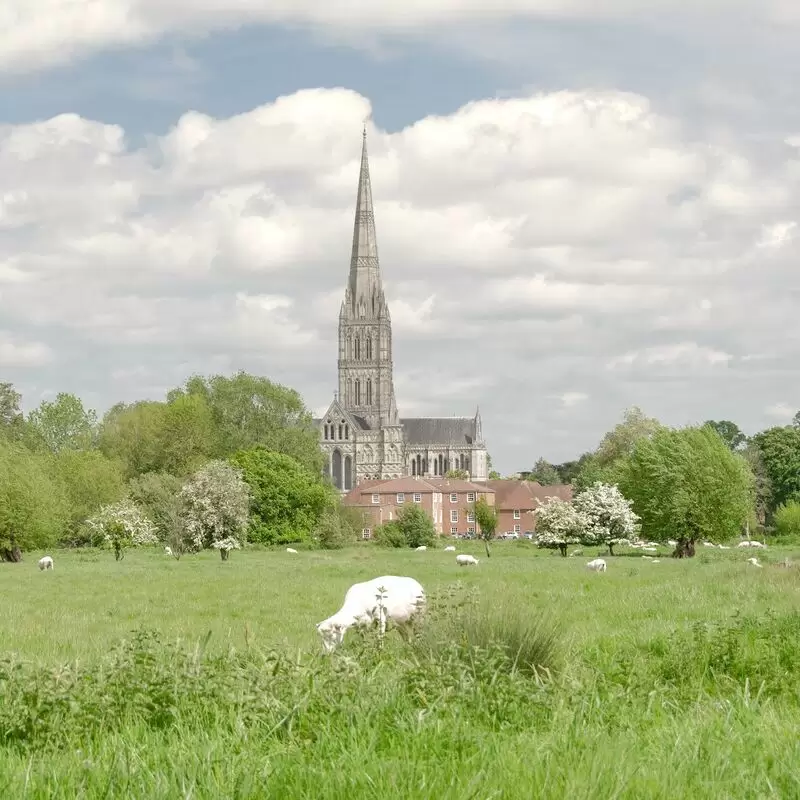 Harnham Water Meadows
Rose Cottage, Town Path, Salisbury
Monday - Sunday: Open 24 hours
14. Live Escape Rooms Salisbury Castle Street
Unleash your inner detective at Live Escape Rooms Salisbury - Castle Street! This captivating venue offers an adrenaline-pumping form of entertainment. Solve unique riddles and puzzles in a themed environment where you can fully immerse yourself in the action. Plus, right next door is the famous Salisbury Cathedral, a historic gem that dates back 800 years! Make the most of your Salisbury adventure by combining your puzzle experience with a piece of British history. Don't miss the cathedral's tallest spire and the irreplaceable Magna Carta!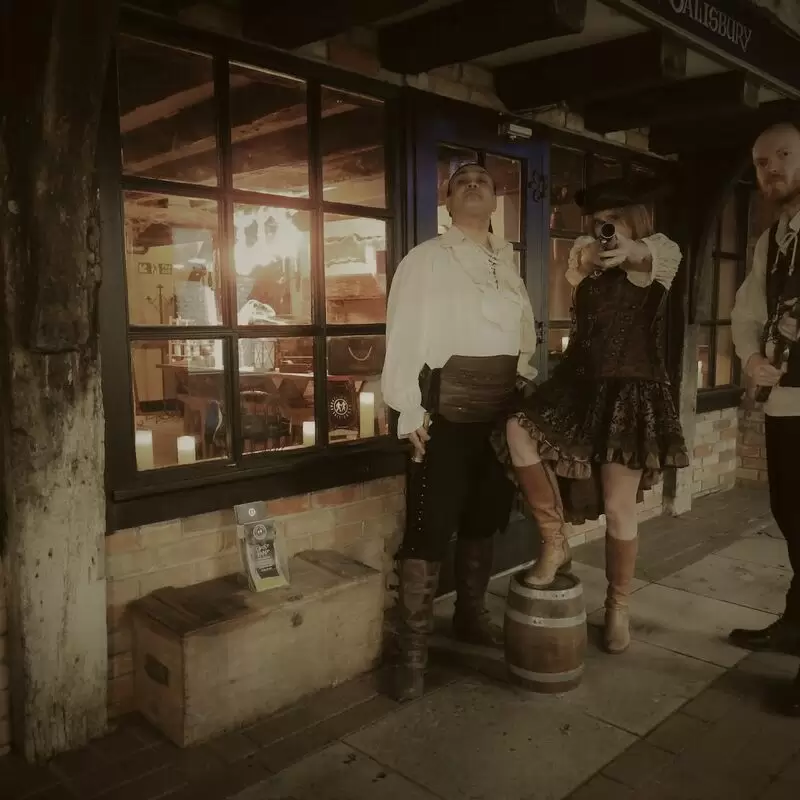 Live Escape Rooms Salisbury Castle Street
49c Castle Street, Salisbury
Monday - Sunday: 10:00 AM – 7:00 PM
15. Churchill Gardens
Visit Churchill Gardens in Salisbury and immerse yourself in the magnificent floral displays. This award-winning destination is a haven for the on-site peacocks, which add an exotic touch. Enjoy the tranquil atmosphere near the River Avon, a perfect picnic spot. Salisbury's historic cathedral is also just a short, scenic walk away. Take a detour to Queen Elizabeth Gardens, where you can splash around in the wading pools popular with locals. The world-famous Stonehenge is also just a 20-minute drive away! Don't miss the Secret Garden, tucked away for the curious.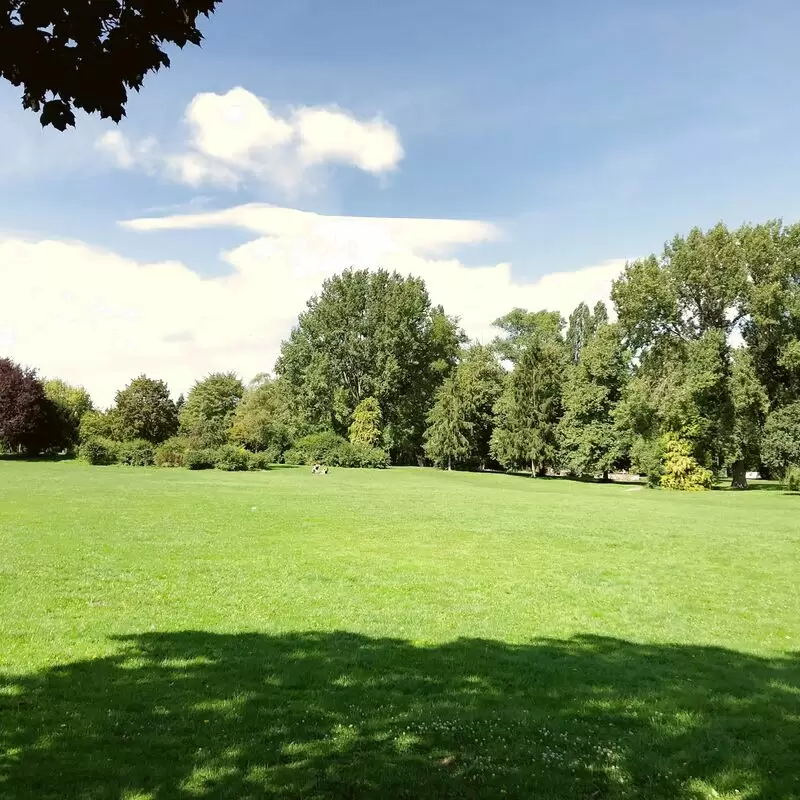 Churchill Gardens
Churchill Way South, Salisbury
Monday - Sunday: Open 24 hours
16. National Trust Figsbury Ring
Take a trip to the National Trust - Figsbury Ring and immerse yourself in the ancient history of Salisbury. Imagine how Iron Age tribes roamed this area over 2,000 years ago! Climb to the top of the surrounding ramparts and admire the 360-degree views of the magnificent Salisbury Plains. Near Figsbury Rings, barely 10 miles away, you'll find Stonehenge, the world-famous prehistoric monument. In between your visits, enjoy the region's culinary offerings in charming old pubs.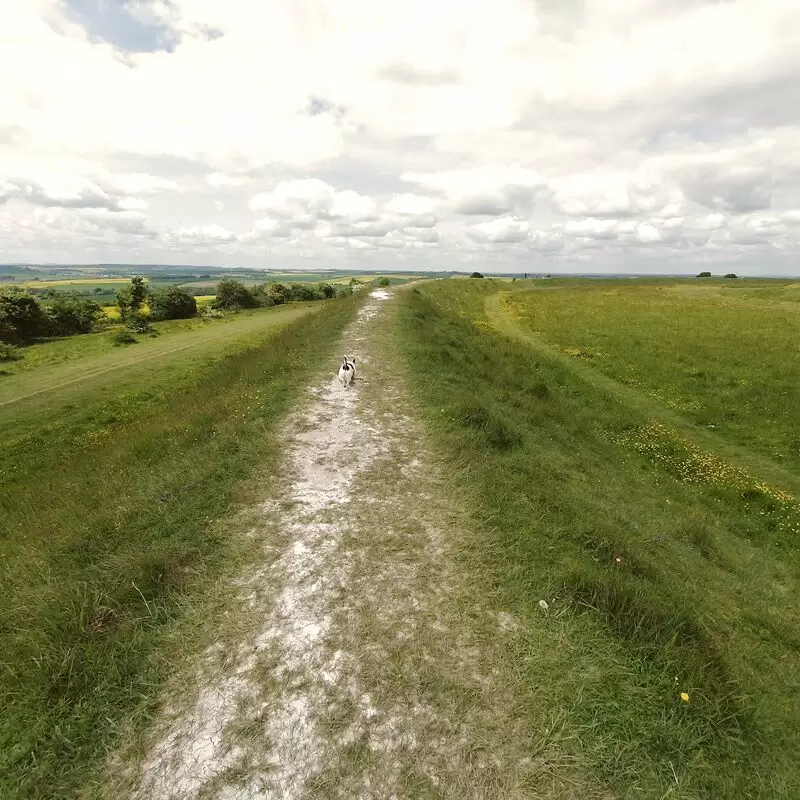 National Trust Figsbury Ring
Firsdown, Salisbury
Monday - Sunday: Open 24 hours
17. Fisherton Mill Gallery Cafe Studios
Visit the hidden gem of Salisbury - Fisherton Mill, where you can be inspired by the work of talented local artisans on display in a historic flour mill. Enjoy a heavenly slice of homemade cake in the award-winning café or perhaps a quick drawing session in the art studios. Just a short walk away, cross the medieval Crane Street Bridge to reach the picturesque Cathedral Close, home to Salisbury Cathedral, one of Britain's finest medieval cathedrals.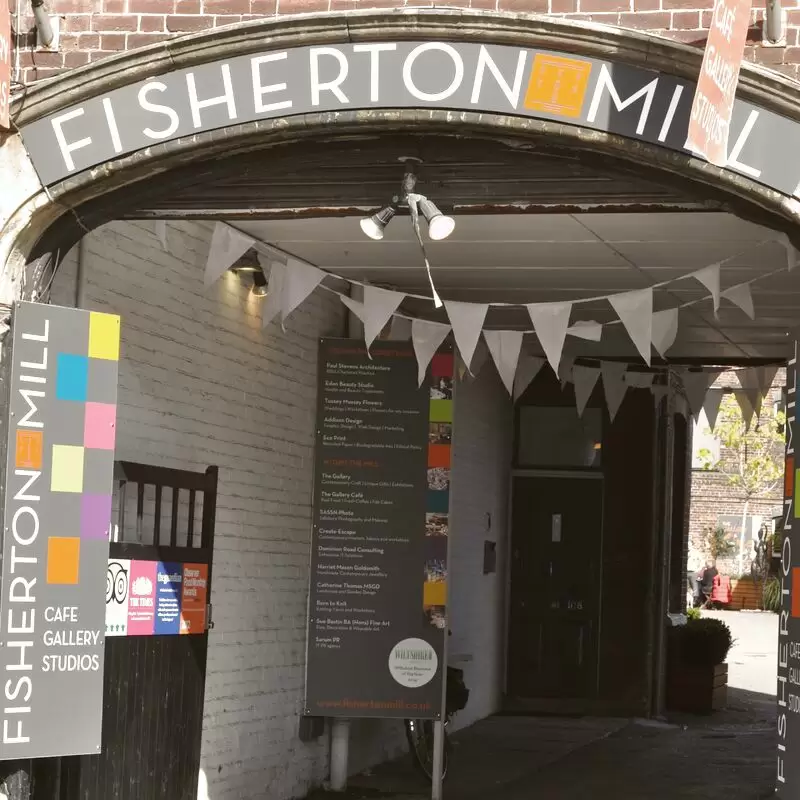 Fisherton Mill Gallery Cafe Studios
108 Fisherton Street, Salisbury
Monday - Friday: 9:30 AM – 5:00 PM
Saturday: 9:30 AM – 5:30 PM
Sunday: Closed
18. Salisbury Arts Centre
The Salisbury Arts Centre is a remarkable cultural center that will stimulate your artistic senses! Housed in a converted church, it offers interesting exhibitions, lively live entertainment and creative workshops. It also hosts the annual Lift off Dance Festival, a hidden gem for dance enthusiasts. In addition, a rustic café offers local, organic delicacies. Just a 10-minute walk away is Salisbury's famous must-see cathedral, whose soaring spire offers magnificent views of the city. This center combines old world charm with modern creativity.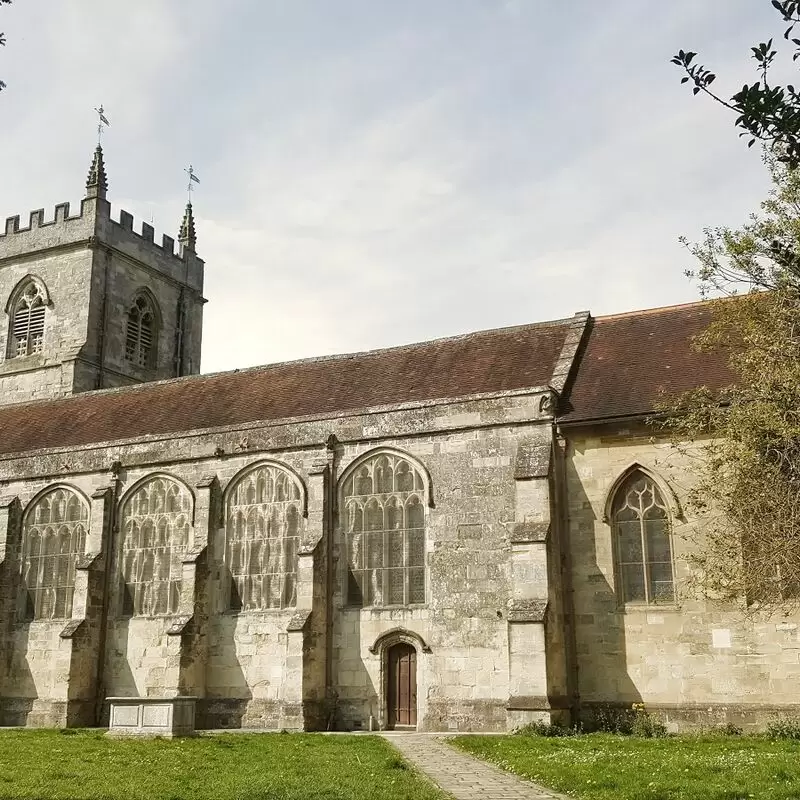 Salisbury Arts Centre
Bedwin Street, Salisbury
Monday - Saturday: 10:00 AM – 4:00 PM
Sunday: Closed
19. The Rifles Berkshire and Wiltshire Museum
Immerse yourself in Britain's military history at The Rifles Berkshire and Wiltshire Museum! Set amid the picturesque gardens of Wardrobe on the River Avon, the museum brings a thousand years of history to life. Discover artifacts, regalia and unforgettable stories of courage. Few know that the museum is housed in a landmark Georgian building with a rich history. Just a short walk away is Salisbury's famous cathedral, home to the Magna Carta - a must-see day out.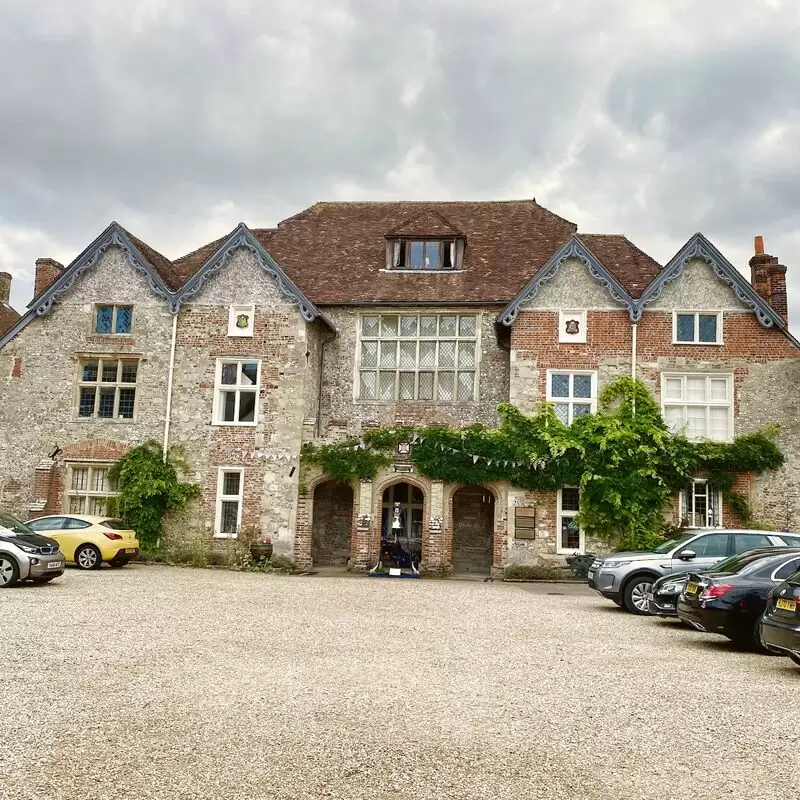 The Rifles Berkshire and Wiltshire Museum
The Wardrobe, 58 The Close, Salisbury
Monday - Saturday: 10:00 AM – 5:00 PM
Sunday: Closed
Best Time to Visit Salisbury
The ideal time to visit Salisbury, United Kingdom, is late spring and summer, from May to September, when the weather is warm and the days are long and perfect for sightseeing. But also festivals like the Salisbury International Arts Festival in late May and early June attract many visitors.
Annual Weather in Salisbury
Salisbury 3-Day Forecast
Tue, 26 September
Night
53 °F
12 °C
0%
Morning
55 °F
13 °C
0%
Afternoon
66 °F
19 °C
85%
Evening
58 °F
14 °C
73%
Wed, 27 September
Night
53 °F
11 °C
0%
Morning
54 °F
12 °C
0%
Afternoon
62 °F
16 °C
63%
Evening
54 °F
12 °C
0%
Thu, 28 September
Night
49 °F
9 °C
0%
Morning
51 °F
10 °C
62%
Afternoon
52 °F
11 °C
60%
Evening
53 °F
12 °C
0%
Questions & Answers

How can I reach Salisbury from London?

Salisbury is easily accessible from London by various means of transport. You can take a direct train from London Waterloo, which takes about an hour and a half. You also have the option of a convenient bus ride from Victoria Coach Station, which takes about 2-3 hours. If you prefer to drive, it takes about two hours via the M3 and the A303/A34. Consider whether you prefer comfortable, fast or scenic driving.

Is there public transportation in Salisbury?

Yes, Salisbury has a good public transportation network. The Salisbury Reds bus service operates extensive routes in the city and surrounding areas. For long-distance travel, Salisbury train station provides regular train services to various destinations in the United Kingdom, including direct services to London. Cabs are also readily available. For a more scenic trip, the Stonehenge Tour Bus offers routes connecting Salisbury city center with the famous monument of Stonehenge and Old Sarum.

What is the local cuisine like in Salisbury?

Salisbury in the United Kingdom has a pleasant culinary scene that reflects classic British cuisine. The region is known for its hearty roasts, fresh seafood and locally raised meats. Country pubs offer traditional dishes such as fish and chips, pies and Sunday roasts. In addition, when visiting Salisbury, be sure to enjoy the traditional cream tea, a delicious affair with scones, clotted cream and jam. The city also values locally sourced produce and organic wines produced in the nearby vineyards.

Are there vegetarian/vegan-friendly restaurants in Salisbury?

Salisbury definitely offers a variety of vegetarian and vegan dishes. Henderson's Artisan Bakery stands out for its vegan baked goods and cakes. The Greenhouse offers a unique blend of international vegan dishes. "Charter 1227" surprises with vegetarian options on its traditional British menu. Even restaurants like "The Ox Row Inn" have vegetarian-friendly choices. The city strives to accommodate a variety of dietary preferences.

How safe is Salisbury for tourists?

Salisbury is considered safe for tourists and has a low crime rate compared to other British cities. As with all destinations, it is advisable to take the usual precautions, such as securing personal belongings and avoiding secluded areas at night. The city prides itself on its security measures and tourist-friendly amenities that make it a welcoming place for travelers. Public areas, including landmarks such as Salisbury Cathedral and Stonehenge, are particularly safe and well guarded.

Is English spoken widely in Salisbury?

Yes, English is the main language in Salisbury and it is widely spoken among the locals. Visitors can easily communicate with residents, hotel staff, restaurant staff, drivers, tour guides, and anyone else they meet during their stay. You will also find that many stores, attractions, and services offer information and signage in English, which makes navigating the city very easy for English-speaking tourists.

Can I find free wifi in Salisbury?

But safe! Free Wi-Fi is fairly widespread in Salisbury. It's available in public places like the Salisbury Library and the Salisbury Museum. Many cafes, restaurants and pubs like Boston Tea Party and The Cloisters also offer free Wi-Fi to their guests. And many hotels and guesthouses offer this service to their guests as well. So staying connected in Salisbury should be quite easy.

What kind of local festivals does Salisbury have?

Salisbury is home to a variety of festivals that celebrate local culture and arts. The Salisbury International Arts Festival combines classical and world music, dance, theater, visual arts and spoken word into one captivating event. The Salisbury Food and Drink Festival offers attendees the opportunity to enjoy local food and beer. The Ageas Salisbury International Cricket Festival is a delight for sports fans. In addition, the Salisbury Literary Festival celebrates literature with author talks and writing workshops.

Do I need any specific vaccinations before travelling to Salisbury?

No special vaccinations are required for Salisbury, United Kingdom. However, it is always recommended that international travelers have all routine vaccinations refreshed. This usually includes measles-mumps-rubella (MMR), diphtheria-tetanus-pertussis, chickenpox, polio, and an annual flu shot. Also, contact your local physician for advice tailored to your personal health needs.

Can I drink tap water in Salisbury?

Yes, tap water in Salisbury, United Kingdom, is generally safe to drink. Water supplies in the United Kingdom are subject to strict sanitation standards that ensure the water is clean and safe. Tap water is treated and tested to ensure it meets these standards before it reaches your tap. However, individual taste preferences may vary, so some visitors may prefer to drink bottled water or use a water filter. Overall, however, the tap water in Salisbury is safe.

What is the most common mode of transport in Salisbury?

The most common way to get around Salisbury, United Kingdom, is by road in your own vehicle or by public transportation such as buses. The city is well served by a network of local and national bus routes, providing an easy and convenient way to get around both the city and surrounding towns. In addition, many residents and visitors choose to explore this relatively compact city on foot or by bicycle, especially for shorter distances or to enjoy the scenic routes.

Are credit cards widely accepted in Salisbury?

Yes, credit cards are indeed widely accepted in Salisbury, United Kingdom. From hotels, restaurants and cafes to stores and tourist attractions, you can easily use your credit card for transactions. ATMs are also available throughout the city if you want to withdraw cash. However, it is always a good idea to have some British pounds with you, as small stores or market stalls may only accept cash.

How tourist-friendly is Salisbury?

Salisbury, United Kingdom, is very tourist-friendly. The city is known for its rich history and breathtaking scenery and offers numerous attractions, including the famous Salisbury Cathedral and the ancient Stonehenge. The city has an excellent public transport system, a range of accommodation and restaurants to suit all tastes. Locals are known for their hospitality, which contributes to the welcoming atmosphere of the city. Guided tours and tourist information centers make it easy for visitors to navigate and explore.

Are there local guides available for hire in Salisbury?

Yes, in Salisbury you can definitely hire knowledgeable local guides who will offer you unique insights into the rich history and heritage of the region. They can take you on themed tours of the city that focus on aspects such as the famous cathedral, the Magna Carta, and medieval history. There are also tours that offer trips to nearby sites like Stonehenge and Old Sarum. These guides often offer customized tours as well, tailored to your specific needs.

Is there an emergency number I can call in Salisbury?

In Salisbury, United Kingdom, the general emergency number for police, fire or medical emergencies is 999. Non-emergency situations can be reported to the local police on 101. However, for more specific matters, such as medical advice, you can call the NHS helpline 111. Always make sure that the situation warrants an emergency call before dialing one of these numbers.

What are the typical business hours in Salisbury?

Typical business hours in Salisbury, United Kingdom may vary depending on the type of establishment. However, in general, stores and businesses are open Monday through Saturday from 9 am to 5:30 pm. On Sundays, many businesses have shortened hours, usually from 10 am to 4 pm. Restaurants and pubs may be open into the evening. Banks are generally open Monday through Friday from 9 a.m. to 4 p.m. It is always best to inquire about the exact opening hours of each location.

Are there any medical facilities in Salisbury?

Yes, Salisbury is well equipped with medical facilities. Salisbury County Hospital, located in the city, offers a wide range of services, including emergency care, outpatient clinics, and specialty departments. In addition, there are several general practices, dental clinics, and pharmacies in the city that offer a variety of medical services. For those seeking non-traditional treatments, there are also numerous alternative therapy providers such as physical therapy and acupuncture.

Does Salisbury accommodate people with disabilities?

Yes, Salisbury is easily accessible for people with disabilities. Many of the sights, including the famous Salisbury Cathedral, are wheelchair accessible and have accessible toilets. Local buses are equipped with ramps, and cab services offer wheelchair accessible vehicles. Hotels, restaurants and stores are also increasingly catering to the needs of disabled visitors and offering improved facilities. Appropriate services are also available for the visually and hearing impaired, making the city an experience for all.

How to dress appropriately in Salisbury?

When packing for Salisbury, keep in mind that the weather in the UK can be quite unpredictable. It's best to wear layers that you can take on or off as needed - a mix of short- and long-sleeved tops, a lightweight waterproof jacket and pants or jeans. Comfortable footwear is also essential for exploring. In the warmer months, lightweight fabrics and shorts may suffice. In the cooler months, a thicker coat and scarf are useful. Regardless of the season, always carry an umbrella for sudden rain showers.

What are the customs and etiquette in Salisbury?

In Salisbury, as in the rest of the UK, politeness is highly valued, especially in public. People tend to queue very neatly and it is important to respect personal space. When meeting someone, a simple handshake is the norm. Punctuality is an important aspect of British life that also permeates Salisbury. In restaurants, it is customary to tip 10-15%. Speak softly in public places to avoid being considered rude.

Is it customary to tip in Salisbury?

In Salisbury, United Kingdom, tipping is common but not mandatory. Generally, it is expected to tip about 10-15% in restaurants if the service charge is not included in the bill. For cabs, rounding up to the nearest pound is common. However, the tipping culture is not as widespread as in other countries, and tipping is not usually expected in pubs, fast food restaurants, or for short cab rides. Ultimately, the amount of the tip depends on the quality of the service provided and personal discretion.

Can I rent a car in Salisbury?

Yes, Salisbury offers several car rental options to its visitors. There are a number of reputed car rental companies in the city that offer a wide range of vehicles to suit your needs, whether you are traveling alone or with the family. This way, you can easily reach the beautiful countryside and historical sites around Salisbury. Make sure you have a valid driver's license and meet the requirements of the car rental company.

Are there any dress codes at local religious sites in Salisbury?

Yes, when visiting religious sites in Salisbury, such as the famous Salisbury Cathedral, visitors are expected to dress respectfully. Revealing clothing, including shorts or sleeveless tops, is generally discouraged. Hats should be removed before entering the church. While there is no specific dress code, it is important to respect the sanctity of the space. It is advisable to play it safe and dress conservatively.

How do I get around Salisbury if I don't drive?

Salisbury supports several modes of transportation. The public transportation system includes buses, coaches, and trains that connect both the immediate and surrounding areas. Cabs are available for a more personalized trip. The city center is compact, so it is easy to explore on foot. There is also the possibility of renting a bicycle. There are several walking and cycling routes around the town that will take you to the sights of the town and beyond into the Wiltshire countryside.

How accessible is healthcare service for tourists in Salisbury?

Health care in Salisbury is quite accessible for tourists. The city has several medical centers and pharmacies that provide health services. The emergency services are very efficient and responsive. However, tourists from outside the UK may have to pay for certain treatments themselves, unless they have an existing health insurance policy or travel insurance. Non-emergency treatments may require appointments, which can be easily arranged. Healthcare in Salisbury is therefore generally accessible and reliable.

Feedback

I hope you found this article informative and helpful. I'm eager to improve the content and make it even more valuable for you. If you have any feedback or suggestions, I would love to hear from you.

Do you have any tips or hidden gems that you think should be added to the list? Are there any areas that you feel could use more explanation or clarification?

Your input is greatly appreciated and will help us to continue providing high-quality content that meets your needs and interests. Please feel free to share your thoughts.