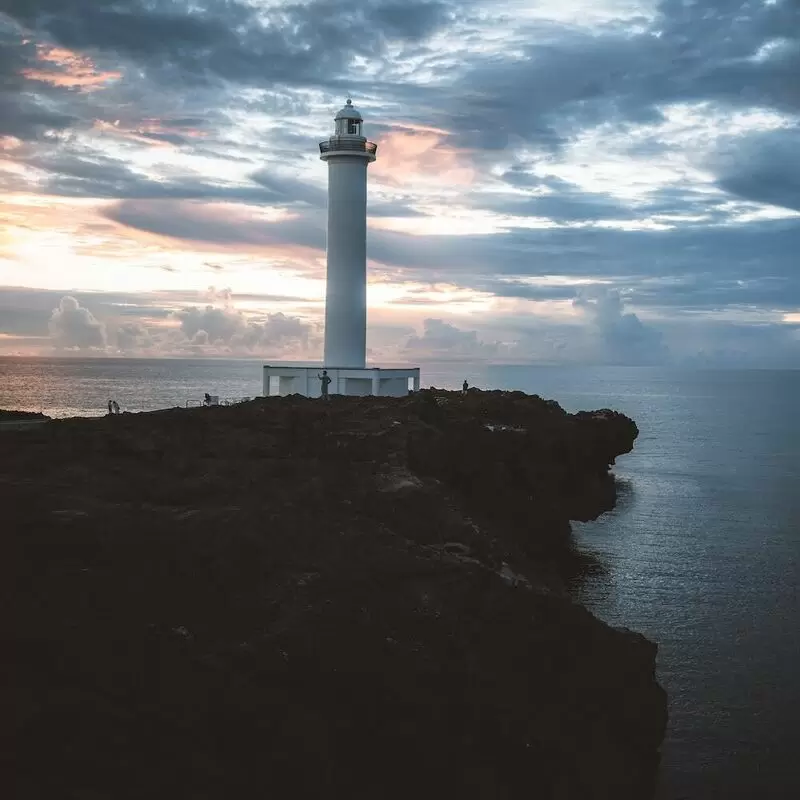 1. Okinawa Churaumi Aquarium
Immerse yourself in the Okinawa Churaumi Aquarium, where the wonderful world of the ocean awaits you. This marine sanctuary is world-renowned for having the second largest aquarium in the world that mimics the beauty of the deep sea. Witness the heavenly dance of whale sharks and manta rays, a sight that is simply breathtaking. This is not your typical aquarium, even the corals are magically alive and homegrown! Nearby, don't miss the exotic Emerald Beach and Ocean Expo Park. These places embody Okinawa's own charm and vibrant seafaring culture. Explore them and be enchanted!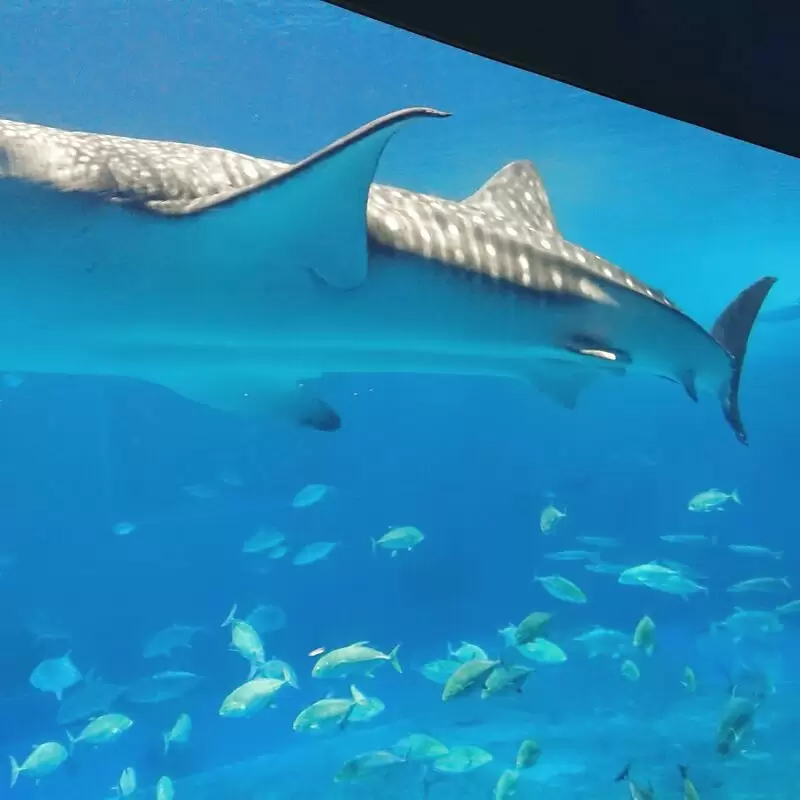 Okinawa Churaumi Aquarium
424 Ishikawa, Motobu, Kunigami District, Okinawa 905-0206
Monday - Sunday: 8:30 AM – 6:30 PM
2. Shuri Castle
A visit to Okinawa is incomplete without a tour of the magnificent Shuri Castle! Once a palace of the Ryukyu Kingdom, the castle boasts impressive Ryukyuan architecture and a rich history that will give you a glimpse of ancient Okinawan royalty. Stroll through the grand halls adorned with beautiful lacquer work and red tiles. Don't miss the Shureimon Gate, an Okinawan landmark. Also nearby is Shikina-en Garden, an idyllic Ryukyu-style garden perfect for a cultural stroll.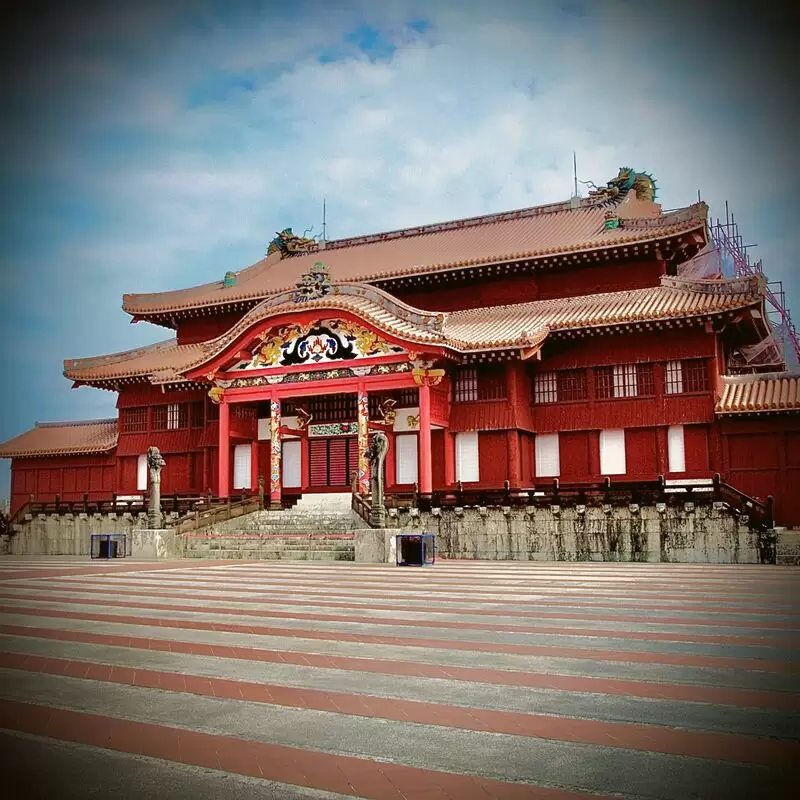 Shuri Castle
3-chōme-1-2 Shurikinjōchō, Naha, Okinawa 903-0815
Monday - Sunday: 8:00 AM – 7:30 PM
3. Okinawa World
Explore the cultural wonderland of Okinawa World, where you'll get an authentic taste of Okinawa's rich heritage and breathtaking nature. Visit Gyokusendo Cave, the longest of the South Island's more than 1,000 caves, adorned with stalactites and stalagmites. Visit Habu Park and encounter the island's infamous snakes. Sample traditional liquors at the on-site brewery, which has a warm, local touch. Plus, it's just a stone's throw to the tranquil Nirai Kanai Bridge, another place worth visiting. A center of Okinawa's magic, indeed!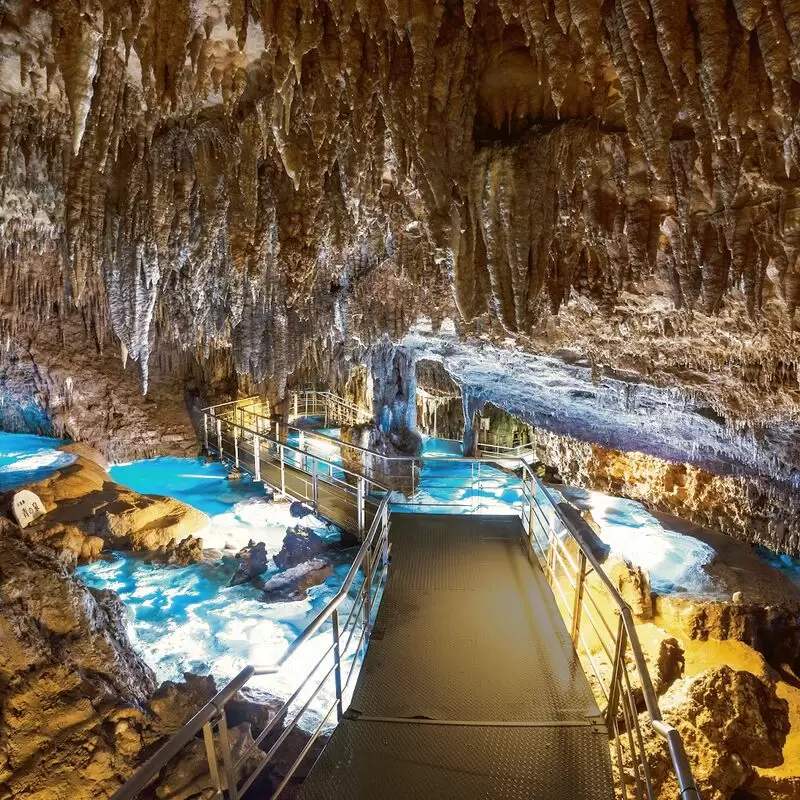 Okinawa World
Maekawa-1336 Tamagusuku, Nanjo, Okinawa 901-0616
Monday - Sunday: 9:00 AM – 5:30 PM
4. Gyokusendo Cave
Unleash your inner explorer at Gyokusendo Cave in Okinawa - the underground wonder of the southern island. Illuminated stalactites and stalagmites transform the 5km-long cave into a magical, otherworldly labyrinth. A unique experience offered by the cave is the opportunity to see natural mineral formations growing right before your eyes! Just 15 minutes away is Okinawa World, a theme park showcasing local culture - the perfect combination of natural wonder and cultural exploration.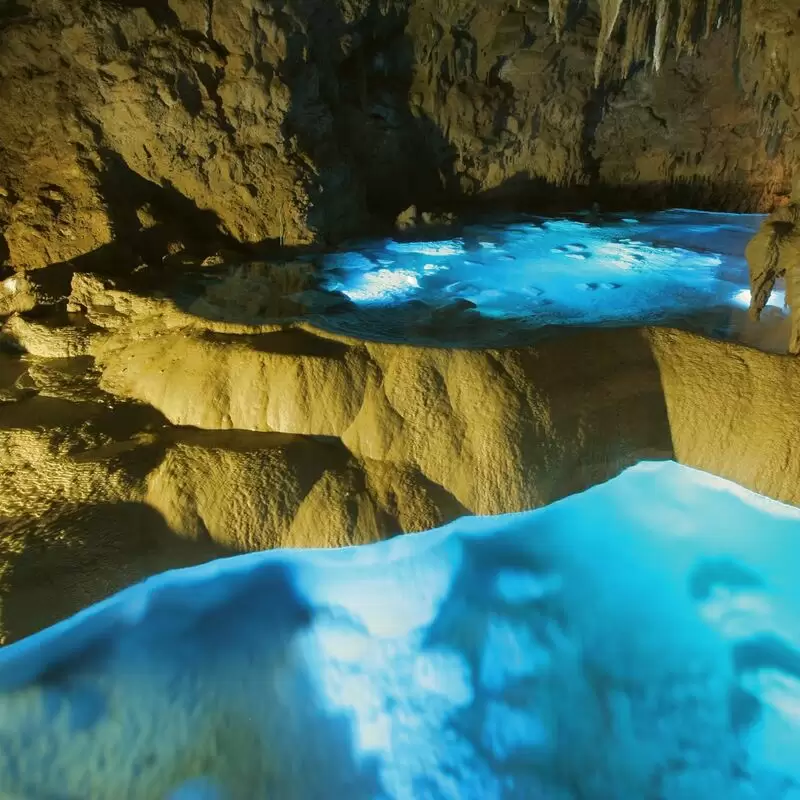 Gyokusendo Cave
Maekawa-1336 Tamagusuku, Nanjo, Okinawa 901-0616
Monday - Sunday: 9:00 AM – 5:30 PM
5. Cape Manzamo
Cape Manzamo is known for its stunning beauty and offers breathtaking views of the azure waters and impressive rock formations. It is known for its unique elephant trunk shape that inspires awe and tranquility. Don't forget to discover the "Manza" grass from which it gets its name! Nearby is the magnificent village of Onna, with its pristine beaches that add to the charm of the place. An underground wonder, the Blue Cave, is also not far away and offers an exceptional snorkeling experience. Don't miss these unforgettable landscapes!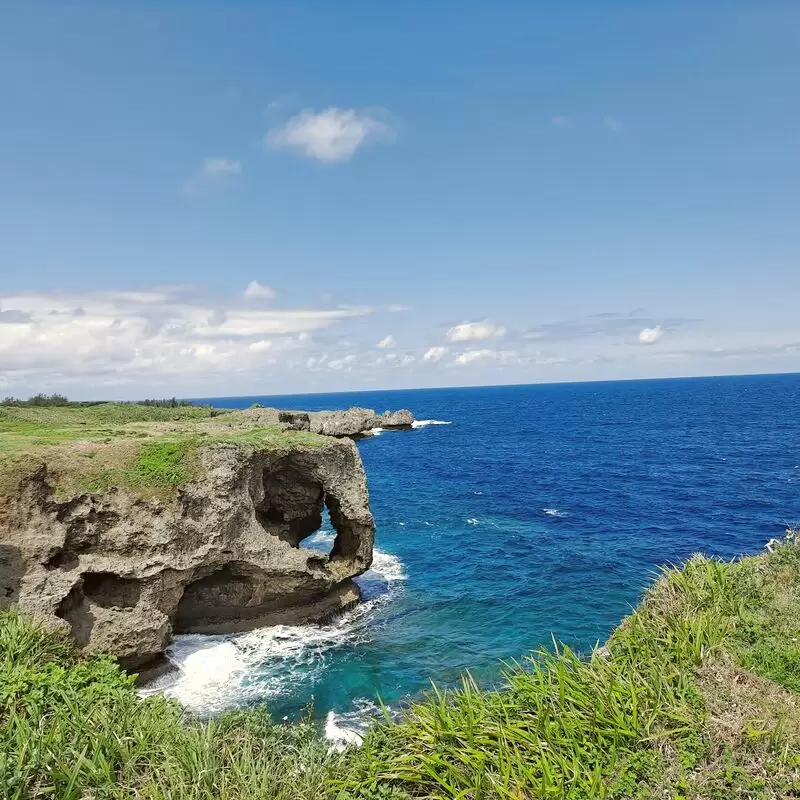 Cape Manzamo
Onna, Kunigami District, Okinawa 904-0411
Monday - Sunday: 8:00 AM – 7:00 PM
6. Peace Memorial Park
Embark on a historical journey through Peace Memorial Park, a poignant symbol of Okinawa's tragic past. This huge park is dedicated to the Battle of Okinawa during World War II, in which over 200,000 people lost their lives. Marvel at the impressive monuments, especially the Cornerstone of Peace with its countless walls inscribed with the names of fallen soldiers and civilians. Just a stone's throw from the park is Sueyoshi Park, a natural sanctuary that provides a tranquil contrast to the heavy historical ambience.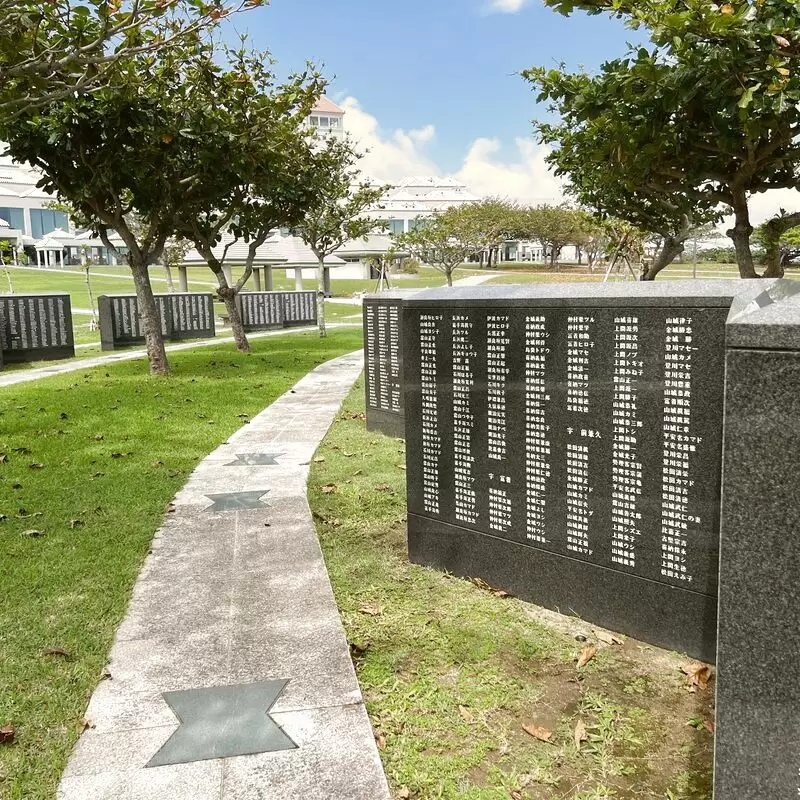 Peace Memorial Park
444 Mabuni, Itoman, Okinawa 901-0333
Monday - Sunday: Open 24 hours
7. Kerama Island National Park
Imagine crystal clear waters teeming with an extraordinary variety of coral species and colorful fish: This is Kerama Island National Park in Okinawa. Famous for its world-class snorkeling and diving, it is a true paradise for underwater enthusiasts. By the way, there is also a special nesting site for sea turtles here! Just a stone's throw away you will find the tranquil Aharen Beach and the challenging Togo Hiking Course, which will enrich your trip with a variety of unforgettable experiences. Don't miss it!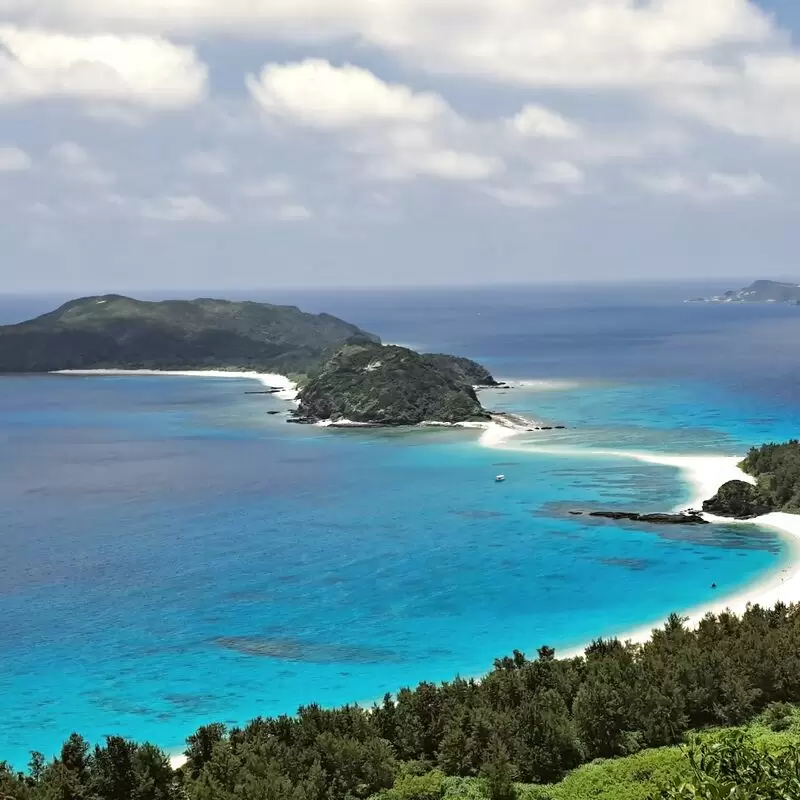 Kerama Island National Park
Zamami, Shimajiri District, Okinawa 901-3402
Monday - Sunday: Open 24 hours
8. Cape Chinen Park
Cape Chinen Park is an ideal vantage point to enjoy Okinawa's breathtaking views! Perched on a cliff, it gently hugs the coastline and offers panoramic views of the azure East China Sea. As the sun sets, it offers a kaleidoscope of colors - a picnicker's paradise. And guess what - just a short walk from the famous Nirai Kanai Bridge, which is a must-see. Don't forget to stop by the small shrine in the park - a well-kept local secret!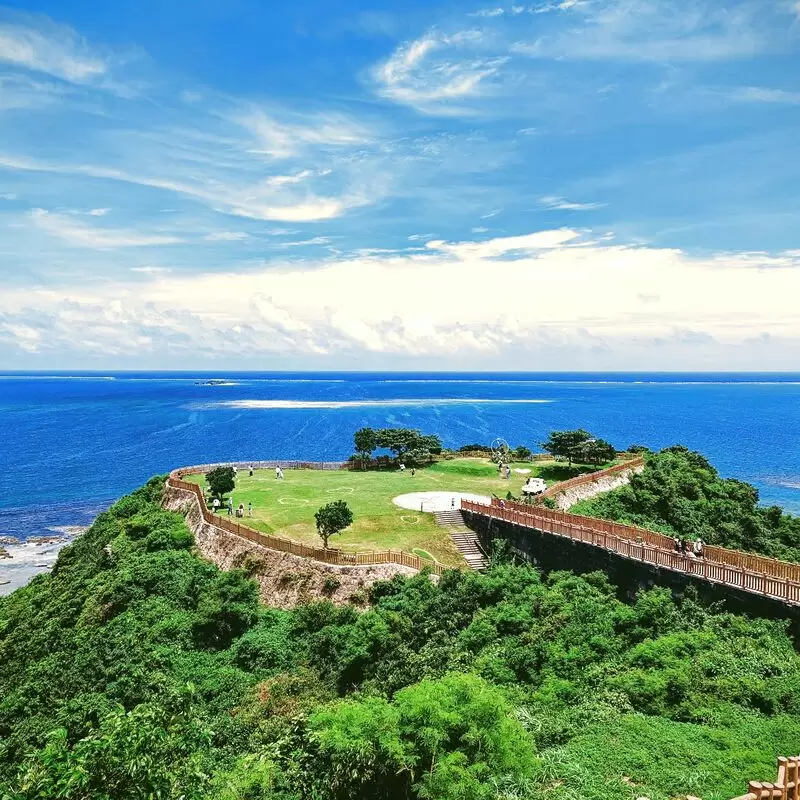 Cape Chinen Park
Kudeken Chinen, Nanjo, Okinawa 901-1400
Monday - Sunday: Open 24 hours
9. Cape Hedo
Head to the far north of Okinawa and discover Cape Hedo, a natural wonder at the meeting of two seas that offers breathtaking panoramic views. It is a must-see for photographers who love spectacular sunrises and sunsets. Apart from the scenic beauty, a massive cliff and a monument dedicated to peace make it a place of tranquility. Take a side trip to nearby Daisekirinzan, a sacred and spiritual hiking area with unusual rock formations and forest trails. A truly unmissable part of your Okinawa itinerary!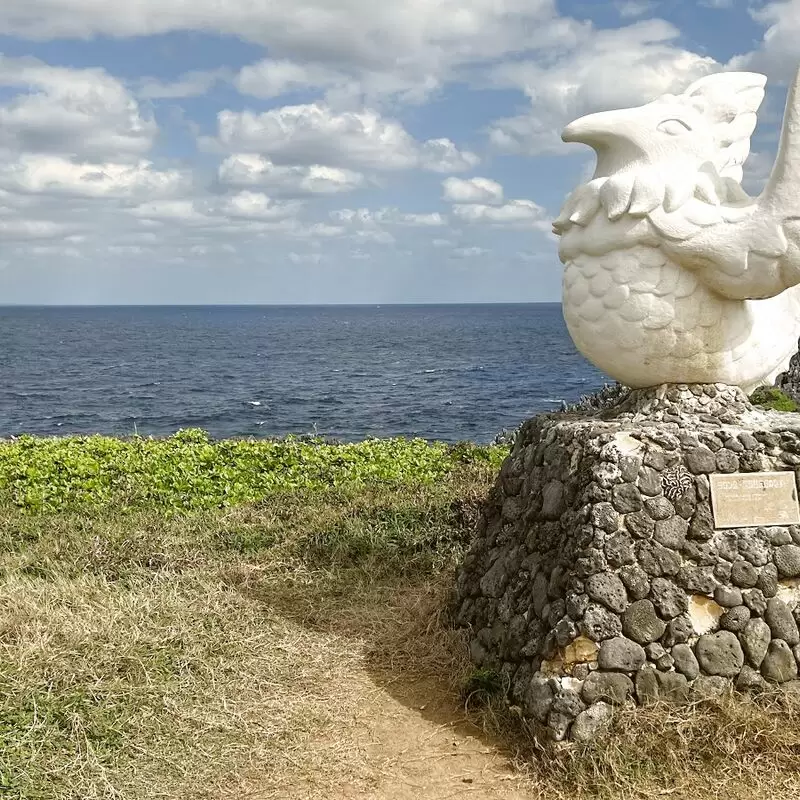 Cape Hedo
Hedo, Kunigami, Kunigami District, Okinawa 905-1421
Monday - Sunday: Open 24 hours
10. Katsuren Castle Ruins
Immerse yourself in the captivating fascination of Katsuren Castle Ruins on Okinawa, a UNESCO World Heritage Site! Trace the ancient remains of this once mighty fortress of the Ryukyu Kingdom, enjoy breathtaking views of the coast and discover hidden secrets of Japanese history. Here you'll find rugged, unspoiled beauty that is often less crowded. The nearby Hijo River is the ideal place for a relaxing boat ride. Don't forget to look for the epic treasure story of the local lord Amawari! Nearby, you can explore the spectacular Bios no Oka subtropical park, a true oasis of flora and fauna.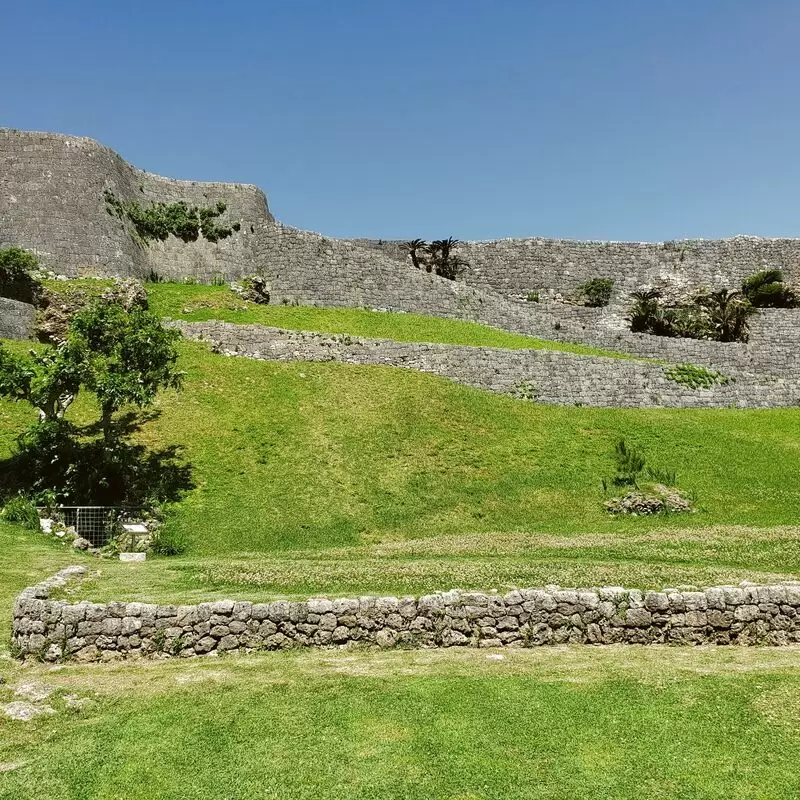 Katsuren Castle Ruins
3807-2 Katsurenhaebaru, Uruma, Okinawa 904-2311
Monday - Sunday: 9:00 AM – 6:00 PM
11. Kouri Bridge View Point
A must-see for any Okinawa traveler is the enchanting Kouri Bridge View Point. It offers a panoramic view of the turquoise sea and landscape of Kouri Island that is simply impossible to capture in photos. The ride across Japan's longest toll-free bridge is a unique experience. Remember, the early bird gets the most breathtaking sunrise. Just a stone's throw away, you can also explore the natural wonders of Kouri Ocean Tower - a perfect end to your day.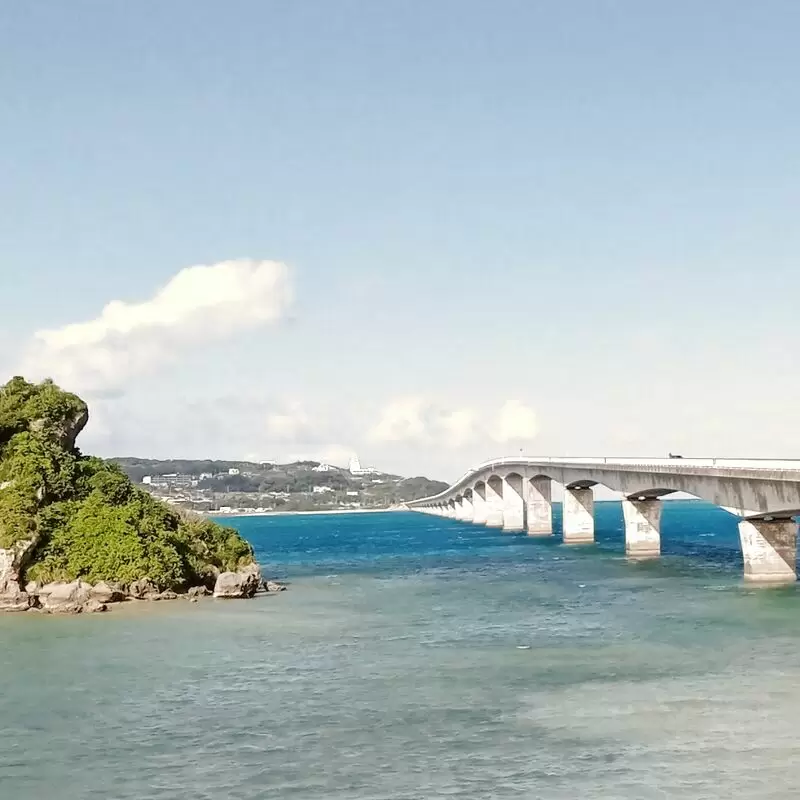 Kouri Bridge View Point
Sumuide, Nago, Okinawa 905-1635
Monday - Sunday: Open 24 hours
12. Busena Marine Park
Immerse yourself in the captivating underwater world of Busena Marine Park in Okinawa! Witness exotic oceanic life in crystal clear waters through a floating observatory or 360-degree underwater view. Your visit will offer a rare glimpse of the tranquil life beneath the waves without getting wet! Less than a 10-minute drive away, you can explore Kise Beach, a hidden gem with calm azure waters and white sand - Oki's best-kept secret!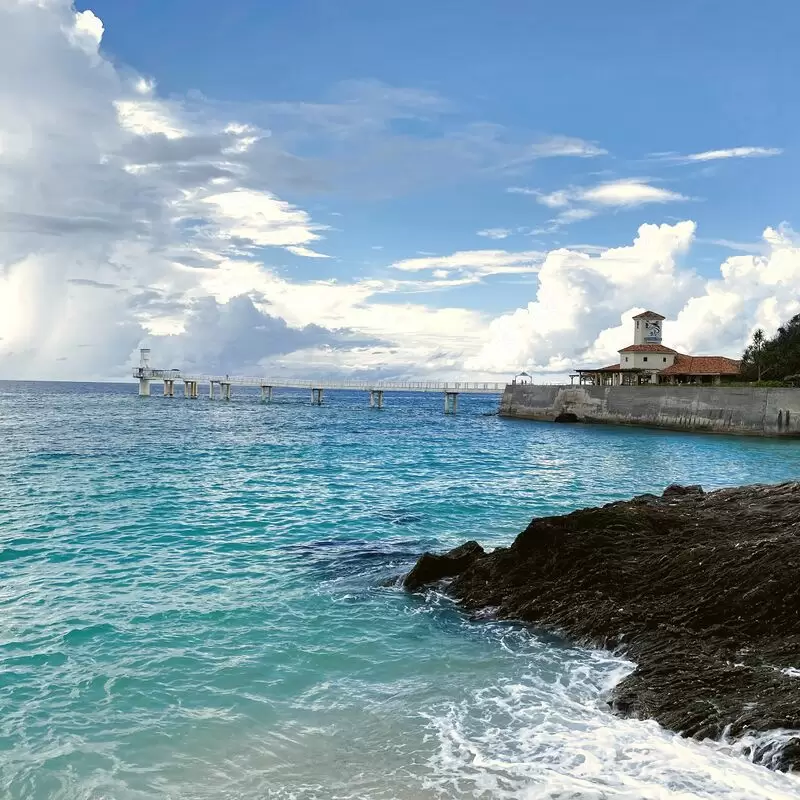 Busena Marine Park
1744-1 Kise, Nago, Okinawa 905-0026
Monday - Sunday: 9:00 AM – 5:30 PM
13. Sefa Utaki
An absolute must-see on Okinawa is Sefa-Utaki, a UNESCO World Heritage Site. Once the holiest site of the Ryukyu Kingdom, this natural shrine consists of a huge limestone cave and offers a spiritual experience like no other. Stand in a place where high priestesses once sought divine assistance and enjoy the surreal, breathtaking view of Kudaka Island, known as the "Island of the Gods. Not far away, you'll find a picturesque picnic spot with breathtaking views of the coastline at Chinen Misaki Park. It is a local place, less crowded, but no less beautiful!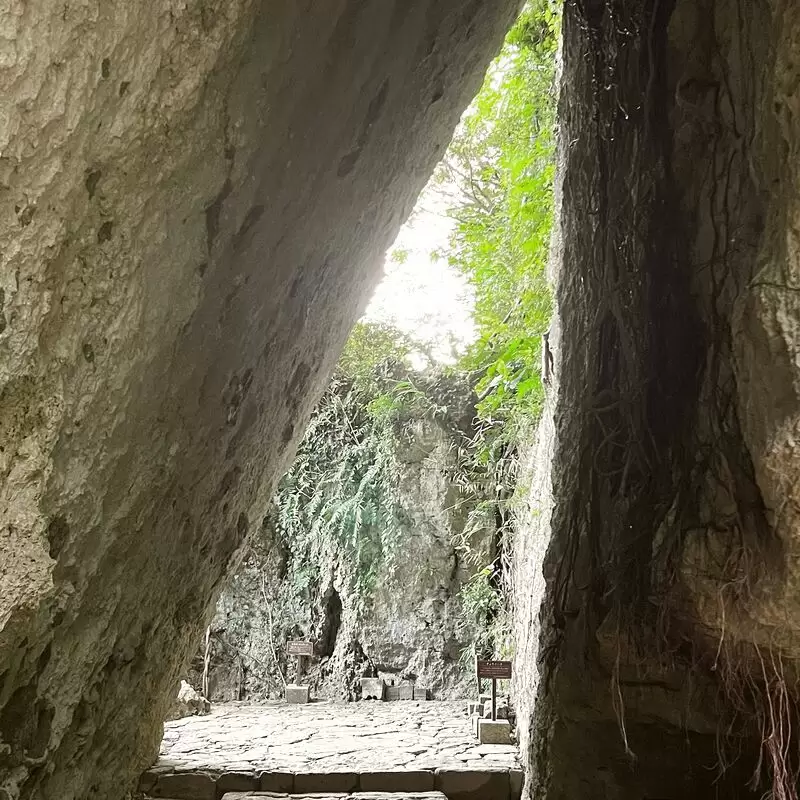 Sefa Utaki
Kudeken-539 Chinen, Nanjo, Okinawa 901-1511
Monday - Sunday: 9:00 AM – 5:30 PM
14. Ufuya
A visit to Ufuya in Okinawa is like a trip back in time, as this 100-year-old eatery offers traditional Ryukyu cuisine that is irresistible. With its charming wooden architecture nestled in a pleasant landscape, Ufuya is a worthwhile culinary escapade! Don't miss the locals' favorite dish, agu pork. Nearby, you can take in mesmerizing sunsets at Nago Bay, and get a glimpse into Okinawan history with a visit to the ancient Nago Castle, just a stone's throw away.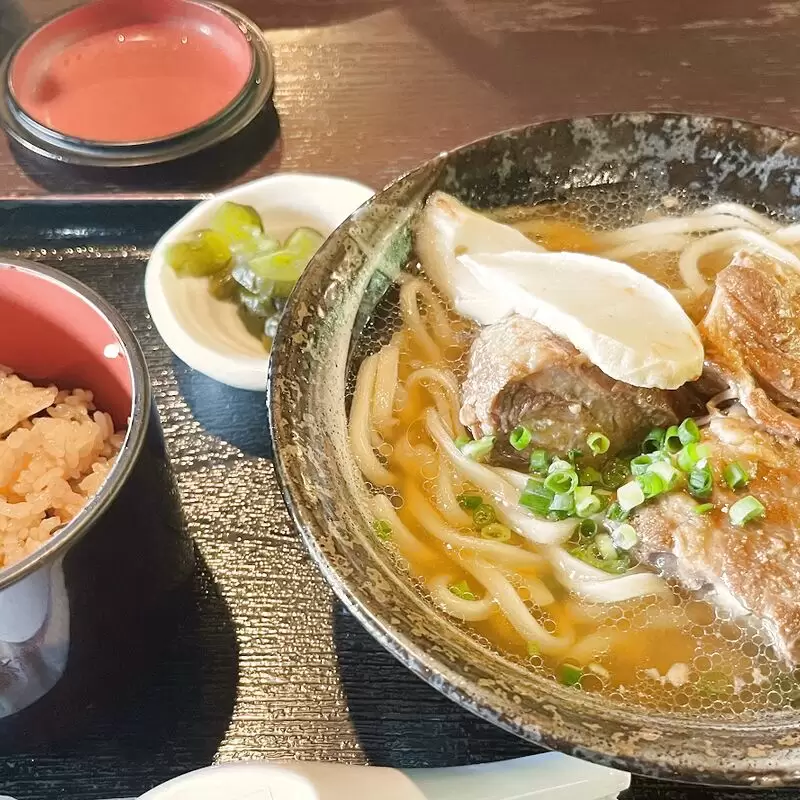 Ufuya
90 Nakayama, Nago, Okinawa 905-0004
Monday - Sunday: 11:00 AM – 4:00 PM, 6:00 – 9:00 PM
Saturday: 11:00 AM – 4:00 PM, 6:00 – 8:30 PM
15. Ryukyu Mura
Immerse yourself in the rich history of Okinawa at Ryukyu Mura. Travel back in time and discover traditional Okinawan village life with authentic Ryukan houses, pottery classes, sanshin (a local musical instrument) lessons, lively traditional music and dance performances by locals. Don't miss the buffalo-drawn carriages! Nearby, you can visit the charming Zakimi Castle, home to some of Okinawa's most impressive stone walls and offering panoramic views of the islands. Immerse yourself in Okinawan culture with this unique experience!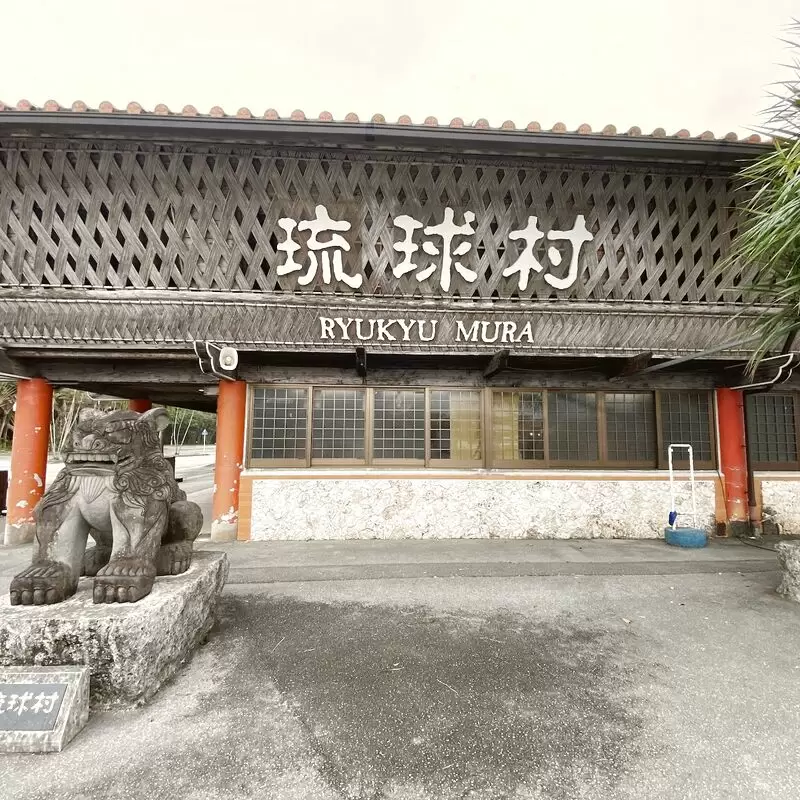 Ryukyu Mura
1130 Yamada, Onna, Kunigami District, Okinawa 904-0416
Monday - Sunday: 9:30 AM – 5:00 PM
16. Shikinaen
Immerse yourself in the splendor of Shikinaen, the royal garden of the Ryukyu Kingdom on Okinawa. With its magnificent koi ponds and impressive stone bridges, the garden is a synthesis of Chinese and Japanese landscape aesthetics. Exploring the traditional Okinawan architecture and tranquil tea house, there is something to discover at every turn. Nearby Shikinaen is the Tamaudun Mausoleum, another UNESCO World Heritage Site that captures Okinawan royal history. An unforgettable double experience of culture and nature awaits you in Okinawa.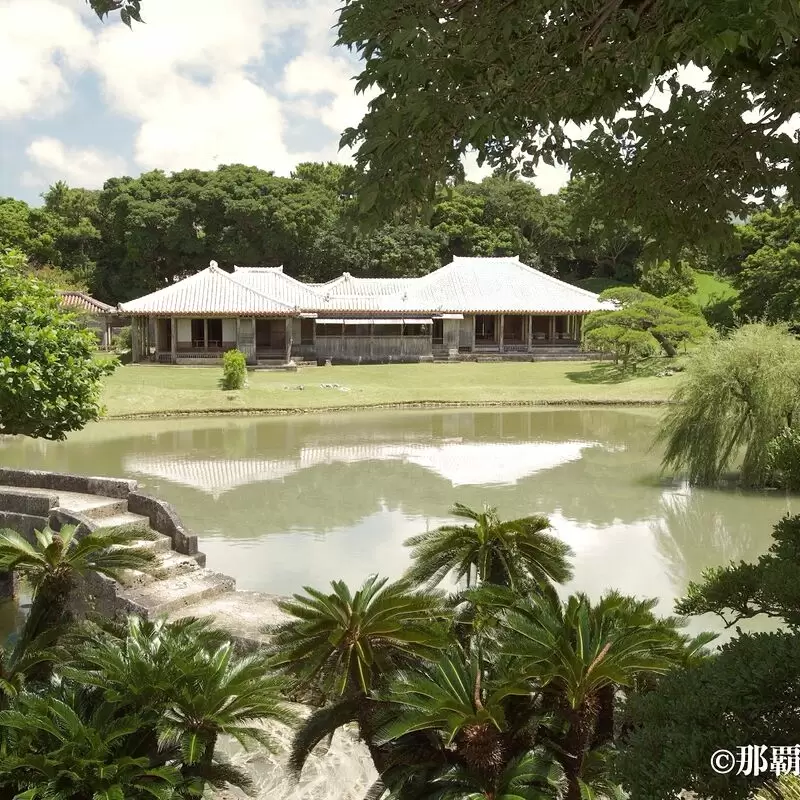 Shikinaen
421-7 Maaji, Naha, Okinawa 902-0072
Monday - Sunday: 9:00 AM – 5:30 PM
Wednesday: Closed
17. Cape Zanpa Park
Experience the magnificent Cape Zanpa Park in Okinawa, a lighthouse of breathtaking natural beauty. Marvel at the majestic Zanpa Lighthouse, standing proudly at the edge of the cliff and offering a breathtaking panoramic view of the sea. In the mood to explore? Discover the hidden beauty of the nearby village of Yachimun and immerse yourself in the vibrant Okinawan pottery culture. Don't miss the extraordinary sunset, a dazzling natural spectacle kept a secret by the locals. Discover an untouched piece of paradise, Cape Zanpa.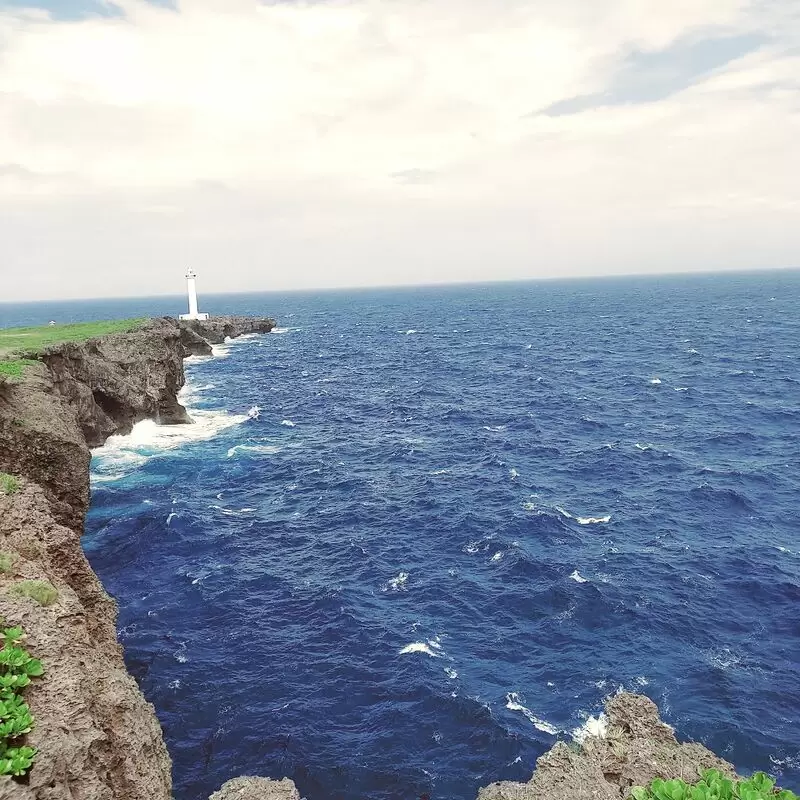 Cape Zanpa Park
675 Uza, Yomitan, Nakagami District, Okinawa 904-0328
Monday - Sunday: Open 24 hours
18. Okinawa Zoo & Museum
Get ready for a unique experience at the Okinawa Zoo & Museum - the only combined zoo and museum in Okinawa! Here you will meet Okinawa's native wildlife and have the opportunity to offer snacks to your favorite animals. At the museum, you can travel back in time to Okinawa's rich history. Don't forget to see the local star, an Okinawan elephant named Ryuka. Immerse yourself in the culture of Shuri Castle, a short bus ride away and a World Heritage Site.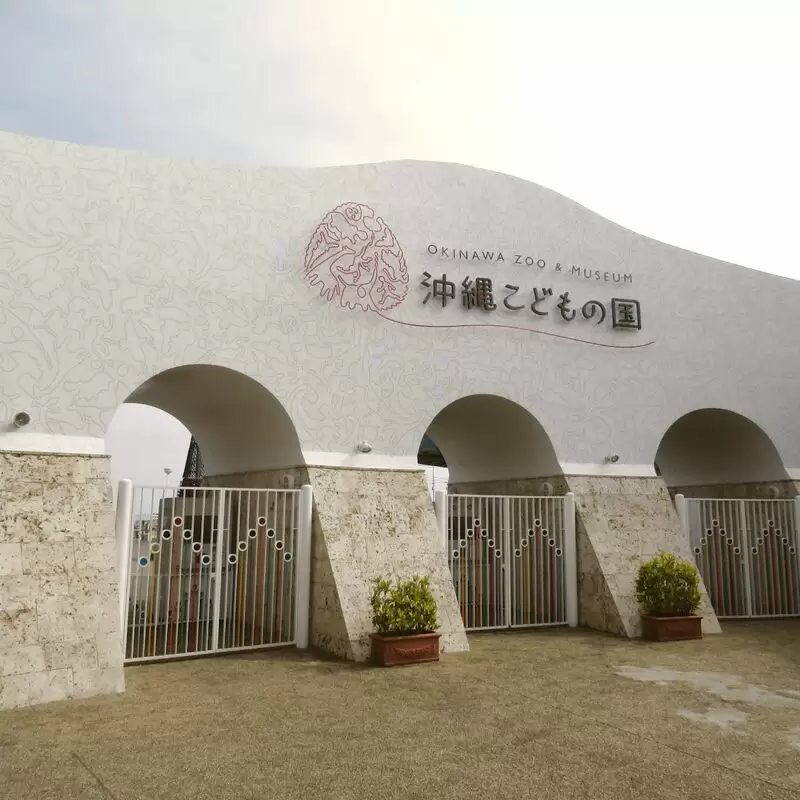 Okinawa Zoo & Museum
5-chōme-7-1 Goya, Okinawa, 904-0021
Monday - Sunday: 9:30 AM – 6:00 PM
Tuesday: Closed
19. Southeast Botanical Gardens
Immerse yourself in the breathtaking beauty of Okinawa at the Southeastern Botanical Garden. More than 2,000 species of tropical and subtropical plants offer a colorful display that will delight your senses. Discover magnificent Amazonian water lilies, fuchsia hibiscus, and Okinawan native plants. Don't miss the nightly Illumination Event, a surreal light show. Nearby is the Okinawa Bio Park, where exotic animals await your visit. Experience nature and wildlife in a whole new way at this botanical wonderland!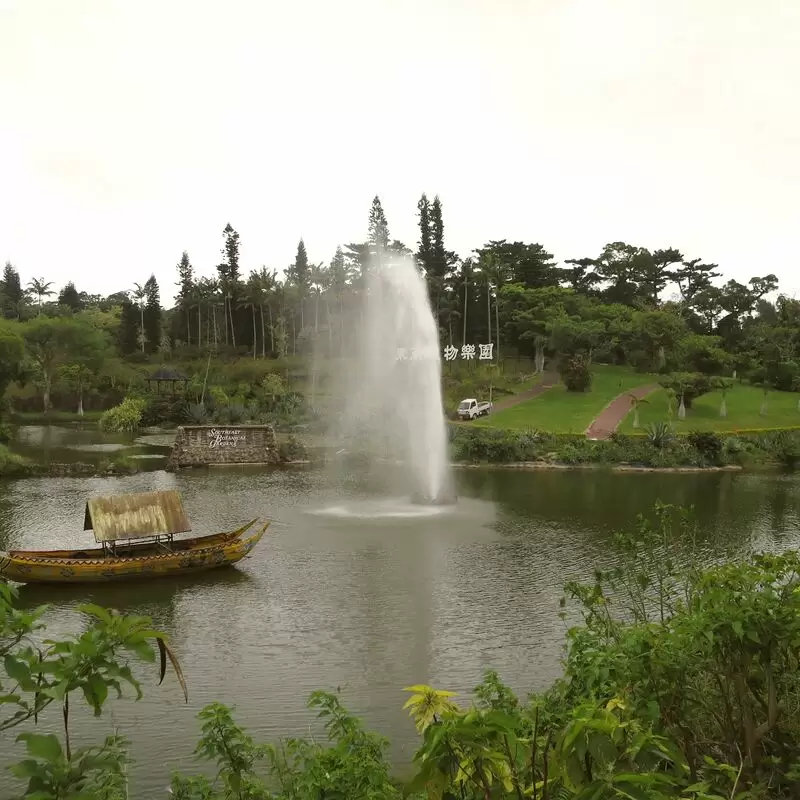 Southeast Botanical Gardens
2146 Chibana, Okinawa, 904-2143
Monday - Friday: 9:30 AM – 6:00 PM
Saturday - Sunday: 7:00 AM – 9:00 PM
20. Tsuboya Yachimun Street

Tsuboya Yachimun Street is a must-see for craft lovers staying in Okinawa! This charming alley, steeped in history, is considered the birthplace of Okinawan pottery. Watch the potters at work and admire the ceramic artwork, or try your hand at making pottery yourself. In quirky cafes, you can enjoy a traditional tea and learn about the lives of the locals.

An insider tip: Be sure to keep an eye out for the iconic Shisa statues (Okinawan lion dogs). Just around the corner, you'll find the picturesque Fukushuen Chinese Garden. Immerse yourself in true Okinawan culture!

Tsuboya Yachimun Street
1 Chome-16 Tsuboya, Naha, Okinawa 902-0065
Best Time to Visit Okinawa
The best time to visit Okinawa, Japan, is during the spring months from March to May or the fall months from September to November. During these periods, temperatures are mild and there is less rain, which is ideal for outdoor activities and sightseeing.
Annual Weather in Okinawa
Okinawa 3-Day Forecast
Tue, 26 September
Night
80 °F
27 °C
0%
Morning
80 °F
27 °C
82%
Afternoon
85 °F
30 °C
0%
Evening
83 °F
28 °C
63%
Wed, 27 September
Night
82 °F
28 °C
62%
Morning
81 °F
27 °C
86%
Afternoon
86 °F
30 °C
0%
Evening
83 °F
28 °C
0%
Thu, 28 September
Night
82 °F
28 °C
64%
Morning
81 °F
27 °C
71%
Afternoon
85 °F
29 °C
73%
Evening
82 °F
28 °C
85%
Questions & Answers

What is the main language spoken in Okinawa?

The main language in Okinawa is Japanese, similar to the rest of Japan. However, the region also has its own unique language, Okinawan, which is quite different from standard Japanese. Although Okinawan is not as widely spoken today, efforts are being made to preserve it. Please note that most people in Okinawa speak fluent Japanese, while English is not widely spoken or understood in the region.

Can you easily find English speakers in Okinawa?

Okinawa is a popular tourist destination and hosts a large U.S. military base, so there are a large number of English speakers. Some locals have learned English to accommodate tourists and the military community. However, please note that most older residents and locals outside of the tourist industry are not fluent in English. It might be handy to learn a few basic Japanese phrases or use a translation app while exploring the more offbeat trails.

What are traditional Okinawan foods?

Okinawan cuisine is unique and emphasizes longevity and health. Traditional dishes include goya champuru, a stir-fried dish of bitter melon often combined with tofu, egg and pork. There is also Okinawa Soba, a warming dish of wheat noodles in broth with pork ribs. Rafute is slow-cooked pork belly that melts irresistibly in your mouth, while mozuku is a nutritious seaweed dish served with vinegar. Don't miss umibudo, also known as "sea grapes," a type of seaweed that melts in your mouth like caviar.

Are there specific local customs I should be aware of?

In Okinawa, it is customary to remove your shoes before entering a person's home or certain traditional establishments. Tipping is not expected in Okinawa as it is in some Western countries; it can sometimes be perceived as an insult. Also note that direct eye contact is often avoided as it is considered disrespectful. Finally, Okinawans value modesty, so you should dress conservatively, especially when visiting religious and sacred sites. It is also considered polite to learn a few basic phrases in Japanese, as English is not widely spoken.

Is it safe to travel around Okinawa?

Yes, Okinawa is generally considered safe for travelers. Like anywhere, it is important to be aware of your surroundings, but overall the crime rate is low and public infrastructure is well developed. Okinawans are known for their hospitality and safety measures are in place for natural phenomena such as typhoons. Apart from the city, natural landscapes such as beaches and forests are also safe, but always remember to respect the local flora and fauna.

What type of clothing should I pack?

When visiting Okinawa, pack light, breathable clothing such as shorts, T-shirts and light dresses because of the tropical climate. Bring a light jacket or sweater for cooler evenings. Don't forget a swimsuit to enjoy the beaches and water activities. Comfortable walking shoes are necessary for exploring the city and outdoor areas. Finally, pack a hat, sunglasses and enough sunscreen to protect yourself from the strong sun.

What is the currency in Okinawa?

The currency used in Okinawa, as in the rest of Japan, is the Japanese yen. This currency is often referred to by the symbol ¥. It comes in the form of both banknotes and coins. Banknotes can have a denomination of 1,000, 2,000, 5,000 or 10,000 yen, while coins can be 1, 5, 10, 50, 100 or 500 yen. Credit cards are also widely accepted in Okinawa.

What is the drinking age in Okinawa?

The legal minimum age for alcohol consumption in Okinawa, as in the rest of Japan, is 20. This law is strictly enforced and applies to both residents and tourists. It is important that visitors are aware of this in order to respect local laws and customs. Make sure you have valid identification with you if you wish to purchase or consume alcohol. This is part of the cultural respect for the laws and regulations of Japan that is essential for a respectful visit.

Can you drink tap water in Okinawa?

In Okinawa, Japan, tap water is generally considered safe for drinking. Local authorities have made significant efforts to ensure that water is treated and purified to meet strict Japanese standards. However, the taste and mineral content may differ from what you are used to, so some travelers may prefer to drink bottled water. To be extra careful, especially if you have a sensitive stomach, it may be safer to drink bottled or boiled water during your visit.

Is it customary to tip in Okinawa?

No, tipping is not common in Okinawa, Japan. In some cases, it might even be considered rude. Japanese culture prides itself on providing excellent service as standard, not as extra compensation. Prices for services are usually comprehensive, and there is no need to leave extra money. In lieu of a tip, a simple word of thanks or a small gift from your home country would be appreciated.

What are common forms of transportation?

The most common modes of transportation on Okinawa include rental cars, cabs and public buses. The island's monorail system known as Yui Rail is also popular for short trips, especially in the city of Naha. For longer distances, ferries are often used to travel between islands. For many visitors who wish to explore the smaller islands or less crowded areas at their own pace, bicycles and hiking are the most popular modes of transportation.

How do I get around if I don't have a car?

Okinawa offers several transportation options if you don't have a car. The city has a well-developed network of public buses that cover most of the island. In Naha, the capital, the monorail known as Yui Rail is a convenient option. For short distances, cabs are widely available. For remote areas like the outer islands, you can take ferries. Bike rentals are also popular in certain areas. However, service in English can be limited, so it is advisable to plan ahead.

Are there unique wildlife species in Okinawa?

Okinawa indeed has a special biodiversity. It is home to the Okinawa Rail, a flightless bird species found only in this region. Another resident is the endangered Pryer's Woodpecker. Okinawa is also famous for its marine life, especially the dugong, a marine mammal species rare in Japan. On the coast, you can encounter the Okinawan Habu, a species of venomous snake native to the island, or admire the colorful Ryukyu Flying Fox, a unique subspecies of flying fox.

What sort of marine life can we expect to see when snorkeling or diving?

While snorkeling or diving in Okinawa, Japan, you can discover a wide variety of marine life. Expect colorful coral reefs teeming with tropical fish like clownfish, butterflyfish and angelfish. Larger species such as manta rays, sea turtles and even the occasional shark can also be found in the waters. Sea snakes and fascinating creatures such as squid and octopuses can also be spotted in Okinawa's diverse underwater world.

Are there specific vaccinations required before traveling to Okinawa?

No vaccinations are required for travel to Okinawa, Japan. However, it is generally recommended that routine vaccinations such as measles-mumps-rubella, diphtheria-tetanus-pertussis, varicella, polio and influenza be refreshed. Hepatitis A and B vaccinations are also recommended for most travelers, especially those who plan to eat local foods or have potentially unsafe contacts with locals. These recommendations are not specific to Okinawa, but apply generally to travel in Japan.

Is Okinawa expensive to visit?

A visit to Okinawa, Japan, can be quite expensive indeed. The cost can add up quickly when you factor in the cost of travel, lodging, meals, transportation within the island, and sightseeing activities. However, you can get by on a budget by choosing inexpensive guesthouses, eating at cheaper restaurants, and exploring free or low-cost attractions. As with any destination, costs will largely depend on your personal travel style and preferences.

Are there any safety concerns in local beaches?

In general, beaches in Okinawa are safe, but there are a few things to keep in mind. Watch out for strong currents and tides, especially in remote areas. Some beaches have nets to protect against dangerous sea creatures such as habu jellyfish, but not all. During typhoon season from June to November, swimming can be risky due to high waves and winds. Overall, you should always heed local warnings and signs to ensure a safe visit to the beach.

Can you swim in the sea all year round?

Due to the tropical climate and warm average temperatures, it is technically possible to swim in the sea all year round in Okinawa. However, it is important to know that conditions vary. Between December and February, the sea can be a bit chilly. Also, between July and October, typhoon season can cause rough seas that may make swimming unsafe. Always check local weather and sea conditions before going to the beach.

What is the voltage of Electricity, can my devices still function?

In Okinawa, Japan, the standard voltage is 100 V and the frequency is 60 Hz. If your devices operate in this range, they should work fine. However, if you are coming from a country with 110-240 V, you may need a voltage converter or transformer for your equipment to work optimally. Please check the voltage requirements for your equipment before using it in Okinawa to avoid damage.

Are there any local festivals I shouldn't miss?

The Great Tug of War of Naha is a festival not to be missed. This traditional event dates back to the 17th century and is designed to promote community harmony. The centerpiece is a giant straw rope that locals and tourists pull in a friendly tug-of-war competition. It's a fun, interactive way to immerse yourself in Okinawan culture.

How do I respect local traditions and dress appropriately?

When visiting Okinawa, be sure to respect the traditions there. Dressing appropriately is one way to do this. Casual clothing is usually accepted, but avoid revealing clothing, especially in traditional places such as shrines or temples. Remove your shoes when entering a local's home or sacred places. Never stick your chopsticks upright into the rice when eating. This is considered disrespectful as it is associated with funeral rituals. Be careful not to take photos without permission, especially in sacred areas. This shows respect for the Okinawan culture and its people.

How does the healthcare system work in Okinawa?

Okinawa, like the rest of Japan, has a universal health care system that provides coverage for all residents. The system is funded by taxes, premiums and deductibles. Medical care is easily accessible, with local clinics and first-class hospitals available. Foreign residents and tourists are also expected to have health insurance. As is common in Japan, patients may have to pay a portion of their own health care costs, depending on factors such as income and age.

How do I prevent or treat sunburn in Okinawa?

Since Okinawa has a subtropical climate, sunburn is a common problem. To prevent sunburn, use a broad-spectrum sunscreen with an SPF of at least 30 and reapply every two hours or after swimming or sweating. Wear protective clothing such as long-sleeved shirts, wide-brimmed hats and sunglasses. If you do get sunburned, cool the skin with a cold compress, apply aloe vera or a moisturizing cream with anti-inflammatory properties, and make sure you stay hydrated. Seek professional medical help for severe burns.

What type of plants and flowers are unique to Okinawa?

Okinawa has a diverse flora due to its subtropical climate. One of the unique plants is the Deigo tree, the official flower of Okinawa, with its fiery red flowers. The blue hibiscus, also called getto plant, is another Okinawan specialty with medicinal properties. The Iejima lily, an exceptionally bright and large white flower, is also native to Okinawa. Among the exotic deciduous trees, the sago palm and the fukugi tree stand out, often used as windbreaks in traditional rows of houses.

Could you explain the cultural significance of Karate in Okinawa?

Karate is of great cultural importance in Okinawa because it is its birthplace. It embodies principles of self-discipline, respect, peace and spiritual growth that are deeply rooted in the local philosophy. Karate has been taught for generations and is not only a form of self-defense, but also a way of life and an essential part of Okinawan identity. Known for its distinctive style, Okinawan karate influences and inspires martial artists around the world and symbolizes Okinawa's rich heritage.

Are there any endangered species in Okinawa?

Yes, Okinawa, Japan, is home to several endangered species. The Okinawa Rail is an endangered flightless bird found only in the northern part of the main island of Okinawa. The forests are also home to the endangered Pryer's Woodpecker and the endangered Okinawan Spinner Dolphin. The rare Ryukyu Long-tailed Giant Rat, a species endemic to the Ryukyu Islands, is also endangered. All of these species are threatened by habitat loss due to urbanization and commercial development.

Is public Wi-Fi available throughout Okinawa?

Public Wi-Fi is not available everywhere in Okinawa, Japan. However, you can find free public Wi-Fi in larger areas such as Naha City, Churaumi Aquarium, larger hotels and certain stores. It is recommended that you provide your own portable Wi-Fi or international data plan when traveling in Okinawa to ensure constant Internet access. Some tourist information centers also offer free Wi-Fi to visitors for a limited time.

What cultural experiences are unique to Okinawa?

Okinawa, Japan, reflects a distinctive Ryukyuan cultural lineage that transcends its fascinating history, language and traditions. Visitors can indulge in rhythmic Eisa dancing, make their own Bingata textiles, or watch glassblowing on the islands. A visit to the UNESCO World Heritage Sites of Shurijo Castle and the Gusuku sites bear witness to the ancient Ryukyu Kingdom. Experiencing kaiseki-ryori, a multi-course traditional meal, or tasting Awamori, a regional liquor, add to Okinawa Island's unique cultural heritage.

Is tap water safe to drink in Okinawa?

Yes, tap water in Okinawa, Japan, is generally safe to drink. Local municipalities ensure that the water undergoes rigorous treatment and testing procedures according to international standards to ensure its safety. However, some travelers prefer bottled water or boiled tap water because it has a different taste, sometimes caused by mineral content or treatment chemicals. If you live in mountainous or remote areas, it is always advisable to inquire or use additional treatment methods.

How can I stay safe during typhoon season?

During typhoon season in Okinawa, the main thing you should do is learn about the weather and make preparations. Make sure you have emergency equipment, secure loose items around your accommodation, and know your evacuation route. Avoid going outside in extreme weather, especially near the coast. Pay attention to warnings and instructions from local authorities and stay in regular contact with your loved ones. The most important thing is to remain calm and prepared in such situations.

Feedback

I hope you found this article informative and helpful. I'm eager to improve the content and make it even more valuable for you. If you have any feedback or suggestions, I would love to hear from you.

Do you have any tips or hidden gems that you think should be added to the list? Are there any areas that you feel could use more explanation or clarification?

Your input is greatly appreciated and will help us to continue providing high-quality content that meets your needs and interests. Please feel free to share your thoughts.