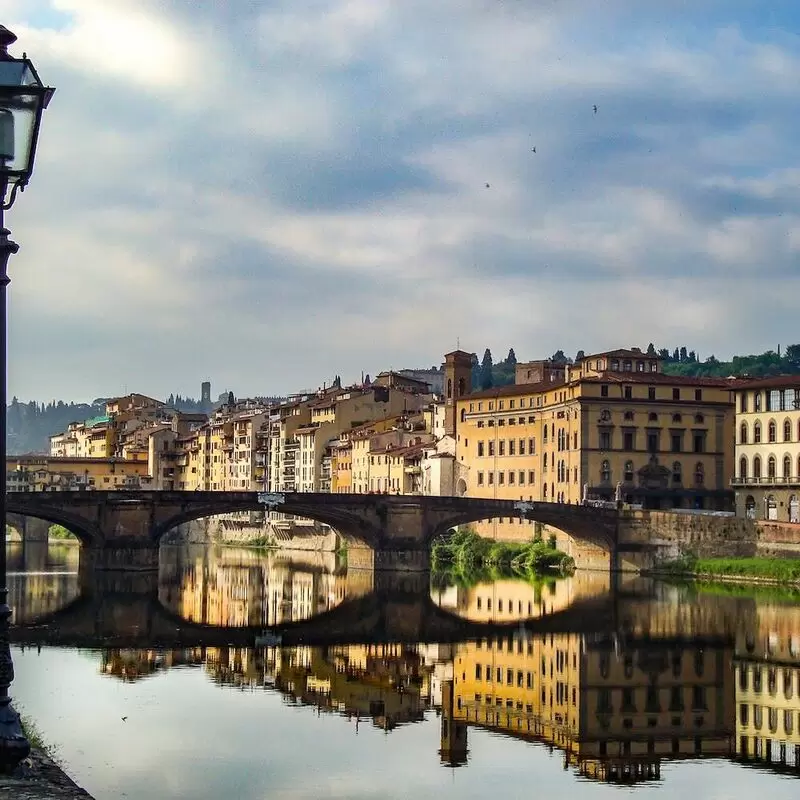 1. Piazza del Duomo
A visit to Florence's Piazza del Duomo is a must for its breathtaking architectural marvels! Marvel at the stunning trio of Florence Cathedral, the Baptistery of San Giovanni, and Giotto's Bell Tower, all decorated with intricate patterns. You can even climb the 463 steps of the cathedral's dome for a panoramic view of the city. The neighboring Opera del Duomo Museum, where original sculptures and artifacts from the cathedral are on display, is not to be missed.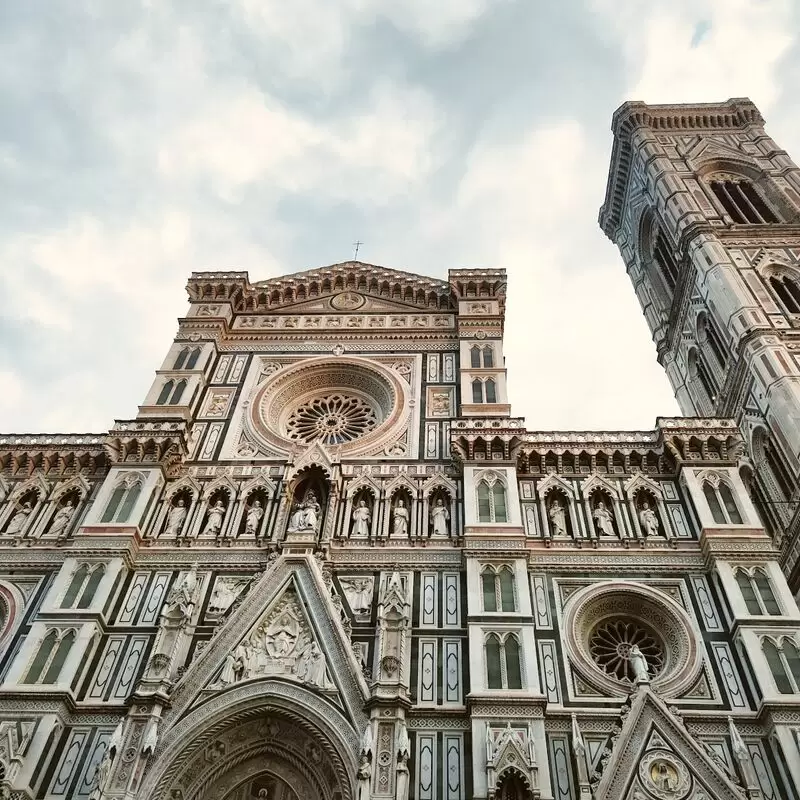 Piazza del Duomo
Piazza del Duomo, 50122 Florence
2. Piazza della Signoria
A visit to Piazza della Signoria is an absolute must in Florence! This lively and vibrant square is steeped in history and features majestic sculptures and stunning architecture. Admire the grandeur of Palazzo Vecchio or stroll through the open-air Loggia dei Lanzi gallery, home to fascinating statues. Explore the theatrical masterpieces scattered throughout the square and treat yourself to a scoop of real gelato at one of the nearby cafes. Plus, the famous Uffizi Gallery is just a stone's throw away - perfect for art lovers!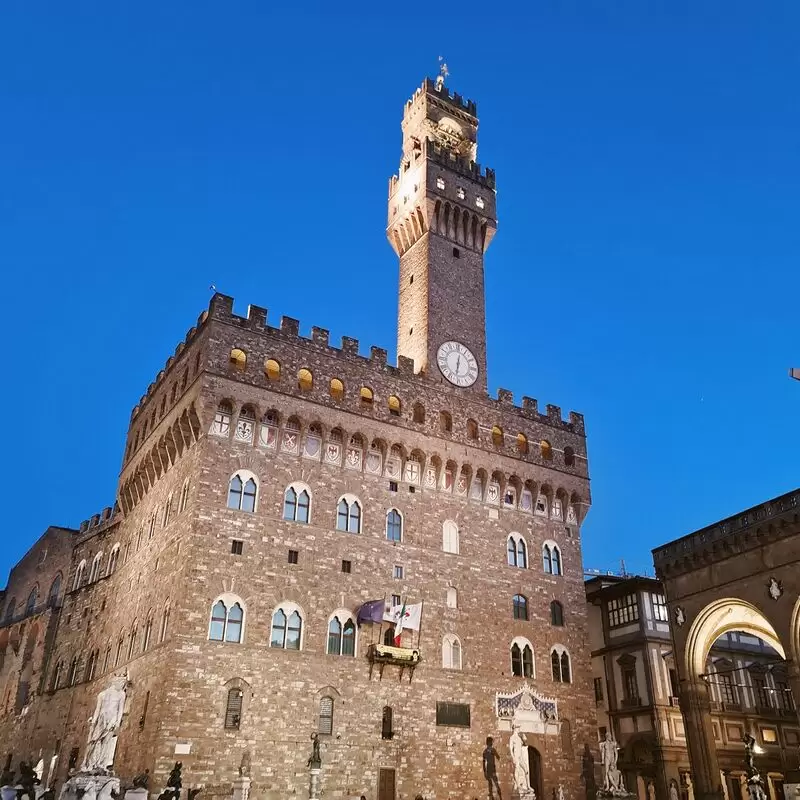 Piazza della Signoria
P.za della Signoria, 50122 Florence
3. Ponte Vecchio
Be enchanted by the charm and beauty of the Ponte Vecchio, a medieval stone bridge in Florence rich in history and adorned with dazzling jewelers, art dealers and souvenir stores. Dating back to 1345, this landmark offers breathtaking views of the Arno River and unparalleled photo opportunities. A stroll through the nearby Vasari Corridor offers additional insight into the art scene. And just a few steps away, the enchanting Uffizi Gallery is waiting for you to explore.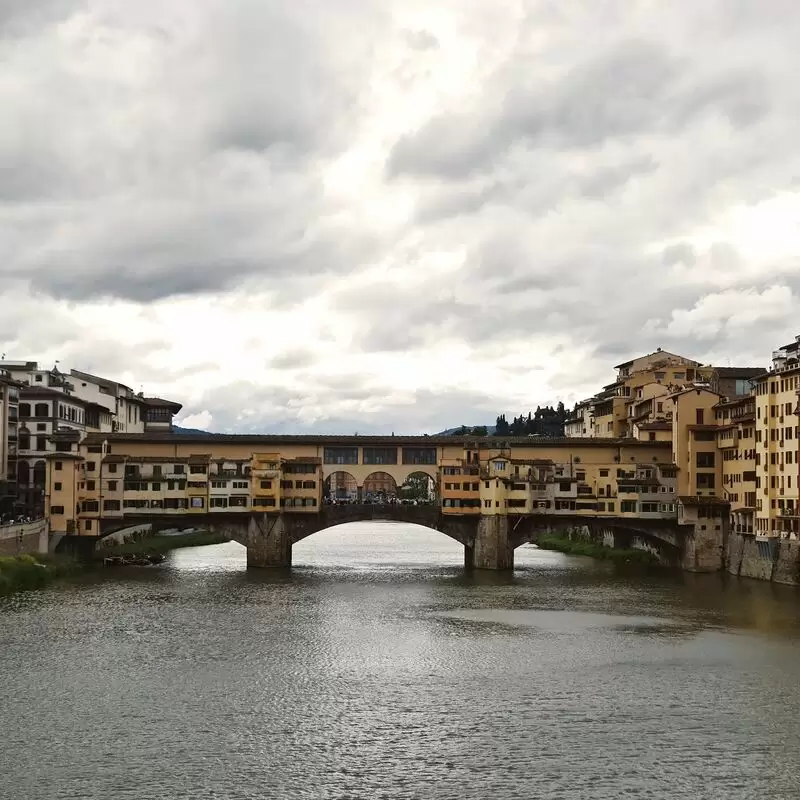 Ponte Vecchio
Ponte Vecchio, 50125 Florence
4. Uffizi Gallery
A visit to the Uffizi Gallery in Florence is a must for any art lover! This world-famous gallery houses spectacular works by famous artists such as Botticelli, Leonardo da Vinci and Michelangelo. Be mesmerized by Botticelli's "The Birth of Venus" and explore the magnificent halls filled with Renaissance masterpieces. Enjoy the enchanting view of the Arno River and the Ponte Vecchio from the gallery's rooftop terrace - a rare treat that even locals appreciate! Just a stone's throw away, you can continue your exploration with Palazzo Vecchio and the charming Piazza della Signoria.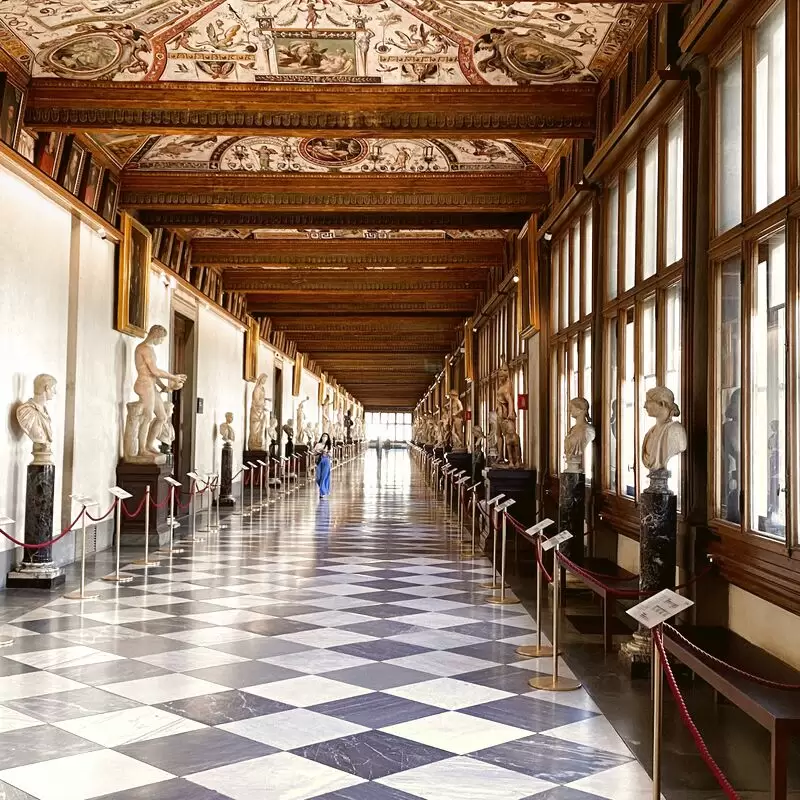 Uffizi Gallery
Piazzale degli Uffizi, 6, 50122 Florence
Monday: Closed
Tuesday - Sunday: 8:15 AM – 6:30 PM
5. Piazzale Michelangelo
Piazzale Michelangelo is a must-see for its breathtaking panoramic view of Florence. Take a walk or a short bus ride to this picturesque square adorned with a bronze replica of Michelangelo's "David". Capture the essence of Florence with your camera or simply enjoy the breathtaking beauty of the historic architecture, including the famous Duomo and Ponte Vecchio. Just a stone's throw away you'll find the peaceful Basilica of San Miniato al Monte, offering a spiritual break from the hustle and bustle of the city.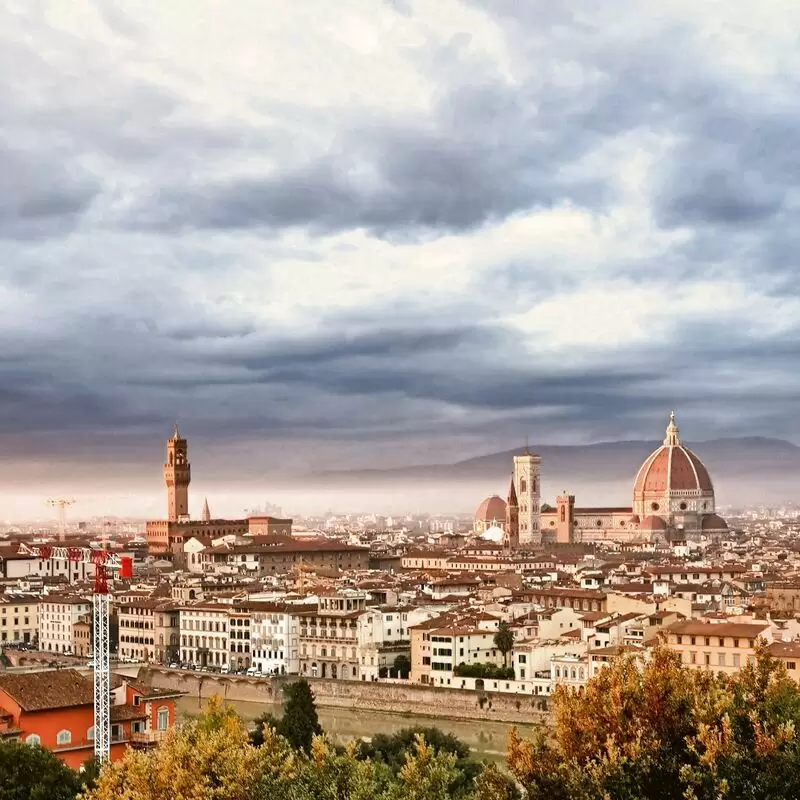 Piazzale Michelangelo
Piazzale Michelangelo, 50125 Florence
6. Cathedral of Santa Maria del Fiore
A visit to Florence is incomplete without seeing the majestic Cathedral of Santa Maria del Fiore, an architectural marvel with the largest brick dome in the world. While admiring the stunning frescoes, be sure to climb the 463 steps to the dome's terrace, where a breathtaking panoramic view of the city awaits. Just a stone's throw away is the charming Piazza della Signoria, with its street performers and charming cafes, where you can fully enjoy the Florentine atmosphere.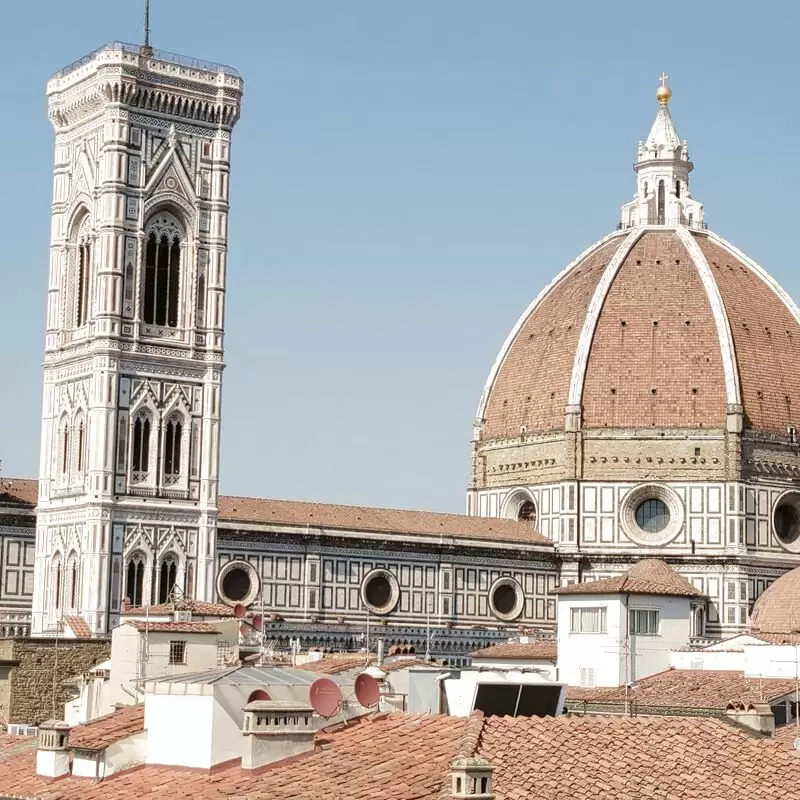 Cathedral of Santa Maria del Fiore
Piazza del Duomo, 50122 Florence
7. Palazzo Vecchio
A visit to Florence is incomplete without a visit to the famous Palazzo Vecchio! This masterpiece of medieval architecture stands as a symbol of the city's rich history and glorious past. Stroll through the frescoed halls and admire the intricate works of art created by famous artists such as Michelangelo and Donatello. For a unique experience, climb the tower for breathtaking panoramic views. And don't miss the enchanting "Hall of the Five Hundred". Afterwards, treat yourself to a visit to the nearby Uffizi Gallery, home to countless art treasures!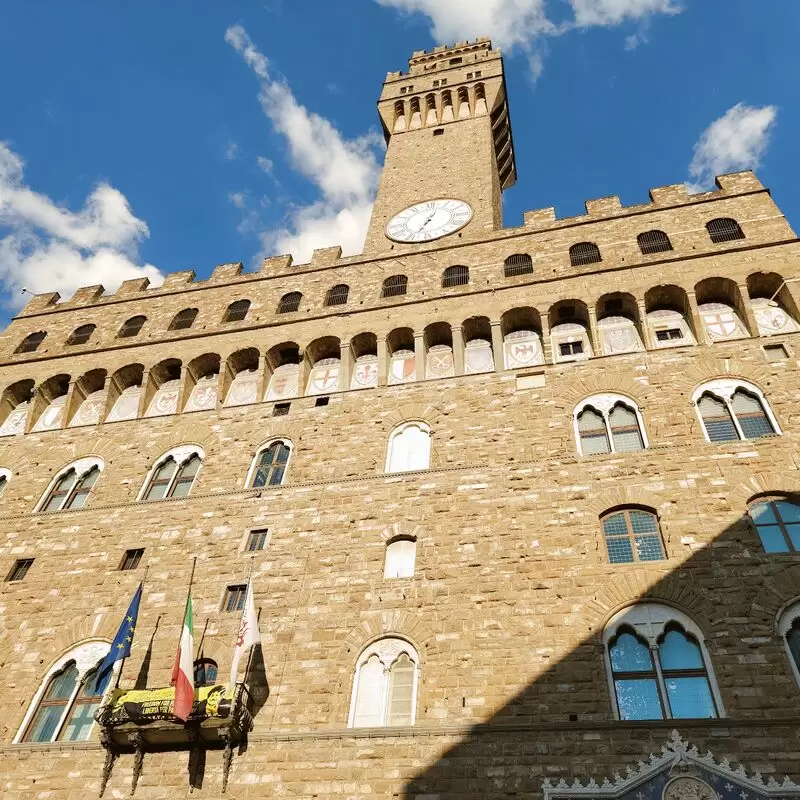 Palazzo Vecchio
P.za della Signoria, 50122 Florence
Monday - Sunday: 9:00 AM – 10:00 PM
Thursday: 9:00 AM – 2:00 PM
8. Basilica of Santa Croce in Florence
Visit the magnificent Basilica of Santa Croce, an impressive Gothic masterpiece in the heart of Florence. Step inside and discover its rich history, stunning frescoes, and stunning architecture. This final resting place of many Italian icons, including Michelangelo, Galileo and Machiavelli, holds countless stories within its walls. Don't forget to visit the Pazzi Chapel, an architectural gem located in the cloister. Just a short walk away is the bustling Piazza della Signoria, a center of Florentine history and culture.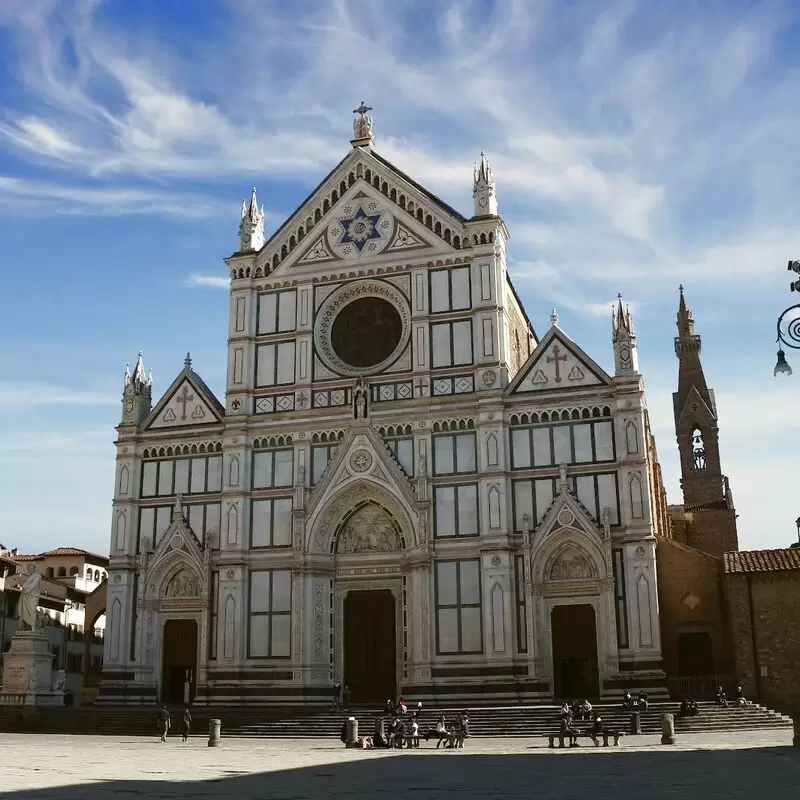 Basilica of Santa Croce in Florence
Piazza di Santa Croce, 16, 50122 Florence
Monday - Saturday: 9:30 AM – 5:30 PM
Sunday: 12:30 – 5:45 PM
9. Accademia Gallery
A trip to Florence is incomplete without a visit to the Accademia Gallery, which houses some of the most impressive and valuable art collections in the world. Here you can admire not only Michelangelo's magnificent statue of David, but also his unfinished sculptures, aptly named "The Prisoners," which reveal the artist's creative process. After immersing yourself in the works of art, you can take a walk to the nearby Monastery of San Marco, adorned with enchanting frescoes by Fra Angelico.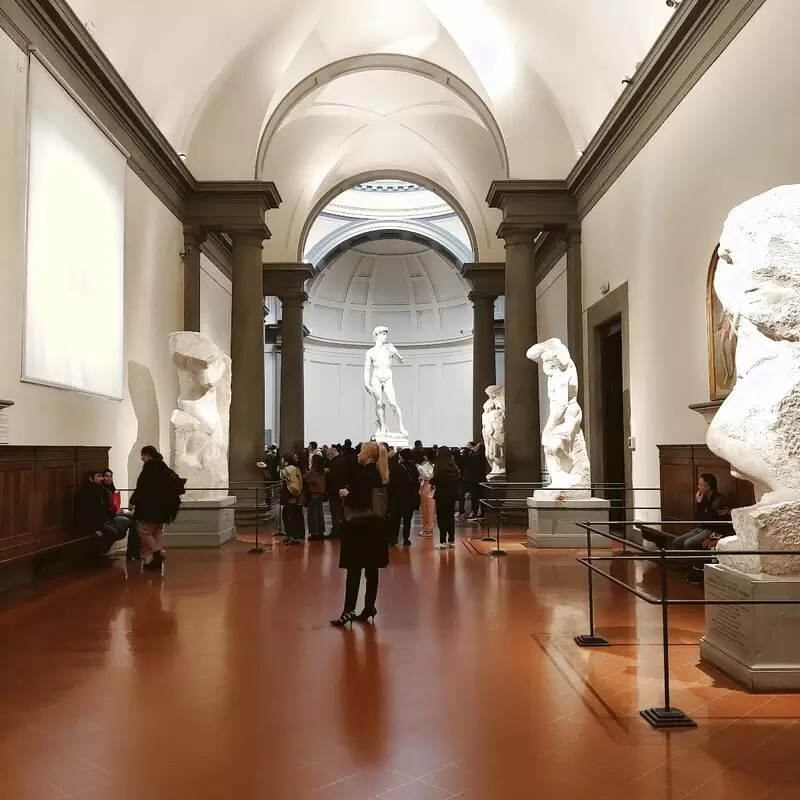 Accademia Gallery
Via Ricasoli, 58/60, 50129 Florence
Monday: Closed
Tuesday - Sunday: 8:15 AM – 6:20 PM
10. Pitti Palace
Visit the majestic Pitti Palace, the sumptuous residence of Tuscan grand dukes and Italian royalty, and admire the opulent architecture and magnificent works of art. Stroll through the magnificent Boboli Gardens, an idyllic green oasis with fountains, statues and grottos. Admire the frescoes and grand halls of Giorgio Vasari and take a journey through the rich history of the Medici rulers. Don't miss Benozzo Gozzoli's "Procession of the Magi" in the Palatina Gallery! Just a stone's throw away is the intimate Church of Santo Spirito, a hidden gem of Renaissance architecture.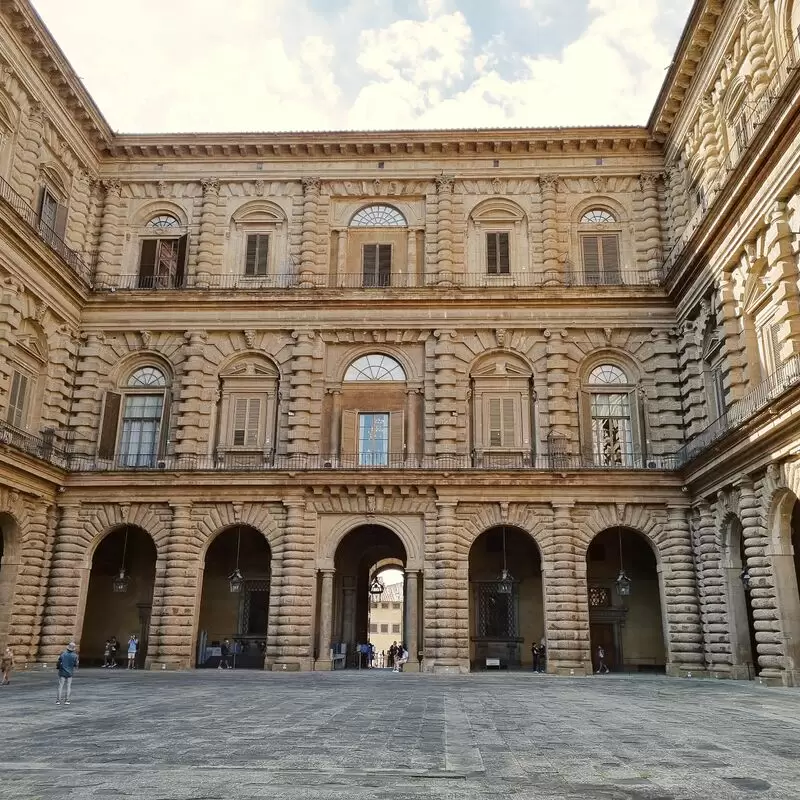 Pitti Palace
Piazza de' Pitti, 1, 50125 Florence
Monday: Closed
Tuesday - Sunday: 8:15 AM – 6:30 PM
11. Basilica of Santa Maria Novella
A visit to the Basilica of Santa Maria Novella is an absolute must for art lovers! This stunning 13th century church houses beautiful frescoes by Ghirlandaio, Masaccio and Filippino Lippi - each one a masterpiece. Admire the stunning facade designed by Leone Alberti and discover the Green Cloister with its magnificent frescoes. A few steps away is the Pharmacy of Santa Maria Novella, the oldest operating pharmacy in the world, where you can discover centuries-old traditions and purchase artisan products.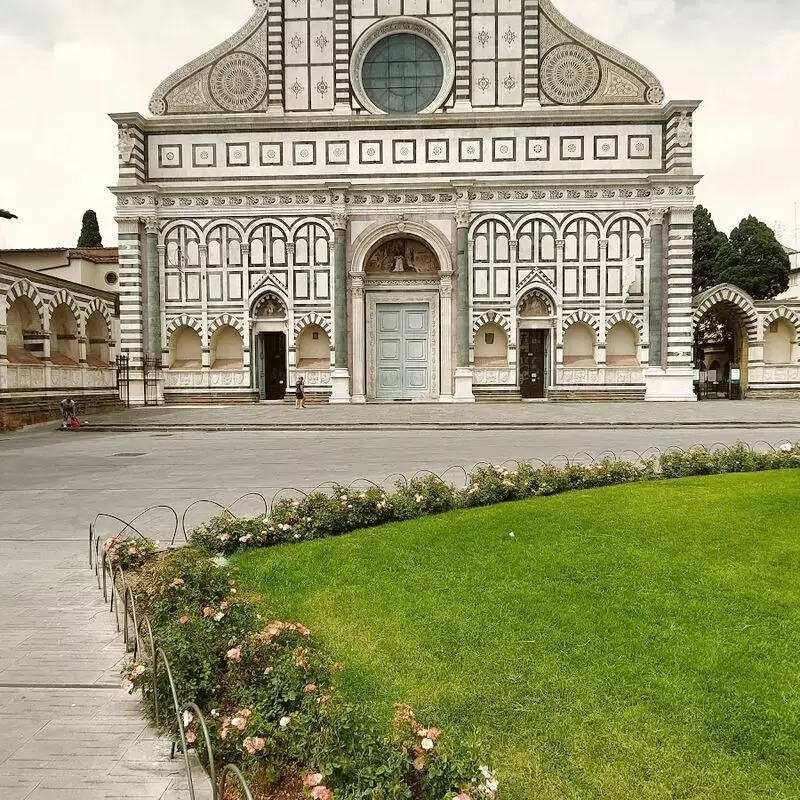 Basilica of Santa Maria Novella
P.za di Santa Maria Novella, 18, 50123 Florence
12. The Boboli Gardens
A visit to the Boboli Gardens in Florence is a must for any nature lover! This sprawling 16th century park with its lush greenery, stunning fountains and impressive sculptures will take your breath away. The gardens offer panoramic views of the city and are home to the exquisite Grotta del Buontalenti, a hidden gem adorned with mythical creatures. Nearby is the famous Pitti Palace, an ideal place to discover Renaissance art while escaping the hustle and bustle of the city. Come and lose yourself in this enchanting paradise!
The Boboli Gardens
Piazza de' Pitti, 1, 50125 Florence
Monday - Sunday: 8:15 AM – 6:30 PM
13. Giotto's Bell Tower
Marvel at the architectural marvel that is Giotto's Bell Tower, Florence's landmark. Climb the 414 steps for a breathtaking panoramic view of the city - a reward worth the climb. This Gothic masterpiece, attributed to the genius Giotto, features intricate reliefs and colorful marble facades. Also admire the famous "Gates of Paradise" at the neighboring Florence Baptistery and the legendary Florence Cathedral, both just a stone's throw away.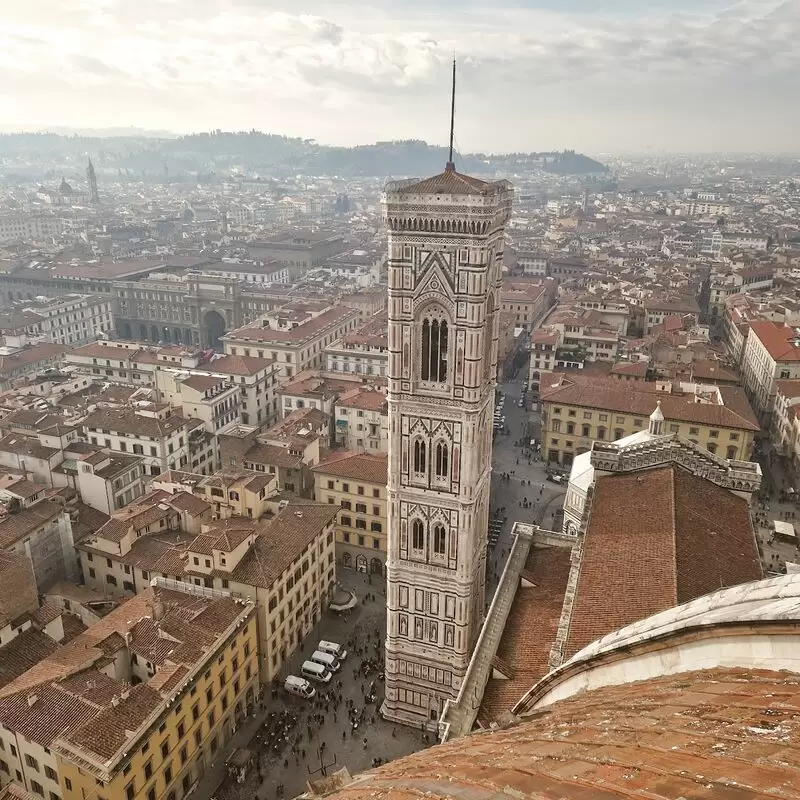 Giotto's Bell Tower
Cattedrale di Santa Maria del Fiore, Piazza del Duomo, 50122 Florence
Monday - Sunday: 8:15 AM – 6:50 PM
14. Bargello National Museum
A visit to the Bargello National Museum is a must for art lovers! This medieval palace houses an impressive collection of Renaissance sculptures, including masterpieces by Donatello, Michelangelo and Cellini. Don't miss the captivating bronze panels depicting the Baptism of Christ, a fierce contest between Ghiberti and Brunelleschi. Plus, Piazza della Signoria and the enchanting Loggia dei Lanzi are just a short walk away, making your Florence adventure another unforgettable experience!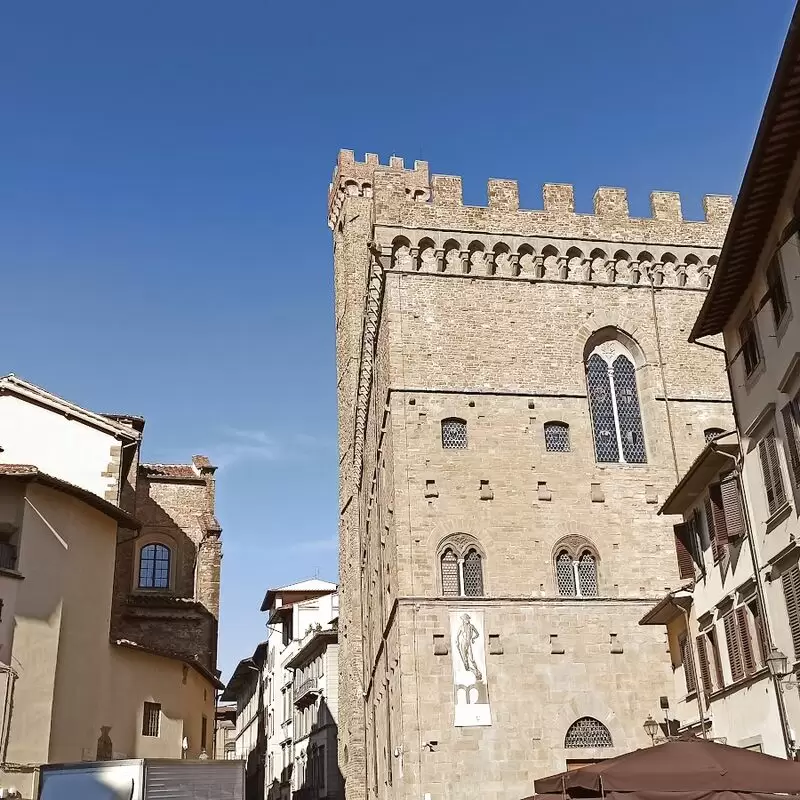 Bargello National Museum
Via del Proconsolo, 4, 50122 Florence
Monday - Saturday: 8:15 AM – 6:50 PM
Tuesday: Closed
Wednesday - Sunday: 8:15 AM – 1:50 PM
15. Basilica di San Lorenzo
A visit to the Basilica di San Lorenzo in Florence is an absolute must for art and history lovers! It is one of the oldest churches in the city and houses impressive works of art by Donatello and Lippi, as well as architectural marvels by Filippo Brunelleschi. Stroll through the beautiful cloisters, admire the elegant interiors, and don't miss the impressive Medici chapels. Just a short walk away is the bustling San Lorenzo market - an ideal place to shop and sample local delicacies.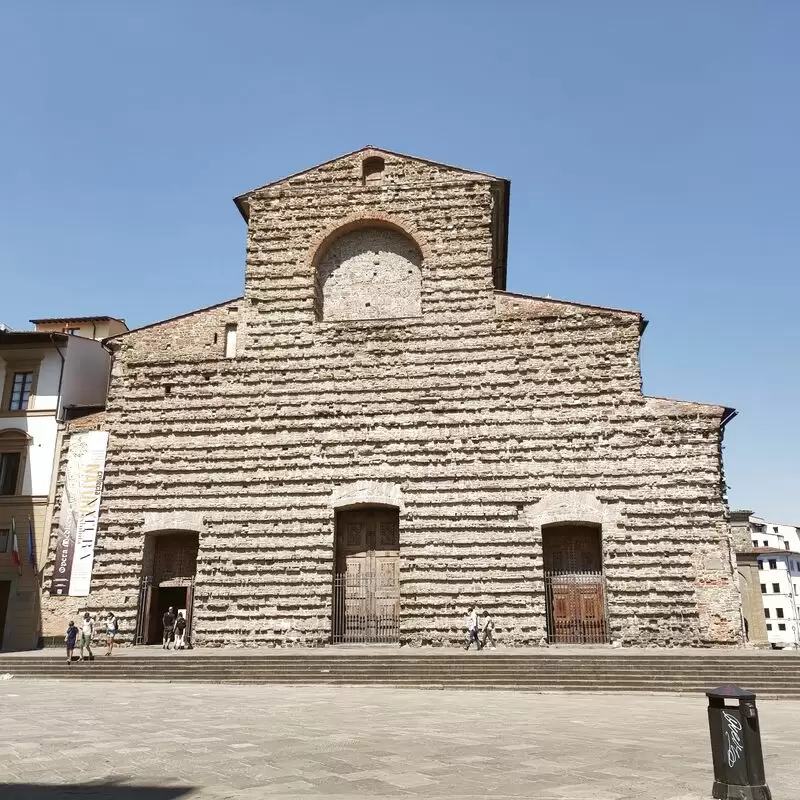 Basilica di San Lorenzo
Piazza di San Lorenzo, 9, 50123 Florence
Monday - Saturday: 10:00 AM – 5:00 PM
Sunday: Closed
16. The Baptistery of St. John
Don't miss a visit to the "Baptistery of St. John" in Florence, an inspiring masterpiece of Romanesque architecture from the 12th century. Marvel at the stunning celestial mosaic ceiling and the phenomenal bronze doors by Lorenzo Ghiberti, famous as the "Gates of Paradise". It's also just steps away from the remarkable Florence Cathedral, so you can admire both landmarks and immerse yourself in Florence's rich history. Have your camera ready for an unforgettable cultural experience!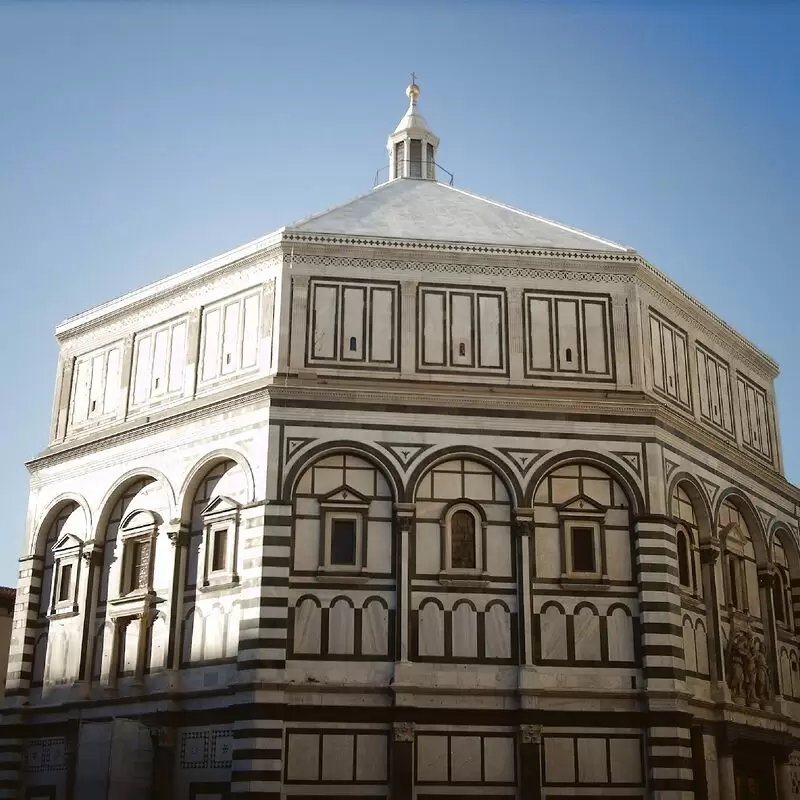 The Baptistery of St. John
Piazza San Giovanni, 50122 Florence
Monday - Sunday: 8:15 – 10:15 AM, 11:15 AM – 6:30 PM
17. Riccardi Medici Palace
A visit to Palazzo Riccardi Medici is a must for history and art lovers! Formerly home to the influential Medici family, this stunning Renaissance palace boasts opulent frescoes, intricate architecture, and a magnificent courtyard. Explore it at your leisure and admire the intricate details like the coat of arms on the facade. In the "Chapel of the Magi" you can admire the fascinating frescoes by Benozzo Gozzoli. Not far away is the church of San Lorenzo, another masterpiece by Brunelleschi, which makes a visit to this area even more worthwhile.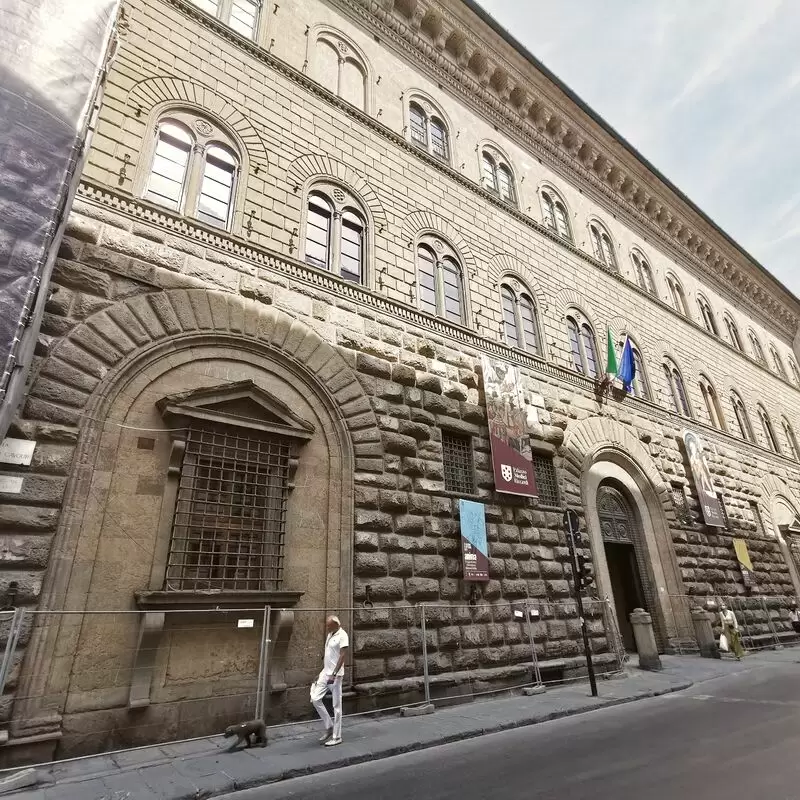 Riccardi Medici Palace
Via Camillo Cavour, 3, 50129 Florence
Monday - Sunday: 9:00 AM – 6:00 PM
Wednesday: Closed
18. Giardino Bardini
A visit to the enchanting Giardino Bardini is an unmissable experience for those seeking a tranquil oasis full of hidden treasures. Steeped in history, this gem off the beaten path offers spectacular panoramic views of the Florence skyline. Stroll through the picturesque terraces adorned with baroque statues, lush greenery and colorful flowers. Don't miss the picturesque Wisteria Tunnel in spring and the fascinating Capricorn Grotto. And when you're done, visit nearby Palazzo Mozzi for even more historic splendor.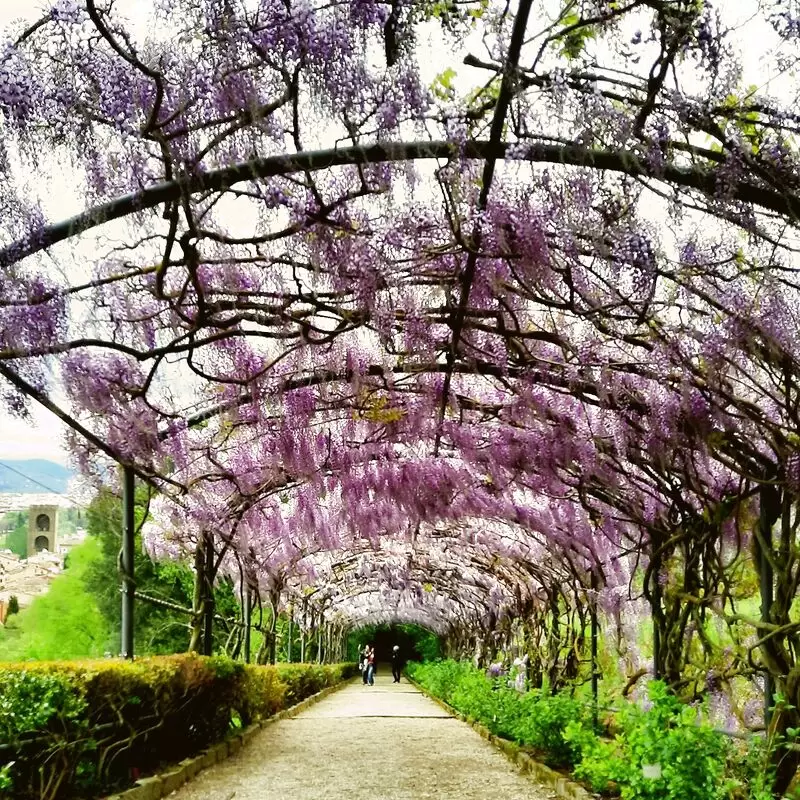 Giardino Bardini
Via de' Bardi, 1, 50125 Florence
Monday - Sunday: 10:00 AM – 8:00 PM
19. Basilica di San Miniato
A visit to the Basilica di San Miniato is an absolute must, as it is an impressive example of Romanesque architecture dating back to 1018. The church stands on the hill of San Miniato and offers a breathtaking panoramic view of Florence. Intricate mosaic decorations adorn the facade, while the interior boasts exquisite frescoes and the masterful Cappella del Crocifisso. Don't miss the eerie but fascinating San Miniato Cemetery with its ancient tombs and monuments. Watch out for the enchanting Gregorian chants of the resident monks at vespers time!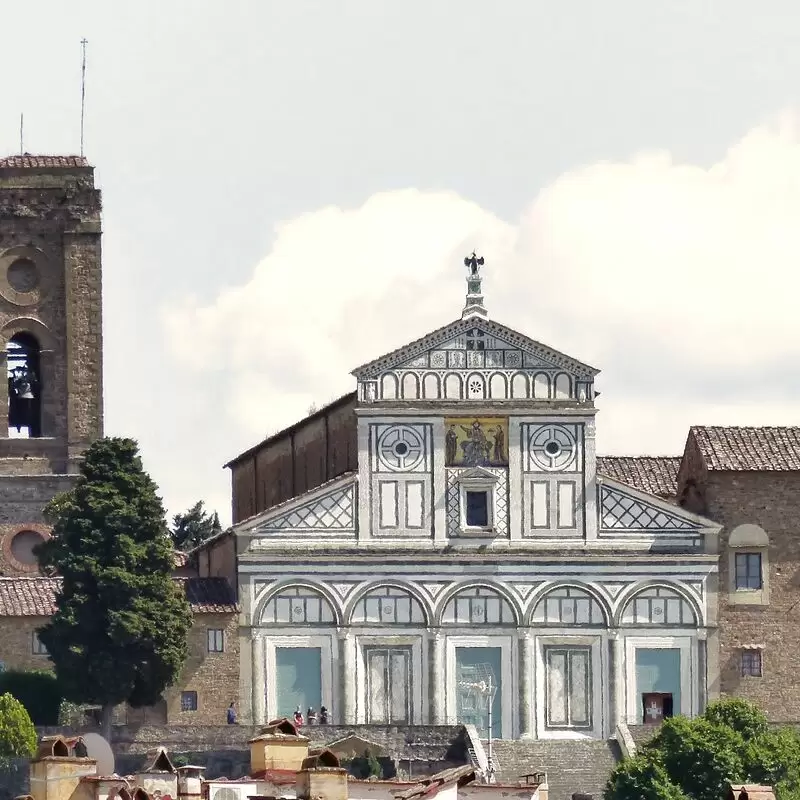 Basilica di San Miniato
Via delle Porte Sante, 34, 50125 Florence
Monday - Saturday: 9:30 AM – 1:00 PM, 3:00 – 7:00 PM
Sunday: 8:15 AM – 1:00 PM, 3:00 – 7:00 PM
20. Museo Galileo
When in Florence, be sure to visit the Museo Galileo - a hidden gem of Renaissance scientific treasures. Admire extraordinary instruments, including Galileo's own telescopes and compasses that show how revolutionary ideas stand the test of time. Marvel at the impressive sundial just inside the entrance and unravel the mysteries of celestial navigation. Located near the Ponte Vecchio, after unraveling the mysteries of the Museo Galileo, stroll to the picturesque bridge for unforgettable views of Florence.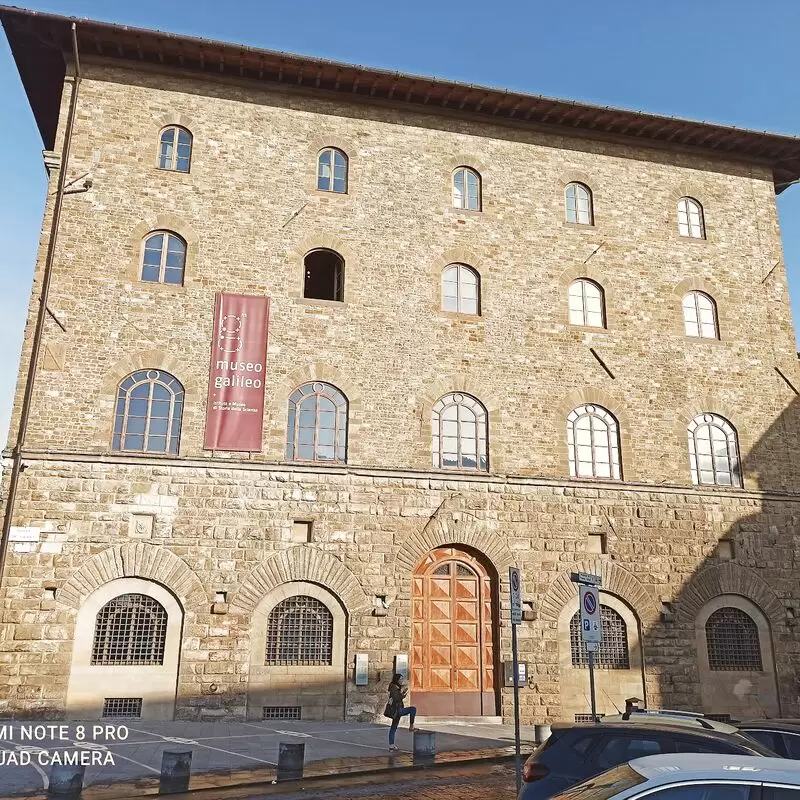 Museo Galileo
Piazza dei Giudici, 1, 50122 Florence
Monday - Sunday: 9:30 AM – 6:00 PM
Tuesday: 9:30 AM – 1:00 PM
Best Time to Visit Florence
The best time to visit Florence is from April to June and from September to October. During these months, the weather is pleasant, the sights are less crowded, and there are numerous cultural events. The peak tourist season is from June to August, so it is best to avoid Florence during these hot, crowded months to enjoy a pleasant stay.
Annual Weather in Florence
Florence 3-Day Forecast
Tue, 26 September
Night
63 °F
17 °C
0%
Morning
61 °F
16 °C
0%
Afternoon
80 °F
27 °C
0%
Evening
74 °F
24 °C
0%
Wed, 27 September
Night
65 °F
18 °C
0%
Morning
62 °F
16 °C
0%
Afternoon
81 °F
27 °C
0%
Evening
76 °F
24 °C
0%
Thu, 28 September
Night
66 °F
19 °C
0%
Morning
61 °F
16 °C
0%
Afternoon
84 °F
29 °C
0%
Evening
76 °F
25 °C
0%
Questions & Answers

What is the local currency?

The local currency in Florence, Italy, is the euro (€), which is also the official currency in the European Union. Banknotes come in €5, €10, €20, €50, €100, €200 and €500 denominations, while coins are available in €1 and €2 denominations, as well as smaller cent denominations (1, 2, 5, 10, 20 and 50). You should carry cash for small purchases and at local markets, but most stores also accept card payments.

How do I use public transportation?

In Florence, the main means of public transportation is the bus system operated by ATAF and LI-NEA. Buy tickets in advance at authorized sales points such as kiosks, tobacconists or vending machines at bus stations. Remember to validate your ticket when boarding by inserting it into a validator. Multiple-use, day and multi-day tickets are also available. Track your buses through the ATAF app or online platforms. Cabs and bicycles are an alternative, but the city's compact size makes it best explored on foot.

Are there any safety concerns?

Florence is generally a safe city for tourists, with a low crime rate. Nevertheless, it is advisable to be vigilant and take some precautions. As in any other destination, pickpocketing and petty crime can occur in busy areas and on public transportation. It is best to avoid poorly lit streets and parks at night and keep your belongings safe, especially in popular tourist spots. When exploring the city, be aware of your surroundings and follow local safety guidelines.

Can I drink tap water in Florence?

Yes, you can drink the tap water in Florence, Italy, without hesitation. The city is known for its high-quality water, which comes from protected natural springs in the surrounding hills. The tap water is tested regularly and meets all European Union safety and cleanliness regulations. Throughout the city there are also several public fountains, so-called fontanelle, which provide fresh and clean drinking water that residents and tourists can enjoy free of charge.

How do I greet locals in Italian?

When greeting locals in Florence, you can use the most common Italian greetings. In the morning, say "Buongiorno", which means "Good morning". From late morning to evening, say "Buonasera," which translates to "Good evening." Use "Ciao" as a casual greeting for both "Hello" and "Goodbye." To show respect in a more formal situation, greet the person by their title, such as "Signore" for men or "Signora" for women, followed by their last name. A warm smile and friendly demeanor will be appreciated in any case.

Do I need to tip at restaurants and cafes?

In Florence, tipping is not mandatory in restaurants and cafes, as service charges are usually included in the bill. However, it is customary to leave a small tip to show appreciation for good service. If the service was exceptionally good, you can tip about 10% of the total amount. In cafes, you can give spare change or €1-2 for a coffee as a simple gesture. Remember that tipping is a polite gesture, not a duty.

What food is Florence famous for?

Florence, the capital of Tuscany, is famous for its delicious and hearty cuisine. Among the most famous dishes are bistecca alla Fiorentina, a juicy T-bone steak seasoned only with salt and pepper; ribollita, a thick and savory bread soup made with vegetables, beans and stale bread; pappardelle al cinghiale, wide pasta with wild boar sauce; and lampredotto, a popular street food consisting of a slow-cooked tripe sandwich. Many dishes are prepared with local olive oil, fresh herbs and local produce that highlight the agricultural richness of the region.

Is English spoken widely in Florence?

English is spoken quite frequently in Florence, especially in the tourist areas, as the city is a popular destination for international travelers. Many locals who work in the tourist industry, such as hotel staff, tour guides, and restaurant employees, can communicate well in English. However, it is always appreciated if visitors learn a few basic Italian phrases as well. As you move around the city, you should not encounter any major language barriers in most cases.

What is the best way to get around Florence?

The best way to explore Florence is on foot, as the city is compact and most of the sights are within walking distance. This way you can fully appreciate the city's stunning architecture, history and charm. For longer distances, public transportation, including buses and streetcars, are efficient and affordable. Cabs and bicycle rentals are also available, although care should be taken in certain areas due to the narrow streets and heavy traffic.

Are there any dress codes for churches or other religious sites?

Yes, there is a dress code for churches and other religious sites in Florence, Italy. Visitors are expected to dress modestly to show respect for the holy sites. Shoulders should be covered, and shorts or skirts must be at least knee-length. Exposing clothing or hats are generally not permitted in churches and religious sites. Some sites provide scarves or coverings, but it is always a good idea to bring your own to ensure compliance with the dress code.

What's the average cost of a meal in Florence?

The average cost of a meal in Florence varies depending on the type of restaurant and the selection of food. For an affordable dining experience, budget around €10-20 per person at local trattorias or pizzerias, which includes a main course, a drink, and possibly dessert. In mid-range restaurants, a three-course meal can cost between €25-40 per person. In upscale establishments, you can expect to pay €50 or more per person. Keep in mind that tipping is not as common in Italy, but some establishments may include a service charge.

How can I stay connected with WiFi or internet?

During a stay in Florence there are many ways to stay connected to the Internet. Most hotels, hostels and apartments offer free WiFi to their guests. Many public places like cafes, restaurants and even some squares also offer free WiFi. If you prefer a more stable connection for the duration of your stay, you can rent a portable WiFi device or buy a local SIM card with data from a local mobile operator, which you can easily find at any airport or in most city centers.

What etiquette should I follow in Florence?

In Florence, pay attention to local customs and traditions. Dress modestly when visiting religious sites and cover your shoulders and knees. Greet shopkeepers and staff with a polite "buongiorno" in the morning or "buonasera" in the evening. Respect your personal space and avoid loud conversations in public. Dining rules include using a fork and knife whenever possible, and it is customary to round up the bill or leave a small tip in restaurants. Understand that locals value their lunch breaks (riposino) and planned strikes (sciopero) as part of life.

Do I need a visa to visit Florence?

Whether you need a visa to visit Florence depends on your nationality. Citizens of the European Union, the European Economic Area and Switzerland do not require a visa for short stays. Travelers from a number of other countries, including the United States, Canada and Australia, can enter Italy visa-free for tourist stays of up to 90 days. Nationals of some countries, however, may need to apply for a Schengen visa before traveling. It is best to check with your country's Italian consulate or embassy for the most up-to-date information on visa requirements.

Where can I find a tourist information center?

The main tourist information office in Florence is located in Piazza della Stazione, directly opposite Santa Maria Novella train station. It is easily accessible for visitors arriving by train or bus. The center's staff is knowledgeable and multilingual and offers a range of services, including maps, brochures, guided tour bookings and travel tips. They can help you with any questions you may have about sightseeing, accommodations, and local events to make your stay in Florence enjoyable and memorable.

Can I use my credit cards widely in Florence?

Yes, credit cards are widely accepted in Florence, especially Visa and Mastercard. You can use them in most hotels, restaurants, stores and tourist attractions. However, it is advisable to carry some cash with you, as smaller establishments or market vendors may only accept cash. It is also advisable to keep a few smaller banknotes and coins on hand for public transportation or small purchases.

What are the common scams to watch out for?

In Florence, beware of unofficial tour guides who may mislead you or charge inflated prices for their services. Ticket scams are also common at popular attractions, where fake tickets may be sold. Also, watch out for pickpockets in busy areas and street vendors selling fake luxury goods. Avoid accepting seemingly "free" items such as bracelets or roses, as you may be pressured into paying for them later. Finally, beware of cab drivers who drive longer distances to charge higher prices.

Are there any local customs I should be aware of?

In Florence, Italy, it is customary to greet people with a handshake or a double kiss on the cheek. Locals appreciate it when visitors try to speak some Italian. Remember to dress conservatively when visiting religious sites. Also, it is customary to tip about 10% in restaurants, but this is not necessary in cafes or bars. Be prepared to wait for a table during meal times, as dining is a leisurely affair. Stores usually close between 13:00 and 16:00 for a daily break or "riposo".

What's the best way to experience local culture?

To truly experience the local culture of Florence, stroll through the bustling, narrow streets of the historic center and take in the magnificent architecture, including the iconic Duomo. Visit a local market like Mercato Centrale to sample traditional Tuscan foods and observe daily life. Enjoy an Italian coffee at a sidewalk café, and don't miss the opportunity to try a real gelato. End your day with an aperitivo at a local enoteca, where you can sample fine Chianti wines and strike up a conversation with the locals.

Are there any nearby day trips from Florence?

Certainly! From Florence you can take an unforgettable day trip to various picturesque places. Some popular options include visiting the medieval cities of Siena, San Gimignano, and Monteriggioni, exploring the stunning Chianti wine region, or admiring the remarkable architecture and art in Pisa and Lucca. In addition, you can visit the picturesque towns of Cinque Terre on the Ligurian coast or the Renaissance city of Ferrara for unforgettable experiences.

Feedback

I hope you found this article informative and helpful. I'm eager to improve the content and make it even more valuable for you. If you have any feedback or suggestions, I would love to hear from you.

Do you have any tips or hidden gems that you think should be added to the list? Are there any areas that you feel could use more explanation or clarification?

Your input is greatly appreciated and will help us to continue providing high-quality content that meets your needs and interests. Please feel free to share your thoughts.