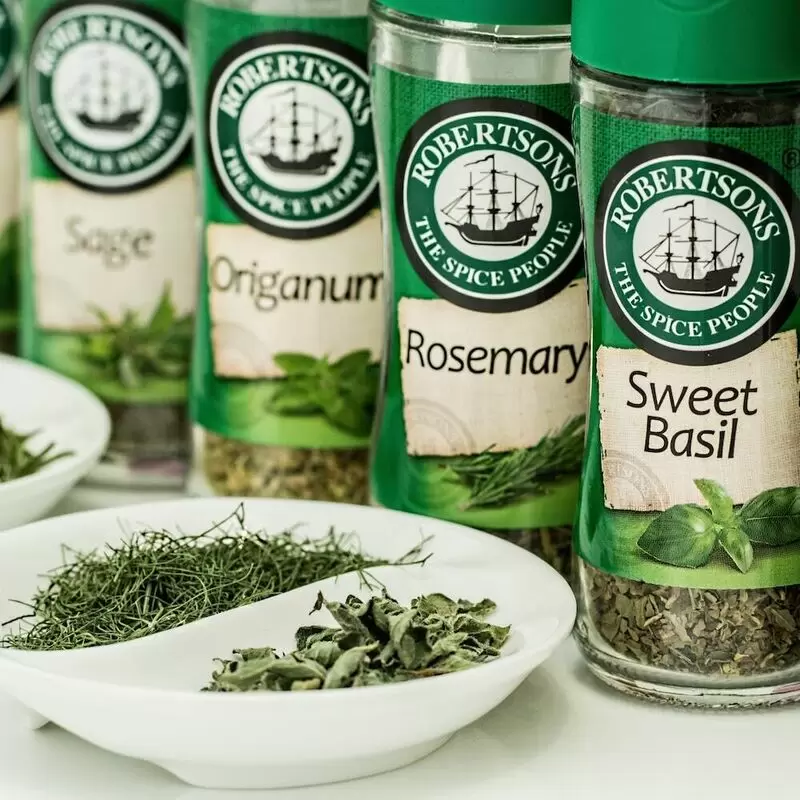 1. De Wetshof Estate
At De Wetshof Estate in Robertson, you can experience the epitome of South African winemaking. Enjoy the serene landscapes while savoring world-renowned Chardonnays unique to their terroir. The architecture transports you to a European fairy tale, while the vineyards tell the story of three generations of winemakers. Nearby, you can visit the Sheilam Cactus Garden, which features succulents and cacti from around the world. De Wetshof Estate is a must for any true wine lover.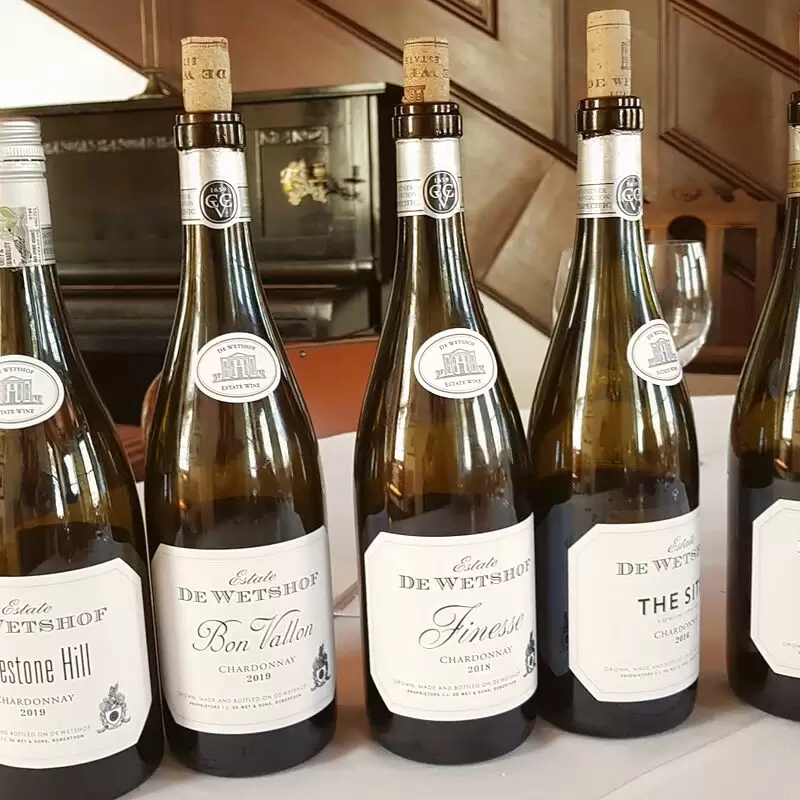 De Wetshof Estate
R317 between Robertson & Bonnievale, Robertson
Monday - Thursday: 8:30 AM – 5:00 PM
Friday: 8:30 AM – 4:00 PM
Saturday: 9:30 AM – 1:00 PM
Sunday: Closed
2. Bontebok National Park
Bontebok National Park in Robertson is bursting with biodiversity. Observe the endangered bontebok, a uniquely colorful antelope, in its natural habitat. Amusing picnic areas, quiet hiking trails and bird-watching opportunities promise an intense nature experience. Don't forget to visit the park at sunrise or sunset, when it is at its most beautiful. Just 15 minutes away is Marloth Nature Reserve, another hidden gem waiting to be discovered with its breathtaking mountain walks and sparkling waterfalls.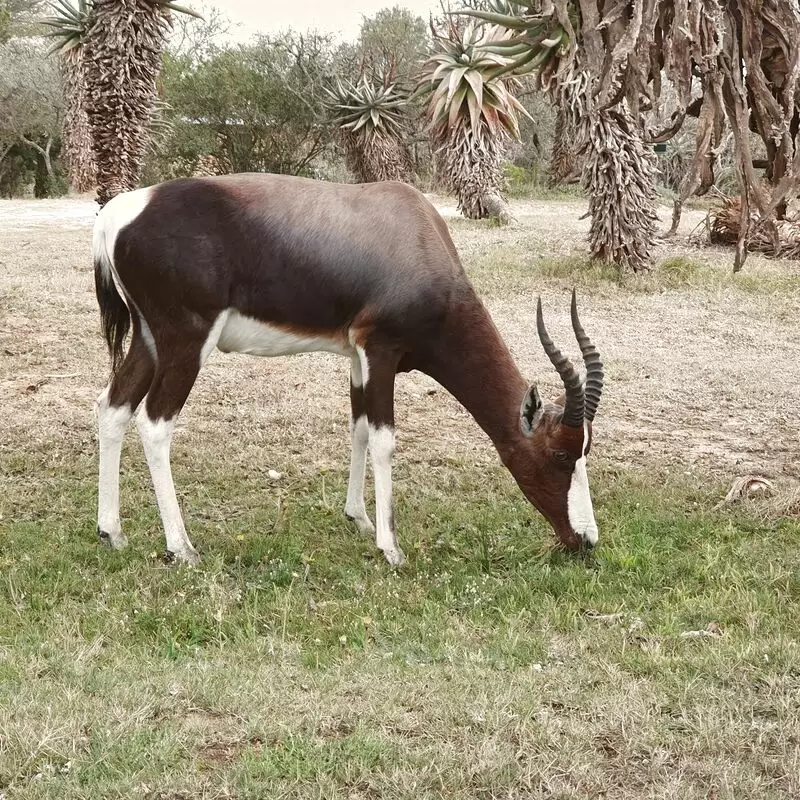 Bontebok National Park
Swellendam, 6740
Monday - Sunday: 7:00 AM – 6:00 PM
3. Protea Farm Tractor Rides and Potjie Kos Lunch
For an unforgettable glimpse into Robertson country life, the "Protea Farm - Tractor Rides and Potjie Kos Lunch" is a must. The tractor ride is an exhilarating ride up the steepest incline and offers breathtaking views of the Klaasvoogds Valley. After the ride, a traditional Potjie Kos lunch, slow-cooked over embers, awaits to round out the adventure. This is farm life at its most rustic and authentic! Add nearby Springfield Wine Estate to your itinerary to enjoy a wine tasting.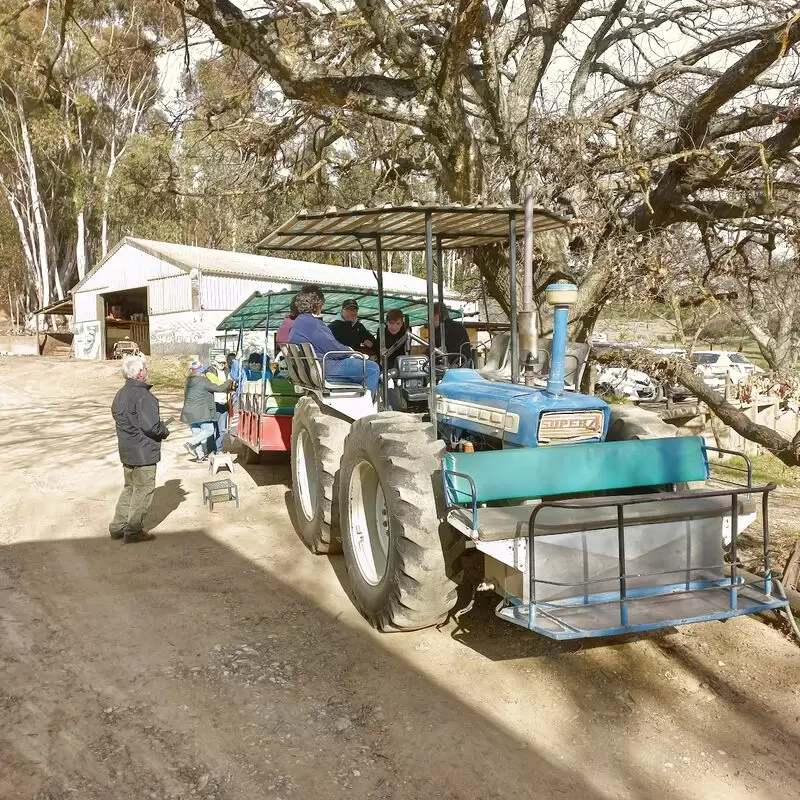 Protea Farm Tractor Rides and Potjie Kos Lunch
Protea Farm, Koo Valley, Montagu
4. Marloth Nature Reserve
Marloth Nature Reserve is a nature lover's paradise, offering scenic hiking trails that wind through fynbos and waterfalls. Here you are not just a spectator, but a part of the magnificent biodiversity. Don't miss the panoramic view from Swellendam Peak. It is also less known by tourists - a well-kept secret! It is only a short drive from Robertson Wine Valley, making it the ideal combination for a day of natural beauty followed by a visit to a winery.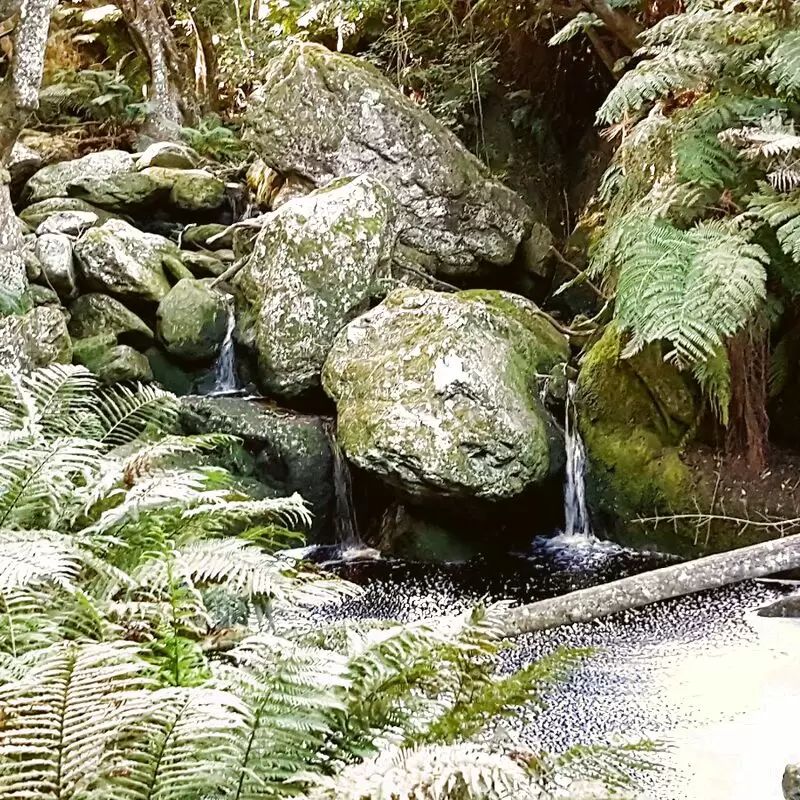 Marloth Nature Reserve
Swellendam
Monday - Sunday: 7:30 AM – 4:00 PM
5. Bird's Paradise
If you are looking for a truly unique experience in Robertson, don't miss Bird's Paradise! Here you'll find one of the largest aviaries in South Africa with over 260 exotic bird species. The parrot-like louries are an absolute crowd-pleaser - they're colorful and so docile they might even pose for a photo! Nearby, you can relax at the beautiful Silwerstrand Golf and River Estate with its soothing views and world-class golf facilities. This little corner of paradise guarantees an unforgettable visit.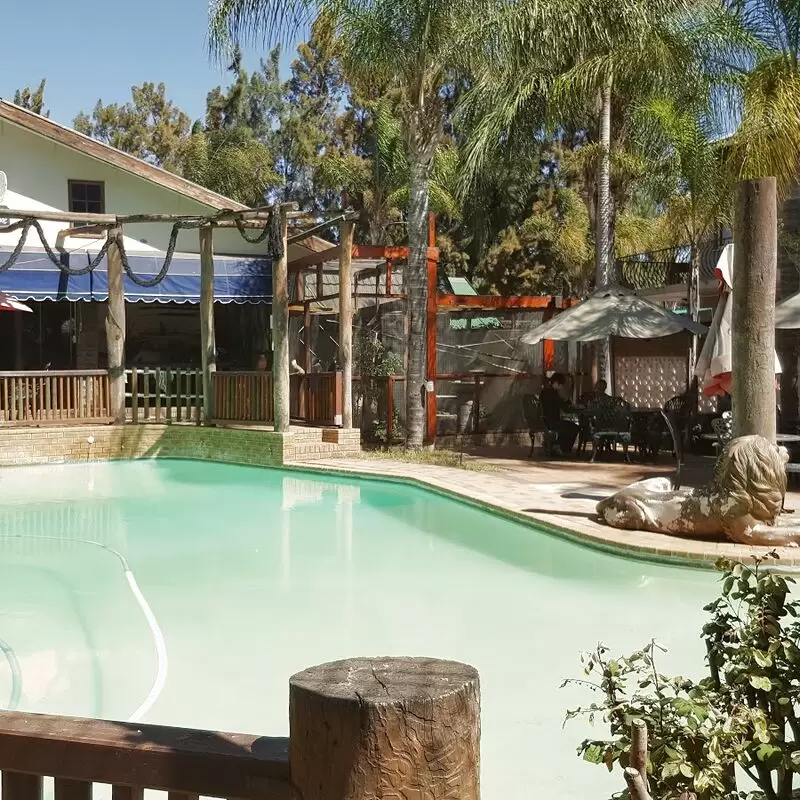 Bird's Paradise
Johan De Jongry Ln, Robertson, 6705
Monday - Sunday: 8:00 AM – 5:00 PM
6. Pat Busch Mountain Reserve

Visit the enchanting Pat Busch Mountain Reserve in Robertson and experience nature up close. The reserve offers spectacular fynbos landscapes, hiking trails to explore the unique wildlife and a fascinating mountain backdrop.

Insider tip for travelers: Explore the night sky at the reserve's observatory. And not far from here, you can visit the magnificent Graham Beck Wine Estate for a delicious wine tasting experience.

Pat Busch Mountain Reserve
Bergendal Farm, Bergendal Road, Klaasvoogds West, Robertson

Monday - Friday: 8:00 AM – 5:00 PM
Saturday - Sunday: Closed
7. Robertson Small Hotel
Immerse yourself in the heart of wine country and visit the exquisite Robertson Small Hotel. It is known for its ten luxurious rooms, intimate atmosphere and sublime wellness room for rejuvenating treatments. It is a perfect blend of modern sophistication and traditional architecture, nestled in a beautiful landscaped garden. Just a short walk away, you can visit the famous Klipdrift Distillery and sample an authentic brandy or explore the many wineries in the area. Experience Robertson, relax in style.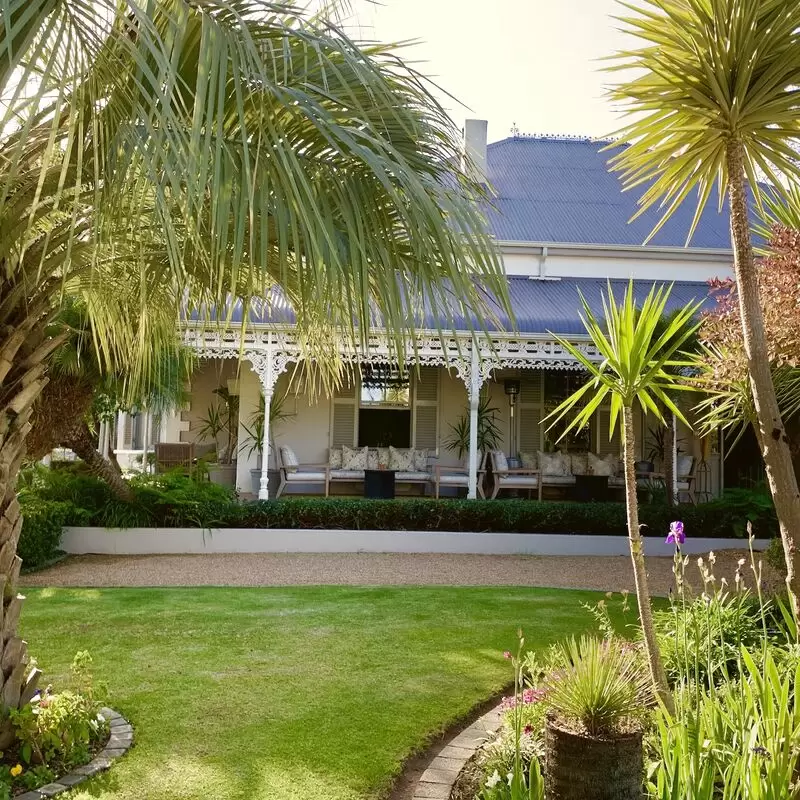 Robertson Small Hotel
58 Van Reenen St, Robertson
8. Van Loveren Family Vineyards
Experience the charm of Van Loveren Family Vineyards, the largest family-owned winery in South Africa. Walk under green tunnels of virgin vines, taste flavorful wines in cozy tasting rooms, or picnic amid stunning scenery. For an insider's tip, be sure to try the famous Four Cousins wine. Just 20 minutes away, you can continue your journey with a visit to the historic Myrtle Rigg Memorial Church or the inviting Affie Plaas Farm. This is Robertson, a place where wine and wonder meet.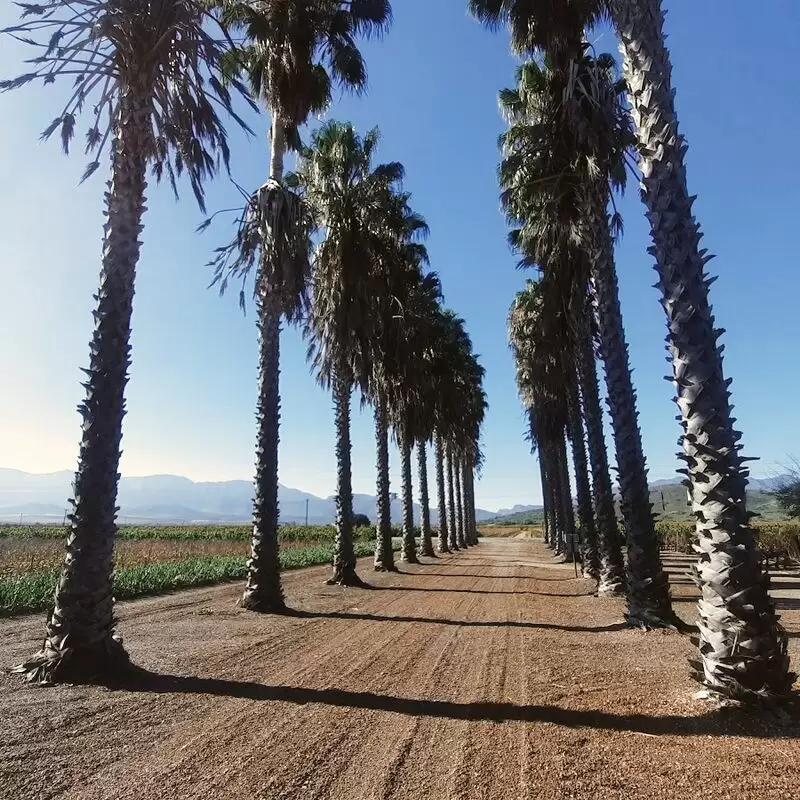 Van Loveren Family Vineyards
R317, Robertson, 6707
Monday - Friday: 8:00 AM – 5:00 PM
Saturday: 9:30 AM – 4:00 PM
Sunday: 11:00 AM – 3:00 PM
9. Rivierzicht River Resort
Rediscover tranquility at Rivierzicht River Resort in Robertson, where serene riverside diversions beckon. Pristine nature offers immersive experiences, while kayaking, fishing, and birdwatching satisfy your appetite for adventure. Relax in comfortable, river-facing chalets that offer magnificent views. And as an insider, I can promise you a hidden picnic spot where the river gently laps. Nearby, the Robertson Wine Valley invites wine lovers to sample its famous wines.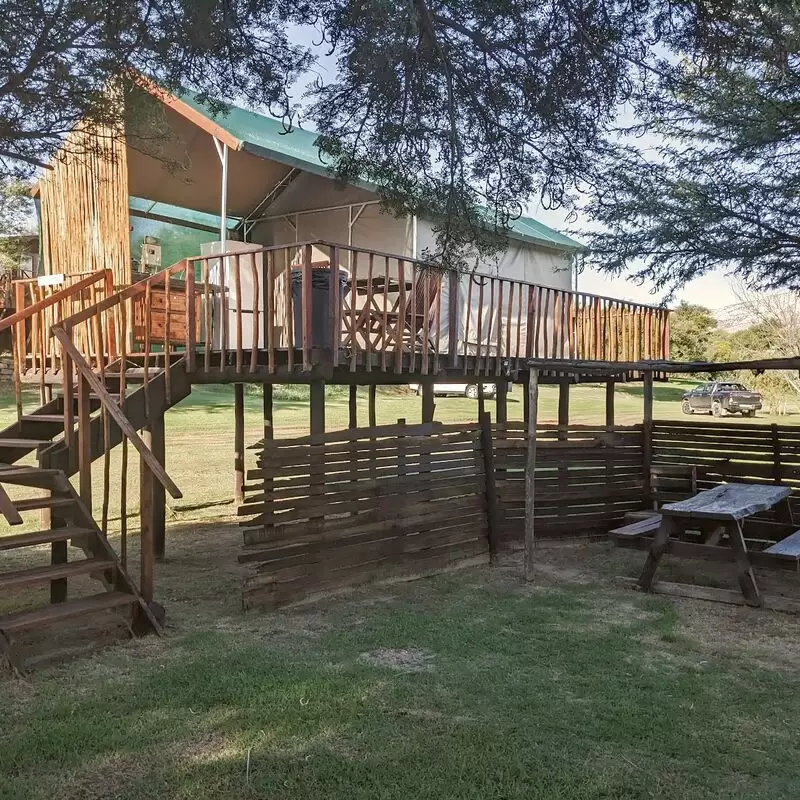 Rivierzicht River Resort
R60 Rivierzicht Farm, Riverside Road, Robertson
10. Viljoensdrift
Immerse yourself in the allure of Viljoensdrift in Robertson, where the vineyards whisper stories of rich heritage. Here, you'll be seduced by the scent of fermenting grapes and breathtaking views of the Breede River. Visit the underground, temperature-controlled wine cellar that is part of the winery's winemaking secret. Just a cork's throw away is the famous Marbrin Olive Farm, another hidden must-see that celebrates the heritage of world-class olive products. A culinary adventure not to be missed.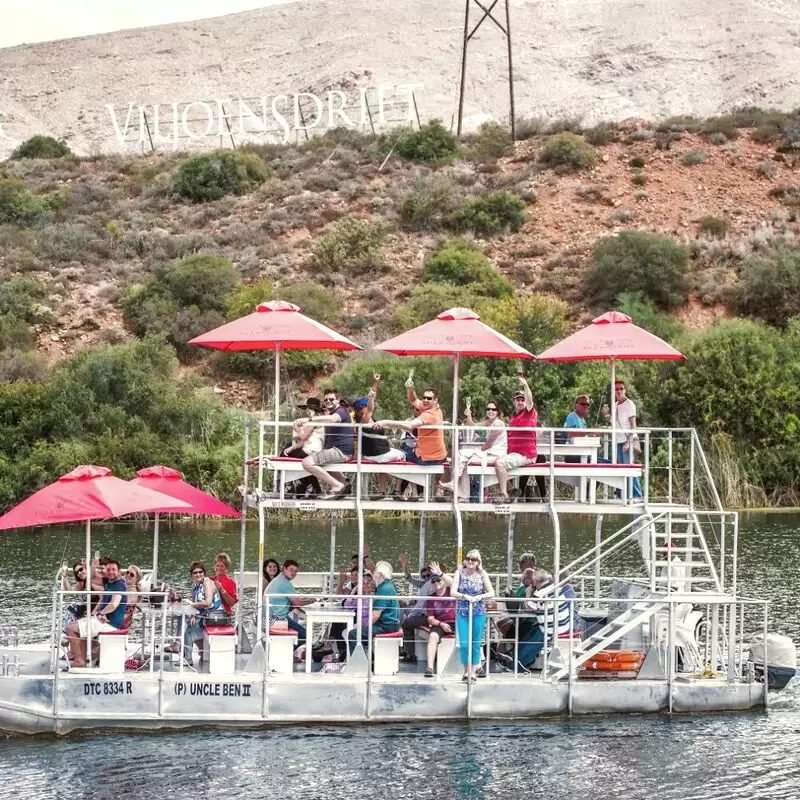 Viljoensdrift
R317, Robertson
Monday: Closed
Tuesday - Friday: 9:00 AM – 5:00 PM
Saturday: 10:00 AM – 4:00 PM
Sunday: 10:00 AM – 3:00 PM
11. Springfield Estate
Springfield Estate is a must visit for all wine lovers in Robertson! This family-run winery showcases a rich history and timeless winemaking traditions. Taste exquisite, handcrafted wines that reflect the character and charm of the winery's unique terroir. Gain insight into cellar work and traditional winemaking methods. Nearby is Robertson Golf Club, which invites you to play a round of golf amid breathtaking nature, and Klipdrift Distillery, where you can sample South African brandy.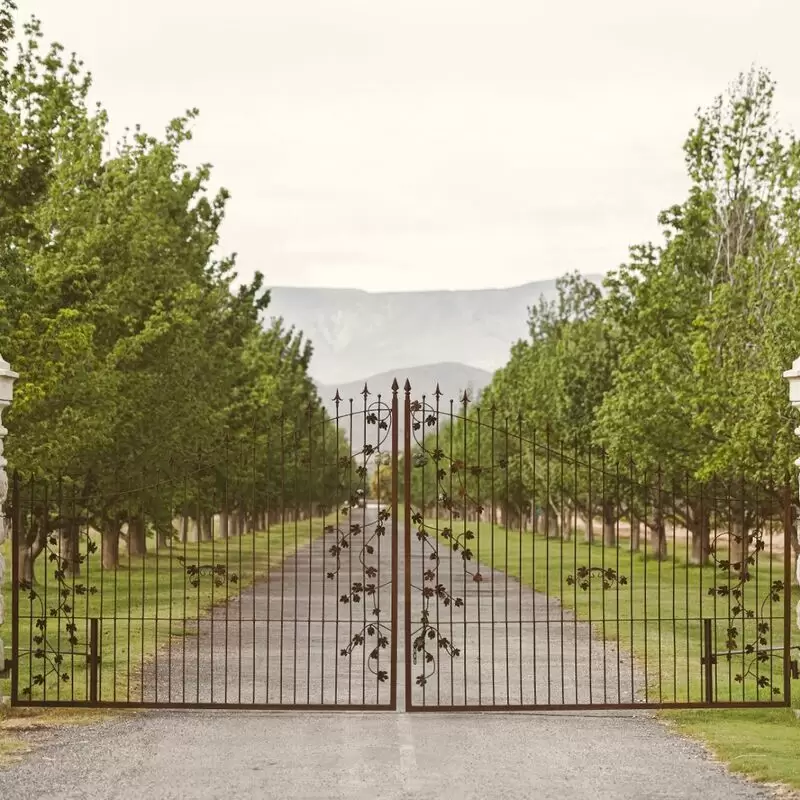 Springfield Estate
R317 Bonnievale Road, Klipdrif, Robertson
Monday - Friday: 8:00 AM – 5:00 PM
Saturday: 9:00 AM – 4:00 PM
Sunday: Closed
12. Eseltjiesrus Donkey Sanctuary
Take a trip to the picturesque Robertson Wine Valley and discover the Eseltjiesrus Donkey Sanctuary, a warm-hearted oasis where rescued donkeys can spend their remaining years in peace. Your journey to tranquility strengthens your compassion as you meet, feed and pet these gentle creatures. Explore the charming on-site bookstore, enjoy hearty meals at the restaurant, or simply relax amid the tranquil landscape. Don't miss a detour to the nearby Klipdrift Distillery, just a 15-minute drive away, where you can experience a world-class brandy tasting.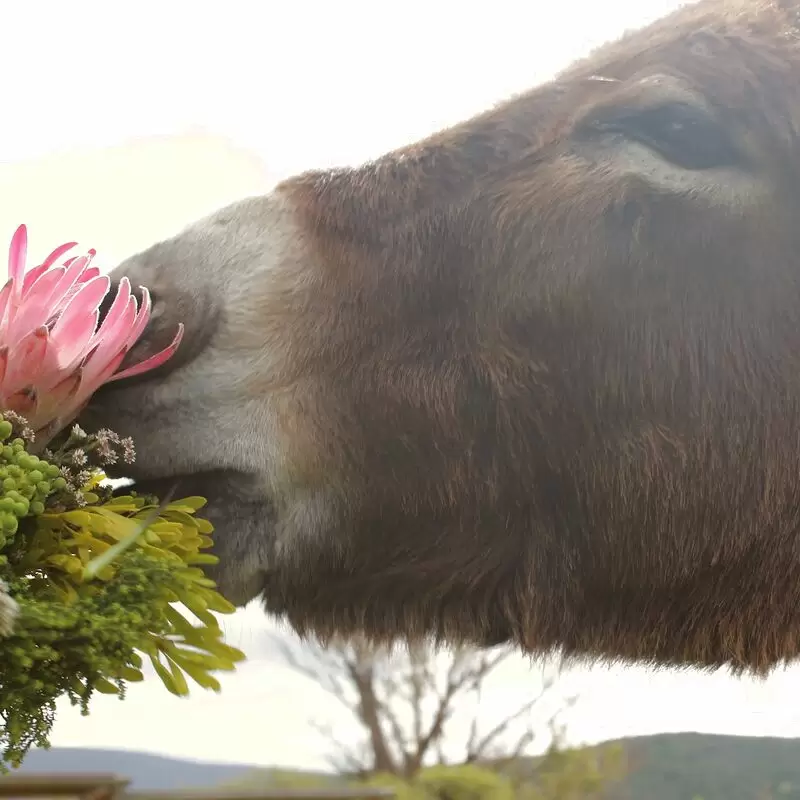 Eseltjiesrus Donkey Sanctuary
Langeberg Rd, McGregor
Monday - Wednesday: Closed
Thursday - Sunday: 10:00 AM – 4:00 PM
13. TheLAB Robertson
Experience the future of hospitality at theLAB Robertson, where technology meets luxury! Imagine a voice-controlled, eco-friendly room with curtains, TV and music that respond to your commands! Enjoy not only the tech living style, but also fine wines at nearby Excelsior Winery or explore the amazing Klipdrift Brandy Distillery. The beautiful Dassieshoek Nature Reserve and the enchanting Bird Park are also nearby. Look forward to an unforgettable journey full of technical innovations, scenic beauty, culinary delights and pure relaxation.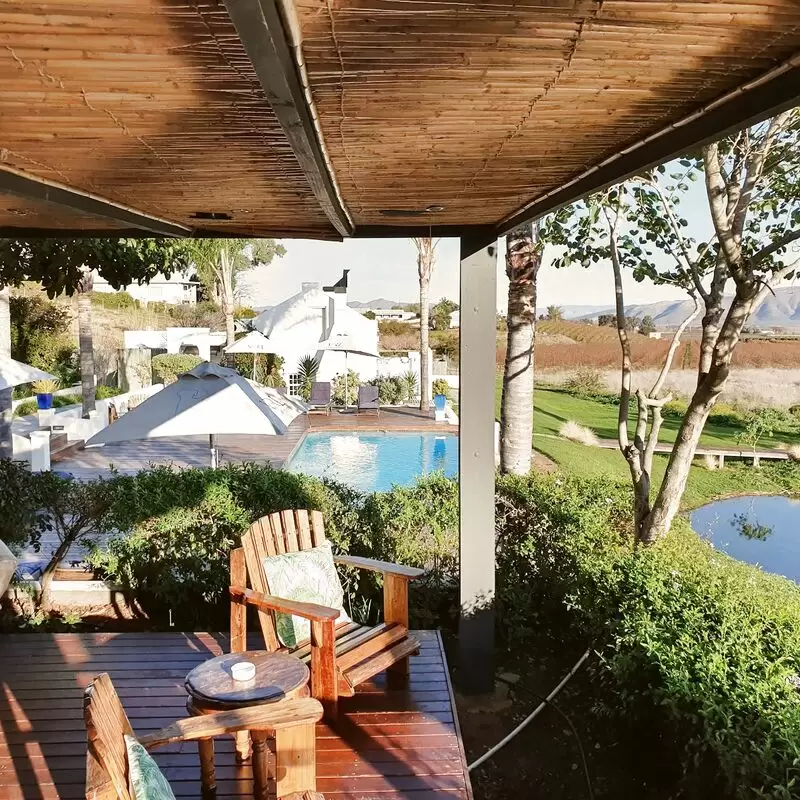 TheLAB Robertson
Klaas Voogds West, Robertson
Monday - Sunday: Open 24 hours
14. Bon Courage Wine Estate
Immerse yourself in the splendor of Bon Courage Wine Estate, located in charming Robertson. This family-owned winery offers exceptional wines backed by three centuries of winemaking experience. Treat yourself to a unique tasting of "Blush Vin Doux," a sweet rosé wine they are proud to master. End the day on a culinary note by enjoying food grown on the estate at the "Café Maude" restaurant. And what else? Just a stone's throw away is the lively Klipdrift Distillery, which offers world-class brandy tours.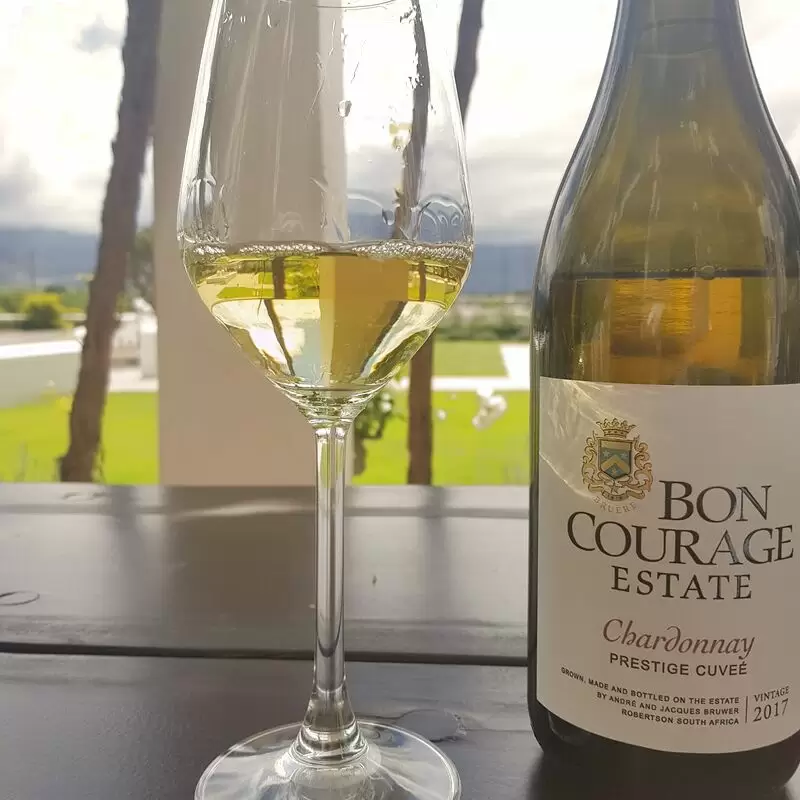 Bon Courage Wine Estate
R317, Robertson
Monday - Friday: 9:00 AM – 5:00 PM
Saturday: 9:00 AM – 3:00 PM
Sunday: Closed
15. Ballinderry The Robertson Guest House
Immerse yourself in the heritage and comfort of Ballinderry, The Robertson Guest House. Located in the heart of wine country, this Belgian-run guest house offers unparalleled charm with its beautiful artwork and eclectic retro-European design. Enjoy the house's delicious cuisine, relax in the lush garden or take a dip in the pool. Experience the secrets of Robertson Wine Valley firsthand with private wine tours. And don't miss a visit to the famous Klipdrift Brandy Distillery, just 5 minutes away!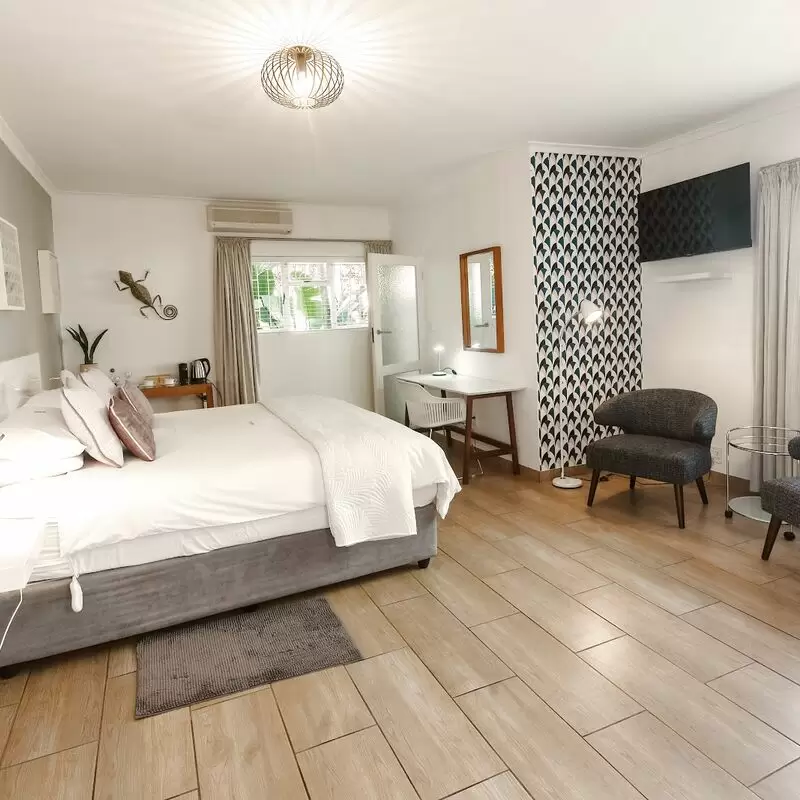 Ballinderry The Robertson Guest House
8 Le Roux St, Robertson
16. Goudmyn River Chalets
Immerse yourself in the tranquility of Goudmyn River Chalets, nestled in Robertson's Winelands. This secluded retreat offers charming riverfront cabins, perfect for nature lovers. Enjoy private barbecues overlooking the river, lively bird calls, and adventurous kayak tours. The infamous Soekershof Walkabout Maze, a large botanical cactus garden, is just a short drive away and adds a special charm to your visit. Goudmyn is truly a hidden gem and offers lasting memories of idyllic South Africa.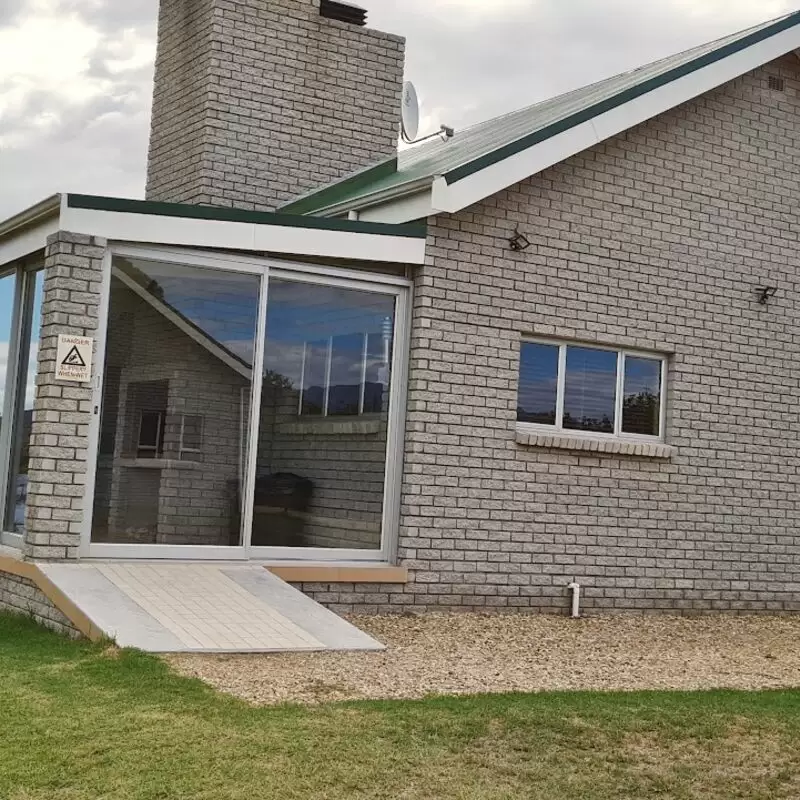 Goudmyn River Chalets
R317, Robertson
17. Graham Beck Estate
Embark on a sensory journey of discovery at Graham Beck Estate in Robertson, a renowned winery. Delight your palate with an exclusive sparkling wine tasting refined by years of tradition and expertise. Marvel at the different hues of the vines that adorn the landscape against the backdrop of the mountains. Aside from the terroir, you can also enjoy phenomenal bird watching here. Just a stone's throw away is Klipdrift Distillery, famous for its premium brandy - a true revelation for spirits lovers. An adventure in Robertson is incomplete without these immersive experiences.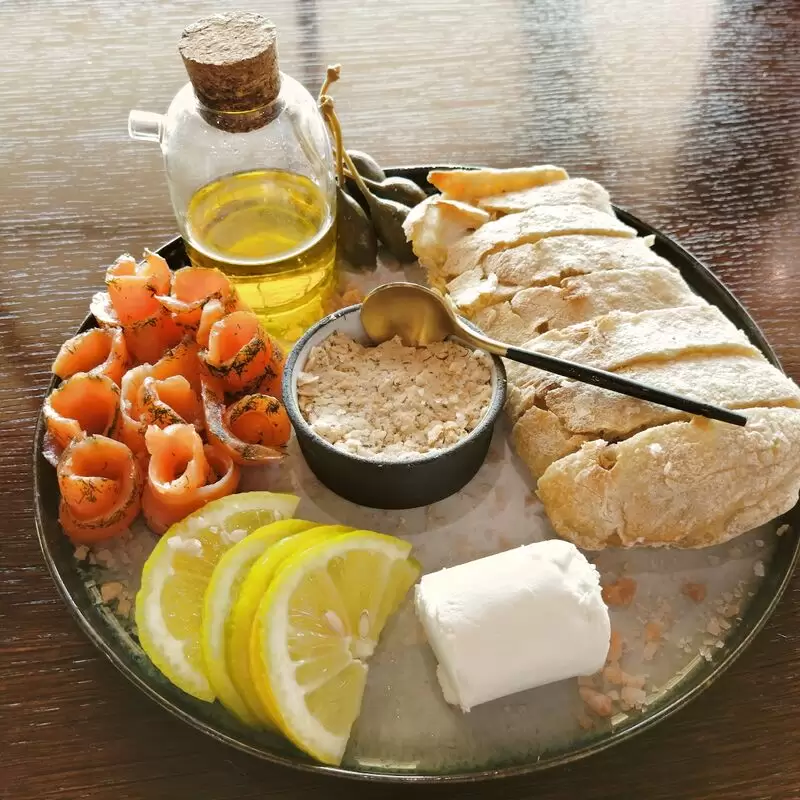 Graham Beck Estate
Scenic Cape Route R60, Robertson
Monday - Friday: 9:00 AM – 5:00 PM
Saturday - Sunday: 10:00 AM – 4:00 PM
18. GUBAS DE HOEK meet eat sleep
Immerse yourself in the charm of "GUBAS DE HOEK meet eat sleep", a stunning eco-friendly oasis full of liveliness, warmth and personalized service. Here Balbina and Gunther, the hosts, have prepared your delicious breakfast and personally selected quality local ingredients. Delight in the eclectic selection of artwork by artists from the Michaelis School. Head outside and meander through the fascinating Robertson Wine Valley or float along the soothing Breede River, just a stone's throw away. Visitors describe their experience as "more than a guest house.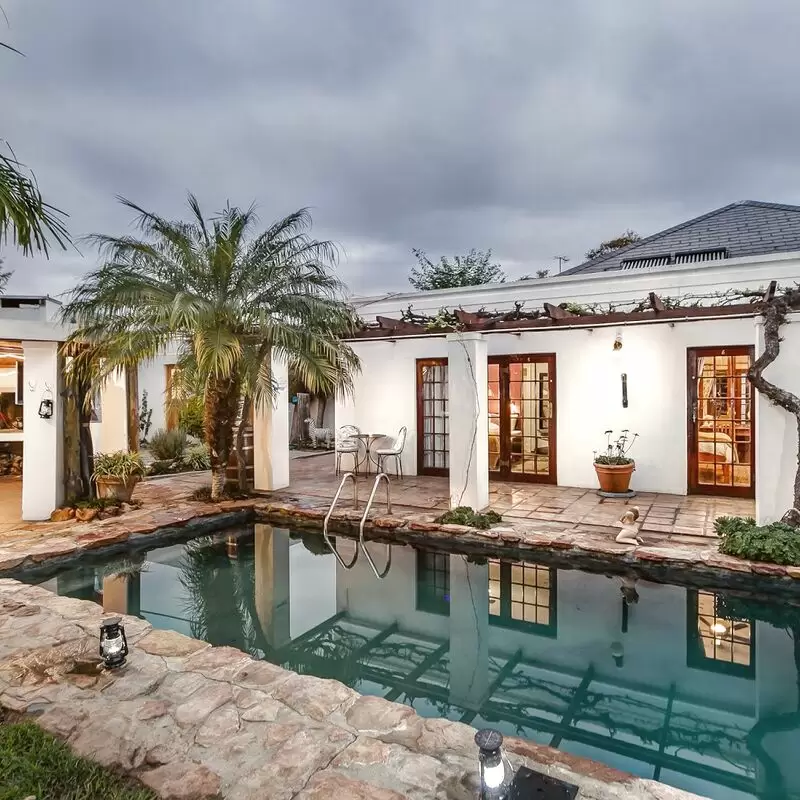 GUBAS DE HOEK meet eat sleep
45 Reitz St, Robertson
Monday - Sunday: 7:00 AM – 9:00 PM
19. AfriCamps at Pat Busch
Experience the lure of the wilderness at AfriCamps at Pat Busch in Robertson. Nestled between towering mountain ranges, this unique glamping site offers luxury camping with modern amenities in the middle of an unspoiled nature reserve. Explore hiking trails, natural fynbos, and birding spots. Drink craft beer made from mountain spring water. Take an exciting 90-minute drive to the Cango Caves to explore an underground world of stalactites and stalagmites that will add to your wilderness adventure.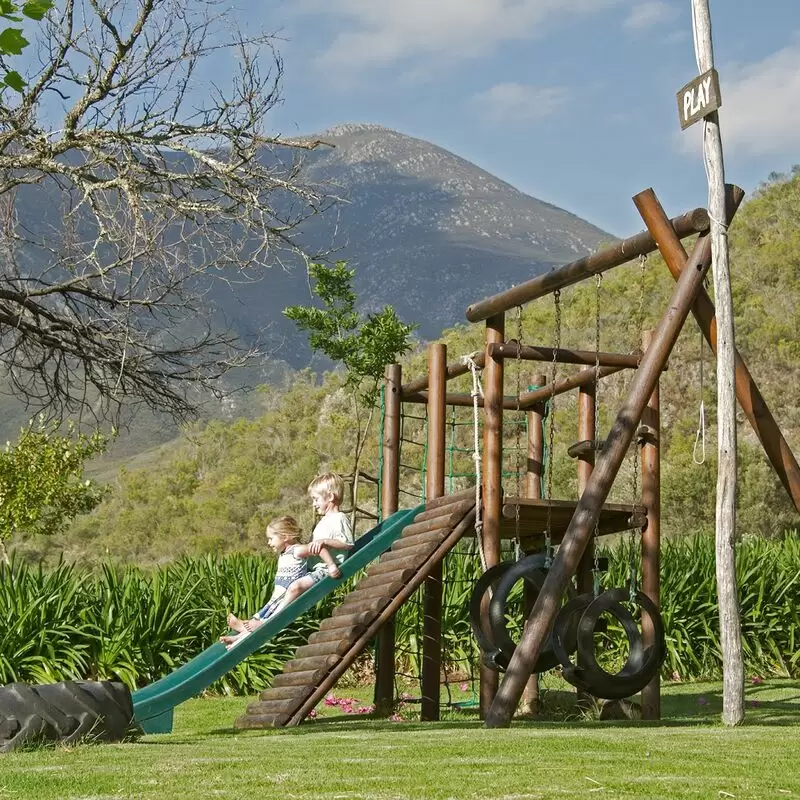 AfriCamps at Pat Busch
Bergendal Road, Klaasvoogds West, Robertson
Monday - Sunday: 9:00 AM – 5:00 PM
Friday: 9:00 AM – 8:00 PM
20. De Hoop Cottages
Immerse yourself in the magical charm of De Hoop Cottages in Robertson. These rustic, comfortable cottages in the heart of South Africa's wine country offer the perfect retreat from city life. Admire the picturesque views of the vineyards, sample the award-winning wines and stroll through the beautiful gardens. The nearby Sheilam Cactus & Succulent Garden offers another enchanting sight. Taste honey from the local farm, enjoy the tranquil atmosphere and experience the ease and charm of country life in De Hoop.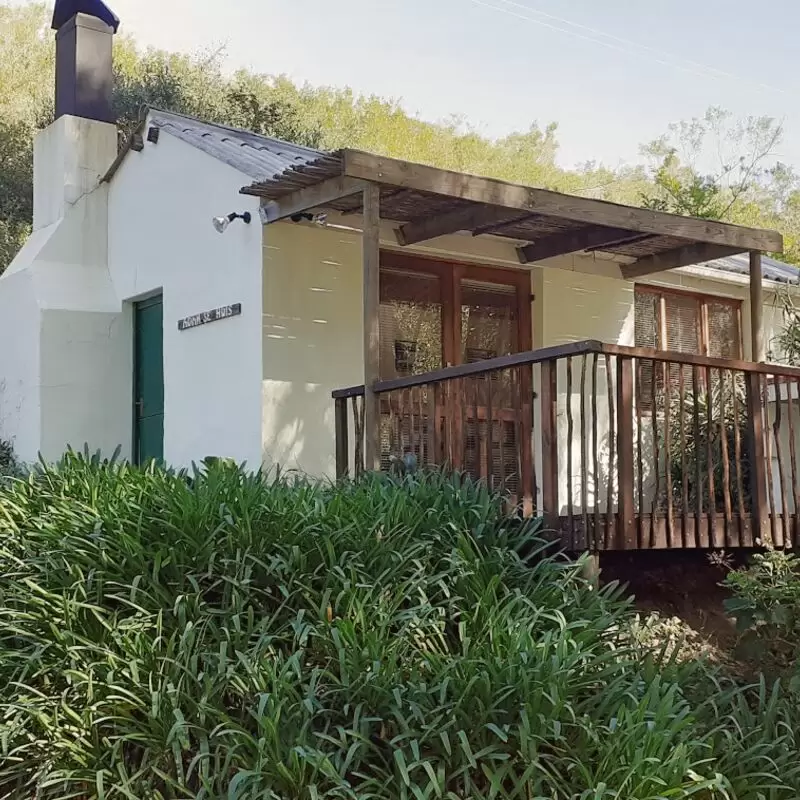 De Hoop Cottages
Laaiplaas De Hoop, Robertson
Monday - Sunday: 9:00 AM – 5:00 PM
21. Strictly Coffee
Immerse yourself in a flavorful journey at Strictly Coffee in Robertson - a vibrant hotspot for coffee lovers. Here, beans are carefully sourced and roasted to perfection on site to provide an authentic experience from bean to cup. The ambiance is cozy and creatively stimulating, ideal for relaxing breaks between sightseeing. It's just a stone's throw from the nearby Robertson Art Gallery, where traditional South African art can be seen in every corner. This Coffee Stop is a unique blend of flavor and culture.
Strictly Coffee
5 Voortrekker Ave, Robertson
Monday - Friday: 7:00 AM – 4:30 PM
Saturday: 8:00 AM – 3:00 PM
Sunday: Closed
22. Saggy Stone Brewing Company
Visit the fascinating Saggy Stone Brewing Company in Robertson, where art meets science. Your palate will sense that love is at work here with every sip of their beer, which is made from unique recipes using high-quality spring water from the brewery. The picturesque location in the middle of a plum orchard makes the brewery a hidden gem. Nearby, you can take a peaceful walk through nature at the Rohunruhan Nature Reserve, making your visit to Robertson a perfect blend of delicious culinary and charming nature experiences.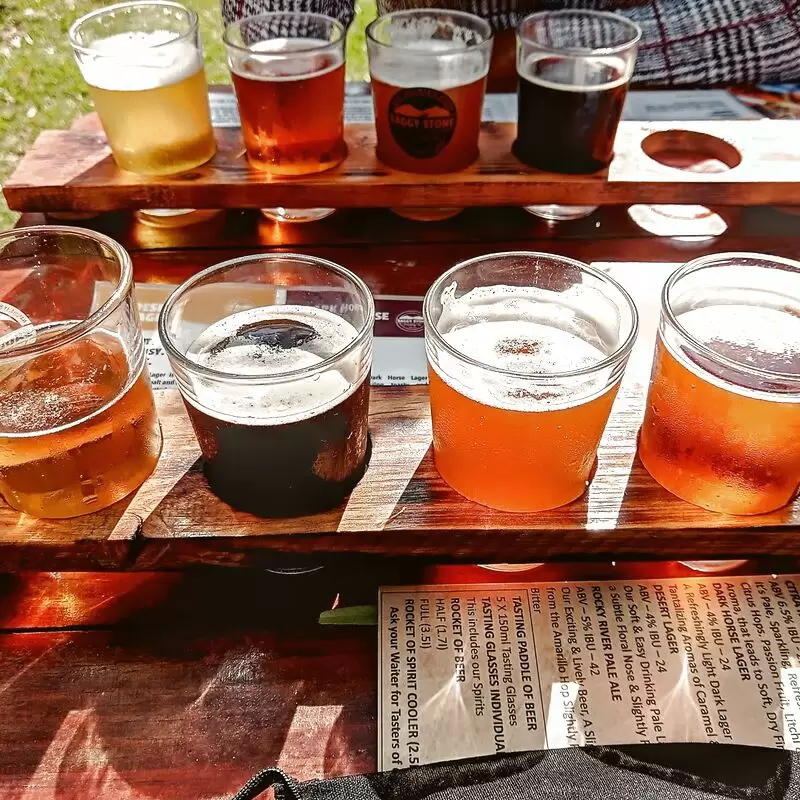 Saggy Stone Brewing Company
Amandalia Farm, Agtervinkrivier, Robertson
Monday - Wednesday: Closed
Thursday - Sunday: 10:00 AM – 4:00 PM
Friday: 11:00 AM – 9:00 PM
Best Time to Visit Robertson
The best time to visit Robertson, South Africa, is spring (September to November) and autumn (March to May). During these seasons, the weather is pleasant and ideal for wine tasting, exploring vineyards and enjoying the natural beauty of this region.
Annual Weather in Robertson
Robertson 3-Day Forecast
Wed, 27 September
Night
46 °F
8 °C
0%
Morning
44 °F
7 °C
0%
Afternoon
64 °F
18 °C
0%
Evening
61 °F
16 °C
0%
Thu, 28 September
Night
47 °F
8 °C
0%
Morning
45 °F
7 °C
0%
Afternoon
73 °F
23 °C
0%
Evening
72 °F
22 °C
0%
Fri, 29 September
Night
57 °F
14 °C
0%
Morning
58 °F
15 °C
0%
Afternoon
75 °F
24 °C
0%
Evening
67 °F
20 °C
0%
Questions & Answers

How do I get to Robertson from Cape Town?

To get to Robertson from Cape Town, head east on the N2. Then take exit 33 to Baden Powell Drive towards R310. Continue on Baden Powell Drive and after about 15 km turn right onto Polkadraai Road/R310. Continue on R310 and then turn right onto R60. Follow the R60 until you reach Robertson! The drive through the breathtaking South African landscape takes about 2 hours and 150 km.

Is there any local cuisine I should try?

Absolutely! While in Robertson, South Africa, be sure to try traditional African cuisine, such as boerewors, a popular sausage dish, and bobotie, a popular meatloaf with a savory custard topping. For dessert, try malva pudding, a sweet, spongy treat often served with custard or ice cream. The region is also known for its excellent wines. A glass of Robertson wine is a must try.

Are there any wineries in Robertson worth visiting?

Robertson is home to a number of wineries, all of which are well worth a visit, each offering a unique experience. Springfield Estate is known for its commitment to natural farming and hand-picked grapes. Excelsior Wine Estate offers its own blend of wines, while the stately Graham Beck offers stunning scenery and top-shelf South African sparkling wine, Cap Classique. Van Loveren Family Vineyards, the largest family-run winery in South Africa, charms with its beautiful gardens and diverse wine selection. Each winery guarantees an unforgettable experience for wine lovers.

What's the local culture like in Robertson?

Robertson is a charming South African town known for its warm hospitality and relaxed lifestyle. Located in the heart of South Africa's wine region, the local culture is closely intertwined with winemaking traditions. Residents value their close-knit community, appreciate their natural surroundings, and regularly host community events, including wine festivals. Artistic influences are notable, and numerous galleries showcase the talents of local artists. The culture here revolves around sharing the simple pleasures of life in a beautiful setting.

What language is mostly spoken in Robertson?

The predominant language in Robertson, South Africa, is Afrikaans. This language originates from Dutch and is spoken by the majority of the population. However, English is also widely spoken and understood in Robertson, especially in the tourist areas, stores and hotels. Visitors should not encounter major language barriers when interacting with locals and service providers.

Are there public transport facilities in Robertson?

Public transportation in Robertson, South Africa, is not as well developed as in major metropolitan areas. However, visitors can use the minibuses common in smaller South African cities for local transportation. There are also private cab services that offer more convenience. For longer trips, you can use intercity buses or rent a car. Keep in mind that the frequency of schedules is not very high, so planning ahead is recommended. Always take care of your personal belongings when using public transportation.

How safe is Robertson for tourists?

Robertson, South Africa is generally safe for tourists, although general safety precautions are recommended. Avoid remote areas, especially after dark, and take care of your personal belongings. Most visits go smoothly, and tourists can enjoy wine tours, river cruises, and visits to local art studios without any problems. However, as with any other destination, it is important to be vigilant and aware of your surroundings. Local advice and guides can also help ensure a safe and enjoyable trip.

Is it easy to navigate around Robertson?

Yes, Robertson is pretty easy to navigate. The town is manageable and most amenities and attractions are located on the main street or within a short drive. Visitors can explore the area on foot, by bike or by car. The local tourist information center offers maps and tips for getting around. Despite its rural location, Robertson has well-maintained roads and clear signage, making it easy for all visitors to explore.

What kind of outdoor activities can I do in Robertson?

In Robertson, South Africa, you can embark on scenic hiking trails or participate in bird watching at the Vrolijkheid Nature Reserve. For wine lovers, the Robertson Wine Valley offers wonderful vineyard tours and tastings. Adventure seekers can go rafting on the Breede River. For relaxation, take a leisurely stroll through the beautiful gardens or picnic at the Van Loveren Family Vineyards.

Can I find vegetarian or vegan options in Robertson?

Definitely! There are several restaurants and eateries in Robertson that cater to vegetarians and vegans. Venues like Mo & Rose Wine Bistro serve vegetarian dishes that can easily be made vegan. Four Cousins at the van Loveren family winery also offers vegan and vegetarian options. Rest assured that your dietary preference will not limit your gastronomic adventure in Robertson.

What unique flora and fauna can I expect in Robertson?

A rich biodiversity awaits you in Robertson. The unique flora includes the diverse fynbos, a shrub vegetation classified as part of the Cape Floristic Region. Fauna ranges from small antelope species to a variety of birds such as the iconic African fish eagle. Among the insects you will find several species of butterflies. The Breede River, which flows through Robertson, is also home to a variety of freshwater fish.

What's the typical dress code in Robertson?

In Robertson, South Africa, the dress code is generally casual and comfortable, reflecting the relaxed and laid-back atmosphere of the city. Due to the warm climate, cotton clothing is very popular. It is common to see people in light dresses, shorts, T-shirts and sandals. However, in a professional setting or at a formal event, locals often opt for elegant and semi-formal attire. It is always advisable to have a jacket with you for cooler evenings, especially if you come in the winter.

Are there any local rules or customs I should be aware of?

In Robertson, South Africa, it is customary to greet people with a handshake, a smile and direct eye contact. Tipping is common in restaurants and for service staff, with 10-15% being customary. When visiting the vineyards, remember that it is respectful not to drink too much. As with most places in South Africa, be respectful of the environment and do not leave litter. English and Afrikaans are widely spoken, so it is polite to learn a few basic phrases in both languages.

Is there a specific currency used in Robertson?

Yes, in Robertson, South Africa, the standard currency is the South African Rand (ZAR). It is advisable to have some cash with you during your trip, although cards are accepted in many places. There are also currency exchange bureaus at airports and in major city centers. However, check with your bank about any foreign transaction fees that may apply when using your card in South Africa.

Is Robertson a family-friendly place?

Robertson is definitely a very family-friendly destination in South Africa. It offers a range of outdoor activities that are perfect for a family day out, including hiking, horseback riding, and boating. For families interested in wildlife, bird watching in the area is very popular. There is also an abundance of family-friendly accommodations, from farms to cottages, ensuring a comfortable stay for the whole family. Families can also enjoy local cuisine, wine and culture at various festivals and family-friendly wineries.

Do I need a visa to travel to Robertson?

Whether you need a visa to travel to Robertson, South Africa depends on your nationality. Citizens of some countries are exempt from visa requirements for a limited duration, while others must apply for a visa prior to their visit. Always check the official guidelines from the South African Department of International Relations and Cooperation or contact your local South African Embassy to find out the requirements for your nationality.

Is tap water safe to drink in Robertson?

Although South African tap water is considered some of the safest and cleanest in the world, water quality can fluctuate due to infrastructure or maintenance issues. In Robertson, most locals and tourists drink the tap water without any problems. However, if you have a sensitive stomach, you should take the precaution of drinking bottled water or using a reliable water filter. You should always stay hydrated, especially during the summer months.

What medical facilities are available in Robertson?

Robertson, South Africa, is equipped with a handful of helpful medical facilities. Chief among these is Robertson Hospital, which offers a range of medical services to locals and visitors. There are also several private doctors, dentists and an optometrist. There are also a number of pharmacies in the city where you can buy the necessary medications. Services for elderly care and mental care are also available.

Can I hire a car in Robertson?

Yes, renting a car is a feasible option in Robertson, South Africa. It is a convenient way to explore the city and its beautiful surroundings at your own pace. There are several car rental agencies that offer a range of vehicles to suit your personal needs and preferences for both short and long periods of time. This guarantees a convenient and flexible way to explore the beautiful landscapes, vineyards and historical sites of this charming city.

Is there good internet and cell service in Robertson?

Yes, there is good internet and mobile coverage in Robertson, South Africa. The major mobile networks have good coverage and provide reliable mobile data services. It should be noted, however, that as in many rural areas, signal strength can sometimes vary, especially in remote areas. For the Internet, broadband services are available for both individuals and businesses, but again, speeds and connectivity can vary by locality.

Are credit cards widely accepted in Robertson?

In Robertson, South Africa, major credit cards are accepted at most establishments such as hotels, restaurants, large stores and wineries. However, cash is often preferred in smaller stores, local markets or rural areas. Also, be sure to carry South African rand for situations where credit cards are not accepted, such as tips or street vendors. A mix of cash and card is the best option to ensure a smooth visit to Robertson.

How crowded is Robertson during the off season?

During the low season, Robertson in South Africa is usually less crowded. With its warm climate, this time offers travelers a tranquil atmosphere and the opportunity to explore the town's many vineyards, art galleries and hiking trails at their own pace. Whether enjoying the tranquil countryside or sampling the local cuisine, visitors can enjoy the charm of the city without the summer crowds. However, be aware that the opening hours of some eateries are limited during this time.

Where can I find emergency services in Robertson?

In Robertson, South Africa, immediate medical emergencies can be treated at Robertson Hospital on Hospital Street. For urgent police assistance, the Robertson Police Station on Voortrekker Road provides 24-hour service. In addition, several local pharmacies provide on-call service for non-critical medical needs. Find out about these important services when you arrive in town and keep their numbers handy during your stay.

Are there any local art galleries in Robertson?

In fact, there are several places in Robertson where visitors can enjoy local art. One well-known institution is the Robertson Art Gallery. It exhibits both emerging and established artists and houses a diverse collection of artwork, including paintings and sculptures. Aside from that, you can also discover artistic expressions at various wineries in the region, where art and wine often go hand in hand. These places are ideal for soaking up the local culture.

What precautions should I take for my personal safety in Robertson?

Although Robertson is generally considered safe, it is advisable to take the usual precautions. Avoid ostentatious displays of wealth and always be aware of your surroundings. Large public events may have crowds that invite petty theft, so keep your belongings safe. Be careful at night and make sure your lodging is secure. Be sure to try the local cuisine, but pay attention to food and water hygiene to avoid possible illnesses. Finally, always have travel insurance.

Feedback

I hope you found this article informative and helpful. I'm eager to improve the content and make it even more valuable for you. If you have any feedback or suggestions, I would love to hear from you.

Do you have any tips or hidden gems that you think should be added to the list? Are there any areas that you feel could use more explanation or clarification?

Your input is greatly appreciated and will help us to continue providing high-quality content that meets your needs and interests. Please feel free to share your thoughts.