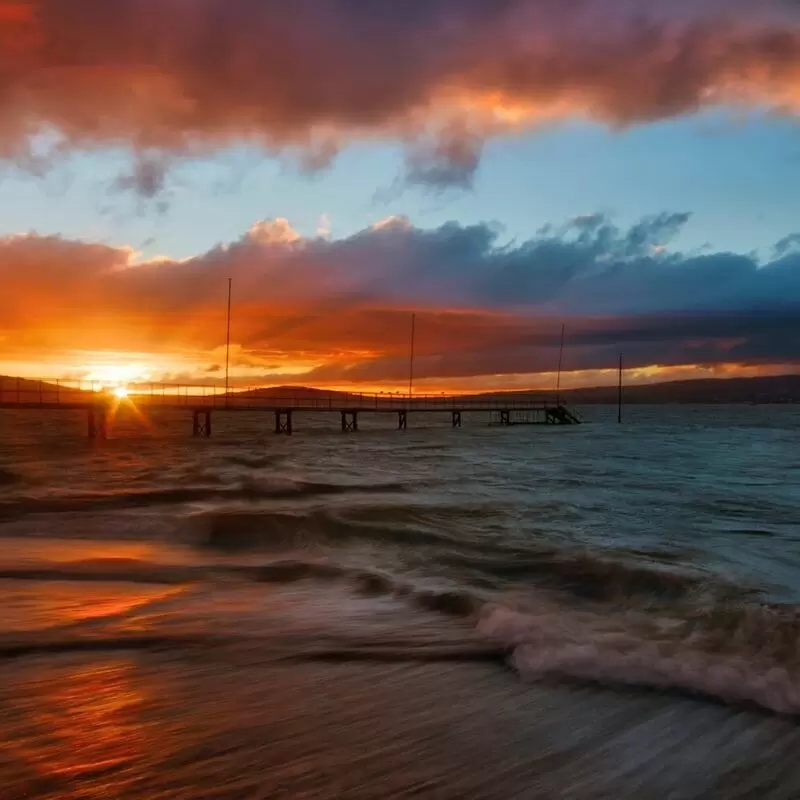 1. Titanic Belfast

Titanic Belfast is a must-see destination for anyone visiting Belfast, and there's no better way to experience the city's rich maritime history than by visiting this iconic attraction. As you tour the impressive museum, you'll learn more about the infamous ocean liner Titanic, how the ship was built in the city, and the stories of the people involved.

Insider tip: Be sure to take a break at the on-site café and enjoy the view of the Titanic's slipways and the nearby Harland & Wolff cranes. If you have time, also take a look at the SS Nomadic, the last remaining ship of the White Star Line, which is located right next door.

Titanic Belfast
1 Olympic Way, Belfast

Monday - Sunday: 9:00 AM – 6:00 PM
2. Botanic Gardens

If you are looking for a piece of nature in the hustle and bustle of Belfast, the Botanical Gardens is the perfect place for you. With exotic plants, beautiful rose gardens and a lake with swans, this is a peaceful oasis in the heart of the city. Be sure to visit the Palm House, with its impressive cast iron and glass structure, and the Tropical Ravine, with its lush ferns and exotic palms.

Insider tip: The Ulster Museum is right next door and also worth a visit!

Botanic Gardens
College Park Avenue, Botanic Avenue, Belfast

Monday - Sunday: 7:30 AM – 5:00 PM
3. Crumlin Road Gaol Visitor Attraction and Conference Centre
Travelers should be prepared for a glimpse into Belfast's dark past. Crumlin Road Gaol, scene of executions, hunger strikes and more, has been transformed into a top attraction and conference center. Tour the prison cells, experience the eerie and gothic architecture, and hear the stories of the inmates and guards who once walked the walls of this fascinating prison. Don't leave without seeing the tunnel that connects the prison to the courthouse, and be on the lookout for any ghosts that might still be haunting the place. The nearby Shankill Road Murals are also worth a visit and provide another glimpse into Belfast's turbulent past.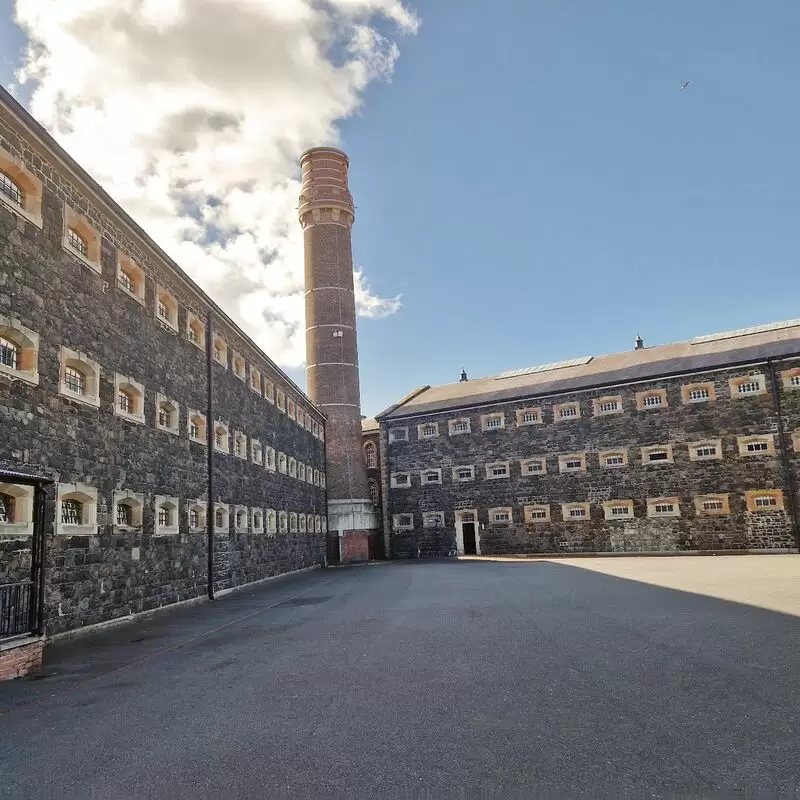 Crumlin Road Gaol Visitor Attraction and Conference Centre
53-55 Crumlin Road, Belfast
Monday - Sunday: 10:30 AM – 3:00 PM
Tuesday - Saturday: 10:30 AM – 4:30 PM
4. Ulster Museum

Immerse yourself in the fascinating world of art, history and nature at the Ulster Museum in Belfast! An extensive display of artifacts from ancient times to the present, the Ulster Museum holds hidden treasures waiting to be discovered by tourists and locals alike. From the iconic Egyptian mummy to the curious collection of modern art, Ulster Museum's exhibits are sure to leave a lasting impression.

Insider tip: Don't miss the nearby Botanic Gardens for a peaceful stroll before or after your visit.

Ulster Museum
Botanic Gardens, Belfast

Monday - Sunday: 10:00 AM – 5:00 PM
5. Belfast Castle
When visiting Belfast, a trip to Belfast Castle should definitely be on your itinerary! With its breathtaking views of the city and surrounding hills, the Castle is one of Belfast's most popular tourist attractions. Built in the 19th century and fully restored, the castle offers a glimpse into the city's rich history. There's plenty to do at the castle, from strolling through the beautiful gardens and grounds to enjoying a coffee or meal at the on-site restaurant. A fun side note: The castle tower bears a striking resemblance to that of Cinderella's Castle in Disneyland! While you're there, be sure to explore Cave Hill Country Park, which is just a stone's throw from the castle. So put Belfast Castle on your bucket list and enjoy everything this incredible attraction has to offer!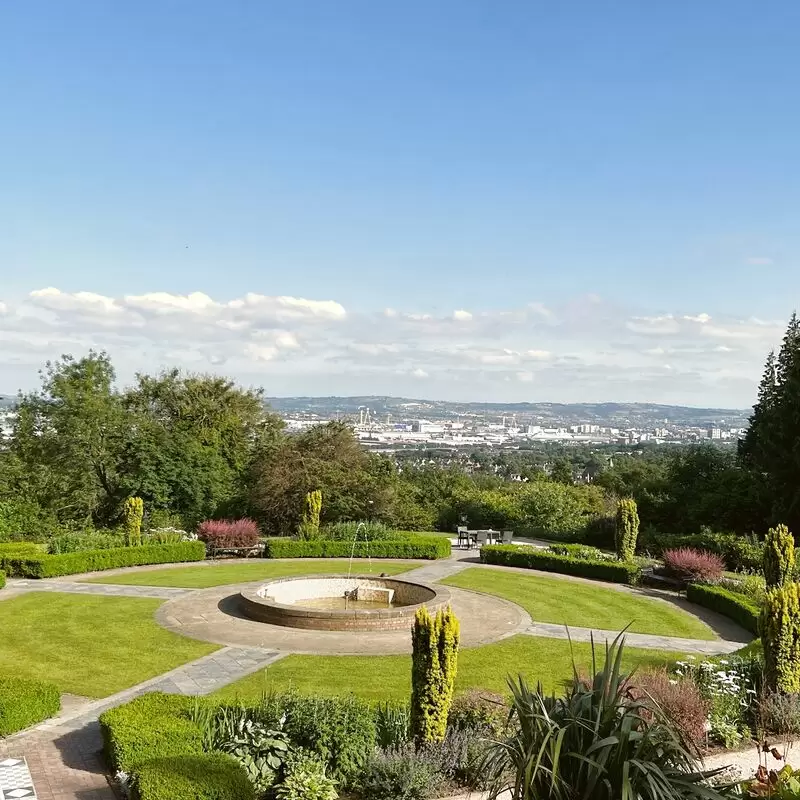 Belfast Castle
Antrim Road, Belfast BT15 5GR
Monday - Sunday: 9:00 AM – 6:00 PM
6. Sir Thomas and Lady Dixon Park
Looking for a quiet oasis in the midst of Belfast's busy city life? Then Sir Thomas and Lady Dixon Park is just the place for you! With over 128 acres of rolling green hills, vibrant flower gardens, and winding walking paths, this stunning public park is the perfect place to relax and get some fresh air. The park's charming walled gardens, built in the 1930s, are not to be missed - be sure to snap a photo of the iconic Japanese-style bridge as you wander through the lush plantings. Don't forget to keep an eye out for the peacocks that call the park home and strut the grounds! If you feel like exploring further, Castle Espie Wetland Centre is just a short drive away - ideal for bird watching and getting up close and personal with some of Ireland's most fascinating wildlife and plants.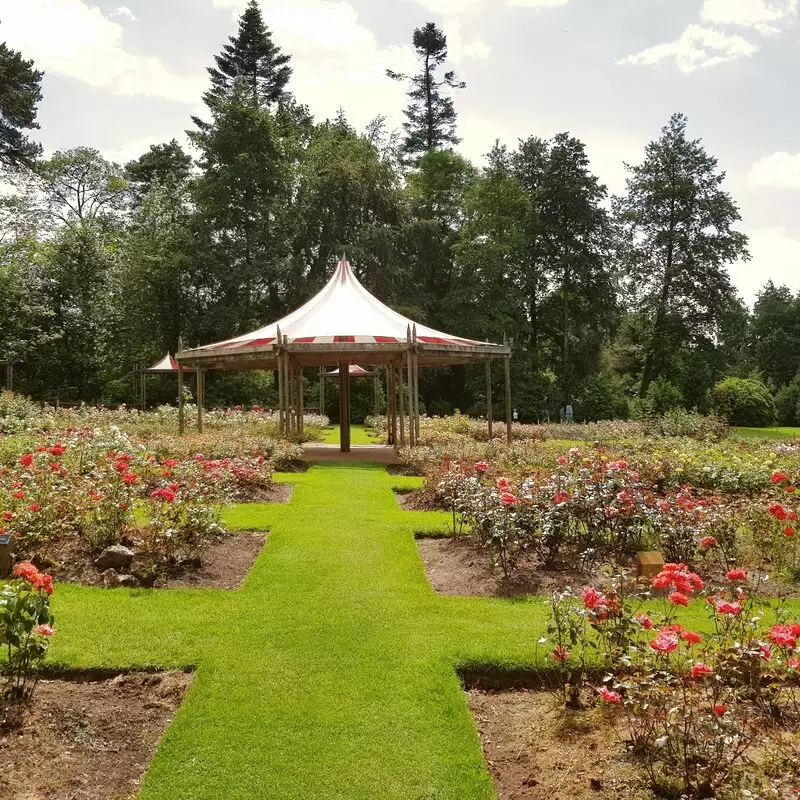 Sir Thomas and Lady Dixon Park
Belfast
Monday - Sunday: 7:30 AM – 10:00 PM
7. Belfast City Hall
Belfast City Hall is a landmark and a must-see in the heart of Belfast. This grand building, with its stunning architecture and rich history, has beautiful interiors including an impressive marble staircase, elegant reception rooms and a magnificent stained glass window. A guided tour of this remarkable building offers a fascinating glimpse into the city's past and present. The building is also surrounded by beautiful gardens, perfect for a picnic or leisurely stroll. Also visit the nearby Ulster Hall, known for its world-class music and comedy performances.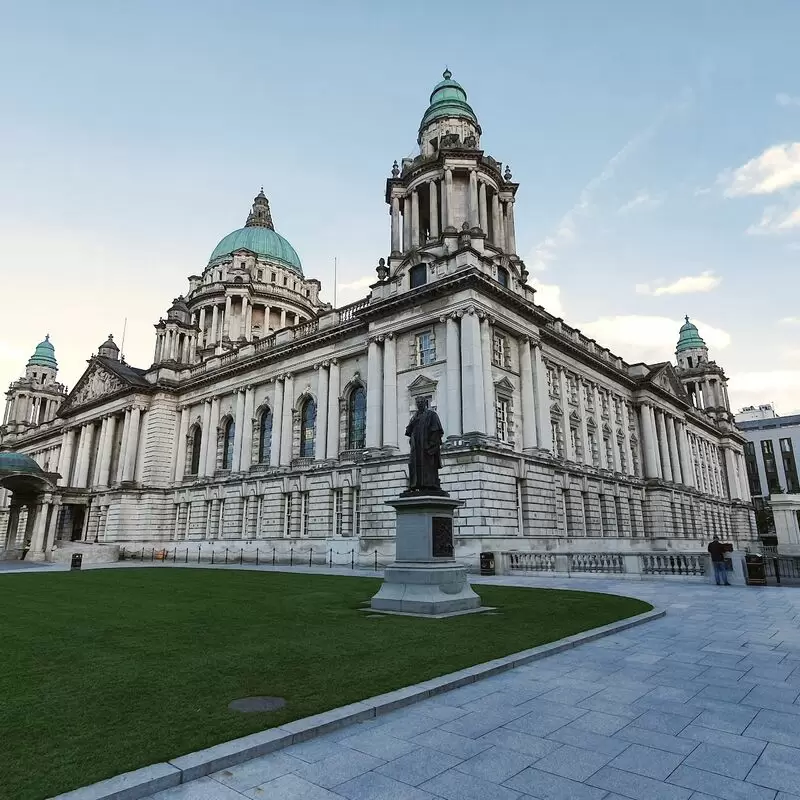 Belfast City Hall
Donegall Square North, Belfast
Monday - Friday: 9:30 AM – 5:00 PM
Saturday - Sunday: 10:00 AM – 5:00 PM
8. Belfast Zoo

Belfast Zoo is an incredible wildlife site that will captivate you with its sheer beauty. It houses over 1,200 animals, including some of the world's most endangered species. You can enjoy the playful antics of the chimpanzees, marvel at the majestic lions or admire the grace of the giraffes. Guided tours are available where you will learn interesting facts and insights about the animals from knowledgeable and friendly keepers.

Insider tip: Get there early to avoid the crowds and experience the animals at their liveliest. And while you're in the area, don't miss the breathtaking views from Cave Hill, a nearby hill that offers stunning views of Belfast.

Belfast Zoo
Antrim Road, Belfast

Monday - Sunday: 10:00 AM – 6:00 PM
9. St George's Market

A visit to St. George's Market in Belfast is an absolute must for any traveler who wants to experience the true essence of Northern Ireland. This lively market has been around for over 150 years and offers a lively atmosphere with vendors selling everything from local produce to crafts and souvenirs. You'll find amazing artisan food and drink, handmade crafts, live music and entertainment. If you're a foodie, be sure to check out the numerous food stalls offering some of the best local and international dishes.

An insider tip: try the freshly prepared seafood from the fish stand, and drink a craft beer from the brewery. There's even a flea market nearby on weekends that's worth a visit. All in all, St. George's Market is the heart and soul of Belfast culture, bringing together locals and tourists alike for a unique shopping and cultural experience.

St George's Market
St George's Market, East Bridge Street, Belfast

Monday - Thursday: Closed
Friday - Sunday: 9:00 AM – 3:00 PM
10. Ulster Folk Museum
At the Ulster Folk Museum in Belfast, you can take a trip down memory lane and learn about the rich history and culture of Ulster. At this museum, you can learn about rural life in Northern Ireland from the early 1900s to the 1960s. Stroll through authentic cottages, farms and workshops that have been moved from their original locations to the museum. See costumed interpreters demonstrate traditional crafts and activities. And don't miss the opportunity to visit the on-site tearoom and enjoy delicious homemade treats. The museum is located near the Giant's Causeway, another must-see attraction in Northern Ireland.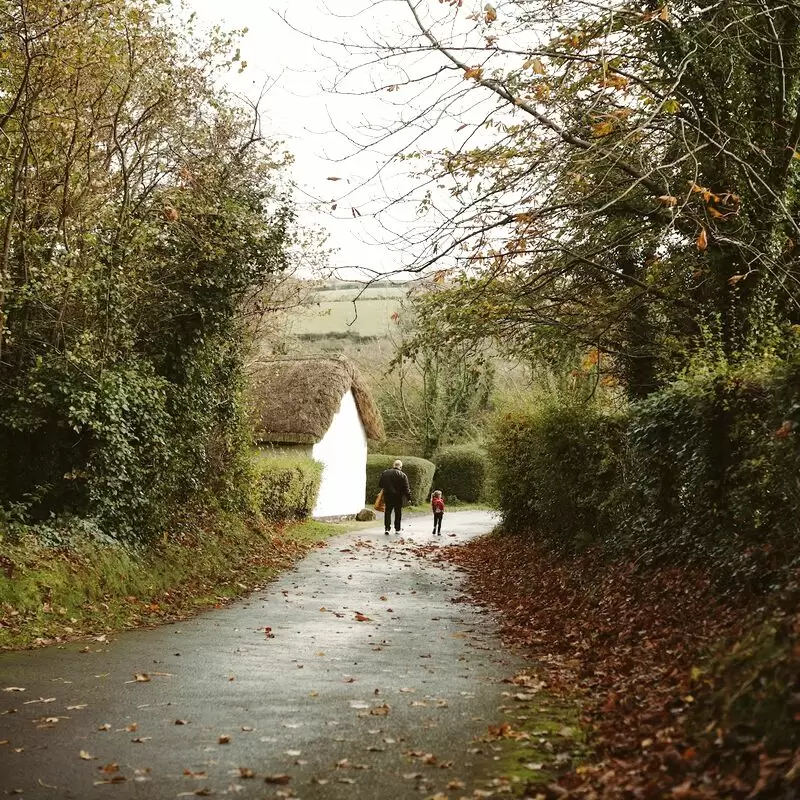 Ulster Folk Museum
Cultra, Holywood
Monday - Sunday: 10:00 AM – 5:00 PM
11. Peace Wall Belfast

If you're looking for a unique and thought-provoking experience during your visit to Belfast, the Peace Wall is a must-see. Nearly 3 miles long and 18 feet high, this wall was built to separate Catholic and Protestant neighborhoods during the Troubles. Today, it serves as a symbol of the city's path to peace and reconciliation. Take a walk along the wall and be inspired by its rich history.

Insider tip: Don't miss the many murals and messages of peace that adorn the wall. The nearby St. Peter's Basilica is also worth a visit.

Peace Wall Belfast
15 Cupar Way, Belfast

Monday - Sunday: Open 24 hours
12. Streamvale Farm

If you're looking for a family-friendly attraction in Belfast, Streamvale Farm should be at the top of your list. This working farm offers a unique and interactive experience that is fun for visitors of all ages. You can meet and feed the animals, ride a tractor, and take a walk on the nature trail. Kids will love the playground, bounce house and covered play area.

Insider tip: Be sure to try the homemade ice cream, it's one of the highlights of the farm. And if you have time, be sure to visit the nearby Belfast Zoo.

Streamvale Farm
38 Ballyhanwood Road, Belfast

Monday - Sunday: 10:30 AM – 5:00 PM
13. HMS Caroline
One of the most important sights in Belfast is the historic ship HMS Caroline. This impressive ship has more than a century of history behind it and served in both the First and Second World Wars. Today, you can explore its decks and learn more about its fascinating role in the battles of Jutland and Bizerte. Don't miss the opportunity to enter the restored cabins and learn about the unique personalities of the sailors who once called this ship home. Also, the popular Titanic Belfast Museum is located nearby and is definitely worth a visit when you are in the area.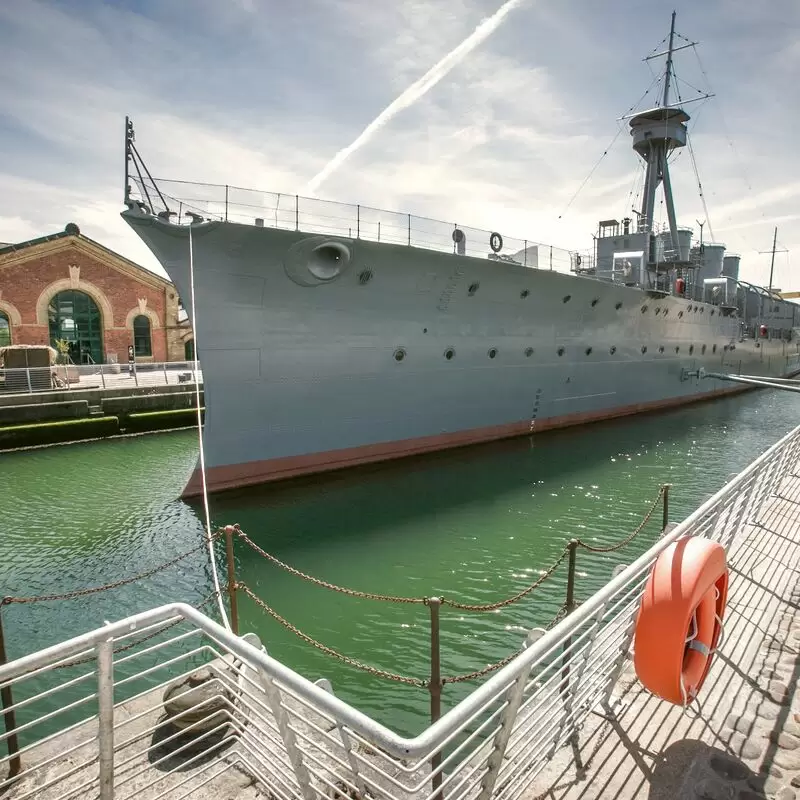 HMS Caroline
Alexandra Dock, Queens Road, Belfast
Monday - Tuesday: Closed
Wednesday - Sunday: 10:00 AM – 4:00 PM
14. SS Nomadic

Board the legendary SS Nomadic, one of the most unique and extraordinary ships in the world. This iconic vessel was built in 1911 and served as a tender for the Titanic, ferrying first-class passengers to the infamous ship. Today, the SS Nomadic is a fascinating museum and award-winning attraction that showcases Belfast's rich maritime history. Take a guided tour and learn about the ship's luxurious interior, impressive craftsmanship, and compelling stories that bring its history to life.

Insider Tip: Don't miss the opportunity to visit the Titanic Belfast Museum, located just steps away from the SS Nomadic.

SS Nomadic
Hamilton Dock, Queens Road, Belfast

Monday - Sunday: 10:00 AM – 5:30 PM
15. The Crown Liquor Saloon

If you're looking for a truly authentic and memorable Irish pub experience, The Crown Liquor Saloon in Belfast is the place to be. This historic gem has been serving pints since 1826 and is steeped in local tradition and charm. Step inside and admire the Victorian architecture, original furnishings and stained glass windows.

Insider tip: Head upstairs to the gas-lit booths and private rooms for a truly unique drinking experience. Located just a stone's throw from the famous Europa Hotel, it's the perfect addition to any Belfast trip.
16. Belvoir Park Forest
If you want to escape the hustle and bustle of the city, head to Belvoir Park Forest, located just a few miles from the city center. This tranquil forest offers a peaceful retreat where you can recharge your batteries and enjoy the natural beauty of Belfast. Take a walk along the scenic trails and explore the park's diverse flora and fauna. Don't miss the opportunity to spot some of the wildlife, including deer, foxes, and a variety of birds. After a walk, visit the nearby Belvoir Park Golf Club for a drink or a bite to eat.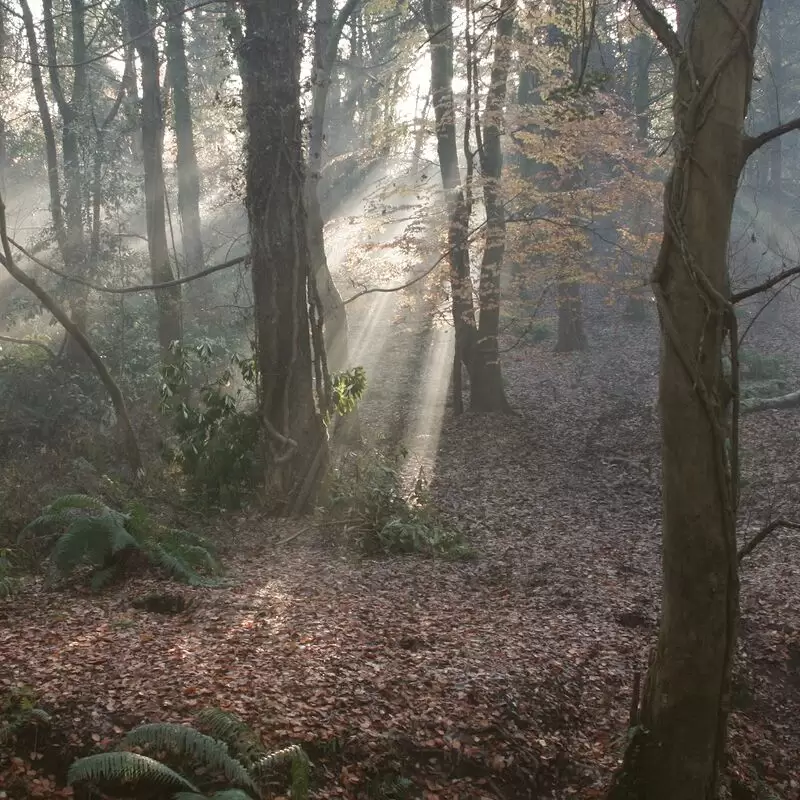 Belvoir Park Forest
Belvoir Drive, Belfast
Monday - Sunday: Open 24 hours
17. Cave Hill Country Park
Cave Hill Country Park is a must-see for any tourist in Belfast! With its breathtaking panoramic views of the city, the Lough and beyond, the park is ideal for a leisurely hike or picnic with family and friends. This natural wonderland offers an abundance of scenic hiking trails with many points of interest such as the famous Napoleon's Nose, a basalt rock that resembles the profile of the French Emperor. Don't forget to bring your camera to capture some stunning scenic shots! Nearby, you can visit the historic Belfast Castle, another attraction worth seeing in the city.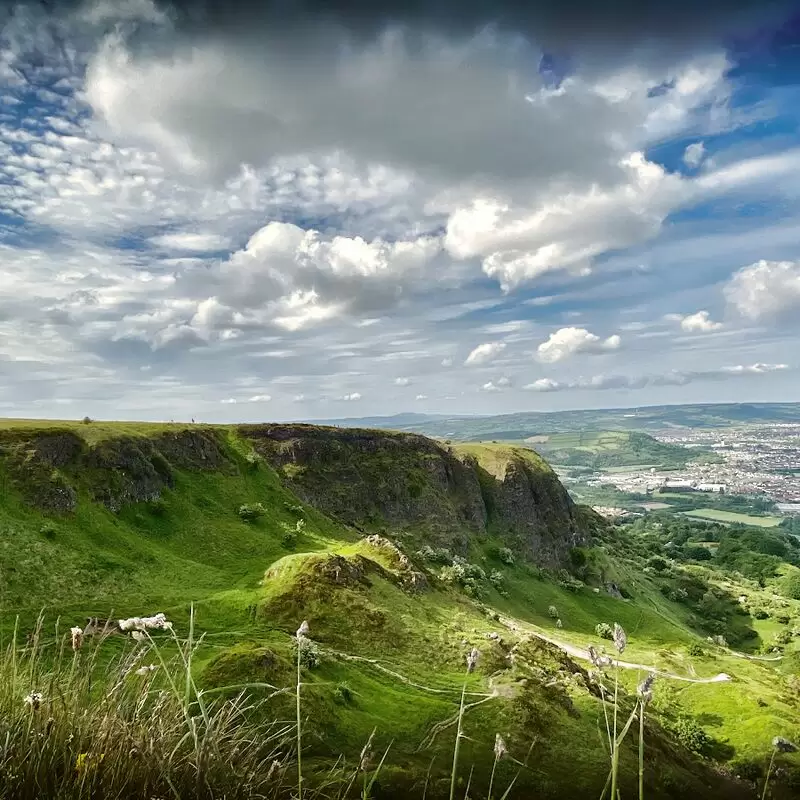 Cave Hill Country Park
Antrim Road, Belfast
Monday - Sunday: Open 24 hours
18. Waterfront Hall
The Waterfront Hall in Belfast is a must-see for anyone who wants to experience the city's vibrant arts scene. With its stunning modern architecture and prime location on the banks of the River Lagan, the Waterfront offers a unique ambience that simply can't be beat. Inside, you'll find a range of events - from international concerts and comedy shows to theater performances and exhibitions. Don't miss the opportunity to visit the nearby Odyssey Arena, one of the city's leading sports and entertainment venues, while you're in the area!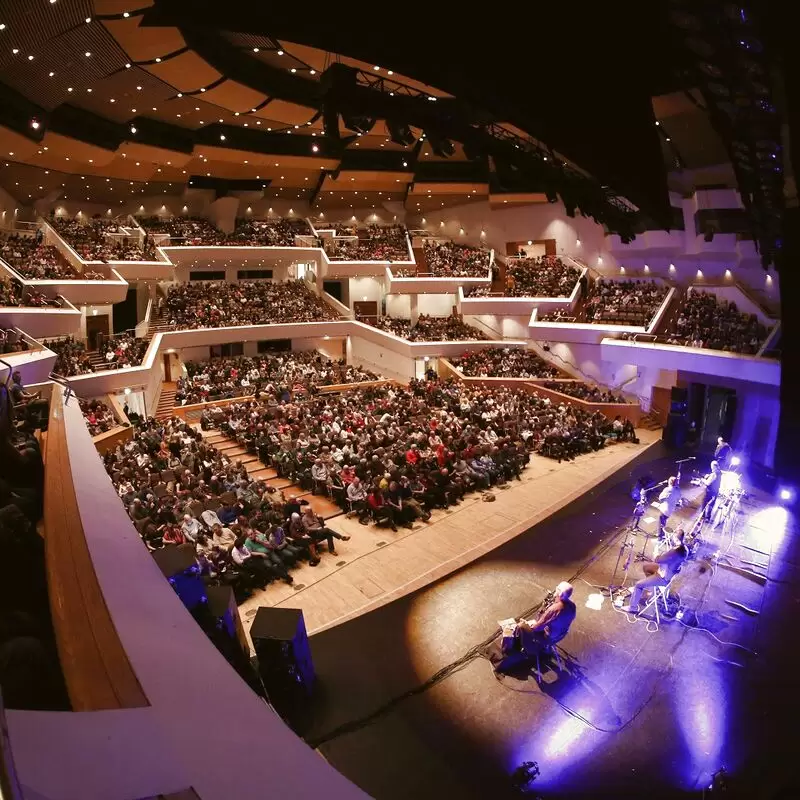 Waterfront Hall
2 Lanyon Place, Belfast
Monday - Friday: 12:00 – 6:00 PM
Saturday - Sunday: Closed
19. St Anne s Cathedral Belfast

The stunning St. Anne's Cathedral is an absolute must-see when visiting Belfast. This stunning Anglican cathedral, with its neo-Romanesque architecture and soaring spire, is a real feast for the eyes. Inside, the ornate mosaics and stained glass windows are breathtaking, and the atmosphere is truly peaceful and spiritual.

Insider tip: Take a guided tour to learn more about the fascinating history of the cathedral and the city itself. After visiting St. Anne's, take a short walk to see the stunning architecture of nearby Queen's University Belfast.

St Anne s Cathedral Belfast
Donegall Street, Belfast

Monday - Saturday: 10:00 AM – 4:00 PM
Sunday: Closed
20. CS Lewis Square
If you are a fan of the "Chronicles of Narnia" novels, then you must visit CS Lewis Square. This beautifully designed public square in Belfast pays tribute to the life and works of author CS Lewis, who grew up nearby. The square is home to seven iconic sculptures of characters from "The Lion, the Witch and the Wardrobe," including Aslan and the White Witch. Stroll through the park and admire the intricate details of each statue while learning about the author's life. Nearby, you can also visit the Ulster Museum or the Belfast Botanic Gardens.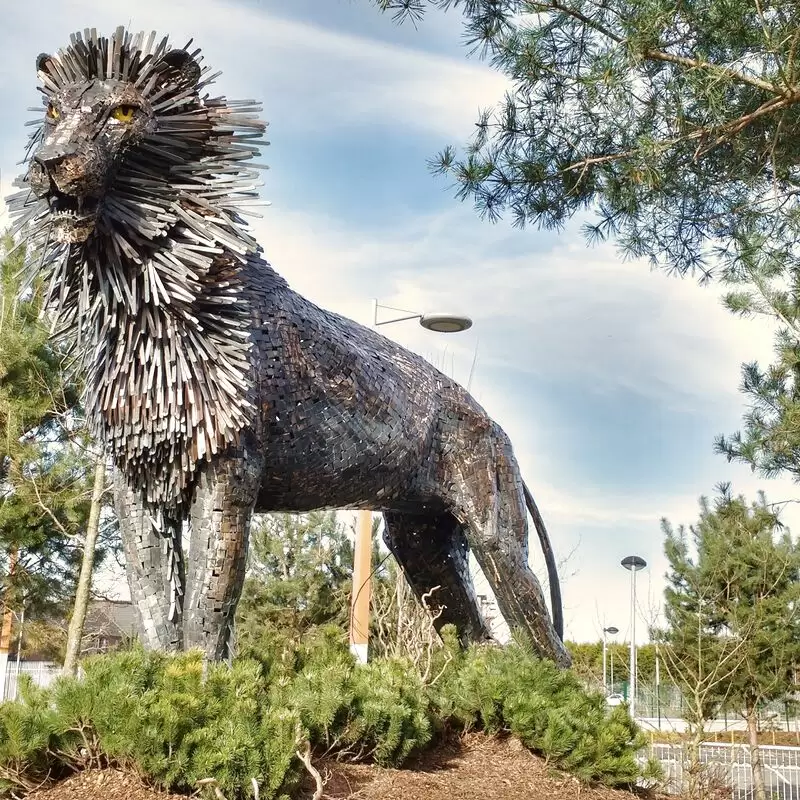 CS Lewis Square
Visitor Centre, 402 Newtownards Road, Belfast
Monday - Sunday: Open 24 hours
21. Grand Opera House

Get ready to be overwhelmed by the beauty and grandeur of the Grand Opera House in Belfast. This magnificent building is a true jewel in the city's cultural scene, with a rich history and stunning design that will leave you in awe. Whether you're a theater lover or simply looking for an unforgettable experience in Belfast, a visit to the Grand Opera House is a must.

Insider tip: Visit the nearby Crown Liquor Saloon, a historic pub with stunning Victorian decor and delicious food.

Grand Opera House
2-4 Great Victoria Street, Belfast

Monday - Sunday: 10:00 AM – 5:00 PM
22. Cave Hill Cave

Adventurous travelers should not miss Cave Hill Cave in Belfast! This hidden gem is a must for thrill seekers who love the outdoors. With stunning views of the city from above, it's also a great way to experience the beauty of Belfast.

Insider tip: Be sure to bring a flashlight and wear sturdy shoes for the rocky terrain. While you're there, be sure to visit nearby Belfast Castle, another must-see attraction.

Cave Hill Cave
Belfast, Newtownabbey

Monday - Sunday: Open 24 hours
Best Time to Visit Belfast
The best time to visit Belfast are the summer months (June to August), when the weather is usually mild and many festivals and outdoor events take place. However, the city is also recommended in spring (March to May) and autumn (September to November), when crowds are smaller and prices are lower. In the winter months (December to February) it can be cold and rainy, but there are still many indoor activities to enjoy.
Annual Weather in Belfast
Belfast 3-Day Forecast
Wed, 27 September
Night
48 °F
9 °C
0%
Morning
51 °F
11 °C
71%
Afternoon
56 °F
13 °C
69%
Evening
51 °F
11 °C
0%
Thu, 28 September
Night
47 °F
8 °C
0%
Morning
44 °F
7 °C
0%
Afternoon
58 °F
14 °C
60%
Evening
52 °F
11 °C
0%
Fri, 29 September
Night
51 °F
10 °C
87%
Morning
51 °F
11 °C
80%
Afternoon
57 °F
14 °C
76%
Evening
51 °F
10 °C
0%
Questions & Answers

Where is the best place to try traditional Northern Irish food?

One of the best places to try traditional Northern Irish food in Belfast is the Crown Liquor Saloon. This iconic pub serves delicious dishes like Irish stew, champ and coddle along with local beers and whiskeys. The Crown Liquor Saloon has been a popular spot since the 1800s, with Victorian decor and cozy seating areas where guests can enjoy their meals in a unique and historic atmosphere.

How do I get to the Giant's Causeway from Belfast?

To get to the Giant's Causeway from Belfast, you can take the bus or drive along the scenic Causeway Coastal Route. The bus ride takes about 2 hours and 15 minutes from Belfast Europa Bus Centre. Tickets can be purchased online or at the station. If you prefer to drive, the route is well signposted and takes about 1.5 hours. Stop at the small towns and attractions along the way for a scenic and memorable experience.

Are there any Game of Thrones filming locations near Belfast?

Yes, there are several Game of Thrones filming locations near Belfast. The Dark Hedges, located about an hour north of Belfast, was used in the series as the Kingsroad. The Castle Ward estate south of Belfast served as the setting for Winterfell. Further south is the picturesque village of Carcassonne, which served as the filming location for Riverrun. In addition, the caves of Cushendun, about two hours north of Belfast, were used as the setting for The Birth of the Shadow Baby.

What is the history behind Belfast's political murals?

Political murals in Belfast have a long history dating back to the early 1900s, but they became more prominent during the Troubles of the late 1960s. Originally, the murals depicted cultural and historical themes, but during the Troubles they became a means of expressing political and religious affiliations. The murals often depicted paramilitary groups, political leaders, and events related to the riots. Today, many of these murals remain, while some have been replaced with more positive, community-oriented messages.

What is the best way to experience Belfast's nightlife?

Nightlife in Belfast is vibrant, with many bars, pubs and clubs to suit all tastes. To experience the best of Belfast nightlife, start with a pub crawl through the historic Cathedral Quarter, where you can enjoy live music and traditional Irish hospitality. Clubbers should visit the trendy clubs in the city center, including Limelight, The Art Department and Thompsons Garage. If you're looking for something more intimate, visit the city's many cocktail bars, such as The Spaniard and The Tipsy Bird, for a relaxed evening of cocktails and conversation.

Where can I find the best live music in Belfast?

Belfast has a thriving music scene with a variety of live music venues to choose from. If you're looking for the best live music in Belfast, head to the Cathedral Quarter. This vibrant neighborhood is home to numerous bars and music venues, such as the Oh Yeah Music Centre, The Black Box and The Duke of York. If you're looking for a more intimate atmosphere, visit the Belfast Empire Music Hall or The Limelight. No matter what your taste in music is, you're sure to find a great live show in Belfast.

How do I get to the Titanic Museum from the city center?

To reach the Titanic Museum from the city center, you can take the Metro bus from City Hall to the Titanic Quarter stop and then walk for about 10 minutes. Alternatively, you can take a cab or Uber, which takes about 10-15 minutes and costs around £6-£8. There is also a scenic walk along the River Lagan which takes about 30 minutes depending on your walking speed.

What are some lesser known attractions to visit in Belfast?

A lesser-known attraction in Belfast is the Crumlin Road Gaol, a former prison that has been converted into a museum where guided tours provide insight into the history of the prison and its inmates. Another museum is the Ulster Museum, which displays an extensive collection of art, history and natural history exhibits. The Botanic Gardens and Palm House offer a peaceful escape from the city with their beautiful gardens and a Victorian-era greenhouse. Finally, the Titanic Belfast Museum offers an interactive experience that explores the history of the famous ship.

Is it safe to walk around the city center at night?

Belfast is generally a safe city, and walking around the city center at night should not be a problem for most visitors. However, as in any city, it is important to take basic safety precautions, such as staying in well-lit areas and avoiding deserted streets. It is also advisable to avoid confrontations or arguments with strangers. If you feel uncomfortable or unsafe, you should trust your instincts and leave the area.

What is the best way to explore the Northern Irish countryside from Belfast?

The best way to explore the Northern Ireland countryside from Belfast is by car or as part of a guided tour. Renting a car is a good option if you want the flexibility to explore the area at your own pace and see specific sights that interest you. Guided tours offer convenience and expert knowledge of the region's history, culture and natural beauty. Popular destinations include the Causeway Coastal Route, the Mourne Mountains and the walled city of Derry/Londonderry.

Feedback

I hope you found this article informative and helpful. I'm eager to improve the content and make it even more valuable for you. If you have any feedback or suggestions, I would love to hear from you.

Do you have any tips or hidden gems that you think should be added to the list? Are there any areas that you feel could use more explanation or clarification?

Your input is greatly appreciated and will help us to continue providing high-quality content that meets your needs and interests. Please feel free to share your thoughts.