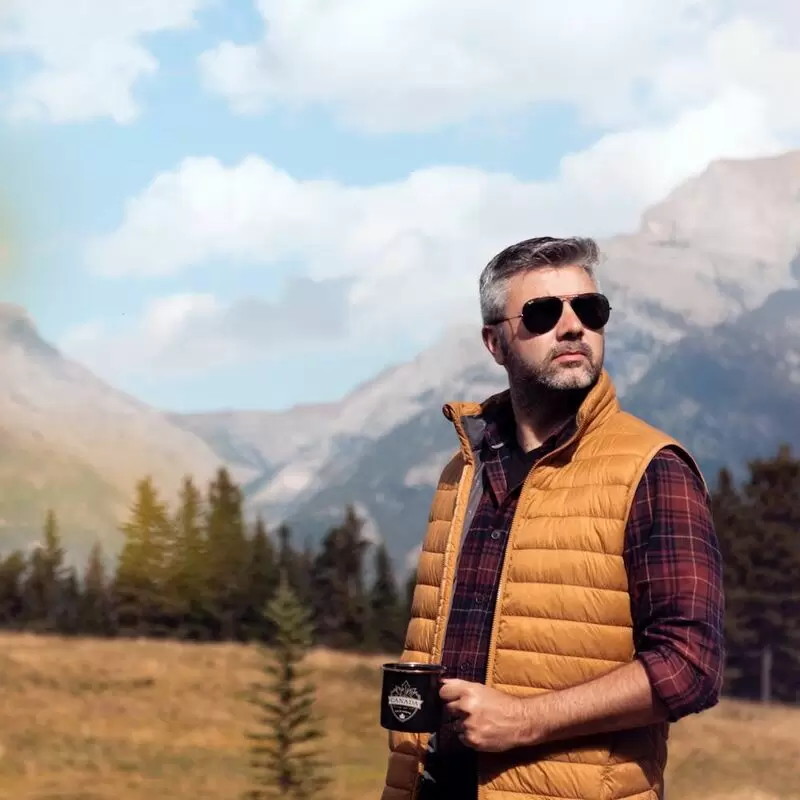 1. Bow Valley Provincial Park Kananaskis Country
A trip to Bow Valley Provincial Park in Canmore offers an unparalleled nature experience! From the stunning mountain landscapes to the diverse wildlife, the park is a photographer's and nature lover's paradise. Don't miss the nature trails - a treasure trove of geographic and ecological treasures waiting to be discovered. Nearby is the exciting Canmore Nordic Centre Provincial Park, a hidden gem full of trails perfect for cross-country skiing and mountain biking.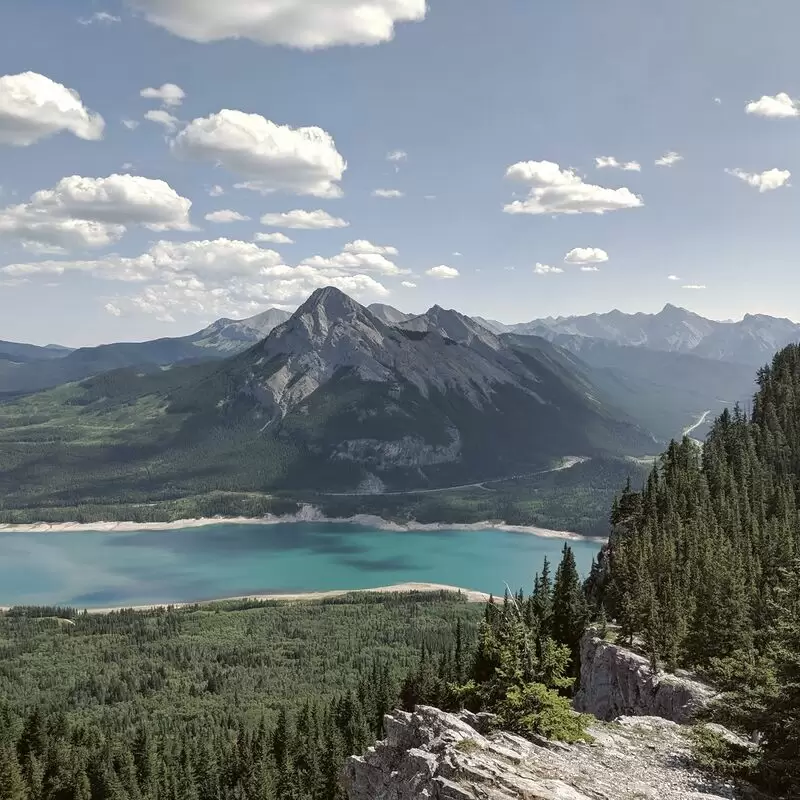 Bow Valley Provincial Park Kananaskis Country
800 Railway Ave #201, Canmore
Monday - Sunday: 8:00 AM – 11:00 PM
2. Cascade of Time Garden
Discover a place of tranquility and beauty at the Cascade of Time Garden in Canmore. Stroll along the tranquil paths and be enchanted by the colorful, exotic blooms and intoxicating fragrances. Visit at dusk to experience the romantic atmosphere when the garden is bathed in soft, enchanting light. The garden is located adjacent to the historic Banff Park Administration Building, an architectural gem. Two intoxicating sights of Canmore, bundled together for your enjoyment!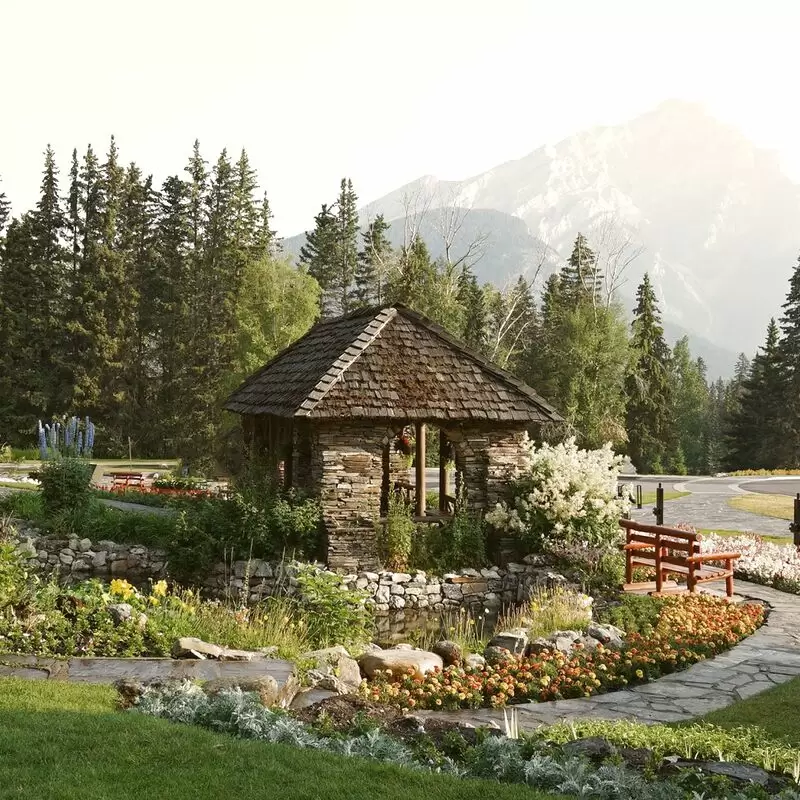 Cascade of Time Garden
Cave Ave, Banff
Monday - Sunday: 8:00 AM – 11:00 PM
3. Cave and Basin National Historic Site

Immerse yourself in Canada's birthplace of national parks at Cave and Basin National Historic Site. Marvel at the natural thermal mineral springs and be enchanted by the luminous caves. Don't miss the historic bathing pavilion, reminiscent of another time. The place is ideal for outdoor enthusiasts and the starting point for picturesque hiking trails.

An insider tip is the spectacular panoramic view you can enjoy from the observation deck. Nearby is the breathtaking Banff National Park, which invites you to explore further.

Cave and Basin National Historic Site
311 Cave Ave, Banff

Monday - Sunday: 9:30 AM – 5:00 PM
4. Ha Ling Peak
Ha Ling Peak is Canmore's crown jewel, a spotlight from earth straight to sky. Easily visible from the heart of Canmore, this challenging hike offers breathtaking views of the Bow Valley. Set out before sunrise to experience a heavenly sunrise from the summit. Plus, the trailhead is just a stone's throw from the Canmore Nordic Centre, a world-class cross-country skiing facility. Also, don't forget to take a look at the mysterious Three Sisters, which can be seen in the distance.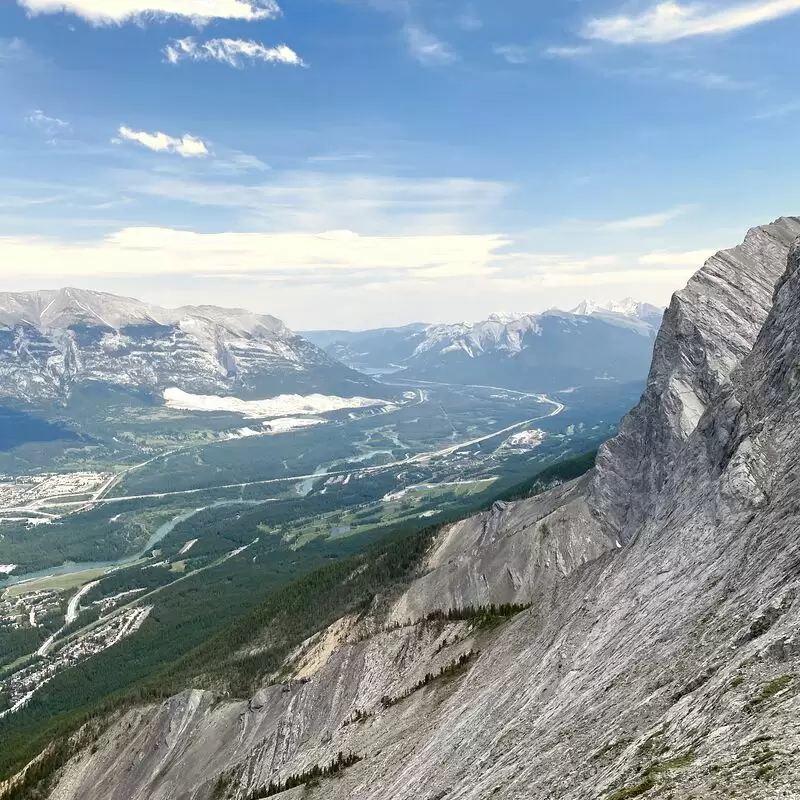 Ha Ling Peak
Ha Ling Peak, Kananaskis
5. Canmore Nordic Centre
Canmore Nordic Centre is your golden ticket to an action-packed outdoor adventure. Perfect for adventure seekers and nature lovers, it's home to world-class cross-country ski trails, bike paths and hiking trails. Don't miss the hidden biathlon facility - a lesser-known gem where Olympians train! Nearby is the stunning Grassi Lakes Trail - an easy hike with breathtaking views of the emerald green lake. To top it off, indulge in a well-deserved leisurely Canadian meal at the Day Lodge.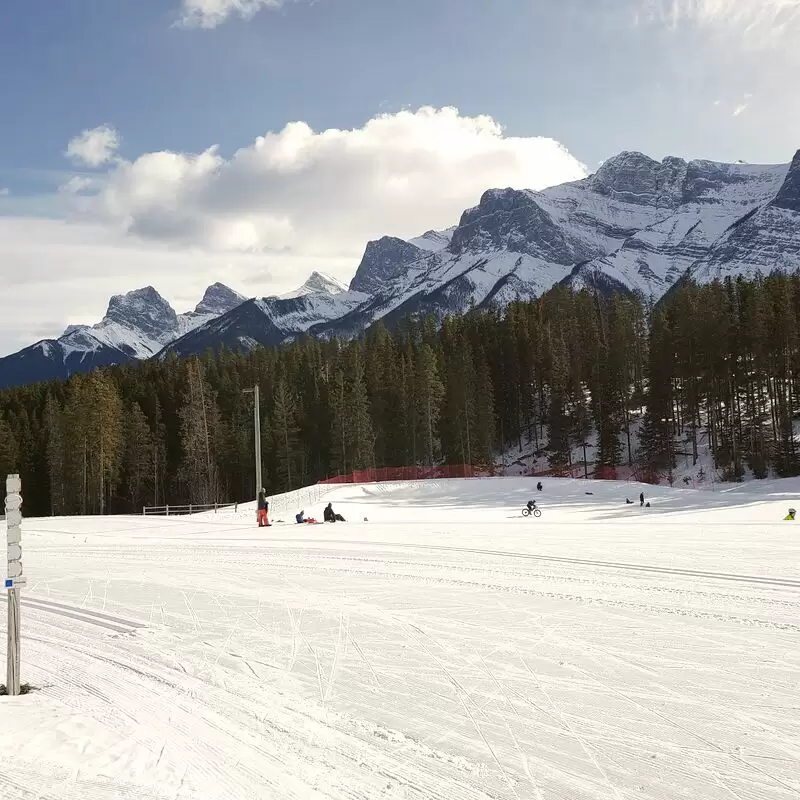 Canmore Nordic Centre
1988 Olympic Way, Canmore
Monday - Sunday: 9:00 AM – 5:30 PM
6. Grassi Lakes
A visit to Grassi Lakes in Canmore is like a postcard scene: crystal clear, turquoise water against a stunning backdrop of snow-capped peaks. The trail is ideal for hiking and climbing enthusiasts and offers two routes for every level of difficulty. The "hard trail" provides a brisk workout, while the "easy trail" promises breathtaking panoramic views. Don't forget to stop by the nearby Canmore Nordic Centre Provincial Park for cross-country skiing in the winter and mountain biking in the summer.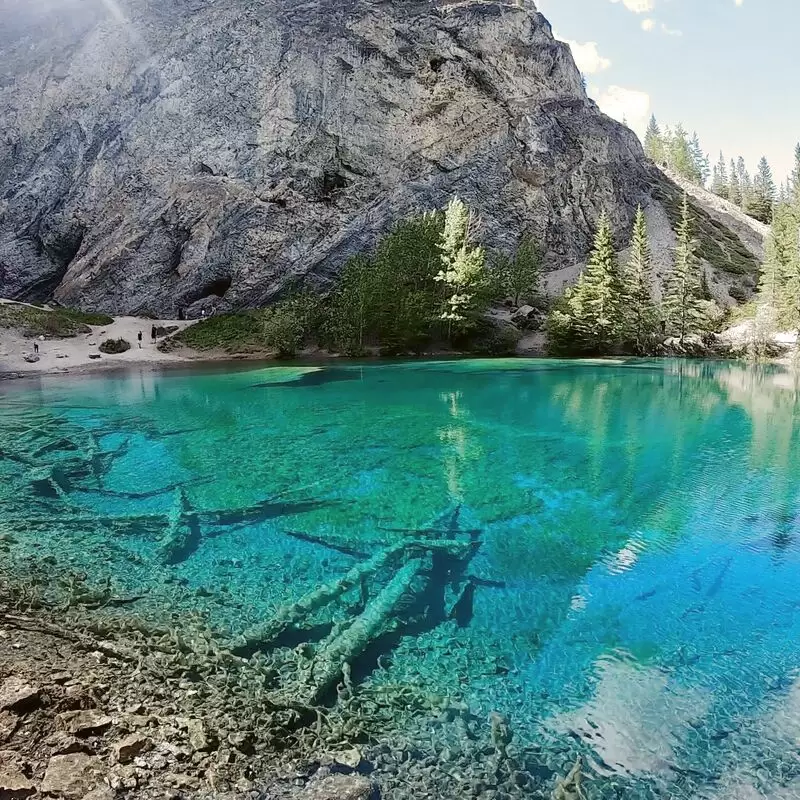 Grassi Lakes
Grassi Lakes, Canmore
7. Canmore Alberta
Take a trip to Canmore, Alberta, in the heart of the fascinating Canadian Rockies. Equipped with exciting outdoor activities such as hiking, kayaking and skiing, the town offers an unparalleled natural playground for adventurers. Enjoy local delicacies at the Farmers' Market, soak up the local culture, and visit the Canmore Museum for insight. Just a stone's throw away, Banff National Park surrounds you with its breathtaking, wild beauty. Hidden gem: "Rat's Nest Cave", an explorer's paradise just outside Canmore Town.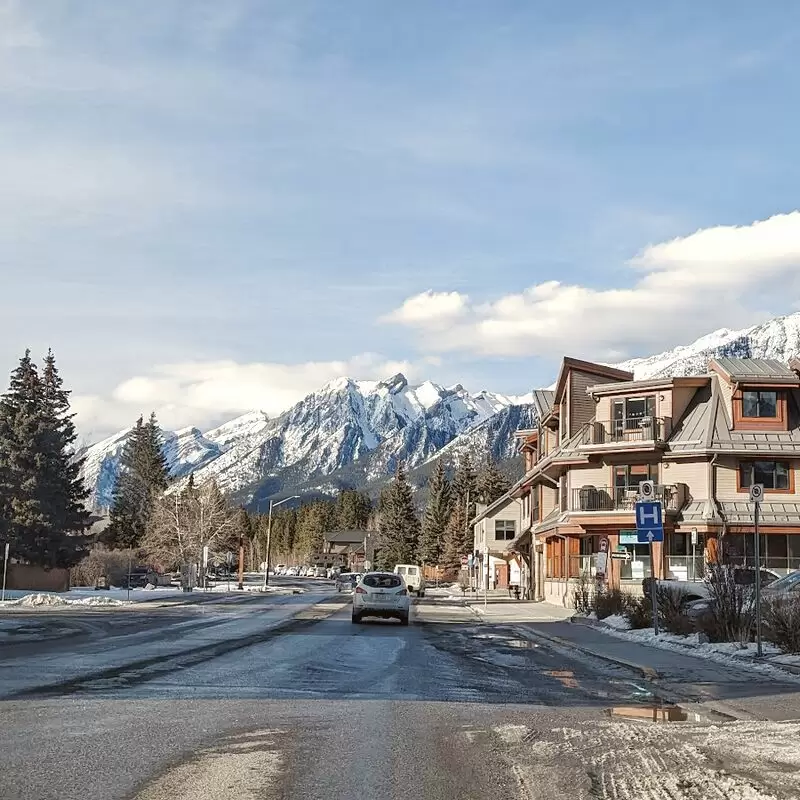 Canmore Alberta
2B6, 639-703 8 St, Canmore
Monday - Sunday: Open 24 hours
8. Art Country Canada Canmore Gallery
Art Country Canada Canmore Gallery is a charming portal to the spectacular art scene of the Canadian Rockies. This whimsical gallery houses an impressive collection of sensational artwork by prominent local and national artists, showcasing a diverse artistic palette that portrays Canada's magnificent landscapes. In addition, it is unique in that it exhibits and sells works by renowned painter Robert Bateman. Its proximity to the Policeman's Creek waterfront provides an added treat and is an ideal option for a quiet stroll after a gallery visit.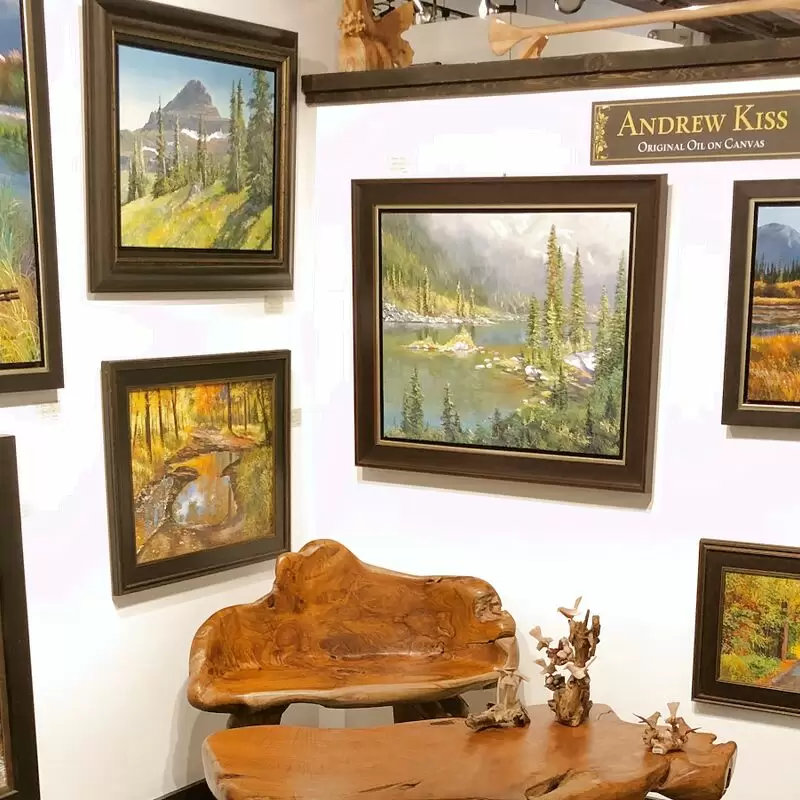 Art Country Canada Canmore Gallery
729 8 St #100, Canmore
Monday - Saturday: 10:00 AM – 5:00 PM
Sunday: 11:00 AM – 5:00 PM
9. Mount Norquay

Experience the sheer beauty of Mount Norquay in Canmore. Exciting activities like skiing, sightseeing and climbing await the brave. It is one of the oldest ski resorts in Canada with a mix of classic and modern ski infrastructure. Immerse yourself in the beauty of the panorama on a speedy chairlift ride!

Insider tip: The Cliffhouse Bistro offers breathtaking mountain views while you dine. Visit the nearby Banff National Park and experience unforgettable natural beauty!

Mount Norquay
Improvement District No. 9

Monday - Sunday: 8:00 AM – 7:00 PM
10. Quarry Lake Park
For those who crave unspoiled beauty and tranquility, Quarry Lake Park is a jewel in Canmore. This former mining area is now the epitome of conservation. The pristine turquoise lake with the backdrop of the magnificent Rocky Mountains is worth a visit alone. Visit in the right season to experience the wildflower blooms around the lake - a true insider's delight. The site is also close to Grassi Lakes, another stunning place just a short hike away, known for its bright blue-green lakes.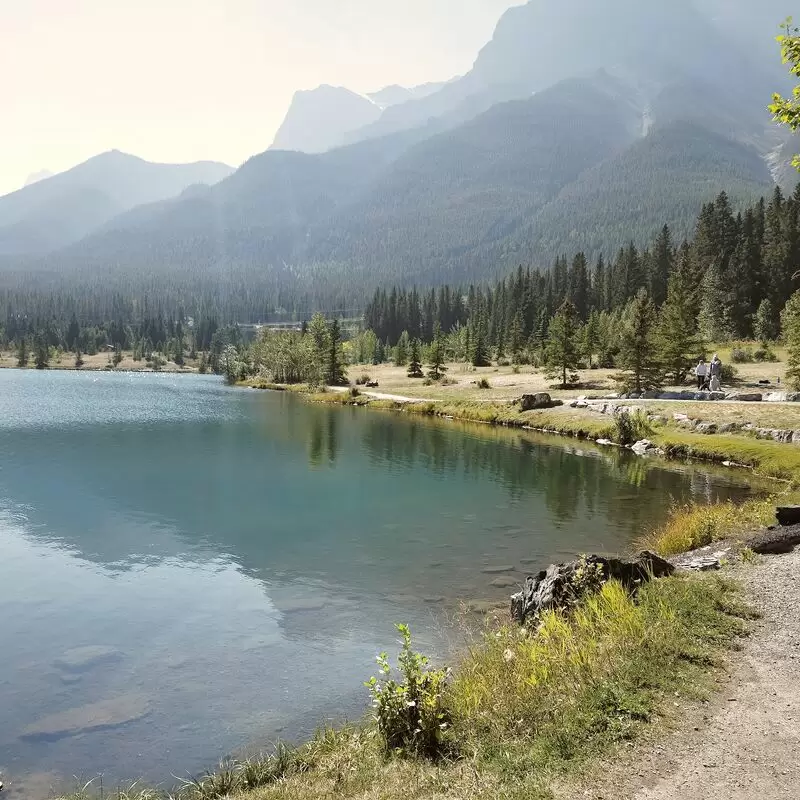 Quarry Lake Park
Spray Lakes Rd, Canmore
Monday - Sunday: 7:30 AM – 6:00 PM
11. Canmore Engine Bridge
Check out the famous Canmore Engine Bridge! It's not just a bridge, but a historic testament to the town's rich mining past. A walk across the bridge offers breathtaking views of the sparkling Bow River and the towering Three Sisters. And it's not just the view; photo opportunities abound. Just downstream is an equally captivating spot, Policeman's Creek Boardwalk, which offers an enriching walk through wetlands and bird watching while enjoying breathtaking mountain views.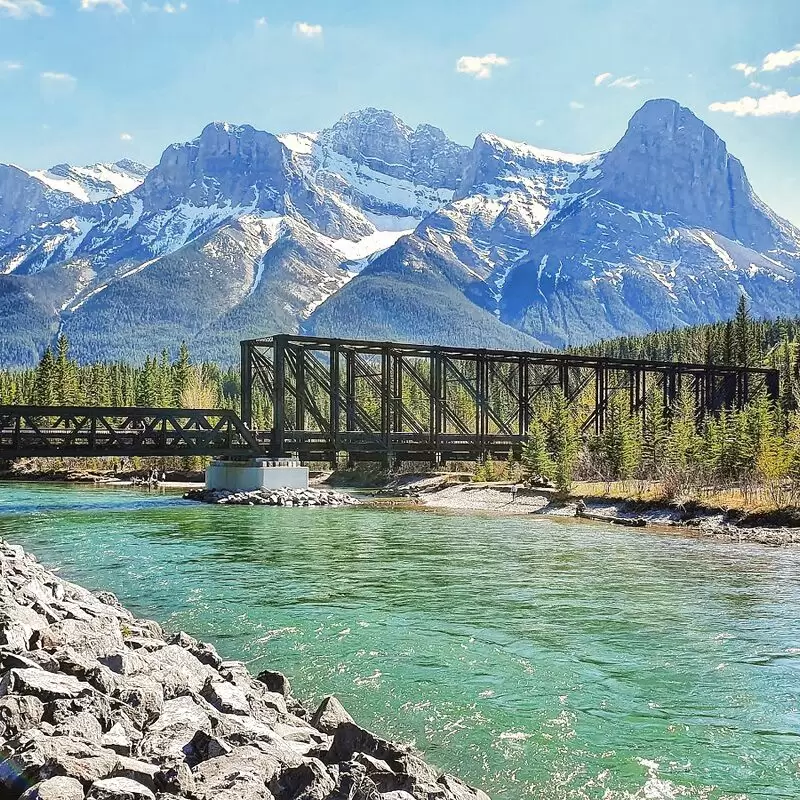 Canmore Engine Bridge
Spur Line Trail, Canmore
Monday - Sunday: Open 24 hours
12. Grotto Canyon Trail Head
Immerse yourself in Canada's natural beauty at the Grotto Canyon Trail Head in Canmore. This enchanting hike begins with wind-sculpted rocks leading to a mystical canyon adorned with ancient Native American petroglyphs that provide a tangible link to local history. In winter, the frozen waterfalls appear as if from another world. Just 4 km away are Grassi Lakes, known for its turquoise waters and diverse wildlife. At the nearby Georgetown Inn, you can enjoy a delicious pie & pints after your hike.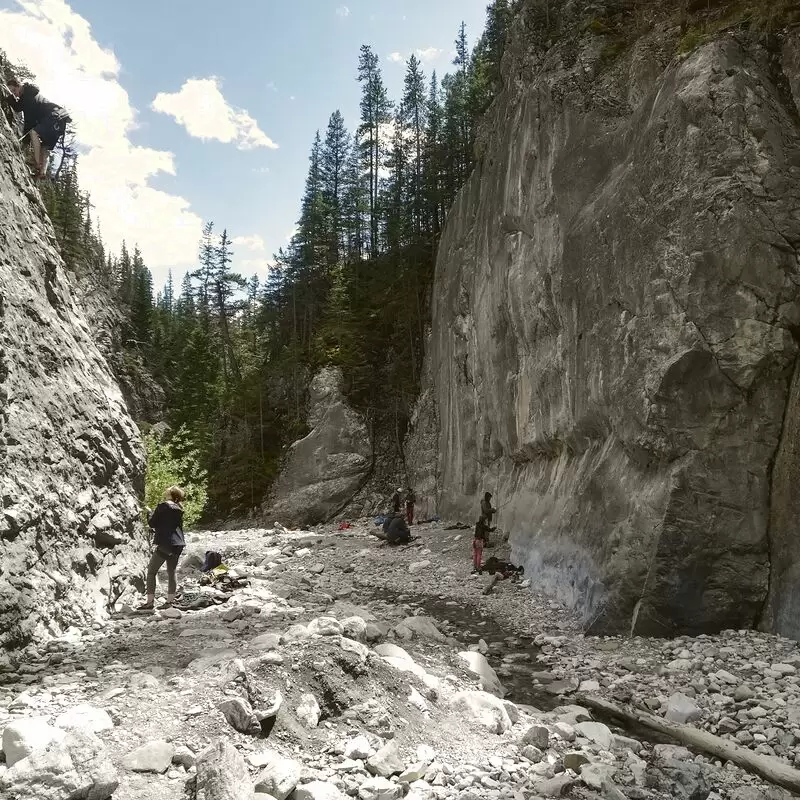 Grotto Canyon Trail Head
Grotto Mountain Pond, Bighorn No. 8, AB, Bighorn No. 8
Monday - Sunday: Open 24 hours
13. Policeman Creek Trail
The Policeman Creek Trail in Canmore is a hidden gem for explorers! This simple but fulfilling trail opens up breathtaking panoramic views of the surrounding mountains. Along the way, you'll encounter enchanting wildlife, sparkling streams, and a lush green forest. Don't forget to take a break at the elevated wooden boardwalk! This is a perfect spot that many miss. The trail is close to downtown and Canmore's exciting Nordic Centre - perfect for a day of adventure. It's an experience that combines rest and exploration at every turn!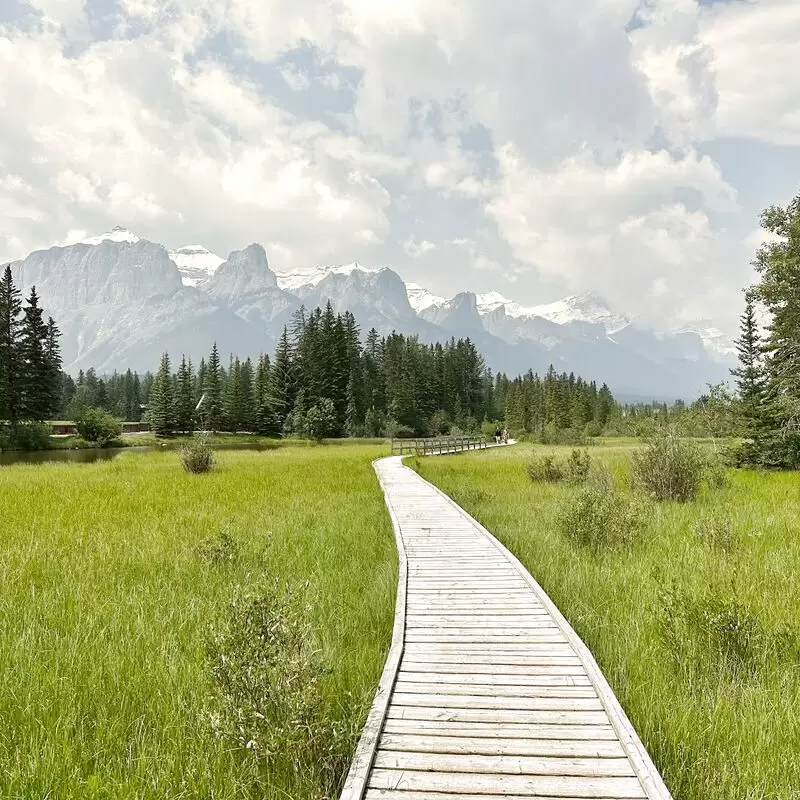 Policeman Creek Trail
610-M 8 St, Canmore
Monday - Sunday: 7:30 AM – 11:00 PM
14. Canmore Cave Tours
Venture underground with Canmore Cave Tours, deep into Rat's Nest Cave - a network of subterranean wonders in the heart of the Canadian Rockies. This spectacular natural history museum invites you to climb, crawl and rappel amid ancient rock formations. Don't miss the Grotto, a dazzling chamber of stalactites, stalagmites and crystal-clear pools. Just a short drive away, you can refresh yourself after exploring the caves in the lively mountain town of Banff.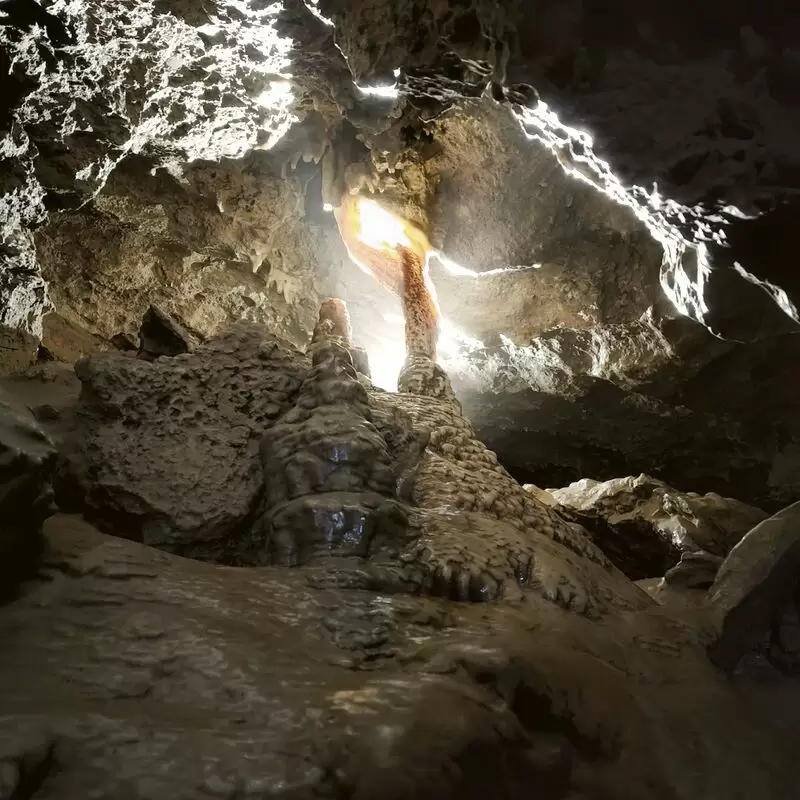 Canmore Cave Tours
129 Bow Meadows Crescent #101, Canmore
Monday - Sunday: 9:00 AM – 5:00 PM
15. Alpine Helicopters Inc.

Alpine Helicopters Inc. in Canmore offers an exhilarating experience as you soar over the rugged landscapes of the Rocky Mountains. A perfect stopover for adventure seekers and photographers!

Pssst, here's an insider tip: in the colder months, you can see frozen waterfalls! And the proximity to other attractions like Canmore Cave Tours will quench any explorer's thirst! Explore the world underground or enjoy Canadian majesty from above - it's all possible in Canmore!

Alpine Helicopters Inc.
91 Bow Valley Trail, Canmore

Monday - Sunday: 8:00 AM – 4:00 PM
16. Silvertip Golf Course
Silvertip Golf Course is a jewel in Canmore with breathtaking mountain views that make for a truly unique golf experience. The 600-foot elevation change, challenging terrain and world-class course design by Les Furber make Silvertip the pinnacle of golf in the Canadian Rockies. After your round, enjoy a meal at Rustica Steakhouse - an insider's tip! Nearby, explore Grassi Lakes and Canmore Cave Tours for a little adventure off the golf course.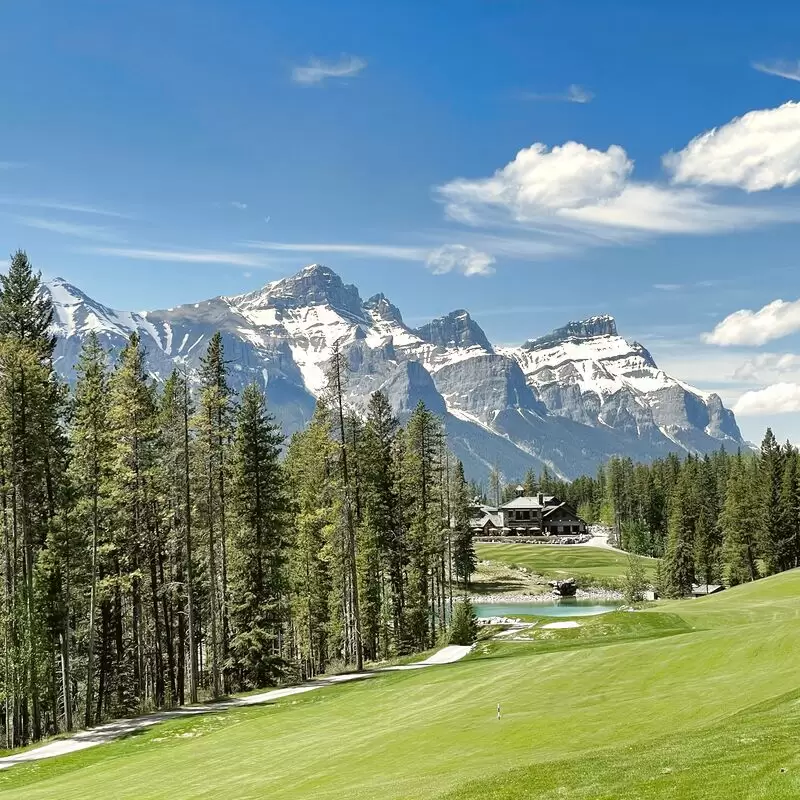 Silvertip Golf Course
2000 Silvertip Trail, Canmore
17. Ribbon Creek Day Use Area
The Ribbon Creek Day Use Area is an unspoiled gem in Canmore. The area offers visitors the opportunity to revel in the tranquility of nature with its quiet hiking trails and pristine flora. Ribbon Lake is a must-see for nature lovers and is breathtakingly beautiful. Don't forget to keep an eye out for moose tracks - a delicious insider detail! Nearby, gorgeous Kananaskis Country is waiting for you to explore, promising rugged mountain landscapes and native wildlife in its pristine wilderness. Get your backpack ready!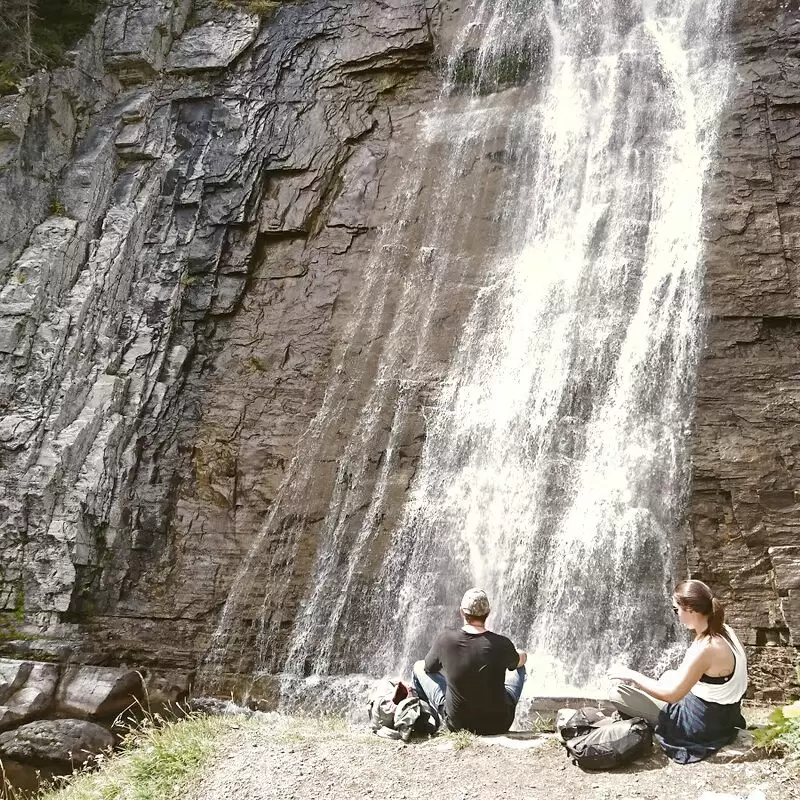 Ribbon Creek Day Use Area
Highway 40 Ribbon Creek Rd, Kananaskis
Monday - Sunday: Open 24 hours
18. Snowy Owl Sled Dog Tours Inc
Embark on an unforgettable adventure with Snowy Owl Sled Dog Tours Inc in Canmore. Experience the thrill of a dog sled tour through the breathtaking Canadian Rockies, with the wind in your face and enchanting landscapes all around. You'll also have the opportunity to interact with the incredible huskies and learn about local history and culture. And a unique insider detail: ask about the night tours, where you will have a magical night experience under the stars. Nearby, you can visit the stunning Grassi Lakes and take a scenic hike.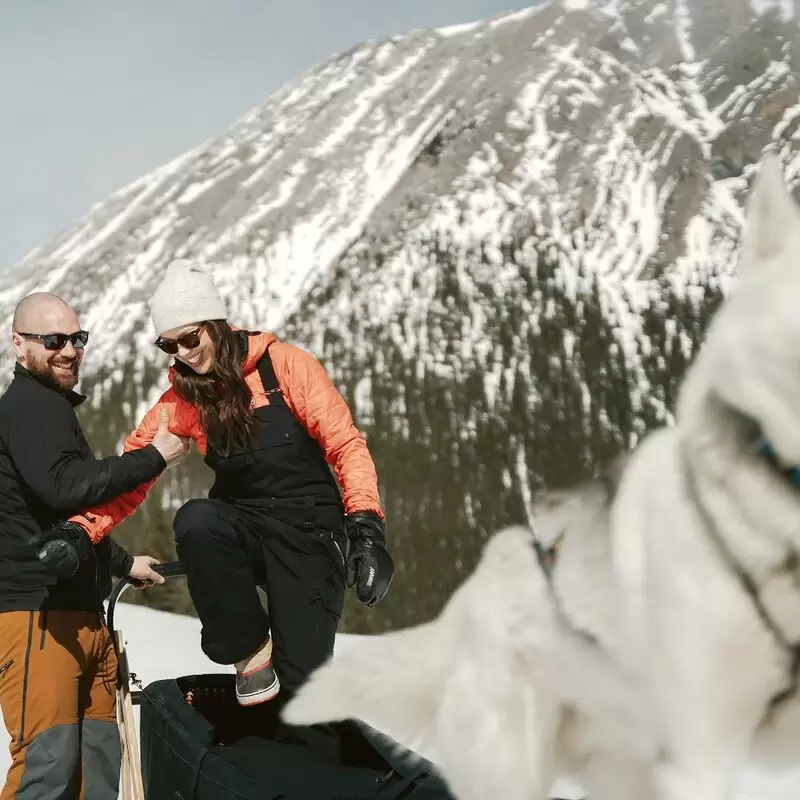 Snowy Owl Sled Dog Tours Inc
829 10 St, Canmore
Monday - Sunday: 9:00 AM – 6:00 PM
19. Three Sisters
Venture to the breathtaking Three Sisters in Canmore, a series of towering peaks named Faith, Charity and Hope! Immerse yourself in fascinating local legends, as First Nations believe these peaks protect the valley. Hike the rugged slopes in the summer or admire the snow-capped peaks in the winter. Plus, it's just a hop, skip and a jump to vibrant downtown Canmore, which offers plenty of restaurants and shopping after your adventure!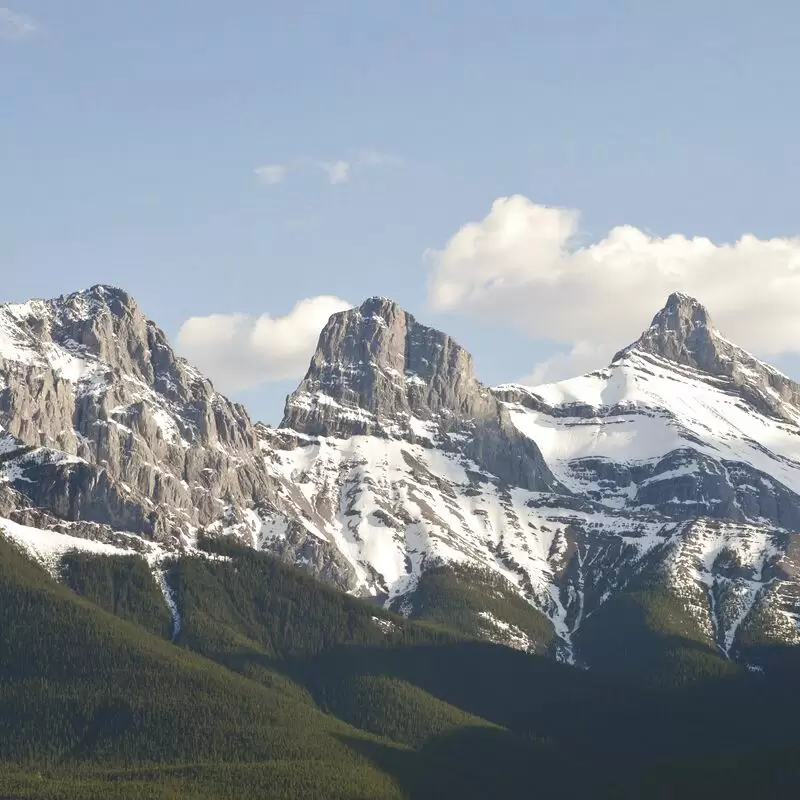 Three Sisters
Three Sisters, Kananaskis
20. Widowmaker

Widowmaker in Canmore, an exciting destination for adrenaline junkies! Its steep climbing routes, created by Mother Nature, make for a high-octane outdoor adventure. Conquer it and reward yourself with breathtaking views of the Bow Valley.

An insider tip: The via ferrata is challenging, but quite safe with experienced guides. And don't miss the nearby Grassi Lakes Trail, a less strenuous excursion with beautiful turquoise lakes! Canmore gifts every visitor with countless memories.
21. Elevation Place

Elevation Place is an adventurer's paradise! Canmore's cornerstone is an impressive mecca with a large climbing wall, aquatic center, major art gallery and gym. After climbing, take in views of the majestic Rocky Mountains.

An insider tip: Friday nights are less crowded. Also visit the nearby Policeman's Creek Boardwalk, a breathtaking hiking trail that offers a serene, enchanting nature experience. Canmore offers a huge adventure right at your doorstep!

Elevation Place
700 Railway Ave #100, Canmore

Monday - Friday: 6:00 AM – 10:00 PM
Saturday - Sunday: 8:00 AM – 9:00 PM
22. Mystic Springs Chalets & Hot Pools
Visit Mystic Springs Chalets & Hot Pools for a stunning alpine experience. Nestled in the majestic peaks of the Rocky Mountains, this resort offers spacious chalets and Canada's largest outdoor heated pool. The heated outdoor pool is popular with locals and guests and ideal for a day of exploring. Just minutes away are the picturesque Grassi Lakes, a beautiful spot for a quiet picnic surrounded by nature. With quirky boutiques and scenic hiking trails nearby, this picturesque mountain town will transport you to a world of relaxation and adventure.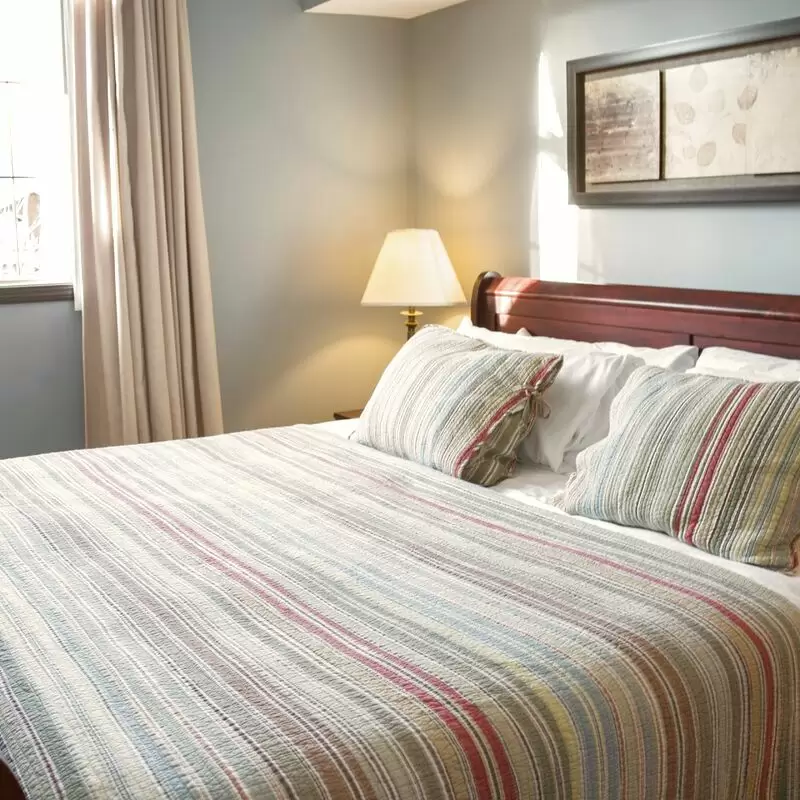 Mystic Springs Chalets & Hot Pools
140 Kananaskis Way, Canmore
Best Time to Visit Canmore
The best time to visit Canmore, Canada, is during the summer months from June to September. The weather is warm and invites outdoor activities such as hiking, biking, and wildlife viewing. However, if you are interested in winter sports, consider visiting from December to March.
Annual Weather in Canmore
Canmore 3-Day Forecast
Wed, 20 September
Night
29 °F
-2 °C
0%
Morning
28 °F
-2 °C
0%
Afternoon
41 °F
5 °C
77%
Evening
40 °F
4 °C
0%
Thu, 21 September
Night
28 °F
-2 °C
0%
Morning
31 °F
-1 °C
0%
Afternoon
44 °F
7 °C
0%
Evening
55 °F
13 °C
0%
Fri, 22 September
Night
31 °F
-0 °C
0%
Morning
29 °F
-2 °C
0%
Afternoon
56 °F
13 °C
0%
Evening
65 °F
19 °C
0%
Questions & Answers

What is Canmore known for?

Canmore is best known for its breathtaking natural beauty in the Canadian Rockies, including spectacular mountain ranges, clear lakes and abundant wildlife. The city is a popular destination for outdoor activities such as hiking, biking, climbing and skiing. With its rich mining history, Canmore is also home to well-preserved historic sites and the annual Canmore Folk Music Festival, which exudes a unique cultural charm. In addition, the town serves as the gateway to the famous Banff National Park.

What's the population of Canmore?

Canmore is a relatively small town in the heart of Alberta, Canada. It may not have the huge numbers of a vibrant metropolis, but the welcoming community of the town of about 14,000 makes up for it. Residents are a mix of permanent and part-time, including many who travel from various parts of Canada and the world to settle amidst the stunning natural beauty.

How can I get around Canmore?

Canmore, Canada, is a small town that is easy to get around. The city center is within easy walking distance, so you can explore numerous stores, restaurants and cultural attractions at close range. For further distances, it is recommended that you bike or drive. Can to Roam is a local bus service that offers rides around town and to nearby Banff. Cabs and ride-sharing services are also available. Those wishing to explore Canmore's scenic trails can rent a bicycle.

What wildlife might I see in Canmore?

In Canmore you can encounter fascinating wildlife. This picturesque town is home to large mammals such as grizzly and black bears, moose and deer. Avid birdwatchers can also spot golden eagles, hawks and several species of owls. Smaller animals such as squirrels, chipmunks and rabbits can also be seen in the alpine meadows or forests. However, tourists are advised to keep a safe distance when observing these wild animals.

Is Canmore expensive to visit?

The cost of visiting Canmore, Canada, can vary depending on your budget and preferences. Accommodations, restaurants and activities range from affordable to high-priced. With a variety of outdoor adventures such as hiking, skiing, and wildlife viewing, there are both free and paid experiences. Shopping and dining out can get expensive, as Canmore is a popular tourist destination. Overall, Canmore is a bit more expensive than other Canadian places, but the stunning scenery and unique charm make it worth every penny.

Do I need a visa to visit Canmore?

Whether you need a visa to visit Canmore in Canada depends largely on your country of residence. Residents of many countries, including the United States and most European countries, can visit Canada for up to 180 days without a visa, while residents of some other countries require a visa or electronic travel authorization (eTA). It is best to find out the specific Canada entry requirements for your country before planning your trip.

What type of clothes should I pack for a Canmore trip?

For a trip to Canmore, you should pack versatile clothing to cope with the changeable mountain weather. In the summer, pack layers such as T-shirts, light sweaters and waterproof jackets. For winter, we recommend heavy winter clothing such as thermal clothing, a down jacket, gloves, hats and boots with good support. Regardless of the season, good footwear and sun protection are essential for outdoor adventures. Don't forget your swimwear for the hot springs and indoor pools!

Can I drink tap water in Canmore?

Yes, you can safely drink the tap water in Canmore, Canada. The city gets its water from the Bow River, which is treated and tested regularly to ensure it meets Canada's high health and safety standards. It is clean and safe to consume. However, if you have a sensitive stomach, consider bottled water, as the mineral content is slightly different from what your body is used to.

Are there any safety concerns for tourists in Canmore?

As a guide, I can assure you that Canmore, Canada, is a very safe destination. However, as in any other tourist destination, it is always advisable to be aware of your surroundings, especially at night. Outdoor enthusiasts should be aware of the risks associated with wildlife encounters and accidents during adventure sports. Always check weather conditions for activities such as hiking, skiing or kayaking and follow the appropriate safety guidelines.

What local dish should I not miss in Canmore?

When in Canmore, be sure to try poutine, a quintessentially Canadian dish. This delicious treat consists of crispy fries doused with a rich brown gravy and topped with squeaky cheese curds. The best authentic poutine can be found in the city's pubs and restaurants, where it is served as both a meal and a side dish. The combination of warmth, flavor and the play of textures is an experience not to be missed.

Can I use dollars in Canmore?

Yes, you can pay with dollars in Canmore, as the official currency of Canada is the Canadian dollar (CAD). Credit and debit cards are also widely accepted. However, if you are coming from a country that uses a different currency, you may want to exchange something into CAD for convenience. Remember to check your bank's international transaction fees to avoid surprises.

Is English widely spoken in Canmore?

Yes, English is the main language spoken in Canmore, Canada. The inhabitants of this beautiful, tourist town communicate mostly in English. However, since Canmore is a popular destination for tourists from all over the world, you will hear a variety of different languages due to the multicultural visitors. Nonetheless, travelers who speak only English should have no trouble conversing and finding their way around the area, as all signs are in English and most people can communicate fluently in that language.

What type of payment methods are accepted in Canmore?

A wide range of payment methods are accepted in Canmore, Alberta, including cash, debit and credit cards. Major credit cards such as Visa, MasterCard, American Express and Discover are generally accepted at many establishments such as hotels, restaurants and retail stores. Mobile payments and contactless cards are also accepted at some locations. Although these methods are widely accepted, it is still advisable to carry some cash at smaller merchants and services. Local ATMs are also available.

Does Canmore have good nightlife?

Canmore may not have the same vibrant nightlife as larger cities, but there is still a good selection of pubs, bars and lounges in town. Whether you're looking for a relaxed pub atmosphere, a lively venue with live music, or a cozy place for wine and cocktails, Canmore has something for everyone. In addition, local bands and DJs frequently perform in some venues, creating a cool vibe and showcasing local arts culture. The town offers a fun, relaxed night atmosphere in a picturesque mountain setting.

What's the local culture like in Canmore?

Canmore, Canada, exudes a warm, family atmosphere rooted in an appreciation of nature and the outdoor lifestyle. Surrounded by the Rocky Mountains, locals are often seen enjoying sporting activities such as hiking, skiing and mountain biking. The city is also culturally rich, with a vibrant arts and music scene, a thriving craft beer industry and a distinct mix of Canadian, Indigenous and mountain culture. Canmore's history as a mining town also influences today's cultural landscape.
Is there any customs or traditions I should know about?
What's the surrounding landscape of Canmore like?
Nestled in the Canadian Rocky Mountains, Canmore offers a stunning landscape surrounded by high mountains, crystal clear rivers and vast forests. It is a stunning natural paradise, where grasslands seamlessly transition into dense forests, giving way to snow-capped peaks. Tranquil lakes and rushing streams dot the area, enhancing the already breathtaking scenery. The city is known for its scenic hiking trails and parks that offer unlimited opportunities for outdoor activities.
Is it a family-friendly destination?
Canmore, Canada, is undoubtedly a fantastic family-friendly destination. The city offers numerous activities for all ages and interests. Families can enjoy outdoor adventures like hiking, biking, and wildlife viewing, or explore the city's rich history in its museums. There are also numerous family-friendly restaurants, picnic areas and parks. It is a wonderful place for families to create unforgettable memories while experiencing the beauty of the Canadian Rockies.
How far is Canmore from Banff?
Canmore is located about 26 kilometers (about 16 miles) southeast of Banff. The distance between these two towns is nearly 22 kilometers via the Trans-Canada Highway, which is about a 20-minute drive under normal conditions. These immediate neighbors in the heart of the Canadian Rockies offer breathtaking views and outdoor activities, making a trip there worthwhile.
What's the skiing like in Canmore?
Skiing in Canmore offers a pristine, picturesque experience. Located in the heart of the Canadian Rockies, Canmore is surrounded by four world-class ski resorts. These include ski areas such as the world-famous Banff Sunshine and the expansive Lake Louise. With a wide range of slopes for beginners to experts, skiers can enjoy the natural beauty of the snowy landscapes as they race down the slopes. In summary, Canmore promises a fantastic skiing experience in a unique natural setting.
What kind of outdoor activities are available in Canmore?
Canmore, Canada, located in the heart of the Rocky Mountains, offers an impressive list of outdoor activities to explore. Nature lovers can hike the numerous hiking and mountain biking trails. The Bow River is a hotspot for paddle boarding, kayaking and fishing. In winter, it transforms into a paradise for ice climbers, snowshoers and skiers. Wildlife watching and rock climbing are among the other exciting activities you can do here. No matter what your preference, Canmore's diverse landscape is suitable for all types of adventurers.
Is Canmore a good place for photography?
Canmore is undoubtedly a spectacular place for photography. Located in the heart of the Canadian Rocky Mountains, it offers breathtaking landscapes with snow-capped mountains, crystal clear lakes, dense forests and fascinating wildlife. The picturesque town itself also exudes charm. Capture the breathtaking sunrise over the mountains or the tranquil reflections on the surface of the many lakes. Each season brings a different backdrop, with bright wildflowers in spring and summer, golden aspens in autumn, and frosty beauty in winter.
What measures are in place for COVID-19 in Canmore?
Various safety measures are being taken in Canmore due to COVID-19. It is recommended to keep social distance and wear masks if needed. Most public areas and businesses have hand sanitizing stations and follow strict cleaning protocols. Businesses may limit their capacity and pre-registration may be required for individual activities. Travelers are advised to follow local health recommendations and guidelines during their stay to help contain the spread of the virus.
Is Canmore crowded with tourists?
Canmore, Canada, is a popular destination that attracts numerous tourists throughout the year. Its proximity to Banff National Park and other outdoor activities make it a popular destination for nature lovers. During the high season in summer and winter, the town can be quite crowded. However, in the off-season it is quieter and more relaxed. Despite the crowds, Canmore has retained an intimate small-town charm with its hospitable residents and stunning mountain scenery. It is advisable to plan your visit with the tourist crowds in mind.
How pet-friendly is Canmore?
Canmore, Canada is a very pet-friendly destination. The city offers plenty of accommodations where pets are welcome, from hotels to vacation rentals. Canmore's nature-loving atmosphere means that there are plenty of hiking trails and parks for your pet to explore. There are also pet-friendly restaurants with patio seating where your pet can accompany you. However, it is imperative that pets remain leashed in public areas and be considerate of wildlife and other visitors.
What's the local transport like in Canmore?
Canmore, Canada, has a user-friendly public transportation system. Roam Transit operates local bus routes in the city that connect major points such as the city center, resorts, neighborhoods, and even the nearby national park. Cabs, ride-sharing services, and bicycle rentals are also available for more individualized travel. The city's pedestrian-friendly design also encourages walking. However, for out-of-the-way attractions or outdoor activities, one may need to arrange special transportation or a guided tour.
What's the average cost of a meal in Canmore?
The cost of meals in Canmore, Canada, can vary greatly depending on the restaurant. However, on average, you can expect to pay around CA$15 to CA$25 for a regular lunch or dinner at a mid-range restaurant. For more upscale cuisine, the price per meal can easily exceed CA$50. Breakfast and fast food are usually less expensive and often cost less than CA$15. Always remember that these are averages and actual prices may vary.
How friendly are the locals in Canmore?
The locals in Canmore are extremely friendly, outgoing and always ready to help. They are proud of their beautiful town and are happy to provide tips and information on the best sights and activities. The people of Canmore are known for their warm hospitality, and their outgoing nature makes visitors feel right at home. The town's close-knit community exudes a welcoming, family atmosphere.
Are there any famous festivals in Canmore?
Yes, Canmore is home to several unique festivals. The annual Canmore Folk Music Festival is one of the oldest folk music events in Canada and attracts top international artists. The Canmore Uncorked Food & Drink Festival showcases the region's culinary talents. Ice climbing enthusiasts flock to the Canmore Winter Festival, which features ice climbing competitions and winter-themed activities. Canmore is a vibrant city that celebrates its culture, cuisine and love of outdoor activities year-round.
What should I know about local etiquette in Canmore?
Canmore is known for its relaxed and friendly atmosphere, where locals and visitors alike have great respect for the natural environment. People here are environmentally conscious, so remember to respect the cleanliness and serenity of the place. Nature etiquette is upheld: Stay on designated trails, don't litter, and respect wildlife from afar. Feel free to greet the locals, as this is also part of their warm hospitality.
Feedback

I hope you found this article informative and helpful. I'm eager to improve the content and make it even more valuable for you. If you have any feedback or suggestions, I would love to hear from you.

Do you have any tips or hidden gems that you think should be added to the list? Are there any areas that you feel could use more explanation or clarification?

Your input is greatly appreciated and will help us to continue providing high-quality content that meets your needs and interests. Please feel free to share your thoughts.