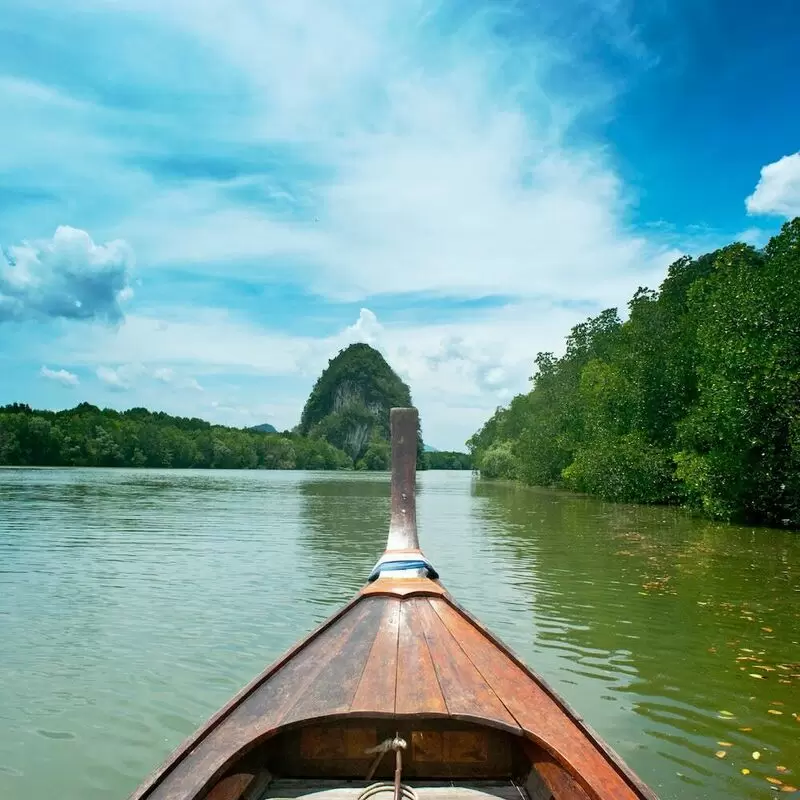 1. Wat Tham Seua Krabi
Wat Tham Seua Krabi (Tiger Cave Temple) is a must-see for culture lovers as it is surrounded by tranquility and mysticism. This sacred site features stunningly ornate Buddhist artifacts and stupas amidst fascinating natural formations. Travel tip: Be prepared for a challenging but rewarding 1237-step climb for panoramic views of the picturesque Krabi countryside. Nearby is Emerald Pool, known for its clear emerald waters amidst dense tropical rainforest. Experience the ultimate blend of spirituality and the majesty of Mother Nature in Krabi.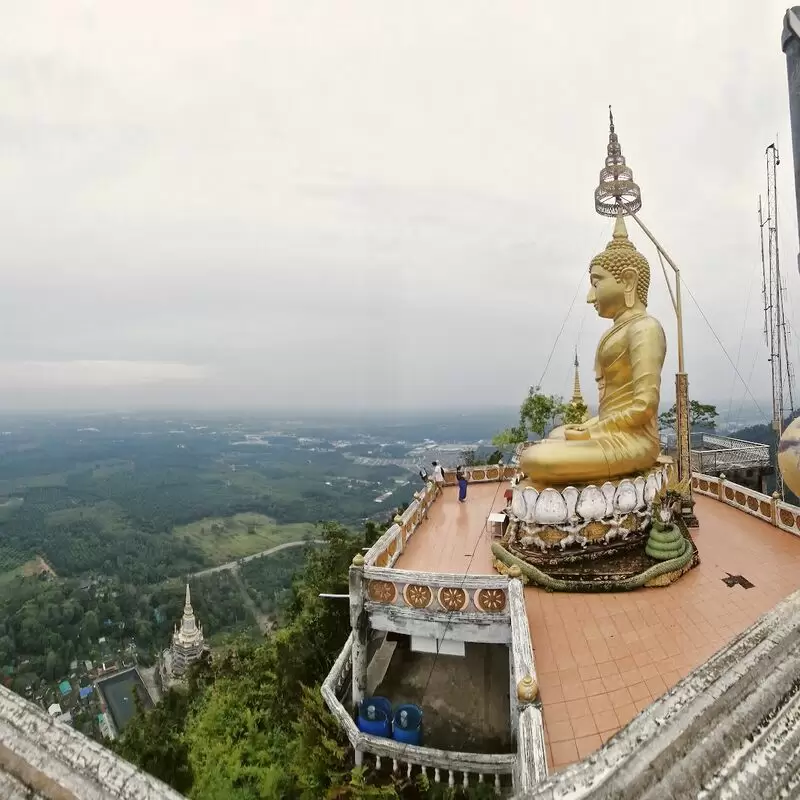 Wat Tham Seua Krabi
35 Tambon Krabi Noi, Mueang Krabi District
Monday - Sunday: 6:00 AM – 4:00 PM
2. Pi Leh Bay Pi Leh Lagoon)

Escape to sublime Pi Leh Bay, a secluded paradise in Krabi often bypassed by tourists. This emerald lagoon, surrounded by towering limestone cliffs, offers remarkably clear waters for a quiet swim or snorkeling away from the crowds. Discover the fascinating beauty of the bay on a kayak tour to unexplored corners.

Insider tip: Arrive early, when the sunlight gently illuminates this oasis, for an incomparably peaceful experience. Nearby, the breathtaking Viking Cave and the world-famous Mayan Bay offer other awe-inspiring sights to whet your adventurous spirit.

Pi Leh Bay Pi Leh Lagoon)
เกาะพีพี(อ่าวแหลมตง Tambon Ao Nang, เมือง

Monday - Sunday: Open 24 hours
3. ี
Venture far off the beaten path to Than Bok Khorani National Park (อุทยานแห่งชาติธารโบกขรณี), a true hidden gem in Krabi. Admire the stunning beauty of nature, from mesmerizing waterfalls to pristine limestone caves. Marvel at the exceptionally rare plants, some of which are found only in this park! And don't forget to bring a picnic to watch exotic birds. Besides, the charming fishing village of Ao Luk is nearby and invites you to explore. It is truly a paradise for nature lovers.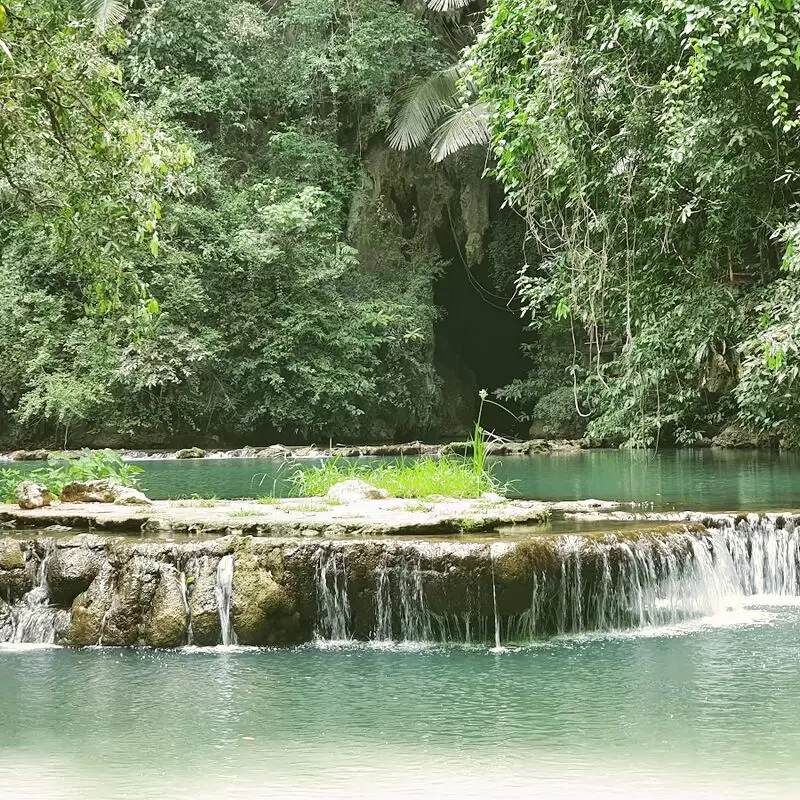 ี
2 Tambon Ao Luek Tai, Ao Luek District
Monday - Sunday: 8:30 AM – 4:30 PM
4. Princess Cave Railay Krabi)
Changing landscapes and mysterious stories await you at the Princess Cave in Railay, Krabi! This fascinating cave called "Phra Nang" offers a unique aspect of Thai culture: it is dedicated to a mythical sea princess, reflected in a number of impressive objects. Venture into the depths and be enchanted by the breathtaking stalactite formations. Nearby Phra Nang Beach is captivating with its clear turquoise waters. Don't miss the breathtaking sunset view - a truly incredible sight known only to insiders.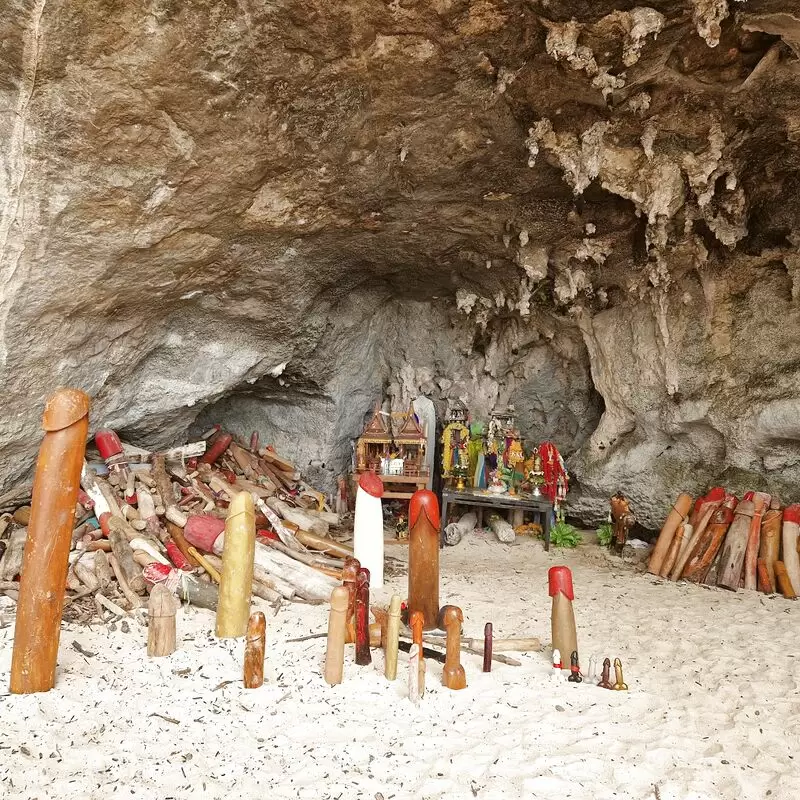 Princess Cave Railay Krabi)
2R3R+R4R, Ao Nang, Mueang Krabi District
Monday - Sunday: Open 24 hours
5. Bamboo Island
Immerse yourself in absolute tranquility on Bamboo Island, an unspoiled gem near Krabi. This small, shallow island is known for its shimmering white sand and crystal clear waters - perfect for a refreshing swim or snorkeling adventure. The edges of the island teem with colorful coral and vibrant marine life. The breathtaking view of Phi Phi Leh, just a short boat ride away, further enhances the island's beauty. Explore this little paradise and experience Thailand's nature at its best.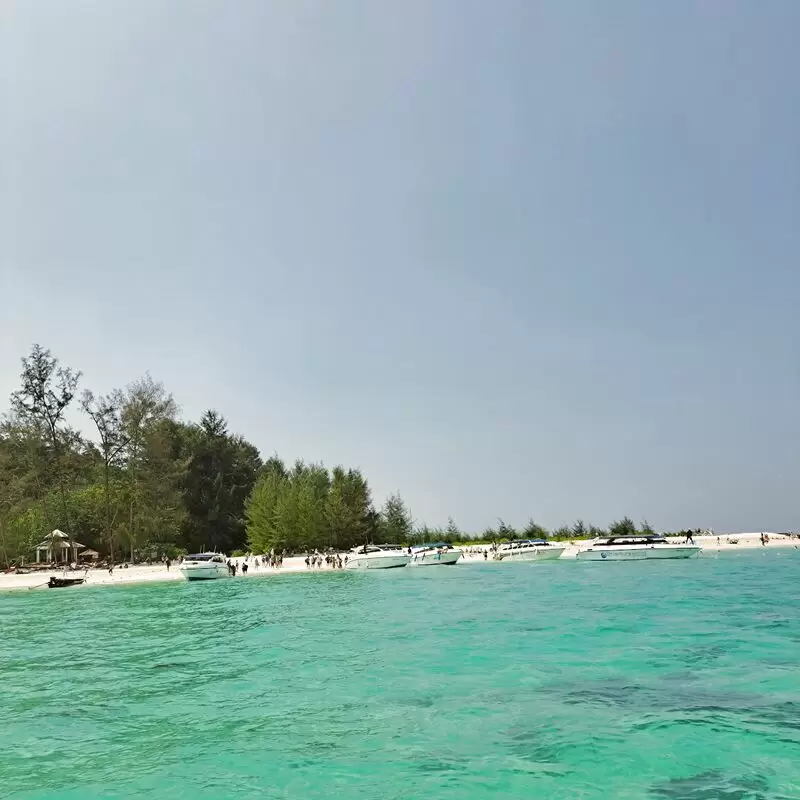 Bamboo Island
RQ8W+P6J, Ao Nang, Mueang Krabi District
Monday - Sunday: Open 24 hours
6. Emerald Pool
Immerse yourself in the crystal clear waters of Krabi's Emerald Pool - a hidden gem amidst lush tropical forests. Known for its unique turquoise color from mineral-rich hot springs, this enchanting natural spa adds an invigorating touch to your Thailand adventure. Whispering waterfalls nearby provide peaceful serenity, and just a short walk away, the Blue Pool enchants visitors with its vibrant colors. Of course, don't forget the unique photos for your photo collection! It's more than just a swim, it's an experience.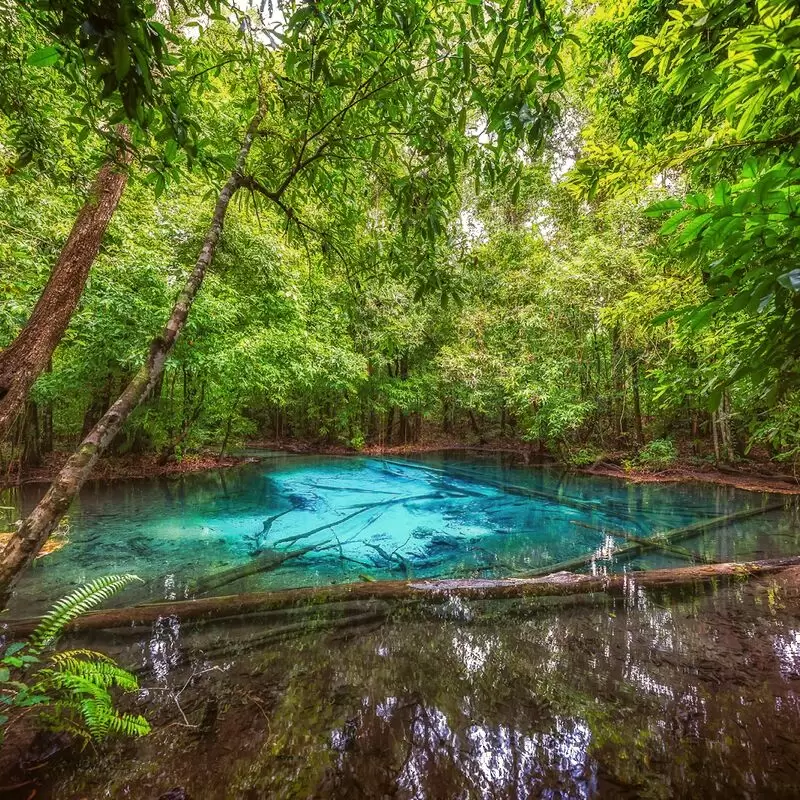 Emerald Pool
W7G9+27J, Khlong Thom Nuea, Khlong Thom District
Monday - Sunday: 8:30 AM – 4:30 PM
7. Dragon's Crest Ngon Nak Nature Trail)
Exploring Dragon's Crest or Ngon Nak Nature Trail should be at the top of your Krabi itinerary. This exotic Thai wonder offers a heart-pounding hike with breathtaking panoramic views of Krabi's limestone cliffs, emerald forests and mesmerizing blue sea. Along the way, you'll encounter unique wildlife that makes the hike not only an adventure, but also a sensory experience. Don't forget to pack your camera and a picnic, as the summit is the perfect place for a meal surrounded by nature. Nearby is the hidden gem Tubkaek Beach where you can relax.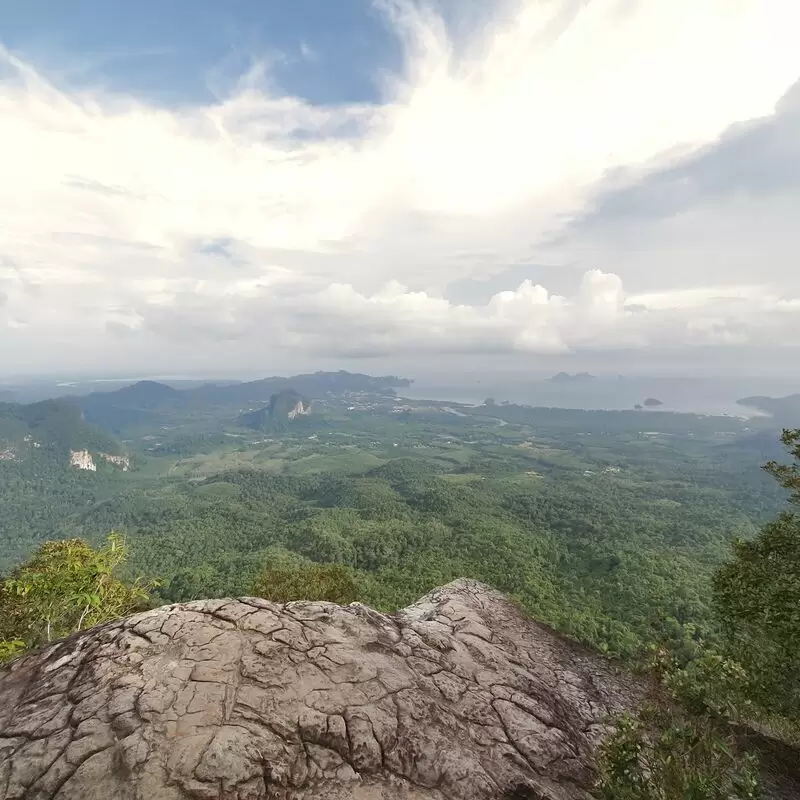 Dragon's Crest Ngon Nak Nature Trail)
m3 Tambon Nong Thale, Mueang Krabi District
Monday - Sunday: 8:00 AM – 2:00 PM
8. Anda Krabi Seatour ์
Immerse yourself in the vibrant marine life of the Andaman Sea with Anda Krabi Seatour. Experience firsthand the beautiful corals and colorful fish of the underworld. An invigorating experience awaits as you bask in the picturesque views during the boat ride. Nearby is also the lesser known but equally fascinating Phra Nang Cave Beach. Don't miss the opportunity to kayak through the turquoise waters or explore the mysterious cave with its beautiful stalactites! This is a must see in Krabi!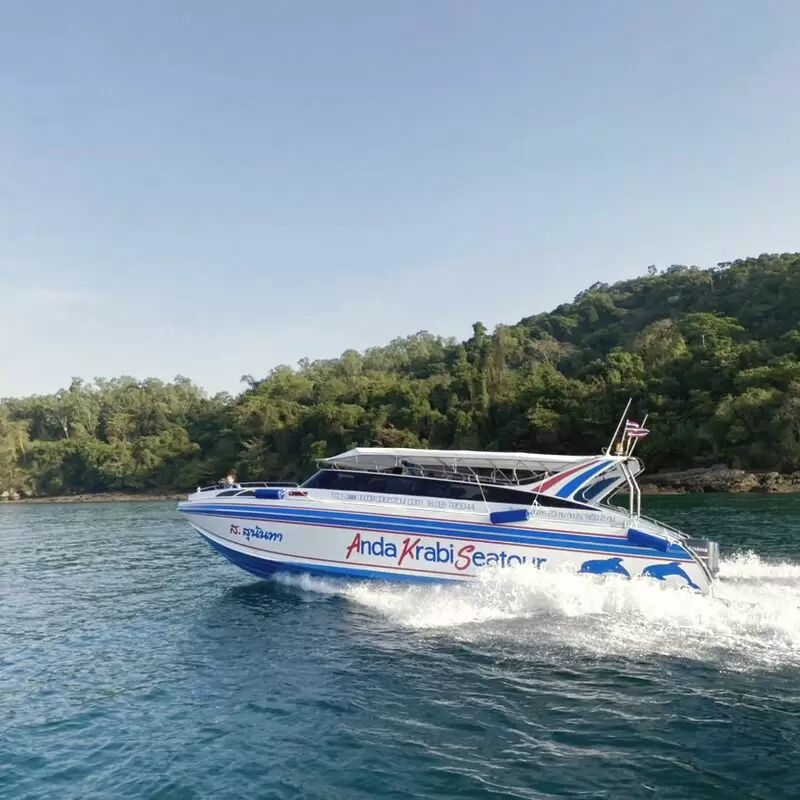 Anda Krabi Seatour ์
697 หมู่ 1 ถนนนาไทย ติดมัสยิดนาไทย ห้องที่1ชั่น2 Tambon Ao Nang, เมือง
Monday - Sunday: Open 24 hours
9. Ao Ton Sai Pier

Ao Ton Sai Pier in Krabi is the gateway to a tropical paradise. Famous for its breathtaking seascape, it is the main starting point for travelers who want to go to the enchanting Phi Phi Islands. Take a break, enjoy the lively atmosphere and try authentic Thai street food.

An insider tip: try the freshly caught grilled seafood, it is very popular with the locals! Nearby, you can buy unique handmade souvenirs and local Thai delicacies at the bustling market in Phi Phi Don Village.

Ao Ton Sai Pier
Moo 7, Phi Phi Island Mueang Krabi District

Monday - Sunday: Open 24 hours
10. Long Beach
A visit to Long Beach in Krabi is a must, offering pristine, milky-white sand and mesmerizing views of the surrounding limestone cliffs. The beach is not that crowded, making it an idyllic spot for sunbathers. Stay until sunset and enjoy an impressive natural spectacle. Not far away, just a leisurely boat ride away, you can explore the hypnotic lagoon at Emerald Pool or feel the adrenaline rush at Hot Springs Waterfall. Don't forget to visit the local vendors selling refreshing coconuts!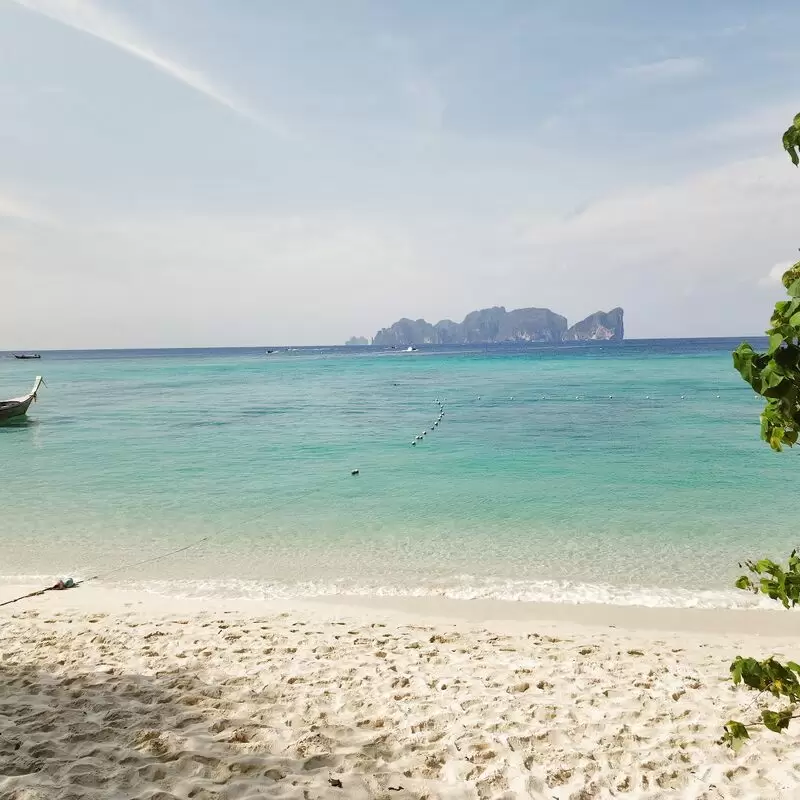 Long Beach
PQHP+PGM, Ao Nang, Mueang Krabi District
Monday - Sunday: Open 24 hours
11. Phra nang Cave Beach

Travel to Phra Nang Cave Beach, a hidden gem in Krabi, Thailand. It's a paradise of sparkling turquoise waters, lush green cliffs, and soft, powder-fine sand.

One of the insider tips is Phra Nang Shrine, a curious cave filled with wooden offerings from local fishermen. Nearby, you can take a longtail boat tour to Railay Beach or venture on an adventurous climbing tour. The lush scenery, history and a touch of mystery make this place a must-see.

Phra nang Cave Beach
Phra nang Cave Beach, Krabi
12. Thara Park
A visit to Thara Park in Krabi is a must! It is a quiet haven amidst the hustle and bustle of the city, filled with tranquil ponds and exercise trails. Witness locals practicing Tai Chi at dawn or join in a friendly game of soccer. Don't miss exploring the park's sculpture garden, which features fascinating modern Thai art. Also, the park is located near the Krabi River, from where you can take a traditional longtail boat to see the stunning limestone karst rocks. It is a wonderful mix of culture, activity and relaxation.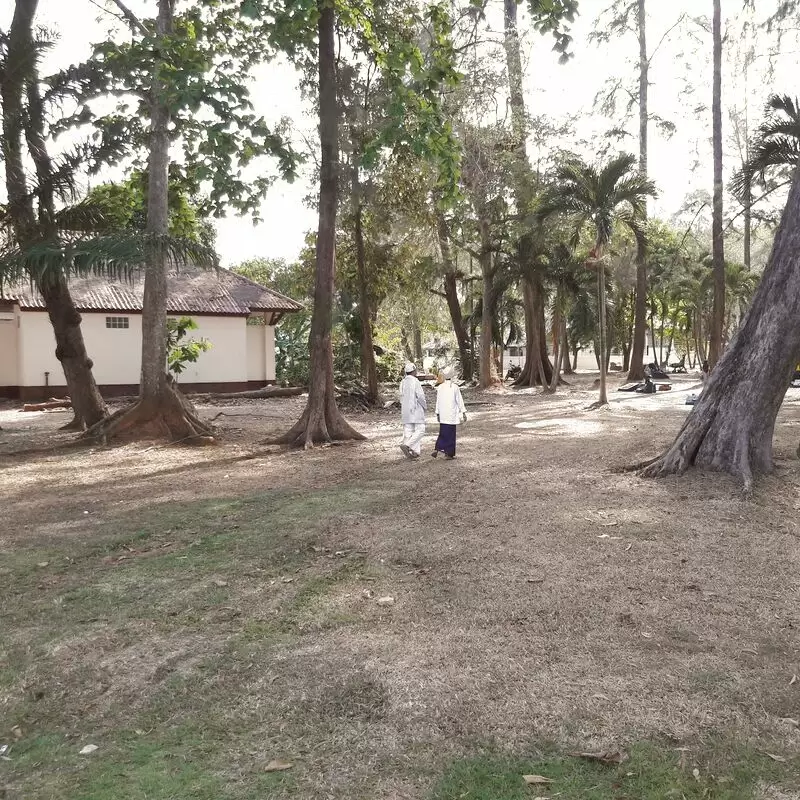 Thara Park
69 Thanon Utarakit, Tambon Sai Thai, Mueang Krabi District
Monday - Sunday: Open 24 hours
13. Ko Poda
Ko Poda is a paradise in the crystal clear waters of Krabi. With its powder-soft sand and world-class snorkeling, it's a wonderful escape from the crowds. The view of the limestone karst landscape from the beach is a postcard motif, especially at sunset. Don't forget to capture this moment! The island is just a short boat ride away from four similarly picturesque islands, including Chicken Island, named for its unique rock formation that resembles a chicken's head.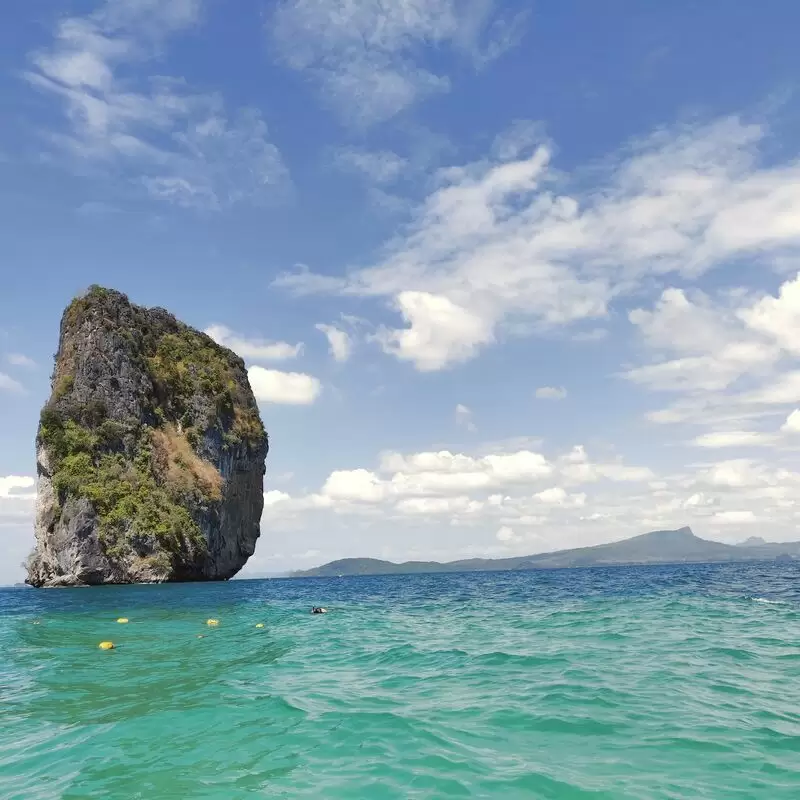 Ko Poda
Ko Poda, Mueang Krabi District
14. Krabi Walking Street
Krabi Walking Street is an absolute must-see when visiting Krabi. Every weekend it comes to life and transforms into a vibrant market where local delicacies, handmade crafts, colorful clothing, accessories and unique souvenirs line the street. Enjoy Thai street food at its finest or watch fascinating street performances. It's a shopper's paradise, a cultural oasis and a foodie's dream all in one! Just steps away is Wat Kaew Korawaram, a stunning white temple that towers over the city. Prepare for an authentic Thai experience in this hidden gem!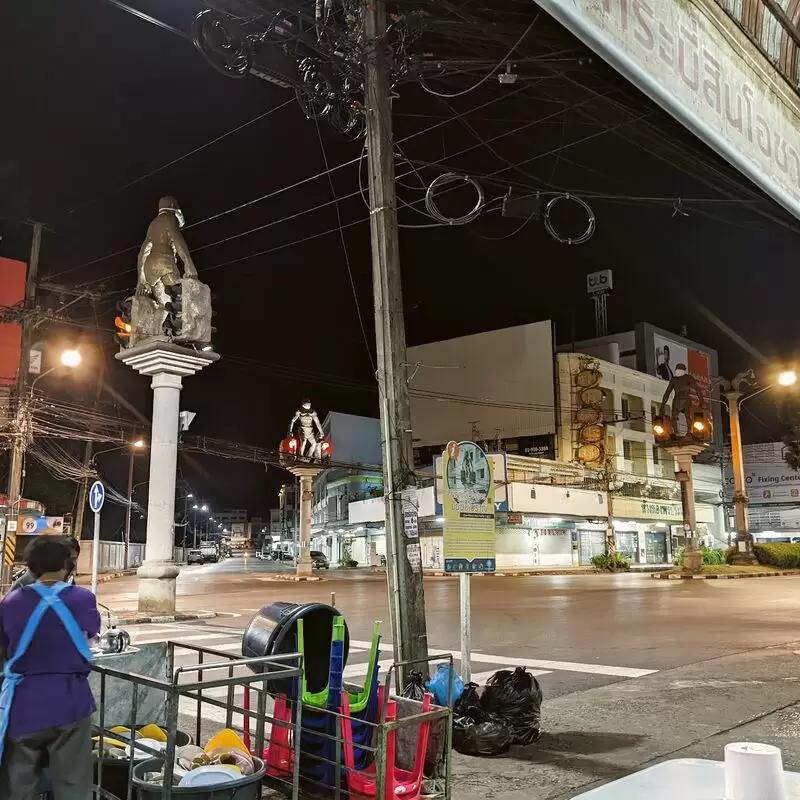 Krabi Walking Street
Pak Nam, Mueang Krabi District
Monday - Thursday: Closed
Friday - Sunday: 5:30 – 10:00 PM
15. Ao Nang Landmark Night Market
At the Ao Nang Landmark Night Market, you can explore the cultural heart of Krabi. This bustling night market is much more than just a shopping destination; it's a treasure trove for foodies and collectors. Strolling through the stalls, you'll find everything from delicious Thai delicacies to handmade jewelry. The place is bustling with activity, and there's a new surprise around every corner. Just a short walk away is the stunning Nopparat Thara Beach, perfect for a post-market nightcap.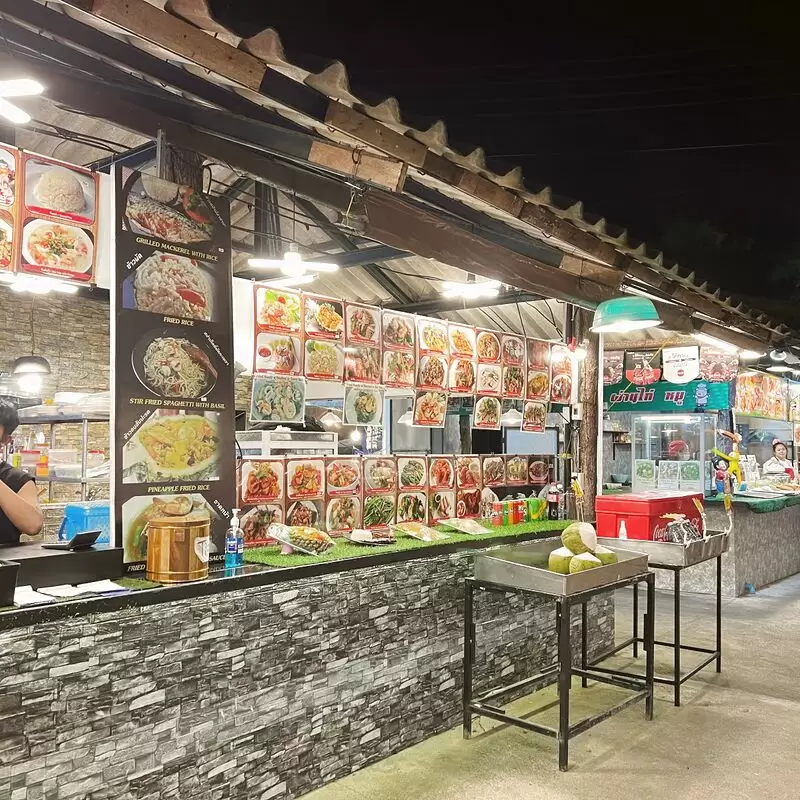 Ao Nang Landmark Night Market
หมู่ที่ 3 ตำบล อ่าวนาง Mueang Krabi District
Monday - Sunday: 5:30 – 10:00 PM
16. Krabi Town Night Market
Take a trip through Krabi Town's vibrant night market, an authentic Thai experience not to be missed. An explosion of colors, sounds, and tantalizing aromas await you in the bustling alleyways. Enjoy a plethora of local street food, from fried insects for the adventurous to classic Pad Thai for the traditionalists. Don't forget to haggle for ornate handicrafts and unique souvenirs. Just a stone's throw away is the fascinating Buddhist temple of Wat Kaew, which glows at night. A true immersion into the local culture.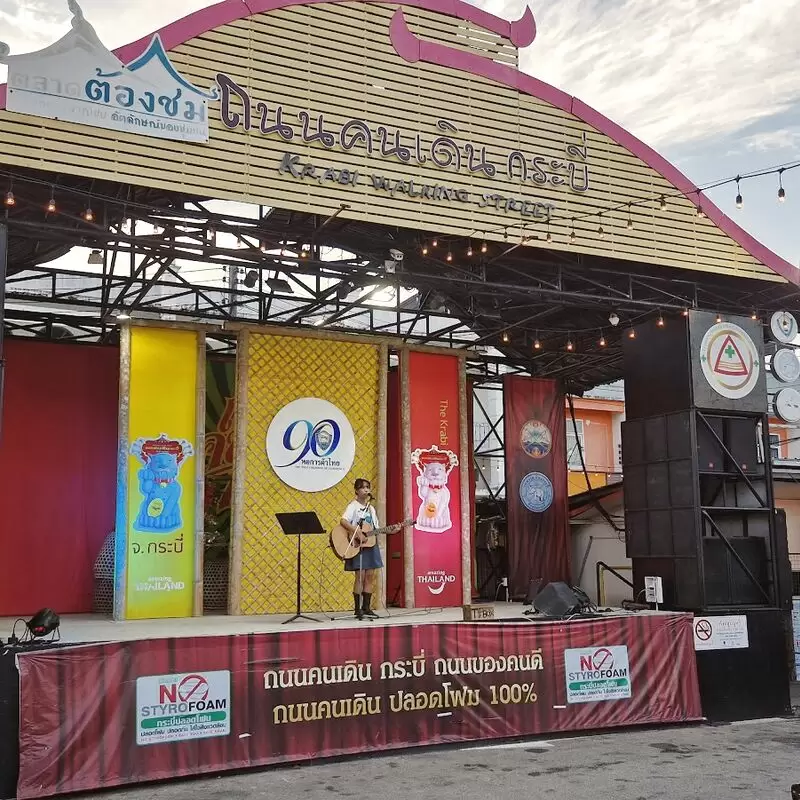 Krabi Town Night Market
3W78+QJ2, Pak Nam, Mueang Krabi District
Monday - Thursday: Closed
Friday: 6:00 – 10:00 PM
Saturday - Sunday: 6:00 – 11:00 PM
17. Nopparat Thara Pier
Nopparat Thara Pier in Krabi is an ideal place for nature lovers and photography enthusiasts. Set amidst stunning limestone formations and crystal clear waters, the pier offers mesmerizing sunset views and easy access to nearby islands such as Phi Phi and Poda. At nearby food stalls, often overlooked by tourists, you can challenge your taste buds with local delicacies. Just a few steps away, you can discover the hidden beauty of Nopparat Thara Beach, popular with locals for its peaceful atmosphere and stunning seascape.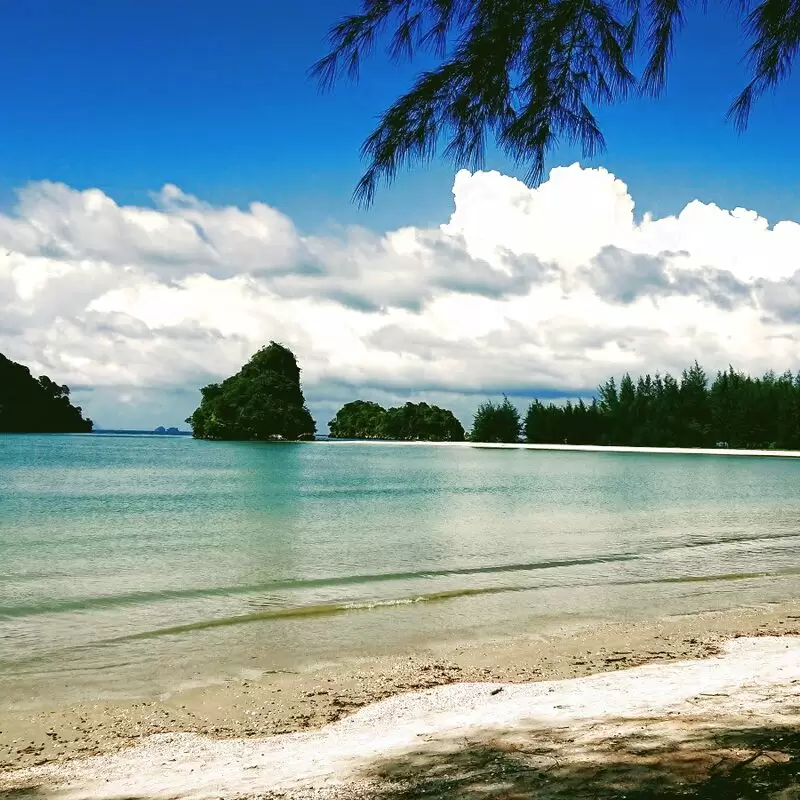 Nopparat Thara Pier
2QWX+XCH, Ao Nang, Mueang Krabi District
18. Phi Phi Viewpoint 3
Discover the divine expanse of tropical enchantment from the sweeping heights of Phi Phi Viewpoint 3. Less frequented by tourists, this vantage point offers spectacular views. Let your eyes wander over Tonsai village, Loh Dalum Bay and the emerald cliffs. We promise you that every sweaty step will be worth it! Savory tip: Choose sunrise to escape the heat and crowds - it's a heavenly paradise! Just a short boat ride away, you can also explore Maya Bay - another piece of Krabi's sublime beauty.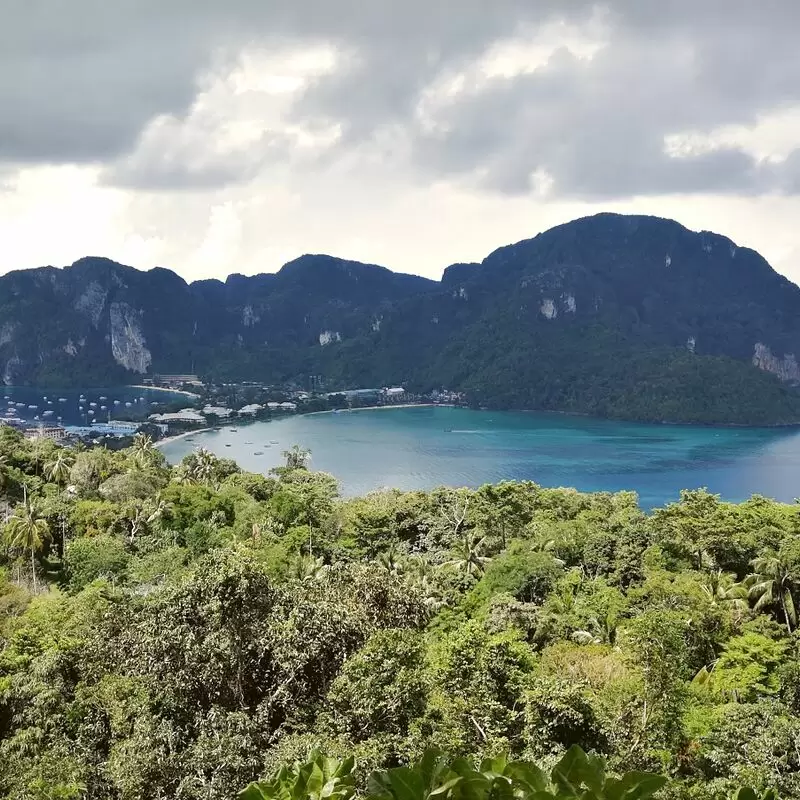 Phi Phi Viewpoint 3
125/39 Moo 7 Phi Phi Island, ตำบล อ่าวนาง Meaung
19. Koh Pakbia
Koh Pakbia is a real hidden gem in Krabi, an unspoiled paradise ideal for those seeking a quiet retreat. Its exotic beauty, especially the sandy beaches that emerge at low tide, offers unique photo opportunities. Its crowning glory, a gigantic limestone cliff, provides the backdrop for picturesque sunsets. Near Koh Pakbia is the secluded Lading Island, where nests of swifts - birds known for their edible nests - are quietly harvested. This unspoiled encounter with nature makes this trip an unforgettable experience in Thailand.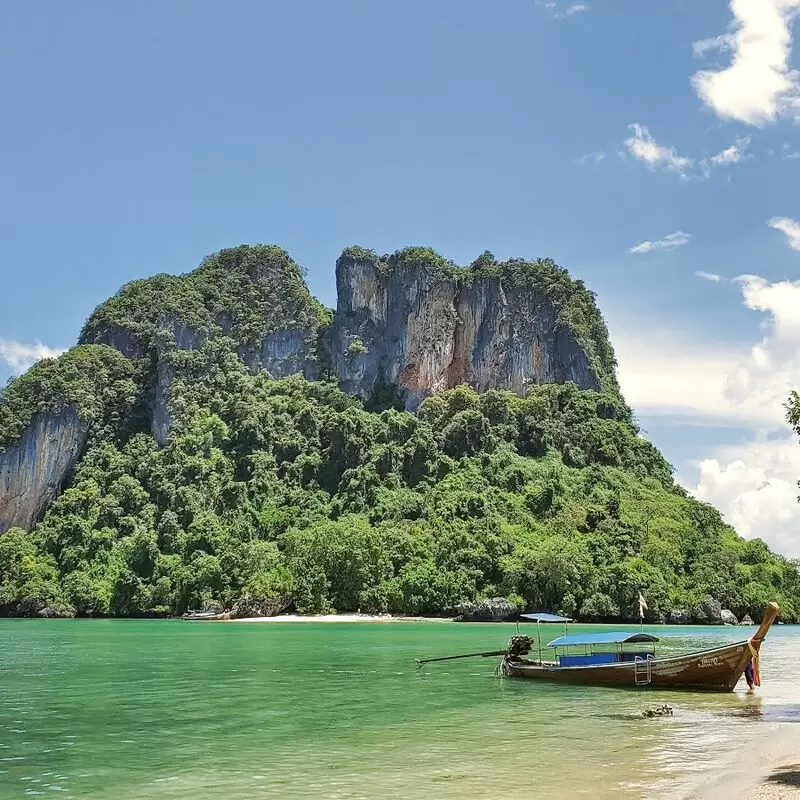 Koh Pakbia
4M8G+WCJ, Nong Thale, อำเภอ อ่าวลึก
Monday - Sunday: 6:00 AM – 6:00 PM
20. Viking Cave
For adventure seekers and history buffs, the Viking Cave in Krabi is a must-see. Experience the immense beauty of nature and ancient cave paintings depicting boats similar to those used by the Vikings. Immerse yourself in the vibrant industry of edible bird nests collected in the cave. Don't miss the breathtaking views from nearby Bamboo Island, just a boat ride away. Get ready for an adventure in Krabi that will make you feel like you've stepped back in time!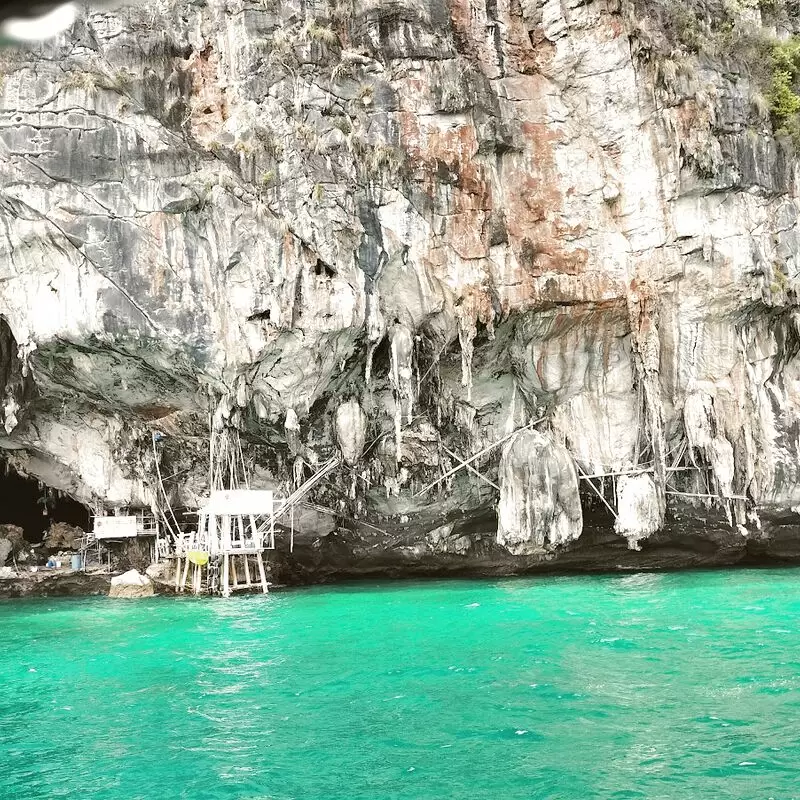 Viking Cave
Thailand, MQR8+CPJ ตำบล อ่าวนาง Mueang Krabi District
Monday - Sunday: Open 24 hours
21. Wat Kaeo Korawaram
Visit Wat Kaeo Korawaram, an elegant Thai-style temple perched on a hill in Krabi Town. Admire the impressive murals, ornate shrines and tranquil gardens. The climb up the hill offers a fascinating view of the city. Don't miss the small marker that identifies the original location of the "Tiger Cave" from which Krabi derives its name. After indulging in spiritual tranquility, visit the nearby bustling Krabi night market to immerse yourself in the vibrant local culture.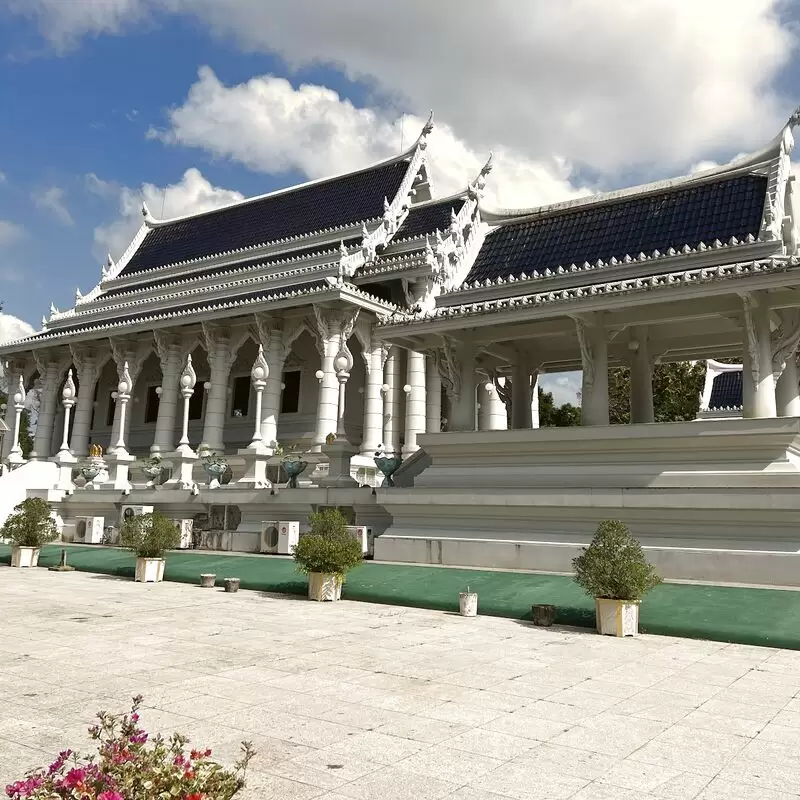 Wat Kaeo Korawaram
3W77+53R, Pak Nam, Mueang Krabi District
Monday - Sunday: 8:00 AM – 3:00 PM
22. Andaman Cultural Study Center

Immerse yourself in local culture and art at the Andaman Cultural Study Center, Krabi, a treasure trove of southern Thailand's rich heritage. A must for history buffs! The well-curated exhibits take you through time, from ancient sea gypsy traditions to contemporary Andaman arts and crafts.

Insider tip: Look out for local artisans making fascinating batik fabrics in live demonstrations! Nearby, take a scenic walk to the iconic Krabi River to end your eventful day.

Andaman Cultural Study Center
ถนนมหาราช ตำบลปากน้ำ อำเภอเมือง

Monday - Saturday: 9:00 AM – 4:00 PM
Sunday: Closed
23. Pirate Beach Cove
A visit to the majestic Pirate Beach Cove in Krabi is like a visit to a picture postcard. It is famous for its turquoise waters, stunning limestone cliffs and abundance of tropical fish that make for an unforgettable snorkeling experience. This hidden gem with its secret caves and exciting pirate legends will awaken your inner explorer. At the end of your adventure, you can take a longtail boat to nearby Phra Nang Beach and enjoy a peaceful sunset. Spectacular views and a rich history await you at Pirate Beach Cove!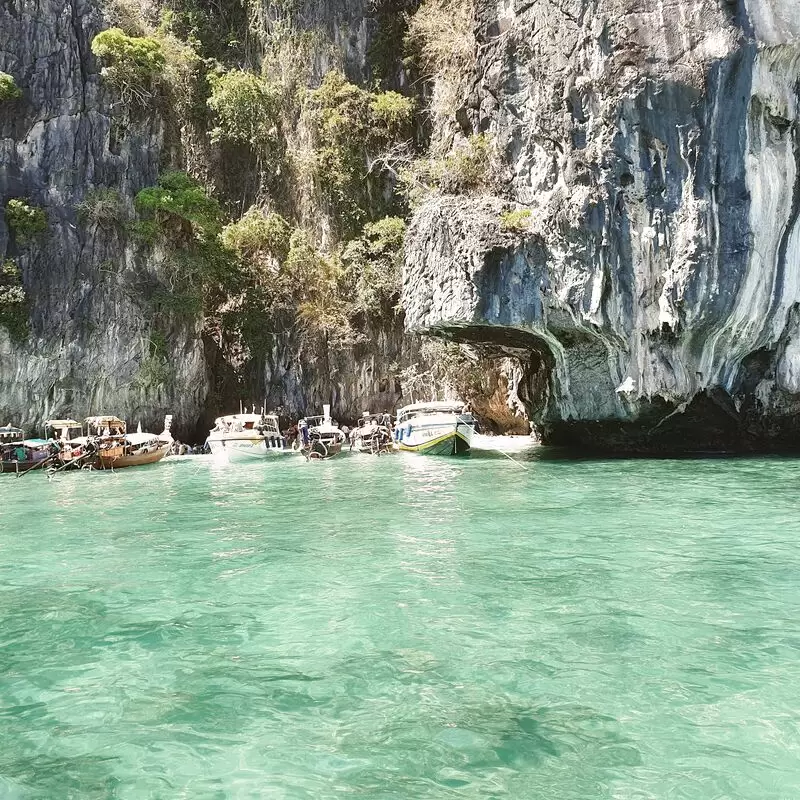 Pirate Beach Cove
Ao Nang, Mueang Krabi District
Monday - Sunday: 7:00 AM – 6:00 PM
Best Time to Visit Krabi
The best time to visit Krabi, Thailand, is the dry season, from November to March. During these months, you can expect less rainfall, moderate temperatures and calm seas, perfect for exploring beaches, snorkeling and island hopping.
Annual Weather in Krabi
Krabi 3-Day Forecast
Tue, 26 September
Night
79 °F
26 °C
84%
Morning
78 °F
25 °C
53%
Afternoon
77 °F
25 °C
80%
Evening
77 °F
25 °C
77%
Wed, 27 September
Night
77 °F
25 °C
75%
Morning
77 °F
25 °C
73%
Afternoon
77 °F
25 °C
71%
Evening
78 °F
25 °C
69%
Thu, 28 September
Night
78 °F
26 °C
67%
Morning
78 °F
26 °C
60%
Afternoon
80 °F
27 °C
63%
Evening
79 °F
26 °C
0%
Questions & Answers

What's the best way to get around in Krabi?

There are several ways to get around Krabi, but for short distances most tourists rent scooters or motorcycles. For longer distances, you can use local cabs or tuk-tuks (motorized rickshaws). You can also use longtail boats or ferries to explore the local islands. Since prices are not regulated, you should negotiate them beforehand. For remote and hard-to-reach places, you should hire a local guide.

Is the tap water safe to drink in Krabi?

In Krabi, as in other parts of Thailand, tap water is not normally recommended as a source of drinking water. This is because tap water may contain certain bacteria or contaminants that can be harmful if consumed directly. It is generally safe for bathing, cleaning, and cooking (after boiling), but for drinking, it is strongly recommended to use bottled water, which is available at reasonable prices throughout the city.

What local foods should I try in Krabi?

While in Krabi, don't miss out on Thailand's culinary landscape. Start with staples like spicy tom yum soup and pad thai. Then switch to regional specialties like Khao Man Kai, a rice dish with Thai-style chicken, and Som Tam, a spicy papaya salad. Finish your meal with sweet mango sticky rice. Seafood lovers should take the opportunity to enjoy fresh local seafood, often served with aromatic Thai spices. Drinks like Thai iced tea are also a must.

Do I need a visa to visit Krabi?

The need for a visa to visit Krabi, Thailand depends on your nationality and length of travel. Many nationalities, including US, UK and EU passport holders, do not require a visa for tourist visits of less than 30 days. However, be sure to check the official Thai Embassy website, the nearest consulate, or your travel agent for accurate and up-to-date information on current regulations. Make sure that your passport is valid for at least six months when you enter the country.

Can I use my credit card in Krabi?

Yes, you can pay with your credit card in Krabi, Thailand. Most hotels, restaurants and larger stores accept credit card transactions. International chain stores and supermarkets also accept credit cards. However, smaller stores, street markets or remote areas may only accept cash. It is therefore advisable to always carry some cash for such places. Always inform your bank about your plans to travel abroad to avoid any inconvenience.

What is the local language in Krabi?

The local language in Krabi is Thai, the official and predominant language throughout Thailand. However, due to the many tourists who visit Krabi each year, English is also spoken in most establishments, especially those related to tourism, such as restaurants, hotels, and tour companies. Some locals also speak a southern Thai dialect, which is a bit different from standard Thai. Learning some basic Thai phrases can enhance your travel experience.

How safe is Krabi for tourists?

Krabi, Thailand, is generally considered a safe destination for both solo travelers and families. It is known for its friendly locals, and violent crimes against tourists are rarely reported. However, as with any destination, it is important to use common sense and take basic precautions. Beware of petty crimes such as pickpocketing and do not leave your belongings unattended. Adhere to local customs and laws to enjoy a safe and enjoyable stay in Krabi.

Does Krabi have a good nightlife?

Yes, Krabi has a vibrant nightlife with a range of options to suit all preferences. In the beach town of Ao Nang there are numerous bars, pubs and clubs right on the beach where you can enjoy live music, cocktails and dance the night away. In Krabi Town you will find more local style bars and karaoke venues. A unique experience is the nightlife at Railay Beach, which is only accessible by boat and offers rustic bars and fire shows on the beach.

Are there any local customs or etiquette I should be aware of?

In Krabi, Thailand, it is customary to respect local traditions. It is considered rude to raise your voice or point your foot at someone - it is the lowest part of the body and therefore means a person is low. When visiting temples, dress conservatively and cover your knees and shoulders. Never touch anyone on the head, as this is considered the highest and most spiritual part of the body. Finally, you should always say wai (a respectful greeting) when meeting locals.

What kind of wildlife can I see in Krabi?

In Krabi you will encounter a variety of wildlife including unique bird species, monkeys and butterflies. The nearby mangrove forests and sea are home to colorful and diverse marine life including brightly colored fish, sea turtles and reef sharks. The Phi Phi Islands and the offshore islands of Ao Nang provide opportunities for snorkeling to observe these beautiful creatures up close. Please respect the natural habitats and do not disturb the wildlife.

Is it affordable to travel in Krabi?

Krabi, Thailand, is definitely an excellent budget-friendly destination. Accommodation, food, transportation and activities, such as boat tours and snorkeling, are inexpensive. In addition, there are a variety of budget accommodations, from inexpensive guesthouses to affordable luxury resorts. The cost of street food and local cuisine is also very low, offering an affordable yet rich gastronomic experience. Keep in mind that prices may increase during the peak travel season, but even then they remain affordable compared to many other destinations.

Can I rent a motorbike in Krabi?

Yes, you can definitely rent a motorcycle in Krabi. Numerous rental companies offer a range of motorcycles, from simple scooters to powerful bikes. Renting a motorcycle is a great way to explore the region at your own pace. To rent a motorcycle, you will need an international driver's license in addition to your regular driver's license. Always remember to wear a helmet and follow Thai traffic rules to ensure safety.

Are there any health risks or vaccinations required for Krabi?

There are usually no special vaccinations required for travelers going to Krabi, Thailand. However, it is recommended that routine vaccinations such as MMR, diphtheria-tetanus-pertussis, varicella, polio and the annual flu shot be refreshed. For some travelers, vaccinations against hepatitis A and B, typhoid and rabies may also be required, depending on the activities planned. Consult with your physician prior to your trip for an individualized health recommendation. There is no risk of malaria in Krabi.

Is there good snorkeling or scuba diving in Krabi?

Yes, Krabi in Thailand is a true paradise for snorkeling and diving enthusiasts. The crystal clear waters, abundant marine life and stunning coral reefs make it a prime diving destination. With over 200 species of fish and 80 species of coral, divers can experience an unforgettable underwater adventure here. Dive sites such as the Phi Phi Islands and the wreck of the King Cruiser are renowned for their beauty and diversity. Whether you are a beginner or an experienced diver, Krabi has something to offer you.

Where can I exchange currency in Krabi?

In Krabi you can exchange money at various places. The local banks such as Kasikorn Bank or Siam Commercial Bank, which are usually located in larger towns such as Ao Nang and Krabi Town, offer favorable rates. Many hotels also offer this service to their guests, albeit at a slightly higher rate. In addition, there are numerous independent exchange bureaus in tourist areas that offer flexibility and convenience, but be sure to check rates to get the best deals.

Can I find vegetarian or vegan food in Krabi?

Of course, Krabi offers plenty of options for vegetarian and vegan diners. Many Thai dishes are traditionally plant-based, and there are also several vegetarian-friendly eateries that offer a wide range of dishes. Some street vendors, local markets, and restaurants can also tailor their dishes to your dietary needs. So, it is not difficult to find vegetarian or vegan food in Krabi so that you can enjoy the incredible flavors of Thailand without compromise.

Do I need a driver's license to rent a car in Krabi?

Yes, you need a driver's license to rent a car in Krabi, Thailand. Although the car rental company may not always ask for it, local law enforcement can fine you if you drive without a valid driver's license. In addition to your driver's license, an International Driving Permit (IDP) is also required if your license is not in English. It is important that you have both documents with you while driving to avoid complications.

Are there any beautiful beaches in Krabi?

Krabi is indeed known for its stunning beaches. Railay Beach is a jewel surrounded by majestic limestone cliffs, offering turquoise waters and powder white sand. Another must-visit is Phra Nang Cave Beach, with its unique caves and tranquil atmosphere. Finally, Ao Nang Beach is popular with travelers for its convenience and lively nightlife surrounded by delicious restaurants, stores and a variety of bars. Each beach in Krabi has its own charm that will captivate any beach lover.

What are the options for public transport in Krabi?

Public transport in Krabi consists mainly of songthaews, minibuses that run on fixed routes between popular destinations. Tuk-tuks are another charming way to travel shorter distances, and cabs and motorcycle cabs are also available. Another popular mode of transportation is longtail boats, which are often used for island-hopping excursions. Alternatively, tourists can rent cars, motorcycles or bicycles to explore the island on their own.

Can I do a cooking class in Krabi?

In any case, cooking classes are one of the unique experiences in Krabi, Thailand. You will have the opportunity to learn how to prepare authentic Thai cuisine from experienced local chefs. Many of these cooking classes take you on a culinary journey that begins with a visit to a local market to source fresh ingredients, followed by a hands-on cooking experience. This is a wonderful way to immerse yourself in Thai culture and take home some new recipes.

Feedback

I hope you found this article informative and helpful. I'm eager to improve the content and make it even more valuable for you. If you have any feedback or suggestions, I would love to hear from you.

Do you have any tips or hidden gems that you think should be added to the list? Are there any areas that you feel could use more explanation or clarification?

Your input is greatly appreciated and will help us to continue providing high-quality content that meets your needs and interests. Please feel free to share your thoughts.