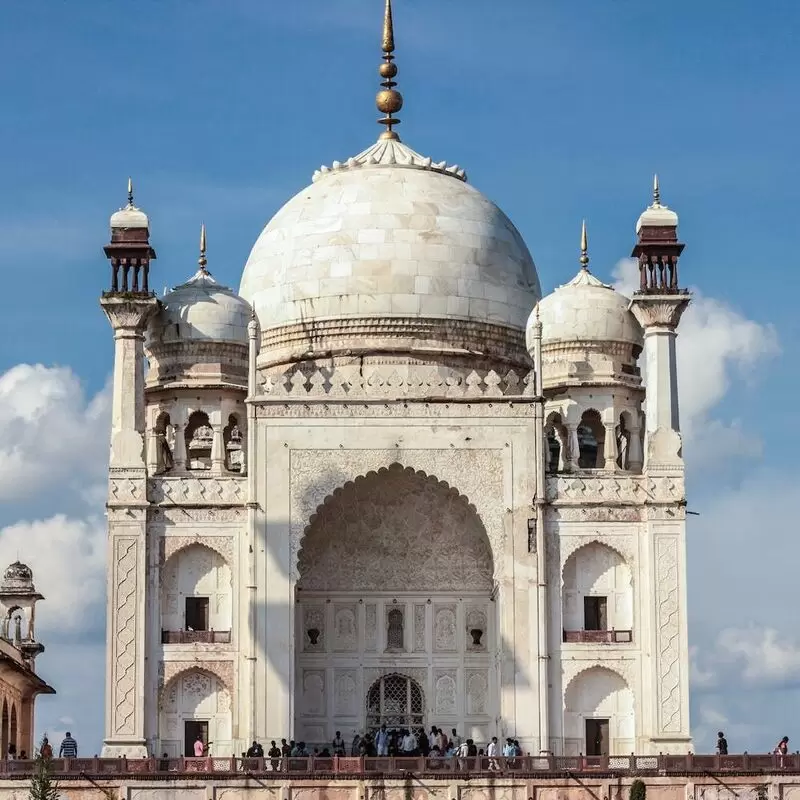 1. Ellora Caves
Embark on an amazing journey to the ancient Ellora Caves in Aurangabad, a UNESCO World Heritage Site. Marvel at the impressive rock-cut temples, monasteries and sculptures from Buddhism, Hinduism and Jainism, built between the 6th and 10th centuries. Don't miss the amazing Kailasa Temple, an architectural marvel carved from top to bottom from a single rock. After exploring the caves, you can continue your cultural experience with a visit to the nearby Daulatabad Fort, another historic structure that holds a fascinating blend of power and beauty.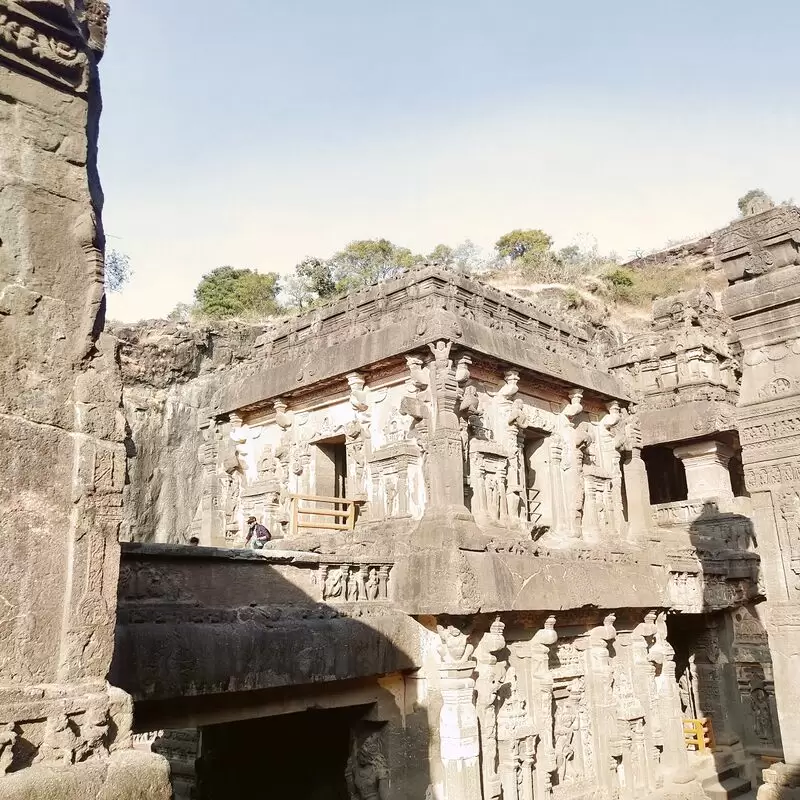 Ellora Caves
Aurangabad
Monday - Sunday: 6:00 AM – 6:00 PM
Tuesday: Closed
2. Daulatabad Fort
Daulatabad Fort in Aurangabad is an enticing blend of historical splendor and architectural mastery that transports you back to the 14th century. The impassable rocky hills, dark labyrinthine passages and secret escape routes were cleverly designed to fool enemies. Be sure to climb to the top, a phenomenal vantage point overlooking the verdant countryside. And don't forget to visit the Ellora Caves, just 16 km away, where the oldest cave paintings in India are kept. See history unfold like a mystery!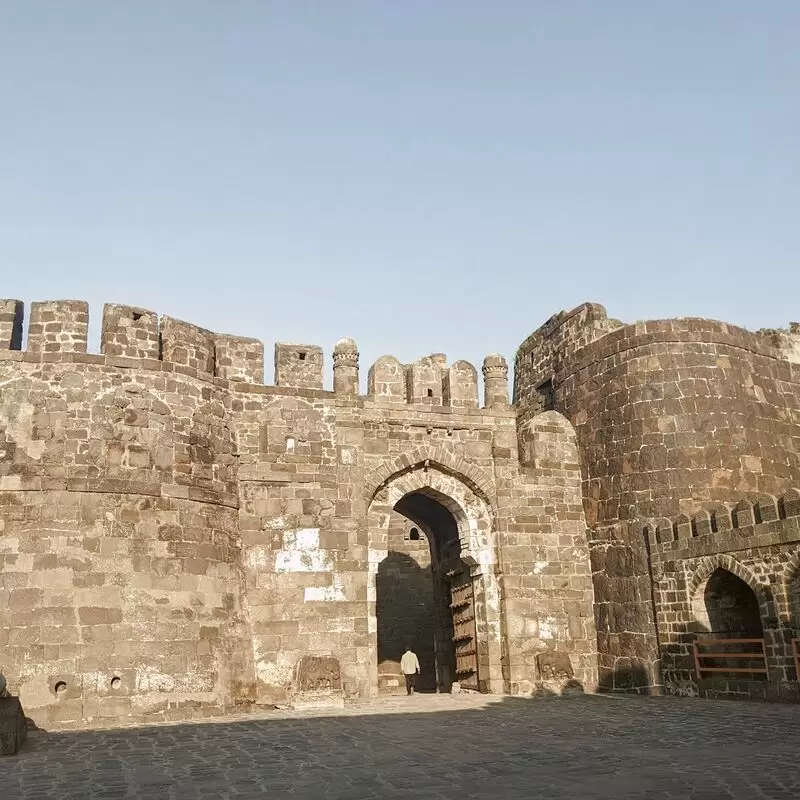 Daulatabad Fort
fort, Daulatabad
Monday - Sunday: 6:00 AM – 6:00 PM
3. Bibi Ka Maqbara
Experience the grandeur of Mughal architecture at Bibi Ka Maqbara, also known as the "Taj of Dakkan". A symbol of eternal love commissioned by Prince Azam Shah for his mother, this marble wonder mimics the beauty of the Taj Mahal. With its fascinating garden and intricate details, it's a photographer's paradise! Take a peek behind the mausoleum and enjoy the magnificent cityscape views. Don't miss the nearby Panchakki, a watermill known for its underground water channel, an amazing feat of medieval engineering.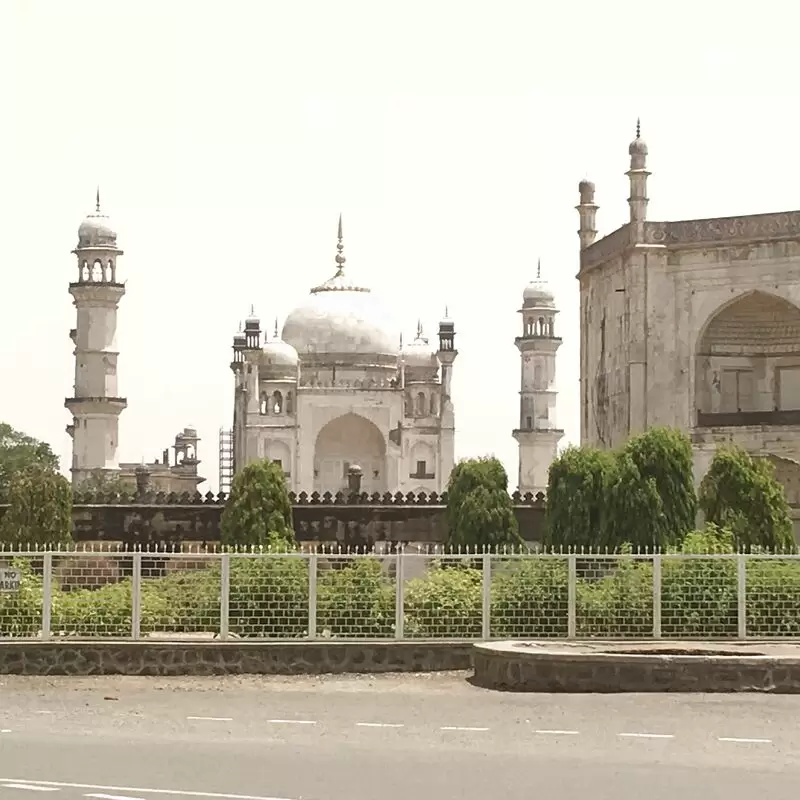 Bibi Ka Maqbara
Begumpura, Aurangabad
Monday - Sunday: 6:00 AM – 10:00 PM
4. Prozone Mall
Experience the epitome of the shopping experience at Prozone Mall, the largest shopping mall in Aurangabad. Add a touch of modern lifestyle to your trip by exploring a variety of stores selling branded goods, local handicrafts and exotic restaurants. Indulge in the famous desserts from the in-house bakeries and don't miss the state-of-the-art multiplex cinema showing the latest movies. Just a short drive away, marvel at the historic beauty of Aurangabad Caves to round off a perfect day.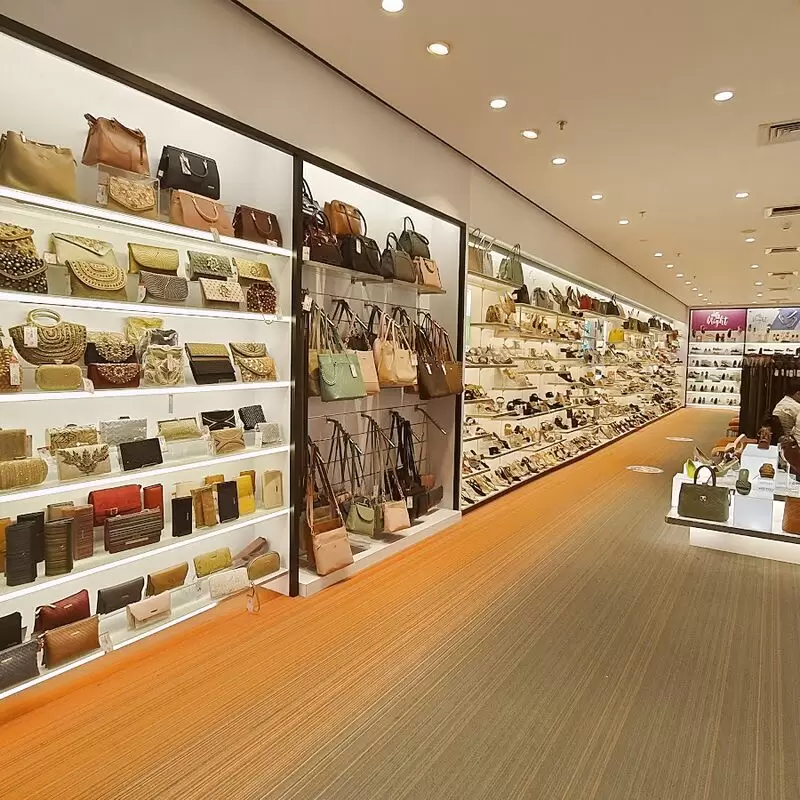 Prozone Mall
API Rd, N 1, Cidco, Aurangabad
Monday - Sunday: 11:00 AM – 9:30 PM
5. Aurangabad Caves Western Group Caves 1 5)
Discover the tranquility and majesty of the lesser known Aurangabad Caves: Western Group (Caves 1-5). Dating back to between the 6th and 7th centuries, these Buddhist caves house brilliant carvings of celestial beings, enigmatic stories, and sculptures depicting Tantric influences. Most striking is the colossal figure of a bodhisattva praying for deliverance from the 8 worldly fears. Pro-tip: Visit in the late afternoon for a magnificent view of the sunset over Aurangabad. Also, the World Heritage Sites of Ellora and Ajanta Caves are nearby.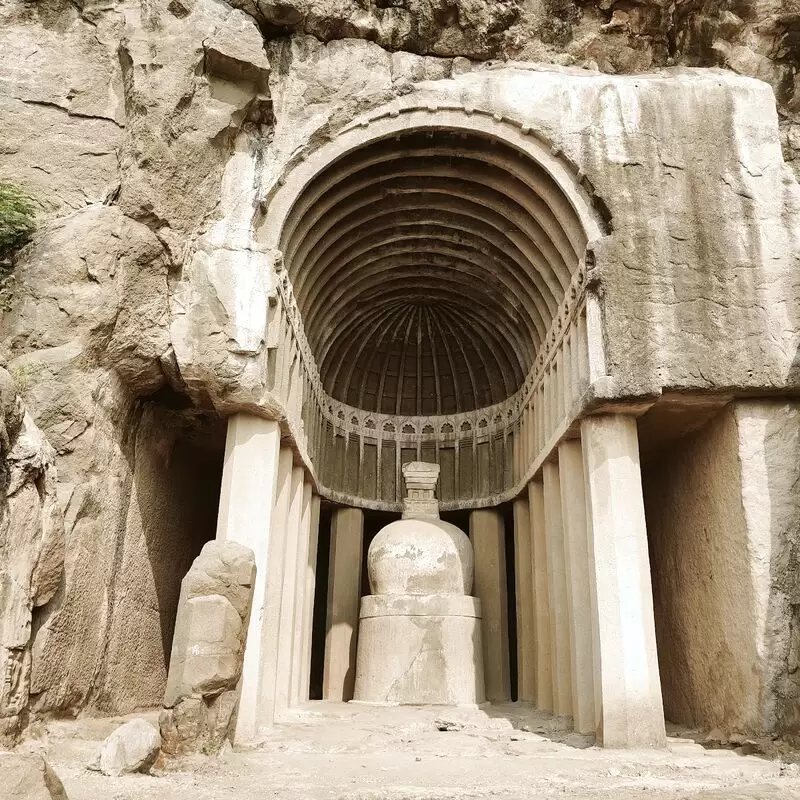 Aurangabad Caves Western Group Caves 1 5)
Grishneswar temple Road, W886+VQR, Aurangabad
6. Siddharth Garden and Zoo
Discover an enchanting oasis in the bustling city of Aurangabad - the "Siddharth Garden and Zoo". This verdant retreat is both a horticultural wonderland and a thriving wildlife habitat. This tranquil haven is home not only to various plant species and playful monkeys, but also to regal tigers and leopards. The park is an asset to nature in the city and promises delightful encounters with flora and fauna. The nearby Ajanta Caves, a UNESCO World Heritage Site, are a must-see for history and art lovers.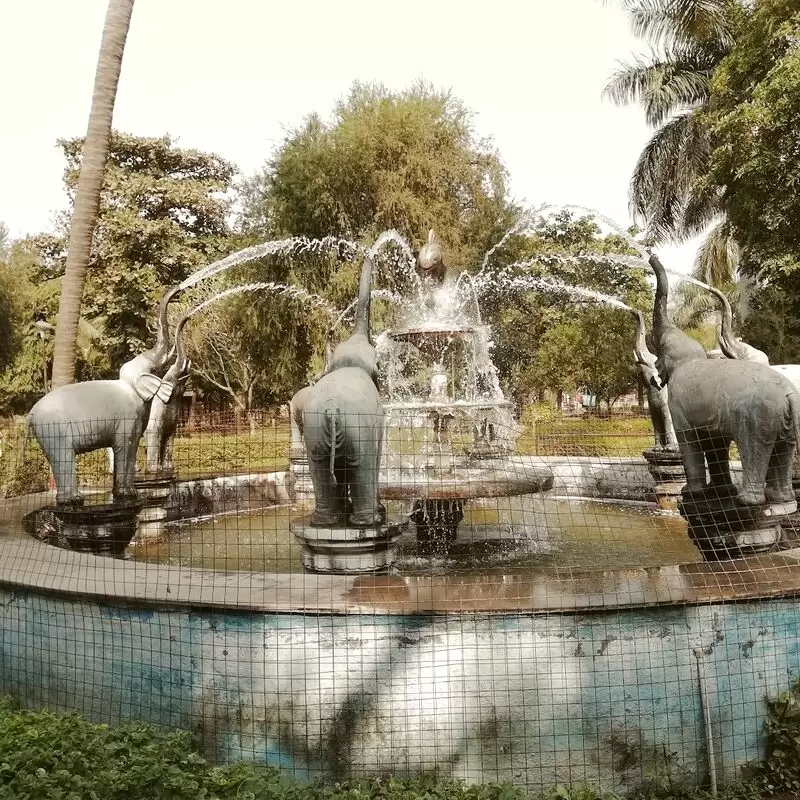 Siddharth Garden and Zoo
Mhada, Aurangabad
Monday - Sunday: 9:00 AM – 5:00 PM
Tuesday: Closed
7. Shri Bhadra Maruti Temple,
Shri Bhadra Maruti Temple, a spiritual retreat in Khuldabad, Aurangabad, instantly transforms your mundane existence into a divine experience. One of the three fearsome Hanuman shrines in India, the temple exudes an aura of tranquility and attraction. Experience the deity in her rare, resting position. Here's a little detail for insiders: Saturdays are especially energetic at the shrine, as it is considered Hanuman's day. In the immediate vicinity is the famous tomb of Aurangzeb, which will also make your spiritual journey a historical one.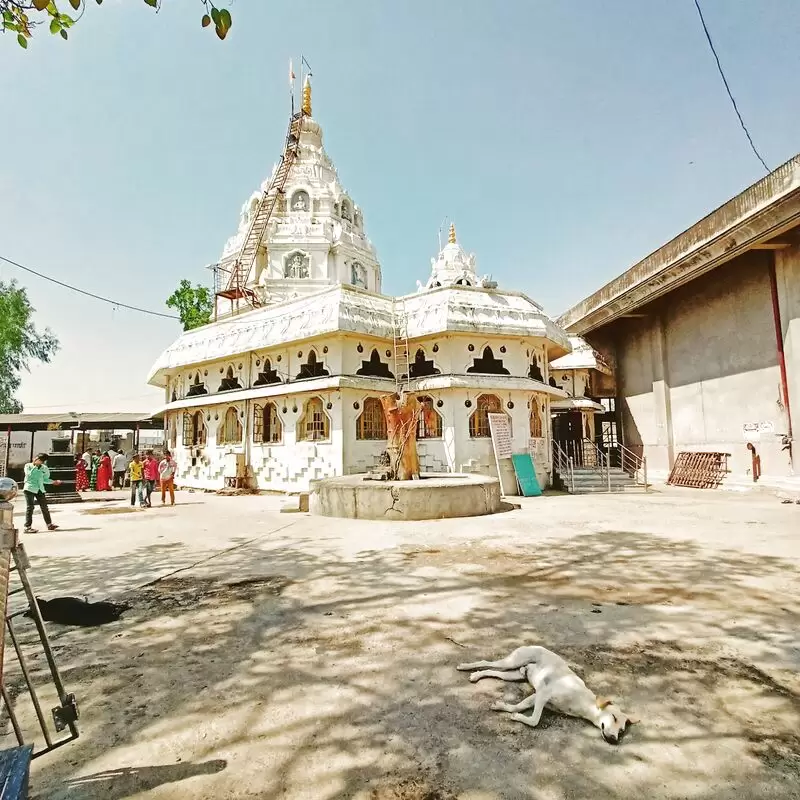 Shri Bhadra Maruti Temple,
Bhadra hanuman mandir, Khuldabad
Monday - Sunday: Open 24 hours
8. Goga Baba Hill
Immerse yourself in the tranquility of nature at Goga Baba Hill, a serene spot with panoramic views of Aurangabad. Exploring this lush green spot is a real treat and popular with local hikers for early morning walks. Enjoy the seclusion away from the hustle and bustle of the city while basking in the golden sunrise panorama. And that's not all: just a stone's throw away is Salim Ali Lake, a birdwatcher's paradise that will transform your day trip into a lush retreat with nature's best offerings in Aurangabad.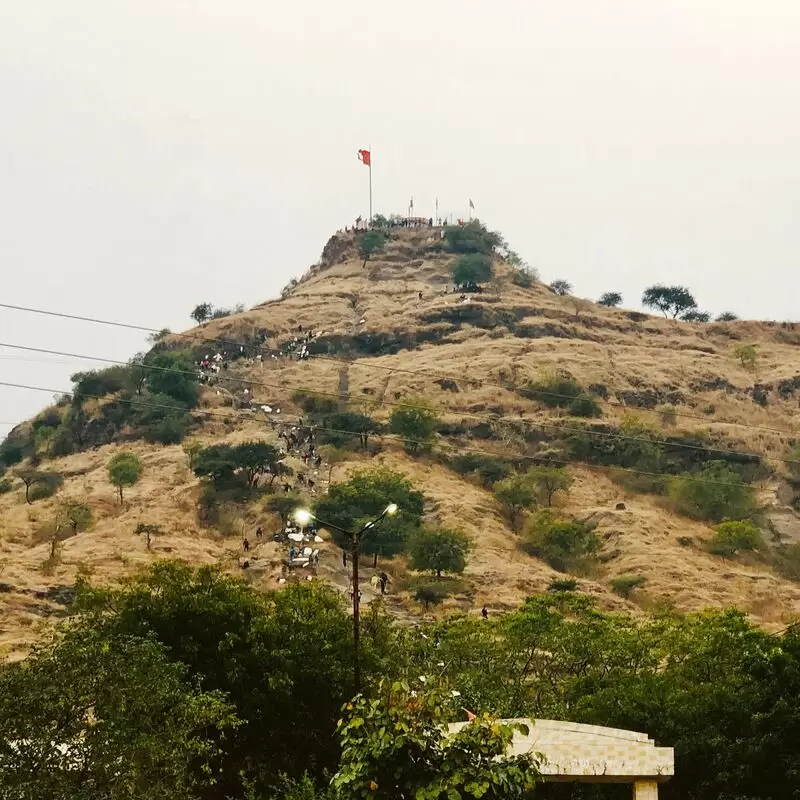 Goga Baba Hill
W843+HQR, Dr Babasaheb Ambedkar Marathwada University Campus, Aurangabad
9. Himayatbagh Biodiversity Heritage site
Discover the lush tranquility of the Himayatbagh Biodiversity Heritage Site, a nature lover's paradise in Aurangabad. This 400-year-old fruit research station offers a colorful spectacle of diverse flora and fauna, beguiling all the senses with its unique blend of nature and science. On the leisurely path along the riverbank, you will have the opportunity to observe exotic bird species. Nearby, the Bibi ka Maqbara, a magnificent mausoleum reminiscent of the Taj Mahal, awaits your exploration and enriches your cultural journey in Aurangabad.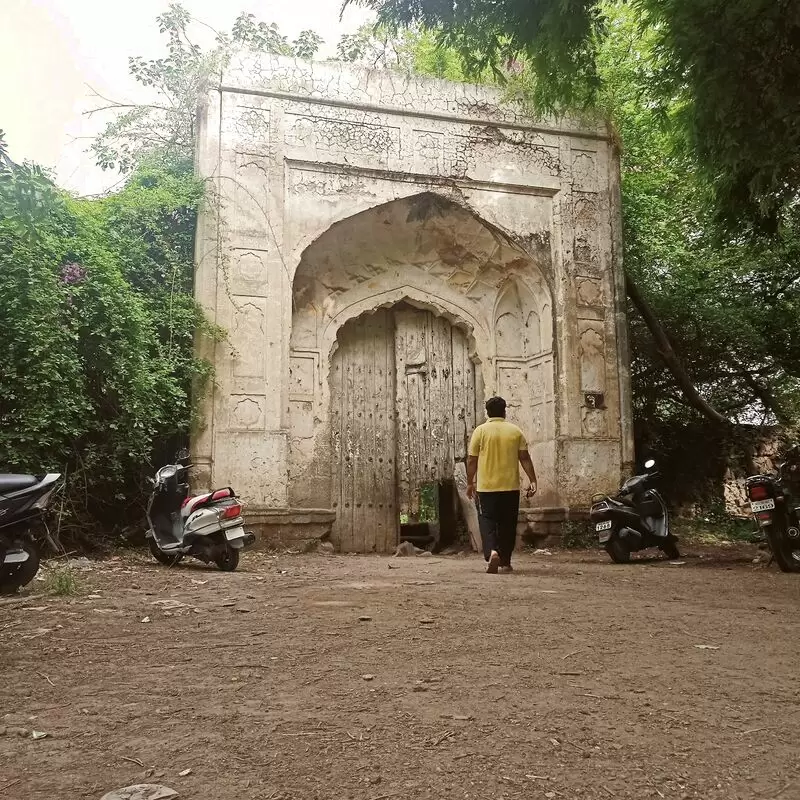 Himayatbagh Biodiversity Heritage site
Plot no- 77, 439, Al-Hilal Colony, Himayat Bagh, Aurangabad
Monday - Friday: 7:00 AM – 8:00 PM
Saturday - Sunday: Closed
10. Devgiri Fort
Devgiri Fort, now known as Daulatabad Fort, is a must-see in Aurangabad! Situated 200 meters above sea level, the fort is an amazing blend of architectural marvel and strategic design. It has a mystical appeal and houses a pitch-black "andheri" designed to confuse intruders. A challenging climb rewards you with panoramic views of the Deccan Plateau. Nearby are the World Heritage Sites of Ellora Caves and Bibi Ka Maqbara, which bear witness to the rich culture of the past.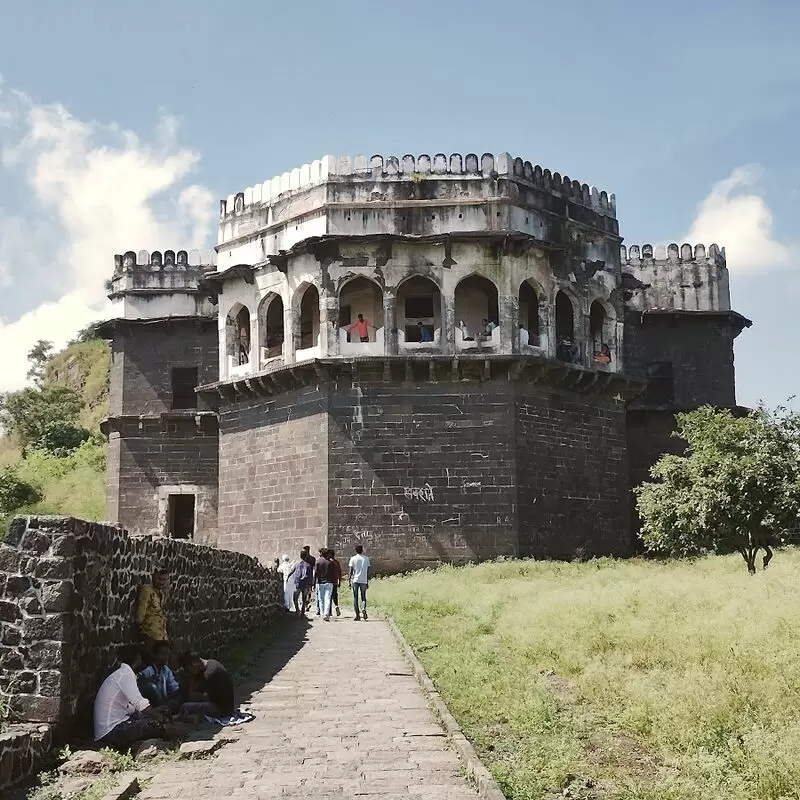 Devgiri Fort
Unnamed Road, W6V7+449, Kesapuri Tanda
Monday - Sunday: 6:00 AM – 6:00 PM
11. Tomb of Mughal Emperor Aurangzeb Alamgir
Visit the simple but historic tomb of the Mughal emperor Aurangzeb Alamgir. Behind its austere facade lies a treasure chest of Mughal history. The hidden gem of Aurangabad is a journey into the past, revealing stories of a past emperor's greatness with its unique inscriptions and hushed whispers. Have you felt the awe of the nearby Bibi ka Maqbara and Ajanta Ellora caves? Don't miss them, for here Aurangzeb's humble end blends intriguingly with the opulence of the Mughals.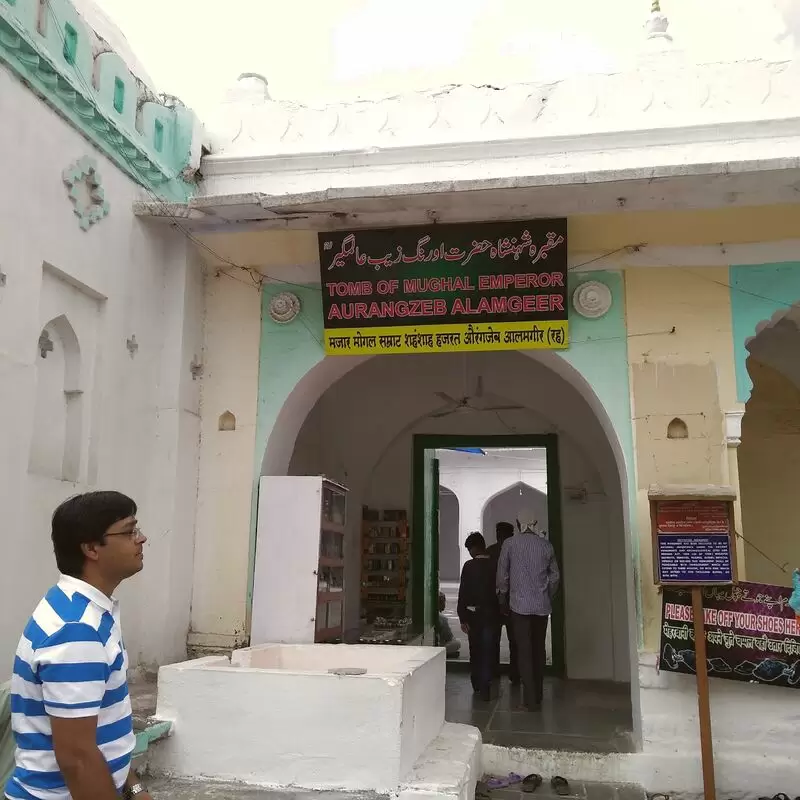 Tomb of Mughal Emperor Aurangzeb Alamgir
Old City, Khuldabad
Monday - Sunday: 5:30 AM – 9:00 PM
12. Chhatrapati Shivaji Maharaj Statue Kranti Chowk Chhatrapati SAMBHAJINAGAR
Visiting the Chhatrapati Shivaji Maharaj statue at Kranti Chowk should be a top priority for history buffs! The towering, marvelous statue pays homage to the Maratha warrior king Shivaji and evokes a sense of deep respect and honor. Strategically located in the heart of the city, the site offers perfect photo opportunities, especially in the evening when the statue is beautifully illuminated. Nearby, you can visit attractions such as the Baba Shah Musafir Dargah, the Siddharth Garden, and the Zoo to experience Aurangabad's rich history and natural beauty.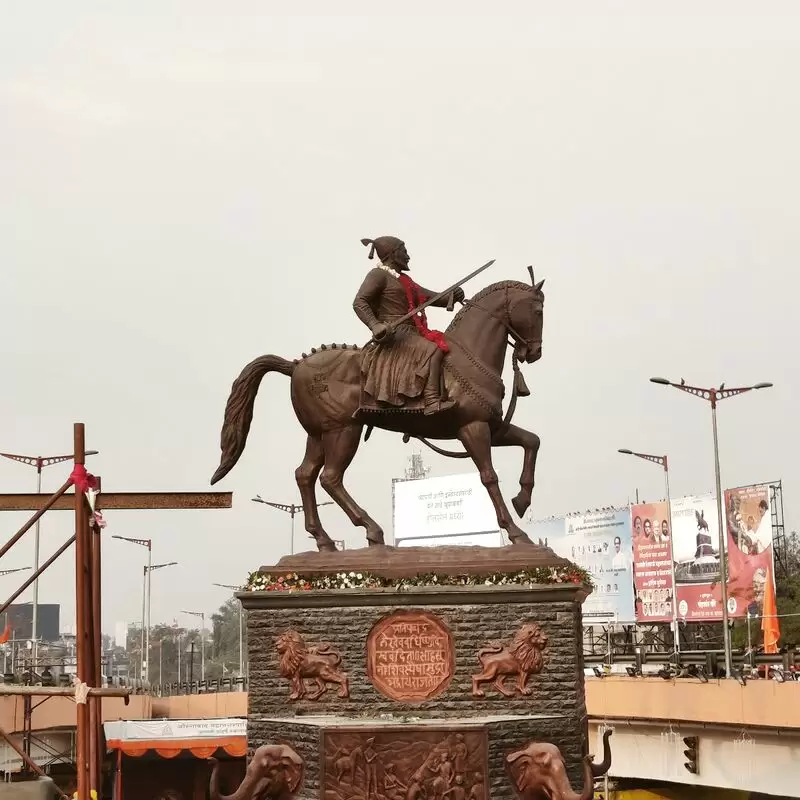 Chhatrapati Shivaji Maharaj Statue Kranti Chowk Chhatrapati SAMBHAJINAGAR
Aurangabad
Monday - Saturday: Open 24 hours
Sunday: Closed
13. Pitalkhora Buddhist Caves
The Buddhist caves of Pitalkhora, steeped in historic charm and spiritual tranquility, are a must-see in Aurangabad. These 14 cave shrines, decorated with ancient carvings and scriptures, tell stories of the Buddha's life and Mahayana Buddhism. Located in a remote gorge, the caves offer an off-the-beaten-path adventure marked by an enchanting walk across a streamlet. Nearby are the fascinating Ellora Caves, a UNESCO World Heritage Site, which offer another captivating glimpse into ancient Indian culture. A trip to either cave is a fascinating excursion into India's rich past.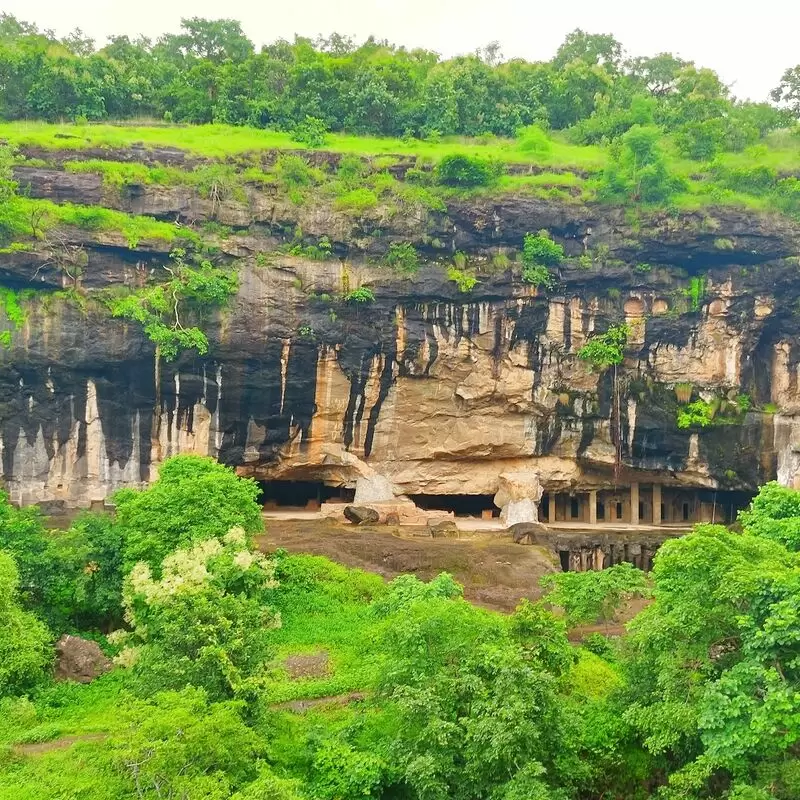 Pitalkhora Buddhist Caves
20 kms away from Kannad ( Dist Aurangabad) 30 kms away from Chalisgaon Central Railway, Chandikawadi
Monday - Sunday: 9:00 AM – 4:30 PM
14. Soneri Mahal
Soneri Mahal, a historic golden palace in Aurangabad, is a breathtaking sight like no other. The Rajput architecture, rich heritage and old world charm make it irresistible to history buffs. Famous for its golden painting that gives it its name, each room is adorned with unique decorations. Located within the Dr. Babasaheb Ambedkar Marathwada University, the hotel is surrounded by lush greenery. Just 10 minutes away is the Bibi Ka Maqbara, a beautiful tomb often referred to as the "Taj of the Deccan".
Soneri Mahal
W845+MG4, Jaisingpura, Dr Babasaheb Ambedkar Marathwada University Campus, Aurangabad
Monday: Closed
Tuesday - Sunday: 10:30 AM – 5:00 PM
15. Aurangabad
Immerse yourself in rich history, culture and breathtaking architecture as you explore Aurangabad, the city that is home to the UNESCO World Heritage Sites of Ajanta and Ellora. The majestic Bibi Ka Maqbara reflects the charm of the Taj Mahal. Explore the medieval Daulatabad Fort and shop for exquisite silks and intricate handicrafts in the bustling bazaars. And don't miss the Aurangabad Food Festival, where you can sample delicious local culinary delights. Near the city, you can visit the fascinating Lonar Crater, formed by a meteorite impact.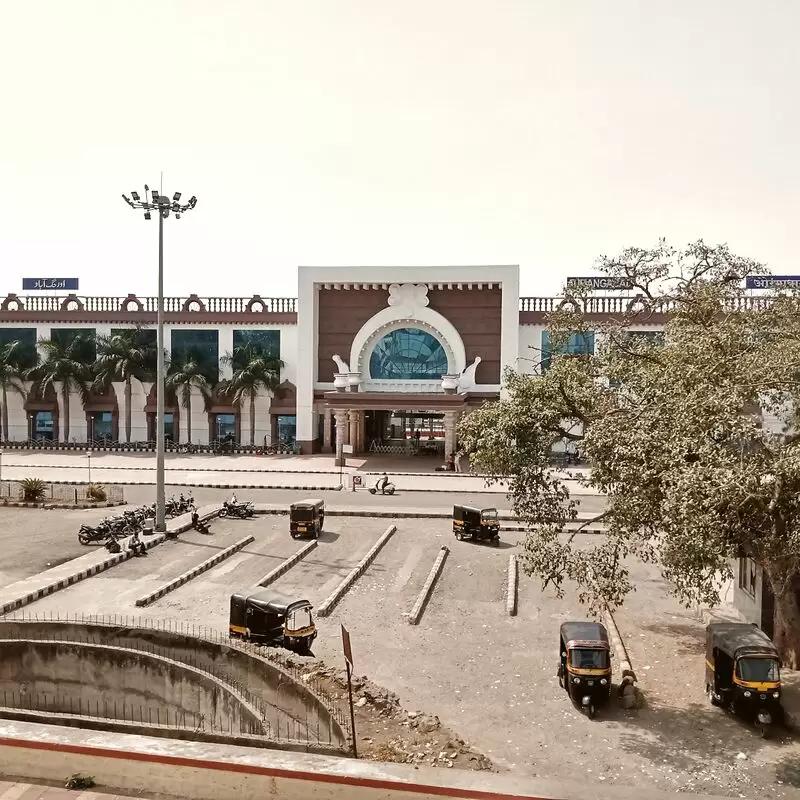 Aurangabad
Silk Mill Colony, Aurangabad
16. Chand Minaar
Towering an imposing 210 feet into the sky, the Chand Minar is an epitome of Persian architecture not to be missed in Aurangabad. Famous for its ornate carvings and its four massive corners adorned with minarets, it is a symbol of victory made of rich yellow basalt stone. Enjoy breathtaking panoramic views of the blooming lotus pond from the top. Just a short walk away is Daulatabad Fort, an incomparable 14th-century military marvel that offers a rich history and exceptional views.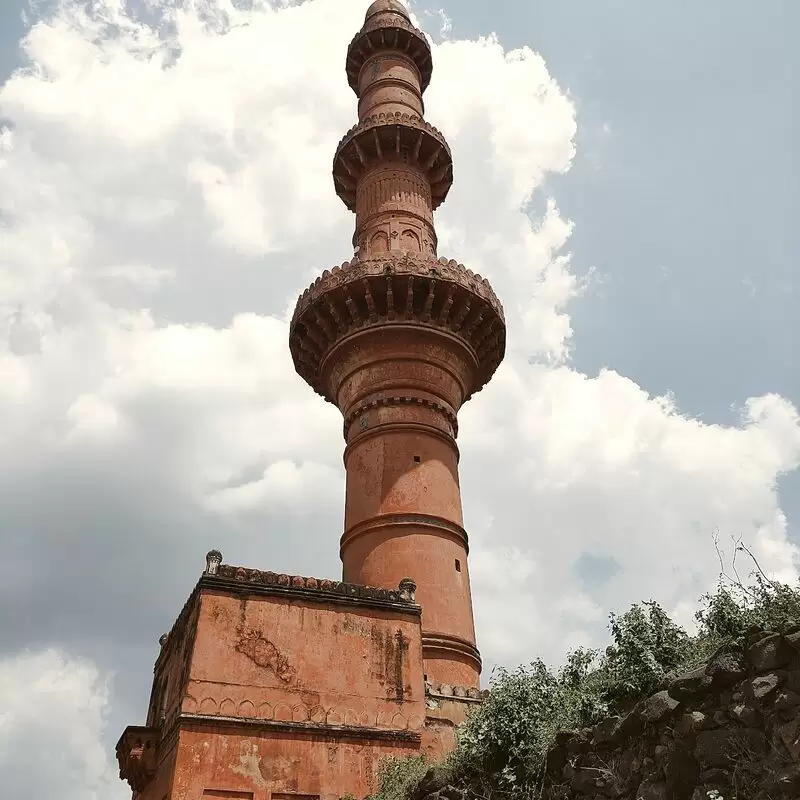 Chand Minaar
W6V8+QX7, Daulatabad
Monday - Sunday: 8:00 AM – 6:00 PM
17. Jama Masjid
Immerse yourself in the historic elegance of Jama Masjid, an architectural marvel in Aurangabad. Revel in the amazing woodwork, intricate patterns and serenity. It is ideal for photography enthusiasts and will enchant you with its stunning designs. Be sure to listen to the Azan - an experience you will never forget. Nearby is the famous Bibi Ka Maqbara, which exudes an equally fascinating aesthetic - a double treat for culture and history buffs. Immerse yourself in the splendor of times past with these majestic sights!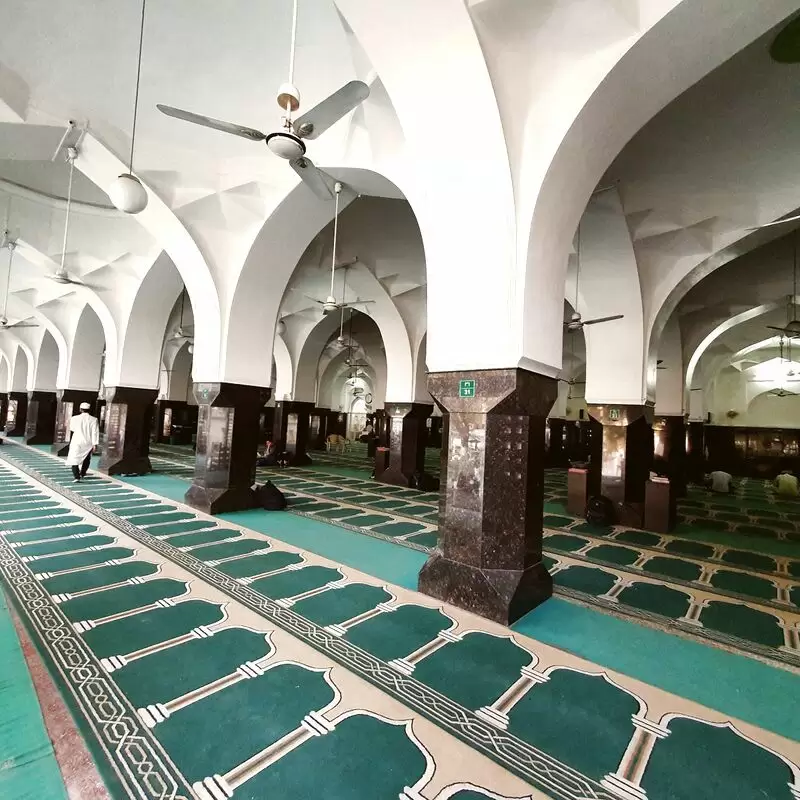 Jama Masjid
V8RG+JC7, Station Rd, Buddi lane, Naralibag, Aurangabad
18. Chhatrapati Shivaji Maharaj Museum Aurangabad.
Experience history at the Chhatrapati Shivaji Maharaj Museum, which will awaken the warrior spirit in you! An insider's tip: See the impressive display of war weapons donated by the British Army. Just a stone's throw away is Siddharth Garden, an exotic place with lots of greenery and a zoo to round out your Aurangabad adventure! Visit Aurangabad to experience the history and nature of the subcontinent all in one!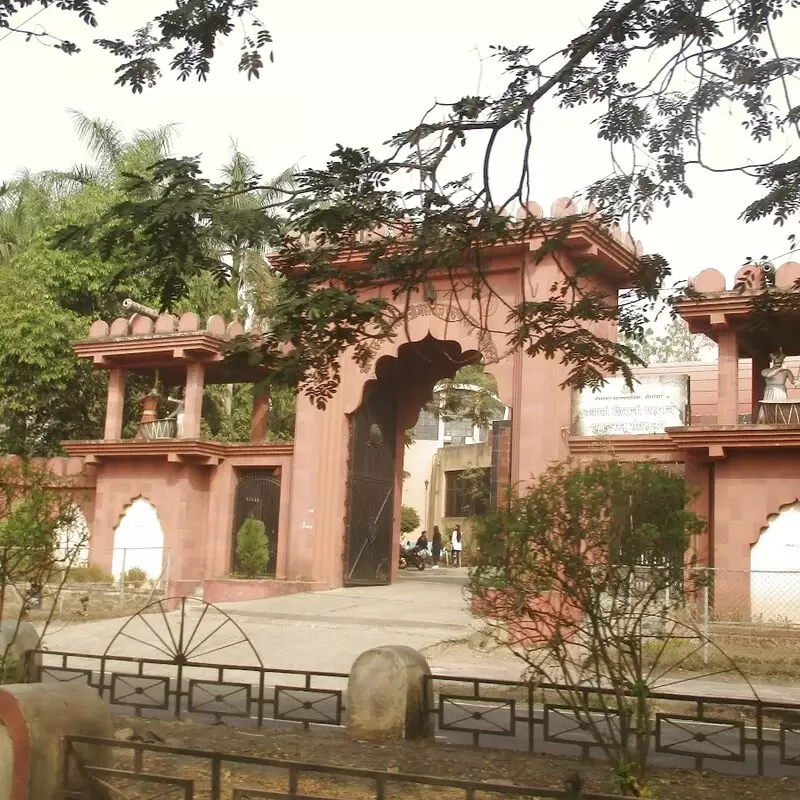 Chhatrapati Shivaji Maharaj Museum Aurangabad.
near Govt. Arts and Science college, Himayat Bagh, Aurangabad
Monday - Sunday: 10:30 AM – 6:00 PM
19. Cannought Garden Chhatrapati Sambhaji Nagar

Cannought Garden Chhatrapati Sambhaji Nagar is a delightful retreat for nature lovers. The garden, with its lush greenery and beautiful flower beds, is adorned with an exquisite water fountain and provides a tranquil atmosphere for tranquil walks.

An insider tip: don't miss the opportunity to enjoy a traditional chai from the local vendors while taking in the picturesque surroundings. And guess what? The historic Bibi Ka Maqbara is just a stone's throw away - the perfect opportunity for a culture-filled day trip.

Cannought Garden Chhatrapati Sambhaji Nagar
place, N 5, Cidco Rd, Cannought Garden, CIDCO Cannought, Cidco, Aurangabad

Monday - Sunday: 11:00 AM – 10:00 PM
20. Chandminar View Point
A visit to the "Chandminar View Point" in Aurangabad is like a trip back in time and offers a panoramic view of the city's enchanting landscape. For photography enthusiasts in search of the perfect cityscape, the visit is a must! Few people know that it is located on a hill and is perfect for short hikes. Just a few minutes away you can also visit the famous "Chand Minar", a symbol of victory that stands tall and proud since the 15th century.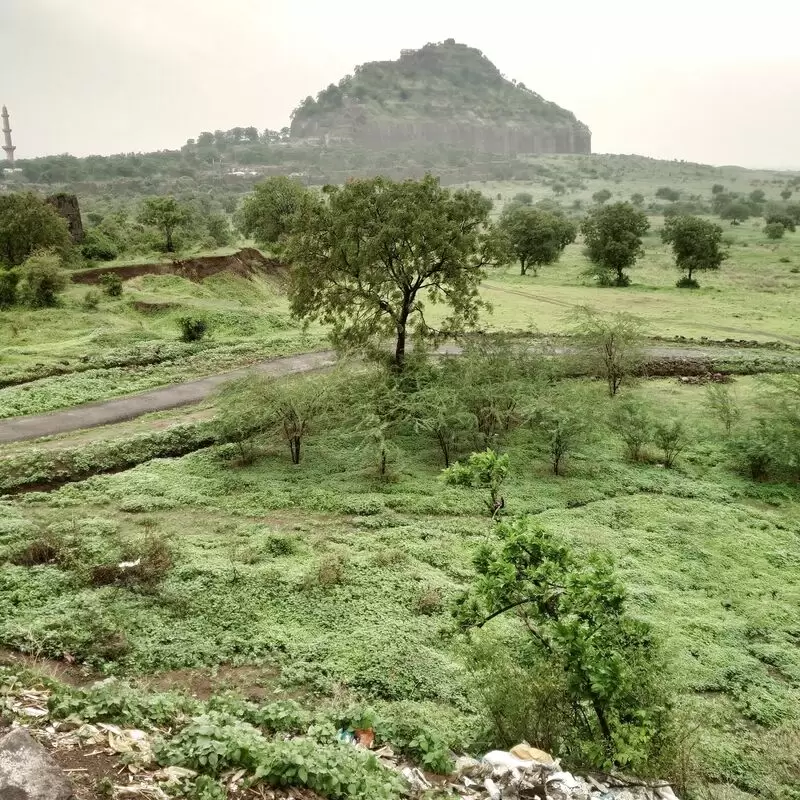 Chandminar View Point
X638+38W, NH52, Daulatabad
21. Panchakki Aurangbad
Experience the wonder of ancient technology at "Panchakki Aurangabd", a 17th century water mill that offers a captivating blend of science and spirituality. This 17th century water mill offers a captivating blend of science and spirituality. This tranquil mill produces enchanting music as it grinds grains that were once served at the tomb of the attached Sufi saint. It is an amazing spectacle that you should not miss. Nearby you will also find the botanical splendor of the Siddharth Garden and Zoo, which offers a delightful variety of flora and fauna and a relaxing escape into tranquility.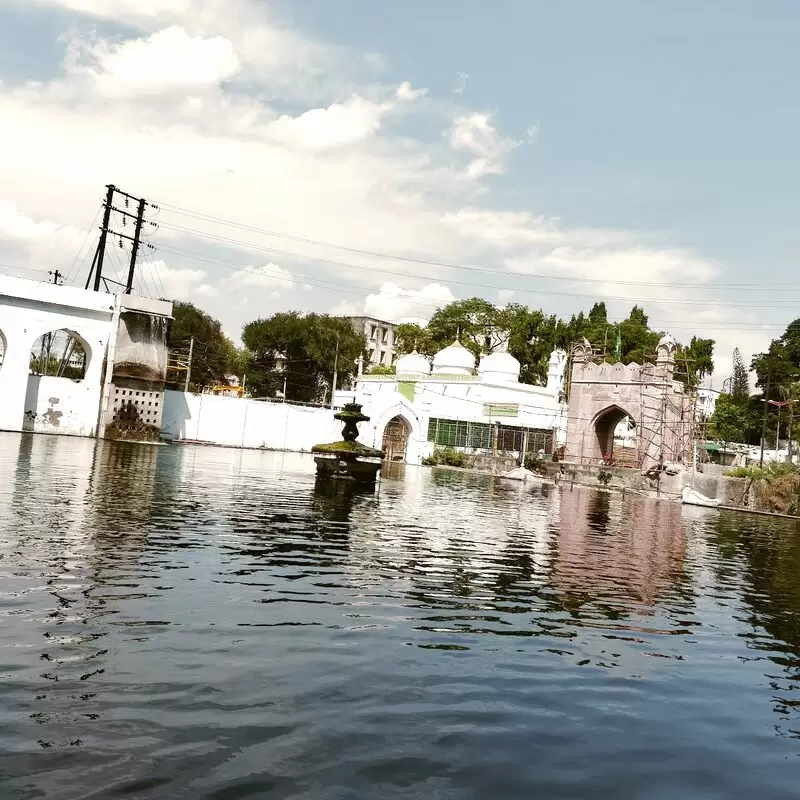 Panchakki Aurangbad
V8Q8+W6G, Panchakki Rd, Panchakki, Nagsenvan, Aurangabad
Monday - Sunday: 7:00 AM – 9:30 PM
22. Himayat baugh Hill
At Himayat Baugh Hill in Aurangabad, you'll find a tranquil retreat from the hustle and bustle of the city. This 17th-century garden provides a lush, peaceful setting for a leisurely stroll amidst sprawling orchards. Don't miss the aesthetically pleasing central water channels (once owned by the Mughal emperors!) that feed the entire garden. In close proximity to Himayat Baugh are the historic Delhi Gate and Dr. Babasaheb Ambedkar Marathwada University, rich in history and regional culture.
Himayat baugh Hill
W85G+5Q6, Aurangabad
Monday - Sunday: Open 24 hours
23. H2O Waterpark
H2O Waterpark in Aurangabad, India, is an electrifying vacation destination where laughter and joy are in the air. It's a fantastic escape from the scorching heat with a variety of unique water slides that promise thrilling plunges into cool pools, not to mention the delightful children's area designed especially for the excitement of younger visitors. Plus, the family-friendly picnic area is the perfect place to relax with your loved ones. And nearby is the magnificent Daulatabad Fort, which adds a cultural touch to your refreshing visit.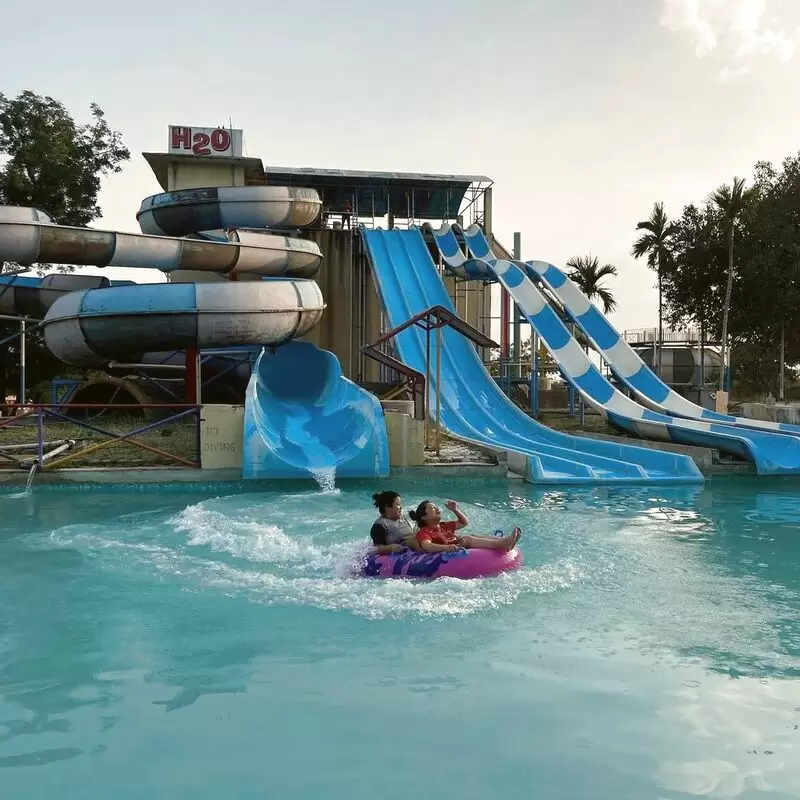 H2O Waterpark
NH 211, Vitkheda - Ellora Rd, near Daulatabad, Fort, Daulatabad
Monday - Sunday: 10:00 AM – 6:00 PM
Best Time to Visit Aurangabad
The best time to visit Aurangabad, India, is during the winter months from October to February. During this time, the weather is relatively cool and pleasant, ideal for sightseeing and exploring the city's historical monuments and cultural sites.
Annual Weather in Aurangabad
Aurangabad 3-Day Forecast
Thu, 21 September
Night
77 °F
25 °C
0%
Morning
74 °F
23 °C
0%
Afternoon
87 °F
30 °C
98%
Evening
78 °F
25 °C
96%
Fri, 22 September
Night
74 °F
23 °C
93%
Morning
73 °F
23 °C
57%
Afternoon
75 °F
24 °C
89%
Evening
70 °F
21 °C
87%
Sat, 23 September
Night
70 °F
21 °C
85%
Morning
71 °F
22 °C
62%
Afternoon
75 °F
24 °C
65%
Evening
73 °F
23 °C
0%
Questions & Answers

What is the local language spoken in Aurangabad?

The local language spoken predominantly in Aurangabad, India is Marathi. It is the official language of the state of Maharashtra, where Aurangabad is located. Marathi is a historical Indo-Aryan language with a rich literary heritage. Although Marathi is widely spoken, people also communicate in Hindi, the national language, and in English, as the city is increasingly linked to global trade and attracts many tourists.

How safe is it for solo travelers?

Aurangabad in India is generally considered safe for solo travelers. The locals are friendly and helpful, and there are many well-signposted tourist attractions. However, as with any destination, the usual precautions apply. Avoid wandering alone in remote areas late at night, beware of pickpockets in crowded places, and always keep your personal belongings safe. Reliable public transportation and plenty of accommodations make the city convenient for solo travelers. Female solo travelers should take extra precautions.

Can I use credit cards widely in Aurangabad?

While credit cards are accepted in many places in Aurangabad, including larger hotels, restaurants and stores, it is important to know that many small businesses, local stores and street vendors prefer or only accept cash. Therefore, it is advisable to always carry some Indian rupees for small purchases and for places that do not accept credit cards. It is always better to ask beforehand if cards are accepted to avoid inconvenience.

Is vegetarian food easily available?

Yes, vegetarian food is readily available in Aurangabad, India. There are numerous restaurants that cater to vegetarians and offer a wide variety of dishes that reflect the rich, diverse flavors of Indian cuisine. Vegetable curries, lentil soups, stuffed breads and sweet delicacies are often served. Many restaurants offer both vegetarian and non-vegetarian dishes, but there are also places that serve only vegetarian dishes. In this vibrant city, it is easy to accommodate your dietary preferences.

What type of clothes should I pack?

For a trip to Aurangabad, pack a mix of lightweight, breathable clothing and a few warmer pieces, as the weather can vary. During the day, it can get hot, so pack cotton clothing, a hat and sunglasses to protect yourself from the sun. In the winter, it can get relatively chilly, so pack some light sweaters or jackets. Don't forget to pack comfortable shoes for exploring the many historical sites. As a sign of respect, modest clothing is recommended for visiting religious sites. Rainwear might be useful when visiting during the monsoon season.

What is the local transport like?

In Aurangabad, local transportation is accessible and diverse. City buses, operated by the Maharashtra State Road Transport Corporation, are a common mode of transportation. Auto rickshaws, similar to tuk-tuks in Thailand, are another popular option for shorter distances and offer a more local experience. In addition, there are app-based ride services such as Ola and Uber that provide a comfortable and private journey. If you want to explore Aurangabad at your leisure, you can rent bicycles or motorcycles.

How do I respect local customs and traditions?

As a visitor to Aurangabad, India, it is important to dress modestly, especially at religious sites. Wearing long-sleeved shirts, pants or long skirts would be ideal. When visiting temples, always remove your shoes as a sign of respect. Indian culture values kindness and respect, so being patient and polite with the locals is appreciated. Avoid showing excessive physical affection in public, as this is often frowned upon.

How can I avoid visitor scams?

When visiting Aurangabad, negotiate cab fares before you go so you don't have to pay too much. Be wary of overly friendly locals who recommend expensive stores or restaurants, as they may receive commissions. Don't give money to persistent beggars, donate to local charities instead. Always buy tickets at official counters to avoid counterfeiting. Local travel guides from reputable agencies can also be a safeguard against fraud.

What is the tipping culture in Aurangabad?

Tipping is not mandatory in Aurangabad, but it is appreciated. Service personnel such as hotel staff, drivers and waiters often rely on tips as part of their income. If you are served well, a tip of about 10% is common. Always tip the person directly, preferably in cash. However, in upscale establishments, a service charge may already be included in the bill, so additional tipping is at your discretion.

What is the currency used and how can I exchange money?

The official currency of Aurangabad, India is the Indian Rupee (INR). Money can be exchanged at various authorized money exchange offices in the city, which often include banks and stand-alone currency exchange offices. Some hotels also offer this service. Check the exchange rate and fees before making a transaction. It is advisable to have some cash on hand for small expenses, as not all places accept cards.

Are there any specific health concerns?

Travelers visiting Aurangabad, India should be aware of typical health risks such as food and waterborne diseases, especially traveler's diarrhea and typhoid. It is also advisable to get vaccinated against hepatitis A and B, typhoid, tetanus and rabies if dealing with animals. Medical care is good in the city, but can be poor in the rural outskirts. Always use mosquito repellent and mosquito nets because of the risk of mosquito-borne diseases such as malaria and dengue.

Is it common to haggle at markets?

Yes, haggling is quite common in the markets in Aurangabad, as it is in many other places in India. It is often seen as part of the shopping experience. Many vendors expect customers to engage in friendly negotiation. However, this should be done respectfully and in a light-hearted manner. If you are respectful and polite, you can enjoy your negotiation experience and end up purchasing some wonderful items at a discounted price.

How is the nightlife in Aurangabad?

Nightlife in Aurangabad, India, is relatively quiet compared to other major cities. It mainly revolves around quiet evening markets and delicious dinners at restaurants. You can spend your evenings sampling local delicacies or exploring the local stores. Hotel bars and lounges also offer a place for casual drinks. Aurangabad may not have a lively club scene to offer, but its quiet and laid-back atmosphere provides a unique charm for those seeking a relaxed and culturally rich nightlife.

What's the local delicacy that I must try?

A local delicacy that is a must try in Aurangabad is Naan Qalia, a traditional Mughali dish that is very popular among locals and tourists alike. Naan Qalia is a flavorful preparation of a mutton curry served with a special type of bread called sheermal or naan. The dish features a unique blend of spices and flavors, offering visitors a true taste of the authentic Indian cuisine typical of this region. It is a culinary experience not to be missed when visiting Aurangabad.

Is the tap water safe to drink?

Although tap water in Aurangabad, India, is treated to make it safe for consumption, foreign visitors are generally not recommended to drink tap water. The water may contain bacteria and parasites to which locals are immune, but which can cause health complications for visitors. Therefore, it is best to drink bottled water during your stay. Make sure your bottled water is properly sealed before consumption.

Is there any wildlife sanctuary or national park near Aurangabad?

Yes, this actually exists! Northeast of Aurangabad is the Gautala Autramghat Sanctuary, which is about one to two hours away by car. This sanctuary straddles the Satmala and Ajintha hill ranges and boasts an incredible variety of flora and fauna such as Panther, Chital, Barking Deer and numerous bird species. Besides the wildlife, you can be enchanted by the beautiful views and the many natural caves around Autramghat. For nature and wildlife lovers visiting Aurangabad, this is the perfect place to come to rest.

Can I rent a bike or car to get around?

Of course, renting a bike or car in Aurangabad is a popular and convenient way to explore the city at your own pace. There are numerous rental services that offer a variety of bikes and cars to suit different needs and budgets. There are usually both self-drive and chauffeured vehicles. Be sure to carry your valid driver's license and identification. Explore the historic city in style and comfort with these rental services.

Do I need any specific vaccinations to travel to Aurangabad?

No special vaccinations are required for travel to Aurangabad, India. However, it is generally recommended that routine vaccinations such as measles-mumps-rubella (MMR), diphtheria-tetanus-pertussis, chickenpox, polio, and the annual flu shot be refreshed. Vaccinations against diseases such as hepatitis A and typhoid, which can be transmitted through contaminated food or water, are also recommended. However, such health concerns should be discussed with a physician prior to travel.

Are there any specific dress codes at religious places?

Yes, when visiting religious sites in Aurangabad, it is important to dress modestly out of respect for local customs. Female visitors should cover their arms, legs and hair, while men should wear long pants and avoid sleeveless shirts. It is also customary to remove footwear before entering most religious buildings. These dress codes are not strictly enforced everywhere, but their observance shows respect for local culture and tradition.

Are most places accessible for disabled travelers?

Most tourist attractions in Aurangabad, India, offer some form of accessibility for disabled visitors, but given the ancient architecture and uneven terrain of many sites, accessibility may be limited. Major attractions such as Ajanta and Ellora Caves, Bibi Ka Maqbara, and Aurangabad Caves have pathways but may be challenging for people with mobility issues. For disabled travelers, it may be beneficial to bring a companion or hire an assistant to help with navigation.

Are Aurangabad and Agra the same?

No, Aurangabad and Agra are not the same. They are two different cities in India. Aurangabad is located in the western state of Maharashtra and is known for its historical monuments such as the Ajanta and Ellora caves. Agra, on the other hand, is located in Uttar Pradesh in northern India and is famous for the Taj Mahal. Both cities are of great historical importance, but they are geographically separated and have unique attractions.

How common is English spoken in Aurangabad?

English is not the main language in Aurangabad, as the locals speak mainly Marathi. However, it is common among those working in the tourism industry, including hotel staff, tour guides, and some shopkeepers. Visitors will also find signs in English at tourist sites. Although not everyone is fluent in English, many residents understand basic English, so it is generally easy for foreign tourists to communicate.

Can I camp out in and around the city?

While the city of Aurangabad itself is rather urban, the surrounding areas offer plenty of opportunities for camping. You will find quiet access in the nearby hills and valleys. However, for safety reasons, it is important to either camp in designated areas or take advantage of organized camping trips. When camping, always remember to respect the local community and the environment.

How to deal with street vendors?

When traveling in Aurangabad, India, you may encounter numerous lively and energetic street vendors. Above all, maintain politeness and patience, and remember that haggling is normal. Start with an offer that is 50% below the original price and negotiate gradually until a fair price is reached. If you are not interested, a respectful rejection should suffice. It is also beneficial to have change with you, as sellers do not always have change for larger amounts. Remember that many people make a living from this, so please treat them with respect.

What are the mobile network options?

In Aurangabad, visitors have a range of mobile network options to stay connected. Companies like Airtel, Vodafone Idea, and Jio are the major players offering comprehensive 4G coverage. These providers offer various plans that allow for both data and voice connectivity. BSNL, India's state-owned network operator, also offers reliable services. Visitors can easily purchase prepaid SIM cards from various stores, but are usually required to show identification for registration.

Is there a problem with stray dogs or animals in Aurangabad?

As in any other urban area in India, there is a problem with stray dogs in Aurangabad. Local authorities and non-profit organizations are working to control and reduce this problem. It is not usually a problem for visitors, although a certain amount of caution is always advisable. There are also cases of cows on the roads, a common sight throughout India. However, these animals are usually well behaved and do not pose much of a problem. Monkeys can also be seen in certain areas and are best viewed from a distance.

How crowded does Aurangabad get during the peak season?

During the peak tourist season, Aurangabad can get quite crowded as the city hosts numerous tourist attractions such as the UNESCO World Heritage Sites of Ajanta and Ellora Caves. Other attractions like Bibi Ka Maqbara attract a considerable number of visitors. Tourists from all parts of India and the world flock to this city rich in cultural periods, driving up the volume of tourists, traffic and bustling markets. However, the bustling atmosphere adds to the charm and cultural richness of the city.

Is Wi-Fi easily accessible?

Wi-Fi access in Aurangabad, India, varies. Many upscale hotels, restaurants, and cafes offer free Wi-Fi to their guests. However, public Wi-Fi is not as widespread or reliable, especially in remote areas outside the city. Therefore, it is advisable for international travelers to purchase a local SIM card with data package to have uninterrupted Internet access. Mobile data packages are relatively affordable and provide good internet coverage throughout the city.

Are there any special restrictions or laws for tourists?

Tourists in Aurangabad, India, must respect local customs and norms. Consumption of alcohol is permitted, but drunkenness is frowned upon. Indian law prohibits tourists from photographing military installations or personnel. Drug laws are strict, with harsh penalties for possession or trafficking. LGBT+ activities are legal, but public displays of affection, regardless of sexual orientation, may be frowned upon due to cultural norms. Out of respect for Indian culture, dress conservatively, especially at religious sites.

Can I travel with my pets to Aurangabad?

Yes, you can travel to Aurangabad, India with your pets. However, it is important that you consider the comfort and safety of your pets. Keep in mind the heat and humidity in India and the logistics of travel. Check with the airlines, hotels, and the places you plan to visit beforehand about pet policies. It is also important to check quarantine regulations and make sure all vaccinations and paperwork for your pets are up to date.

Feedback

I hope you found this article informative and helpful. I'm eager to improve the content and make it even more valuable for you. If you have any feedback or suggestions, I would love to hear from you.

Do you have any tips or hidden gems that you think should be added to the list? Are there any areas that you feel could use more explanation or clarification?

Your input is greatly appreciated and will help us to continue providing high-quality content that meets your needs and interests. Please feel free to share your thoughts.