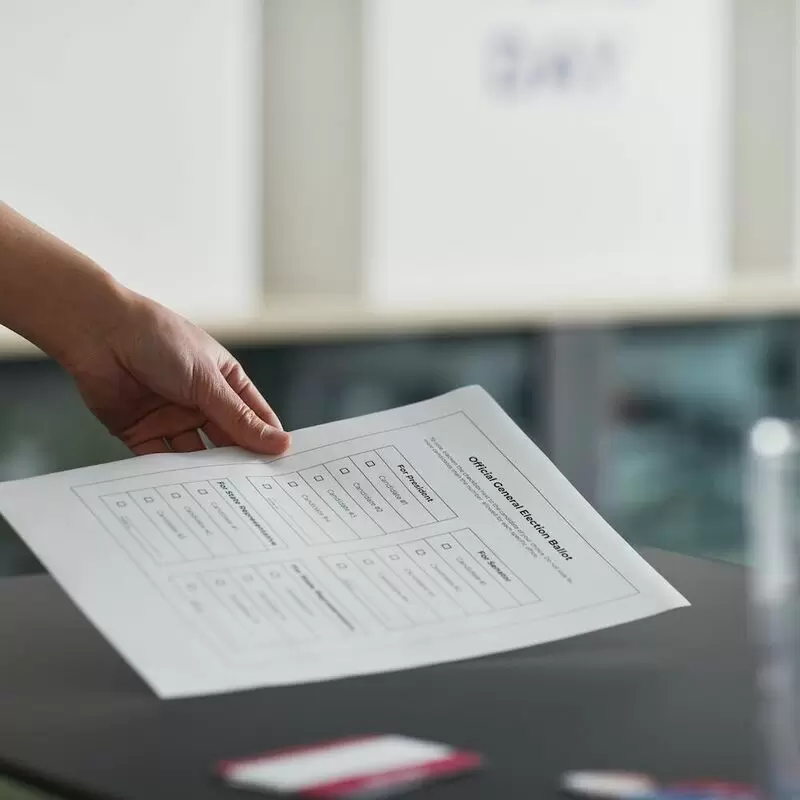 1. Rajwada Palace
A visit to Indore is incomplete without entering the magnificent Rajwada Palace, a perfect blend of Mughal, Maratha and French architectural styles. Steeped in history, the royal palace boasts a breathtakingly carved seven-story facade adorned with ornate balconies, arches and jharokhas. In the evenings, the light and sound show transports visitors to another time with wonderful stories from the region's past. Just around the corner is the lively Sarafa Bazaar, which tempts with numerous local delicacies.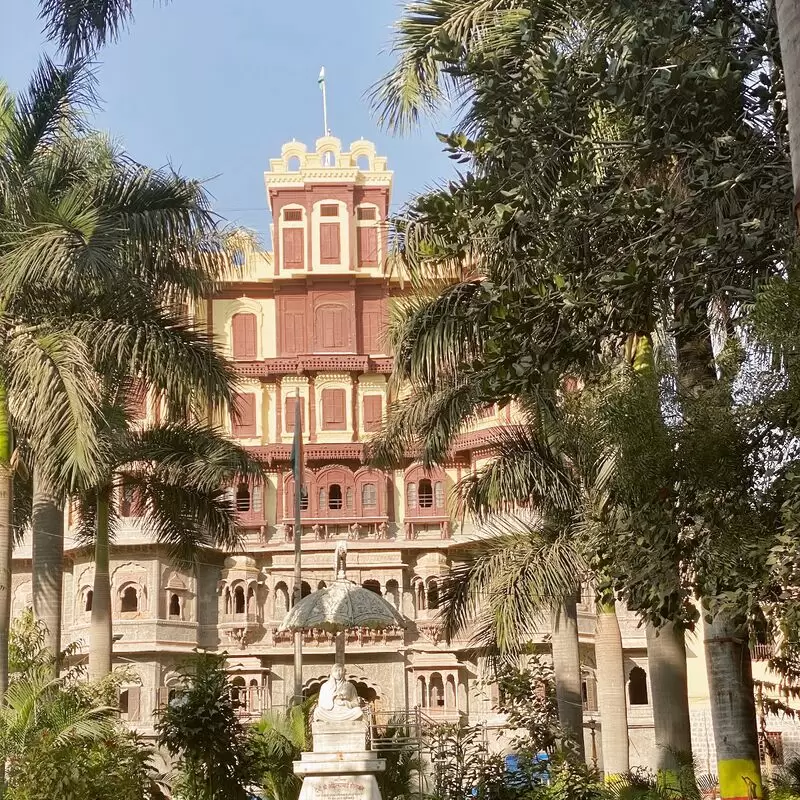 Rajwada Palace
Rajwada, Indore
Monday - Saturday: 11:00 AM – 9:00 PM
Sunday: Closed
2. Jam Gate
Set amidst the lush, picturesque Malwa plateau, Jam Gate is a wonderful retreat in Indore that offers a perfect blend of serenity and adventure. The true charm of this place lies in the breathtaking panoramic views of green valleys and mesmerizing sunsets. If you're a thrill seeker, you'll get your money's worth on a hike up the Choral Range. Enjoy delicious local delicacies at the nearby ancient "Jam Dhaba". Combine your visit with a trip to the magnificent Patalpani Waterfall, just a short drive away.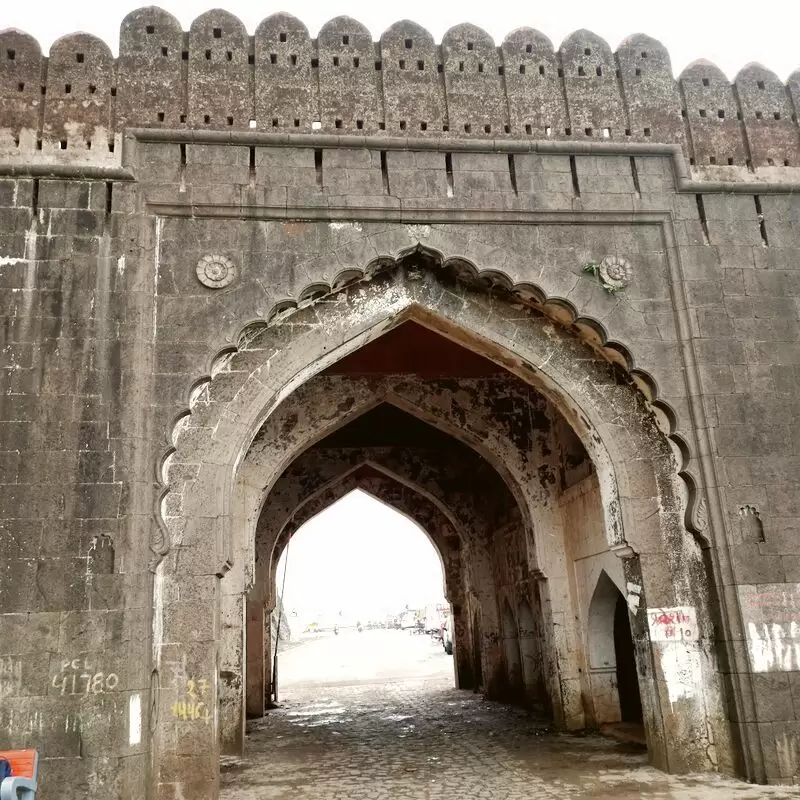 Jam Gate
9P4P+V59, Mhow - Mandaleshwar Rd, Bhagdara
Monday - Sunday: Open 24 hours
3. Pitra Parvat
Discover the charm of Pitra Parvat, a sacred hill in Indore known for its spirituality and lush green surroundings. Revel in the tranquility of this place and pay homage to the spirits of your ancestors while enjoying panoramic views of the fascinating city from the summit. This haven for nature lovers reveals a lesser known face of Indore and brings you closer to heaven. Don't miss the opportunity to visit the neighboring Bijasen Tekri Temple, which adds another divine experience to your trip.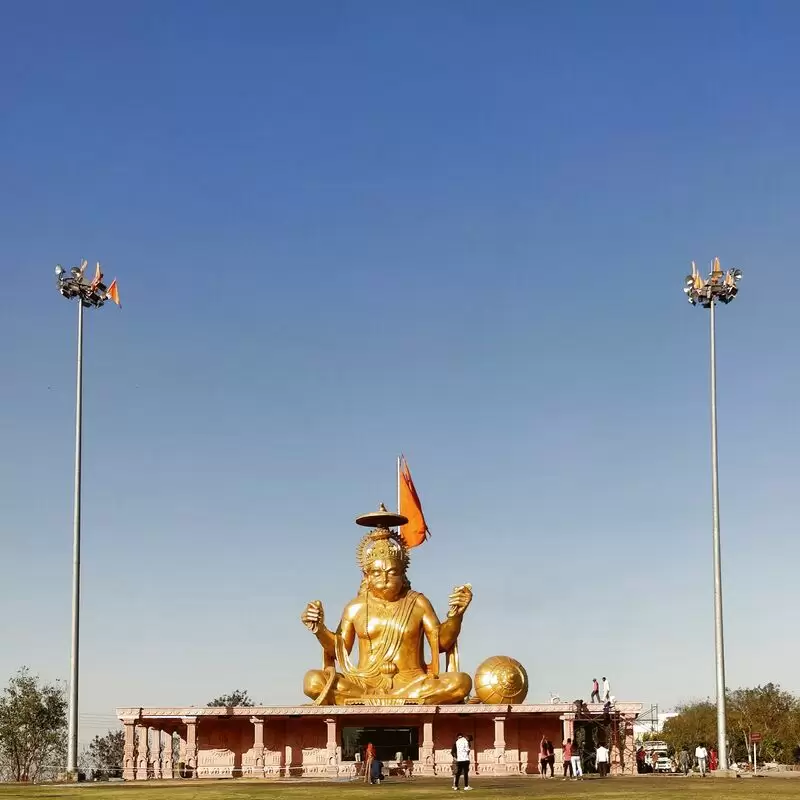 Pitra Parvat
पितृ पर्वत, गांधीनगर, Indore
Monday - Sunday: 6:00 AM – 10:00 PM
4. Annapurna Temple
A visit to Indore is incomplete without experiencing the divine aura of the Annapurna Temple, dedicated to the goddess of food and nourishment. This unique, ornately designed temple represents a fascinating blend of Dravidian and Rajput styles. Marvel at the eye-catching architecture, adorned with intricate carvings of various deities and mythological creatures. After your spiritual rendezvous, stroll through the bustling markets nearby, where you'll find traditional Indian sweets and savory treats to perfectly round out your temple visit.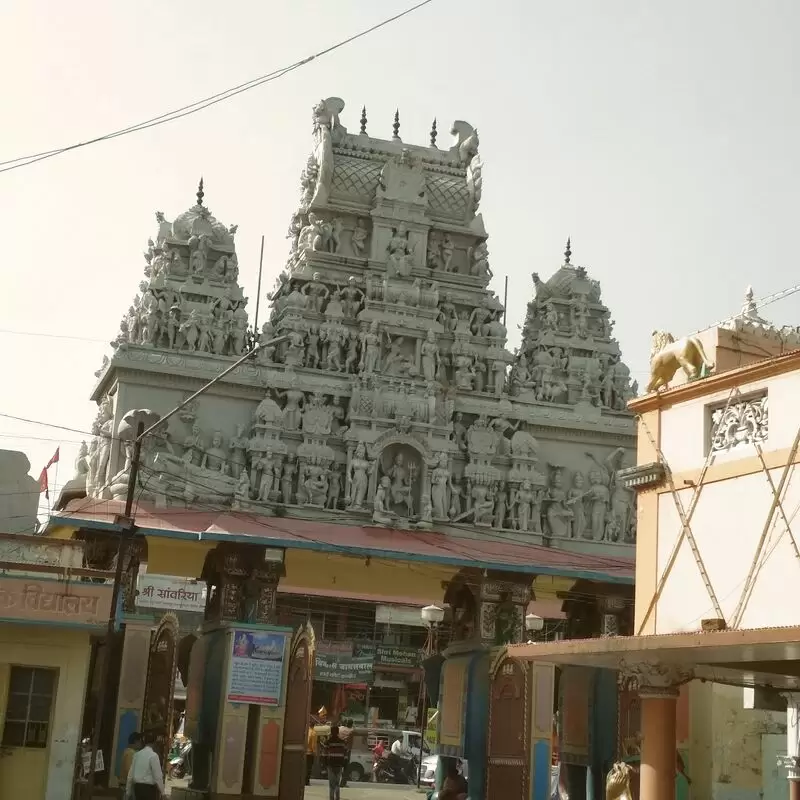 Annapurna Temple
Annapurna Mandir, Kranti Kriplani Nagar, Indore
Monday - Sunday: 6:00 AM – 11:00 PM
5. Patalpani Water Falls
A trip to Indore would be incomplete without experiencing the breathtaking beauty of Patalpani Waterfalls! Located just 35 km from the city, this heavenly place is perfect for nature lovers and adventure seekers. The cascading water, lush greenery and photogenic surroundings are like a muse for artists. Don't miss the opportunity to hike to the base of the waterfall - it's a thrilling challenge! While you're there, be sure to explore the nearby sacred Mhow Dam, which offers breathtaking views and great picnic spots.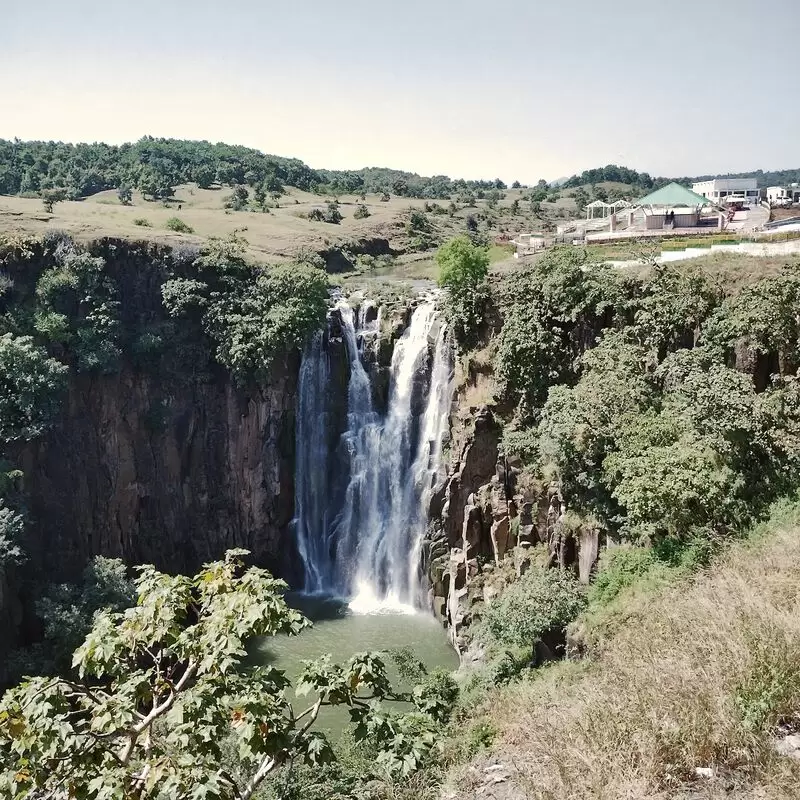 Patalpani Water Falls
GQ3X+HF4, Kekariya Dabri
Monday - Sunday: 8:00 AM – 7:00 PM
Tuesday: 6:30 AM – 7:00 PM
6. Atal Bihari Vajpayee Kshetriya Udyan
Atal Bihari Vajpayee Kshetriya Udyan, also known as Regional Park, is a must-visit in Indore and offers a delightful blend of lush greenery, picturesque landscapes and serene atmosphere. Relax by the shimmering Pipliyapala Lake, which offers mesmerizing sunset views. Treat yourself to an entertaining musical fountain show and explore the artist village in the park. The canal walkway, decorated with colorful flowers on both sides, is perfect for an evening stroll. Visit the nearby Sirpur Lake and the famous Meghdoot Garden for a nature retreat.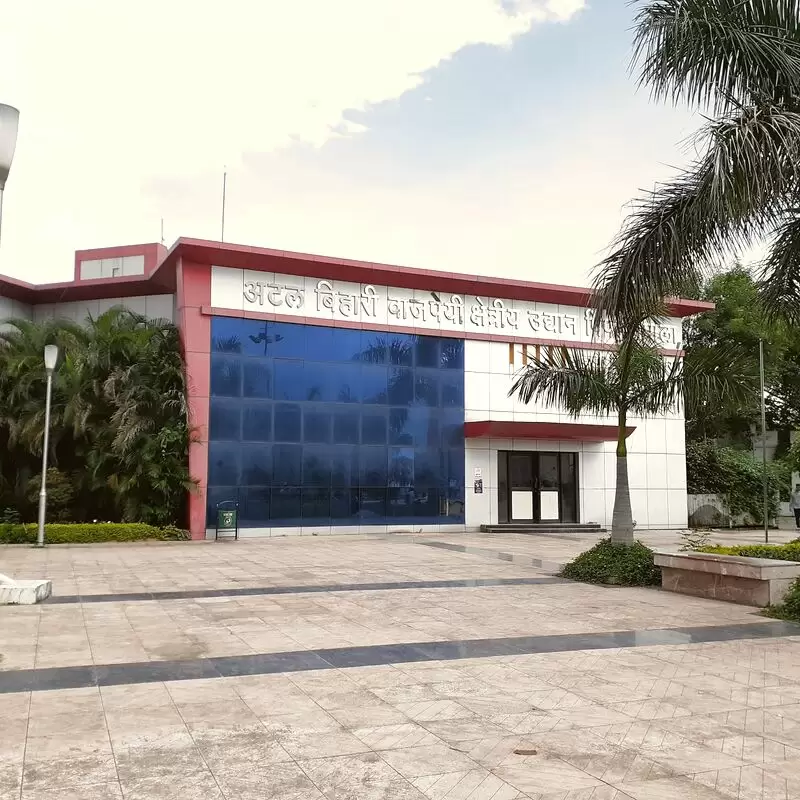 Atal Bihari Vajpayee Kshetriya Udyan
MVG4+XQX, Indore
Monday: Closed
Tuesday - Sunday: 11:00 AM – 9:00 PM
7. Crescent Water Park
An inviting oasis in Indore, Crescent Water Park is a must for thrill seekers and families. With thrilling water slides and rides, tranquil swimming pools, and playful children's areas, there's something for everyone. Satisfy your hunger at the culinary stands while you relax in the picturesque surroundings. Just a stone's throw away, you'll find the mesmerizing Tincha Waterfalls, which provide a picturesque backdrop for a perfect snapshot of your exciting Indore adventure.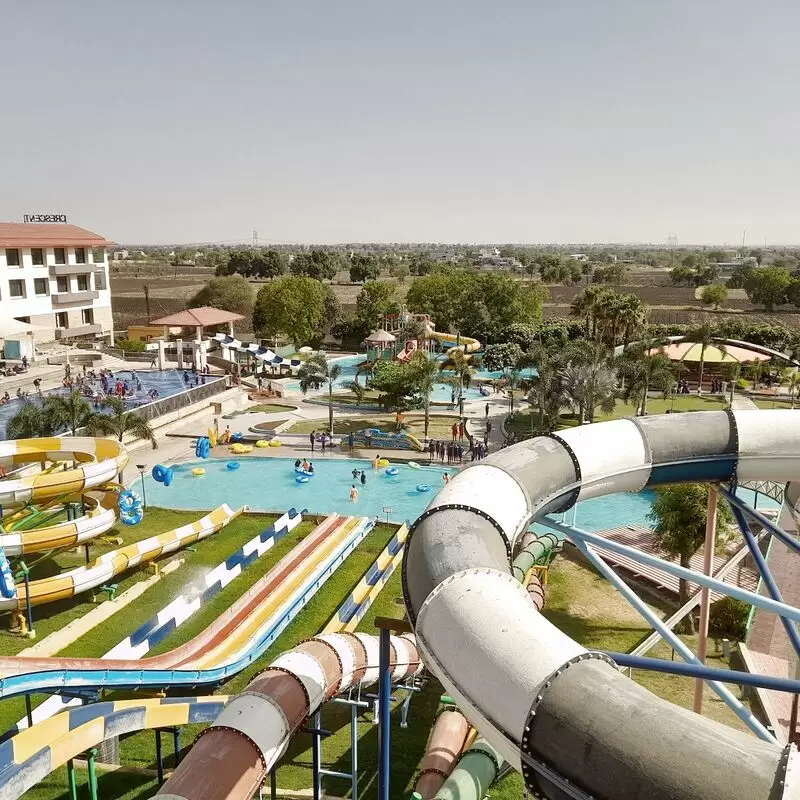 Crescent Water Park
Gram Jamniya, Near Narmada Kshipra Devguradia Khurd, Kampel Rd, Indore
Monday - Sunday: 10:00 AM – 6:00 PM
8. Lalbagh Garden
A visit to Lalbagh Garden in Indore is a must for nature lovers! This picturesque place with its lush greenery is the perfect place to escape from the hectic city. Take a relaxing walk amidst the pristine beauty, click some great photos or enjoy a family picnic in the tranquility of nature. The cherry on top of the icing on the cake? After exploring the beautiful Lalbagh Garden, go shopping at the nearby Sarafa Bazaar - a bustling market known for its delicious street food and unique trinkets. Don't miss this idyllic paradise!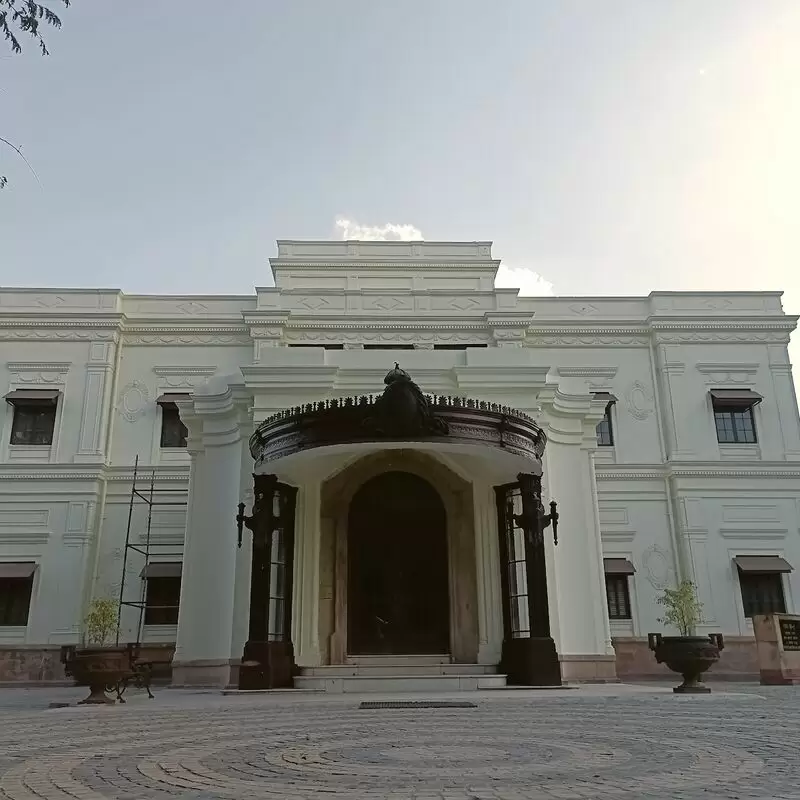 Lalbagh Garden
Lal Bagh Rd, Triveni Colony, Indore
9. Shree Bijasan Mata Mandir
A visit to the Shree Bijasan Mata Mandir in Indore is a must for anyone seeking divine blessings and insight into India's rich spiritual heritage. Located on a hilltop, the temple offers panoramic views of the city and is dedicated to the revered goddess Bijasan, who is revered for her power and bliss. The lively atmosphere of the temple is highlighted by the sound of temple bells and soothing chants. Be sure to visit it during Navratri, when the festivities reach their peak. In addition, the nearby Patalpani Waterfall offers a tranquil retreat amidst the natural beauty of Indore.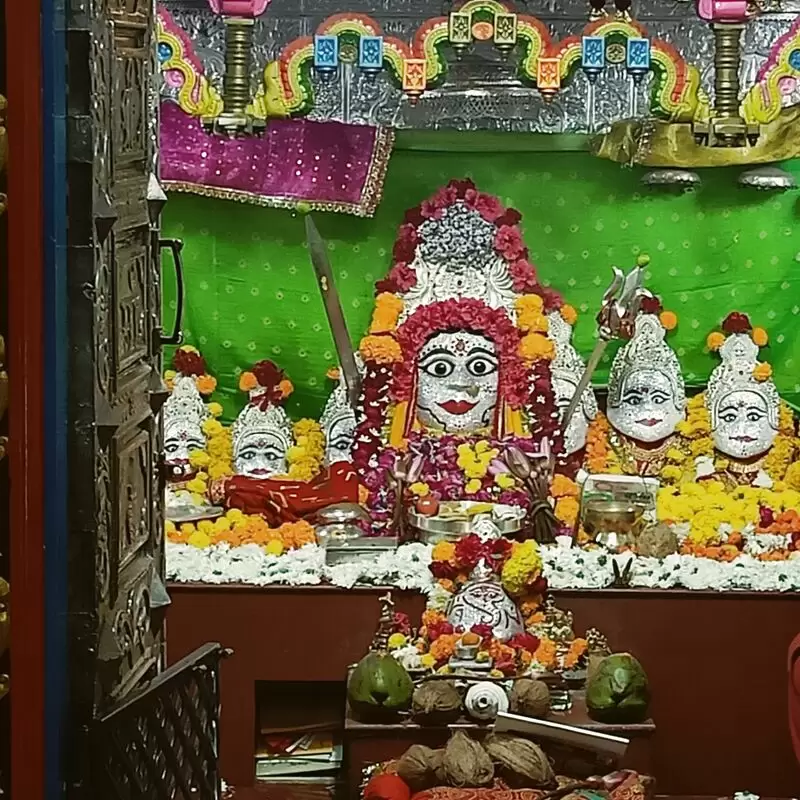 Shree Bijasan Mata Mandir
Devi Ahillyabai Holkar Airport Area, Indore
Monday - Friday: 5:30 AM – 10:30 PM
Saturday - Sunday: 5:30 AM – 11:00 PM
10. Meghdoot Garden
When in Indore, be sure to visit Meghdoot Garden, an oasis of lush greenery and vibrant blooms. An ideal place for picnics and walks, this sprawling park features mesmerizing water fountains, creatively designed landscapes, and shaded seating areas where you can enjoy the cool breeze. You can indulge your sweet tooth with a cool treat at the Kulfi stalls in the park. Nearby Indore Regional Park offers a scenic lakeside setting with a tranquil lake and exciting water activities for the whole family.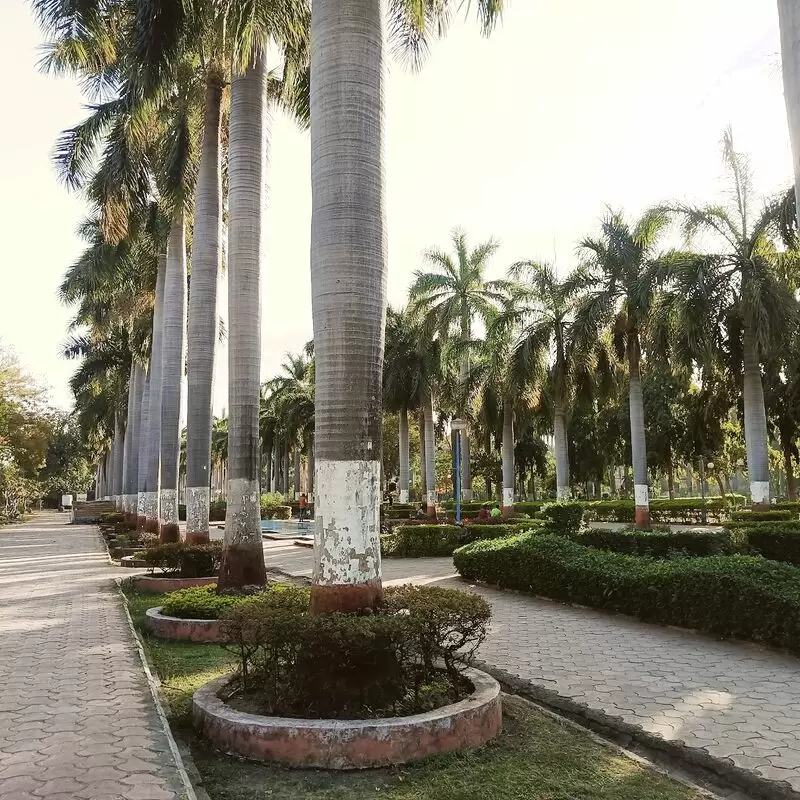 Meghdoot Garden
Main Gate, Entrance, Maguda Nagar, Scheme No 54, Indore
Monday: Closed
Tuesday - Sunday: 7:00 AM – 10:00 PM
11. Lal Bagh Palace
Immerse yourself in the royal past at the magnificent Lal Bagh Palace in Indore, a symbol of the opulence and pageantry of the Holkar dynasty. Stroll through the lavishly decorated rooms, adorned with European-style architecture, exquisite frescoes and Persian carpets. Don't miss the royal table, which can seat more than a hundred guests! After exploring the palace, take a stroll in the beautifully manicured gardens or take a refreshing boat ride on the adjacent Kamla Nehru Prani Sangrahalaya.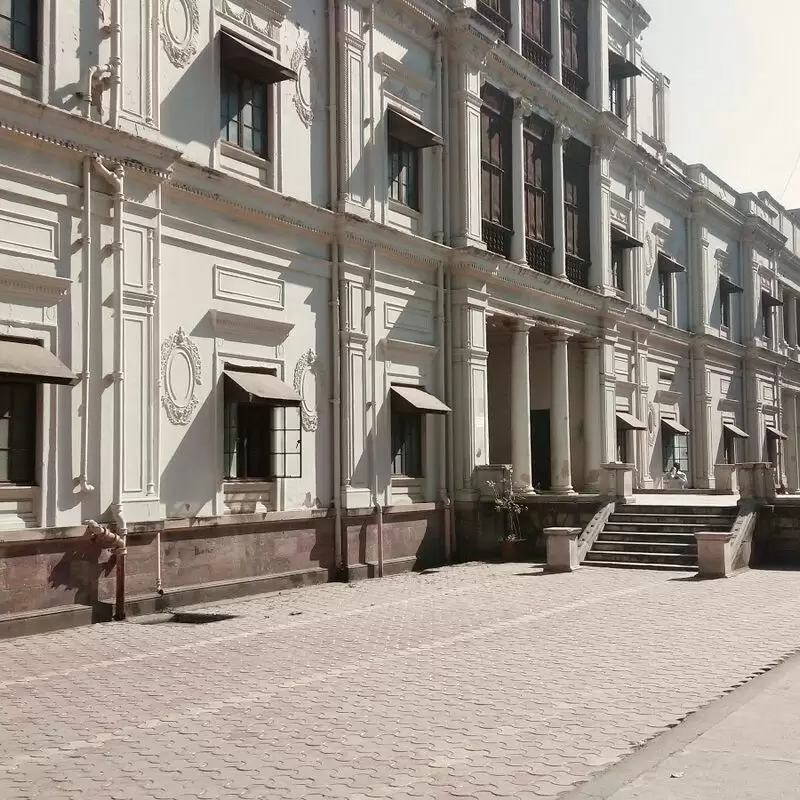 Lal Bagh Palace
PR2W+2RH, Nai Duniya, रेवेन्यू कॉलोनी, Indira nagar, Indore
Monday: Closed
Tuesday - Sunday: 10:15 AM – 5:00 PM
12. Krishna Pura Chhatri
Krishna Pura Chhatri is a must-see in Indore and showcases breathtaking architectural splendor of Maratha and Rajputana designs. The stunning Krishna Pura Chhatri was built to commemorate the Holkar rulers and tells vivid stories of their bravery and rich heritage. Watch the intricate carvings come to life as the sunset bathes the cenotaphs in a golden hue. Located near the bustling bridge over the Khan River, you can feel the pulse of the city as you soak up the tranquility of this historic gem. Rajwada Palace, just a kilometer away, is another notable site to explore during your visit.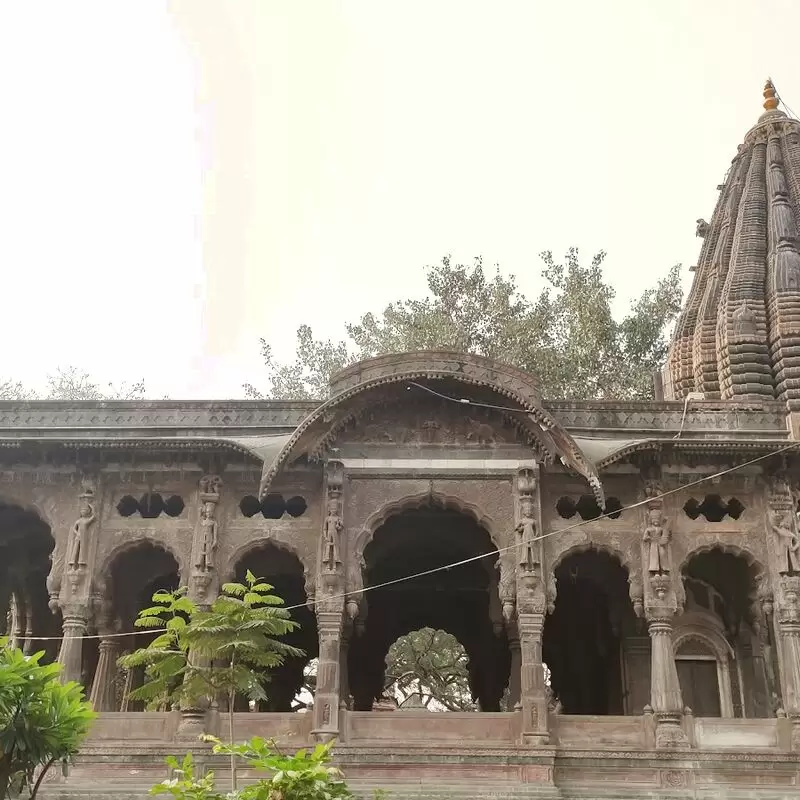 Krishna Pura Chhatri
PV95+G66, Mahatma Gandhi Rd, Rajwada, Maharaja Tukoji Rao Holker Cloth Market, Indore
Monday - Sunday: 9:00 AM – 5:00 PM
13. Mohadi Falls
The enchanting Mohadi Falls in Indore are an absolute must for nature lovers. Away from the hustle and bustle of the city, you can discover the tranquil beauty of the falls. In the monsoon season, the falls show their best side and entice you with numerous picnic spots nearby and refreshing swimming opportunities. Take a walk through the lush green forests and be sure to visit the nearby Mohadi Mahadev Temple to soak up the divine vibes.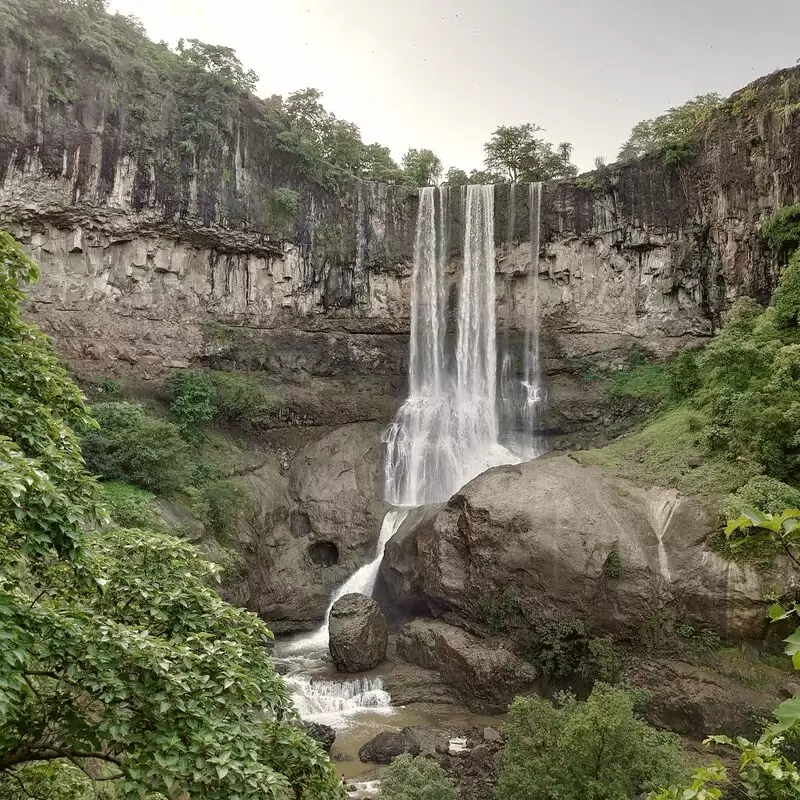 Mohadi Falls
H294+W35, Ghudiya, Udainagar
Monday - Sunday: Open 24 hours
14. Ralamandal Hill Top and Gazebo
An unforgettable nature experience awaits you at the enchanting Ralamandal Hill Top and Gazebo in Indore. This hidden gem is perfect for trekking enthusiasts, photographers and bird watchers alike! The scenic trail passes through a lush teak jungle and offers breathtaking views of the city skyline. Relax in the picturesque gazebo and admire the perfect blend of wildlife and panoramic horizon. Don't miss a visit to the nearby Ralamandal Wildlife Sanctuary, where you can observe exotic animals and plants - an unforgettable excursion.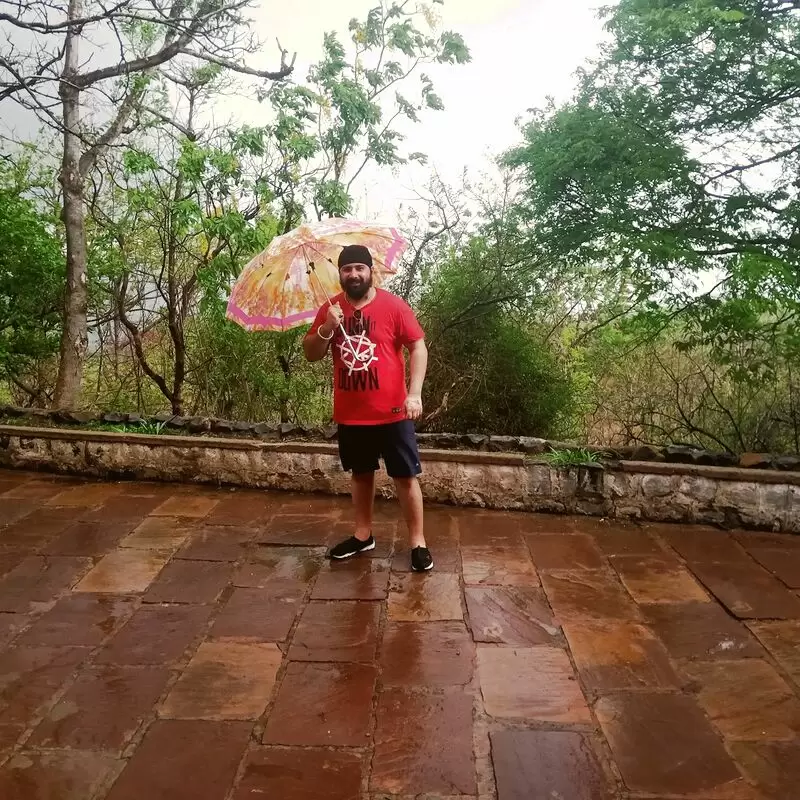 Ralamandal Hill Top and Gazebo
JWWC+9R3, Bihdia
Monday - Sunday: 7:00 AM – 5:00 PM
15. Akhileshwar Hanuman Temple Okhla)
A visit to the Akhileshwar Hanuman Temple in Okhla, Indore, promises a unique spiritual experience steeped in history and culture. Immerse yourself in the divine aura of this sacred temple dedicated to Lord Hanuman, where devotees gather to find blessings and tranquility. Don't miss the exquisite architecture and tranquil garden nearby, where a beautiful Shiva Lingam stands. Just a short walk away, the mighty Kanh River provides an idyllic backdrop for perfect reflection and meditation.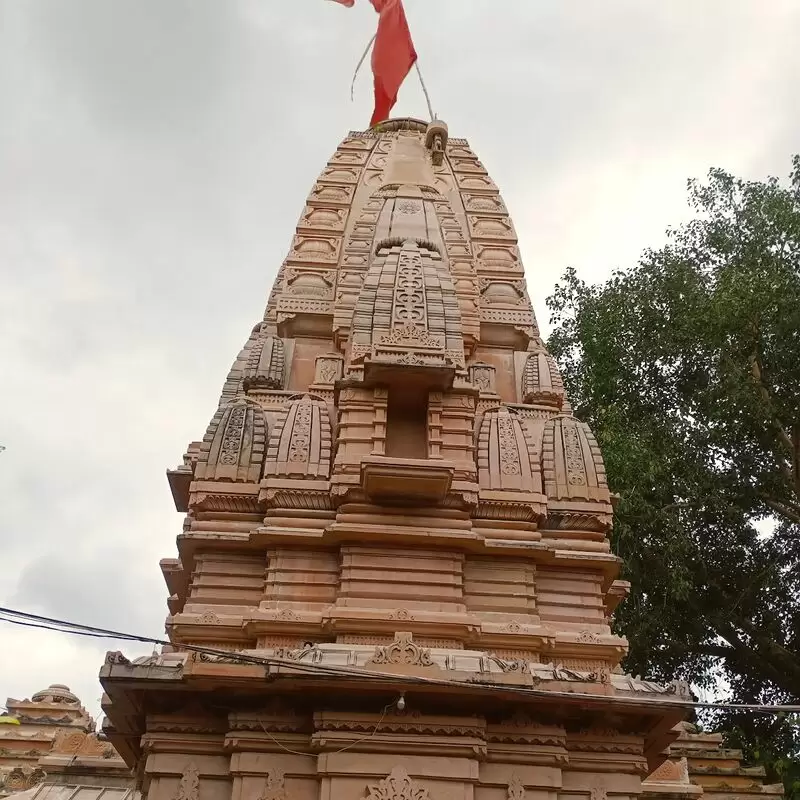 Akhileshwar Hanuman Temple Okhla)
F3CX+56J, Okhla
Monday - Sunday: Open 24 hours
16. Central Museum Indore
A visit to the Central Museum in Indore is a must for history and art lovers! This treasure trove houses an impressive collection of medieval and pre-medieval Hindu sculptures, ancient coins and artifacts from the Paramara dynasty. Step back in time and marvel at the ornate craftsmanship of bygone eras. And while you're in the area, don't miss the nearby Lal Bagh Palace, a symbol of the city's royal heritage and splendor - a true glimpse into Indore's royal past.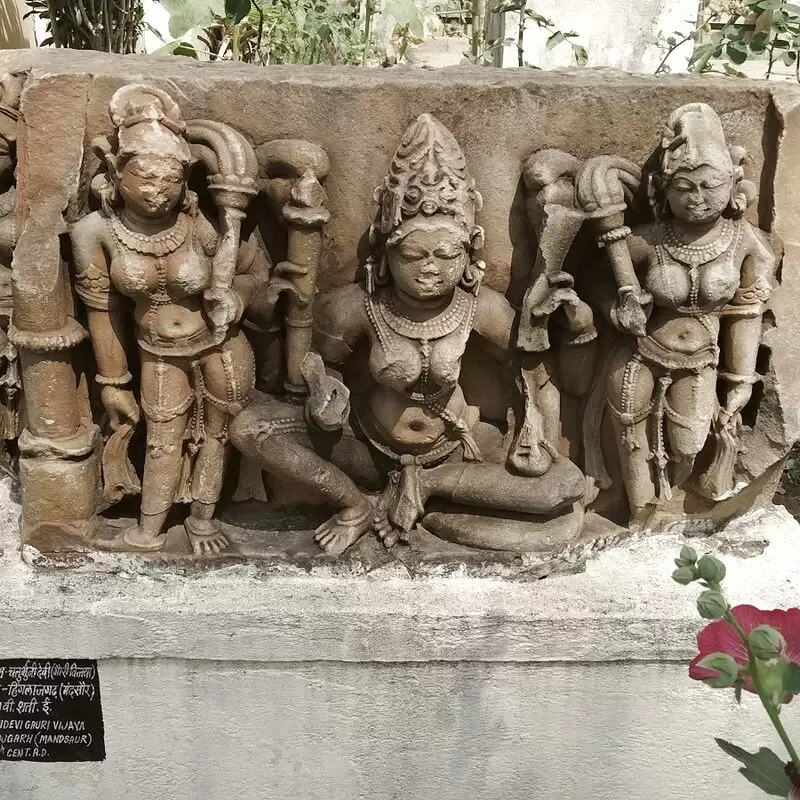 Central Museum Indore
PV4H+4PM, Near GPO Square, Residency, Navlakha, Indore
Monday: Closed
Tuesday - Sunday: 10:00 AM – 5:00 PM
17. Gandhi Hall

A visit to Indore would be incomplete without seeing the majestic Gandhi Hall, an architectural marvel built in 1904 in honor of King Edward VII. Marvel at the Indo-Gothic architectural style, stained glass windows, and clock tower that beats in tune with the pulse of the city.

An insider tip: come at night when the building is beautifully lit. Within walking distance you will find the picturesque Rajwada Palace, bustling markets and local delicacies that will satiate your palate.

Gandhi Hall
51, Mahatma Gandhi Rd, Shastri Market, Indore GPO, Indore
18. Tincha Waterfall
Venture off the beaten path and experience the true beauty of nature at the stunning Tincha Waterfall in Indore. This hidden gem offers visitors a refreshing escape from the hustle and bustle of the city. Experience the mesmerizing waterfall from an impressive height of 300 feet, and click the most beautiful pictures as the sun's rays shimmer through the trees and illuminate the waterfall. Avid hikers will be thrilled to explore the nearby Patalpani Waterfall and the enchanting Kalakund Forest, just a short drive away.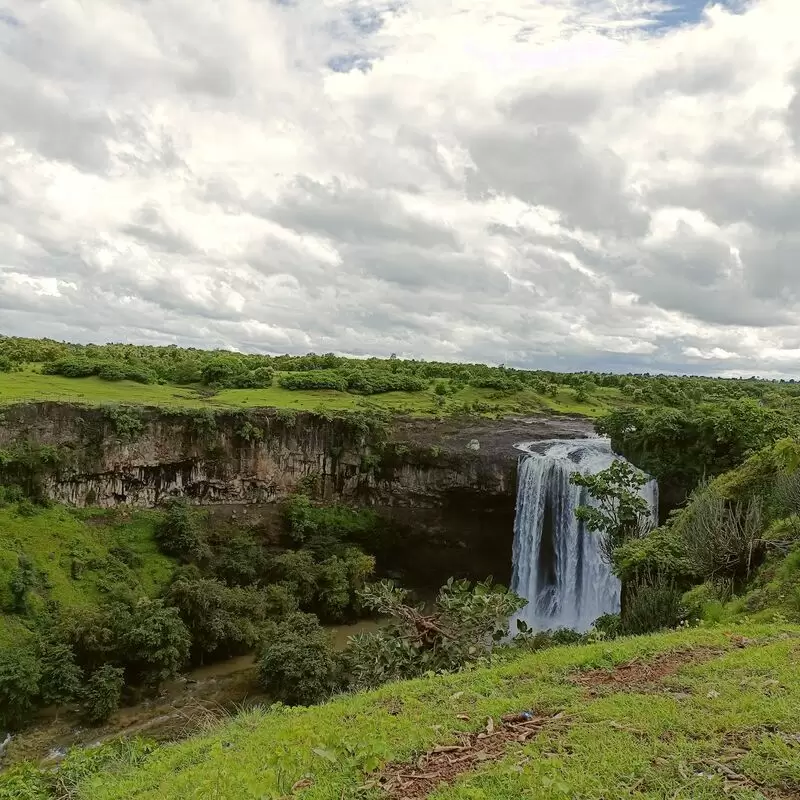 Tincha Waterfall
HXCH+XQV, Tincha Waterfall Rd, Berchha
Monday - Saturday: 9:00 AM – 7:00 PM
Sunday: Closed
19. Hatyari khoh
Immerse yourself in the mystical realm of Hatyari Khoh, a picturesque waterfall in the lush forests of Indore. The name, which translates to "Valley of the Murderer," does not do justice to the breathtaking scenery that awaits you. Walk through dense foliage and experience the tranquility amidst the whispers of nature, making it an adventurer's paradise. Despite its remote location, Hatyari Khoh is a hidden gem often overlooked by conventional tourists. And the nearby Patalpani waterfall adds to the charm of this unusual excursion!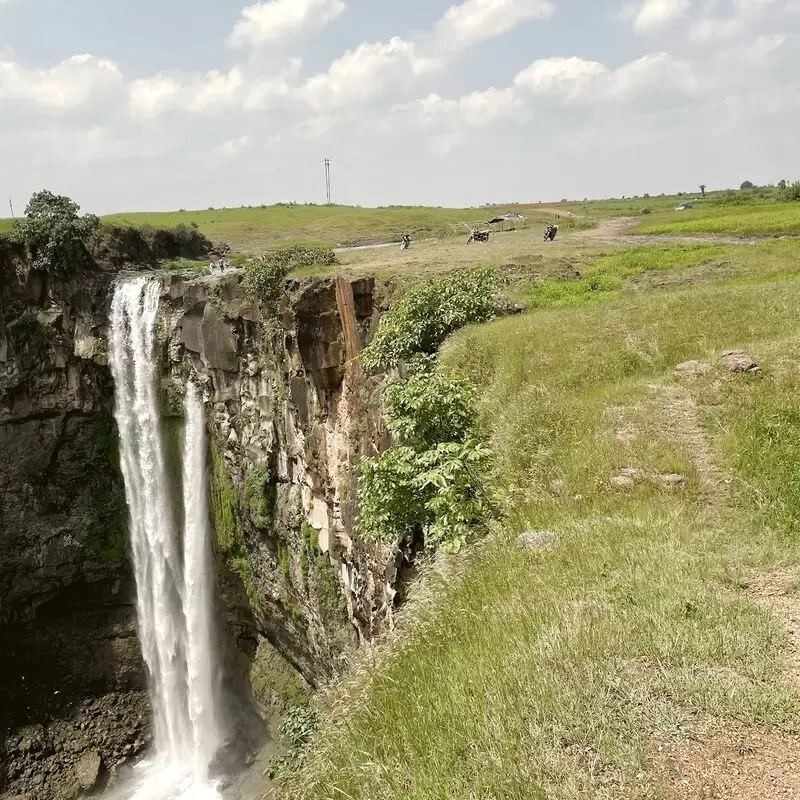 Hatyari khoh
J33M+23M, Indore
Monday - Sunday: Open 24 hours
20. Bada Ganpati Mandir
The Bada Ganpati Mandir in Indore is a must-see for its stunning architecture and divine atmosphere. It houses the largest Ganesh idol in the world, which is about 8 meters high and decorated with impressive precious metals. In the spiritual and peaceful atmosphere of this temple, you will instantly feel reborn. After asking Lord Ganesha for his blessings, you can take a walk and explore the nearby attractions such as the historic Rajwada Palace and the bustling Khajuri Bazaar. A visit to this iconic temple is an experience you will never forget!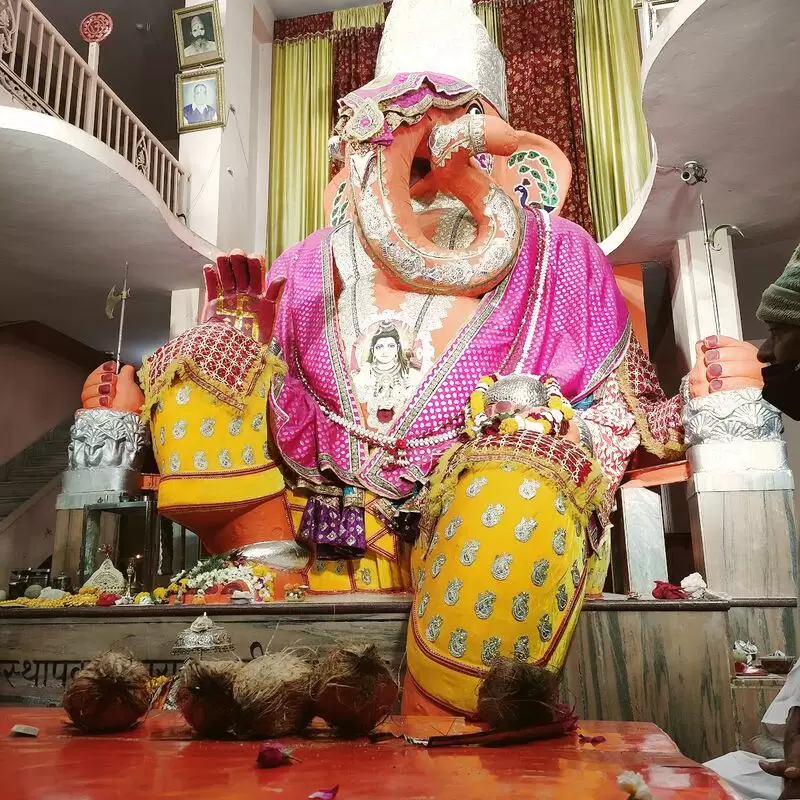 Bada Ganpati Mandir
PRCR+6QM, Bada Ganpati, Malharganj, Indore
21. Jogi Bhadak Waterfall
Discover the mesmerizing beauty of Jogi Bhadak Waterfall, a hidden gem in Indore! Surrounded by lush greenery, this enchanting waterfall is an ideal destination for adventure seekers and nature lovers, providing a picturesque backdrop for a perfect day trip. Feel the cool spray of the water on your face and relax in the tranquil atmosphere. Don't miss taking photos of the spectacular scenery. Also explore the nearby historic town of Mandav, just a short drive away, to enrich your cultural experience.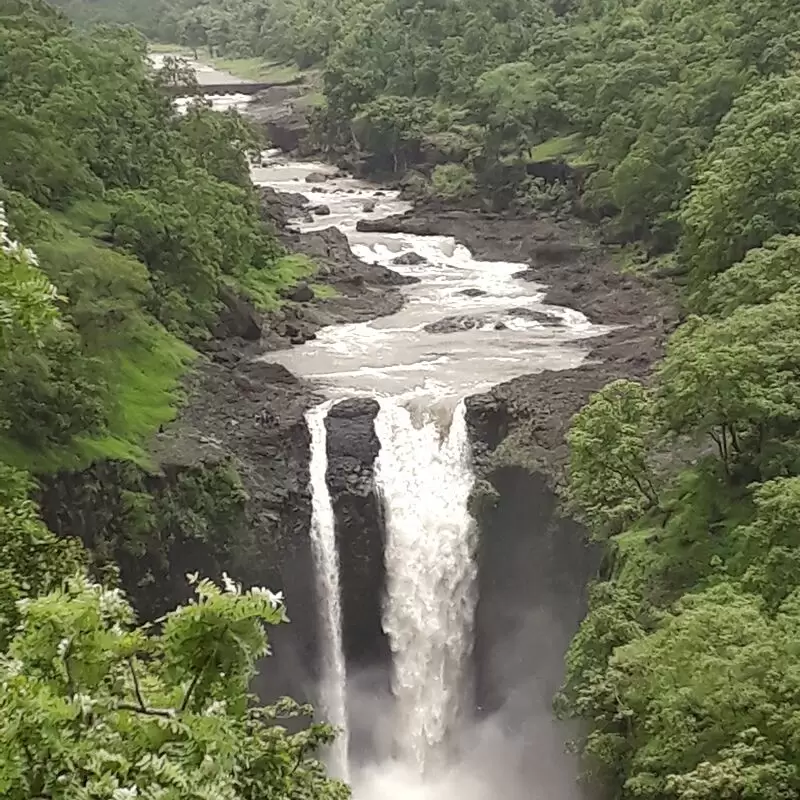 Jogi Bhadak Waterfall
CG6J+2G7, Dhal
Monday - Sunday: Open 24 hours
22. Devguradia Temple
The Devguradia Temple in Indore is a must-see for tourists seeking both spiritual enrichment and architectural wonders. The temple is dedicated to Lord Shiva and houses a magnificent 12th century shivalingam. The location of the temple is unique: it is located in a cave on a hill with carved walls, which adds a touch of mysticism to the visit. Nearby, you can also visit the tranquil Devguradia Baodi, a tiered pond where devotees perform sacred rituals and ceremonies.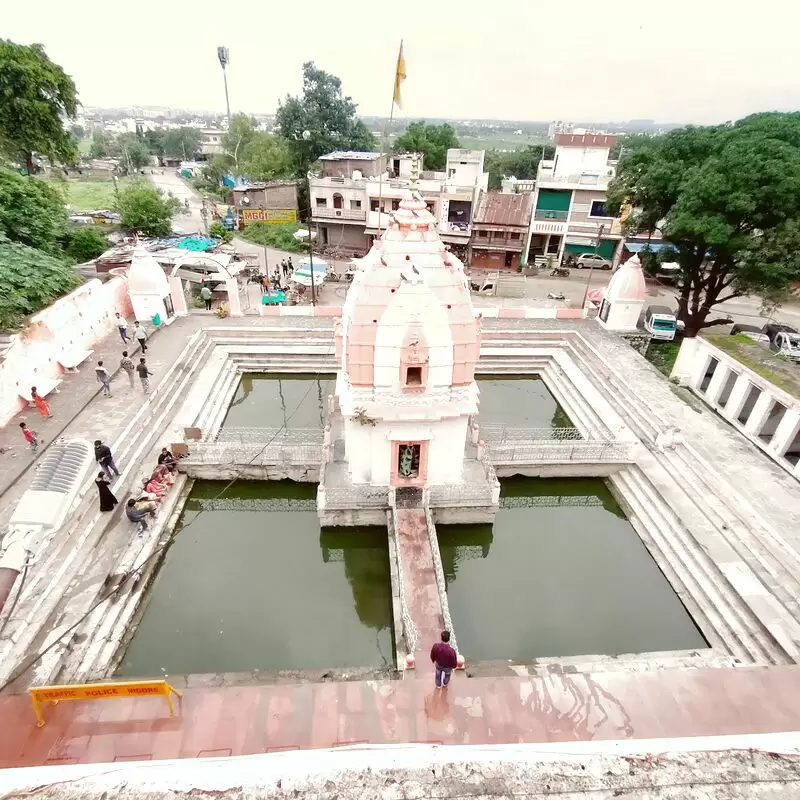 Devguradia Temple
MWFM+FQ5, Dudhia, Indore
Monday - Sunday: 6:00 AM – 9:00 PM
Saturday: 6:00 AM – 10:00 PM
23. Wanchoo point
Discover the breathtaking beauty of Wanchoo Point, the hidden gem of Indore overlooking the magnificent Kahn River! This tranquil vantage point is popular with locals and provides a romantic backdrop for an evening stroll. Be enchanted as you watch the sun set behind the green canopy of the surrounding forest - the perfect way to end a busy day. Just a stone's throw away is the famous Daly College, a heritage building that embodies the historic charm of Indore. Experience indigenous wonders like never before at Wanchoo Point!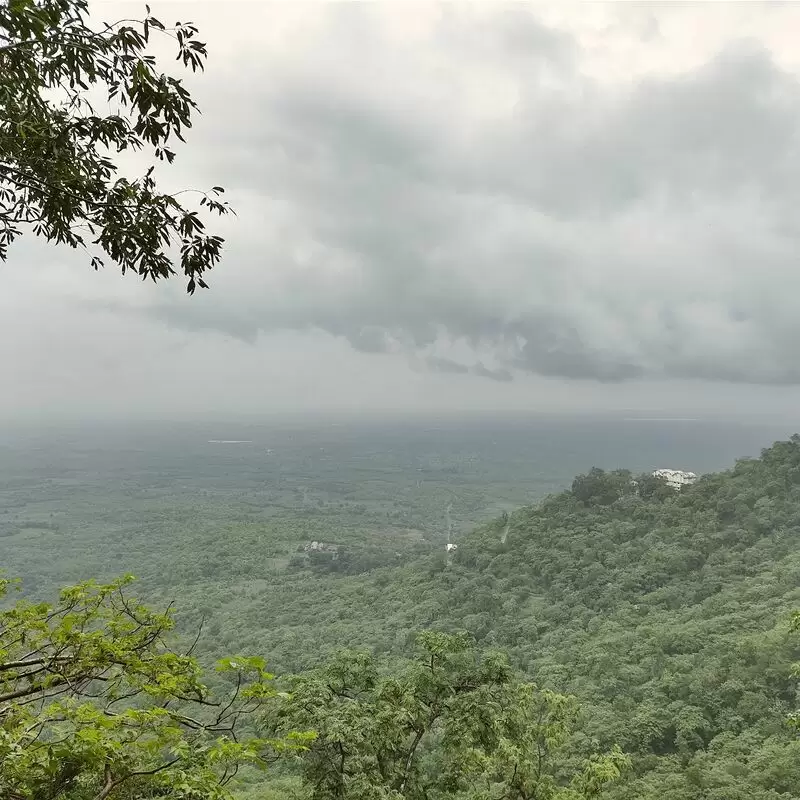 Wanchoo point
8MXH+V58, SH1, Madhya Pradesh 451221
Monday - Sunday: Open 24 hours
Best Time to Visit Indore
The best time to visit Indore is during the winter months from October to March, when the weather is pleasant and temperatures range from 8°C to 28°C, which is ideal for sightseeing, shopping and enjoying the local cuisine.
Annual Weather in Indore
Indore 3-Day Forecast
Thu, 21 September
Night
75 °F
24 °C
0%
Morning
73 °F
23 °C
0%
Afternoon
83 °F
29 °C
98%
Evening
78 °F
25 °C
74%
Fri, 22 September
Night
74 °F
23 °C
78%
Morning
73 °F
23 °C
0%
Afternoon
82 °F
28 °C
78%
Evening
75 °F
24 °C
87%
Sat, 23 September
Night
73 °F
23 °C
69%
Morning
72 °F
22 °C
80%
Afternoon
81 °F
27 °C
81%
Evening
74 °F
23 °C
79%
Questions & Answers

What is the local cuisine like in Indore?

Indore is known for its diverse and delicious local cuisine, which combines rich flavors and unique culinary experiences. The city's food culture is a blend of influences from Rajasthani and Maharashtrian cuisines. Some of the most popular dishes include Poha-Jalebi, a savory and sweet breakfast dish, Bhutte ka Kees, a corn-based snack, and Dal Bafla, a healthy dish made from lentils and wheat. Indore is also known for its appetizing street food, especially at the bustling Sarafa Bazaar, where visitors can enjoy both savory chaats and sweet delicacies.

How do I use public transport in Indore?

In Indore, public transport consists mainly of city buses operated by Atal Indore City Transport Service Limited (AICTSL). These buses operate on several routes and cover the main areas of the city. Tickets can be purchased on board from the conductor. Cars and bicycle rickshaws are also available for shorter trips. If you want to be more comfortable, you can use app-based cab services such as Ola and Uber, which are convenient and safe alternatives at affordable prices.

Is Indore safe for tourists?

Indore is considered relatively safe for tourists compared to other cities in India. With a lower crime rate and well-maintained public facilities, it offers a welcoming environment for travelers. However, as in any other city, it is important to take general safety precautions. Keep your personal belongings safe, be wary of pickpockets in busy areas, and avoid traveling alone at night. Also, respect local customs and dress modestly to avoid unwanted attention.

What language is spoken in Indore?

The main language spoken in Indore is Hindi, which is also the main language of the state of Madhya Pradesh. However, as Indore is a culturally diverse city, due to its proximity to the states of Maharashtra and Gujarat, residents also speak various regional languages such as Marathi and Gujarati. In addition, English is understood and spoken by many people in the city, especially in professional and business settings.

Can I find English-speaking guides?

Yes, you can find English-speaking tour guides in Indore, India. Many tour operators and travel agencies in the city offer personalized services with knowledgeable guides who speak fluent English. In addition, some guides are affiliated with local tourism boards or work independently. They can help you explore the city, which is rich in cultural heritage, historical sites and a vibrant street-food culture. To ensure a smooth experience, it is advisable to book a guide in advance through a reputable agency or hotel.

Are there any etiquette rules to follow?

When visiting Indore, India, be sure to follow a few etiquette rules. Always dress modestly and cover your shoulders and knees, especially in religious sites. Remove your shoes before entering temples and mosques. Respect local customs, such as not touching anyone with your feet and not using your left hand when eating. Greet people with "Namaste" and a slight bow, as physical contact such as shaking hands with the opposite sex may not be appropriate. Avoid public displays of affection, and remain patient and polite in business transactions.

What is the currency used in Indore?

Indore, a city in India, uses the Indian rupee (INR) as its official currency. Rupee banknotes are available in denominations of 10, 20, 50, 100, 200, 500 and 2000, while coins are available in denominations of 1, 2, 5 and 10 rupees. Cards such as MasterCard, Visa and local cards such as RuPay are also accepted in most places, but it is always handy to carry some cash for smaller stores, street vendors and local transport. It is advisable to exchange foreign currency at authorized dealers such as banks and hotels to avoid fraud and ensure a fair exchange rate.

Which areas are best to stay in?

The best residential areas in Indore are Vijay Nagar and AB Road (Agra-Bombay Road). Vijay Nagar is a lively place known for its shopping malls, upscale restaurants and entertainment options, making it suitable for tourists and locals alike. AB Road, on the other hand, offers a delightful mix of historic and modern attractions, and landmarks such as Rajwada Palace and Lal Bagh Palace are within easy reach. There are a variety of accommodations in both areas, ranging from budget hotels to luxury lodgings.

Are credit cards widely accepted?

Credit cards are reasonably accepted in Indore, especially in large hotels, upscale restaurants and shopping centers. However, many local restaurants, smaller hotels and street vendors still rely mostly on cash. It is advisable to carry both cash in local currency (Indian rupees) and a credit card as a reserve to make larger purchases or to pay at more popular stores. Remember to inform your bank of your travel plans to avoid problems with transactions.

How is the nightlife in Indore?

Indore, the commercial capital of Madhya Pradesh, offers a vibrant and lively nightlife. With a variety of pubs, bars and clubs, the city appeals to party lovers and night owls alike. The nightlife offers something for everyone, from live music and DJ sets to international dishes and signature cocktails. The Vijay Nagar neighborhood in particular is a popular hotspot with many trendy cafes, lounges and discos offering an entertaining experience to locals and tourists alike.

Should I tip at restaurants and hotels?

In Indore, tipping is not mandatory in restaurants and hotels, but it is appreciated. If you have been served well, you can tip about 10% of the bill in restaurants. For hotel employees such as maids or bellhops, a tip of 50-100 INR (about 0.7-1.4 USD) per service is considered generous. However, in both cases, the tipping culture is quite flexible and the decision to tip depends on your personal satisfaction with the service provided.

Is it safe to drink tap water?

Drinking tap water in Indore, India is not recommended for tourists due to possible water contamination and poor water treatment infrastructure. Tap water may contain harmful bacteria, contaminants or parasites that can cause digestive problems or other illnesses. It is advisable that visitors use bottled or filtered water during their stay in Indore. In addition, the use of tap water for brushing teeth or washing fruits and vegetables should be avoided to minimize the risk of health problems.

Are there any local festivals to experience?

Indore is a culturally rich city that offers its visitors various festivities to witness. The Rangapanchami Festival, celebrated after Holi, features festive colors, music and dance and is an essential aspect of Indore's cultural heritage. The Anant Chaturdashi, a grand Ganesha immersion procession, also features beautiful displays and lively music. The Navratri festival, known for its unique Garba Raas dance, and Diwali, the festival of lights, are other important events that create a lively atmosphere in the city.

Can I rent a bike or car in Indore?

Yes, in Indore you can easily rent a bike or a car to explore the city at your own pace. There are several rental services like Zoomcar, Drivezy, VOGO and Bounce for cars, while Royal Brothers and ONN Bikes offer two-wheelers. Most rentals require you to provide a valid driver's license, ID, and sometimes a deposit. Be sure to book your vehicle in advance, especially during peak season, to ensure availability of your preferred choice.

Do I need a visa to visit Indore?

Whether you need a visa to visit Indore depends primarily on your nationality. India requires citizens of most countries to obtain a visa before entering. For tourist visits, you can apply for an e-visa, which allows a stay of up to 60 days with double entry. However, citizens of Nepal, Bhutan and the Maldives do not require a visa under certain conditions. Be sure to check the official visa guidelines and requirements of the Indian government for your nationality to ensure a hassle-free trip to Indore.

Are there any dress code restrictions?

There are no special dress codes in Indore, as it is quite a modern and cosmopolitan city. However, to respect the local culture and traditions, it is advisable to dress modestly, especially when visiting religious sites such as temples and mosques. Women should avoid wearing revealing clothing such as short skirts, shorts or tank tops. Instead, opt for long pants, knee-length dresses or skirts, and cover your shoulders. Similarly, men should wear slacks or long shorts and avoid sleeveless shirts. Dressing modestly not only shows respect, but also makes for a pleasant experience.

What is the emergency contact number?

In Indore, India, emergency numbers may vary depending on the specific emergency situation. For general emergencies, you can dial 112, the nationwide emergency number that connects you to the police, fire department, and ambulance service. If you specifically need medical assistance, dial 108 to get immediate help from the ambulance service. It is highly recommended that visitors save these numbers in their cell phones for emergencies while exploring Indore.

Can I easily find vegetarian food options?

Yes, Indore is known for its wide range of vegetarian dishes. As a major city in the Indian state of Madhya Pradesh, it has a rich culinary heritage that caters to vegetarian preferences. There are numerous restaurants, food stalls and candy stores offering delicious vegetarian dishes ranging from traditional Indian cuisine to international dishes. The famous bazaars Sarafa Bazaar and Chappan Dukan are a must visit if you want to enjoy vegetarian delicacies at any time of the day.

Are there any specific health precautions to take?

If you are traveling to Indore, be sure to take the usual health precautions. This includes brushing up on your vaccinations, especially against hepatitis A and typhoid. Be sure to practice good hygiene, such as washing your hands frequently and using hand sanitizer. Avoid drinking tap water and always use bottled or filtered water. Be wary of street food and opt for well-cooked meals at reputable restaurants. To avoid mosquito-borne diseases such as dengue fever and malaria, use insect repellent, wear long sleeves and pants, and sleep under mosquito nets.

Is it easy to find ATMs and money exchange services?

Yes, it is relatively easy to find ATMs and money exchange services in Indore as it is a well-developed city with a strong banking network. Most banks operate ATMs that are accessible 24/7 and they are located in key areas such as business centers, shopping malls and busy streets. For money exchange services, you can turn to banks, hotels and approved exchange offices scattered throughout the city. However, it is advisable to have some cash with you, especially if you are visiting smaller establishments or remote areas in Indore.

Feedback

I hope you found this article informative and helpful. I'm eager to improve the content and make it even more valuable for you. If you have any feedback or suggestions, I would love to hear from you.

Do you have any tips or hidden gems that you think should be added to the list? Are there any areas that you feel could use more explanation or clarification?

Your input is greatly appreciated and will help us to continue providing high-quality content that meets your needs and interests. Please feel free to share your thoughts.