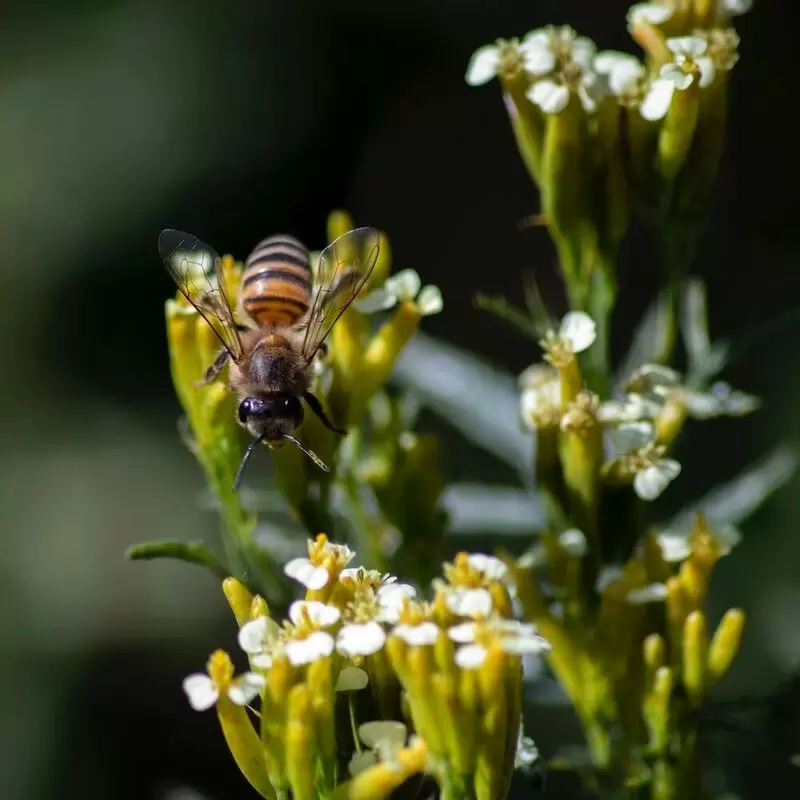 1. Gold Reef City Theme Park
Immerse yourself in South Africa's rich gold mining era at the Gold Reef City theme park. Experience the thrill of falling down a mine shaft or enjoy breathtaking rides perfect for adrenaline junkies. Try your luck at one of the many gaming tables if you're feeling adventurous. Explore the underground mine tour that will reveal the secrets of times gone by. When the sun goes down, you can be enchanted by the dazzling live entertainment. Also explore the neighboring Apartheid Museum, an enlightening must-see nearby.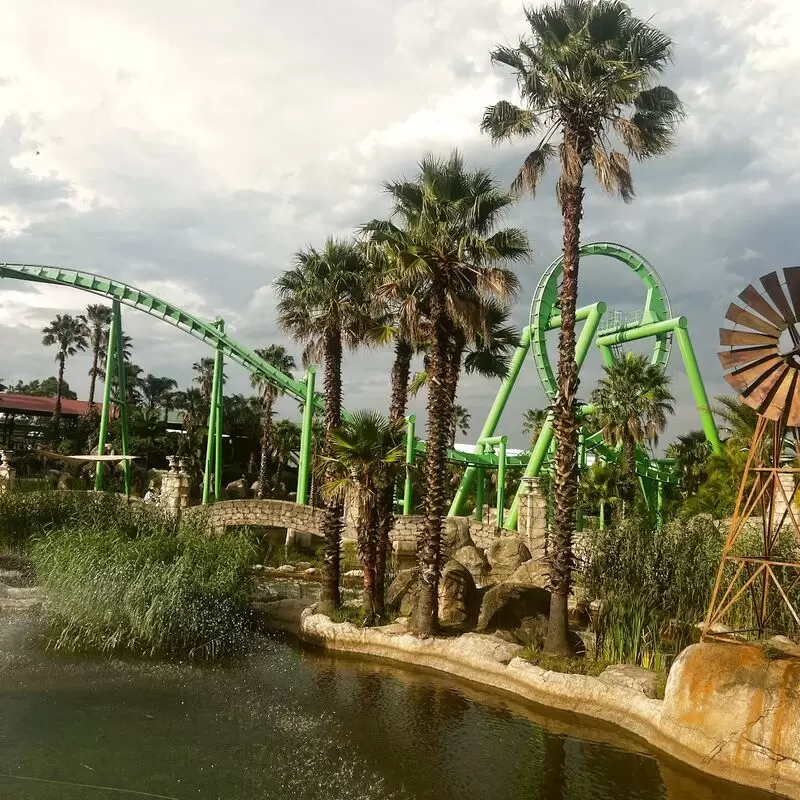 Gold Reef City Theme Park

2. Maropeng Official Visitor Centre for the Cradle of Humankind World Heritage site
Discover the roots of humanity at Maropeng, the gateway to the Cradle of Humankind. Dive deep into ancient caves, learn about human evolution through immersive exhibits and interactive displays, and discover 4 million years of history recorded in fossil records. Don't miss the virtual helicopter ride through time and geography! Nearby are the Sterkfontein Caves, another important archaeological site with hominid fossils, worth a detour on your journey through time.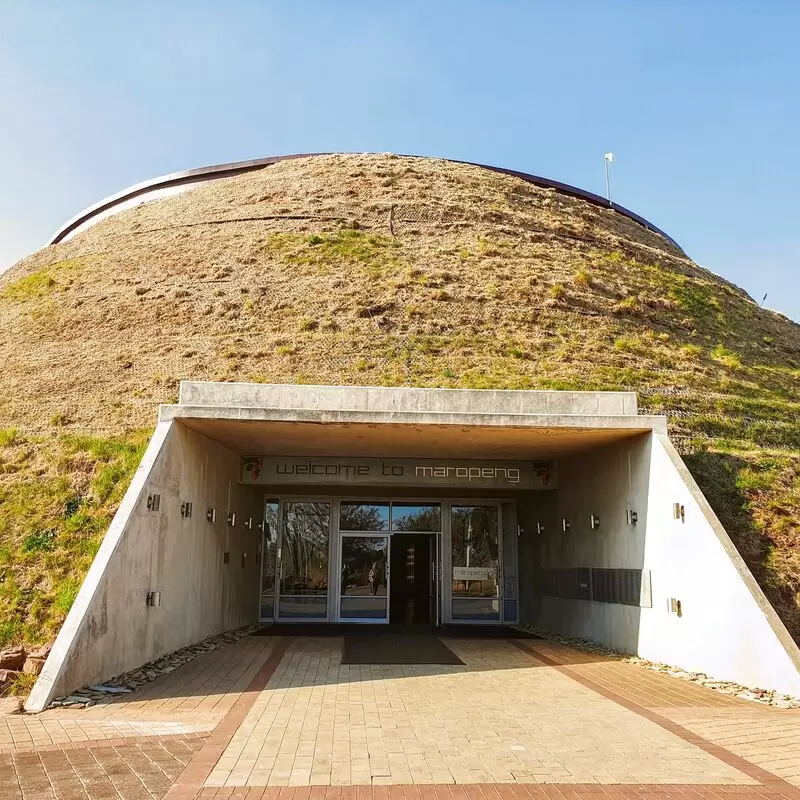 Maropeng Official Visitor Centre for the Cradle of Humankind World Heritage site
R400, 1911
Monday - Sunday: 9:00 AM – 4:00 PM
3. Walter Sisulu National Botanical Garden
Immerse yourself in the wonders of nature at Walter Sisulu National Botanical Garden. Famous for its waterfall and scenic landscapes, this oasis is home to over 240 species of birds, including the Verreaux's Eagle, which is not to be missed. Take a walk along Roodekrans Ridge and don't forget to check out the Black Eagle Project. After exploring, enjoy a picnic lunch amidst the tranquility. Just a short drive away is the impressive Cradle of Humankind, another place you should visit to get a glimpse of prehistoric times.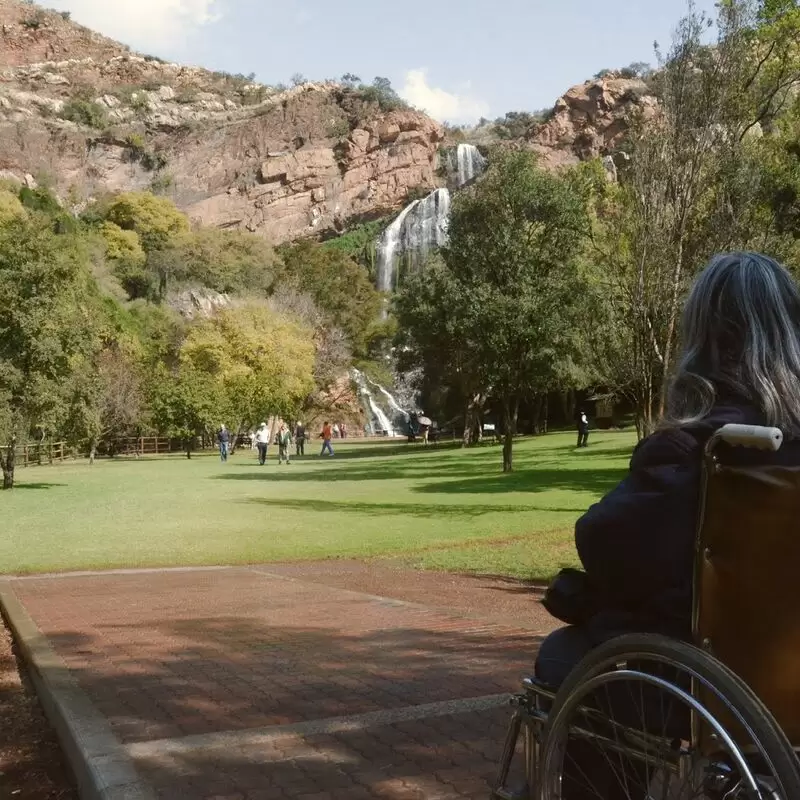 Walter Sisulu National Botanical Garden
Malcolm Rd, Poortview, Roodepoort
Monday - Sunday: 8:00 AM – 5:00 PM
4. Apartheid Museum
A visit to the Apartheid Museum offers an incredible opportunity to delve deep into South Africa's turbulent past. The museum depicts the rise and fall of apartheid in a chilling way and evokes emotional responses with its impressive exhibits. This is not just a simple museum visit, but a profound journey into the historical DNA of the country. Punctuate your visit with a visit to the nearby Key West Shopping Centre, where you can experience a modern South African flair - the perfect blend of history, culture and shopping!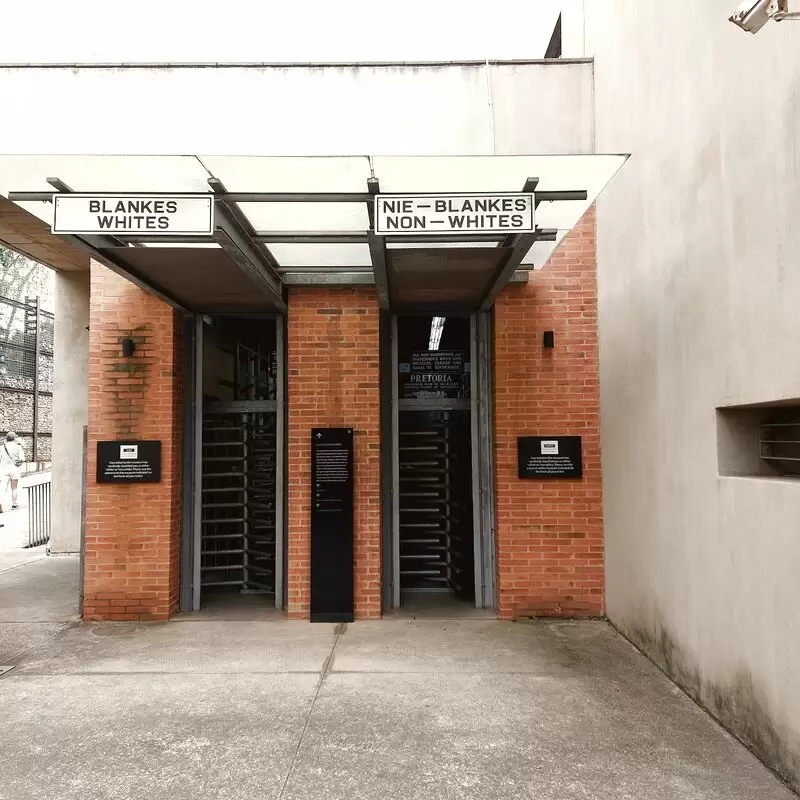 Apartheid Museum
Northern Parkway and Gold Reef Road, Ormonde, Johannesburg
Monday - Tuesday: Closed
Wednesday - Sunday: 9:00 AM – 5:00 PM
5. Johannesburg Botanical Gardens

At the Johannesburg Botanical Gardens in Krugersdorp, you can let your enthusiasm for nature run wild. With over 30,000 species of South African flora, your eyes will be treated to vibrant colors and your nose to sweet, aromatic scents.

Insider tip: Don't miss the special collections of cycads and succulents. The garden offers a tranquil and picturesque landscape, making it a photographer's paradise. Nearby is the calming Emmarentia Reservoir, perfect for relaxing picnics or extensive boating.

Johannesburg Botanical Gardens
Olifants Rd, Emmarentia, Johannesburg

Monday - Sunday: 6:00 AM – 6:00 PM
6. Lion & Safari Park
A visit to the Lion and Safari Park in Krugersdorp is more than just a wildlife experience - it's an immersion into the heart of Africa's rich biodiversity. Get up close and personal with the majestic lions, cheetahs, giraffes and antelopes as you travel through the park in a guided safari vehicle. Not only will you be able to feed the giraffes, but if you are lucky, you may also see the rare wild dogs. The Cradle of Humankind World Heritage Site is just a stone's throw away, and a visit here will allow you to experience the rugged charm of the South African landscape.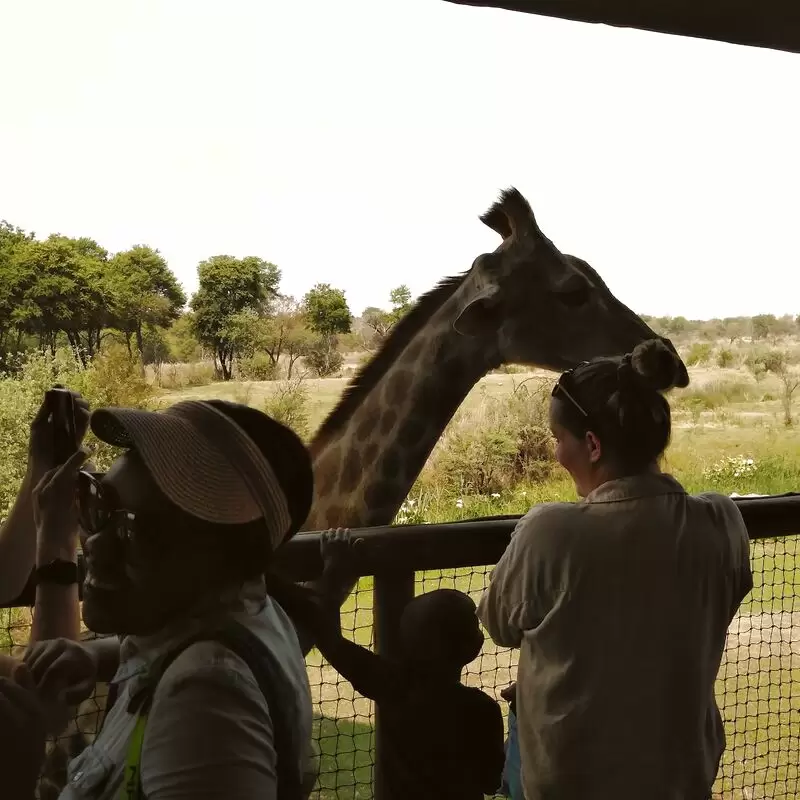 Lion & Safari Park
R512 Pelindaba Rd, Broederstroom
Monday - Sunday: 8:00 AM – 5:00 PM
7. Sterkfontein Caves
In the Sterkfontein Caves in Krugersdorp you can get to the bottom of the prehistoric secrets of the past. This archaeological wonder is part of the cradle of mankind and houses famous fossils like "Mrs. Ples" and "Little Foot". Look forward to fascinating guided tours deep into the belly of the earth. After descending, you can explore the nearby The Cradle Nature Reserve, which impresses with its wildlife and beautiful landscapes. Remember that it's a bit chilly inside - a light jacket might come in handy! Enjoy an unforgettable journey to the distant beginnings of mankind.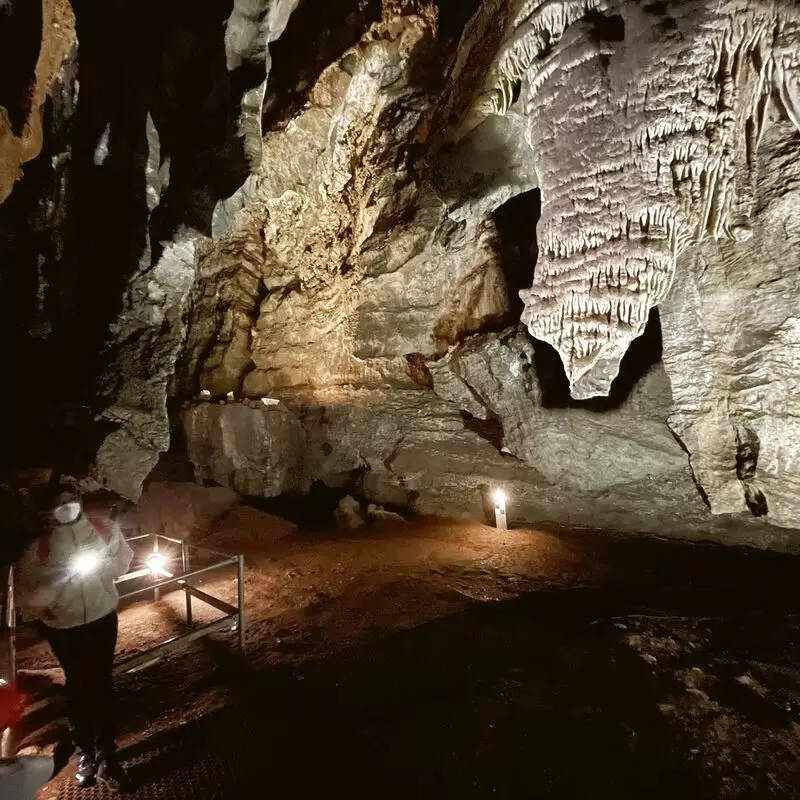 Sterkfontein Caves
Kromdraai Rd, Johannesburg
Monday - Sunday: 9:00 AM – 5:00 PM
8. Bothongo Rhino & Lion Nature Reserve
When traveling to Krugersdorp, one should not miss visiting the Bothongo Rhino & Lion Nature Reserve. This boundless expanse of South African wildlife offers a unique chance to get up close and personal with Africa's most significant animals, including rhinos and lions. Between bush walks and night drives, adventure seekers can live out their adventurous side. A tip for locals: try to catch feeding times for a truly pristine experience. The nearby Cradle of Humankind offers an archaeological glimpse into human history.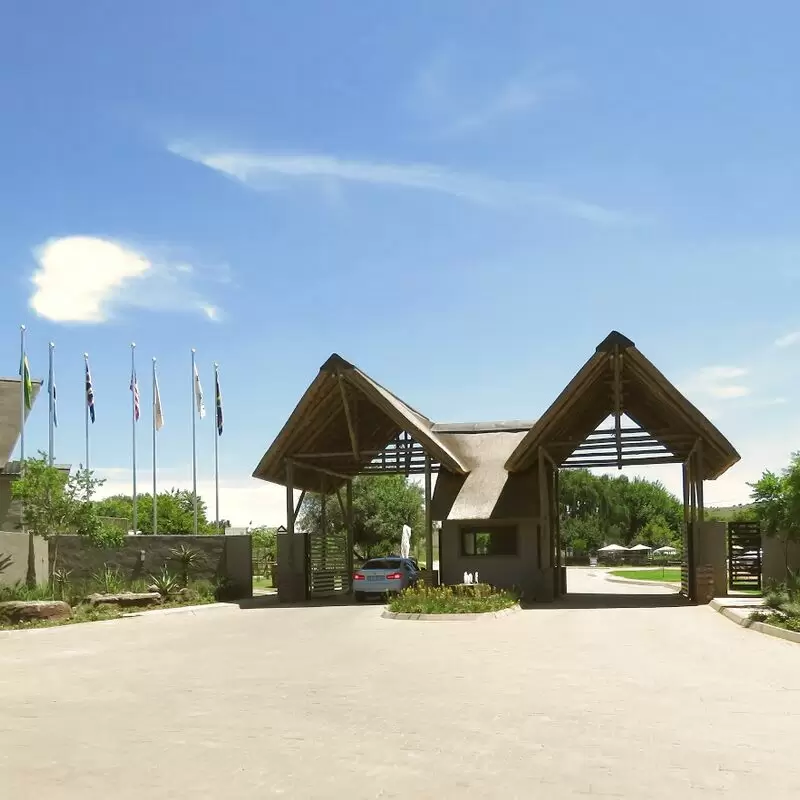 Bothongo Rhino & Lion Nature Reserve
520 Kromdraai Road, Kromdraai, Krugersdorp
Monday: Closed
Tuesday - Friday: 8:00 AM – 5:00 PM
Saturday: 8:00 AM – 6:00 PM
Sunday: 9:00 AM – 5:00 PM
9. Cradle of Humankind

Embark on an extraordinary journey into the past to the "Cradle of Humankind," one of South Africa's eight World Heritage Sites. Located northwest of Johannesburg, it houses approximately 40% of the world's human ancestor fossils. An unparalleled opportunity to marvel at the wonders of human evolution.

Our insider tip? Don't miss "Mrs. Ples," the most complete skull of an Australopithecus Africanus ever found. Afterwards, you can continue your excursion to the nearby Sterkfontein Caves or enjoy an exciting lion safari at the Lion & Safari Park.
10. Silverstar Casino
Experience unparalleled thrills at Silverstar Casino in Krugersdorp, a gaming paradise with over 900 slot machines and 32 table games. Experience unfiltered live entertainment, dine at a variety of restaurants and enjoy movies at the big screen cinema. Don't miss the iconic fountain light show that enchants visitors at dusk. The nearby Krugersdorp Game Reserve is just a short drive away, where wildlife and breathtaking scenery promise an unforgettable safari adventure after an exciting casino experience.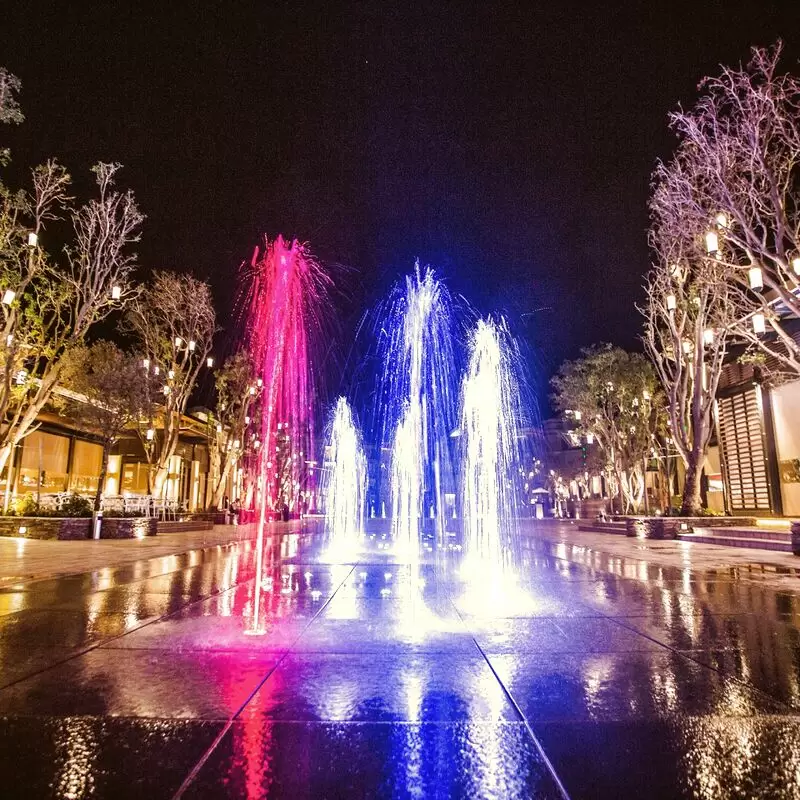 Silverstar Casino
R28, Muldersdrift
Monday - Sunday: 7:00 AM – 2:00 AM
Wednesday: 7:00 AM – 12:00 AM
Thursday - Saturday: Open 24 hours
11. Hector Pieterson Memorial

A visit to the Hector Pieterson Memorial is an emotional journey into South Africa's history. The memorial is dedicated to the first child who tragically died during the Soweto Uprising in 1976. This historic landmark symbolizes the country's struggle against apartheid and represents an important chapter in South African freedom.

Insider tip: Look for the marble plaque with Pieterson's quote, which will sharpen your focus. Nearby is the biodiverse Walter Sisulu Botanical Gardens, which offers a special experience with its waterfall, black eagles, and other plants and animals.

Hector Pieterson Memorial
8287 Khumalo Rd, Orlando West, Johannesburg

Monday: Closed
Tuesday - Sunday: 10:00 AM – 5:00 PM
12. Cradle Moon Lakeside Game Lodge
Cradle Moon Lakeside Game Lodge in Krugersdorp offers an authentic African wildlife experience. Marvel at zebras, giraffes and a variety of antelope species right on your doorstep. Take a boat ride to discover abundant birdlife. The accommodations exude rustic charm and are perfectly furnished to give a true bushveld feel. Be sure to visit the nearby Lion and Safari Park, where you can see exciting big cats up close. A hidden treasure of South Africa that you should not miss!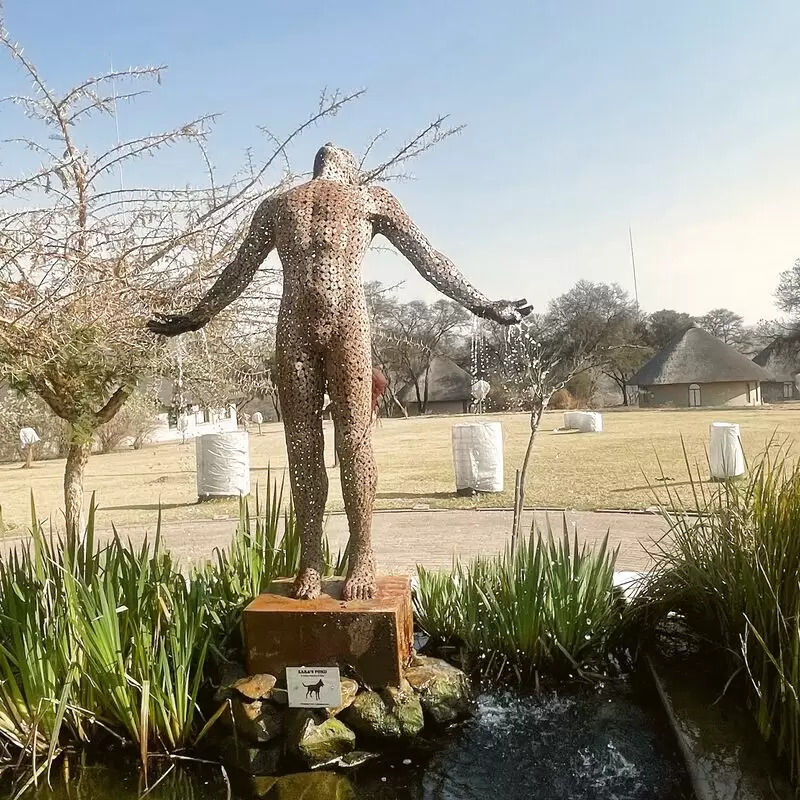 Cradle Moon Lakeside Game Lodge
Plot 59 Beyers Naude Drive, Muldersdrift
Monday - Sunday: 12:00 AM – 12:00 PM
13. NIROX Sculpture Park
Immerse yourself in the magic of NIROX Sculpture Park, a unique place where art and nature blend harmoniously. The 15-hectare park is adorned with over 60 permanent outdoor sculptures, offering an exquisite visual treat. Get lost in breathtaking spaces framed by the Khatlehong Hills and crisscrossed by waterways. Take a stroll through the seasonal gardens, which showcase a different artistic bloom each year. Explore the nearby Cradle of Humankind, a UNESCO World Heritage Site that awaits with its ancient mysteries. Come, immerse yourself in art and history!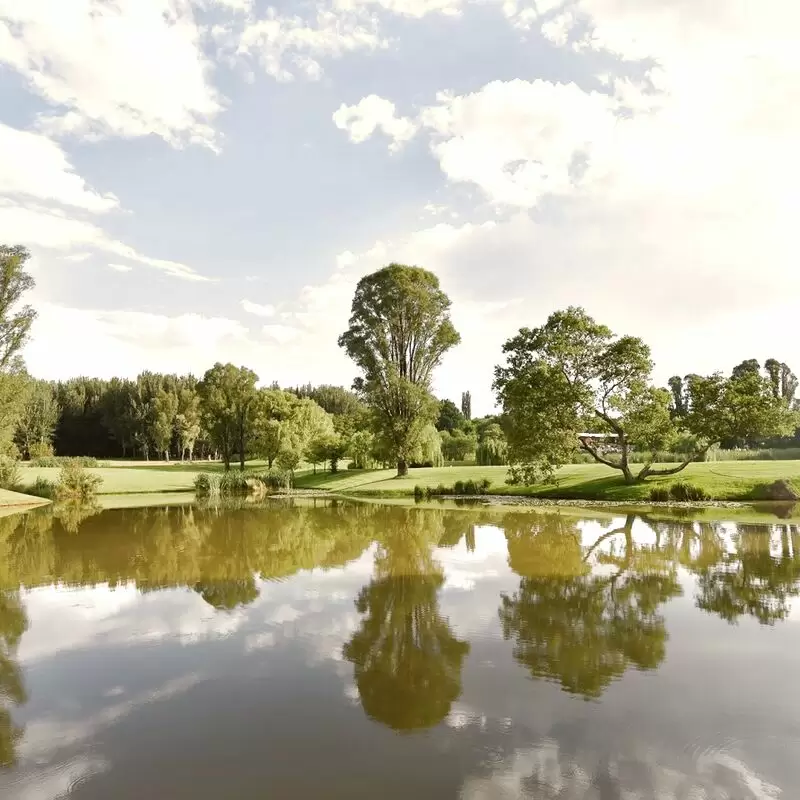 NIROX Sculpture Park
R540 Kromdraai Rd, Kromdraai, Krugersdorp
Monday - Friday: Closed
Saturday - Sunday: 10:00 AM – 4:00 PM
14. Kloofendal Municipal Nature Reserve
Immerse yourself in the tranquil wilderness of the Kloofendal Municipal Nature Reserve, an ecological paradise second to none in Krugersdorp. It is considered a thriving sanctuary for flora and fauna and has hiking trails with great geological features. Watch the rare dassies and delicate springboks as they hop among the lush wildflowers. Learn more about the area's fascinating biodiversity on guided walks. Just minutes away, the enchanting Wonder Cave offers a spectacular underground spectacle - a must for adventurous explorers!
Kloofendal Municipal Nature Reserve
Veronica St, Roodepoort
Monday - Sunday: 6:00 AM – 6:00 PM
15. Croc City Crocodile & Reptile Park
Discover the wild side of Croc City Crocodile & Reptile Park, Krugersdorp's enchanting natural wonder. Your path will be illuminated by the remarkable sight of over 800 reptiles, most notably the Nile crocodiles. Experience an exciting crocodile feeding show or get up close and personal with nature by holding a baby crocodile! If you're less adventurous, you can enjoy a refreshing coffee at the on-site café. To round out your trip, be sure to visit the Cradle of Humankind, a UNESCO World Heritage Site just 15 minutes away!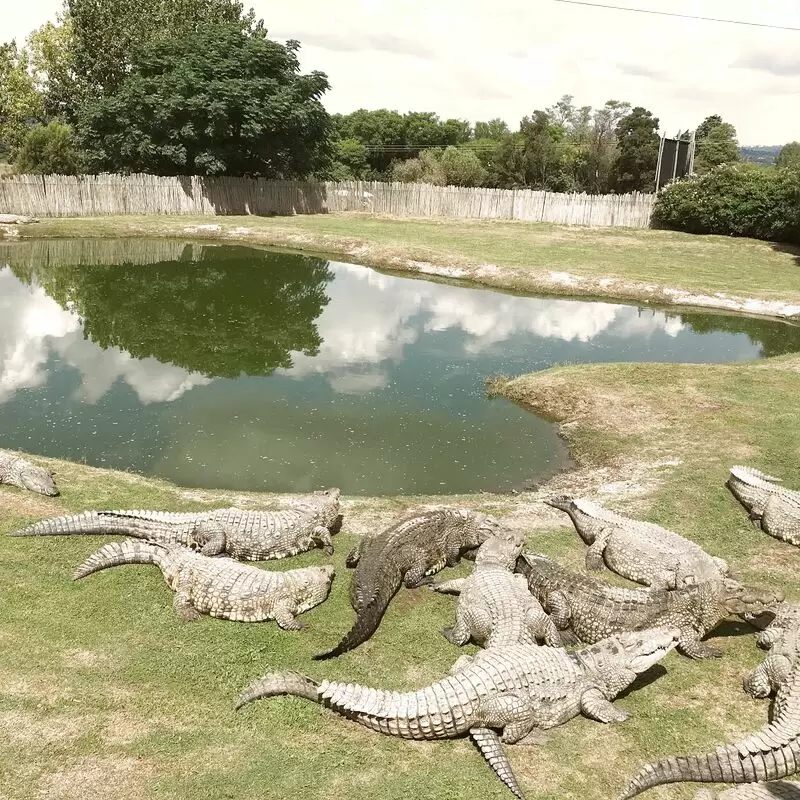 Croc City Crocodile & Reptile Park
Corner of Cedar Road & R114 Nietgedacht 535 Chartwell, Nietgedacht 535-Jq, Chartwell
Monday - Sunday: 9:00 AM – 4:30 PM
16. Suikerbosrand Nature Reserve
Step into the pristine wilderness of Suikerbosrand Nature Reserve, a tranquil paradise with sweeping vistas and diverse wildlife. It's one of the best places in Krugersdorp to spot zebra, hartebeest and over 200 species of birds. Hike a trail and enjoy the sight of Yellowwood trees, a hidden treasure known only to regulars. Don't miss the prehistoric rock paintings that provide a fascinating glimpse into ancient culture. Nearby is Heia Safari Ranch with hippos, zebras and giraffes!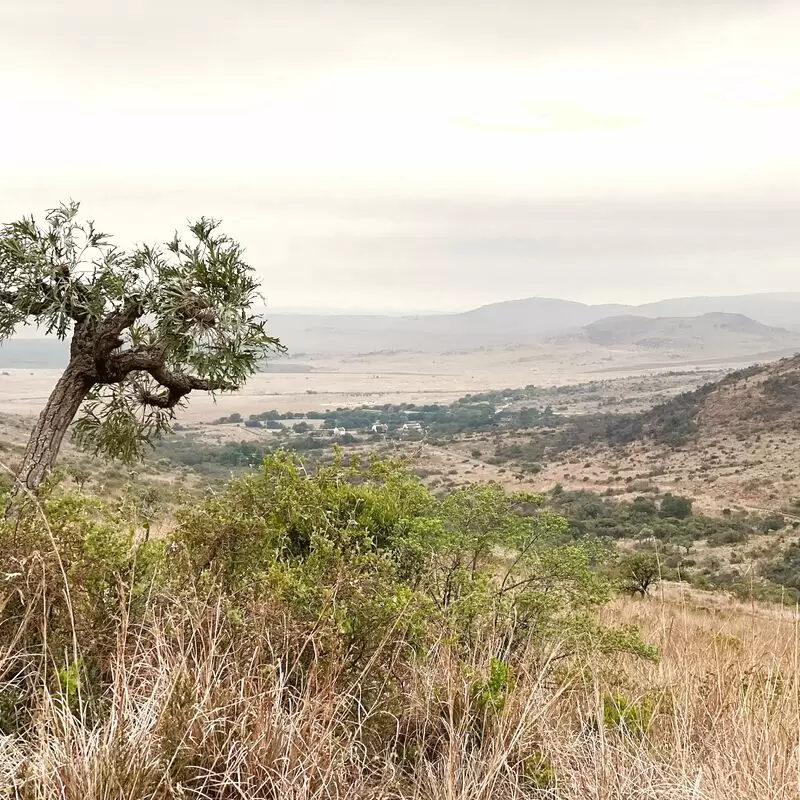 Suikerbosrand Nature Reserve
R550, Heidelberg
Monday - Sunday: 7:00 AM – 5:00 PM
17. Sci Bono Discovery Centre
Unleash your inner scientist at the Sci-Bono Discovery Centre in Krugersdorp, a treasure trove of interactive exhibits that will delight kids and adults alike. It's not just about looking here, visitors can touch, push, twist and question everything. Discover the stars in the mini planetarium or a human-sized hamster wheel. Don't miss the neighboring Johannesburg Planetarium, where galaxies come to life. Escape the hustle and bustle and enjoy enlightening fun right in the heart of Krugersdorp!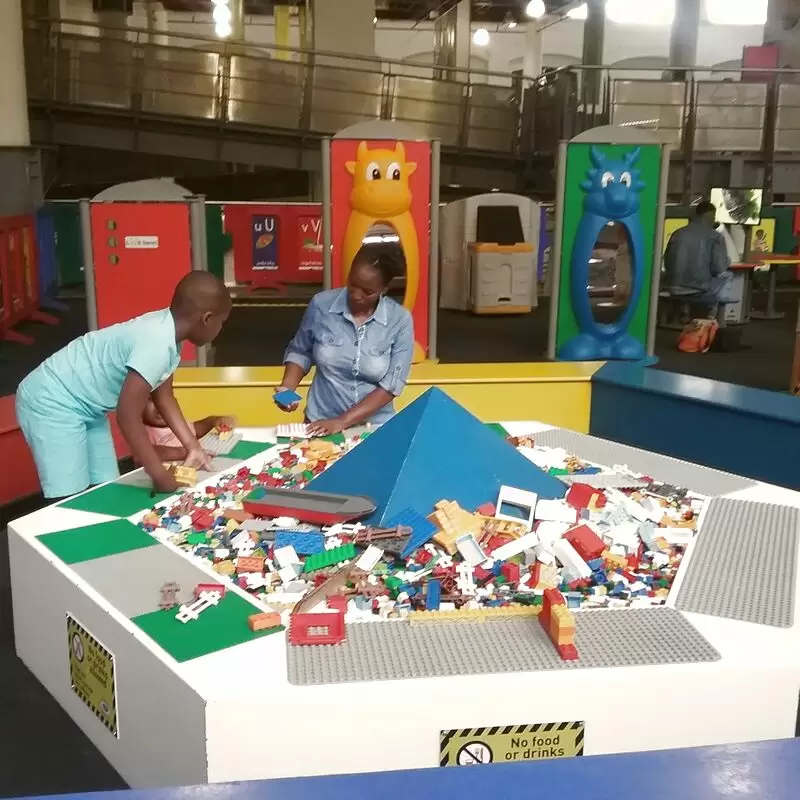 Sci Bono Discovery Centre
Corner of Miriam Makeba and Helen Joseph (formerly Newtown |, Helen Joseph St, Newtown, Johannesburg
Monday - Saturday: 9:00 AM – 4:30 PM
Sunday: 9:00 AM – 3:30 PM
18. Klipriviersberg Nature Reserve
Venture into the heart of the South African bushveld at Klipriviersberg Nature Reserve. Enjoy fantastic wildlife viewing opportunities, from zebras to 150 species of birds. With historic Voortrekker sites and fossil finds dating back millions of years, you'll feel like you've stepped back in time. Just 30 minutes from Krugersdorp, it's worth visiting the nearby Sterkfontein Caves - the "Cradle of Humankind", a unique paleoanthropological site where our human ancestors have been traced back over 3.5 million years.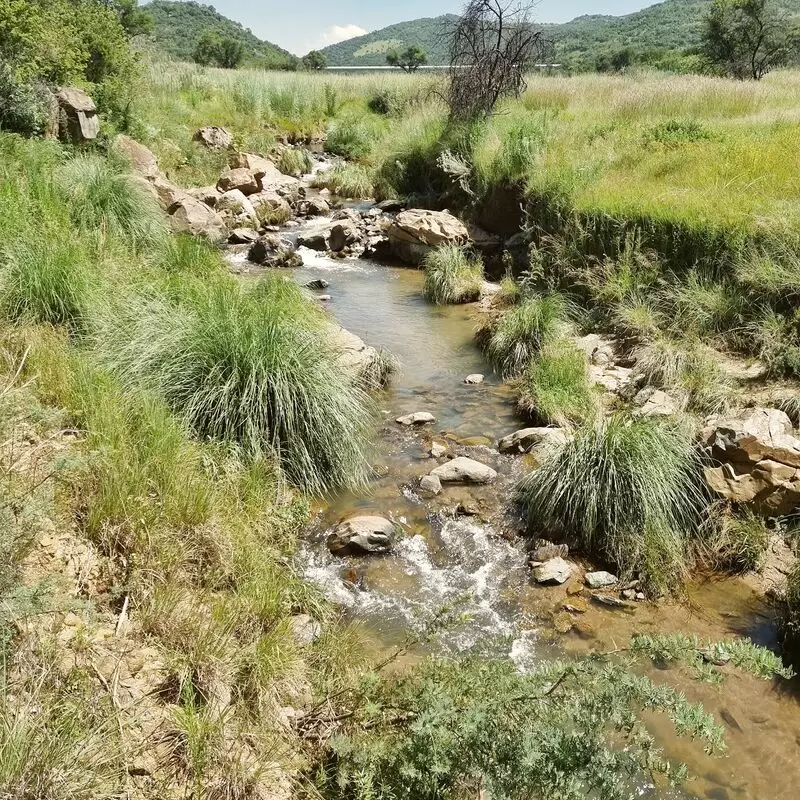 Klipriviersberg Nature Reserve
129 Peggy Vera Rd, Kibler Park, Johannesburg South
Monday - Sunday: 6:00 AM – 6:00 PM
19. Mountain Sanctuary Park
Escape the hustle and bustle of city life and enjoy the tranquility of Mountain Sanctuary Park in Krugersdorp. This hidden gem is a nature lover's paradise with its natural rock pools, excellent hiking trails and diverse wildlife. Relax under the stars, where you can enjoy phenomenal stargazing due to low light pollution. Get your adrenaline kick climbing the park's rugged cliffs. Just a stone's throw away is the Maropeng Visitor Centre, known as the "Cradle of Humankind" and a UNESCO World Heritage Site.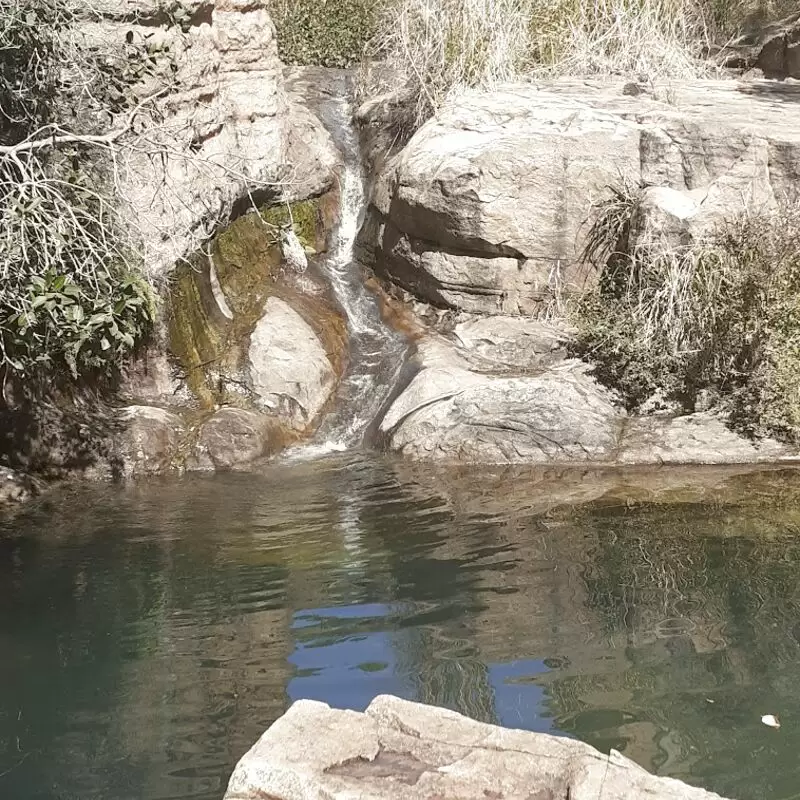 Mountain Sanctuary Park

Monday - Sunday: 8:00 AM – 5:30 PM
20. Mzansi Theme Park formerly Happy Island Waterworld)
Experience pure thrills at Mzansi Theme Park (formerly Happy Island Waterworld) in Krugersdorp, South Africa. This magnificent park offers a fantastic selection of rides and slides that will quench your thirst for thrills. As the largest wave pool in Africa, it can simulate the roaring waves of the ocean - a must-see! Don't miss the unusual gravity-defying rainbow slide. Nearby is the Cradle of Humankind - a UNESCO World Heritage Site that offers captivating insights into the ancient history of mankind.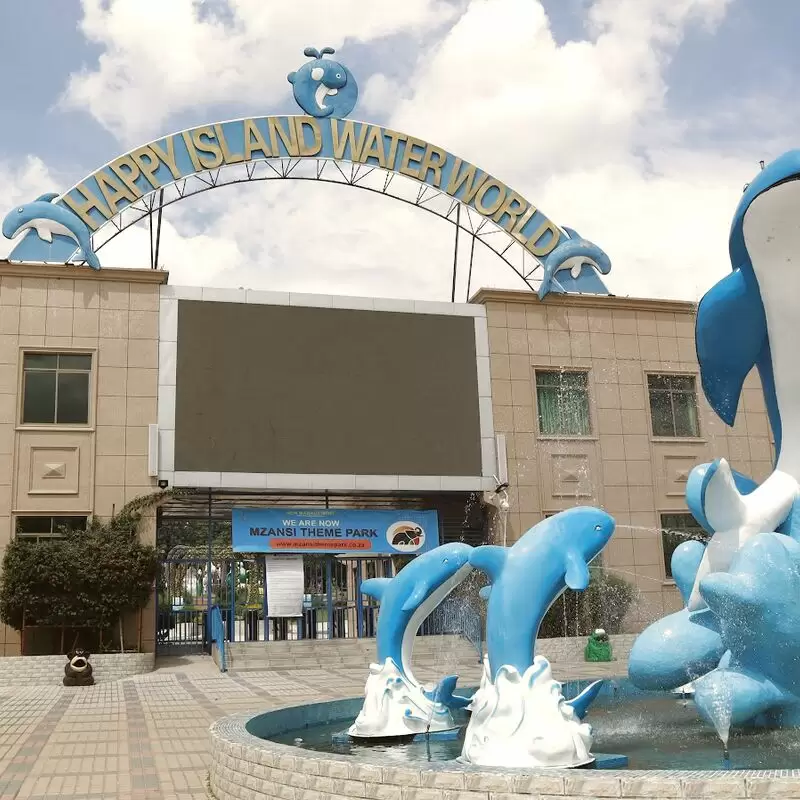 Mzansi Theme Park formerly Happy Island Waterworld)
106 Lake View Dr, Muldersdrift, Krugersdorp
21. Chameleon Village

Unleash your inner shopaholic at Chameleon Village, a large African market located just 40 minutes from Krugersdorp. Experience the vibrancy of local arts, crafts, fashion and more at the 300 stalls. Don't miss the opportunity to haggle and get the best deals! For foodies, it's a paradise: from local cuisine to exotic delicacies, you'll find it all here.

An insider tip: immerse yourself in the marimba music there. Nearby attractions include Hartebeespoort Dam and the Elephant Sanctuary.

Chameleon Village
Chameleon Village R104 Old Rustenburg rd Damdoryn, Hartbeespoort

Monday - Sunday: 9:00 AM – 5:00 PM
Saturday: 9:00 AM – 6:00 PM
22. Roodeplaat Dam Provincial Nature Reserve
Immerse yourself in the rugged beauty of Roodeplaat Dam Provincial Nature Reserve, a jewel of Krugersdorp. It's a world-class paradise for birdwatchers and anglers and is home to 200 species of birds and a wide variety of fish. Interrupt the tranquility only when enjoying water sports or a leisurely picnic under the acacia trees. Just a short drive away is Nirox Sculpture Park, which adds a touch of art to your outdoor adventure. Don't forget to capture the mesmerizing sunset over the dam - it's worth more than a postcard!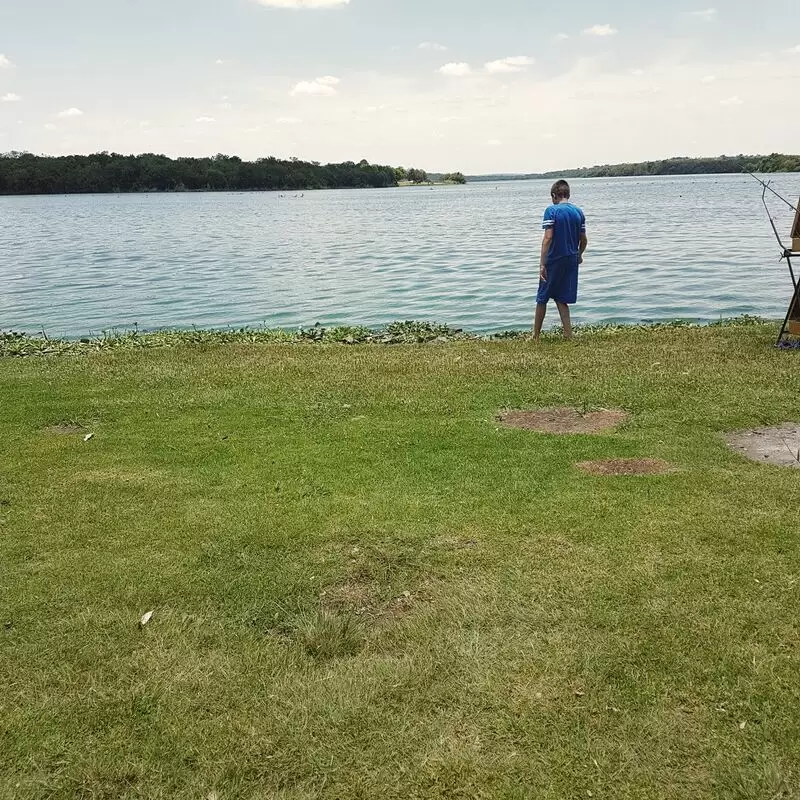 Roodeplaat Dam Provincial Nature Reserve
9956+88, Roodeplaat
23. Sable Hiking accommodation and 4x4

The ultimate African adventure awaits you at Sable Hiking, Accommodation and 4x4 in Krugersdorp. This hotspot offers exciting 4x4 trails through the majestic Magalies Mountains, a must-do experience for off-road vehicle enthusiasts. After a long day, relax in the tranquil self-catering chalets set amidst unspoiled natural beauty.

Insider tip: Bring your binoculars for bird watching! Nearby, you can visit the world-famous Cradle of Humankind, a UNESCO World Heritage Site, and take a historical tour through millions of years. This combination guarantees an enriching and adrenaline-filled vacation.

Sable Hiking accommodation and 4x4
R96, Magaliesburg

Monday - Sunday: 6:30 AM – 5:00 PM
Tuesday - Friday: 7:00 AM – 5:00 PM
24. Magalies Canopy Tours
Magalies Canopy Tours in Krugersdorp is a serene escape into the realm of nature. Here you will find an exciting blend of beauty, adventure and tranquility. Ziplining over enchanting gorges, rivers, and wildlife, you'll have the opportunity to observe amazing wildlife while listening to the distant sounds of birds singing to the forest. Just a stone's throw away are the Magaliesburg Mountains, a hiker's paradise with breathtaking views and geological wonders. It's the perfect blend of thrills and serenity.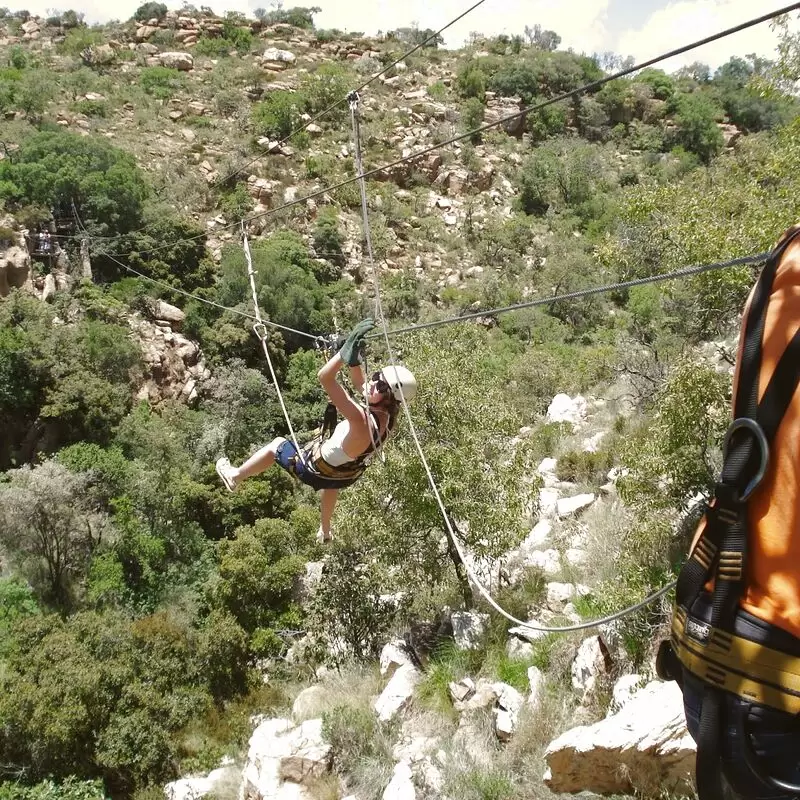 Magalies Canopy Tours
Rosewood Functions, Part of 84 of the Farm, Rietfontein, Rustenburg
Monday - Sunday: 6:30 AM – 4:30 PM
Best Time to Visit Krugersdorp
The best time to visit Krugersdorp is during the mild winter months from May to August. Temperatures are cooler, wildlife viewing is at its best, and the risk of malaria is minimal. However, if you like spring landscapes, September to October can be very appealing.
Annual Weather in Krugersdorp
Krugersdorp 3-Day Forecast
Sat, 23 September
Night
68 °F
20 °C
0%
Morning
61 °F
16 °C
0%
Afternoon
82 °F
28 °C
0%
Evening
77 °F
25 °C
0%
Sun, 24 September
Night
68 °F
20 °C
0%
Morning
63 °F
17 °C
0%
Afternoon
80 °F
27 °C
0%
Evening
80 °F
27 °C
0%
Mon, 25 September
Night
67 °F
20 °C
0%
Morning
59 °F
15 °C
0%
Afternoon
78 °F
25 °C
0%
Evening
70 °F
21 °C
0%
Questions & Answers

What is the local cuisines in Krugersdorp?

In Krugersdorp, South Africa, there are dishes that have been strongly influenced by local traditions and different cultures. These include boerewors, a tasty grilled sausage made from ground beef, pork or other meat mixed with spices. Biltong, dried and cured strips of meat, are a delicious snack or appetizer. Bunny chow, a hollowed-out bread filled with spicy curry, is also popular. The traditional "braai" or barbecue culture is also widespread, in which various types of meat are cooked over an open fire.

Is it safe to travel to Krugersdorp?

As with any destination, it is important to take safety precautions when visiting Krugersdorp, South Africa. Generally, it is a safe area, but criminal incidents do occur, so it is important to stay alert and aware of your surroundings. Public transportation is reliable, but it is often recommended to rent a private car. Avoid traveling in unfamiliar areas after dark to ensure your safety. As always, travel insurance is recommended.

What is the main language spoken there?

The main language spoken in Krugersdorp, South Africa is Afrikaans. It is a language originating from the Netherlands that also contains elements from various African languages and English. However, this South African city is a multicultural place, and English is also widely spoken and understood. Krugersdorp is a reflection of the big city of Johannesburg, where you will find a mixture of different cultures and languages that reflect the diversity of South Africa.

How can I reach Krugersdorp from Johannesburg?

Krugersdorp is located about 31 kilometers west of Johannesburg, South Africa. The most convenient way to get there is via the R24 highway, which takes about 30-40 minutes in normal traffic. Another option is public transportation such as intercity buses or trains, which usually offer affordable fares and regular schedules. Traveling by public transportation can take a little longer because of the many stops. They are quite convenient and inexpensive and offer an authentic local travel experience.

What wildlife can I expect to see in Krugersdorp?

A wealth of African wildlife awaits you in Krugersdorp, South Africa. At Krugersdorp Game Reserve, you can experience the majestic lions and elegant elephants. The Rhino and Lion Nature Reserve is home to white rhino and several species of antelope. African wild dogs, cheetahs and various bird species are found in the Krugersdorp area - ideal for nature and wildlife lovers. In addition, you can also encounter giraffes, zebras and hippos in their natural habitat. A treat for adventurers and nature lovers alike.

What local transportation options are available?

In Krugersdorp, South Africa, local transportation is quite diverse. You can rent cars from reputable car rental companies for personal transportation. To experience the city like a local, you can opt for the widely available minibus cabs for cheap commuting. There are cabs with cab meters for convenient rides around the city. Alternatively, there are buses that will take you to the main areas. For short distances, walking or biking is a good option.

What cultural norms should I respect while there?

In Krugersdorp, South Africa, it is important to show respect for cultural norms. South Africans value politeness and manners, so always greet people politely. Personal space is also respected, although this may vary slightly in different cultures around the country. Tipping service personnel is customary. Dress is generally casual unless attending more formal events. Finally, consent is important, always ask before photographing someone.

Is there a hospital or medical facility I can reach in case of an emergency?

Yes, in case of any medical emergency in Krugersdorp, South Africa, you can visit Netcare Krugersdorp Hospital. It is a renowned private hospital that offers comprehensive healthcare services. It offers round the clock emergency services and has specialized departments that deal with various medical problems. So, you can be assured of quality medical care.

What common words or phrases in Afrikaans should I know?

As a traveler in Krugersdorp, it is important to know basic Afrikaans phrases such as "hello", "dankie", "yes" and "nee". When inquiring about places or directions, you can say "Waar is?" (Where is?). "Hoe laat is dit?" (What time is it?) helps when asking what time it is. For basic politeness, "Verskoon my" stands for (Excuse me) and "Totsiens" means (Goodbye). If you understand these expressions, you will be able to communicate with the locals without any problems.

What is the local currency and where can I exchange money?

The local currency in Krugersdorp, South Africa is the South African Rand (ZAR). The currency can be exchanged at local banks, post offices or authorized exchange offices. It is recommended to use reliable and reputable services such as the branches of Standard Bank, Absa or First National Bank, as they often offer the best exchange rates. Be sure to carry your ID with you whenever you make a currency transaction.

Where can I see authentic African art in Krugersdorp?

In Krugersdorp, you can visit the Ngwenya Glass Village for a unique insight into African art. Here, various artists exhibit their work in several galleries, with a focus on glass art. You can also discover traditional African arts and crafts at the Maropeng Visitor Centre in the nearby Cradle of Humankind, a UNESCO World Heritage Site. The Sterkfontein Caves in the same site also house ancient artwork.

Are there local vineyards or wineries I can visit?

Krugersdorp, South Africa, has much to offer with its beautiful wildlife and cultural heritage, but is not known for its vineyards or wineries. South Africa's main wine-growing region is in the Cape Winelands, particularly around the towns of Stellenbosch, Paarl and Franschhoek. This region is a few hours drive from Krugersdorp, but offers a fantastic insight into South Africa's prestigious wine industry.

What are some locally produced items unique to the region?

Krugersdorp, South Africa, is known for its unique local products, which most notably include handcrafted jewelry, often ornate with gemstones from the region's rich soils. The area is also famous for its artwork, especially the vibrant village paintings that reflect traditions and culture. Another well-known Krugersdorp product is homemade biltong, a type of South African cured meat that comes in a variety of flavors and is often packaged as a gourmet snack.

Which local delicacies should I try?

When visiting Krugersdorp, be sure to try local delicacies such as boerewors, a unique South African sausage grilled on a barbecue, and biltong, a savory dried and salted meat. Try bunny chow, a South African fast food that consists of a hollowed-out loaf of bread filled with curry. Finish your meal with Melktert, a popular South African dessert similar to the British Custard Tart, with a sweet dough crust and a creamy filling of milk, eggs and sugar, traditionally dusted with cinnamon.

How to behave around potentially dangerous wildlife?

In Krugersdorp, make sure you keep a safe distance from wild animals. Do not feed the animals or try to touch them as they can be unpredictable. Remember that you are in their natural environment, and stay calm so as not to startle them. If you come across a potentially dangerous animal, don't run away or turn your back on it. Instead, walk slowly backward and keep your eyes on the animal. Always follow your guide's instructions or local signs.

Are there any good spots for hiking, bird watching, or nature walks?

For nature lovers visiting Krugersdorp, South Africa, the Krugersdorp Nature Reserve is a must. It is known for its abundant wildlife and offers excellent opportunities for hiking and bird watching. The Walter Sisulu National Botanical Garden is another nature walker's paradise, where visitors can explore various plant species and spot a variety of birds, including the majestic Verreaux's eagles.

Is it possible to volunteer for any local conservation projects?

Definitely! In Krugersdorp there are numerous conservation projects where you can volunteer. Of particular note is the Krugersdorp Game Reserve, where anyone interested in wildlife conservation is welcome. There's also the Maropeng Visitor Center at the Cradle of Humankind, a World Heritage Site for antiquities. Here, as a volunteer, you can make an environmentally friendly contribution while learning about South Africa's rich history.

Are there health considerations for Krugersdorp, such as common diseases or vaccinations needed?

Although health risks are not particularly high in Krugersdorp, South Africa, travelers are often advised to renew routine vaccinations before their trip. These include measles-mumps-rubella (MMR), diphtheria-tetanus-pertussis, varicella (chickenpox), polio and influenza. Vaccinations against hepatitis A and typhoid fever, which can be transmitted through contaminated food or water in South Africa, are also recommended. Always discuss your personal health and vaccination needs with a physician before traveling.

Do I need a visa to travel Krugersdorp?

Whether you need a visa to travel to Krugersdorp in South Africa depends on your nationality. Some countries enjoy visa-free access to South Africa, while others require you to obtain a visa beforehand. Generally, most tourists are allowed entry for up to 90 days. It is best to check with the South African consulate or embassy in your country for accurate and up-to-date information.

What mobile network is available in Krugersdorp?

A variety of mobile networks can be accessed in Krugersdorp, South Africa. These include major mobile operators such as Vodacom, MTN, Cell C and Telkom. These companies offer nationwide coverage in Krugersdorp and provide reliable connections for voice calls, SMS and mobile data services. All these networks also offer options for prepaid and postpaid tariffs to meet the different needs of users.

Are there any house rental services available here?

Yes, there are several house rental options in Krugersdorp, South Africa. Many local real estate agencies offer rental services for long-term and short-term stays. The choice of accommodation is wide and ranges from modern apartments to traditional houses. Some reputable online platforms can also help you find suitable accommodation. It is advisable to specify your requirements such as location, budget and length of stay so that you can find a suitable offer.

What are the driving rules in South Africa?

In South Africa, driving is on the left side of the road and the steering wheel is on the right side of the car. Seat belts are mandatory. It is illegal to use a cell phone while driving unless you have a hands-free device. You must be 18 years old to drive a car. Speed limits are strictly enforced and violators are fined. Drinking and driving is a serious offense, and strict blood alcohol limits apply in South Africa. Traffic circles are common, and drivers on the right have the right of way.

Is it customary to tip in Krugersdorp?

Yes, tipping is common in Krugersdorp, South Africa. It is customary to tip service personnel such as drivers, tour guides, waiters and hotel staff for their services. The rule of thumb is 10% of the restaurant bill. However, it is always at the discretion of the person paying as it is not mandatory. Take some cash in local currency with you, as some establishments do not accept credit cards.

Which are the safest areas to walk in Krugersdorp during the day or night?

The center of Krugersdorp is relatively safe during the day and is perfect for sightseeing and shopping. There is a lively atmosphere around Market Street. The Key West Shopping Centre offers a quiet environment and is also safe. Another area is the Monument Park neighborhood, which boasts high safety standards. Although these areas are generally safe, as with any destination, be vigilant, avoid secluded locations, especially at night, and follow local security advisories. Always choose a location that suits your personal comfort and safety.

How is the nightlife in Krugersdorp?

Krugersdorp in South Africa has a decent nightlife to offer. The small but culturally rich town has several authentic African taverns and chic cocktail bars like The Hangout. Live music venues, where local musicians showcase their talents, are common. Casinos like the Silverstar offer a more glamorous nightlife with gambling, restaurants and shows. However, it is not as vibrant or varied as in larger cities like Johannesburg. Security at night is average, but as everywhere, caution is advised.

Feedback

I hope you found this article informative and helpful. I'm eager to improve the content and make it even more valuable for you. If you have any feedback or suggestions, I would love to hear from you.

Do you have any tips or hidden gems that you think should be added to the list? Are there any areas that you feel could use more explanation or clarification?

Your input is greatly appreciated and will help us to continue providing high-quality content that meets your needs and interests. Please feel free to share your thoughts.