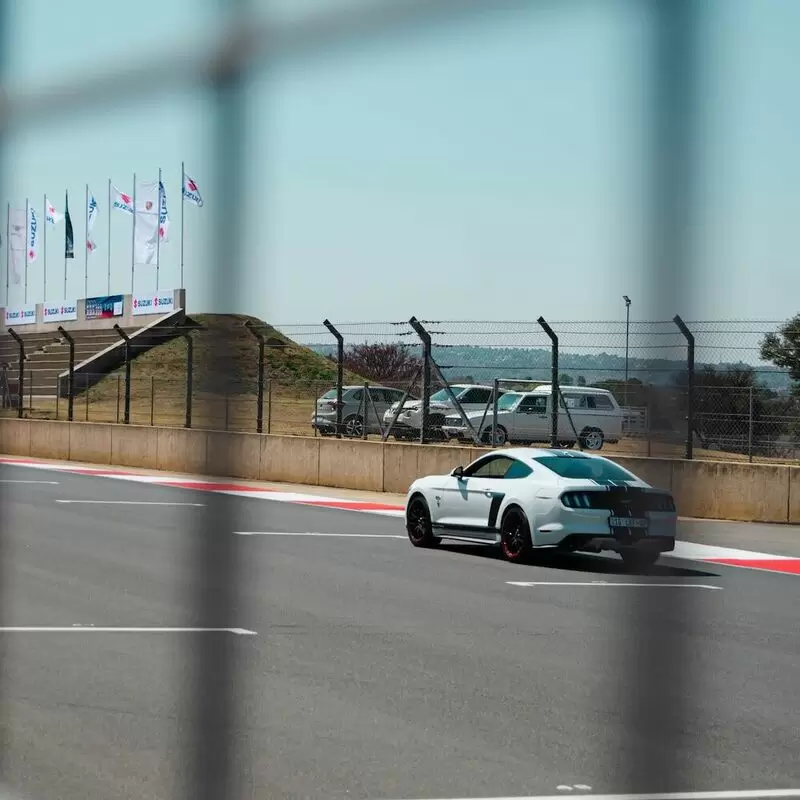 1. Montecasino
The Montecasino, a spectacular Italian-inspired complex, is a must-see when visiting Midrand. Here you can not only try your luck at gambling, but also enjoy numerous restaurants, theaters and cinemas. Opt for a tour of the magical Bird Garden, a hidden gem that offers amazing bird encounters. The illusion of an old-time marketplace is a perfect backdrop for photo shoots and an insider's tip. Just a 20-minute drive away is the Lion Park, where you can admire the wild animals of Africa. You should not miss it!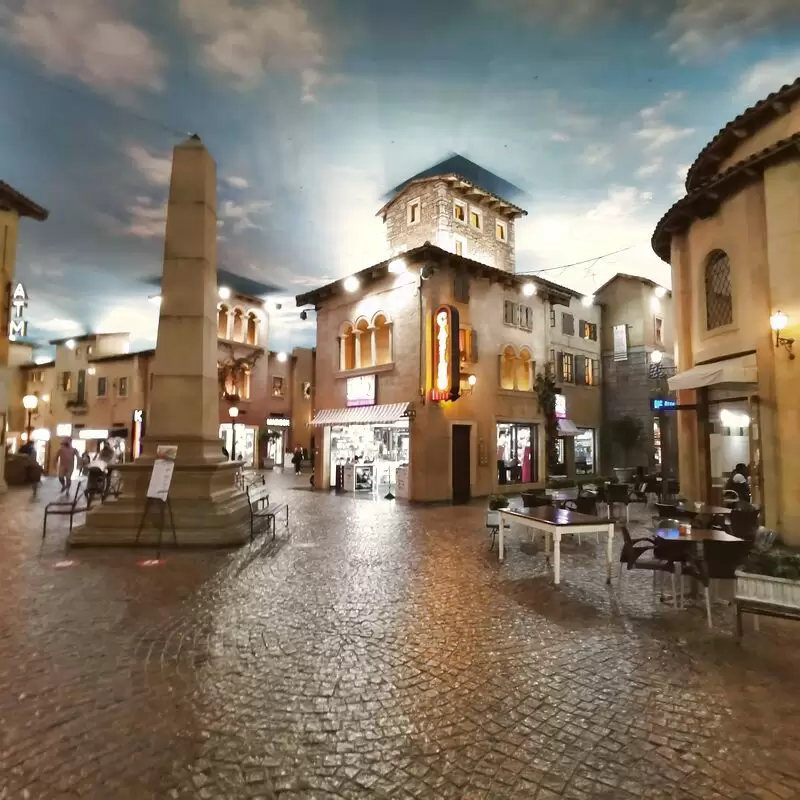 Montecasino
Montecasino Blvd, Fourways, Johannesburg
Monday - Sunday: 7:00 AM – 2:00 AM
Wednesday: 7:00 AM – 12:00 AM
Thursday - Saturday: Open 24 hours
2. Gold Reef City Theme Park
Gold Reef City theme park brings the Gold Rush era of the 1880s to life with thrilling roller coasters, water rides and impressive historical exhibits. Get your adrenaline pumping on the Tower of Terror or descend into a realistic gold mine for an unforgettable experience. While you're in the area, don't miss the opportunity to visit the Peter Matkovich-designed Kyalami Country Club golf course, another gem in Midrand. Experience a fascinating lion show at Lion Park, just 13 kilometers away - a safari-like encounter that is sure to thrill you.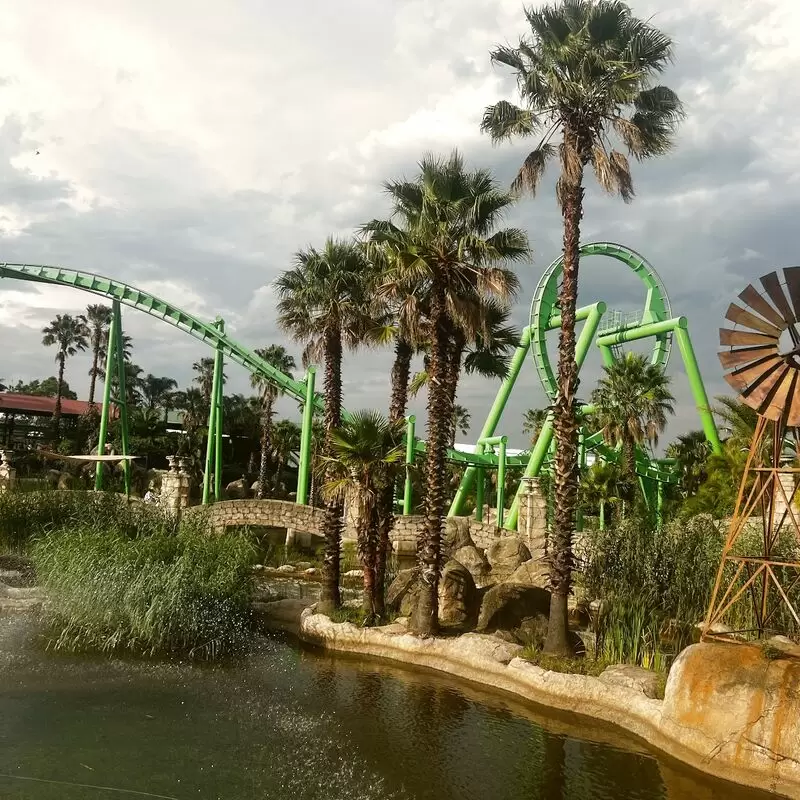 Gold Reef City Theme Park

3. Maropeng Official Visitor Centre for the Cradle of Humankind World Heritage site
Delve deep into the past at Maropeng, the gateway to the Cradle of Humankind. Explore the history of mankind in fascinating exhibits and discover life-size hominid fossils. Be captivated by the dramatic scenery and underground boat ride! This interactive journey is not only enlightening, but incredibly rewarding. After exploring Maropeng, be sure to visit the nearby Sterkfontein Caves for an unparalleled underground adventure. Not many people know that groundbreaking archaeological discoveries have been made in these caves!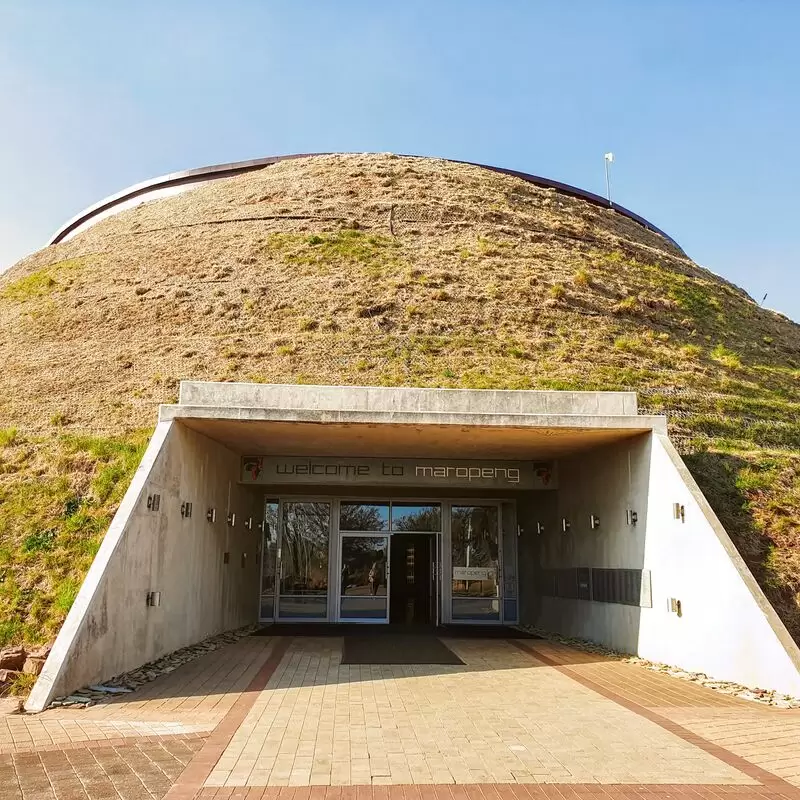 Maropeng Official Visitor Centre for the Cradle of Humankind World Heritage site
R400, 1911
Monday - Sunday: 9:00 AM – 4:00 PM
4. Mall of Africa
Embark on a shopping spree during your Midrand trip and visit the majestic Mall of Africa, the largest shopping complex on the continent. Indulge in an eclectic mix of retail stores, enjoy a delicious selection of restaurants, and delight in the captivating art installations found throughout the mall. Extend your fun-filled day by exploring the enchanting Lory Park Zoo, just a short 10-minute drive from the mall. It's truly a complete package of entertainment, food and fun!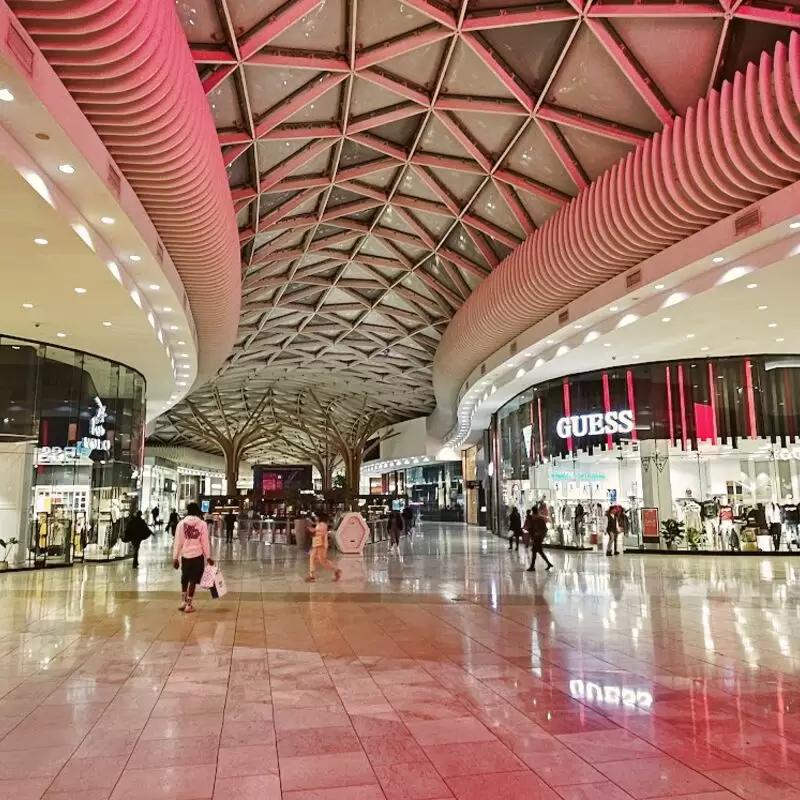 Mall of Africa
Magwa Cres, Midrand
Monday - Saturday: 9:00 AM – 8:00 PM
Sunday: 10:00 AM – 8:00 PM
5. Apartheid Museum
The Apartheid Museum in Joburg, just 26 km from Midrand, is a revealing journey into South Africa's racially divisive past. The exhibits, captivating footage and first-hand accounts make for an emotional experience. Locals often say, "This is the place everyone should visit at least once," as the museum allows you to fully understand South Africa today. Nearby is the equally captivating Gold Reef City, a theme park built on an old gold mine - perfect for relaxing after a moving journey through history.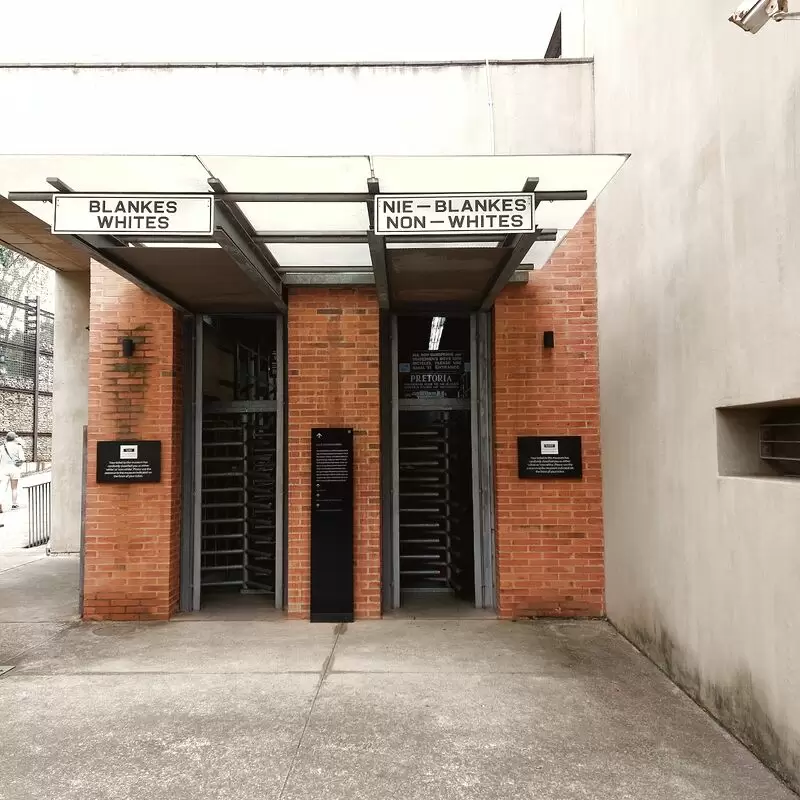 Apartheid Museum
Northern Parkway and Gold Reef Road, Ormonde, Johannesburg
Monday - Tuesday: Closed
Wednesday - Sunday: 9:00 AM – 5:00 PM
6. Johannesburg Botanical Gardens
Imagine a tranquil green oasis in the midst of the urban hustle and bustle - the Johannesburg Botanical Gardens offer just that! It is a magnificent mosaic of fauna and flora - an ideal place to relax and explore. Marvel at the Japanese-style garden, arboretum, and rose garden, which together are home to thousands of species. It's not just a stopover, it's an experience. Nearby is the Emmarentia Dam - a perfect picnic spot that also offers rowing and windsurfing. This is tranquility and vitality in one place.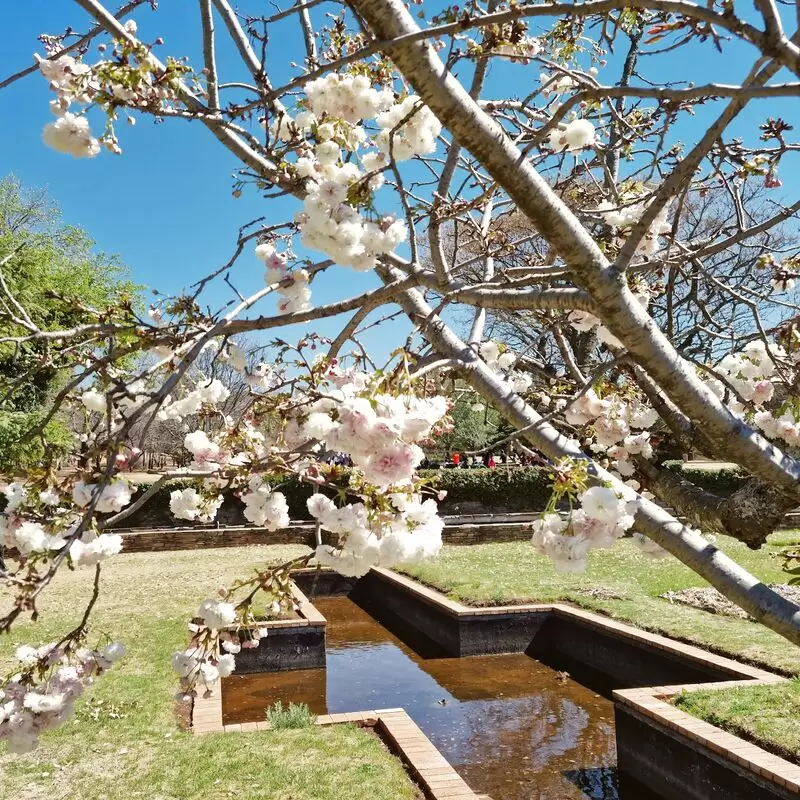 Johannesburg Botanical Gardens
Olifants Rd, Emmarentia, Johannesburg
Monday - Sunday: 6:00 AM – 6:00 PM
7. Lion & Safari Park
Immerse yourself in the wild heart of Africa at Lion & Safari Park. Just a stone's throw from Midrand, you can see majestic lions, giraffes, zebras and other animals up close. Feel the thrill during a guided game drive or a safari on your own, where lions often rest in the shade of your vehicle. Also, don't miss the opportunity to feed a giraffe - a gentle giant that leaves a lasting impression. Nearby, you can take a refreshing hike amidst the tranquil landscape on the Hennops Trail.
Lion & Safari Park
R512 Pelindaba Rd, Broederstroom
Monday - Sunday: 8:00 AM – 5:00 PM
8. Zoo Lake
Take a trip to Zoo Lake to relax in Midrand. This man-made lake is a popular gathering place and offers boating opportunities and a picnic-friendly atmosphere. You can spot local birdlife, including herons, geese and ducks. Don't miss the majestic African sunset while relaxing on the shore. Pro tip: In September, attend the annual Jazz on the Lake concert. The Johannesburg Art Gallery, with a fantastic collection of African and European art, is just a short drive away.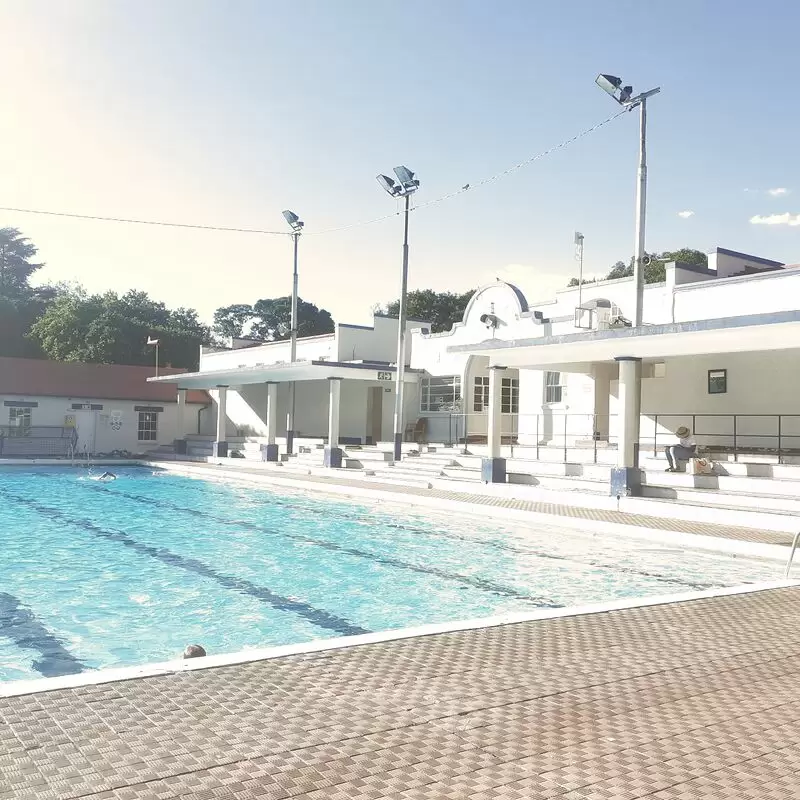 Zoo Lake
60 Jan Smuts Ave, Forest Town, Johannesburg
Monday - Sunday: Open 24 hours
9. Cradle of Humankind

Discover the secrets of human evolution in the "Cradle of Humankind", a UNESCO World Heritage Site. It is home to about 40% of the fossils of human ancestors, some of which are over three million years old! Join guided tours to explore the Sterkfontein Caves, where remarkable fossils have been discovered.

Another insider tip is the Maropeng Visitors Center, not far away, which offers a glimpse into Earth's history with interactive exhibits. It is truly a journey through time!
10. Lory Park Zoo

Lory Park Zoo is a must-see in Midrand and offers an incredible up-close experience with wild animals. Get ready to feed and interact with birds and lemurs in person. The encounters with the young animals are heart-stoppingly cute and offer something different from the typical zoo visit.

And, a little insider tip? There's a well-kept picnic area for a perfect family outing. Nearby, the Mall of Africa, Africa's largest shopping mall, awaits for a little shopping spree. Let the charm of Midrand surprise you!

Lory Park Zoo
180/1 Kruger Rd, President Park AH, Midrand

Monday - Sunday: 10:00 AM – 4:30 PM
11. Moreleta Kloof Nature Reserve
Exploring Moreleta Kloof Nature Reserve is a must for nature lovers visiting Midrand. This tranquil oasis spans 100 acres and offers an enchanting mix of upland grasslands, a babbling brook and a wide variety of species, including zebra, springbok and porcupine. End a leisurely hike at Rademeyers Restaurant, a gem hidden deep within the reserve. Since the reserve is only 30 minutes from Pretoria's botanical gardens, it's an ideal day trip for two.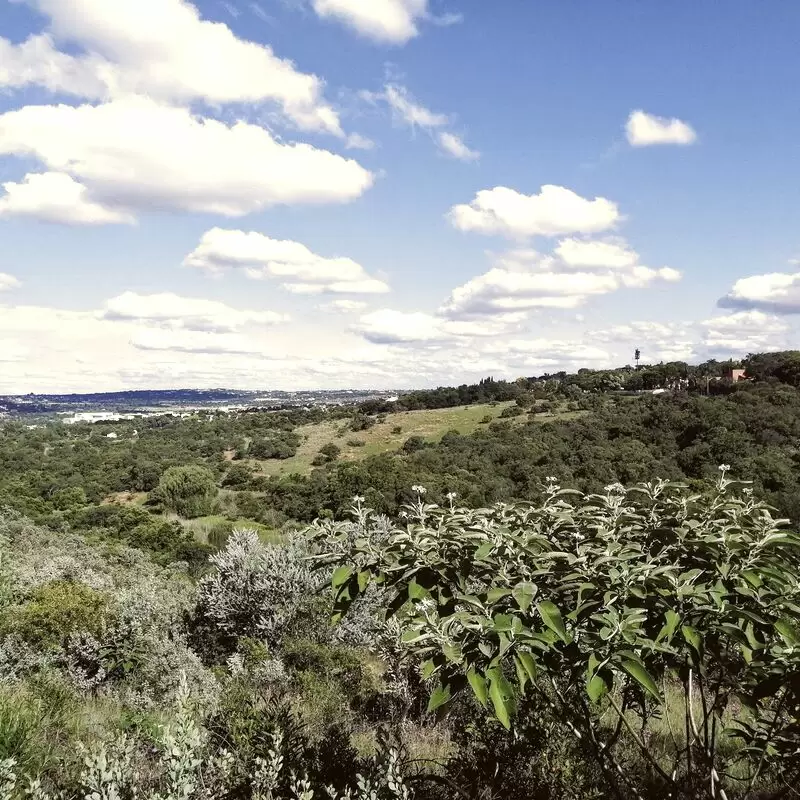 Moreleta Kloof Nature Reserve
Helios St, Moreletapark, Pretoria
Monday - Sunday: 6:00 AM – 6:00 PM
12. Hector Pieterson Memorial

Experience a moving part of South Africa's history at the Hector Pieterson Memorial. This memorial commemorates Hector Pieterson, a 13-year-old boy whose life was cut short during the 1976 Soweto Uprising. The sensitive and poignant memorial provides a vivid picture of the country's past struggles. Located in Orlando West, Soweto, it is just a short drive from Midrand.

An insider tip: Visit the memorial early in the day for a more intimate experience. Also, plan time to visit the nearby Mandela House for a full immersion in South African history.

Hector Pieterson Memorial
8287 Khumalo Rd, Orlando West, Johannesburg

Monday: Closed
Tuesday - Sunday: 10:00 AM – 5:00 PM
13. Nizamiye Mosque
A beacon of tranquility and one of the largest mosques in the southern hemisphere, the Nizamiye Mosque in Midrand is a marvel of Ottoman-inspired architecture. With its ornate carvings and luminous stained glass windows, it captivates every visitor. Don't miss the authentic Turkish tea and pastries at the adjacent Ottoman-style restaurant. With its colorful murals, its beauty transcends religious boundaries. Just minutes away is Lory Park Zoo, a hidden gem where you can interact with exotic animals. Immerse yourself in the cultural richness of Midrand!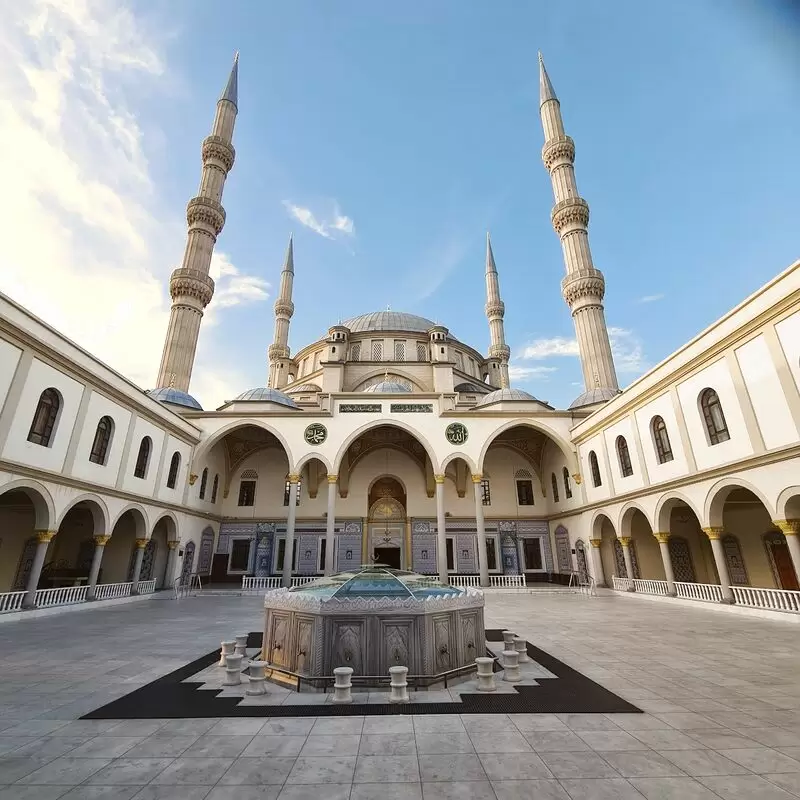 Nizamiye Mosque
Old Pretoria Road &, Le Roux Ave, Halfway House, Midrand
14. Northcliff Ridge eco park
A trip to Northcliff Ridge Eco Park in Midrand, South Africa, is a life-changing experience. It is the perfect blend of nature and spectacular views. The park is located on the second highest natural point in Johannesburg and offers 360-degree views. The park is unusual and fascinating as it houses an original World War II radar station. Just next door is Melville Koppies, a valley rich in archaeological history. The Koppies are a Stone Age site and an incredible scenic walk that makes a visit worthwhile. So if adventure calls, look for it on Northcliff Ridge.
Northcliff Ridge eco park
2115 5 Lucky Ave, Northcliff, Johannesburg
Monday - Sunday: 6:00 AM – 6:00 PM
15. Croc City Crocodile & Reptile Park
Visit Croc City Crocodile & Reptile Park in Midrand for an exciting encounter with South Africa's fascinating reptiles. The park is home to not only crocodiles, but also a variety of other exotic reptiles, including snakes and turtles. Take selfies with a baby crocodile or hold a non-venomous snake. For the adventurous, there is the world's first crocodile cage dive. Just a few steps away, you can continue your adventure at the nearby Montecasino Bird Gardens and experience colorful birdlife. That's a double dose of nature!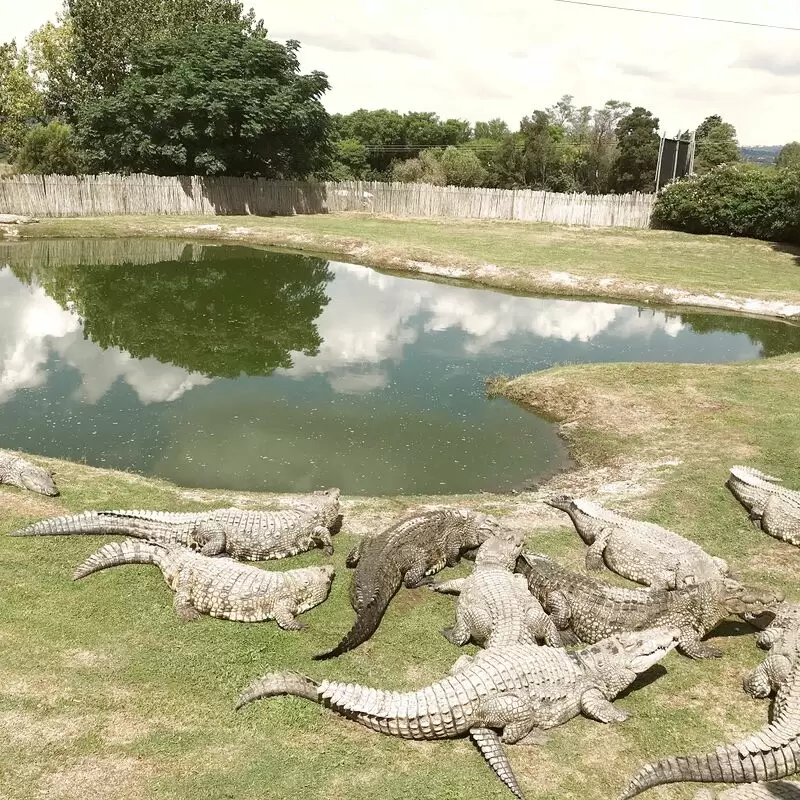 Croc City Crocodile & Reptile Park
Corner of Cedar Road & R114 Nietgedacht 535 Chartwell, Nietgedacht 535-Jq, Chartwell
Monday - Sunday: 9:00 AM – 4:30 PM
16. Rietvlei Nature Reserve
A visit to Rietvlei Nature Reserve in Midrand is like a trip to an African wilderness paradise. It offers a fantastic opportunity to escape the hustle and bustle of the city and enjoy Mother Nature. Here you can spot a variety of wildlife, including buffalo, cheetah, zebra and more than 200 species of birds. A fun insider detail is the secret picnic area overlooking the serene dam, perfect for a quiet lunch. Nearby, you'll find the Irene Village Market, where you can shop after your safari.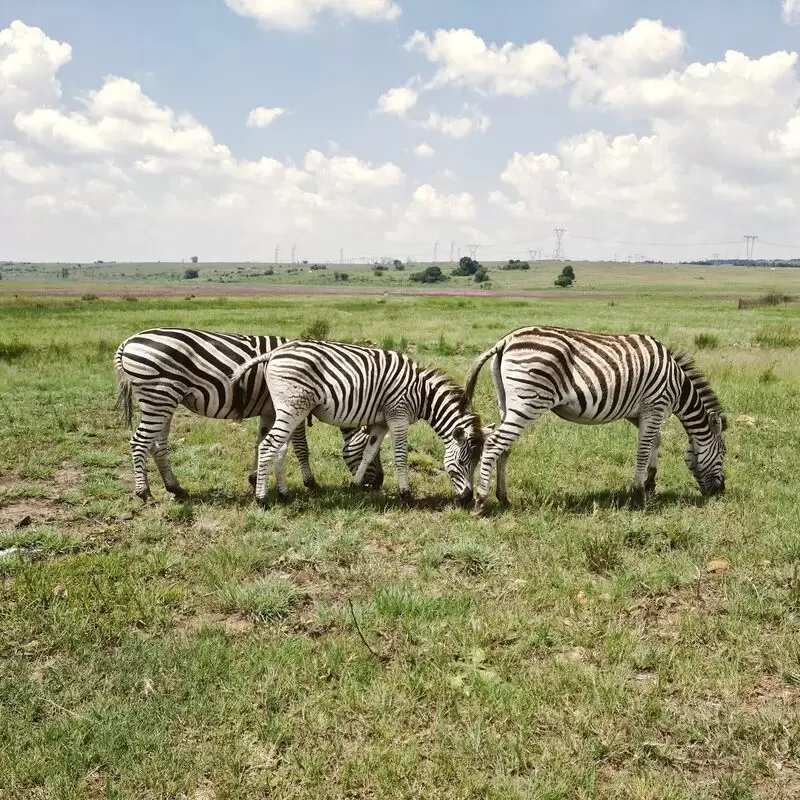 Rietvlei Nature Reserve
14 Game Reserve Ave, Rietvallei 377-Jr, Pretoria
Monday - Wednesday: 11:00 AM – 6:00 PM
Tuesday - Sunday: 6:00 AM – 6:00 PM
17. Riversands Farm Village
Riversands Farm Village is a must-see in Midrand - an unexpected, diverse oasis in the middle of the city! This family-friendly village offers a unique mix of craft stores, delicious food stalls and outdoor activities. A farmer's market is held here every Sunday, offering fresh produce and homemade crafts. Be sure to enjoy the live music and quaint, relaxed atmosphere. Tip: Try the craft beers from local breweries. Nearby, you can visit the famous Nizamiye Mosque - a spectacular example of Turkish architecture.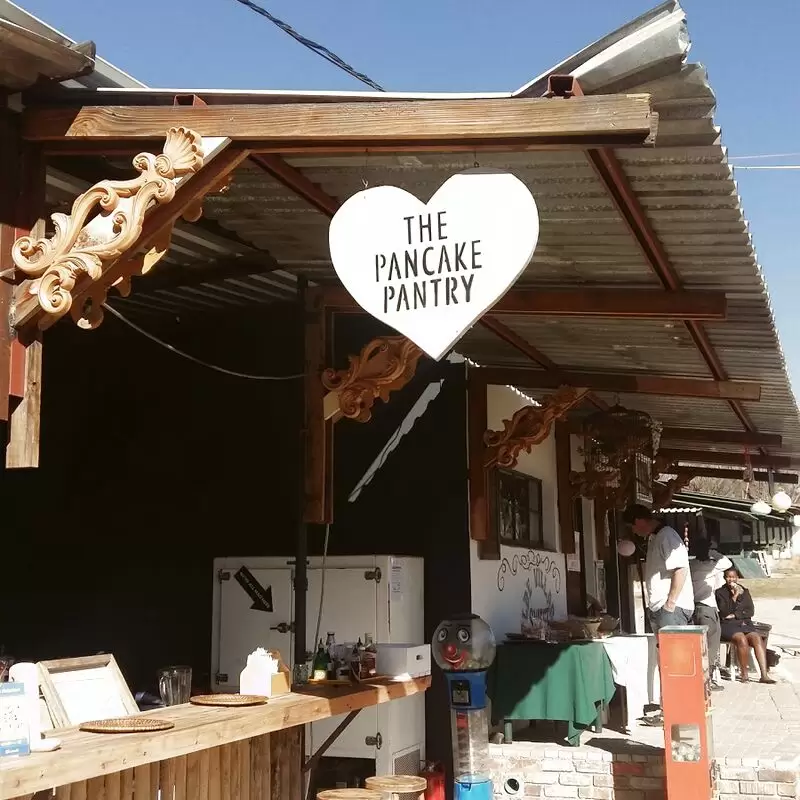 Riversands Farm Village
Riversands Commercial Park, Rose Road, Knopjeslaagte, Midrand
Monday: Closed
Tuesday - Thursday: 9:00 AM – 4:00 PM
Friday: 9:00 AM – 6:30 PM
Saturday - Sunday: 8:00 AM – 6:30 PM
18. Klipriviersberg Nature Reserve Back Entrance)
A trip to the Klipriviersberg Nature Reserve in Midrand is like jumping into the heart of nature. The sprawling reserve offers a branching network of hiking trails that wind through diverse landscapes filled with indigenous African fauna and flora. A hidden gem of the region, it is also home to numerous historical sites that reflect early Johannesburg life. Just a short drive from here are the iconic Orlando Towers, a must-see for thrill seekers.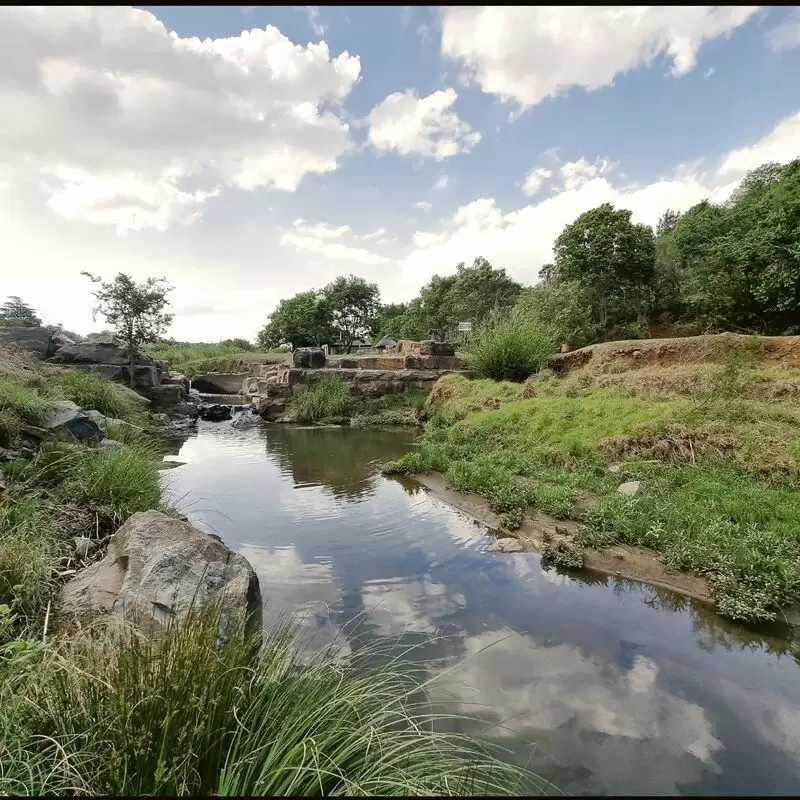 Klipriviersberg Nature Reserve Back Entrance)
322 Frandaph Dr, Mondeor, Johannesburg South
Monday - Sunday: 6:00 AM – 5:30 PM
19. Kyalami Corner
Visit Kyalami Corner and experience a blend of urban sophistication and local charisma in Midrand. This shopping district is teeming with stores, eateries and entertainment options. You can eat delicious bunny chow, a spicy local delicacy, at the sidewalk cafes. Just around the corner is the Kyalami Grand Prix Circuit, which provides adrenaline rushes. Don't miss the weekly night markets where you can sample local handicrafts and food under the starry African sky. This is a real treat for culture lovers and shopaholics.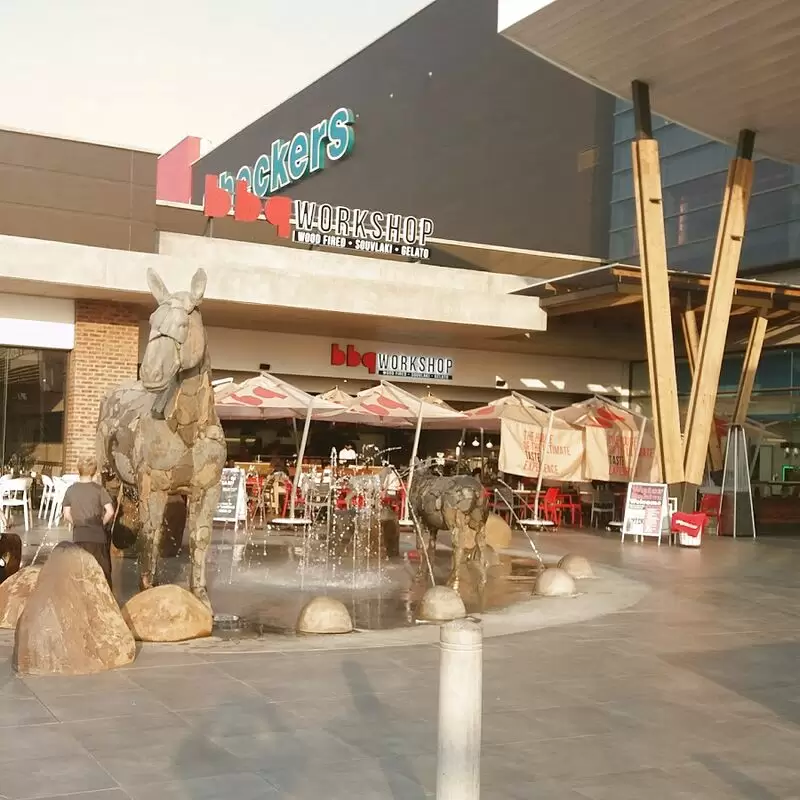 Kyalami Corner
Cnr R55 &, Kyalami Corner Shopping Centre, Main Rd, Witpoort (Beaulieu), Midrand
Monday - Friday: 9:00 AM – 6:00 PM
Saturday: 8:30 AM – 5:00 PM
Sunday: 9:00 AM – 5:00 PM
20. Chameleon Village
Chameleon Village, a kaleidoscope of vibrant African colors, tastes and sounds. This place offers an unparalleled African market experience with a variety of crafts, art, fashion and food to discover. Haggle with artisans working on site, savor the flavors of traditional African dishes, or relax in a tranquil beer garden. In addition to its commercial appeal, Chameleon Village is also home to unique attractions like a reptile park and a brewery. Nearby attractions include the scenic Hartbeespoort Dam and the impressive Magaliesberg Mountain Range. It's an experience not to be missed.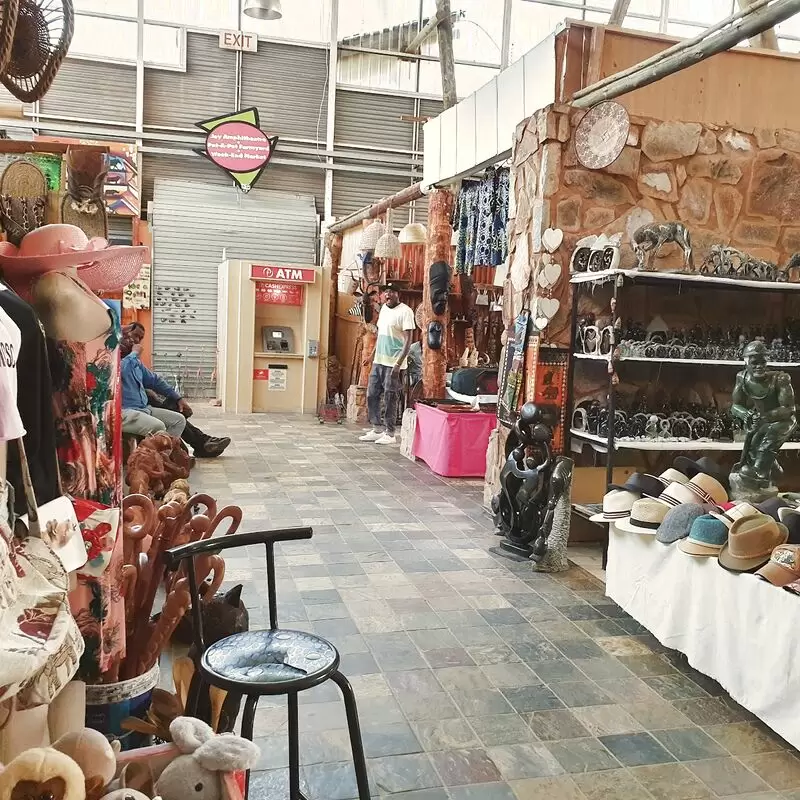 Chameleon Village
Chameleon Village R104 Old Rustenburg rd Damdoryn, Hartbeespoort
Monday - Sunday: 9:00 AM – 5:00 PM
Saturday: 9:00 AM – 6:00 PM
21. Gillooly's Farm

Gillooly's Farm" in Midrand is no ordinary park, but a paradise for nature lovers, picnickers and birdwatchers. This tranquil spot tops the list of visitors thanks to its gem-like dam, flocks of geese, lush greenery and beautiful walking trails. For those looking for more excitement, there are also thrilling water sports options.

Insider tip: Pack a picnic basket to enjoy by the water. Just a stone's throw away is the world-class Eastgate Mall shopping center.

Gillooly's Farm
47 Boeing W Rd, Bedfordview, 2007

Monday - Sunday: 7:00 AM – 7:00 PM
22. Liliesleaf
A hidden gem awaits you in Midrand - Liliesleaf Farm, a pivotal site in South African history. Once a secret hideout for anti-apartheid activists, it is now an award-winning cultural monument. It houses a fascinating collection of artifacts and "voices from the past" exhibitions that bring poignant stories to life. Be sure to visit Nelson Mandela's "camouflaged" home. As you depart, stop by the nearby Mall of Africa for an unparalleled shopping and dining experience!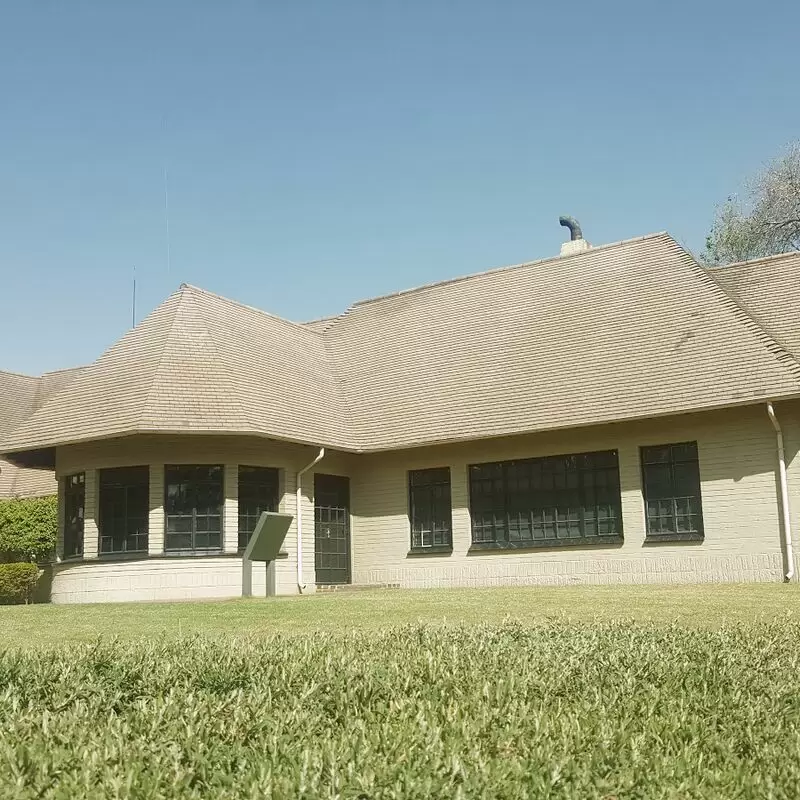 Liliesleaf
7 George Ave, Rivonia, Sandton
Monday - Friday: 8:30 AM – 5:00 PM
Saturday - Sunday: 9:00 AM – 4:00 PM
23. Jan Smuts House Museum
Immerse yourself in history at the Jan Smuts House Museum. This charming farmhouse is a time capsule dedicated to the life of the world-famous statesman. It's filled with Smuts' personal artifacts and offers an in-depth look at his rich heritage. The tranquil tea garden, popular with locals, serves as a relaxing oasis. Don't miss wandering through the native, sprawling field that surrounds the museum - a true hidden gem. The nearby Irene Village Market offers a fascinating array of arts and crafts, making your visit to Midrand an unforgettable cultural experience.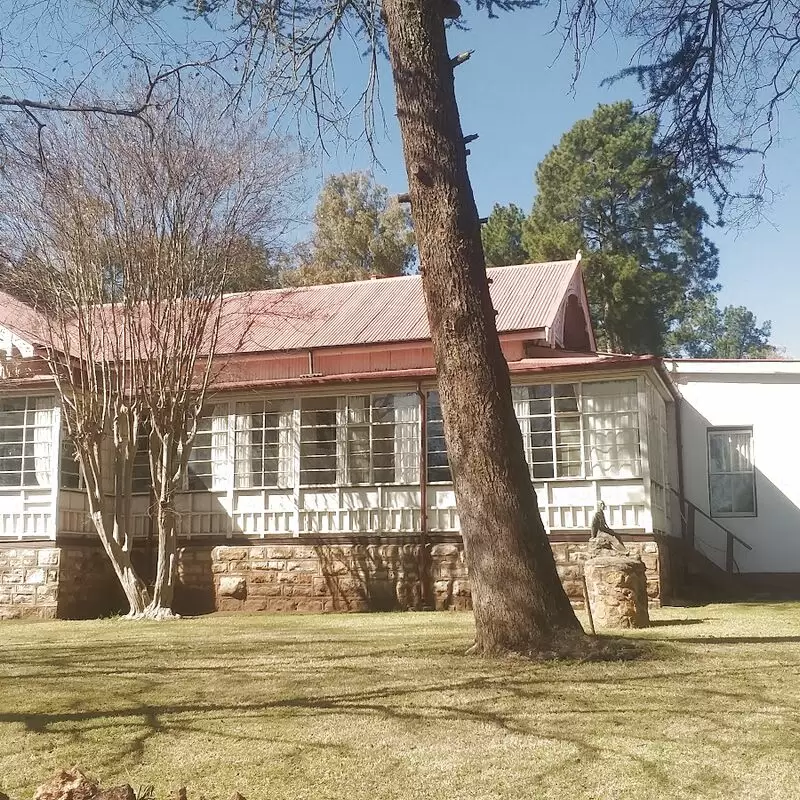 Jan Smuts House Museum
Jan Smuts Avenue, Centurion
Monday: Closed
Tuesday - Saturday: 9:00 AM – 3:30 PM
Sunday: 9:00 AM – 4:00 PM
24. Wits Art Museum

Definitely worth a visit is the distinctive Wits Art Museum! Located in Midrand, it displays an impressive collection of African art gathered over several decades across the continent. Admire the impressive variety of artifacts, ranging from ancient sculptures to contemporary prints.

An insider tip: don't miss the regular special exhibitions on various themes. Just around the corner, you can also visit the Apartheid Museum to learn about the history of South Africa.

Wits Art Museum
Wits Art Museum Cnr Jorissen and, Bertha St, Braamfontein, Johannesburg

Monday - Sunday: Closed
Tuesday - Saturday: 10:00 AM – 4:00 PM
Best Time to Visit Midrand
The best time to visit Midrand, South Africa, is during the dry season from May to September. During these months, temperatures are milder and there is less rain, so it is pleasant to do outdoor activities and observe wildlife.
Annual Weather in Midrand
Midrand 3-Day Forecast
Wed, 27 September
Night
60 °F
15 °C
0%
Morning
55 °F
13 °C
0%
Afternoon
65 °F
18 °C
89%
Evening
58 °F
14 °C
67%
Thu, 28 September
Night
55 °F
13 °C
65%
Morning
57 °F
14 °C
60%
Afternoon
62 °F
16 °C
77%
Evening
68 °F
20 °C
0%
Fri, 29 September
Night
62 °F
16 °C
0%
Morning
60 °F
16 °C
0%
Afternoon
74 °F
24 °C
0%
Evening
76 °F
24 °C
0%
Questions & Answers

What is the local language spoken in Midrand?

Midrand, South Africa, is a culturally diverse area where numerous languages are spoken. However, the most commonly spoken language is Zulu, closely followed by English. Zulu belongs to the Bantu group of languages and is the first language of the Zulu people. Other languages you may hear are Sotho, Xhosa and Afrikaans. This multilingual environment reflects the rich cultural diversity of South Africa.

How safe is Midrand for tourists?

Midrand, South Africa, offers a relatively high level of safety for tourists; however, as in all urban areas, the usual precautions should be observed. Petty crimes such as pickpocketing and purse snatching can occur, so it is advisable to secure your belongings well. When exploring, it is safer to travel in groups or during daylight hours. It is also recommended to use reliable means of transportation. In general, however, many tourists enjoy their stay in Midrand without encountering any significant security problems.

Where can I try authentic South African cuisine?

One of the best places in Midrand to sample authentic South African cuisine is the Waterfall Market. This lively place is known for a number of food stalls serving traditional dishes such as bobotie, biltong and bunny chow. There's also "Punchinellos," a restaurant that serves local cuisine in a modern, stylish setting. For the adventurous, "Nambitha Restaurant" in nearby Soweto offers traditional dishes with a different twist.

How's the public transportation system in Midrand?

Public transportation in Midrand, South Africa, can be described as moderately reliable, and several options are available. These include the Gautrain, a state-of-the-art rapid transit network that connects major cities, local minibuses for short distances, and cabs with taximeters. While the Gautrain is known for its speed and comfort, minibuses and cabs offer flexibility and are often used for trips within the city. However, if you are traveling during rush hours, you may experience congestion and delays.

Is general cost of living high in Midrand?

In Midrand, South Africa, the cost of living is often moderate to high compared to other South African cities. This is especially true for housing and rental costs, which are significantly higher due to the central location between Johannesburg and Pretoria. However, prices for food, transportation and entertainment are usually on par with the national average and sometimes even cheaper. It is important to consider income and living habits when looking at the cost of living in Midrand.

What are the usual customs and traditions of Midrand?

Midrand, South Africa, is a vibrant mix of cultures, represented primarily by the Zulu, Xhosa and Tswana communities. Traditional customs include local dances such as Pantsula and Gumboot, while musical traditions often showcase Marabi and Kwaito genres. Vibrant local cuisine includes dishes such as chisa nyama, pap and boerewors. Symbolic beadwork, pottery and grass weaving are expressions of rich artistic traditions. Respect for elders, community living, and ubuntu (humanity toward others) are important social norms. Each community has its own rites of passage, storytellers, and practices of ancestor worship.

Can I drink tap water directly in Midrand?

Although tap water in South Africa is generally safe, some visitors may experience stomach upset due to unfamiliarity with the local water content. In Midrand, the quality of tap water can vary, so it is advisable to use bottled water for drinking, especially for travelers who are not used to the local water. For brushing teeth or washing, tap water should suffice. It is also advisable to avoid ice in drinks unless you are sure it was made with bottled or purified water.

Are card payments widely accepted in Midrand?

Yes, card payments are widely accepted in the South African city of Midrand. The city is modern and most businesses, including hotels, restaurants, supermarkets and shopping malls, accept credit and debit cards. Visa and MasterCard are generally used, but it is advisable to carry some cash at small merchants and in rural areas. Remember to inform your bank about your trip to avoid card blocking.

How can I reach Midrand from Johannesburg?

Midrand, South Africa, is located about halfway between Johannesburg and Pretoria. From Johannesburg, the quickest way to reach the city is by car, either a rental car or a cab. The drive usually takes about 30 minutes via the N1 or the R55, depending on traffic conditions. Alternatively, the Gautrain, a state-of-the-art rapid transit network in Gauteng, connects Johannesburg with Midrand. However, travel times can vary depending on the mode of transport and travel time.

Are there any local health precautions I need to be aware of?

South Africa has a well-developed health care system with good facilities. There are no specific local diseases to watch out for in Midrand. As a routine precaution, make sure to get your routine vaccinations such as measles-mumps-rubella (MMR), diphtheria-tetanus-pertussis, chickenpox, polio and the annual flu shot refreshed. Vaccinations against hepatitis A and typhoid are also recommended, especially if you plan to try local foods. Always drink bottled water.

Do I need to tip in restaurants and cafes in Midrand?

In Midrand, South Africa, it is customary to tip. As a rule, in restaurants and cafes, you are expected to tip around 10-15% of the total bill if you were satisfied with the service. It is important to know that some establishments add a service charge to the bill, so it is worth checking this before you tip. Always remember that the amount of the tip is a personal decision that depends on the quality of the service you received.

Are there any specific dress codes to follow in Midrand?

No, there is no specific dress code for Midrand, South Africa. Tourists are advised to dress comfortably for the weather, which is generally mild to warm. However, it is important to dress respectfully, especially when visiting places of worship or other culturally significant sites. Also, choose sensible footwear if your itinerary includes a lot of walking or outdoor activities.

How prevalent is English in Midrand?

English is widely spoken in Midrand, a region in South Africa's Gauteng province. As a cosmopolitan area with a diverse population, English serves as a common language for communication. It is spoken throughout the region in businesses, schools and social settings. Although Zulu and Sotho are also spoken by locals, most residents in Midrand are multilingual and fluent in English, making it more convenient for English-speaking visitors.

Do I need a visa to visit Midrand?

Whether you need a visa to visit Midrand, South Africa depends on your nationality. South Africa has visa-free agreements with many countries, but citizens of some countries must obtain a visa prior to arrival. It is recommended that you check with your local South African embassy or consulate for current visa requirements to ensure that you have the most accurate information.

What is the usual business hours in Midrand?

Business hours in Midrand, South Africa, generally follow a standard weekday schedule. Most businesses, including stores and offices, open around 9:00 am Monday through Friday and close around 5:00 pm. On Saturdays, some businesses have shortened hours, often ending around 1:00 pm, while it is common for businesses to be closed or have severely limited hours on Sundays. Restaurants and bars may have extended hours into the evening. Always inquire about the exact opening hours, as they may vary.

Where can I get local SIM cards in Midrand?

In Midrand, South Africa, local SIM cards can be purchased from various mobile operators. Major providers such as Vodacom, MTN and Telkom have their stores spread throughout the region where you can easily buy a SIM card. The stores are usually located in popular shopping malls such as The Boulders Shopping Centre, Mall of Africa or Carlswald Lifestyle Shopping Centre. Identify yourself with a passport or ID to have your SIM card activated.

How friendly are the people of Midrand towards tourists?

In Midrand, South Africa, the locals are generally very accommodating, hospitable and open-minded towards tourists. They are quick to help visitors with directions and often show enthusiasm when sharing information about their local attractions or culture. Their friendliness creates a warm and pleasant atmosphere that makes the travel experience in Midrand truly memorable. The kind-hearted nature of the locals quickly makes tourists feel at home.

Are there popular hikes or outdoor activities in Midrand?

Midrand, South Africa, offers a wealth of outdoor activities for nature lovers. A popular choice is the Modderfontein Nature Reserve, which offers scenic hiking and biking trails, as well as picnic areas and bird-watching opportunities. For animal lovers, there is the Lory Park Zoo and Owl Sanctuary, home to a variety of animals. Adventure seekers can go indoor skydiving at WindMadness and explore an outdoor maze at the Gallagher Convention Center. Golfers will also enjoy the picturesque course at Kyalami Country Club.

Where can I see wildlife in or around Midrand?

Near Midrand, you can visit the Lion & Safari Park, where you can join guided safaris and see a variety of African wildlife such as lions, cheetahs, and several species of antelope. Another option is the Rhino & Lion Nature Reserve, a private game reserve that covers 1,200 hectares and is home to rhinos, lions and many other native wild animals. Both destinations offer unique and exciting experiences in conjunction with South Africa's extraordinary wildlife.

What unique South African experiences can I get in Midrand?

In Midrand, you can explore the Lory Park Zoo, which is home to various African wildlife and gives you a close encounter with the continent's unique species. Adventurous visitors can experience a hot air balloon ride over the picturesque Highveld landscape. Midrand is also home to some fantastic traditional South African restaurants where you can indulge in local delicacies. In addition, the nearby township of Soweto offers cultural tours for an authentic South African experience.

Feedback

I hope you found this article informative and helpful. I'm eager to improve the content and make it even more valuable for you. If you have any feedback or suggestions, I would love to hear from you.

Do you have any tips or hidden gems that you think should be added to the list? Are there any areas that you feel could use more explanation or clarification?

Your input is greatly appreciated and will help us to continue providing high-quality content that meets your needs and interests. Please feel free to share your thoughts.