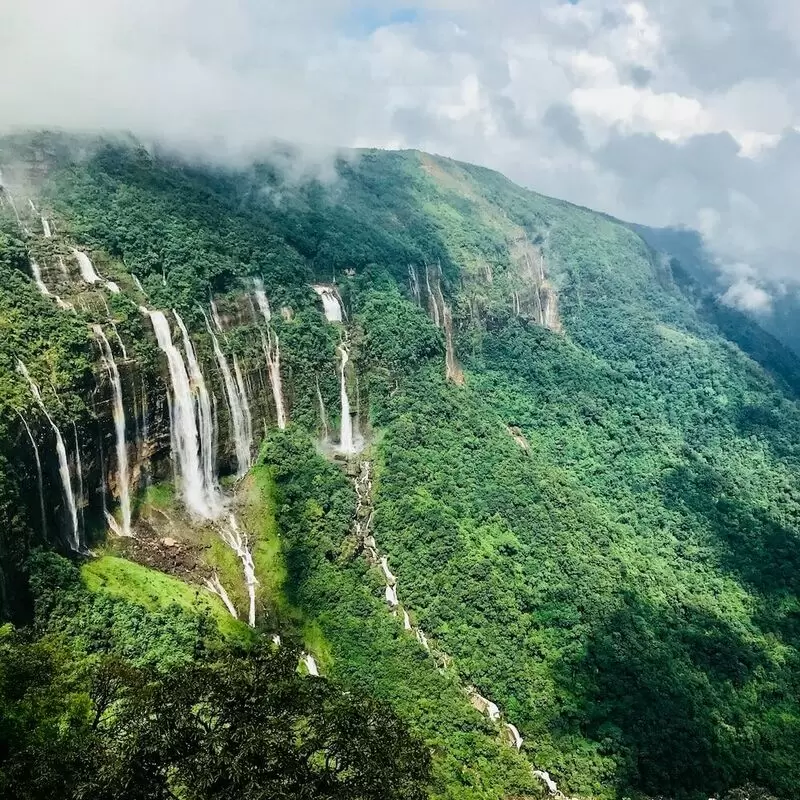 1. Mawsmai Cave
Awe-inspiring wonders await you in Mawsmai Cave, the underground spectacle of Shillong! On an exciting exploration into the heart of the earth, you can wind your way through the winding underground passages and marvel at the stalagmite formations frozen in time. Immerse yourself in the cool atmosphere and listen to the echo of dripping water. Just a few steps away from the caves, Seven Sisters Falls will mesmerize you with its rushing beauty. During the monsoon season, the falls resound like a symphony and are a true testament to the raw power of nature. Don't forget to pack your camera!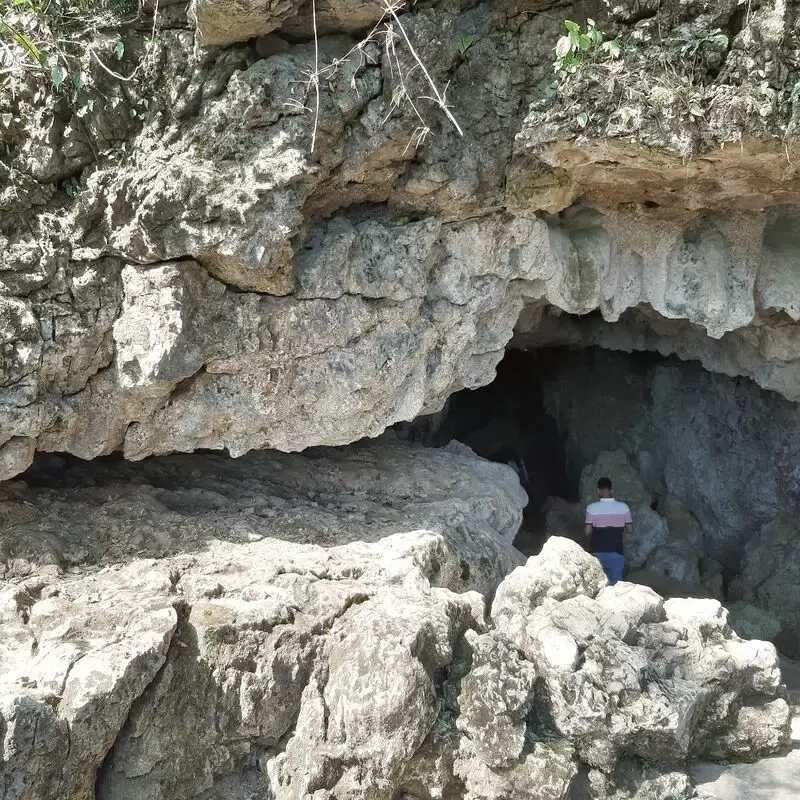 Mawsmai Cave
Cherrapunji
Monday - Sunday: 9:00 AM – 5:30 PM
2. Elephant Falls
A visit to the "Elephant Falls" in Shillong is an experience to fully enjoy the magic of nature! These three-tiered cascades amaze and impress with their raw power and beauty. It's a little secret that during the monsoon season, when the falls roar the most, you can see a shape reminiscent of an elephant. Hence the name! Don't miss the opportunity to take a trip to the nearby Shillong View Point for a panoramic view of the lush landscapes and the East Khasi Hills.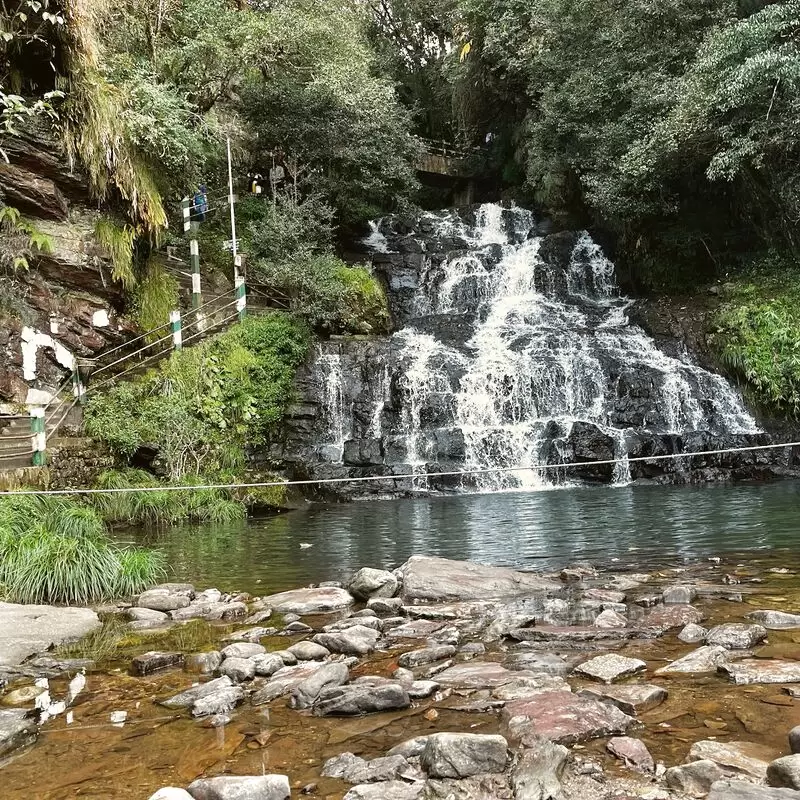 Elephant Falls
GRPC+CXH, Upper Shillong, Shillong
Monday - Sunday: 9:00 AM – 5:00 PM
3. Laitlum Canyon
Discover the beauty of nature in its most pristine form in Laitlum Canyon, also known as the end of the hills. This grand panorama of jade hills and narrow trails offers trekking opportunities for adventurers and abundant birdlife for enthusiasts. A hidden gem, Laitlum embodies the unspoiled beauty of Shillong. Add a touch of local color to your visit with a thrilling ride in the cable cars made of bamboo. And just an hour away, you'll find the mystical Mawphlang Sacred Forest, which serves as a fresh, green retreat.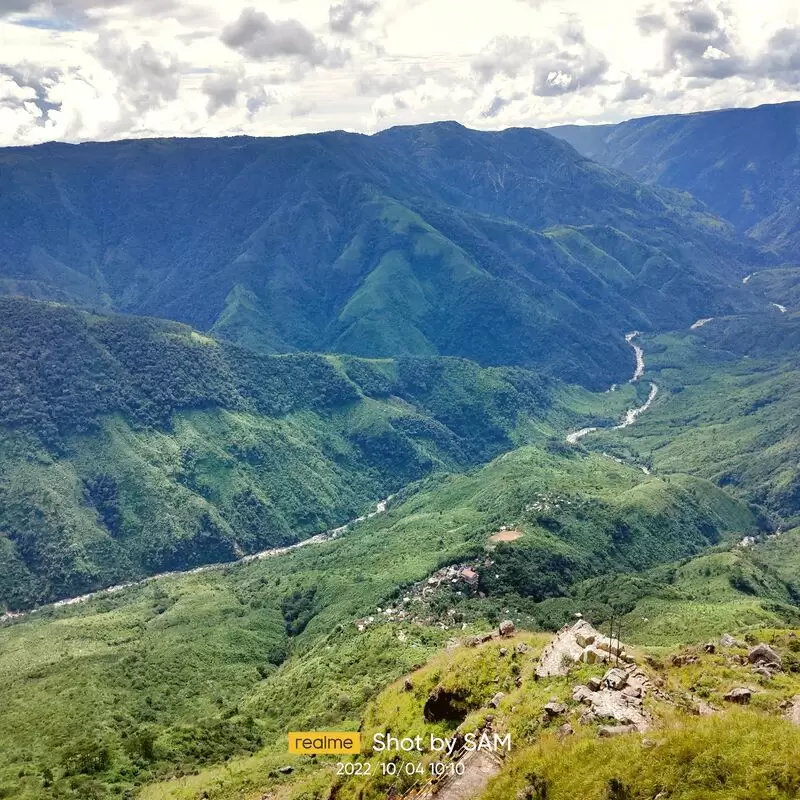 Laitlum Canyon
CWX5+GHH, Meghalaya 793015
Monday - Sunday: 5:00 AM – 5:30 PM
4. Umiam Lake Viewpoint
The Umiam Lake viewpoint is a must-see for any traveler seeking an awe-inspiring encounter with the splendor of nature. This enchanting lake, also known as Barapani, with its crystal clear blue waters flanked by green hills, will immerse you in serene tranquility. Take a boat ride, let the cool breeze blow around your nose and enjoy the panoramic view. Take a moment to witness the breathtaking sunset - a memory you will never forget! Nearby, you can visit the Wankhar Entomology Museum, which offers a unique insight into Meghalaya's vibrant insect world.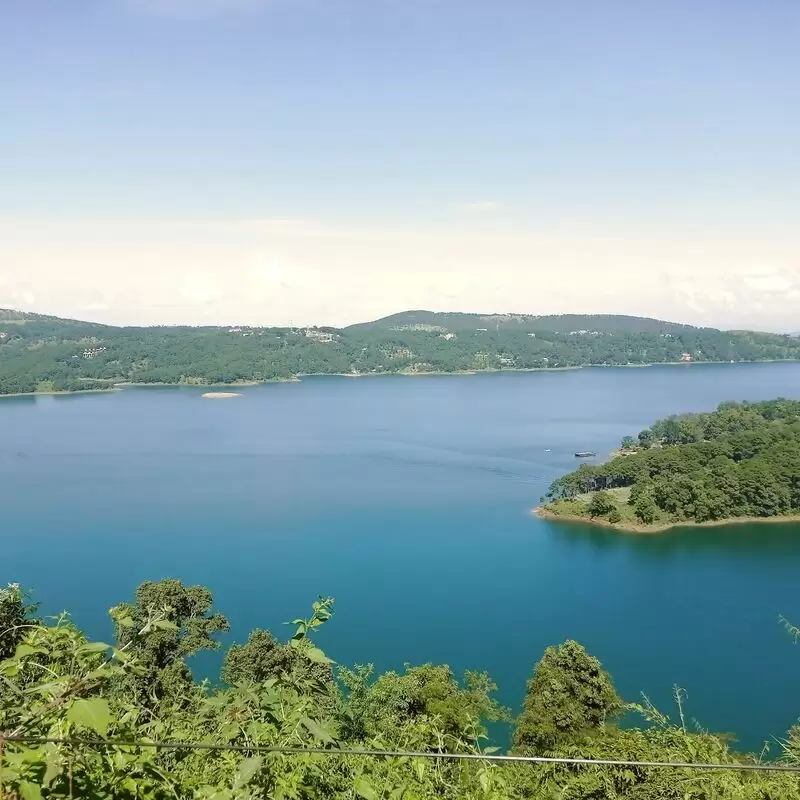 Umiam Lake Viewpoint
MV2V+FJF, National Highway 40, Shillong
Monday - Sunday: Open 24 hours
5. Upper Shillong Forest
Explore the lush paradise of the Upper Shillong Forest, a pristine oasis of untouched nature. Towering pines, lush flora and rare wildlife provide a breathtaking backdrop for tranquility and wonder. The forest is also home to the magnificent Elephant Falls, a three-tiered waterfall that is sure to take your breath away. Enjoy a lovely nature walk, and if you're lucky, you might even see a Barking Deer, a native deer. Just a few miles away is the Air Force Museum, a treasure trove of aviation history.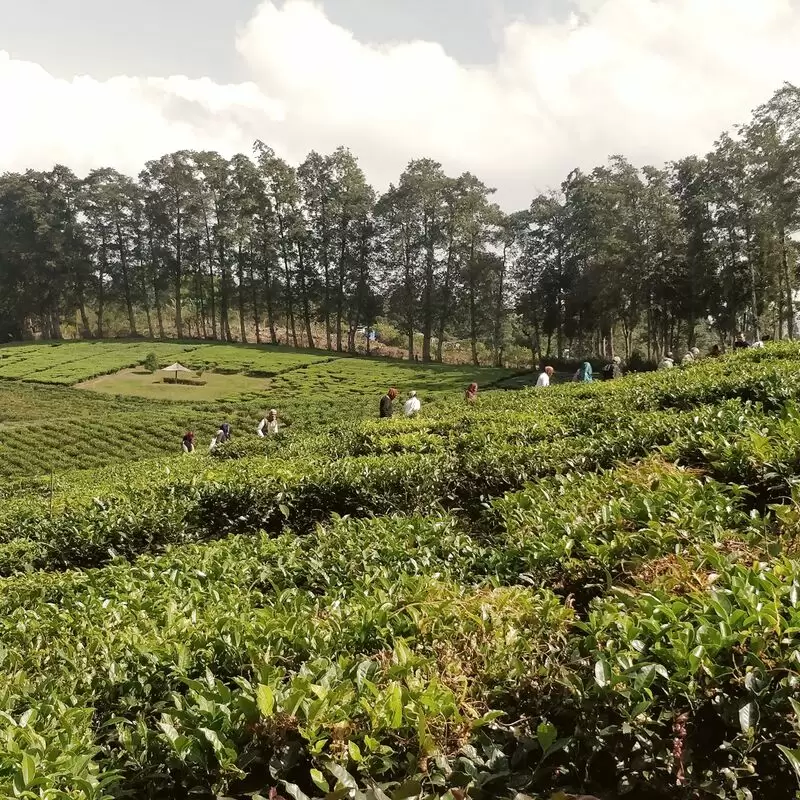 Upper Shillong Forest
GVW9+W9V, Law Sohtun, Shillong
6. Don Bosco Museum
A visit to the Don Bosco Museum in Shillong offers a unique insight into northeast Indian culture. This seven-story building displays artifacts, artwork, and costumes from tribes throughout northeast India. The architecture of the building is remarkable and the skywalk offers a panoramic view of Shillong. Located near Ward's Lake and the Police Bazaar, you can combine your visit with these attractions. Plan your visit around the cultural performances for a wholesome experience. This museum is not just a tourist attraction, it is a cultural awakening!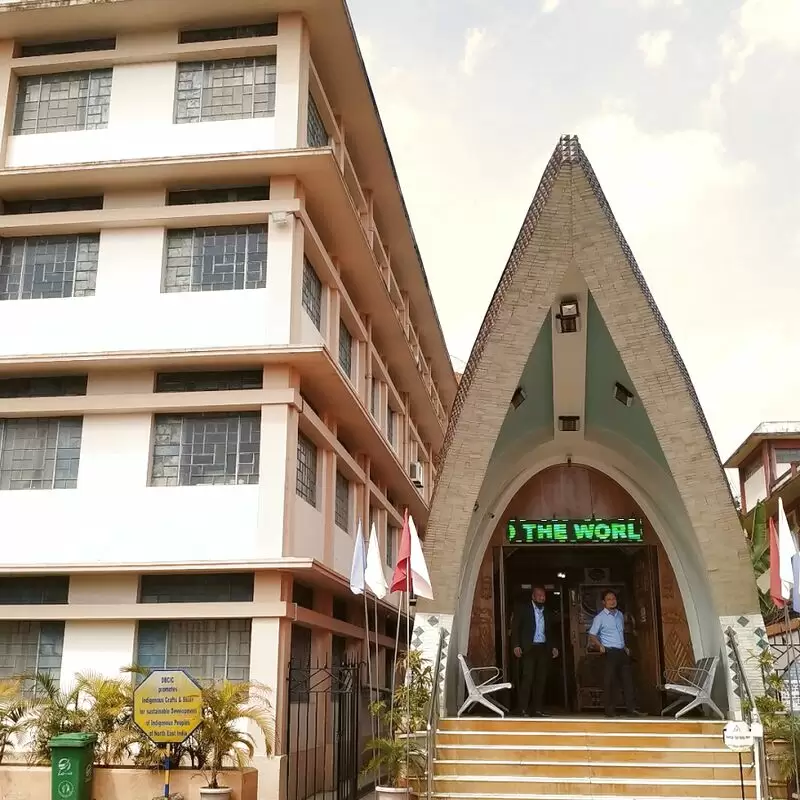 Don Bosco Museum
Mawlai Phudmuri, Mawlai Mawdatbaki, Shillong
Monday - Saturday: 9:30 AM – 4:30 PM
Sunday: Closed
7. Mawkdok Dympep Valley View Point
Make your way to the stunning Mawkdok Dympep Valley View Point in Shillong and enjoy the breathtaking views of the green valley and rolling hills. This well-kept secret spot is a nature lover's paradise. Be mesmerized by the enchanting cloud-covered landscapes, made even more dramatic by the thrill of zip-lining. Just a short distance away is the Duwan Sing Syiem Bridge, another marvel that beautifully frames the valley and makes for some postcard-perfect snapshots. The views are exceptional and unforgettable for first-time visitors!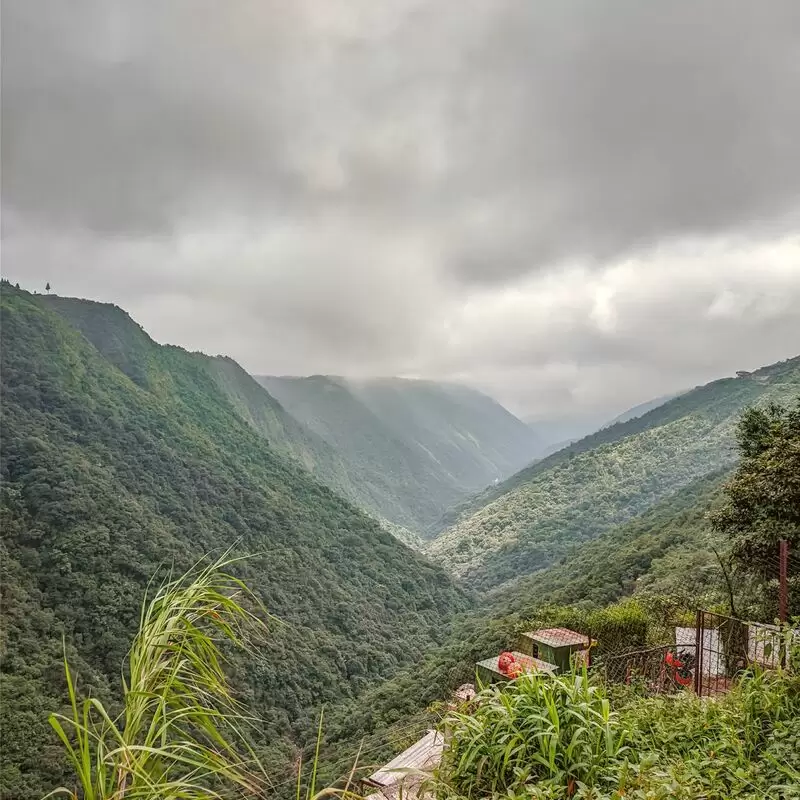 Mawkdok Dympep Valley View Point
CQCR+G84, Mawkdok
Monday - Sunday: Open 24 hours
8. Garden Of Caves
Immerse yourself in the fascinating realm of nature at the Garden of Caves in Shillong. Imagine exploring a breathtaking web of interconnected caves and waterfalls beautifully nestled in lush greenery. This enchanting place, known to locals as Ka Bri Synrang, offers incredible photo opportunities due to its unexplored gem-like landscapes. Don't miss the mystical "bat cave" and the tranquil stream that flows along here. As you bask in the tranquility here, the famous town of Cherrapunji, the wettest place on earth, is just a short drive away!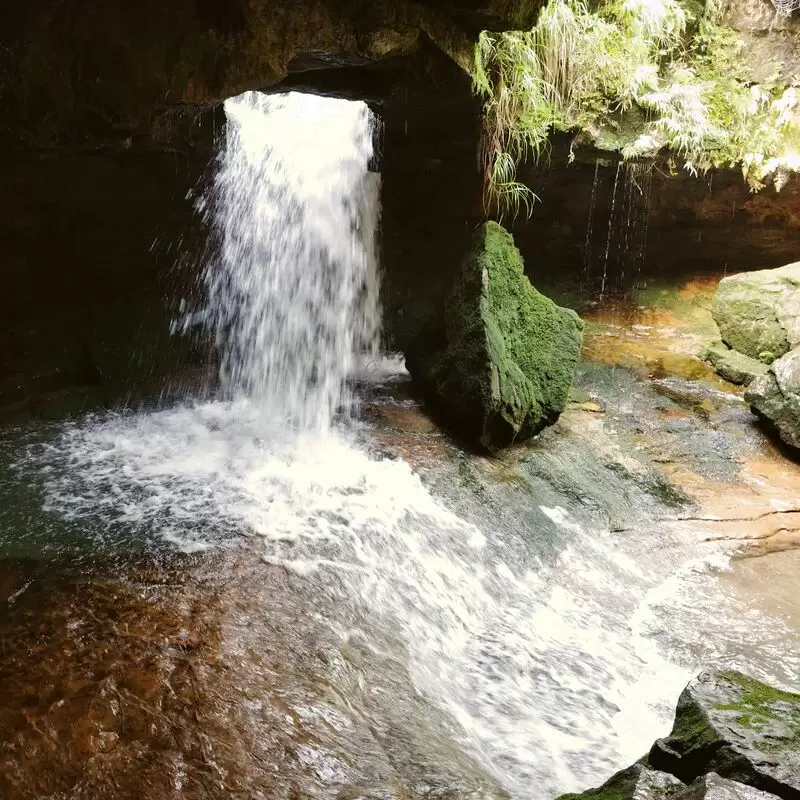 Garden Of Caves
Laitryngew-War, Laitmawsiang
Monday - Sunday: 8:30 AM – 6:00 PM
9. Cathedral of Mary Help of Christians
The Cathedral of Mary, the Helper of Christians, is an outstanding architectural masterpiece that impressively blends Gothic and indigenous stylistic elements. To reach the cathedral, you have to walk leisurely uphill through enchanting pine forests. Inside the cathedral, you will be impressed by the stunning murals and the eye-catching stained glass windows depicting biblical scenes. This cathedral is the oldest in Shillong and exudes an irresistible historic charm. Just a stone's throw away is the bustling Police Bazaar, perfect for a quick shopping spree.
Cathedral of Mary Help of Christians
HV9R+CFP, Laitumkhrah, Shillong
10. Shillong View Point Laitkor Peak
Located on Laitkor Peak, Shillong View Point offers an unparalleled bird's eye view of the sweeping beauty of Shillong. A hidden gem for photographers and nature lovers, this place invites you into a painting drawn by Mother Nature herself. The vendors selling delicious local delicacies add to the charm. Also visit the nearby Air Force Museum to add a touch of history to your visit. But remember that early risers have the best views, so plan your visit accordingly to catch the enchanting sunrise.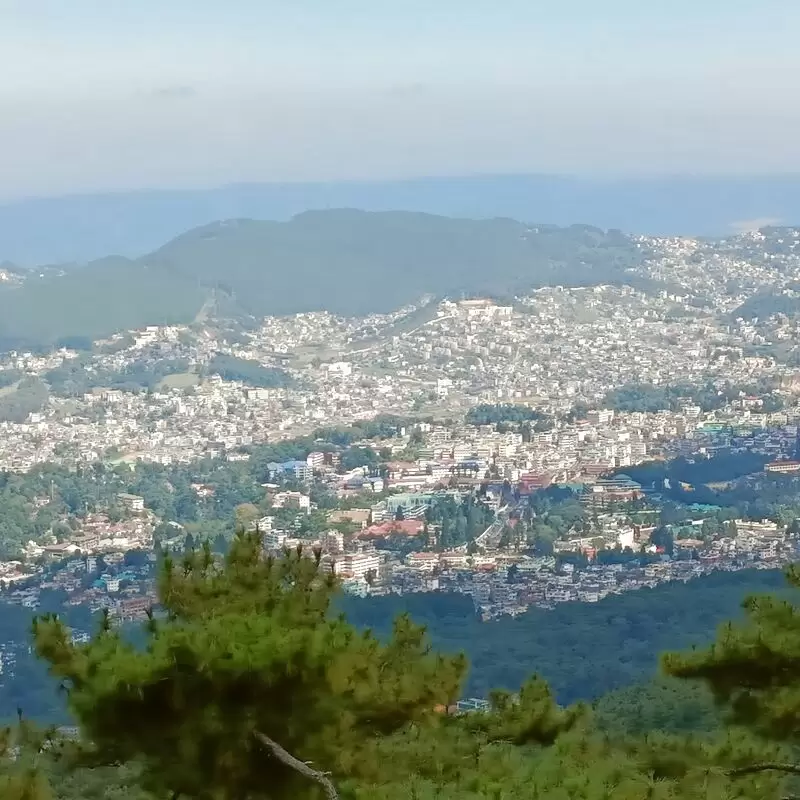 Shillong View Point Laitkor Peak
Peak Viewing Point, Shillong
Monday - Sunday: 8:50 AM – 2:50 PM
Wednesday: Closed
11. Krang Shuri Falls
Experience the breathtaking beauty of Krang Shuri Falls in Shillong. Amidst the green colors of Mother Nature, these waterfalls are set amidst carved rock formations. Feel the misty breeze, dive into the crystal clear water and enjoy a unique tranquility. For those seeking solitude, this hidden gem awaits. Umlamai Cave, just an hour's drive away, is an added bonus for nature lovers. Keep your camera ready, as every corner offers a picturesque view. Jump into the adventure now!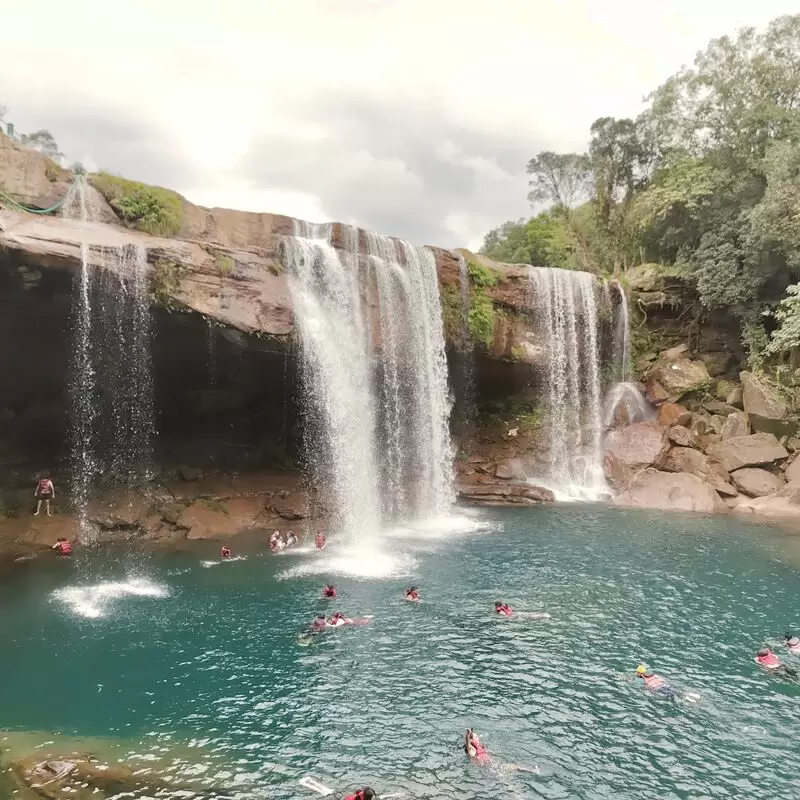 Krang Shuri Falls
Krang Suri Rd, Umlārem
12. Umiam Lake
Umiam Lake, a man-made reservoir, is a must-see in Shillong. It is surrounded by lush forested hills and is perfect for a peaceful boat ride. Enjoy delicious local cuisine at lakeside restaurants. A little off the beaten path, you'll find Lum Nehru Park, a charming lakeside garden. And don't forget to get there early to catch the mesmerizing sunrise over the water - a sight to be enjoyed by nature lovers and photographers alike. The fascinating beauty of the lake is affectionately referred to as the "Scotland of the East".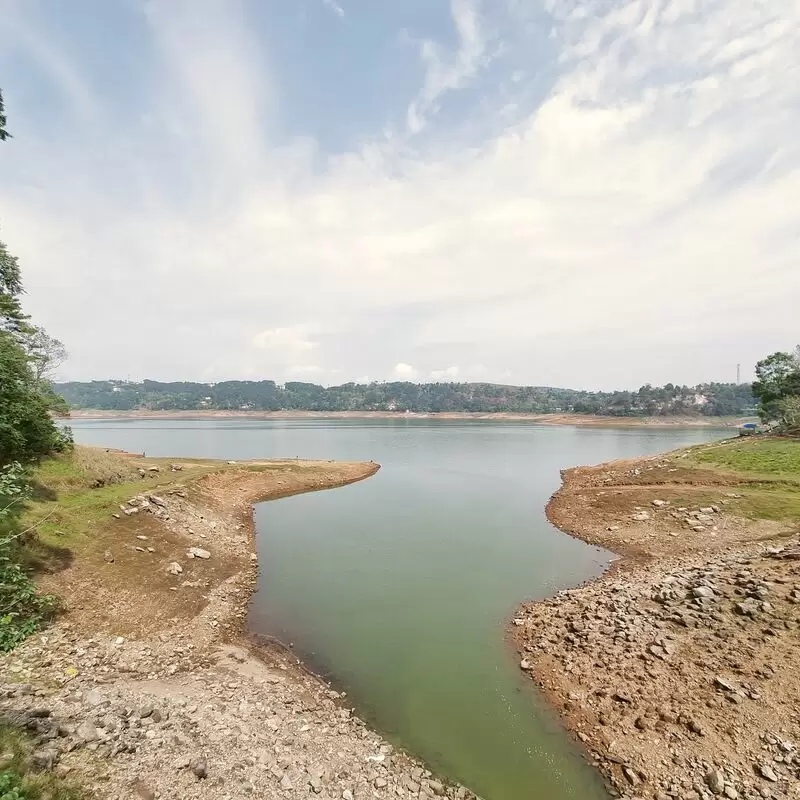 Umiam Lake
MW92+WCJ, Umiam
13. Dainthlen Falls
Imagine standing in front of the majestic Dainthlen Waterfalls, its thundering waters plunging into a deep gorge surrounded by lush greenery. The awe-inspiring sight, enhanced by the misty aura, makes this a perfect place to enjoy the tranquil beauty of Shillong. Don't miss the curious local legend about a snake that lives in the falls! After your visit, take a short drive to explore Cherrapunji, known for its living root bridges and exceptional biodiversity.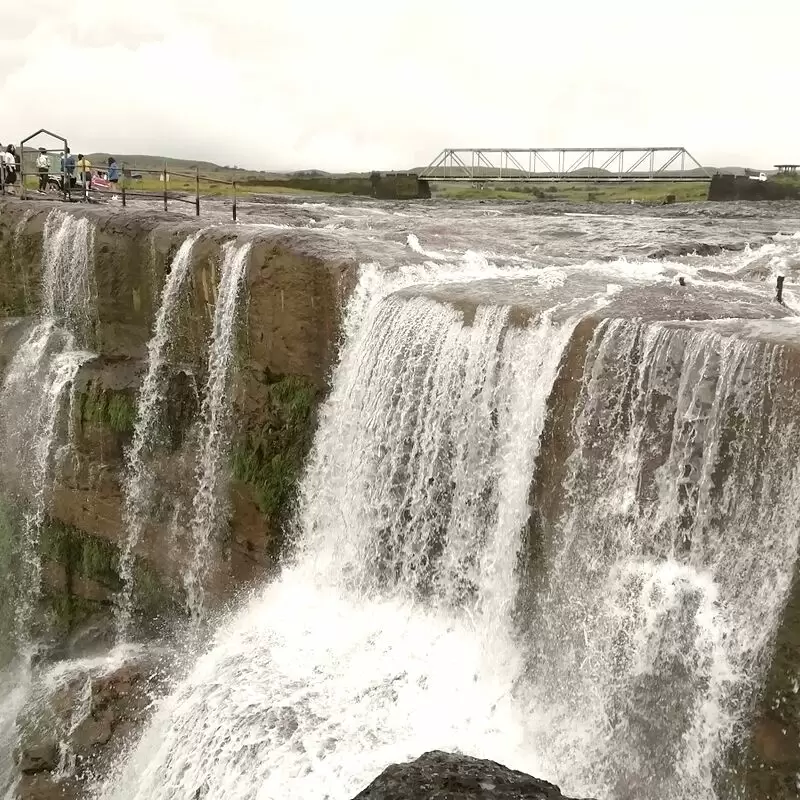 Dainthlen Falls
7MVM+99G, Dainthlen Road, Cherrapunji
14. Air Force Museum
Delve into the history of Indian aviation at the Air Force Museum in Shillong. It's a treasure trove of fascinating exhibits, including rare photographs, uniforms and model aircraft that tell the heroic stories of the Indian Air Force. The museum guard uniforms, with their unique Gorkha hats, are a real eye-catcher. Don't miss the outdoor exhibition of real aircraft! Nearby, you can visit the Capt. Williamson Sangma State Museum, which offers an in-depth look at Meghalaya's diverse cultures. A day full of history and culture you won't forget!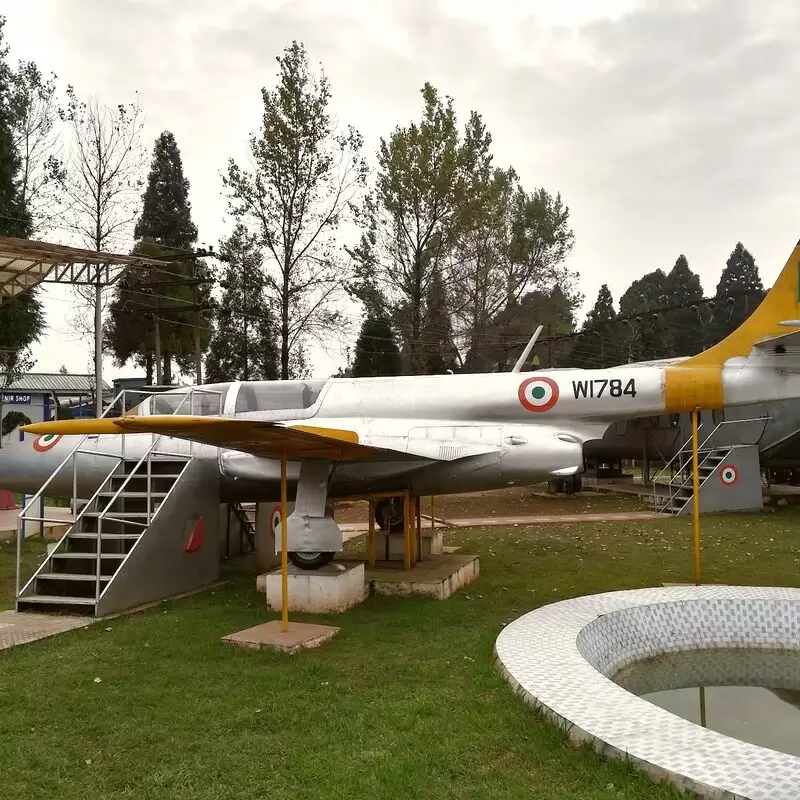 Air Force Museum
7th mile, HQ, EAC, Shillong
Monday - Sunday: 9:00 AM – 5:00 PM
15. Ward's Lake
A visit to Ward's Lake is like a visit to a picture-postcard landscape. This shimmering, man-made lake surrounded by lush gardens is a must-see for any visitor. Spend fascinating hours feeding the happy fish or take selfies from the rustic wooden bridge in the middle of the lake. Escape the hustle and bustle with a quiet paddleboat ride. Don't miss the charm of dusk! Just a 5-minute walk away is the fascinating Don Bosco Museum, home to the diverse culture of Northeast India.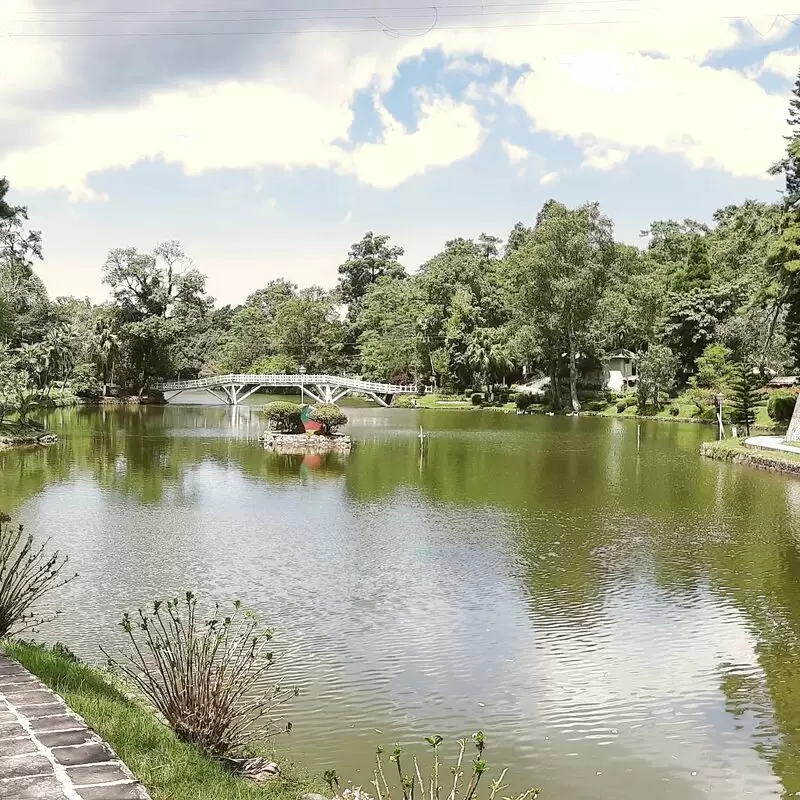 Ward's Lake
Ward's Lake, Police Bazar, Shillong
16. Lady Hydari Park
Lady Hydari Park is a spectacle of colorful flower beds, a well-maintained mini-zoo and attractive landscaping. Carefully planned by Lady Hydari, wife of the first governor of Assam, the park embodies a love of nature and wildlife and stretches for one kilometer. Don't miss the unique rhododendrons - they bloom only here. The park is close to Ward's Lake, another tourist destination with paddle boat opportunities. End your walk with a visit to the food stalls, where you can try local delicacies.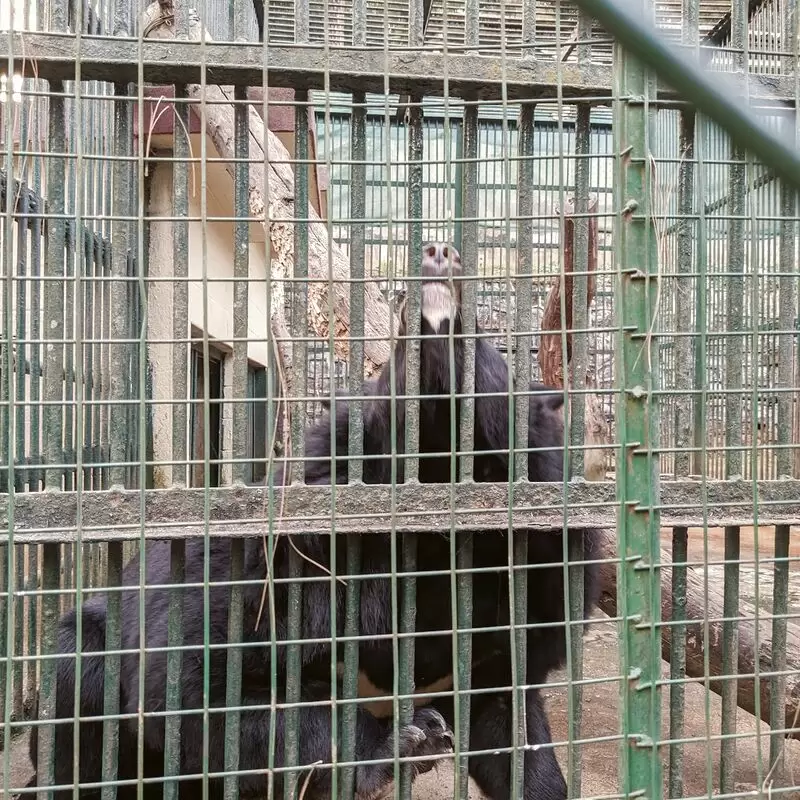 Lady Hydari Park
Lower, Lachumiere, Shillong
Monday - Sunday: 9:00 AM – 5:00 PM
17. Mawlynnong Asia's Cleanest Village
Experience the charm of Mawlynnong, voted the cleanest village in Asia, and be amazed by its biodegradable waste disposal system, a testament to environmental protection. Stroll along immaculate paths lined with blooming orchids and discover the unique living root bridges. Climb the Sky View, built of bamboo and offering breathtaking views of the Bangladesh plains. This ecological haven is only a few hours' drive from Shillong, so it should definitely be on your itinerary. Explore the nearby Dawki River with its crystal clear waters that will enchant you.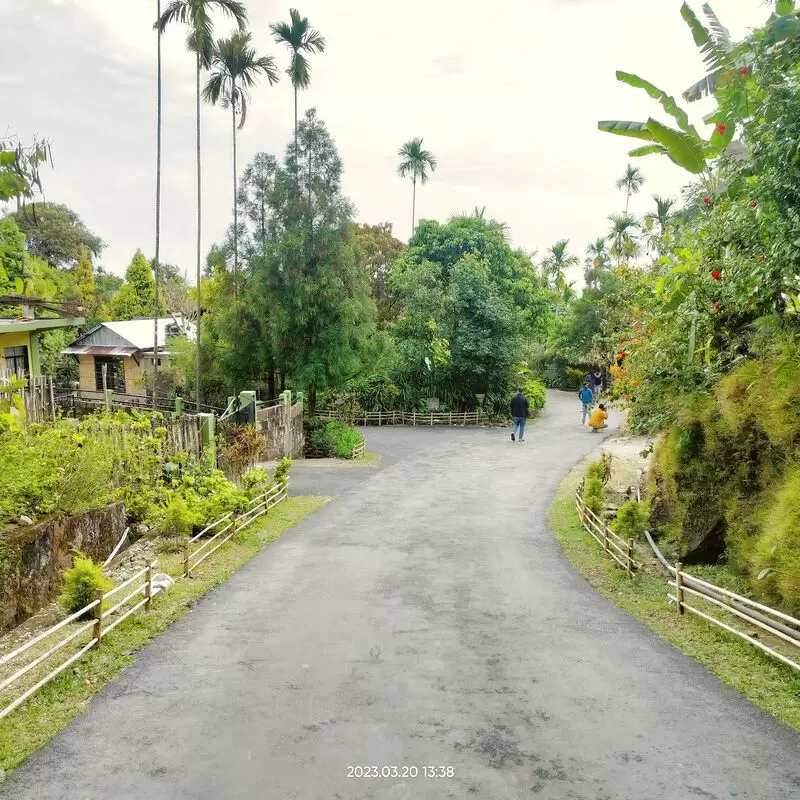 Mawlynnong Asia's Cleanest Village
6W37+Q96, Surok Mawlynnong, Mawlynnong
Monday - Sunday: Open 24 hours
18. Mawphlang Sacred Grove
In the heart of Meghalaya lies the fascinating Mawphlang Sacred Grove, a blessed treasure trove of ancient, forest-covered landscapes. Here, nature breathes true magic; a walk under the dense canopy of exotic trees, whose mystical significance has been protected by the locals for generations, becomes an unforgettable experience. Be enchanted by the seamless combination of history, mythology and nature. Don't miss the pristine freshness and sacred rituals! Nearby, the David Scott Trail offers more spectacular views and remnants of an ancient British bridle path.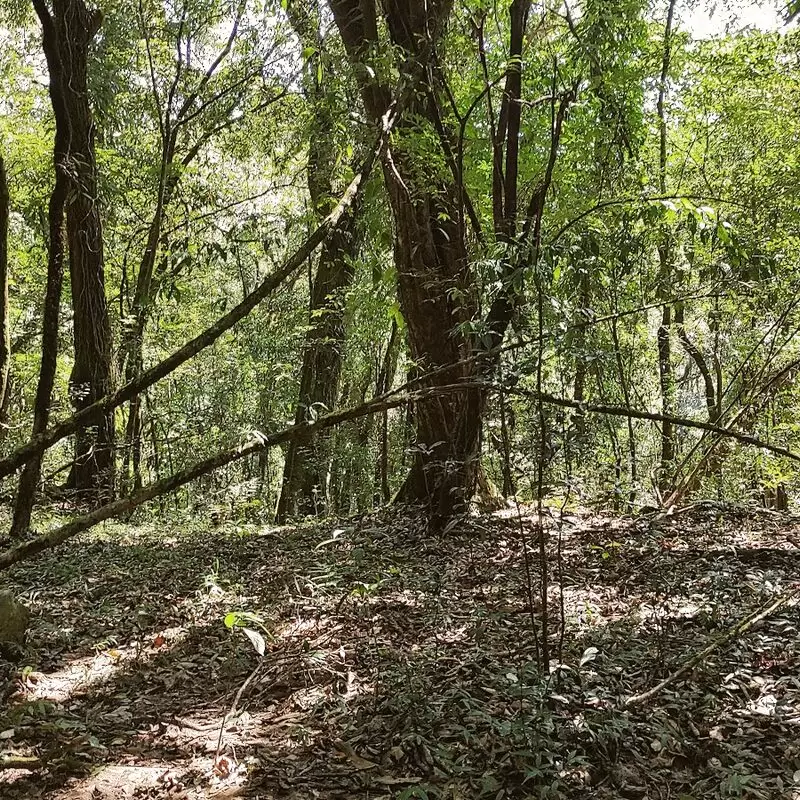 Mawphlang Sacred Grove
Nongrum
Monday - Sunday: 8:00 AM – 5:00 PM
19. Wah Kaba Falls
Awaken your senses with the awe-inspiring beauty of Wah Kaba Waterfalls in Shillong. This hidden gem of nature offers mesmerizing sights and the tranquil melody of water cascading down steep mountain cliffs. For a unique insider's view, take a dip in the natural pool at the base of the falls. A relatively less crowded place guarantees quiet moments in nature. It's also only 45 kilometers from Mawsynram, the rainiest place in the world, making it the perfect nirvana for rain and nature lovers.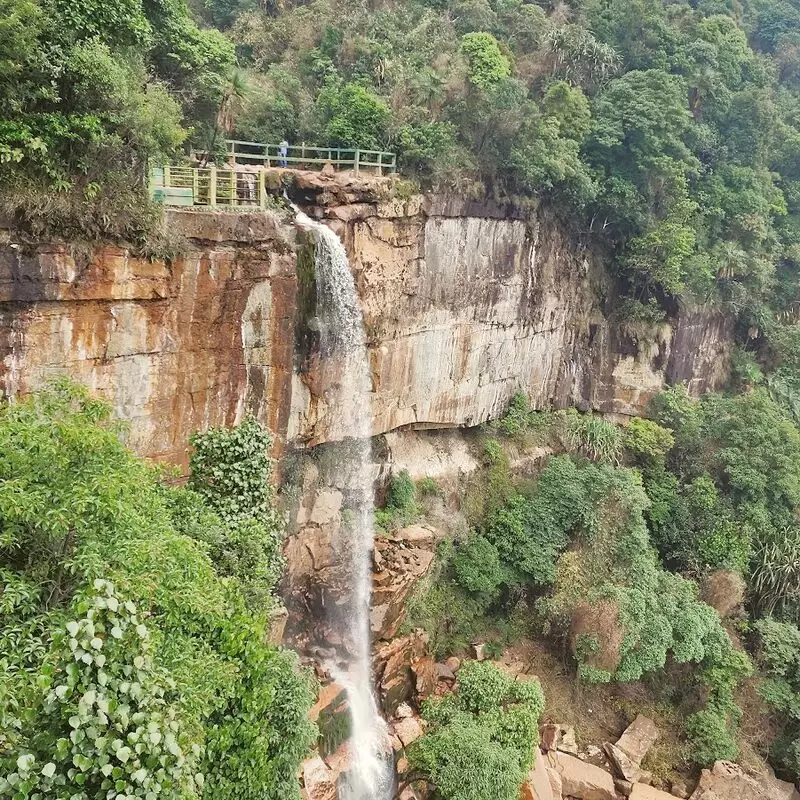 Wah Kaba Falls
8P6J+7FV, Cherrapunji
Monday - Sunday: Open 24 hours
20. Mawryngkhang Trek
Embark on the Mawryngkhang Trek in Shillong for an adrenaline-pumping adventure! This scenic hike is not for the faint of heart, as it requires crossing bamboo bridges over raging rivers and steep climbs. But don't worry, the breathtaking sight of the mesmerizing bamboo staircase hanging from the cliffs will leave you spellbound. And the rich history of the nearby U Lum Sohpetbneng peak is well worth the thrill. Enjoy exploring small caves, trekking through fascinating terrain and meeting friendly locals who will make your tour even more memorable.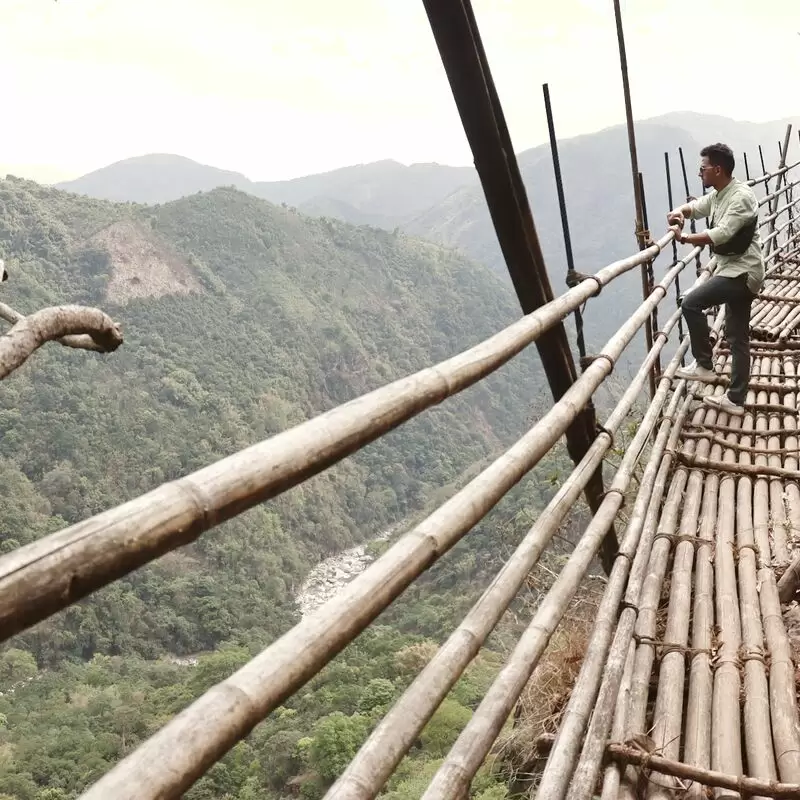 Mawryngkhang Trek
9R3Q+GVR, Wahkhen
Monday - Sunday: 6:00 AM – 5:00 PM
21. Hestosing war
At the Hestosing War in the village of Tynring on the outskirts of Shillong, you will discover a world frozen in time. This remote Khasi monolith site, with its ancient stones dedicated to war heroes and ancestors, is a unique testament to tribal culture. Get off the beaten path and immerse yourself in history. Nearby, explore the magnificent Mawsmai Caves, sample local cuisine in Tyrna or marvel at the beauty of Nohkalikai Falls. The region breathes history and natural charms for the seeker.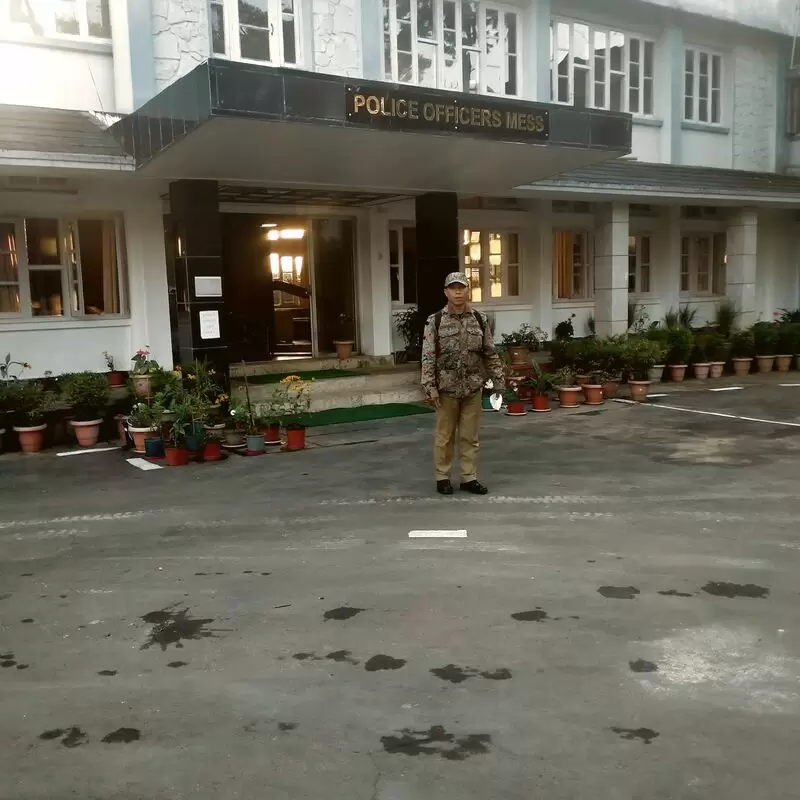 Hestosing war
HVHV+G8F, Golf Link - Marwroh, Mawroh, Shillong
Monday - Sunday: 5:00 AM – 8:00 PM
22. Lyngksiar Falls
Venture into the heart of Meghalaya to experience nature's masterpiece, Lyngksiar Falls, in all its glory. Listen to the symphony of crashing waters and breathe in the fresh mountain air. Marvel at the panoramic view of lush greenery reflecting a pristine eco-tone. Find solace in the charm of the bubbling streams and the soft whisper of the treetops. The secret: misty rainbows unfold here in the early morning. The nearby Don Bosco Museum is well worth a visit and showcases the rich cultural heritage of Northeast India. Let the adventure begin!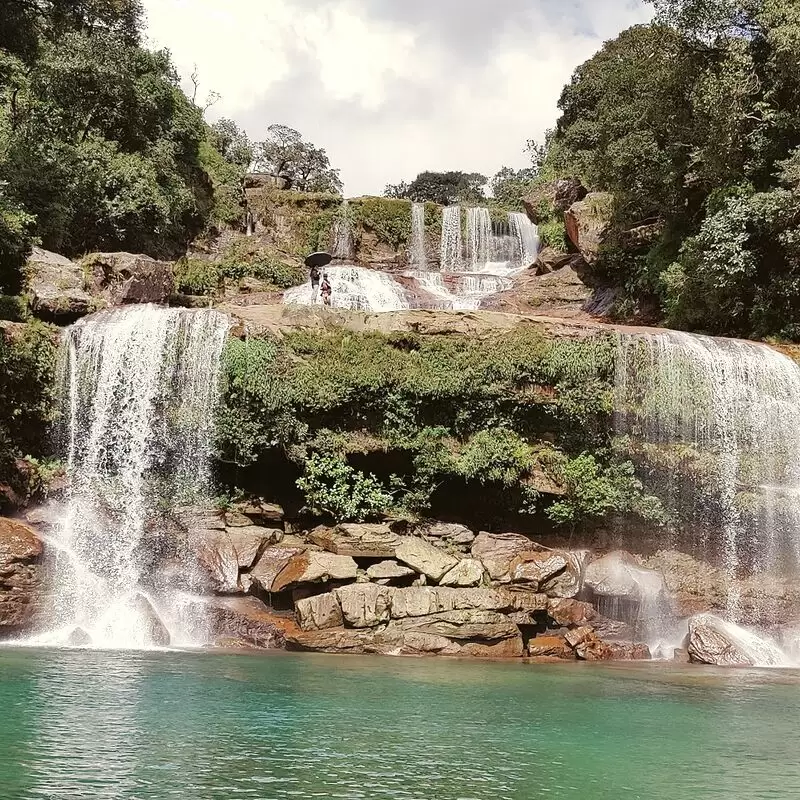 Lyngksiar Falls
Cherrapunji
23. Nongjrong View Point
Visiting Nongjrong View Point is an absolute must when in Shillong! Looking over the rocky outcrop, you will have a breathtaking view of the distant plains of Bangladesh - the natural beauty of this place is simply incomparable. Early morning is the best time to catch the sunrise, which bathes the sky in shades of orange and pink, making for a spectacular sight. Nearby you will also find the unique living root bridges, a marvel of bioengineering that you must experience. Don't miss these hidden gems of Shillong!
Nongjrong View Point
nongjrong, Shillong
24. Khasi Heritage Village

A visit to the Khasi Heritage Village is like a trip back in time. This open-air museum showcases the traditional Khasi lifestyle, architecture and handicrafts that have remained unchanged for centuries.

Insider tip: Don't miss the traditional Khasi food stalls serving delicious local delicacies. Nearby is the Mawphlang Sacred Forest, an ecological paradise that is home to a variety of plants and animals. Discover the vibrant culture of the Khasi tribe and soak up the history!

Khasi Heritage Village
CPXX+87H, Synrang Kaban

Monday - Sunday: 8:00 AM – 5:30 PM
Best Time to Visit Shillong
The best time to visit Shillong, India, is in the non-monsoon months from September to May. During this time, the weather is pleasant and perfect for sightseeing, with temperatures ranging from 15°C to 24°C. During these months, the city also hosts various cultural festivals, making your visit even more exciting.
Annual Weather in Shillong
Shillong 3-Day Forecast
Thu, 21 September
Night
65 °F
18 °C
98%
Morning
64 °F
18 °C
98%
Afternoon
70 °F
21 °C
98%
Evening
65 °F
19 °C
96%
Fri, 22 September
Night
65 °F
18 °C
87%
Morning
65 °F
18 °C
64%
Afternoon
71 °F
22 °C
89%
Evening
66 °F
19 °C
0%
Sat, 23 September
Night
65 °F
18 °C
85%
Morning
64 °F
18 °C
83%
Afternoon
69 °F
21 °C
81%
Evening
67 °F
20 °C
87%
Questions & Answers

What is the local cuisine like in Shillong?

Shillong is known for its local, spicy and tasty cuisine with the typical character of a hill station. Locals enjoy hearty meals of rice, meat and fish, enriched with aromatic herbs. Noodles are also popular, often stir-fried with pork, beef or chicken to create a delicious dish called chow. The city's cuisine is also known for its use of bamboo shoots, which add a unique flavor to dishes. For those with a sweet tooth, desserts made with exotic fruits from the region, such as pineapple and plums, are especially delicious.

Which language is predominantly spoken in Shillong?

In Shillong, the most widely spoken language is Khasi, a language of Austroasiatic origin that exists only among the Khasi tribe in Meghalaya. In addition, English is also widely spoken and understood, as it is the official language of the state of Meghalaya. The educated locals are often bilingual and fluent in both Khasi and English. Other languages such as Hindi and Bengali are also spoken by certain communities.

How safe is Shillong for tourists?

Shillong is generally considered safe for tourists. The city boasts a low crime rate and locals are often friendly and helpful. However, as with any destination, tourists should take basic safety precautions. They should avoid secluded areas, especially at night, and take care of their belongings. Overall, with common sense and the usual safety precautions, Shillong can be a wonderful and safe destination for travelers.

What mode of transportation is commonly used in Shillong?

In Shillong, the most common and convenient means of transportation is by cab or cab service. The city is well served by numerous local and tourist cabs, which are inexpensive and easily accessible from any part of the city. There is no subway or local train in Shillong. Shared cabs are also popular for getting around within the city. If you are looking for an environmentally friendly alternative, you can also get around by bicycle. However, due to the hilly terrain, it is not suitable for everyone.

What is the culture of Shillong?

Shillong, often referred to as the "Scotland of the East," is rich in cultural diversity. It is home to the Khasis, Jaintias and Garos tribes, each with their own customs, traditions and festivals. The city is known for its vibrant music scene, with rock and folk music being very popular. Traditional dance forms such as Shad Suk Mynsiem and Wangala are important aspects of cultural expression. Shillong is also famous for its beautiful hand-woven shawls, reed handicrafts and local cuisine.

Are there any local customs or etiquette I should be aware of?

Modesty is highly valued in Shillong. Avoid wearing revealing clothing, especially in religious places. Locals are warm and friendly, but it is best to use the formal form of address until they ask you to use their first names. Remember to ask permission before taking photos, especially of people. It is good etiquette to eat with your right hand, as the left hand is traditionally considered unclean. Finally, respect local traditions and do not leave litter to preserve the natural beauty of the city.

What kind of clothing should I pack?

The climate in Shillong is relatively mild, so it is advisable to pack light clothes for daytime. However, temperatures can drop at night, so you should take some warm sweaters or jackets. Since it rains frequently, it is advisable to bring a good raincoat or umbrella. If you are planning a hike, you should pack sturdy shoes and comfortable outdoor clothing. In the cooler months, warmer layers and accessories such as gloves, scarves or hats may be necessary.

Is it easy to navigate around Shillong?

Yes, it is quite easy to find your way around Shillong. The city is compact and most of the tourist attractions are in close proximity to each other. The roads can be narrow and winding, but they are well maintained. Public transportation such as carpooling and buses are widely available. However, taking a cab or a rented bicycle is a more pleasant and convenient way to explore the beauty of the city. Remember to have a map of the city or a GPS-enabled device on hand to make the trip easier.

Where can I find the best local street food?

Shillong's vibrant street food scene is best explored in the bustling alleys of Police Bazaar. It is a popular spot with locals and tourists alike, offering an array of delicious northeastern dishes. With its stalls offering tempting momos, steaming hot noodles, savory khasi dishes and delectable sweets, it is indeed a foodie's paradise. Police Bazaar is an unforgettable gastronomic adventure where you can taste authentic local dishes.

Is English widely spoken in Shillong?

Yes, English is widely spoken in Shillong as it is the official language of the state. The majority of people, especially in urban areas and tourist spots, speak English fluently. Therefore, there are few language barriers for international visitors. However, the local dialect, Khasi, is predominantly used in daily conversations among locals. Many signs and public information are also available in English for the convenience of tourists.

What are typical costs for meals and transportation?

In Shillong, India, a typical meal at a local restaurant can cost around 200-400 Indian rupees ($3-$5) per person. Cab fares start at around 30 Indian rupees ($0.40) per kilometer, while bus fares range from 5 to 20 rupees ($0.07-$0.27) depending on the distance. Another popular option is bicycle rental, which costs about 500-700 rupees ($7-$10) per day.

What is the nightlife like in Shillong?

Shillong has a vibrant nightlife that appeals to all types of interests. The city comes alive at night with live music and DJs in various bars and clubs. Local artists and bands often perform, showcasing the city's rich musical heritage. The night markets are a lively mix of local vendors selling snacks, clothing and souvenirs. The night also offers a unique opportunity to explore the city's breathtaking landscape of moonlit paths and starry skies.

Are there any wildlife viewing opportunities?

Yes, Shillong offers ample opportunities for wildlife viewing. Lady Hydari Park is a famous place known for its mini-zoo, which is home to animals such as bears, jackals and various bird species. Also worth mentioning is the Nongkhyllem Wildlife Sanctuary, which is home to elephants, tigers and a variety of bird species. It is a paradise for wildlife lovers. A guided tour is the best way to experience the rich biodiversity of this region.

Is tap water safe to drink in Shillong?

Although tap water in Shillong generally comes from natural springs and streams, it is considered undrinkable unless treated due to possible contamination. Many locals boil the water before drinking or cooking. Travelers are strongly advised to drink bottled water or use a reliable water purifier to avoid waterborne diseases. Always make sure the seal on your bottled water is intact before drinking it.

Is there good access to healthcare facilities?

Shillong, the capital of Meghalaya, is well equipped with a number of health facilities. There are several hospitals, both government and private, that provide high-level medical services. The North Eastern Indira Gandhi Regional Institute of Health and Medical Sciences is one of the leading medical institutions in the region. In addition, there are numerous pharmacies, clinics, and diagnostic centers in the city, making healthcare readily available to both residents and tourists.

Is it possible to rent a bike or car in Shillong?

Yes, it is quite possible to rent a bike or car in Shillong. There are several car rental companies in the city that offer a wide range of vehicles for different needs. Whether you are a solo traveler who wants to explore the city by bike or a group who needs a comfortable car, you will find the right deals. Make sure you have your driver's license and other necessary documents with you when you rent. Renting a car will make your trip stress-free and allow you to explore Shillong at your own pace.

Are there opportunities for hiking or trekking?

Shillong is definitely a paradise for hiking and trekking enthusiasts. The town has numerous hiking trails suitable for all levels of fitness and experience. One popular trail is the David Scott Trail, which stretches for 16 km and features meadows, rivers and native villages. Another enchanting trail is in the fascinating Laitlum Canyons, where hikers often lose themselves in the mesmerizing beauty of the canyons. These adventures offer untouched natural beauty and perhaps an encounter with the locals.

How prevalent is Wi-Fi in public spaces?

Wi-Fi in Shillong, India, is not widely available in public areas. Many large hotels, guesthouses, cafes and restaurants offer free Wi-Fi to their guests, but it is not available everywhere. Even outside of these environments, the Internet connection can be inconsistent or slow. However, it's a good idea to get a local SIM card for reliable data services if you expect to need constant Internet access. Wi-Fi hotspots may be available in some public places, such as selected parks or shopping malls, but coverage may be limited.

Are the locals welcoming to tourists?

Yes, Shillong, often referred to as the "Scotland of the East", is known for its warm and friendly locals who are usually welcoming to tourists. They treat visitors with great respect and are often willing to share their rich culture and traditions. Their hospitality adds to the charm of the region and makes it an ideal place for tourists who want to experience both the scenic beauty and the local lifestyle.

Can I use credit cards widely or is cash preferred?

Although credit cards are accepted in most places in Shillong, such as hotels, restaurants and some of the main tourist attractions, it can be advantageous to have cash on you. This is especially beneficial at smaller street vendors, local transport or markets where cash is the main means of payment. Therefore, it is advisable to carry a reasonable amount of cash.

How do I respect religious places and traditions?

When visiting religious sites in Shillong, it is important to show a high level of respect. Dress modestly and do not wear short dresses or revealing clothing. Observe silence in places of worship. Some sites require you to remove your shoes before entering, so wear shoes that are easy to remove. Follow any published guidelines or prompts from local religious leaders. Finally, ask permission before taking pictures to respect the traditions and culture.

Are there any safety precautions I should take?

Although Shillong is generally safe, be careful in crowded areas to avoid pickpocketing. Be sure to dress modestly and respect local culture and customs. Carry identification documents at all times. Avoid drinking tap water and stock up on bottled water. Be aware of hilly terrain and drive safely, especially in foggy weather. Respect local customs and laws to have a safe and enjoyable stay in Shillong.

What local festivals or events can I take part in?

Shillong has a vibrant cultural scene with fascinating local festivals. The Nongkrem Dance Festival offers a fascinating glimpse into the traditional music and dance of the local Khasi tribe. The Wangala Festival is a great event to experience the culture of the Garo tribe. The Shad Suk Mynsiem Festival is a must-see for its traditional dances. At the Autumn Festival and Cherry Blossom Festival, you can enjoy music, dance, food and wine amidst breathtaking scenery. These events offer a rich experience for culture lovers.

Do I need any vaccinations before coming to Shillong?

While no special vaccinations are required for Shillong, it is recommended that routine vaccinations such as MMR, DTP, chickenpox, polio and the annual flu shot be refreshed. Vaccination against diseases such as Hepatitis A and B, Typhoid and Japanese Encephalitis might be advisable due to local conditions. Keep in mind that your personal medical history and the activities you plan to do may affect your vaccine needs. Always consult with your physician before traveling.

Are there any natural landscapes or parks to visit?

Shillong is definitely blessed with an abundance of picturesque natural landscapes and parks. Nohkalikai Waterfall is one of the highest in India and offers breathtaking views. Elephant Falls is another popular spot with three-tiered cascades. Lake Umiam, set amidst pine-clad hills, is great for boating. Lady Hydari Park, with its manicured Japanese-style garden and mini-zoo, is a great place to relax. Finally, the Laitlum Canyons promise panoramic views of green valleys and rugged landscapes that captivate visitors.

Is there a local etiquette for tipping?

Tipping is not obligatory in Shillong, India, but is very much appreciated. Depending on the service, a tip of 10-15% of the bill is customary in restaurants. For hotel staff, a tip of around 50-100 INR is an appropriate gesture. In cabs, it is customary to round up the fare or tip about 10%. Always remember that tipping is a way to show your appreciation for good service, not a mandatory obligation.

What are the emergency numbers in Shillong?

In the event of an emergency in Shillong, the Emergency Response Support System (ERSS) can be reached nationally by dialing the single number 112. This service includes police, fire and ambulance services. In addition, the nationwide Women's Helpline can be contacted for immediate assistance by dialing 181. If you are looking for help for children in distress, you can call the Children's Helpline on the number 1098. Be sure to save these numbers in your phone when you are out and about.

Can I practice outdoor sports in Shillong?

Definitely! Shillong, known as the "Scotland of the East", is an ideal destination for outdoor sports enthusiasts. With its lush greenery and remarkable terrain, it is perfect for activities like trekking, climbing and camping. One of the most popular places is Elephant Falls, which is great for nature walks. Golfing is also very popular in Shillong, which has one of the oldest golf courses in the world. Archery, which is considered a cultural pastime in this region, is another sport you can try.

Is Shillong a good place for photography?

Shillong, often referred to as the "Scotland of the East," is a photographer's paradise. It offers spectacular waterfalls, tranquil lochs, panoramic mountain views and lush greenery that make for stunning subjects. The rich cultural heritage with its traditional dances, music and festivals makes the place come alive and provides ample opportunities for unique shots. The misty dawn and dusk landscapes provide a breathtaking backdrop that will enchant any photographer.

Can I find vegetarian or vegan food options?

Of course, there are plenty of restaurants in Shillong that specialize in vegetarian and vegan food. Venues like Bamboo Hut, Trattoria, and Cafe Shillong offer a variety of vegetarian options like bamboo shoot curry and smoked vegetable platter. There are also vegan eateries that offer dishes without dairy or animal products. Whether you're looking for healthy meals or light snacks, Shillong's diverse culinary scene has it all.

Feedback

I hope you found this article informative and helpful. I'm eager to improve the content and make it even more valuable for you. If you have any feedback or suggestions, I would love to hear from you.

Do you have any tips or hidden gems that you think should be added to the list? Are there any areas that you feel could use more explanation or clarification?

Your input is greatly appreciated and will help us to continue providing high-quality content that meets your needs and interests. Please feel free to share your thoughts.