1. Brandywine Falls Provincial Park
Immerse yourself in nature at Brandywine Falls Provincial Park! Just a short drive from Whistler, the park is home to a breathtaking 70-meter waterfall that plunges into an amphitheater of rocks. Hike the well-maintained trails, observe native wildlife, and enjoy unforgettable mountain views. But here's the kicker: visit the waterfall in the early morning, when it will be shrouded in a heavenly mist. Nearby, you'll also find the whimsical Fairy Doors Trail, which will add a touch of whimsy to your trip!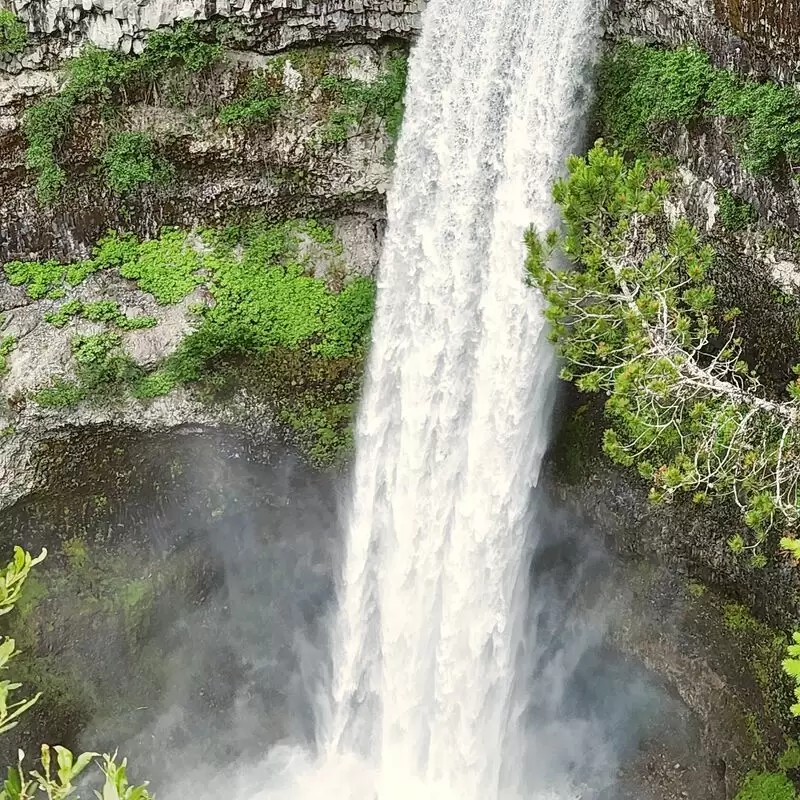 Brandywine Falls Provincial Park
Whistler
Monday - Sunday: 8:00 AM – 9:00 PM
2. Peak 2 Peak
A visit to Peak 2 Peak in Whistler is an exciting experience not to be missed! Riding this record-breaking gondola over the breathtaking alpine landscape is an adventure in itself. Not only do you get a breathtaking 360-degree view, but the glass-bottomed gondolas also reveal the vastness below. Try spotting hikers on mountain trails or a bear in the forest! After your exhilarating ride, explore picturesque Whistler Mountain or nearby Blackcomb - two ski paradises with charming mountain villages!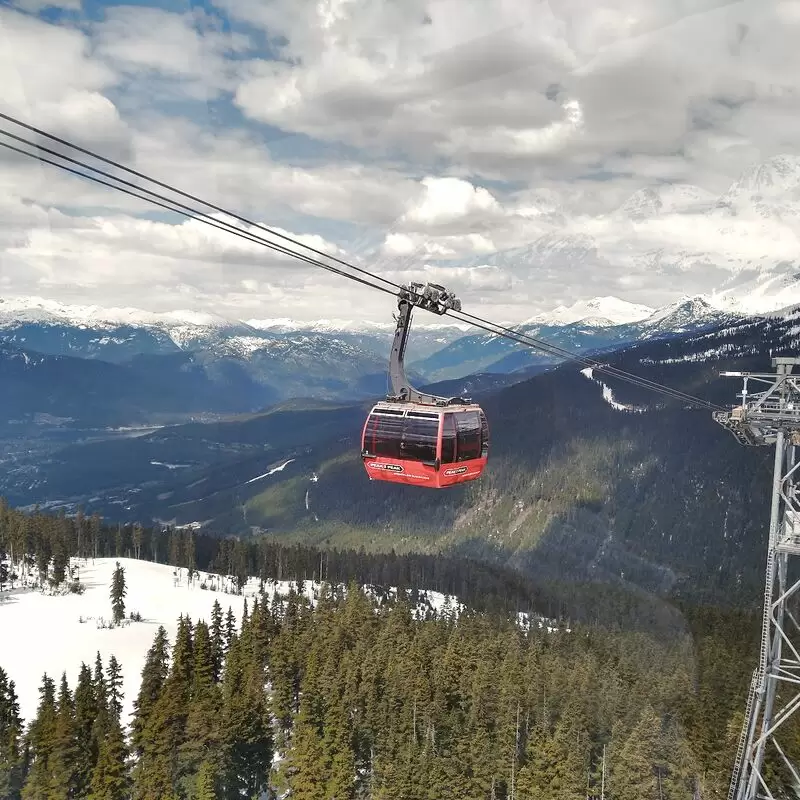 3. Whistler Blackcomb
Whistler Blackcomb is the crowning jewel of Whistler and one of the largest ski resorts in North America. Not just in winter, it's stunning in summer too with mountain biking, alpine hiking and irresistible terraces. Take the impressive Peak-2-Peak gondola for views of glaciers, wildflowers and forests. Nearby is also the enchanting Squamish-Lil'wat Cultural Centre, where you can explore Native heritage. Don't miss the famous "Aspen Fries" at Roundhouse Lodge, the best kept secret!
Whistler Blackcomb
4545 Blackcomb Way, Whistler
Monday - Sunday: 10:00 AM – 5:00 PM
4. Whistler Olympic Plaza
Embark on a spiritual journey to the epicenter of the 2010 Winter Olympics, Whistler Olympic Plaza. Feel the remnants of the vibrant energy that fueled the Olympic spirit. The lush greenery transforms into a winter wonderland, offering perfect photo opportunities against the backdrop of majestic mountains. A hidden gem, the square hosts free outdoor concerts in the summer. Nearby is the Whistler Museum, which showcases Whistler's adventurous past. Experience this magical blend of sporting heritage and natural beauty!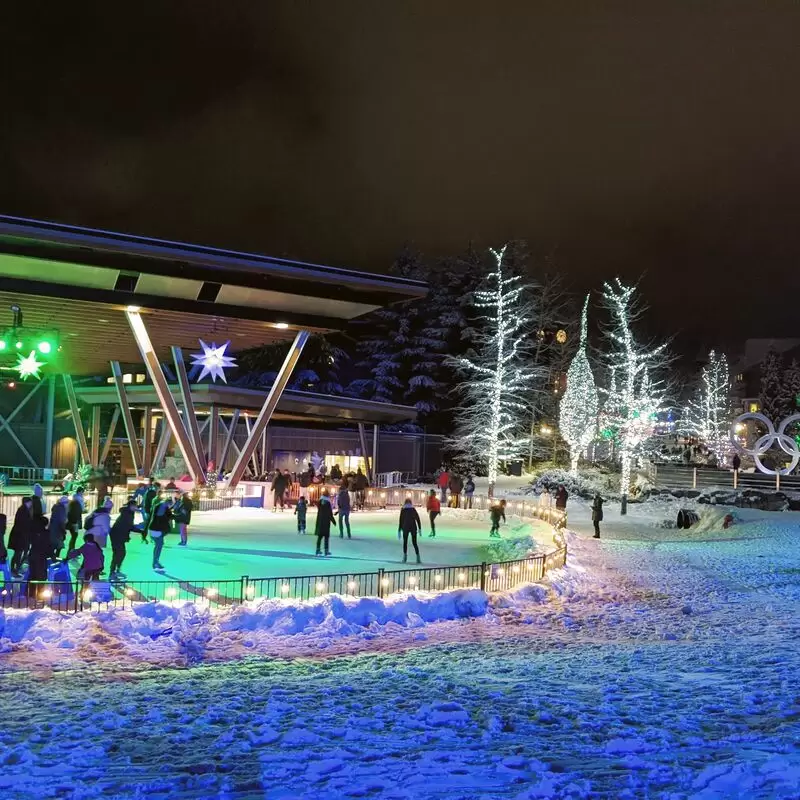 Whistler Olympic Plaza
4365 Blackcomb Way, Whistler
Monday - Sunday: 11:00 AM – 1:30 PM, 2:30 – 5:00 PM, 6:00 – 8:30 PM
5. Whistler Mountain
Whistler Mountain is a must-see, not only for its world-class skiing and snowboarding, but also for its year-round adventures. From exhilarating mountain bike trails to scenic gondola rides, this gem has it all. Hike amid wildflowers in the summer or enjoy snowshoeing in the cooler months. Don't forget to explore charming Whistler Village at the base of Blackcomb Mountain, which is interconnected. Did you know. The Peak 2 Peak Gondola holds the record for the longest unsupported span between two cable car towers.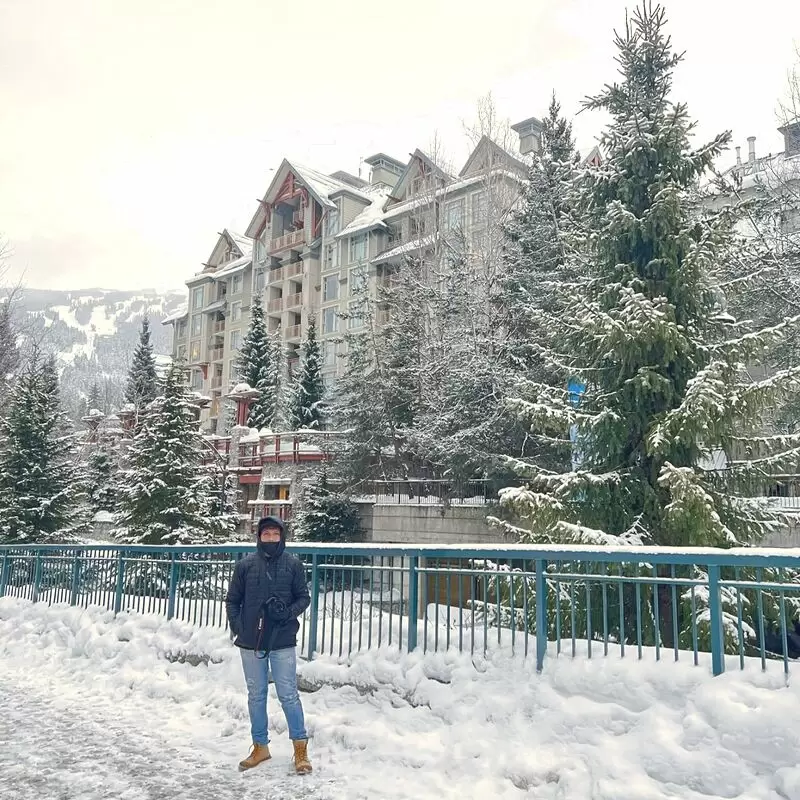 Whistler Mountain
Whistler Mountain, Whistler
6. Nairn Falls Provincial Park
Nairn Falls Provincial Park is an unspoiled Whistler gem that will delight nature lovers! The park offers a 1.5 km scenic hiking trail that leads to a stunning double waterfall that is bursting with power and beauty. Enjoy the mesmerizing sound of the rushing water and watch the rainbow that sometimes forms in the mist! Nearby, One Mile Lake Park is also a must-see with its picturesque lake and abundant birdlife. Don't miss the Green Lake Lookout, popular with locals, for panoramic views of Whistler's breathtaking landscape.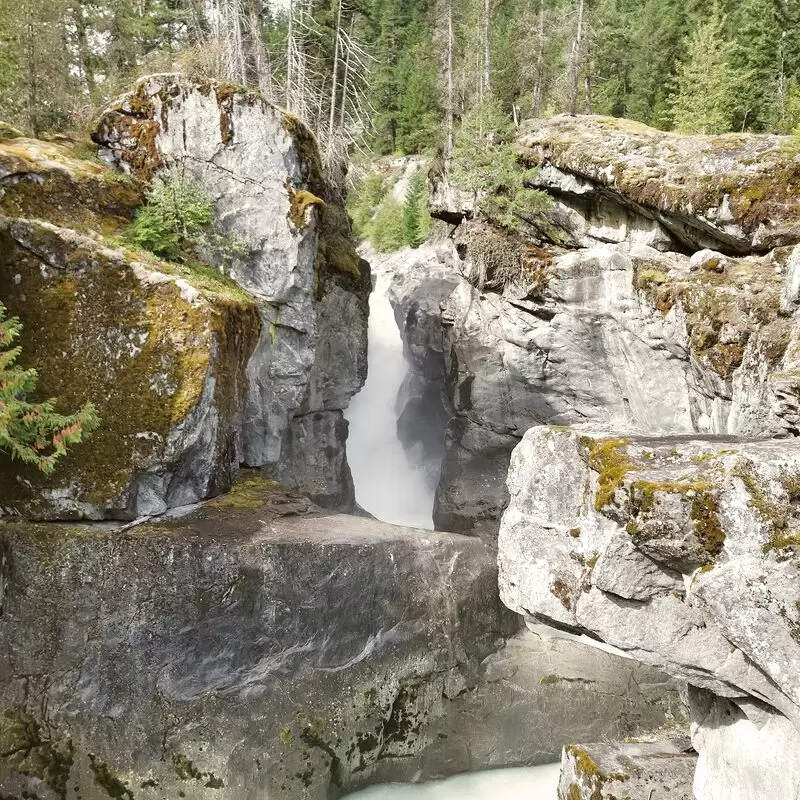 Nairn Falls Provincial Park
Whistler
Monday - Sunday: 7:00 AM – 10:00 PM
7. Blackcomb Glacier Provincial Park
Blackcomb Glacier Provincial Park in Whistler is a paradise for winter sports enthusiasts, offering breathtaking glacier landscapes for avid skiers and snowboarders. Venture up Spanky's Ladder for rewarding views of the breathtaking ice formations. Wildlife lovers can spot mountain goats and marmots. Just 37 minutes away is the peaceful Lost Lake, which invites you to take a relaxing walk or picnic and enjoy the tranquil beauty of nature. The fascinating mix of adventure and tranquility that this place offers will surely captivate you.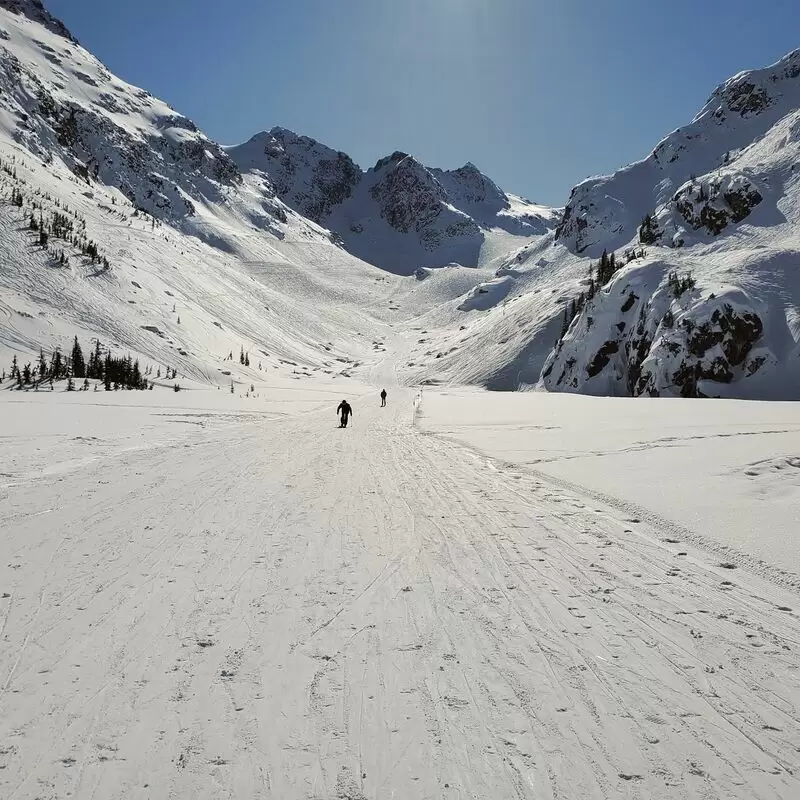 Blackcomb Glacier Provincial Park
4899 Painted Cliff Rd, Whistler
Monday - Friday: 8:30 AM – 4:30 PM
Saturday - Sunday: Closed
8. Fairmont Château Whistler
The Fairmont Château Whistler is an extraordinary oasis in the heart of nature! Experience luxurious accommodations with breathtaking mountain views. In winter, ski to Whistler Blackcomb in comfort, and in other seasons, play golf, visit a relaxing spa, and enjoy outdoor adventures. Enjoy exceptional culinary experiences at on-site restaurants. Relax in elegant comfort and customized service. Exciting Whistler Village with its eclectic shopping, dining and vibrant nightlife is just steps away. For active visitors, the nearby Audain Art Museum offers cultural stimulation!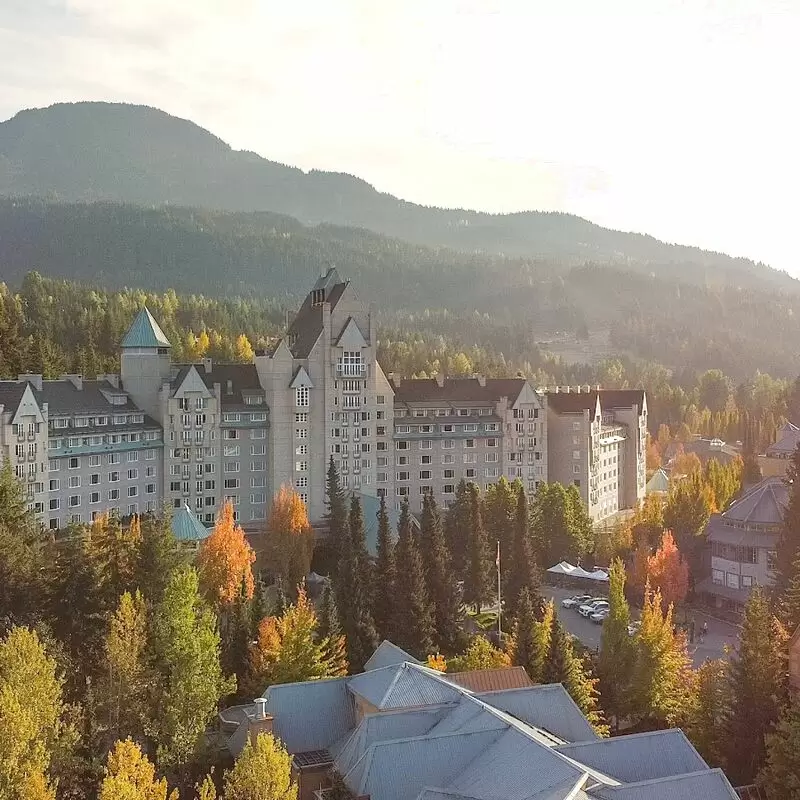 Fairmont Château Whistler

9. Train Wreck
A visit to the iconic "Train Wreck" in Whistler is like a journey into history. Seven graffiti-covered boxcars standing in the forest offer a lively, unusual art spectacle against a backdrop of breathtaking wilderness. A short hike along a trail provides access to this unforgettable sight. Located near the magnificent Cheakamus River, it offers picturesque sights. Not far from here, the Sea to Sky gondola offers a panoramic view of the mountains that you won't want to miss.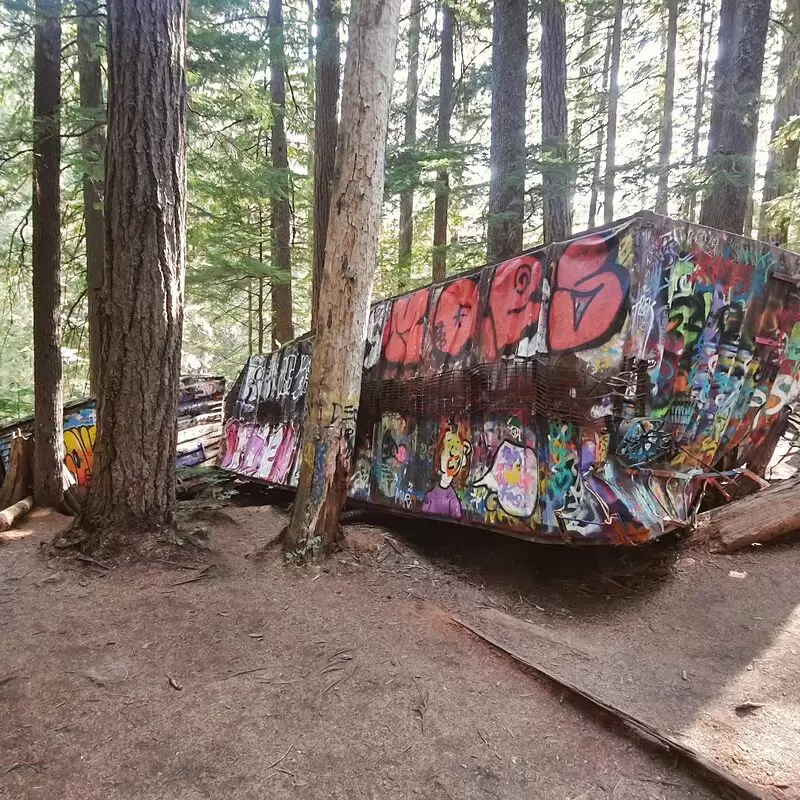 Train Wreck
Whistler
Monday - Sunday: Open 24 hours
10. Rainbow Park
Rainbow Park is a gem in Whistler that promises breathtaking mountain views and crystal clear water. With picnic areas, volleyball nets, and even a floating dock, it's the perfect place for your relaxation. The park shines brightly any time of the year, for sun worshippers in the summer and snow watchers in the winter. Don't miss the whimsical rainbow tree sculpture, which makes for a unique photo op! Explore nearby Alta Lake, a center for water sports, or visit Whistler Golf Club for a leisurely afternoon.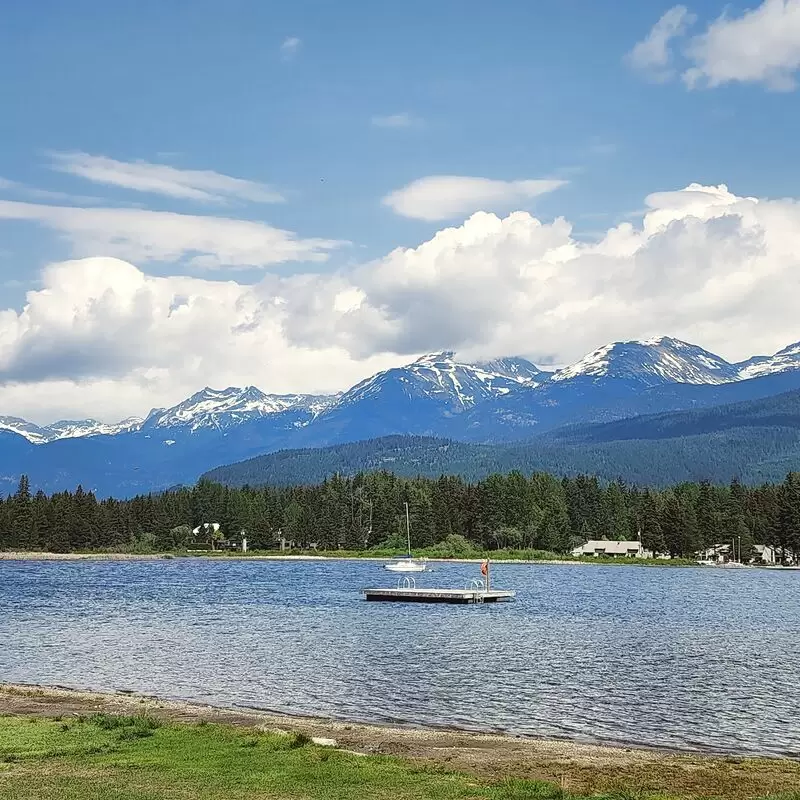 Rainbow Park
Valley Trail, Whistler
11. Whistler Mountain Bike Park
Visit the Whistler Mountain Bike Park and experience pure adrenaline! This world-class facility offers spectacular terrain for all skill levels. Spin and roll down the pro drops and ramps, then catch your breath against the stunning backdrop of the British Columbia mountains. Want an extra thrill? Try the twilight moonlight rides! And it's close to the enchanting Lost Lake Park, the perfect spot for a relaxing post-ride picnic. Explore your brave side at Whistler Mountain Bike Park.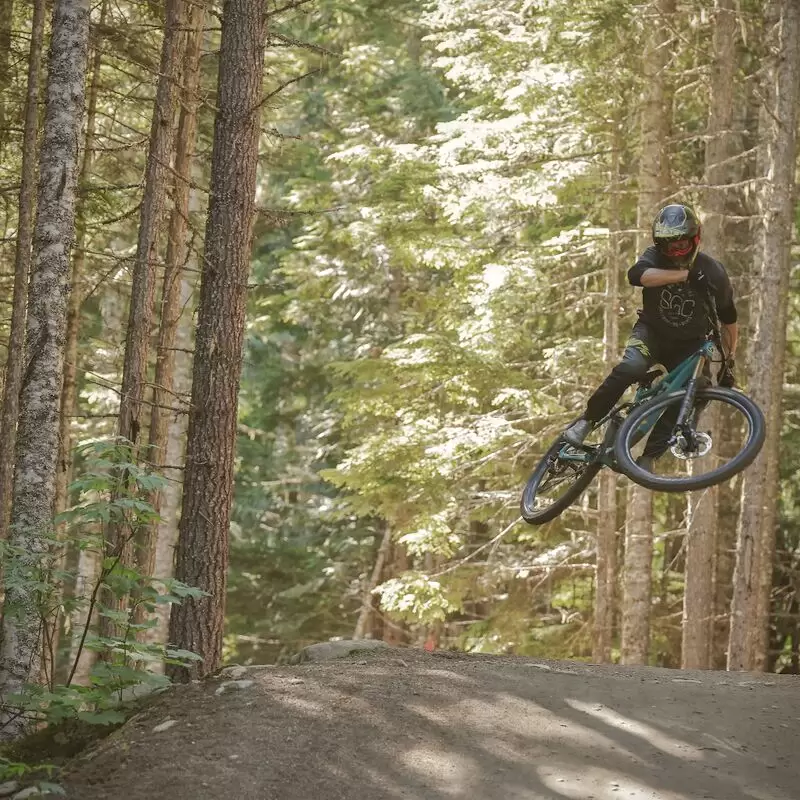 Whistler Mountain Bike Park
4282 Mountain Square, Whistler
Monday - Sunday: 10:15 AM – 7:00 PM
12. Whistler Bungee Bridge
Take a thrilling leap off the Whistler Bungee Bridge, one of the best adrenaline attractions in Whistler. With the breathtaking Cheakamus River rushing below you, your heart will be pounding as you plummet 160 feet into the pristine wilderness of Whistler Valley. Not for the faint of heart, but a real must-do! A cozy extra: in winter, local guides often prepare hot cocoa for the adventurous. Afterwards, you can visit the nearby Train Wreck - a unique site featuring abandoned train cars decorated with graffiti.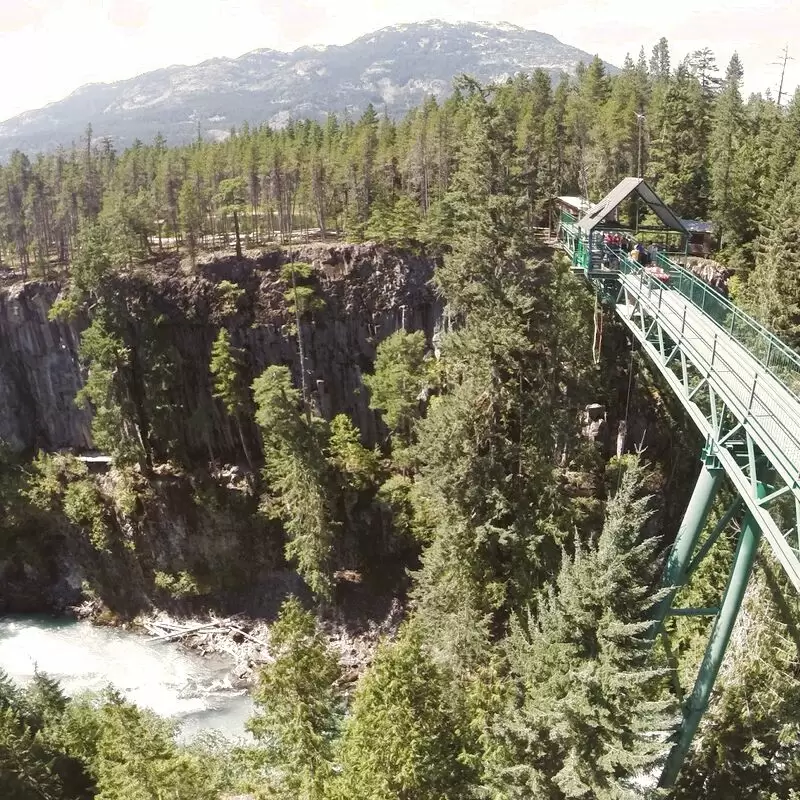 Whistler Bungee Bridge
Calcheak Forest Service Rd, Whistler
13. Lost Lake Park

Experience the tranquil beauty of Whistler at Lost Lake Park, a must-visit natural gem surrounded by lush greenery and pine-scented trails. Walk, hike or bike around the peaceful lake or enjoy a picnic on its shimmering shores. Immerse yourself in its tranquility, a treasure trove for photographers. In winter, the incomparable cross-country ski trails attract snow enthusiasts.

A little insider tip: look for the enchanting "fairy houses" along the trails nearby. Don't miss the mesmerizing views from Green Lake Lookout, just a short hike away.

Lost Lake Park
4700 Lost Lake Rd, Whistler

Monday - Sunday: 11:00 AM – 5:00 PM
14. Squamish Lil'wat Cultural Centre
Immerse yourself in the rich history and culture of the Squamish and Lil'wat people at the Squamish Lil'wat Cultural Centre. Here, First Nations art and stories are showcased through exhibits, traditional crafts and interactive activities. Marvel at drumming demonstrations and enjoy a Bannock meal. The center is set amidst stunning forest and mountain scenery, just a stone's throw from beautiful Lost Lake, another remarkable place to visit while in Whistler.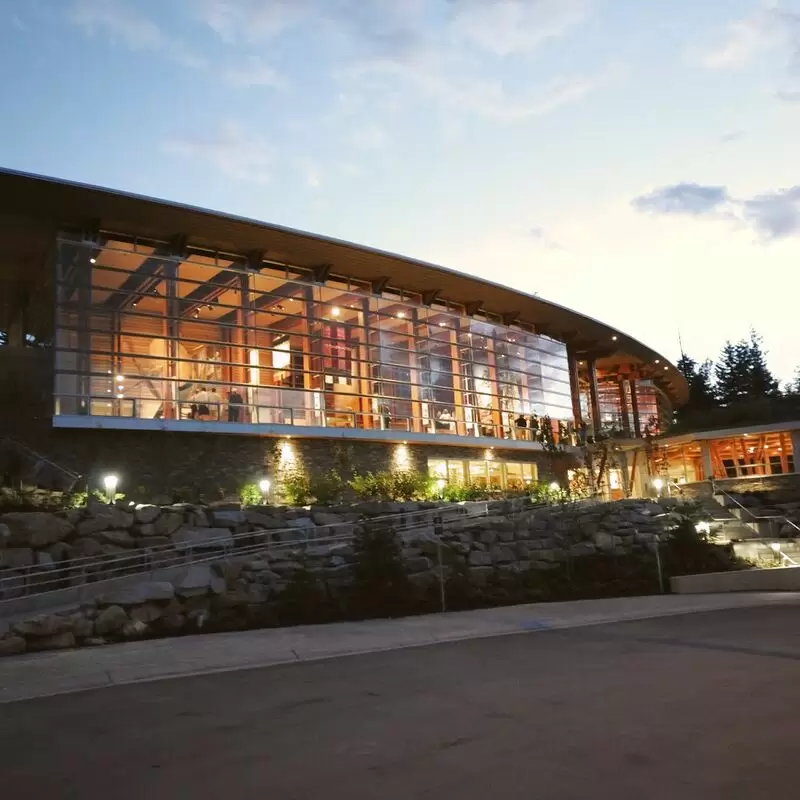 Squamish Lil'wat Cultural Centre
4584 Blackcomb Way, Whistler
Monday: Closed
Tuesday - Sunday: 10:00 AM – 5:00 PM
15. Whistler Olympic Park

Immerse yourself in Canada's Olympic history at Whistler Olympic Park. Take part in heart-pounding biathlon and ski jumping routines or enjoy a peaceful snowshoe hike. In summer, explore the verdant valleys by mountain bike.

An insider tip: try out "biathlon rifle shooting", which offers a unique thrill. Another plus: the breathtaking Alexander Falls are just a short drive away and are perfect for a refreshing swim after your adventure. It's more than a park, it's the epitome of Canadian wilderness and the Olympic spirit.

Whistler Olympic Park
1500 Callaghan Rd, Whistler

Monday - Sunday: 8:00 AM – 8:00 PM
16. Scandinave Spa Whistler
Scandinave Spa Whistler is undeniably an oasis of tranquility amidst the alpine backdrop. The ritual of Scandinavian baths offers rejuvenation for mind and body. It's breathtaking at any time of year, but the snowfall in winter brings out its beauty even more. Less known is the fact that the baths are open until 9 pm. After a day on the slopes, a dip in the heated outdoor pools under the stars is a treat. Nearby is Lost Lake Park, which offers charming forest trails and a quiet swimming hole.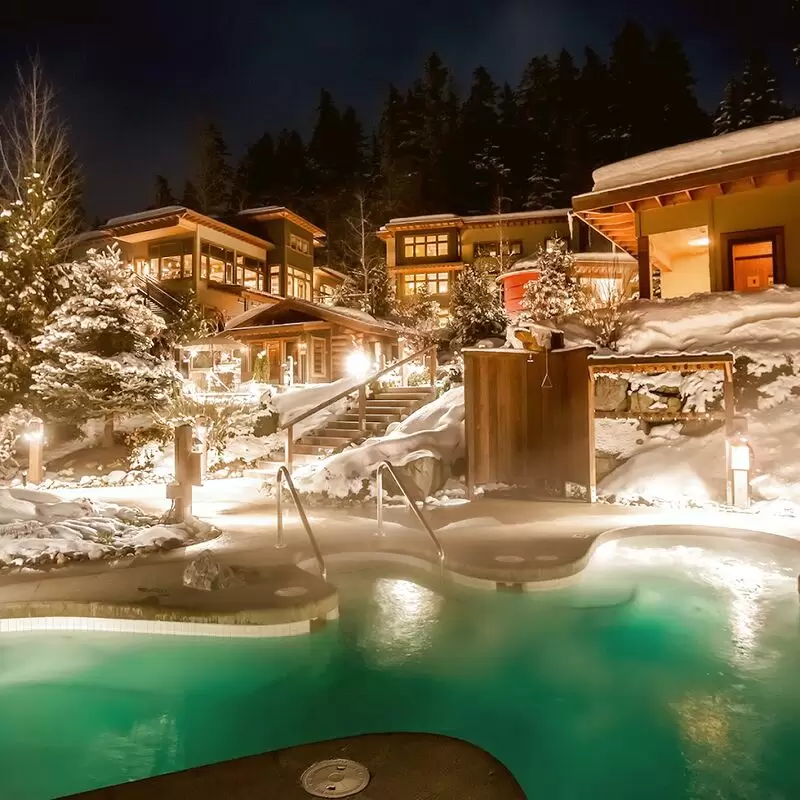 Scandinave Spa Whistler
8010 Mons Rd, Whistler
Monday - Sunday: 10:00 AM – 9:00 PM
17. Audain Art Museum
A visit to the Audain Art Museum will immerse you in the unique and rich culture of British Columbia. This architectural gem houses an exquisite collection of indigenous art and contemporary works that will give you a unique sense of the region's past, present and future. If you're lucky, you might see one of the special exhibitions. Just steps away is the charming Village Stroll with its delightful stores and eateries - a perfect day out in Whistler!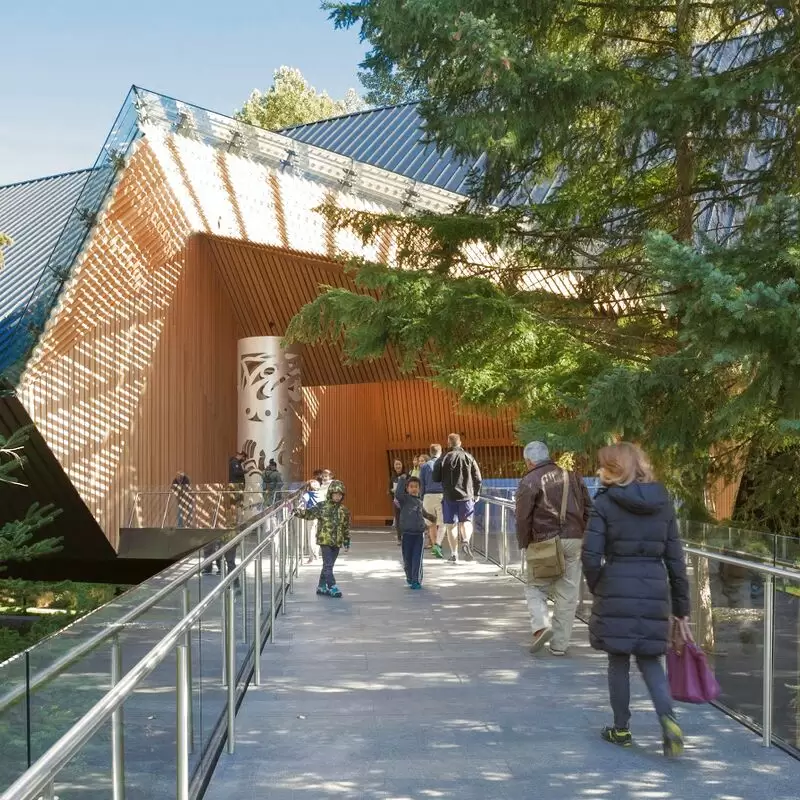 Audain Art Museum
4350 Blackcomb Way, Whistler
Monday - Sunday: 11:00 AM – 6:00 PM
Tuesday - Wednesday: Closed
18. Blackcomb Peak
Be awed by the majesty of Blackcomb Peak in Whistler. This colossal mountain promises an unparalleled mix of extreme sports, hiking trails, and pristine views. Indulge in the ultimate skiing experience or enjoy the magic of snowboarding on the icy slopes. The Peak 2 Peak gondola offers breathtaking panoramic views of the valley below. An insider's tip is Horstman Glacier, a hidden gem at the top of Blackcomb where you can also ski in summer. Just a stone's throw away, Whistler Mountain is waiting for you to explore.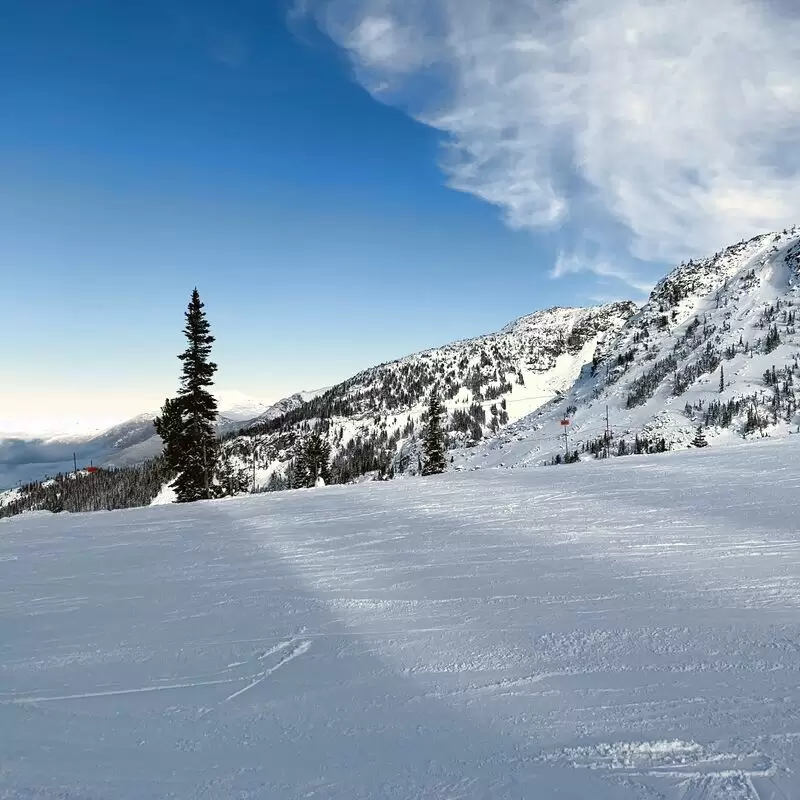 Blackcomb Peak
Blackcomb Peak, Whistler
19. Vallea Lumina
Immerse yourself in the enchanting "Vallea Lumina" - Whistler's dazzling night walk. As dusk falls, embark on a surreal journey through an illuminated forest brought to life by mesmerizing lights, sounds and special effects. It's a must-see experience that's atmospheric, interactive and absolutely unforgettable! It's also just a short drive from the Squamish Lil'wat Cultural Centre, a place where you can deepen your understanding of the local indigenous culture. Don't miss it and bring the magic to your Whistler adventure!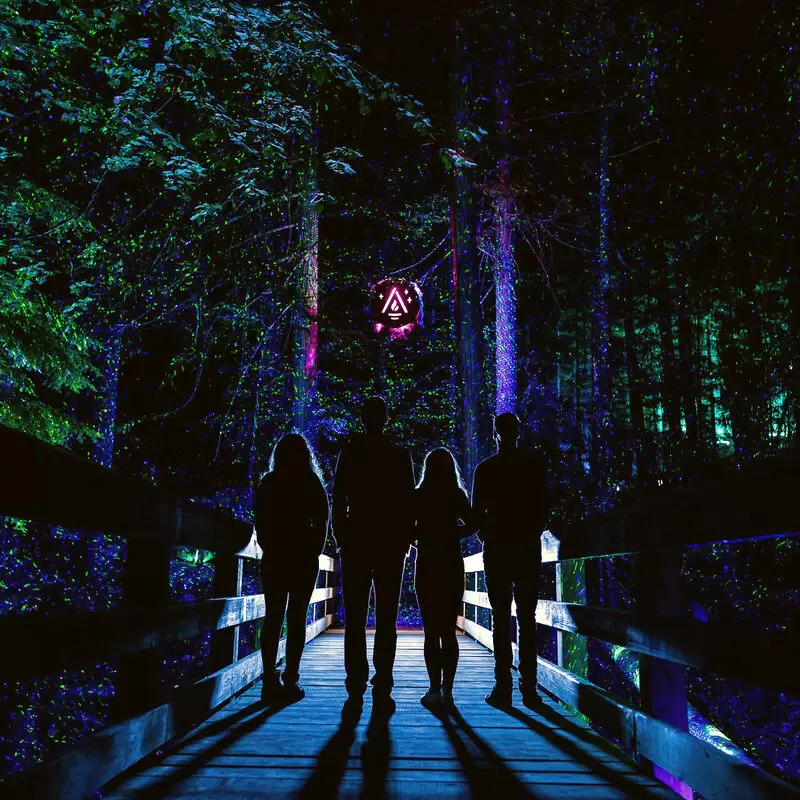 Vallea Lumina
Sixteen Mile Creek Forest Service Rd, Whistler
Monday - Sunday: 10:00 PM – 12:00 AM
20. Lakeside Park
Lakeside Park in Whistler offers an unforgettable experience for nature lovers. The crystal clear lake invites swimming and paddling in the warm months, while the snow-capped mountains provide a stunning backdrop for photo shoots in winter. The park also offers barbecue grills and picnic tables for casual al fresco dining. Don't miss the hidden trail at the western end for a peaceful stroll. Nearby, you can visit Alta Lake Park for canoeing and kayaking.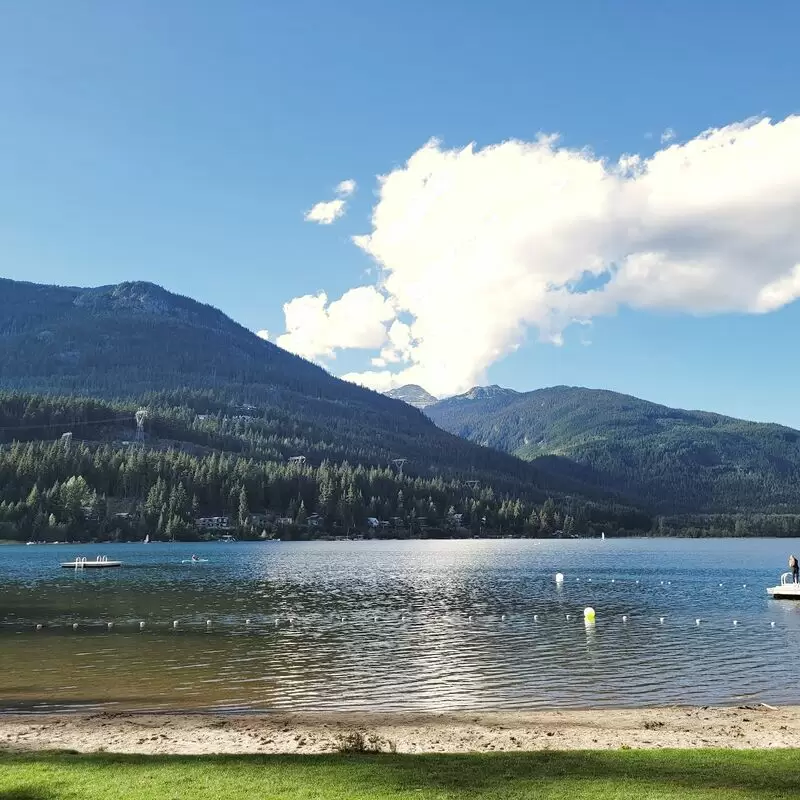 Lakeside Park
3375 Lakeside Rd, Whistler
Monday - Sunday: 9:00 AM – 5:00 PM
21. Harbour Air Seaplanes

Experience the dizzying heights of adventure at Harbour Air Seaplanes in Whistler! Take a seat in a classic seaplane and soar to experience the breathtaking scenery from a bird's eye view.

Here's an insider tip: secure a window seat to enjoy a breathtaking mountain panorama! Don't miss the enchanting beauty of Green Lake, which transforms into a shimmering emerald jewel from a bird's eye view. Elevate your Whistler experience to new heights!

Harbour Air Seaplanes
8069 Nicklaus N Blvd, Whistler

Monday - Sunday: 9:00 AM – 6:00 PM
22. Whistler Visitor Centre

The Whistler Visitor Centre is a must for any traveler looking to explore the heart of Whistler.

Get insider tips from local experts, learn about the rich history of this picturesque town, plan exciting adventures, and keep an eye out for seasonal specials. Also check out the nearby Olympic Plaza with its iconic Olympic rings, and don't forget the hidden treasures that local experts can guide you to. A visit to the Visitor Centre is an essential start to your unforgettable Whistler adventure.

Whistler Visitor Centre
4230 Gateway Dr, Whistler

Monday - Sunday: 9:00 AM – 5:00 PM
23. Alpha Lake Park
Alpha Lake Park is a gem in Whistler whose views will take your breath away. Located at the base of the towering Tantalus Range, the tranquil setting is perfect for picnics, long walks and bird watching. In the summer, the park comes alive with a floating dock for relaxing lake swimming and stand-up paddleboarding. Don't miss the secret dog beach nicknamed "Arfa Park." Just a stone's throw away is the famous Creekside Village with its world-class restaurants and stores.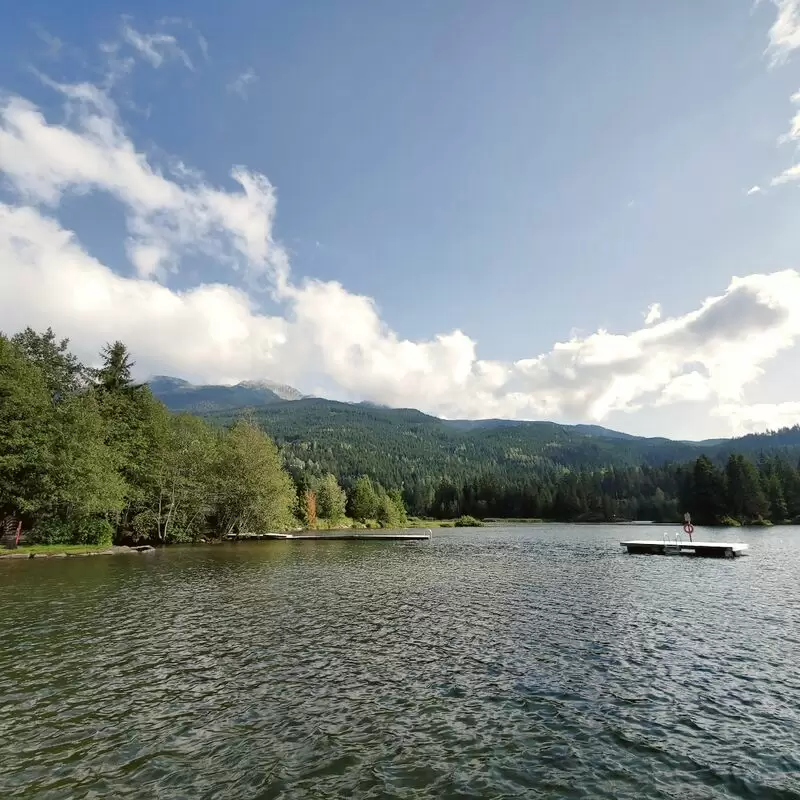 Alpha Lake Park
Whistler
Monday - Sunday: 5:00 AM – 9:30 PM
24. Ziptrek Ecotours
If you're looking for a breathtaking adventure surrounded by nature, Ziptrek Ecotours should be at the top of your list. Experience the wild beauty of Whistler from an exciting perspective as you zip through old growth forests and across breathtaking river valleys. Ziptrek offers extensive ecological education as part of your trip. Plus, Ziptrek is just steps from the Whistler Village gondola and a stone's throw from the Squamish Lil'wat Cultural Centre - so you'll see Whistler from different angles in just minutes.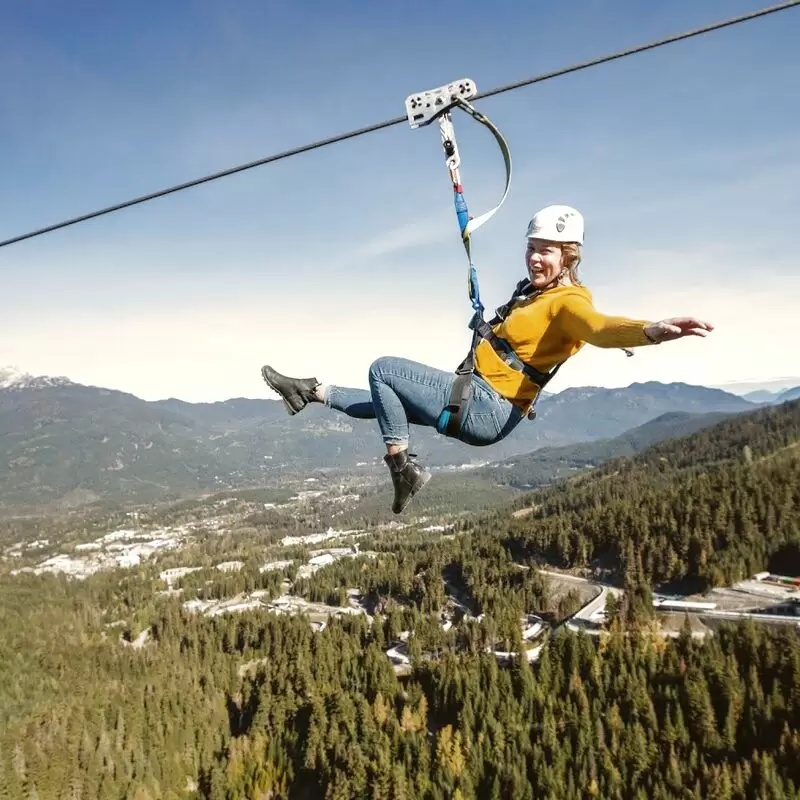 Ziptrek Ecotours
4282 Mountain Square, Whistler
Monday - Sunday: 8:00 AM – 6:00 PM
Best Time to Visit Whistler
The best time to visit Whistler depends on your choice of activities. For skiing and snowboarding, mid-December to March is perfect. If you prefer biking or hiking, mid-June through August offers warm weather. October and November tend to be quieter, but good for those seeking peace and quiet.
Annual Weather in Whistler
Whistler 3-Day Forecast
Wed, 20 September
Night
43 °F
6 °C
0%
Morning
42 °F
5 °C
0%
Afternoon
55 °F
13 °C
0%
Evening
48 °F
9 °C
0%
Thu, 21 September
Night
30 °F
-1 °C
0%
Morning
38 °F
3 °C
0%
Afternoon
62 °F
16 °C
0%
Evening
50 °F
10 °C
0%
Fri, 22 September
Night
35 °F
2 °C
0%
Morning
41 °F
5 °C
0%
Afternoon
63 °F
17 °C
0%
Evening
48 °F
9 °C
0%
Questions & Answers

How to reach Whistler from Vancouver?

Whistler is located about 121 km north of Vancouver. The most popular way to get there is by car via Highway 99, also known as the Sea-to-Sky Highway, which offers breathtaking views along the way. Alternatively, you can take a shuttle bus, limousine or helicopter ride. For a more scenic route, you can take the Whistler Mountaineer train. Note that winter driving may require winter tires due to snow and ice on the roads.

Is cycling popular in Whistler?

Yes, biking is incredibly popular in Whistler. The region offers a variety of options for all skill levels, whether it's quiet valley trails, heart-pounding downhill trails, or Whistler's world-famous bike park. The region also hosts a variety of cycling events throughout the year. The beautifully maintained trails, immaculate landscapes and bike-friendly facilities make Whistler a paradise for cycling enthusiasts.

What are the visa requirements for visiting Whistler?

Visitors traveling to Whistler from outside Canada must comply with standard Canadian visa requirements. This usually involves applying for a visitor or tourist visa. Countries such as the United States, European Union, Australia and New Zealand have visa waiver agreements with Canada. However, visitors may still need an electronic travel authorization (eTA). It is recommended to check the requirements for the visitor's particular nationality on the official Government of Canada Immigration and Citizenship website.

Can I see bears in Whistler?

Yes, Whistler is home to a healthy population of black bears and it is not uncommon for visitors to see these animals, especially in the spring and summer. For a safer and more informative experience, join a bear-watching tour led by experienced local guides, usually through the bears' best habitats. This way you can ethically observe and learn more about these magnificent animals in their natural environment.

Is Whistler safe for solo travelers?

Yes, Whistler is generally very safe for solo travelers. It is a popular tourist destination with a well-developed infrastructure that makes it easy to get around. It is also very hospitable and has a worldwide reputation for outdoor activities. However, as with any other place, travelers should be aware of their surroundings and take the usual precautions, especially when participating in adventurous activities such as skiing or hiking.

What's the cost of average meals in Whistler?

The cost of meals in Whistler, Canada, can vary greatly depending on the type of restaurant. For an inexpensive meal at a basic restaurant, expect to pay between $20 and $30 CAD per person. An average dinner at a mid-range restaurant that includes an appetizer, main course and dessert can cost between 40 and 60 CAD per person. Upscale restaurants can run up to CAD 100 per person. These estimates do not include drinks and gratuities.

How to rent a cabin in Whistler?

To rent a cabin in Whistler, you'll need to research available cabins in the area through online booking platforms like Airbnb, HomeAway, or local real estate agencies that offer vacation rentals. After comparing prices and reading reviews, you can reserve the cabin of your choice by paying a deposit. Find out about any house rules or special cancellation policies before booking. Also consider the proximity to attractions or amenities you might need during your stay.

Where can I take a mountain yoga class?

In Whistler, Canada, there are several options for yoga classes in the mountains. One of the best places to enjoy a quiet yoga class in the mountains is Whistler Blackcomb Mountain. During the summer season, weekly classes are held at the Roundhouse Lodge on the mountain. The breathtaking views of the peaks and forests around you provide the perfect backdrop for your yoga class. Remember to check availability and book your spot in advance.

What are Whistler's local delicacies?

Whistler, Canada, is known for its local delicacies that reflect the region's rich, natural produce. Visitors often indulge in freshly caught British Columbia salmon, often prepared smoked or grilled. Poutine, a classic Canadian dish with fries, cheese curds and gravy, is popular with locals and tourists. For a sweet finish, be sure to try maple syrup, harvested in the region and often used in various desserts and breakfast items. Finally, given the region's cold climate, be sure to try hot, relaxing drinks like locally brewed beer and ice wine.

Are there hot springs near Whistler?

Yes, there are hot springs near Whistler, Canada. Keyhole Hot Springs, for example, is one of the most famous hot springs with several natural pools surrounded by lush forests and beautiful mountains. Another option is Sloquet Hot Springs, which is known for its healing waters. These locations offer visitors a unique opportunity to relax surrounded by nature, and both are accessible by car from Whistler. Please note that road conditions can vary and it is wise to check accessibility before traveling.

How to book a helicopter tour?

To book a helicopter tour in Whistler, you can first check out reputable companies like Blackcomb Helicopters that offer such services. Use their online booking systems to select your preferred tour, date and time. Follow the instructions for payment, which can usually be made through a secure credit card portal. Remember to be aware of any requirements or restrictions to ensure a smooth process. It is advisable to book in advance to secure your preferred seats.

Is English the main language spoken in Whistler?

Yes, English is the main language spoken in Whistler, Canada. Since Whistler is a major international tourist destination, there are also many businesses and services that cater to international visitors, so staff may speak multiple languages. However, the predominant language for signage, daily life and business transactions is English. If you have a working knowledge of English, you will have no trouble finding your way around or communicating.

What is the average daily budget for a tourist in Whistler?

The average daily budget of a tourist in Whistler, Canada, can vary greatly depending on personal needs. However, a moderate budget averages 200 CAD (150 USD) per day. This includes lodging in inexpensive to mid-range accommodations, meals at average restaurants, public transportation, and some recreational activities such as hiking or skiing. However, costs can increase significantly if you prefer luxurious accommodations, fine dining, and sophisticated activities. Be sure to plan for additional costs for ski passes, which can be quite expensive.

What is the native culture of Whistler?

Whistler in British Columbia, Canada, is part of the traditional territory of the Squamish and Lil'wat First Nations. These indigenous cultures have lived here in harmony with the forest, mountains and sea for centuries. They shared a wealth of knowledge, from traditional crafts to hunting and gathering practices. Their rich heritage can be seen in totem poles, ceremonial masks and other artifacts. Visitors can learn more about their fascinating culture at the Squamish Lil'wat Cultural Centre.

Where can I go fishing in Whistler?

In Whistler, Canada, you can fish in the quiet rivers and pristine mountain lakes. You can go to Alta Lake, one of the most famous places in Whistler for fishing rainbow trout. Another excellent choice is the River of Golden Dreams, which offers plenty of opportunities to catch bull and brown trout. You can also try your luck at Green Lake, which is known for its stunning emerald waters and is home to steelhead trout, rainbow trout and kokanee salmon.

Can I visit Whistler if I don't ski?

Absolutely! Whistler is a year-round destination with activities and attractions for all interests. In addition to skiing, you can explore scenic hiking trails, visit the Squamish Lil'wat Cultural Centre to learn more about Native culture, ride the Peak 2 Peak Gondola and enjoy breathtaking views, enjoy the local golf courses, or simply relax in a luxurious spa. There are also a variety of unique stores, restaurants and art galleries in the village itself.

What local beer brands are popular in Whistler?

Whistler is famous for its local breweries and craft beer culture. Whistler Brewing Company, one of the first craft breweries in British Columbia, is known for its true-to-style beers like Whistler Pale Ale, Whistler Lager and Forager Gluten Free Lager. Another popular local brand is Coast Mountain Brewing, known for their Daydreamer, Field Guide Ale and Sunbreak Saison. These brands, made with mountain-fresh water and locally sourced ingredients, truly embody the spirit of Whistler.

How do I get around Whistler?

There are several ways to get around in Whistler, Canada, including free shuttle buses that run throughout the city. Cabs and car rentals are also plentiful. Those who like to be more active can explore the city on foot or rent a bicycle to explore the well-maintained bike paths. During the ski season, the two mountains, Whistler and Blackcomb, are connected by a gondola, the Peak2Peak, which offers breathtaking views of the surrounding landscape.

What flora and fauna can be seen in Whistler?

Whistler, Canada, offers tremendous biodiversity with its lush forests teeming with Western Hemlock, Douglas Fir and Red Cedar. Indian Paintbrush and Lupines bloom in the mountain meadows. Spectacular wildlife coexists in this beautiful area. Black bears roam the forests and meadows, while eagles and ospreys patrol the clear skies. There are salmon and trout in the rivers, and if you're lucky, you might see a beaver or otter.

Where can I get the best view of Whistler?

For the best views of Whistler, take the Peak 2 Peak Gondola. The gondola takes you on an 11-minute ride between the peaks of Whistler and Blackcomb Mountains and offers a breathtaking 360-degree view of glaciers, mountain peaks and the village below. It's a mesmerizing sight, especially on a clear day. Also visit the Roundhouse Lodge observation deck at Whistler Mountain for breathtaking views of the region.

How can I learn about the history of Whistler?

The best way to learn about Whistler's history is to visit the Whistler Museum, located downtown. Here you can discover the region's rich past, from its beginnings as a fishing lodge to the construction of the Pacific Great Eastern Railway to its development into a world-class ski resort. Interactive displays and knowledgeable staff offer a glimpse into Whistler's cultural, social and environmental history, showing how it evolved into the popular destination it is today.

Can I see the Northern Lights in Whistler?

Yes, it is possible to see northern lights in Whistler, Canada. This amazing spectacle, also known as the Aurora Borealis, occurs when solar particles collide with atmospheric gases. The best time to see the Northern Lights is during the dark, clear winter months. There are also several tour operators that offer special Northern Lights tours so that visitors have a better chance of seeing this magnificent celestial spectacle.

Does Whistler have nightlife?

Of course, Whistler is not only known for its daytime activities, but also for its vibrant nightlife. The village is home to many lively bars, nightclubs and restaurants that cater to a variety of tastes. From vibrant dance floors to quiet, cozy places for cocktails, there is something for everyone. Live music, DJs, and special events can also be found throughout the year, ensuring that Whistler's nightlife keeps visitors entertained long after the sun goes down.

Where are the best photo spots in Whistler?

Whistler offers some of the most beautiful photo opportunities on the Mountain Top Scenic Route, which provides breathtaking views of the snow-capped mountain peaks. Crystal clear Green Lake is an equally enchanting spot, showcasing the region's verdant forests and wildlife. The pedestrian-friendly Whistler Village is perfect for vibrant street photography. The surreal shimmering blue ice caves of Whistler Blackcomb are not to be missed. Make sure you have your camera ready to capture these unforgettable sights.

Should I tip in Whistler?

Yes, tipping is common in Whistler, Canada. It is common to tip about 15-20% on the total bill before tax in restaurants. For good service in bars and cafes, a tip of $1-$2 per drink is the norm. Hotel staff such as bellhops and maids are also happy to receive tips. However, the amount of tip is completely discretionary and should be based on the quality of service you received.

How does public transportation work in Whistler?

Whistler offers a comprehensive public transportation system operated by BC Transit that connects the main neighborhoods and attractions. Buses run frequently and offer trips from early morning to late evening. You can pay cash on the bus or use rechargeable tickets, which can be purchased at designated locations. Seasonal shuttle services are also offered, such as the free village shuttle. There is also the option of using cabs or rideshare apps for direct routes.

Can I rent a car in Whistler?

Yes, you can rent a car in Whistler, Canada. There are several international and local car rental companies in Whistler where you can rent a wide range of models to suit your needs. With a rental car, you are very flexible and can explore the beautiful surroundings at your own pace. However, parking in Whistler can be difficult during high season, so you should take this into consideration when planning your trip.

Can I walk around Whistler?

Yes, you can definitely walk in Whistler. The city's pedestrian-friendly layout is made for exploring on foot. You can stroll through the picturesque Village Stroll, visit boutiques, galleries and museums, or take walks through Whistler's beautiful parks. There are also numerous hiking trails where you can admire magnificent mountain vistas, lush forests and clear lakes. Remember to wear comfortable shoes to withstand the many walks.

Can I bring my pet to Whistler?

Yes, Whistler is considered a pet-friendly destination. In many accommodations, your fluffy friends are welcomed with open arms. Your pet can enjoy the great outdoors in the many parks and on the numerous hiking trails. However, make sure your hotel or accommodation allows pets before you make your booking. Remember to respect the local wildlife and clean up your pet's mess.

What emergency services are available in Whistler?

Whistler, Canada, offers comprehensive emergency services for the safety and well-being of residents and visitors. The city has a well-equipped hospital, the Whistler Health Care Centre, where urgent care and emergency services are available. The Whistler Fire Rescue Service and the Royal Canadian Mounted Police provide fire and police services, respectively. Finally, the Whistler Search and Rescue Society is a volunteer organization that assists with backcountry emergencies. In all emergencies, 911 is the main contact number.

Feedback

I hope you found this article informative and helpful. I'm eager to improve the content and make it even more valuable for you. If you have any feedback or suggestions, I would love to hear from you.

Do you have any tips or hidden gems that you think should be added to the list? Are there any areas that you feel could use more explanation or clarification?

Your input is greatly appreciated and will help us to continue providing high-quality content that meets your needs and interests. Please feel free to share your thoughts.