1. Lakeland Motor Museum
The Lakeland Motor Museum in Windermere is a car lover's paradise with over 30,000 exhibits tracing the evolution of road transport over the centuries. This hidden gem features everything from vintage cars to motorcycles and pedal cars. The highlight is the "Campbell Bluebird Exhibition," where speed records are celebrated. A nostalgic excursion that brings history to life! Intensify your excursion with a nautical touch by also visiting the Windermere Jetty Museum, just a stone's throw away!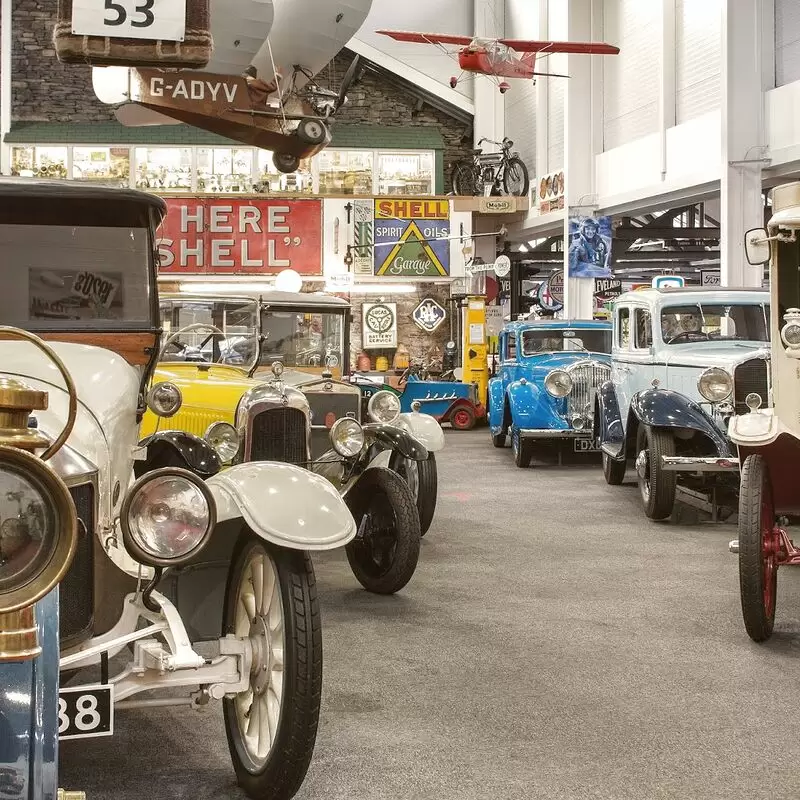 Lakeland Motor Museum
Old Blue Mill, Backbarrow, Ulverston
Monday - Sunday: 9:30 AM – 5:30 PM
2. Aira Force Waterfall
Aira Force Waterfall is a captivating attraction in Windermere that offers an enchanting display of nature's raw power. Hike through a beautiful wooded area and be amazed by the thundering cascade that plunges 65 feet into a verdant gorge. Bring your camera to capture the rainbow that often forms in the mist, and a commemorative coin to make a wish at the traditional wishing tree nearby. While you're in the area, don't miss the Ullswater Steamers, just a short drive away, offering a breezy boat ride amid stunning lake views.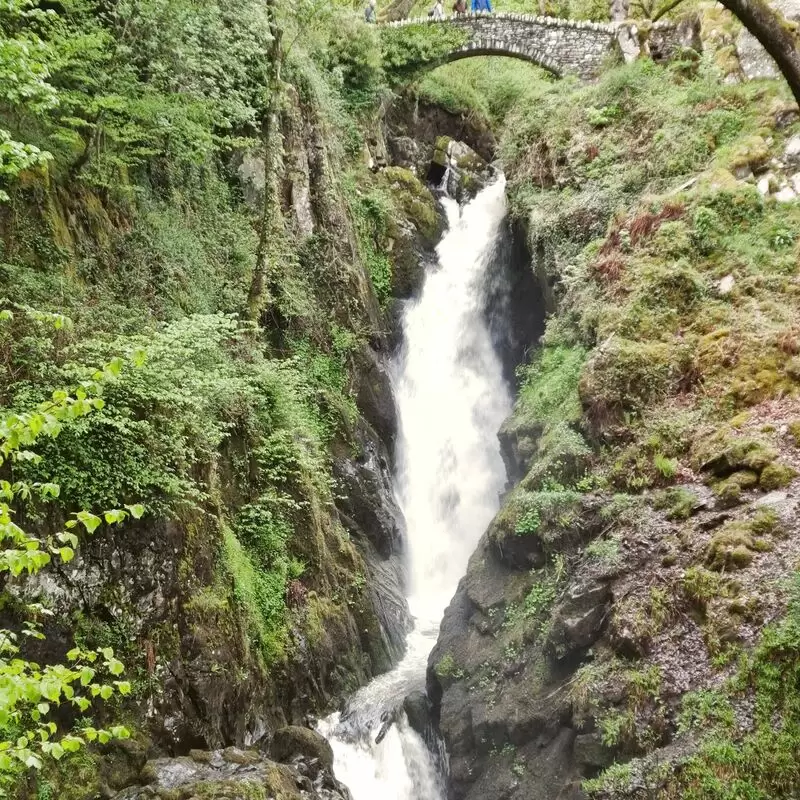 Aira Force Waterfall
Matterdale, Penrith
Monday - Sunday: Open 24 hours
3. Castlerigg Stone Circle
The stone circle of Castlerigg, which surrounds Windermere with its mystical aura, is an absolute must visit. Dating back to 3000 BC, it is one of the oldest in Britain and offers panoramic views of the Helvellyn and High Seat mountains. This prehistoric gem is free to enter and free of charge! Fun insider fact: locals call it "Druid's Circle." And don't forget to explore the quaint town of Keswick, just 1.5 miles away. Marvel at the charm of the Lake District - it's more than just a stone circle, it's a step back in time!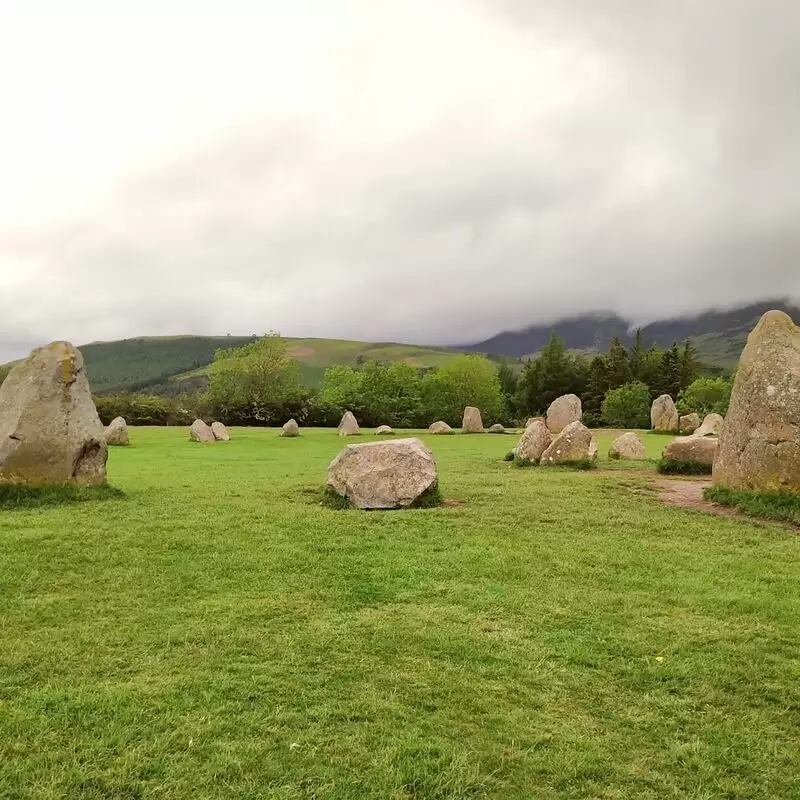 4. Whinlatter Forest
Embark on an adventure in Whinlatter Forest, Windermere's quiet, woodland retreat! Known as England's only true mountain forest, it offers breathtaking views, nature trails, and a Go-Ape course for adventure seekers. Venture off the beaten path to secret picnic spots known only to regulars. The nearby Osprey Project offers unique bird-watching opportunities. After a short drive, you'll reach the charming market town of Keswick, which offers a perfect opportunity for further exploration.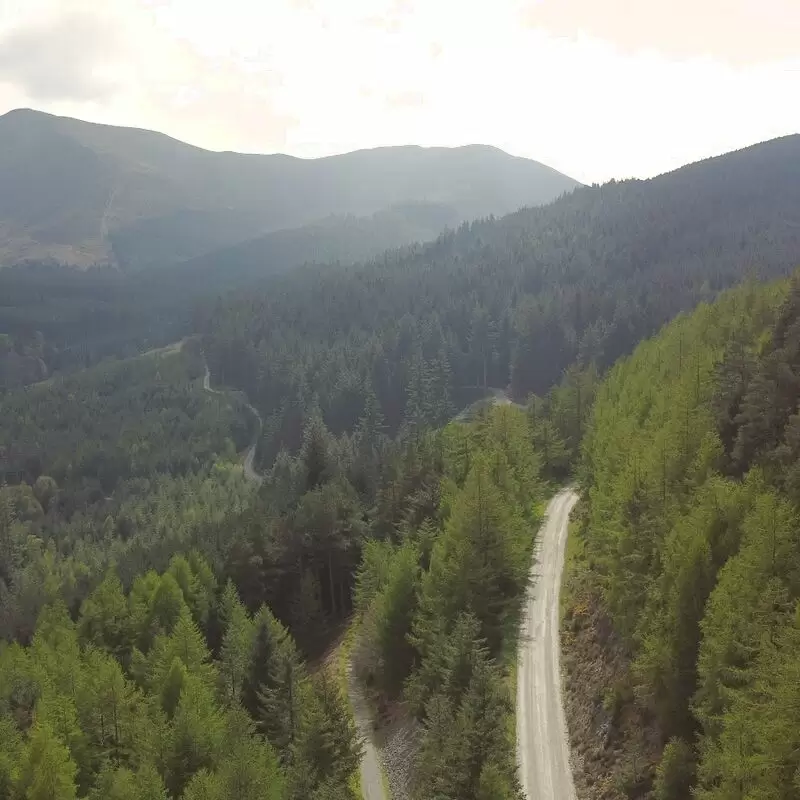 Whinlatter Forest
Whinlatter Pass, Keswick
Monday - Sunday: 8:30 AM – 8:30 PM
5. National Trust Sizergh
National Trust - Sizergh is a must visit in Windermere! Here you'll find magnificent Elizabethan architecture, enchanting woodlands and vibrant lakeside gardens. Imagine walking in the footsteps of the centuries as you stroll through the intricately carved Inlaid Chamber. Since it's a bit off the beaten path, it's rarely crowded. You'll also find Levens Hall Gardens, another aesthetic marvel, just minutes away. Get lost in the world's oldest topiary garden - a perfect pairing for a day of natural beauty and history.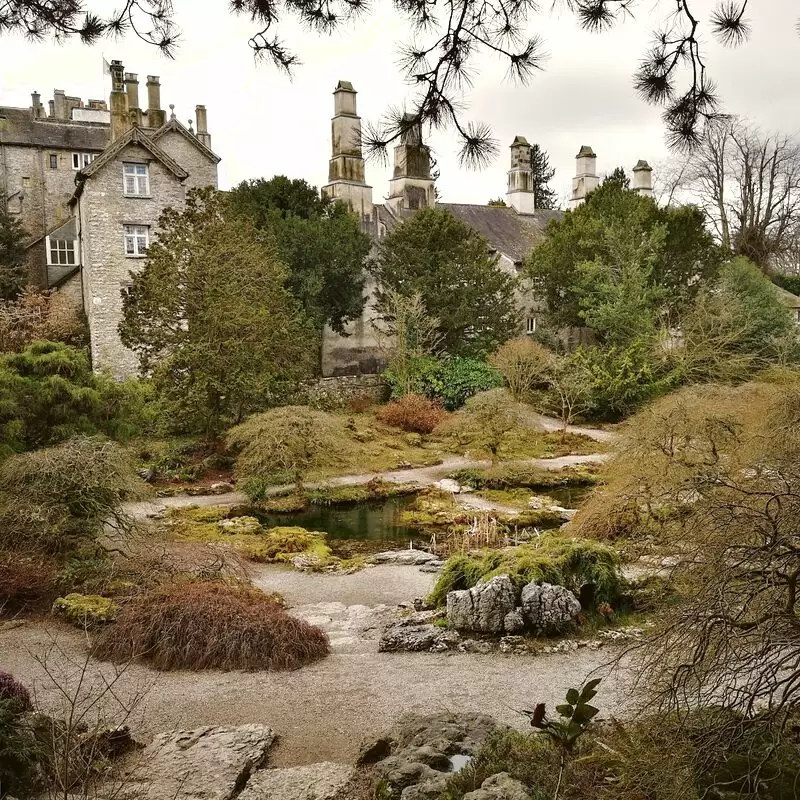 National Trust Sizergh
Sizergh, Kendal
Monday - Sunday: 10:00 AM – 4:00 PM
6. Lowther Castle & Gardens
Immerse yourself in the grandeur of Lowther Castle & Gardens, where a realm of mystery, beauty and history unfolds. Discover the dramatic Gothic ruins in the heart of the Lake District that tell stories of fascinating English nobility. The site is famous for its selective lighting at dusk, creating a heavenly experience. Enjoy the paradise of the 130 acres of perfectly landscaped gardens. Just a 25-minute drive away, you can explore one of England's finest stately homes, Dalemain Mansion & Historic Gardens, to broaden your cultural spectrum.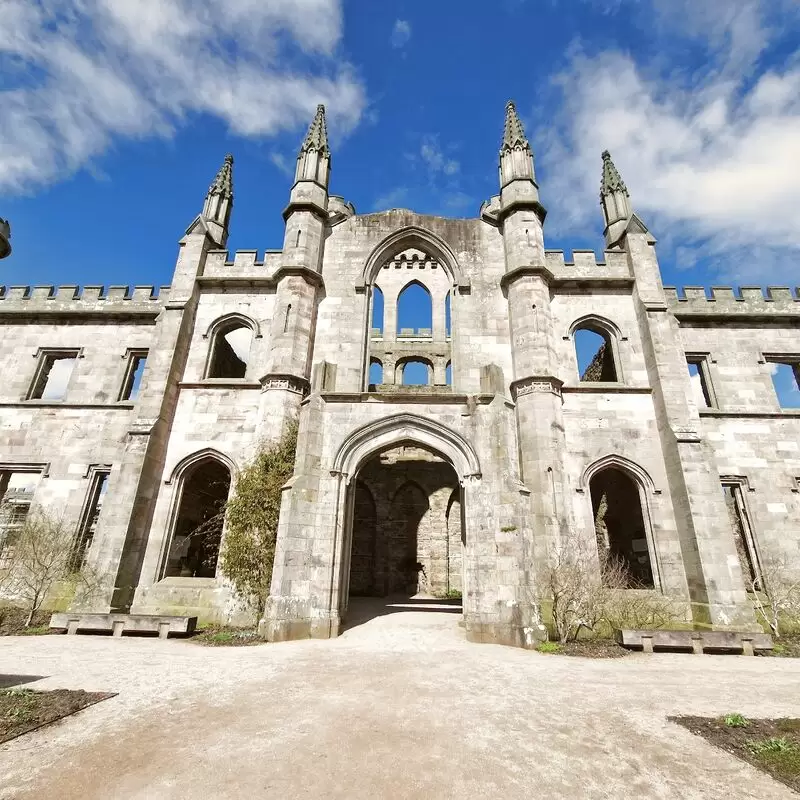 Lowther Castle & Gardens
Lowther, Penrith
Monday - Sunday: 10:00 AM – 5:00 PM
7. Windermere
Windermere in the United Kingdom is a must for nature lovers, as the breathtaking landscape is adorned by the largest natural lake in England. Embark on an unforgettable boat trip and enjoy panoramic views of the emerald green mountains. Don't miss the secret hidden paths that will give you the taste of solitude in the middle of nature. After exploring Windermere, we recommend a short trip to the nearby picturesque village of Bowness-on-Windermere, famous for its "World of Beatrix Potter" attraction.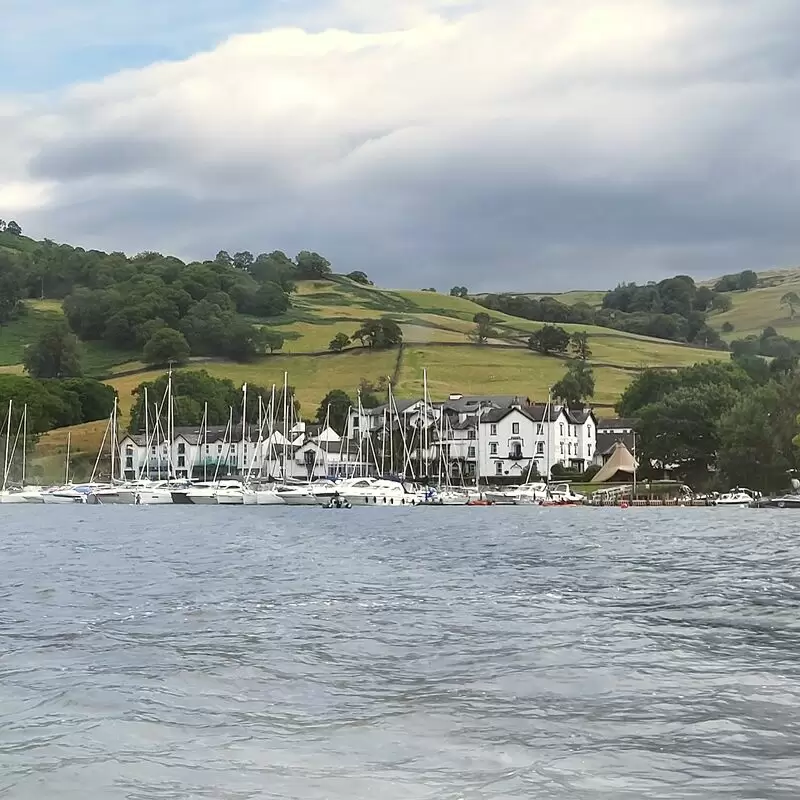 8. The World of Beatrix Potter Attraction
Immerse yourself in the magical world of Beatrix Potter at this interactive attraction. Step through life-size fairy tale scenes, meet Peter Rabbit, Mrs. Tiggy-Winkle and other beloved characters. Listen to Potter's stories through headphones and enjoy the picturesque garden. Don't miss the opportunity to eat a slice of delicious ginger cake in the quaint tea room - a favorite of Potter's! Just a short walk from Lake Windermere, it's the perfect complement to a scenic lake cruise or a visit to Hill Top, her former home.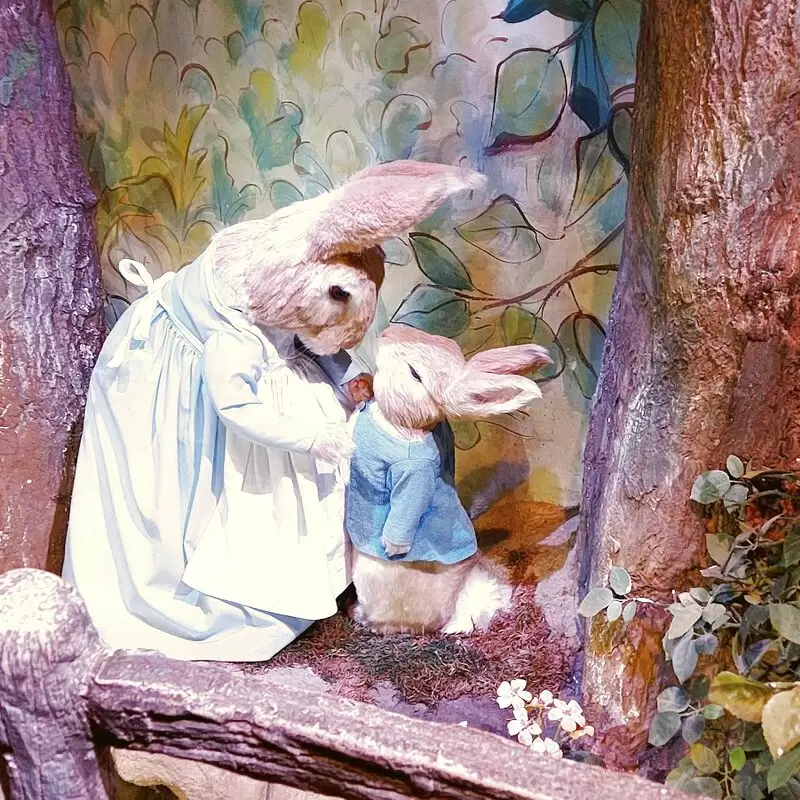 The World of Beatrix Potter Attraction
Crag Brow, Bowness-on-Windermere, Windermere
Monday - Sunday: 10:00 AM – 5:30 PM
9. Grizedale
Nestled in the enchanting Lake District countryside, Grizedale is a nature lover's paradise with fascinating wildlife, varied walking trails and an impressive sculpture park. The mesh of art and nature can be explored on foot or by bike. Hidden gems like the magnificent, tall "Cathedral" installation enhance the forest experience. Just a short drive from Grizedale, you'll find the quaint village of Hawkshead, filled with memories of Beatrix Potter, and tranquil Coniston Water.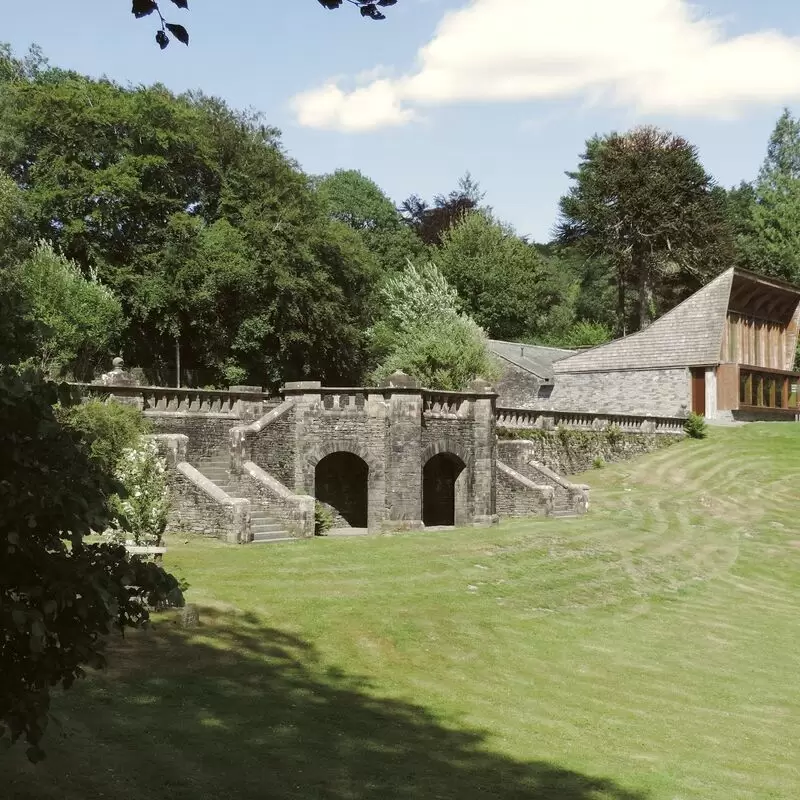 Grizedale

Monday - Sunday: 10:00 AM – 4:30 PM
10. Lakeside and Haverthwaite Railway

A must-see for history buffs, the Lakeside and Haverthwaite Railway offers a nostalgic trip back in time. This charming steam train ride offers picturesque views of the countryside and beautifully decorated historic carriages that provide a delightful contrast to our technology-driven world. Don't miss the unique Edwardian atmosphere at Haverthwaite Station's quaint café!

An insider tip is the combined boat trip on Lake Windermere, the longest lake in England, from which you can enjoy enchanting views. Just a few steps away, the splendor of the Lake Aquarium awaits your visit.

Lakeside and Haverthwaite Railway
Haverthwaite Station Nr, Ulverston

Monday - Sunday: 9:00 AM – 4:30 PM
11. Surprise View
Surprise View in Windermere is truly a hidden gem from which you can enjoy breathtaking panoramic views. Overlooking Derwentwater, Surprise View is one of the best places for a picnic as the sunset bathes the fells in a sea of orange and pink colors. This lesser-known spot offers a more secluded experience compared to the crowded Orrest Head. Ashness Bridge, about 20 minutes away, is another scenic spot nearby to explore for its classic postcard motifs.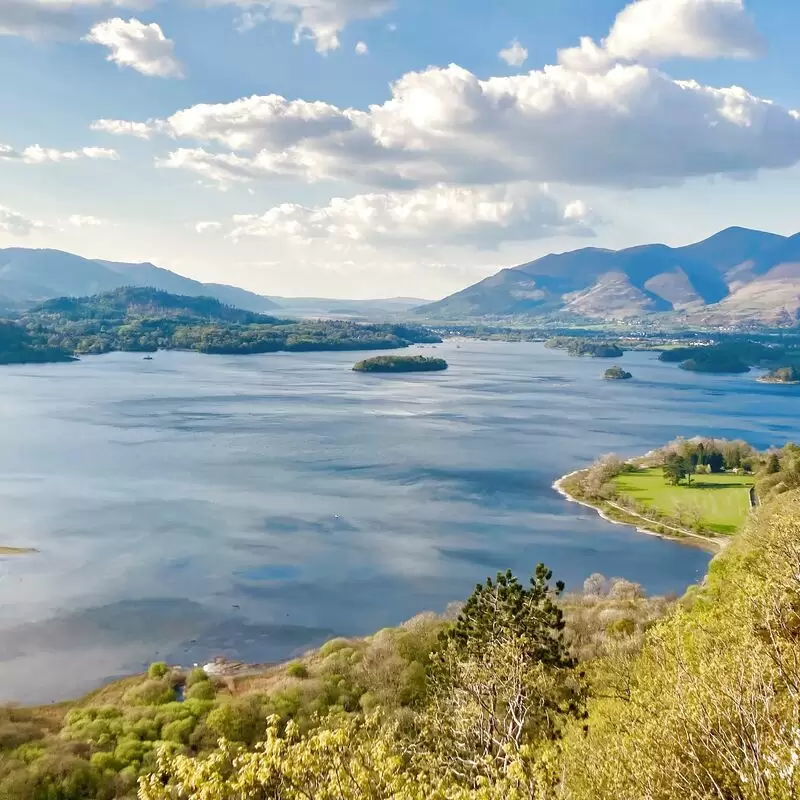 Surprise View
Borrowdale, Keswick
Monday - Sunday: Open 24 hours
12. Lake District Wildlife Park
A visit to Windermere is incomplete without visiting the Lake District Wildlife Park. Get up close and personal with over 100 species of exotic animals in their natural habitat. The exciting bird of prey show is a must-see. It's rare to encounter red pandas and anacondas just a stone's throw from quaint English towns! A short 25-minute drive to Keswick brings you to beautiful Derwentwater Lake - a relaxing retreat from the hustle and bustle of wildlife.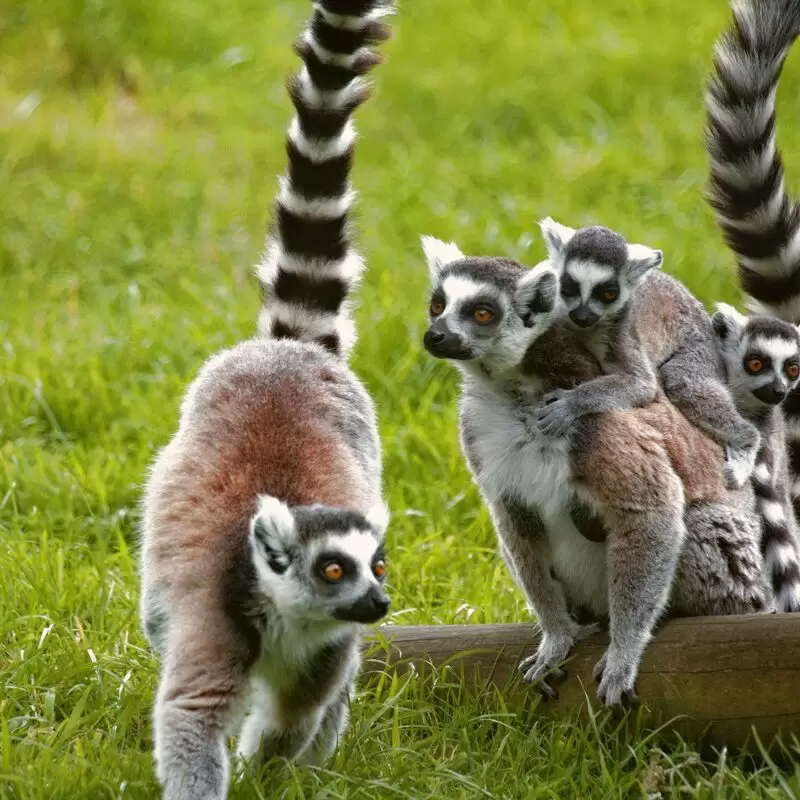 Lake District Wildlife Park
Bassenthwaite, Keswick
Monday - Sunday: 10:00 AM – 5:00 PM
13. National Trust Hill Top
Visit the charming National Trust - Hill Top, a must for fans of Beatrix Potter in Windermere. The hallowed home of the famous children's author transports you into her world of Peter Rabbit and Jemima Puddle-Duck. Look forward to charming insider info like Potter's pristine rooms, which offer a captivating snapshot of her life. Afterwards, visit the nearby village of Hawkshead with its quaint whitewashed houses, spectacular views and pretty little stores. A must-see on any Lake District itinerary.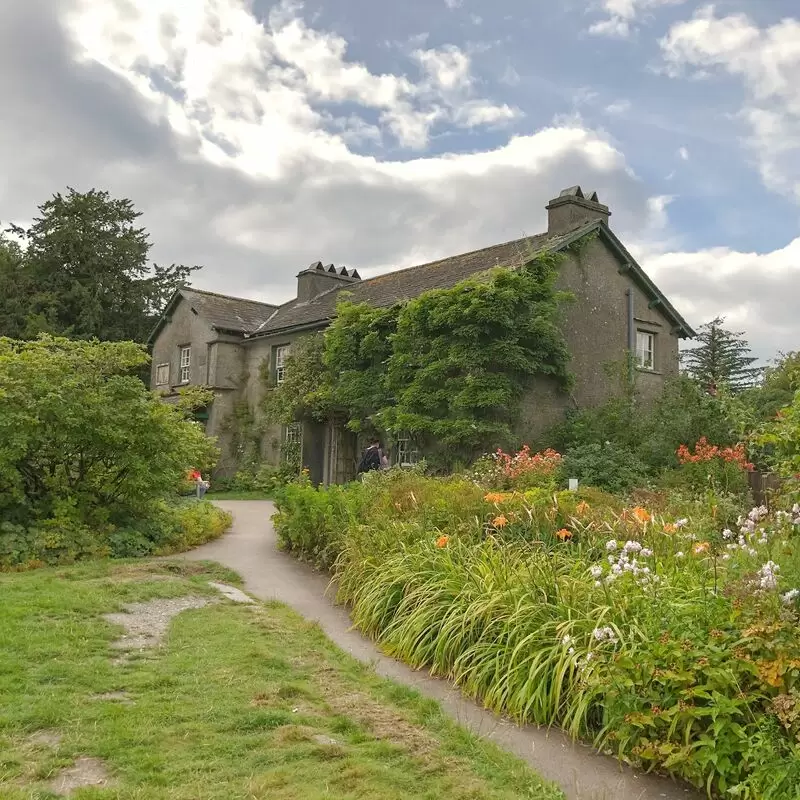 National Trust Hill Top
Near Sawrey, Ambleside
Monday - Sunday: 10:00 AM – 4:00 PM
14. Bowness Bay Marina Windermere Boat Hire

Bowness Bay Marina - Windermere Boat Hire is the epitome of Windermere's aquatic charm and an exceptional retreat in England's rural heartland. Untouched by the usual tourist trails, the scattered fleets of self-propelled boats let you explore England's largest natural lake at your own pace.

Here's an insider tip: reserve your boat for a sunrise cruise at your leisure. Just around the corner, you can reward your early morning adventure with a delicious English breakfast at the famous Bluebird Cafe!

Bowness Bay Marina Windermere Boat Hire
Winander house, Glebe Road, Bowness-on-Windermere, Windermere

Monday - Sunday: 9:00 AM – 5:30 PM
15. Friars Crag
Friars Crag, a tranquil viewpoint in Windermere, offers majestic views of Derwentwater and the surrounding fells and epitomizes the allure of the Lake District. Don't miss the Ruskin Memorial, a tribute to the famous Victorian artist and critic John Ruskin. The tranquil Borrowdale Valley, known only to some, can be seen from here - a foretaste of another beautiful place, the impressive stone circle of Castlerigg, just a short drive away.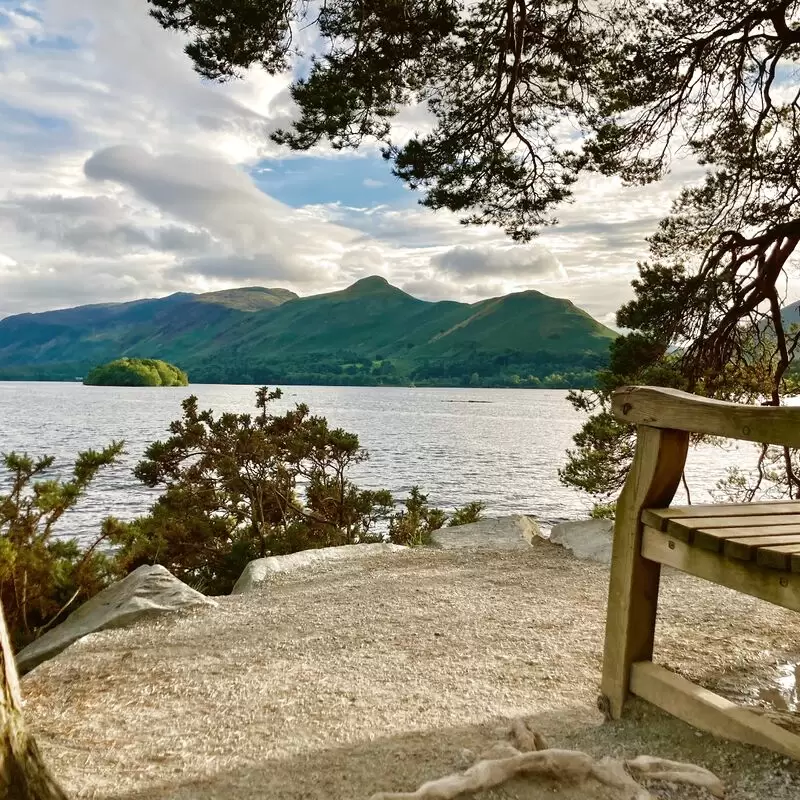 Friars Crag
Keswick CA12 5DJ
Monday - Sunday: Open 24 hours
16. Stock Ghyll Force
Stock Ghyll Force is a hidden gem in Windermere. A captivating 70-foot waterfall set amidst an enchanting woodland setting. Escape the crowds and head down winding paths inspired by local folk wisdom to marvel at an impressive waterfall. It is best viewed after heavy rain - a true spectacle. Stroll through the tranquil town of Ambleside and explore the eclectic stores or enjoy a steaming cup of coffee in a charming country café. Don't forget the humble spring daffodil display planted in honor of Wordsworth.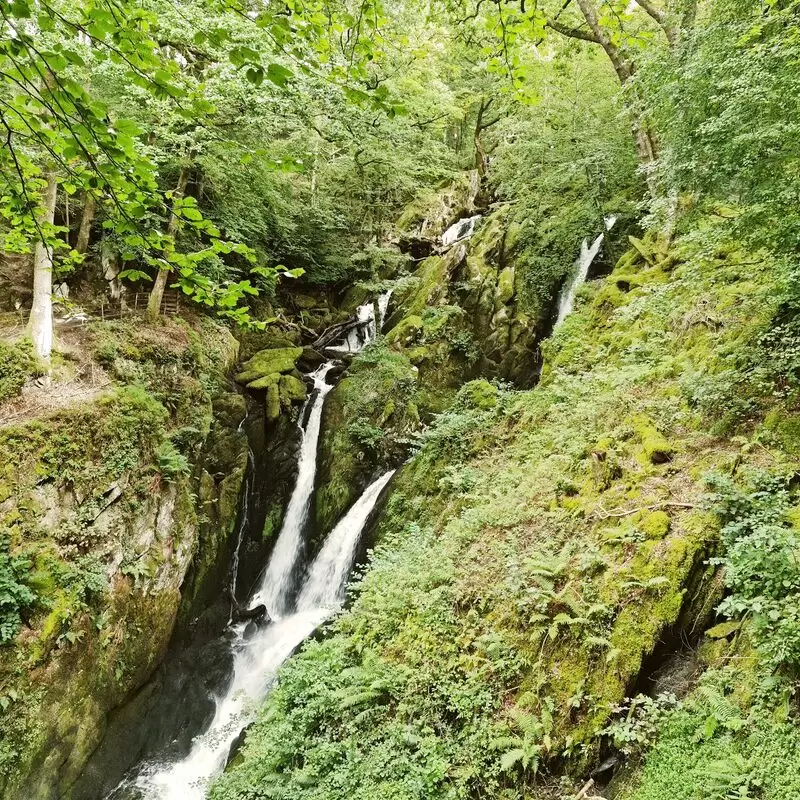 Stock Ghyll Force
6 Stockghyll Lane, Ambleside
Monday - Sunday: Open 24 hours
17. National Trust Fell Foot
At the National Trust - Fell Foot, you can tiptoe along the edge of Lake Windermere and take in the stunning scenic beauty. This Victorian park offers an adventurous atmosphere for boating, pedal boating, or just relaxing with a picnic. If you like details, be sure to explore the restored Gothic boathouse. The park also has a café that serves local delicacies. Nearby, you can visit Lakeside Pier and board a steam train on the Lakeside & Haverthwaite Railway.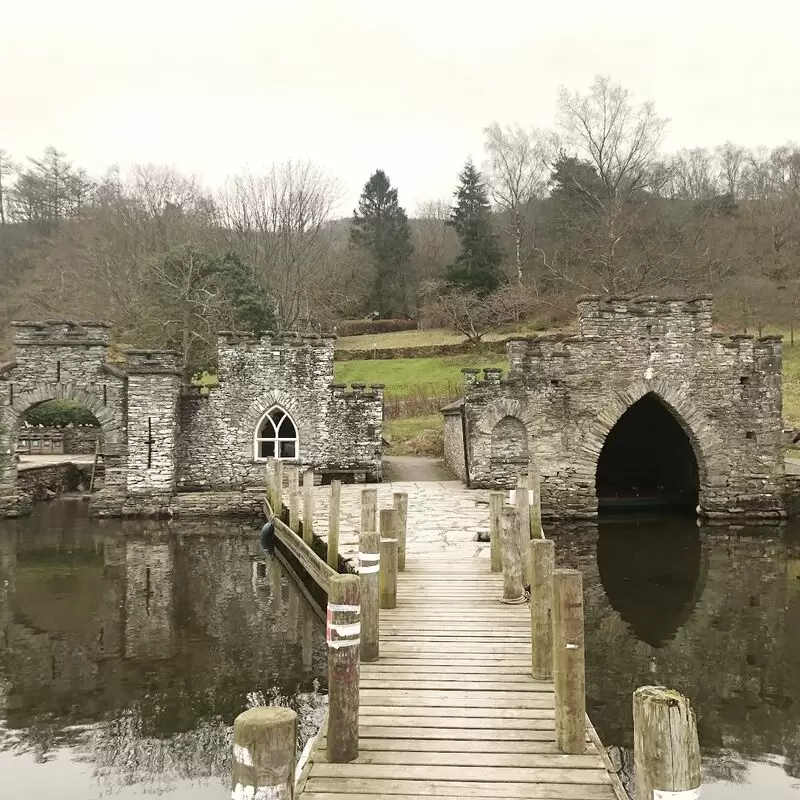 National Trust Fell Foot
Newby Bridge, Ulverston
Monday - Sunday: 9:00 AM – 5:00 PM
18. Brockhole on Windermere

Brockhole on Windermere is an absolute must-see. This natural paradise offers stunning views across the lake and is ideal for families, with a range of outdoor activities including archery, climbing, orienteering and a fantastic treetop adventure trail. The house itself is a beautiful example of Arts and Crafts architecture.

Insider tip: Don't miss the bird feeding on the grounds! Nearby is Blackwell, The Arts & Crafts House - a hidden gem of arts and crafts design and history.
19. Windermere Lake Cruises Head Office)
Dive into the heart of the Lake District with Windermere Lake Cruises and escape the waves amidst the enchanting waters. Experience a different view of the majestic mountains and verdant hillsides from the comfort of a traditional steamer. Before the boat ride, you can also visit Osborne House, a local gem, from the dock. Don't miss the commentary during the cruise that will tell you authentic stories and history. Enjoy a unique café experience on our eco-friendly ship "Swift". Along the way, visit the world of Beatrix Potter for a literary journey!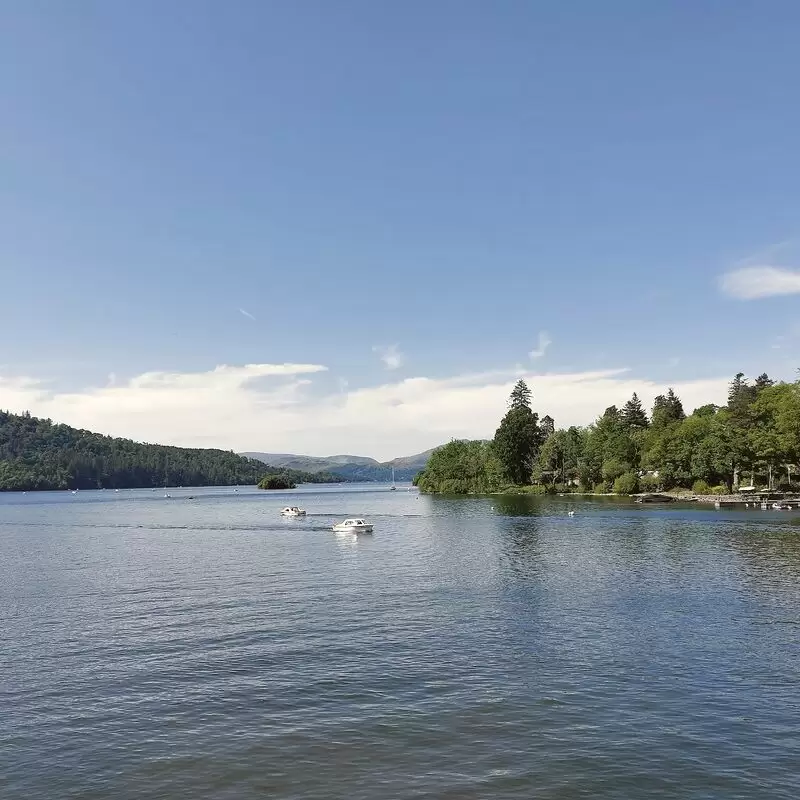 Windermere Lake Cruises Head Office)
Winander house, Glebe Road, Bowness-on-Windermere
Monday - Sunday: 8:30 AM – 6:00 PM
20. Holehird Gardens
Visit Holehird Gardens, a hidden highlight of Windermere's beauty. Imagine walking under a canopy of multicolored rhododendrons and hydrangeas, framed by alpine views. The walled garden is a secret that often escapes insiders, offering breathtaking views of Lake Windermere. Just a stone's throw away is Townend Historic House, a 17th-century farmhouse steeped in history and like a living time capsule, showcasing the rural life of Lake District farmers. Truly a must-see!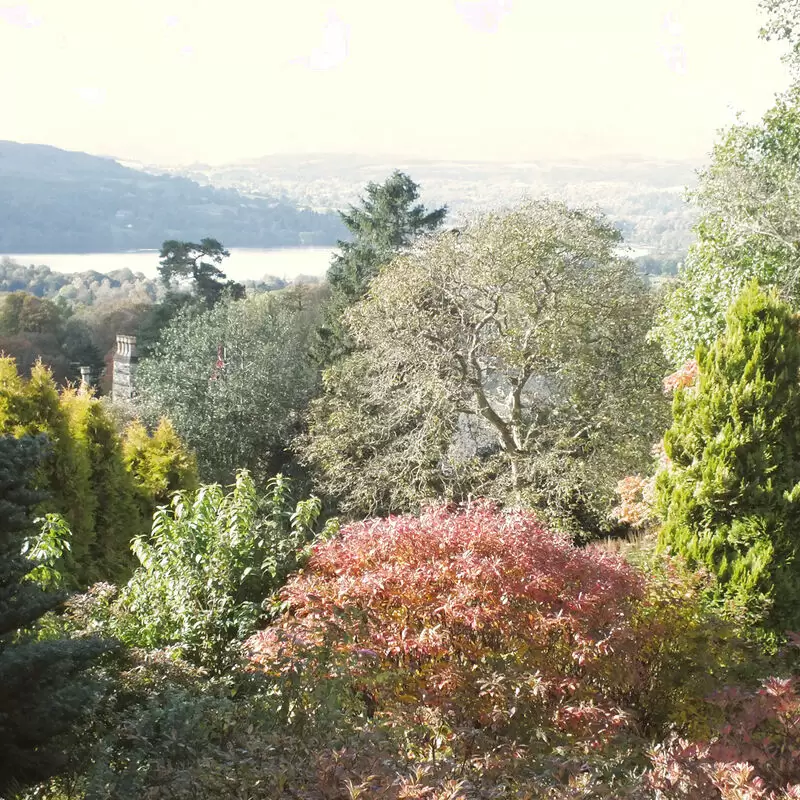 Holehird Gardens
Patterdale Road, Windermere
21. Hardknott Roman Fort & Thermae.
The Roman fort of Hardknott is a remarkable historical treasure that rises amidst the rugged beauty of the Windermere countryside. The relic, which rises against the imposing mountain backdrop, tells stories of Roman rule and bathing culture. The well-preserved thermae (Roman baths) of the fort are particularly fascinating. Near this site, the winding Eskdale Valley and challenging Wrynose Pass attract adventurous explorers. Tip for locals: bring binoculars, because the fort offers a spectacular panoramic view that you should not miss!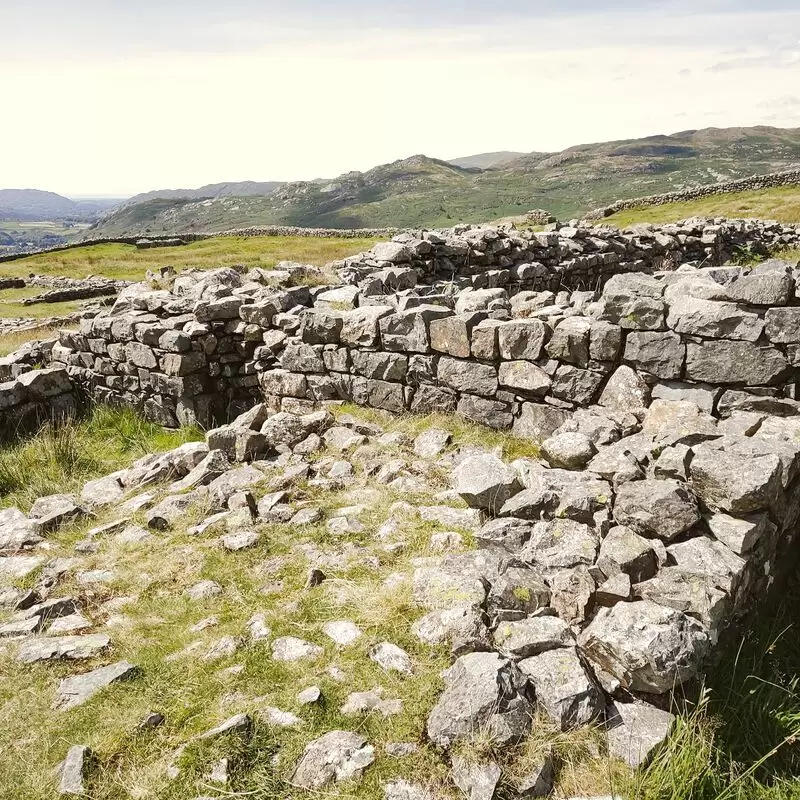 Hardknott Roman Fort & Thermae.

22. Holker Hall & Gardens
A visit to Holker Hall & Gardens is like visiting a timeless piece of English heritage. The mix of grand architecture and breathtakingly manicured, living gardens is the epitome of regal country elegance. Don't miss the impressive Great Lime Tree, a tree over 400 years old! Small detail? The property is privately owned by the Cavendish family. Just a stone's throw away is Cartmel Priory, an iconic medieval monument that gives you a glimpse into 800 years of history.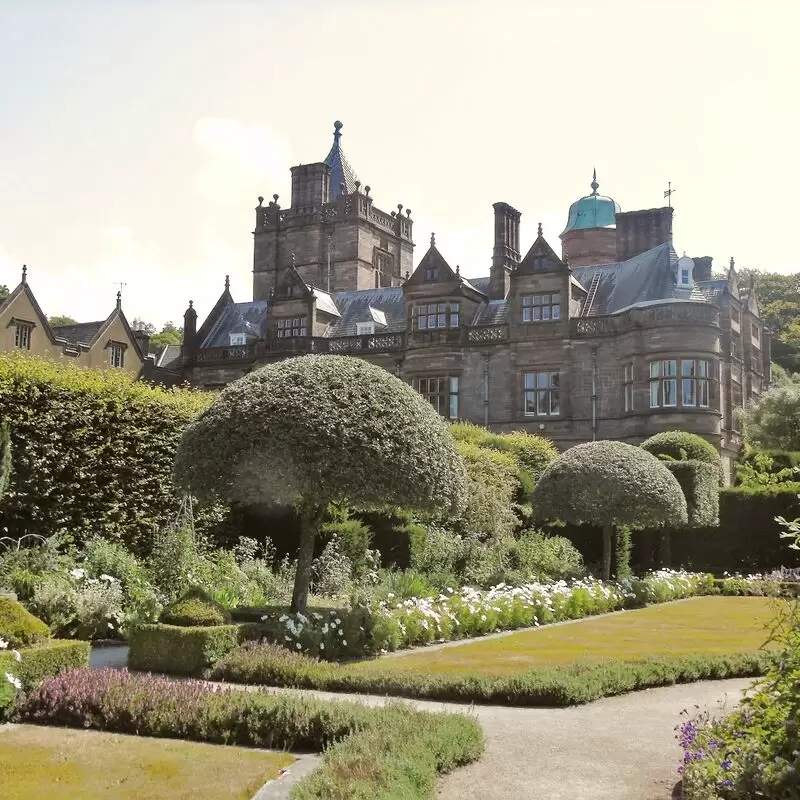 Holker Hall & Gardens
Cark, Grange-over-Sands
Monday - Tuesday: Closed
Wednesday - Sunday: 10:30 AM – 5:00 PM
23. National Trust Wray Castle
Discover the charm of history at the National Trust - Wray Castle in Windmere! With its neo-Gothic architecture, every corner of the castle tells a fascinating story. Children love playing knights and princesses in the dressed-up rooms, while adults enjoy the breathtaking views of the lake. On rainy days, the castle's hidden playroom is a delightful discovery. After the castle visit, drive five miles south to Hill Top, Beatrix Potter's 17th-century farmhouse. Another beautiful time capsule, it is adorned with Beatrix Potter's personal belongings.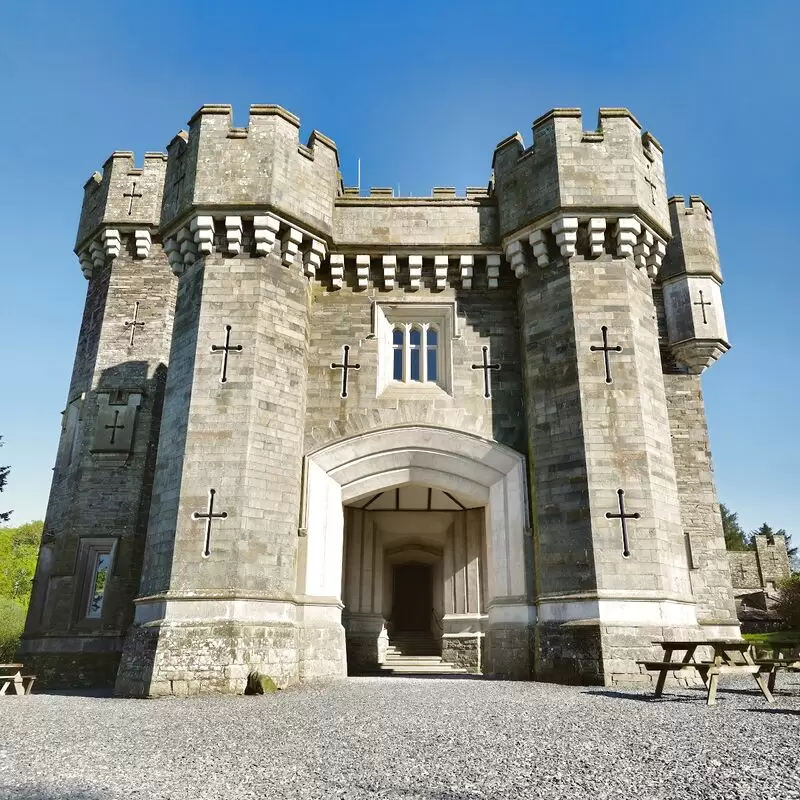 National Trust Wray Castle
Low Wray, Ambleside
Monday - Sunday: 8:00 AM – 8:00 PM
24. Lakes Aquarium
Prepare for an aquatic adventure at Lakes Aquarium. Your underwater journey begins the moment you step through the door. Look forward to an up-close rendezvous with exotic species, from sharks to rays and otters to piranhas. For an insider's tip, don't miss the otter talk, which offers fascinating insights. Just a short walk away, you can experience a beautiful waterfall at nearby Fell Foot Park - a perfect combination!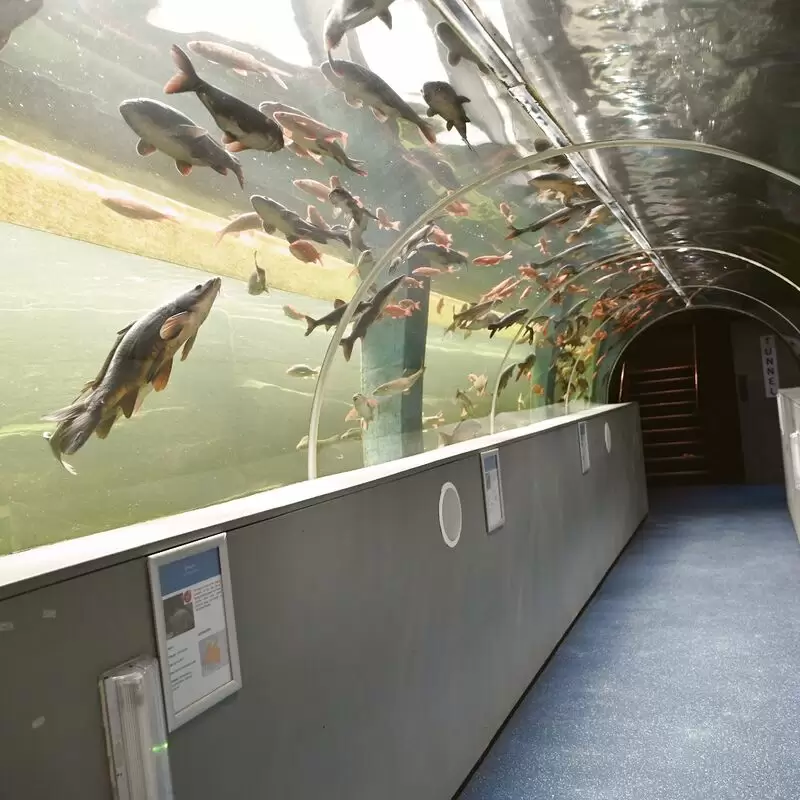 Lakes Aquarium
Lakeside, Newby Bridge, Ulverston
Monday - Sunday: 10:00 AM – 4:30 PM
25. Moss Force Waterfall
Unleash your spirit of adventure at Moss Force Waterfall, an impressive cascade that plunges into the tranquil pool below. Located near Newlands Hause Pass, just a short drive from Windermere, the waterfall is a natural wonder that offers an unforgettable wild swimming experience. Ducks often sail by, much to the delight of onlookers. Unusually for Britain, the waterfall is at its strongest after rain, making a visit on a wet day an unexpectedly exciting choice. Nearby, you can also explore stunning Buttermere Lake.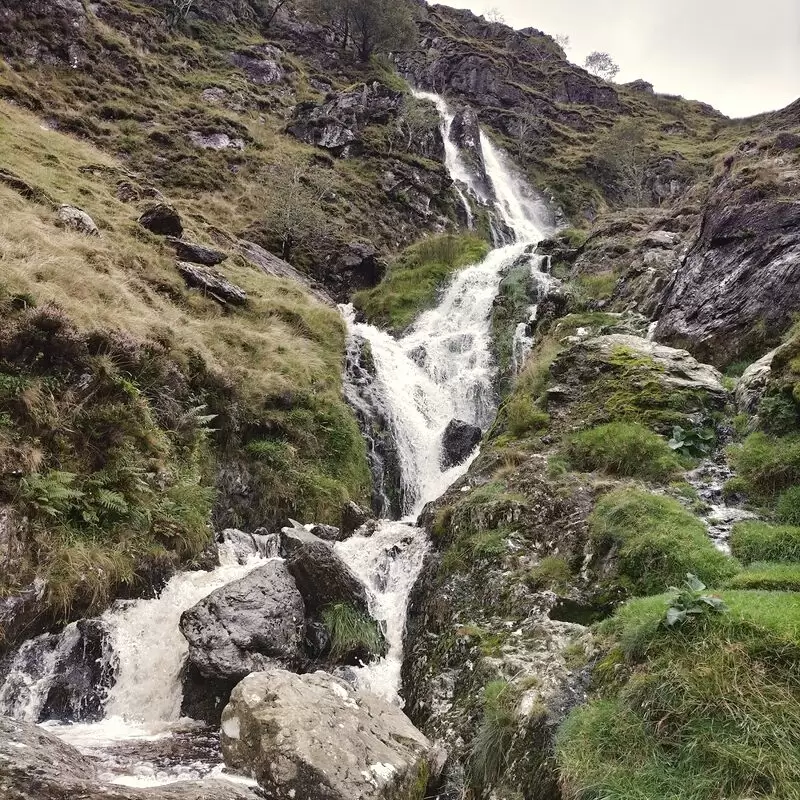 Moss Force Waterfall
Cockermouth
Monday - Sunday: Open 24 hours
Best Time to Visit Windermere
The best time to visit Windermere, United Kingdom, is during the late spring and summer months from May to September. During this time, the weather is usually warmest and rainfall is lowest, providing ideal conditions for outdoor activities such as boating and hiking. However, autumn can also offer beautiful landscapes with its changing foliage colors.
Annual Weather in Windermere
Windermere 3-Day Forecast
Tue, 26 September
Night
47 °F
8 °C
0%
Morning
48 °F
9 °C
82%
Afternoon
55 °F
13 °C
77%
Evening
52 °F
11 °C
75%
Wed, 27 September
Night
48 °F
9 °C
70%
Morning
49 °F
10 °C
86%
Afternoon
52 °F
11 °C
69%
Evening
51 °F
10 °C
67%
Thu, 28 September
Night
48 °F
9 °C
60%
Morning
50 °F
10 °C
71%
Afternoon
56 °F
14 °C
68%
Evening
52 °F
11 °C
50%
Questions & Answers

How to get to Windermere from London?

The easiest way to reach Windermere from London is by train. First, take a direct train from London Euston station to Oxenholme Lake District station. From Oxenholme, a connecting train will take you to Windermere station. Another option is to travel on the M6, take exit 36 and then take the A 591 directly to Windermere. The whole journey usually takes about 5 hours, depending on traffic.

Is it easy to rent a car in Windermere?

Yes, it is quite easy to rent a car in Windermere, United Kingdom. In and around Windermere, you will find several reliable car rental agencies that cater to a wide range of customer needs, whether you are looking for a compact city car or a larger vehicle for family travel. The car rental process usually involves a convenient online booking, and vehicles can be picked up from multiple locations.

Are there any traditional foods to try in Windermere?

Indeed. While in Windermere, don't miss out on the traditional British delicacies. You should definitely try the classic fish and chips, preferably at a local pub or traditional chip shop. A hearty Cumberland Sausage, the regional specialty, is also worth a visit. For dessert, treat yourself to Grasmere Gingerbread, a cross between a cookie and a cake, and enjoy Kendal Mint Cake, an energy bar popular with hikers.

What are the unique social customs in Windermere?

At Windermere, social life revolves around nature and lake activities, where sharing fishing stories or boating is commonplace. Community is important, and visitors are expected to respect the environment. Greetings are usually friendly but reserved, with a polite "hello" or nod. Major events include local music, culinary festivals, and agricultural exhibits that showcase farming heritage. Local camaraderie can be experienced at a pub quiz, a popular pastime. Long walks in nature are considered a relaxing pastime, both individually and in groups.

Is there any local language or dialect I should know?

Although English is the primary language spoken in Windermere, United Kingdom, the local dialect of "Cumbrian" can occasionally be heard. This dialect traditionally has its roots in Old Norse and Celtic languages and is characterized by a unique vocabulary and intonation. However, it is less spoken by younger generations. Most residents speak standard English, so communication is not a problem for English-speaking visitors. Learning some Cumbrian phrases might be fun, but is not necessary for a visit.

How safe is Windermere for tourists?

Windermere is generally a safe destination for tourists. As with any tourist destination, it is advisable to take precautions with personal belongings and be aware of your surroundings. Windermere is a peaceful place in the Lake District known for its natural beauty and tranquility. Many tourists, families and nature lovers visit it every year without incident. However, being respectful of your surroundings, especially in rural and mountainous areas, can keep you safe. In the city itself there is a local police and services that provide assistance when needed.

How to reach Lake Windermere?

Lake Windermere is easily accessible by various means of transportation. The best way is to use the trains, which run regularly from Manchester Airport to Windermere Station and take about two hours. Another option is to travel by car, with the M6 freeway providing a direct link from many British cities. Once in the town of Windermere, the lake is just a short walk away. For those who prefer the bus, there are direct connections from Kendal, Keswick and other nearby towns.

Is it recommended to rent a boat at Lake Windermere?

Yes, it is highly recommended to rent a boat on Lake Windermere. This way you can explore the breathtaking landscapes and tranquility of this largest natural lake in England in an exciting way. You can opt for a variety of boats, from self-propelled motor boats to small rowboats. It is a popular destination for locals and tourists alike, as you enjoy the panoramic views and the unique experience of gliding on the calm waters.

What scenic drives can I take around Windermere?

One of the most scenic routes near Windermere is the A591, also known as Kendal Road. From Windermere, the route winds through the Lake District and offers breathtaking views of Lake Windermere and the surrounding mountains. Alternatively, you can take the B5285, Hawkshead Road, which leads to picturesque villages and the magnificent Esthwaite Water. No trip to Windermere is complete without driving these scenic roads, where a new vista of natural beauty opens up at every turn.

Are there cycling routes around Windermere?

Absolutely! Windermere and the surrounding Lake District offer numerous bike trails for you to explore. You can bike all around the lake, with the Western Shore bike path being particularly popular. If you're looking for a more challenging route, you'll find mountain bike trails in Grizedale Forest. You can also ride further and cycle to nearby towns such as Ambleside or Keswick. For those who do not have their own cycling equipment, there is a bike rental service.

Are the locals friendly towards tourists?

Yes, the locals in Windermere, United Kingdom, are known for their friendliness and hospitality towards tourists. They are always ready to help and guide visitors, which greatly enhances the tourist experience. Many tourists have praised the way they interact with the locals, which makes them feel warm and hospitable, making them feel right at home in Windermere. With their wealth of local knowledge and a range of stories about this beautiful town, conversations with the locals are often the highlights of tourists' visits.

Can I swim in Lake Windermere?

Yes, you can swim in Lake Windermere. It is a popular place to swim due to its beautiful location in the heart of the Lake District National Park. However, it is important to be aware of boat traffic and changing weather conditions. The lake's water can be quite cold, so precautions such as wearing a wetsuit and warming up afterwards are highly recommended. Always follow safety guidelines and respect the local environment.

Do they accept credit cards in most places in Windermere?

Yes, most businesses in Windermere, United Kingdom, such as restaurants, hotels and stores, accept credit cards as a form of payment. Major credit cards such as Visa, MasterCard and American Express are generally accepted. However, it is always advisable to have some cash with you, as small independent stores or cafes may not accept cards. If you are not sure, you should contact the respective store in advance.

Are there wild animals to watch out for in Windermere?

While Windermere is a relatively safe area when it comes to wildlife, visitors should still be wary of certain animals. The Lake District, where Windermere is located, is home to red deer, which can be unpredictable, especially during the rut. There are also adders, the only venomous snake in the United Kingdom, though sightings are rare. On the lake itself, swans and geese can become aggressive when provoked or when protecting their young, so it is best to give these animals their space.

Can I hike in the hills and mountains near Windermere?

Absolutely! Windermere is located in the stunning Lake District National Park and offers numerous walks and hiking trails of varying difficulty and length. Walkers can traverse the nearby mountains and hills, including the popular Helvellyn, Skiddaw and Scafell Pike walks. There are quiet trails around the lake, challenging climbs that reward with panoramic views, and routes that pass through charming rural villages. Whatever your walking preference, the countryside around Windermere offers something for everyone.

Are there easily accessible emergency services in Windermere?

Yes, in Windermere, the necessary emergency services are readily available to ensure the safety and well-being of visitors and residents. These include fire departments, police stations and medical facilities. For life-threatening emergencies, North West Ambulance Service provides quick assistance, and for urgent medical needs, there are several hospitals and pharmacies nearby. Always remember to call 999 immediately for help in an emergency.

What activities can I do in Windermere without spending money?

In Windermere, you can enjoy the great outdoors for free. Explore the enchanting beauty of the Lake District National Park on nature trails or simply walk around the lake itself. You can visit the charming village of Windermere and enjoy its quaint architecture and tranquil atmosphere. Also, the world of Beatrix Potter offers those who grew up with the fairy tales a free outdoor tour of the characters' homes.

Is it possible to go fishing in Lake Windermere?

Yes, Lake Windermere is a popular fishing spot with a variety of fish species including perch, pike, roach, char and trout. To fish here legally, you will need a fishing license from the Environmental Protection Agency. Be sure to follow local regulations and catch and release the fish to protect aquatic life. It is a peaceful activity where you can enjoy the breathtaking views of England's largest lake.

What species of birds can I spot in Windermere?

In the picturesque surroundings of Windermere you have the opportunity to observe a variety of bird species. The region is home to the impressive peregrine falcon, the majestic great crested grebe and the dainty goldfinch. You may also see the redpoll, known for its crimson forehead, or the chirping nuthatch. Along the lakeshore, look for mute swans and, in the warmer months, ospreys swooping. An unforgettable birding experience awaits you at Windermere.

Is it easy to navigate around Windermere?

Yes, it is quite easy to get around Windermere, United Kingdom, thanks to its well-developed infrastructure and public transportation. You can traverse the region either by local buses, ferries, cabs or on foot. The area is well signposted, so visitors can easily find popular sights and attractions. Plus, the locals are incredibly friendly and helpful if you get lost or confused. To be on the safe side, pick up a map at the tourist information office.

Where can I take the best photos in Windermere?

One of the best places to take stunning photos in Windermere is Orrest Head. The view from this elevated location offers panoramic views of Lake Windermere and the surrounding mountains, providing an unparalleled backdrop for your photos. Another great spot is the Windermere Jetty Museum, where old boats make a charming and unique backdrop. If you feel like a boat trip, you can take a cruise ship ride from Bowness Pier, which offers magnificent views of the lake and the coastline.

Do I need a permit to sail a boat on Lake Windermere?

Yes, a permit is required to sail or use any type of motorboat on Lake Windermere. This applies to all watercraft, from sailboats to canoes, rowboats, paddleboats and even motorboats. Permits can be obtained in advance from the Lake District National Park Service. This is part of the measures taken to ensure safety and maintain the tranquility of the area for all to enjoy.

Is public transport reliable in Windermere?

Yes, public transportation is quite reliable in Windermere. Trains connect the town to the main line at Oxenholme, making it easily accessible from anywhere in the United Kingdom. Local buses travel to neighboring towns and villages, and ferries on Lake Windermere provide scenic connections between several places of interest. Cabs are also an option for direct travel. These services generally run at regular intervals and are convenient for visitors and locals alike.

Can I try watersports at Lake Windermere?

Yes, you can enjoy numerous water sports at Lake Windermere. It is a popular place for sailing, kayaking, canoeing and standup paddleboarding. There are many rental shops around the lake where you can rent equipment. As a beginner, you can also join guided tours and courses. However, please note that motor boats are generally not allowed in order to preserve the tranquility and natural beauty of the lake.

Can you walk around Lake Windermere?

Although it is not possible to hike the entire perimeter of Lake Windermere, as some parts are privately owned, there are a variety of scenic hiking trails. These include the Windermere Way, a 45-mile trail that circles most of the lake and offers beautiful views of England's largest natural lake. Be sure to bring a map and wear appropriate footwear to enjoy these stunning Windermere trails.

Are there any local festivals or cultural events unique to Windermere?

Yes, Windermere is home to a number of cultural events that highlight local traditions and lifestyle. The most unique is the Windermere Christmas Celebration, an annual event featuring a winter market, local crafts and festive food. In addition, the Windermere Marathon is a popular sporting event that takes place around England's largest lake and offers spectacular natural beauty. The Great North Swim, one of the largest open water swimming events in the UK, also takes place in Windermere and attracts participants from all over the country.

Are there any historical sites to visit in Windermere?

Yes, Windermere is rich in history and culture. One significant historic site is the 19th-century Wray Castle, known for its neo-Gothic architecture set amid vast estates. Another notable site is the old Windermere Steamboat Museum, known for its collection of old steam-powered boats. Townend, a traditional 17th-century farmhouse, offers insights into local agricultural history. Explore the Victorian influence in Windermere at Blackwell, The Arts and Craft House.

Is there a specific dress code to follow in Windermere?

There is no specific dress code in Windermere, United Kingdom. However, the weather is changeable and it rains frequently, so waterproof clothing is recommended. Casual, comfortable clothing and good walking shoes are ideal for exploring the town and its picturesque surroundings. If visiting between October and March, warm clothing is required. Don't forget to pack smart casual clothes for dinner or a visit to an elegant restaurant.

What are the most popular local dishes in Windermere?

Windermere, United Kingdom, is known for its traditional English cuisine. Among the most famous local dishes is Cumberland sausage, made with pork and a special blend of herbs and spices and often enjoyed with a rich gravy. Then there's the Lake District's popular Sticky Toffee Pudding, a dessert made with dates and topped with toffee sauce. The Grasmere Gingerbread, a mixture of cookie and cake with a pronounced ginger flavor, is also a must-try original from a neighboring village.

Are there any etiquette rules I should be aware of?

In Windermere, as in all parts of the United Kingdom, it is polite to wait in line and not get in line. Always respect personal space and privacy. In restaurants it is customary to tip, about 10-15% of the total bill. In pubs, tipping is not expected. In friendly conversations, you should say "please," "thank you," and "excuse me" when appropriate. On public transportation, it is considered polite to give a seat to the elderly, pregnant or disabled.

Feedback

I hope you found this article informative and helpful. I'm eager to improve the content and make it even more valuable for you. If you have any feedback or suggestions, I would love to hear from you.

Do you have any tips or hidden gems that you think should be added to the list? Are there any areas that you feel could use more explanation or clarification?

Your input is greatly appreciated and will help us to continue providing high-quality content that meets your needs and interests. Please feel free to share your thoughts.