1. Kamakhya Temple
Be enchanted by the magnificent Kamakhya Temple, an embodiment of spiritual power with unique animal sacrifices. This sacred shrine is located on Nilachal Hill and offers a breathtaking panoramic view of the city of Guwahati. Immerse yourself in an ambience of ancient rituals and enigmatic folk tales. Don't miss the mysterious "Garbhagriha", a hidden cave that houses the main deity. Nearby is the Bhubaneswari Temple, another monument of fascinating royalty. Get ready for an unforgettable stay in the divine power.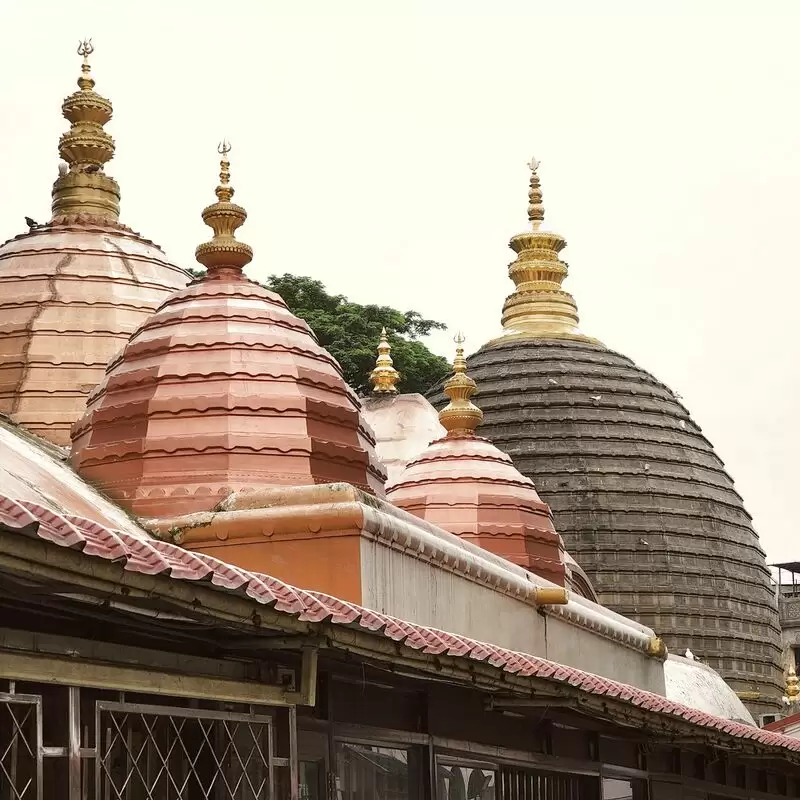 Kamakhya Temple
Kamakhya, Guwahati
2. Assam State Zoo cum Botanical Garden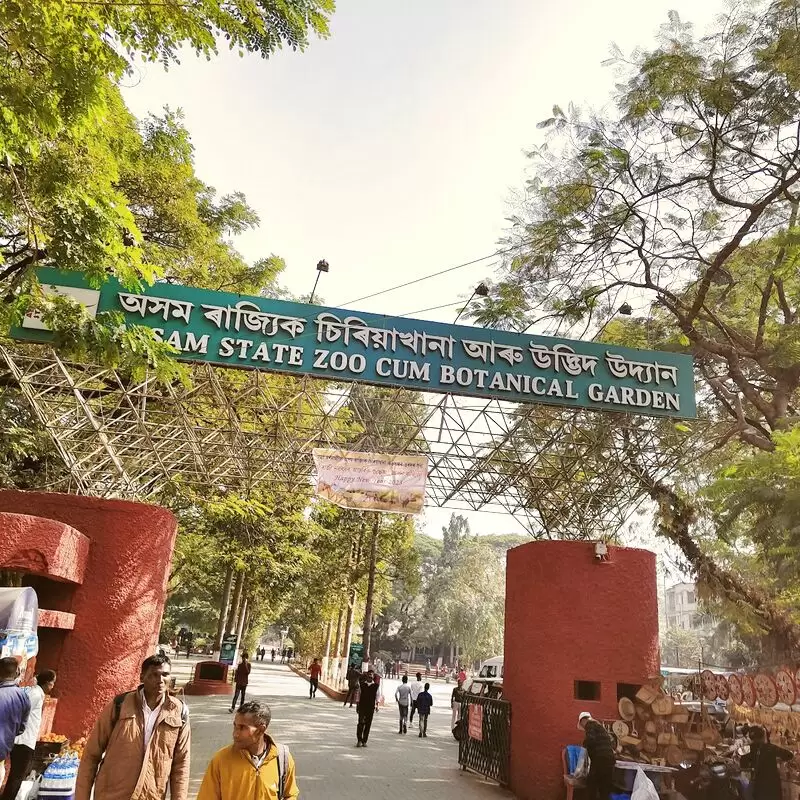 Assam State Zoo cum Botanical Garden
RG Baruah Rd, Guwahati
Monday - Sunday: 8:00 AM – 4:00 PM
Friday: Closed
3. Srimanta Sankaradeva Kalakshetra
Immerse yourself in the rich cultural panorama of Assamese art, literature and traditions at Srimanta Sankaradeva Kalakshetra. Immerse yourself in the treasure trove of northeastern heritage with an open-air theater, art galleries and traditional huts representing the diverse tribal life of Assam. Don't miss the "Bhortal Nritya" performed by local artists. Near Kaliakshetra, you can enjoy a breathtaking view of the city of Guwahati from Sarania Hill, a little-explored secret among tourists. Discover the fascinating history of Assam right here in Guwahati!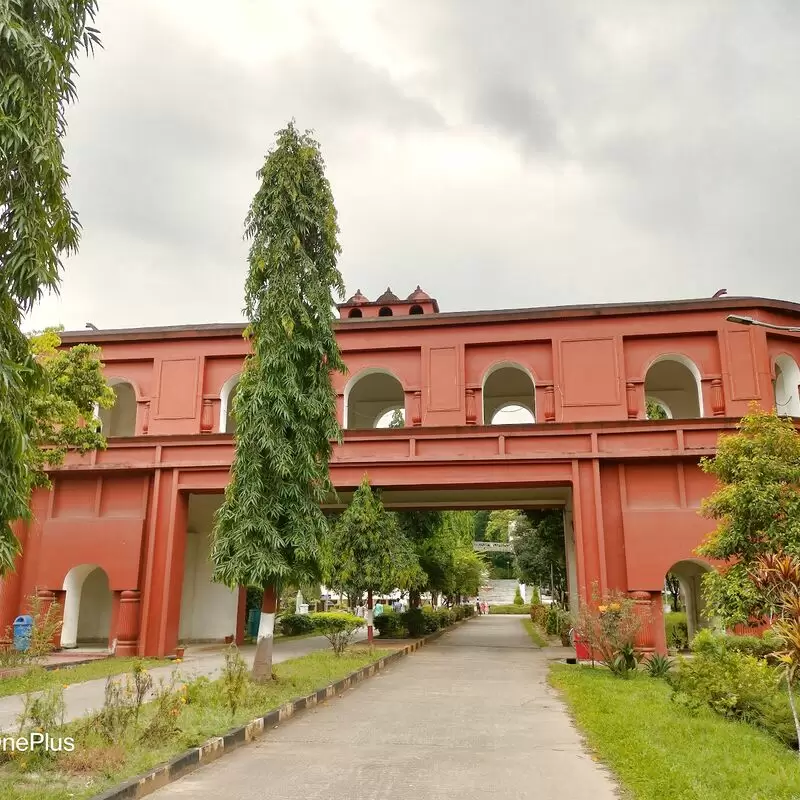 Srimanta Sankaradeva Kalakshetra
Panjabari Rd, Batahguli, Guwahati
Monday - Sunday: 10:00 AM – 7:00 PM
4. Umananda Temple
Visit the Umananda Temple on Peacock Island to enjoy divine tranquility amidst breathtaking nature! Revered as one of India's holiest Shiva temples, it has deep-rooted cultural and historical significance. You cannot miss the fascinating architecture of the temple, which is adorned with ornate sculptures. To make the trip even more magical, take a ferry down the mighty Brahmaputra River to reach the temple! On the other side of the river, you can visit the magnificent Assam State Museum, which will give you an insight into the culture and heritage of Assam.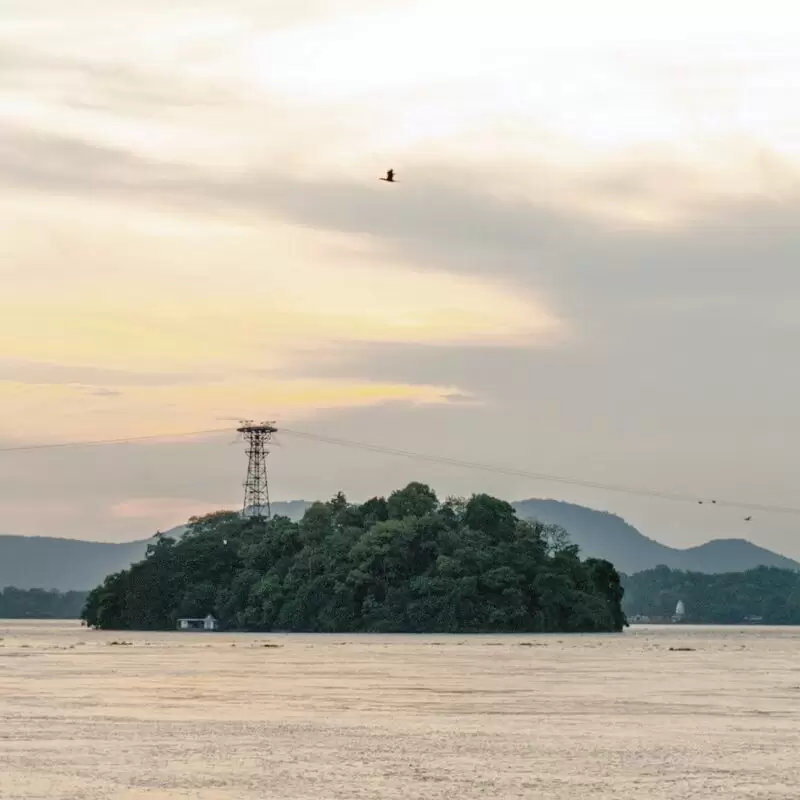 Umananda Temple
Peacock Island, ময়ূর দ্বীপ, Baruah Souk, North Guwahati, Guwahati
Monday - Sunday: 9:30 AM – 5:30 PM
5. SCIENCE MUSEUM Khanapara Guwahati
Immerse yourself in the wonders of science at Khanapara's Science Museum, Guwahati! Ideal for families and science enthusiasts, the museum features amazing exhibits in the fields of physics and biology. Don't miss the live interactive science shows, which are a real crowd pleaser. A little-known fact is that it's home to a prehistoric park with life-size dinosaur sculptures that make for a unique photo op. It's also not far from the Regional Science Center, another hotspot for science fans. Both are surrounded by lush greenery and offer learning opportunities in a picturesque setting!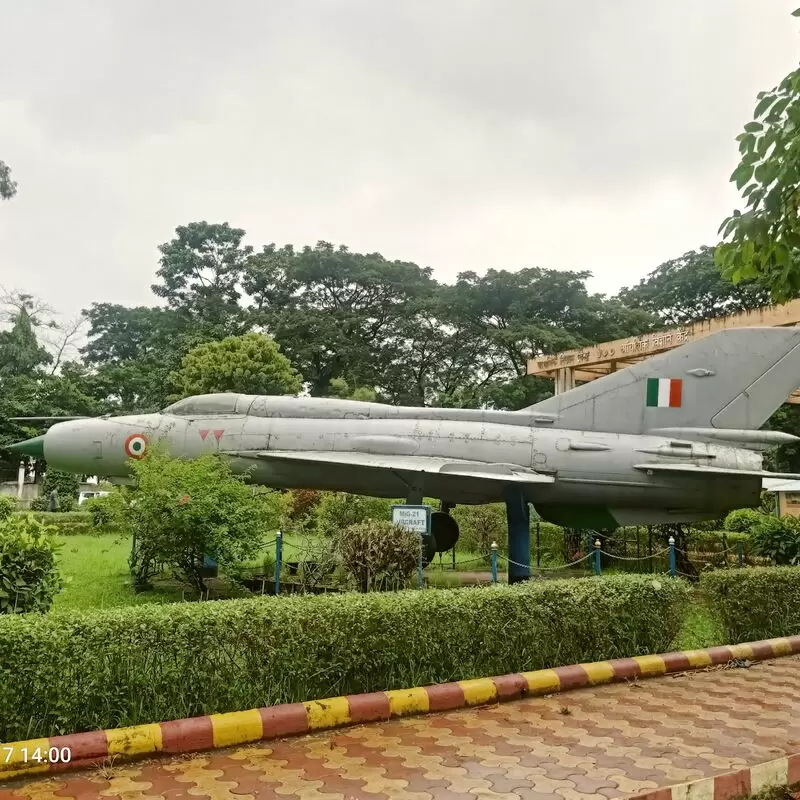 SCIENCE MUSEUM Khanapara Guwahati
4RC8+5CV, Pir Ajan Fakir Rd, Resham Nagar, Khanapara, Guwahati
Monday - Sunday: 9:30 AM – 6:00 PM
6. Brahmaputra River Heritage Centre
Immerse yourself in the endearing history of the mighty Brahmaputra at the Brahmaputra River Heritage Centre in Guwahati. The center offers majestic views of the sprawling river and is a treasure trove of information about the essential role of one of Asia's most important waterways in shaping Assam's culture, history and ecology. After your visit, take a short detour to Dighalipukhuri, a historic man-made pond just a 10-minute drive away, for a peaceful boat ride.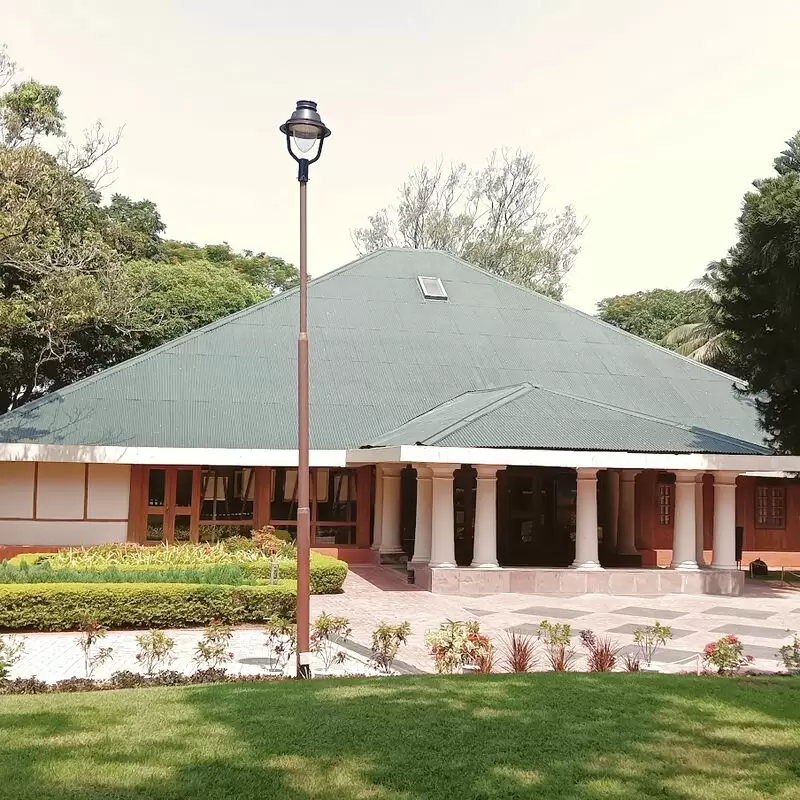 Brahmaputra River Heritage Centre
5PQV+H2F, Pan Bazaar, Guwahati
Monday - Sunday: 10:00 AM – 11:00 PM
7. Basistha Temple
Experience the serenity and spiritual tranquility of Basistha Temple, a revered Hindu pilgrimage site in Guwahati. Located in the magnificent Garo Hills, the temple is named after the sage Basistha. The melodious sound of the merging mountain rivers near the temple creates a divine ambience. Enjoy the festivals here when the temple comes alive with colors, music and folklore! Nearby is the Basistha Ashram, set amidst a dense jungle and mystical hills.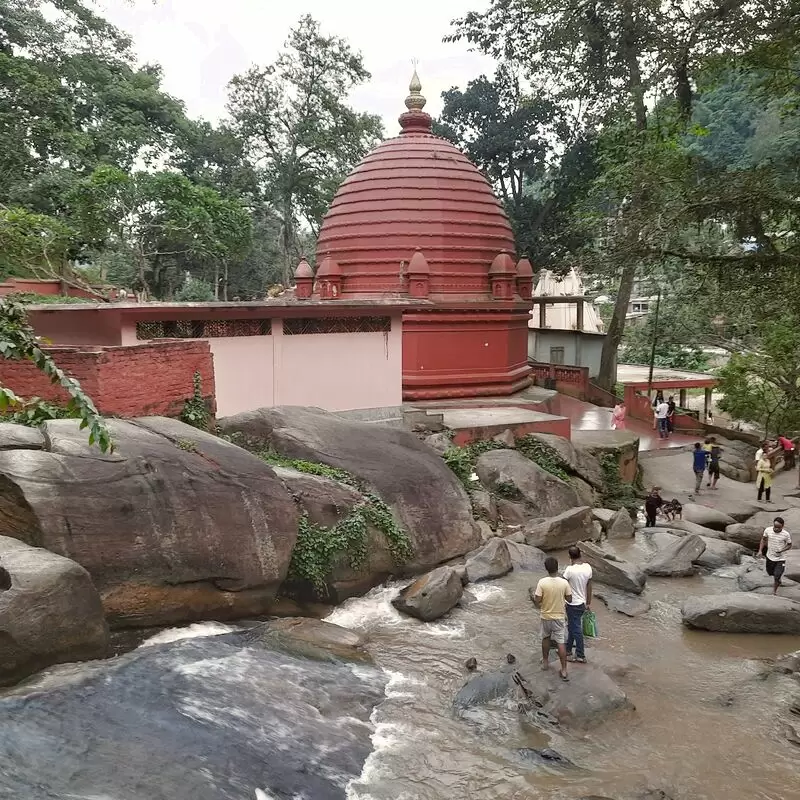 Basistha Temple
Temple, Basistha, Guwahati
Monday - Sunday: 5:00 AM – 8:00 PM
8. Assam State Museum
Embark on a captivating journey through history at the Assam State Museum, amid rare collections of sculptures, artifacts, coins and folk art that reflect Assam's rich heritage. Don't miss the ancient writings on the bark of an ancient tree, a rare wonder from the Ahom Dynasty. Refresh yourself in the nearby tranquil Dighalipukhuri Lake Park. This experience is a treasure trove for history buffs. Don't forget to explore the ethnographic and natural history sections - they are the crown jewels!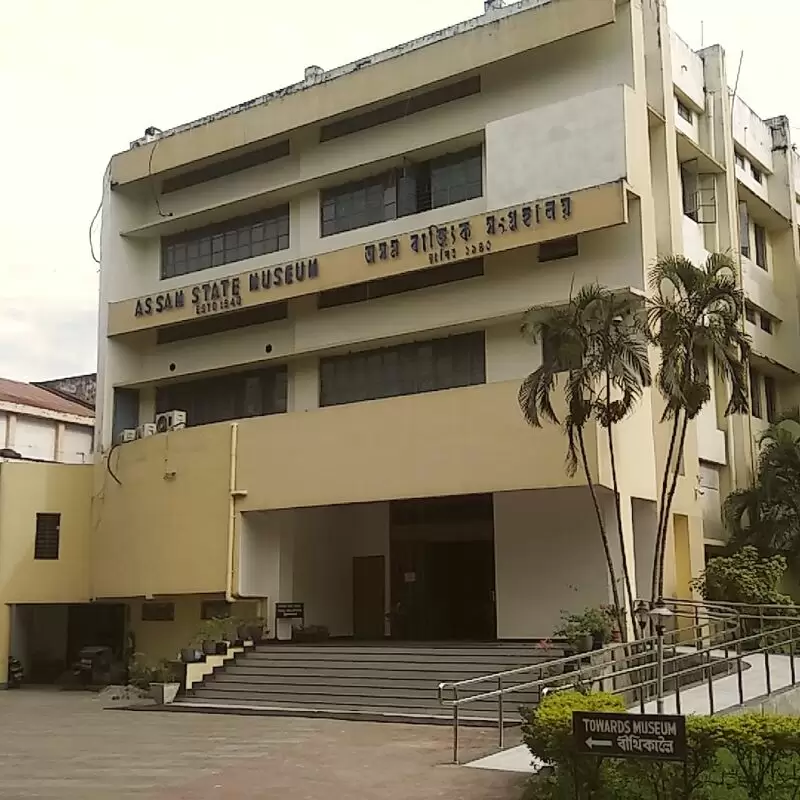 Assam State Museum
GNB Rd, near Dighalipukhuri, Mawhati, Ambari, Guwahati
Monday: Closed
Tuesday - Sunday: 10:00 AM – 4:30 PM
9. Accoland
Accoland is Guwahati's thrilling water kingdom where fun and excitement never end. It offers thrilling rides like the Dragon Coaster, the exhilarating Tornado and the Cyclone slide that will get your adrenaline pumping. Don't miss the unique boating experience in an artificial sea! Since the park generates new snow masses every day, snow fights are the order of the day here - a rare treat in India. After a day of fun, relax at Deepor Beel, a picturesque lake and bird sanctuary located just a few kilometers from Accoland.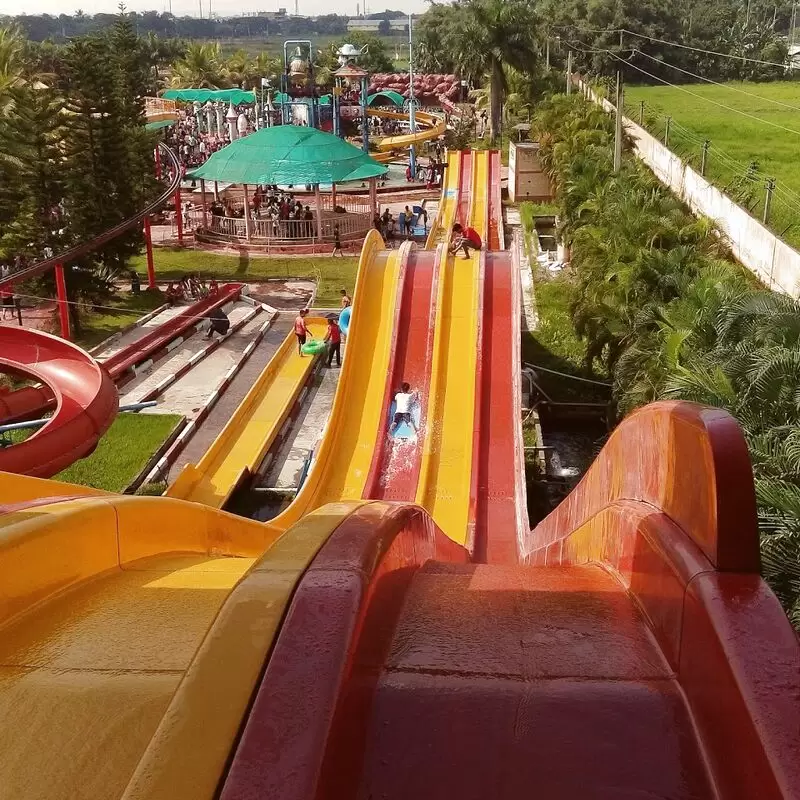 Accoland
Guwahati-Accoland-Rani Rd, near BSF Headquarters, Pat Gaon
Monday - Sunday: 10:00 AM – 6:00 PM
10. Nehru Park
Immerse yourself in the tranquility of Nehru Park, a magnificent oasis in the midst of the dynamic city of Guwahati. The park's lively music fountain, gorgeous flower gardens and clean walkways are a must for a pleasant day. Take an evening stroll to observe the bustling life and culture of the city up close. Popular with photography enthusiasts, this place is just a 5-minute walk from Cotton University, an old renowned institute. PAN Bazaar, a vibrant market that invites you to a novel shopping experience, is also just around the corner.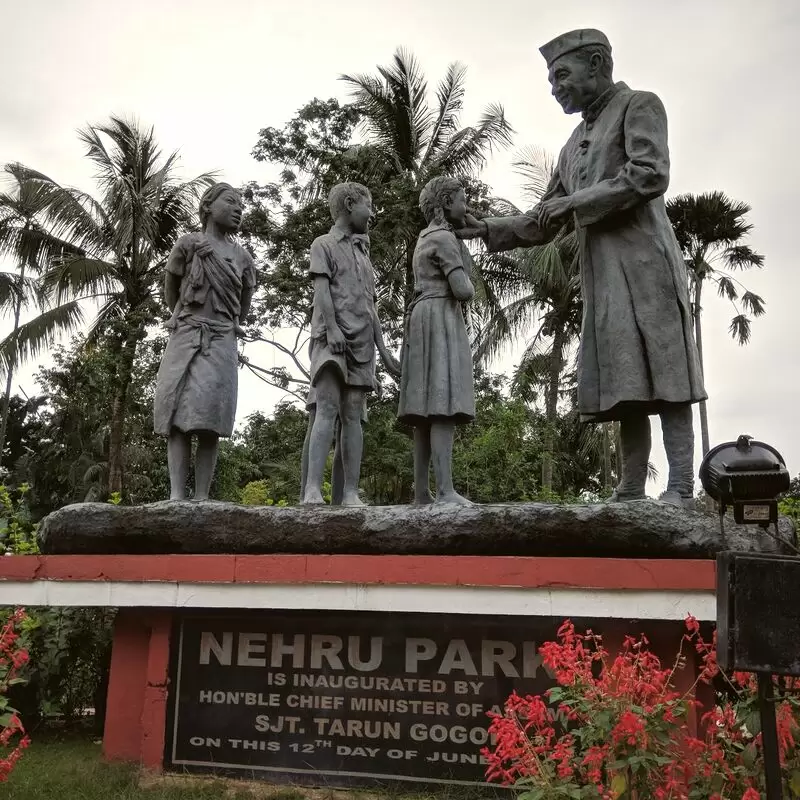 Nehru Park
Cotton University Rd, Pan Bazaar, Guwahati
Monday - Saturday: 9:00 AM – 5:00 PM
Sunday: Closed
11. Dr. Bhupen Hazarika Samadhi Kshetra

Dr. Bhupen Hazarika Samadhi Kshetra is a sacred place that commemorates the life and work of the legendary Assamese musician. More than just a memorial, it is a testament to his awe-inspiring music and poetry that resonates in every heart of Guwahati. The site offers a tranquil setting with a mystical view of the Brahmaputra River and is a unique experience. Nearby is the massive Saraighat Bridge from where you can enjoy a breathtaking panorama.

An insider tip is the sunset at Samadhi Kshetra, which you should not miss.

Dr. Bhupen Hazarika Samadhi Kshetra
National Highway 37, near Jalukbari, Jalukbari, Guwahati

Monday - Sunday: 10:00 AM – 7:30 PM
Thursday: Closed
12. Guwahati Rope Way

The Guwahati Rope Way floats over the mighty Brahmaputra River and offers an unparalleled aerial view of the city's panorama. This 2km ride is India's longest river cable car and offers breathtaking views of river islands, green hills and the bustling city below.

Insider tip: Try the ride at sunset for a mesmerizing experience. After your zipline adventure, don't miss a relaxing evening at Umananda Island, a spiritual sanctuary with ancient Shiva temples just a short boat ride away. Get ready for a sky-high thrill ride!

Guwahati Rope Way
Kachari, MG Rd, Pan Bazaar, Guwahati

Monday - Saturday: 8:30 AM – 5:30 PM
Sunday: 8:30 AM – 4:30 PM
13. Chandubi Boating Association

A visit to the Chandubi Boating Association is a must for nature lovers! Experience the euphoria of gentle rowing on the sparkling Chandubi Lake. The pristine, calm waters of the lake are truly mesmerizing.

An absolute insider tip: don't miss the view at sunset, it is absolutely breathtaking. Nearby attractions include the famous village of the Rabha tribe, where you can explore and learn about their unique customs and traditions.

Chandubi Boating Association
Kathalguri/Chandubi, Chandubi lake, Palashbari-Mirza-Loharghat-Rajapara-Chandubi Rd, Guwahati

Monday - Sunday: 7:00 AM – 6:00 PM
14. Deepar Beel Lake Wildlife Sanctuary
Extend your Guwahati adventure with the serene tranquility of Deepar Beel Lake Wildlife Sanctuary, a bird lover's paradise! This captivating sanctuary with its diverse flora and fauna is home to 220 species of birds. Enjoy the magic of catching a glimpse of the endangered Deolali Minnow. Relax during sunset at this fascinating and tranquil freshwater lake and enjoy the mesmerizing sight. You are also not far from the majestic Pobitora Wildlife Sanctuary, which is also worth a visit. Experience the authentic fusion of wildlife in the heart of Guwahati!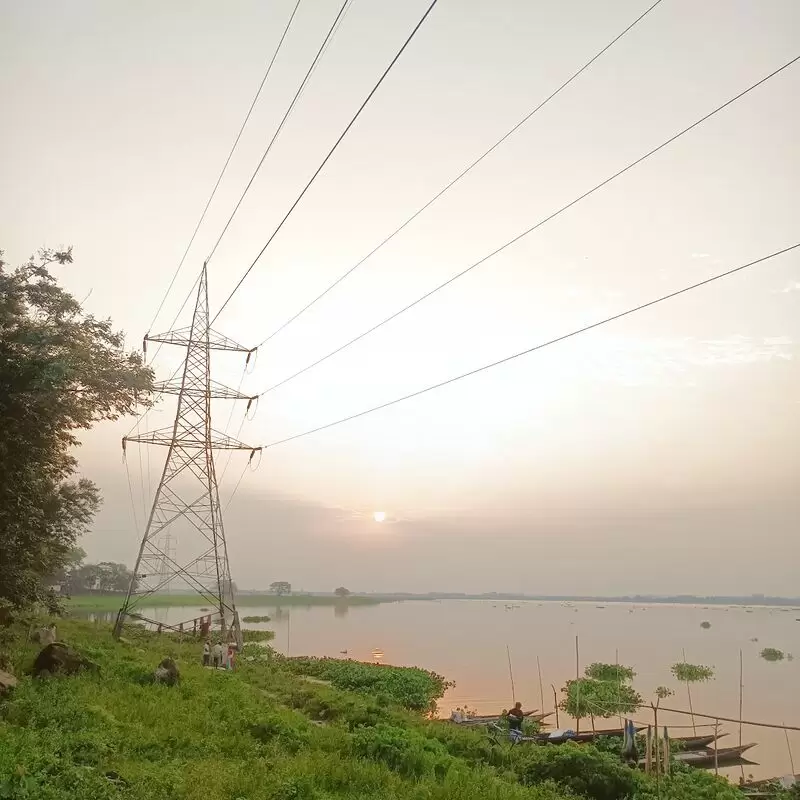 Deepar Beel Lake Wildlife Sanctuary
Chakardeo Village, Guwahati
Monday - Sunday: Open 24 hours
15. War Memorial

Immerse yourself in the history and bravery of the impressive war memorial in Guwahati. Standing majestically in the heart of the city near Dighali Pukhuri Lake, it is a poignant tribute to the fallen heroes of Assam. Here you will find intricate inscriptions, a fascinating central sculpture and an eternal flame. Its silence gives it a solemn atmosphere you won't find anywhere else.

Insider tip: Be sure to visit the temple in the evening when it is beautifully lit. And don't miss the nearby Ganeshguri market, where you can find authentic Assamese memorabilia.

War Memorial
5QQ2+RFM, Fatick Chandra Rd, Latasil, Uzan Bazar, Guwahati

Monday - Sunday: 10:00 AM – 1:00 PM, 3:00 – 8:00 PM
Tuesday: Closed
16. Shukreshwar Ghat Park
Treat yourself to a peaceful day at Shukreshwar Ghat in Guwahati. Located on the banks of the mighty Brahmaputra River, here you will have a magnificent view of the sun setting behind the distant hills. It is also a perfect place for yoga enthusiasts. Don't miss the Shukreshwar Temple, a revered Shiva shrine nearby that gives you a glimpse into Assam's rich religious culture. In the evening, take a leisurely stroll through neighboring Umananda Park, which is the gateway to the bustling marketplace of Intekhab Road.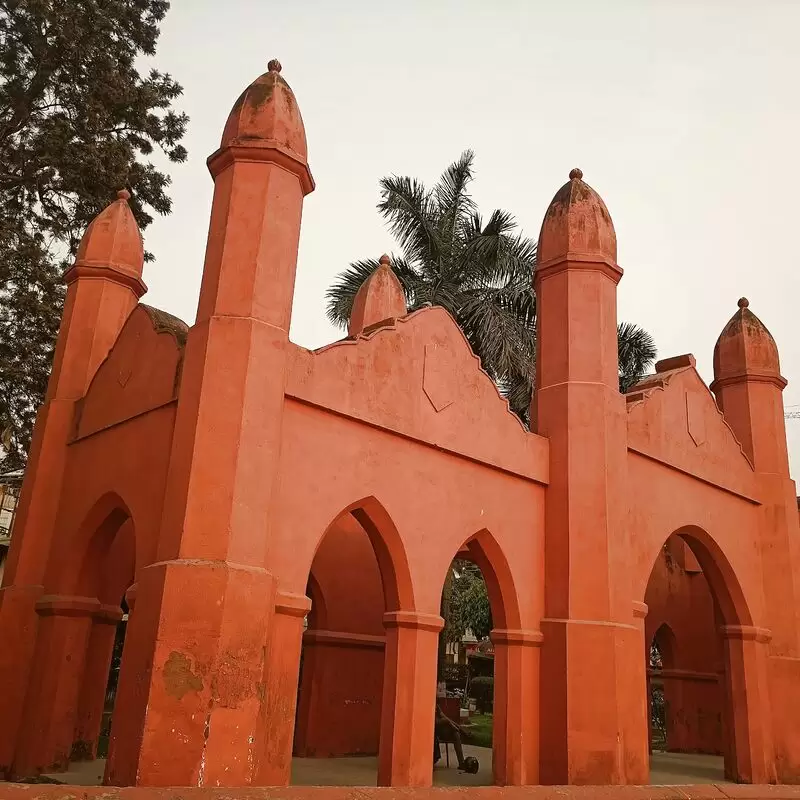 Shukreshwar Ghat Park
5PQR+39X, MG Rd, Pan Bazaar, Guwahati
Monday - Sunday: 8:00 AM – 8:00 PM
17. Dighalipukhuri Park
Dighalipukhuri Park is a must-see jewel in Guwahati, as it breathes like no other. This tranquil lake park with its serene atmosphere offers wonderful boat rides that are ideal for relaxing. The replica swan boats are very popular with children! The nearby war memorial commemorates India's brave soldiers from Assam. Don't miss the unique experience of feeding the countless seagulls here - a delicious treat that will be etched in the heart of every visitor. Just a stone's throw away you will find the famous Ugratara Temple!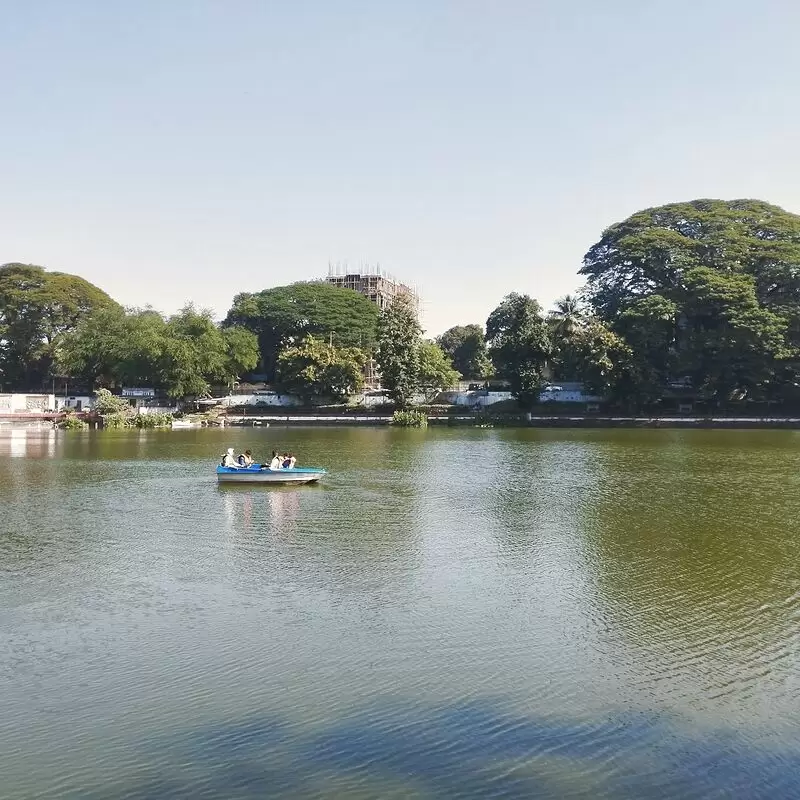 Dighalipukhuri Park
Dighalipukhuri, Guwahati
Monday: 5:30 – 8:00 AM, 10:00 AM – 8:00 PM
Tuesday - Wednesday: 5:30 – 8:00 AM, 9:00 AM – 8:00 PM
Thursday: 5:30 – 8:00 AM
Friday - Sunday: 9:00 AM – 8:00 PM
18. Garbhanga Forest Reserve
Venture into the green heart of northeast India, the Garbhanga Forest Reserve. This vibrant reserve teems with wildlife including elephants, leopards and countless bird species. Indulge in the soothing silence of the deep forests and bubbling springs - a refreshing retreat from the hustle and bustle of city life. Locals recommend a hike at dusk, where you can witness a fascinating spectacle of fireflies. Don't miss the opportunity to visit the nearby Amchang Wildlife Sanctuary to experience the jungle even more intensively!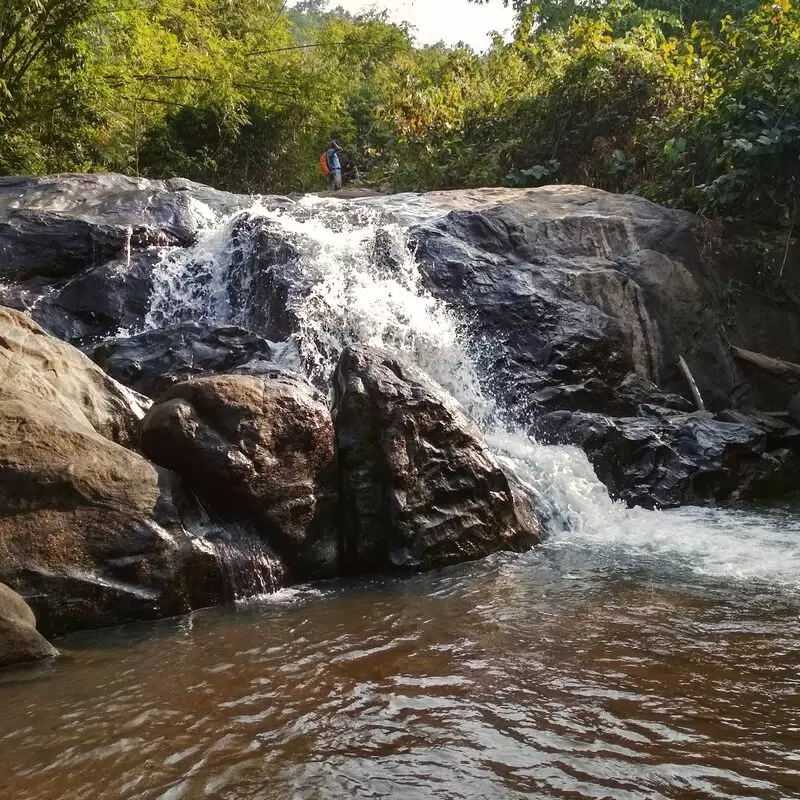 19. ISKCON Guwahati
ISKCON Guwahati, a spiritual epicenter dedicated to Lord Krishna, is an essential destination for those seeking tranquility and inner peace. As you enter, the sound of rhythmic chanting soothes your senses, and you are greeted by exquisite Indian architecture that exudes a unique charm. Don't miss the daily aarti, a soulful experience that will resonate with you. Just a stone's throw away is the dreamy Chandubi Lake, offering a perfect nature retreat. The ISKCON Guwahati experience truly makes you richer in spirit!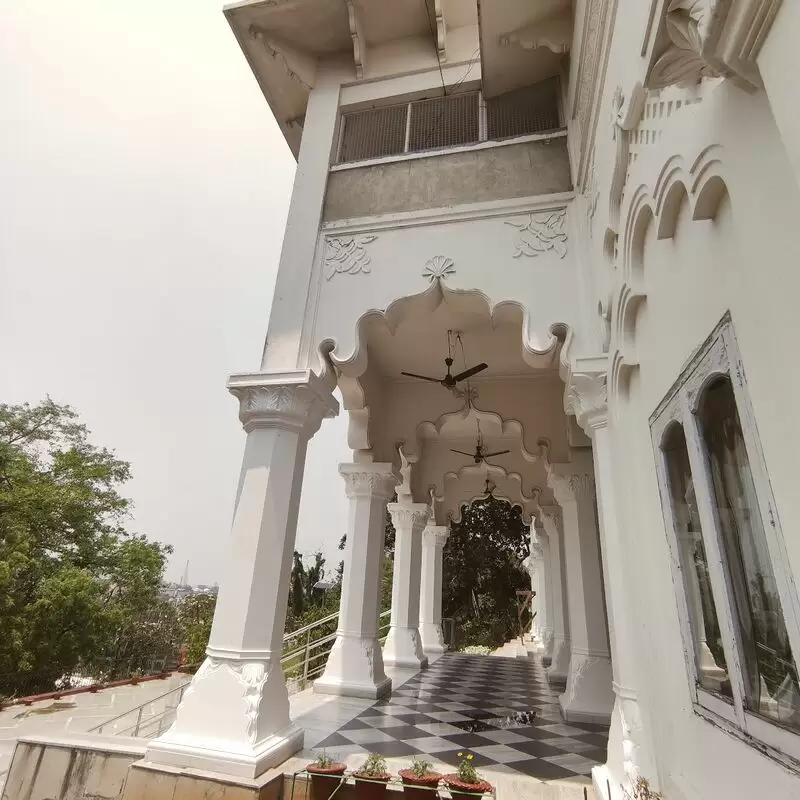 ISKCON Guwahati
Kasturba Ashram Rd, South Sarania, Ulubari, Guwahati
Monday - Sunday: 4:30 AM – 12:30 PM, 3:30 – 8:00 PM
20. Shraddhanjali Kanan
Discover the tranquility of Shraddhanjali Kanan, a charming city park with manicured green gardens and azure lagoons. This urban oasis got its name in honor of the martyrs and is an ideal place for leisurely walks amidst the song of peaceful birds. Don't miss the captivating boat rides here! Located in the heart of Guwahati, it is just half an hour drive from the famous Assam State Museum and the famous Umananda Temple. It is really a must to explore the less trodden paths through Shraddhanjali Kanan!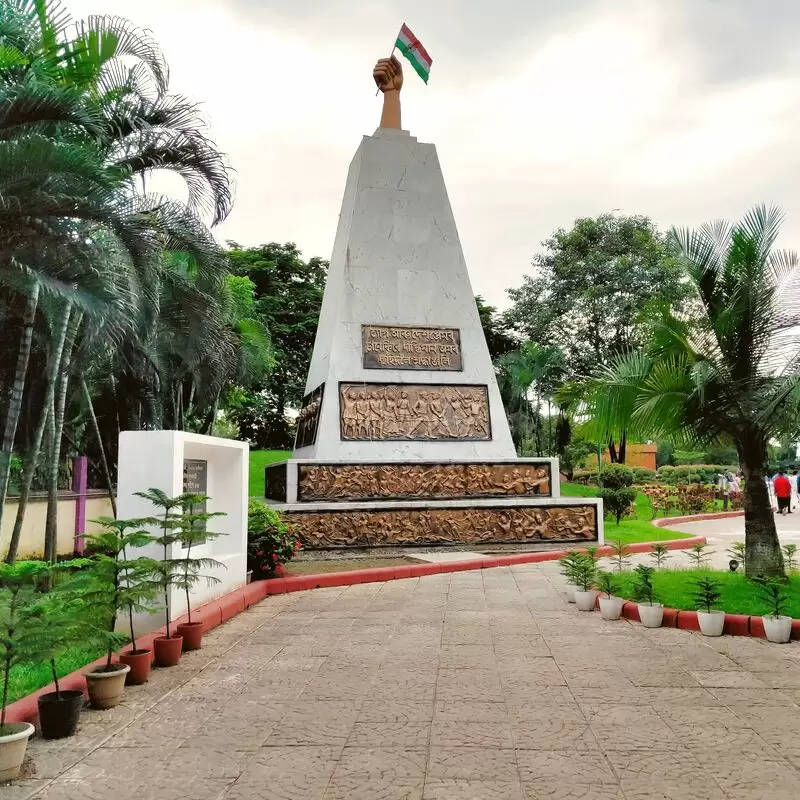 Shraddhanjali Kanan
5Q7H+QXW, RG Baruah Rd, Tarun Nagar, Guwahati
Monday - Sunday: 10:00 AM – 6:00 PM
21. Shri Shri Aswaklanta Temple

The Shri Shri Aswaklanta Temple in Guwahati is an unmissable jewel steeped in history and spiritual significance. It offers a magnificent view of the Brahmaputra River and is said to be the place where Lord Krishna took rest after his epic battle with Narkasur.

An insider tip: don't miss the beautiful carvings on the temple stones, which often go unnoticed. Nearby are also the Ugratara Temple and the Navagraha Temple, a popular astronomical center.

Shri Shri Aswaklanta Temple
Amingaon, 5PPF+P4P, Doul Govinda Rd, North Guwahati, Guwahati
22. Nilachal Hills
Experience a spiritual awakening in the Nilachal Hills where you will find the pristine Kamakhya Temple, a jewel of ancient architecture. Experience the fusion of mythology and history amidst the lush green surroundings with panoramic views of Guwahati. The lesser known Pandav Caves add a touch of mystery. Don't forget to get up early to witness the enchanting sunrise - an unmissable spectacle. A few kilometers away is the Assam State Zoo, a perfect stopover for animal lovers!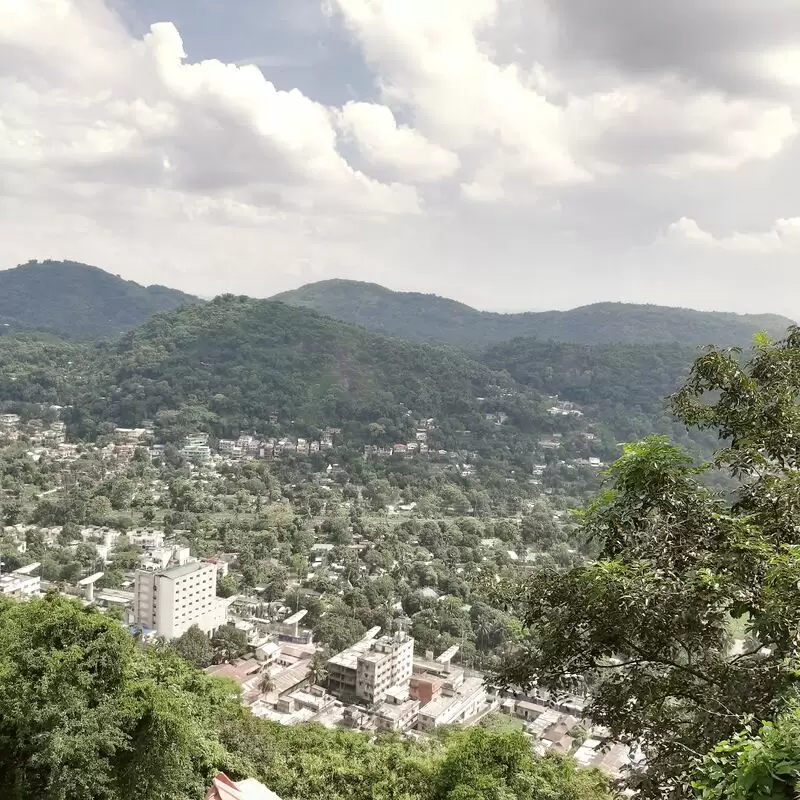 Nilachal Hills
5P77+P22, Hargobinda Sarma Path, Nursery, Guwahati
Monday - Friday: Closed
Saturday - Sunday: Open 24 hours
23. Sri Sri Ugratara Devalaya
Sri Sri Ugratara Devalaya" is a must visit for its spiritual aura and remarkable history. Located on the Jorpukhuri hill, this temple dedicated to Ugratara, the embodiment of anger in Goddess Parvati, is famous as one of the 51 Shakti Peethas. Be impressed by the folklore of the temple, based on Hindu mythology and ancient scriptures. And don't forget to admire the turtles in the temple's pond! Nearby Umananda Island offers a tranquil retreat with its centuries-old Shiva temple and lush landscape. Experience tranquility in the heart of vibrant Guwahati.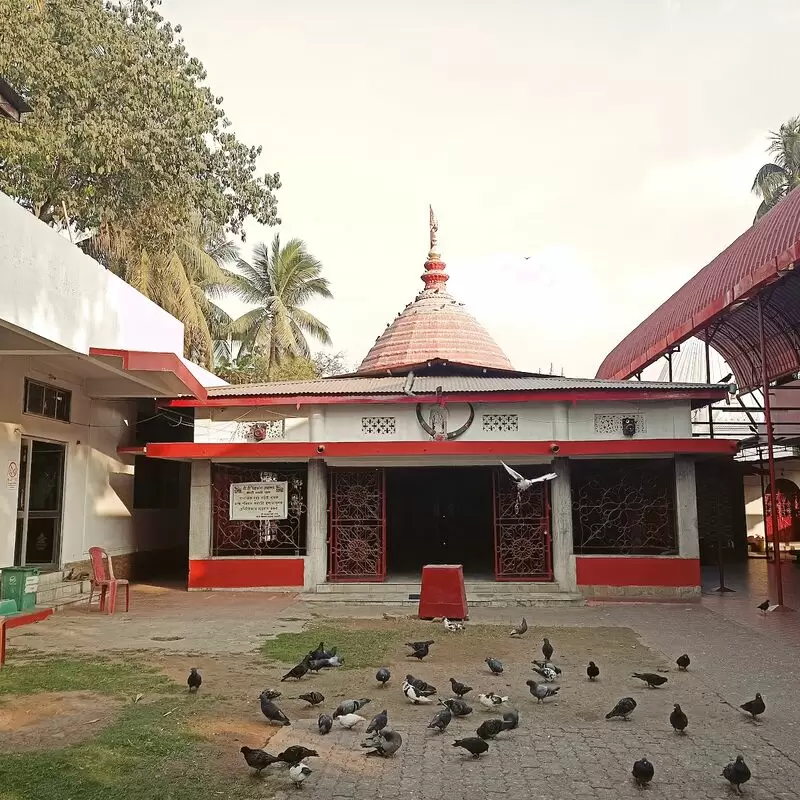 Sri Sri Ugratara Devalaya
5QQ3+P8V, Lamb Rd, Uzan Bazar, Guwahati
Monday - Sunday: 7:00 AM – 4:00 PM
24. Lachit ghat

Immerse yourself in the hustle and bustle of Guwahati at Lachit Ghat. Lachit Ghat is frequented by locals and tourists alike and is also a hub for daily river traffic. Pay homage to the brave warrior Lachit Borphukan, after whom the place is named. The breathtakingly beautiful sunset view will leave you spellbound.

Insider tip: Try the hot tea offered by the street vendors there. And once you reach the ghat, the Umananda Temple is just a ferry away. Indeed, unmissable!

Lachit ghat
Kaamakaazi Disco Building, North Guwahati, Guwahati

Monday - Sunday: 9:00 AM – 5:00 PM
25. Bhubaneswari Temple
Visiting the heavenly Bhubaneswari Temple in Guwahati is a spiritual encounter you will not forget. Perched atop Nilachal Hill, this sacred gem offers breathtaking panoramic views of the city and the Brahmaputra River. Pro tip: Stay until dusk to witness an enchanting sunset. Also, Kamakhya Temple, another sacred site, is just a short walk away. Don't miss the heartwarming ritual of morning aarti - an exceptional start to your temple tour.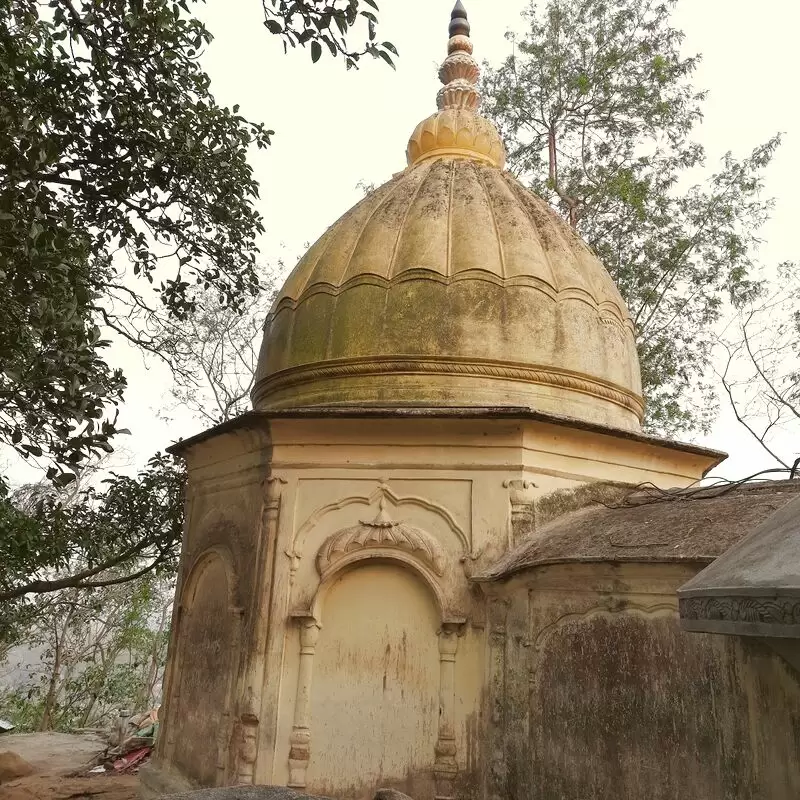 Bhubaneswari Temple
5P86+V7X, Kamakhya, Guwahati
Monday - Sunday: 8:00 AM – 6:00 PM
26. Guwahati Planetarium

Unleash the astronomer in you at Guwahati Planetarium, a paradise for those curious about celestial bodies. Equipped with a modern Japanese projector, the planetarium offers unique astronomical shows and fascinating exhibitions about our universe. Its sky-watching program attracts numerous stargazers.

Insider tip: Don't miss the library, which has a wealth of astronomical literature. Nearby, Nehru Park awaits you, offering plenty of greenery and tranquility amidst the urban hustle and bustle. A trip to Guwahati is incomplete without exploring these gems.

Guwahati Planetarium
5QR2+HQ8, MG Rd, Latasil, Uzan Bazar, Guwahati

Monday - Sunday: 11:00 AM – 4:00 PM
Best Time to Visit Guwahati
The best time to visit Guwahati, India, is during the winter months from October to March. The weather is pleasant with temperatures ranging from 5°C to 25°C, perfect for sightseeing and exploring the city's natural beauty and cultural heritage.
Annual Weather in Guwahati
Guwahati 3-Day Forecast
Thu, 21 September
Night
75 °F
24 °C
91%
Morning
75 °F
24 °C
89%
Afternoon
76 °F
25 °C
87%
Evening
75 °F
24 °C
0%
Fri, 22 September
Night
74 °F
23 °C
83%
Morning
74 °F
24 °C
81%
Afternoon
80 °F
26 °C
88%
Evening
76 °F
25 °C
73%
Sat, 23 September
Night
75 °F
24 °C
75%
Morning
74 °F
23 °C
72%
Afternoon
76 °F
24 °C
70%
Evening
75 °F
24 °C
0%
Questions & Answers

What is the major language spoken in Guwahati?

The main language spoken in Guwahati is Assamese. It is an East Indian language, which is not only the official language of Assam, but also an important linguistic element of the northeastern state. The language has a rich literary heritage and is spoken by the majority of the city's inhabitants. In addition to Assamese, English is also commonly used for administrative purposes and is widely spoken among the educated population. The area is also multicultural, so other languages such as Bengali and Hindi can be heard.

Where can I try authentic Assamese cuisine in Guwahati?

Enjoy authentic Assamese cuisine at Delicacy Restaurant, a prestigious restaurant in Guwahati. The aesthetic décor enhances the dining experience with traditional Assamese dishes such as local fish preparations, duck curry, pigeon curry and bamboo shoot dishes. This eatery's sense of culinary authenticity offers an enriching perspective on the rich cultural heritage of Assamese cuisine. The high-quality, flavorful dishes receive consistently positive reviews from visitors.

How can I get around the city without a car?

Guwahati offers a variety of transportation options. City buses are a cheap and efficient way to get around. Alternatively, you can hire cycle rickshaws and auto-rickshaws for short distances. For a more comfortable ride, cabs and Ola or Uber cabs are available. If you are inclined to adventure, ferry rides on the Brahmaputra River offer a unique experience. To get to the suburbs, you can use the suburban rail network.

What is the standard dress code in Guwahati?

There is no strict dress code for visitors or residents in Guwahati. People generally dress modestly in traditional Indian clothing or Western casual wear. Women often wear salwar kameez (traditional Indian dress), while men tend to choose pants and shirts. However, it is advisable that tourists dress modestly, especially when visiting religious sites. Note that you may need a light sweater or jacket during the winter months, as temperatures can drop.

What are important local customs and etiquettes to be aware of?

In Guwahati, respect for elders is an essential aspect of local customs. People are expected to remove their shoes before entering a house or temple. It is not customary to touch a person's head or point at them with your feet, as both are considered disrespectful. Public displays of affection are generally frowned upon. Also, it is better to eat with the right hand, as the left hand is considered unclean. In Guwahati, wearing modest clothing is recommended, especially in temples.

Is it safe to travel at night in Guwahati?

As in any other city, there are concerns about safety at night in Guwahati. In general, the central parts of the city are considered quite safe at night. However, it is always better to avoid deserted or unfamiliar areas and risky situations, especially if you are traveling alone. It is also advisable to use pre-arranged transportation or trusted cab services for nighttime travel. Be aware of your surroundings, respect local customs, and keep emergency numbers handy.

What is a must-try food in Guwahati?

A must-try in Guwahati is Assam Laksa, a local favorite. This dish is a fresh, vibrant and richly flavored fish broth served with noodles. The soup is spicy, sweet and slightly hot and is made with tamarind, chilies, lemongrass and fish flakes. Garnished with cucumbers, pineapple, mint and onions, it is topped with a generous drizzle of thick, sweet shrimp paste for a savory depth of flavor that makes it an unforgettable culinary experience.

What are typical price ranges for a meal?

The cost of a meal in Guawhati, India, can vary greatly depending on the location and type of cuisine. Street restaurants and local eateries offer meals for as little as 100-150 Indian rupees per person. Mid-range restaurants offer meals between 300 and 700 rupees per person. An upscale meal can cost over 1,000 rupees per person. These prices usually include a main course, a side dish, and a non-alcoholic beverage. Prices can increase significantly if you add alcoholic beverages or choose special dishes.

How reliable is the public transportation system?

Guwahati's public transport system, consisting mainly of city buses, auto-rickshaws and cabs, is widely available but can sometimes be overcrowded and unreliable, especially during rush hours. For getting around town, however, it is quite reliable. For short distances, auto-rickshaws are a popular alternative. The Assam State Transport Corporation and private agencies operate city buses. In addition, cab services from trusted companies such as Ola and Uber are readily available and safer and more reliable.

Are there any wildlife viewing opportunities nearby?

Yes, there are fantastic wildlife viewing opportunities near Guwahati. Kaziranga National Park, home to the one-horned rhinoceros, is known worldwide for its conservation efforts. The Pobitora Wildlife Sanctuary, on the other hand, offers the opportunity to observe various bird species and the Indian bison. Manas National Park, which is a UNESCO World Heritage Site, is characterized by diverse flora, fauna and landscape. This region is a true paradise for nature lovers and wildlife photographers.

What types of adventure activities are possible near Guwahati?

Guwahati, the gateway to northeast India, offers a variety of adrenaline-pumping activities. One can go white water rafting on the Brahmaputra River, whose tumultuous rapids provide plenty of thrills. Exploring the Mahadev Khola caves is another thrilling adventure for spelunkers. Trekking routes also abound, with Garbhanga Reserve Forest being a famous spot. Animal lovers can go on an adventurous safari at the Pobitora Wildlife Sanctuary or the nearby Kaziranga National Park. Finally, a river cruise is a delightful activity, especially at sunset.

Is Guwahati a kid-friendly city?

Guwahati is definitely a kid-friendly city that offers numerous activities and attractions for children. You can visit the Assam State Zoo, which is home to a variety of wildlife. The Regional Science Center is also a wonderful place to learn. The city is surrounded by natural beauty, and parks like Navagraha and Nehru are inviting to visit. Numerous activities are offered along the Brahmaputra, including river cruises, which are an engaging experience for the little ones.

Can I drink the tap water in Guwahati?

Drinking tap water in Guwahati is generally not recommended. While the local population may be accustomed to it, visitors, especially international tourists, are advised against consumption due to possible differences in water treatment standards and sanitary practices. To avoid health problems, use bottled or filtered water instead and make sure the seals are intact. Also remember to use the same water for brushing teeth and not to consume ice unless it is made from purified water.

Are credit cards widely accepted in Guwahati?

Yes, Guwahati, the largest city in northeast India, has embraced the digital payments revolution. Most hotels, restaurants and major retailers in Guwahati accept credit cards. Online services such as online shopping, cab services and food delivery also support credit card transactions. However, for smaller vendors or in rural areas, it is advisable to carry cash as credit card acceptance is less guaranteed. It is always better to check before making a purchase.

What type of wildlife can I expect in the nearby parks?

Several national parks near Guwahati are home to a wide variety of wildlife. Kaziranga National Park is known for its one-horned rhinos, while Manas National Park is a tiger reserve and UNESCO World Heritage Site that is home to leopards, wild buffalo, and elephants. Nameri National Park is home to numerous bird species and is popular with birdwatchers. The Pobitora Wildlife Sanctuary is home to a dense population of Indian one-horned rhinos and various migratory birds.

Is English widely spoken in Guwahati?

Yes, English is widely spoken in Guwahati, especially among the younger generation and in the business and tourism industries. Although Assamese is the main language, English is often preferred because of its global applicability. There are many educational institutions in the city that teach in English, further encouraging the use of the language. However, English proficiency can vary from fluent to basic, especially in rural or less commercial areas.

How does tipping work in Guwahati?

Tipping is not mandatory in Guwahati, but is appreciated for good service. In restaurants, it is customary to tip about 10% of the bill amount if a service charge is not already included. For hotel staff and cab drivers, small tips are customary, but the amount is a matter of discretion. Note that it can be considered disrespectful to tip in coins, so give bills whenever possible. Overall, tipping is seen as an appreciation of service rather than an obligation.

How strict are the rules about photography in Guwahati?

In Guwahati, photography is not restricted in most public places. You are free to photograph the beauty of nature, the vibrant life on the streets, or historical monuments. However, it is important to ask permission when photographing individuals, especially in rural and tribal areas. At certain spiritual or religious sites, photography may be prohibited or require a special license or fee. It is always advisable to respect local customs and laws and to check the rules before taking photographs at a site.

Where to find local music or theater performances in Guwahati?

In Guwahati, local music and theater performances can often be experienced at the Pragjyotish ITA Centre for Performing Arts, which showcases the best of local and national arts. Rabindra Bhawan is another popular venue known for its regular theater and music events. For contemporary music concerts, Cafe Hendrix is a must. At any of these venues, one can experience the cultural heritage of Assam with a mix of traditional and modern performances.

Feedback

I hope you found this article informative and helpful. I'm eager to improve the content and make it even more valuable for you. If you have any feedback or suggestions, I would love to hear from you.

Do you have any tips or hidden gems that you think should be added to the list? Are there any areas that you feel could use more explanation or clarification?

Your input is greatly appreciated and will help us to continue providing high-quality content that meets your needs and interests. Please feel free to share your thoughts.