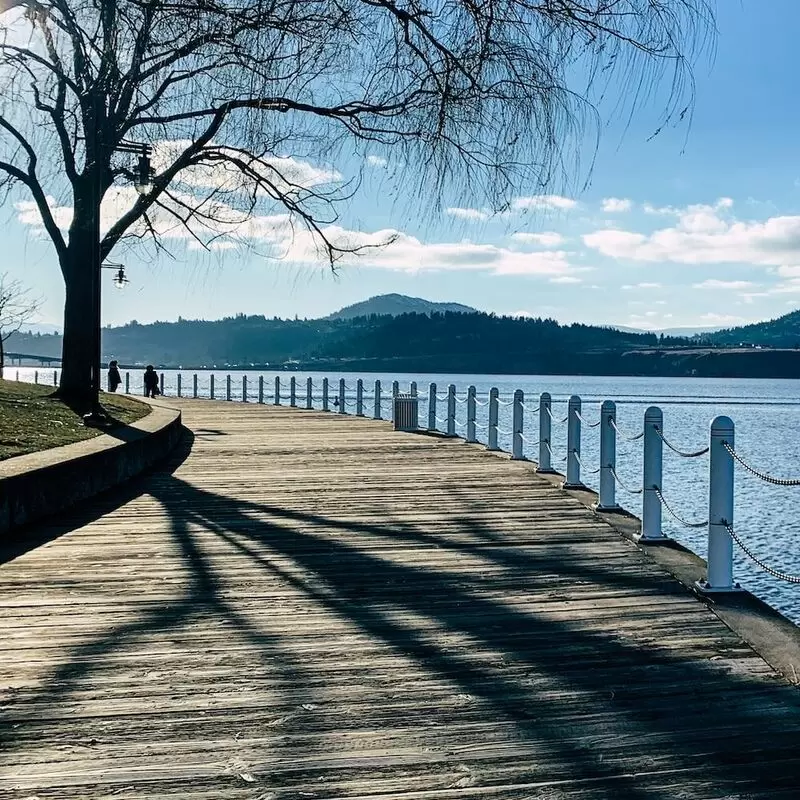 1. Big White Ski Resort

Big White Ski Resort in Kelowna is a winter paradise! With its breathtaking, snow-covered slopes, it offers outstanding skiing and snowboarding experiences for all skill levels. And it's not just about winter sports - enjoy luxurious mountain accommodations, gourmet restaurants and spa treatments.

Don't miss the breathtaking snowshoe hikes under the moonlit sky - a real insider tip. Nearby, experience the cultural richness of downtown Kelowna or immerse yourself in silence in Myra Canyon.

Big White Ski Resort
5315 Big White Rd, Kelowna
2. Kangaroo Creek Farm

Explore the unique Kangaroo Creek Farm in the heart of Kelowna. Touch, feed and experience kangaroos, wallabies, sugar gliders and more up close. This is not your typical farm, but a fascinating adventure filled with adorable creatures from Down Under.

Here's an insider tip: try to visit the farm in the spring during baby season, when overwhelming cuteness is guaranteed! The stunning Okanagan Lake is just a short drive away - the perfect place to cool off after visiting the farm.

Kangaroo Creek Farm
5932 Old Vernon Rd, Kelowna

Monday - Sunday: 10:00 AM – 3:00 PM
3. Knox Mountain Park
Knox Mountain Park, the jewel of Kelowna, promises to awaken your spirit of adventure! It's a hiker's paradise, offering panoramic views of Okanagan Lake at Apex Lookout. The chirping of birds like owls and woodpeckers will accompany you on the scenic hiking trails. Don't miss the chance to see a deer or two in the park! Pro-tip: Check out Kelowna's charming Cultural District, just a short drive away, for a lively arts scene, craft breweries and historic architecture.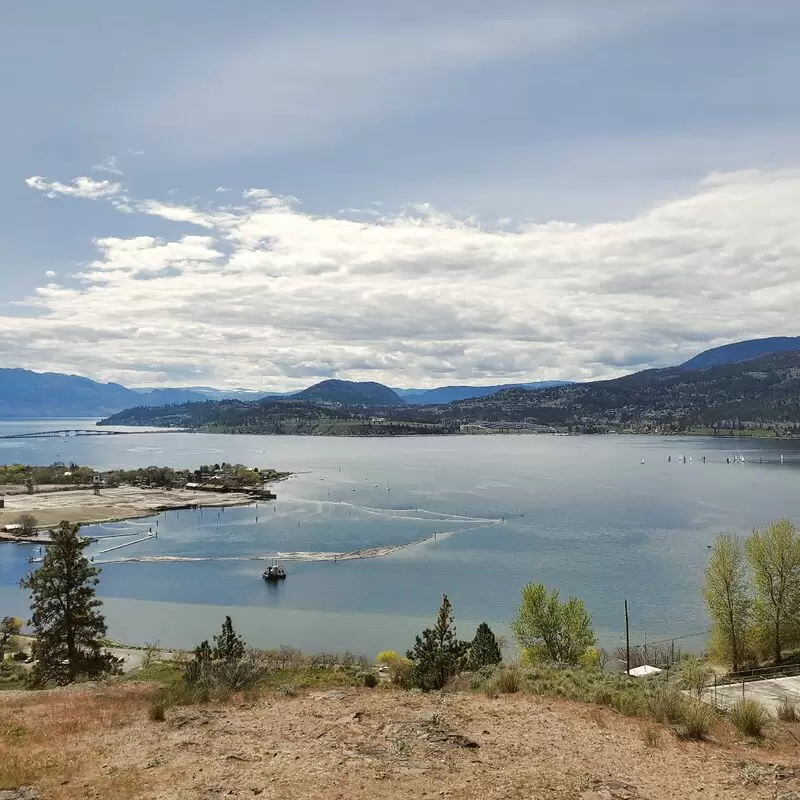 Knox Mountain Park
450 Knox Mountain Dr, Kelowna
Monday - Sunday: 6:00 AM – 10:00 PM
4. Myra Bellevue Provincial Park Day Use Area

Discover the beauty of nature at Myra-Bellevue Provincial Park - Day Use Area in Kelowna. Be awed by the enchanting colors of wildflowers, listen to the symphony of chirping birds and enjoy the breathtaking views from the hills. Don't forget to explore the famous Kettle Valley Rail Trail, known for its historic rail trestles and tunnels.

Insider tip: bring your camera! Just a stone's throw away is Summerhill Pyramid Winery, known for its award-winning organic and biodynamic wines.

Myra Bellevue Provincial Park Day Use Area
Stewart Rd E, Kelowna

Monday - Friday: 8:30 AM – 4:30 PM
Saturday - Sunday: Closed
5. Waterfront Park

A visit to Waterfront Park in Kelowna is like stepping into an oasis of tranquility, where the beauty of nature blends with vibrant city life! You can walk along the immaculate flowerbeds, soak up the sun on the sandy beaches, and even make friends with the resident squirrels.

Here's an insider tip: catch the sunrise over the calm waters of Okanagan Lake - an unforgettable spectacle. Just a 10-minute walk away is the fascinating Kelowna Art Gallery, showcasing local and international talent. Experience the quintessence of Kelowna's charm at Waterfront Park!

Waterfront Park
1200 Water St, Kelowna

Monday - Sunday: Open 24 hours
6. Kelowna City Park

Kelowna City Park is a lively oasis in the middle of the bustling city that is a must-see! The view of Okanagan Lake, especially at sunrise and sunset, is simply mesmerizing. But it's not just the views; there are sandy beaches, water parks, picnic areas and outdoor fields for sports activities.

Insider tip: Visit the sail sculpture, a Kelowna landmark! Just a short walk away is Kasugai Garden Park, an enchanting hidden gem that offers a tranquil Japanese-style garden experience.

Kelowna City Park
1600 Abbott St, Kelowna

Monday - Sunday: 6:00 AM – 11:00 PM
7. Mission Creek Regional Park
Experience Kelowna's natural beauty at charming Mission Creek Regional Park. It offers well-maintained trails, a lively creek, an exquisite eco-center and scenic picnic areas. Watch the fall salmon migration or track wildlife on a self-guided tour. Nearby, Summerhill Pyramid Winery awaits, offering premium organic wines in its unique pyramid cellar. This park is Kelowna's quiet gem and always a refreshing change from the hustle and bustle of city life.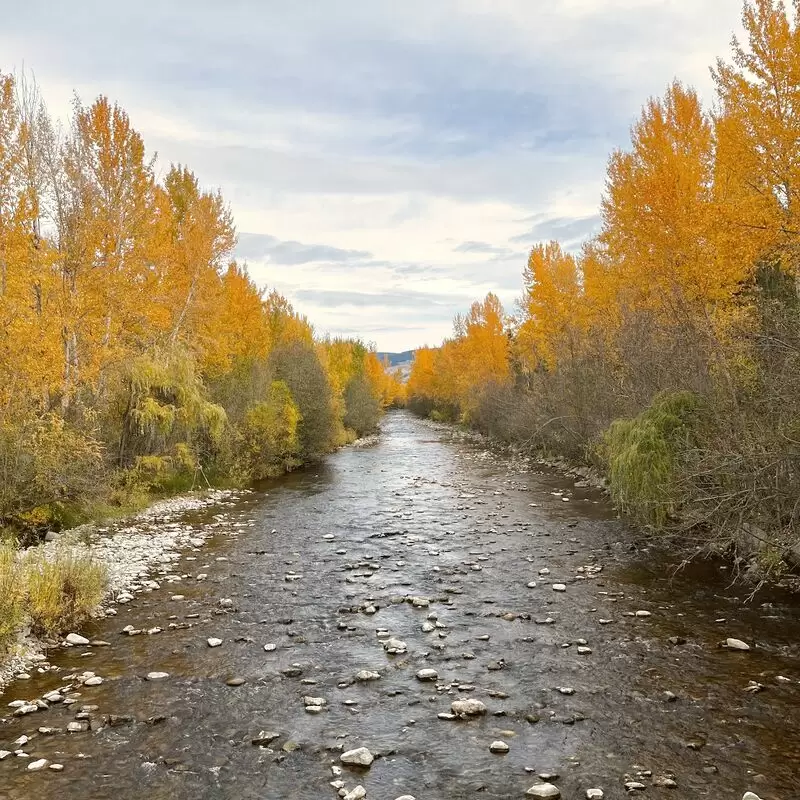 Mission Creek Regional Park
2363 Springfield Rd, Kelowna
Monday - Sunday: 6:00 AM – 11:00 PM
8. Bear Creek Provincial Park
Discover the splendor of the great outdoors at Bear Creek Provincial Park! Immerse yourself in beautiful, pristine nature trails that wind through Kelowna's lush landscapes. Spend a day exploring the park's rich biodiversity, or relax on the park's scenic beaches. Don't miss the captivating Bear Creek Canyon Trail - a favorite of locals! Just a short drive away is the lively Quail's Gate Winery, which offers exquisite tastings of Kelowna's famous wines.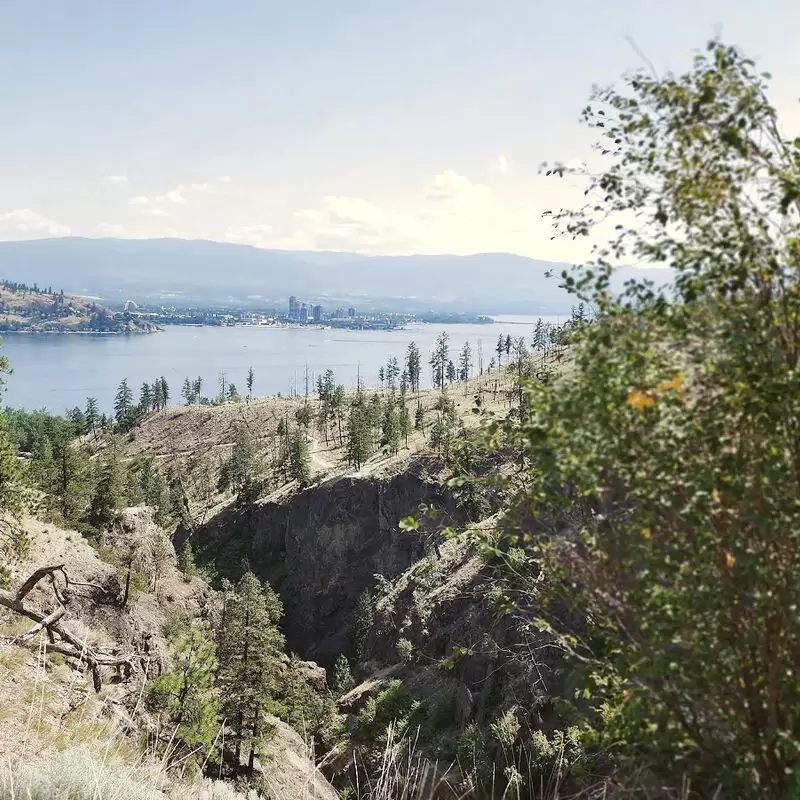 Bear Creek Provincial Park
107 Westside Rd, Kelowna
Monday - Sunday: 7:00 AM – 10:00 PM
9. Kasugai Gardens
Visit Kasugai Gardens, a hidden gem in Kelowna that offers a tranquil experience in the best of Japanese design with its stone lanterns, pine trees, koi fish and a beautiful waterfall. This oasis of tranquility is located downtown and was built as a symbol of friendship with Kasugai, Japan, Kelowna's sister city. During your visit, don't miss seeing the symbolic twin stone lanterns. Okanagan Lake is just a short walk away; enjoy a quiet stroll along the shore after exploring the gardens.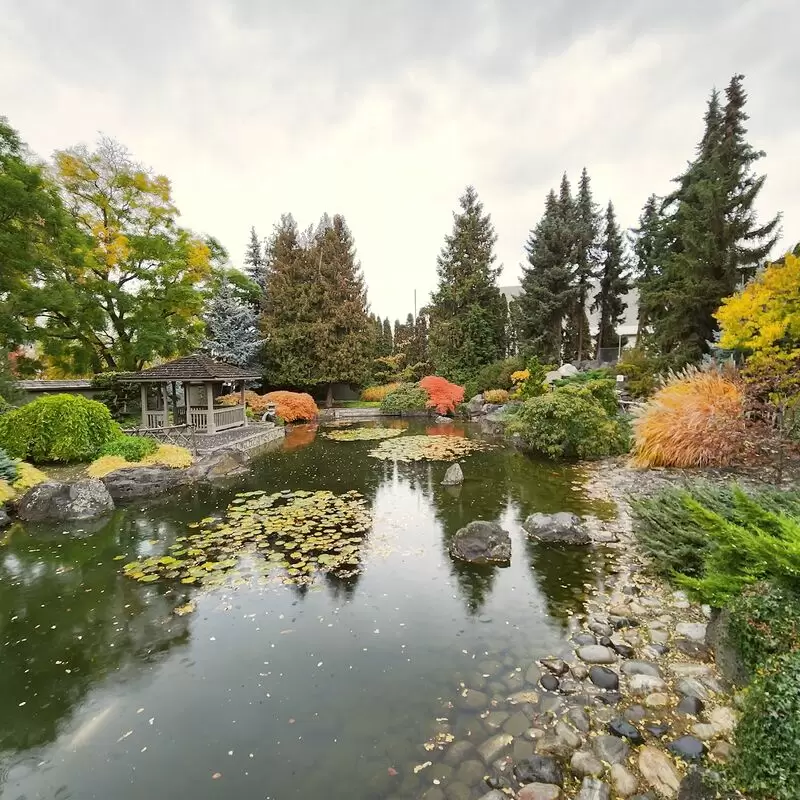 Kasugai Gardens
1435 Water St, Kelowna
Monday - Sunday: 9:00 AM – 5:00 PM
10. Mission Hill Family Estate Winery
Mission Hill Family Estate Winery is a poetic place where you can enjoy the distinctive flavors of the Okanagan Valley. The winery features stunning architecture that blends harmoniously with the breathtaking natural surroundings. At the Terrace Restaurant, you can enjoy custom wine tastings and carefully prepared gastronomic delights. Nearby, you can visit the Stewart family's historic prophecy statues, which bring a touch of art and history to the winery.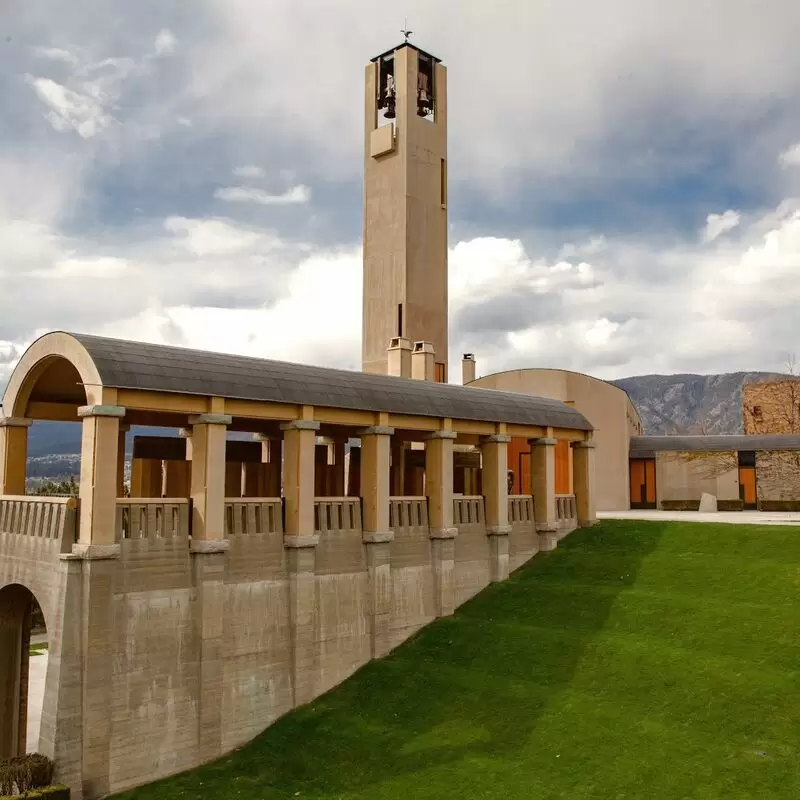 Mission Hill Family Estate Winery
1730 Mission Hill Rd, West Kelowna
Monday - Sunday: 10:00 AM – 8:00 PM
11. Boyce Gyro Beach Park
With its soft sandy beaches and shimmering waters of Okanagan Lake, Boyce-Gyro Beach Park in Kelowna is a true paradise for sunbathing, swimming and water sports. Popular with locals for its lively atmosphere, the park is also home to a giant gyro ball, playground and lively beach volleyball courts. Just a short walk away, you'll find delicious restaurants and the unique Rotary Beach Park, known for its excellent kiteboarding conditions. Don't forget to try the local ice cream - a true Kelowna beach experience!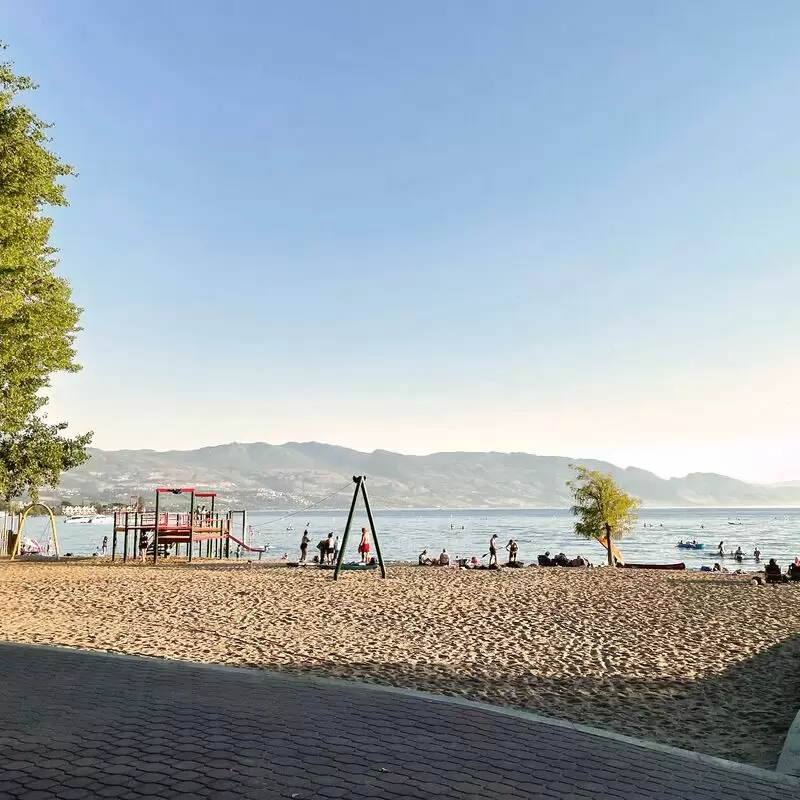 Boyce Gyro Beach Park
3400 Lakeshore Rd, Kelowna
Monday - Sunday: 9:30 AM – 6:30 PM
12. Cedar Creek Park
At Cedar Creek Park, an undisputed gem of the region, you can explore Kelowna's natural surroundings. Here, enjoy breathtaking panoramic views of Okanagan Lake surrounded by lush hills. Explore the green trails that are perfect for quiet hikes or picnics under the cathedral of towering cedars. This park is an insider's tip and hardly crowded, so you'll have a quiet and intimate experience. Since it's just a stone's throw from wineries like St. Hubertus & Cedar Creek Estate Winery, it's the perfect place to enjoy nature before a wine tasting.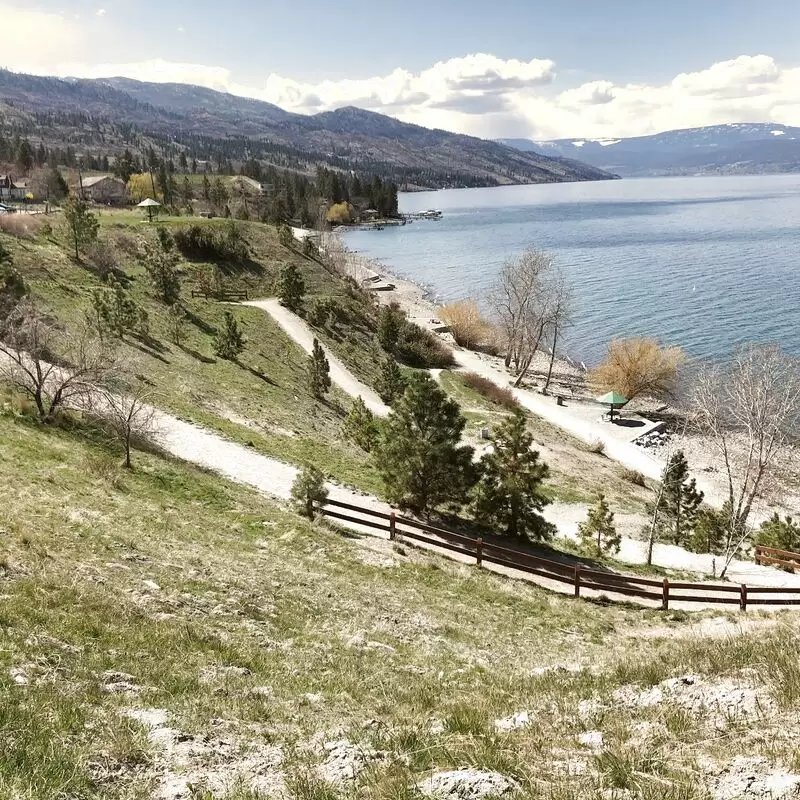 Cedar Creek Park
5200 Lakeshore Rd, Kelowna
Monday - Sunday: 6:00 AM – 11:00 PM
Saturday: 6:00 AM – 10:00 PM
13. Quails' Gate Winery
Quails' Gate Winery is a must-see for wine lovers. Famous for its award-winning Chardonnay and Pinot Noir, the family-run winery offers mesmerizing views of the Okanagan Lake vineyards. Take a wine tour, participate in a tasting or enjoy a gourmet meal at Old Vines Restaurant. A little-known gem, try the late harvest dessert wine, a real treat! Nearby is the famous Mission Hill Family Estate, another exceptional winery to round out your wine tour.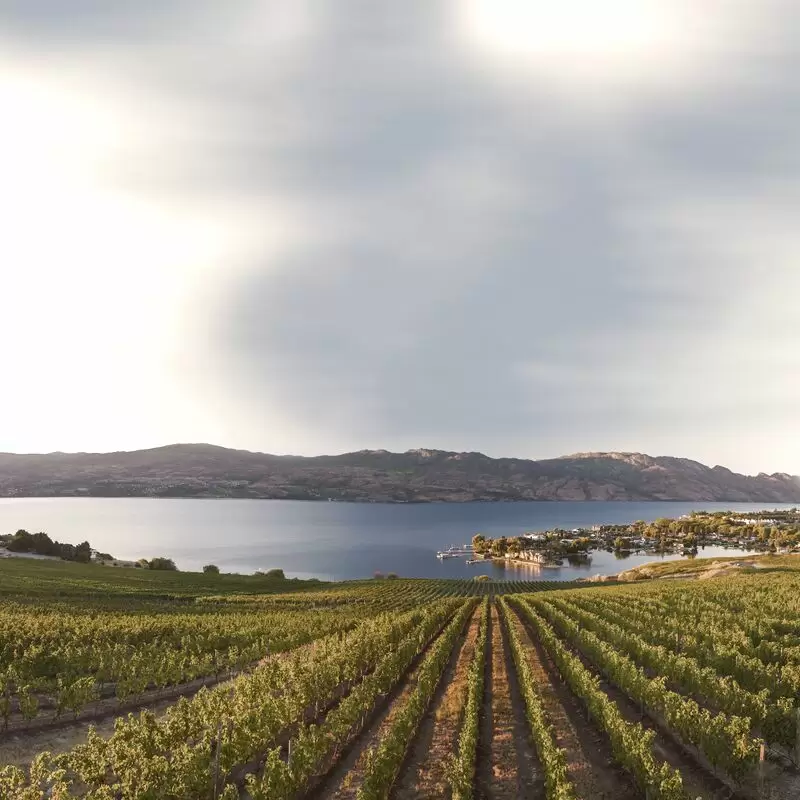 Quails' Gate Winery
3303 Boucherie Rd, Kelowna
Monday - Sunday: 10:00 AM – 8:00 PM
14. Guisachan Heritage Park
Step back in time at Guisachan Heritage Park. This piece of history immerses visitors in Kelowna's rich culture. Walk through the Victorian gardens, explore the Cameron House and admire the historic trees. Be sure to dine at Guisachan House, a 19th-century summer home that has been transformed into a magnificent restaurant - be sure to try the wild salmon. Nearby is the beautiful Kasugai Garden Park, well worth a visit with its exotic plants and tranquil koi ponds.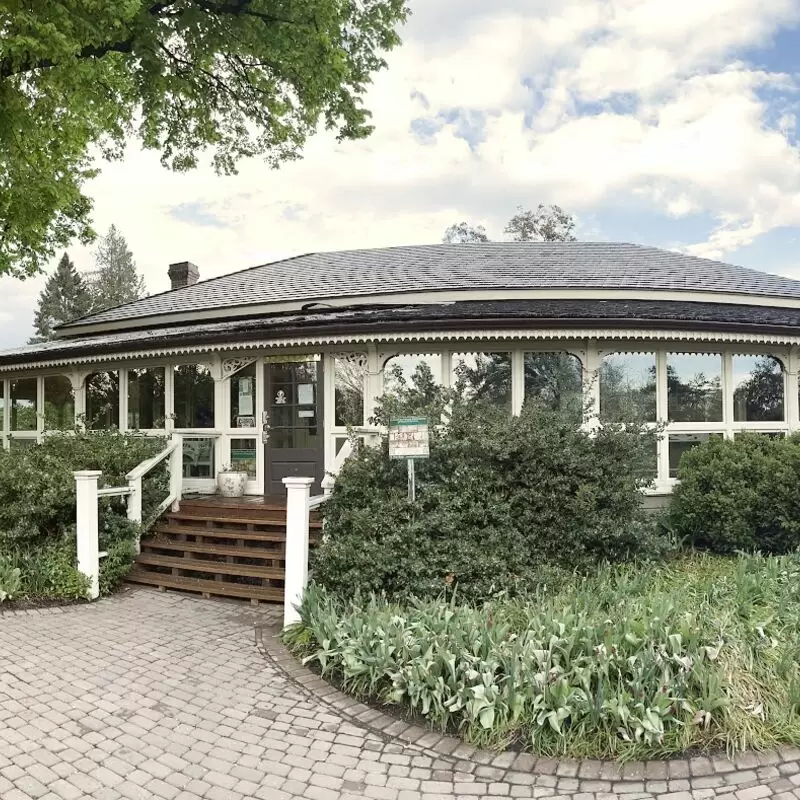 Guisachan Heritage Park
1060 Cameron Ave, Kelowna
Monday - Sunday: 6:00 AM – 11:00 PM
15. Stuart Park
Stuart Park in Kelowna is a must-see for its gorgeous lakeside setting with scenic walkways, public art and modern landscaping. In winter, enjoy the heartwarming sight of locals and visitors skating for free under the lighted trees. Admire the iconic "bear" sculpture aptly named Rhapsody - a well-kept local secret! Just a short walk away is the lively Waterfront Park, which promises a continuation of the breathtaking views and outdoor fun.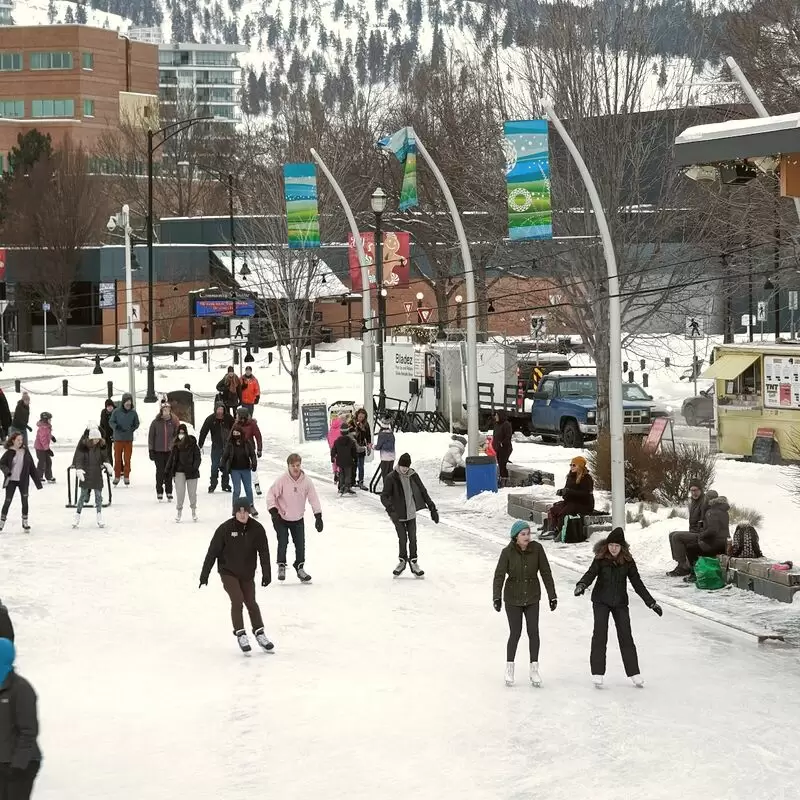 Stuart Park
1430 Water St, Kelowna
Monday - Sunday: 6:00 AM – 11:00 PM
16. Mill Creek Regional Park
Unleash your inner adventurer at Mill Creek Regional Park, a hidden gem in Kelowna. Traverse the lush forest trails, enjoy the sensational waterfalls, or relax by the tranquil ponds - it's a perfect picture-perfect getaway! A special experience is searching for hidden old cabins along the way! Nearby, the urban Orchard Park Shopping Centre offers a contrast to nature, and both are a short drive from downtown Kelowna. Experience the duality of wilderness and city life in one day here!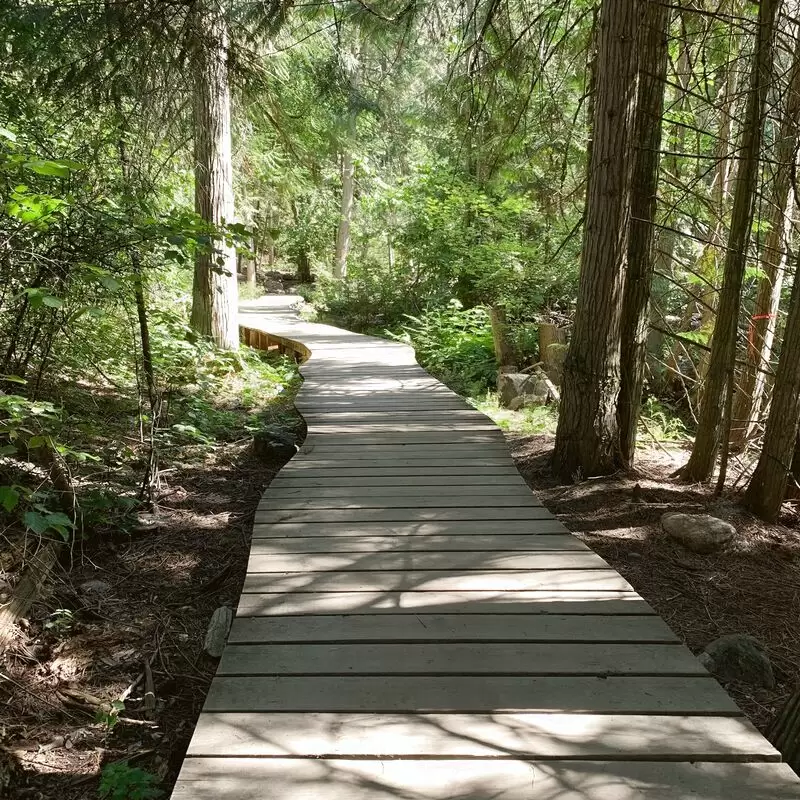 Mill Creek Regional Park
Spencer Rd, Kelowna
Monday - Sunday: 6:00 AM – 11:00 PM
17. Rotary Beach Park
Visit family-friendly Rotary Beach Park, a true Kelowna gem. Known for its shallow waters and stunning views of Okanagan Lake, this idyllic spot is perfect for kids and families to build sandcastles or take a warm dip. For animal lovers, there is a small marsh area where bird watching can be enjoyed. And don't miss the opportunity to go paddle boarding, a water activity popular with locals. Just a short walk away is the charming Mission Creek Greenway, which you can explore.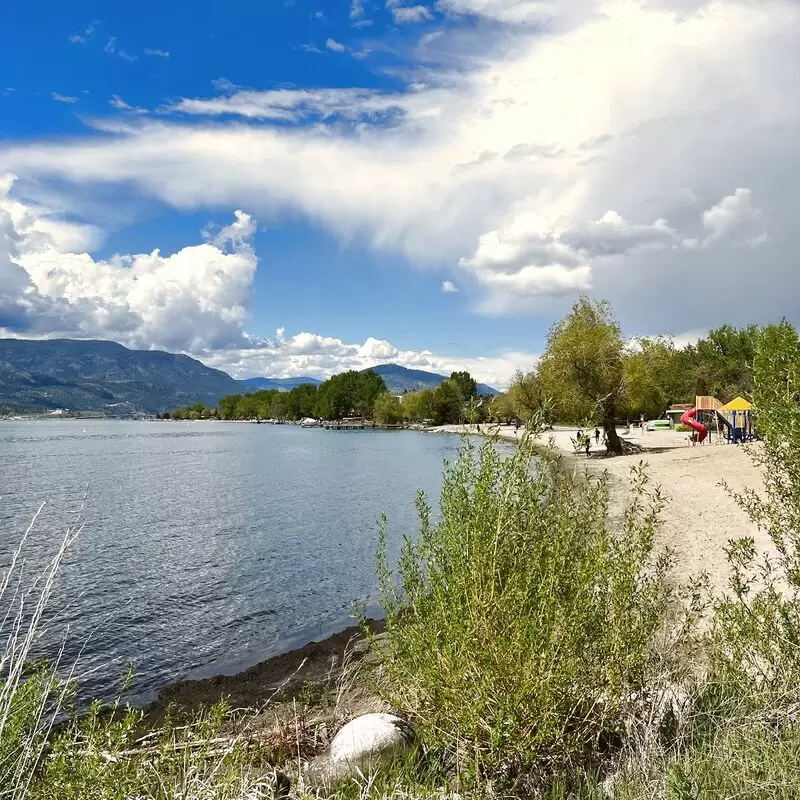 Rotary Beach Park
3736 Lakeshore Rd #3726, Kelowna
Monday - Sunday: 9:30 AM – 6:30 PM
18. Ben Lee Park
Known for its natural beauty, Ben Lee Park in Kelowna is perfect for adventure seekers and families. With a large water park, expansive playgrounds for kids of all ages, picnic areas, and a skateboard park, it offers a variety of interests. This hidden gem even hosts community events. After a day here, head to nearby Hollywood Road Regional Park, where you'll find scenic hiking trails and historic Gopher Creek Linear Park.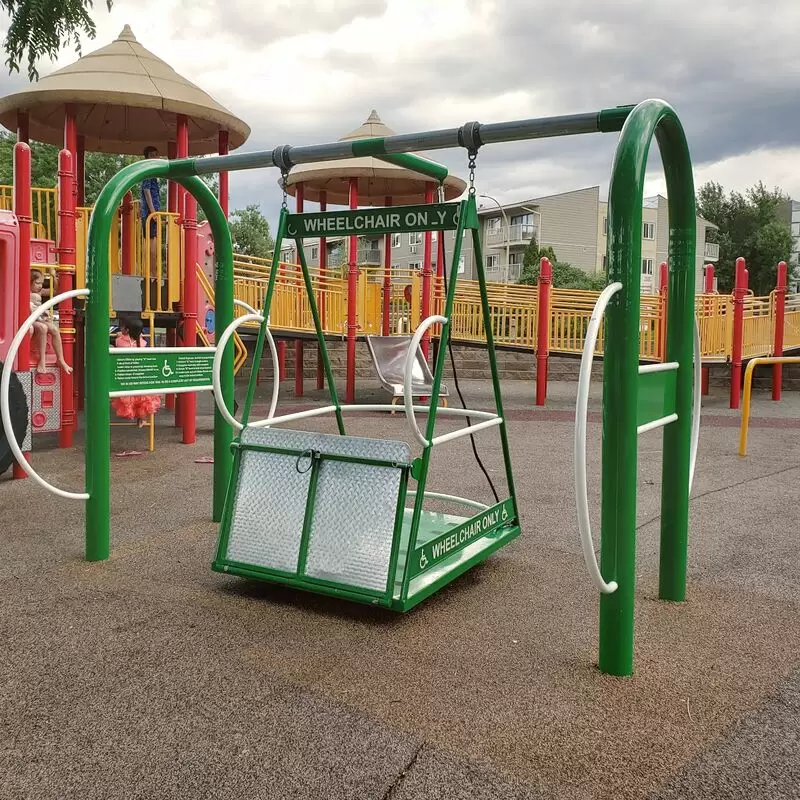 Ben Lee Park
900 Houghton Rd, Kelowna
Monday - Sunday: Open 24 hours
19. Gellatly Nut Farm Regional Park
Gellatly Nut Farm Regional Park in Kelowna is an endearing piece of land steeped in history, right on tranquil Okanagan Lake. Walk among decades-old nut trees, enjoy fresh nuts, explore the original farm buildings or take historic tours. A little known fact is that this is one of the few places in the world where you can find the unique heart nut. Nearby, you can explore Gellatly Bay Aquatic Park for a refreshing swim or dive adventure.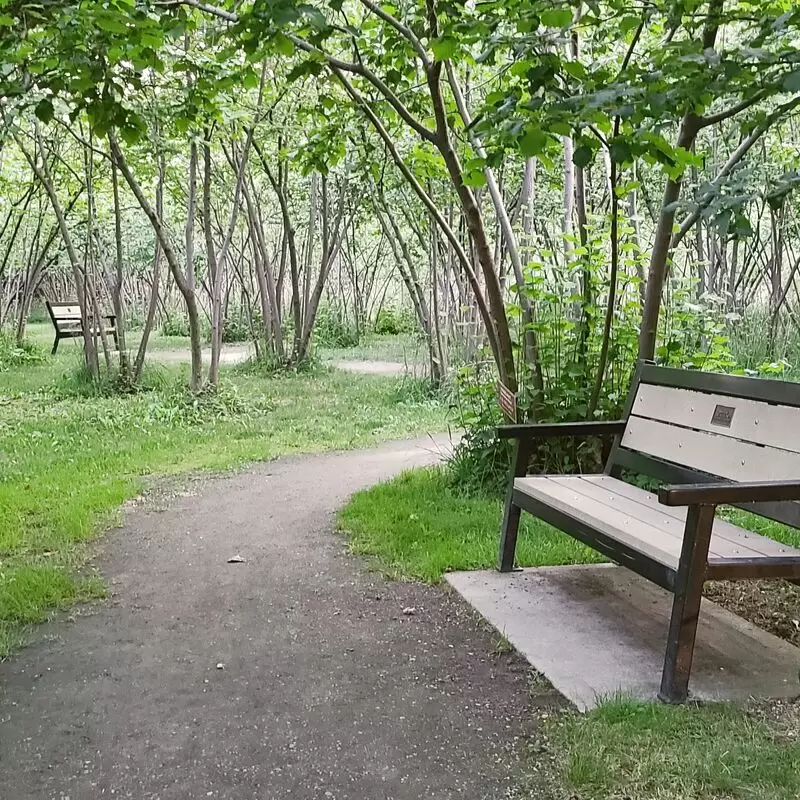 Gellatly Nut Farm Regional Park
2375 Whitworth Rd, West Kelowna
Monday - Sunday: 6:00 AM – 11:00 PM
20. Kalamoir Regional Park

Kalamoir Regional Park offers you an unparalleled communion with nature! Watch ospreys hunt for fish and gorgeous hidden beaches just waiting to be discovered along the 20.8 acres of forest trails.

Insider tip: Plan your visit in the spring when wildflowers are in bloom. Nearby, Mission Hill Family Estate Winery beckons with world-class wines, an elegant bistro and unforgettable views of the vineyards that stretch to Okanagan Lake. Visit and return refreshed.

Kalamoir Regional Park
3041 Collens Hill Rd, West Kelowna

Monday - Sunday: 6:00 AM – 11:00 PM
21. Okanagan Heritage Museum
Delve deep into Kelowna's roots with a visit to the Okanagan Heritage Museum! A hidden gem that preserves the fascinating cultural and natural history of the Okanagan, you can wander through the lush orchards and vineyards. The museum not only features artifacts, but also a fun interactive area for kids. And just a short walk away is Kasugai Garden Park, a tranquil Japanese garden - the icing on your enlightening excursion!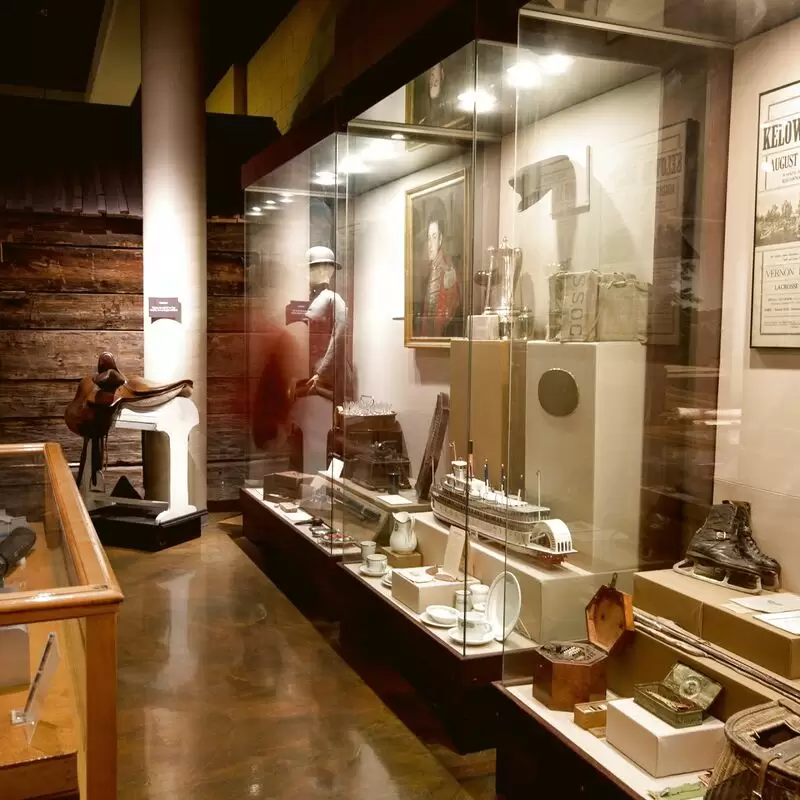 Okanagan Heritage Museum
470 Queensway, Kelowna
Monday - Saturday: 10:00 AM – 5:00 PM
Sunday: 11:00 AM – 5:00 PM
22. Full Cyrcle Adventures
Full Cyrcle Adventures offers unparalleled outdoor experiences for every explorer - enchanting, exciting and absolutely captivating! Located in the picturesque Kelowna countryside, the adventure company offers a delightful mix of activities including hiking, mountaineering and sea kayaking. A little-known fact is that the owner, Rob, is an expert guide who can show you extraordinary and secret natural spots. As for nearby attractions, check out Myra Canyon, which is just a short drive away and has scenic bike trails and historic logs.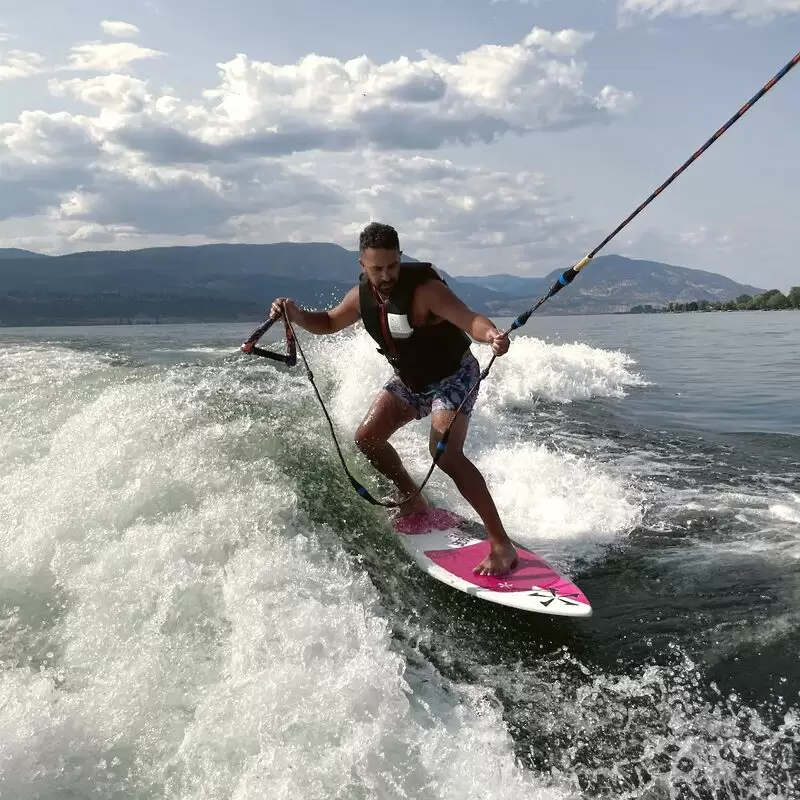 Full Cyrcle Adventures
4270 Swamp Rd, Kelowna
Monday - Sunday: 6:00 AM – 9:00 PM
23. The Vibrant Vine Winery
Experience the "aha" experience at The Vibrant Vine winery in Kelowna! This family-run winery offers award-winning wines and unique art installations - all with a 3D effect. Put on your 3D glasses and go for an immersive wine tasting experience! The winery is not just a winery, but also offers lively events, from jazz concerts to salsa classes. Just a stone's throw away, the Okanagan Lavender & Herb Farm offers a fragrant diversion for the afternoon with its enchanting lavender fields and artisan botanical products. Immerse yourself in both of these delights and experience an unforgettable Kelowna!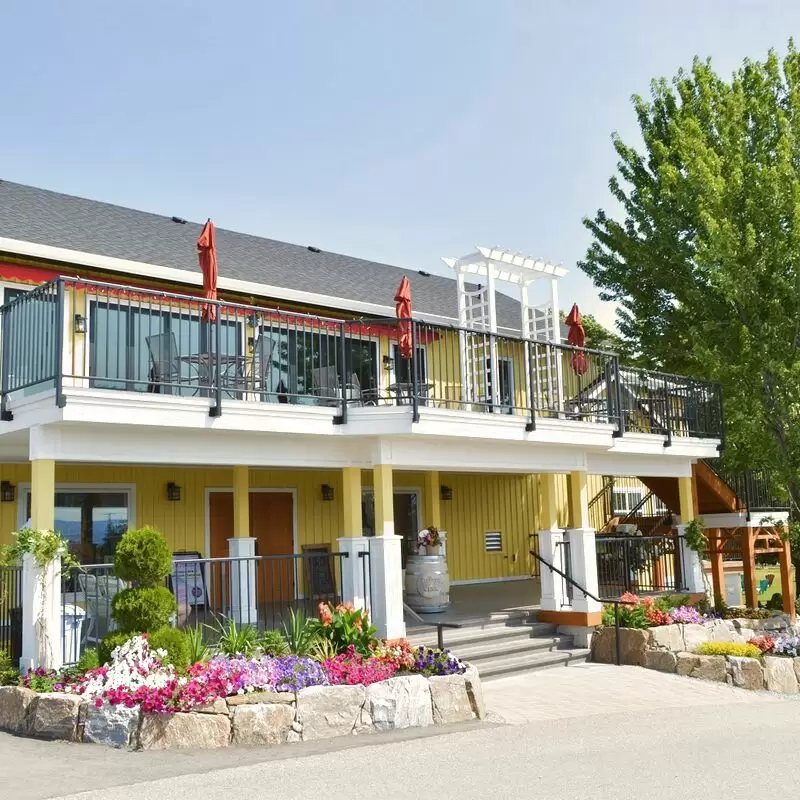 The Vibrant Vine Winery
3240 Pooley Rd, Kelowna
Monday - Sunday: 11:00 AM – 6:00 PM
24. Ogopogo Parasail
Experience exhilarating thrills and breathtaking views at the "Ogopogo Parasail" in Kelowna! This must-see attraction offers the highest parasailing flights available with unparalleled views of beautiful Okanagan Lake and the surrounding mountains. Try it out at sunset for a magical experience and real Instagram-worthy photos. Located near downtown, it's just a short walk from the waterfront attractions of Beach Avenue. Don't miss the nearby Okanagan Wine and Orchard Museum, a perfect addition to your high-altitude adventure.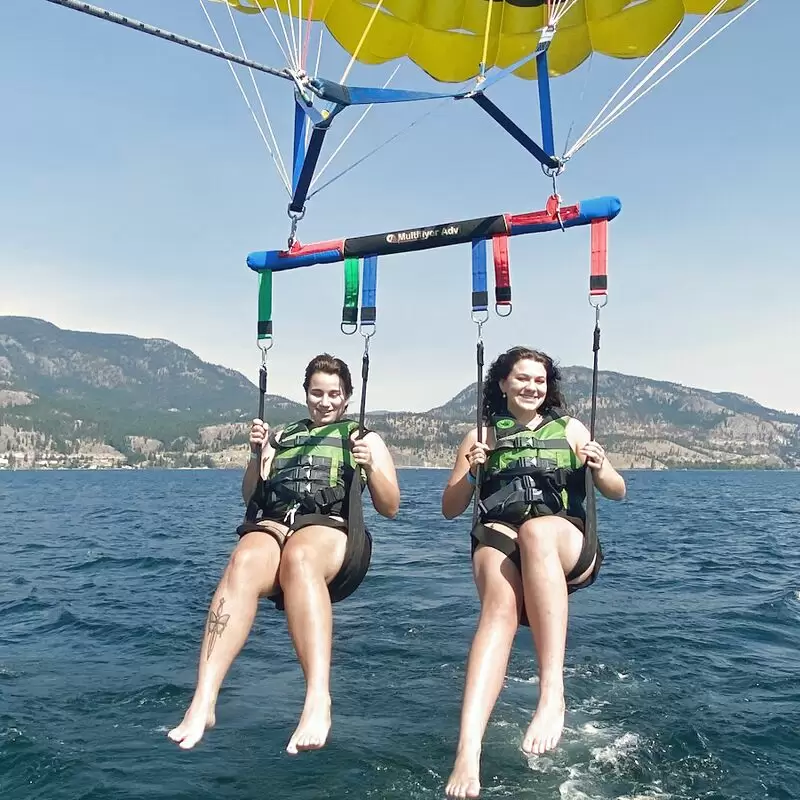 Ogopogo Parasail
230 Queensway, Kelowna
Monday - Sunday: 9:00 AM – 8:00 PM
25. Parkinson Recreation Park
Immerse yourself in the breathtaking charm of Parkinson Recreation Park in Kelowna! With its beautiful gardens, picnic areas, and spacious sports fields, including tennis and basketball courts, it's ideal for relaxation and activity. Don't miss the Apple Bowl Stadium, which is sure to get the hearts of area sports enthusiasts racing. Nearby is the Parkinson Recreation Centre, which offers several swimming pools and fitness facilities. This park is a true symbol of Kelowna residents' dedicated outdoor lifestyle. For nature lovers, the fascinating Mission Creek Greenway is not far away!
Parkinson Recreation Park

26. Kelowna Farmers' and Crafters' Market
A visit to the Kelowna Farmers' and Crafters' Market is a must for a true local experience. Bursting with Kelowna spirit, it offers a kaleidoscope of homemade crafts and organic products that embody Okanagan freshness. You can also sample some excellent locally produced wines. Just a stone's throw away is Kasugai Garden Park, a tranquil Japanese garden that rounds out the immersion in Kelowna's brilliant culture and local produce.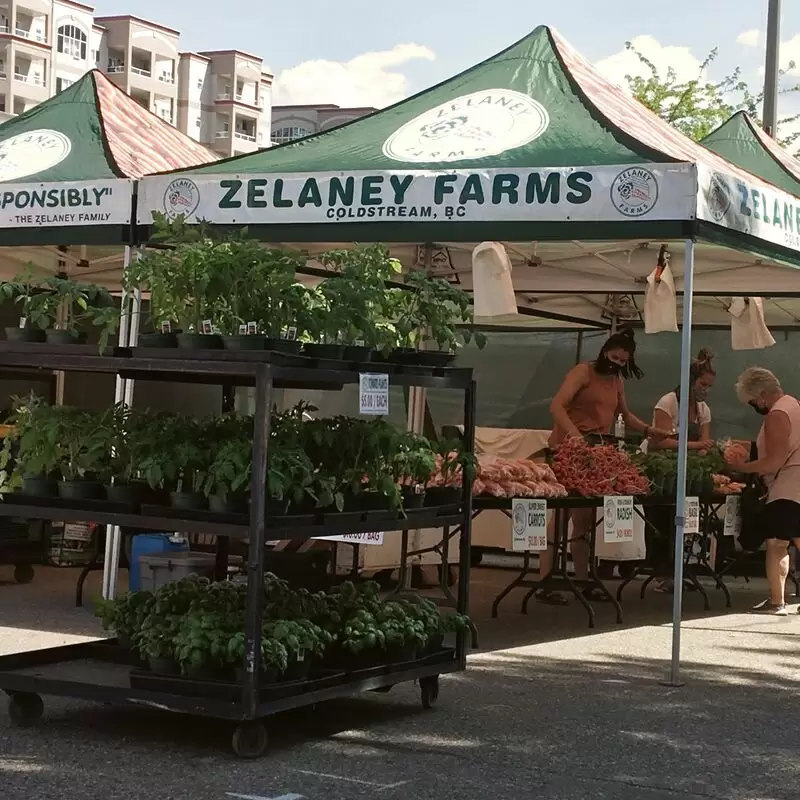 Kelowna Farmers' and Crafters' Market
Dilworth Dr, Kelowna
Monday - Sunday: Closed
Wednesday - Saturday: 8:00 AM – 1:00 PM
Best Time to Visit Kelowna
The best time to visit Kelowna, Canada, is from June to August, during the warm summer months. During this peak season, the weather is ideal for outdoor activities such as biking, hiking and boating. Wine tours are also popular during this time. Winter (December to February) is ideal for snow sports at Big White Ski Resort.
Annual Weather in Kelowna
Kelowna 3-Day Forecast
Thu, 21 September
Night
46 °F
8 °C
0%
Morning
40 °F
4 °C
0%
Afternoon
63 °F
17 °C
0%
Evening
63 °F
17 °C
0%
Fri, 22 September
Night
40 °F
4 °C
0%
Morning
44 °F
7 °C
0%
Afternoon
70 °F
21 °C
0%
Evening
61 °F
16 °C
0%
Sat, 23 September
Night
43 °F
6 °C
0%
Morning
50 °F
10 °C
0%
Afternoon
67 °F
19 °C
0%
Evening
53 °F
12 °C
83%
Questions & Answers

What traditional Canadian food can I try in Kelowna?

In Kelowna, be sure to try traditional Canadian cuisine, such as poutine, a hearty dish of French fries topped with cheese curds and doused with gravy. Don't miss Canadian Butter Tart, a dessert filled with a mixture of butter, sugar and egg. There are also local dishes like bannock, a traditional flatbread usually eaten with local wild berry jam. For seafood lovers, West Coast salmon, often grilled or smoked, is a must.

What wild animals might I encounter around Kelowna?

In the beautiful natural environment of Kelowna you can encounter a variety of wildlife. Black bears and cougars live in the forests, while you may see majestic bald eagles or ospreys near the lakes. Bighorn sheep and deer are also common in the region. Underwater, in Okanagan Lake, you may spot fish species such as trout and kokanee salmon. However, keep a respectful distance to ensure their safety and yours.

Can I drink tap water in Kelowna?

Yes, the tap water in Kelowna, Canada, is safe to drink. The city's water supply undergoes rigorous testing and treatment processes to ensure that the quality meets or exceeds the standards set by Health Canada. Therefore, visitors and residents of Kelowna can drink from the tap without fear of health risks. The water is not only safe, but also fresh and tasty, as it comes from pristine mountain reservoirs.

How efficient is public transport in Kelowna?

Public transportation in Kelowna is very efficient and reliable. The city offers regular bus services that cover most areas and make it easy to get around. They are managed by the Kelowna Regional Transit System, which offers scheduled trips and bus routes for a convenient commute. For those looking for an environmentally friendly solution, the city also offers good bike routes. However, schedules are less frequent, so it is advisable to plan your trip in advance. Overall, public transportation is an economical and environmentally friendly way to explore the city.

Are there hiking trails I can go on?

Absolutely. Kelowna is home to numerous scenic hiking trails suitable for all fitness levels. Knox Mountain Park is popular with locals and tourists for its panoramic views of the city and lake. Another good choice is the expansive Mission Creek Greenway, a collection of hiking trails along a beautiful creek. Those looking for a challenge should head to Myra-Bellevue Provincial Park, known for its breathtaking views and rugged scenery. These are just a few of the fantastic options in Kelowna.

Is nature walking a popular activity in Kelowna?

Hiking in nature is indeed a popular activity in Kelowna. The city and its surrounding areas are teeming with beautiful parks and trails that are perfect for walking. For example, there is Mission Creek Regional Park, Knox Mountain Park, and Myra Canyon, all of which offer breathtaking views and the opportunity to see wildlife. In Kelowna, hiking in nature is not just an activity, but a way to enjoy the stunning landscapes of the Okanagan region.

Where can I rent a bicycle in Kelowna?

You can rent a bike in Kelowna at Myra Canyon Bicycle Rental and Tours. Located near the historic Kettle Valley Railway, the company offers a selection of mountain bikes, tandems, and even children's bikes for rent so everyone can enjoy the beautiful scenery. This way, you can explore the wonderful outdoor opportunities of the region and take on the challenge of the famous Myra-Bellevue trails. Safety equipment is also provided.

What are the boating regulations in Okanagan Lake?

Canadian federal boating regulations apply on Okanagan Lake. All watercraft must be equipped with required safety equipment such as life jackets, first aid kits, distress signals and navigation lights for after sunset. To operate a motorboat, you must have a recreational boating license, regardless of age, boat length or engine size. It is illegal to operate a boat under the influence of drugs or alcohol. According to skipper responsibility laws, you must ensure the safety of passengers and abide by speed limits and noise regulations.

Are there cultural customs I should be aware of?

Kelowna, Canada, is a multicultural and open-minded city, so you should not observe any particular cultural customs. However, politeness is a valued trait; Canadians appreciate a polite "please," "thank you," or "excuse me." Canadians are known for their love of nature, so respecting the outdoors and appreciating the beauty of the place is greatly appreciated. Tipping in restaurants, bars and for services such as hairdressers and cabs is common in Canada and expected.

How do locals commute around Kelowna?

Kelowna residents generally commute by various modes of transportation. The city has a well-developed public transportation system with extensive bus services between major areas. Cycling is also popular due to the extensive bike paths in the city. Cabs and ride-sharing services such as Uber and Lyft are widely available for those who want convenience. Alternatively, many residents own their own vehicles and use the city's well-maintained roads to commute to work. As a scenic option, water cabs offer rides between waterfront locations during the warmer months.

Are the roads in Kelowna safe for driving?

Yes, the roads in Kelowna are generally safe to drive on. As in any city, it is important to follow traffic rules, be aware of local road conditions, and obey speed limits. Remember that winter driving can be difficult due to black ice, but the local government takes steps to maintain and clear the roads. Also, in the scenic mountain areas, there may be winding and steep roads that require attentive driving.

Can I find English-speaking locals in Kelowna?

Absolutely. Kelowna is part of the English-speaking province of British Columbia in Canada. Although the city is multicultural, English is the predominant language. All public signs, facilities, information centers and transportation are available in English. Therefore, you will find that the majority of Kelowna residents speak English well. Communication will not be a problem during your visit.

What is the tipping etiquette in Kelowna?

In Kelowna, as in the rest of Canada, it is customary to tip 15-20% of the total amount before tax in restaurants. For other services such as cab rides, hairdressers or hotel staff, a tip of a few dollars is generally appreciated. However, the amount of the tip is at your discretion and should reflect the quality of the service provided. Note that some establishments automatically add a tip to the bill, especially for larger groups, so check your bill before tipping.

What is the alcohol age limit in Kelowna?

The legal drinking age in Kelowna, as in the rest of British Columbia, Canada, is 19. This applies to the consumption, purchase and possession of alcohol. Remember that the locals are strict about obeying the law. Therefore, always carry valid identification when drinking in bars or restaurants or purchasing alcohol in liquor stores.

How is the nightlife in Kelowna?

Nightlife in Kelowna is lively and caters to all preferences. There are several lounges and pubs like Doc Willoughby's Downtown Pub for a casual night out. If wine is your thing, numerous wineries offer tastings. Several nightclubs, such as Sapphire Nightclub, offer a lively atmosphere with music and dancing. Places like the Kelowna Actors Studio host live performances on a regular basis. The city's nightlife has something for everyone.

Is there a local market I can visit?

The Kelowna Farmers' and Crafters' Market is definitely a popular destination. It showcases all the diversity of the Okanagan, with vendors offering fresh fruits, vegetables, handmade crafts, meats, cheeses and wine from the region. You can enjoy the lively atmosphere, live music and food trucks while supporting the local community. A great experience for anyone interested in food and culture.

Can I swim in Okanagan Lake?

Yes, you can swim in Okanagan Lake. The lake is known for its clean, clear water that is great for swimming. Since the water can be quite cool, it is most suitable for swimming during the summer months. There are several beaches along the lake, including Boyce-Gyro Beach and Rotary Beach Park, which are great for swimming. Be sure to be safe, as the lake can get quite deep and is known for sudden drops.

Any unique festivals celebrated in Kelowna?

The Great Okanagan Beer Festival in Kelowna is a unique celebration that attracts beer lovers from around the world. Attendees can sample a variety of craft beers and ciders from local BC breweries while enjoying live music and food. The Kelowna Wine Festival, another special event, showcases the region's world-class wines. The Fat Cat Children's Festival is an exciting, family-friendly event that celebrates creativity, diversity and community through music, theater and interactive games.

What is Kelowna famous for?

Kelowna is famous for its stunning natural landscapes, which include beautiful Okanagan Lake, breathtaking mountains and extensive vineyards. The city is also known for its thriving wine industry and is home to some of Canada's most renowned wineries. Kelowna is also a hotspot for outdoor activities with hiking and biking trails and excellent skiing opportunities. Nestled in the countryside are orchards and farms that provide abundant local produce.

Is Kelowna wheelchair-friendly?

Yes, Kelowna is relatively handicapped friendly. The city has taken steps to make public places, transportation, and many tourist attractions accessible to people with disabilities. Sidewalks are generally well-maintained and smooth, with curbs for easy access. Public buses are equipped with ramps or elevators, and many hotels, restaurants, parks, and attractions such as Okanagan Wine Country, Myra Canyon Adventure Park, and Mission Creek Greenway also provide facilities for wheelchair users. However, it is advisable to contact the appropriate facilities in advance to ensure accessibility.

What is the local currency in Kelowna?

The national currency in Kelowna, as in the rest of Canada, is the Canadian dollar (CAD). The Canadian dollar is divided into 100 cents. It is advisable to have some cash on hand for small transactions, although credit and debit cards are widely accepted. Currency exchange offices are located in banks, certain hotels, and special exchange bureaus throughout the city. The exchange rate fluctuates, so be sure to check current rates before your visit.

How safe is it to walk around Kelowna at night?

Kelowna is generally considered a safe city. However, as in any other city, it is advisable to exercise caution when walking at night. Areas such as the downtown are often well-lit and busy, which increases personal safety, but remote or poorly lit areas can be riskier. Always use your own discretion and take a cab or ride if you do not feel safe. It is also a good idea to let others know your plans if you will be out late.

Can I rent a car in Kelowna?

Yes, you can absolutely rent a car in Kelowna, Canada. At Kelowna International Airport (YLW), you will find a variety of car rental agencies offering a wide range of choices from compact cars to luxury vehicles. There are also several car rental agencies in downtown Kelowna. Remember to check out Canadian driving laws and insurance options before renting. Having a vehicle available will make it much easier to explore the beautiful city and surrounding areas of Kelowna.

Are there vineyards I can visit?

Yes, there are a number of remarkable wineries you can visit in Kelowna, Canada. One of the most popular is Mission Hill Family Estate Winery, known for its magnificent architecture and breathtaking views of the Okanagan Valley. Another winery is Summerhill Pyramid Winery, which is known for its organic and biodynamic wine. You can also visit CedarCreek Estate Winery, which offers a beautiful restaurant with a vineyard terrace.

How prevalent is Wi-Fi access in Kelowna?

Wi-Fi access in Kelowna, Canada, is widespread and relatively easy to use. Many public places such as parks, cafes, hotels, libraries and even some transportation offer free Wi-Fi. In addition, Wi-Fi is included in most accommodations, from budget to luxury. While coverage may be limited in remote areas outside the city, Internet access within Kelowna's city limits is generally not a problem.

Is Uber available in Kelowna?

Yes, Uber is available in Kelowna, offering residents and visitors a convenient, app-based transportation option. The service is available at all hours of the day and can be especially useful for navigating the city's sprawling geography. With Uber, you can visit the city's most beautiful spots, such as Okanagan Lake, Myra Canyon, or various wineries, without needing your own car.

Are there any outdoor adventure activities around Kelowna?

In any case, Kelowna is an outdoor enthusiast's paradise. The area offers activities like hiking and mountain biking on Knox Mountain, one of the stunning local trails. You can also embark on a thrilling zipline adventure in Myra Canyon. For water lovers, Okanagan Lake offers opportunities for paddling, kayaking and boating. Adventure seekers can try paragliding for a bird's eye view of the city. There are also winter opportunities for snowboarding and skiing at Big White Ski Resort.

What are the local emergency numbers?

In Kelowna, Canada, the main emergency number is 911. This service is for police, fire or medical emergencies where immediate action is required. The Royal Canadian Mounted Police (RCMP) contact number in Kelowna for other emergencies is 250-762-3300. For health advice or information about health services, you can call HealthLink BC at 811. Remember to use the non-emergency numbers in non-life threatening situations to keep 911 lines free for urgent calls.

Where is the nearest hospital in Kelowna?

The closest hospital to Kelowna is Kelowna General Hospital at 2268 Pandosy St. As one of two tertiary referral hospitals in British Columbia's interior, it offers a wide range of services, including 24-hour emergency and trauma services, outpatient clinics and diagnostic/paramedic services. It is easily accessible and known for providing top-notch health care to residents and travelers alike.

How expensive is Kelowna?

The cost of living in Kelowna, Canada, is generally above the national average. Real estate and housing can be particularly expensive. Restaurant meals, groceries and transportation are also more expensive than in comparable cities. However, these costs can be offset by earning opportunities in the city's thriving industries. Overall, Kelowna is considered an expensive city, but the high quality of life, scenic surroundings, and recreational opportunities often make the expense worthwhile for residents.

Feedback

I hope you found this article informative and helpful. I'm eager to improve the content and make it even more valuable for you. If you have any feedback or suggestions, I would love to hear from you.

Do you have any tips or hidden gems that you think should be added to the list? Are there any areas that you feel could use more explanation or clarification?

Your input is greatly appreciated and will help us to continue providing high-quality content that meets your needs and interests. Please feel free to share your thoughts.