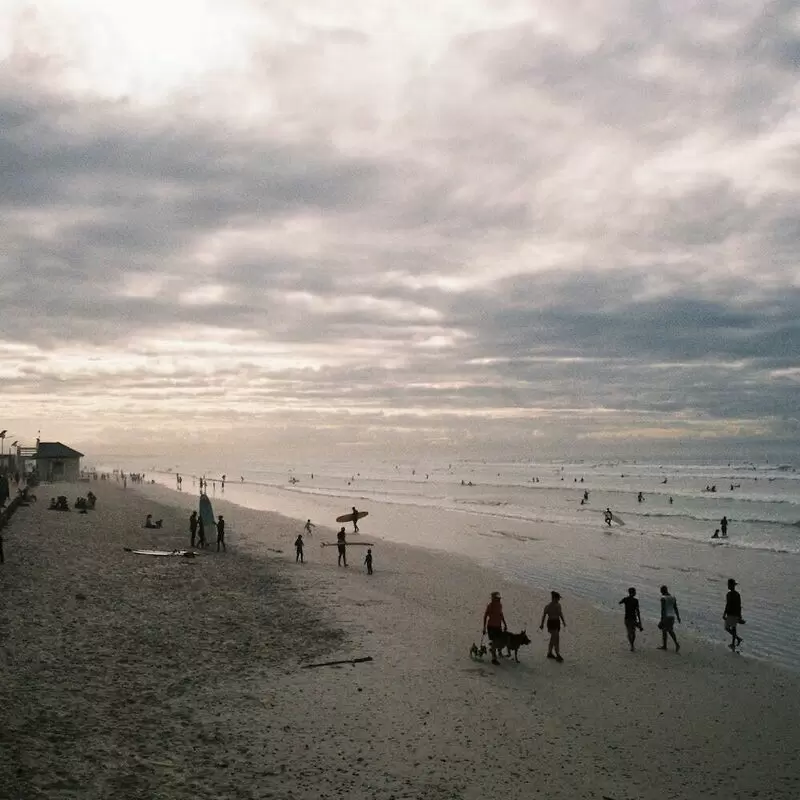 1. Boulders Beach

A trip to the unique Boulders Beach in the vibrant suburb of Muizenberg is as impressive as it is therapeutic. This haven offers an unforgettable encounter with the African penguin, an endangered species, while you bask under the African sun.

Insider tip: The best time to visit is early in the morning and late in the evening, when you can get up close and personal with the penguins. Afterwards, make your way to historic St. James Beach for refreshments in the iconic, colorful beach huts.

Boulders Beach
Simon's Town, Cape Town

Monday - Sunday: 8:00 AM – 5:00 PM
2. Muizenberg Beach
Muizenberg Beach is a stunning panorama of azure waters and pristine sand that meanders along the lush Cape Peninsula. Known for its gentle waves that are ideal for novice surfers, it's an idyllic spot for sun-drenched relaxation or exciting water activities. But it's not just about the surf, it's also about the colorful Victorian beach huts that provide perfect photo opportunities and create a vibrant backdrop that is unmistakably Muizenberg. Plus, the nearby Zandvlei Estuary offers tranquil birding and picnic spots just a stone's throw from the bustling beach. Visit Muizenberg Beach, a delightful blend of adventure, relaxation and aesthetic enjoyment.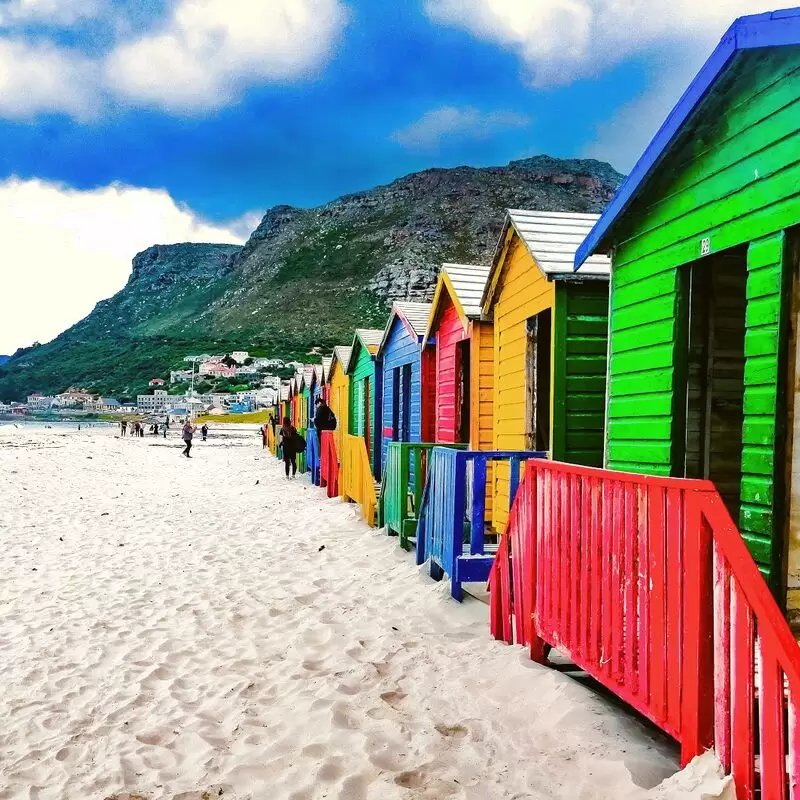 Muizenberg Beach
Muizenberg Beach, Beach Rd, Muizenberg, Cape Town
Monday - Sunday: Open 24 hours
3. Iziko Bo Kaap Museum
Immerse yourself in the rich history of the Iziko Bo-Kaap Museum, a former 19th century Muslim house. Enjoy the vibrant cultural heritage reflected in neighborhood stories and displays of the traditional Muslim lifestyle in the Cape. Just a stone's throw away is the Atlas Trading Company, a bustling spice store that rounds out your cultural experience. Don't forget to try the Bo-Kaap cooking classes nearby - the perfect way to remember your visit when you're back home!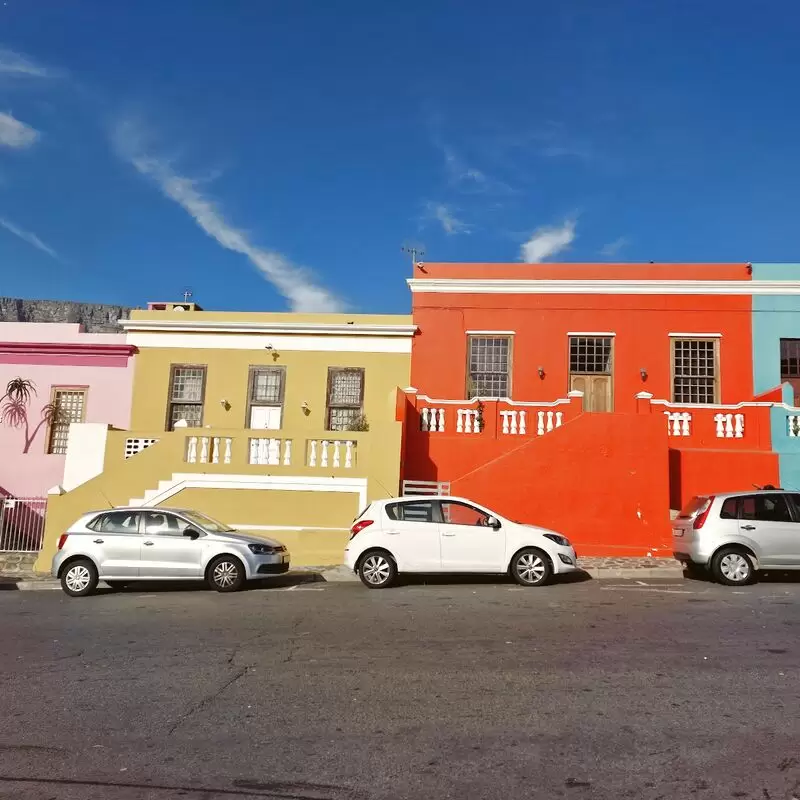 Iziko Bo Kaap Museum
71 Wale St, Schotsche Kloof, Cape Town
Monday - Saturday: 9:00 AM – 5:00 PM
Sunday: Closed
4. Surfers Corner

Surfers Corner in Muizenberg holds a special appeal for surfers of all skill levels. Known as the birthplace of surfing in South Africa, the warm waves of the Indian Ocean roll in consistently, making this an ideal destination for experienced surfers and beginners alike. Plus, the colorful Victorian beach huts add historic charm to the surfing experience.

Insider tip: After surfing, grab a tasty bite to eat at one of the cozy beach cafes. In addition, the nearby Zandvlei Estuary Nature Reserve offers bird-watching opportunities at your leisure.

Surfers Corner
56 Beach Rd, Muizenberg, Cape Town

Monday - Sunday: Open 24 hours
5. St James Beach
St. James Beach in Muizenberg is an absolute gem in South Africa, a paradise for travelers and locals alike. Its famous colorful beach huts are a true photo paradise and the tidal pool offers safe and exciting swimming all year round. The gentle waves make it an ideal place for novice swimmers and families. Don't miss a walk along Millionaire's Mile - a hidden local secret. Nearby attractions include the historic Muizenberg Walk and the nearby penguin colony at Boulder's Beach.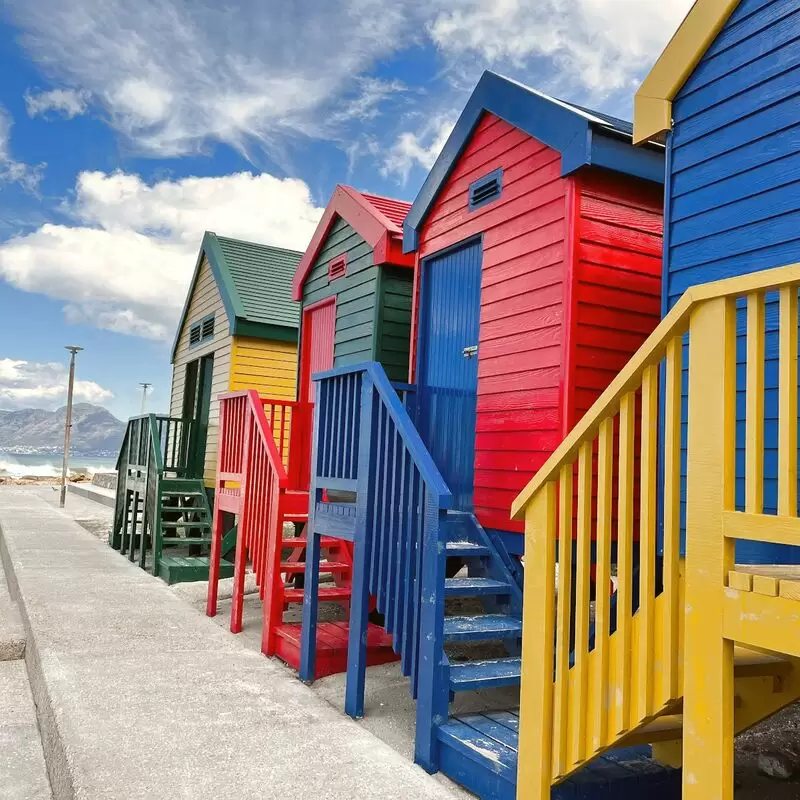 St James Beach
St James Beach, Main Rd, St James, Cape Town
Monday - Sunday: Open 24 hours
6. South African Naval Museum
A visit to the South African Naval Museum in Muizenberg offers a unique opportunity to immerse yourself in the country's rich maritime history. A hidden gem, it features well-preserved naval artifacts, detailed exhibits and life-size ship models that take you on a journey through time. Just around the corner, you'll also find the charming Muizenberg Beach. An insider's view of South Africa's naval past and a relaxing stroll along the beach make for a successful day in beautiful Muizenberg.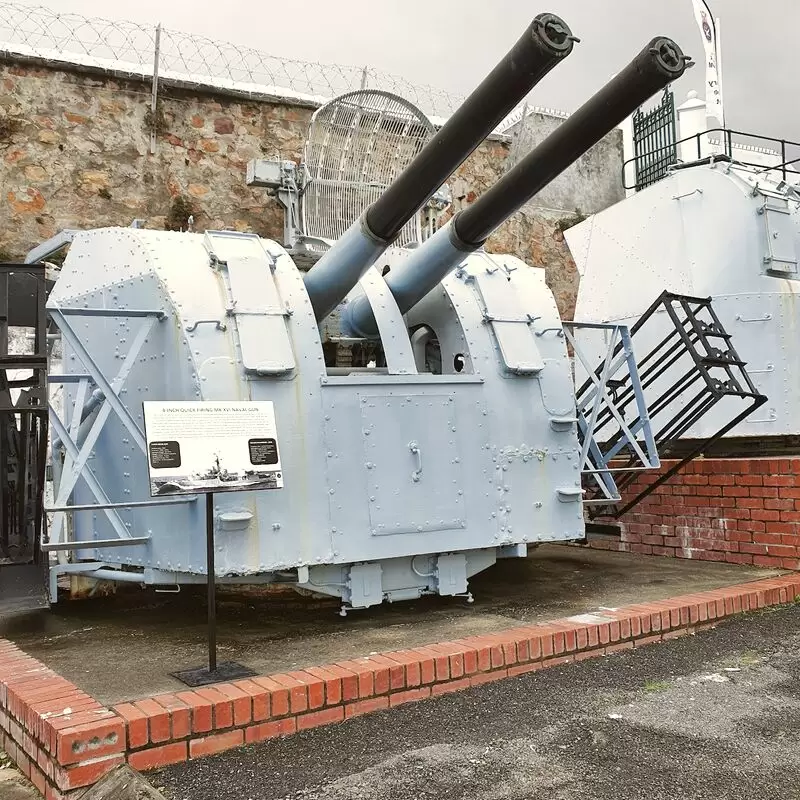 South African Naval Museum
St George's St, Simon's Town, Cape Town
Monday - Sunday: 9:30 AM – 3:30 PM
7. Cecilia Table Mountain
The Cecilia Forest on Table Mountain is a must-see during your visit to Muizenberg. This enchanting forest offers an intense experience of South Africa's rich biodiversity with hiking trails that are mysterious yet full of beauty. Observe the native flora and fauna, and don't forget to take pictures of the magical waterfalls. A little local mystery - look out for the ghostly echoes of the old logging trails! Just a short drive away is the Kirstenbosch Botanical Gardens, another paradise for nature lovers.
Cecilia Table Mountain
Cecilia Forest Hiking Trail, Wynberg NU (2), Cape Town
Monday - Sunday: Open 24 hours
8. False Bay Nature Reserve Rondevlei Bird Sanctuary
Visit the False Bay Nature Reserve - Rondevlei Bird Sanctuary, a bird lover's paradise with over 230 species of birds. This sanctuary is home to flamingos, pelicans and even some hippos. Forgot your binoculars? No problem, Rondevlei has observation towers and hiding places for close-up views. An added treat - it's one of the few places where you can find western leopard turtles. And that's not all: nearby is Zandvlei Estuary Nature Reserve, another birding hotspot surrounded by the impressive Cape Mountains.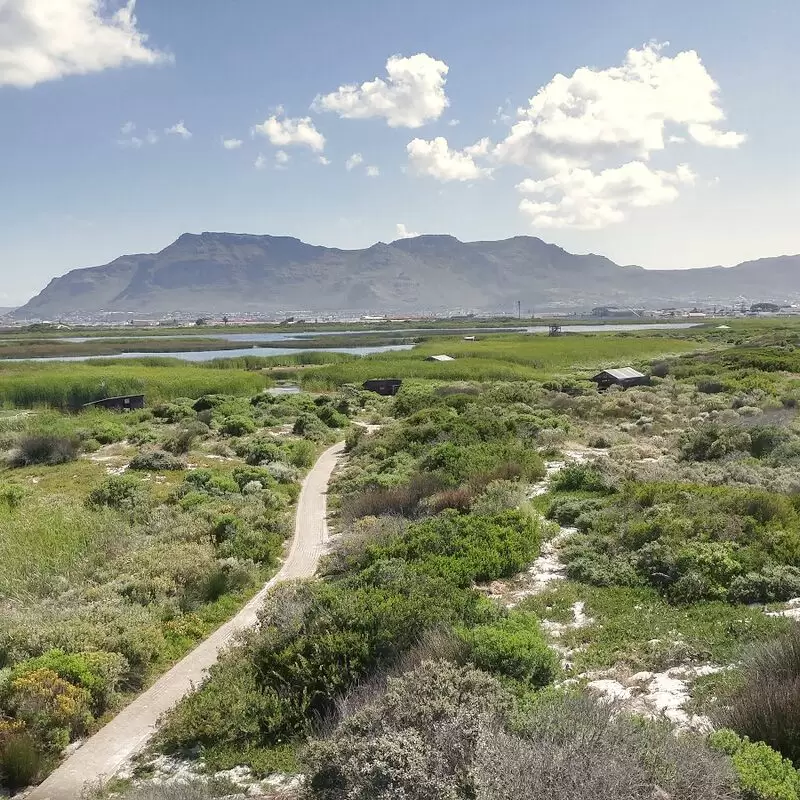 False Bay Nature Reserve Rondevlei Bird Sanctuary

9. Silvermine Waterfall

A hidden gem in South Africa, Silvermine Waterfall in Muizenberg awakens your inner adventurer. Breathe in the scent of native fynbos as you follow the well-marked trails to quiet resting spots with panoramic views. The sight of the water cascading down against the mountain backdrop after rainfall is truly mesmerizing.

An insider tip: it is also an absolute pleasure for birdwatchers! After exploring, you can have a sunset picnic at nearby Silvermine Dam for a fulfilling day in unspoiled nature.

Silvermine Waterfall
Silver Mine (Nature Reserve), Cape Town

Monday - Sunday: 8:00 AM – 6:00 PM
10. Muizenberg Water Slides
A visit to the Muizenberg water slides is an exciting jump into fun and adventure. Slide down the super tube with gusto, laugh on the mini slide, and cool off in the well-maintained pools that are popular with both kids and adults. It's a secret among locals that midweek visits promise fewer crowds. Don't forget to explore nearby Muizenberg Beach, famous for its colorful beach huts, stunning coastline, and consistent surf waves - a captivating mix of fun and relaxation.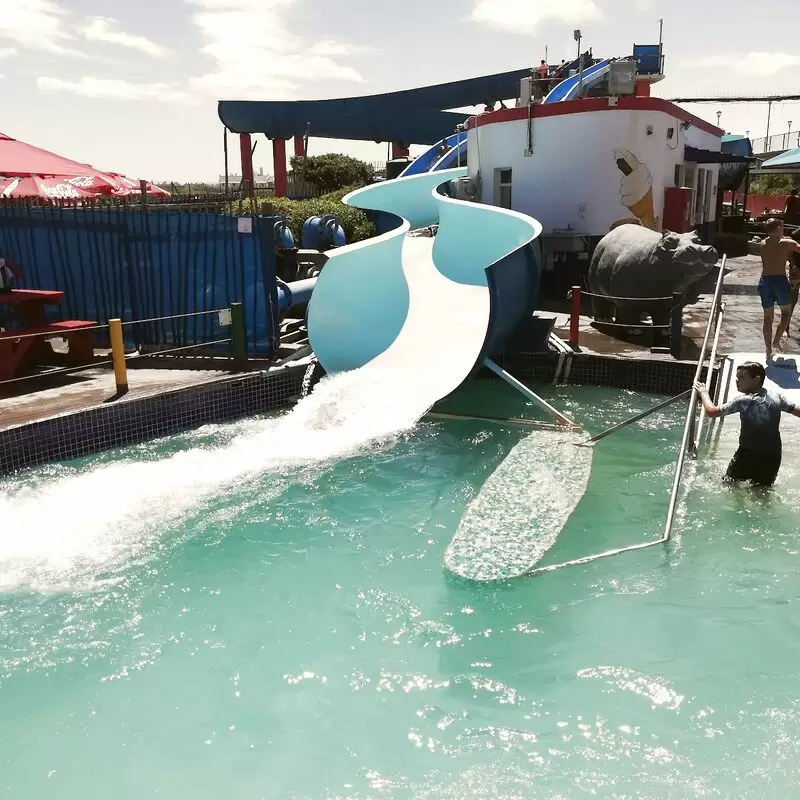 Muizenberg Water Slides
20a Beach Rd, Muizenberg, Cape Town
Monday: Closed
Tuesday - Friday: 1:30 – 5:30 PM
Wednesday - Sunday: 9:30 AM – 5:30 PM
11. Gary's Surf School
Gary's Surf School in Muizenberg is a must-visit for thrill seekers who want to ride the waves of South Africa's picturesque coastline. Gary's friendly and knowledgeable instructors cater to beginners and experienced surfers alike, guaranteeing an unparalleled experience. After an unforgettable surfing experience, stop by the Muizenberg Blue Bird Garage Market, just a stone's throw from Gary's School, to sample local delicacies and handicrafts. Enjoy the unique insider's pleasure of surfing during the day and relaxing at the local market in the evening!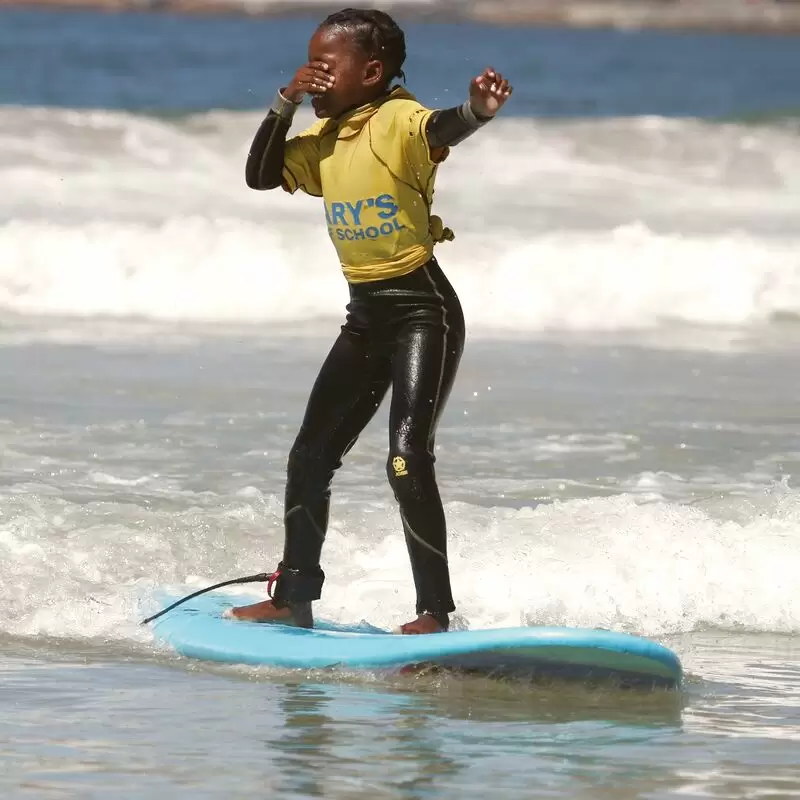 Gary's Surf School
34, Balmoral Building, 34 Beach Rd, Muizenberg, Cape Town
Monday - Sunday: 8:00 AM – 5:00 PM
12. Woodstock Cave

Venture into the mystical depths of Woodstock Cave in Muizenberg, a true gem for adventurous explorers. The hike to the cave offers panoramic views of Cape Town.

Insider tip: Don't forget to photograph the stunning murals in the cave, believed to be the work of the Khoisan people. Also, be sure to explore nearby Devil's Peak for even more wilderness and breathtaking views. The perfect trip for hiking enthusiasts and history buffs!

Woodstock Cave
Table Mountain (Nature Reserve), Cape Town

Monday - Sunday: Open 24 hours
13. Shark Spotters Lookout Point Observation Deck
The Shark Spotters Lookout Point/Observation Deck is known for its incredible ocean views and shark spotting opportunities and should not be missed on any Muizenberg tour. Marvel at the azure waters teeming with marine life, including the famous great white sharks. Get an adrenaline rush while learning about the fascinating interactions between predators and prey - an entertaining experience for any visitor. Moments away is vibrant Surfers Corner, where you can immerse yourself in the local surf culture. This is where pure adventure meets serene beauty!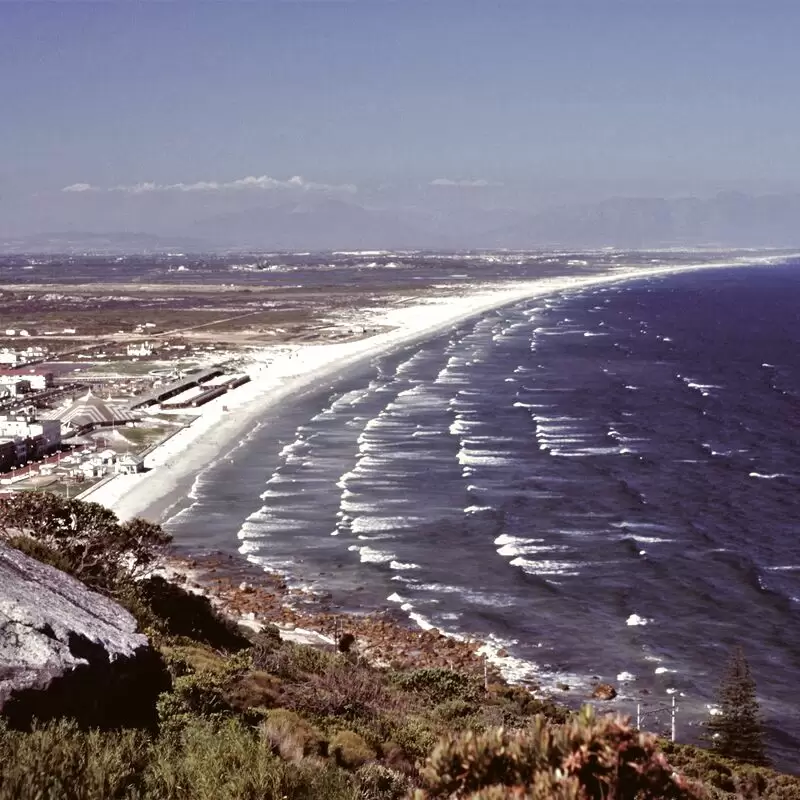 Shark Spotters Lookout Point Observation Deck
113 Boyes Dr, Silver Mine (Nature Reserve), Cape Town
Monday - Sunday: 8:00 AM – 6:00 PM
14. Rondevlei Nature Reserve

Embark on a fascinating journey to Rondevlei Nature Reserve, a hidden gem in the middle of Muizenberg. Enjoy the tranquility of the reserve where endangered wildlife live in peace. It is a birdwatcher's paradise with some 230 species. From the observation towers you can watch a captivating flamingo spectacle.

An insider tip: early in the morning you can get up close and personal with hippos! Rondevlei is also close to the magnificent Zeekoevlei, a large freshwater lake that provides the backdrop for scenic picnic areas. An unforgettable excursion for nature lovers.

Rondevlei Nature Reserve
Pelikan Park, Cape Town

Monday - Sunday: 7:30 AM – 5:00 PM
15. Blue Bird Garage Food and Goods Market

Venture into the heart of Muizenberg and discover the unconventional charm of the Blue Bird Garage Food and Goods Market. Housed in an old airplane hangar, this lively spot beckons with delicious eateries, handmade goods, and locally produced art. Every Friday night, you can feel the spirit of community here with soulful sounds and tantalizing food smells. Just steps away are the colorful beach shacks, a perfect combination for an eventful day out.

Insider tip: Don't miss the homemade churros!

Blue Bird Garage Food and Goods Market
39 Albertyn Rd, Muizenberg, Cape Town

Monday - Sunday: Closed
Thursday - Friday: 4:00 – 10:00 PM
16. Jubilee Square & Jetty
Jubilee Square & Jetty is a must-see in Muizenberg and offers a glimpse into the town's vibrant fishing culture. Take a leisurely stroll along the famous wooden jetty, a hotspot for photogenic sunsets, fishing fans, and seagulls gathering in hopes of a catch. Don't miss the nearby market in the square, where you can buy unique trinkets and sample delicious South African street food. Round out your experience at nearby Surfer's Corner, just a short walk away.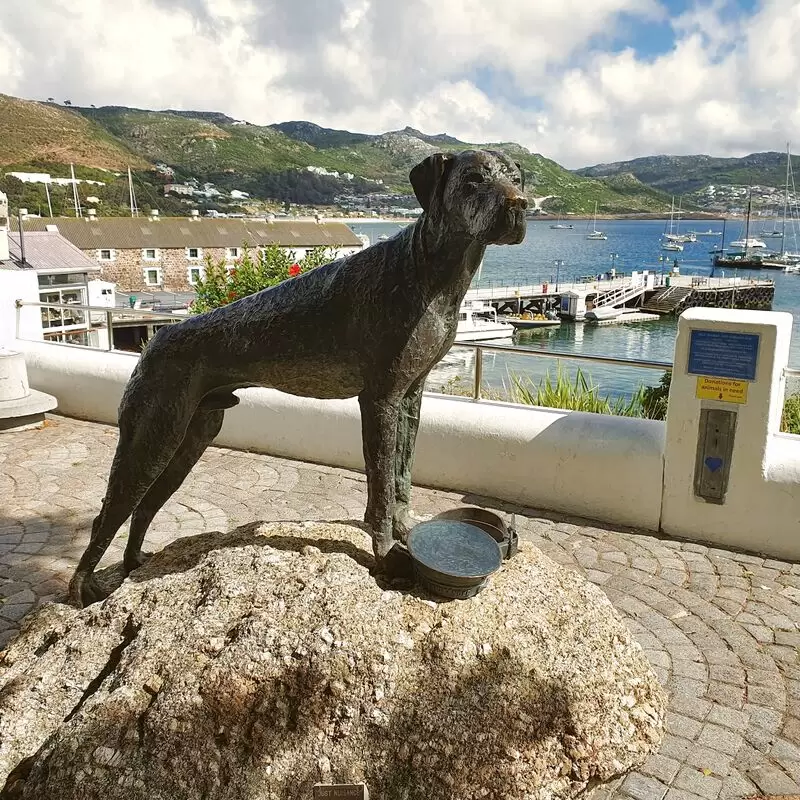 Jubilee Square & Jetty
St George's St, Simon's Town, Cape Town
Monday - Sunday: Open 24 hours
17. Nobel Square
Nobel Square, named in honor of Alfred Nobel, the founder of the Nobel Prize, is not in Muizenberg, but in Cape Town. In Muizenberg, enjoy beautiful beach views from the iconic red and white Muizenberg Beach Huts. Ride the perfect wave at Surfers Corner, a surfer's paradise, and explore historic buildings like Het Posthuys. A little-known gem is Muizenberg Cave, with its fascinating limestone formations. Visit the nearby Zandvlei Estuary Nature Reserve for bird watching and picnicking.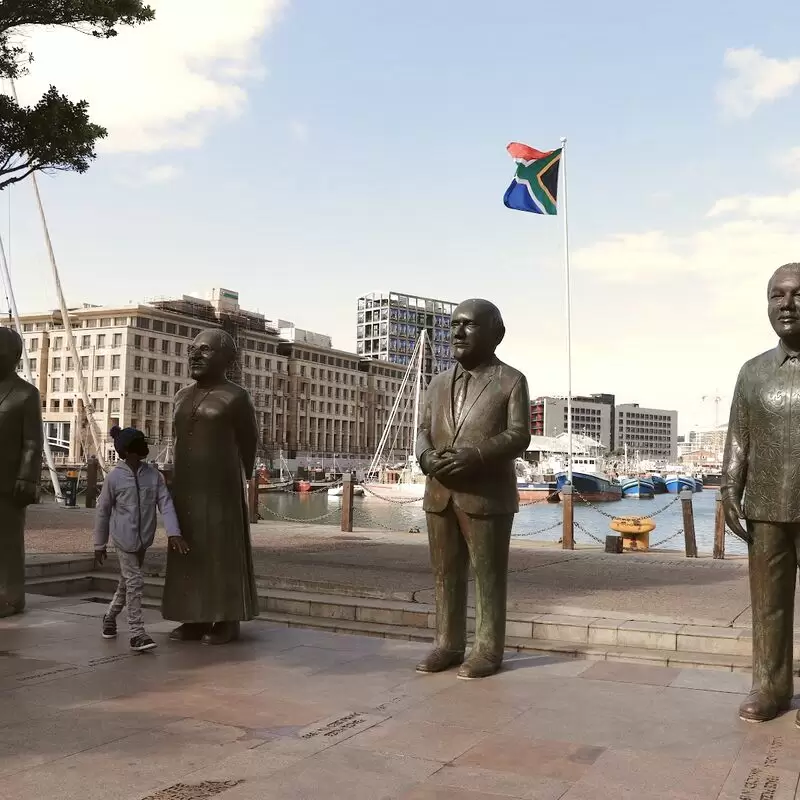 Nobel Square
Watershed, 17 Dock Rd, Victoria & Alfred Waterfront, Cape Town
Monday - Sunday: Open 24 hours
18. Tokai Park

Tokai Park, also known as Tokai Forest, offers a quiet retreat from the bustling city of Muizenberg. Here you can walk among towering trees, enjoy quiet picnic spots, and perhaps spot some wildlife.

Insider tip: Don't miss the Saturday market - a lively scene of local food and crafts. Nearby, you can visit the majestic Silvermine Nature Reserve for mesmerizing views and bird watching at the reservoir. Tokai Park is a true natural luxury waiting to be explored.

Tokai Park
1995 Orpen Rd, Outside, Cape Town

Monday - Sunday: 7:00 AM – 6:00 PM
19. Bluebottle Guesthouse
Bluebottle Guesthouse is an irresistible blend of comfort and charisma in picturesque Muizenberg. The location, with panoramic views of False Bay, is perfect for sunrises and whale watching. Within walking distance of the beach, it offers a leisurely break after surfing or exploring. Admire the creative mosaic shark-watching towers unique to Muizenberg, and don't be fooled by the vibrant color palette of the historic bathing boxes. Immerse yourself in this aesthetic experience and let yourself be captured by Muizenberg's local charm.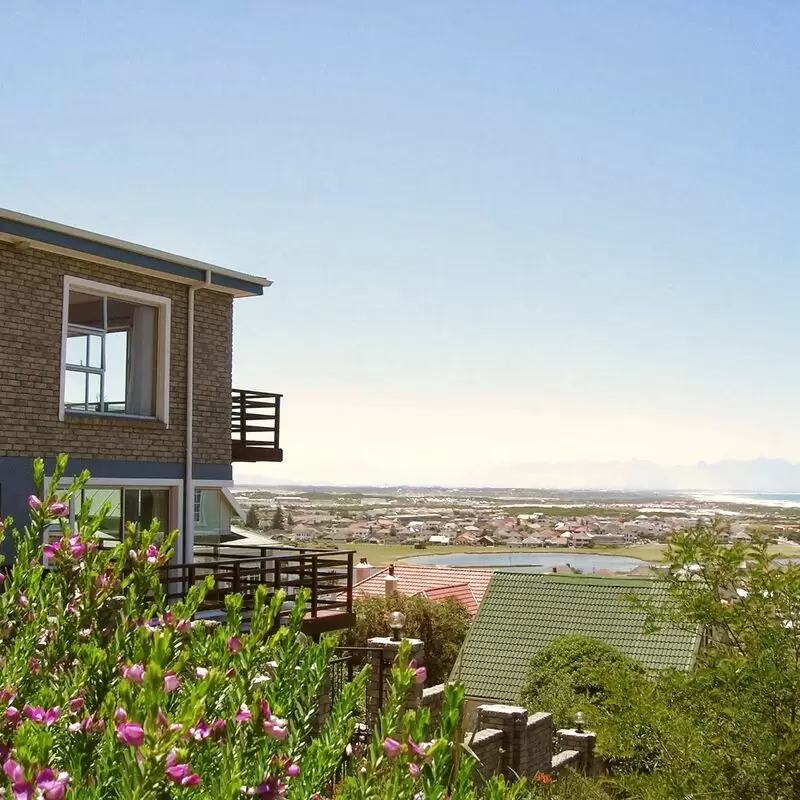 Bluebottle Guesthouse
18 Mount Rd, Muizenberg, Cape Town
Monday - Sunday: Open 24 hours
20. Zandvlei Estuary Nature Reserve
Discover the tranquil beauty of Zandvlei Estuary Nature Reserve, a unique urban eco-gem with panoramic landscapes! Enthusiastically observe the diverse wildlife - from vibrant bird species to attracting riverine rabbits. Relax by the flowering reeds or venture out for stand-up paddle boarding, a favorite among insiders. Nearby, lively Muizenberg Beach offers prime surfing waves, and the Kalk Bay Harbour Market is a treat for foodies and craft lovers. Don't miss the view of the sunset over False Bay!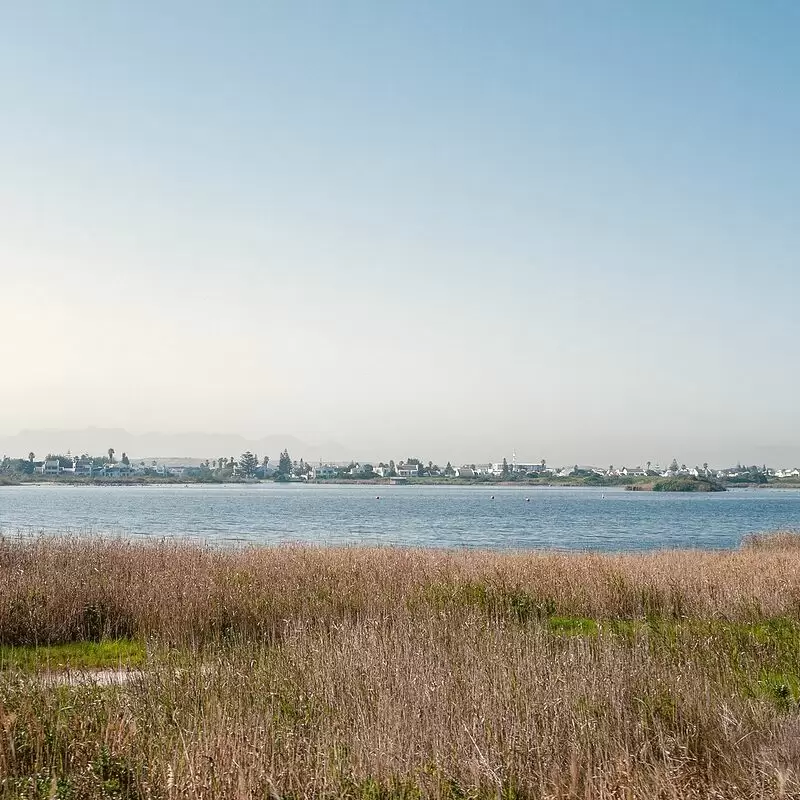 Zandvlei Estuary Nature Reserve
Marina Da Gama, Cape Town
Monday - Friday: 7:30 AM – 4:00 PM
Saturday - Sunday: Closed
21. Driftsands Nature Reserve
Experience the wild side of Muizenberg at Driftsands Nature Reserve! This hidden gem is a birdwatcher's paradise and is home to over 180 species of birds - don't forget your binoculars. Hike through the unique "strandveld" vegetation and be amazed by the views and wildlife. As an added bonus, it's just a stone's throw from pristine Mnandi Beach, known for its warm Atlantic waters. Immerse yourself in the untamed nature of South Africa that lies just outside Muizenberg.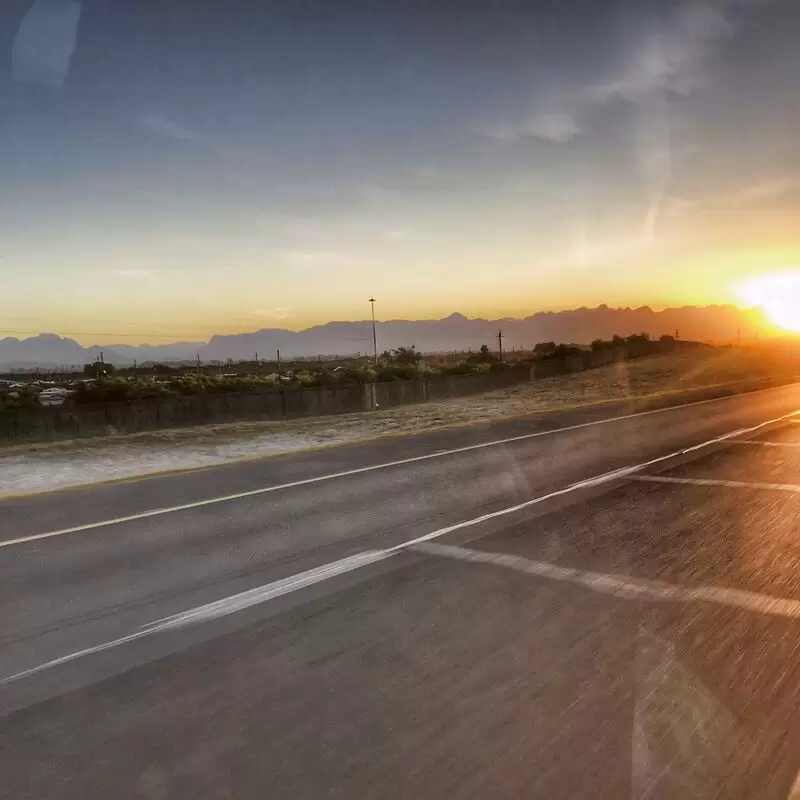 Driftsands Nature Reserve
Buckwheat St, Blue Downs, Cape Town
Monday - Sunday: 8:00 AM – 4:00 PM
22. The Muize Bed and Breakfast

Muize Bed and Breakfast is a hidden gem in Muizenberg! This cozy retreat offers a quiet retreat with spectacular ocean views, delicious local cuisine and a warm community feel.

Insider tip: Be sure to try the delicious homemade jams for breakfast. It's also just a stone's throw from the iconic, colorful beach shacks and the adventurous Surf Emporium - a must for surfing enthusiasts!

The Muize Bed and Breakfast
4 Axminster Rd, Muizenberg, Cape Town

Monday - Sunday: 9:00 AM – 6:00 PM
23. Gate 2 Silvermine Nature Reserve
Be enchanted by the enchanting beauty of Gate 2, the Silvermine Nature Reserve in Muizenberg - a paradise for nature lovers and adventurers! Enjoy breathtaking hiking trails, remarkable flora and surreal views of the valley. Don't miss observing the fascinating bird species in this avian paradise. Just a stone's throw away, you can immerse yourself in history at the Marine Museum in Simon's Town and gain insight into South Africa's maritime past. Adventure and discovery await you at every turn in Muizenberg!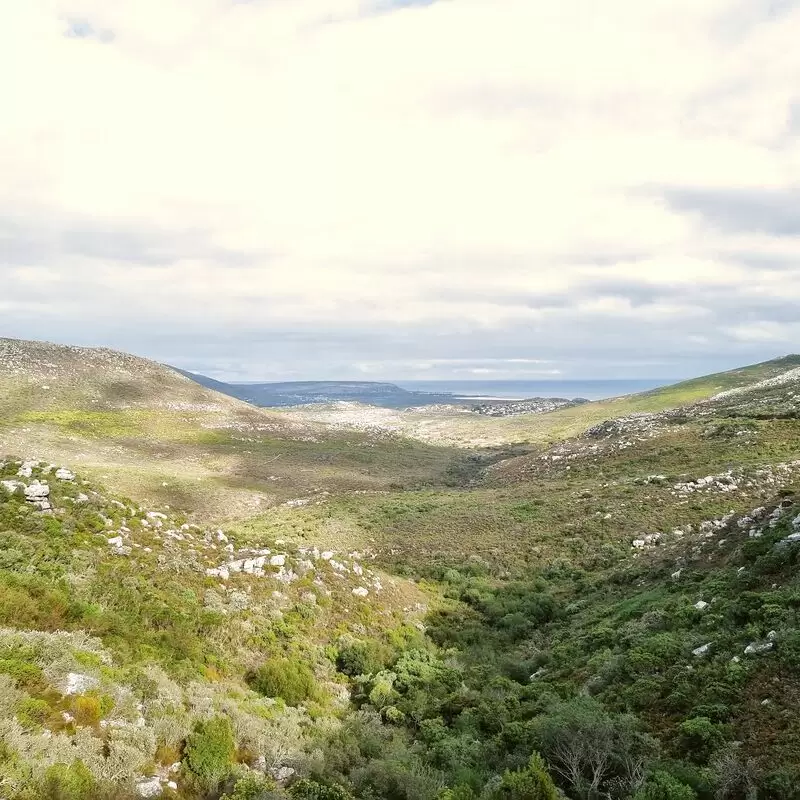 Gate 2 Silvermine Nature Reserve
Silver Mine (Nature Reserve), Cape Town
Monday - Sunday: 8:00 AM – 6:00 PM
24. Surf Emporium Muizenberg Surf School & Muizenberg Surf Shop
The Surf Emporium in Muizenberg is a mecca for thrill seekers! It's more than just a surf school, it's a unique experience in the heart of the South African surf scene. Learn to ride the waves like a pro, or purchase quality equipment from the extensive surf store. Plus, the school is located right on the main beach, just a stone's throw from the colorful Muizenberg beach huts, an iconic spot for perfect vacation photos. You won't get a more authentic surfing experience anywhere else!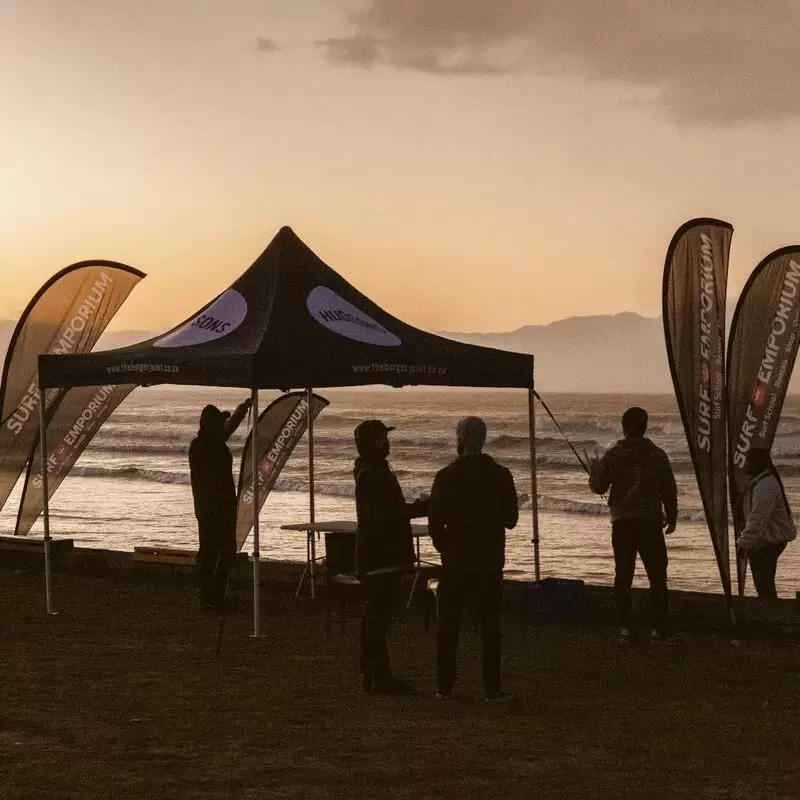 Surf Emporium Muizenberg Surf School & Muizenberg Surf Shop
Surfers Corner, 72 Beach Rd, Muizenberg, Cape Town
Monday - Sunday: 7:30 AM – 5:30 PM
25. Die Oog
Experience the serene tranquility of "Die Oog", a nature reserve oasis in the middle of the bustling town of Muizenberg. A birdwatcher's paradise, the nature reserve is home to several endemic bird species and a pristine freshwater lake perfect for a leisurely afternoon picnic. Don't miss the adorable turtles that love to sunbathe on the shores of the lake. Just a short walk away is the world famous Muizenberg Beach, known for its lively beach shacks and excellent surfing conditions.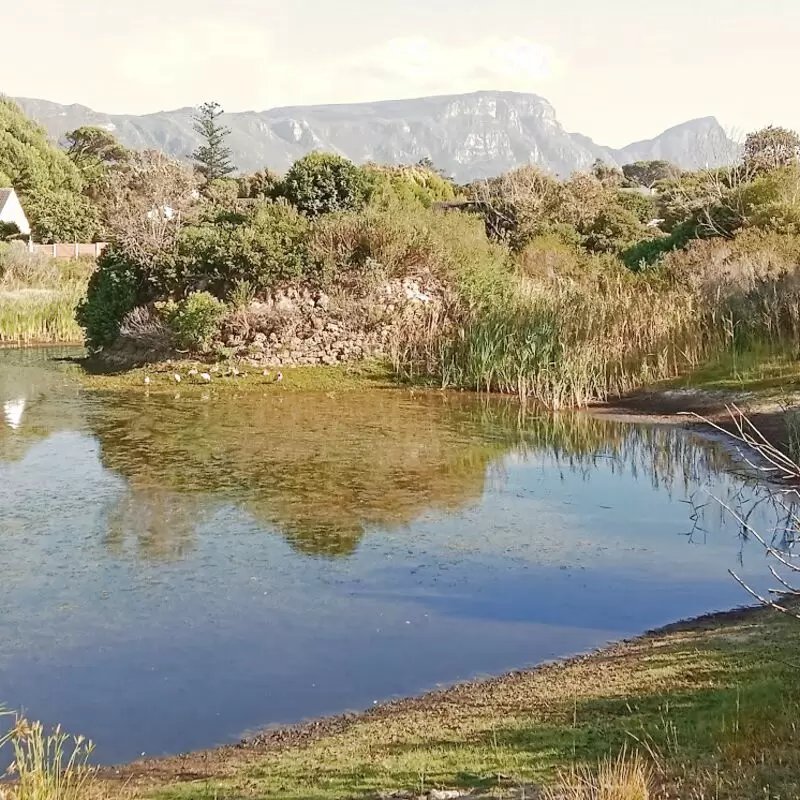 Die Oog
Corner Midwood Avenue, Lake View Rd, Bergvliet, Cape Town
Monday - Sunday: 6:30 AM – 6:30 PM
26. Tokai Lower Plantation
A trip to Muizenberg is not complete without exploring the unspoiled natural beauty of Tokai Lower Plantation. With its towering pines and a series of trails, it is an ideal place for hiking, picnicking and bird watching. Enjoy the quiet of the forest and breathe in the fresh, pine-scented air. Less well known is that wild mushrooms abound here, especially during the rainy season. Just around the corner is Eagles' Nest Wine Farm. After a relaxing hike there you can enjoy first-class wines combined with a breathtaking view.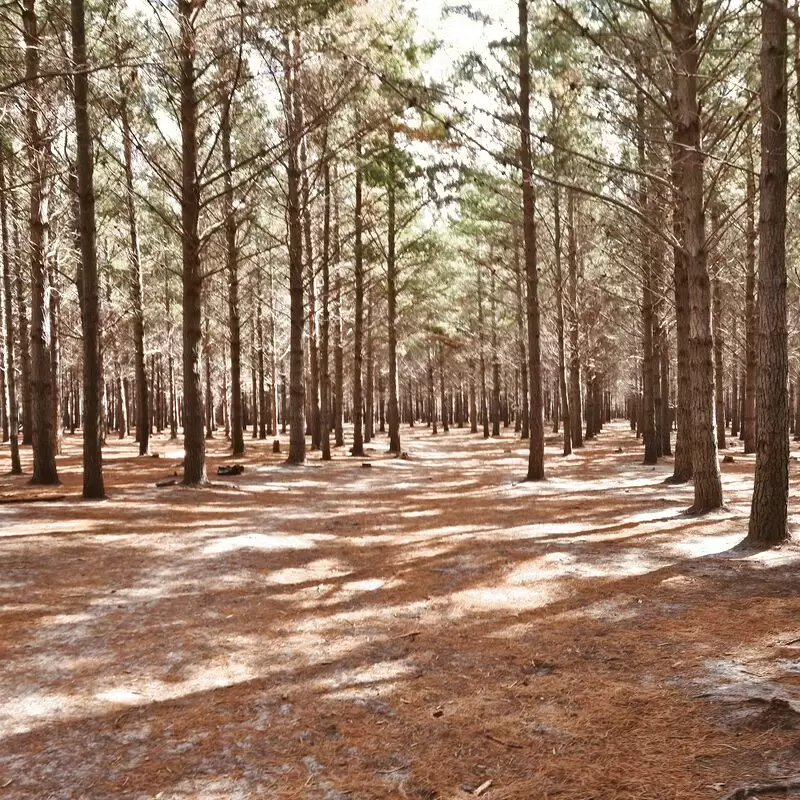 Tokai Lower Plantation
Cape Town
Best Time to Visit Muizenberg
The best time to visit Muizenberg, South Africa, is during the warm and dry summer months, from November to March. This is the ideal time for beach activities, surfing, and exploring the local attractions. The average annual temperature during these months is usually between 15°C and 27°C (59°F to 81°F).
Annual Weather in Muizenberg
Muizenberg 3-Day Forecast
Wed, 27 September
Night
59 °F
15 °C
0%
Morning
57 °F
14 °C
0%
Afternoon
63 °F
17 °C
0%
Evening
64 °F
18 °C
0%
Thu, 28 September
Night
60 °F
15 °C
0%
Morning
59 °F
15 °C
0%
Afternoon
67 °F
19 °C
0%
Evening
66 °F
19 °C
0%
Fri, 29 September
Night
63 °F
17 °C
0%
Morning
62 °F
17 °C
0%
Afternoon
65 °F
19 °C
0%
Evening
62 °F
17 °C
21%
Questions & Answers

Is Muizenberg safe for tourists?

Muizenberg has made great strides in improving security in recent years, which has made it a popular place for tourists. However, as in many tourist destinations, petty crime does occasionally occur. Visitors should therefore be vigilant, especially when outdoors at night. During the day, the beach is generally safe, and lifeguards and security guards are often present. The Blue Flag awarded to the beach attests to its commitment to safety and cleanliness. Numerous tourists visit and enjoy Muizenberg every year with minimal problems.

How can I commute within Muizenberg?

Transportation in Muizenberg, South Africa, primarily includes metered cabs and the local minibus cabs for short distances. Metrorail trains run regularly throughout Cape Town's suburbs, including Muizenberg, and offer a regular schedule. Rental cars are also a popular choice, especially for longer distances or exploring the outskirts. Cycling is also an option, as the city is very bike-friendly and rental services are available.

What is the local cuisine like?

Local cuisine in Muizenberg, South Africa, is a flavorful blend of local, Dutch, Malay and Indian influences. Fresh seafood is a staple, often grilled or incorporated into dishes such as peri-peri shrimp. Notable dishes include bunny chow, a hollowed-out loaf of bread stuffed with curry, and bobotie, a savory dish of seasoned ground meat topped with egg custard. Also popular are boerewors, thick, spicy sausages, and biltong, a local version of beef jelly. Sweet delicacies include mallow pudding and koeksisters.

Is there any dress code in Muizenberg?

Muizenberg, South Africa, is a laid-back coastal town with a casual dress code. Due to its location, the emphasis is on beach and surf attire. Comfortable clothing, a swimsuit, a hat for sun protection, and a warm jacket for the cool ocean breezes are the typical attire. Remember to pack hiking gear if you want to explore the nearby mountain trails. Casual attire is generally recommended for visiting restaurants or wineries in the area.

Do locals understand and speak English?

Yes, English is widely spoken and understood by locals in Muizenberg, South Africa. It is one of the official languages of the country and is used in daily communication, businesses, and government. Even though in some regions people mainly speak Afrikaans or indigenous languages, you can expect to communicate well in English during your visit to Muizenberg.

Are there good places for surfing?

Muizenberg is often considered the birthplace of surfing in South Africa, so you're in for a treat. Muizenberg Beach, with its warm water and consistent waves, is perfect for beginners. Experienced surfers shouldn't miss the bigger waves at neighboring Sunrise Beach. The Surf Emporium offers both rentals and lessons for those looking to improve their skills. After a day on the waves, grab a bite to eat at one of the many beach cafes.

What is the local culture like?

Muizenberg is known for its diverse and vibrant culture. The beachfront town has spawned a distinct surf culture that coexists with an active arts scene, reflected in the numerous galleries and craft markets. The people here are warm, friendly and multicultural, with African, European and Asian influences. Food is also an important part of Muizenberg culture, and there are a variety of culinary options to explore - from traditional South African braais to fresh seafood dishes.

Are there any hiking trails in Muizenberg?

Yes, Muizenberg has several magnificent hiking trails that attract avid hikers. One of the most popular is the Muizenberg Mountain Trail, which takes you to impressive heights with panoramic views of the city and the sea. Another good choice is the Bailey's Kloof Hike, a steep trail that leads to diverse flora and fauna. With their fascinating landscapes and the unique biodiversity of the surroundings, these trails offer a wonderful mix of adventure and tranquility.

Is there any wildlife to see in Muizenberg?

Muizenberg is indeed known for its diverse wildlife. It is a fantastic place to spot marine life such as seals, penguins and the occasional whale and dolphin. On land, the nearby Zandvlei Nature Reserve is home to a variety of bird species and small animals. Visitors should be wary of baboons in the area and follow local guidelines for handling these animals. The biodiversity of Muizenberg makes it a spectacular destination for animal lovers.

Can I swim in Muizenberg beach?

Absolutely! Muizenberg beach is a fantastic place for swimming. The beach is known for its warmer Indian Ocean waters and smaller waves, making it an ideal place for family fun and beginner surfers. However, always be aware of safety and follow the instructions of the lifeguards, as shark sightings can occur. The spectacular mountain views and colorful beach huts also contribute to an enjoyable beach experience in Muizenberg.

Are there options for vegan food?

Absolutely! Muizenberg offers a variety of foods suitable for a vegan diet. Here you will find vegan-friendly restaurants and cafes that offer a delicious selection of plant-based dishes. From artisan vegan bakeries to trendy cafes serving vegan specialties daily, you won't lack for choices. The local food market is also a great place to find fresh, organic and locally sourced fruits and vegetables.

Is there a risk of sharks while surfing?

Yes, there is a risk of encountering sharks while surfing in Muizenberg as the area has a considerable shark presence, especially great white sharks. However, effective measures have been taken to mitigate this risk. The Shark Spotters program, for example, keeps a vigilant lookout and warns surfers when a shark is spotted. Respect the ocean and the animals in it to have a safe and rewarding surfing experience.

Is tipping customary in Muizenberg?

Yes, tipping is common in Muizenberg, South Africa. It is customary to tip restaurant employees, bartenders and cab drivers for their service. Typically, people tip between 10% and 20% of the bill in restaurants. For cab drivers, it is customary to round up to the nearest whole number or tip 10%. However, the amount of the tip is a personal decision and may depend on the quality of the service provided. It is always appreciated, but not obligatory.

How can I respect local customs and traditions?

When visiting Muizenberg, South Africa, it is important to be polite and treat everyone with respect. Be friendly and open with the locals. Be aware of the different cultures in South Africa, don't make assumptions, and don't hesitate to ask if you are unsure how to behave. Dress modestly, especially in rural areas. Be considerate of the environment and stay away from restricted areas. Always get permission before photographing locals or sacred sites. Enjoy the traditions, but do not participate unless invited.

Is Muizenberg kid-friendly?

Muizenberg is definitely a wonderfully child-friendly destination in South Africa. Kids can let off steam on the sandy beaches, especially at the famous Surfer's Corner, where beginners can take surfing lessons. The Muizenberg Water Slides, a popular water attraction, provide hours of fun. The local Zandvlei Estuary Nature Reserve offers educational insights into local wildlife. And don't miss the Save Our Seas Shark Centre, which offers an educational and exciting experience!

How easy is it to navigate around the town?

Navigating Muizenberg, South Africa, is relatively easy. The city is compact, so it is easy to explore on foot or by bicycle. Many tourist attractions are located close to each other, making it convenient to visit them. Public transportation such as the train, minibus cabs or ride-hailing services are also available for further distances. However, road signs and directions could be improved to make navigation easier. Therefore, it is advisable to take a map or use a digital navigation device.

Are there good yoga or wellness retreats?

Down to Earth Retreat in Muizenberg is an ideal place for wellness seekers. Here you can experience rejuvenating yoga classes and holistic healing therapies for body and mind. Soul Flow Yoga Studio offers a tranquil environment for a comprehensive yoga experience. Breathe in the ocean air, enjoy the breathtaking scenery, and immerse yourself in the diverse yoga practice that focuses on strength, flexibility, and balance. These two locations are ideal for finding peace and retreat from the world.

Are there local markets for fresh produce?

In any case, Muizenberg offers a variety of local markets with a colorful cornucopia of fresh produce. The Blue Bird Garage Market is popular with both locals and tourists. Here there is an abundance of stalls selling fresh fruits, vegetables and specialty foods. The Earth Fair Food Market is another great place that offers organic and locally grown produce. These markets are perfect for those who value quality and freshness and want to shop sustainably.

Is public wifi available in Muizenberg?

Yes, public Wi-Fi is available in various locations in Muizenberg, South Africa. Many cafes, restaurants and public places offer free Wi-Fi to their customers. Adults and children can use internet connection in libraries or community centers. Please note that the connection quality and speed may vary depending on the location. Remember that using public Wi-Fi is best for browsing in non-sensitive areas because of the security risks involved.

What are the local emergency numbers?

Among the most important emergency numbers in Muizenberg, South Africa, is the general emergency number 112. This number can be used in any life-threatening situation and is toll-free. For police services, dial 10111. For fire and rescue services, dial 107. For a medical emergency, dial 10177. Please note that when calling, it is imperative that you remain calm and communicate your exact location and the nature of the emergency.

Can I rent a bicycle in Muizenberg?

Absolutely! There are several bike rentals in Muizenberg that cater to all your needs. Whether you want to explore the beautiful coastline, venture into town, or work out on the mountain trails, you can easily find a rental that suits your needs. Bike rentals often include helmets and locks. Be sure to plan ahead to avoid any inconvenience.

Are there budget-friendly food options?

Absolutely! Muizenberg, South Africa, is full of affordable dining options. Tiger's Milk has a variety of dishes, including pizza, burgers and seafood. Knead Bakery has sandwiches, pastries and a good cup of coffee. The Blue Bird Garage Market is also a good option with a variety of food stalls offering everything from vegetarian fare to hearty meat dishes. These stalls offer reasonably priced, quality food that won't break your budget.

Is there an art scene in Muizenberg?

Right. Muizenberg is often described as a creative hub known for its vibrant art scene. The city is home to various art spaces, including galleries, studios and craft markets where local artists display and sell their work. From street art to photography to sculpture, a wide variety of art forms are on display. Those interested in art can also participate in workshops or events that take place regularly. This lively atmosphere helps bring the community closer together while promoting local talent.

Can I drink the tap water?

While the water in Muizenberg is generally considered safe, visitors from other countries may not be used to the local water and should drink bottled or purified water to avoid potential digestive problems. If you are staying in self-catering accommodation, boiling tap water is another safe option. Be sure to have a varied water intake and stay hydrated at all times.

Are public bathrooms readily available?

Public restrooms are easily accessible in Muizenberg, South Africa. They are located in various places such as tourist attractions, parks, restaurants, shopping centers and train stations. However, cleanliness and accessibility can vary depending on location and time of day. There are often well-maintained facilities at beaches and major tourist attractions. It is advisable to carry some loose change, as some restrooms may charge a small fee.

Feedback

I hope you found this article informative and helpful. I'm eager to improve the content and make it even more valuable for you. If you have any feedback or suggestions, I would love to hear from you.

Do you have any tips or hidden gems that you think should be added to the list? Are there any areas that you feel could use more explanation or clarification?

Your input is greatly appreciated and will help us to continue providing high-quality content that meets your needs and interests. Please feel free to share your thoughts.