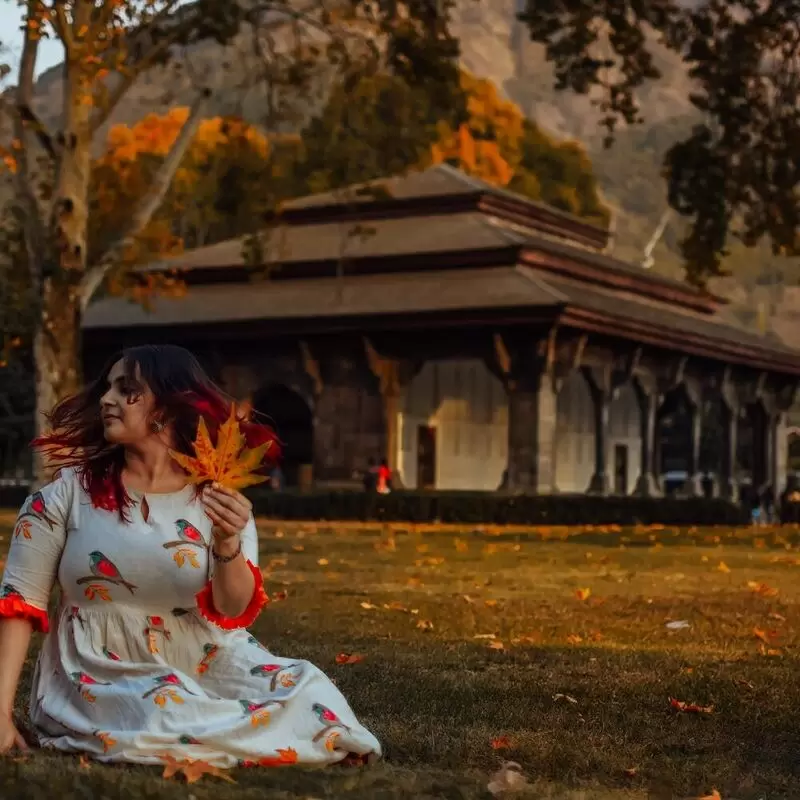 1. Indira Gandhi Memorial Tulip Garden
The Indira Gandhi Memorial Tulip Garden is a charming must-see destination in Srinagar. This largest tulip garden in Asia is home to over 70 different varieties of tulips and offers visitors an unforgettable, colorful spectacle. Located on the foothills of the Zabarwan Mountains, the garden blooms only for a short period from March to May. Don't miss the annual Tulip Festival, which celebrates the splendor of these flowers, and the breathtaking views of Dal Lake and Nishat Bagh, which are nearby and add to the charm.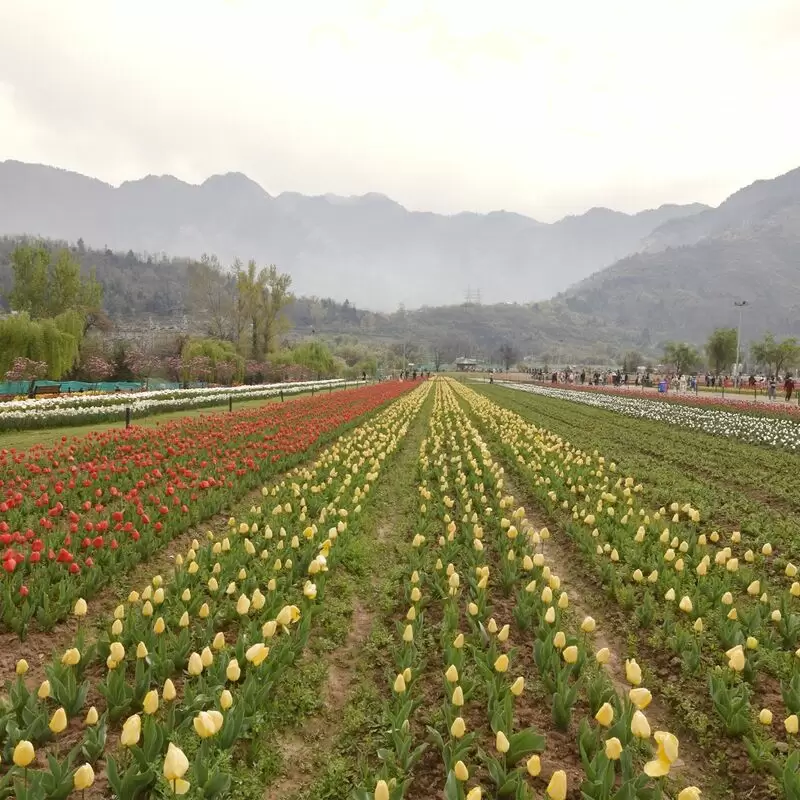 Indira Gandhi Memorial Tulip Garden
Jammu and Kashmir, Cheshma Shahi Rd, Rainawari, Srinagar
Monday - Saturday: 8:00 AM – 7:00 PM
Sunday: 9:00 AM – 5:00 PM
2. Shalimar Bagh Mughal Garden
The Shalimar Bagh Mughal Garden, a magnificent 17th-century paradise, is a must-see when visiting Srinagar. It is a masterpiece of Mughal architecture and features carefully landscaped terraced gardens, fountains and pavilions. Set amidst the breathtaking backdrop of Dal Lake and the Zabarwan Mountains, it is perfect for leisurely walks and a ride on the Shikara to enjoy the panoramic views. Don't forget to admire the ornate black marble "shishas" or seats in the Diwan-i-Khas area and visit the nearby Nishat Bagh Garden.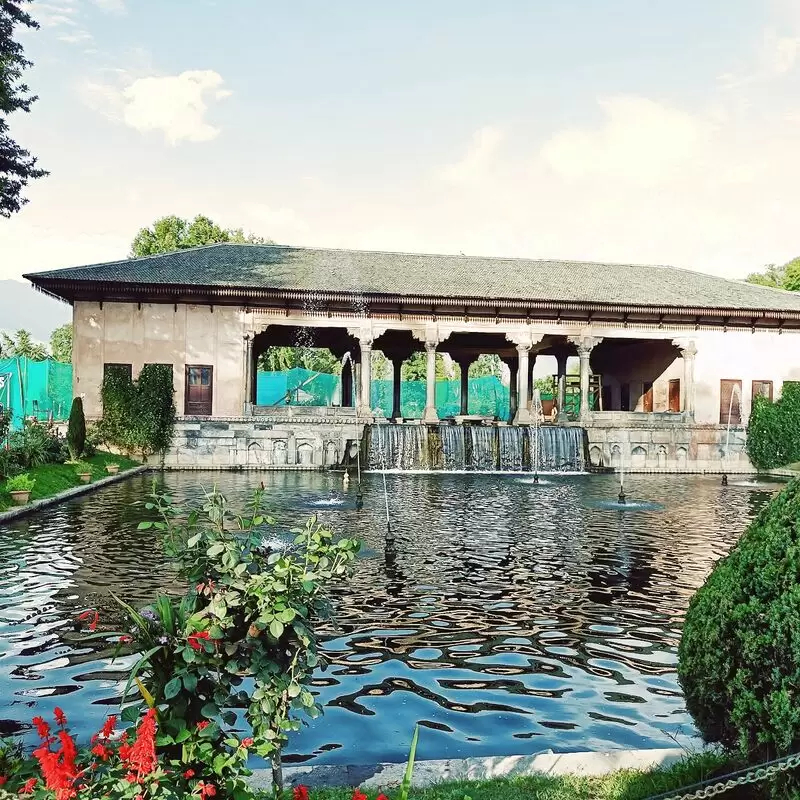 Shalimar Bagh Mughal Garden
Chinar chowk, Shalimar, Srinagar
Monday - Sunday: 9:30 AM – 6:30 PM
3. Chashma Shahi Garden
A visit to Chashma Shahi Garden during your stay in Srinagar is an absolute must! With its stunning fountains, colorful flower beds, and breathtaking views of Dal Lake and the Himalayas, this Mughal garden offers a tranquil and picturesque retreat. Marvel at the fascinating architecture of the Royal Spring Pavilion, and don't forget to sample the rejuvenating and natural mineral water spring, known for its healing properties. Not far away is the lush Pari Mahal, a historic terraced garden to explore!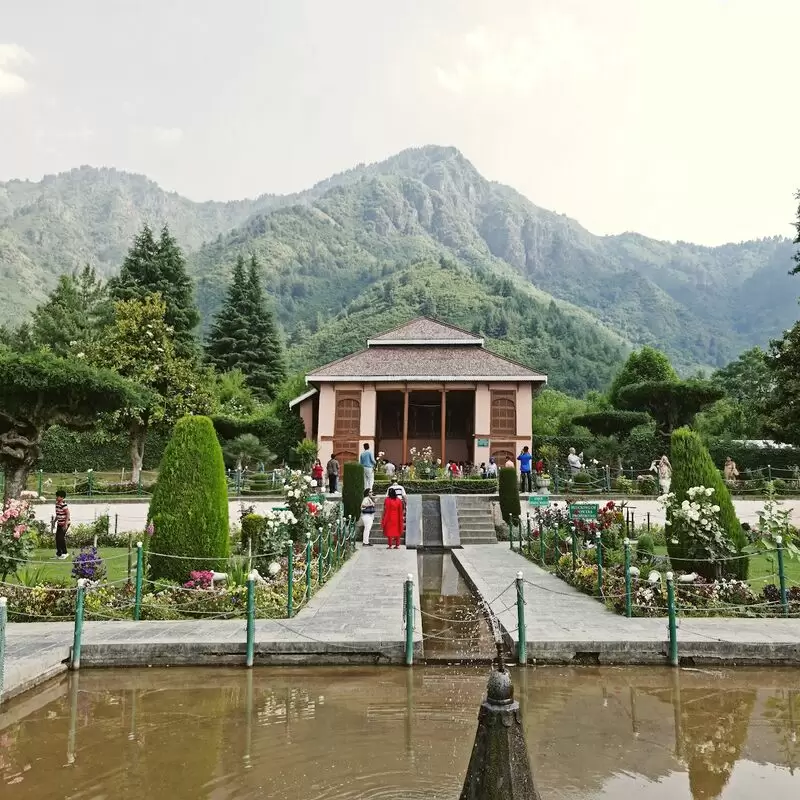 Chashma Shahi Garden
7, Boulevard Road, Chashma Shahi, Rainawari, Srinagar
Monday - Sunday: 10:00 AM – 6:00 PM
4. Pari Mahal
Discover the fascinating Pari Mahal, a seven-terraced garden nestled in the Zabarwan Mountains. Built in the 17th century, the fairytale palace offers magnificent panoramic views of Srinagar city and Dal Lake. Be awed by the captivating Mughal-style architecture, magnificent floral displays and intricate doorways. Watch the sunset bathe the sky in incredible colors as you bask in the peaceful atmosphere. A well-kept secret: the upper terraces are quieter and perfect for solitary moments of reflection. An added bonus while you're there: Chashme Shahi, another stunning Mughal garden, is nearby!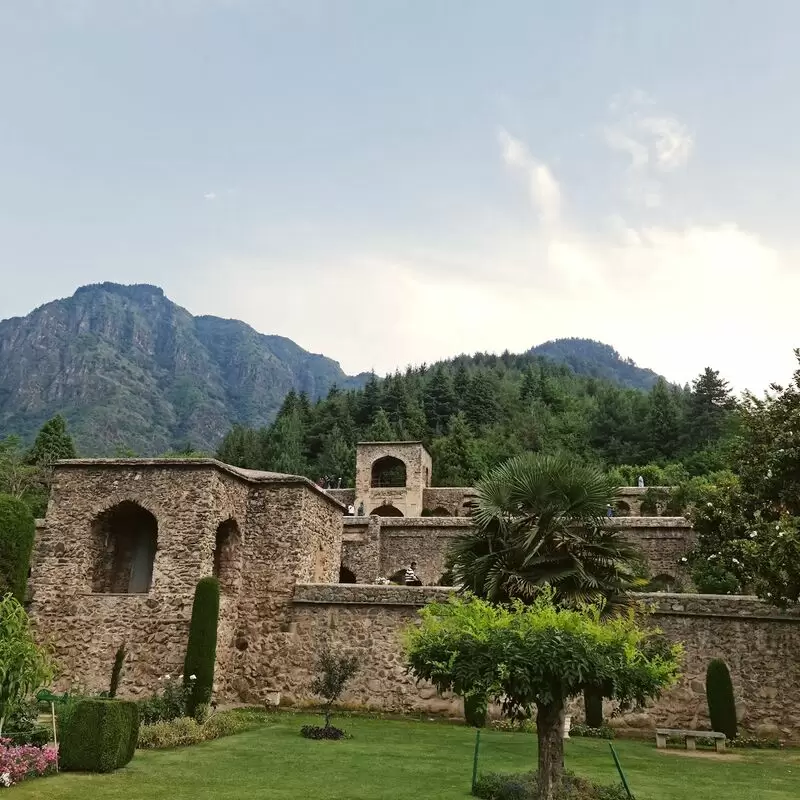 Pari Mahal
3VJG+FVC, near Pari Mahal Parking, Srinagar
Monday - Sunday: 9:30 AM – 7:30 PM
5. Nishat Garden
A visit to the Nishat Garden in Srinagar is an absolute must for any traveler seeking a true taste of serenity. This spectacular terraced garden is a jewel among the paradise gardens of the Mughals, captivating visitors with its lush greenery, elaborate fountains and brilliant flowers. Unique to Nishat Garden is the magnificent backdrop of the majestic Dal Lake and the snow-capped Pir Panjal Mountains, which offers stunning photo opportunities. Just a stone's throw away is Shalimar Bagh, another enchanting Mughal garden awaiting your exploration.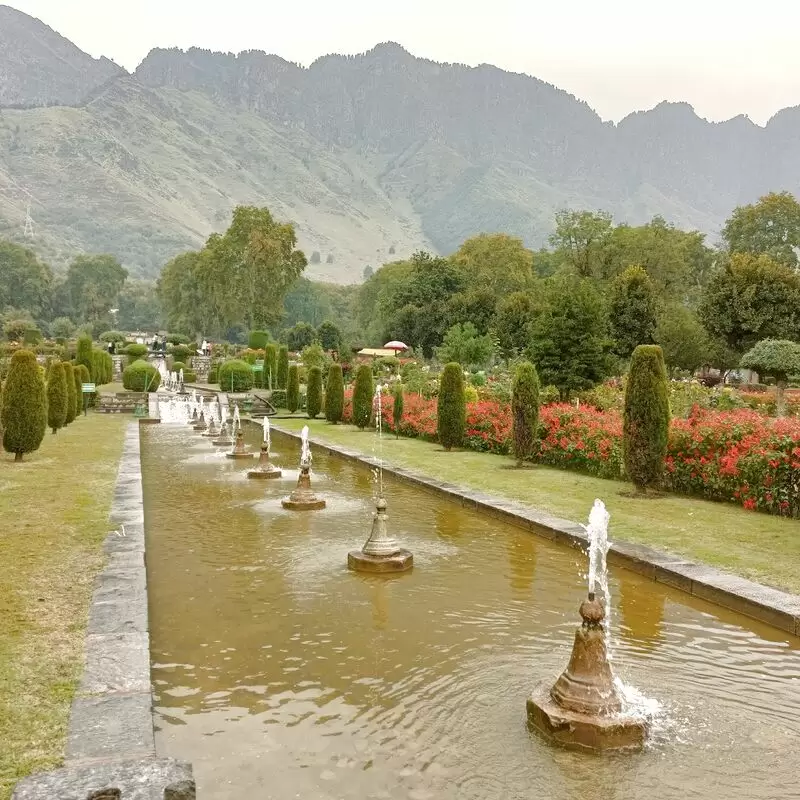 Nishat Garden
4VFH+RGC, Boulevard Rd, Nishat, Srinagar
Monday - Sunday: 7:00 AM – 7:00 PM
6. Shah Kashmir Arts Emporium
A visit to the Shah Kashmir Arts Emporium in Srinagar is a must for art and culture lovers! The renowned emporium offers a captivating collection of traditional Kashmiri handicrafts, including hand-knotted rugs, intricate papier-mâché items, and delicate pashmina shawls. Take advantage of the rare opportunity to watch local artisans at work - an unforgettable cultural experience. Just a stone's throw away is The Bund, a historic promenade that offers a scenic stroll along the Jhelum River and a glimpse into Srinagar's rich heritage.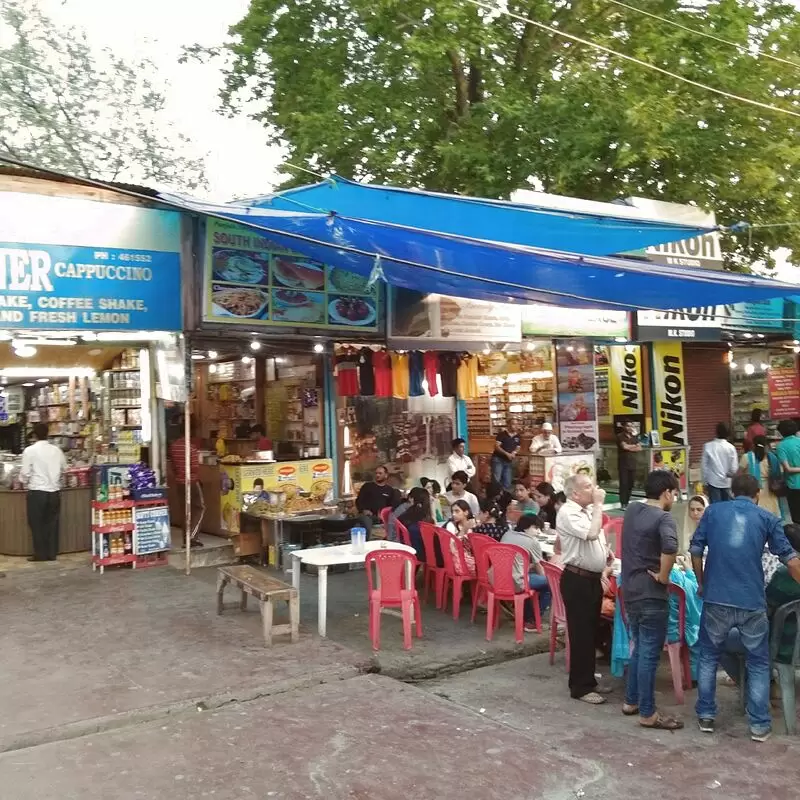 Shah Kashmir Arts Emporium
Main road Nishat next to mughal garden nishat Srinagar Jammu and Kashmir, Bagh Hussain, Srinagar
Monday - Sunday: 9:00 AM – 9:00 PM
7. Shankaracharya Reserved Forest
Visit Shankaracharya Reserved Forest in Srinagar and experience peace and relaxation amidst lush greenery and blissful serenity. The area is home to a rich variety of flora and fauna, ideal for nature lovers. Hike to the ancient Shankaracharya Temple and enjoy panoramic views of the sparkling Dal Lake and the city of Srinagar. Indulge in a shikara ride on Dal Lake and admire the mesmerizing beauty of Char Chinar, a stunning island adorned with Chinar trees.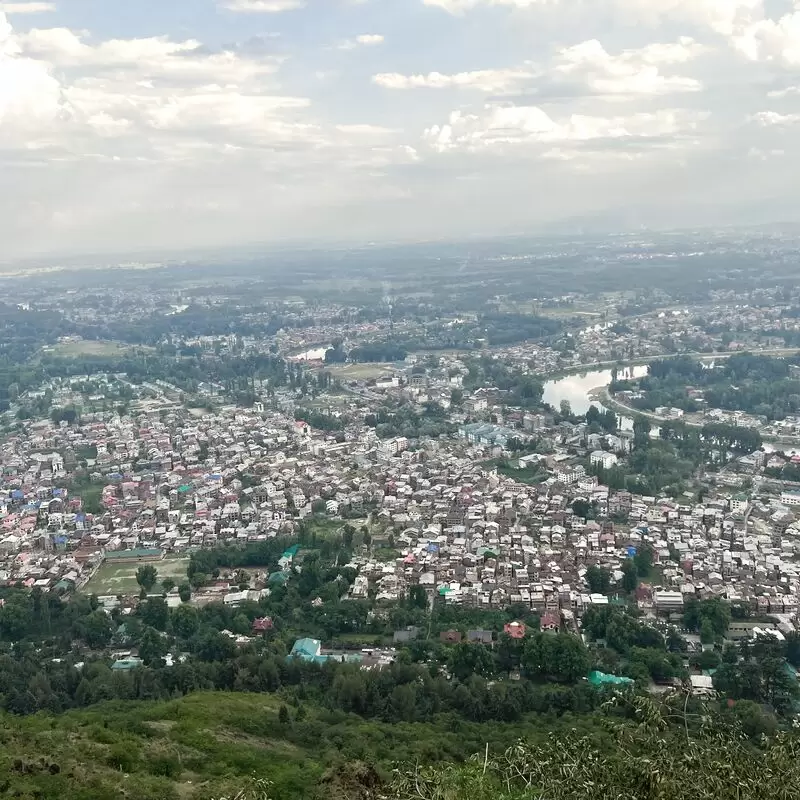 Shankaracharya Reserved Forest
3RHV+H96, Reserve Forest Rd, Rainawari, Srinagar
8. Dachigam National Park
Immerse yourself in the wild beauty of Dachigam National Park in Srinagar! Experience the endangered Hangul (Kashmir deer) in its natural habitat alongside other fascinating species such as musk deer, black bear and exotic birds. Explore the lush coniferous forests, crystal clear streams and picturesque landscapes at two altitudes - the Lower and Upper Dachigam. For an insider's tip, don't miss the roaring Marsar Lake, located nearby and offering a tranquil escape amidst the breathtaking mountains. Discover the vibrant biodiversity of this hidden gem!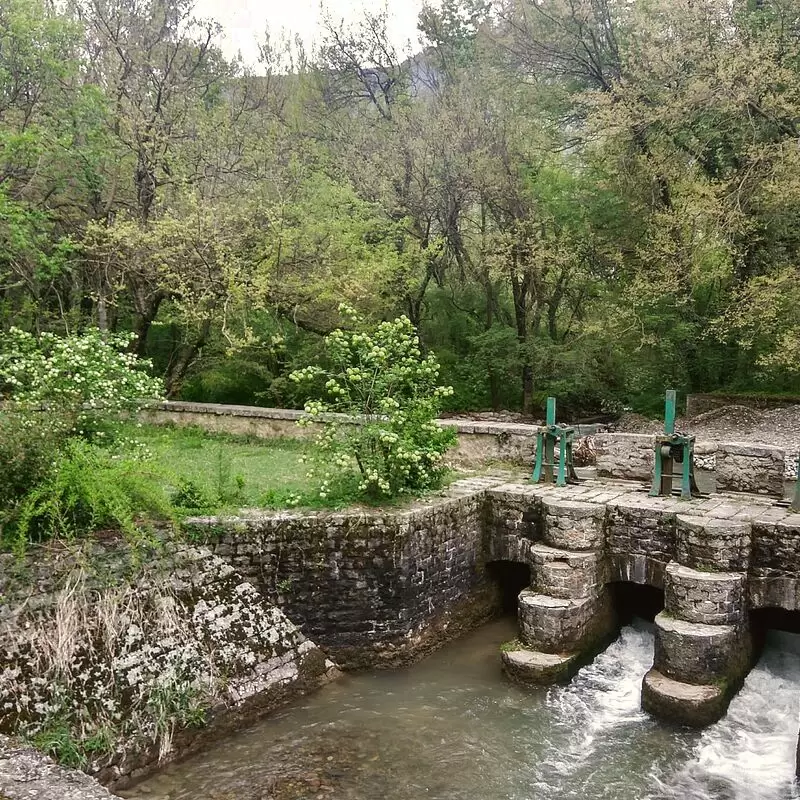 Dachigam National Park
42PQ+V4C, Dachigam Road, near Harwan Mughal Garden, 191202
Monday - Sunday: 9:00 AM – 5:00 PM
9. Jamia Masjid Srinagar
A visit to the Jamia Masjid in Srinagar is a must for its magnificent architecture and tranquil atmosphere. This 14th century mosque combines wooden craftsmanship and Mughal art and is a visually stunning experience. The quiet, peaceful courtyard is perfect for contemplation and relaxation after a long day of travel. Located in the bustling Old City, the mosque is a haven for spiritual seekers and history buffs alike. Don't miss the quaint Nowhatta Market, located just outside the mosque, for an authentic Kashmiri shopping experience.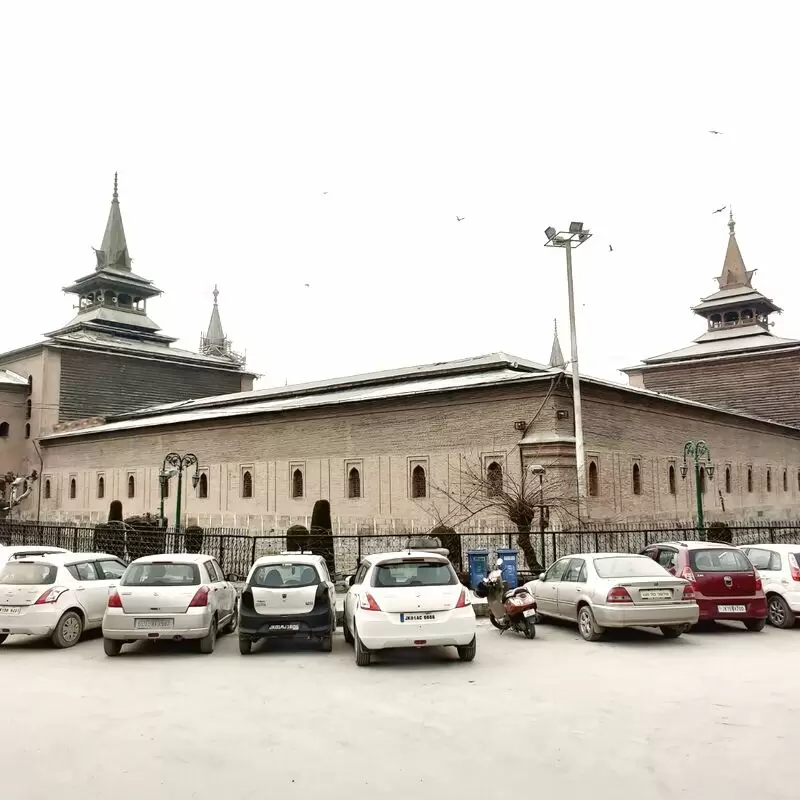 Jamia Masjid Srinagar
Nowhatta Kathi Darwaza Road, Nowhatta, Srinagar
10. Char Chinar Dal lake

A visit to the Char Chinar Dal Lake in Srinagar is an absolute must for a transcendent experience! Known for the four Chinar trees at its center, this mesmerizing lake offers a surreal visual treat, especially in autumn when the leaves turn a captivating golden hue. Glide through the tranquil waters on a shikara and take in the extraordinary beauty of the surroundings.

Insider tip: In the mornings, a lively floating market takes place - an experience not to be missed! Nearby is the magnificent Nishat Bagh, a magnificent Mughal garden.

Char Chinar Dal lake
4V38+7M8, Rainawari, Srinagar

Monday - Sunday: 6:00 AM – 7:00 PM
11. Dal Lake
Discover the crown jewel of Srinagar, the enchanting Dal Lake! Glide through the tranquil waters on a shikara (wooden boat) while admiring the scenic beauty of the surrounding Pir Panjal Mountains. Enjoy the sight of floating gardens known for their lush blooms and delicious produce. Staying in a houseboat is an unforgettable experience and gives you an insight into the local culture. Just a stone's throw away is the picturesque Nishat Bagh, a terraced Mughal garden with magnificent views.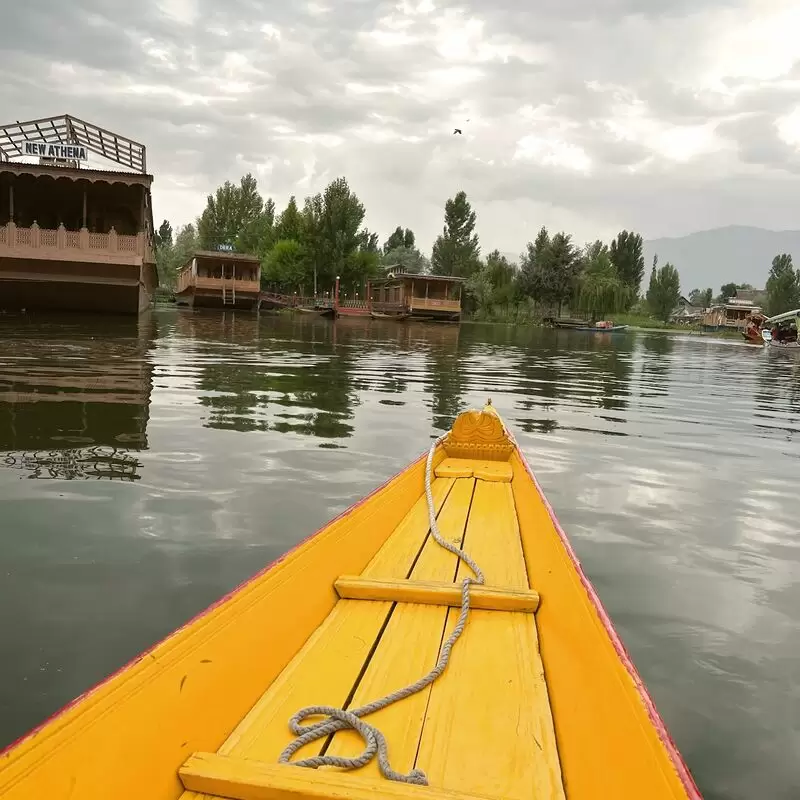 Dal Lake
Rainawari, Srinagar
Monday - Sunday: Open 24 hours
12. Hari Parbat Fort
Immerse yourself in history at the magnificent Hari Parbat Fort in Srinagar, proudly perched on Hari Parbat Hill. Marvel at this 18th century architectural masterpiece and enjoy panoramic views of the city and Dal Lake. Don't forget to take a leisurely stroll through the fort's lush Mughal gardens, a hidden gem that will make your visit even more enchanting! Also visit the nearby Kheer Bhawani Temple and the Chhatti Padshahi Gurudwara for a comprehensive cultural experience. The rich heritage of Srinagar awaits you at the Hari Parbat Fort!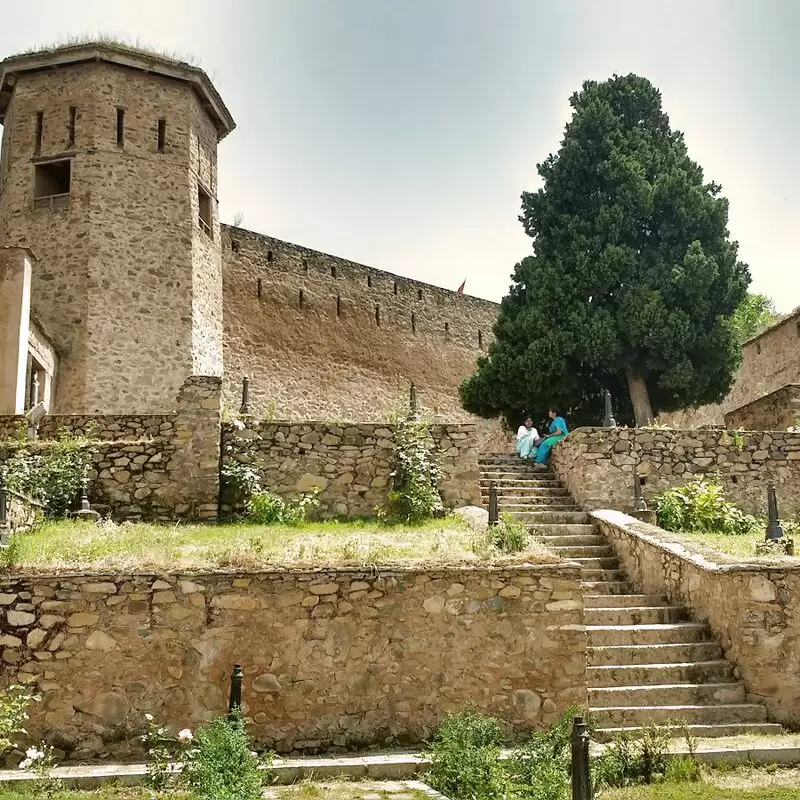 Hari Parbat Fort
Nohata, Srinagar
Monday: 9:30 AM – 4:30 PM
Tuesday - Saturday: 9:30 AM – 5:30 PM
Sunday: Closed
13. Badam Wari Park
Embark on an enchanting journey to Badam Wari Park in Srinagar, known for its lush almond orchard in full bloom. In spring, a walk through the park rewards visitors with an enchanting view of bright almond blossoms and the majestic Hari Parbat Fort in the background. Dotted with Himalayan cherry trees, Badam Wari Park offers a perfect retreat from the hustle and bustle of the city with its tranquil ambiance. Nearby, you can visit the stunningly preserved Pathar Masjid and the divine Ziarat Peer Mitha shrine.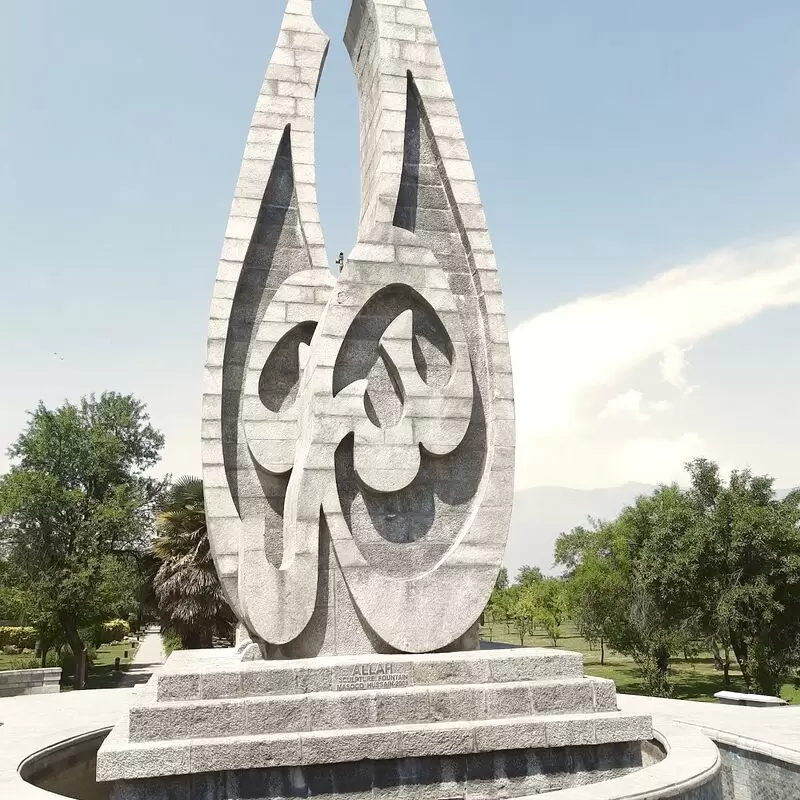 Badam Wari Park
Kathi Darwaza, Botaraj Colony, Srinagar
14. Tulip garden Srinagar
The Srinagar Tulip Garden, also known as the Indira Gandhi Memorial Tulip Garden, will captivate you with its vibrant, colorful variety of thousands of tulips. The 30-acre garden boasts of being the largest tulip garden in Asia - a floral paradise amidst the serene beauty of Srinagar. Visit the garden during the annual Tulip Festival, held between March and April, to witness this fascinating spectacle in full bloom. Don't miss nearby Chashme Shahi, a stunning Mughal garden that offers breathtaking views of Dal Lake.
Tulip garden Srinagar
4VJH+X35, Nishat, Srinagar
15. Nelo Arts
During your stay in Srinagar, immerse yourself in the captivating world of Nelo Arts. This hidden gem showcases the intricacies of traditional Kashmiri handicrafts and papier-mâché art. See how skilled artisans breathe life into everyday materials and transform them into colorful masterpieces! This is a must-see for design lovers and anyone looking for unique, locally made souvenirs. In addition, the nearby quaint Kashmir Market promises an unforgettable cultural experience with its colorful clothes, spices and dry fruits.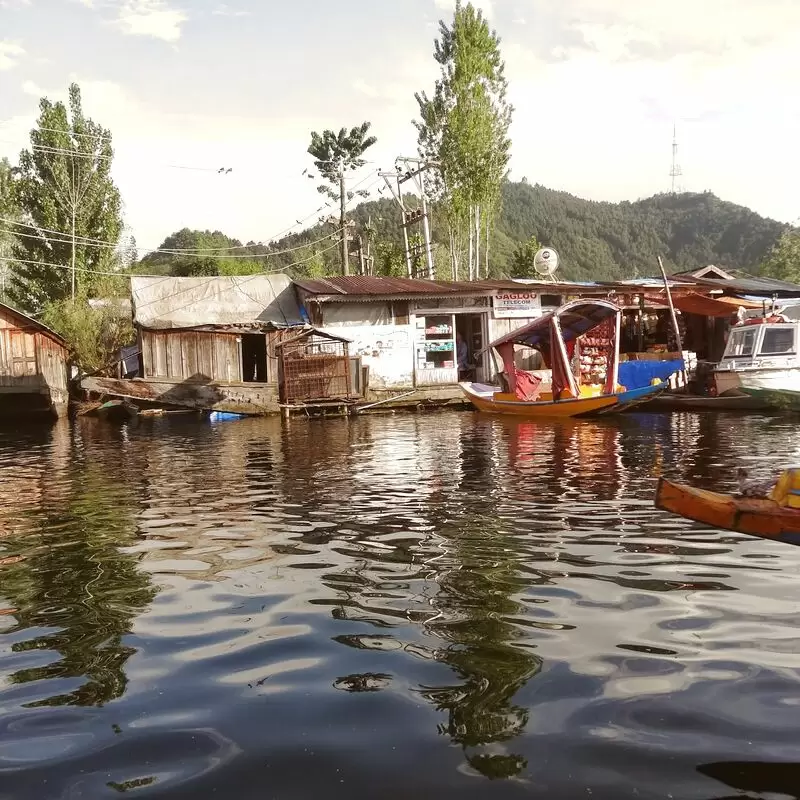 Nelo Arts
Abi karpora nehru park Nehru Park Dal lake, Karapura, Rainawari, Srinagar
Monday - Sunday: 8:00 AM – 9:00 PM
16. Srinagar Kashmir Tourism
Srinagar Kashmir Tourism takes you on a fascinating journey through Srinagar, often referred to as the "Paradise on Earth". Admire the beautiful landscapes of the city with its stunning Mughal gardens, serene Dal Lake, famous houseboats and tranquil mosques. Savor the taste of Kashmiri cuisine while admiring the vibrant culture and traditions. Visit the nearby apple orchards or saffron fields for an unforgettable experience. Be enchanted by the enchanting beauty of Srinagar and create memories for a lifetime.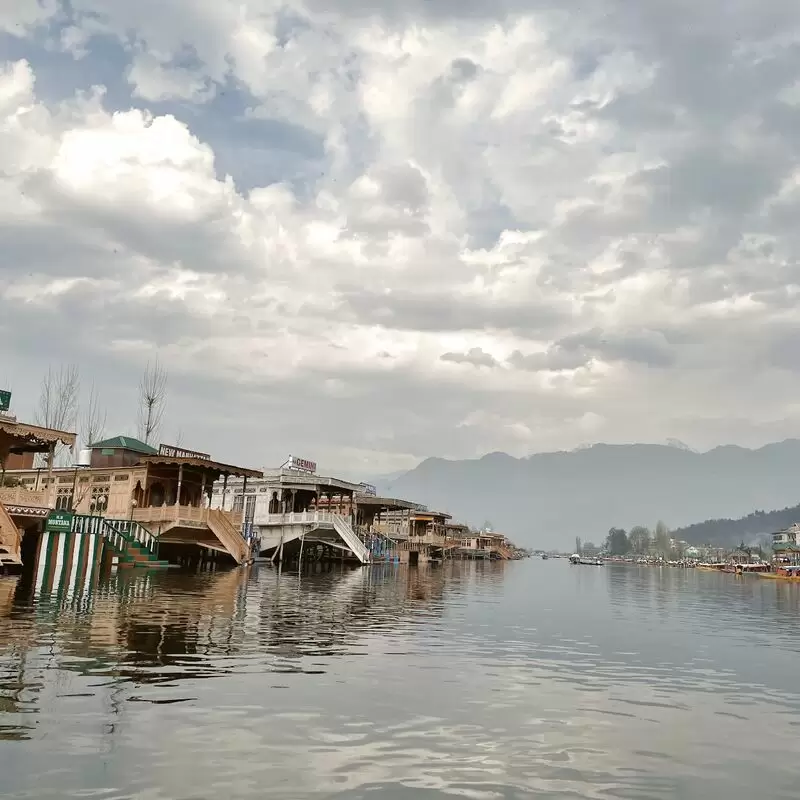 Srinagar Kashmir Tourism
Ghat No 17, near Nehru Park, Karapura, Rainawari, Srinagar
Monday - Sunday: Open 24 hours
17. Yousmarg
Yousmarg, a stunning jewel in Srinagar, is the perfect getaway for nature lovers. Nestled in the majestic Pir Panjal mountain range, Yousmarg is the perfect place for picnics, hikes and horse rides. As you meander through lush meadows dotted with bright wildflowers, you can see the impressive Doodh Ganga River. Don't miss the mesmerizing views of the Sang-e-Safed Valley, just a short hike away. With its captivating scenery and tranquil atmosphere, Yousmarg is an essential destination for an unforgettable experience.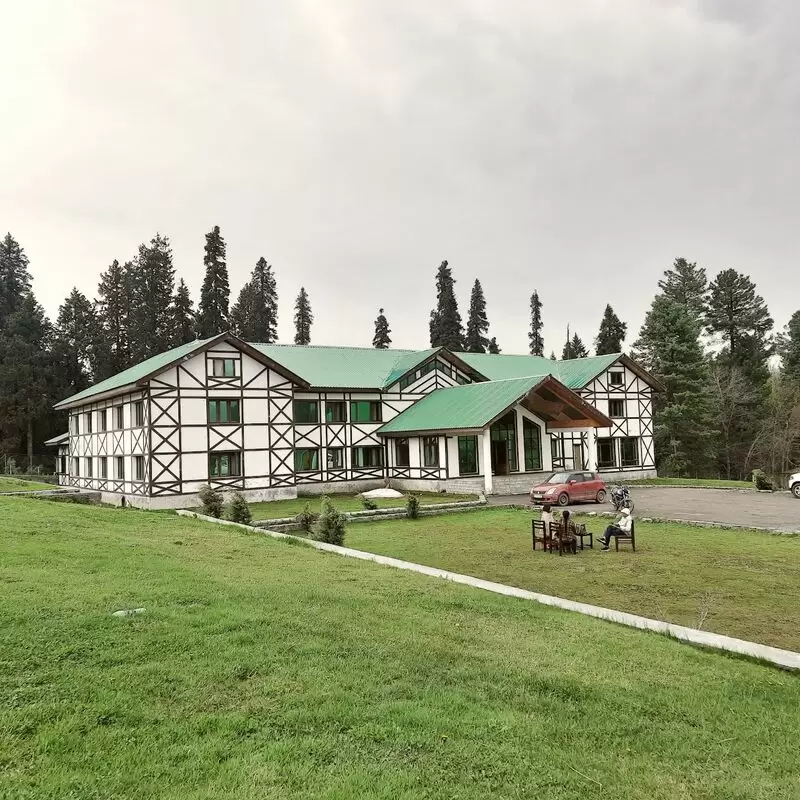 Yousmarg
Yousmarg
Monday - Sunday: Open 24 hours
18. Harwan Garden

Visiting Harwan Garden is a must when exploring Srinagar! Imagine strolling through beautifully landscaped, terraced lawns surrounded by panoramic mountain views. This enchanting garden is a nature lover's paradise, offering a tranquil atmosphere with colorful flower beds and a serene lake.

An insider tip: stroll along the old water canal and take beautiful photos of the diverse flora and fauna. While you are in the area, don't forget to explore the nearby famous Dachigam Wildlife Sanctuary for a full nature experience!

Harwan Garden
Murandar Bagh

Monday - Sunday: 7:00 AM – 8:00 PM
19. Khanqah e Moula
A visit to the fascinating Khanqah-e-Moula, also known as Shah-e-Hamdan, is guaranteed to captivate you! This 14th century mosque is adorned with ornate khatamband woodwork and papier-mâché interiors, offering a glimpse into the magnificent craftsmanship of Kashmir. The peaceful atmosphere of Khanqah-e-Moula, revered as a spiritual center, offers a tranquil retreat from the hectic city. After paying your respects, you can take a leisurely stroll to the nearby Zaina Kadal Bridge for a charming view of the Jhelum River.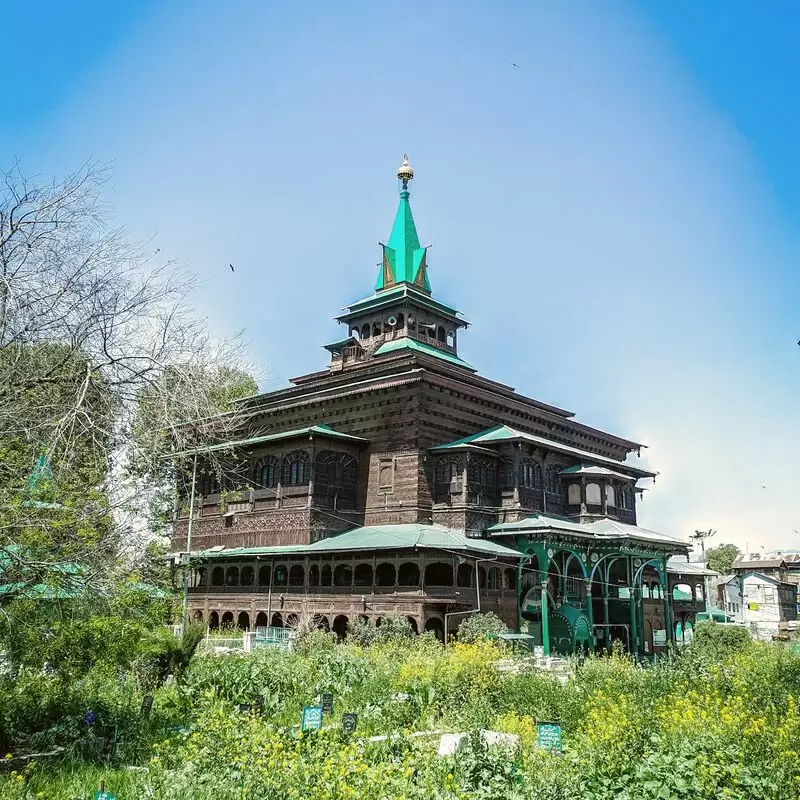 Khanqah e Moula
On the banks of Jehlum river and near to, Zaina Kadal - Maharak Ganj Rd, Shamswari, Srinagar
20. Zabarwan Park
Zabarwan Park is a hidden gem in the middle of the picturesque Zabarwan Mountain Range in Srinagar. It is a paradise for nature lovers and offers serene views of the mountains and Dal Lake. Amidst the lush green landscape, you can take a leisurely stroll, snap stunning photos or indulge in delicious Kashmiri cuisine at the on-site restaurant. In spring, the park is ablaze with colorful flowers. Nearby is the famous Indira Gandhi Memorial Tulip Garden, where countless tulips flutter in the gentle Srinagar breeze.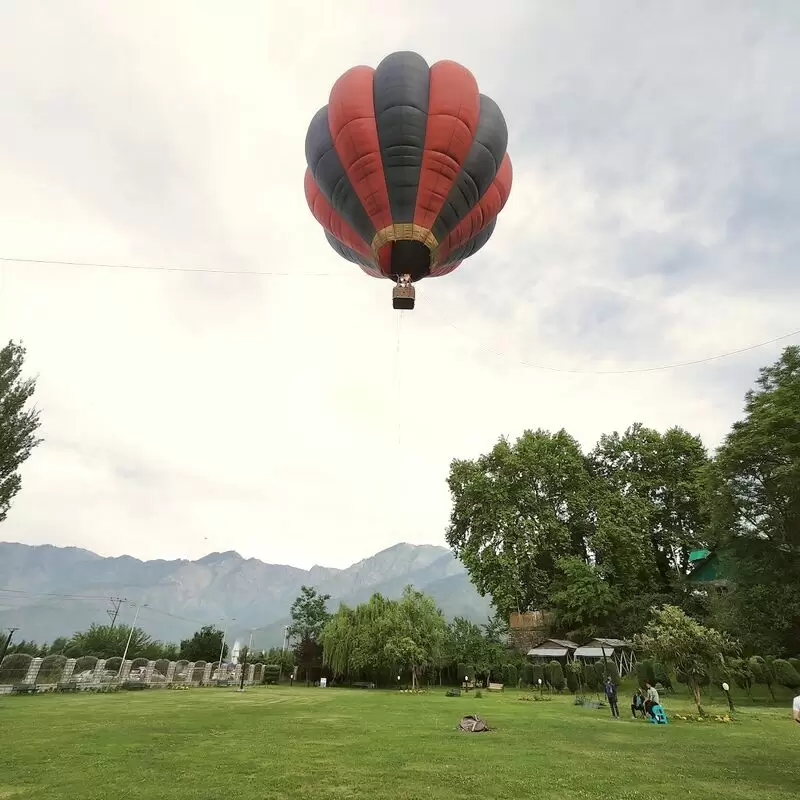 Zabarwan Park
3RPX+CW3, Boulevard Rd, Rainawari, Srinagar
Monday - Sunday: 10:00 AM – 8:30 PM
21. River Songs Tours and Travels
A visit to River Songs Tours and Travels in Srinagar is a must for adventure seekers and nature lovers! This travel agency specializes in various activities like trekking, river rafting and camping in the heart of the stunning Kashmir Valley. The experienced local tour guides are known for discovering hidden treasures such as secret valleys and remote lakes, offering authentic experiences tailored to your individual interests. Located near the fascinating Dal Lake, the hotel is the perfect base for an unforgettable trip to Srinagar.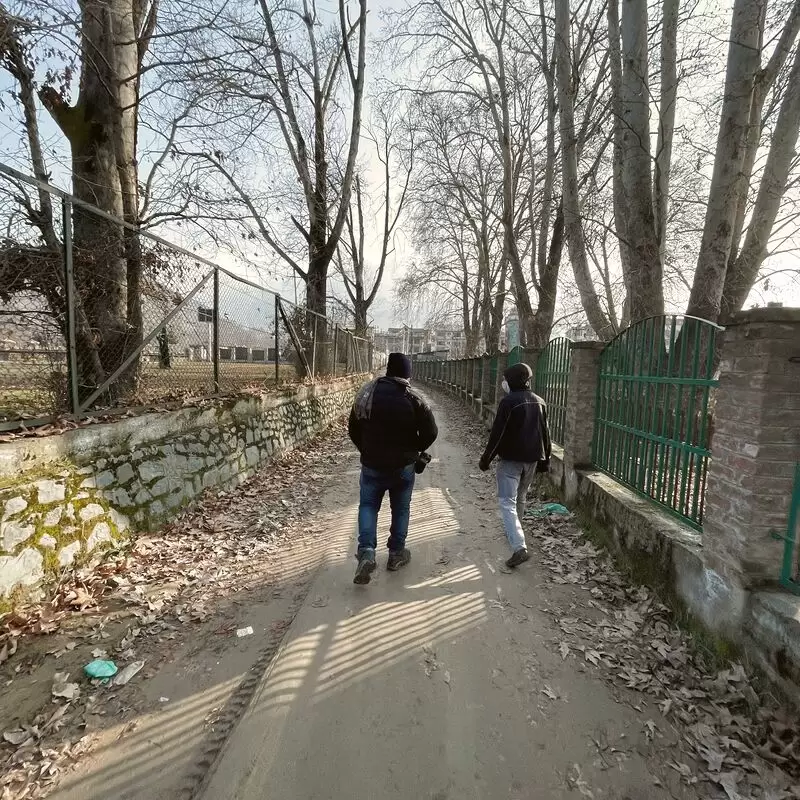 River Songs Tours and Travels
Jhelum Lane, Old, Zero Bridge, Aramwari, Rajbagh, Srinagar
Monday - Sunday: Open 24 hours
22. Shah E Hamdan R.H Mosque
Visiting the Shah E Hamdan R.H. Mosque in Srinagar is an incomparable experience. Here, tourists can experience the captivating wooden architecture and fascinating history that has its roots in 14th century Sufism. Immerse yourself in the serenity and spirituality of this sacred site on the picturesque banks of the Jhelum River. See the mosque come to life during daily prayers, and don't miss the ancient relics on display. The nearby historic Pathar Masjid and Rozabal Shrine round out the cultural offerings.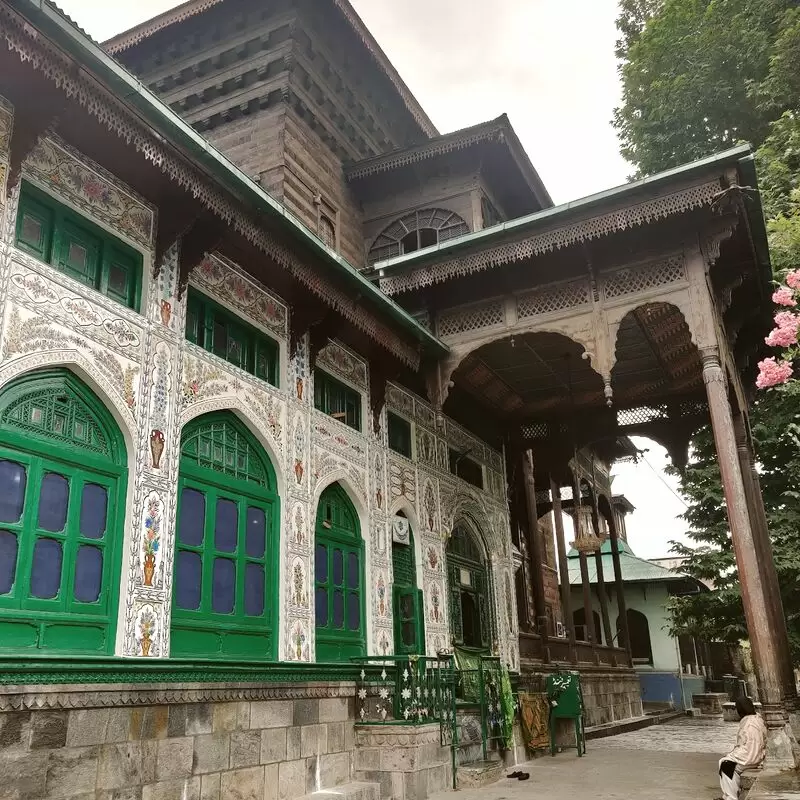 Shah E Hamdan R.H Mosque
3RR5+H44, Shamswari, Srinagar
23. Shikara Ride
A visit to Srinagar is incomplete without experiencing a shikara ride on the crystal clear waters of Dal Lake. You glide across the calm waters, surround yourself with blooming Mughal gardens, and catch a glimpse of the bustling floating markets. For an authentic experience, try the delicious kehwa tea offered in traditional samovars. In addition, the nearby Nishat Bagh offers picturesque views that you should definitely visit after your unforgettable Shikara ride!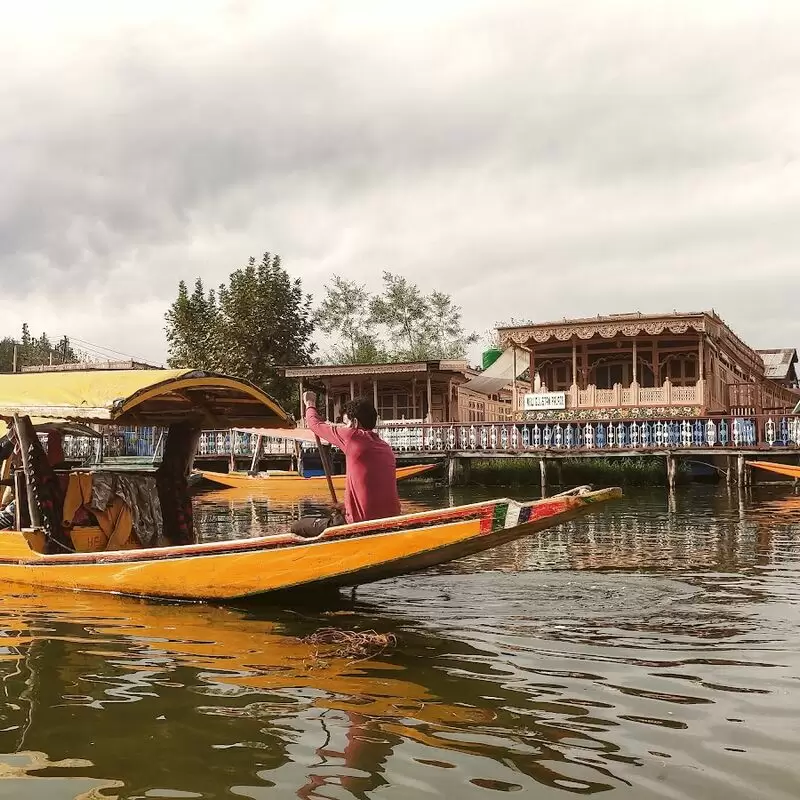 Shikara Ride
4VG5+Q47, Srinagar
24. SPS Museum
A visit to the SPS Museum in Srinagar is an absolute must for culture and history enthusiasts! This treasure trove beautifully showcases Kashmir's rich heritage with fascinating exhibits of ancient artifacts and intricate textiles. Admire the beautiful Gandhara-style sculptures dating back to the 6th century or marvel at the vibrant papier-mâché works. The museum is located very close to the grand Jamia Masjid, making it the perfect place to visit this architectural marvel in the old city. Don't miss this cultural gem on your trip!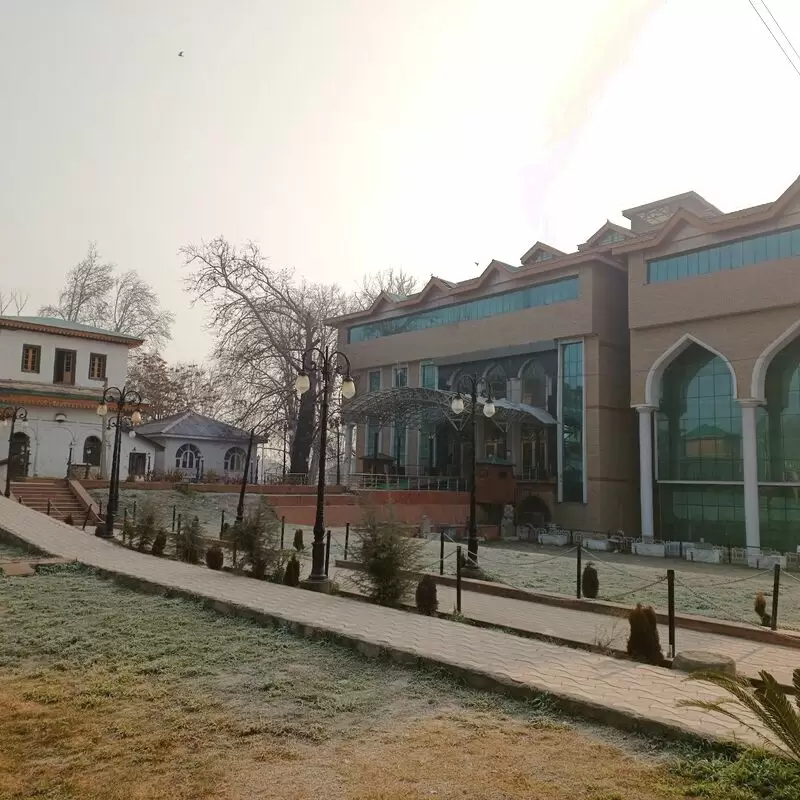 SPS Museum
Lal Mandi, Srinagar
Monday: Closed
Tuesday - Sunday: 10:00 AM – 4:30 PM
25. Jawaharlal Nehru Memorial Botanical Garden

A visit to the beautiful Jawaharlal Nehru Memorial Botanical Garden in Srinagar is a must for nature lovers. It offers a breathtaking variety of plants spread over 80 acres of vibrant lush green landscapes, impressive oak trees and magnificent water bodies. Be enchanted by the enchanting tulips, roses, and Chinar trees while making unforgettable memories.

Insider tip: A boat ride across the nearby Dal Lake can take your experience to a whole new level!

Jawaharlal Nehru Memorial Botanical Garden
3VVJ+5QH, Cheshma Shahi, Muja Gund Ghat, Srinagar

Monday - Sunday: 7:00 AM – 7:00 PM
26. Srinagar Tourism
Srinagar, the paradise on earth, invites you to explore its breathtaking landscapes, picturesque lakes and magnificent gardens. Cruise on a shikara on the tranquil Dal Lake and admire the magnificent Nishat and Shalimar Mughal Gardens. Savor local delicacies at the floating markets and be enchanted by Srinagar's rich heritage as you visit the ancient shrines and mosques. Take an enchanting day trip to Gulmarg or Sonmarg and immerse yourself in the magical nature of this charming Himalayan region.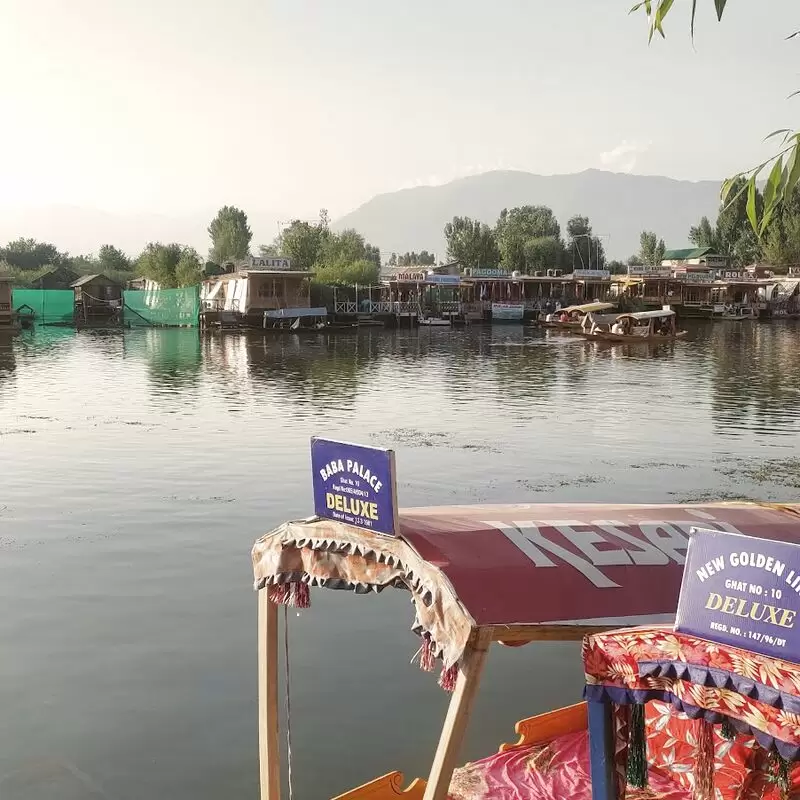 Srinagar Tourism
Boulverd Road, Ghat No :9, Pinegrove-Lhasa Ln, Durgjan, Srinagar
Monday - Sunday: Open 24 hours
Best Time to Visit Srinagar
The best time to visit Srinagar is from April to October, when the weather is pleasant and blooming flowers highlight the beauty of the city's gardens and lakes. September and October are ideal to admire the autumn colors.
Annual Weather in Srinagar
Srinagar 3-Day Forecast
Thu, 21 September
Night
59 °F
15 °C
61%
Morning
54 °F
12 °C
76%
Afternoon
79 °F
26 °C
85%
Evening
65 °F
18 °C
0%
Fri, 22 September
Night
58 °F
14 °C
74%
Morning
55 °F
13 °C
0%
Afternoon
80 °F
27 °C
76%
Evening
70 °F
21 °C
67%
Sat, 23 September
Night
57 °F
14 °C
80%
Morning
56 °F
13 °C
0%
Afternoon
78 °F
26 °C
81%
Evening
69 °F
20 °C
0%
Questions & Answers

What currency is used in Srinagar?

The currency used in Srinagar, India, is the Indian rupee (INR). The common banknotes are available in denominations of 10, 20, 50, 100, 200, 500 and 2000 rupees. Coins come in denominations of 1, 2, 5 and 10 rupees. Travelers can exchange their foreign currency at banks, hotels or approved exchange bureaus, such as at airports. Most stores prefer cash payments, and credit cards are not accepted everywhere, especially in smaller stores and street vendors.

How safe is Srinagar for tourists?

Srinagar is relatively safe for tourists who use their common sense and exercise caution. While there have been instances of political unrest and civil unrest in the past, the situation has improved considerably in recent years. Tourists can enjoy the natural beauty, rich culture and hospitable locals in Srinagar. However, it is advisable to keep an eye on the latest news and security advisories before planning a visit. Moreover, late night excursions and staying in reputed accommodations can ensure a safe and enjoyable experience.

Is English widely spoken in Srinagar?

English is moderately spoken in Srinagar, especially in the tourism industry and among the younger, educated generation. While the main languages are Kashmiri and Urdu, many locals have a basic understanding of English. Tourists may find English-speaking tour guides, hotel staff, and some restaurant employees catering to international visitors. However, when venturing into more remote areas or dealing with older residents, language barriers may be encountered. It is always helpful for visitors to learn a few basic phrases in the local language to enhance their travel experience.

What is the main mode of transportation in Srinagar?

The main mode of transportation in Srinagar, India, is a combination of local buses, minibuses and auto-rickshaws. These modes of transportation are popular with both locals and tourists, as they provide a convenient and inexpensive way to get around the city. In addition, Srinagar is known for its unique shikaras, traditional wooden boats that are often used for leisurely cruises and sightseeing on the beautiful Dal Lake and adjacent waterways. For a more personalized experience, tourists can opt for private cabs or hire a car and driver.

Are credit cards accepted at most places?

Credit cards are accepted at most hotels, major restaurants and stores in Srinagar, especially those catering to tourists. However, it should be noted that many smaller establishments, street vendors and local markets still prefer cash transactions. It is advisable to carry some Indian rupees in cash for these cases. Also, withdrawing cash from ATMs is a convenient option as they are available everywhere in the city.

Are there ATMs easily accessible in Srinagar?

Yes, ATMs are easily accessible in Srinagar, the summer capital of Jammu and Kashmir, India. Most major banks have their ATMs spread throughout the city, making it convenient for tourists and residents to get cash when needed. Some of the well-known banks that offer ATMs include State Bank of India, HDFC Bank, ICICI Bank, Axis Bank and Jammu & Kashmir Bank. It is advisable to use ATMs in well-lit areas or in shopping malls to increase security.

Is it necessary to tip while in Srinagar?

Tipping is not obligatory in Srinagar, India, but it is always appreciated for good service. Generally, people give small tips to show their gratitude for services rendered, e.g. 10% in restaurants, about 20-50 INR for cab drivers and 10-20 INR for hotel staff or porters. Always remember that tipping is voluntary and should be based on the amount of service provided. If you are unsure of how much to tip, observe locals or ask the staff of your hotel or tour operator for advice.

What is the local cuisine like in Srinagar?

The local cuisine of Srinagar is a delicious blend of flavors that revolves mainly around traditional Kashmiri dishes. The food is rich in flavor, with a generous use of spices, aromatic herbs and dried fruits. These include delicacies such as rogan josh, a tender lamb curry, and yakhni, a yogurt-based mutton dish. Dum Aloo, a spicy potato curry, is something for vegetarians. A culinary experience in Srinagar is incomplete without trying the exquisite wazwan, a multi-course meal served on special occasions that includes several meat preparations and rice dishes.

Are there any cultural norms to be aware of?

When traveling in Srinagar, be mindful of the local culture and traditions. Dress modestly, as the majority of Srinagar's population are Muslims and revealing clothing can be seen as disrespectful. Do not show your affection in public as it may make the locals feel uncomfortable. It is also important to respect religious practices and sentiments; for example, keep quiet near religious sites and do not take photos without permission. In Srinagar, as in many parts of India, there is a culture of haggling, so be prepared to negotiate prices in the markets.

How reliable is the internet connectivity in Srinagar?

Internet connectivity in Srinagar is relatively stable, but can be inconsistent at times due to the geography and politics of the region. Most hotels and tourist facilities offer Wi-Fi services, but speeds can vary. 3G and 4G cellular data services are offered by major telecom providers, but again, interruptions may occur occasionally. It is advisable to seek local advice on the best SIM cards and data plans for your stay in Srinagar to ensure better connectivity.

What type of power socket is used in Srinagar?

In Srinagar, India, type C and type D sockets are used. The standard voltage is 230 V and the frequency is 50 Hz. Type C sockets, also known as Europlugs, have two round pins, while Type D sockets have three round pins in a triangular pattern. It is advisable for travelers to carry universal adapters if their appliances have different plug types to ensure compatibility during their visit to Srinagar.

Is there a dress code for religious sites?

Yes, there is a dress code for religious sites in Srinagar, India. Visitors are expected to dress modestly and respectfully, as these sites have great cultural and religious significance. In general, both men and women should cover their shoulders and wear long pants or skirts that reach below the knee. Head coverings may be required at certain religious sites, especially for women. It is always a good idea to bring a shawl or scarf to wrap around your shoulders or head if needed.

Are there any local customs or superstitions to know?

In Srinagar, local customs and superstitions are predominantly influenced by Islam due to the majority Muslim population. Respect religious beliefs by dressing modestly, especially women covering shoulders and knees. Avoid using your left hand to eat or to give and receive items, as it is considered unclean. Be discreet when eating and drinking in public during the holy month of Ramadan, as many locals fast. Do not show your affection in public as this may not be welcomed in conservative society.

What is the typical price range for taxis in Srinagar?

The typical price range for cabs in Srinagar varies depending on factors such as distance, time of day and type of cab. For shorter distances within the city, you will pay around 100 to 250 ₹ (about $1 to $3). For longer distances and trips to nearby tourist attractions, prices can range from 500 to 2,000 ₹ (about $7-$25). It is advisable to negotiate prices in advance or use cab booking apps for standardized rates. Shared cabs or auto-rickshaws are also available and can be a cheaper option.

Is street food safe to eat in Srinagar?

Street food in Srinagar can be a delicious culinary experience. Although many vendors follow good hygiene practices, caution is advised due to varying food safety standards. Pay attention to the cleanliness of food stalls, the freshness of ingredients, and the use of gloves or tongs by vendors. It's also a good idea to choose stalls that are popular with locals, as they are likely to offer fresh and delicious food. Be careful not to eat raw or undercooked food to minimize the risk of food poisoning.

How do I reach Srinagar from other cities in India?

Getting to Srinagar from other Indian cities is convenient and hassle-free. The easiest way is to take a direct flight to Srinagar International Airport from major Indian cities like Delhi, Mumbai and Bangalore. Alternatively, you can take a train to Jammu Tawi Railway Station, which is well connected with numerous Indian cities. From there, you can hire a cab or a shared cab (Sumo) or take a government bus to cover the remaining 264 kilometers of the scenic journey to Srinagar.

Can I drink tap water in Srinagar?

It is not recommended to drink tap water in Srinagar as it may contain impurities or harmful microorganisms. Water quality and infrastructure can be inconsistent across the city. To be safe, it is best to drink only bottled water from reputable brands and make sure the seal is intact before drinking it. Alternatively, boil tap water for at least one minute before drinking or use water purification tablets or filters to ensure the water is safe for consumption.

Are vaccinations required before visiting Srinagar?

While no specific vaccinations are required for a visit to Srinagar, it is recommended that you brush up on routine vaccinations such as measles, mumps, rubella (MMR), diphtheria, tetanus and whooping cough (DTP). You should also get vaccinated against hepatitis A and typhoid, as these diseases can be transmitted through contaminated water and food. It is advisable to consult your doctor at least 4-6 weeks before your trip for individual recommendations based on your medical history and travel plans.

Is it possible to rent a car in Srinagar?

Yes, it is possible to rent a car in Srinagar. Several car rental agencies are available in the city and offer a range of vehicles to choose from, including sedans, hatchbacks and SUVs. With a rental car, you are flexible and can explore Srinagar and the surrounding attractions at your own pace. However, keep in mind that you need to have a valid driver's license and abide by the local traffic rules. It is recommended to choose a vehicle with a reliable GPS system to find your way around the city.

Are there emergency services or hospitals available in Srinagar?

Yes, Srinagar has emergency services and hospitals that cater to the medical needs of locals and tourists alike. Some notable healthcare facilities include Sher-i-Kashmir Institute of Medical Sciences (SKIMS), Shri Maharaja Hari Singh (SMHS) Hospital and Government Medical College & Hospital. These hospitals offer a range of medical services including emergency care, inpatient and outpatient facilities, specialty care and more. It is advisable to keep the contact information of these hospitals and local emergency numbers handy during your visit to Srinagar.

Feedback

I hope you found this article informative and helpful. I'm eager to improve the content and make it even more valuable for you. If you have any feedback or suggestions, I would love to hear from you.

Do you have any tips or hidden gems that you think should be added to the list? Are there any areas that you feel could use more explanation or clarification?

Your input is greatly appreciated and will help us to continue providing high-quality content that meets your needs and interests. Please feel free to share your thoughts.