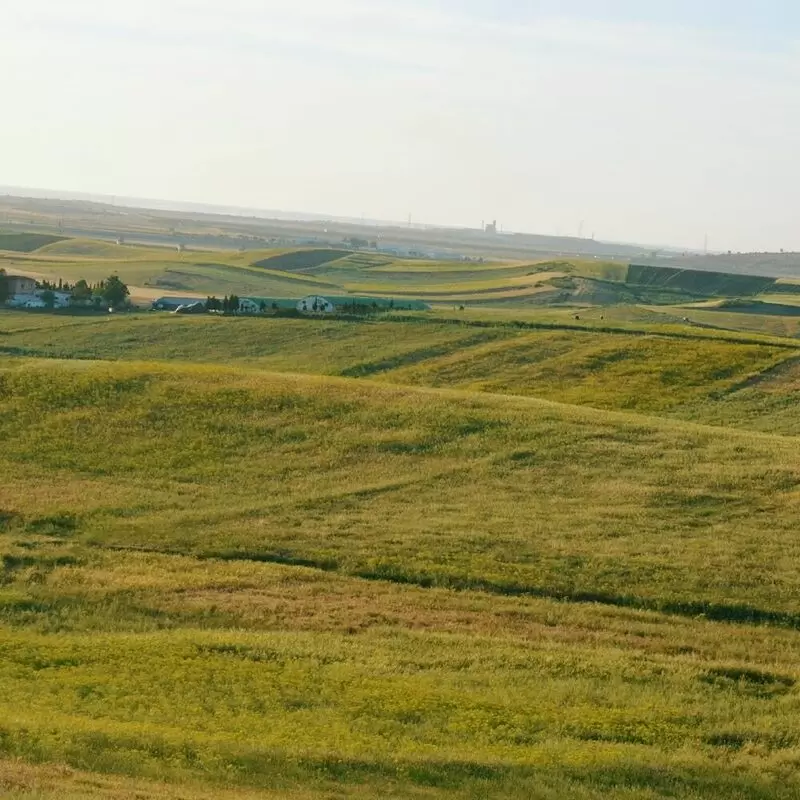 1. Réserve du Cap Spartel
The "Réserve du Cap Spartel" enchants with its unspoiled nature. Located at the confluence of the Atlantic and the Mediterranean, it is a paradise for birdwatchers and nature lovers. Enjoy the picturesque views and sunsets that bathe the sky in vibrant colors. Keep an eye out for herds of goats grazing in the area or visit the nearby Grottes d'Hercule, a remarkable grotto carved by the sea. Fun Facts: The lighthouse south of the reserve was once a navigation point for sailors from around the world.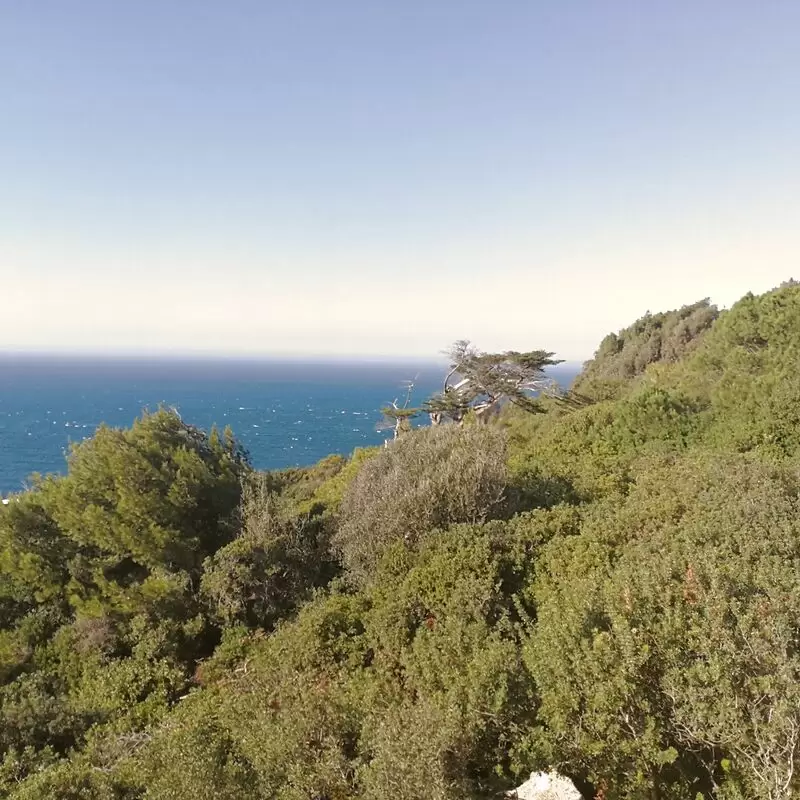 Réserve du Cap Spartel
Q3PW+QC2, Tangier
Monday - Sunday: Open 24 hours
2. Rmilat Park
A visit to Rmilat Park, also known as the "Park of Lovers", is a must in Tangier. It is known for its quiet location, perfectly manicured gardens and breathtaking sea views - a place to relax. Take a quiet stroll or enjoy a picnic. Let the gentle sea breeze blow around your nose, listen to the chirping of the birds and be enchanted by the enchanting sunset. And yes, the idyllic Cap Spartel is just a short drive away and offers a fascinating view of where the Mediterranean meets the Atlantic. Let the Moroccan serenity enchant you.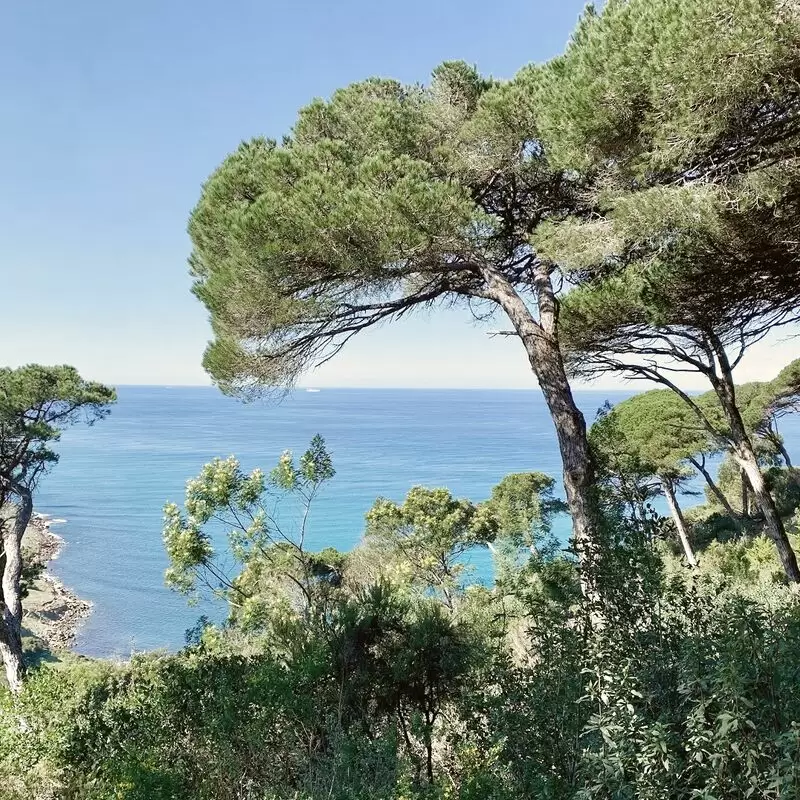 Rmilat Park
Q4VQ+52P, Tangier
Monday - Sunday: 7:00 AM – 11:30 PM
3. Hercules Caves
Immerse yourself in ancient mythology in the Caves of Hercules in Tangier, where, according to legend, the demigod recovered from his labor. Marvel at the breathtaking natural beauty, the unique entrance with the "map of Africa" and the stone formations that double as artistic sculptures! Get carried away by the local folklore and enjoy the breathtaking views of the coast. Nearby is Cape Spartel, a magnificent lighthouse that stands on the northernmost headland in Africa - a double sightseeing treat in one day.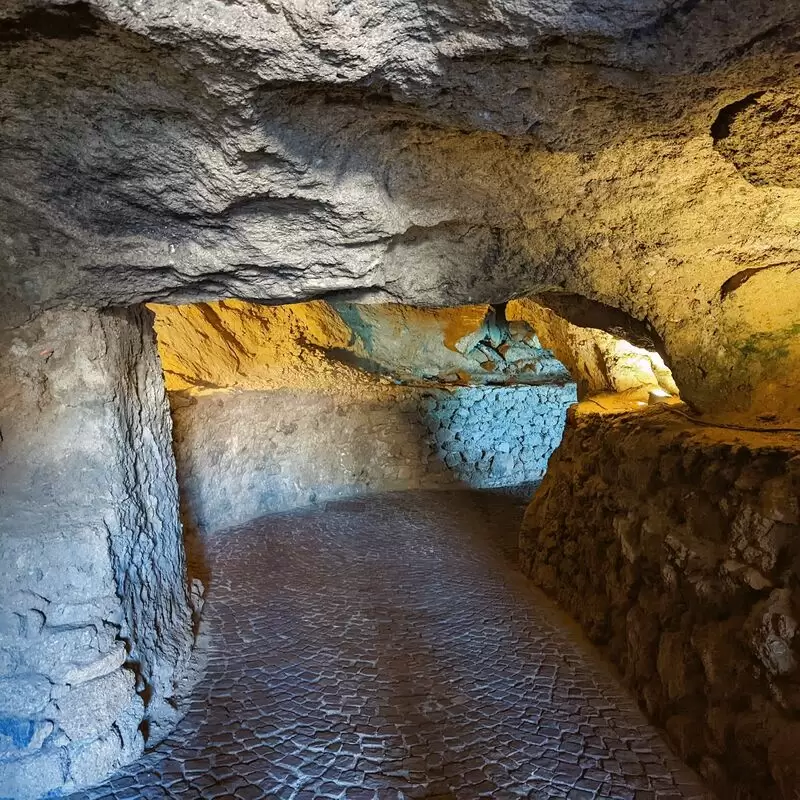 Hercules Caves
Q356+X8C, Tangier
Monday - Sunday: 10:00 AM – 5:30 PM
4. Grand Socco
Experience the beating heart of Tangier at Grand Socco, a lively square that combines tradition and modernity. Enjoy the sight of beautiful Moorish architecture, majestic palm trees and watch the hustle and bustle of the bustling market. Mingle with locals haggling over olives, fruits and spices, and take in the authentic Moroccan scene. Nearby is the magnificent American Legation of Tangier, which has a rich history dating back to the 18th century. So don't just see Tangier, experience it at Grand Socco!
Grand Socco
Pl. du 9 Avril 1947, Tangier
Monday - Sunday: Open 24 hours
5. Kasbah Museum

Immerse yourself in Tangier's rich history and visit the Kasbah Museum. Located in the heart of the medina, it houses impressive collections that tell the history of the region from prehistoric times to the 19th century. Stroll through quiet Andalusian-style courtyards and gardens filled with blooming flowers.

An insider tip: don't miss the breathtaking view from the terrace! After your museum tour, the nearby Kasbah district with its colorful markets and photogenic alleys is waiting for you to explore.

Kasbah Museum
Q5QQ+72P, Pl. de la Kasbah, Tangier

Monday - Sunday: 10:00 AM – 6:00 PM
Tuesday: Closed
Friday: 10:00 AM – 1:00 PM, 2:30 – 6:00 PM
6. Port de Tanger Ville
Experience the vibrant Port de Tanger Ville, the beating heart of Tangier. Watch traditional fishing boats mingle with yachts in the sparkling Mediterranean waters. Local merchants offer freshly caught fish daily - a feast for the senses. Enjoy a sweet Moroccan mint tea at a harbor-side café while soaking up the atmosphere. Just steps away is Tangier's medina, a maze of winding alleys full of history and mystery. Here, a slice of authentic Moroccan life awaits you, not to be missed!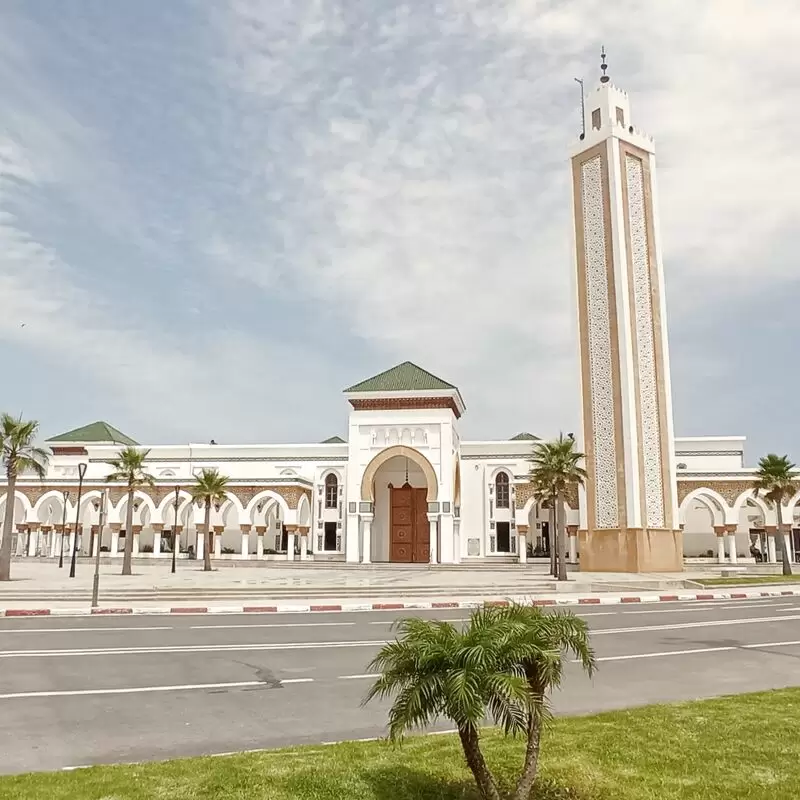 Port de Tanger Ville
Blvd. Mohamed VI, Tangier
Monday - Sunday: 6:00 AM – 10:00 PM
7. Tangier American Legation Museum
Visit the American Legation Museum in Tangier, a treasure trove of history, culture and diplomacy! It is the first-ever U.S. foreign-acquired property showcasing centuries of Moroccan-American friendship. Explore the rooms filled with antique furniture, artwork, and rare books that reveal compelling stories of intrigue and diplomacy. Don't miss the Paul Bowles Wing, which displays personal items of the famous American writer. Just a short walk away is the bustling Grand Socco Market, which will add spice and color to your trip!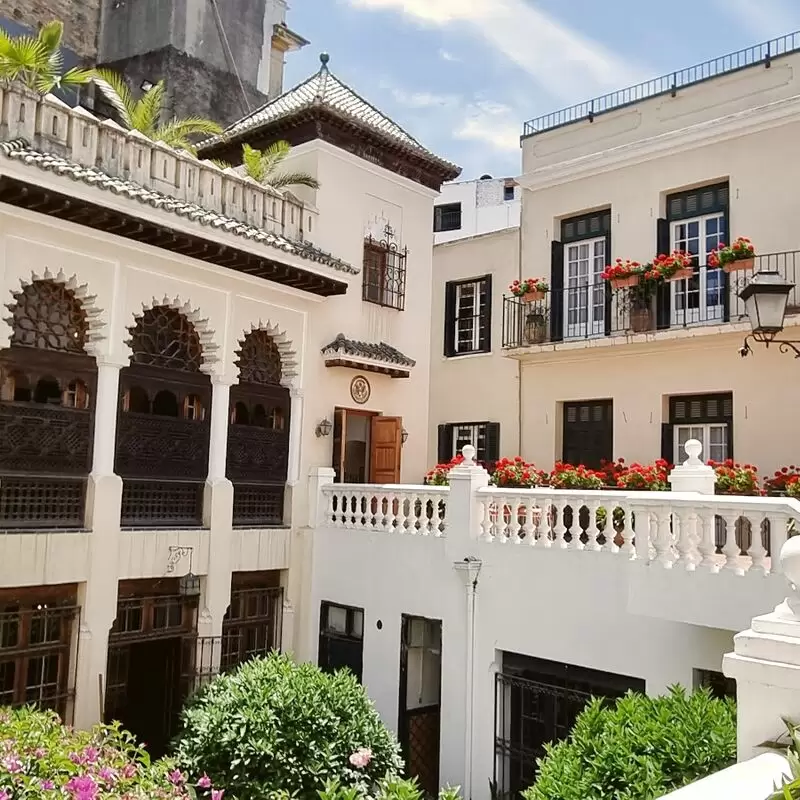 Tangier American Legation Museum
8 Rue d'Amerique, Tangier
Monday - Friday: 10:00 AM – 5:00 PM
Saturday - Sunday: 10:00 AM – 3:00 PM
8. Achakkar Beach
Visit Achakkar beach for its tranquil, unspoiled setting surrounded by deep, wild cliffs that grace the Atlantic Ocean. It is less frequented than the city's central beaches, giving it the charm of a hidden gem. Pack a picnic and watch the mesmerizing sunset. For surfers, the waves here are indicative of Tangier's low-key surf scene. Just a strenuous hike away, you'll find the enchanting Hercules Caves, filled with stunning natural formations and mythical stories. An absolute must-see!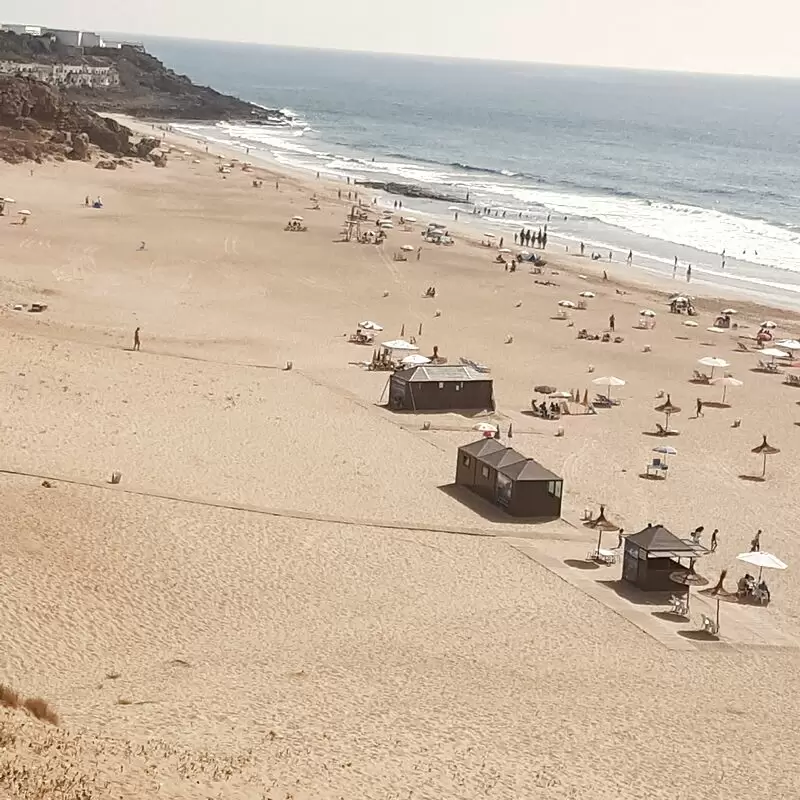 Achakkar Beach
Achakkar Beach, Tangier
9. Tanger Ville Railway Station
Visit the Tangier Ville train station, a marvel of modern Moroccan architecture that blends traditional Moroccan and modern styles. Feel the hustle and bustle of locals and tourists in Moroccan daily life. Enjoy a cup of refreshing Moroccan mint tea or sample local cuisine at the many cafes nearby. Nearby is the Avenue Mohammed VI, which invites you for an evening stroll and offers something for every taste with its numerous stores and restaurants.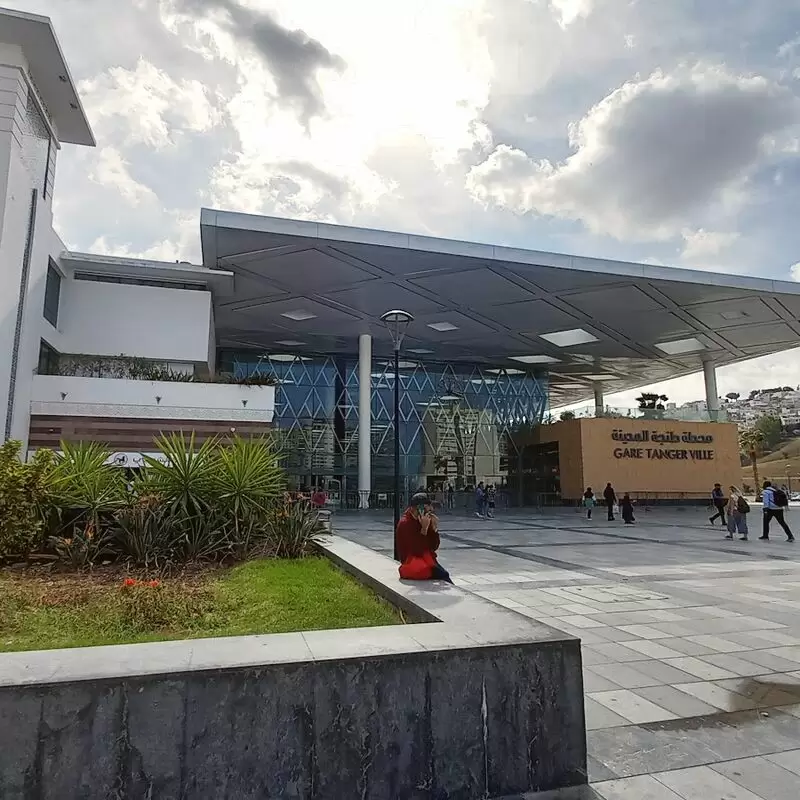 Tanger Ville Railway Station
Tangier
Monday - Sunday: Open 24 hours
10. Cape Spartel
Experience the enchanting Cape Spartel, where the Atlantic Ocean meets the Mediterranean Sea. It is known for its breathtaking cliff views and lighthouse built in 1864. It's more than just a picturesque place, it's a geographical wonder. Enjoy a traditional Moroccan mint tea at the adjacent café while taking in the panorama. Just a stone's throw away are the enchanting Hercules Caves, an unmissable sight full of mythology and extraordinary natural beauty. This seductive blend of culture and nature is not to be missed.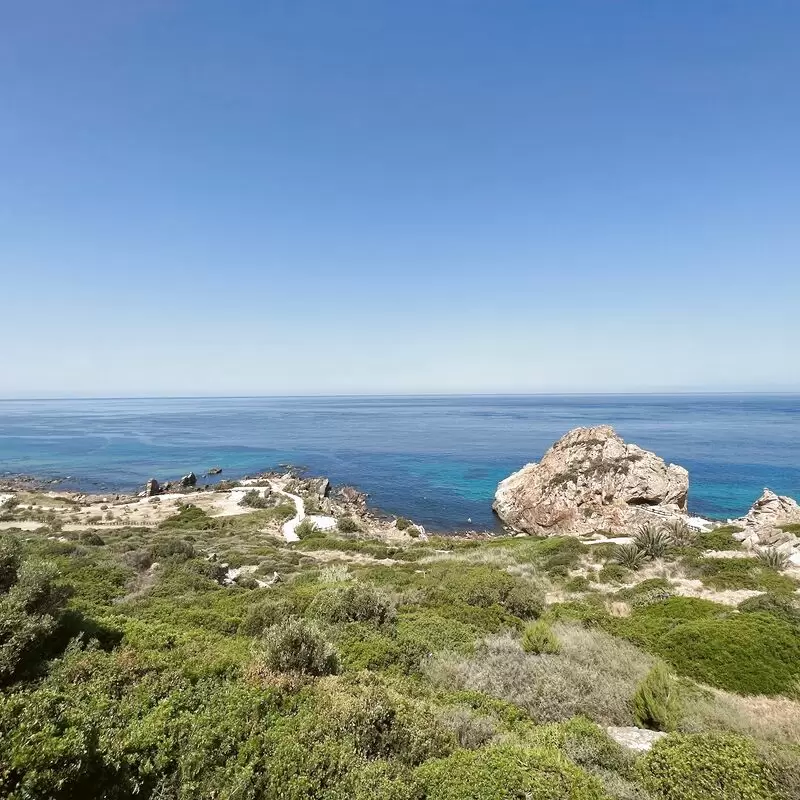 Cape Spartel
Cape Spartel, Tangier
11. Corniche of Tangier
Experience the pulse of Tangier on the bustling Corniche. Lined with trendy cafes and restaurants, this coastal promenade offers breathtaking views of the shimmering Mediterranean Sea. Enjoy an authentic Moroccan mint tea as the sun sets and paints incredible watercolors in the sky. Just a stone's throw away is Playa Municipal, a clean beach perfect for picnics and walks. Don't forget to tip your dining companions generously, as this is true Moroccan hospitality. You should not miss this relaxed atmosphere by the sea, characterized by Moroccan culture.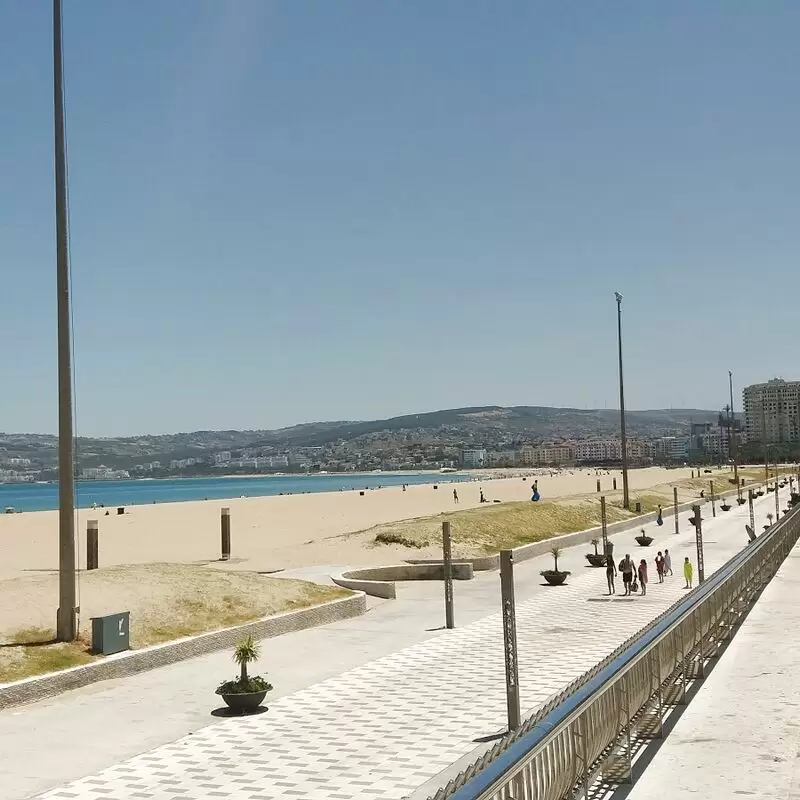 Corniche of Tangier
Q6H2+74R, Tangier
Monday - Sunday: Open 24 hours
12. Route de la Plage Merkala
Route de la Plage Merkala in Tangier is a picturesque seaside road surrounded by greenery and swaying palm trees that leads to the azure Atlantic coast. It is a secluded paradise used by locals for long walks, picnic spots and sunset views. Finally, it's just a stone's throw to Merkala beach, where you can indulge in local seafood specialties. Visit early in the morning to avoid crowds and catch a glimpse of the Tangier sunrise.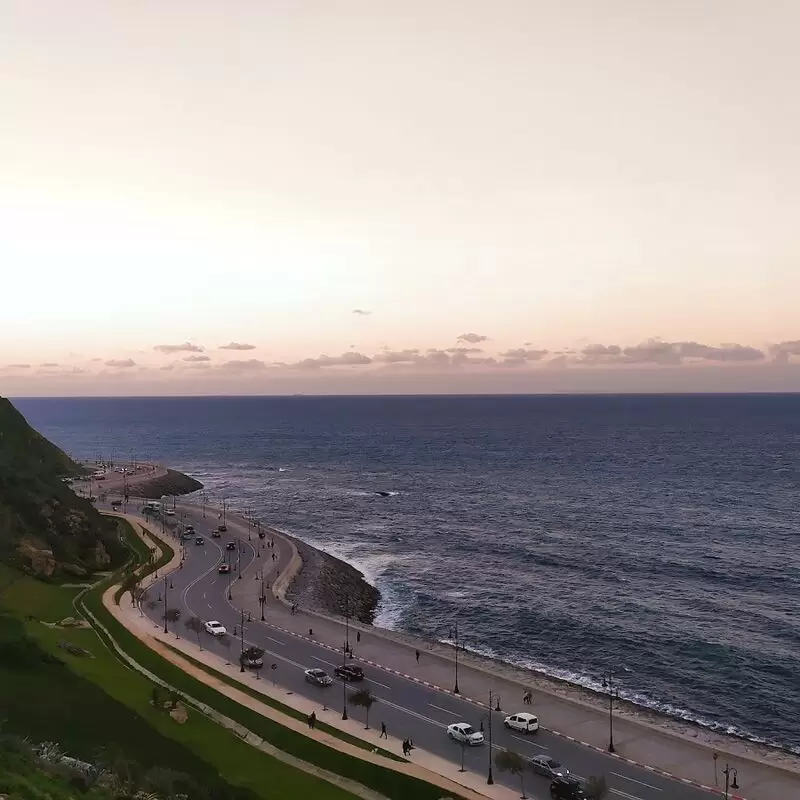 Route de la Plage Merkala
Q5WC+2XM, Route de la Plage Merkala, Tangier
Monday - Sunday: Open 24 hours
13. Lighthouse Cap Malabata

Experience the meeting of history and modernity at Cap Malabata Lighthouse, where Moroccan and European influences blend beautifully. This iconic structure, standing since the 1860s, offers breathtaking sea views.

A local insider tip: the café nearby serves the best mint tea in Tangier, which can be enjoyed at sunset. And not far away, the mysterious Grotto of Hercules is waiting to be explored by curious travelers! This trip is not just sightseeing, but an encounter with the soul of Tangier.

Lighthouse Cap Malabata
Phare Cap Malabata, Tangier
14. Tombeaux Phéniciens
Immerse yourself in history at the Tombeaux Phéniciens, ancient Phoenician tombs perched on a cliff overlooking the fascinating Mediterranean Sea. Marvel at the remains of a long-gone civilization and the enigmatic stone carvings. A tip from the locals: be there at sunset for a breathtaking view! Nearby is the charming Marchan district with its mix of local markets and colonial architecture, giving you a taste of Tangier. Explore it and revitalize your senses!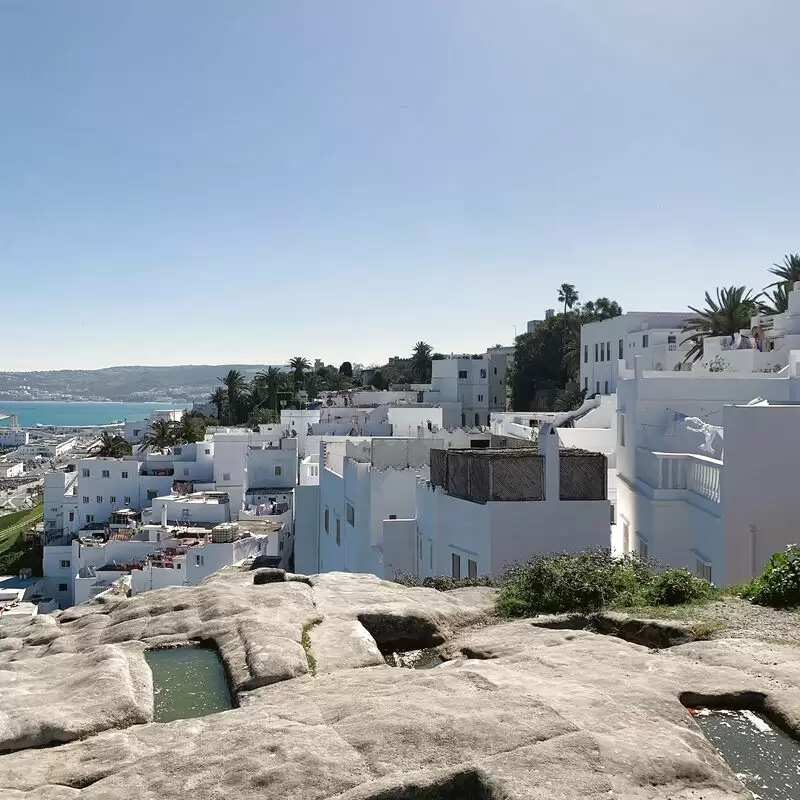 Tombeaux Phéniciens
Tangier
Monday - Sunday: Open 24 hours
15. Tangier
Immerse yourself in the vibrant energy of Tangier, a bustling city at the crossroads of Europe and Africa. Explore the winding medinas, smell the tantalizing aromas of fragrant spices, and get lost in the labyrinth of the Kasbah, a UNESCO World Heritage Site. Visit the legendary Café Hafa with its panoramic view and drink traditional Moroccan mint tea. Just an hour away, witness the breathtaking landscapes of the Rif Mountains that will make your Moroccan adventure a picturesque memory.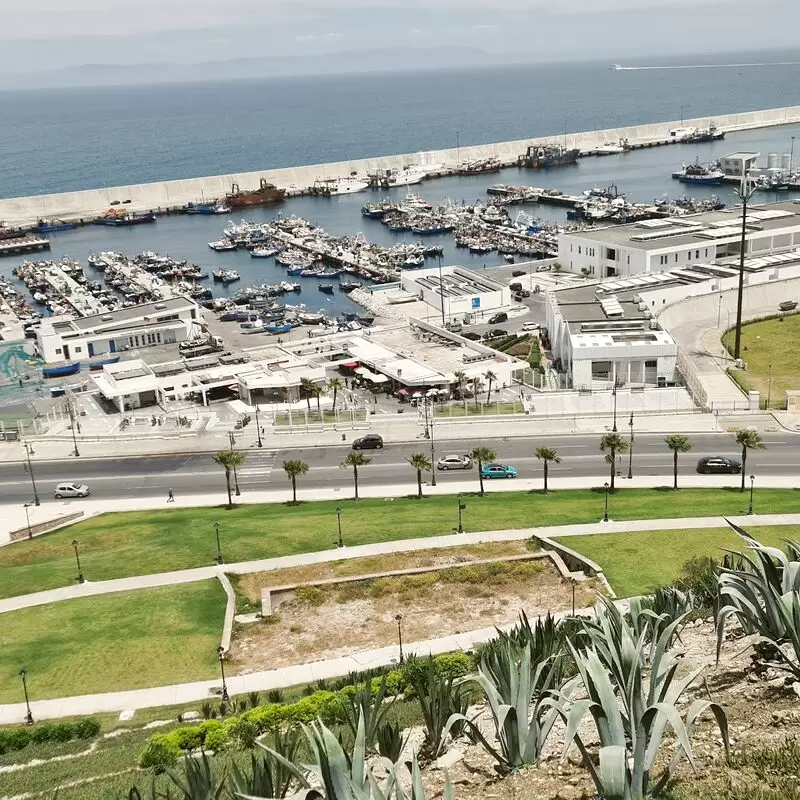 16. Mendoubia Garden
Immerse yourself in the tranquil atmosphere of the Mendoubia Garden in Tangier. This hidden gem offers lush greenery, beautiful flowers, and two huge centuries-old dragon trees that captivate you. Enjoy the local life here, the chirping of birds and the lively atmosphere of children. The garden is close to the famous Tangier Ville harbor and the Grand Socco marketplace - a triple treat for your day! Don't miss having a traditional Moroccan mint tea in one of the nearby cafes for a perfect, relaxing end to your visit.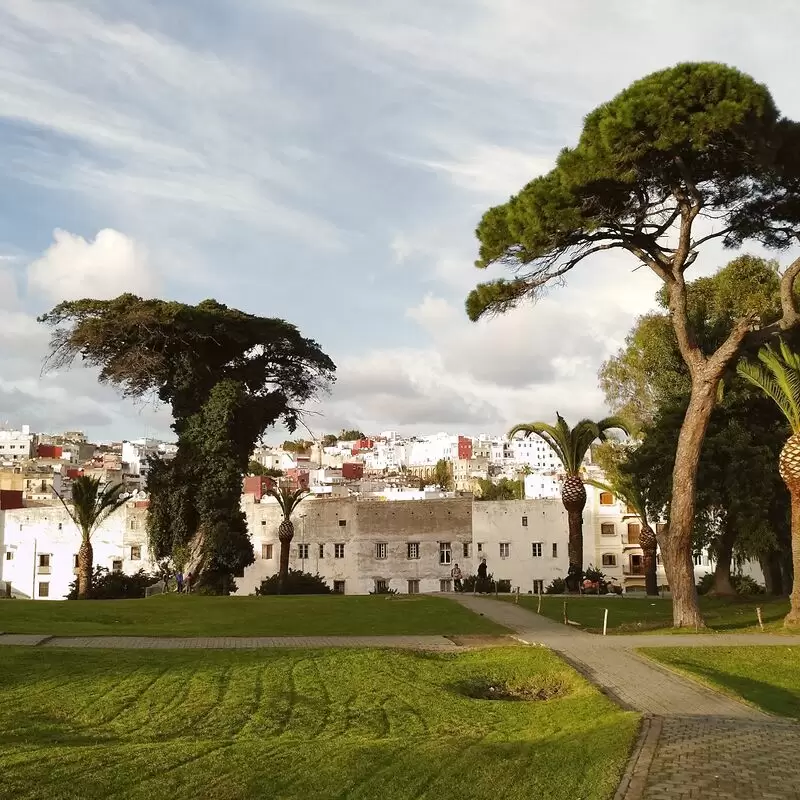 Mendoubia Garden
Q5PP+34Q, Pl. du 9 Avril 1947, Tangier
Monday - Sunday: 8:30 AM – 6:00 PM
17. Muraille de Tanger

The "Muraille de Tanger" or the city walls of Tangier are a fascinating testament to Morocco's complex history. These ancient fortifications offer a breathtaking panoramic view of the city and the azure sea beyond. History can be felt in every stone, reminiscent of the Phoenician era.

An insider tip: look for the "room without a roof", a fascinating place that many do not know! Nearby, you'll find the historic Kasbah Museum and the lively Kasbah Square, perfect for further exploration.

Muraille de Tanger
Q5QR+5GV, Blvd. Mohamed VI, Tangier

Monday - Sunday: Open 24 hours
18. Plage Ba Kacem
If you long for tranquility and a slice of Moroccan culture, Plage Ba Kacem is for you. A charming, less crowded beach with exceptional views of the Strait of Gibraltar, this is where locals go to escape the hustle and bustle. Enjoy the local cherries while prancing barefoot on the soft sand. Nearby is the fabulous Villa Harris, a luxurious mansion of historical significance that adds an extra touch of allure to your visit.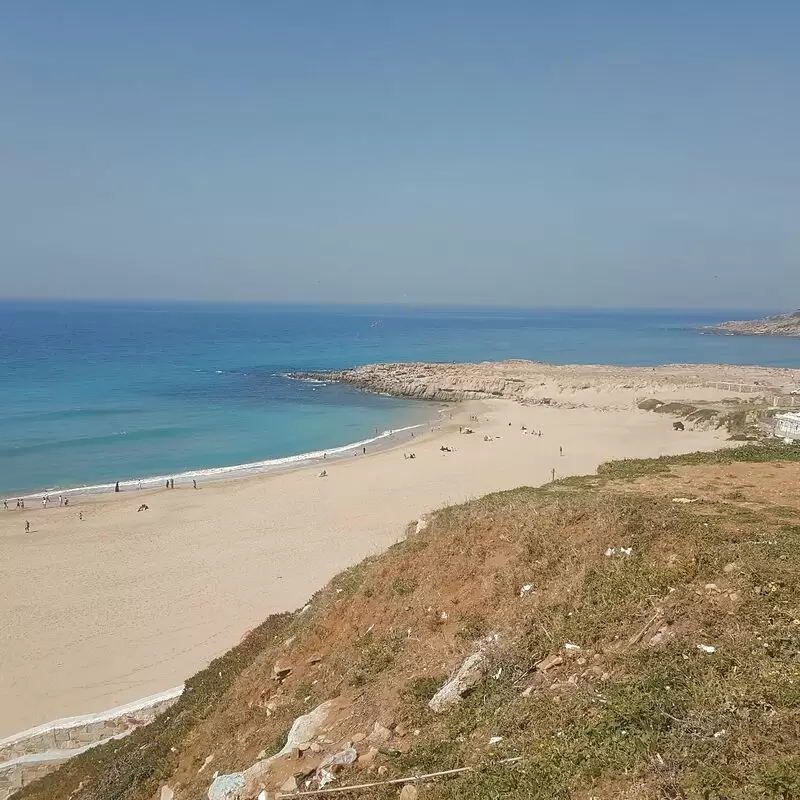 Plage Ba Kacem
Plage Ba Kacem, P4601, Tangier
Monday - Sunday: Open 24 hours
19. Sour Meêgazine
Sour Meêgazine is a hidden gem in Tangier that you should not miss. This picturesque traditional street is located on a hill and offers stunning views of the city and the sea. It is known for its bright blue and white buildings, reminiscent of the famous Blue City of Chefchaouen. This place is ideal for a quiet exploration in the early morning. Nearby is the Grand Socco, a bustling market with exotic sounds, scents and tastes - a truly unique Moroccan experience.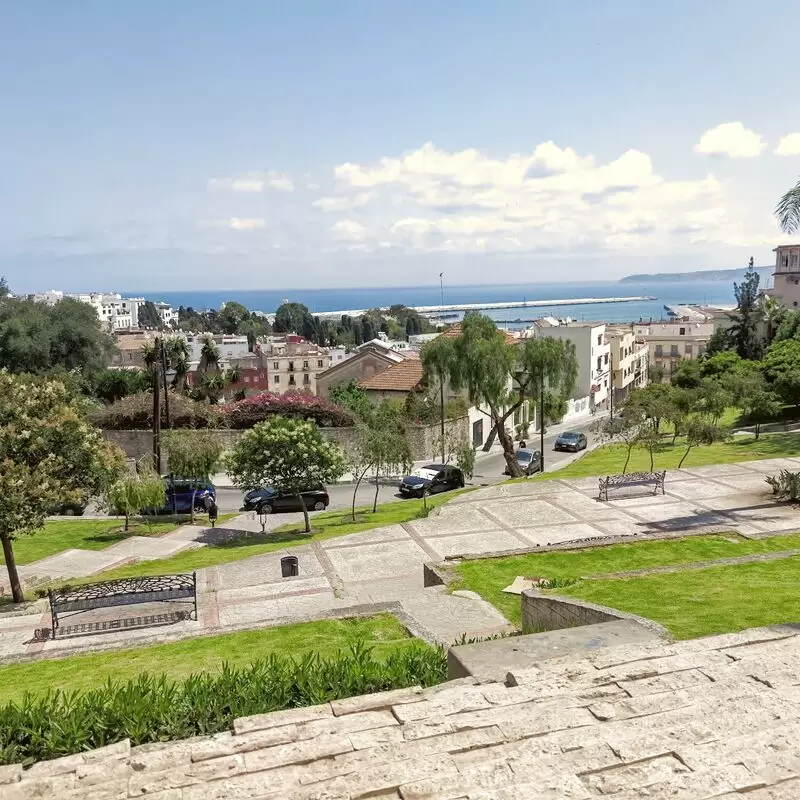 Sour Meêgazine
Q5JQ+C8J, Tangier
Monday - Friday: 9:00 AM – 6:30 PM
Saturday - Sunday: Closed
20. Agence de voyages Setitours

Immerse yourself in the fascinating world of Moroccan travel with the "Agence de voyages Setitours" in Tangier, your gateway to Morocco's rich culture and stunning landscapes. Known for its expertise and personalized service, it offers unforgettable experiences tailored to your wishes.

Insider tip: Ask about the special guided tours to secret spots in the medina for a truly authentic experience. Nearby is the stunning Grand Socco, a lively square that is a must-see before you begin your Morocco trip.

Agence de voyages Setitours
Immeuble Zainab, n° 12, 31 Rue Abou Bakr Razi, Tangier

Monday - Friday: 9:00 AM – 1:00 PM, 3:00 – 7:00 PM
Saturday: 9:00 AM – 1:00 PM
Sunday: Closed
21. Tangier Private Tours
Visiting "Tangier Private Tours" takes your experience in this enchanting Moroccan city to a new level. Tailored to your interests, these tours introduce you to Tangier's blend of cultures - an intoxicating mix of North African and European influences. They offer an exclusive behind-the-scenes look at everything from the bustling souk markets to the less-explored Kasbah district. Nearby attractions include the enchanting Caves of Hercules, which offer panoramic views of the Atlantic Ocean. Discoveries, tailored culture and intimate explorations that capture the essence of Tangier all in one. An unmissable experience.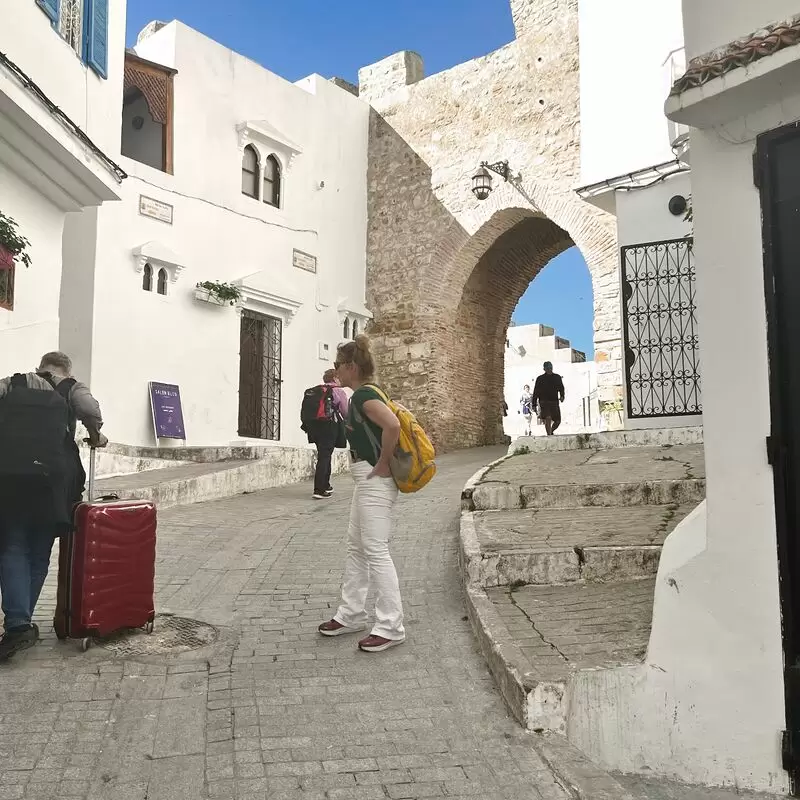 Tangier Private Tours
Place du Tabor, Tangier
Monday - Sunday: Open 24 hours
22. Playa Blanca
Travel to "Playa Blanca", Tangier's jewel on the Atlantic Ocean. Be enchanted by the golden sand and crystal clear waters. Locals swear by the magical sunsets - a unique spectacle on this beach. Relax in a nearby café with a delicious peppermint tea, which you must try. And just a short drive away are the Hercules Caves, a mystical place steeped in local mythology that adds an extra dose of adventure to your beach excursion.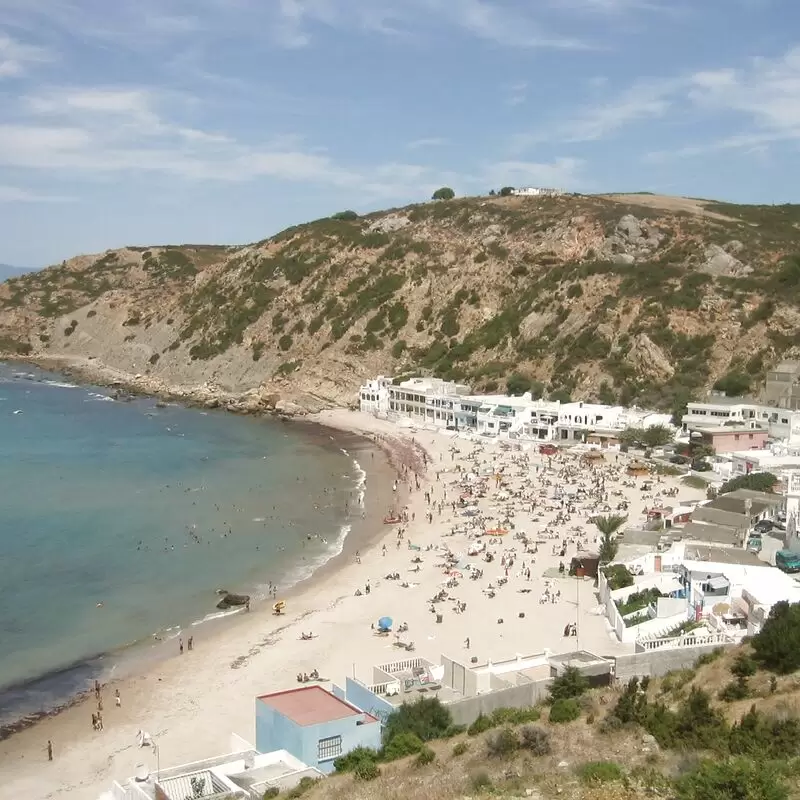 Playa Blanca
Playa Blanca, Tangier
23. Place Faro
A visit to Place Faro is a must on your tour of Tangier! It is the most picturesque viewpoint of the city and offers an incomparable view of the port, the Spanish coast and the fascinating sunsets. The former lighthouse is a photographer's dream. It is also an insider's tip and a popular spot for local artists to find inspiration. Just a short walk away, you'll find a charming centuries-old kasbah that offers a deep insight into Morocco's rich history and culture.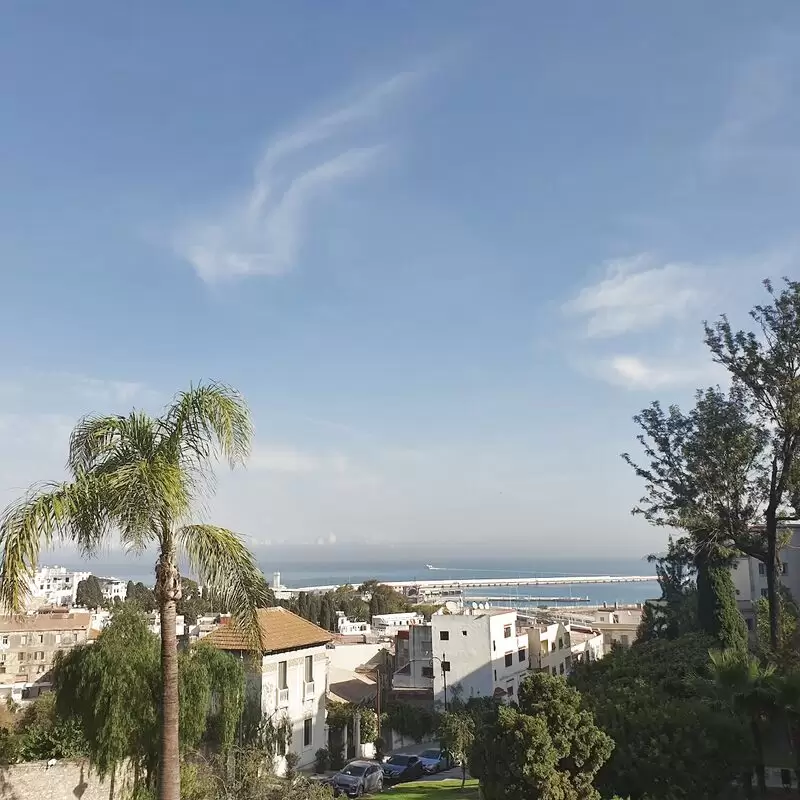 Place Faro
Q5JQ+97P, Bd Pasteur, Tangier
Monday - Sunday: Open 24 hours
24. Plaza de Toros
A visit to the Plaza de Toros in Tangier is a must for culture lovers! As the largest bullring in the city, it is a striking example of Spanish influence in Morocco. Watch a celebratory fight or simply admire the grand architecture. Located off the typical tourist trail, it offers an authentic and less crowded experience. Nearby, explore the bustling Grand Socco marketplace, just a short walk away, for an enchanting mix of sights, sounds, and smells.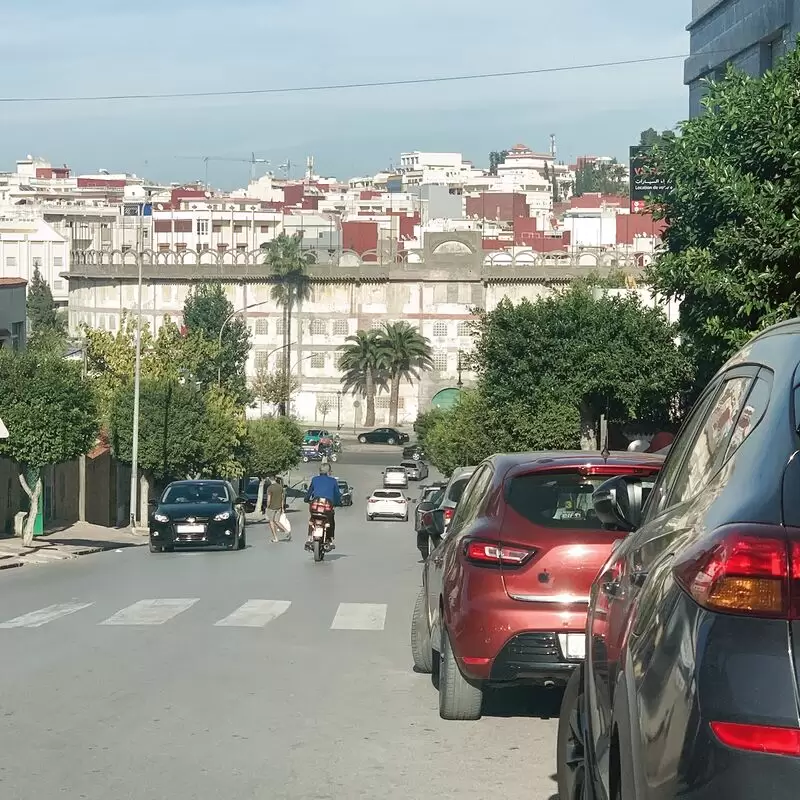 Plaza de Toros
Q673+RGP, N2, Tangier
25. Xauen Tours
A trip with Xauen Tours in Tangier is an unforgettable adventure. Immerse yourself in Morocco's rich culture and barren landscapes on well-organized excursions, and hear insider stories from knowledgeable guides. Enjoy the authentic hospitality of the Berbers. Just a stone's throw away, you can visit Chefchaouen, the picturesque blue city in the Rif Mountains that will add another splash of color to your Morocco trip! Don't miss the opportunity to stop at the many small Kif-inspired cafes that are a haven for the local bohemian crowd.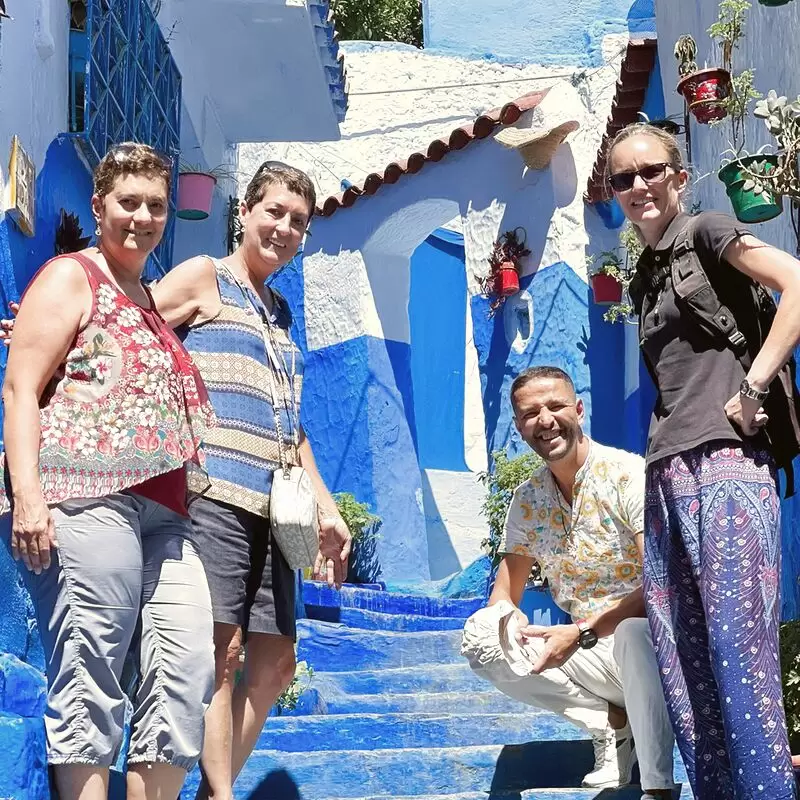 Xauen Tours
183, Avenue Prince Heritier, Nrea Bureau N° 14 RDC, Tangier
Monday - Friday: 9:00 AM – 6:30 PM
Saturday: 9:00 AM – 1:00 PM
Sunday: Closed
26. Tomb of Ibn Batutta
Go to the heart of Tangier to honor the great traveler Ibn Battuta at his final resting place. This humble tomb exudes a heavenly tranquility and reflects the spirit of Ibn Battuta's extraordinary journey around the globe. The local folklore echoing in the local cafes paints a memorable picture of this legendary explorer. Just a stone's throw away is the enigmatic harbor bay, a coastal gem for a picturesque Moroccan sunset.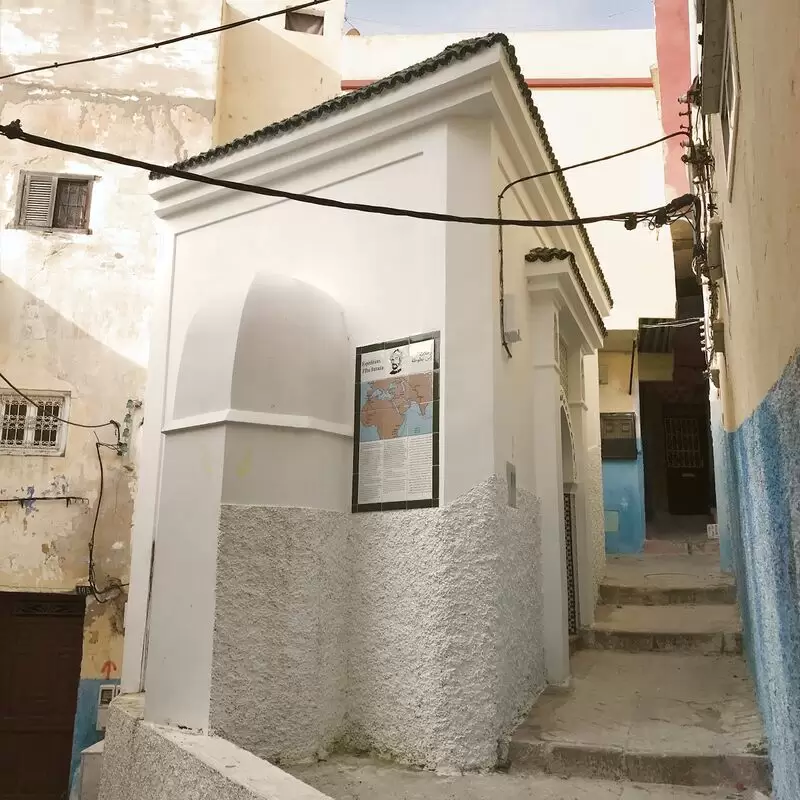 Tomb of Ibn Batutta
Tombeau Ibn Batouta, Rue Ibn Batouta, Tangier
Monday - Saturday: 8:00 AM – 6:00 PM
Sunday: Closed
Best Time to Visit Tangier
The best time to visit Tangier is from March to June and from September to November. During these periods the weather is mild and pleasant, ideal for sightseeing, exploring the city's culture and enjoying the local cuisine. Avoid the hot summer months and the cold winter.
Annual Weather in Tangier
Tangier 3-Day Forecast
Tue, 07 November
Night
60 °F
16 °C
0%
Morning
57 °F
14 °C
0%
Afternoon
62 °F
17 °C
0%
Evening
62 °F
17 °C
0%
Wed, 08 November
Night
59 °F
15 °C
0%
Morning
57 °F
14 °C
0%
Afternoon
65 °F
19 °C
0%
Evening
63 °F
17 °C
0%
Thu, 09 November
Night
60 °F
16 °C
0%
Morning
61 °F
16 °C
0%
Afternoon
67 °F
19 °C
0%
Evening
65 °F
19 °C
71%
Questions & Answers

What is the local language in Tangier?

The language spoken in Tangier, Morocco, is Darija, a dialect of Arabic. While Arabic is the official language of the country, Darija, with its unique blend of Arabic, Amazigh and French influences, is more commonly spoken in everyday life. However, due to Morocco's historical ties with France, you will also hear people conversing in French, especially in business and government. English is also increasingly spoken, especially by the younger generation and in tourist areas.

What is the currency used?

The official currency of Tangier, Morocco, is the Moroccan dirham. In common usage, it is often written as MAD or Dhs. Morocco uses both coins and bills in various denominations. Dirhams are divided into smaller units known as santimats. Credit cards are accepted in many hotels, restaurants and stores, but it is advisable to carry some cash for smaller establishments and markets. Money can be exchanged at banks, hotels and official exchange offices.

How can I reach Medina from the airport?

Tangier Ibn Battuta Airport, about 12 km from the city, offers cab and car rental services. Official airport cabs are the best choice. The ride to the medina takes about 20-30 minutes, depending on traffic. To avoid misunderstandings, agree on a price with the driver before the ride. Alternatively, car rentals offer a private, more flexible way to reach Medina. Remember to bring local navigation maps or GPS for directions.

Is it safe to travel at night in Tangier?

Tangier, Morocco, is generally safe at night, especially in well-lit, populated areas. However, as in any major city, there may be instances of petty crime such as pickpocketing. It is advisable to be aware of your surroundings and small precautions, such as avoiding poorly lit or less frequented areas at night, can ensure a pleasant and safe stay. It is also recommended to respect local customs and dress modestly to avoid unwanted attention.

Are English speakers common in Tangier?

Yes, English speakers are quite common in Tangier. Because Tangier is a cosmopolitan city and a popular tourist destination, many locals, especially those who work in the tourism sector, such as in hotels, restaurants, and souvenir stores, have a basic knowledge of English. There is also a growing international community in the city. However, the main languages spoken in Tangier are Arabic and French.

What are some traditional Moroccan dishes I should try in Tangier?

In Tangier, Morocco, be sure to try the traditional dish of couscous, a hearty meal of semolina served with vegetables and meat. Don't miss tagine, a slow-cooked stew of legumes and meat served in an earthenware bowl. Locals also love their mint tea, which is an important part of every meal. Finally, be sure to try the traditional pastilla! It is a meat pie with a sweet and savory version.

Can I drink tap water in Tangier?

Although tap water in Tangier, Morocco, is generally considered safe, it can cause mild digestive problems for foreigners who are not used to it. To avoid this, it is recommended to drink bottled water, especially for those with sensitive stomachs. Be sure to either purchase sealed water bottles or use a reputable water purification process if you prefer tap water.

Is Tangier vegetarian-friendly?

Yes, Tangier is very vegetarian-friendly. Many traditional Moroccan dishes consist of vegetables, including salads, couscous, and tajine. Tunisian restaurants usually offer vegetarian options, and there are also street stalls selling fresh fruit and roasted nuts. Although Tangier is not necessarily a vegetarian's paradise, with careful menu selection and consultation with local restaurants, vegetarians should be able to enjoy a number of delicious Moroccan dishes.

Do taxis carry meters in Tangier?

Yes, cabs in Tangier usually have a taximeter. However, not all drivers use them, so it is advisable to agree on a fare before starting the journey. If you prefer the meter, you should strongly urge the driver to turn it on. Generally, smaller "petit cabs" are used for shorter trips within the city, while larger "grand cabs" are for longer trips outside the city center. In any case, cab rides in Tangier are inexpensive.

What is the tipping custom in Tangier?

In Tangier, it is customary to tip for good service, as it is a valued part of the culture. Most people tip waiters, tour guides and hotel staff. Tipping is usually not mandatory, but a small tip of about 10-15% of the total bill is generally expected in restaurants. For hotel staff and drivers, a few dirhams is usually sufficient. However, for exceptional service, feel free to give more.

Are credit cards widely accepted?

Yes, credit cards are generally accepted in many places in Tangier, Morocco, such as larger hotels, upscale restaurants and shopping centers. However, smaller merchants, local markets and cabs usually rely on cash. It is advisable to always carry some local currency, Moroccan dirhams, for small purchases and possible situations where credit cards are not accepted. Please note that some stores charge a surcharge for payment by credit card.

What are the general costs of meals?

The cost of a meal in Tangier, Morocco, can vary depending on the type of restaurant and location. However, as a general guideline, a meal at a budget restaurant will cost around 3-5 USD, while a three-course meal at a mid-range restaurant can cost between 15-20 USD per person. In upscale restaurants, the price can be higher. Street food and snacks are also affordable and usually cost only a few dollars. Outside of the touristy areas, prices are usually lower.

Is public WiFi readily available?

There is public WiFi in Tangier, but it is not available everywhere. You will likely find access to free WiFi in major hotels, tourist areas, restaurants, and some public places. However, it is not always fast or reliable. Travelers are advised to purchase a local SIM card to have constant Internet access during their stay in Tangier, Morocco.

How to dress appropriately as a tourist?

When visiting Tangier, dress modestly to respect local customs. Women should avoid revealing clothing with plunging necklines or short skirts. It is recommended to keep shoulders, knees and cleavage covered. Men should wear long shorts or pants and avoid appearing shirtless. It is not necessary to cover up completely like local women, but it may be helpful to avoid overly Western beach attire and to wear scarves at religious sites to maintain modesty. Comfortable walking shoes are recommended.

What is the Ramadan schedule like in Tangier?

During Ramadan in Tangier, the daily schedule changes drastically to accommodate fasting and prayer. The day generally begins before sunrise with Suhoor (pre-dawn meal) followed by Fajr prayer. Locals then rest until lunch and often break their fast after sunset with iftar (a meal that usually includes dates, soup, and pastries), followed by the maghrib prayer. The night continues with family gatherings, prayers, and occasional visits to the mosque, ending just before dawn.

Are there any specific customs I need to be aware of?

In Tangier, it is customary to greet each other with a handshake. Modest dress is encouraged, especially for women, and public displays of affection are generally frowned upon. It is considered polite to offer and accept with the right hand, as the left hand is traditionally used for personal hygiene. Haggling is part of shopping in local markets. You should avoid bringing up sensitive topics such as religion and politics. It is a respectful gesture to remove your shoes when entering someone's home.

Is there an etiquette for visiting mosques?

Yes, the etiquette for visiting mosques in Tangier, Morocco, requires that non-Muslims dress modestly and cover their arms, legs and heads. Quiet, respectful behavior is expected and shoes must be removed before entering. Photography inside the mosque is generally prohibited. Note that many mosques in Morocco are closed to non-Muslims, with the exception of some historic mosques such as the Hassan II Mosque in Casablanca. Therefore, it is better to inquire before planning a visit.

Can I rent a car in Tangier?

Yes, you can rent a car in Tangier. There are many local and international car rental companies, including well-known brands such as Avis and Hertz. You can find car rental agencies at the airport, in the city center and in some hotels. However, always remember to drive carefully as local traffic can be quite chaotic. Also, make sure your driver's license is valid for use in Morocco.

How is the local transportation system?

Tangier, Morocco, has a robust mass transit system known for its efficiency and affordability. Services include buses, cabs, and streetcars, with buses being the most common and covering the entire city area. Petite cabs are ideal for short distances within the city, while grande cabs are suitable for longer distances. The streetcar system is currently being expanded to improve public transportation within the city. With well-developed routes and reasonable fares, commuting in Tangier is hassle-free.

Do I need to get any specific vaccines before traveling?

Although Morocco does not require mandatory vaccinations for travelers, it is a good idea to protect yourself. Routine vaccinations such as measles-mumps-rubella (MMR), diphtheria-tetanus-pertussis, chickenpox, polio and the annual flu shot should be refreshed. Vaccinations against hepatitis A and typhoid fever, which can be contracted from contaminated food or water, are also recommended. Please contact your healthcare provider for individualized advice.

Are there recommended local tour guides?

Absolutely! One of the best ways to explore Tangier is with a local guide, of which there are many excellent ones. Hamid Mouslim's Tangier Private Guide offers customized tours tailored to your interests. Another reliable choice is Original Tangier Tours, with knowledgeable guides like Rachid El Kouhen. For those seeking a literary touch, Taha's Tangier Tours offers visits to sites associated with famous writers who lived in Tangier.

What are the emergency contacts in Tangier?

In Tangier, dial 112 for general emergencies. For ambulances, dial 15. For the fire department, dial 19. For the coast guard, dial 177. For non-emergency police assistance, you can dial 19. Most telephone operators are multilingual, so they can help you in English. However, it may be helpful to know some local expressions. Remember that emergency services should only be contacted in serious situations.

Is haggling accepted and expected in local markets?

Yes, haggling is an important part of the local culture in Tangier, Morocco. It is not only accepted, but expected in the local markets. People usually start with a higher price than what they expect, and both parties negotiate until they find common ground. So when you shop at these markets, be prepared to barter and be prepared to pay about 50% of the original price.

Are there any common scams to be aware of?

As a traveler in Tangier, you must be wary of inflated prices, as vendors may raise prices for tourists. Another common scam is the "guide trick," in which locals offer unsolicited help or guidance and then demand a large payment. Always inquire about cab fares before starting a trip to avoid being overcharged. If you get an official guide through your hotel or tourist office, you can avoid such situations.

How can I stay connected with mobile data in Tangier?

To stay connected with mobile data in Tangier, Morocco, you can buy a local SIM card from providers such as Maroc Telecom, Orange or Inwi. These are easy to find in major cities and at the airport. Before traveling, make sure your phone is unlocked to use a foreign SIM card. Prepaid data packages are affordable and suitable for various needs. Remember to bring your passport, as you will need to show identification when purchasing a SIM card.

Feedback

I hope you found this article informative and helpful. I'm eager to improve the content and make it even more valuable for you. If you have any feedback or suggestions, I would love to hear from you.

Do you have any tips or hidden gems that you think should be added to the list? Are there any areas that you feel could use more explanation or clarification?

Your input is greatly appreciated and will help us to continue providing high-quality content that meets your needs and interests. Please feel free to share your thoughts.