1. M.g Market
Immerse yourself in the vibrant local culture at M.G. Market, the heart of Gangtok, where colorful stalls overflow with delicious local cuisine, carefully crafted handicrafts and jewelry. A lively flower show is held here every Sunday. Don't miss sampling tempting local specialties like momos and thukpas. Just a short walk away, you'll find the charming White Hall, a historic two-story building that offers an interesting glimpse into Sikkim's past. Enjoy the hustle and bustle of this pedestrian-only market and take in the mountain views - the perfect Gangtok experience!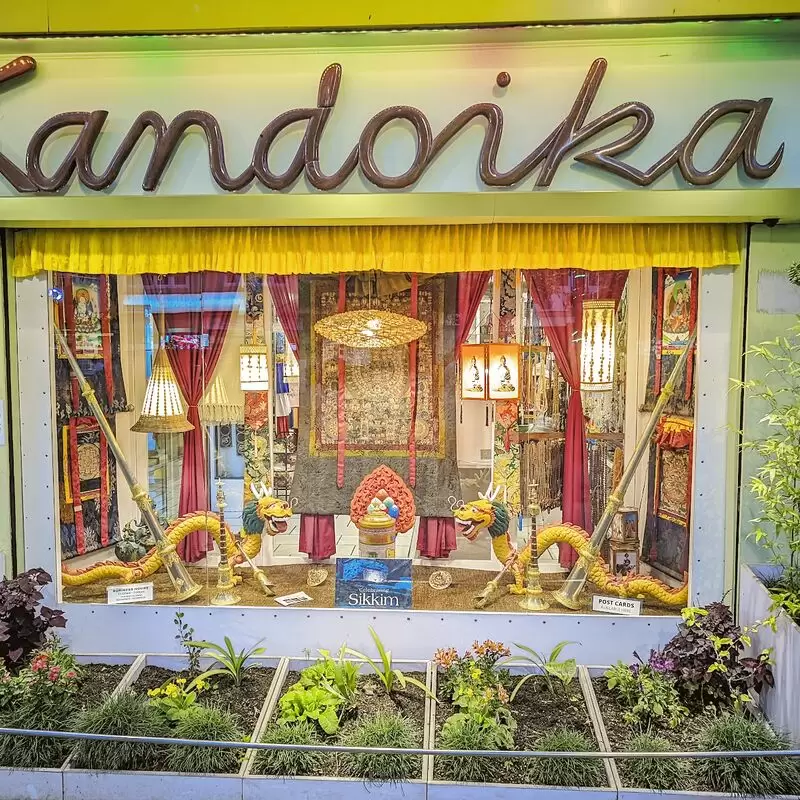 M.g Market
Arithang, Gangtok
Monday - Sunday: Open 24 hours
2. Sikkim Himalayan Zoological Park

The Sikkim Himalayan Zoological Park in Gangtok is an unmissable attraction! Here you will experience nature in its lush, pristine form. The park covers 200 hectares and is a paradise for animal lovers. Here you can observe rare and endangered species such as the snow leopard or the red panda.

Insider tip: The park is designed in the style of a unique ecosystem! Nearby is Ganesh Tok, a famous pilgrimage site, from which you have a breathtaking panoramic view of Gangtok.

Sikkim Himalayan Zoological Park
Jawaharlal Nehru Rd, Sungava, Gangtok

Monday - Sunday: 8:00 AM – 3:00 PM
3. Ban Jhakri Falls Park
Ban Jhakri Falls Park in Gangtok is an exotic blend of hypnotic beauty and spiritual essence. A cascading waterfall that plunges from a steep height of 70 feet is a nature lover's paradise. Walk across the ornamental bridges or immerse yourself in the energy park that celebrates shamanic traditions. Don't miss the night when the waterfalls glisten with lights! Nearby, you can explore Ranka Monastery, which offers panoramic views of Gangtok. This sight is really worth admiring!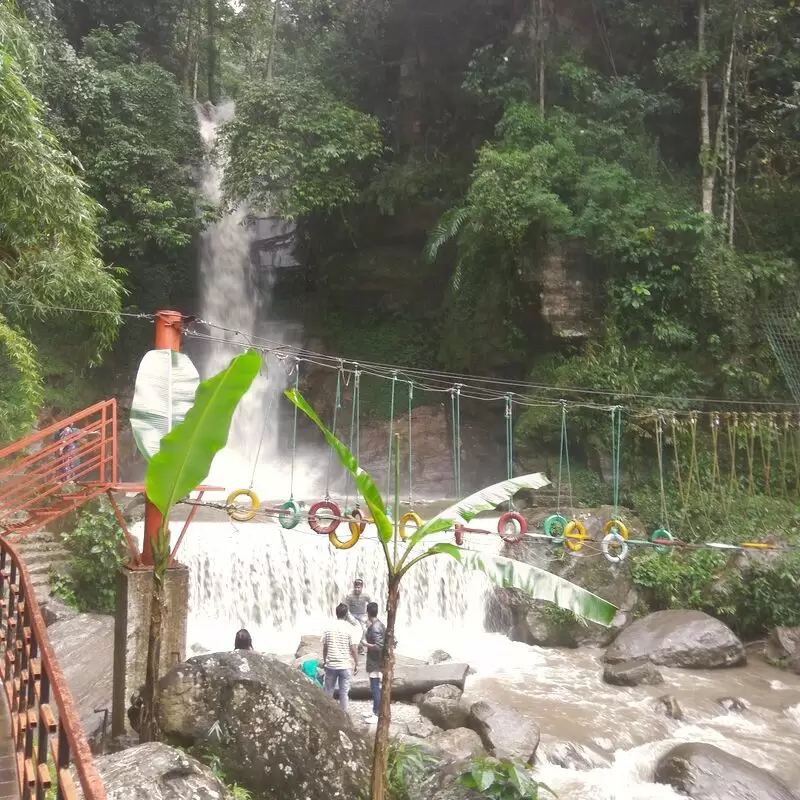 Ban Jhakri Falls Park
Gangtok
4. Hanuman Temple

Located at an altitude of 7200 feet, Hanuman Tok in Gangtok is more than just a temple; it is a panorama of splendor. Let the tranquility envelop you and enjoy the view of the Kanchenjunga range. Legend has it that Lord Hanuman stopped here for a rest on his journey to Lanka. Nearby are the soothing Ganesh Tok and Ranka Monastery.

A unique insider tip: do not miss the sunrise from Hanuman Tok, it is heavenly!

Hanuman Temple
8JXH+4FP, Gangtok
5. Flower Exhibition Centre Ridge Park.
Immerse yourself in the vibrant colors of nature at Flower Exhibition Centre - Ridge Park, Gangtok's paradise for botany lovers. Admire magnificent orchids and many other exotic plants that bloom all year round. To see rare species, take advantage of the monsoon months. Just steps away is White Memorial Hall, an architectural marvel from the colonial era. This visit offers a palette of color and a dash of history all in one step.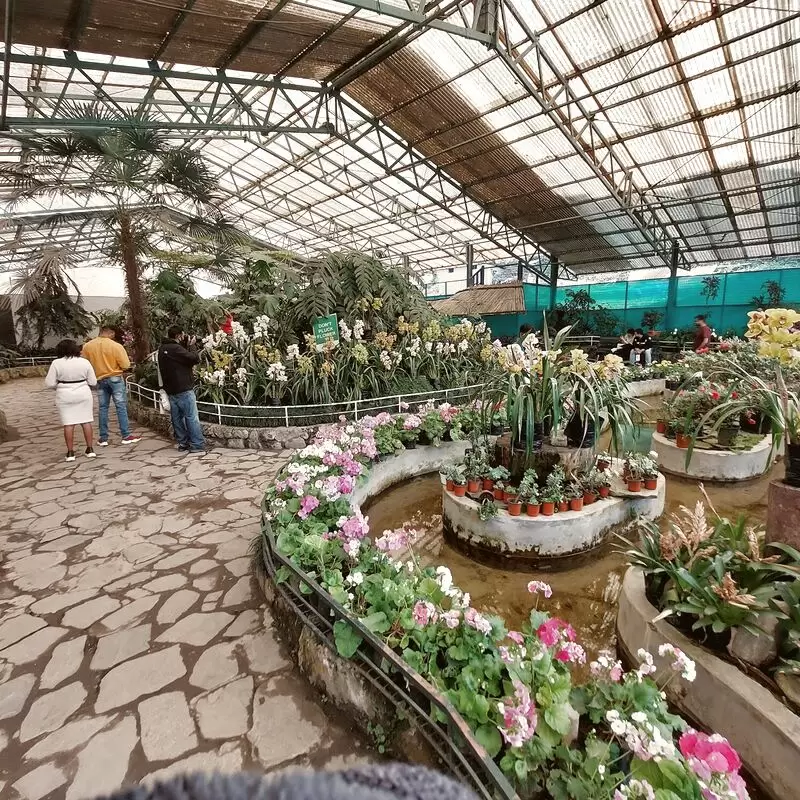 Flower Exhibition Centre Ridge Park.
8JJ8+MG7, Arithang, Gangtok
Monday - Sunday: 9:00 AM – 5:15 PM
6. Gonjang Monastery
Immerse yourself in the tranquility of Gonjang Monastery, an often overlooked gem far from the usual tourist noise. Discover the harmonious blend of Tibetan architecture, vibrant murals, and an enchanting library full of ancient scriptures. Experience the melodic sound of the monks' prayers echoing through the tranquil landscape. Nearby is Hanuman Tok, a Hindu temple dedicated to Lord Hanuman and offering a seductive panoramic view of the Himalayas. Don't forget to visit it at sunrise for a breathtaking spectacle.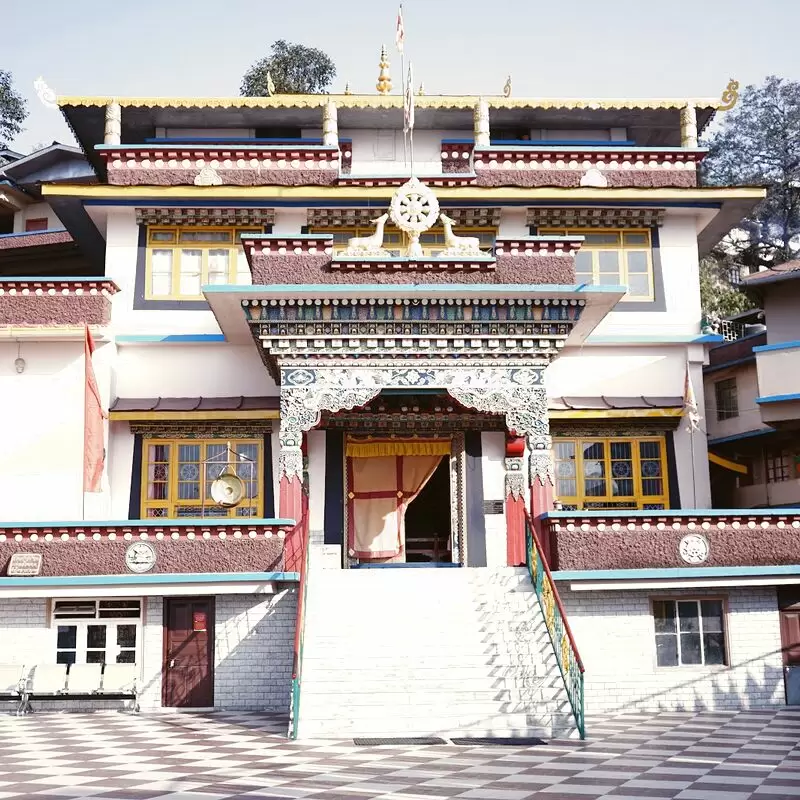 Gonjang Monastery
N Sikkim Hwy, Gangtok
Monday - Sunday: 7:00 AM – 5:00 PM
7. Ganesh Tok
A trip to Gangtok is not complete without a trip to Ganesh Tok, perched at an altitude of 6,500 feet and offering panoramic views of the entire city, surrounding peaks and valleys. With its striking resemblance to a miniature temple that only seats one person at a time, it offers a unique experience. Drop by the enchanting Smriti Van below, plant a tree in memory of a loved one, and leave a lasting legacy in this divine land.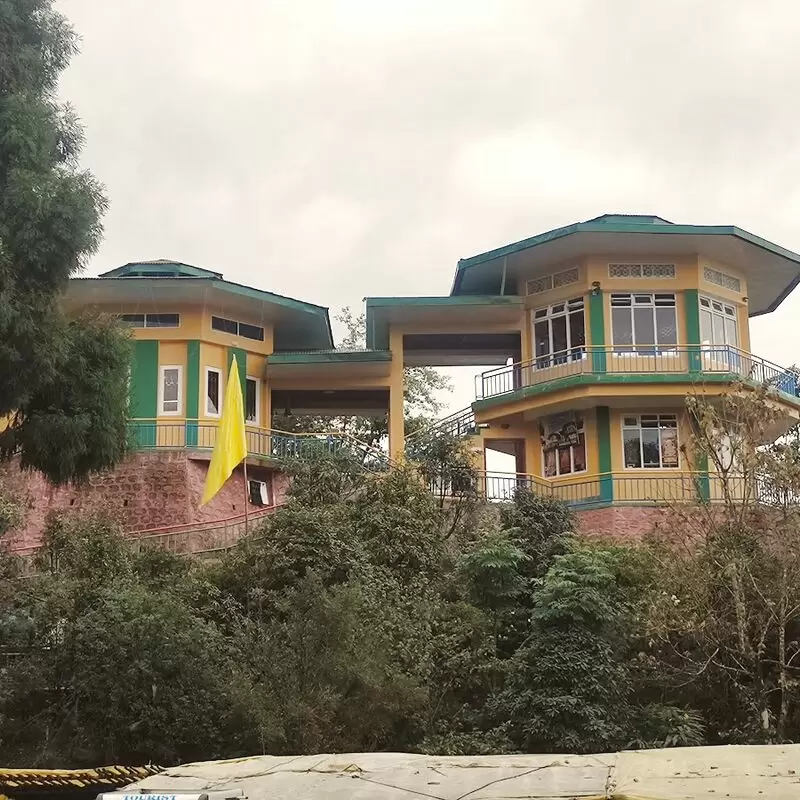 Ganesh Tok
8JRC+HGM, Jawaharlal Nehru Rd, Sungava, Gangtok
Monday - Sunday: 9:00 AM – 5:00 PM
8. Do Drul Chorten

Explore serenity at Do Drul Chorten, one of the most important and largest Buddhist stupas in Gangtok. The sight of 108 prayer wheels engraved with mantras is truly awe-inspiring. Get ready for an enriching spiritual experience as you roam the tranquil grounds. Nearby, you'll find the fascinating Enchey Monastery.

Insider tip: Visit Do Drul Chorten early in the morning to avoid crowds and enjoy the peaceful atmosphere to the fullest. Don't forget to admire the breathtaking view of Gangtok from here.

Do Drul Chorten
8J73+4WP, M.P.Golai, Tadong, Gangtok

Monday - Sunday: 9:00 AM – 5:00 PM
9. Bakthang Waterfall
Bakthang Waterfall, a hidden gem in Gangtok, is a melodious symphony of nature's purest splendor. The thrilling spectacle of the waterfalls winding through the dense greenery is mesmerizing. The picnic spots, secret among locals, are more than ideal to enjoy the spectacular views of the Himalayas. Don't forget to treat yourself to the adrenaline rush of the nearby Bakthang cable car! And just a 20-minute drive away is Tashi Viewpoint, which offers panoramic views of the enchanting Kanchenjunga mountain range. A must for any nature lover!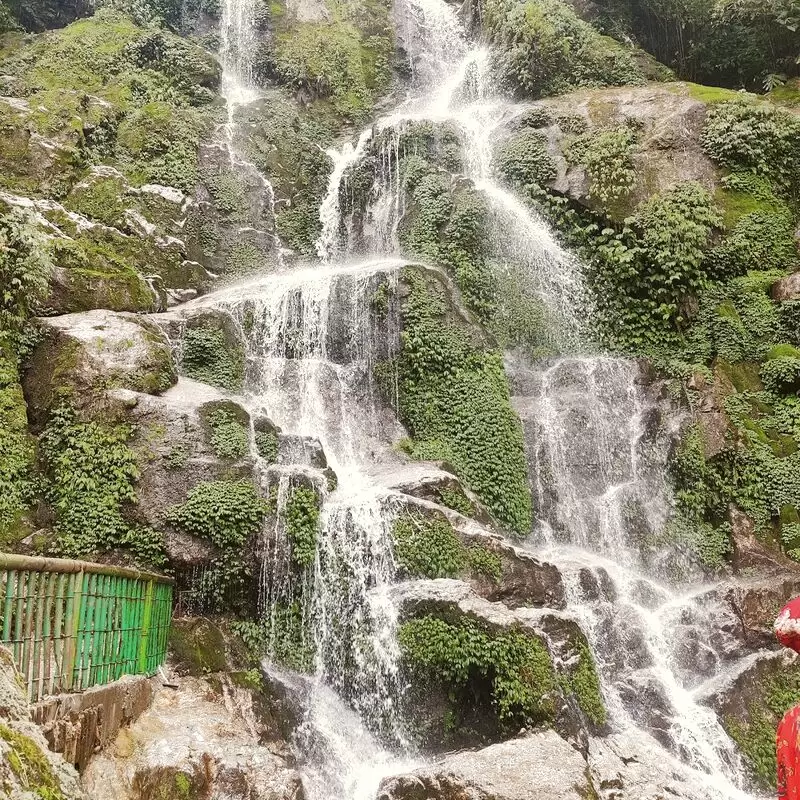 Bakthang Waterfall
9J5F+4CF, Gangtok
Monday - Sunday: 7:00 AM – 6:00 PM
10. Tashi View Point Bojoghari

Imagine being able to admire the majestic Kanchenjunga and the panorama of the Sikkim Himalayas from the Tashi viewpoint - an almost heavenly experience. The tranquil surroundings offer a much-needed respite from the hustle and bustle of the city. The Labrang Monastery and Phodong Monastery nearby are also not to be missed.

Insider tip: Head out early in the morning for a mesmerizing sunrise over the mountains. It's more than just a sight to behold, it's a moment to experience in awed silence.

Tashi View Point Bojoghari
9JC8+6CQ, Gangtok

Monday - Sunday: Open 24 hours
11. Gangtok Sikkim
Travel to Gangtok, the jewel of Sikkim, and experience an incomparable blend of tranquility and vibrancy. Be swept away by the panoramic views of the magnificent Kanchenjunga, the vibrant Buddhist monasteries and the enchanting landscapes shrouded in mystical mist. Don't miss Gangtok's well-kept secret - a glimpse of sunrise at Tashi Viewpoint. Nearby, you can enjoy the beauty of Lake Tsomgo and the biodiversity of Nathula Pass, located on the ancient Silk Road. A trip to Gangtok means breathtaking views, cultural immersion and unforgettable experiences.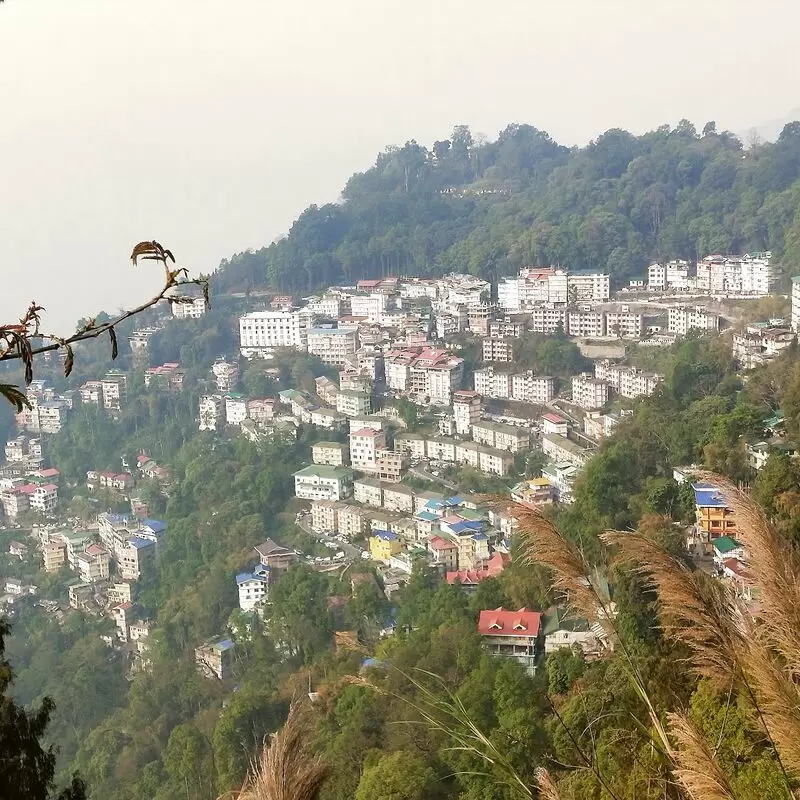 Gangtok Sikkim
Trekocity India, Travel Partners, Below Arithang Monastary, 8JJ7+V6F, Arithang, Gangtok
12. Plant Conservatory

Embark on a breathtaking journey to the "Plant Conservatory" in Gangtok. This oasis is a nature lover's paradise and offers a fascinating variety of plants, some of which are incredibly rare and exotic. A must-see for curious travelers and a wonderful opportunity to "go green"!

An insider tip: don't miss the orchid collection, it's a true spectacle! Nearby, you can also explore the famous Bakthang Waterfall, which is just a stone's throw away and offers an additional natural spectacle. Discover the joy of tranquility right here in Gangtok!

Plant Conservatory
9J6G+2W8, Gangtok

Monday - Sunday: 9:00 AM – 4:00 PM
13. Gangtok Ropeway

Experience an exciting journey from the air on the Gangtok Cable Car. This exciting cable car ride offers a panoramic view of the city, which is set amidst the breathtakingly beautiful Eastern Himalayas. During the ascent, you can enjoy views of the steel-blue Kanchenjunga range, verdant valleys and winding mountain roads.

Insider tip: Try the drive at sunrise or sunset, then you will have the most beautiful views. Nearby, you can visit Gonjang Monastery - a beautiful experience, only ten minutes by car from the cable car station.

Gangtok Ropeway
8J94+4JW, Vishal Gaon, Gangtok

Monday - Sunday: 9:30 AM – 6:00 PM
Saturday: 9:30 AM – 5:30 PM
14. Enchey Monastery
Enchey Monastery is a profound symbol of spirituality and architectural splendor in Gangtok. Imagine wandering through centuries-old sacred halls with the hypnotic chants resounding around you. This 200-year-old shrine is also the scene of exciting festivities during the Detor Cham masked dance in December and January. Just 3 km away is the vibrant "Gangtok Bazaar", a mecca of Sikkimese culture and cuisine, offering visitors ethnic art and a remarkable culinary journey. Venture further to unravel the mystery of the Himalayas!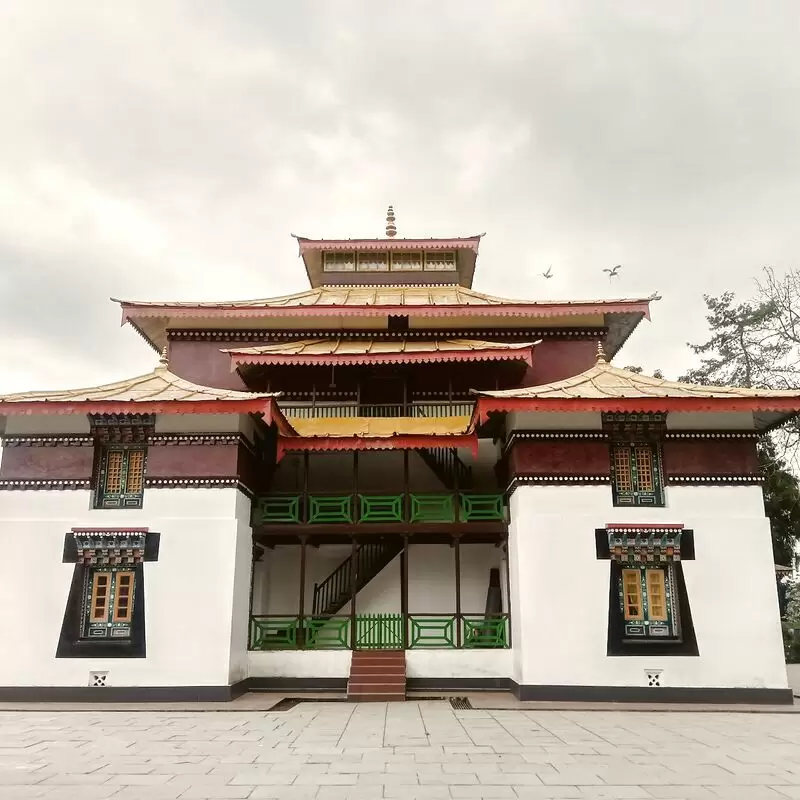 Enchey Monastery
8JP9+9MF, Gangtok
Monday - Sunday: 9:00 AM – 5:00 PM
15. Pal Karma Zurmang Shedup Chokhor Ling Lingdum Monastery Ranka Monastery)
Visit the stunning Pal Karma Zurmang Shedup Chokhor Ling Lingdum Monastery in Gangtok, popularly known as Ranka Monastery, for a slice of spiritual peace. Admire the stunning architecture and vibrant murals while enjoying panoramic views of the surrounding valley. The tranquility that reigns here is an enchanting experience that simply must be had. Don't forget to attend the monks' prayer session, which will give you an additional insight into Buddhist practices. Nearby are the Banjhakri Waterfalls and the Energy Park, other must-see attractions worth a day trip.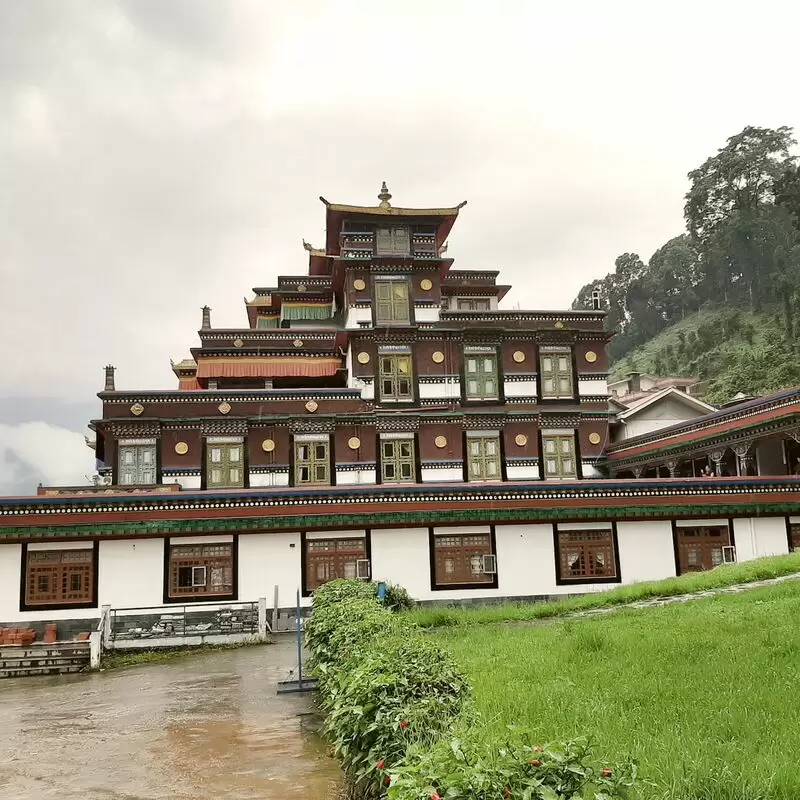 Pal Karma Zurmang Shedup Chokhor Ling Lingdum Monastery Ranka Monastery)
8HJH+FJF, Lingdum
Monday - Sunday: Open 24 hours
16. Sikkim Silk Route
Embark on a journey through the Silk Road of Sikkim, a historic route once used for important trade between India and Tibet. Today, this road offers breathtaking views of the Himalayan mountain range, fascinating sights of ancient settlements, and vibrant flora and fauna. This path is not just a road, it is a living museum of history and culture. On its way through the snow-covered landscapes, it passes by the enchanting Tsomgo Lake, which is a serene contrast to your adventurous route!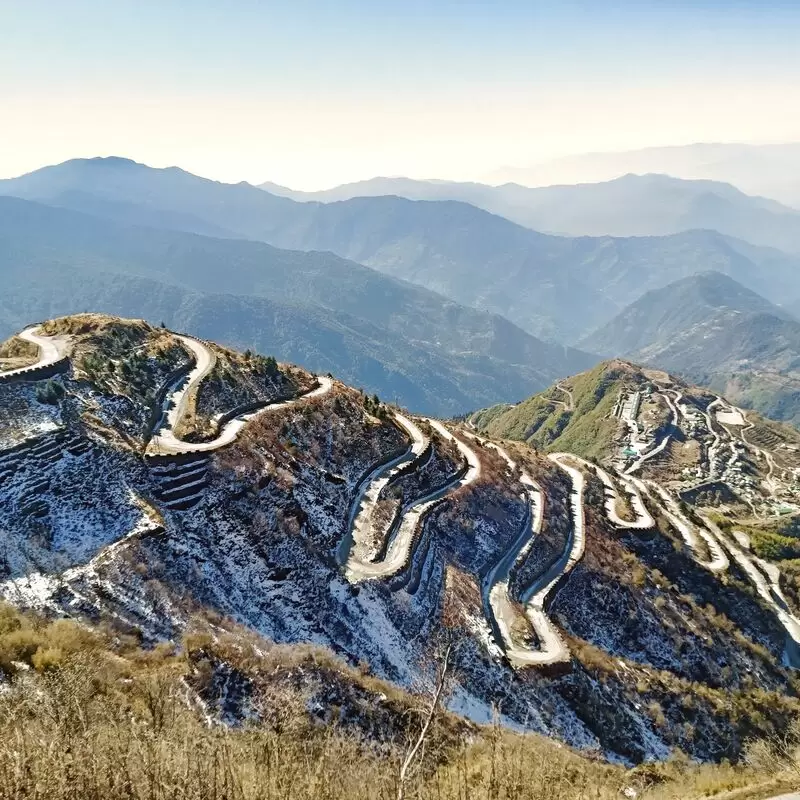 Sikkim Silk Route
Unnamed Road, Phadamchen
17. Kanchenjunga View Point
The Kanchenjunga viewpoint in Gangtok offers a breathtaking view of the world's third highest peak wrapped in a heavenly blanket of snow. This place is a must-visit for nature and photography lovers and is known for its captivating sunrise views. Locals whisper about a secret spot where you can enjoy a cup of chai while soaking in the spectacle of the mountain. After bathing in the splendor of Kanchenjunga, you can visit the nearby Tashi viewpoint, known for its panoramic views of the Sikkim countryside.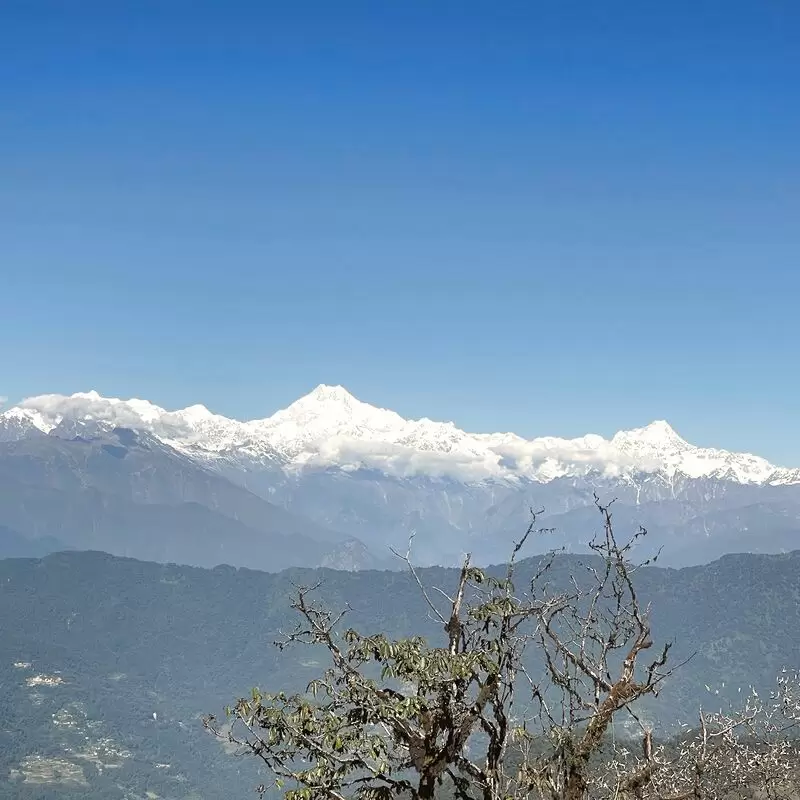 Kanchenjunga View Point
9MJF+J55, Sikkim 737103
Monday - Sunday: Open 24 hours
18. Namgyal Institute of Tibetology
At the Namgyal Institute of Tibetology you can explore the spiritual heart of Gangtok. Here you will find a large collection of Tibetan artifacts and ancient scriptures that tell the exciting story of Buddhism. Brush up on your knowledge of Buddhism or marvel at the world's most significant collection of Tibetan artwork. Remember that it is forbidden to photograph the exhibits - a rule that only adds to the aura of mysticism. Just a stone's throw away is the stunning Do Drul Chorten Stupa, another revered Buddhist monument.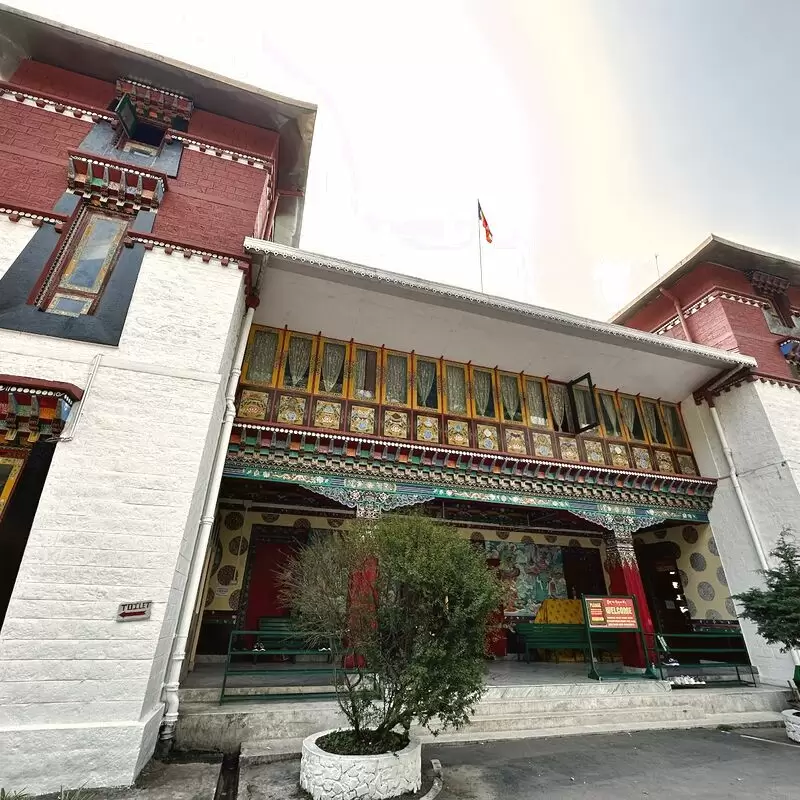 Namgyal Institute of Tibetology
Deorali, 8J83+9WF, M.P.Golai, Tadong, Gangtok
Monday - Saturday: 10:00 AM – 4:00 PM
Sunday: Closed
19. Kyongnosla Waterfall
Kyongnosla Waterfall is a true spectacle, a place that will be indelibly etched in your memory. Here, the water cascades nearly 10,000 feet, offering a breathtaking sight. It's an adventurer's paradise: hike through the lush Kyongnosla Alpine Sanctuary, where over 30 species of rhododendrons grow! This enchanting waterfall is just 31 km from the great Tsomgo Lake, another place worth seeing that transforms from a winter wonderland to a summer mirage as the seasons change.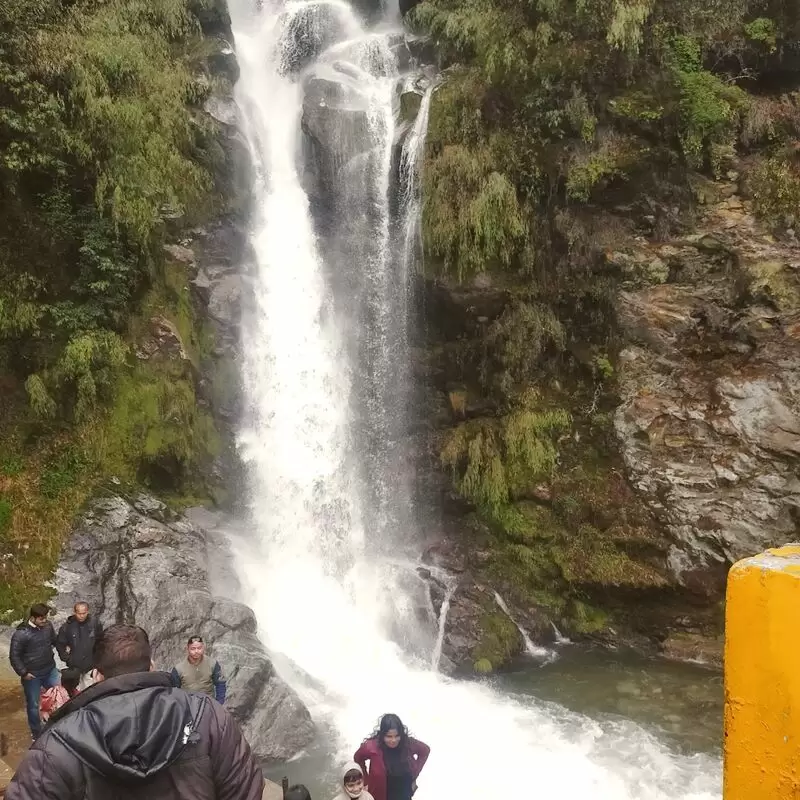 Kyongnosla Waterfall
9PGH+M92, Sikkim 737103
Monday - Sunday: 8:00 AM – 3:00 PM
20. Namnang View Point
Embark on an unforgettable journey to Namnang View Point in Gangtok and enjoy panoramic views of the Himalayan Mountains. This underrated spot offers a magical, cloud-covered landscape and an incredible view of the sun as it sets or rises over the mountains. Plus, the famous Gangtok cable car is within walking distance from here. Dare to take the ride and spice up your trip with a bird's eye view of this picturesque city, which is not to be missed when visiting Gangtok.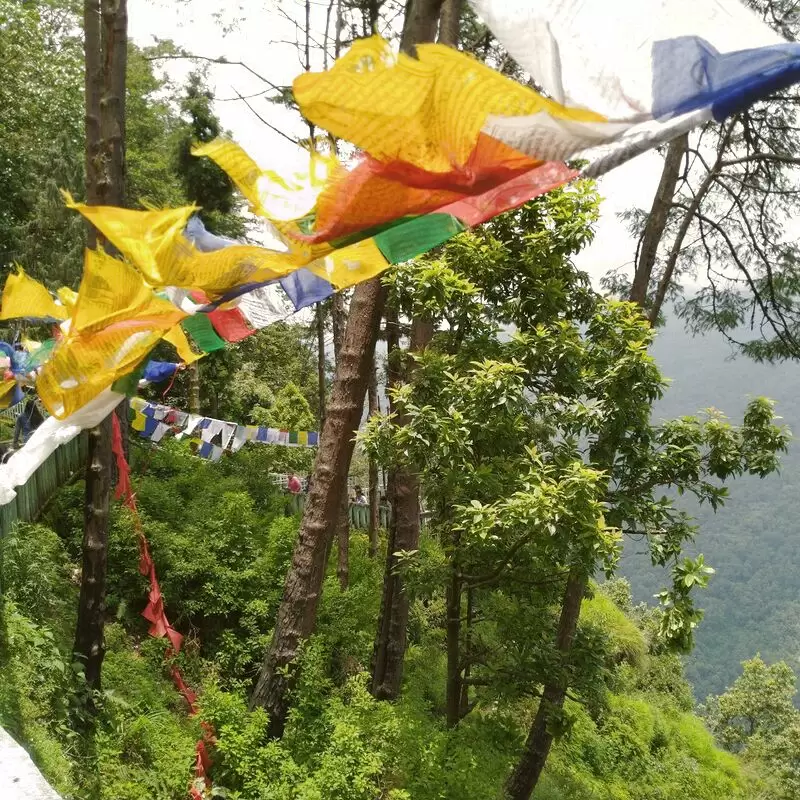 Namnang View Point
8JF7+68H, View Point Rd, Vishal Gaon, Gangtok
Monday - Sunday: 6:00 AM – 5:00 PM
21. Saramsa Garden
Saramsa Garden in Gangtok is a true El Dorado for nature lovers. Lush greenery, enchanting orchards and unique flora will enliven your senses. Originally laid out for fruit growing, it is now a popular spot for the region's exotic orchid blooms. The ipecac plantations here are used to produce medicines for the treatment of amebiasis. When visiting Saramsa, you can also experience an exciting soccer match in Sikkim's oldest soccer stadium! Just 14 km away, the exotic Ban Jhakri waterfalls await you, offering a whimsical rendezvous with nature.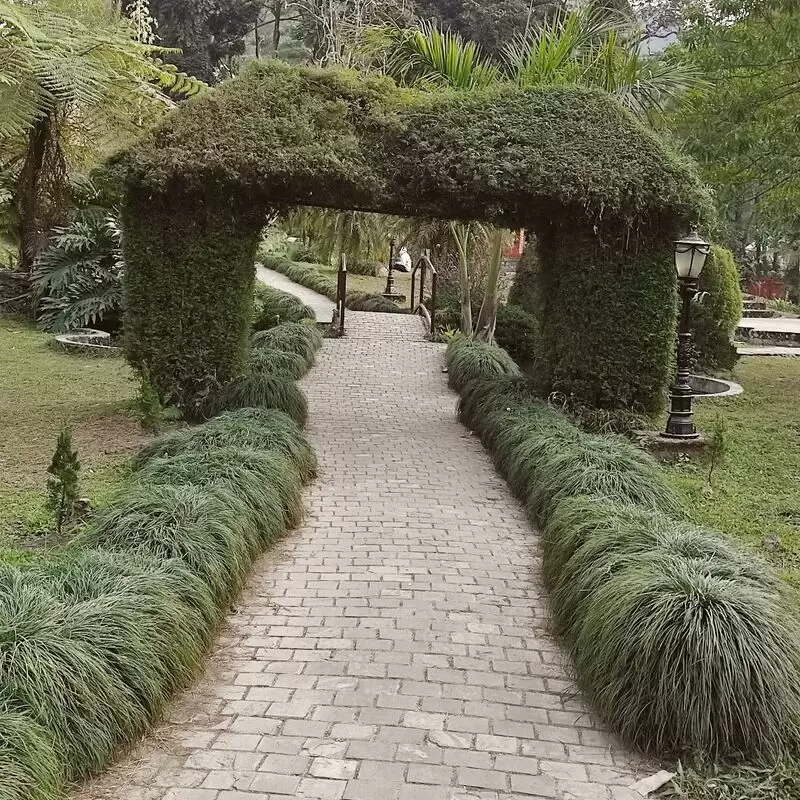 Saramsa Garden
7HGV+RWX, Sikkim 737102
Monday - Sunday: 8:00 AM – 6:00 PM
22. Thakurbari Temple
Thakurbari Temple in the heart of Gangtok is a must visit to find spiritual enlightenment. This 80-year-old temple is the oldest in Gangtok and welcomes everyone. Its sanctum houses the deities of different religions and symbolizes unity in diversity. The temple is famous for its grand Diwali celebration, the "Festival of Lights." A short walk away is MG Marg, Gangtok's bustling shopping street, where you can buy local delicacies and authentic Sikkimese handicrafts.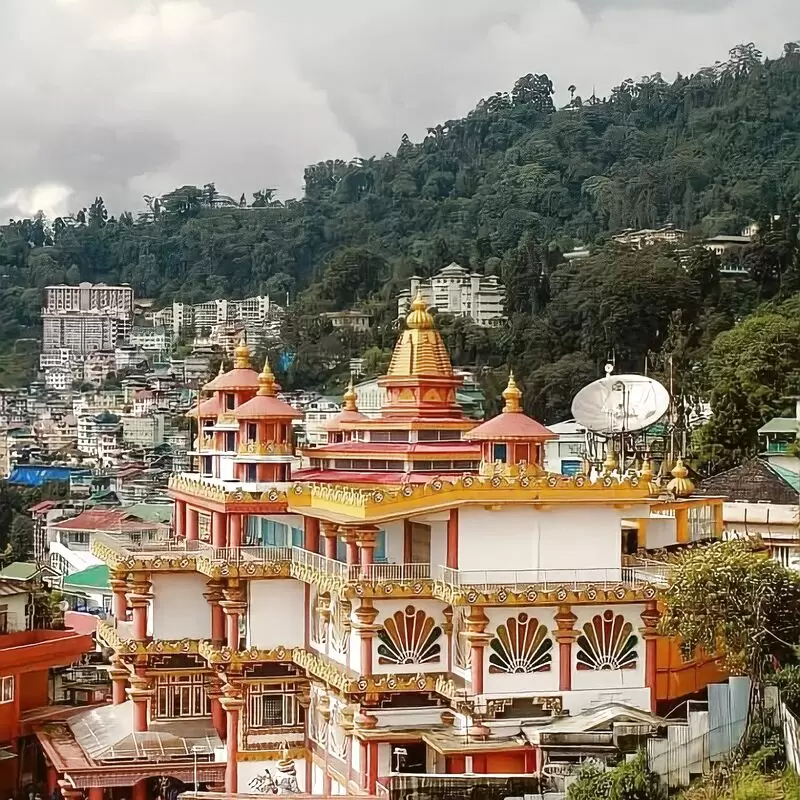 Thakurbari Temple
8JJ7+27W, Mahatma Gandhi Marg, Arithang, Gangtok
23. North Sikkim Tour
Immerse yourself in the surreal beauty of the North Sikkim Tour in Gangtok, an unforgettable journey through the mystical landscapes of the Himalayas. Here you will witness heavenly alpine pastures and azure rivers, crowned by the majestic peak of Kanchenjunga. Don't miss a remote, hidden gem - the Yumthang Valley, often referred to as the "Valley of Flowers". Nearby, Lachung Monastery awaits, a place of serenity marked by vibrant murals and golden statues! A tour of North Sikkim is like entering an unknown paradise!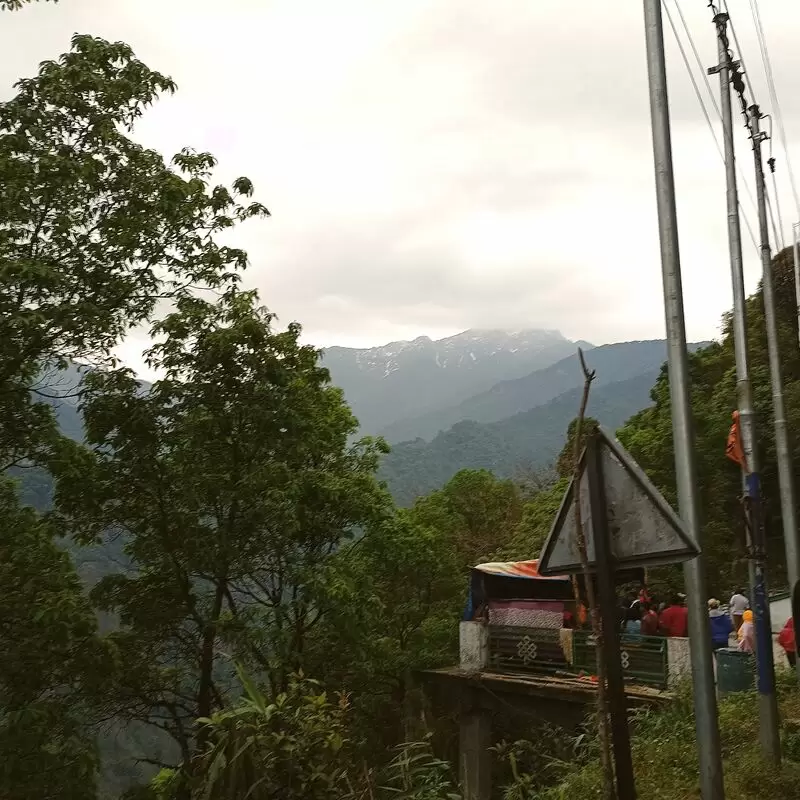 North Sikkim Tour
Burtuk Rd, Burtuk, Gangtok
Monday - Saturday: Open 24 hours
Thursday: 9:00 AM – 7:00 PM
Sunday: Closed
24. Mg Marg
A visit to MG Marg in Gangtok is like stepping into the vibrant heart of the city. This pedestrian zone is teeming with life, colorful stores and tempting eateries, making it a must-see for any visitor. Don't miss the authentic Sikkimese cuisine at the local restaurants. In the evening, the whole area transforms into a festive scene with twinkling lights. Nearby are the White Hall and Tsuklakhang Palace, rich in history and the city's cultural landmark.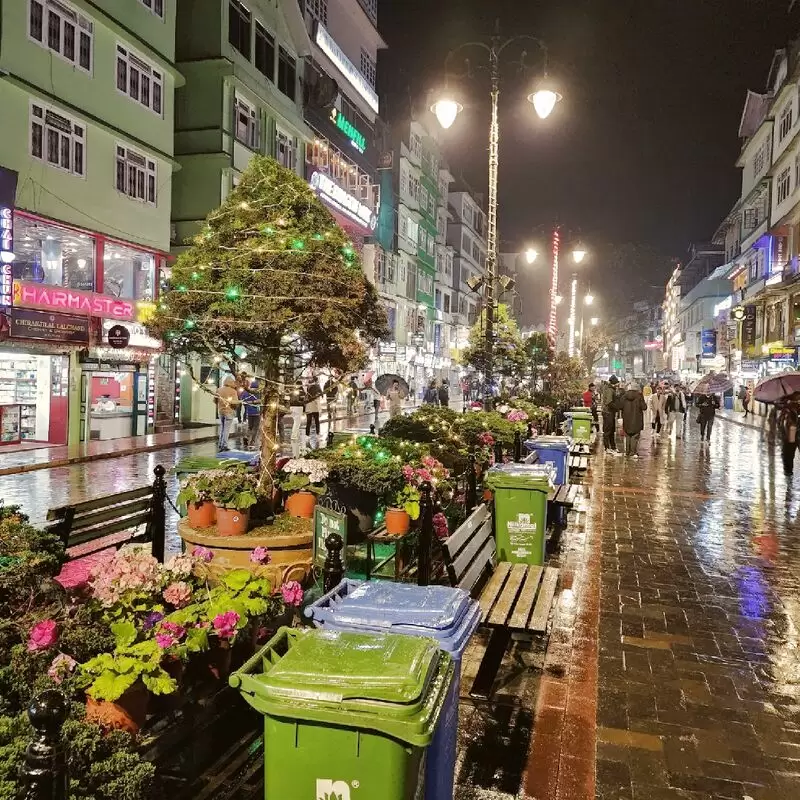 25. Mg road
MG Marg is the heart of Gangtok, pulsating with active locals and enthusiastic tourists! You can experience the vibrant energy and authentic Sikkimese culture in the numerous stores, cozy cafes and delicious street snacks. This pedestrian-only street is fashionable, lively and great for people-watching. In the evening, it shines with innovative lighting. Just a stone's throw away is White Memorial Hall, a landmark of British architecture. You haven't really experienced Gangtok until you've walked through MG Marg!
Mg road
8JJ7+GGV, Arithang, Gangtok
26. Ranka Monastery Zurmang Monastery)
Immerse yourself in the serenity of Ranka Monastery, which offers unparalleled views of the breathtaking landscape of Gangtok. This three-story structure, known for its beautiful Tibetan architecture, is also the seat of Zurmang Charwang Rinpoche. The complex is teeming with colorful murals and unique art forms depicting the life of Buddha. For an extra dose of adventure, visit the mesmerizing Banjhakri Waterfalls, located nearby. A must for those seeking tranquility in the midst of nature!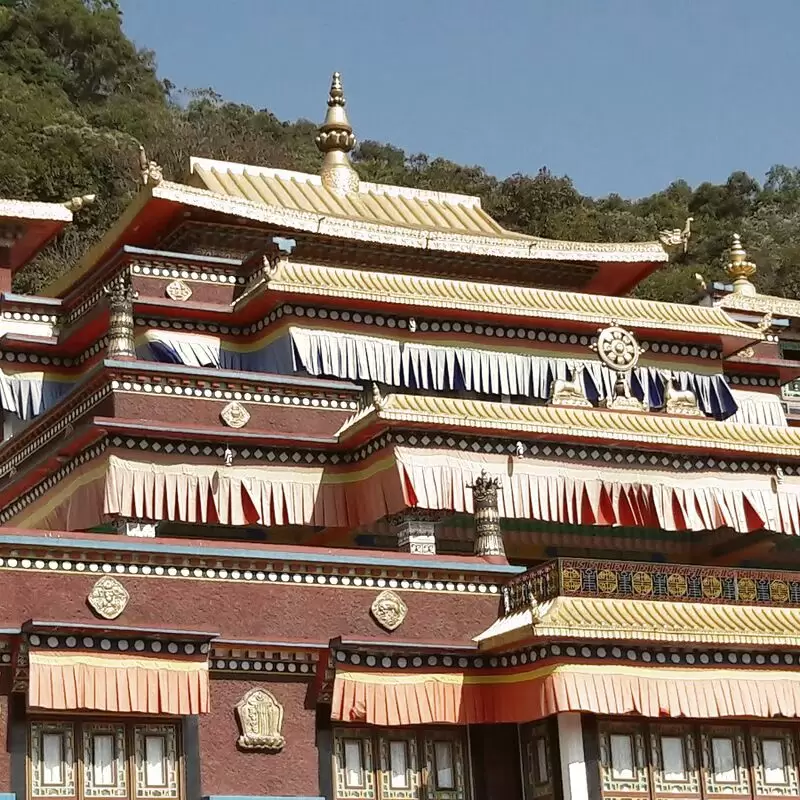 Ranka Monastery Zurmang Monastery)
8HJH+6M7, Gangtok
27. Kyongnosla Alpine Sanctuary

Kyongnosla Alpine Sanctuary is an unmissable experience for nature lovers visiting Gangtok. The sanctuary is known for its impressive biodiversity and is home to rare and endangered animal and plant species such as the Himalayan black bear and the red panda. Every step is an encounter with the fascinating wilderness!

Insider tip: Also visit nearby Tsomgo Lake, known for its fascinating scenic beauty and sacred atmosphere, only about 15 km away.

Kyongnosla Alpine Sanctuary
8JQH+G4F, JN Rd, Dichenling Area, Gangtok

Monday - Sunday: 8:00 AM – 6:00 PM
Best Time to Visit Gangtok
The best time to visit Gangtok, India, is between October and mid-December, when the weather is clear and cool, and from March to June, during the pleasant spring season. During these periods, there is a great view of the snow peaks of Kanchenjunga and the flower blooms. However, the monsoon season (July to September) should be avoided because of frequent landslides.
Annual Weather in Gangtok
Gangtok 3-Day Forecast
Thu, 21 September
Night
63 °F
17 °C
0%
Morning
60 °F
16 °C
60%
Afternoon
54 °F
12 °C
93%
Evening
62 °F
17 °C
87%
Fri, 22 September
Night
63 °F
17 °C
80%
Morning
61 °F
16 °C
87%
Afternoon
60 °F
15 °C
85%
Evening
63 °F
17 °C
83%
Sat, 23 September
Night
62 °F
17 °C
81%
Morning
62 °F
17 °C
60%
Afternoon
55 °F
13 °C
63%
Evening
51 °F
11 °C
0%
Questions & Answers

What is the local cuisine of Gangtok?

The local cuisine of Gangtok is a mixture of traditional Sikkimese dishes and typical Indian food. The local cuisine consists mainly of rice, fermented vegetables and meat. Some popular dishes include phagshapa, a pork dish, gundruk and sinki, fermented vegetables, and sael roti, a bread made from fermented rice. Traditional drinks such as chaang, a type of local beer, are popular with locals. Momos, thukpa and churpi, a type of cheese, are other local delicacies that can be enjoyed in Gangtok.

Is Gangtok safe for tourists?

Yes, Gangtok is generally considered safe for tourists. The local population is known for its warm and hospitable nature towards visitors. However, as in any place, it is advisable to take basic safety precautions. Keep your personal belongings safe, avoid remote areas at night, and respect local customs and traditions. Since Gangtok is located in a mountainous region, you must also be aware of sudden weather changes and altitude-related problems.

Is the city walkable?

Yes, Gangtok is a city in the hills that is easy to explore on foot to discover the charm of the city. The city is relatively compact, so many of the main attractions, restaurants and stores are within easy walking distance. There are also several pedestrian streets and walkways in the city where you can stroll leisurely, enjoy the cityscape and immerse yourself in the local culture. However, keep in mind that the city is quite hilly and the streets can be steep at times.

Can we interact with locals easily there?

In any case, you can easily get in touch with locals in Gangtok. The local people are kind and open to exchange with tourists. The majority of the locals speak Hindi and English in addition to their native Nepali, which makes communication with tourists much easier. With their helpfulness and friendly demeanor, interacting with the locals can really enrich your travel experience in this beautiful city.

What is the traditional attire of Gangtok?

Gangtok is known for its rich and diverse culture. Traditional dress reflects a mix of Nepali, Tibetan, and Bhutanese influences. Men in Gangtok often wear a bakhu, a loose-fitting garment tied around the neck and waist and paired with pants. Women also wear a bakhu, but combine it with a silamberi or pangden, a striped cloth worn around the waist. The colorful traditional dresses are often decorated with intricate patterns and details, symbolizing the vibrant ethnicity of this region.

What currency is accepted in Gangtok?

The official currency accepted in Gangtok, India is the Indian Rupee (INR). The rupee is available in denominations ranging from 1 rupee to 2,000 rupees. Credit cards are also accepted in many hotels, restaurants and stores. However, it is recommended to always carry some cash for smaller stores and local markets where card payments are not possible. ATMs for cash withdrawals are easily found throughout the city.

Are credit cards widely accepted in Gangtok?

Gangtok, the capital of Sikkim, has adapted to modern amenities but accepts credit cards only sporadically. Many upscale hotels, restaurants, and stores catering to tourists accept credit cards. However, smaller establishments, local restaurants and markets may only accept cash. Therefore, it is advisable to carry a certain amount of cash. There are also ATMs in the city from the major banks where you can withdraw money.

What is the history of Gangtok?

Gangtok, the capital of Sikkim, is rich in history and cultural significance. Its origins lie in the founding of a monastery by the Namgyal dynasty in the 19th century, which made it an important pilgrimage site. Later, the British recognized Sikkim as a protectorate, with Gangtok as the center for trade and administration. After India's independence, Sikkim was united with India in 1975 after a brief period of monarchy, with Gangtok as its capital.

How can one experience the local culture in Gangtok?

Immerse yourself in the local culture of Gangtok by visiting the bustling Lal Bazaar, which offers an array of local goods. Visit the lively festivals such as Losar, Saga Dawa and Drupka Teshi, which are celebrated with great vigor. Explore the quiet monasteries in the city to understand the religious practices. Sample authentic Sikkimese cuisine, especially momos and thukpa, paired with traditional alcoholic drinks like chaang or tongba. Local host families also offer a unique cultural experience.

Are there any local festivals in Gangtok?

Yes, many local festivals are celebrated in Gangtok, reflecting the rich culture and tradition of the city. One of the most important festivals is Losar, a Tibetan festival celebrating the beginning of the new year. Another important festival is Pang Lhabsol, a unique festival in Sikkim that pays gratitude to Mount Kangchenjunga, a preaching patron deity. Saga Dawa is another important Buddhist festival that honors the life of Lord Buddha. Participation in these festivals offers deep insights into the local heritage and vibrant community spirit of Gangtok.

Can you recommend local dishes to try?

Allow me to recommend a few delicious local dishes in Gangtok. First, the thukpa, a steaming soup with noodles and vegetables or meat, a perfect comfort food for the chilly weather. Another dish you should definitely try is momos, steaming hot dumplings filled with meat or vegetables. Finally, don't miss phagshapa, a spicy pork dish with radish and dried red chilies. These dishes capture the authentic flavors of Gangtok cuisine.

How to get around in Gangtok?

In Gangtok, the capital of Sikkim, there are several ways to get around. Cabs, both shared and private, are the most popular and available throughout the city. If you prefer more scenic transportation, a cable car offers breathtaking views from the air. You can also rent bicycles for short distances. Although there is no public transportation in Gangtok, such as buses or trains, the city's compact structure makes it easy to explore on foot.

Is English spoken in Gangtok?

Yes, English is widely spoken in Gangtok, the capital of Sikkim in India. It is the official language of Sikkim, so most locals, especially those involved in tourism, are proficient in English. Tourists usually have no problem communicating in English with hotel and restaurant staff, shopkeepers, and locals. Public signs and official documents are also usually written in English.

What are the emergency contacts in Gangtok?

For emergencies in Gangtok, you can dial 100 for police assistance and 108 or 102 for medical emergencies administered by the Sikkim Health Department. Fire emergencies can be reported by dialing 101. The State Disaster Management Department is also responsible for all types of disasters. It is important to note the phone numbers of your embassy or consulate in case you need additional assistance.

Should we tip in restaurants?

Yes, tipping in restaurants is a common practice in Gangtok, India. Even though it is not required by law, it is appreciated. As a rule of thumb, you should tip 10-15% depending on the quality of service. However, be aware that some establishments include a service charge in their bills, making tipping unnecessary. Always check your bill carefully before deciding to tip.

Do we need a permit to visit certain areas in Gangtok?

Yes, for certain areas in Gangtok, such as Tsomgo Lake and Nathula Pass, visitors are required to obtain an Internal Border Permit (ILP) due to their proximity to the international border. Indian nationals can easily obtain the ILP from the Sikkim Tourism Department in Gangtok if they present valid identification and proof of address. However, foreigners are only allowed to travel as far as Lake Tsomgo and require a protected area permit, which must be obtained from a registered travel agency.

What is the driving rule in Gangtok?

In Gangtok, as in the rest of India, people drive on the left side of the road. Seat belts are compulsory for passengers in the front seats. Speed limits vary, but are generally 50 km/h in built-up areas and 80 km/h on highways. Foreign drivers must have an international driver's license in addition to their home country's license. Note that busy areas and difficult terrain may require careful navigation and patience, especially during the peak travel season.

Are there any nature reserves or parks in Gangtok?

Yes, Gangtok is surrounded by several nature reserves and parks. Khangchendzonga National Park, a UNESCO World Heritage Site, is home to the third highest mountain in the world and a variety of wildlife. Fambong Lho Wildlife Sanctuary is home to various bird species, wild orchids, bamboo shoots and a picturesque view of Mount Kanchenjunga. The nearby Shingba Rhododendron Sanctuary is home to over 40 species of rhododendron trees, which bloom in a variety of colors during the flowering season.

Can I drink tap water in Gangtok?

While the tap water in Gangtok comes from the mountain streams and is relatively cleaner than in many other areas, it may not be suitable for everyone, especially tourists who are not used to it. For the sake of health and safety, it is strongly recommended that you drink boiled or filtered tap water. Avoid drinking water directly from the tap, regardless of local insurance.

What traditions or customs should I aware of before visiting Gangtok?

Gangtok, the epicenter of Sikkim's Buddhist culture, is rich in customs and traditions. Respect the local culture and religious sentiments, and note that shoes and leather goods are prohibited in the temples. Do not touch prayer flags or religious relics. Modest clothing is always encouraged, especially at religious sites. Special permits are required for certain areas due to their geographical significance. Litter is strongly discouraged, and plastic bags are prohibited. Get used to organic food, as Gangtok promotes organic farming.

Feedback

I hope you found this article informative and helpful. I'm eager to improve the content and make it even more valuable for you. If you have any feedback or suggestions, I would love to hear from you.

Do you have any tips or hidden gems that you think should be added to the list? Are there any areas that you feel could use more explanation or clarification?

Your input is greatly appreciated and will help us to continue providing high-quality content that meets your needs and interests. Please feel free to share your thoughts.