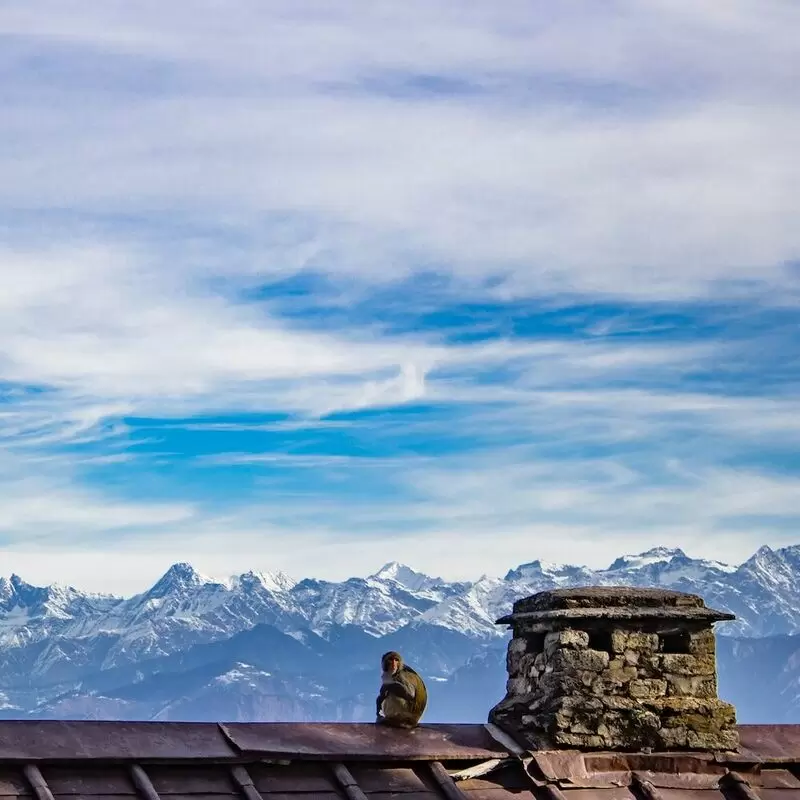 1. Khajjiar Lake
Immerse yourself in the serenity of Lake Khajjiar, set amidst lush green mountains and stunning landscapes. Often referred to as the "mini-Switzerland of India", Lake Khajjiar is set amidst exotic cedar forests and offers a dreamlike sight. Observe the rare wildlife while you are there. The nearby Golden Devi temple adds even more mystique to this place. A "floating island" in the middle of the lake is a surprising spectacle that tourists love to capture. Just 2 km away, you can explore the divine Khajji Nag temple, whose history dates back to the 12th century.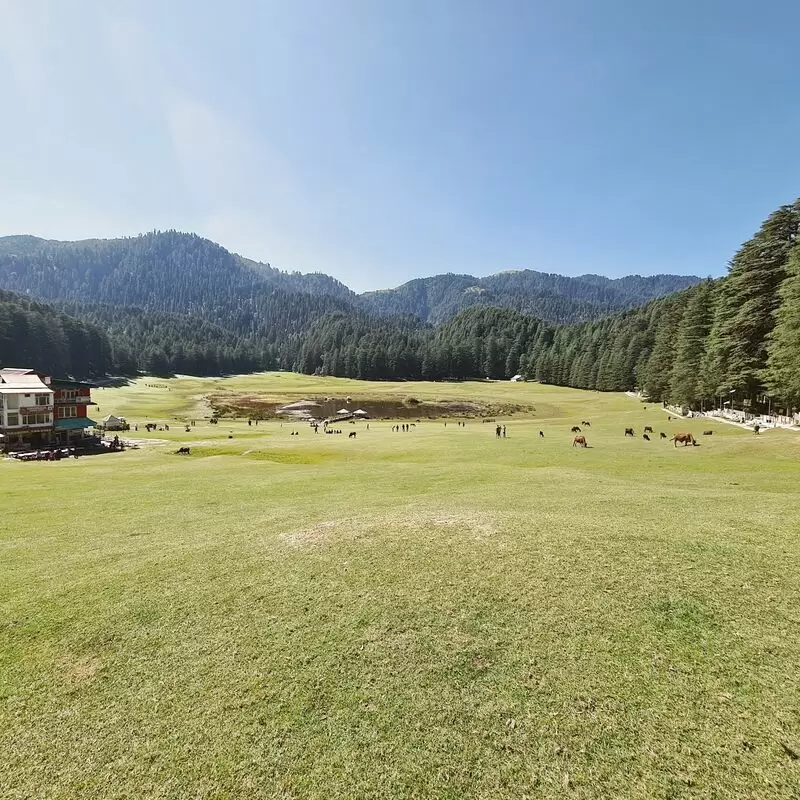 Khajjiar Lake
Khajjiar
Monday - Saturday: 9:00 AM – 5:00 PM
Sunday: Closed
2. Khajjiar Mini Switzerland
Khajjiar, also called "Mini-Switzerland", is a jewel in the crown of India, a green paradise with bright flowers and wandering wildlife. Enjoy panoramic views of the snow-capped mountains, explore the dense pine forest or soak up the atmosphere of the tranquil Khajjiar Lake. Enjoy a horseback ride or just sunbathe to experience an unforgettable natural retreat. Just 24 km away is Chamba, a picturesque town with ancient temples and fascinating handicrafts. It is an indispensable part of the Dalhousie leg of your India adventure.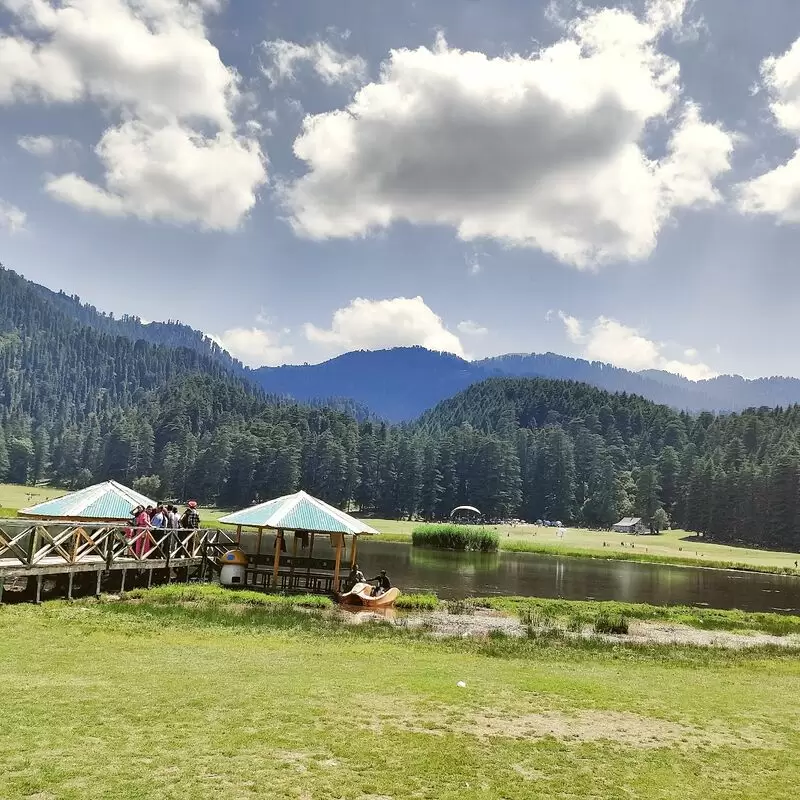 Khajjiar Mini Switzerland
G3W4+59W, Khajjiar Local Trail, Khajjiar
3. Dainkund Peak
Venture up Dainkund Peak in Dalhousie - the highest mountain peak - for a panoramic view that will take your breath away. The summit offers an enticing view of the rolling green valleys and sparkling rivers below. The fresh mountain air is infused with the sweet fragrance of the flowers of the nearby "Pholani Devi" temple. An insider's tip: don't miss the enchanting sight of the snow-capped Himalayas! Near the Dainkund peak, you can explore the enchanting beauty of Kalatop Wildlife Sanctuary, just 13 km away.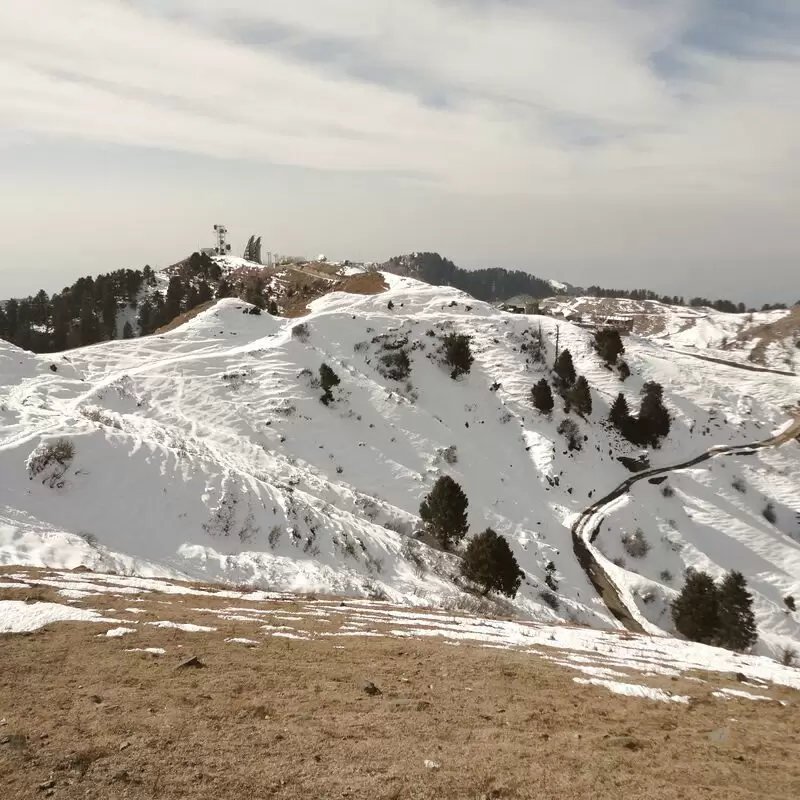 Dainkund Peak
Rakhed
Monday - Sunday: 10:00 AM – 4:00 PM
4. Kalatop Wildlife Sanctuary
Venture into the heart of the wilderness at Kalatop Wildlife Sanctuary, a must-see in Dalhousie. Hear the call of the wild amid dense deodar and fir trees. Experience rare wildlife, including bears, deer, langurs and jackals. Follow the off-beat trail that leads to a whimsical rest house perfect for a brisk walk. Just around the corner, you can visit the enchanting Khajjiar Lake. Considered the "mini-Switzerland of India," this magnificent combination of meadow and lake is just 3 km from the sanctuary. A paradise for nature lovers, photographers and adventure seekers.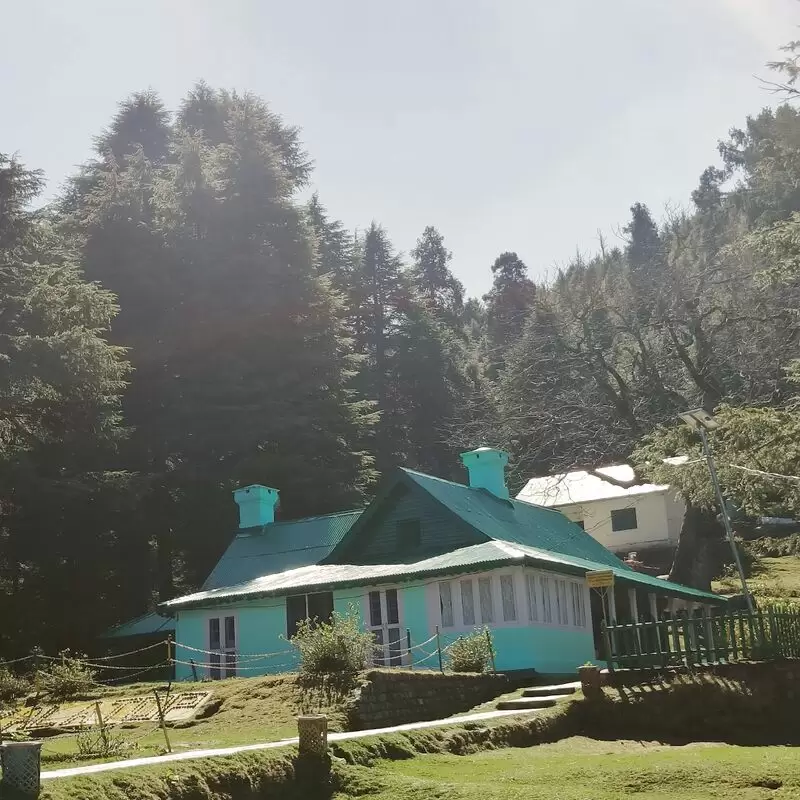 Kalatop Wildlife Sanctuary
H238+5X8, Kalatope R.F
Monday - Sunday: 9:00 AM – 5:00 PM
5. Beeji's Park

Beeji's Park is a beautiful oasis amidst the hustle and bustle of Dalhousie. Take a leisurely stroll and enjoy the lush greenery and colorful flowers in full bloom. Be sure to take a book to read while you bask in the tranquility. The park also offers another attraction: a breathtaking view of the Pir Panjal Mountains.

An insider tip is the small café in the park, which serves delicious local snacks. For those interested in art and history, it is worth visiting the historic St. Francis Church, which is just a short walk away.

Beeji's Park
GXPM+G3G, Dalhousie Khajjiar Rd, Dhupguri, Dalhousie

Monday - Sunday: Open 24 hours
6. Kalatop Forest
Visit the alluring Kalatop Forest, a stunning natural retreat in Dalhousie. This dense deodar and pine forest offers captivating scenic beauty and a glimpse of the region's abundant wildlife. Walk along the whispering trails, and if you're lucky, you'll encounter species such as the Himalayan black marten and ghoral. Take a quiet boat ride on the nearby Khajjiar Lake. The forest's quiet location and less touristy surroundings make it a hidden gem for nature lovers and peace seekers.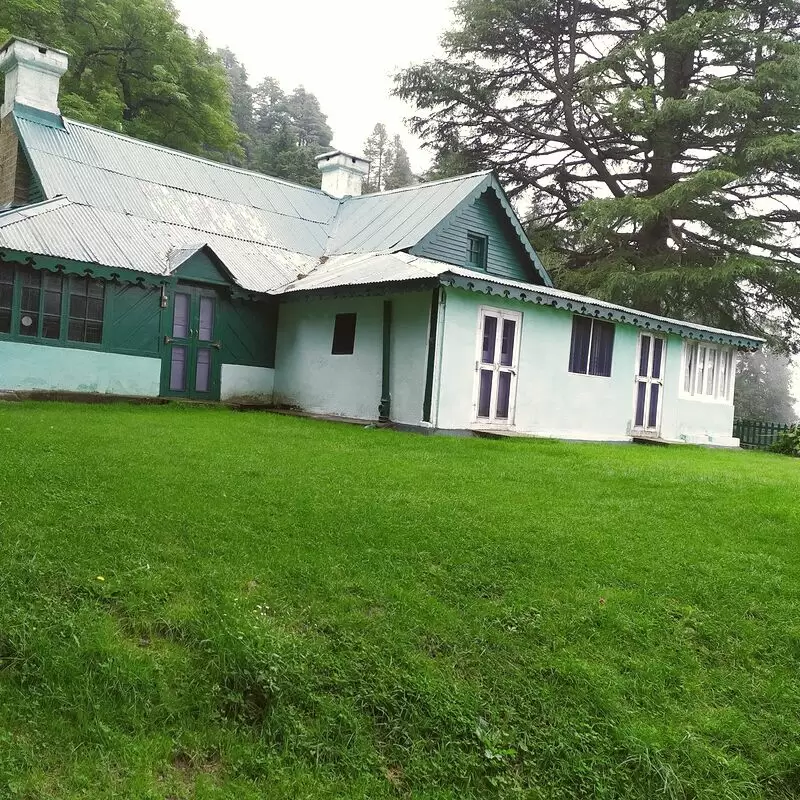 Kalatop Forest
G2R7+9R2, MDR49, Kalatope R.F
7. Subhash Chowk
Subhash Chowk, a true gem in Dalhousie, is a bustling square named after Subhash Chandra Bose. The heart of the city is adorned by impressive colonial buildings, unique stores and the magnificent St. John's Church. It's a great place to take pictures, meet the locals or just relax. Don't forget to try the street food, it's delicious! Nearby is the Garam Sadak, a scenic walkway with beautiful views and specialty stores.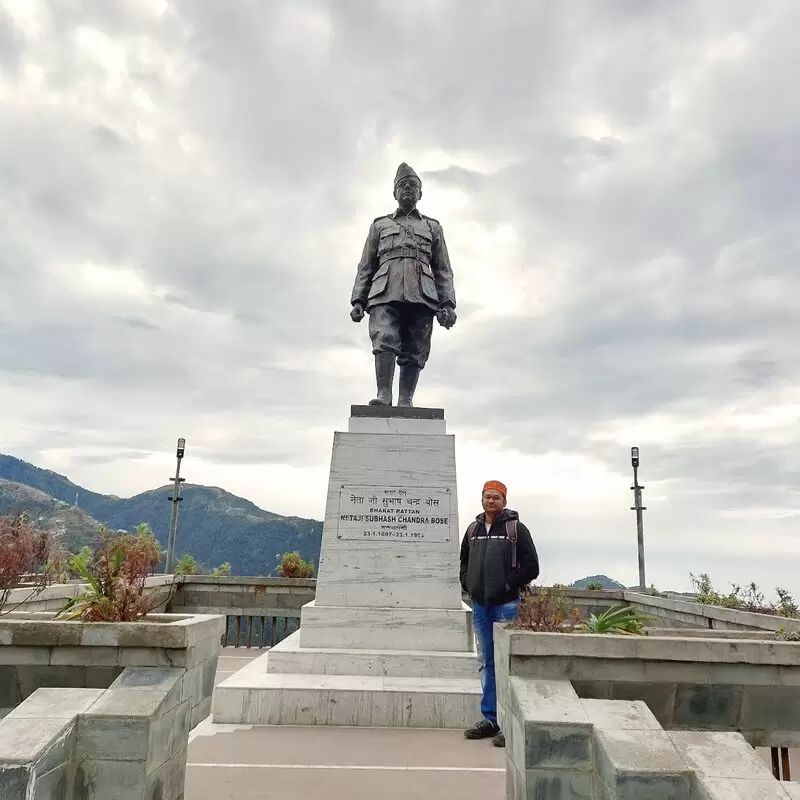 Subhash Chowk
GXP8+3RH, Moti Tiba, Dalhousie
Monday - Sunday: Open 24 hours
8. Bhalei Mata Temple
Visitors seeking tranquility amid the hills often find it at the Bhalei Mata temple in Dalhousie. The impressive architecture of the shrine, perched on a beautiful hill, is a luminary. The attraction of faith combined with an enchanting panoramic view of the lush landscape is an unforgettable experience. The legendary wishing bell, believed to grant the deepest wishes, holds a whole bundle of secrets. Just a short walk away is Dainkund Peak, which offers picturesque views that are sure to enhance your spiritual journey in Dalhousie.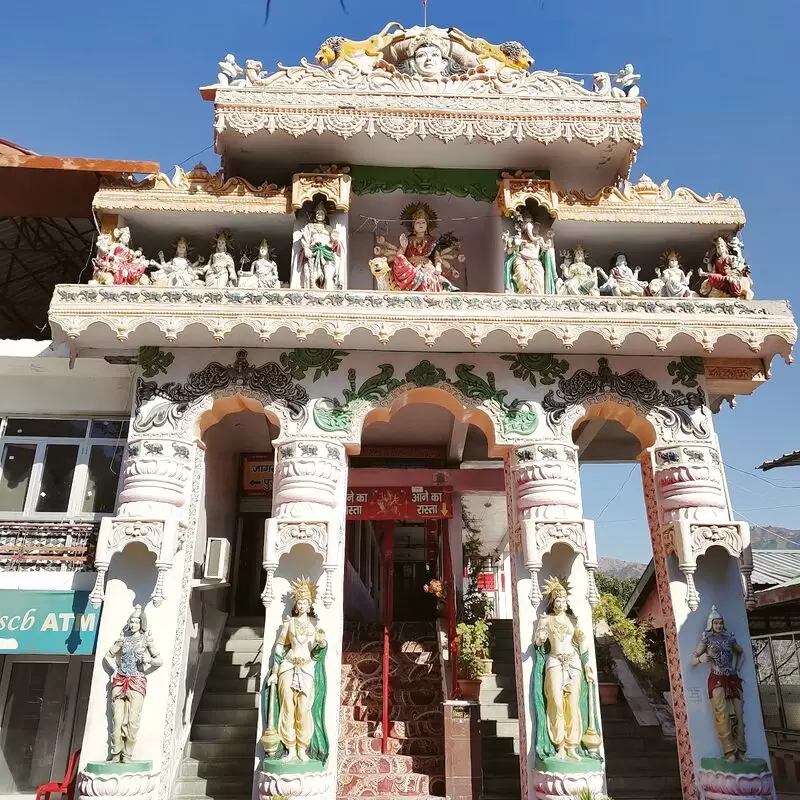 Bhalei Mata Temple
J2J4+FR6, Bhalai
Monday - Sunday: 9:00 AM – 9:00 PM
Thursday: 9:00 AM – 8:30 PM
9. Mongas Hotel & Resort
Immerse yourself in the serene ambience of Mongas, Hotel & Resort in Dalhousie. Set amidst the majestic Dhauladhar Mountains, it offers picturesque views of the lush green landscapes and provides a tranquil escape from the hectic city life. The cozy rooms ensure a comfortable stay, while the in-house restaurant surprises with delicious local cuisine. Enjoy a walk in the nature around the place or visit the nearby Kalatop Wildlife Sanctuary to experience the wonders of nature. Indeed, a hidden gem!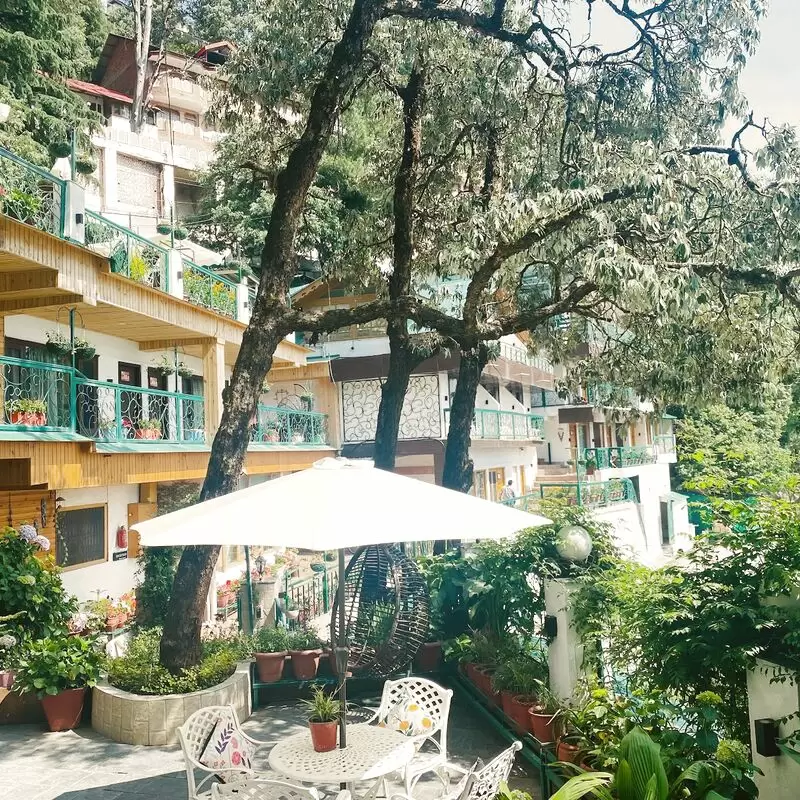 Mongas Hotel & Resort
The Mall, Gandhi Chowk, Moti Tiba, Dalhousie
Monday - Sunday: Open 24 hours
10. Dalhousie Mall Road Shopping Market

Discover the vibrant life of Dalhousie at the lively Mall Road Shopping Market! Here you can hunt for locally made scarves, ornate jewelry and original souvenirs. Don't miss the opportunity to sample delicious regional snacks from the street vendors.

And here's an insider tip: haggle a little to get the best prices! Just around the corner you'll find the tranquil St. John's Church, a picturesque spot for any traveler.

Dalhousie Mall Road Shopping Market

11. Dalhousie Shri Pholani Devi Temple Chamba District Himachal Pradesh India
Visit the enchanting Dalhousie Shri Pholani Devi Temple in Himachal Pradesh, India, a tranquil spiritual sanctuary of religious significance. Its stunning architecture is a treat for art lovers, and the tranquil atmosphere is a respite for those seeking peace and quiet. The temple is also known for its annual fair, which locals eagerly attend. Just a few kilometers away is Sach Pass, a fascinating mountain pass that inspires countless hikers and adventure seekers.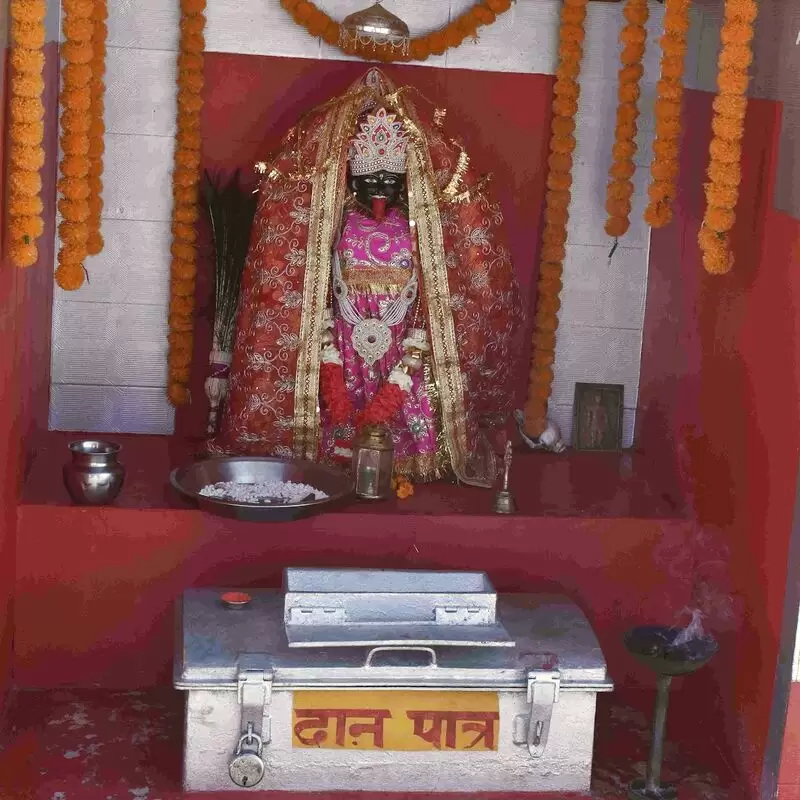 Dalhousie Shri Pholani Devi Temple Chamba District Himachal Pradesh India
G2CP+43H, Dainkund - Chowari Jot, Rakhed
12. Dalhousie Cantonment Forest
Immerse yourself in the enchanting realms of Dalhousie Cantonment Forest for a truly magical experience! This green haven is off the beaten path and promises tranquility amidst the greenery. Wander through ancient groves, listen to the whispers of the ancient oaks, and meet adorable little creatures along the way. Near the forest is Panjpulla, a picturesque spot with cascading streams where you can relax after your exploration of the forest. Traverse this less-trodden path for an unforgettable Dalhousie experience!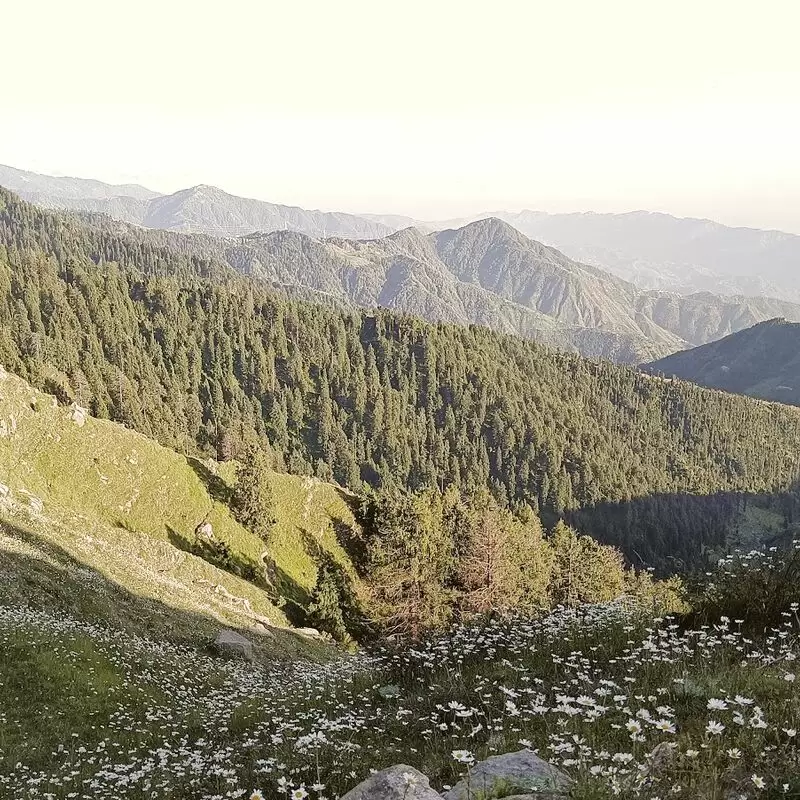 Dalhousie Cantonment Forest
GXV6+M55, Ukal, Dalhousie
Monday - Sunday: 9:00 AM – 5:00 PM
Tuesday: Closed
13. Khajji Nag Temple
With its 12th century architecture, the Khajji Nag Temple in Dalhousie is a mystical journey into the past. Dedicated to the snake god, the temple has a divine aura that captivates every visitor. The exquisite wood carvings and indigenous Deodar woodwork are a visual delight. Don't miss the annual fair held in August and September! Just 2 km away you will find the soothing Khajjiar Lake, India's mini Switzerland, making this trip a blend of culture and nature!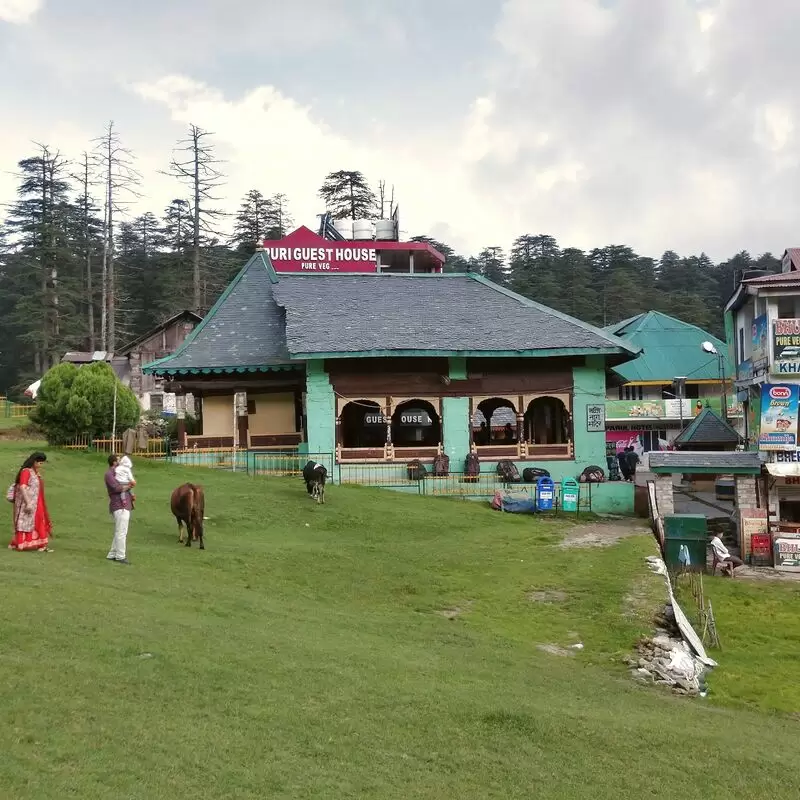 Khajji Nag Temple
G3X5+3P6, MDR 49, Khajjiar
14. Alps Resort Dalhousie
Venture to Alps Resort Dalhousie, where comfort is combined with charm! Nestled in the pine-clad mountains, the resort is a paragon of serenity and offers enchanting views of the picturesque landscapes. Delight in the undeniably cozy rooms and enjoy delicious meals at Curve, the in-house restaurant. Just a stone's throw away, you can admire the sunset at Panchpula, a must-see attraction. This proximity to local attractions makes Alps Resort the perfect base for your eccentric Dalhousie adventure!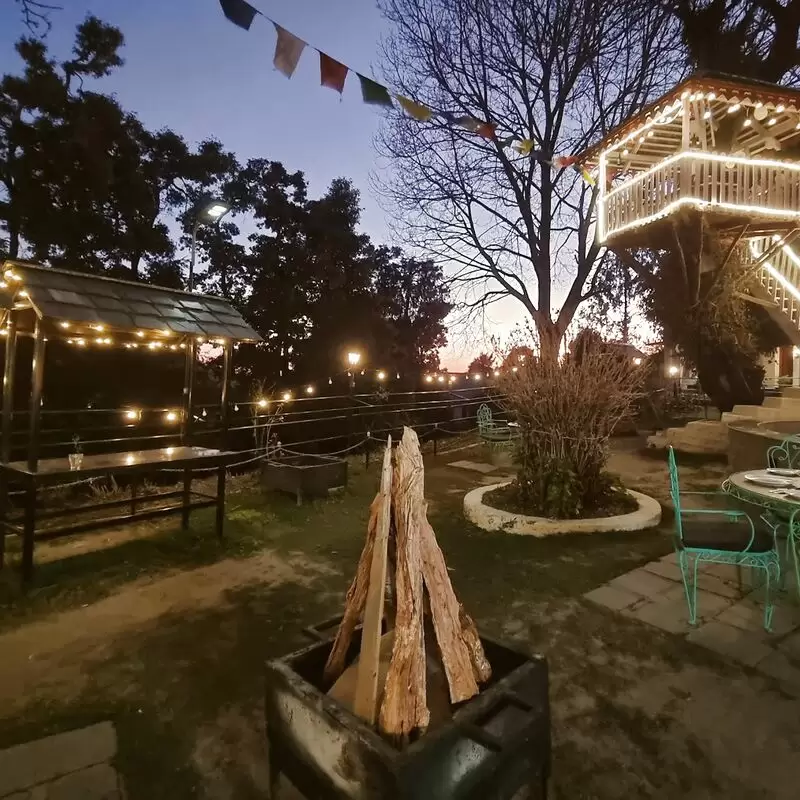 Alps Resort Dalhousie
Upper Bakrota Hills, Dhupguri, Dalhousie
Monday - Sunday: Open 24 hours
15. Snow Valley Resorts
Snow Valley Resorts are an idyllic retreat to lie in the arms of nature. Nestled in the enchanting backdrop of the majestic Pir Panjal Mountains, these resorts are the ultimate oasis of peace and tranquility. After enjoying the panoramic views, the gentle snowfall or the vibrant colors of spring from the balcony of your room, be sure to take a walk through the apple orchards for a true local experience. Don't miss visiting the nearby tranquil St. John's Church, which offers immense cultural richness.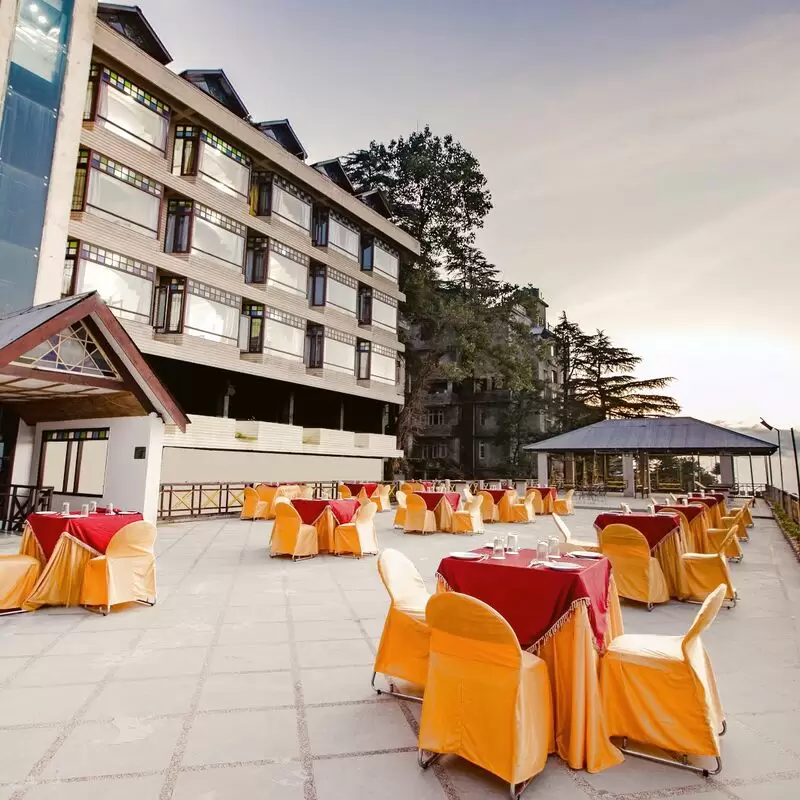 Snow Valley Resorts
The Mall, Dalhousie
Monday - Sunday: Open 24 hours
16. The hideout cafe Dalhousie
A visit to The Hideout Cafe Dalhousie is an essential part of your Dalhousie experience. This cozy, quaint cafe with its mesmerizing views of the hills is a haven for coffee and conversation lovers. Enjoy delicious dishes made from fresh, local ingredients and soak up the calming atmosphere. Located away from the hustle and bustle of the city, it is the locals' best kept secret! Nearby is Panchpula, a picturesque place known for its waterfalls and perfect for an after-dinner stroll.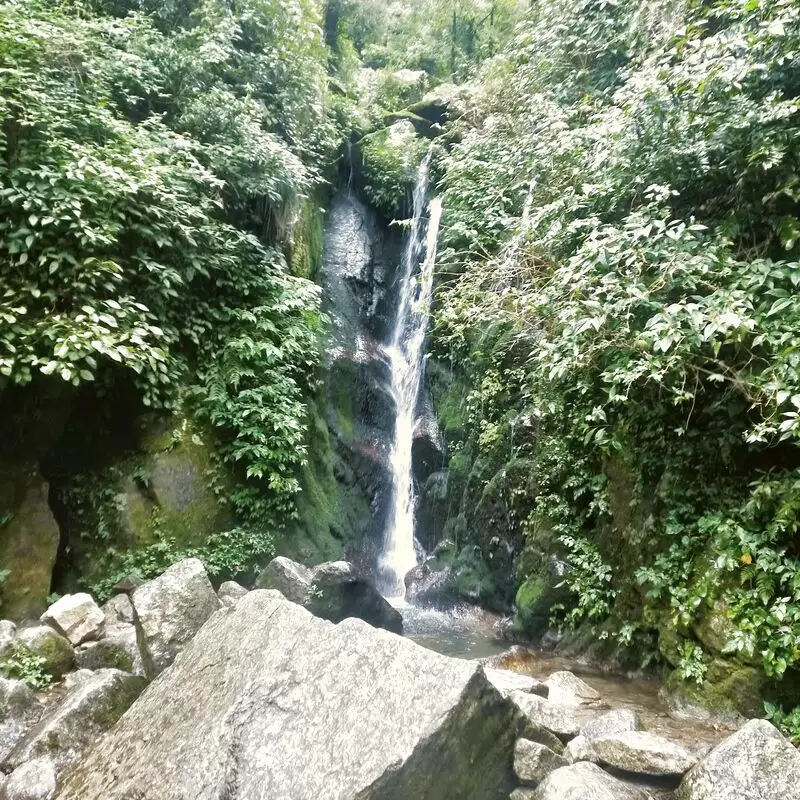 The hideout cafe Dalhousie
Panchpula, near muskan amusement park, Panjpula, Dalhousie
Monday - Sunday: Open 24 hours
17. St. Francis Church
Travelers should not miss the divine experience at St. Francis Church, an architectural gem of Victorian and Scottish design. Founded in 1894 by army and civilian officials, the church reflects Dalhousie's colonial heritage. You will be captivated by the exquisite stained glass artwork. Located in Subhash Chowk, the church is a quiet retreat away from the hustle and bustle. Moreover, the beautifully manicured gardens of the church provide an ideal subject for photography enthusiasts. The nearby Gandhi Chowk Market is great for shopping, and Subhash Baoli offers a pristine natural atmosphere that guarantees you a relaxing day.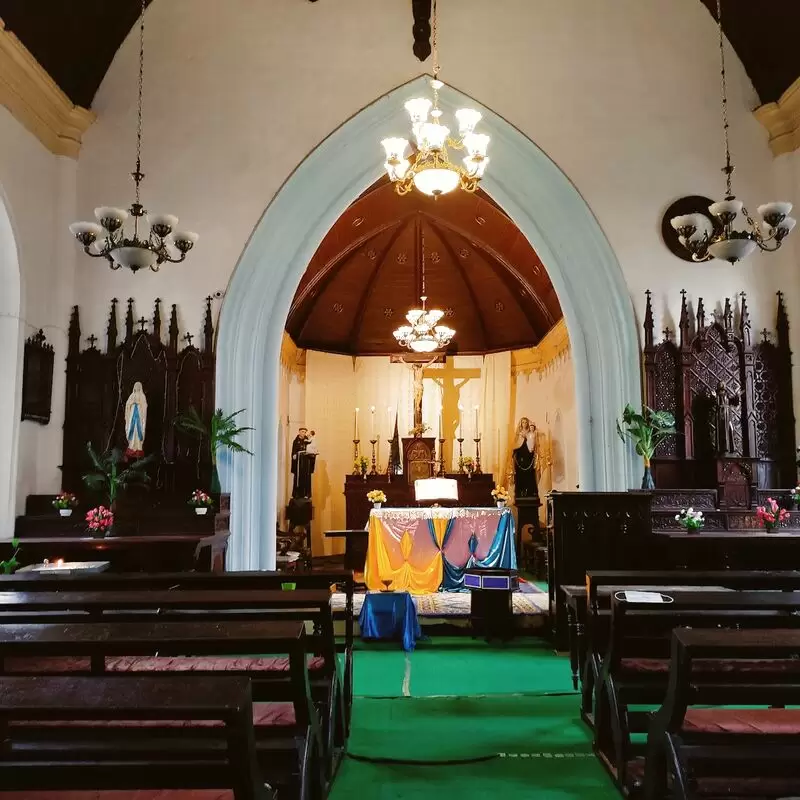 St. Francis Church
GXM8+XG8, DFO Rd, Moti Tiba, Dalhousie
18. Dalhousie kalatop camping
Immerse yourself in the breathtaking beauty of Dalhousie and experience the exciting Kalatop Camping. Located amidst the dense Deodar Forest, it offers breathtaking views of the snow-capped peaks. Adventure seekers can enjoy various activities such as night hikes, bird watching, and campfire evenings. Don't miss the chance to spot some exclusive wildlife during your stay. Nearby, you can also visit the fascinating Khajjiar Lake, often referred to as "mini-Switzerland", which is just a short drive away. It is a perfect blend of thrill and serenity!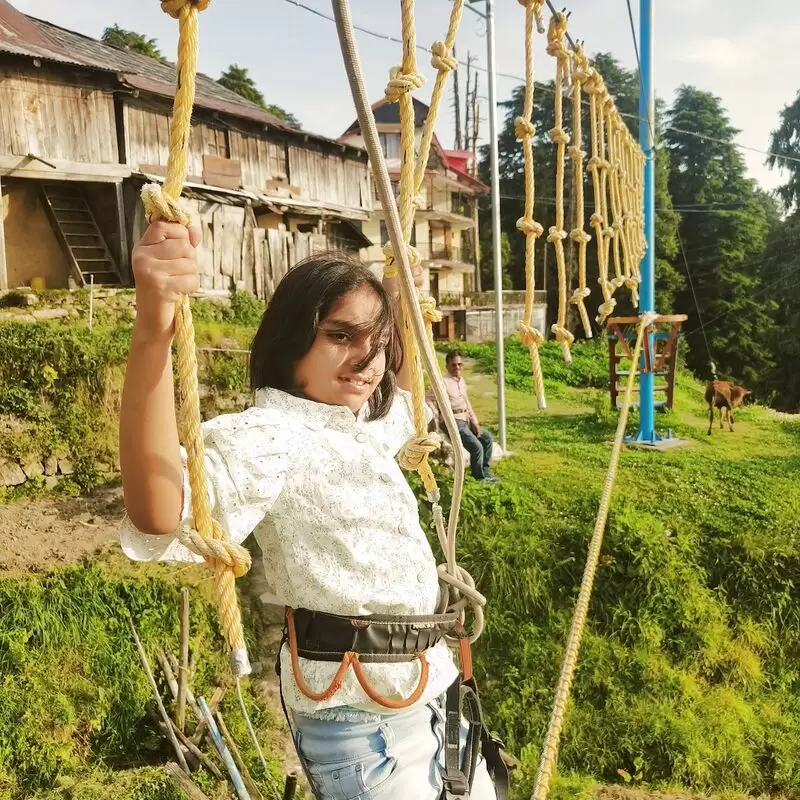 Dalhousie kalatop camping
H229+8FF, Kalatope R.F
Monday - Sunday: Open 24 hours
19. Bhuri Singh Museum
Delve into the past at the Bhuri Singh Museum, a treasure trove of miniature Pahari art and artifacts celebrating the rich heritage of the Chamba region. Learn about Raja Bhuri Singh, the museum's namesake, and admire stunning murals depicting royal life. Here, history doesn't just whisper, it sings. Don't miss the ancient writings and coins! Just a stone's throw away is the ornate Rang Mahal, a former royal palace adorned with exquisite murals. Perfect for culture enthusiasts!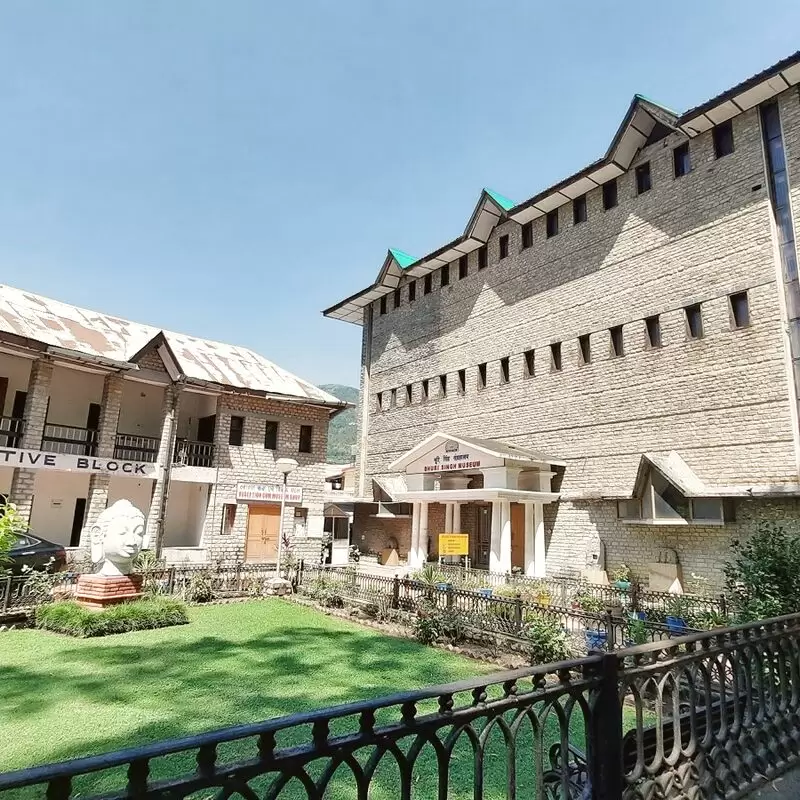 Bhuri Singh Museum
H45C+6V4, Chowgan Mohalla, Chamba
Monday: Closed
Tuesday - Sunday: 10:00 AM – 5:00 PM
20. Khajjiar Adventure Activities

Khajjiar Adventure Activities is also known as the "mini Switzerland of India" and is a must for adrenaline junkies. The destination offers an incredible range of activities including paragliding, horse riding and zorbing. The vast green meadows and snow-capped mountains create an unbeatable backdrop. Just 1 km away is the charming Khajjiar Lake, perfect for picnicking.

Here's an insider tip: stay until sunset for an unforgettable view. Nearby attractions include the Kalatop Wildlife Sanctuary.

Khajjiar Adventure Activities
Khajjiar

Monday - Sunday: Open 24 hours
21. Chamera Lake view point
Spectacular views await you at the Chamera Lake viewpoint in Dalhousie. Take in the enchanting panorama of azure waters surrounded by lush pine forests. Imagine yourself equipped with a camera, because it's no coincidence that Chamera sounds like "camera". Another plus is that it is off the beaten path, untouched by the tourist crowds. Nearby, you can explore the Bhalei Mata Temple, a vibrant spiritual center known for its colorful architecture and spiritual serenity. Pack your bags for an undiscovered paradise!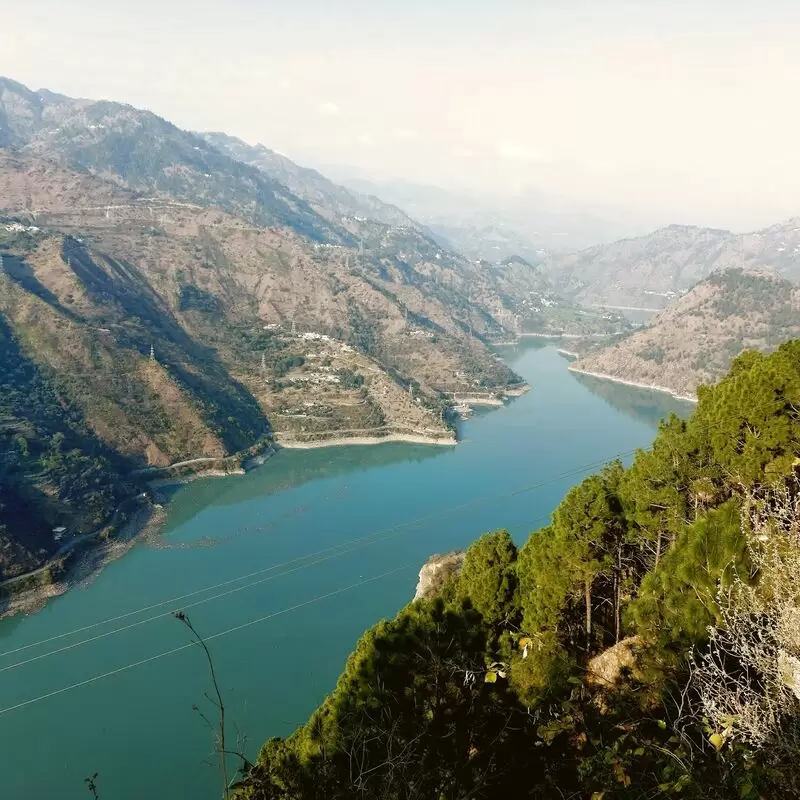 Chamera Lake view point
HXVV+JG3, Gandhiar
Monday - Sunday: Open 24 hours
22. St. John's Church
Embark on a spiritual journey and visit the fascinating St. John's Church, a marvel of Raj-era Gothic architecture. Set amidst lush deodar trees, the tranquil atmosphere of this church lifts your spirits while its history enchants. Listen to the whispered stories told on the stained glass windows and enjoy the serene atmosphere. Outside, the colonial-era cemetery whispers stories of centuries past. Just next door, you'll find exquisite handicrafts at the Tibetan market, which offers an unexpected but delightful cultural mix.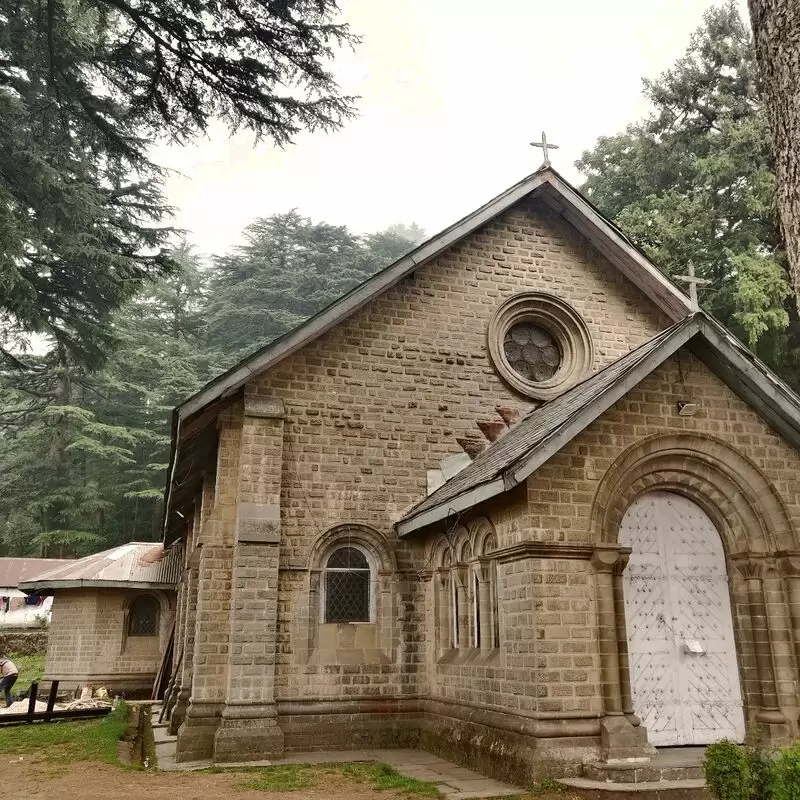 St. John's Church
GXPG+MHW, Dalhousie Khajjiar Rd, Moti Tiba, Dalhousie
23. DALHOUSIE VALLEY By DLS Hotels
The "DALHOUSIE VALLEY by DLS Hotels" is an essential destination for the discerning traveler. Set amidst the picturesque hills of Himachal Pradesh, this luxury hotel offers breathtaking views of the scenic landscape. Experience the romantic old-world charm combined with modern amenities. Warm up by the cozy fireplace, take a leisurely stroll through the verdant gardens, or simply admire the breathtaking sunsets from your balcony. The nearby town of Khajjiar, also known as the "mini Switzerland of India", is just a short drive away and captivates with its natural beauty.
DALHOUSIE VALLEY By DLS Hotels
BS ESTATE College Road Ward no. 5, VPO banikhet, District, near KV School, Tehsil, Dalhousie
Monday - Sunday: Open 24 hours
24. Fortune Park Dalhousie Member ITC's hotel group
A stay at "Fortune Park Dalhousie - Member ITC's hotel group" is like stepping into a world of colonial elegance amidst the enchanting Himalayan range. The hotel offers an impressive view of the lush green valley with its Victorian architecture. At leisure, explore the adjacent Mall Road, a hub for shopping and local delicacies. Just a short walk away is Ganji Pahari, a popular picnic spot offering mesmerizing sunrise and sunset views.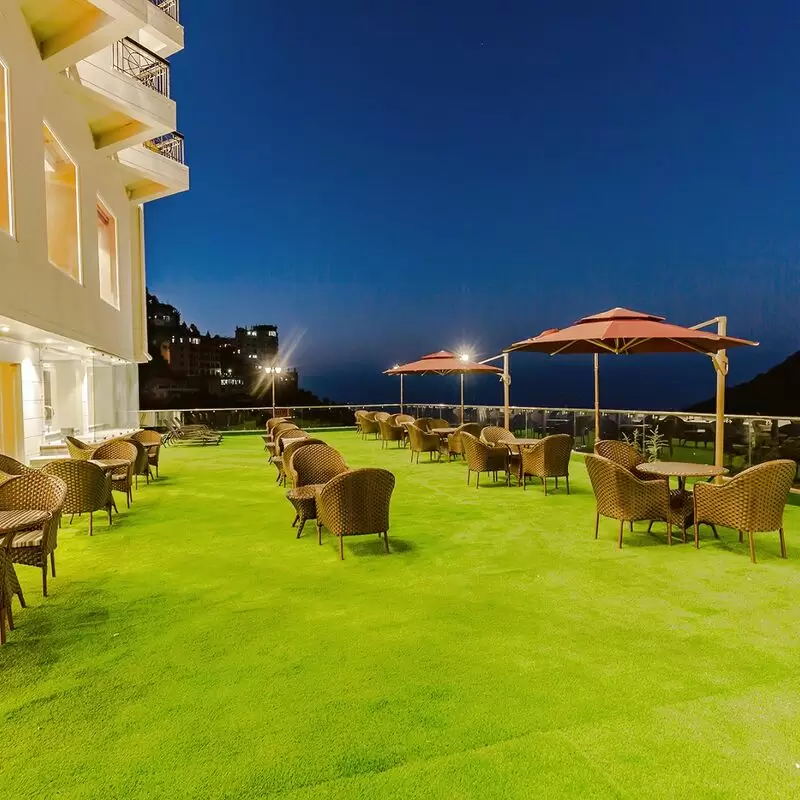 Fortune Park Dalhousie Member ITC's hotel group
Near Gandhi Chowk, Subhash Bowli Road, Distt, Dalhousie
Monday - Sunday: Open 24 hours
25. Indraprastha Resort Dalhousie
Indraprastha Resort, Dalhousie, is a luxurious retreat amidst the mesmerizing beauty of Himachal Pradesh. Exquisite rooms with panoramic views of the majestic snow-capped mountains await you here. The resort's spa is the perfect retreat after a day of exploring, offering treatments that rejuvenate both body and mind. And more importantly? The resort's proximity to Khajjiar, often referred to as the "mini-Switzerland of India," invites exploration of verdant landscapes and adventure sports. Indraprastha Resort offers every comfort and is a fantastic base for your Himalayan adventure.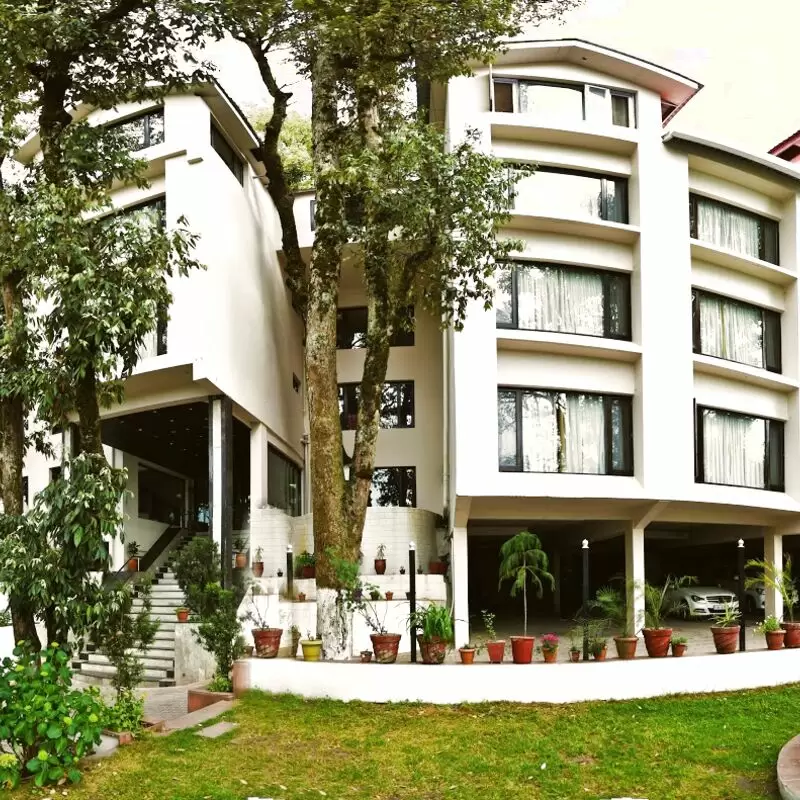 Indraprastha Resort Dalhousie
Dalhousie - Chamba Rd, Near Bus Stand, Moti Tiba, Dalhousie
Monday - Sunday: Open 24 hours
26. Chamera Lake
A visit to Lake Chamera in Dalhousie is like stepping into a serene landscape painting. This fascinating reservoir is a real feast for nature lovers, offering boat rides against a backdrop of green valleys. Tourists are often mesmerized by the sight of water gushing from the dam's gates. Near Lake Chamera is the enchanting Bhalei Mata Temple, which adds a spiritual charm to the tour. A visit to Dalhousie is incomplete without seeing the tranquil beauty of Lake Chamera.
Chamera Lake
J295+X3Q, Dalhousie
27. Mohan Palace
Mohan Palace exudes a royal heritage not seen anywhere else. Its classical architecture whispers fascinating stories about India's bygone era. Equipped with modern amenities, you get the comforts of the present while living in the past! Just steps away is the original Gandhi Chowk, a perfect mix of stores and restaurants. Another hidden gem is the panoramic view of the majestic Pir Panjal Range. Luxury, history, views - an unforgettable experience awaits you at Mohan Palace in Dalhousie.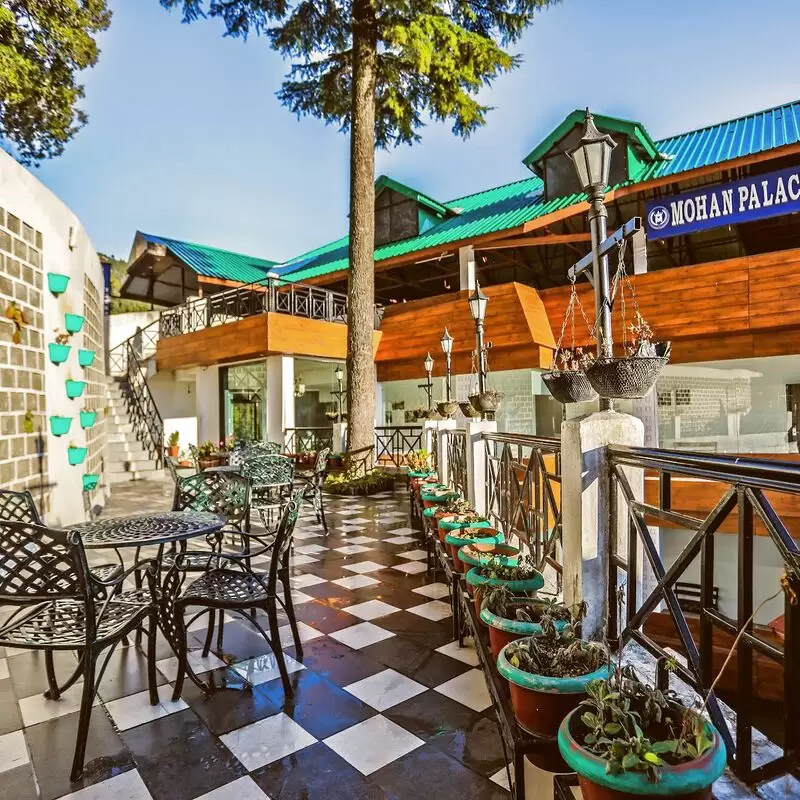 Mohan Palace
Gandhi Chowk, Dalhousie Khajjiar Rd, Dhupguri, Dalhousie
Monday - Sunday: Open 24 hours
Best Time to Visit Dalhousie
The best time to visit Dalhousie, India is during the summer months from March to June, when the weather is pleasantly cool and perfect for sightseeing and outdoor activities. However, if you like snow, consider visiting between December and February.
Annual Weather in Dalhousie
Dalhousie 3-Day Forecast
Thu, 21 September
Night
60 °F
15 °C
0%
Morning
58 °F
14 °C
0%
Afternoon
72 °F
22 °C
68%
Evening
62 °F
17 °C
66%
Fri, 22 September
Night
58 °F
15 °C
84%
Morning
57 °F
14 °C
71%
Afternoon
70 °F
21 °C
89%
Evening
61 °F
16 °C
87%
Sat, 23 September
Night
58 °F
14 °C
0%
Morning
56 °F
13 °C
0%
Afternoon
67 °F
20 °C
69%
Evening
61 °F
16 °C
0%
Questions & Answers

How can I reach Dalhousie from Delhi by train?

To reach Dalhousie from Delhi by train, you need to take a train from New Delhi Railway Station to Pathankot Railway Station, which is the nearest station to Dalhousie, about 85 km away. Once you reach Pathankot, you can hire a cab or take a bus to Dalhousie. The drive from Pathankot to Dalhousie is a scenic experience in itself with lush greenery and picturesque landscapes.

Is the tap water safe to drink in Dalhousie?

In Dalhousie, as in most parts of India, drinking the tap water without proper treatment is generally discouraged. Although the water comes from sources in the Himalayas, the risk of contamination during distribution is high. Health risks include waterborne diseases such as typhoid and diarrhea. Visitors are advised to buy bottled water instead and make sure the seal is intact when they buy it. Alternatively, carry a water purifier or sterilizing tablets.

Are credit cards widely accepted in Dalhousie?

Although Dalhousie, India, is equipped with all modern conveniences, credit card availability is somewhat limited. Larger hotels, upscale restaurants and some stores accept credit cards, but it is always advisable to carry a certain amount of cash. Smaller stores, local markets and transportation are largely paid for with cash. It is important to note that international credit cards are not always accepted and ATMs are not available everywhere in remote areas. It is advisable to carry Indian rupees for convenience.

What food is Dalhousie famous for?

Dalhousie, a picturesque hill station in India, is famous for its unique blend of Himachali and Tibetan cuisine. The place is famous for its "Momo" and "Thukpa" which tempt visitors with the aroma and taste of these savory Tibetan delicacies. The place is also famous for its "Madra" and "Sidu", traditional Himachali dishes, which are a culinary delight for all gourmets. The apples and honey grown here are other specialties of Dalhousie that you should not miss.

What outdoor activities are popular in Dalhousie?

Dalhousie, India, is a nature lover's paradise. Trekking is very popular, especially the trails to Dainkund Peak or Kalatop Wildlife Sanctuary, where travelers can experience incredible views and diverse wildlife. River rafting on the Ravi River offers an adrenaline rush for adventure seekers. Visitors can also go horseback riding in the hilly countryside and picnic by the picturesque Khajjiar Lake. For those interested in culture, a stroll through the charming colonial-era buildings is fascinating. Thanks to the unique flora and fauna, any outdoor activity here is a heartwarming experience.

Is Dalhousie safe for solo travelers?

Yes, Dalhousie is generally safe for solo travelers. It is a quiet and well-maintained hill station in northern India, known for its friendly residents and accommodating local authorities. However, as with any other destination, it is advisable to take the usual safety precautions, not to travel alone at night, and to stay in populated areas. Most importantly, always have your emergency contacts ready and inform your family or friends of your whereabouts.

Which languages are spoken in Dalhousie?

A variety of languages are spoken in Dalhousie, a charming hill station in India. The most common language spoken is Hindi, as in much of India. You will also hear Pahari, a group of languages native to the Himalayan region. English is widely spoken and understood by most locals, especially in hotels, restaurants and tourist attractions. Therefore, tourists can easily communicate. Regardless of the language spoken, the locals are known for their warmth and hospitality.

How is mobile network coverage in Dalhousie?

Mobile network coverage in Dalhousie is good and provides basic connectivity for calls and internet usage. Major Indian network operators such as Airtel, Vodafone and Jio have a significant presence here. However, please keep in mind that due to Dalhousie's hilly terrain, there may be some areas, especially remote or elevated locations, where network reception may be sporadic. It is best to inform your loved ones of your location in advance.

What wildlife can I see in Dalhousie?

In Dalhousie, located in the northern Indian state of Himachal Pradesh, you can spot a variety of wildlife. If you're lucky, you may catch a glimpse of elusive species like Himalayan black bears and leopards. Kalatop Wildlife Sanctuary is a hotspot for wildlife lovers where you can spot Barking Goral, Langurs, Jackals and a variety of birds. The forests around Dalhousie are also known for their abundant birdlife, with species such as pheasants, eagles and countless migratory birds.

Are there any local customs I should be aware of in Dalhousie?

As a tourist in Dalhousie, it is important to respect local customs and traditions. Due to cultural diversity, customs vary from community to community. However, in all communities, respect for elders is highly valued. Do not enter religious sites wearing shoes, and always dress modestly, especially in temples. Indians are known for their hospitality. If you are invited to a home, it is customary to bring a small gift. Finally, the traditional Indian greeting of "Namaste" (joined hands and slight bow) is appreciated.

What type of clothing should I pack for Dalhousie?

When traveling to Dalhousie, India, you should think about the season when packing. For the cold winters from November to February, you should pack warm clothing such as jackets, sweaters, hats and warm footwear. For the monsoon season from July to September, you will need waterproof jackets or ponchos and sturdy, waterproof shoes. Summers (March to June) are generally pleasant; pack light cotton clothing, a light jacket for cooler evenings, and comfortable walking shoes. Don't forget your sunscreen, sunglasses, and a hat for daytime explorations.

Are there healthcare facilities in Dalhousie for emergencies?

Yes, medical care in Dalhousie is adequate for emergencies. The city has several medical facilities, including the Civil Hospital in Banikhet, the Dalhousie Cantonment Hospital, and several private clinics and pharmacies. These facilities have qualified medical professionals and technology to treat both minor and more serious health problems. However, for certain specialized treatments, patients may need to be transferred to larger hospitals in Pathankot or Dharamshala.

Can I rent a car or bike in Dalhousie?

Yes, you can rent a car or a bike in Dalhousie to explore the charming hill station at your own pace. There are several rental agencies in town that offer a wide range of vehicles, from small cars to powerful bicycles. It is highly recommended to book your vehicle in advance, especially during the peak tourist season. Be sure to carry a valid driver's license and follow the local traffic rules while exploring the quiet streets of Dalhousie.

Do I need any vaccinations before traveling to Dalhousie?

Although no mandatory vaccinations are required for entry into India, it is strongly recommended that routine vaccinations such as MMR, diphtheria-tetanus-pertussis, chickenpox and polio be refreshed. Vaccinations against hepatitis A and typhoid are also recommended, as these diseases can be transmitted through contaminated food or water. It is advisable to talk to your doctor or a travel medicine specialist about your specific health requirements before traveling to Dalhousie.

What is unique about Dalhousie culture?

Dalhousie, India, offers a rich blend of culture reflecting colonial architecture along with influences of Punjabi and Tibetan lifestyles. Often referred to as the "Little Switzerland of India," the city offers a unique blend of different cultural ethnicities. Not to mention the charming British-era churches, picturesque landscape, and lively festivals like Baisakhi and Lohri. Traditional folk dances and delicious Himachali cuisine are also an important part of Dalhousie's unique culture.

Are there any restrictions or fees for photographing locally?

In Dalhousie, photography in public spaces is usually free of charge and without restrictions. However, some private properties, historic monuments and sanctuaries may charge a small fee for photography. Photographing with drones is also subject to local aviation regulations and requires a permit. Always be aware of privacy regulations and follow signs when photography is restricted. It is also polite to ask permission before photographing anyone.

What are popular local festivals in Dalhousie?

Dalhousie is known for its lively festivals that reflect its rich culture and tradition. Famous is the Minjar Fair, which heralds the harvest season with a week-long festival of music and dance. Baisakhi, the Punjabi New Year, is also celebrated in April with traditional music, dance and community festivities. Finally, the winter festival Lohri, which celebrates the end of winter, is also celebrated with bonfires, folk dances and songs. These festivals offer a unique insight into the vibrant culture and lifestyle of the people of Dalhousie.

Is hitchhiking common and safe in Dalhousie?

Hitchhiking is not common in Dalhousie, India, and is not generally recommended for travelers due to safety concerns. The city has a good supply of public transportation and cabs, which are generally the safest way to get around. They not only provide reliable communication for local travel, but also convenience and a better way to explore the beautiful hill station. Always be aware of your safety, especially when traveling in unfamiliar areas.

How is nightlife in Dalhousie?

Dalhousie, known for its tranquil setting and scenic beauty, is not known for a lively nightlife like other big cities. Here, it's more about rest, relaxation and enjoying nature. Most venues close early in the evening. However, a few hotels and resorts occasionally host nightly parties or cultural events, and experiencing the starry sky on a quiet hilltop is a unique kind of nightlife. Ultimately, nightlife here is about relaxing in the tranquility of the mountains.

Are there any specific etiquettes I should follow when visiting religious sites in Dalhousie?

When visiting religious sites in Dalhousie, it is important to respect local customs. Always dress modestly, cover your shoulders and legs, and remove your shoes before entering temples. Avoid touching or pointing at religious artifacts or symbols, and never take photographs without permission. If you are unsure, it is best to follow the guidance of the locals or ask someone for advice. Always speak softly and maintain a calm atmosphere, as these sites are places of worship.

Can I use ride-sharing apps like Uber in Dalhousie?

Unfortunately, services like Uber are not yet available in Dalhousie. The city is quite small and most sights can be reached on foot. For longer distances, cabs are available at reasonable prices. You can also hire a cab for a full or half day to visit nearby attractions. Be sure to negotiate with drivers for the best price. Local buses are also a reasonably priced option.

How do locals in Dalhousie deal with waste management?

Dalhousie residents manage their waste using a combination of methods. They participate in local cleanups and promote recycling at the community level. Authorities conduct regular waste collections and promote waste segregation at the source for efficient handling and management. Public awareness programs on the importance of waste management are also conducted to ensure that environmentally friendly practices are adopted. The majority of biodegradable waste is composted and reused, resulting in less waste going to landfills.

Where can I take Himalayan panoramic view in Dalhousie?

One of the best places to enjoy the incredible panoramic view of the Himalayan Mountains in Dalhousie is Dainkund Peak. Dainkund Peak, often referred to as "Singing Hill", is the highest mountain in Dalhousie and offers visitors a mesmerizing view of the entire valley filled with a beautiful blend of colors. The enchanting views of the mighty Himalayan ranges, the lush greenery and the cool mountain breeze on Dainkund Peak make it a prime place to experience the magnificence of nature.

Which local markets are a must-visit in Dalhousie?

Dalhousie has two main markets that are a must visit: Gandhi Chowk and Tibetan Market. Gandhi Chowk, also known as GPO, is known for its assortment of local handicrafts, souvenirs, traditional clothing and local delicacies. The Tibetan Market, on the other hand, offers a wide selection of hand-woven carpets, woolen clothing and traditional Tibetan handicrafts from the Himalayas. These markets are the epitome of local culture, and shopping here is a unique experience.

Can I use drones for photography in Dalhousie?

Yes, drone photography in Dalhousie is technically possible, but it is important to know that India has restrictive drone laws. Your drone must be registered and approved by the Director General of Civil Aviation (DGCA). This includes obtaining a unique identification number (UIN) and unmanned aerial vehicle authorization (UAOP). Violations can result in penalties. It is always best to check the latest drone regulations in India before bringing your drone.

How can I travel sustainably in Dalhousie?

Sustainable travel in Dalhousie can be achieved through conscious choices. Prefer to walk or use public transportation to reduce carbon emissions. Prefer local, eco-friendly businesses such as inns and local restaurants. Always remember to respect the environment by properly disposing of your waste and conserving water. You can also contribute to the local economy and community by buying crafts and products from local artisans. Finally, when sightseeing in beautiful places, leave footprints rather than prints.

Is Dalhousie a pet-friendly place?

Of course, Dalhousie is very pet-friendly. Several hotels and guesthouses cater specifically to travelers with pets, offering special amenities and areas for them. Note, however, that some public areas or attractions may not allow pets or may have certain restrictions, but in general your pet is welcome in most places. Get ready for wonderful walks with your furry friend in the charming, rolling Dalhousie countryside.

Are there yoga or meditation retreats in Dalhousie?

Yes, Dalhousie offers a peaceful and serene environment ideal for yoga and meditation retreats, but there are no renowned, specialized retreat centers dedicated exclusively to this purpose. Visitors can conduct self-planned yoga or meditation practices amidst the tranquil surroundings. Many hotels also offer yoga sessions upon request. There are several renowned yoga and meditation centers in the nearby towns of Dharamshala and Mcleodganj, which can be reached in a short time from Dalhousie.

What are some local dishes I must try in Dalhousie?

In Dalhousie, you must tantalize your taste buds with local Himachali cuisine. Start with madra, a slow-cooked chickpea dish made with over 20 different spices, and sidu, a bread made from fermented wheat flour. Also try dham, a traditional feast typically served in leaves that includes a variety of lentil, rice and yogurt dishes. For dessert, enjoy mitha bhat, a sweet rice specialty. Each of these dishes offers a unique insight into the local culture.

Feedback

I hope you found this article informative and helpful. I'm eager to improve the content and make it even more valuable for you. If you have any feedback or suggestions, I would love to hear from you.

Do you have any tips or hidden gems that you think should be added to the list? Are there any areas that you feel could use more explanation or clarification?

Your input is greatly appreciated and will help us to continue providing high-quality content that meets your needs and interests. Please feel free to share your thoughts.