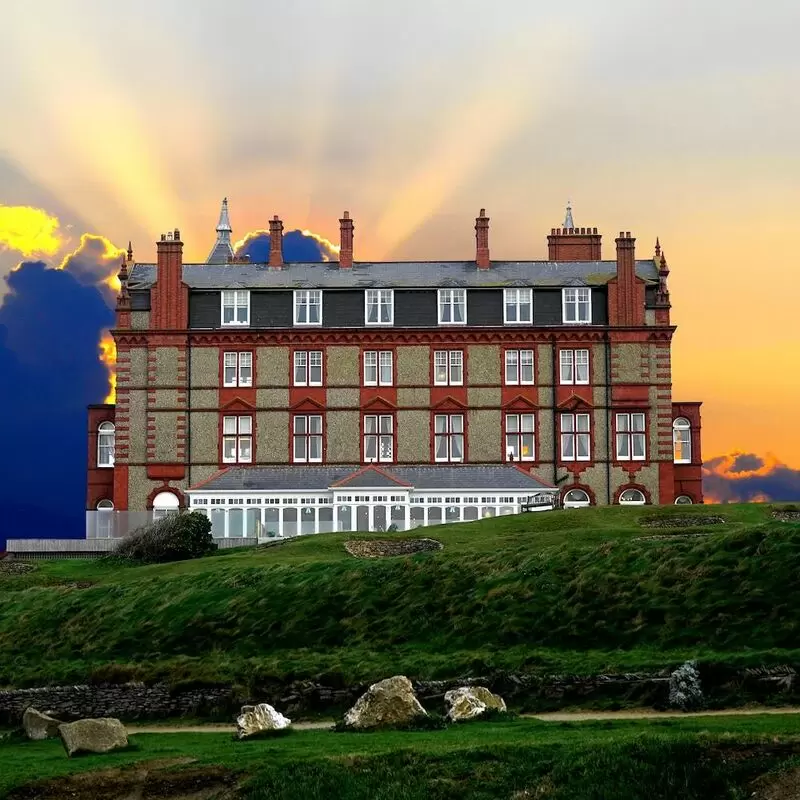 1. Pentire Point
Discover Pentire Point, an alluring headland in Newquay that boasts striking cliffs, magnificent sea views, and diverse wildlife. Walk the refreshing South West Coast Path as the waves of the Atlantic echo beneath you. Don't miss Fiery Neck Cough, a secret cove known only to locals. Then, visit neighboring Crantock Beach and enjoy the tranquility of the golden sands and picturesque estuary. Enjoy the secrets of Newquay with the spirit of an explorer!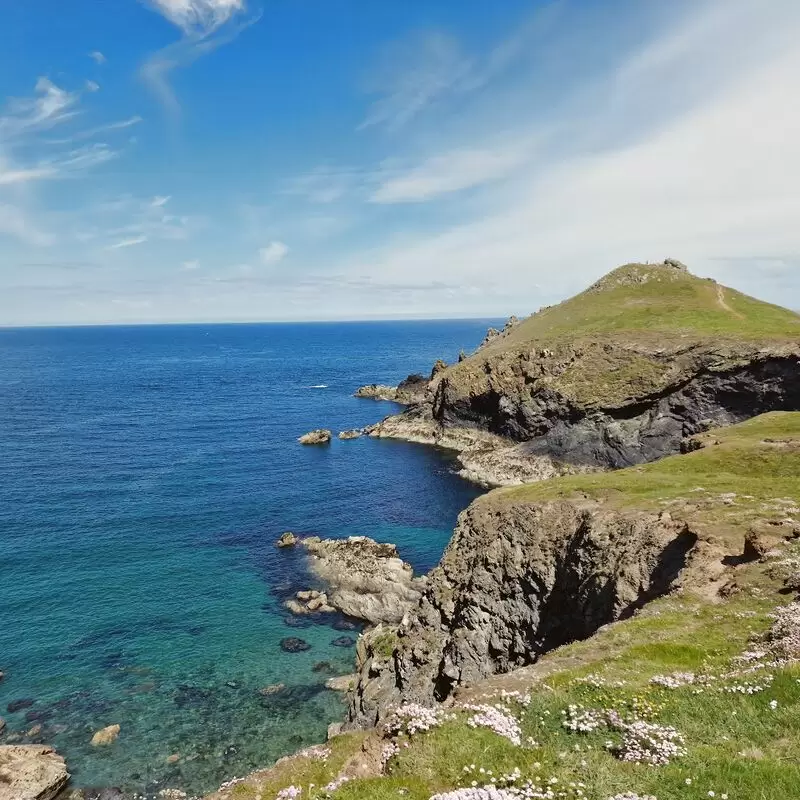 Pentire Point
S W Coast Path
2. The Lost Gardens of Heligan
Discover the magical wonder of the Lost Gardens of Heligan, a secret retreat abandoned after World War I and now restored to its former glory. In this paradise you can admire giant rhubarb, jungles, ancient forests and rare wildlife. Don't miss the iconic sculpture of the Mud Maid, a fascinating example of "sleeping" art! Nearby is the charming village of Mevagissey with its picturesque harbor, quaint stores and delicious seafood restaurants.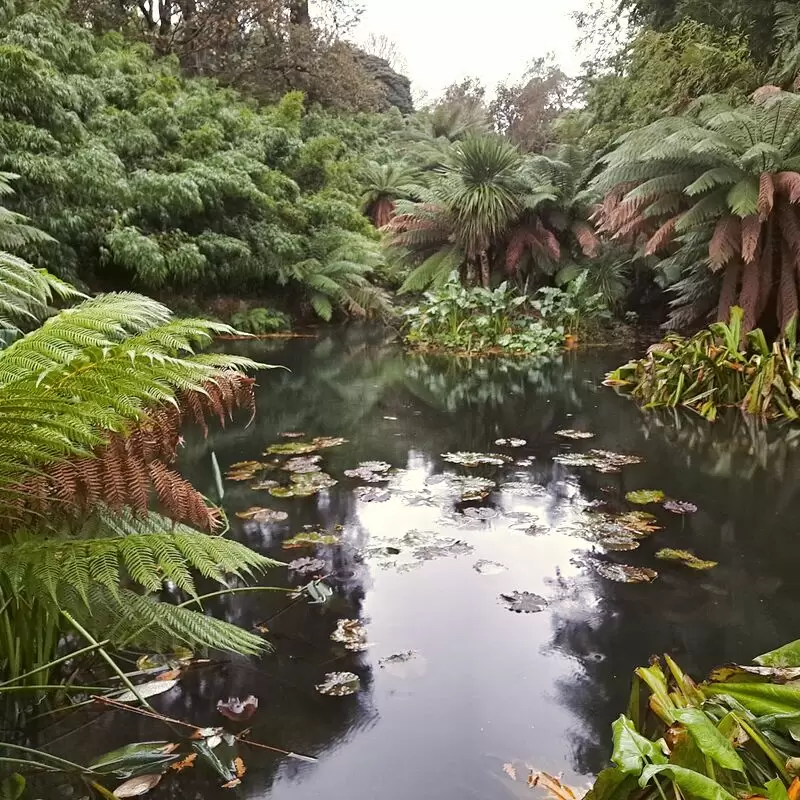 The Lost Gardens of Heligan
B3273, Pentewan, Saint Austell
Monday - Sunday: 10:00 AM – 6:00 PM
3. St. Agnes Heritage Coast
Experience the rugged beauty of the St. Agnes Heritage Coast in Newquay! Experience dramatic cliffs, golden beaches and turquoise seas. Walk through vibrant heathlands that are home to diverse wildlife. Art lovers can follow in the footsteps of legendary artists who found inspiration here. For an exciting adventure, explore the legendary Wheal Coates tin mine. And don't miss nearby Trevaunance Cove, a charming sandy beach perfect for a family outing! Enjoy the rich history, scenic landscapes and explore the unspoiled nature. This coast is truly a hidden gem of Cornwall!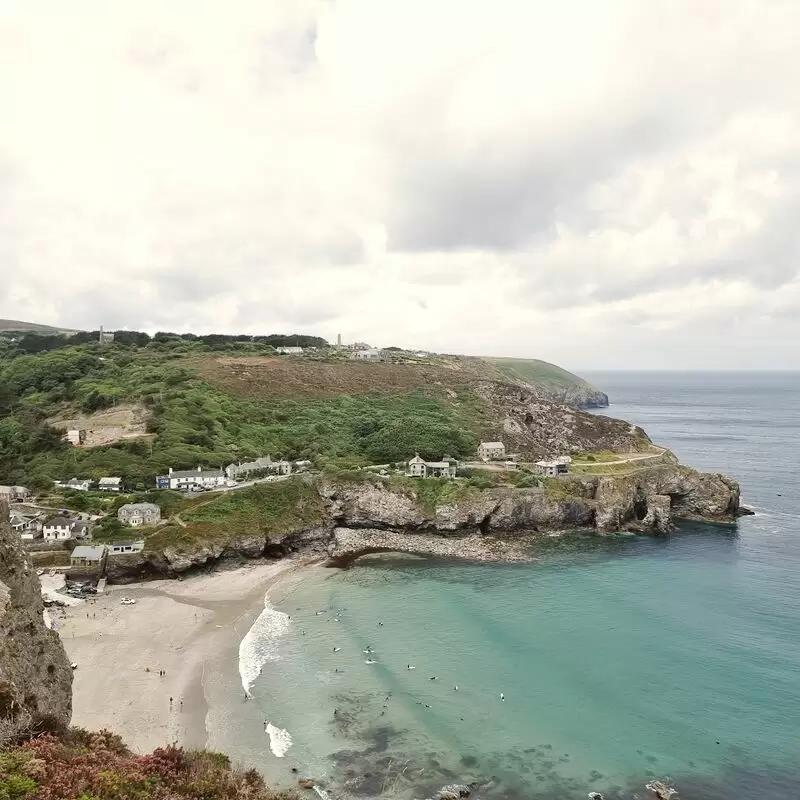 St. Agnes Heritage Coast
7 Beachfield Court, Penzance
4. Pendennis Castle
Pendennis Castle, located near Newquay, is an absolute must-see! This impressive fortress, built by Henry VIII, offers a breathtaking journey into the Tudor era. The castle offers fascinating historical displays and exciting re-enactments. And don't miss the secret World War II bunker hidden within the grounds. Plus, the breathtaking views of the sea from the castle's vantage point are stunning. Plus, St Mawes Castle, its sister castle, is just a ferry ride away across the Fal River. A historian's dream!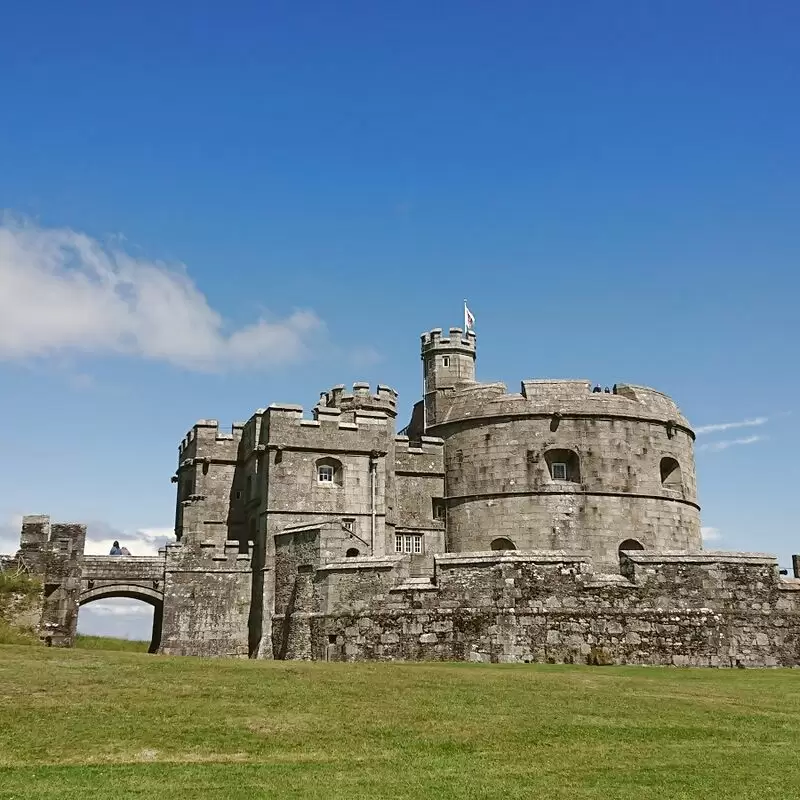 5. Newquay Zoo
The "Newquay Zoo" is a must, a paradise for exotic animals, nestled in the beautiful gardens of Cornwall. Here you can meet 130 different species from all parts of the world! Particularly noteworthy are the playful penguins and the charismatic lions, which are among the crowd favorites. Don't miss the "zooper tickets" to experience exclusive animal encounters! Nearby, you can visit the idyllic Trenance Gardens or take a scenic walk along the beautiful Gannel Estuary.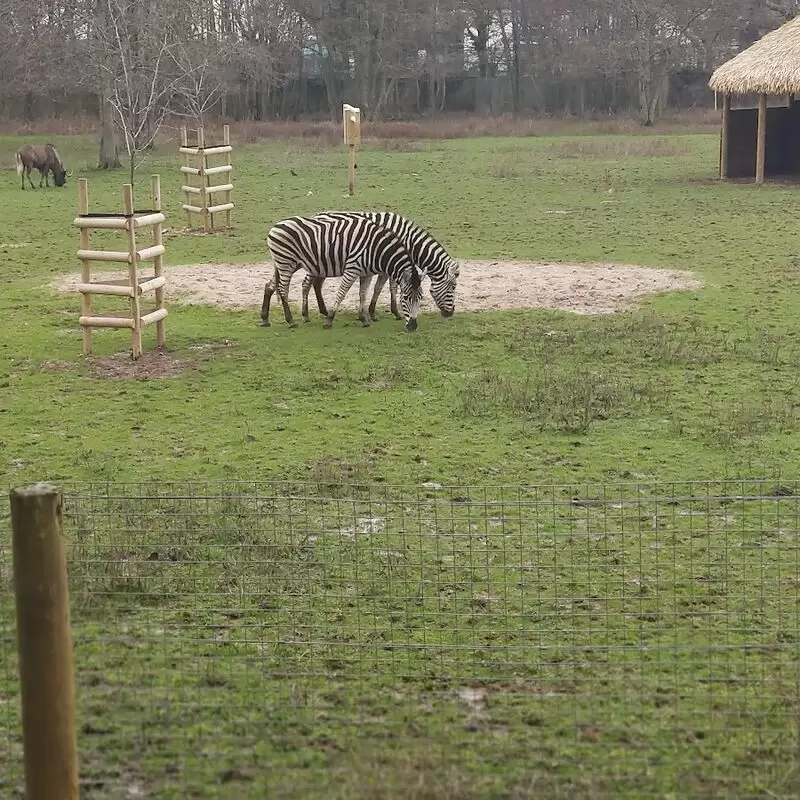 Newquay Zoo
Trenance Gardens, Newquay
Monday - Sunday: 10:00 AM – 4:30 PM
6. National Trust Carnewas at Bedruthan
National Trust - Carnewas at Bedruthan is a must see when in Newquay! This stunning stretch of coastline offers breathtaking cliff views, fascinating wildlife and steep steps leading down to a sandy beach accompanied by unique rock formations known locally as the Giant's Steps. Don't miss the legendary tea rooms known for their traditional Cornish pasties. Nearby is the idyllic beach of Mawgan Porth, perfect for surfing or a relaxing picnic.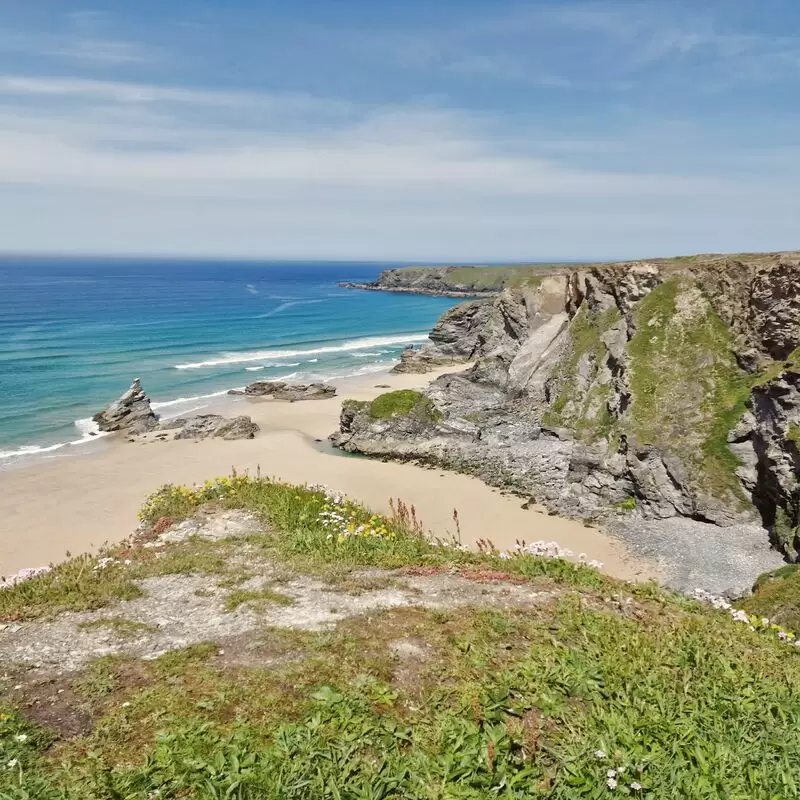 National Trust Carnewas at Bedruthan
Carnewas at Bedruthan near, Padstow, Wadebridge
Monday - Sunday: 10:30 AM – 5:00 PM
7. Holywell Bay
At Holywell Bay, you'll find calm turquoise waters, golden sands and the famous headland of Gull Rocks. Marvel as the receding tide exposes natural springs. Holywell is also a surfer's paradise with world-class waves to conquer! Not had enough yet? Rumored Poldark sightings during the filming of the famous series might entice you. Just up the road, you'll find historic Cubert Common, perfect for a country walk. Holywell Bay is nature's theater waiting for your applause.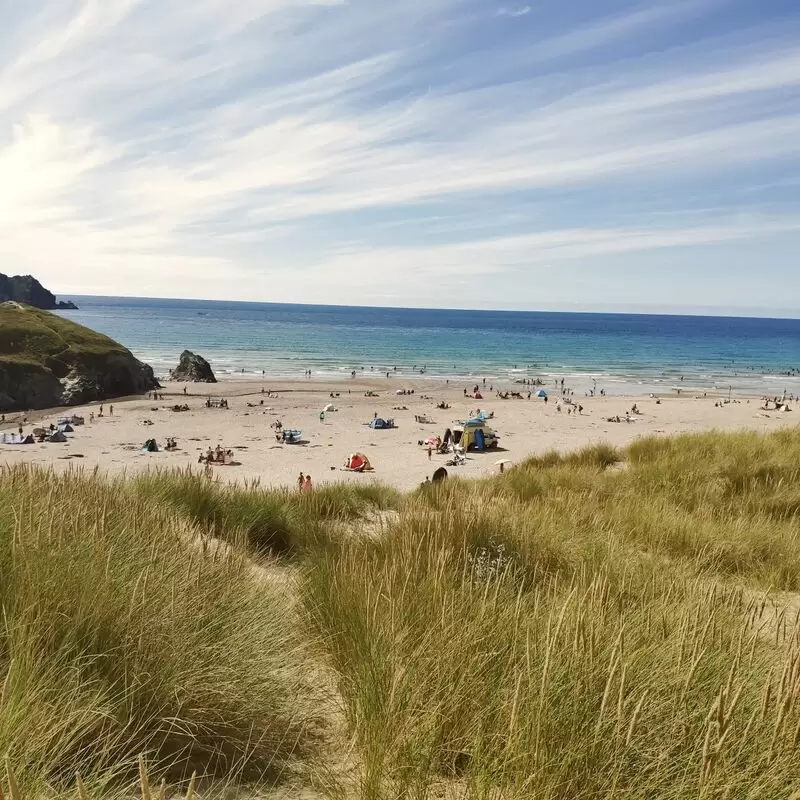 Holywell Bay
Holywell Bay, Newquay
Monday - Sunday: Open 24 hours
8. Crantock Beach
Crantock Beach, just beyond the Gannel Estuary from Newquay, is a must for nature lovers. It's a wide expanse of golden sand dunes and surf-dominated waves. It is quieter than the beaches of Newquay - an ideal place for those seeking tranquility! Don't miss the intricately carved rock at the southern end, a hidden art treasure! Just to the southeast is The Fern Pit Cafe & Ferry, which offers stunning views of the estuary and serves delicious Cornish cream tea. The charming village of Crantock is also just a stone's throw away.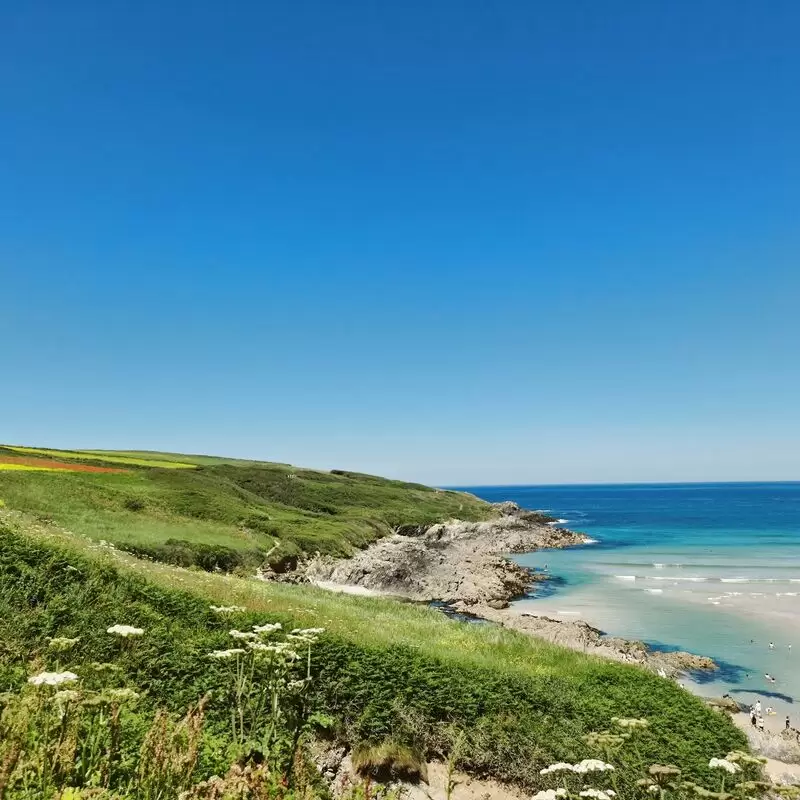 Crantock Beach
Crantock Beach, Crantock, Newquay
Monday - Sunday: 9:00 AM – 5:00 PM
9. St Mawes Castle
St Mawes Castle is an unmissable gem in Newquay, offering stunning views of the sea. This best-preserved Henrician castle transports you to the heady days of the Tudors. Marvel at the ornate decorations, reminiscent of myths and royalty. The picturesque grounds are perfect for a picnic and often host outdoor theater performances. Don't miss the hidden "cannoneers" painted on the walls! Just a ferry ride away, you can also explore the "twin" Pendennis Castle for a full historical experience.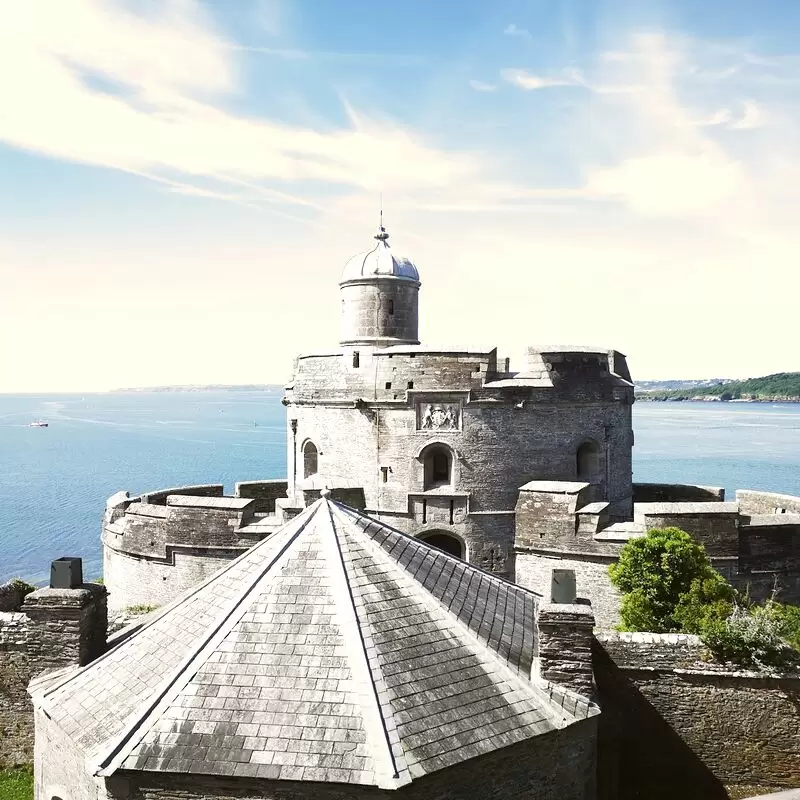 10. National Trust Trerice
A picturesque architectural masterpiece, Trerice is an Elizabethan mansion tucked away in the rolling hills of Newquay. Imagine yourself transported back in time as you enjoy the richly detailed furnishings and interior decor, or stroll through the tranquil gardens, dotted with gems like the ornate Knot Garden. Check out the fascinating mullioned windows, a true hallmark of the Tudor period. Nearby are the Bedruthan Steps, a stunning stretch of coastline owned by the National Trust with dramatic cliffs and steep steps built by medieval miners.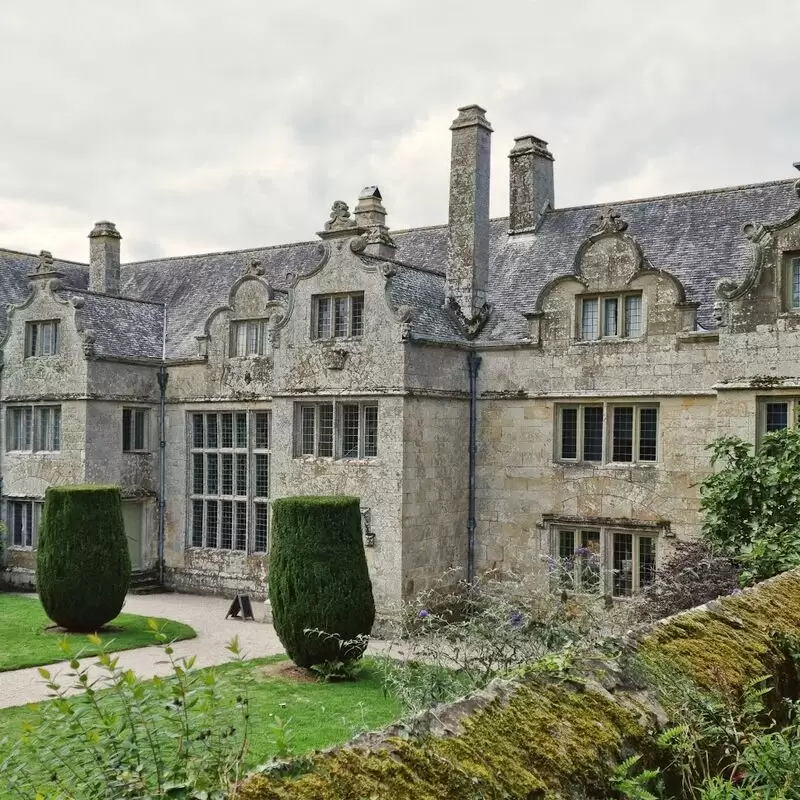 National Trust Trerice
Trerice, Kestle Mill, Newquay
Monday - Sunday: 10:30 AM – 4:30 PM
11. The Japanese Garden
Satisfy your thirst for tranquility and beauty at The Japanese Garden. This hidden gem in Newquay features stunningly designed Japanese flora, a Zen garden and fascinating water features. The koi pond is a definite highlight among visitors. The garden is a celebration of color - a spectacular place for avid photographers. The garden is an intense cultural experience and is located near the village of St. Mawgan, so you can spend a whole day exploring! Explore more, live more.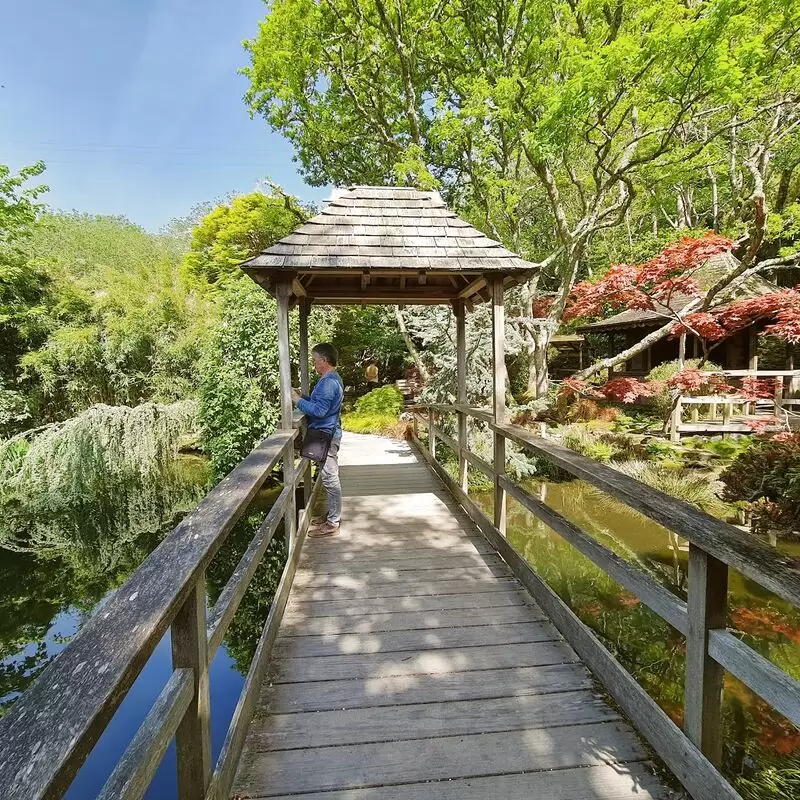 The Japanese Garden
St Mawgan, Nr Newquay
Monday - Sunday: 10:00 AM – 6:00 PM
12. Golitha Falls
A visit to Golitha Falls in Newquay is like a visit to a fairy tale. This enchanting series of waterfalls is set amidst a tranquil forest that is home to a variety of wildlife. Don't miss the "Cascade Trail" - a popular path known only to locals. The falls are most majestic after rains, which give the slate rocks a magical glow. After taking in the beauty of Golitha, visit nearby Carnglaze Caverns for an underground adventure with enchanting stalactites and an unforgettable underground lake.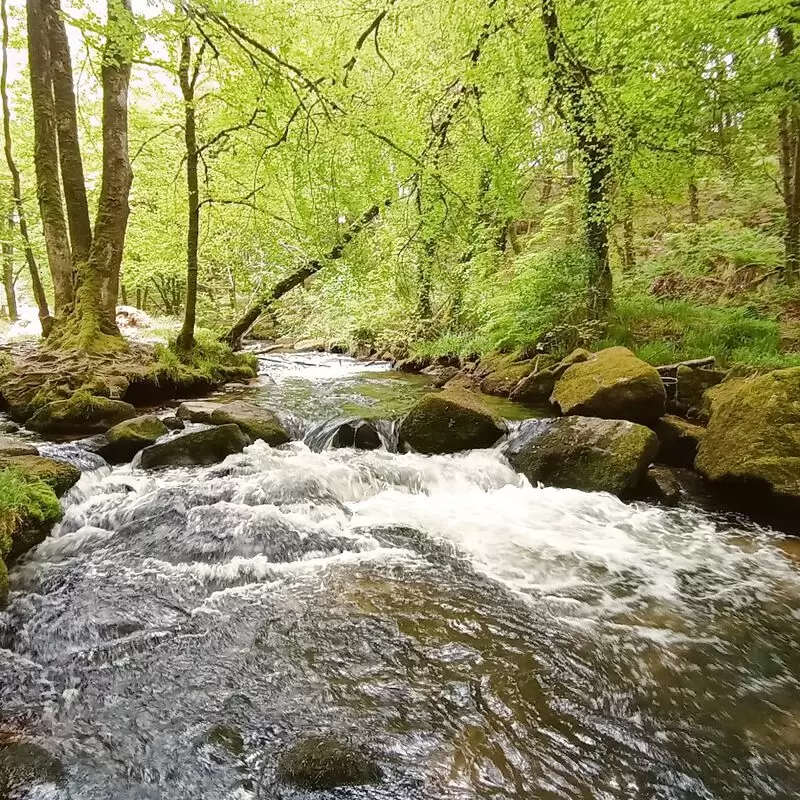 13. Blue Reef Aquarium Newquay
Immerse yourself in the underwater world at Blue Reef Aquarium Newquay. Get up close and personal with captivating sea creatures like reef sharks, octopuses and dazzling tropical fish. Stroll through the fascinating underwater tunnel teeming with incredible creatures. Don't miss the daily informative presentations that offer fascinating insights into this marine wonderland. Nearby is Towan Beach, perfect for a picnic or a leisurely stroll on the beach.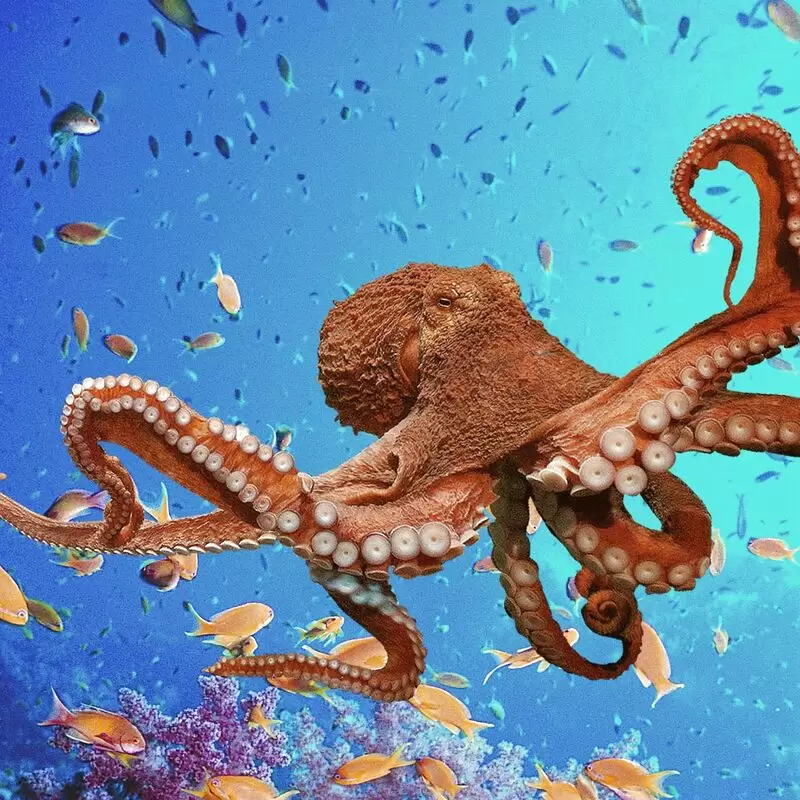 Blue Reef Aquarium Newquay
Towan Promenade, Newquay TR7 1DU
Monday - Sunday: 10:00 AM – 6:00 PM
Friday: 10:00 AM – 5:00 PM
14. Tolcarne Beach Accomodation
Escape to Tolcarne Beach accommodation, located in the heart of Newquay. Here, you can enjoy the sunset from your sea-view room and hit the waves with on-site surf rentals. With direct access to the beach, you can feel the sand between your toes. This hidden gem offers a laid-back surfer vibe paired with luxurious flair. Pro tip: Visit the infamous "Beach Bar" for a cocktail. Just a short walk away you'll find the vibrant town center of Newquay with its local specialties, nightlife and the famous Blue Reef Aquarium.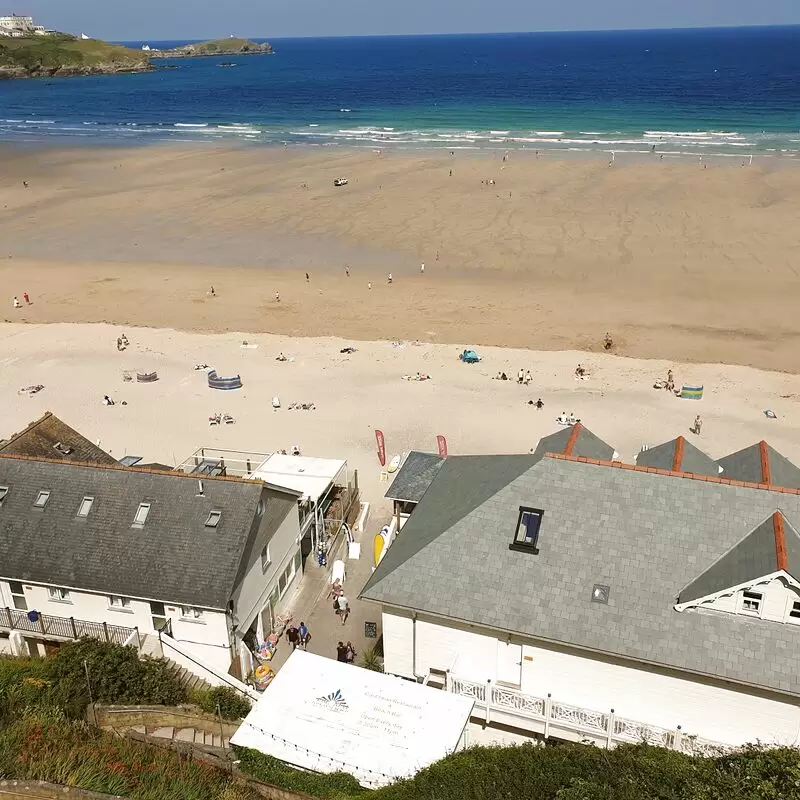 Tolcarne Beach Accomodation
Tolcarne Beach, Narrowcliff, Newquay
15. Great Western Beach
Explore the relaxed elegance of Great Western Beach. Known for its golden sand, azure waters, and a mix of gentle waves and good surf, it's perfect for beginners. Take a scenic walk or enjoy a picnic on this beach, which nestles into the cliffs, making it a sheltered and tranquil spot away from Newquay's busier spots. Afterwards, a less than 10-minute walk will take you to the Blue Reef Aquarium - a fantastic opportunity to discover the local marine species and coral reef. Don't miss this perfect combination of sand, adventure and nature.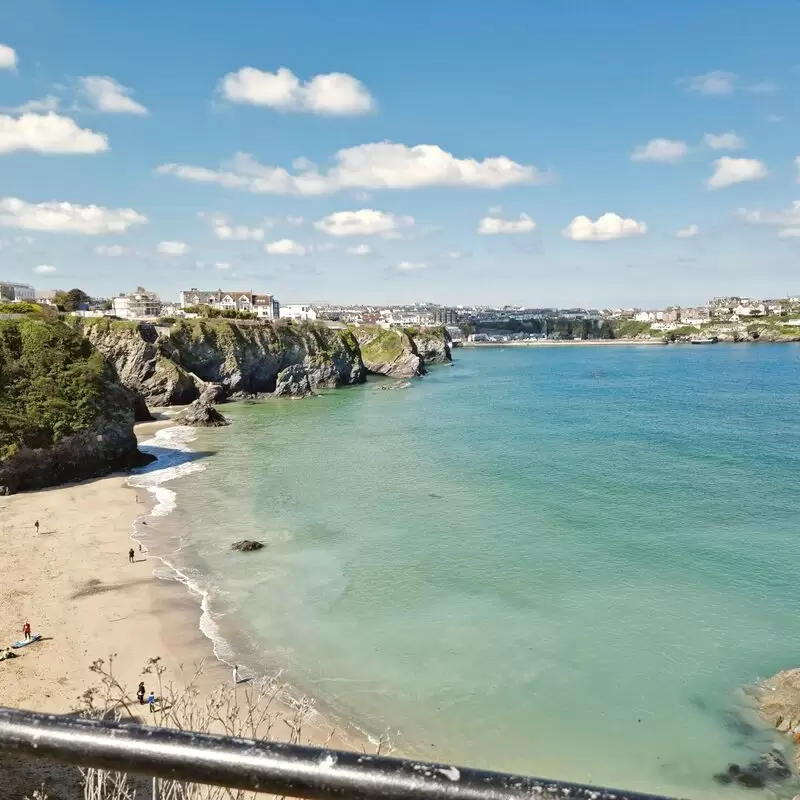 Great Western Beach
Great Western Beach, Newquay
16. Caravan Park Newquay Porth Beach
Caravan Park Newquay - Porth Beach is the hidden gem of Newquay. Situated in a quiet beachfront location, it provides an idyllic base for an unforgettable coastal break. Wake up to the sound of waves on your doorstep or spend the day exploring rock pools and caves. The possibilities are endless - surf, hike, or just relax with the gorgeous beach right in front of you. Take a short walk and be enchanted by Watergate Bay's watersports center and Jamie Oliver's Fifteen Cornwall restaurant.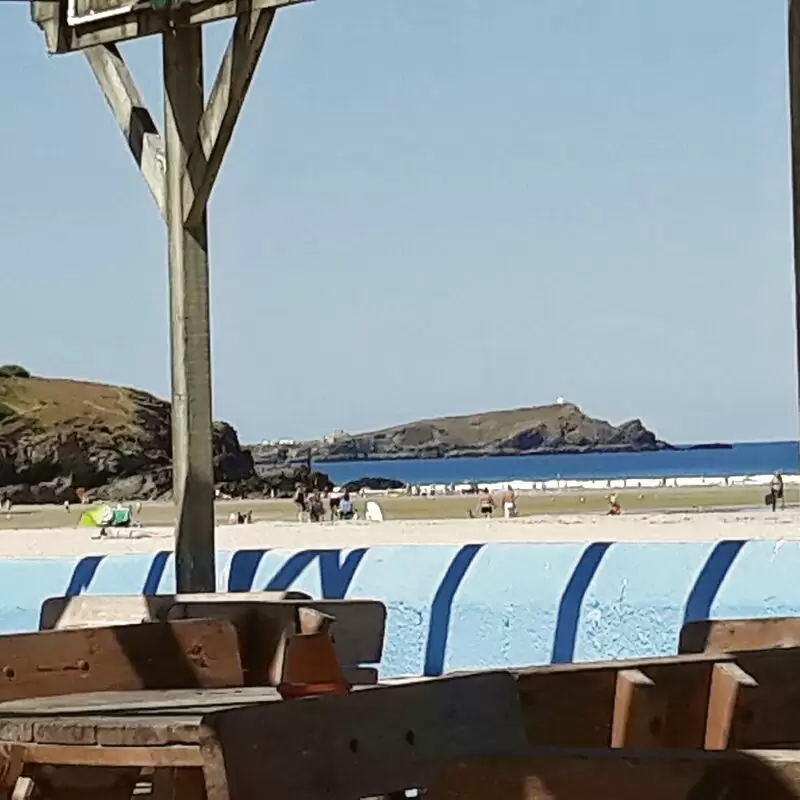 Caravan Park Newquay Porth Beach
5 Alexandra Road, Porth, Newquay
Monday - Sunday: Open 24 hours
17. Lappa Valley
Immerse yourself in the magic of the Lappa Valley in Newquay. This park is an insider's tip in the middle of the Cornish countryside and offers more than you would expect: Miniature train rides captivate kids and adults alike, while the boating lake and playgrounds provide endless fun. It's not just about trains here, but also about the local wildlife that call the area home. And last but not least? Just a stone's throw away is the famous Trerice Manor, another must-see Newquay gem!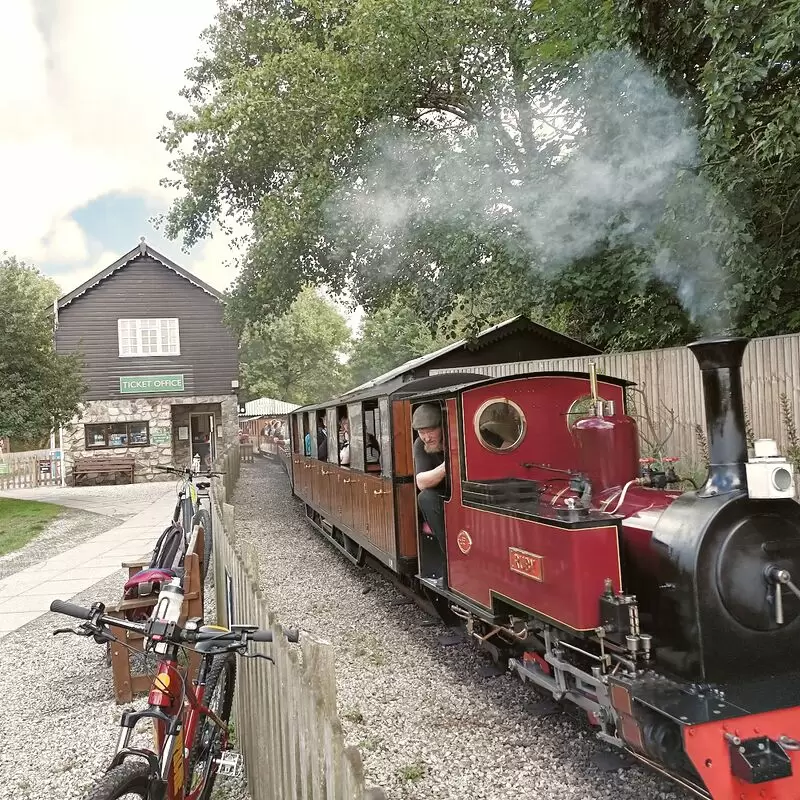 Lappa Valley
St Newlyn East, Newquay
Monday - Sunday: 9:30 AM – 5:00 PM
18. Trevose Head Lighthouse
Trevose Head Lighthouse is an exciting experience. This iconic lighthouse offers visitors a breathtaking panoramic view of the Atlantic Ocean, which is presented in an ever-changing palette of vibrant blue hues. Let your senses soar and learn more about the 150-year-old maritime history. Don't miss a sunset, it's simply divine! Just a stone's throw away is Mother Ivey's Bay, a real hidden gem with its powder-fine sand and crystal clear waters. Enjoy an unforgettable day trip during your stay in Newquay!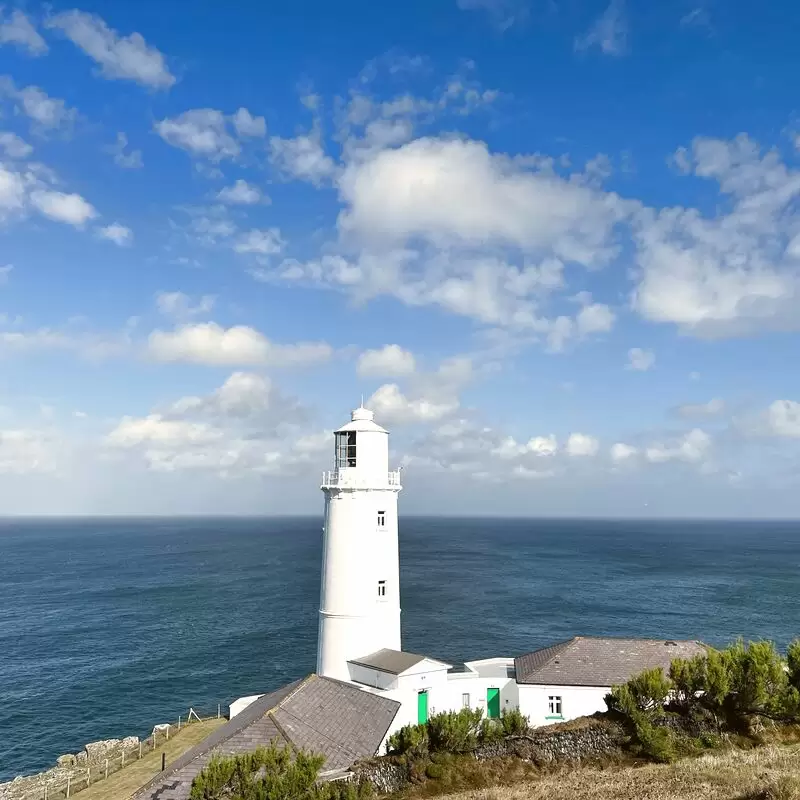 Trevose Head Lighthouse
St Merryn, Padstow
19. Hendra Holiday Park
Experience the joy of outdoor living at Hendra Holiday Park, a multi-award winning family holiday destination in the heart of the vibrant coastal town of Newquay. From first-class accommodation options to on-site recreational facilities, this is a true haven for vacationers. Be sure to visit the tropical Oasis Fun Pool and enjoy hearty Cornish breakfasts served in the Terrace Bar. Just a stone's throw away, you can explore the enchanting Newquay Zoo and Blue Reef Aquarium, where you can immerse yourself in the animal kingdom.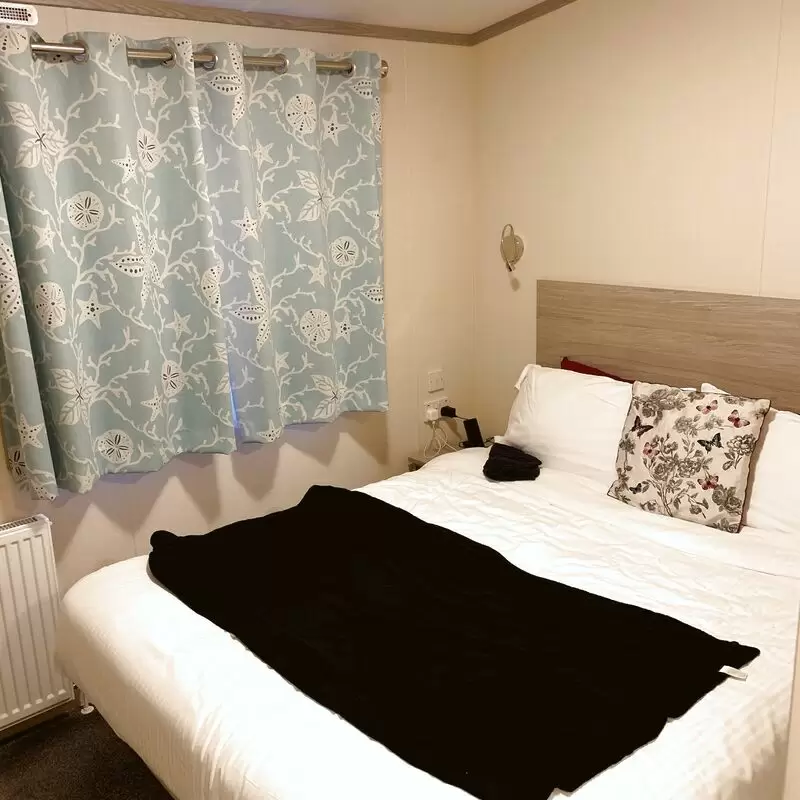 Hendra Holiday Park
Lane, Newquay
Monday - Sunday: 9:00 AM – 5:00 PM
20. Mawgan Porth Beach

Head to Mawgan Porth Beach in Newquay and spend a relaxing day on the golden sandy beach kissed by turquoise waves. Enjoy the thrill of the famous surf spots or explore the rock pools teeming with marine life.

This local insider tip is free from the typical tourist crowds. Nearby is the mystical Merlin's Cave - a must-see coastal gem! End the day at one of the nice seafood restaurants and enjoy the freshest catch as the sun sets!

Mawgan Porth Beach
Mawgan Porth, Newquay
21. Lusty Glaze Beach
Lusty Glaze Beach is a hidden treasure in a sun-drenched, horseshoe-shaped bay in the lively town of Newquay. The adventurous beach offers outdoor activities like surfing, ziplining, and yoga on the beach. Let your taste buds run wild at the beachfront restaurant, which serves fresh, locally sourced seafood. Weekly live music events keep the atmosphere lively. And just around the corner? Newquay's vibrant town center, with its nightlife, shopping, and impressive Blue Reef Aquarium. Lusty Glaze Beach is not just a beach, it's an experience.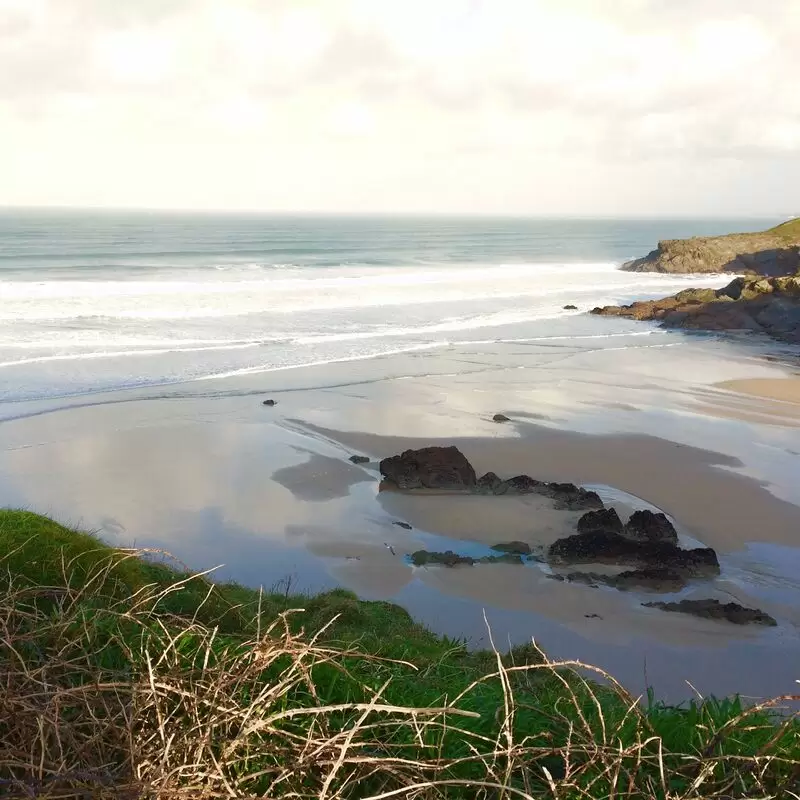 Lusty Glaze Beach
Lusty Glaze Road, Newquay
22. Dairyland Farm Park
At Dairyland Farm Park, nostalgia meets nature in the countryside. Here you can get up close and personal with a variety of farm animals, learn more about milk processing in the fully functional "Milking Museum" and whiz down the giant slides in the indoor "Bull Pen" play area. An interactive tractor house and Cornish heritage exhibit make it a fun visit for adults and children alike. Just 20 minutes away is Newquay Zoo, home to over 1,000 rare and endangered species - ideal for another adventurous day out!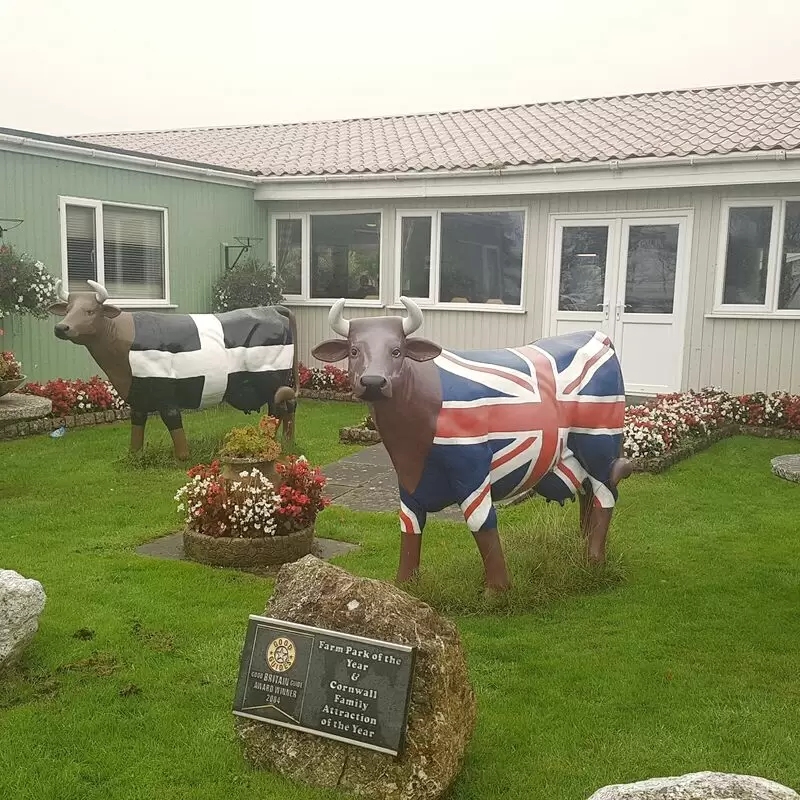 Dairyland Farm Park
Tresillian Barton, Newquay
Monday - Sunday: 10:00 AM – 5:00 PM
23. Headland
Overlooking the stunning Fistral Beach, The Headland in Newquay offers breathtaking coastal views that will leave you spellbound. The iconic red brick hotel, a piece of Victorian architecture, also served as the filming location for the series "The Witches." Enjoy a satisfying afternoon tea here overlooking the Atlantic Ocean. Not far away are the picturesque Towan Headland and Small Island, connected by a suspension bridge for a unique beach excursion. You can't miss this!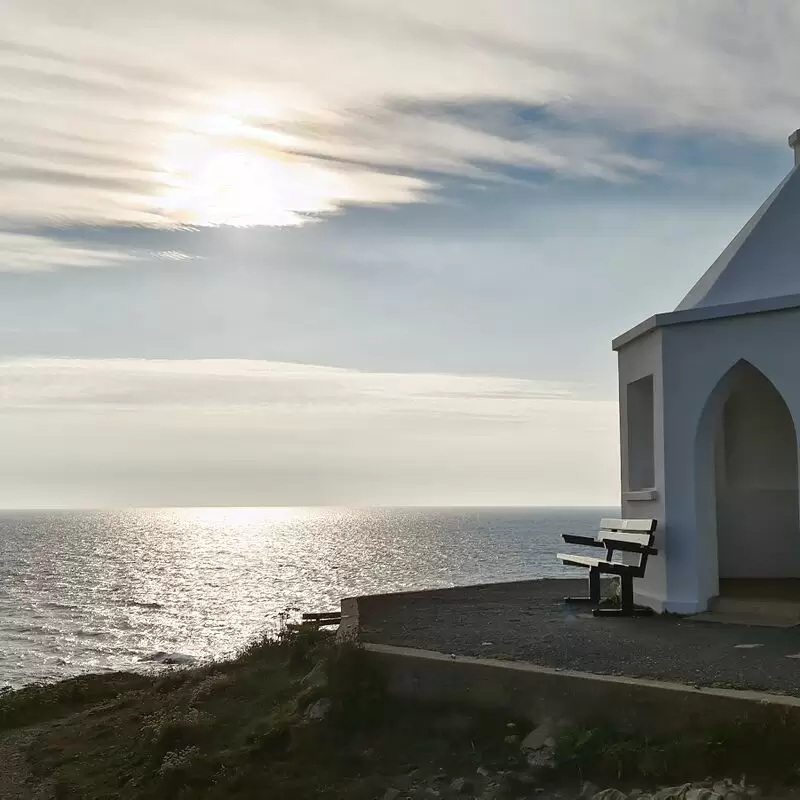 Headland
Newquay
Monday - Sunday: Open 24 hours
24. Pentire Headland
Adventure awaits at Pentire Headland, a stunning jewel in Newquay's crown. Delight in panoramic views of the Atlantic Ocean, surf-washed Fistral Beach, and the tranquil Gannel Estuary. Take a leisurely walk around the headland and discover the local flora and fauna. A hidden gem - the "Fern Pit Cafe" is a must for a warm Cornish pasty. Just a stone's throw away, the famous Crantock Beach beckons beach lovers. Pentire Headland is indeed a paradise not to be missed!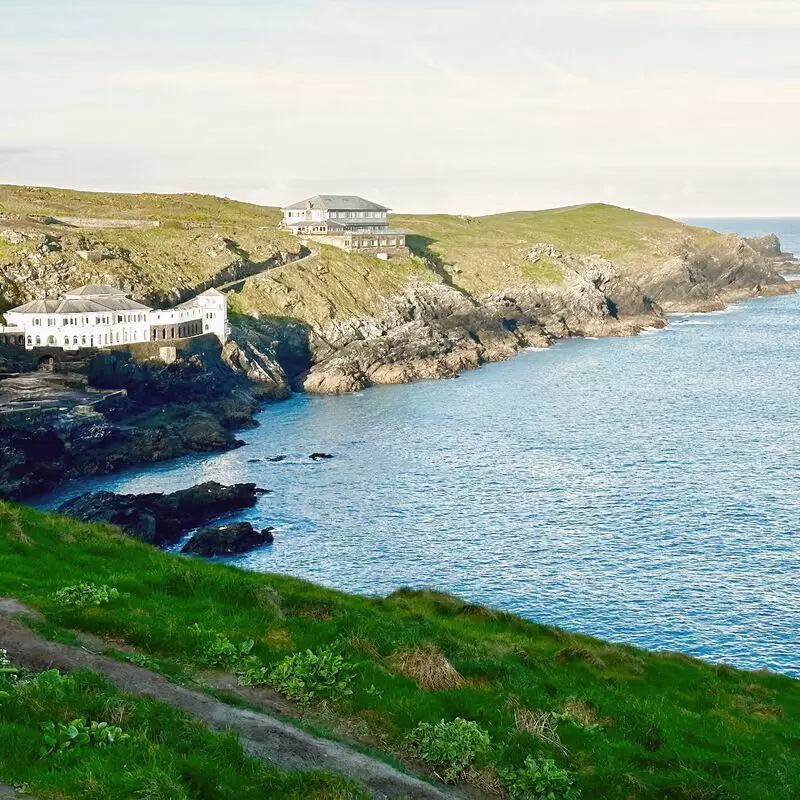 Pentire Headland
Newquay TR7 1QD
25. Towan Beach
Towan Beach, often referred to as the "town beach", is located in the heart of Newquay and is an absolute paradise for surfers and sun-seekers. The azure waters, golden sand and gorgeous harbor views make it unique. For an extra pinch of magic, at low tide you can discover a fascinating island with a protruding suspension bridge. Near the beach, be sure to visit the Blue Reef Aquarium, just a stone's throw away, where you can marvel at the underwater world.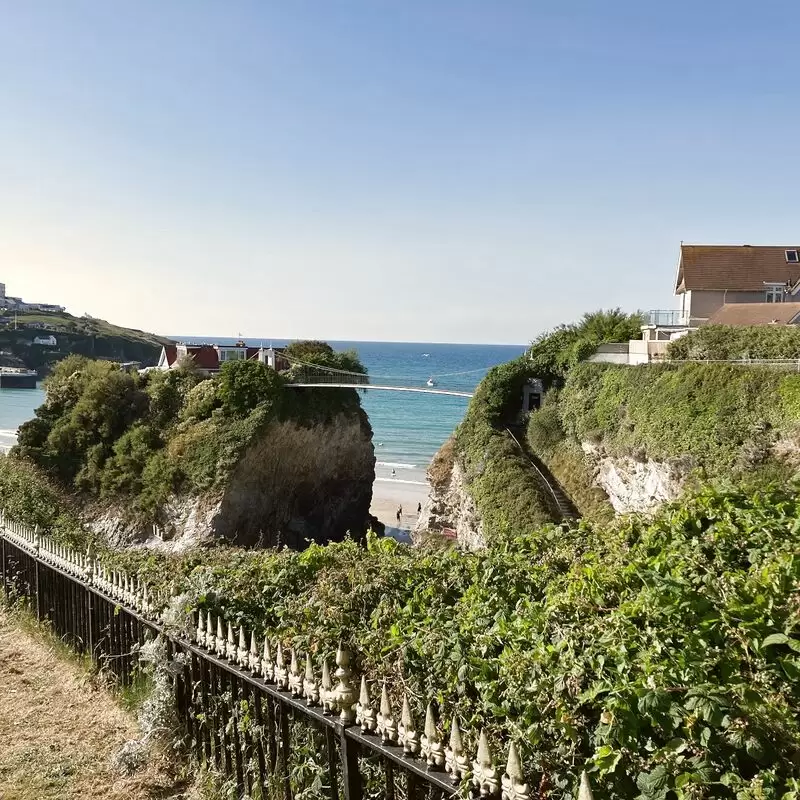 26. Trenance Gardens
Trenance Gardens is a "must see" for nature lovers and those seeking tranquility in Newquay. Known for its beautiful flower beds, ornamental trees and tranquil boating pond stocked with ducks, it is an oasis of calm in the middle of the town center. The charming tearoom amid the lush landscaping is ideal for relaxing after a leisurely stroll. Another plus is that the lake is in close proximity to Newquay Zoo and Waterworld, so you can easily turn your visit into a full day of refreshing activities.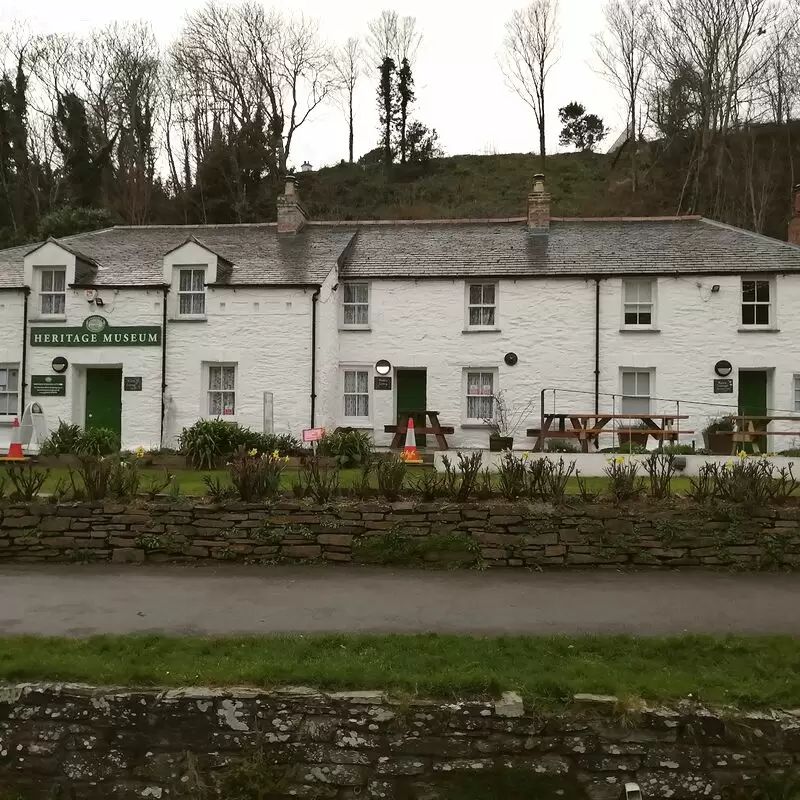 Trenance Gardens
82 Edgcumbe Avenue, Newquay
Monday - Sunday: Open 24 hours
27. Boating Lake
A visit to Boating Lake in Newquay is a must for relaxing amidst nature. You'll love renting picturesquely designed pedal boats and spending a family-friendly day surrounded by the lake's thriving wildlife. Pro tip: Don't miss the adorable family of swans gliding on the lake. Just a stone's throw away, the fascinating Trenance Gardens and Newquay Zoo are the icing on your vacation cake.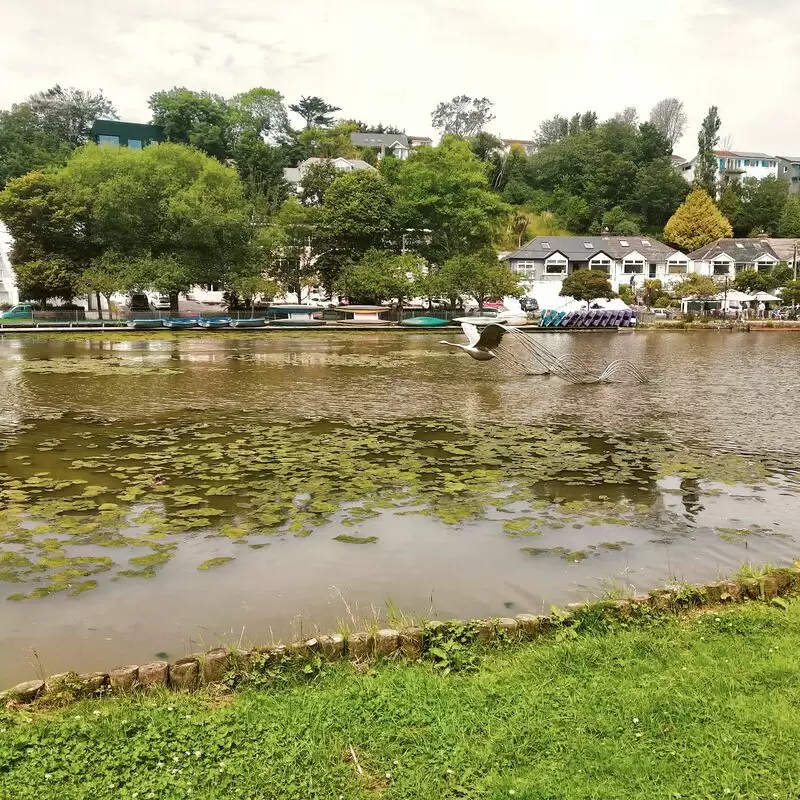 Boating Lake
River Gannel, Cornwall, Newquay TR7 2HX
Monday - Sunday: 10:00 AM – 5:00 PM
28. Killacourt
A visit to Killacourt in Newquay is an absolute delight for both nature and music lovers! This lively green space on a cliff offers breathtaking views of the bustling town and the calm sea. It also hosts free live concerts during the summer months. Just a short walk away are Newquay's famous Blue Reef Aquarium and the famous Fistral Beach. Without a doubt, this scenic spot embodies the heart and soul of Newquay.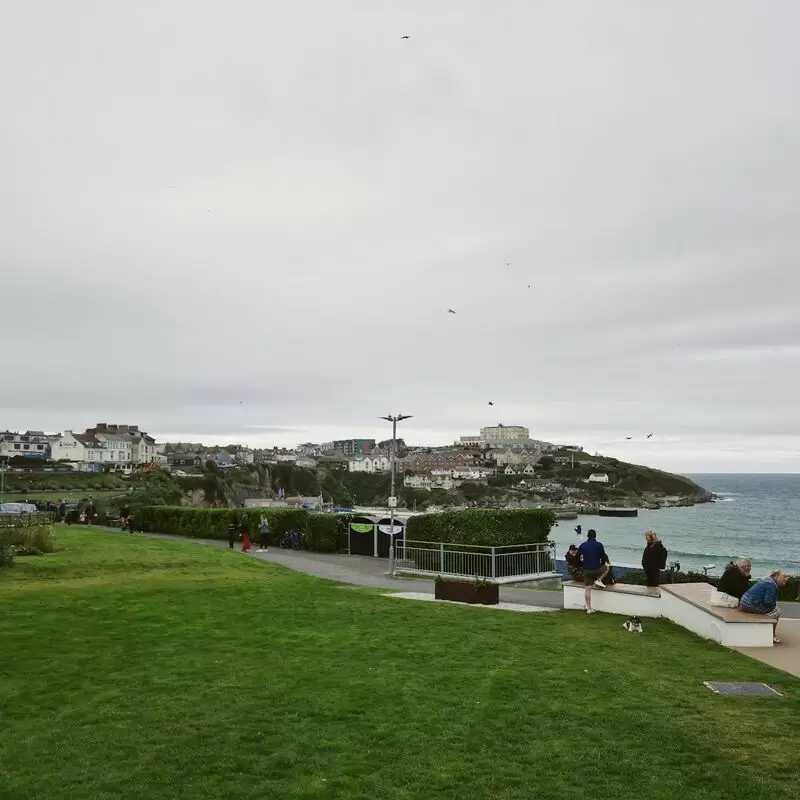 Killacourt
9 The Crescent, Newquay
Monday - Sunday: Open 24 hours
Best Time to Visit Newquay
The best time to visit Newquay, United Kingdom, are the summer months from June to August. During this time it is warm, the sky is clear and the beach is ideal for activities. September is also a good time as the weather is pleasant and the town is less crowded, especially for those who prefer a quiet vacation.
Annual Weather in Newquay
Newquay 3-Day Forecast
Wed, 27 September
Night
56 °F
14 °C
0%
Morning
59 °F
15 °C
71%
Afternoon
62 °F
17 °C
69%
Evening
57 °F
14 °C
0%
Thu, 28 September
Night
56 °F
14 °C
62%
Morning
55 °F
13 °C
50%
Afternoon
58 °F
14 °C
0%
Evening
58 °F
14 °C
0%
Fri, 29 September
Night
57 °F
14 °C
0%
Morning
56 °F
13 °C
74%
Afternoon
60 °F
16 °C
66%
Evening
57 °F
14 °C
0%
Questions & Answers

How to get to Newquay from London?

The fastest way to reach Newquay from London is by plane. A direct flight takes about 1 hour and 15 minutes. Otherwise, you can take the train from London Paddington to Newquay, a pleasant journey that takes about 5 hours. Alternatively, you can drive, which takes 5 to 6 hours, either via the M5 and A30 or the more scenic A39.

What is the most convenient mode of transport within Newquay?

Newquay, a popular seaside resort, is within very good walking distance. Many major attractions, restaurants and beaches are within walking distance of each other. However, if you need to travel longer distances, the town is served by a reliable bus network. Cabs are also available for more direct routes. If you prefer to drive yourself, you can rent a bike or a car to be more flexible. Please note that parking can be difficult, especially in high season.

Are there any local foods or drinks to try in Newquay?

When in Newquay, be sure to try the famous Cornish Pasty, a takeaway meat and vegetable pie. For drinks, Cornish cider and ale are very popular. For dessert, try the Cornish Cream Tea - a light meal of scones, clotted cream, strawberry jam and tea. As a coastal town, Newquay also offers some of the best seafood in the UK, such as Cornish crab or mussels.

What unique aspects of local culture should I explore in Newquay?

Immerse yourself in the thriving surf culture in Newquay, Cornwall, or take part in a traditional Cornish pasty-baking class. Take in live music at a beach bar and enjoy local cider or Cornish ale. Don't miss the opportunity to greet local fishermen returning to the harbor with their catch - it's part of life in Newquay. Explore the narrow streets with their independent stores that reflect an artistic, relaxed lifestyle.

What kind of water sports are popular in Newquay?

Home to some of the best surfing in the UK, Newquay is a hotspot for water sports enthusiasts. Surfing is undeniably the town's main attraction, with world-class breaks and surf schools for beginners. Bodyboarding, another popular sport, also takes advantage of the swell. Kayaking and paddleboarding let you explore the coastline at your leisure while getting a gentle workout. You can also try adrenaline-pumping coasteering, which combines swimming, climbing and cliff jumping.

Is Newquay a family-friendly destination?

Newquay is definitely a fantastic family friendly destination. With an abundance of sandy beaches, families can spend a day building sandcastles, surfing, or just relaxing. The town also has top-notch family attractions such as the Blue Reef Aquarium and Newquay Zoo. There are also plenty of family-friendly restaurants and accommodations. Whether your family loves outdoor activities, wildlife, or just the sea, Newquay has something for everyone.

How safe is Newquay for tourists?

Newquay is generally a safe destination for tourists. It is a friendly and welcoming town known for its beach culture and outdoor activities. As with any trip, the usual precautions should be taken, especially in crowded areas. It is also important that visitors follow safety guidelines on the beaches, as Newquay is known for its good surfing conditions. The local police and lifeguards are always on hand. Overall, most visitors have a pleasant and enjoyable experience in Newquay.

Are there guidelines on beach safety in Newquay?

In Newquay, the beaches are managed so that safety is paramount. Lifeguards patrol most beaches during the summer season. Visitors are advised to swim and surf within designated zones, listen to the advice of lifeguards and not use inflatable boats. The tide can come in very quickly, which can be dangerous for the unaware. Also, stay away from cliffs as they are often fragile and unstable. Always check the weather and tides before heading out. Remember: safety first!

Where can I find the best views in Newquay?

The popular Fistral Beach with its clean sandy beach and unobstructed view of the Atlantic Ocean offers breathtaking views of the coast. A panoramic view of the city and the coast can be seen from Huer's Hut. This historic lookout offers a breathtaking view, especially at sunset. Also, visit Newquay Harbour, which offers a beautiful picture with boats against the sea backdrop. Finally, the Headland Hotel, with its location on the edge of the cliffs, offers a magnificent view for its guests.

Is Newquay a good location for surfing beginners?

Newquay is often referred to as the surfing capital of the UK, making it an excellent place for novice surfers. The town has a number of beaches, with Fistral Beach being particularly well known for its consistent waves. In addition to the natural conditions, Newquay also has a number of surf schools that offer beginner courses with professional instructors. The combination of great waves, quality instruction and a rich local surf culture make Newquay an ideal base for budding surfers.

Are there English courses available in Newquay?

Yes, in Newquay, UK, there are several facilities and centers where English courses are offered. These include language schools that cater specifically to international tourists and professionals. These courses are designed not only to improve English skills, but also to enrich cultural understanding and often offer unique learning experiences amidst the picturesque coastal scenery of Newqauy. Whether you are a beginner or an advanced student looking for specialized English training, you will find reputable programs in Newquay to participate in.

Are there wildlife spotting opportunities in Newquay?

In any case, Newquay offers numerous opportunities for wildlife watching. The nearby Gannel Estuary is a birdwatcher's paradise with species such as herons, curlews and oystercatchers. At Newquay Sea Safaris and Fishing, you may be able to spot seals, dolphins, or even basking sharks. At Newquay Zoo or Blue Reef Aquarium, you can get up close and personal with exotic and native species. Newquay is truly a nature lover's paradise.

Where can I get the best Cornish pasty in Newquay?

For an authentic and delicious Cornish pasty, head to the well-known Philp's Famous Pasties. This family-run bakery is highly praised for its traditional pastries made from local ingredients. The pasties here are perfectly crumbly and generously filled with savory delights like beef steak, potatoes, onions and turnips. For anyone taking a culinary tour of Newquay, this is a must. Philp's Famous Pasties gives you a taste of Cornish heritage with every bite.

Can I rent a bike in Newquay?

Of course, you can also rent a bike in Newquay. There are several bike rentals in town that offer a wide range of bikes, including mountain bikes, hybrids, and even electric bikes. The bikes are often equipped with helmets and locks to ensure safety. These rentals usually allow flexible rental times from a few hours to several days, making them the ideal choice for exploring the picturesque landscapes around Newquay.

Are there hiking trails near Newquay?

Newquay is indeed known for its scenic walking trails. The most popular is the South West Coast Path, which offers breathtaking sea views and diverse wildlife. Those looking for something a little quieter can explore the tranquil beauty of the Gannel Estuary. The nearby Pentire Headland offers hikers breathtaking views of Fistral Beach, the open ocean, and Crantock Beach. These trails offer a mix of long and short walks and are suitable for all hikers.

Are there any famous people or landmarks associated with Newquay?

Newquay is home to the famous Fistral Beach, known for its surfing opportunities. Here you can also find the Blue Reef Aquarium, an impressive exhibition of marine animals. The coastal town is associated with singer-songwriter Alex Parks, winner of the BBC's Fame Academy. Also, Richard Trevithick, an inventor and mining engineer who became known as a pioneer of steam-powered road and rail transport in the early 19th century, spent his last days in Newquay.

Can I see seals or dolphins in Newquay?

Yes, you definitely can. Newquay is a hotspot for marine life, especially seals and dolphins. You can spot seals in the many secluded bays or around the harbor. Dolphins are often seen frolicking in the waters offshore on boat trips. There are also special wildlife safaris where qualified guides will help you spot these remarkable creatures in their natural habitat. Especially for nature lovers, this is a fantastic spectacle.

Are there cooking classes for traditional Cornish food in Newquay?

Yes, Newquay offers cooking classes with a focus on traditional Cornish cuisine. Philleigh Way Cookery School offers a Cornish Cooking course that teaches you the art of preparing authentic pasties, a hearty local dish. The school emphasizes the use of high-quality, locally sourced ingredients. At Fat Hen, another cooking school in the area, you can learn the art of foraging for a true Cornish game food experience. These schools are a little further from Newquay, but offer authentic local culinary experiences.

What are the popular beaches in Newquay?

Newquay, in the United Kingdom, is famous for its beautiful coastline with several magnificent beaches. Fistral Beach is often the first choice for surfers due to its lively surfing scene. Towan Beach is popular with families due to its proximity to the city center and gentle waves. If you're looking for a more secluded spot, Porth Joke Beach may be for you. For animal lovers, Crantock Beach offers a rich environment full of marine life. Finally, Watergate Bay offers two miles of golden sand for beachgoers to explore.

Do I need a license to fish in Newquay?

Yes, whether you are a local or a visitor, you need a fishing license to fish in Newquay or other parts of the UK. This applies to fishing in freshwater areas for trout, salmon, eel or coarse fish. Children under 13 do not need a fishing license, but youngsters between 13 and 16 can apply for a free junior license. Remember that separate licenses are required for sea angling and shellfishing.

Is there a local speaking dialect in Newquay?

Yes, in Newquay and throughout Cornwall a unique local dialect is spoken, called Cornish English. This dialect is influenced by Cornwall's Celtic heritage and is characterized by its own vocabulary and pronunciation. You will often hear expressions such as "dreckly" (straight), "ansum" (great) and "mizzle" (misty rain) from locals. However, most locals speak a version closer to standard English, so visitors usually don't have too much trouble understanding them.

Are there vegan and vegetarian options available in Newquay?

But safe! In Newquay, UK, there are several restaurants that cater to vegans and vegetarians. Highly recommended are Beached Lamb Cafe, which is known for its vegan treats, The Vegan Bunny, which offers a variety of plant-based delicacies, and Sprout Health Foods, which offers vegan and gluten-free options. Many of the traditional restaurants and pubs in the city also offer vegetarian and vegan alternatives on their menus. So, you can be sure that you will have plenty of gastronomic options in Newquay even if you are on a meat-free diet.

Feedback

I hope you found this article informative and helpful. I'm eager to improve the content and make it even more valuable for you. If you have any feedback or suggestions, I would love to hear from you.

Do you have any tips or hidden gems that you think should be added to the list? Are there any areas that you feel could use more explanation or clarification?

Your input is greatly appreciated and will help us to continue providing high-quality content that meets your needs and interests. Please feel free to share your thoughts.