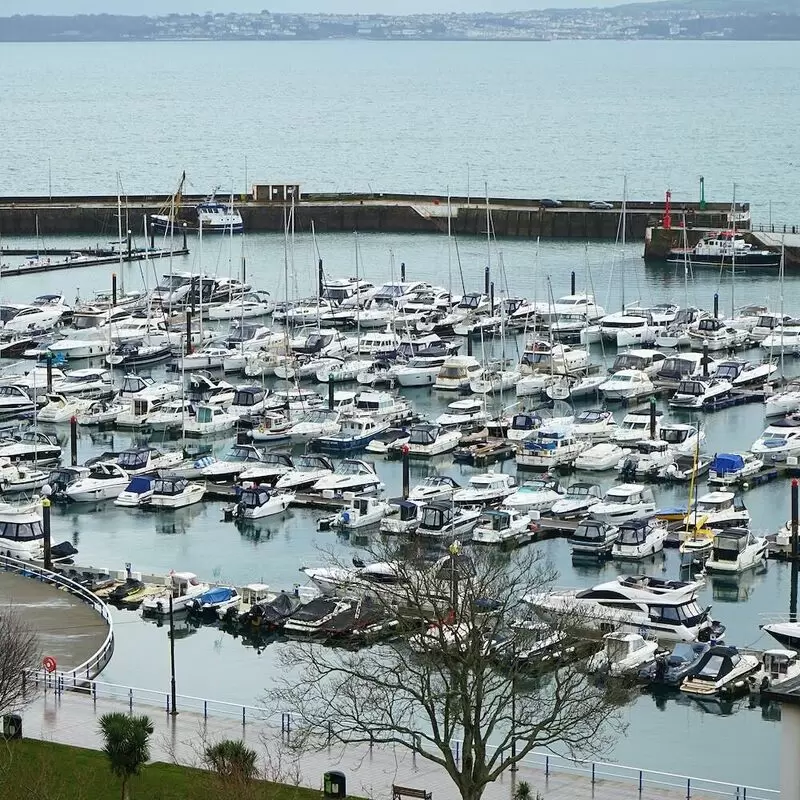 1. Paignton Zoo Environmental Park
A visit to Paignton Zoo Environmental Park is an absolute must when you are in Torquay! This world-famous park is home to over 2,500 fascinating species of animals. The zoo promotes species conservation through impressive exhibits that provide an unforgettable encounter with nature. Nearby is Living Coasts, an innovative coastal zoo with an amazing variety of marine life that you should definitely add to your itinerary! Be sure not to miss the Monkey Heights and Savannah, often overlooked by tourists while marveling at the Crocodile Swamp! Your adventure is waiting for you!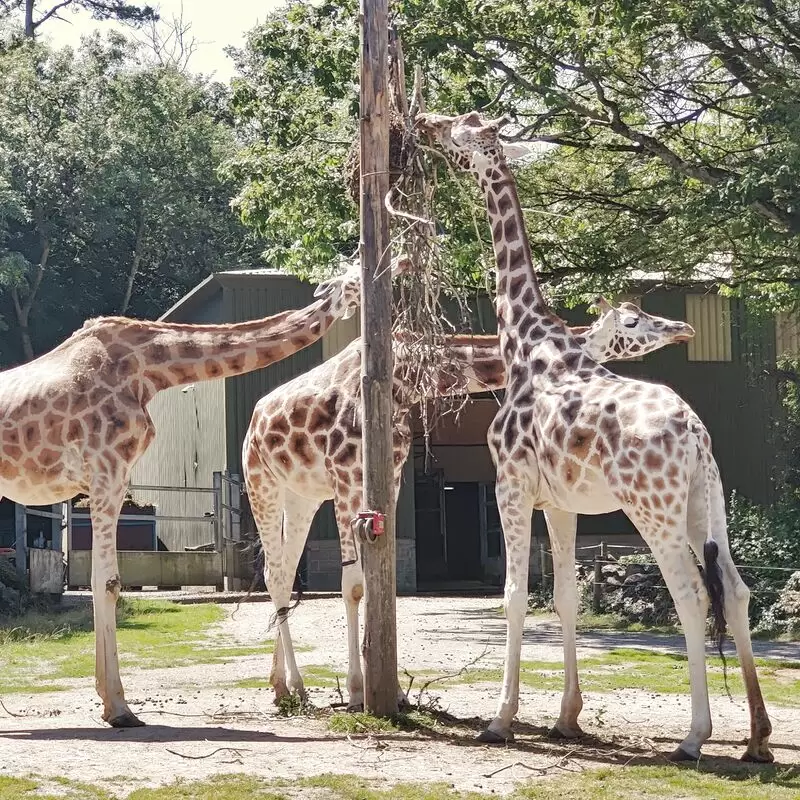 Paignton Zoo Environmental Park
Totnes Road, Paignton TQ4 7EU
Monday - Sunday: 10:00 AM – 6:00 PM
2. Babbacombe Model Village
Step into the magical world of Babbacombe Model Village in Torquay, a place where fantasy meets reality! Set in four acres of beautiful gardens, this miniature wonderland is teeming with incredibly detailed models, sounds and even beautiful illuminations after dark. Take a peek inside the world's smallest working television studio and feel like a giant standing next to the tiny Tudor buildings. Just a short walk away, you'll find Bygones, a nostalgic walk through British history with its Victorian street and World War artifacts. Be enchanted!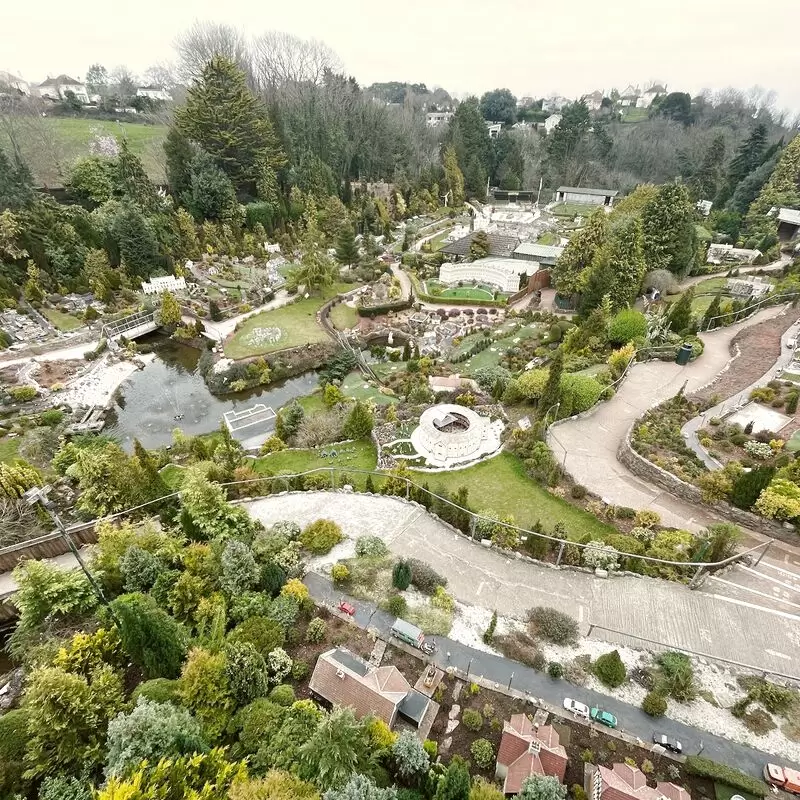 Babbacombe Model Village
Hampton Avenue, Babbacombe, Torquay
Monday - Sunday: 10:00 AM – 4:00 PM
3. Berry Head National Nature Reserve
A visit to Berry Head National Nature Reserve is a must when you are in Torquay, as here you will have the opportunity to discover British wildlife in all its glory. Here you can enjoy the incredible views of the limestone cliffs that highlight the panoramic views of the English Riviera. Discover rare plants, bats foraging and resting seabirds. Don't miss the lighthouse, the smallest but tallest in the UK! Just around the corner you'll find the Shoalstone Pool, a seawater swimming pool that invites you to take a refreshing dip after a day of exploring.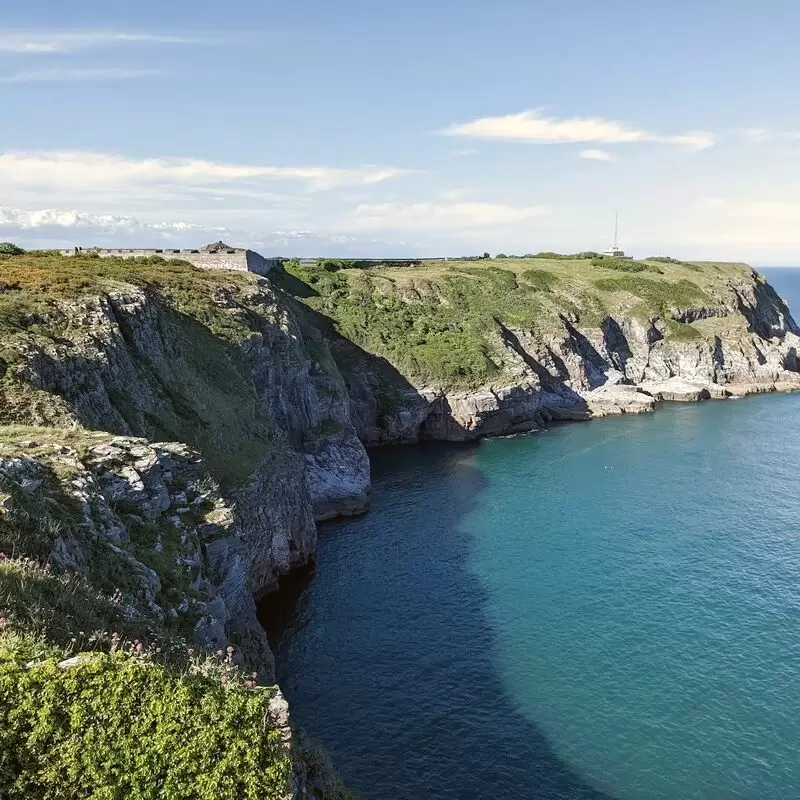 Berry Head National Nature Reserve
Gillard Road, Brixham
Monday - Sunday: Open 24 hours
4. Kents Cavern Prehistoric Caves
The prehistoric caves of Kents Cavern are a must-see in Torquay! It's not every day that you get to immerse yourself in a prehistoric world. Marvel at the stalactites and stalagmites and follow the footsteps of Ice Age people and animals. It is much more than a cave, it is a time machine! Don't forget to visit the events, you might stumble upon a unique cave concert! Just a few minutes away, you can soak up some rays at the stunning Meadfoot Beach.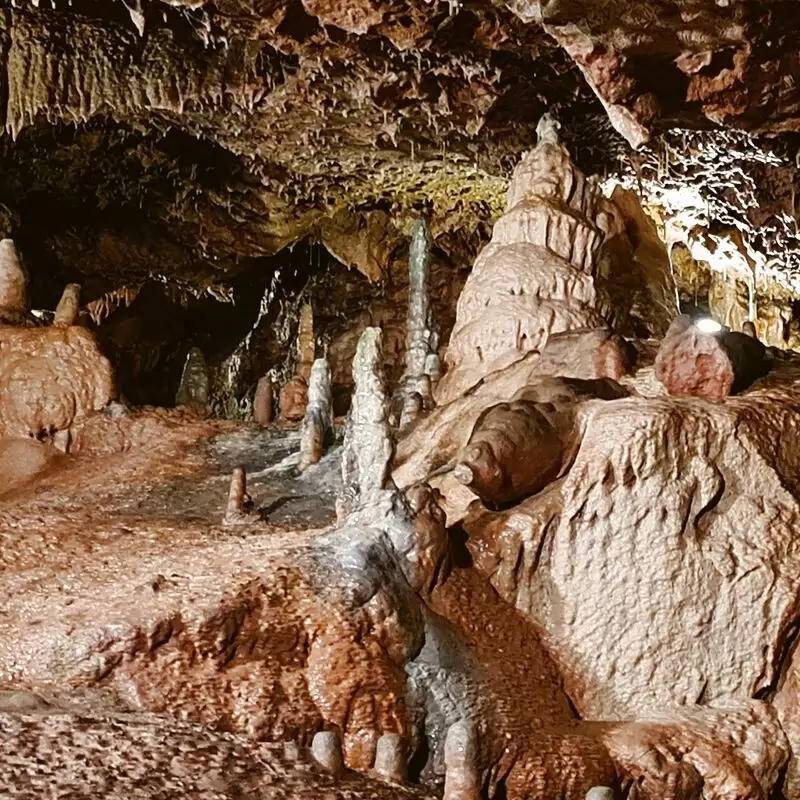 Kents Cavern Prehistoric Caves
91 Ilsham Road, Torquay
Monday - Sunday: 10:00 AM – 4:00 PM
5. Greenway House
Greenway House is the polished jewel of Torquay, a treasure for fans of Agatha Christie. This picturesque riverside estate was her beloved summer residence and reflects the sophistication of her novels. Delve into her fascinating life through personal exhibits, stroll through the poetic gardens and enjoy the vintage charm of the 1940s. A nostalgic ferry crossing from Dartmouth or Torquay to Greenway adds to the charm. Don't miss nearby Dartmoor National Park, which offers stunning natural spectacles and historic sites. Explore Torquay, indulge your senses!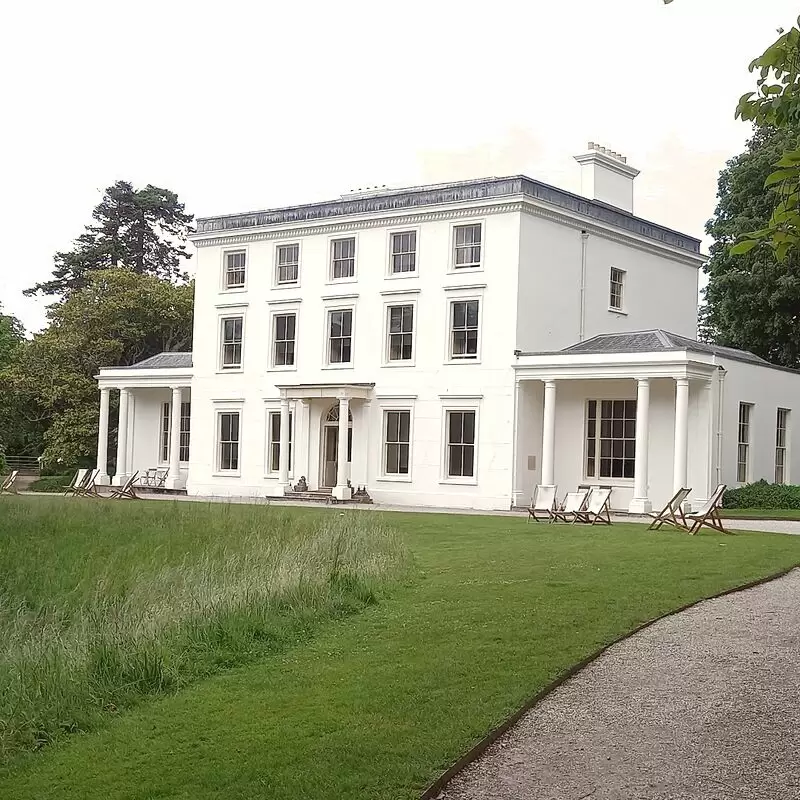 Greenway House
Greenway Road, Kingswear, Brixham
Monday - Sunday: 10:30 AM – 5:00 PM
6. Cockington Country Park
Cockington Country Park is a charming oasis of tranquility that transports you from Torquay's bustling seafront to a rural idyll. Stroll through picturesque lanes, explore ornate lakes, and discover a hidden historic watermill. In addition, the hidden gem of Cockington Court artists' studios awaits. Don't miss the delicious Devon Cream Tea at Rose Cottage Tea Gardens. Just a stone's throw away, you can explore the stunning coastline of the English Riviera Geopark and retreat completely into nature. Experience Torquay beyond the ordinary!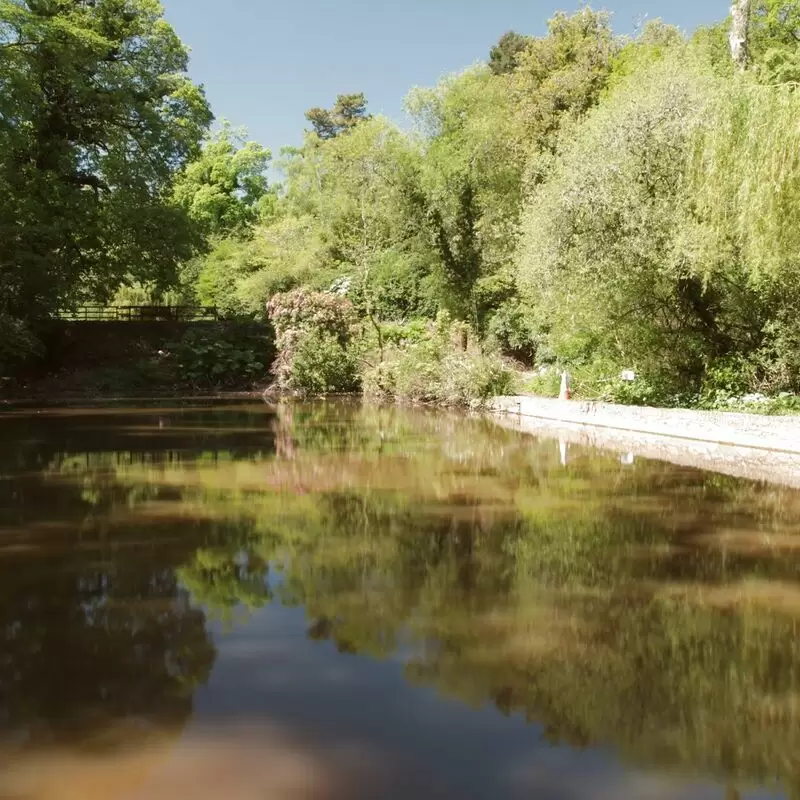 Cockington Country Park
Cockington Lane, Torquay
Monday - Sunday: Open 24 hours
7. Tor Bay Harbour Authority & Beaches
Tor Bay Harbour Authority & Beaches is a coastal paradise. Immerse yourself in a tranquil mix of blue skies, white sand beaches and emerald waters. If you stroll along the picturesque Victorian pier, insiders say you may occasionally see seals. Nearby, the enchanting Living Coasts Zoo & Aquarium is waiting to reveal its seabird wonders. Whether you're a beach lover, animal lover, or photography enthusiast, Torquay's harbor and beaches await. Pack your camera and sunscreen - the South Devon coast is calling!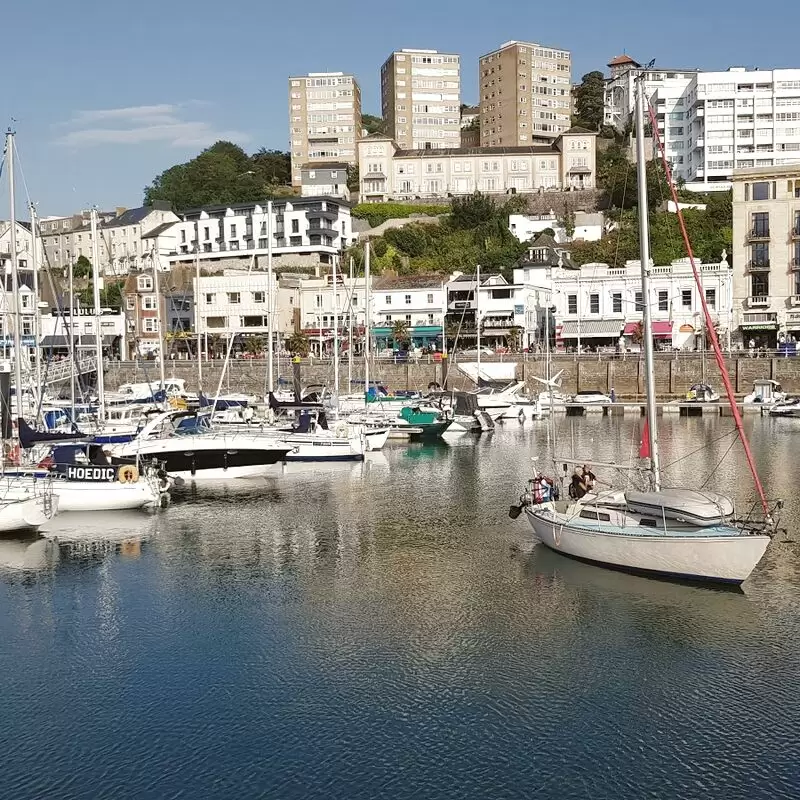 Tor Bay Harbour Authority & Beaches
Beacon Quay, Torquay
Monday - Sunday: 8:00 AM – 5:00 PM
8. Young's Park
Young's Park in Torquay is a green wonder, ideal for a lovely picnic or a scenic stroll. Bursting with vibrancy year-round, the park offers secluded spots of tranquility. If you venture off the beaten path, you may spot squirrels playfully hopping among the trees. The nearby surreal Paignton Zoo is a must-see with its amazing variety of wildlife. Not to mention, Goodrington Sands Beach is just a short walk away, where the sand gently massages your feet.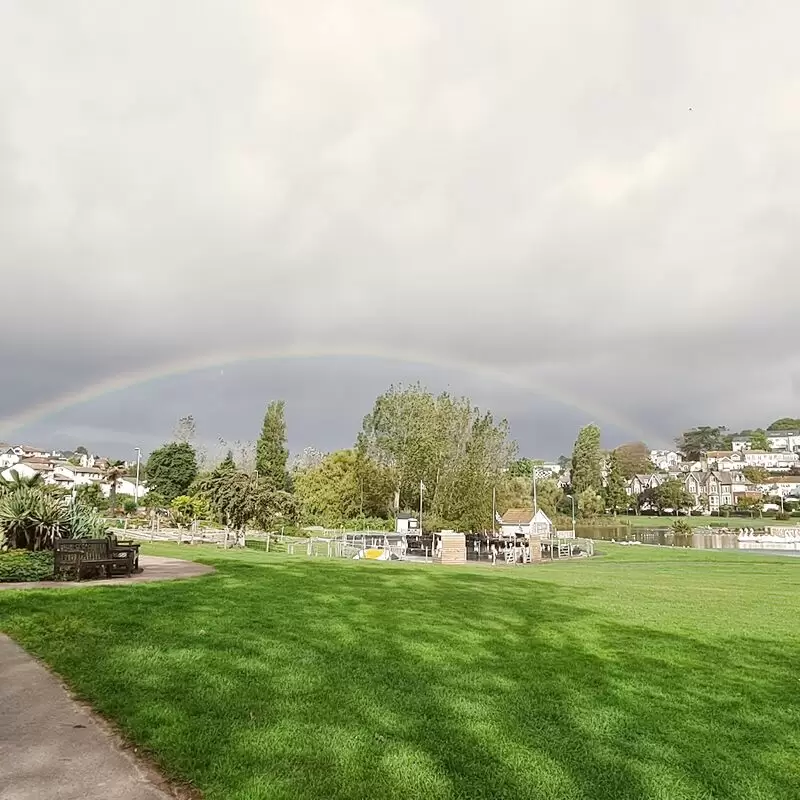 Young's Park
18 Young's Park Road, Paignton
Monday - Sunday: Open 24 hours
9. Paignton Pier
Enjoy the charm of the Torquay coast at the charming Paignton Pier! This classic Victorian structure is the ideal place for a leisurely stroll with stunning views of the bay. Feeling adventurous? The arcades, stores and restaurants promise fun and enjoyment. Try your hand at mini golf or enjoy a local ice cream. Pro tip: Don't miss the summer fireworks show! Nearby Paignton Zoo and the Dartmouth Steam Railway are ideal for family outings.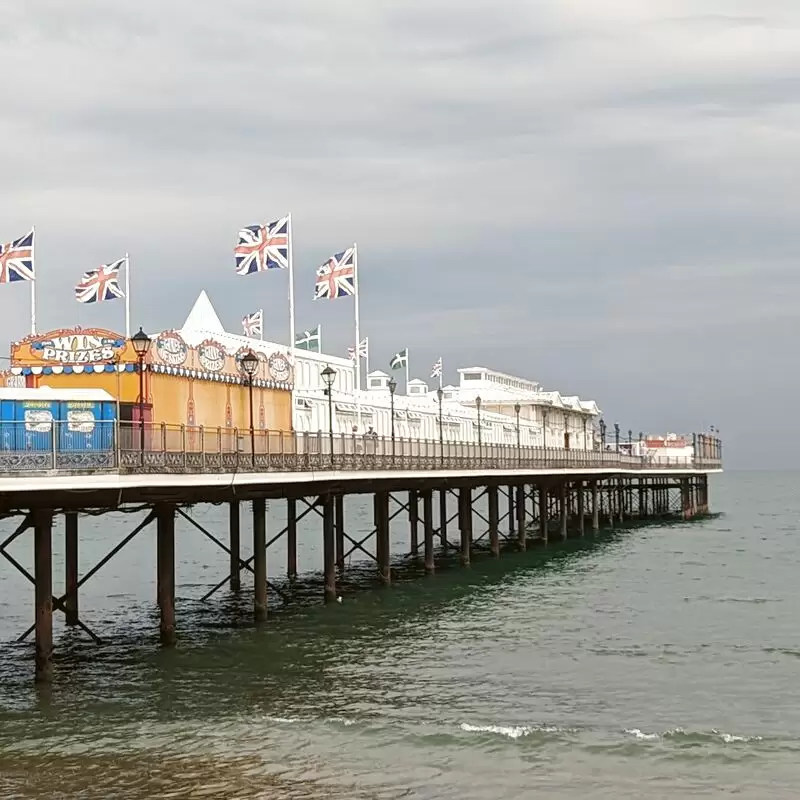 Paignton Pier
South Sands, Paignton
Monday - Sunday: 9:00 AM – 10:00 PM
10. Bygones
Visit Bygones in Torquay, a unique living museum that recreates Victorian street life and World War I trenches. This hidden gem features a life-size Victorian shopping street adorned with original antiques. Plus, you're sure to appreciate the authentically recreated railroad car! Perfect for history buffs and families. Just around the corner is Babbacombe Model Village, another must-see miniature world that is guaranteed to amaze you.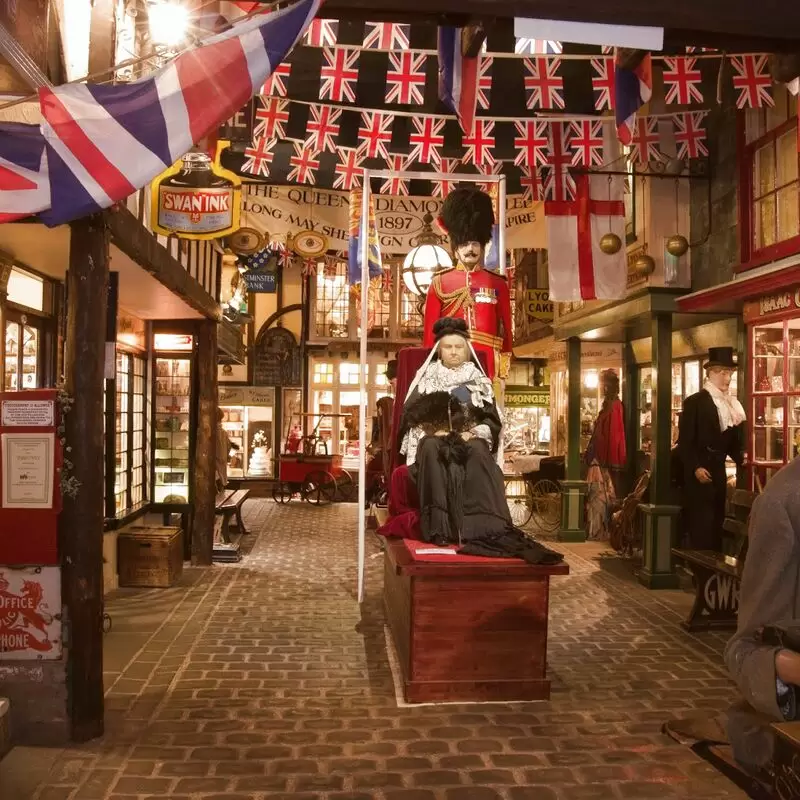 Bygones
Fore Street, St Marychurch, Torquay
Monday - Sunday: 10:00 AM – 4:00 PM
11. Cockington Court
Immerse yourself in the history of Cockington Court, a stunning manor house in Torquay's picturesque thatched village of Cockington. Stroll through the rose-planted, award-winning gardens, meet local artists in the lively craft studios, and immerse yourself in 1000 years of history in the Norman church. On a clear day, a walk to the nearby floodplains rewards you with enchanting views. Get your taste buds tingling with unique homemade cream teas at the on-site tearoom for a quintessentially British experience.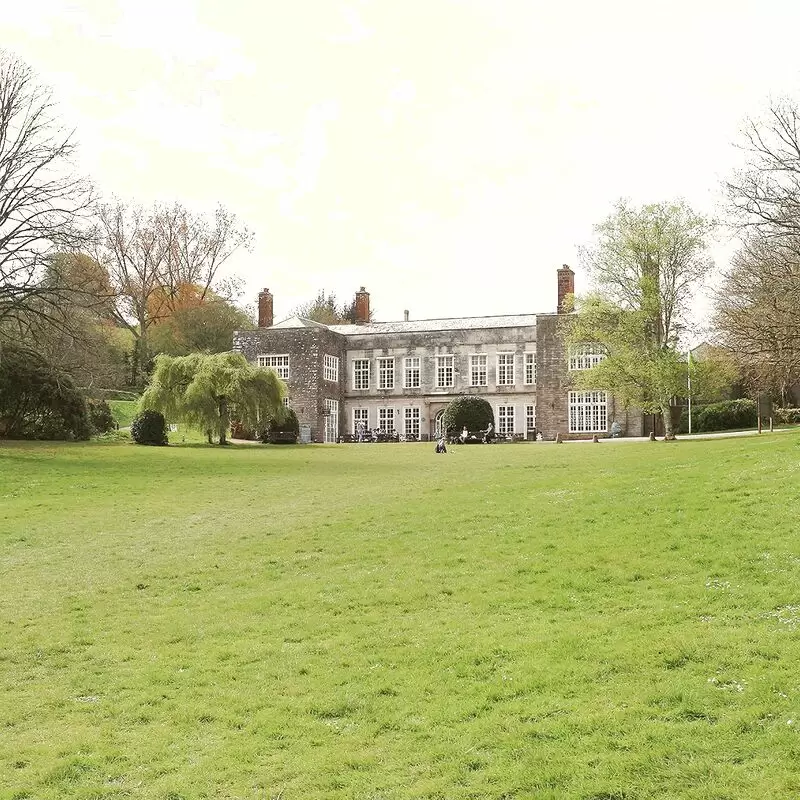 Cockington Court
Cockington Lane, Torquay
Monday - Sunday: 10:30 AM – 5:00 PM
12. Torquay Seafront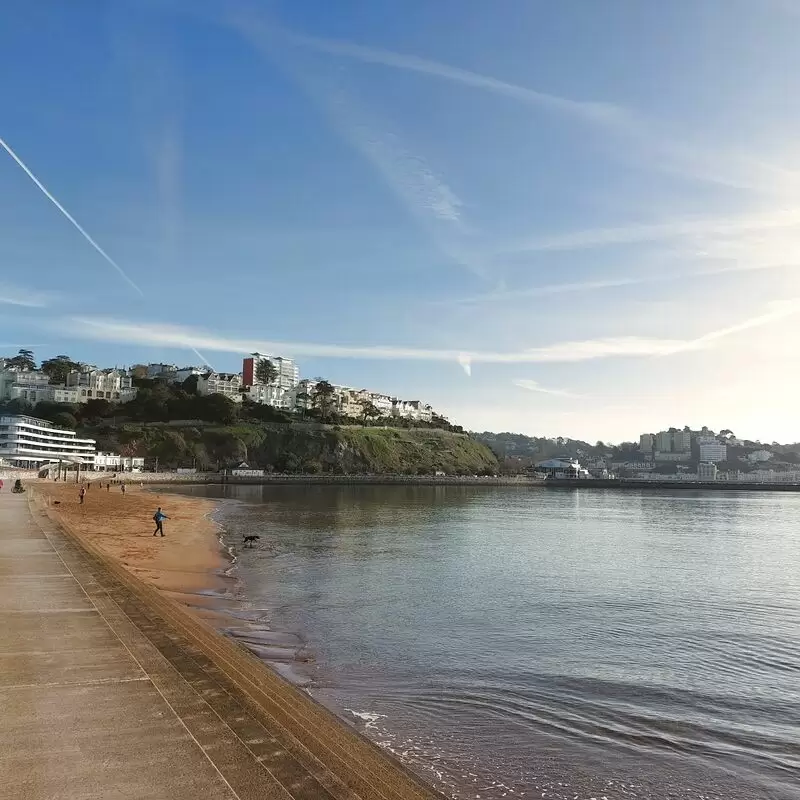 Torquay Seafront
Abbey Sands, 15962 Abbey Road, Torbay Road, Torquay
Monday - Sunday: Open 24 hours
13. Torre Abbey
Immerse yourself in Torquay's history at Torre Abbey, a medieval monastery turned into a captivating museum that houses centuries of British heritage. Stroll through the abbey's fascinating ruins, lush gardens, and delight in discovering the artwork of famous artists Gainsborough, Reynolds, and Burne-Jones. Be fascinated by the ghost stories that surround this 800-year-old site - a real insider's tip! And just a stone's throw away is the enchanting Babbacombe Model Village, a miniature world that recreates the essence of England in surprising detail.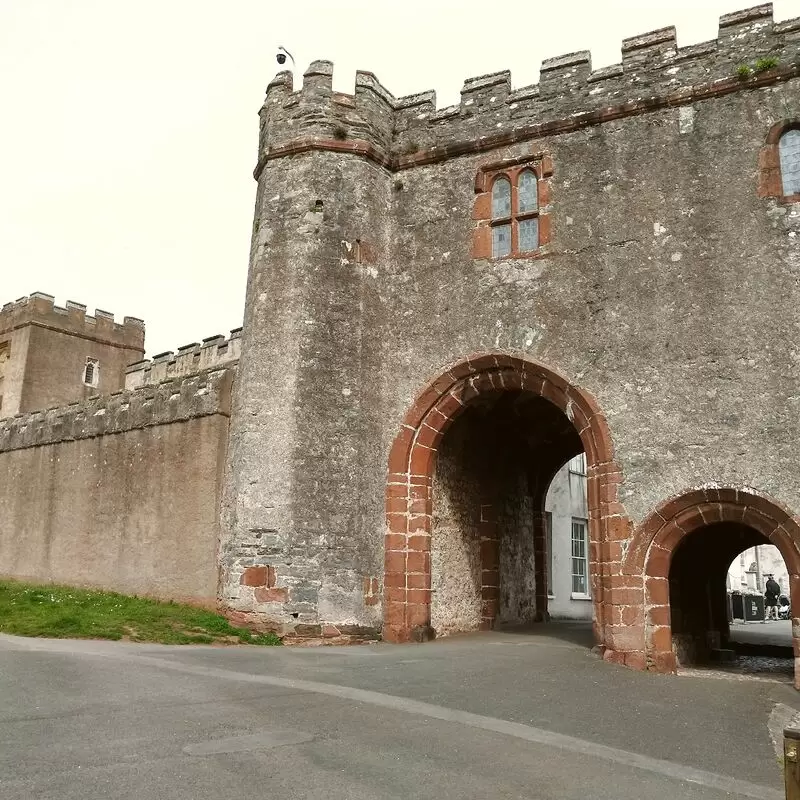 Torre Abbey
The King's Drive, Torquay
Monday: Closed
Tuesday - Sunday: 10:00 AM – 5:00 PM
14. Torquay Beach

Travel to Torquay Beach for an unforgettable experience! With its golden sands, turquoise waters and picturesque palm-lined promenade, it is the crown jewel of the English Riviera. This gem is perfect for sunbathing, building sandcastles, or taking a relaxing stroll. Don't miss the nearby Abbey Sands complex with its varied gastronomic offerings.

An insider tip: visit the place in the evening to experience a fascinating sunset. Just a stone's throw away, Torquay's Victorian marina is just waiting to be explored. An irresistible beach vacation awaits you!

Torquay Beach
Torquay Beach, A379, Torquay

Monday - Sunday: Open 24 hours
15. Abbey Park

A visit to Abbey Park in Torquay is an absolute must! It is a peaceful green oasis decorated with colorful flowers. Enjoy the mini golf course, tennis courts or just have a picnic in the greenery.

An insider tip: don't miss the fascinating water birds in the duck pond! And if you feel like a change of scenery, just a short walk away you'll find the captivating Torquay Museum, which tells a lot about local history. Abbey Park perfectly embodies the serenity and charm of Torquay.

Abbey Park
Torbay Road, Torquay TQ2 5DG

Monday - Sunday: Open 24 hours
16. Torquay Harbour Inner Dock)
Torquay Harbor (Inner Dock) is the lifeblood of the English Riviera. Breathe in the salty sea air, watch fishermen tugging at their ropes, and delight in the colorful array of boats bobbing on the shimmering waves. The marina hosts world-class events, boat rides and sailing competitions. It's also just a stone's throw from major tourist attractions like the Living Coasts Zoo & Aquarium and lively local markets. Here, the rich maritime character of the place is waiting to be discovered.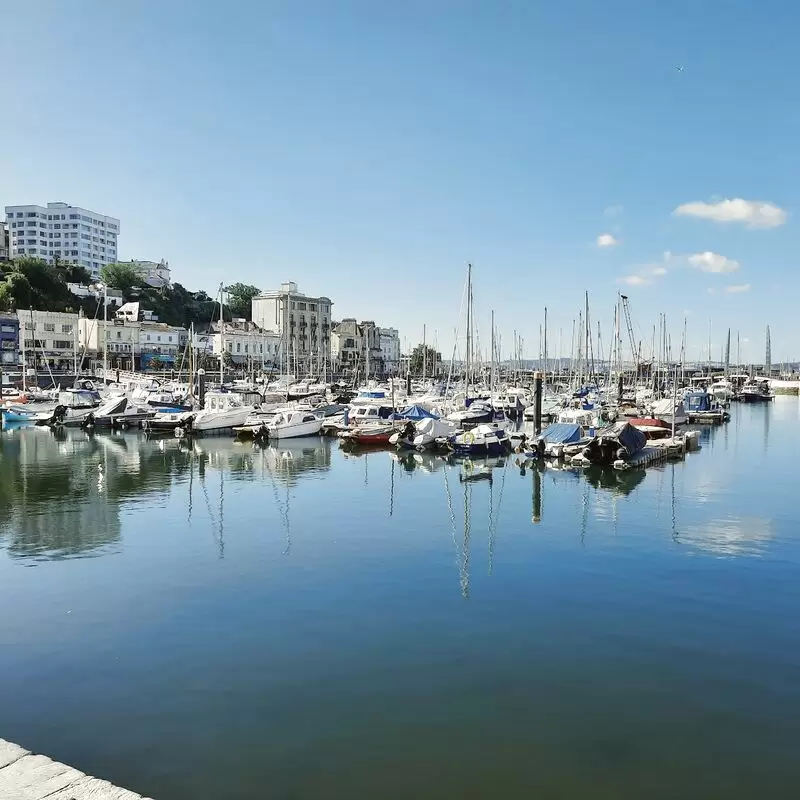 Torquay Harbour Inner Dock)
Torquay TQ1 2BB
Monday - Sunday: 7:00 AM – 9:00 PM
17. Meadfoot Beach
Travel to Meadfoot Beach in Torquay to experience quiet stretches of coastline where city noise is lost in the gentle rhythm of the sea. This is a hidden gem, less touristy but full of natural beauty. Beach huts painted in cheerful colors exude a quaint charm. Indulge yourself at a beachside cafe. If you're looking for adventure, follow the South West Coastal Path and discover Thatcher's Rock - a wonderful oasis of wildlife. The unparalleled tranquility and fascinating scenery make Meadfoot Beach a piece of paradise in Torquay!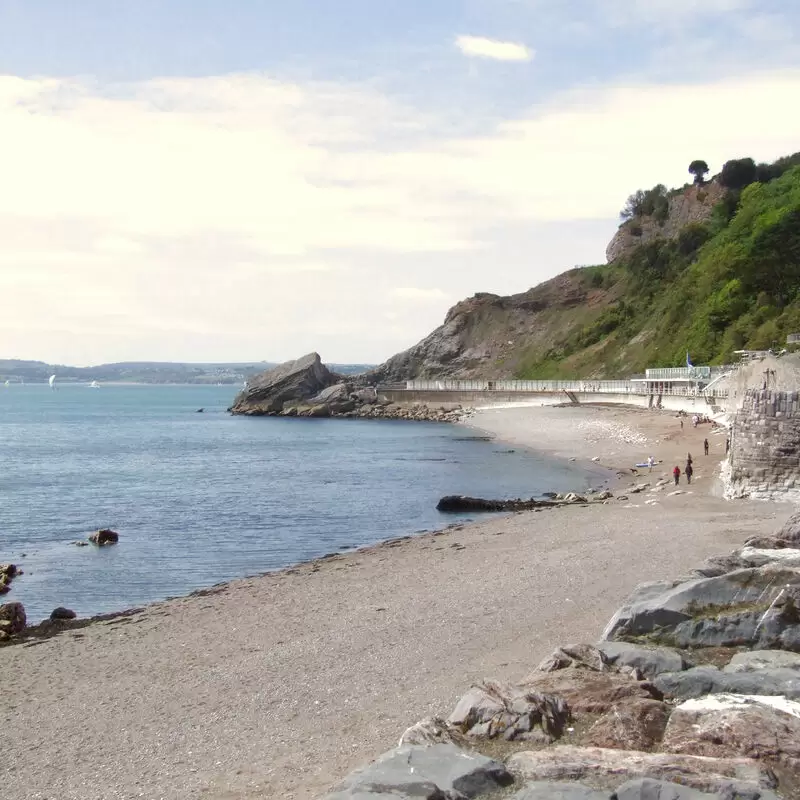 Meadfoot Beach
Meadfoot Beach, Meadfoot Sea Road, Torquay
Monday - Sunday: Open 24 hours
18. Babbacombe Downs
A visit to Babbacombe Downs in Torquay is a pleasure for all. It is the highest cliff top promenade in England and offers stunning panoramic views of the English Riviera. Enjoy an al fresco meal or a classic British pint in one of the pubs along the promenade. Don't miss the Cliff Railway, a historic delight to experience on a remarkable ride down to Oddicombe Beach. Nearby, you'll find the charming Babbacombe Model Village, teeming with miniature scenes and landscapes.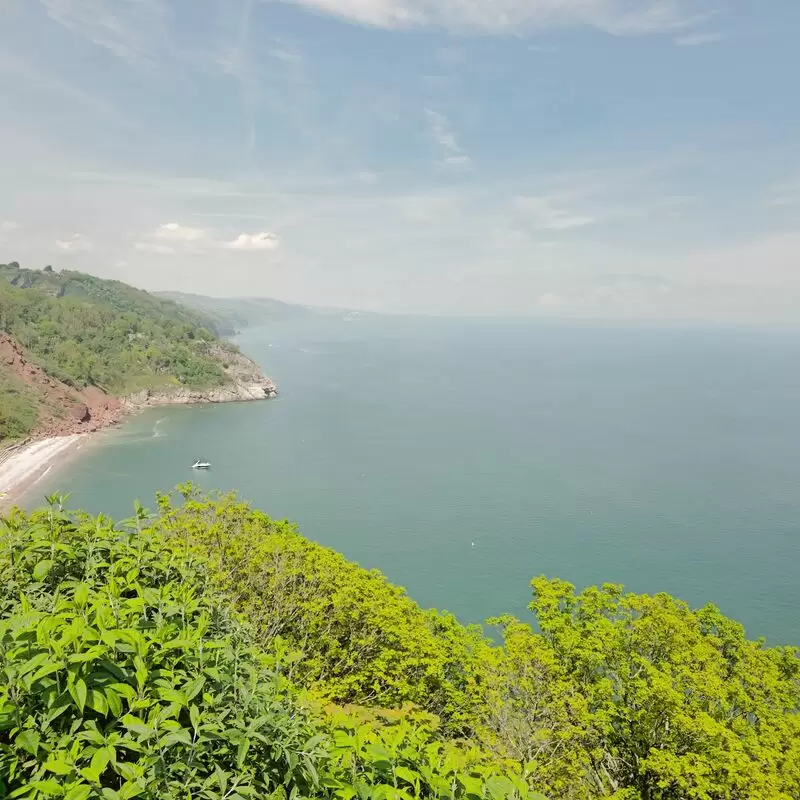 Babbacombe Downs
Babbacombe Downs Road, Babbacombe, Torquay TQ1 3LP
Monday - Sunday: Open 24 hours
19. Hope's Nose
Hope's Nose is a spectacular limestone cliff with panoramic views over the English Riviera. It is an angler's paradise and is known for its diverse marine life and rich geological heritage. The lush flora and fauna also make it a paradise for nature lovers. Don't miss the thrill of fossil hunting, as the limestone of this area has preserved the ancient history of Devon. Just a short drive away is Kents Cavern, a fascinating network of caves that date back two million years. Throw yourself into this natural adventure in Torquay!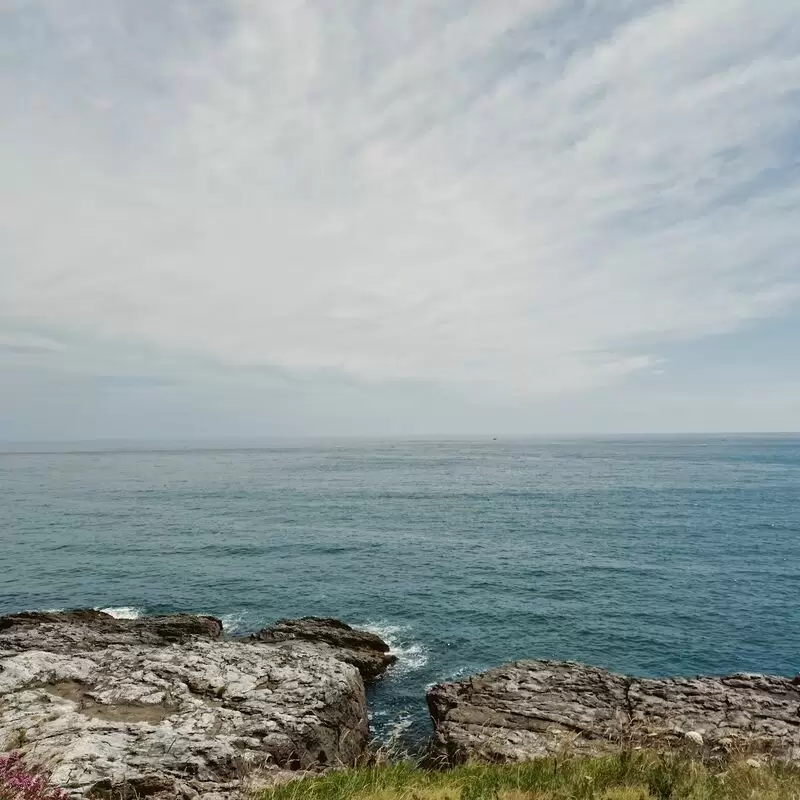 Hope's Nose
Torquay TQ1 2HT
Monday - Sunday: Open 24 hours
20. Golden Hind Museum Ship
Embark on the museum ship Golden Hind, a heart-stopping replica of Sir Francis Drake's galleon wonder. Immerse yourself in the rich history of the Navy, interact with sensory exhibits and experience the lives of pirates. This is not just an exhibit, but a living taste of the past. Don't miss the special events on board. Plus, the museum is fantastically located on Brixham Harbor, so you can end your maritime adventure with a relaxing walk in the picturesque bay. Plus, the nearby Berry Head National Nature Reserve is a must-see!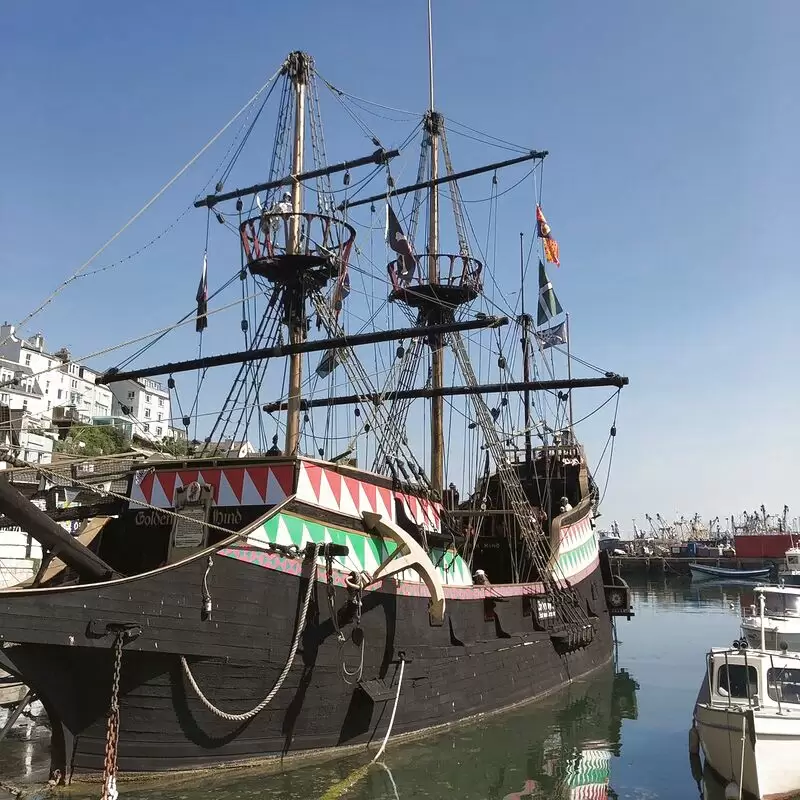 Golden Hind Museum Ship
The Quay, Brixham
Monday - Sunday: 10:00 AM – 4:00 PM
21. Berry Head Lighthouse
Berry Head Lighthouse is a beacon of beauty and history in Torquay. Its striking structure stands at the end of a spectacular limestone promontory and offers panoramic views of the sea. At night, its light shines brightly over the vast sea. Uniquely, it is the shortest lighthouse in Britain, but because of its cliff-top location, it is also the highest. Just a stone's throw away is the fascinating Berry Head Nature Reserve, home to rare flora and fauna. Discover the captivating history of this lighthouse and admire its picturesque surroundings.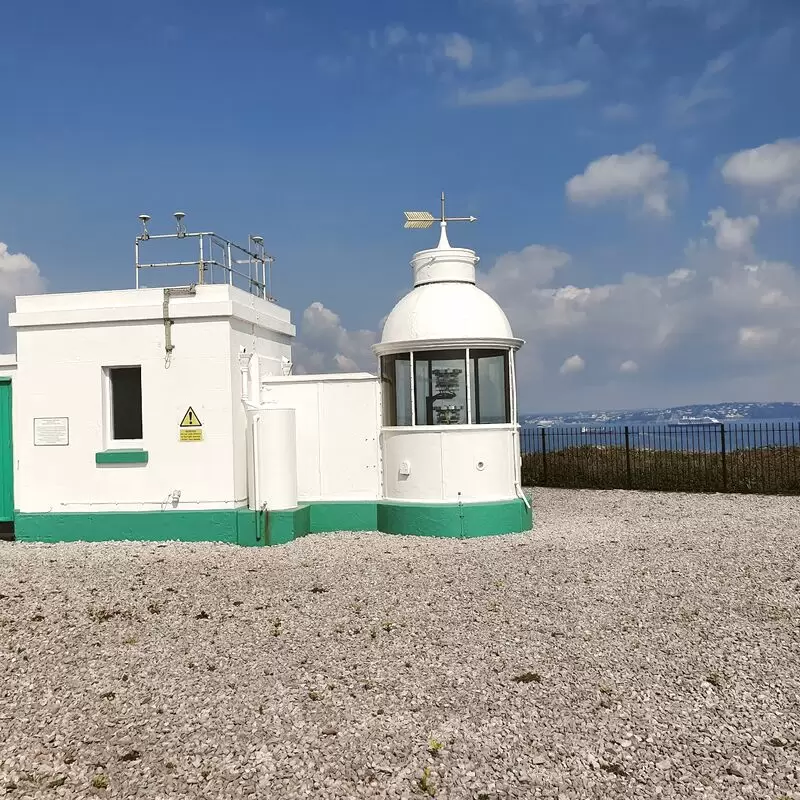 Berry Head Lighthouse
Brixham TQ5 9AP
Monday - Sunday: Open 24 hours
22. Fairy Cove
Fairy Cove, just a short walk from Paignton harbor, is a secret gem of Torquay. This secluded sandy beach is perfect for sunbathing or exploring rock pools at low tide. Surrounded by limestone cliffs and surrounded by beautiful parkland, you'll appreciate the tranquil atmosphere of the English Riviera. Visit it on a Sunday morning, when locals usually conduct a friendly beach cleanup. You can enjoy a typical English tea at the nearby Paignton Harbour Lights Cafe.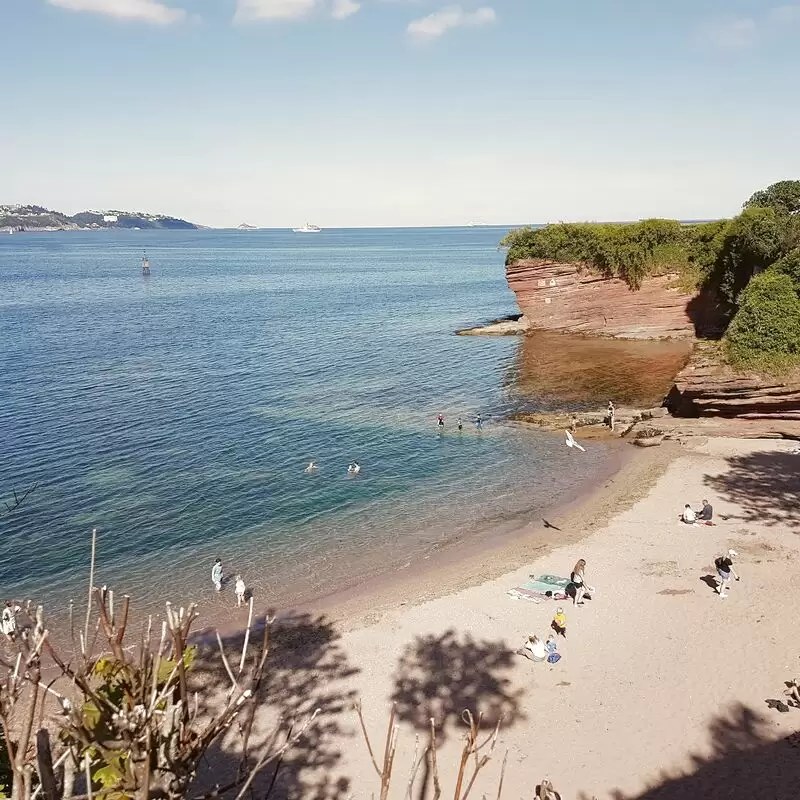 Fairy Cove
Harbour, South Quay, Paignton
Monday - Sunday: Open 24 hours
23. Torquay's Dinosaur World
Take a step back in time to prehistoric times at Torquay's Dinosaur World! Both kids and adults will enjoy the hands-on experience as you get to touch and explore life-size dinosaur replicas. It's educational and so much fun that you'll hardly realize you're learning anything. Don't miss the Fossil Zone, where you can discover your own fossils. Just a short walk away, you can continue your exploration at the English Riviera Wheel for breathtaking views of this beautiful coastal city.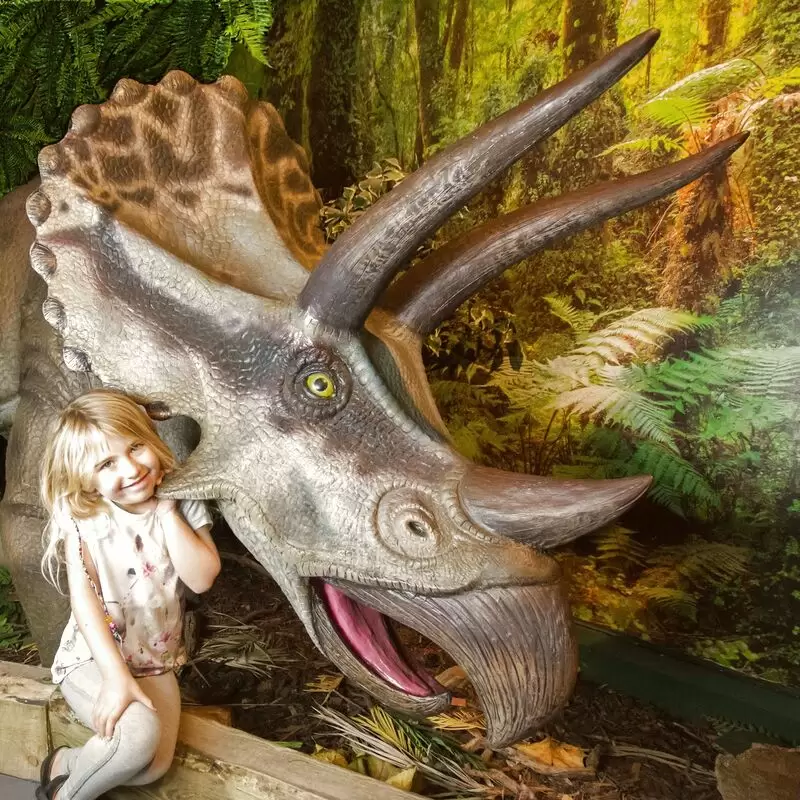 Torquay's Dinosaur World
3 Victoria Parade, Torquay
Monday - Sunday: 11:00 AM – 5:00 PM
24. Artizan Gallery
One of Torquay's gems is the Artizan Gallery. More than just a gallery, this prestigious venue showcases an impressive selection of contemporary art in a variety of mediums. You might even stumble across a lecture or workshop given by the artists themselves! But it's not just about the art, it's also about the sense of community that exists under the Artizan roof. Just around the corner you'll find the quaint Cockington Village, where you can experience traditional English life, or simply admire the beauty of Torquay's seafront.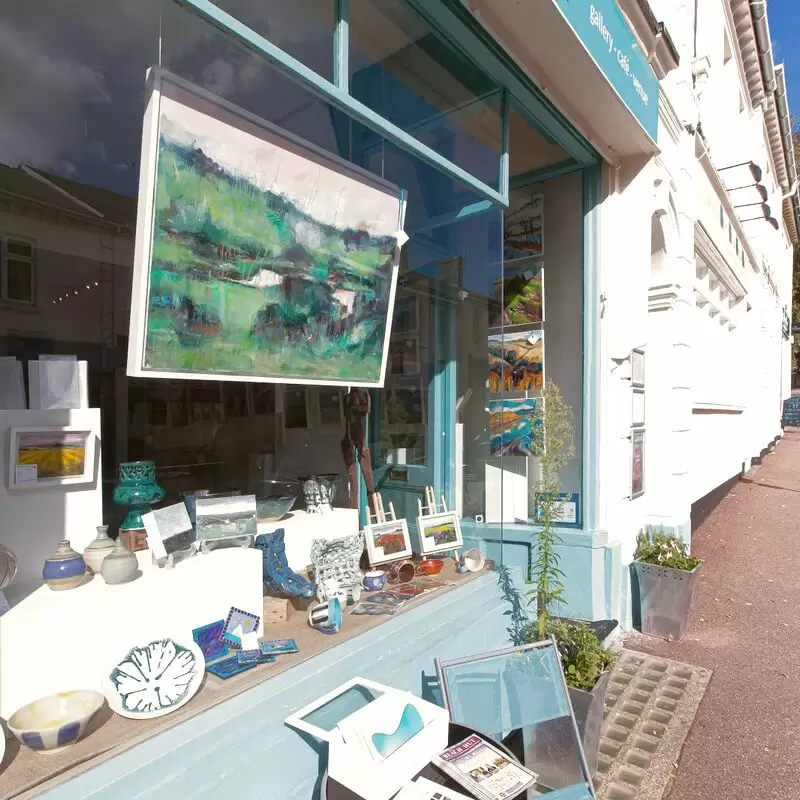 Artizan Gallery
7 Lucius Street, Torquay
Monday - Sunday: Closed
Tuesday - Saturday: 11:00 AM – 5:00 PM
25. National Trust Compton Castle
Visit the captivating National Trust - Compton Castle for an unforgettable leap back into the Middle Ages! This fortified manor house, with its soaring towers and impressive portcullis, looks back on 600 years of history. Be enchanted by the romantic rose gardens, feel the chill in the haunted room, and discover the fascinating history of the Gilbert family. Just a stone's throw away is Greenway, Agatha Christie's vacation home, another must-see when visiting Torquay.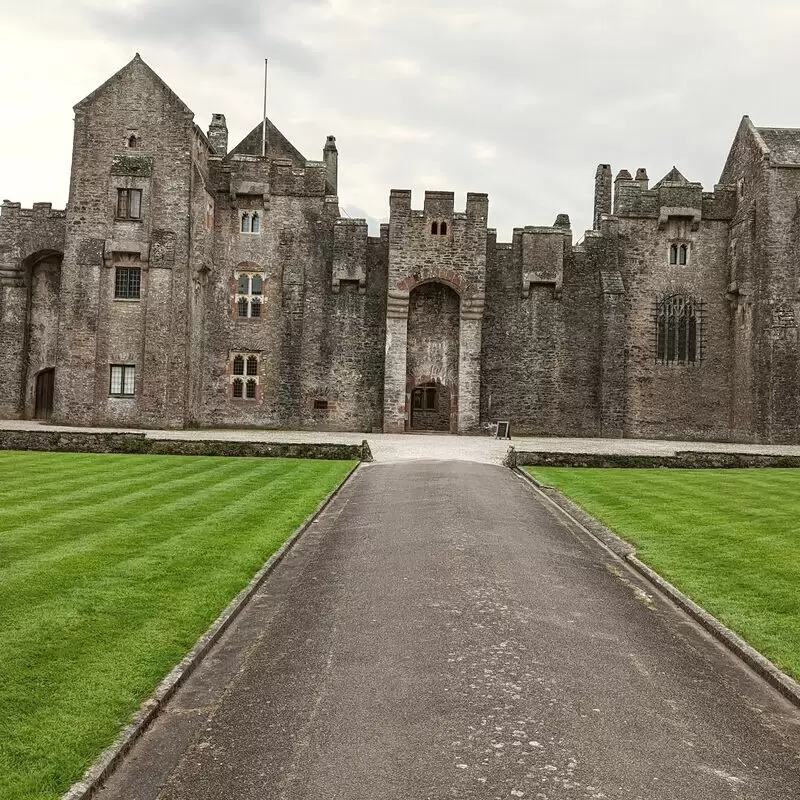 National Trust Compton Castle
Gropers Lane, Compton
Monday - Thursday: 10:30 AM – 4:00 PM
Friday - Sunday: Closed
26. Torquay Museum
Delve into Torquay's fascinating past at Torquay Museum, the oldest museum in Devon. With its fascinating archaeological finds, significant maritime artifacts and unique Agatha Christie Gallery, it's a real treat! What many don't know: The museum is considered one of the most haunted museums in the UK, with spooky sightings a common occurrence! And just a stone's throw away is the serene and breathtaking Kents Cavern, which offers a glimpse into Torquay's prehistoric history. These are experiences you simply can't miss!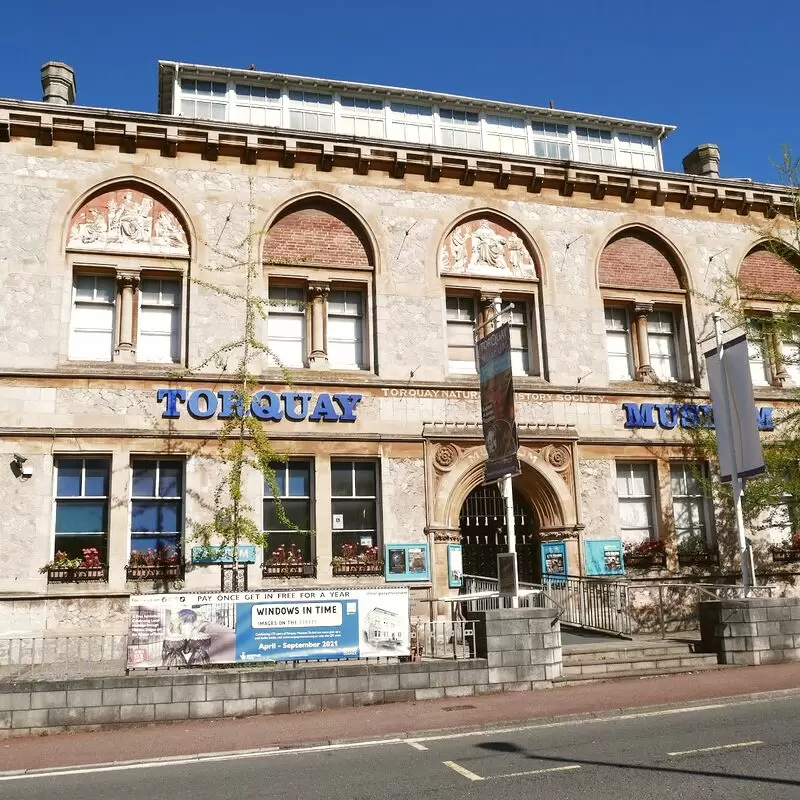 Torquay Museum
Museum, 529 Babbacombe Road, Torquay
Monday - Saturday: 10:00 AM – 4:45 PM
Sunday: Closed
27. Shaldon Botanical Gardens
Immerse yourself in the lush panorama of Shaldon Botanical Gardens, a hidden gem in Torquay. It is a plant lover's paradise with exotic species and colorful blooms adorning the landscape. Whimsical garden sculptures add a unique charm to the walk. Don't forget to discover the secret path guarded by tall trees that leads to an enchanting, tranquil view. Ness Beach, just a stone's throw away, can be reached via a smugglers' tunnel and enriches your adventure with a touch of historical mystery and maritime delights.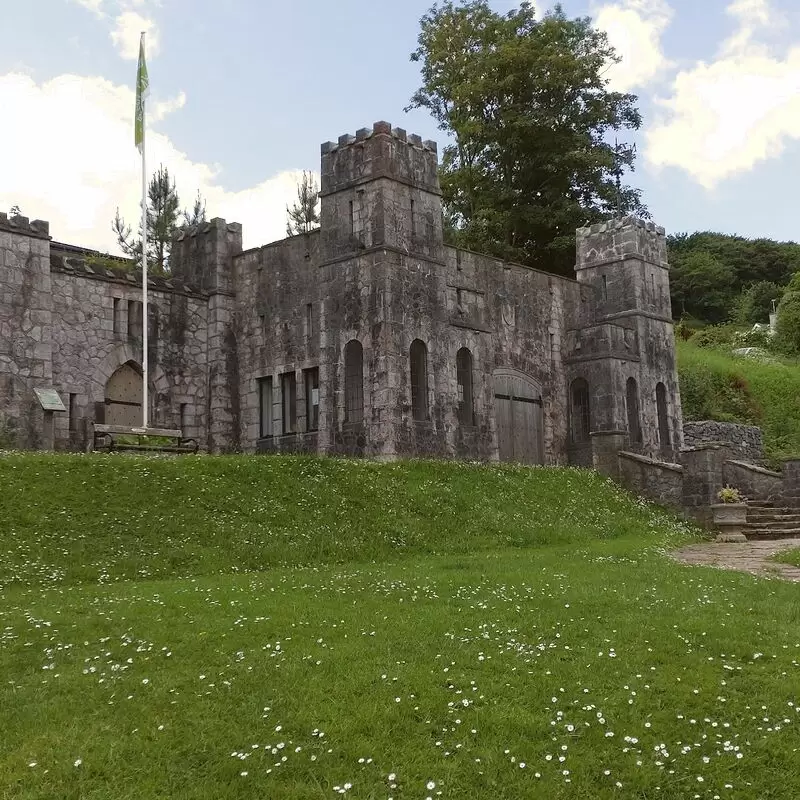 Shaldon Botanical Gardens
Torquay Road, Shaldon, Teignmouth
Monday - Sunday: Open 24 hours
28. Silver Halo Charters
Immerse yourself in an unforgettable adventure with Silver Halo Charters in Torquay, a must for sea lovers. Embark on unparalleled fishing trips and catch everything from mackerel to cod. Or simply enjoy the breathtaking views of the Torquay coastline from the deck. Skippers with local knowledge guarantee an authentic experience. Also just around the corner is the Living Coasts Zoological Park for a day of excitement and unique viewing!
Silver Halo Charters
Harbour, Torquay
Monday - Sunday: 7:00 AM – 5:00 PM
29. Occombe Farm

A visit to Occombe Farm is a must for a charming, rural experience amidst the urban splendor of Torquay. This organic farm offers charming nature trails and a picturesque picnic area. Amazingly, admission is free, so you can get up close and personal with the adorable animals.

As an insider tip, be sure to try the fresh, locally sourced delicacies at the on-site café. Plus, Paignton Zoo is just a short drive away, where you can experience more wild encounters!

Occombe Farm
Preston Down Road, Paignton

Monday - Sunday: 10:00 AM – 5:30 PM
30. Splashdown Quaywest
Splashdown Quaywest, the UK's largest outdoor water park, offers thrilling adventures on its 8 water slides. Feel the rush of thrilling water slides like the Devil's Drop. There's even a nice play area for kids under 5. Nearby in Goodrington, there's the Enchanted Kingdom Play Café for the little ones and Bacchus for an unforgettable oceanfront dinner overlooking the bay - a must for families looking for fun and excitement.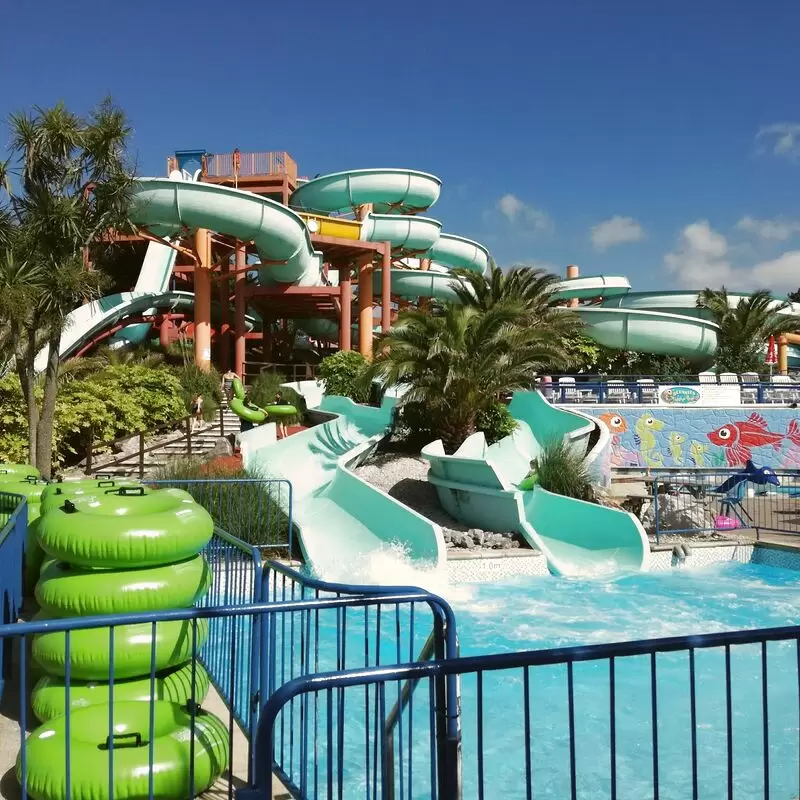 Splashdown Quaywest
Goodrington Sands, Tanners Road, Paignton
Best Time to Visit Torquay
The best time to visit Torquay in the UK is between May and September, when the weather is warm and ideal for beach activities and outdoor sightseeing. Babbacombe Model Village, Kents Cavern and Torquay's seashore are particularly worth visiting during this time.
Annual Weather in Torquay
Torquay 3-Day Forecast
Wed, 27 September
Night
56 °F
14 °C
0%
Morning
59 °F
15 °C
64%
Afternoon
62 °F
17 °C
69%
Evening
56 °F
13 °C
0%
Thu, 28 September
Night
55 °F
13 °C
0%
Morning
55 °F
13 °C
62%
Afternoon
57 °F
14 °C
78%
Evening
57 °F
14 °C
0%
Fri, 29 September
Night
55 °F
13 °C
0%
Morning
54 °F
12 °C
0%
Afternoon
62 °F
17 °C
75%
Evening
58 °F
14 °C
78%
Questions & Answers

How easy is it to navigate around Torquay?

Navigating Torquay is relatively easy due to the town's compact structure. The town center can be explored on foot, and major attractions, shopping, restaurants, and beaches are within easy walking distance of each other. Public transportation, including buses and trains, is readily available, well maintained, and reliable for travel further afield. For those who prefer to drive, signage is clear. Alternatively, boats and ferries along the English Riviera coast offer a scenic way to get around. Maps are also readily available at tourist information centers if needed.

Is Torquay kid-friendly?

Torquay is definitely a fantastic destination for families with children. There are numerous child-friendly attractions such as Babbacombe Model Village, Living Coasts Zoo and Aquarium, and Torquay's Dinosaur World. Beautiful beaches provide ample opportunities for sandcastle building and splashing in the sea. In addition, local restaurants are very accommodating to younger diners. Entertaining festivals or events are always held, so all family members can have a lot of fun.

How far is Torquay from London?

Torquay, a beautiful coastal town in the United Kingdom, is about 220 miles from the capital London. By car, the journey ideally takes about 4 to 5 hours, depending on traffic and the route chosen. By the fastest train, it takes about 3 hours. The picturesque beaches and tranquil atmosphere make the island a worthwhile destination for a peaceful escape from the hustle and bustle of London life.

Are most locals in Torquay English speakers?

Yes, Torquay is located in the United Kingdom, where the official and predominant language is English. Therefore, most locals in Torquay, as in the rest of the UK, are English speakers. Both the locals and the entertainment, catering and hotel staff communicate fluently in English. This widespread use of English makes it easy for travelers who speak or understand English to find their way around town and communicate with the locals.

What's the usual cost of a meal in Torquay?

The cost of a meal in Torquay (United Kingdom) can vary greatly depending on where you choose to eat. If you go out to eat at a mid-range restaurant, expect prices to range from £15 to £30 per person. For a three-course meal at an upscale restaurant, prices usually range from £30 to £50 per person. However, for a quick snack at a fast food restaurant, you can expect to pay less than £10.

What are the transport options within Torquay?

Traveling in Torquay, United Kingdom, is facilitated by an efficient public transportation network. Visitors can use local bus routes to explore the town and nearby attractions. There is a local train that connects Torquay with other British cities. Alternatively, cabs are available and can be hailed on the street or reserved in advance. For those who prefer to drive themselves, numerous car rental agencies offer vehicles for hire. Cycling and walking are also popular ways to explore the city, especially in the densely populated areas and along the coast.

Can I use credit cards in most places in Torquay?

Yes, credit cards are widely accepted in Torquay, United Kingdom. Most businesses, such as hotels, restaurants, stores and tourist attractions, accept major credit cards like Visa and MasterCard. However, it is advisable to carry some cash, especially for small purchases or in case you visit places that do not accept cards. If you want to withdraw cash, you will find ATMs all over the city.

Are there particular customs I should be aware of in Torquay?

Torquay, like the rest of the UK, takes courtesy seriously. When visiting Torquay, respect the queues, thank your bus driver, and tip in restaurants and cafes, as service charge is not usually included in the bill. Locals appreciate it when visitors understand British understatement, although any foreigner will be understanding. In pubs, it is common for everyone to buy a round of drinks for the group. Always remember to say "please" and "thank you" and you will fit right in.

Is Torquay safe for solo traveling?

Yes, Torquay is generally considered safe for solo travelers. As with any destination, the usual safety precautions should be observed, such as not openly displaying valuable items, avoiding unlit or deserted areas at night, and being careful with personal belongings. However, the city is known for its friendly locals, well patrolled areas and reliable public transportation, making it a convenient and safe choice for solo travelers.

How long should I stay in Torquay for a full experience?

To fully experience Torquay, United Kingdom, you should plan to stay for about a week. In this time frame, you can enjoy the main attractions without feeling rushed, including beaches, gardens, restaurants, and nearby attractions. A week will also give you the opportunity to explore the local culture, shop, enjoy the nightlife, and maybe even take a short trip to nearby Dartmoor National Park.

What type of clothing is suitable in Torquay?

The weather in Torquay, United Kingdom, can be unpredictable, so it is advisable to include several layers in your wardrobe. Light, comfortable clothing is appropriate for summer, but take a sweater or cardigan for cooler evenings. In the fall and winter months, warmer clothing is necessary, including waterproof items for rainy days. Good walking shoes are essential at any time of year, as Torquay has hilly terrain and beautiful coastal walks. In summer, sunscreen is recommended as the sun can be deceptively strong.

Is Torquay wheelchair-accessible?

Torquay, known as the jewel of the English Riviera, is indeed wheelchair accessible. Many major attractions, accommodations and restaurants are designed for accessibility. Specially adapted beach wheelchairs are also available on Torquay's beautiful beaches. Public transportation and cabs are equipped to welcome travelers with mobility aids. Torquay is a charming seaside town that strives to be accessible to all visitors, regardless of mobility. However, some areas of this hilly city can be challenging.

Is there free Wi-Fi easily available in Torquay?

Yes, in Torquay, a popular tourist destination in the UK, there are quite a few places with free Wi-Fi. These range from cafes, bars and restaurants to public places like libraries and town centers. Also, various accommodations such as hotels, hostels and guesthouses usually offer free Wi-Fi to their guests. However, signal strength and speed can vary from place to place. It's always a good idea to check with the establishment in question about Wi-Fi services.

What are popular local foods I should try in Torquay?

In Torquay, you must try the "cream tea", a local delicacy consisting of scones, jam and plenty of clotted cream. The seaside town is also known for its fresh seafood such as haddock, traditionally served as "fish and chips". For dessert, try a piece of Devonshire apple cake, a regional sweet delicacy baked from fresh local apples. These dishes perfectly represent the culinary heritage of Torquay.

Is tap water safe to drink in Torquay?

Yes, the tap water in Torquay, United Kingdom, is safe to drink. It is tested regularly and meets the high safety standards set by the UK Drinking Water Inspectorate. The water in Torquay is known to be hard due to the limestone geology of the region. However, this does not pose a health risk. Rather, hard water is known to have higher levels of beneficial minerals such as calcium and magnesium.

Is it easy to find vegetarian/vegan food in Torquay?

Yes, in Torquay you will have no problems finding vegetarian or vegan food. There are plenty of restaurants in the city that offer vegetarian and vegan dishes, catering to a wide range of dietary needs. Specialty cafes offer plant-based dishes, and many traditional restaurants have vegetarian options on their menus. More and more local stores are also carrying vegan products. Whether you're looking for a quick snack or a full meal, Torquay is well equipped to satisfy vegetarian or vegan appetites.

Can I cycle around Torquay?

Yes, you can actually cycle in Torquay. The picturesque seaside town offers numerous routes for cyclists of all abilities. It is a perfect place for leisurely bike rides with breathtaking sea views and beautiful landscapes. There are several bike rentals and even a dedicated bike path - Torbay Velopark - suitable for beginners and families. Don't forget to explore the surrounding areas of the English Riviera on the National Cycle Network Route 28.

Are there any public holidays or local festivals unique to Torquay?

Torquay is famous for the annual Torbay Royal Regatta, one of the oldest events of its kind in the United Kingdom. This week-long festival of sailing, sports and outdoor activities is a major highlight in the English Riviera calendar. Another unique event is the Agatha Christie Festival, which celebrates the legendary mystery writer's birthday and focuses on her works and life in Torquay. These local festivals are not public holidays, but they bring out the local flavor of this seaside town to the fullest.

Is tipping customary in Torquay?

Yes, tipping is common in Torquay, United Kingdom, but not mandatory. In restaurants, it is customary to tip 10-15% unless the service charge is already included in the bill. Cab drivers do not necessarily expect a tip, but it is appreciated. For hotel staff such as bellhops or room service, a small tip is generally expected, but again, it is at your discretion. In bars and pubs, however, tipping is not common. Remember that these are guidelines and it is advisable to act according to your satisfaction.

What's the emergency number in Torquay?

In the United Kingdom, including Torquay, the emergency services can be reached by dialing 999. This number will connect you with the police, fire and ambulance services. You can also dial 112, the standard emergency number in the European Union. If you are deaf or hard of hearing, you can send an emergency message to the number 18000. Remember that these numbers should only be used in real emergencies.

Are the beaches in Torquay clean and safe?

Torquay has some of the cleanest and safest beaches in the UK. Torquay's golden sand beaches often pass environmental and safety checks with flying colors. Lifeguards monitor the popular beaches during peak hours to ensure safety. Water quality is also high and inviting for swimming. Regular litter collection campaigns by the council and community groups ensure that the beaches remain pristine. Torquay's beaches are indeed a great, safe place to relax and unwind.

What's the local currency in Torquay?

The local currency in Torquay, United Kingdom, is the British pound sterling, often referred to simply as the pound. It is denoted by the symbol £ and is one of the oldest currencies in constant use. It is divided into 100 pence. There are bills in denominations of £5, £10, £20 and £50 and coins in denominations of 1p, 2p, 5p, 10p, 20p, 50p, £1 and £2. It is common to use a mixture of cash and card when visiting.

Is there a dress code at religious sites in Torquay?

In Torquay, like most places in the UK, there is no strict dress code for religious sites. However, out of respect, visitors are encouraged to dress modestly when visiting places of worship such as churches or cathedrals. This usually means avoiding overly revealing or disrespectful clothing. For example, you should avoid shorts, belly-baring tops, or hats in religious buildings. Check the specific guidelines of each site, as some have special requirements.

Can you drink alcohol in public in Torquay?

In Torquay, United Kingdom, the consumption of alcohol in public is generally permitted. However, please note that in certain areas, known as Designated Public Place Orders (DPPOs), alcohol consumption is restricted. These are usually located in parks, near schools, or on certain streets. In addition, authorities have the right to take action if they believe someone is behaving in an anti-social manner due to alcohol. As a visitor, it is advisable to consume alcohol responsibly and respect local laws and traditions.

Is Torquay dog-friendly?

Yes, Torquay is indeed a dog-friendly destination. The city has a variety of dog-friendly pubs, cafes, and parks where you can enjoy your visit with your four-legged friend. Some beaches in the area, including Goodrington Sands and Babbacombe Beach, welcome dogs year-round. Also, many accommodations offer dog-friendly rooms so your pet can be with you during your stay. Keep in mind, however, that like anywhere, there may be restrictions, so it's best to find out beforehand.

Where can I see Torquay's local arts scene?

You'll find an exciting local art scene at the Artizan Gallery in Torquay, which features works by local and regional artists. The Princess Theatre also hosts a variety of performances, ranging from dance to plays. In addition, Cockington Court, just outside the city, is home to more than 20 craft workshops where you can watch artisans at work. These venues offer a lively insight into Torquay's arts and crafts.

How common is Uber or similar services in Torquay?

Uber and similar ride-sharing services are not as prevalent in Torquay as in larger UK cities. However, there are many traditional cab services that are reliable and easily accessible. These include Torbay Taxis and Torquay Taxis. For a more tech-savvy alternative, there are apps like Ola that are active in the region. Pre-booking a cab or a rental car is also a popular option among tourists.

Are there many ATMs in Torquay?

Yes, Torquay, a popular coastal town in the UK, is well equipped with ATMs for both locals and visitors. Many banks in the town center, such as Barclays, HSBC and NatWest, offer ATMs. In addition, there are also independent ATMs in various stores and supermarkets in the city. This ensures that citizens have convenient access to cash at all times.

Is healthcare in Torquay easily accessible for tourists?

Yes, healthcare in Torquay is quite accessible for tourists. The town has a number of NHS and private clinics where tourists can get medical services. Devon Doctors On Call (DDOC) offers GP services out of hours. There are also pharmacies available for non-urgent cases or prescription needs. However, non-UK residents may be charged for using NHS services, so it is advisable to take out travel insurance to cover medical care.

Is there a local etiquette to follow when dining in Torquay?

When dining out in Torquay, it is polite to observe traditional British etiquette. Punctuality is encouraged, so show up on time for your reservation. Always use your cutlery and not your fingers, unless you are eating finger food. The British also value table manners, for example, you should not put your elbows on the table and place your napkin on your lap. Finally, it is customary to tip in Torquay; a service charge is not always included in the bill, so a 10-15% tip is usually expected.

Feedback

I hope you found this article informative and helpful. I'm eager to improve the content and make it even more valuable for you. If you have any feedback or suggestions, I would love to hear from you.

Do you have any tips or hidden gems that you think should be added to the list? Are there any areas that you feel could use more explanation or clarification?

Your input is greatly appreciated and will help us to continue providing high-quality content that meets your needs and interests. Please feel free to share your thoughts.