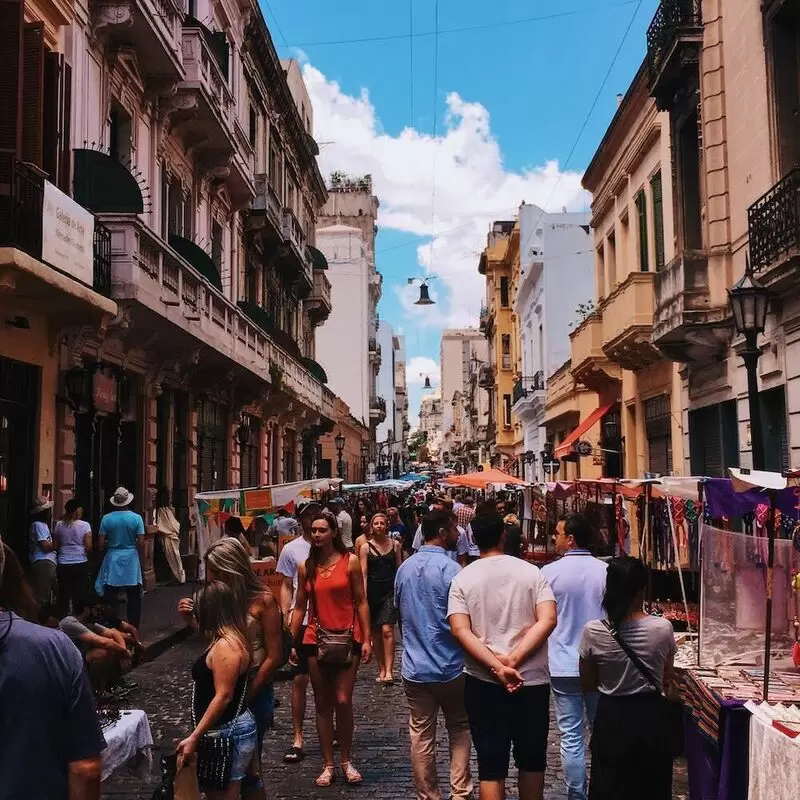 1. Plaza de Mayo

When you visit Buenos Aires, you can't miss the iconic Plaza de Mayo. This historic square in the heart of the city is the site of numerous political rallies and demonstrations, making it a symbol of Argentine democracy and activism. Stroll through the square and admire the impressive architecture of the surrounding buildings, including the Casa Rosada (the presidential palace) and the Metropolitan Cathedral.

Insider tip: Don't miss trying the famous choripán (a delicious Argentine sausage sandwich) at one of the food stalls in the square. And while you're in the area, be sure to check out the nearby landmark Obelisk.

Plaza de Mayo
Av. Hipólito Yrigoyen s/n, MonserratC1087 Buenos Aires
2. Jardín Japonés

Experience the tranquility and beauty of Japan without leaving Buenos Aires at "Jardín Japonés"! This peaceful garden oasis features a number of Japanese elements, including a tea house, a Zen garden, and a koi pond. Stroll through the winding paths lined with cherry blossom trees and admire the garden's intricate architecture. Don't miss the opportunity to witness a traditional Japanese tea ceremony.

Insider tip: Visit the garden during the week to avoid crowds! The Argentinian Polo Open is not far away, so be sure to include this event in your itinerary as well.

Jardín Japonés
Av. Casares 3450, C1425EWN C1425EWN

Monday - Sunday: 10:00 AM – 6:30 PM
3. Jardín Botánico Carlos Thays

If you're looking for a beautiful green oasis in the middle of bustling Buenos Aires, be sure to include a visit to Jardín Botánico Carlos Thays in your itinerary. This botanical garden is a hidden gem and a must-see for any tourist looking for a tranquil and picturesque retreat. One of the highlights of the garden is the stunning Roman Garden with its ornate fountains and impressive sculptures.

Insider tip: Don't miss the beautiful Rose Garden, which features over 8,000 roses of various species. The garden is also close to the famous Palermo neighborhood, where you can find many trendy cafes, stores and bars.

Jardín Botánico Carlos Thays
Buenos Aires, PalermoC1425 Buenos Aires

Monday: Closed
Tuesday - Friday: 8:00 AM – 5:30 PM
Saturday - Sunday: 9:30 AM – 5:30 PM
4. Floralis Genérica

Floralis Genérica is a must-see attraction in Buenos Aires! This stunning metal flower sculpture stands in the middle of a beautiful park and offers visitors the perfect place for a picnic or a leisurely stroll. The flower is so huge that it closes at night and reopens at sunrise to slowly bloom in the morning light - an incredible sight!

Insider tip: Stop by at sunset to watch the flower close - a truly magical experience. Nearby is also the famous Planetario Galileo Galilei, which is also worth a visit!

Floralis Genérica
Av. Pres. Figueroa Alcorta 2301, RecoletaC1425 Buenos Aires
5. Tres de Febrero Park

Looking for a quiet retreat from the bustling metropolis of Buenos Aires? Then Tres de Febrero Park, one of the city's largest and arguably most beautiful parks, is just the place. This lush green oasis is popular with locals and tourists alike, offering a peaceful respite from the noise and chaos of the city. Take a stroll around the many lakes and gardens, or rent a bike and explore the park's winding paths.

Insider tip: Visit the beautiful Rosedal Garden, a romantic enclave filled with blooming roses that's perfect for a picnic or a quiet afternoon with a book. And just a short walk away you'll find the stunning Planetario Galileo Galilei, one of Buenos Aires' must-see attractions.

Tres de Febrero Park
Av. Infanta Isabel 110, Palermo Buenos Aires

Monday - Sunday: Open 24 hours
6. Museo Nacional de Arte Decorativo
One of the most impressive museums in Buenos Aires is the Museo Nacional de Arte Decorativo, a treasure trove of European art and design from the 17th century onward. Century. The impressive palace that houses this collection is worth a visit on its own, but its interior is also breathtaking, with ornate rooms filled with stunning collections of textiles, furniture, paintings and sculptures. The spectacular conservatory is the ideal place to relax and admire the carefully landscaped gardens. After your visit, enjoy a cup of coffee at the on-site café. The museum is located in the beautiful Recoleta neighborhood, near the famous Recoleta Cemetery.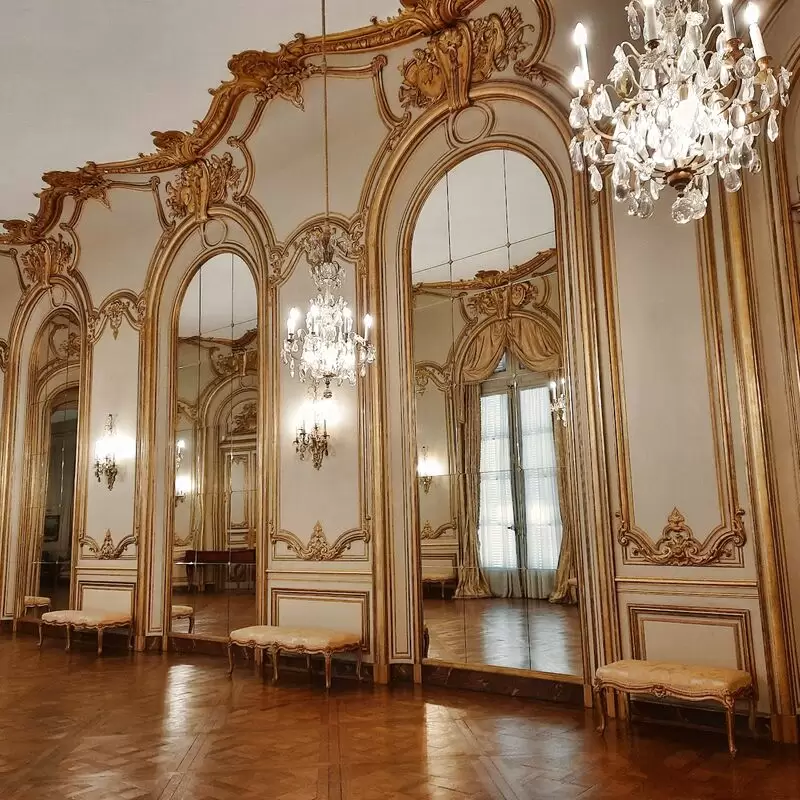 Museo Nacional de Arte Decorativo
Av. del Libertador 1902, PalermoC1425 Buenos Aires
Monday - Tuesday: Closed
Wednesday - Sunday: 1:00 – 7:00 PM
Best Time to Visit Buenos Aires
The best time to visit Buenos Aires is spring (September to November) and fall (March to May), when the weather is mild and pleasant for outdoor activities. Summer (December to February) can be hot and humid, while winter (June to August) can be cool and damp. However, there are many opportunities for indoor activities throughout the year, such as museum visits, tango shows, and delicious food.
Annual Weather in Buenos Aires
Buenos Aires 3-Day Forecast
Sat, 23 September
Night
55 °F
13 °C
0%
Morning
55 °F
13 °C
0%
Afternoon
59 °F
15 °C
88%
Evening
59 °F
15 °C
0%
Sun, 24 September
Night
57 °F
14 °C
0%
Morning
56 °F
13 °C
0%
Afternoon
61 °F
16 °C
0%
Evening
58 °F
15 °C
0%
Mon, 25 September
Night
55 °F
13 °C
0%
Morning
54 °F
12 °C
0%
Afternoon
57 °F
14 °C
0%
Evening
55 °F
13 °C
0%
Questions & Answers

What is the currency in Argentina?

The currency of Argentina is the Argentine peso, denoted by the symbol "$". The peso is divided into 100 centavos. The most common bills are the 100, 200, 500 and 1000 dollar pesos. Coins come in denominations of 1, 2, 5, 10 and 50 centavos, as well as $1, $2, $5 and $10 pesos. Since Argentina has experienced currency fluctuations and inflation in the past, it is advisable to check the current exchange rate before traveling.

What is the best way to get around Buenos Aires?

The best way to get around Buenos Aires is to use the city's extensive public transportation system. The subway (known as "Subte") and bus network are safe and affordable options to reach different parts of the city. Cabs and ridesharing are also available, but can be more expensive during rush hour. Biking and walking are also popular options for exploring some of the city's scenic neighborhoods. However, it is important to be aware of your surroundings and take appropriate safety precautions when traveling in Buenos Aires.

Is Spanish the only language spoken in Buenos Aires?

Although Spanish is the official language of Buenos Aires, other languages are often spoken in the city due to its diverse cultural makeup and tourism industry. English is especially common in areas frequented by tourists, while Portuguese and Italian are also spoken quite frequently due to historical ties and immigration patterns. However, if you have at least a basic knowledge of Spanish, you will likely be able to navigate everyday life in Buenos Aires.

Where is the best place to watch tango shows in Buenos Aires?

Buenos Aires is known for its lively tango scene, and there are many places where you can experience a great tango show. One of the most famous places is Café Tortoni, a historic café that has been around since 1858 and is known for its nightly tango performances. La Ventana is another popular venue that offers not only live tango shows, but also Argentine cuisine and wine. For a more intimate tango experience, head to El Querandí, where the show takes place in a 1920s-style venue with candlelit tables.

What is the nightlife like in Buenos Aires?

Buenos Aires is known for its vibrant nightlife that lasts until the early hours of the morning. There are a variety of bars, clubs and live music venues in the city, so there is something for everyone. Nightlife hotspots are located in famous neighborhoods such as Palermo, San Telmo and Recoleta. Visitors can enjoy traditional tango shows, live music and DJ sets here. Many bars and clubs in Buenos Aires also offer a variety of delicious cocktails and local beers.

Can I use my credit card in Buenos Aires?

Yes, credit cards are widely accepted in Buenos Aires, especially in restaurants, hotels and large stores. However, it is also important to have cash on hand, as some smaller establishments, cabs and street vendors can only accept cash. Major credit cards accepted in Buenos Aires include Visa, Mastercard and American Express. It is also a good idea to inform your bank or credit card company that you will be traveling to Buenos Aires to avoid fraud prevention issues.

How safe is Buenos Aires for tourists?

Buenos Aires is generally a safe city for tourists. As in any major city, there is always a risk of petty theft and pickpocketing, especially in tourist areas. It is advisable to take precautions, such as not carrying valuables in plain sight and being aware of your surroundings. It is also recommended to use reputable cab companies or public transportation instead of walking at night or using unlicensed cabs. All in all, Buenos Aires offers a unique and exciting experience for tourists, and safety measures should be taken as a general precaution.

What are some cultural customs I should be aware of in Buenos Aires?

People in Buenos Aires are warm and welcoming, so it is important to greet them with a kiss on the cheek (one on each side) when you meet them. Argentines take great care of their appearance and take fashion very seriously, so it is best not to wear shorts or flip-flops in public places. Tango is a famous cultural dance that originated in Buenos Aires, and attending a tango show is a must. Finally, it is customary to maintain a relaxed approach to punctuality in social situations.

Where can I find the best empanadas in Buenos Aires?

Argentine empanadas are a must when visiting Buenos Aires. You can find them in almost every corner of the city, but some places stand out from the rest. For a gourmet experience, head to La Cocina, where the empanadas are served with gourmet fillings and homemade sauces. La Americana is a cult restaurant known for its classic meat filling. If you prefer a vegetarian option, try Buenos Aires Verde's delicious empanadas. If you like it more traditional, visit El Sanjuanino and try the famous tucumanas empanadas.

Feedback

I hope you found this article informative and helpful. I'm eager to improve the content and make it even more valuable for you. If you have any feedback or suggestions, I would love to hear from you.

Do you have any tips or hidden gems that you think should be added to the list? Are there any areas that you feel could use more explanation or clarification?

Your input is greatly appreciated and will help us to continue providing high-quality content that meets your needs and interests. Please feel free to share your thoughts.