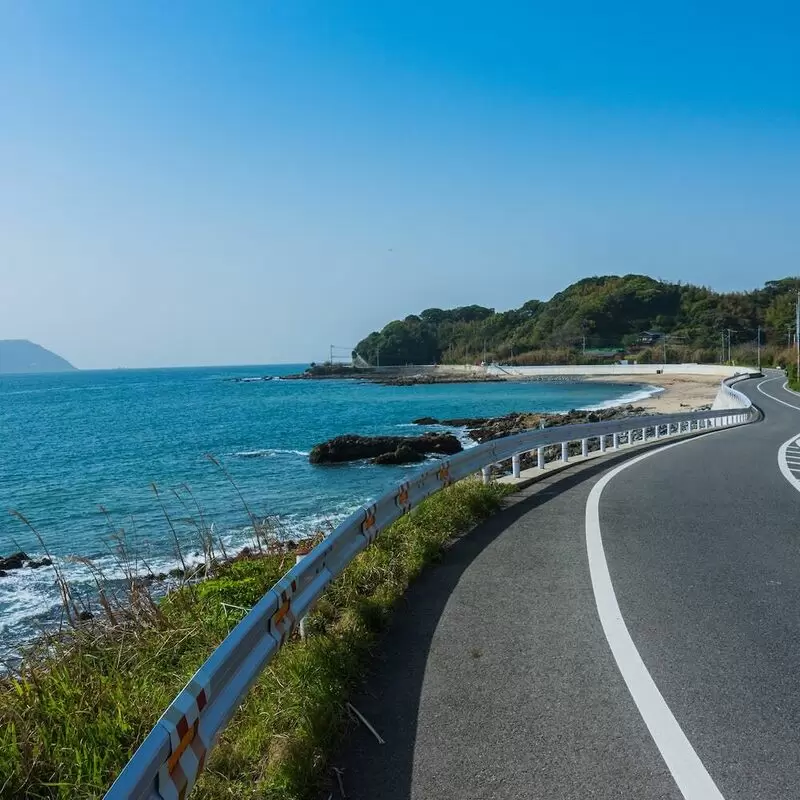 1. Dazaifu Tenmangu

Experience the spiritual heart of Fukuoka at Dazaifu Tenmangu, a shrine dedicated to the spirit of Sugawara Michizane, a scholar and politician associated with wisdom and learning. Imagine walking among 6,000 plum trees, the scholar's favorite, symbolizing perseverance and purity. You will feel tranquility.

Insider tip: Try umegae-mochi, a local specialty, grilled rice cakes filled with sweet bean paste. Nearby, visit the Kyushu National Museum, which combines modern architectural marvels with a rich collection of Japanese cultural artifacts.

Dazaifu Tenmangu
4-chōme-7-1 Saifu, Dazaifu, Fukuoka 818-0117

Monday - Sunday: 6:00 AM – 7:30 PM
2. Marine World
Marine World Uminonakamichi is an absolute must-see when visiting Fukuoka! With over 450 species of animals in huge, state-of-the-art facilities, experience a vibrant underwater world like never before. Experience the spectacular dolphin shows, walruses and sea otters, and the "Penguin Walk" is simply entrancing. Few know about the underwater tunnel where sharks glide right over your head - a thrilling experience! It's also just a ferry ride away from Nokonoshima Island, another fantastic sight with seasonal flowers.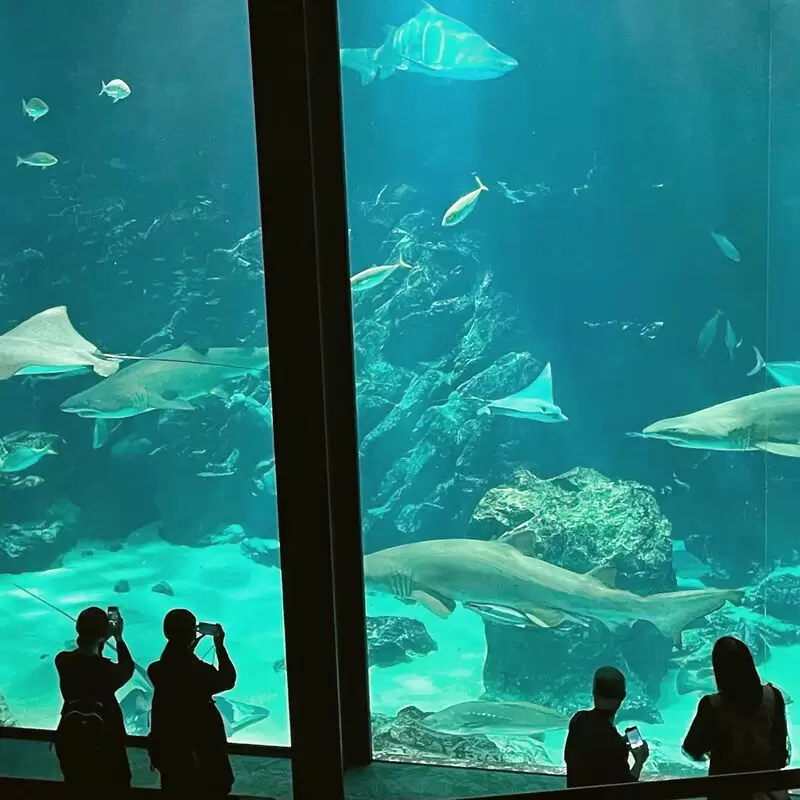 Marine World
18-28 Saitozaki, Higashi Ward, Fukuoka, 811-0321
Monday - Sunday: 9:30 AM – 9:00 PM
3. Ohori Park
Visit Ohori Park, a tranquil oasis in the heart of bustling Fukuoka. Its beautiful lake, modeled after China's West Lake, invites leisurely strolls along paths that cross charming stone bridges. A ride on a swan boat is a picturesque experience. Don't miss the Japanese garden, which beautifully showcases the four seasons. Explore the Fukuoka Art Museum, located next door, which houses world-famous Asian artworks. Relax at a nearby traditional teahouse and enjoy a taste of home.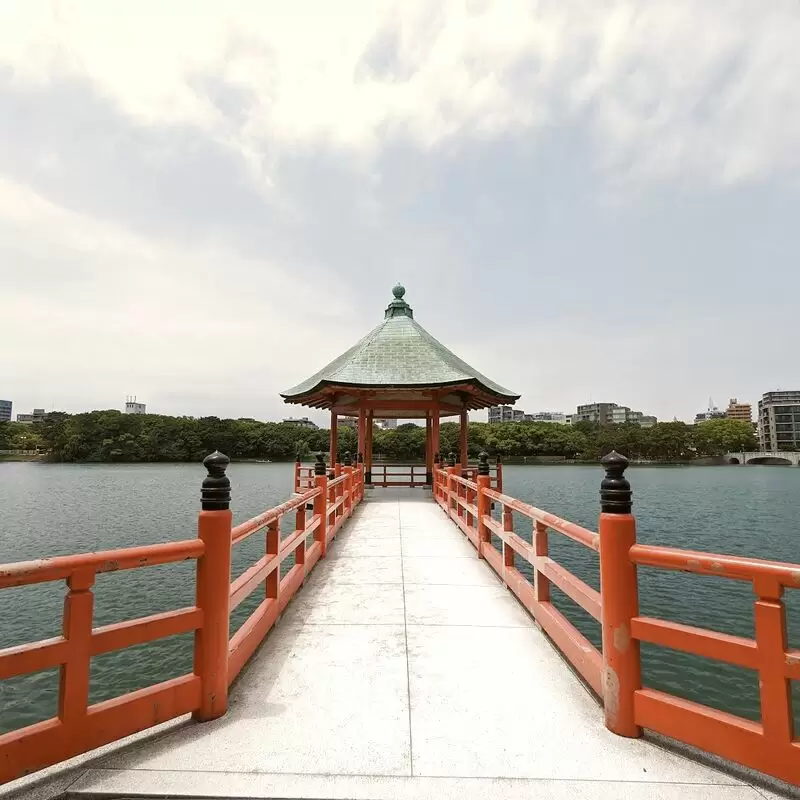 Ohori Park

Monday - Sunday: Open 24 hours
4. Maizuru Park
Maizuru Park, which literally translates as "Park of the Dancing Crane," is a sight worth seeing in Fukuoka. It is more than just a park, it is a living symphony of history and nature! It houses the ruins of Fukuoka Castle, which are adorned with over 1000 cherry blossom trees in the spring, making it a "hanami" hotspot. Enjoy this oasis in the middle of the city while taking in the panoramic view from the castle walls. Just around the corner is Ohori Park with a lovely Japanese garden and a lively pond where pedal boating is a must!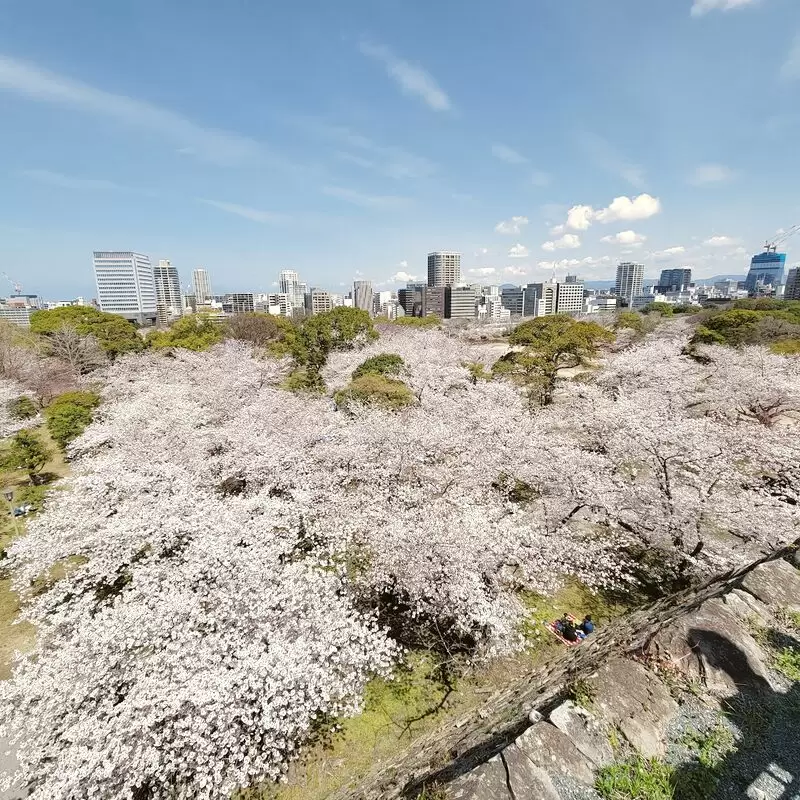 Maizuru Park
1-4 Jōnai, Chuo Ward, Fukuoka, 810-0043
Monday - Sunday: Open 24 hours
5. Fukuoka Tower
The Fukuoka Tower, a landmark of the city, offers a spectacular 360-degree view of Fukuoka! At 234 meters, it is the tallest coastal tower in Japan. Especially at night, when the city lights spread a surreal glow, you can enjoy breathtaking panoramas from here. Moreover, the outside of the tower is covered with 8000 half-mirrors that give the illusion of a disappearing tower on a sunny day. Nearby, you can visit the beautiful Momochi Seaside Park and the Fukuoka City Museum for a deeper look into local culture and history.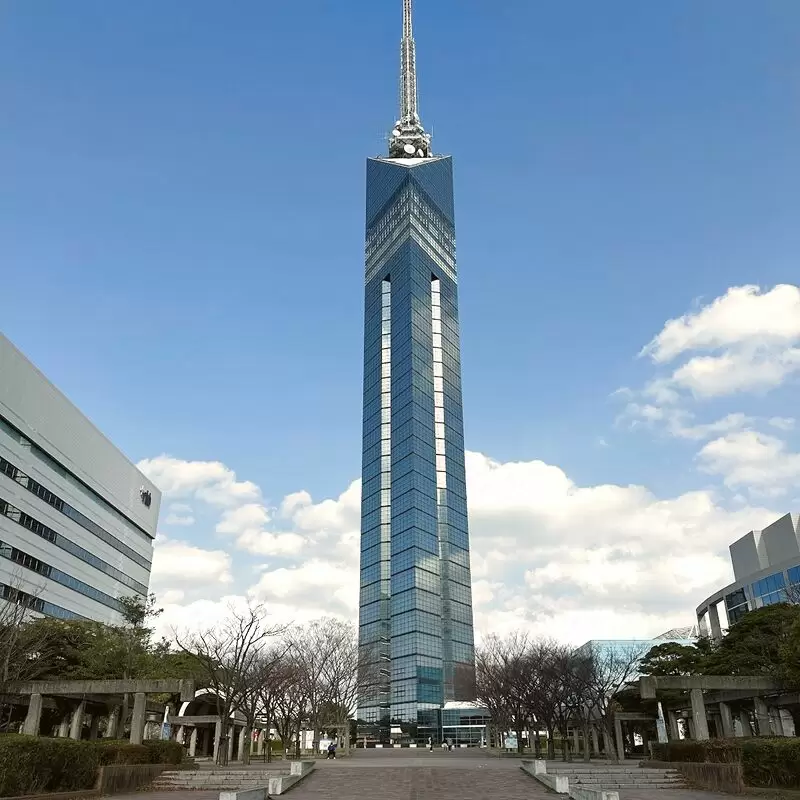 Fukuoka Tower
2-chōme-3-26 Momochihama, Sawara Ward, Fukuoka, 814-0001
Monday - Sunday: 9:30 AM – 10:00 PM
6. Uminonakamichi Seaside Park
Visit Uminonakamichi Seaside Park, one of Fukuoka's best kept secrets. This sprawling paradise features breathtaking flower gardens, a petting zoo, and a water park - there's something for everyone here. Rent a bike to explore the sprawling park in comfort. Be sure to visit the park in the spring, when the million-plus tulips are in bloom. Nearby Marine World Uminonakamichi is an impressive aquarium with a panoramic underwater tunnel with sharks that is not to be missed. A true Fukuokan adventure awaits you!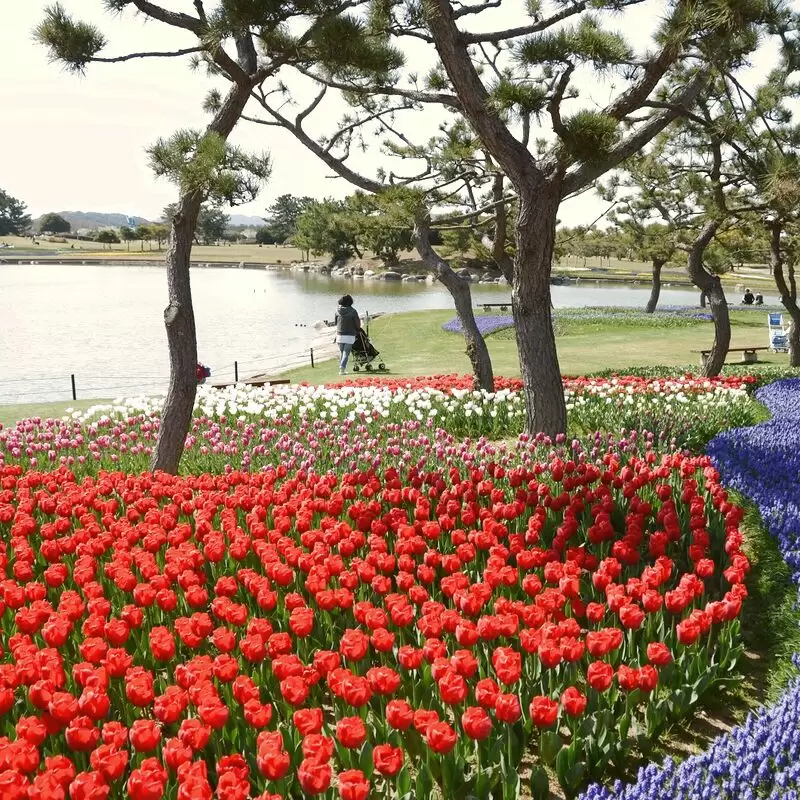 Uminonakamichi Seaside Park
18-25 Saitozaki, Higashi Ward, Fukuoka, 811-0321
Monday - Sunday: 9:30 AM – 5:30 PM
Best Time to Visit Fukuoka
The best time to visit Fukuoka, Japan, is spring (March to May) and autumn (September to November), when the weather is mild and the scenery is beautiful. Festivals such as Hakata Dontaku and Hakata Gion Yamakasa are also held during this time.
Annual Weather in Fukuoka
Fukuoka 3-Day Forecast
Tue, 26 September
Night
74 °F
23 °C
0%
Morning
71 °F
22 °C
0%
Afternoon
85 °F
29 °C
72%
Evening
79 °F
26 °C
0%
Wed, 27 September
Night
75 °F
24 °C
0%
Morning
73 °F
23 °C
0%
Afternoon
85 °F
29 °C
0%
Evening
78 °F
25 °C
63%
Thu, 28 September
Night
75 °F
24 °C
0%
Morning
74 °F
23 °C
0%
Afternoon
82 °F
28 °C
0%
Evening
76 °F
24 °C
0%
Questions & Answers

How do I navigate the public transport system?

Public transportation in Fukuoka is efficient and reliable and is mainly operated by buses and the subway. Remember to board buses at the rear door and exit through the front door. Pay as you get off the bus. The subway is easier, with ticket machines at each station. Fares vary by distance, but prepaid IC cards like the Hayakaken are very convenient. Look for subway maps and signs to find the right train. Japanese cabs are comfortable and clean, but relatively expensive.

Are there easy day trips from Fukuoka?

Certainly! A popular day trip is to the city of Dazaifu, just 15 km from Fukuoka, which is known for its historic temples, especially Dazaifu Tenmangu. Another good option is Yanagawa, a beautiful canal town just an hour south of Fukuoka. There you can take a scenic boat ride. For nature lovers, hiking trails on scenic Mt. Homan, located in Dazaifu, are a great option for a day trip. Finally, the city of Beppu with its hot springs is an experience not to be missed, even if it is a bit further away.

Where can I taste authentic Hakata ramen?

In Fukuoka, you can enjoy authentic hakata ramen at renowned venues such as Ippudo Honten or Shin Shin. Ippudo Honten, in the heart of Fukuoka, is the origin of the worldwide Ippudo chain. They are accompanied by the delicious aroma of pork bone broth simmering for hours. Shin Shin, on the other hand, offers a welcoming, down-to-earth atmosphere and is frequented by locals, making it the ideal place to sample authentic Fukuoka ramen. Both places offer the typical tonkotsu ramen (broth with pork bones), a staple of Hakata's food culture.

Is it safe to walk around Fukuoka at night?

Yes, Fukuoka is considered one of the safest cities in Japan, both for residents and tourists, even at night. The crime rate is low and the streets are well lit. The public transportation system is reliable and efficient, and night buses and cabs are readily available. Nevertheless, as everywhere, it is advisable to be aware of your surroundings, especially when traveling alone or in less crowded areas.

How can I experience a traditional Japanese tea ceremony?

In Fukuoka, it is possible to experience a traditional Japanese tea ceremony. Visit the Shofuan Tea Ceremony School, where expert instructors provide hands-on experience in an authentic setting. Discover the intricate etiquette from bowing to receiving a bowl of matcha tea to drinking and then cleaning the utensils used. Exploring this unique cultural ritual offers both relaxation and a new understanding of Japanese customs.

Can I view sumo wrestling in Fukuoka?

Yes, you can see sumo wrestling in Fukuoka. The city is one of the venues for major sumo tournaments. These events are held at the Fukuoka Kokusai Center and are usually full of excitement and tradition. Attending a sumo match will give you a glimpse into the rich culture of Japan and is guaranteed to be an unforgettable experience.

What local delicacies should I try?

Fukuoka is famous for its local delicacies. Be sure to try Hakata Ramen, a rich and creamy noodle dish with pork bone broth. Unagi no Seiromushi, steamed eel, is also very popular. Another must-try is mentaiko, seasoned cod roe served with rice, which has a unique and satisfying taste. Last but not least, don't leave without trying juicy, soft and perfectly grilled yakitori. These dishes offer a delicious taste of Fukuoka's culinary heritage.

How accessible is Fukuoka for English-speakers?

Fukuoka is reasonably accessible to English speakers. There are signs and maps in English at major landmarks and transportation systems such as bus and subway stations. Many young locals and hotel employees in the city can communicate in basic English. However, understanding of English is not widespread among the general population. Tourists may encounter language barriers in restaurants and stores. It is recommended to have a translation app or phrasebook handy for smoother communication.

Does Fukuoka have a nightlife scene?

Yes, Fukuoka does indeed have a lively and diverse nightlife. From bars, clubs and izakaya (Japanese-style pubs) to traditional entertainment such as noh and kabuki, there is something for everyone. The Tenjin and Nakasu districts are especially known for their vibrant nightlife. Whether you want to dance, drink, or simply catch a live show, you're sure to find something to suit your tastes in Fukuoka.

How are the public restrooms in Fukuoka?

Public toilets in Fukuoka are generally clean and well maintained, a testament to the high standard of hygiene in the region. Automatic bidets are common, and some even have heated seats. Signs are usually in both Japanese and English, so they are understandable to international travelers. Remember to bring your own toilet paper or towels, however, as not all public restrooms are equipped with them. The facilities in tourist resorts, department stores and train stations are particularly reliable.

Is it customary to tip at restaurants and services?

In Japan, including Fukuoka, tipping is not considered customary or necessary. Tipping may even be considered rude or embarrassing. In restaurants, hotels and cabs, the cost of service is usually included in the bill price. Exceptional service is expected as part of Japanese culture and hospitality, so there is no reason for additional financial incentives.

Can I wear my shoes inside temples and traditional houses?

No, it is considered disrespectful to wear shoes in temples and traditional houses in Fukuoka, Japan. There is a specific area, called Genkan, where visitors must remove their shoes before entering. This is a way to show respect for the sanctity and cleanliness of the place. Usually, slippers are provided for you to wear inside. Please remember that it is customary to walk barefoot or with socks on tatami mats.

What are the rules regarding tattoos at public baths or onsens?

Traditionally, tattoos in Japan are associated with organized crime, so many public baths or onsens prohibit people with tattoos from using their facilities. Each facility has its own rules, but generally small, easily concealed tattoos are acceptable. However, with the increase in international tourism, the trend is changing and some onsen are becoming more lenient in their rules, allowing people with tattoos to experience Japanese onsen culture.

Can I rent a bicycle in Fukuoka?

Of course, you can easily rent a bicycle in Fukuoka. The city's efficient public transportation system also includes a number of rental bikes that you can use to explore the many charming neighborhoods that Fukuoka offers its visitors. There are numerous places in the city where you can rent a bike for a few hours or even for a whole day, often at very reasonable prices and sometimes even for free.

Are there any unusual local customs I should be aware of?

An unusual local custom in Fukuoka that you should know about is yatai culture - open-air food stalls often found along the Nakasu River. Unlike the usual eating habits, people here share tables and converse with strangers. In addition, when visiting shrines, it is customary to wash your hands and mouth at the purification fountain before praying - a practice known as temizu. Be sure to follow local etiquette to fully enjoy life in Fukuoka.

How reliable is the internet and Wi-Fi access?

Internet and Wi-Fi access in Fukuoka, Japan, is very reliable and widespread. Most hotels, restaurants and cafes offer free Wi-Fi to their guests. Public Wi-Fi is also readily available in popular tourist areas, shopping malls and train stations. Internet cafes, known as "manga kissa," also offer high-speed Internet and Wi-Fi. In addition, you can rent a portable Wi-Fi device to have uninterrupted Internet access throughout your stay.

Can I use credit cards or is it better to have cash?

Although credit cards are accepted in many places in Fukuoka, it is advisable to carry some cash. Not all small stores, especially in rural areas, accept cards. In addition, there is a strong cash culture in Japan and some places such as traditional restaurants, smaller stores or local transport still only accept cash. Therefore, for a smooth trip, it is recommended to carry a mix of credit card and cash in Fukuoka.

What kind of power plugs and sockets are used in Fukuoka?

Type A plugs and sockets are commonly used in Fukuoka, Japan. These plugs have two flat, parallel pins. The standard voltage is 100 V with a standard frequency of 50 Hz. To ensure your equipment is compatible, you may need a converter or adapter. Please check the power ratings of your devices before you travel to avoid any inconvenience when you arrive.

How can I respect the city's traditions and culture?

When visiting Fukuoka, it is important to respect local manners. Bow when greeting people, do not stare, and be polite. Japanese culture emphasizes cleanliness, so don't eat or drink while walking down the street. Use proper chopsticks when eating and finish your meal completely. Visiting temples requires proper behavior, such as being quiet and not taking pictures when not allowed. Respect the customs and environment at traditional festivals. Being aware of these details will ensure that you treat the traditions and culture of Fukuoka with respect.

Is it easy to find vegetarian or vegan food in Fukuoka?

In Fukuoka, as in many other cities in Japan, it can be a bit difficult to find vegetarian or vegan dishes, as the cuisine is heavily based on fish. However, it is not impossible. There are a few vegetarian and vegan restaurants in the city. But even typical restaurants are often able to accommodate vegetarians or vegans if you explain your dietary restrictions, as they are very accommodating. So it is quite possible to find vegetarian or vegan food in Fukuoka, even if it takes a little effort.

Can I drink the tap water in Fukuoka?

Yes, the tap water in Fukuoka, Japan, is absolutely safe to drink. The city's water supply is subject to rigorous treatment and regular testing to ensure its cleanliness and safety. In fact, the tap water is considered to be of high quality and has a fresh, clear taste. If you're not used to it or feel unsafe, bottled water is readily available throughout the city.

Are drones allowed in Fukuoka?

Yes, drones are allowed in Fukuoka, Japan, but their use is subject to certain regulations set by Japan's Civil Aviation Bureau. These regulations include a ban on flying drones in densely populated areas, near airports, or at altitudes above 150 meters. It is always advisable to check the latest regulations and obtain the necessary permits before flying drones.

What's the emergency phone number in Fukuoka?

In Fukuoka, as throughout Japan, emergency numbers are standardized. For fire and ambulance services, dial 119. To contact the police, dial 110. Emergency calls can be made from any phone, including public pay phones, and are free. It is advisable to always store these numbers in your phone or write them down in case you have an emergency during your visit.

What should I do if I lose my passport or documentation?

If you lose your passport or documents in Fukuoka, Japan, report the loss immediately to the local Japanese police. Then contact your embassy or consulate in Japan to report the loss and get a replacement. They will help you obtain a temporary passport there. You must have some form of identification, so keep copies of your passport electronically as a backup. If your visa was in your lost passport, also notify Japanese Immigration.

Where can I watch a kabuki performance in Fukuoka?

In Fukuoka, the Hakataza Theater offers a variety of captivating shows, including traditional Japanese Kabuki performances. It was the first theater in Fukuoka dedicated to the performing arts and is a landmark in the region. In addition to kabuki, you can enjoy a number of other cultural performances here, depending on what's on the calendar. A visit to this theater is a must for anyone who wants to appreciate the traditional art forms of Japan.

Feedback

I hope you found this article informative and helpful. I'm eager to improve the content and make it even more valuable for you. If you have any feedback or suggestions, I would love to hear from you.

Do you have any tips or hidden gems that you think should be added to the list? Are there any areas that you feel could use more explanation or clarification?

Your input is greatly appreciated and will help us to continue providing high-quality content that meets your needs and interests. Please feel free to share your thoughts.