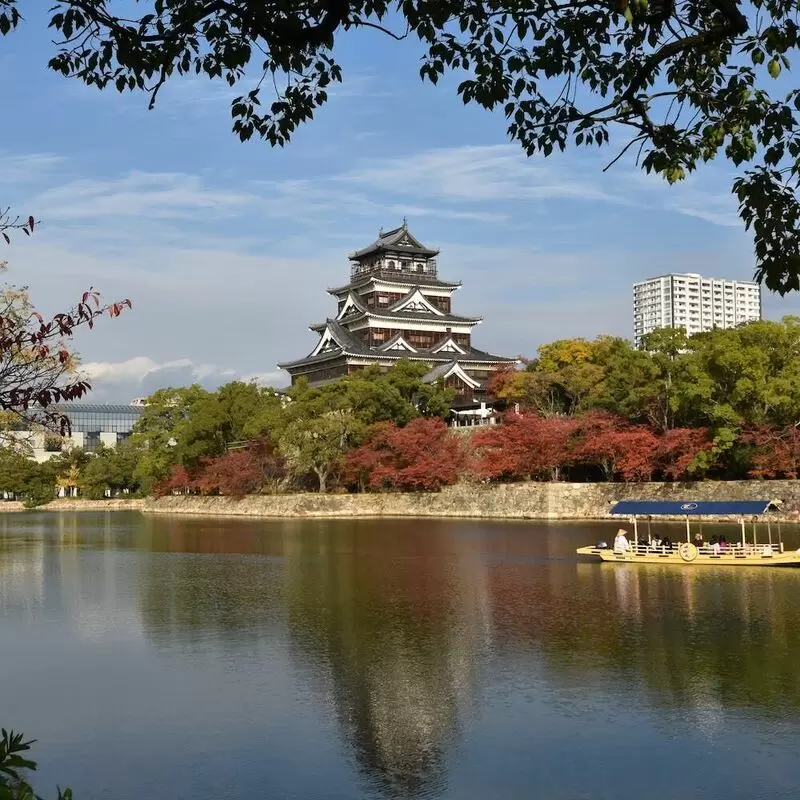 1. Peace Memorial Park Hiroshima
Immerse yourself in history at Peace Memorial Park in Hiroshima. This tranquil park is a solemn reminder of the destruction caused by the atomic bomb, but also exudes hope and peace. The impressive Genbaku Dome (Atomic Bomb Dome), a UNESCO World Heritage Site, is strangely beautiful in its preserved destruction. A short walk away is Hiroshima Castle, a restored building with panoramic views of the city. Admire the park at nightfall, when the eternal flame of the Cenotaph is reflected majestically in the park's tranquil pond.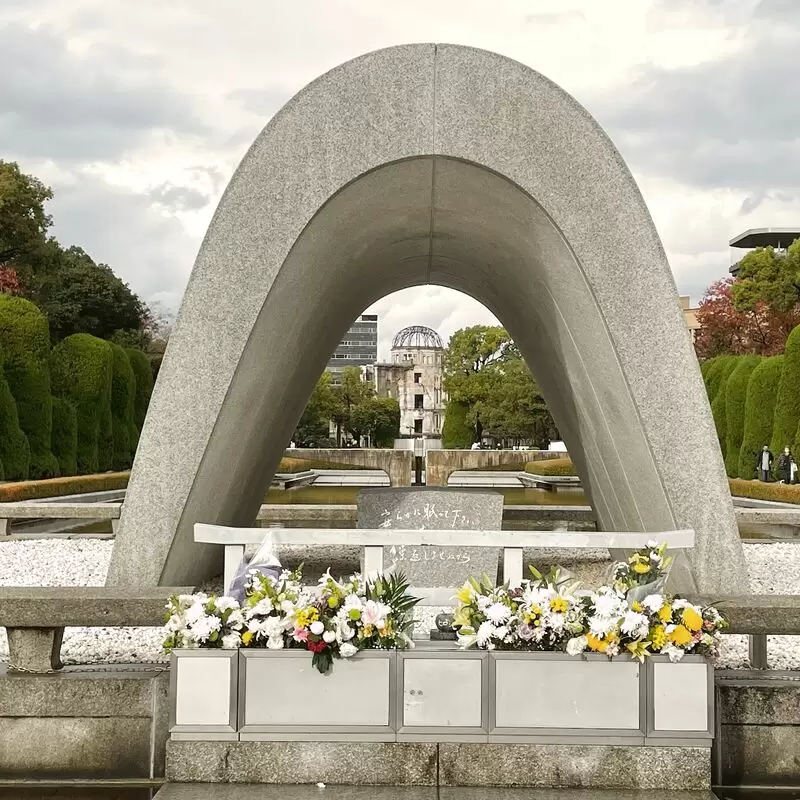 Peace Memorial Park Hiroshima
1丁目-1-10 Nakajimachō, Naka Ward, Hiroshima, 730-0811
2. Atomic Bomb Dome
The atomic bomb dome in Hiroshima, one of the few structures to survive the atomic bombing of 1945, is a shameful piece of history. It is an impressive testimony to peace and a symbol of hope that reminds us of the horrors of nuclear war. For a special experience, visit at dusk when the building is dramatically lit from below. Don't miss the nearby Peace Memorial Park and Museum, which offers an emotional account of Hiroshima's destruction and remarkable resilience.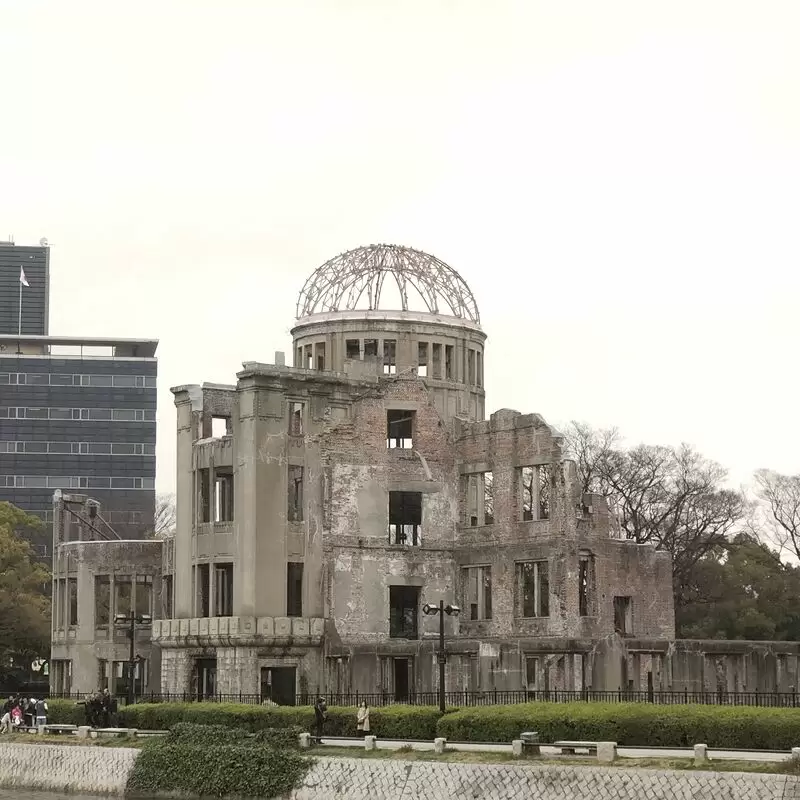 Atomic Bomb Dome
1-chōme-1-10 Ōtemachi, Naka Ward, Hiroshima, 730-0051
Monday - Sunday: Open 24 hours
3. Itsukushima Jinja
Experience the heavenly beauty of Itsukushima Jinja, a World Heritage Site that seems to float on the sea at high tide. Marvel at the "O-Torii Gate," the shrine's iconic symbol, which magically emerges from the water. Located on the picturesque island of Miyajima, there is a charming town nearby where you can shop for delicious street food and souvenirs. Don't miss watching wild deer roaming freely. In the evening you can admire the illuminated shrine that creates a surreal reflection on the water - a sight that is guaranteed to enchant you!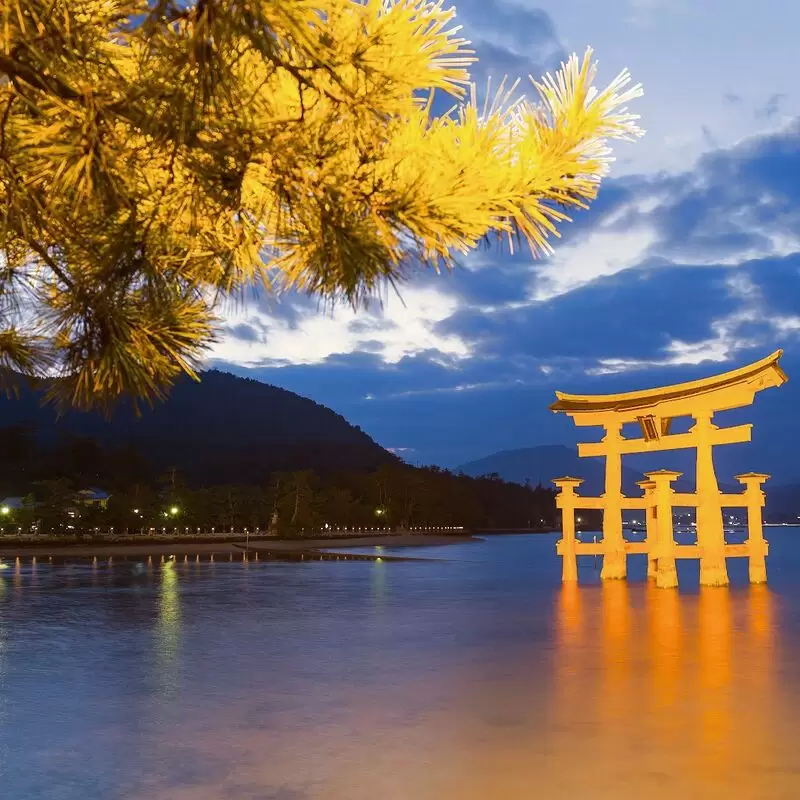 Itsukushima Jinja
1-1 Miyajimachō, Hatsukaichi, Hiroshima 739-0588
Monday - Sunday: 6:30 AM – 6:00 PM
4. Shukkeien Garden

The Shukkeien Garden is a must-see in Hiroshima! This exquisite Edo period garden is set around a central pond and features miniaturized landscapes teeming with bridges, teahouses, and flowering trees. Immerse yourself in the calming aesthetics and profound history that survived the atomic bombing.

Insider tip: Visit at cherry blossom time for a mesmerizing sight. Across the street is the Hiroshima Museum of Art, another captivating attraction for culture lovers.

Shukkeien Garden
2-11 Kaminoborichō, Naka Ward, Hiroshima, 730-0014

Monday - Sunday: 9:00 AM – 6:00 PM
5. Hiroshima Castle
Hiroshima Castle, often referred to as "Carp Castle", is a must-see in Hiroshima and is captivating with its wonderful 16th century architecture. Century. Surrounded by a fascinating moat, it offers an impressive panoramic view from the top that will take you back to the feudal era. Inside is a museum that showcases samurai culture and history. Just a short walk away, the Shukkeien Garden, famous for its miniature landscapes, awaits you and seduces you with its tranquil beauty.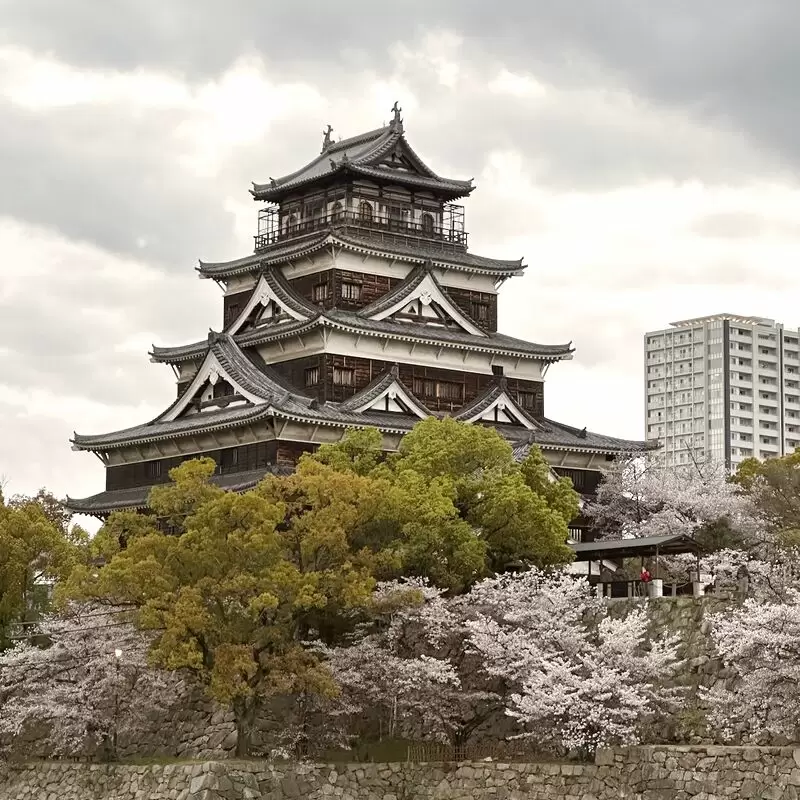 Hiroshima Castle
21-1 Motomachi, Naka Ward, Hiroshima, 730-0011
Monday - Sunday: 9:00 AM – 6:00 PM
6. Mitaki dera
Immerse yourself in the peace and tranquility of Mitaki-dera, a picturesque Buddhist temple set amidst a lush green landscape in Hiroshima. Discover the serenity of the waterfalls, statues, and stunning fall colors on the grounds. Take a leisurely stroll or take on the challenge of a rewarding uphill hike. Nearby, enjoy the region's secret cuisine - spicy eel on rice. And just a stone's throw away are the famous Hiroshima Peace Memorial Park and A-bomb Dome, a deeply moving chapter in history. Explore, enjoy, reflect.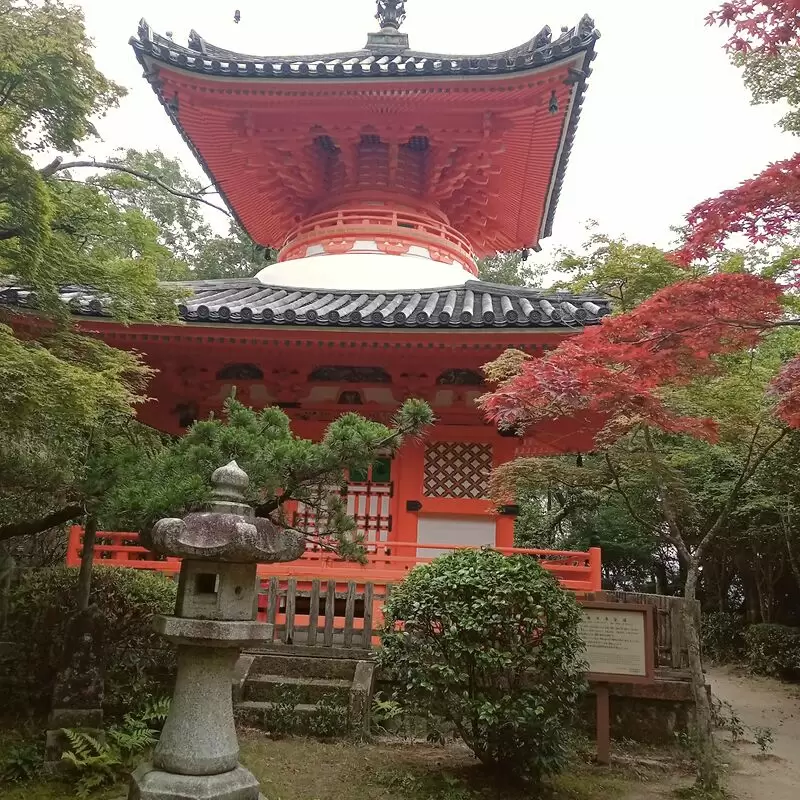 Mitaki dera
411 Mitakiyama, Nishi Ward, Hiroshima, 733-0805
Best Time to Visit Hiroshima
The best time to visit Hiroshima is spring (March-May) and autumn (September-November), when temperatures are mild, nature is at its best, and the city's festivals, such as the Hiroshima Flower Festival and the Hiroshima Food Festival, are held.
Annual Weather in Hiroshima
Hiroshima 3-Day Forecast
Tue, 26 September
Night
67 °F
20 °C
0%
Morning
65 °F
19 °C
0%
Afternoon
80 °F
27 °C
75%
Evening
73 °F
23 °C
0%
Wed, 27 September
Night
69 °F
21 °C
0%
Morning
67 °F
20 °C
0%
Afternoon
81 °F
27 °C
75%
Evening
73 °F
23 °C
89%
Thu, 28 September
Night
71 °F
21 °C
0%
Morning
70 °F
21 °C
68%
Afternoon
82 °F
28 °C
88%
Evening
75 °F
24 °C
0%
Questions & Answers

What is the traditional food in Hiroshima?

Hiroshima is known for its savory, layered version of okonomiyaki, a popular traditional Japanese comfort food. This unique Hiroshima-style dish consists of a variety of ingredients including shredded cabbage, bean sprouts, pork, seafood and noodles, all cooked on a teppan (iron grill) and topped with a sweet and savory sauce. Another local favorite is anago meshi, a savory dish of fried conger eel served on a bed of fluffy rice. Both dishes are a must try to experience the authentic taste of Hiroshima.

How do I get around the city?

Hiroshima is a pedestrian-friendly city with an extensive public transportation network that includes a streetcar system, buses, and cabs. The Hiroshima Electric Railway (Hiroden) offers three-day passes for unlimited travel. The city also promotes eco-friendly travel with its popular "Hiroshima by Bike" program, which offers rental bicycles at various train stations. In addition, many of the local attractions are within walking distance, so it's also a good idea to take a stroll.

Is Hiroshima a safe city?

Yes, Hiroshima is generally known as a safe city, both for visitors and residents. The crime rate is low compared to other major cities around the world. Locals are known to be hospitable and respectful. As in any city, it is important to take the usual precautions, but in general, safety is not a major concern. In addition, public transportation is reliable and easily accessible, which contributes to overall safety.

Is English commonly spoken in Hiroshima?

Although Japanese is the main language spoken in Hiroshima, English is also widely spoken, especially in areas frequented by tourists, such as museums, restaurants and hotels. Many signs and menus in these areas are also translated into English. However, keep in mind that while you can generally communicate in English, not everyone can or wants to speak fluent English. It is always useful to learn a few basic Japanese phrases when traveling to Hiroshima.

What is Hiroshima known for besides its history?

Hiroshima is known for its natural beauty and cultural significance. The city boasts the picturesque Hiroshima Peace Memorial Park, the UNESCO World Heritage-listed Itsukushima Shrine on Miyajima Island, and the local culinary specialty okonomiyaki, a savory pancake. Hiroshima has lively shopping districts and vibrant nightlife, and is also home to two professional sports teams, the Hiroshima Toyo Carp baseball team and the Sanfrecce Hiroshima soccer club.

Can I visit the Hiroshima Peace Memorial Park?

Of course, Hiroshima Peace Memorial Park is a must-see. Located in the city center, the park is a somber reminder of the devastating atomic bombing during World War II. It houses the famous A-bomb dome, the Children's Peace Memorial and the Peace Memorial Museum. Through various exhibitions, monuments and memorials, the story of the tragic event is told and the importance of world peace is highlighted. The beautiful surroundings of the park also provide a meditative space for visitors.

Are there any local customs I should be aware of?

In Hiroshima, respectful behavior is paramount. Bowing is a common way to greet and show respect. It is considered polite to remove your shoes before entering homes or certain traditional establishments such as ryokans (inns) or onsens (hot springs). Speaking softly, especially on public transportation, is encouraged. Eating while walking is generally frowned upon. When visiting the many historical sites and memorials, especially the Peace Memorial Park and Museum, it is important to behave respectfully and solemnly.

What is the best way to get to Hiroshima from Tokyo?

The most efficient way to travel from Tokyo to Hiroshima is by Shinkansen, the bullet train, which is a comfortable and scenic route. The trip on the Nozomi train, the fastest connection, takes about four hours. Alternatively, there are direct flights from Tokyo to Hiroshima that take about 90 minutes, but allow extra time for airport check-in. There are also overnight buses, which are a cheaper but longer alternative.

What traditional festivals take place in Hiroshima?

Hiroshima is the site of several lively festivals. The Hiroshima Flower Festival on Peace Boulevard attracts over a million visitors with its stunning flower shows, parades and various performances. The Hiroshima Dreamination is a winter festival in which the city is illuminated with millions of LED lights. The Hiroshima Ebisu Festival is a traditional Shinto festival associated with economic prosperity. The Hiroshima Oyster Festival features the city's famous oysters in various preparations that delight seafood lovers.

How does the public transportation system work?

In Hiroshima, the public transportation system consists largely of streetcars, buses, and ferries that are interconnected for convenience. The Hiroshima Electric Railway, also known as "Hiroden," provides accessible streetcar services throughout the city and surrounding areas. Buses are useful for more distant destinations and less accessible areas, while ferries offer routes to Miyajima Island. Prepaid cards are available to use multiple modes of transportation, such as PASPY and Icoca, which are accepted in most vehicles. The reliability and wide coverage make navigating Hiroshima easy for locals and tourists alike.

Can I take a day trip to Miyajima Island from Hiroshima?

Absolutely! Miyajima Island, known for its stunning Itsukushima Shrine and friendly wild deer, is just a short ferry ride from Hiroshima. Whether you want to hike up Mount Misen or stroll through the charming streets, a day trip is definitely doable. Be sure to check the ferry schedules to ensure a smooth return trip. It is a cultural and natural retreat not to be missed when visiting Hiroshima.

What are the common greetings in Japanese?

In Japan, it is customary to greet someone with a bow and the phrase "Konnichiwa" (Good day). In the morning one says "Ohayou Gozaimasu" (Good morning) and in the evening "Konbanwa" (Good evening). A general greeting can be simply "Hajimemashite" (Nice to meet you). To say thank you, one says "Arigatou Gozaimasu." When leaving, "Sayonara" is used to say goodbye. Other expressions such as "Itadakimasu" (before eating) and "Gochisousama" (after eating) are also common. Remember that politeness and respect are an essential part of Japanese culture.

Is vegetarian-friendly food readily available?

Yes, Hiroshima offers a variety of vegetarian-friendly options for travelers. There are numerous restaurants that serve traditional Japanese cuisine and cater to vegetarians. There are also many cafes and eateries that offer vegan and vegetarian menus. Although the local specialty, okonomiyaki (a Japanese pancake), usually contains seafood and pork, some restaurants offer a vegetarian version of this dish. Therefore, vegetarians visiting Hiroshima will have no trouble finding delicious and diverse dining options.

Should I bring cash or are credit cards commonly accepted?

Both cash and credit cards are widely accepted in Hiroshima. In larger stores, hotels and chain stores, credit cards are usually accepted. However, in smaller stores, at food stalls and in some cabs, it is advisable to carry some cash. Japan still relies heavily on cash, so carrying a small amount is helpful to cover various expenses.

How can I respect the cultural significance of the Atomic Bomb Dome?

When visiting the atomic bomb dome in Hiroshima, it is important to keep in mind the tragic history and human devastation involved. Conduct yourself in a calm and collected manner, keeping in mind the solemn nature of the site. It is not a place for loud conversations or inappropriate behavior. Consider laying flowers as a sign of respect. Participating in peace activities or museum tours would help people better understand the events and their aftermath. The point is to acknowledge the terrible effects of nuclear weapons and promote the desire for peace.

How is the nightlife in Hiroshima?

Hiroshima's nightlife shines with vibrant lighting and offers a variety of entertainment options. In the city center, such as Nagarekawa and Yagenbori, there is a colorful mix of bars, karaoke venues and clubs that welcome both locals and international tourists. Enjoy local cuisine in izakayas, delight in live music or dance all night in nightclubs. No matter where you stay, Hiroshima's warm hospitality will ensure an enjoyable evening. Overall, Hiroshima is a great city to explore after dark and has something for everyone.

What is a recommended traditional dish to try?

One of the must-try traditional dishes in Hiroshima, Japan is Okonomiyaki. This delicious pancake, often referred to as "Japanese pizza," is filled with various ingredients such as cabbage, pork, squid and noodles, all grilled to perfection. The dish is topped off with a special sweet sauce, mayonnaise, seaweed and bonito flakes. It's a delicious blend of textures and flavors that showcases Hiroshima's culinary heritage at its best. For foodies planning a visit to Hiroshima, it is absolutely recommended.

Where can I exchange my currency?

Money can be exchanged at various places in Hiroshima, including banks, post offices and special exchange offices near the main tourist areas. Most major hotels also offer money exchange services to their guests. You can also withdraw cash directly in Japanese yen from international ATMs at 7-Eleven stores and post offices. It is advisable to check rates and fees before exchanging. Remember to bring your passport as identification.

Do I need a special adapter for my electronics?

Yes, you may need a special adapter for your electronic devices in Hiroshima, Japan. The country uses Type A and Type B outlets, similar to those in North America, but with a voltage of 100 V compared to 120 V in North America. Although many devices are rated for multiple voltages, you should check the voltage range of your device. If it is not compatible with 100 V, you will need a voltage converter or transformer in addition to plug adapters.

How do I purchase a ticket for the Hiroshima streetcar?

To buy a ticket for the Hiroshima streetcar, simply board the streetcar and find a seat. During the ride, a conductor will come to collect the fare. If there is no conductor, you can pay at the front of the streetcar when you get off. Fares vary by distance, and exact change in Japanese yen is required. Tickets can be paid in cash or with an IC card such as Pasmo or Suica.

Is there high-speed internet available everywhere?

High-speed Internet is widely available in Hiroshima, Japan. Most accommodations, such as hotels and guesthouses, offer free Wi-Fi service. Many cafes, restaurants and public places also offer Wi-Fi. There are also several options for portable Wi-Fi routers that you can rent when you arrive. However, in some less populated or remote locations, internet speeds may not be as fast or consistent. It is always advisable to check in advance if your stay or travel plans depend heavily on Internet access.

Is Hiroshima wheelchair accessible?

Yes, Hiroshima is somewhat wheelchair accessible, especially at major sites such as the Peace Park, the Atomic Bomb Dome, Itsukushima Shrine, and Hiroshima Castle. Most public transportation, including the streetcar system, buses, and cabs, is also wheelchair accessible. However, some old areas or facilities may be less accessible.

Are there opportunities to see traditional Japanese gardens in Hiroshima?

Yes, Hiroshima offers several opportunities to immerse yourself in the beauty of traditional Japanese gardens. One of these places is the Shukkeien Garden, an exquisite and historic place with miniature valleys, mountains and forests, all designed in the typical Japanese garden aesthetic. There is also Mitaki-dera Temple, a tranquil place adorned with beautiful greenery, a tranquil pond and a beautiful tea house where you can enjoy the sight of the beautiful Japanese garden.

Are there signs and maps available in English?

Yes, Hiroshima is a very tourist-friendly city and offers several facilities in English, including signs and maps. There are also information centers where English-speaking staff can help you. The city's main attractions, public transportation, and many restaurants and stores usually have information and signage in English to accommodate international visitors. English-speaking guides are also available to provide detailed knowledge about the city and its history.

Are there any local etiquette guidelines to follow at a Hiroshima onsen (hot spring)?

When visiting an onsen in Hiroshima, traditional Japanese etiquette requires visitors to clean themselves thoroughly before entering the bath. Tattoos may not be allowed as they may be associated with organized crime. Once in the bath, visitors should submerge themselves slowly to adjust to the water temperature. To create a peaceful atmosphere, noise should be kept to a minimum. Swimming or doing laundry in the bath is frowned upon. Finally, one is expected to leave the water without a towel, as it is considered impolite to rinse off the minerals of the hot springs.

Feedback

I hope you found this article informative and helpful. I'm eager to improve the content and make it even more valuable for you. If you have any feedback or suggestions, I would love to hear from you.

Do you have any tips or hidden gems that you think should be added to the list? Are there any areas that you feel could use more explanation or clarification?

Your input is greatly appreciated and will help us to continue providing high-quality content that meets your needs and interests. Please feel free to share your thoughts.