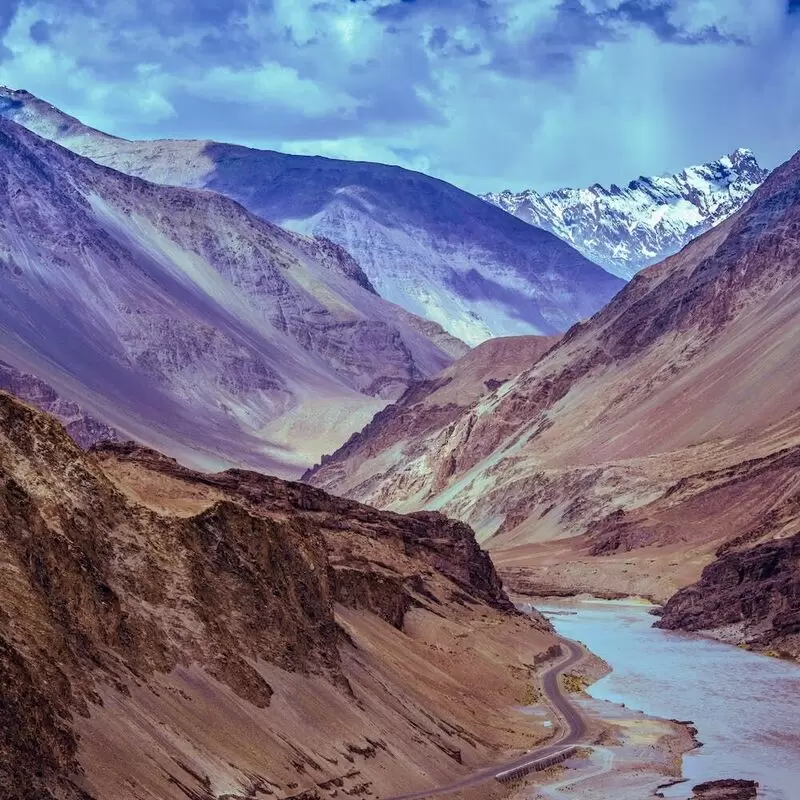 1. Hall of Fame Leh
A visit to the "Hall of Fame, Leh" is a must for every Leh traveler. It is anchored in the history of brave Indian soldiers and offers a vivid insight into their exemplary courage. The exhibits, statues and war artifacts tell the story of bravery and sacrifice. Its location on the picturesque Indus River adds to its charm. Those interested in astronomy can walk to the Leh Sky Observatory in just 10 minutes, which offers a spectacular view of the starry sky and adds a cosmic perspective to the trip.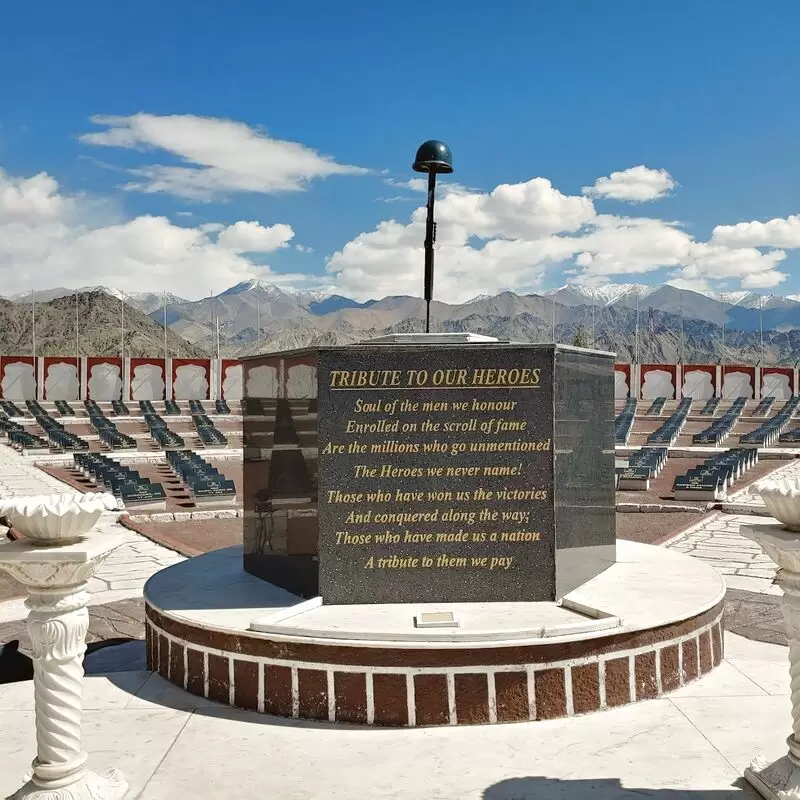 Hall of Fame Leh
Leh Leh Jammu and Kashmir, Leh
Monday: Closed
Tuesday - Sunday: 9:00 AM – 1:00 PM, 2:00 – 7:00 PM
2. Thiksey Monastery
A visit to Thiksey Monastery should be high on any itinerary in Leh. A wonderful example of Ladakhi architecture, this 12-story structure houses an impressive Buddha statue and offers sweeping views of the Indus Valley. Participate in early morning prayers to immerse yourself in a unique culture. Just a short drive away, Shey Palace, the former royal residence, awaits with its impressive Buddha Shakyamuni statue - an additional reason to explore this unusual destination.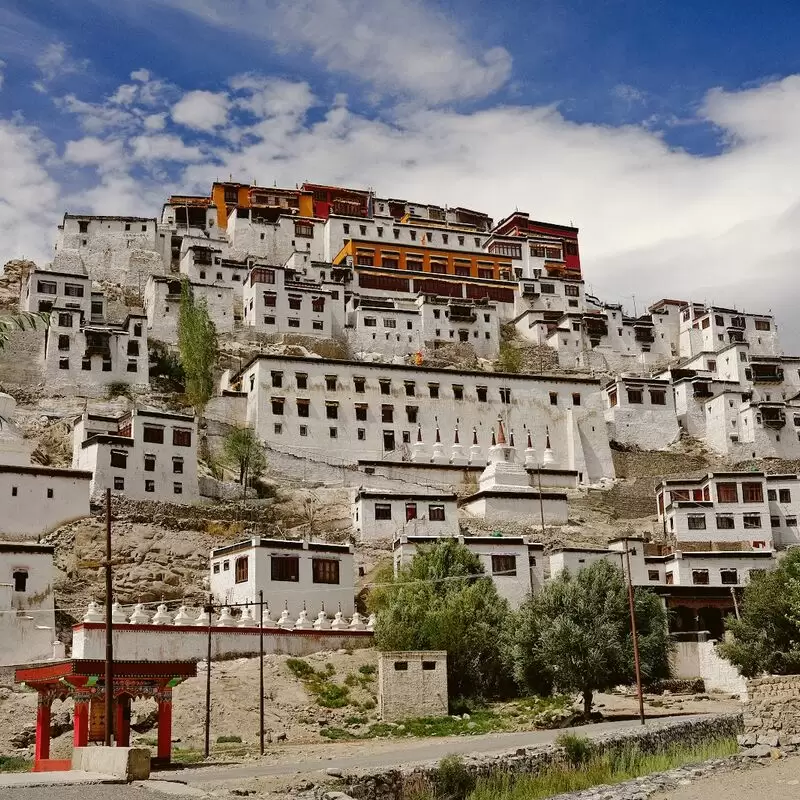 Thiksey Monastery
Leh Manali Hwy, Thiksey
Monday - Sunday: 6:00 AM – 7:00 PM
3. Shanti Stupa
The Shanti Stupa in Leh is a must-see if you're looking for a magically tranquil experience! This white stupa rises 14,000 feet and offers panoramic views of the surrounding Himalayan landscapes. Marvel at the mesmerizing view of the sunrise or sunset, or simply enjoy the tranquility. A unique insider detail is that the stupa was built by Japanese monks to promote world peace. Don't miss the nearby Leh Palace, another architectural marvel that offers magnificent views of the city! Discover tranquility and splendor and immerse yourself in Leh's rich cultural heritage.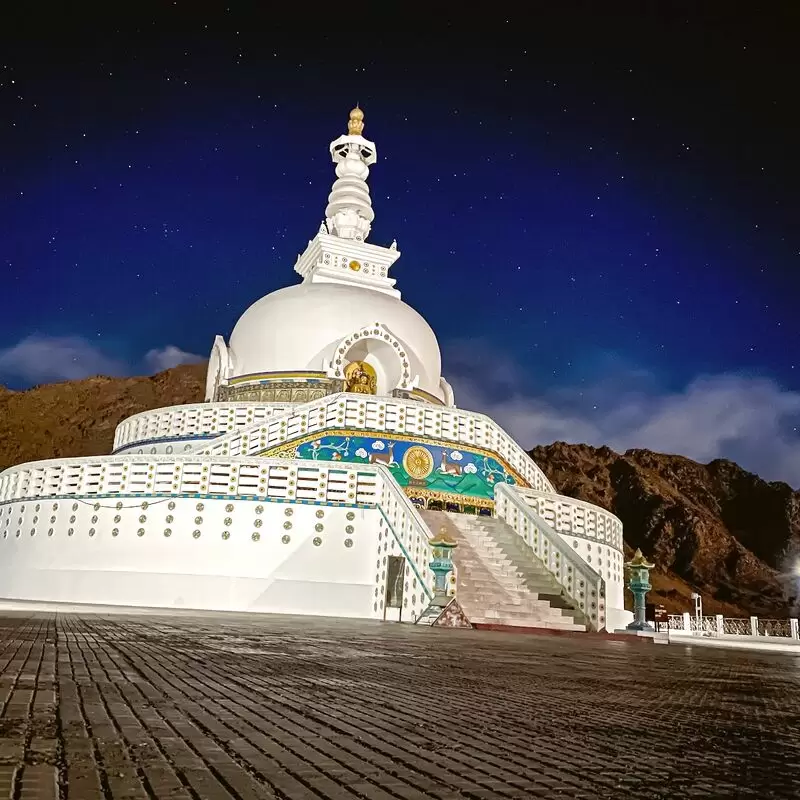 Shanti Stupa
Shanti Stupa Rd, Leh
4. Leh Palace
Venture up to the 17th century "Leh Palace", a former royal residence, majestic in its simplicity. Perched on Namgyal Hill, it offers unparalleled panoramic views of the city of Leh, Stok Kangri and the Zanskar Mountains. Walk through labyrinthine corridors with ancient murals and explore the museum where artifacts and trinkets are on display. Don't miss the Tsemo Fort above the palace, which houses an ancient temple.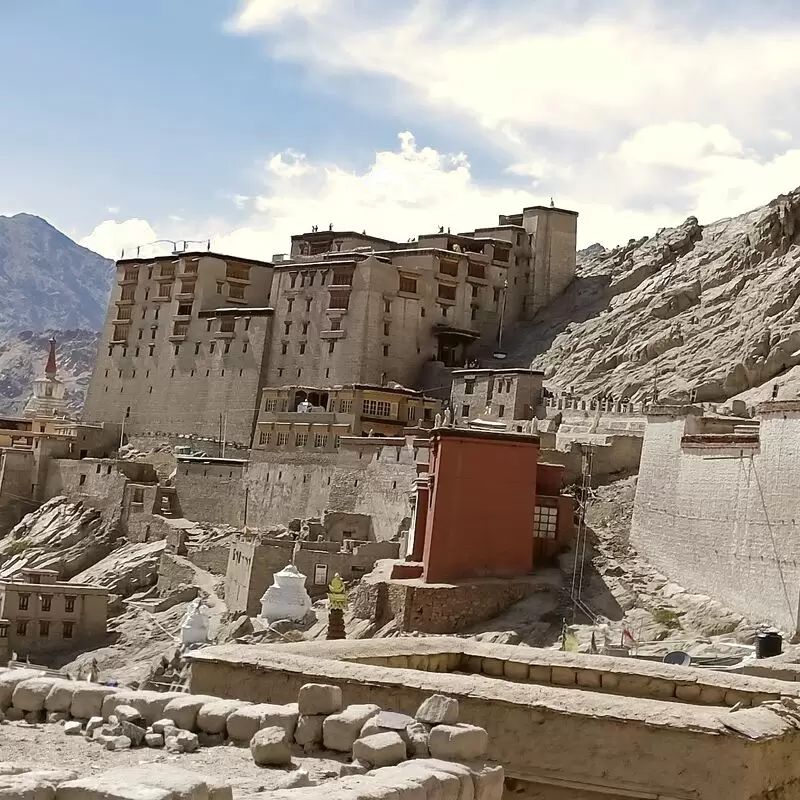 Leh Palace
Namgyal Hill, Leh
Monday - Sunday: 8:00 AM – 5:00 PM
5. Leh main Market

A must-see in Leh is the lively "Leh main Market". Here you can experience the vibrant life of the locals, sample exotic Tibetan food and find unique trinkets while enjoying the scenic beauty.

Insider tip: Visit the vegetable market and interact authentically with the locals! Also visit the Hall of Fame, a nearby military museum honoring Indian soldiers, just a short drive away.

Leh main Market
1st floor Akbar Shopping Complex,Super Market, Leh

Monday - Sunday: Open 24 hours
6. Leh City & Glacier Photography Point South Pullu
The city of Leh is a pristine, high-altitude desert whose barren landscapes are interwoven with the rich Tibetan Buddhist culture. The city offers a panorama of rugged mountains, ancient monasteries and colorful markets that captivate photography enthusiasts. Visit South Pullu and witness the fascinating natural spectacle of glaciers against the blue sky. A rare and exciting sight during your trip, a paradise for landscape and wildlife photography. Why not combine your trip with a visit to the nearby Khardungla Pass, the highest passable road in the world, a true natural wonder.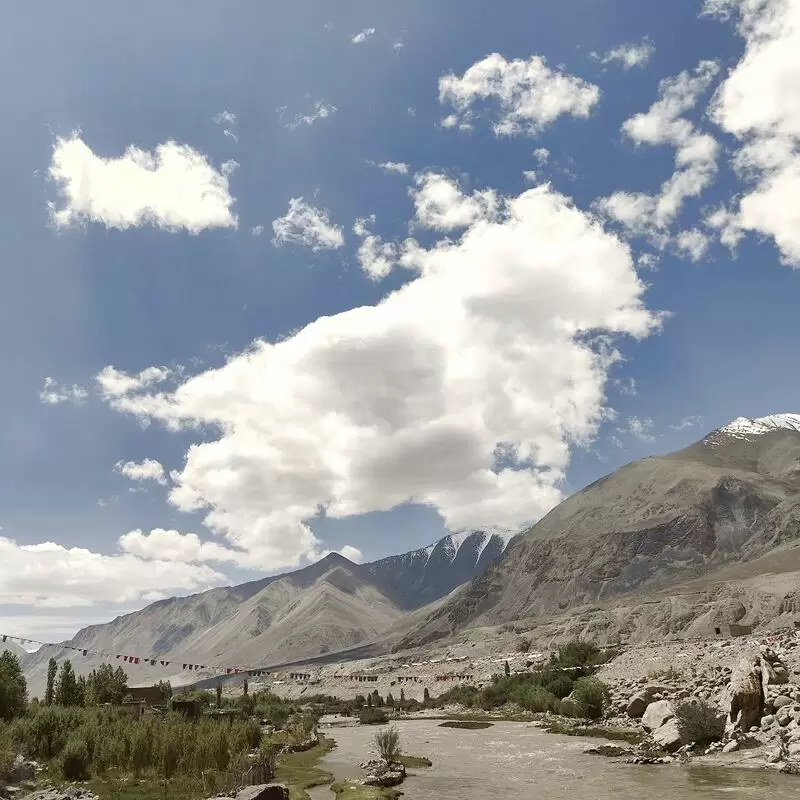 Leh City & Glacier Photography Point South Pullu
Photography Point, Khardung La Rd, Leh
7. Central Asian Museum

A visit to the Central Asian Museum in Leh is a must for history buffs. It houses artifacts from the ancient Silk Road, Tibetan books and ancient coins, and exudes a fascinating aura of times gone by. The architecture - inspired by Ladakhi style and built using local materials - is an added attraction.

Insider tip: Don't miss the view from the top floor over Leh's old town. Just a stone's throw away is the picturesque Leh Palace, which makes for a remarkable historical exploration of the city.

Central Asian Museum
Main Bazaar Road, 5H8M+4W7, Leh

Monday - Sunday: 10:00 AM – 7:00 PM
8. Leh Ladakh Journey
In the majestic, high-altitude desert of Leh Ladakh, you'll find scenery that defies description: azure lakes, towering mountains, verdant valleys and ancient Buddhist monasteries. A trip here offers a unique, exhilarating experience whitewater rafting in Zanskar and wild off-road biking on the Khardung-La. Don't miss the Leh Market, a bustling place where you can find local delicacies, handicrafts and Tibetan souvenirs. A hidden gem, Thiksey Monastery, is just 19 kilometers away and offers breathtaking views and peaceful tranquility.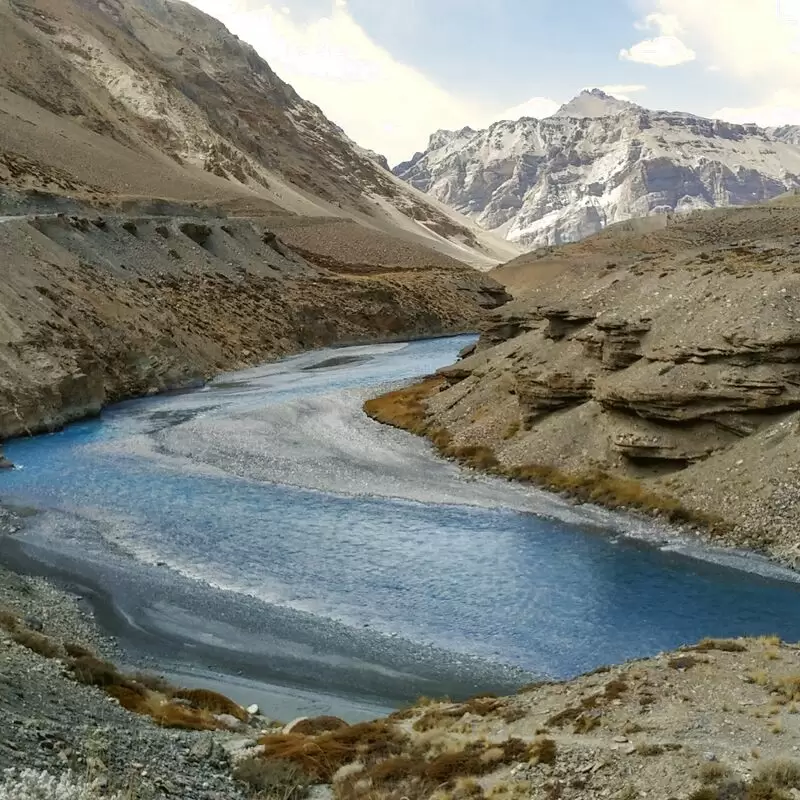 Leh Ladakh Journey
Old Leh Rd, near Chonjor Residency, Leh
Monday - Sunday: 8:00 AM – 8:00 PM
Wednesday: 8:30 AM – 8:00 PM
9. Explore Ladakh
Visit "Explore Ladakh" in Leh and experience a rich blend of culture, adventure and tranquility. Enjoy the serene beauty of the desert town, admire the charm of the centuries-old monasteries, and venture into the exciting realms of high mountain trekking and mountain biking. And don't forget that you are just a stone's throw away from the fascinating Pangong Lake and the breathtaking Nubra Valley. This is raw and rugged nature at its best!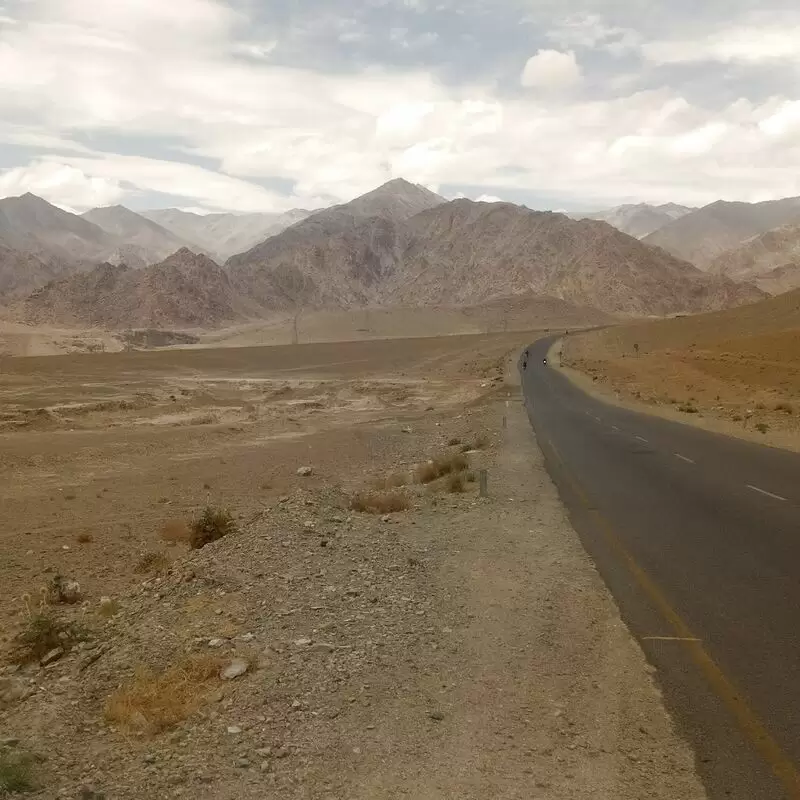 Explore Ladakh
sankar road leh ladakh, Sankar Rd, Leh
Monday - Friday: Open 24 hours
Saturday - Sunday: Closed
Best Time to Visit Leh
The best time to visit Leh, India, is during the summer months from April to June. During this time the weather is warm and pleasant, perfect for sightseeing and adventure activities. Moreover, the roads are passable and all tourist places are accessible.
Annual Weather in Leh
Leh 3-Day Forecast
Thu, 21 September
Night
44 °F
7 °C
0%
Morning
38 °F
3 °C
84%
Afternoon
48 °F
9 °C
0%
Evening
46 °F
8 °C
88%
Fri, 22 September
Night
41 °F
5 °C
65%
Morning
36 °F
2 °C
0%
Afternoon
47 °F
8 °C
0%
Evening
46 °F
8 °C
0%
Sat, 23 September
Night
40 °F
4 °C
0%
Morning
35 °F
2 °C
0%
Afternoon
43 °F
6 °C
0%
Evening
44 °F
7 °C
0%
Questions & Answers

What is the altitude of Leh?

Leh, the capital of the Ladakh region in India, is located at high altitude. The place is nestled in the Himalayan mountains and is about 3,500 meters above sea level. The altitude of the place contributes to its characteristic cold desert climate with long, harsh winters and short, warm summers.

How can I prepare for altitude sickness?

To prepare for altitude sickness in Leh, first acclimatize at lower altitudes before ascending. Keep well hydrated, avoid alcohol, and eat a high-carbohydrate diet. Consider taking medication for altitude sickness if your doctor approves. Remember that a healthy level of physical fitness does not guarantee immunity to altitude sickness. Listen to your body, take it easy and rest well. Doses of oxygen can also be helpful. Make sure you have adequate health insurance coverage or emergency travel insurance.

Is there a medical facility in case of emergencies?

Yes, there are medical facilities in Leh to treat emergencies. The best known is the Sonam Norboo Memorial Hospital, which offers comprehensive services and can treat most medical emergencies. Other smaller clinics and health centers are also located throughout the city. However, for more serious conditions that require specialized treatment, it may be necessary to travel to a larger city. Therefore, it is important to have a solid travel insurance policy.

What is the local cuisine like in Leh?

Leh's local cuisine offers a mix of Indian and Tibetan influences. Skyu, a traditional Ladakhi dish made from wheat dough mixed with vegetables or meat, is a staple. Thukpa, a hearty noodle soup, is both warming and filling, perfect for the cold climate. Momos are steamed dumplings often filled with vegetables, cheese or meat. Even though Leh is opening up to modern culinary tastes, locals have carefully preserved and maintain their traditional food culture, offering a unique culinary experience.

How reliable is the internet connectivity?

Internet connection in Leh, India, can be unpredictable. Local hotels, cafes and some public places offer WiFi, but the speed and reliability often fluctuates due to the remote location. It is advisable to carry a local sim card that offers 3G/4G services; however, connection problems may occur. For critical digital needs, be prepared with offline alternatives, as the region still has the charm of a true digital detox due to its volatile internet services.

Are there direct flights from Delhi to Leh?

Yes, there are direct flights from Delhi to Leh. Several airlines, including Air India and GoAir, fly on this route. The flight duration is about 1 hour and 20 minutes. However, it is recommended to check with the individual airlines for flight schedules and availability as they may vary. Once in Leh, you will land at Kushok Bakula Rimpochee Airport, one of the highest airports in the world.

What local transport options are available?

In Leh, India, local transportation consists mainly of cabs and rented motorcycles or bicycles for tourists. Public transportation is limited to local buses operated by the government. The widely available cabs are a convenient option for visiting tourist sites. Adventurous travelers can rent motorcycles or bicycles to explore and enjoy the natural beauty of the region. Auto rickshaws are also available, but mostly limited to the city limits.

Are credit cards widely accepted?

In Leh, India, credit card acceptance is not as widespread as in larger Indian cities. While some upscale hotels, restaurants and stores accept credit cards, cash is predominantly used, especially in remote areas, small businesses and for local transportation. Therefore, it is advisable for travelers to carry an adequate amount of cash. There are ATMs in the city, but their functioning is sometimes unreliable.

Is it safe for solo travelers?

Yes, Leh in India is considered safe for solo travelers. Both the infrastructure of the city and the locals are known to be friendly towards visitors. Transportation, accommodation and food options are plentiful and reliable. However, it is always advisable to be aware of your surroundings, avoid nighttime excursions, and make note of emergency contacts. It is also important to prepare for the high altitudes and sometimes harsh weather conditions in Leh.

What should I pack for a trip to Leh?

When packing for Leh, you should prefer warm clothes, as the weather can be quite cold. Thermal underwear, a thick jacket, gloves and wool socks are essential. Don't forget a good pair of sturdy hiking boots for mountain walks. It is also advisable to take sunscreen and sunglasses to protect yourself from the UV rays at high altitudes. Also, take a reusable water bottle to keep yourself hydrated and take your personal medications with you as there are few pharmacies.

Is English widely spoken in Leh?

The local languages in Leh, India, are Ladakhi and Hindi, but English is also recognized and spoken to some extent, especially in areas used by tourists or in the tourist industry. Signs, menus in restaurants, and information boards at tourist sites are usually in English. However, in the more remote areas around Leh, English may not be as commonly spoken or understood. It is always a good idea to learn a few basic phrases in the local language.

What is the religious background of Leh?

Leh is located in the Indian Union Territory of Ladakh and is part of the culturally rich Tibetan Buddhist region. The majority of Leh's population practices Buddhism, followed by Islam. The synergy between these two religions has resulted in a unique fusion of cultures and traditions. This can be observed in the numerous Buddhist monasteries, mosques, and even examples of Buddhist-Islamic architecture. Leh also has a small group of Sikhs and Hindus who contribute to the religious diversity.

How much cash should I carry?

As a guide to Leh, India, I would recommend you bring about INR 15,000 to 20,000 per person for a week-long trip. This estimate covers food, local transportation, light shopping, and minor entrance fees. It is important to know that there are few ATMs in Leh, so it is advisable to carry an extra reserve. You must keep in mind that many businesses in Leh are cash-based. Credit cards are not accepted everywhere, especially in remote areas or smaller stores.

Are there any specific cultural norms to follow?

Modest dress is encouraged in Leh, so it is advisable to avoid revealing clothing. Respect local customs, especially at religious sites such as monasteries; for example, always walk clockwise around Buddhist stupas and mani walls. Locals appreciate polite requests for photos, not sneaky snapshots. Finally, responsible tourism is strongly encouraged, such as not leaving litter, respecting wildlife, and avoiding loud behavior. This will ensure that you respect and preserve Leh's rich cultural heritage.

What wildlife can I expect to see in Leh?

In Leh you will encounter a variety of wildlife. The cold desert is home to rare species such as the snow leopard, Tibetan wolf and Eurasian brown bear. The skies above Leh are populated by many species of birds, including the Himalayan griffon vulture, golden eagle and lammergeier. The region is also known for its unique Pashmina goats. Keep in mind that observing these animals often requires patience, as they blend in well with their surroundings and are spread over vast landscapes.

Is Leh suitable for children or elderly?

Leh can be a difficult destination for children and the elderly due to the high altitude and harsh weather conditions. The thin air can bring the risk of acute altitude sickness (AMS), which usually occurs in the first days of acclimatization. It requires above average physical fitness and adequate warm clothing. Therefore, it is advisable for the elderly or children to undergo a medical fitness examination before traveling. High altitude areas may not be ideal for people with heart or respiratory problems.

Can I drink tap water in Leh?

While clean tap water is available in Leh, tourists are not usually recommended to drink directly from the tap due to the risk of altitude sickness. Your body may not be used to the local water bacteria, which can lead to gastrointestinal problems. It is advisable to drink filtered or bottled water. When trekking, it is safe to drink water from streams as long as it has been treated with disinfectant tablets or boiled beforehand.

Are there ATMs readily available?

Yes, ATMs are available in Leh. Since Leh is a popular tourist destination, major banks like State Bank of India, HDFC Bank, Punjab National Bank and Axis Bank have their ATMs in the city. However, due to its remote location, it is advisable to carry a certain amount of cash as ATMs sometimes run out. It is also advisable to withdraw enough cash before leaving Leh to go sightseeing, as there are hardly any ATMs in the surrounding rural areas.

Is camping allowed in Leh?

Yes, camping is allowed in Leh and is a popular activity among travelers. However, it is recommended to camp in designated areas, such as eco-camps, established campsites or sites approved by local authorities for environmental reasons. It is important to respect the local ecology and leave no trace so that the pristine nature of Leh's incredible landscapes can be preserved for future generations. Always check the latest guidelines and rules before planning your camping trip to Leh.

How can I respect the local culture and traditions?

When visiting Leh, it is important to respect the local culture and tradition. Dress modestly to respect Buddhist tradition and avoid revealing or tight clothing. Do not take photographs in monasteries or of monks without permission. Avoid touching or moving religious artifacts. Use your right hand or both hands when giving and receiving. Finally, respect the environment by not littering, carefully disposing of trash, and not disturbing wildlife. Your understanding and respect will surely make your visit pleasant and memorable.

Can I find vegetarian food in Leh?

Yes, finding vegetarian food in Leh is not a problem at all. This Himalayan city has adapted to the many tourists who come here every year. A variety of restaurants and cafes in Leh serve a range of vegetarian dishes, from Indian to continental to Asian. Traditional Ladakhi dishes, many of which are vegetarian, are also worth trying. So, as a vegetarian, you have a variety of tasty options to choose from.

What are medical precautions to take before traveling to Leh?

Before traveling to Leh, it is recommended to consult a doctor for a general check-up. Various medications such as acetazolamide can be taken to treat altitude sickness. Make sure your routine vaccinations such as Hepatitis A, Typhoid and Tetanus are up to date. Since there may be drastic weather changes, be sure to take cold, flu, and fever medications. Also remember to bring your personal medications if you have them. Take a good sunscreen to protect your skin from intense UV rays. Drink plenty of water and make sure you maintain good hygiene.

How clean and hygienic is Leh?

Leh is relatively clean compared to other cities in India, largely due to its lower population density and the local community's efforts to keep it clean. However, as in any major tourist destination, waste disposal can be a challenge during the peak tourist season. Toilets and bathrooms in local establishments are often well maintained, but cleanliness standards can vary in remote areas. Sanitary practices are generally followed in restaurant kitchens, especially in establishments that cater to international tourists.

Are there any dress code norms in Leh?

As Leh is a traditional and religious region, a certain amount of modest dress is expected, especially when visiting monasteries and public institutions. Neither men nor women should wear revealing clothing. Both should avoid shorts and sleeveless tops. Due to fluctuating temperatures, wearing layers is recommended. However, there is no strict dress code, and tourists often wear Western casual clothing. Finally, when visiting religious sites, it is advisable to cover the head.

What is the local currency used in Leh?

The local currency in Leh, India, is the Indian rupee (INR), which is divided into 100 paise. It is important to note that ATM availability in Leh is limited and credit card acceptance is not widespread. It is therefore recommended to carry sufficient cash for transactions. Certain establishments do accept other major foreign currencies, but it is best to exchange your money into the local currency.

Feedback

I hope you found this article informative and helpful. I'm eager to improve the content and make it even more valuable for you. If you have any feedback or suggestions, I would love to hear from you.

Do you have any tips or hidden gems that you think should be added to the list? Are there any areas that you feel could use more explanation or clarification?

Your input is greatly appreciated and will help us to continue providing high-quality content that meets your needs and interests. Please feel free to share your thoughts.