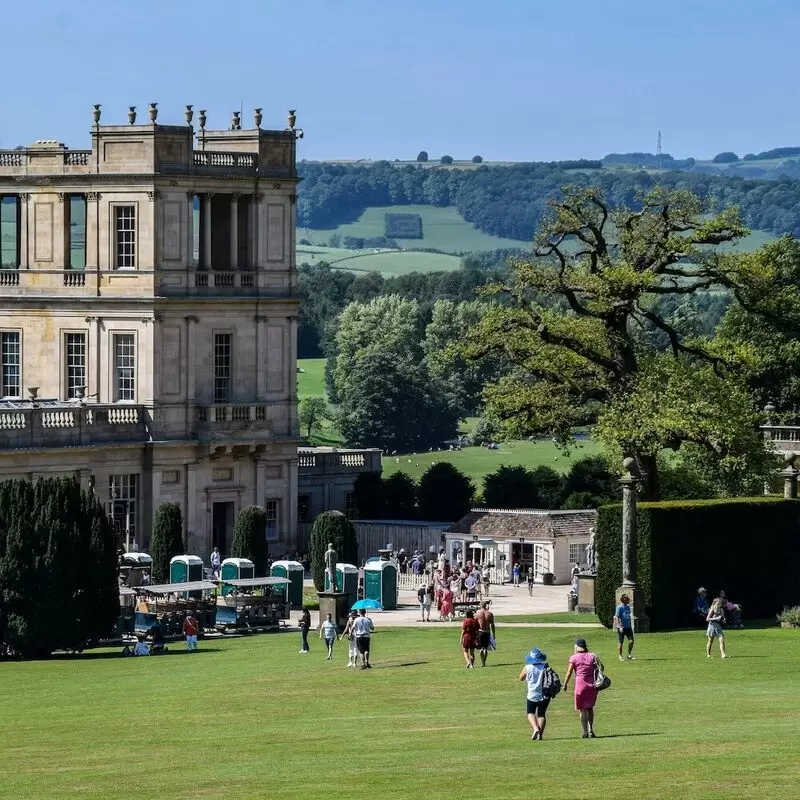 1. Chatsworth House
Travel to Bakewell and be enchanted by the splendor of Chatsworth House. Magnificent state rooms with works by Rembrandt and Veronese will delight art lovers. Admire the breathtaking water feature, the cascading Emperor Fountain, and stroll through the stunning 105-acre garden. Don't miss the hidden gem - a secret labyrinth. Complement your visit with a short detour to nearby Haddon Hall, where Tudor and medieval beauty combine in perfect harmony. Indulge yourself in Bakewell, where history meets pure beauty!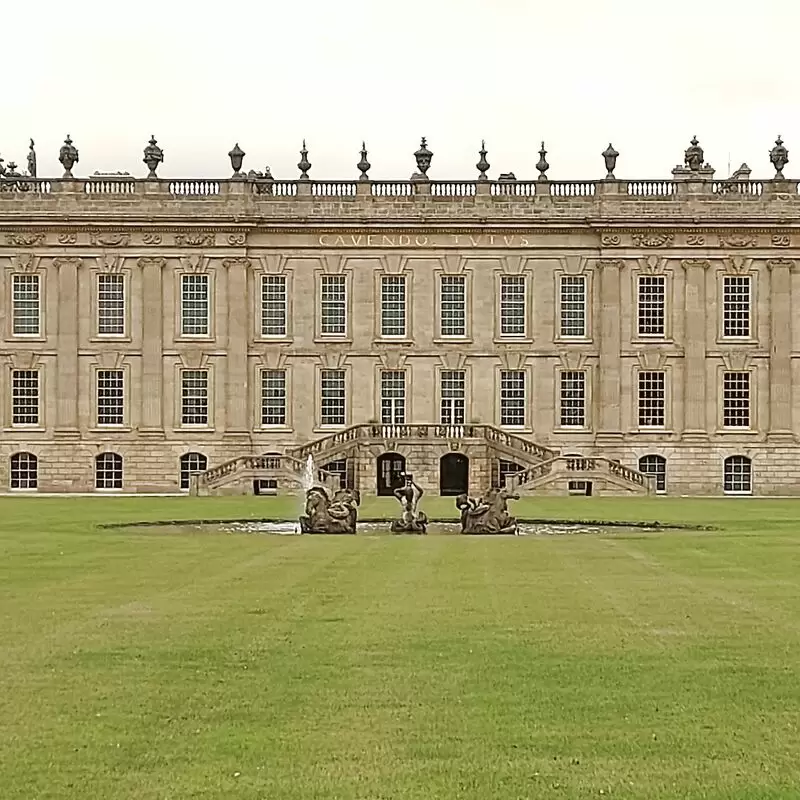 2. Heights of Abraham
Travel through the fascinating world of the Heights of Abraham. This exciting cable car ride offers panoramic views of the breathtaking Derbyshire countryside - an unforgettable sight! Below, you can explore caves where miners once toiled. Above ground, winding woodland paths, landscaped gardens and playful squirrels beckon. Few tourists know that the "Masson Pavilion" houses a unique fossil collection. After this adventurous day, you can relax on the nearby "Victoria Prospect Tower", which offers a breathtaking view over the valley! Trust your adventure instincts, Bakewell is waiting for you!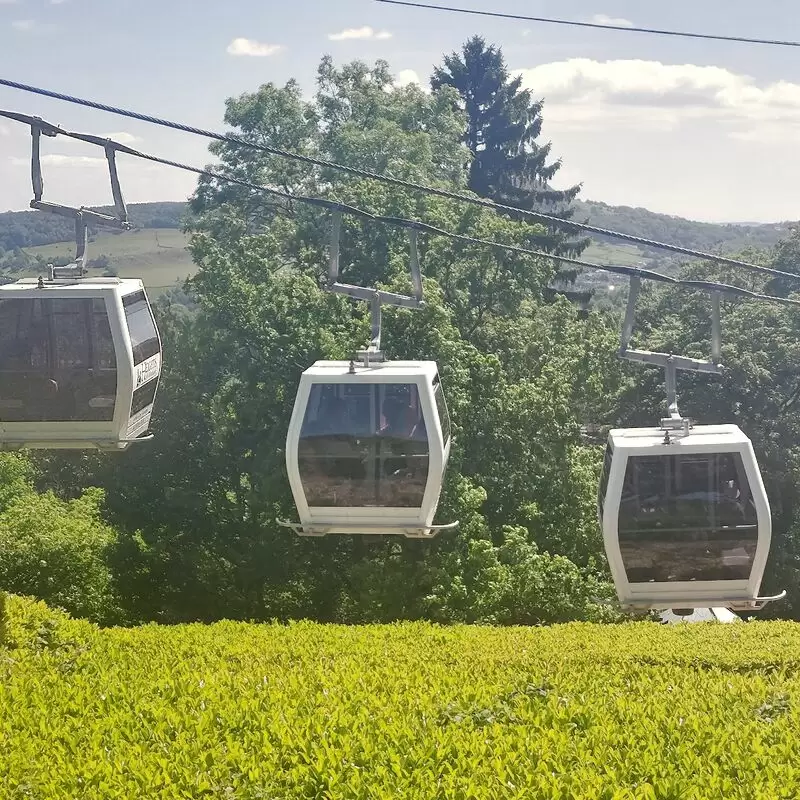 Heights of Abraham
Dale Road, Matlock
Monday - Sunday: 10:00 AM – 5:30 PM
3. Haddon Hall

Haddon Hall in Bakewell will captivate you with its romantic ambiance and medieval and Tudor architecture. As one of the oldest stately homes in England still in its original state, it is an epic time capsule! Did you know it's often used as a movie set?

Here's an insider tip: don't miss the gorgeous terraced gardens and historic chapel. Chatsworth House, another famous mansion with extensive gardens, is just an 11-minute drive away. A historical adventure in a double pack!

Haddon Hall
The Estate Office, Haddon Hall, Bakewell

Monday - Sunday: 10:30 AM – 4:00 PM
4. Chatsworth Park
Chatsworth Park is an oasis of tranquility in the heart of Bakewell. The magnificent mansion, lush gardens and exquisite art collection are a true feast for the senses. Mingle with the native deer population that roam freely on the 105-acre estate. Visit the hidden gem - Cascade Waterfall, an enchanting three hundred year old wonder. Just a short drive away is "Haddon Hall," an equally stunning Tudor-style mansion that will give you a real taste of the English aristocratic way of life.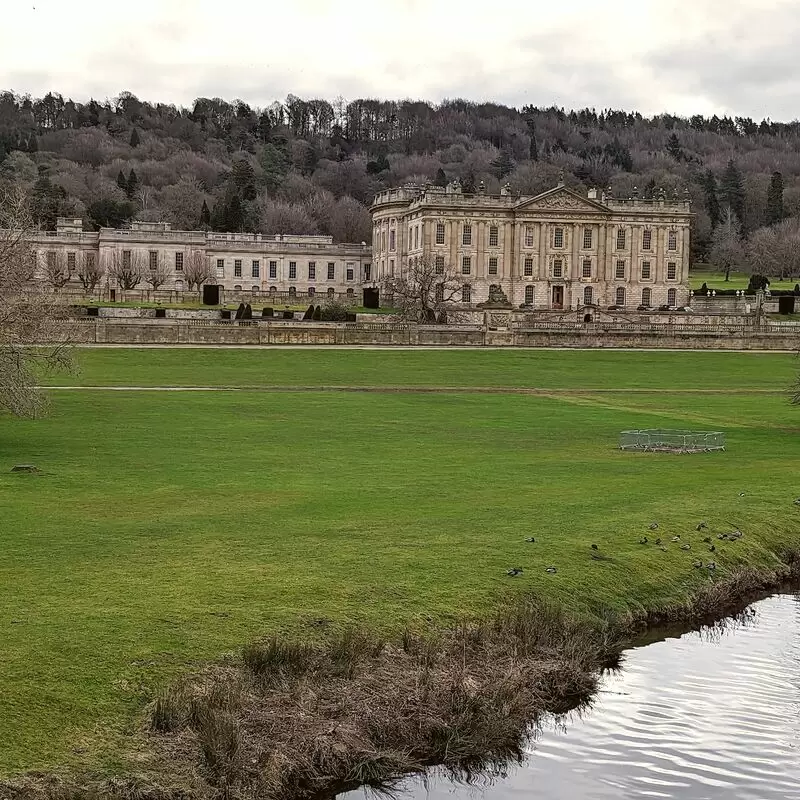 Chatsworth Park
Bakewell
Monday - Sunday: 10:30 AM – 5:00 PM
5. Magpie Mine
A fascinating relic of Bakewell's lead mining history, Magpie Mine promises a fascinating day out. Embark on a journey through time as you explore this atmospheric site and brave the enigmatic remains of chimneys, engine houses and foreboding mine shafts. Nearby, enjoy the beauty of the Peak District's rolling green landscapes. Combine your visit with a detour to the colorful market town of Bakewell for the ultimate day trip in Derbyshire. Don't miss taking a snapshot with the old Cornish-style engine house, the most photographed building at the mine!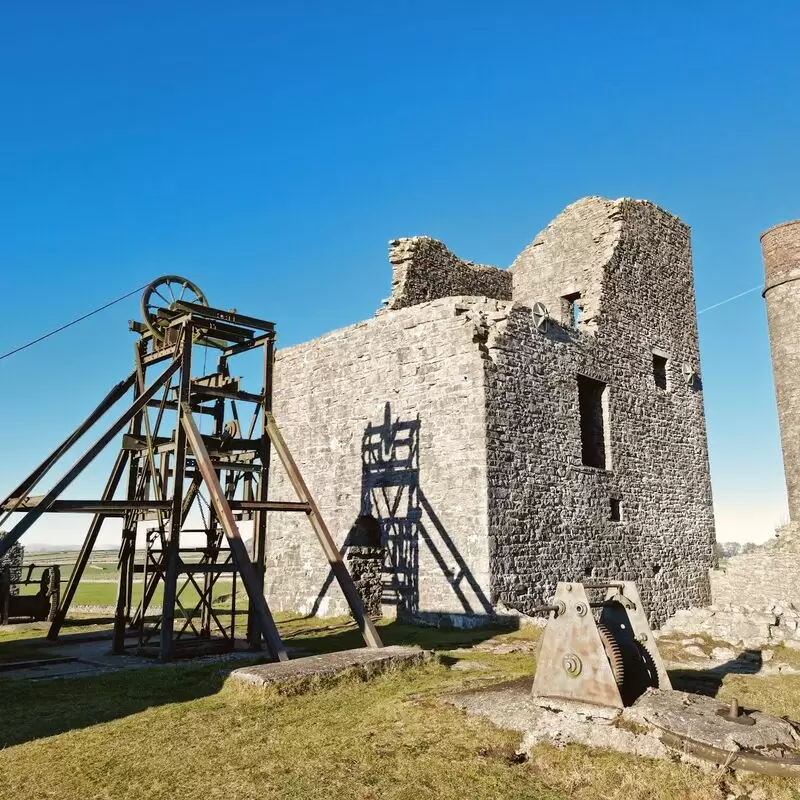 Magpie Mine
Magpie Mine Sheldon, Bakewell
Monday - Sunday: Open 24 hours
6. Lathkill Dale
Lathkill Dale, often referred to as the "hidden gem," offers a unique blend of outstanding natural beauty, wildlife exploration and glimpses of history. Unwind as you hike the green trails and observe a variety of bird species. Experience the magic of the Lathkill River, which rises in the middle of a meadow! And don't miss the old, quaint lead mines in the area that bear witness to a time long gone. Even better, it's just a stone's throw from charming Haddon Hall, another can't-miss attraction.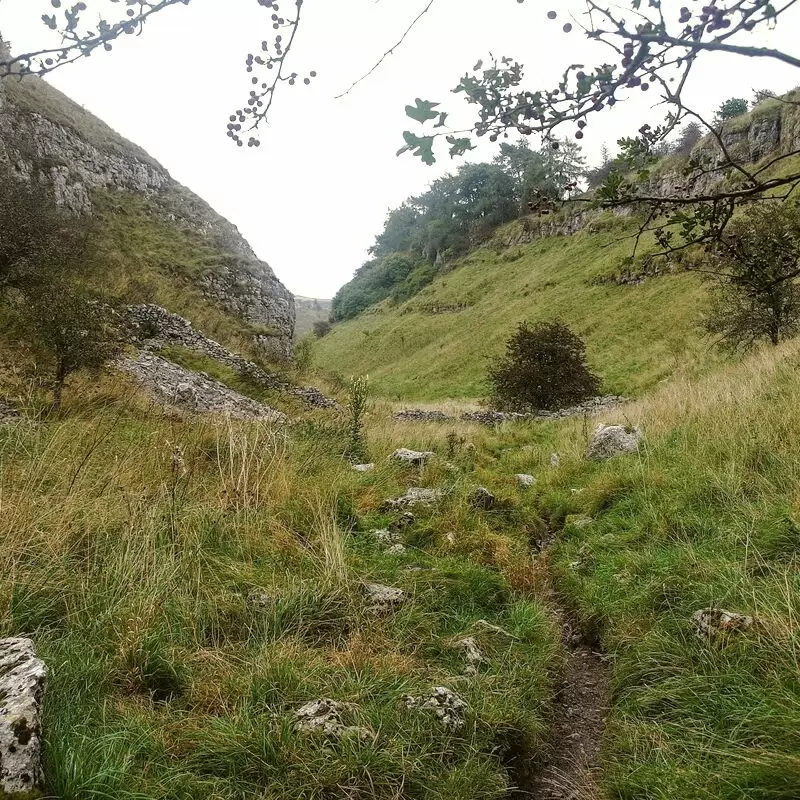 Lathkill Dale
Over Haddon, Bakewell
Monday - Sunday: 7:00 AM – 7:00 PM
7. Birchen Edge
Head to Birchen Edge for a truly unique adventure in Bakewell. Known for its scenic views, fascinating history, and famous rock formations like the Three Ships, this place is a hiker's paradise. After exploring, catch your breath at the Nelson Monument and take a look at the Major's Stone, named after Napoleon's enemy in the war. Don't miss visiting Chatsworth House, a stunning mansion just a short drive away. It's an insider's tip for history and nature lovers alike!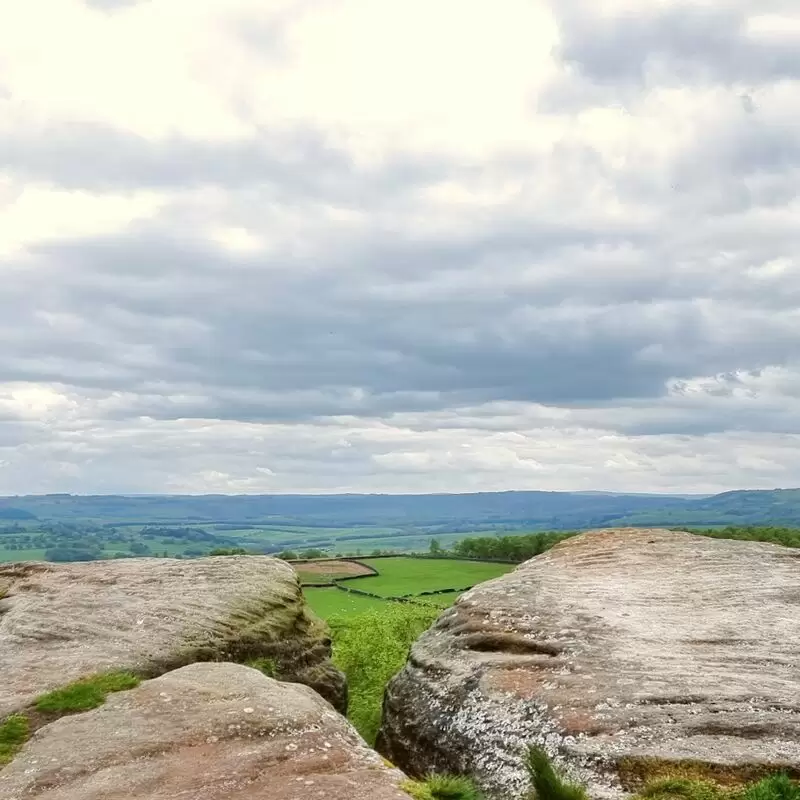 Birchen Edge
A619, Bakewell
Monday - Sunday: Open 24 hours
8. Bakewell Bridge
Bakewell Bridge, a charming 13th century structure with five arches, is a must-see for any visitor to Bakewell. The River Wye flows gently under it, making it an ideal spot for riverside walks and picnics. Not many people know that it featured in the 2005 film adaptation of Pride and Prejudice! Nearby is Bakewell's Old House Museum, a treasure trove of history dating back to the 16th century. Imagine - history and natural beauty in one package.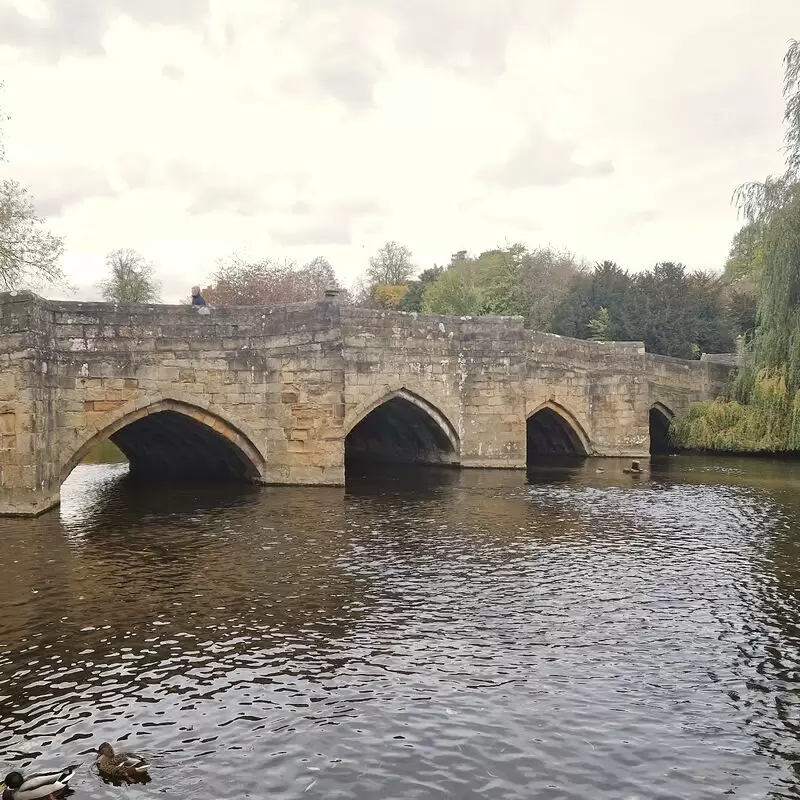 Bakewell Bridge
2 Bridge Street, Bakewell DE45 1DS
Monday - Sunday: Open 24 hours
9. All Saints Church
All Saints Church in Bakewell is a real English gem! Its remains of Saxon crosses are exquisite - a real step back in time. More than just a church, it's a fascinating piece of 12th century architectural history. Don't miss Vernon Chapel with its ornate tombs! Another treat? The Old House Museum is just a 3-minute walk away - a fascinating glimpse into a Tudor home.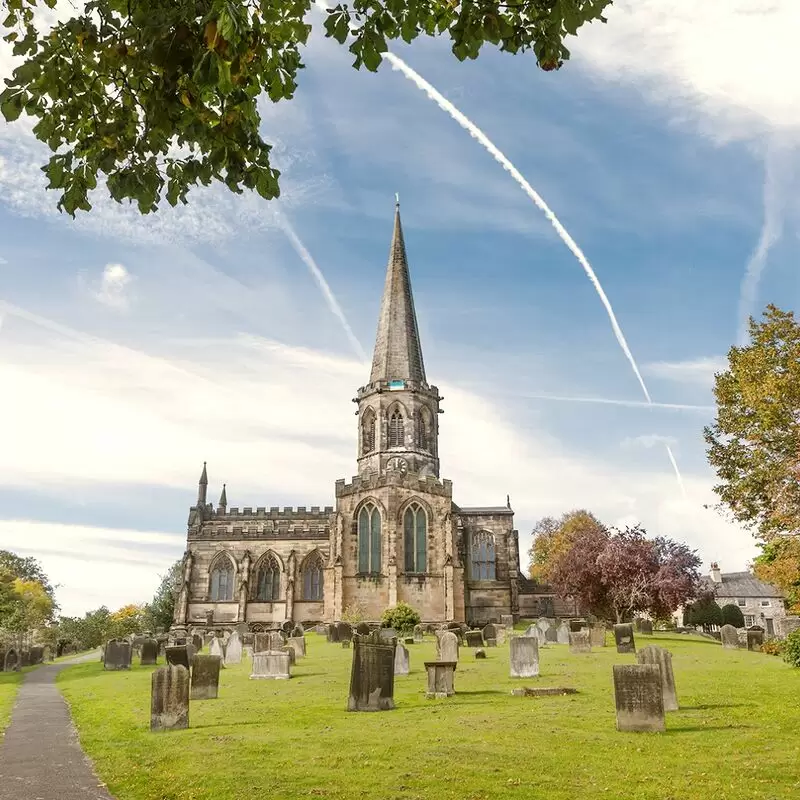 All Saints Church
South Church Street, Bakewell
Monday - Saturday: 9:30 AM – 4:00 PM
Sunday: Closed
Best Time to Visit Bakewell
The best time to visit Bakewell, United Kingdom, is from the end of May to September. During this time, the weather is pleasant and the town's famous events, such as the Bakewell Show and the Well Dressing Festival, usually take place in the summer. Enjoy local delicacies such as Bakewell Pudding during this time.
Annual Weather in Bakewell
Bakewell 3-Day Forecast
Wed, 27 September
Night
48 °F
9 °C
0%
Morning
50 °F
10 °C
0%
Afternoon
55 °F
13 °C
69%
Evening
53 °F
12 °C
62%
Thu, 28 September
Night
48 °F
9 °C
0%
Morning
44 °F
7 °C
0%
Afternoon
53 °F
12 °C
61%
Evening
49 °F
9 °C
0%
Fri, 29 September
Night
50 °F
10 °C
0%
Morning
48 °F
9 °C
0%
Afternoon
58 °F
15 °C
69%
Evening
50 °F
10 °C
0%
Questions & Answers

What is Bakewell famous for?

Bakewell is best known as the birthplace of the Bakewell Tart, but also for Bakewell Pudding, both delicious pastry specialties. This charming Derbyshire town, the heart of the Peak District, offers beautiful traditional English architecture and picturesque views. In addition to its culinary fame, Bakewell is also an ideal destination for outdoor activities with its walking and cycling trails.

Is Bakewell easy to walk around?

Yes, Bakewell is easy to explore on foot. Although Bakewell is a bustling market town, it has maintained its compact layout, making it a pedestrian-friendly destination. The quaint streets are adorned with historic buildings, charming stores, and beautiful parks, all comparatively close together. The city's terrain is mostly flat, with slight inclines in a few places, but not too strenuous for most walkers. Whether exploring the town center or following the trails along the beautiful River Wye, Bakewell is wonderful to explore on foot.

Are there local markets in Bakewell?

Yes, Bakewell is known for its thriving local markets, offering the best of Derbyshire's local produce and crafts. The traditional open-air market is held in the town center every Monday throughout the year, offering a variety of goods. The town also hosts a delightful farmers' market every month, where you can buy directly from local farmers, producers and artisans. For foodies, the Bakewell Pudding Shop with its famous local delicacy is a must.

Where can I try the traditional Bakewell tart?

At The Old Original Bakewell Pudding Shop in Bakewell, Derbyshire, you can try the traditional Bakewell pie. This store has been making a real Bakewell pie for centuries, using only the finest ingredients. When visiting this historic town, you will also enjoy the classic British ambiance of the store. They even offer Bakewell Pudding, a local version of the cake. A visit to Bakewell is a must if you are looking for authentic sweet treats from the region.

How can I experience local culture?

Immerse yourself in Bakewell's local culture by strolling the historic streets, visiting traditional stores and sampling Bakewell Pudding, the town's signature dessert. Explore the local art scene by visiting local galleries like The Old Original Bakewell Pudding Shop. Attend community events like the Bakewell Show, known as the Little Royal, which showcases the best of the town's agriculture and local crafts.

What's the public transportation like in Bakewell?

Public transport in Bakewell, UK, is relatively efficient, despite it being a small market town. The area is mainly served by local bus routes that connect Bakewell with surrounding towns such as Chestfield, Matlock and Buxton. Cabs are also available. However, there is no train station in the town; the nearest is in Chesterfield. Buses are reliable and the preferred mode of transportation for both residents and tourists. Accessibility can be limited, so planning ahead is advisable.

Are there any traditional English pubs here?

Of course, there are several traditional English pubs in Bakewell. The Peacock is popular with locals and tourists for its welcoming ambiance, cozy interior, and variety of beers. The Castle Inn, on the other hand, is known for its excellent food and friendly staff. Finally, Manners Pub combines its selection of local beers with its inviting beer garden - the perfect place for a sunny afternoon. These pubs wonderfully combine traditional charm with delicious food and drinks.

Is Bakewell a safe place to travel to?

Bakewell is a picturesque small town in the beautiful Peak District National Park in the United Kingdom. It is known for its safety, charm and friendly community. The crime rate is remarkably low and it is generally safe to walk around, even at night. It is an ideal destination for solo travelers, families, and the elderly. However, it is advisable to take the usual precautions, especially when venturing out of the city into the countryside.

Are there cycling routes in Bakewell?

Yes, Bakewell offers a number of scenic bike trails to suit all needs. A popular choice is the Monsal Trail, an 8.5-mile traffic-free route along a former rail line with tunnels and bridges. There's also the High Peak Trail, a 17.5-mile route that takes you through the beautiful limestone valleys. In addition, Bakewell is linked to the National Cycle Network, which stretches across the UK and offers routes for beginners and experienced cyclists alike.

Can I do a day trip from London to Bakewell?

In any case, you can make a day trip from London to Bakewell. However, be prepared for a journey of about 3 hours each way by train or car. Once there, you can explore the charming town with its traditional stores, charming tea rooms and the famous Bakewell Pudding. In addition, the Peak District has many beautiful natural sights and hiking trails nearby for those who enjoy the outdoors.

What local food should I try?

When in Bakewell, you must try the world-famous Bakewell Pudding, a delicious traditional dessert from the region. It consists of a crumbly, buttery puff pastry base covered in seedless raspberry jam and topped with a delicious egg and almond custard. This delicacy is unique in the city and incredibly rich in flavor. Also, don't miss the Bakewell Tart, a modern take on the pudding with shortbread and sugar icing on top.

Are there hiking trails near Bakewell?

Bakewell, located in the heart of the Peak District, definitely offers several beautiful walking trails. The Monsal Trail, a popular 8.5-mile trail, follows a former rail line with tunnels and viaducts. For a shorter hike, try the Ashford-in-the-Water Trail, a 6-mile loop that passes through charming villages and breathtaking scenery. A more challenging hike is the Bakewell to Chatsworth House trail, which combines trails and roads in a scenic 9-mile route.

What are some unique experiences in Bakewell?

In Bakewell, visitors can indulge in the British tradition of afternoon tea at the Original Bakewell Pudding Shop and watch live pudding baking. Explore the picturesque town on foot or rent a bike and cycle along the Monsal Trail. Discover Bakewell's rich history with a visit to the 11th century All Saints Church, the Old House Museum or the beautiful Chatsworth House. Enjoy a scenic walk along the River Wye, lined with interesting shopping and traditional British pubs.

How can I explore Peak District from Bakewell?

In Bakewell, you're already in the heart of the Peak District, home to some of the most idyllic scenery in the UK. You can rent a bike and explore the Monsal Trail, a popular route through some of the area's most beautiful scenery, and stop at nearby traditional pubs or cafes. Or hike to the mysterious Chatsworth House or through Lathkill Dale, which offers panoramic views of the limestone valleys. Take advantage of a guided tour for an informative, leisurely exploration of the district.

What type of clothing should I pack?

Bakewell, located in the United Kingdom, has a mild but often rainy climate. Therefore, pack clothes that will keep you dry and warm. Pack several layers, including rainproof jackets or umbrellas. Comfortable walking shoes are also a must when exploring the charming city and its surroundings. Don't forget to pack warmer clothes for the evenings, as temperatures can drop. Depending on the season, you may also need hats, gloves and scarves.

Are there any English language courses in Bakewell?

Yes, there are English courses in Bakewell for those who want to learn or improve their language skills. Institutions like Buxton and Leek College and private teachers offer courses for beginners and advanced learners. Therefore, non-native speakers or those who want to improve or polish their English can definitely take advantage of these opportunities. It is also a great opportunity to immerse yourself in the culture and daily life of this English city.

Is Bakewell accessible for disabled travelers?

Bakewell is handicapped accessible and offers a number of accessible facilities. The town center is relatively flat and can be navigated with a wheelchair or mobility scooter. Some tourist attractions, such as the Old House Museum, may be more challenging due to the historic structures. However, the Chatsworth House is wheelchair accessible. Handicapped parking is available near the attractions and stores. However, it is advisable to check and contact the places directly to find out the specific accessibility requirements.

Are pets allowed in Bakewell's public spaces?

Yes, pets, especially dogs, are allowed in most public places in Bakewell, including parks and certain outdoor areas. While some businesses and stores do not allow pets, there are many pet-friendly places in town. It should be noted, however, that pets must be well behaved and under the owner's control at all times. In some areas, dogs must also be kept on a leash. It is always a good idea to check the specific regulations of the place you plan to visit.

How is the nightlife in Bakewell?

Bakewell, a picturesque market town in the Derbyshire Dales, offers a relaxed nightlife with many cozy, inviting pubs and restaurants. The town is home to traditional English pubs like the Wheel Inn and Manners, which offer local beer and hearty food. Due to its small size, there aren't many nightclubs, but Bakewell instead offers relaxing evening experiences like riverside walks or late-night shopping events. Bakewell is perfect for those looking for slow-paced but charming evening entertainment.

Can I rent a car in Bakewell?

Yes, you can actually rent a car in Bakewell. There are not many car rental companies in the city, but the ones that exist allow you to rent cars. They offer everything from small cars to spacious SUVs. Remember that driving a car in the UK requires a valid driver's license and that the steering wheel is on the right side. Having a car at your disposal will allow you to fully explore the charming landscapes and sights of the Peak District National Park.

Feedback

I hope you found this article informative and helpful. I'm eager to improve the content and make it even more valuable for you. If you have any feedback or suggestions, I would love to hear from you.

Do you have any tips or hidden gems that you think should be added to the list? Are there any areas that you feel could use more explanation or clarification?

Your input is greatly appreciated and will help us to continue providing high-quality content that meets your needs and interests. Please feel free to share your thoughts.