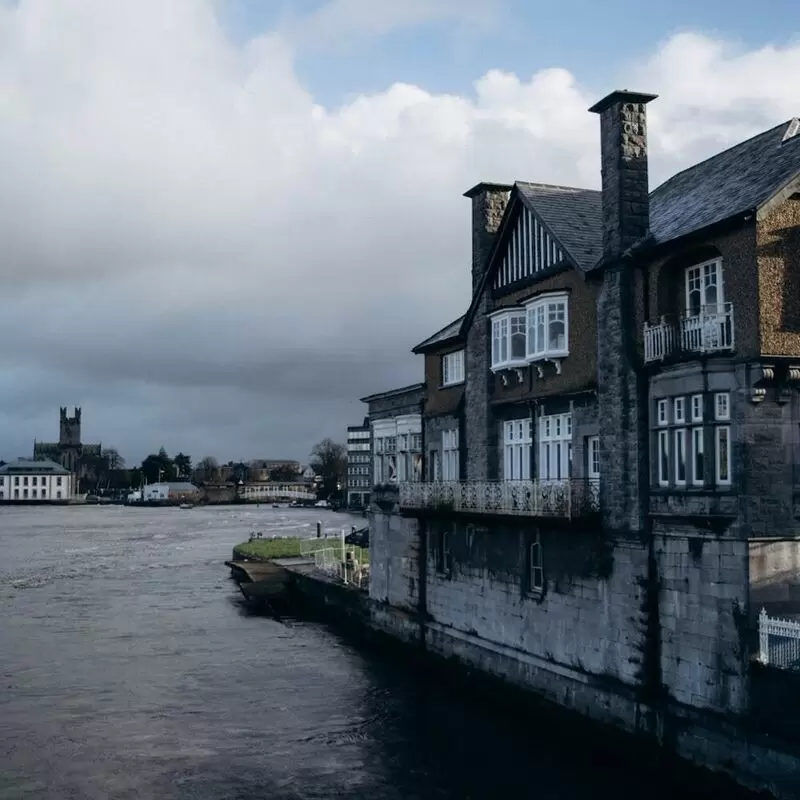 1. King John's Castle
King John's Castle, located in the heart of Limerick's medieval district, beckons with its captivating 800-year history. Climb the castle's towering battlements and admire the breathtaking views of the River Shannon and the cityscape. Explore the interactive exhibits that give you a vivid glimpse into medieval Irish life. Don't miss the castle courtyard, where actors re-enact the Middle Ages. Just a 5-minute walk away is St. Mary's Cathedral, an equally impressive relic that breathes the spirit of times past.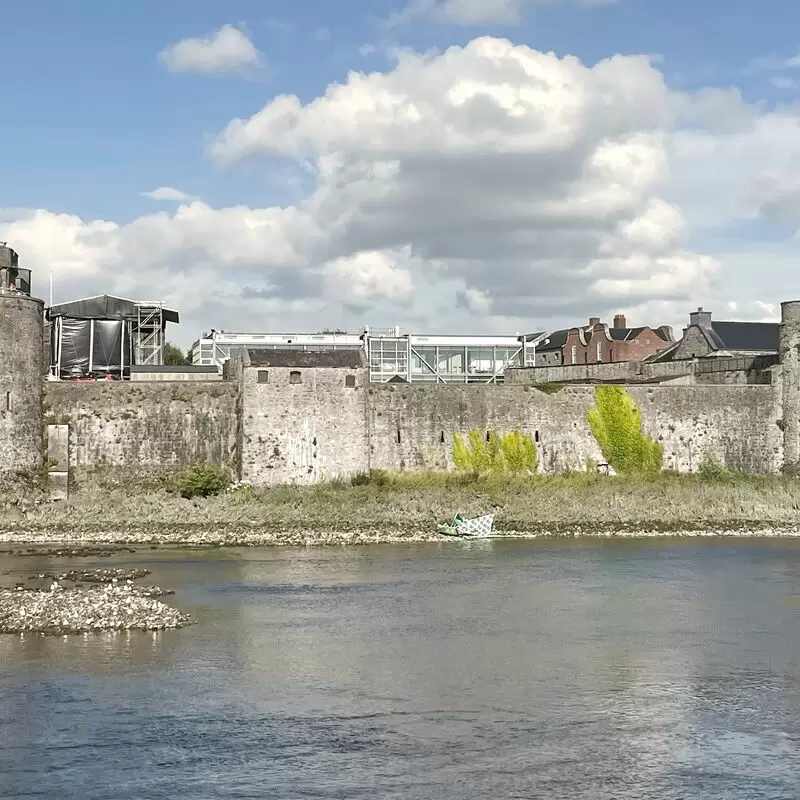 King John's Castle
Nicholas Street, Limerick
Monday - Sunday: 9:30 AM – 5:00 PM
2. People's Park Limerick
Visit People's Park, a charming oasis in the bustling city center of Limerick. A tranquil retreat with a rich history dating back to 1877. Relax under magnificent mature trees, explore the colorful floral displays, or admire the historic architecture, including the picturesque Victorian bandstand and charming, recently restored park kiosk. The nearby Limerick City Gallery of Art is just a stone's throw away and offers further cultural enrichment. A visit to the park is a must for nature lovers and history buffs.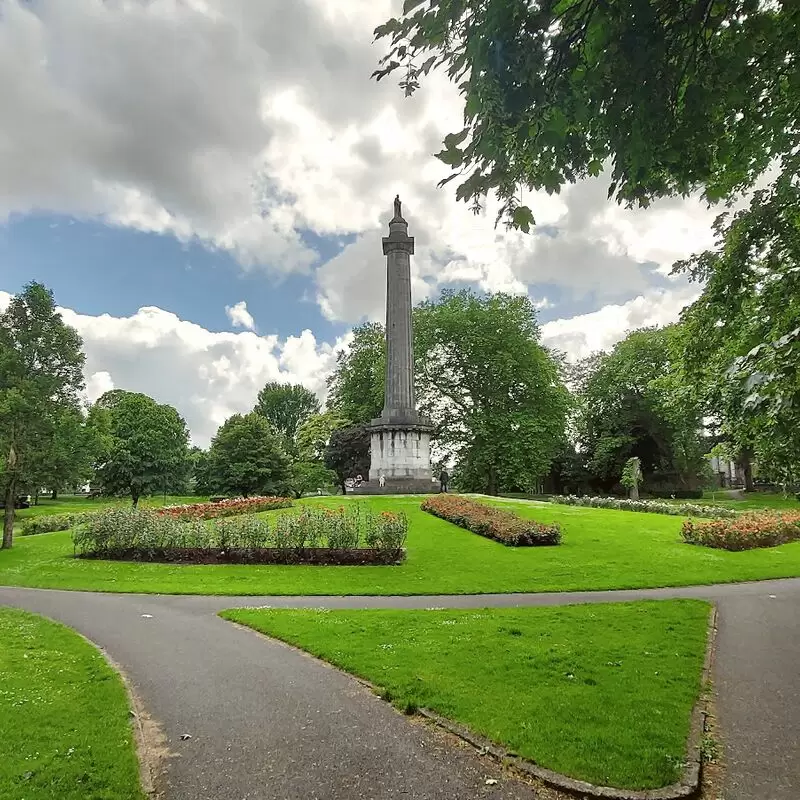 People's Park Limerick
Limerick
Monday - Sunday: 8:00 AM – 9:00 PM
3. Saint Mary's Cathedral
Saint Mary's Cathedral is a must-see to experience firsthand the rich history of Ireland. Over 800 years old, the cathedral offers a sublime spiritual experience in addition to the fascinating architectural splendor of a timeless medieval wonder. Don't miss the "Leper's Squint," a unique architectural feature that allows lepers to participate in worship. Just a stone's throw away is King John's Castle, another historic monument overlooking the scenic River Shannon. Immerse yourself in Ireland's past with this stunning duo!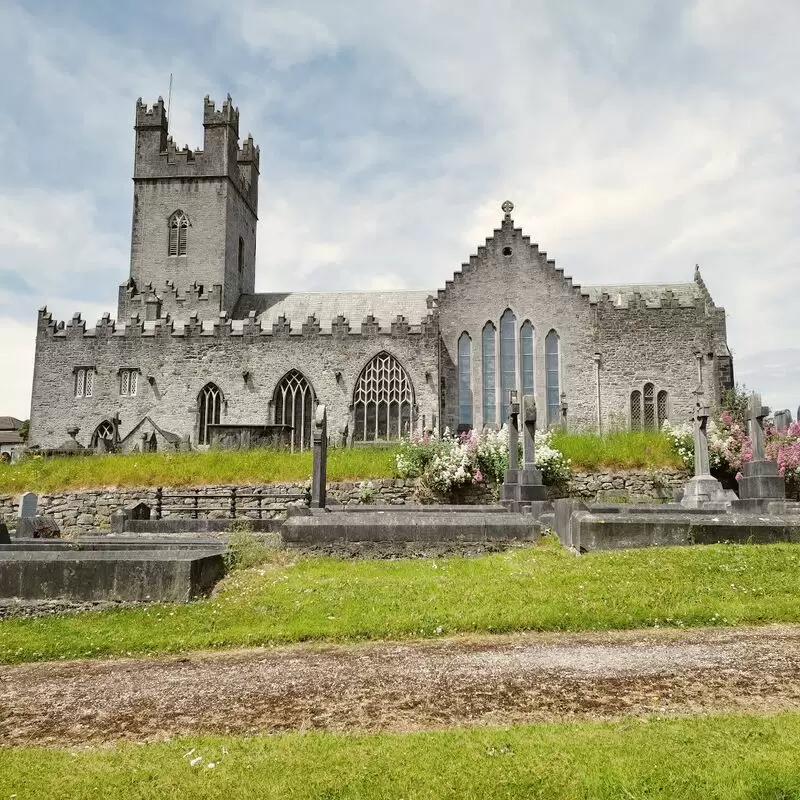 Saint Mary's Cathedral
Bridge Street, Limerick
Monday - Saturday: 11:00 AM – 4:00 PM
Sunday: 10:30 AM – 12:30 PM
4. The Milk Market
A visit to Limerick is not complete without immersing yourself in the bustling, lively atmosphere of the Milk Market. This open-air market, housed in a huge tent, is a real treat for the senses. Stalls of artisan foods, vintage clothing, unique crafts and fresh produce invite you to browse. Don't miss the opportunity to tantalize your taste buds with locally made cheese or freshly brewed coffee. Pro tip: Come early for a great selection. Just around the corner you'll find St. Mary's Cathedral, a jewel of medieval architecture.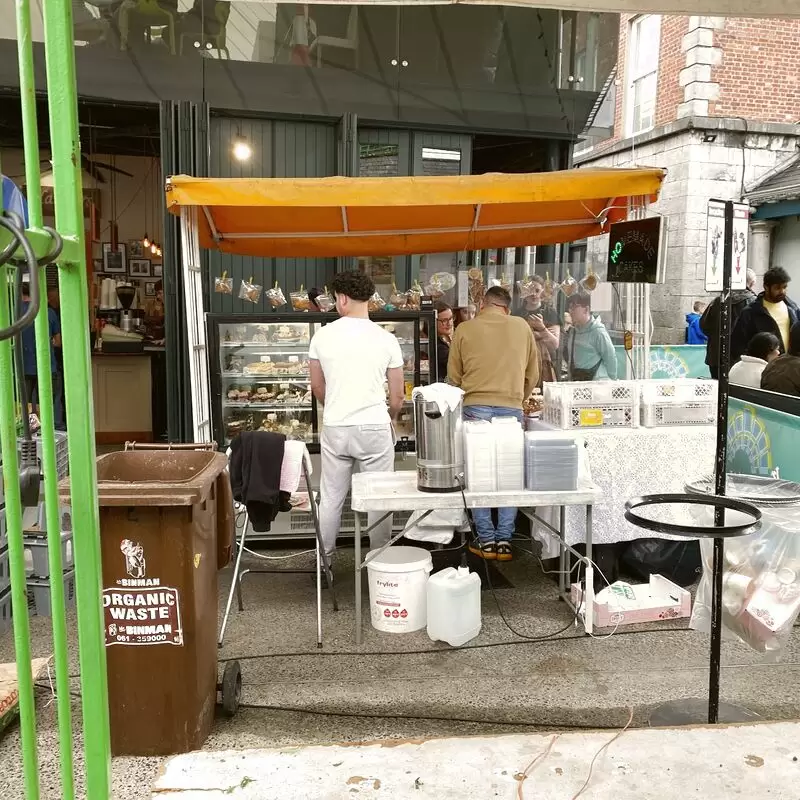 The Milk Market
Cornmarket Row, Limerick
Monday - Thursday: Closed
Friday - Sunday: 11:00 AM – 3:00 PM
Saturday: 8:00 AM – 3:00 PM
5. The Hunt Museum
Visit the Hunt Museum, home to Ireland's largest private collection of art and antiquities, which will entice you with eclectic treasures from the Stone Age to modern paintings. Explore the fascinating Armstrong Siddeley Sapphire, once owned by Picasso's muse Jacqueline. Its 18th-century custom house location adds a special charm. Nearby, you can enjoy the medieval charm of King John's Castle, just a 5-minute walk away. In Limerick, every artifact tells a story.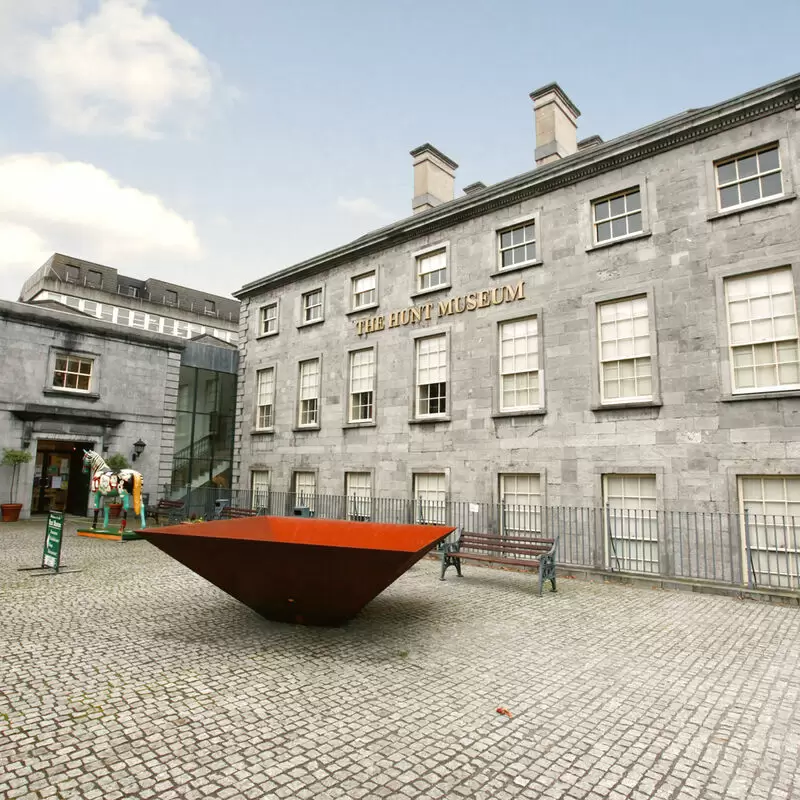 The Hunt Museum
Hunt Museum, Rutland Street, Limerick
Monday: Closed
Tuesday - Saturday: 10:00 AM – 5:00 PM
Sunday: 11:00 AM – 5:00 PM
6. St John's Cathedral

Visit St. John's Cathedral, a majestic and historic church in Limerick. Marvel at the tallest church tower in Ireland, reaching 94 meters into the sky. It was built in 1861 and is an excellent example of the Gothic Revival style.

Insider tip: Climb to the top on a clear day for unparalleled views of the city. Not far away is King John's Castle, a beautifully preserved 13th-century fortress on the banks of the River Shannon.

St John's Cathedral
Cathedral Place, Limerick
7. Treaty Stone
Make your way to the fascinating Treaty Stone, which stands on a mighty pedestal near King John's Castle and is a testament to Limerick's rich history. It was at this legendary stone that the Treaty of Limerick was signed in 1691, marking a pivotal moment in Irish history. Take a moment to enjoy panoramic views of the River Shannon and the historic townscape. Discover nearby St. Mary's Cathedral, an exquisite jewel dating back to 1168, making it the oldest building in Limerick still in daily use.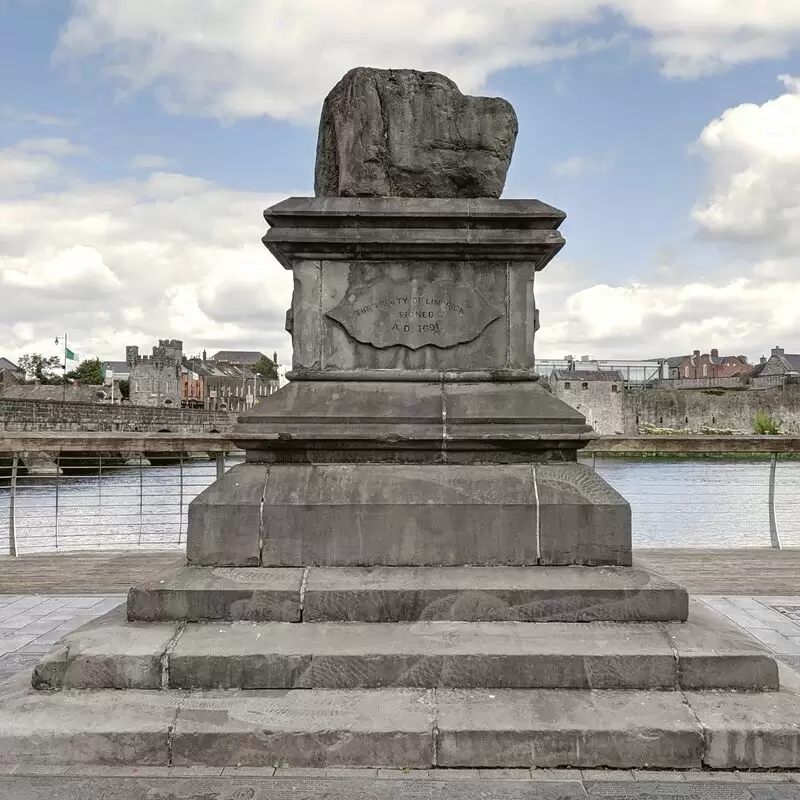 Treaty Stone
Limerick
Monday - Sunday: Open 24 hours
8. Arthur's Quay Park
Discover Arthur's Quay Park, a fantastic social gathering place in the heart of Limerick. This place is full of activities, from open-air concerts to city festivals. Enjoy the breathtaking panoramic views of the River Shannon while you take your lunch on the terraced seating. Plus, the park is just minutes from the historic Hunt Museum and the lively Milk Market. Don't miss the nearby Potato Market, a beautifully restored Georgian square popular with locals. Experience urban Ireland at its best!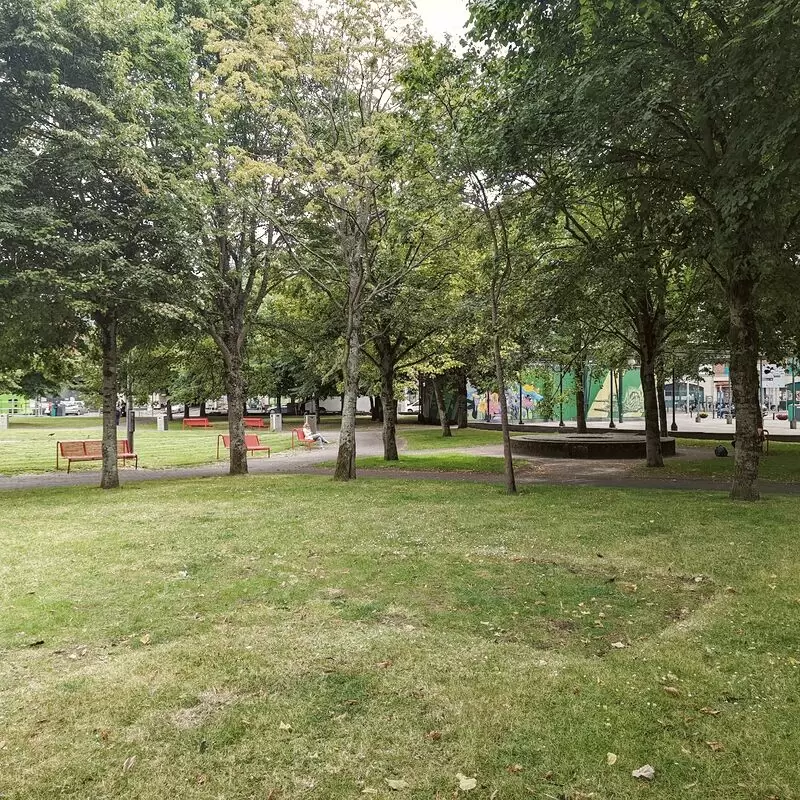 Arthur's Quay Park
Arthurs Quay, Limerick
Monday - Sunday: Open 24 hours
9. Limerick City Gallery of Art
Immerse yourself in Ireland's vibrant contemporary and classical art at the Limerick City Gallery of Art. Here you can experience stimulating exhibitions by emerging and well-known national artists. Don't miss the Michael O'Connor exhibition - a local gem revered by the community. It's located in charming People's Park, which invites you to take a relaxing stroll. Just a stone's throw away is the magnificent Gothic Revival-style St. John's Cathedral, perfect for a cultural outing.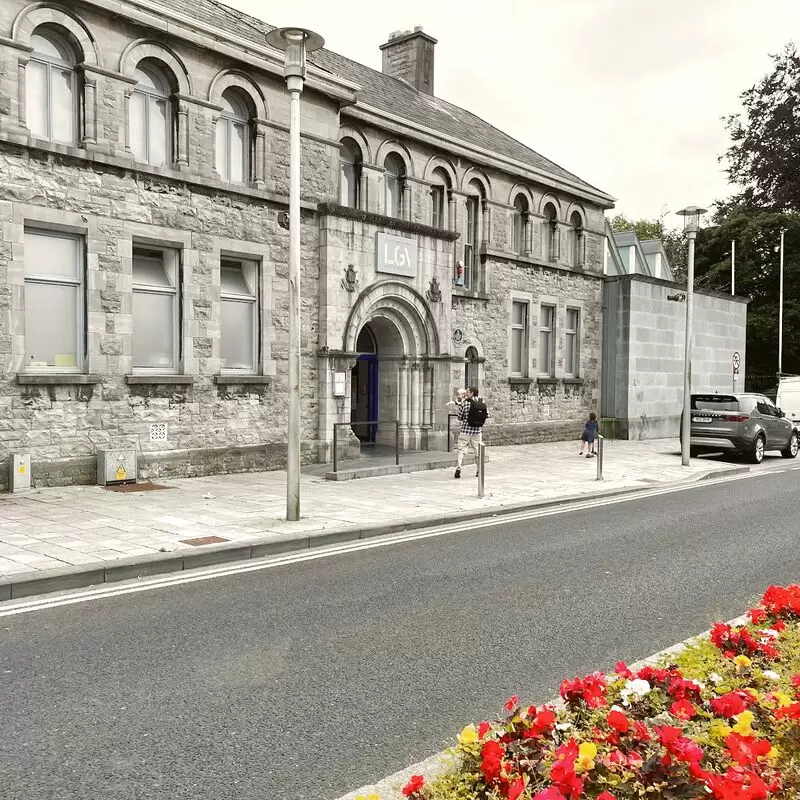 Limerick City Gallery of Art
Carnegie Building, Pery Square, Limerick
Monday - Saturday: 10:00 AM – 5:00 PM
Sunday: 12:00 – 5:00 PM
Best Time to Visit Limerick
The best time to visit Limerick, Ireland, is between June and September. During these months the weather is warm, the days are longer and outdoor activities are more enjoyable. There are also several summer festivals where you can experience the local culture. Avoid the peak tourist season in July and August to experience fewer crowds.
Annual Weather in Limerick
Limerick 3-Day Forecast
Mon, 25 September
Night
55 °F
13 °C
80%
Morning
54 °F
12 °C
65%
Afternoon
62 °F
16 °C
0%
Evening
58 °F
14 °C
0%
Tue, 26 September
Night
59 °F
15 °C
76%
Morning
50 °F
10 °C
69%
Afternoon
59 °F
15 °C
77%
Evening
52 °F
11 °C
0%
Wed, 27 September
Night
53 °F
12 °C
0%
Morning
54 °F
12 °C
71%
Afternoon
52 °F
11 °C
69%
Evening
52 °F
11 °C
73%
Questions & Answers

What language is spoken in Limerick?

The main language spoken in Limerick, Ireland is English. Although Ireland as a whole is a bilingual country where Irish Gaelic is the second official language, English is still the most commonly used language in Limerick in daily communication, business transactions, tourism, and schooling. Many locals also learn Irish Gaelic at school, and some signs in the city are posted in both languages.

Is Limerick a safe city to visit?

Yes, Limerick is generally safe for visitors as the crime rate is low. As in any city, it is advisable to be alert and aware of your surroundings, especially in busy places or at night. The city center, riverfront and visitor attractions are usually bustling during the day, which makes for a pleasant environment for tourists. Overall, Limerick is a welcoming city with friendly residents who contribute to its safe atmosphere.

How can one navigate through the city?

Navigating Limerick, Ireland, is a breeze thanks to the city's compact size. Most of the city's attractions are within walking distance, so a leisurely stroll is a good idea. If you prefer public transportation, the city has an extensive bus network that can take you to all corners. Cabs are also available. Signage is clear and locals are friendly and often willing to help if you get lost. Don't forget to explore the beautiful River Shannon, either on foot or on a river cruise.

What is Limerick known for?

Limerick, located on the west coast of Ireland, is known for its rich medieval heritage, highlighted by structures such as King John's Castle and St. Mary's Cathedral. The city is also known for its vibrant cultural scene, which includes the Limerick City Gallery of Art and the Hunt Museum. In addition, the city is known for its sporting tradition, especially rugby, and the Thomond Park Stadium symbolizes this passion. Finally, it is the setting for Frank McCourt's award-winning memoir, Angela's Ashes.

What traditional foods should I try in Limerick?

In Limerick, be sure to try the traditional Irish stew, a hearty dish usually made with mutton, potatoes and onions. The city is also famous for crubeens, boiled and breaded pigs' feet or shanks. Don't forget to try local seafood like the famous Atlantic salmon or freshly caught oysters. Finish your meal with Irish Apple Cake, a delicious dessert often served with a cream sauce.

What are the main neighbourhoods in Limerick?

The bustling city of Limerick is home to notable neighborhoods such as the historic Medieval Quarter, which is steeped in history with St. Mary's Cathedral and King John's Castle. The Georgian Quarter offers charming terraced houses and People's Park, a refreshing green space. Downtown and Lansdowne have a lively riverside atmosphere, while Dooradoyle is a thriving suburb with a welcoming community vibe. The university town of Castletroy is known for the University of Limerick and scenic riverside walks. Raheen has a rich rural heritage with spectacular scenery and thriving businesses.

Are the locals friendly towards tourists?

Yes, the locals in Limerick, Ireland are known to be very friendly and approachable towards tourists. They generally have a relaxed and easy-going attitude and are always eager to make visitors feel at home. The Irish are known for their stories, so don't be surprised if you hear wonderful tales about their city. Tourists usually have exciting and varied experiences in Limerick and feel the genuine, warm Irish hospitality.

How is the nightlife in Limerick?

Limerick has a lively nightlife with a vibrant music scene, lively bars and charming pubs. Traditional Irish music echoes in the air as you stroll the city streets after sunset. Wine bars, craft beer venues and cocktail lounges offer something for everyone. If you want to party late into the night, clubs will keep you dancing with DJ sets and live music. Whether you want a quiet evening or a night of music and laughter, Limerick will not disappoint.

Are there any local customs or etiquette I should be aware of?

In Limerick, Ireland, it is customary to tip in restaurants, but it is not expected in pubs. It is considered polite to say a greeting such as "hello" or "good afternoon" when entering a store or pub. The Irish value friendliness and good conversation, so don't hesitate to talk to locals. Be sure to respect the history and culture of the region, as locals are proud of their heritage. When toasting, it is customary to say "Sláinte", which means "good health".

Does Limerick have a good public transport system?

Yes, Limerick has a good public transport system, consisting mainly of an extensive network of bus routes. Bus Éireann, the main bus service provider, offers frequent connections between the city center and the suburbs. In addition, there are a number of cab services that are also easily accessible. For inter-city travel, there is a train service operated by Irish Rail that departs from Limerick's main station, Colbert Station. All of this should meet the needs of locals and visitors alike.

Can I rent a bike in Limerick?

Bike rental is very popular in Limerick and allows tourists to get around the city and explore the surrounding countryside at their leisure. There are several bike rental companies in the city that offer different types of bikes suitable for all levels of cycling experience. It is recommended to book in advance, especially during the high season. Helmets, locks and maps are often included in the rental price.

Is it easy to hire a car in Limerick?

Yes, it is quite easy to rent a car in Limerick, Ireland. The city is equipped with several car rental agencies, including major global car rental companies. Most have counters at Shannon Airport, just a short drive from Limerick, and offer customer-friendly services. Just make sure you have a valid driver's license and meet the age requirements. Booking online before your visit makes the process smoother and faster.

Is Limerick a walkable city?

Yes, Limerick is a city that is easy to explore on foot. Its compact size, flat terrain, and well-maintained sidewalks make it easy to traverse on foot. Walking through the streets, you can visit important landmarks such as King John's Castle, the Hunt Museum, and St. Mary's Cathedral. It's worth strolling along the banks of the Shannon or through the Georgian Quarter, where you'll find beautiful scenery. Be prepared for occasional rain, however, as Limerick has a humid climate.

Can I find vegetarian or vegan food in Limerick?

Yes, in Limerick, Ireland, vegetarians and vegans are also welcome! There are a number of restaurants in the city that offer vegan and vegetarian dishes. Restaurants like The Grove Veg Kitchen specialize in vegan cuisine, while places like The Old Fire Station offer both vegan and vegetarian treats. Limerick's vibrant gastronomic scene ensures that you won't miss out on Ireland's culinary delights!

Is it customary to tip in restaurants in Limerick?

Yes, tipping is as common in Limerick, Ireland as it is in the rest of the country. A tip of 10-15% of the total bill is common in restaurants if you were satisfied with the service. However, the amount of the tip is often a matter of personal discretion. It is therefore advisable to check the bill to see if a service charge has already been made, in order to avoid double tipping.

Are traditional Irish music sessions common in Limerick?

Yes, traditional Irish music events are quite common in Limerick, Ireland. The city is known for its rich cultural heritage, which includes a significant tradition of Irish music. As a result, a number of pubs and venues in Limerick frequently host authentic live Irish music sessions. These events range from informal gatherings of musicians to structured performances and offer locals and tourists a lively taste of Irish culture and folk music.

Do I need a visa to visit Limerick?

Whether you need a visa to visit Limerick, Ireland depends on your citizenship. If you are a citizen of an EU/EEA country or Switzerland, you do not need a visa. Citizens of certain other countries, including the U.S., Australia, Canada and New Zealand, can visit Ireland visa-free for up to 90 days. Nevertheless, there are nationalities that require a visit or tourist visa in advance. In any case, check with Irish Immigration or an Irish embassy or consulate in your home country for the most accurate information.

Can I drink tap water in Limerick?

Yes, the tap water in Limerick, Ireland, is generally safe to drink. It is subject to strict health and safety regulations set by the Irish Environmental Protection Agency (EPA). Water quality tests are conducted regularly to ensure the highest standards. However, if you are skeptical or in rare cases where contamination may have occurred, it is recommended that you drink bottled water.

What is the smoking policy in public places in Limerick?

In Limerick, as in the rest of Ireland, smoking is prohibited in all enclosed public places. This includes restaurants, bars, stores and public transport. It is also prohibited in workplaces, schools and universities. However, some establishments have designated outdoor areas where smoking is allowed. Violations of these laws can result in fines. Visitors are therefore advised to abide by these restrictions and smoke only in designated areas to protect the health and well-being of residents and other visitors.

Where can I find a pharmacy in Limerick?

Limerick has several pharmacies conveniently located throughout the city. The centrally located Boots Pharmacy on O'Connell Street is a reliable option. If you live closer to the suburbs, you can opt for Castletroy Park Pharmacy in Newtown. In addition, many local pharmacies, like Scanlon's Pharmacy in Dooradoyle, offer personalized service. Most of them carry both prescription and over-the-counter medications.

Is it easy to get a taxi in Limerick?

Yes, it is usually easy to get a cab in Limerick, Ireland. Cabs are easy to get in the city center, at the main train station and at Shannon Airport. There are numerous cab stands throughout the city. You can also hail a cab on the street or order one through a local cab company. It is convenient and a popular mode of transportation for locals and tourists alike.

Are there large sports events in Limerick?

Limerick is known for its love of sports, especially rugby and hurling. The city is home to Thomond Park, a major venue for Munster rugby matches and a center for major sporting events. Limerick also hosts the Gaelic Grounds, a venue for important Gaelic football and hurling games. Horse racing enthusiasts can visit Limerick Racecourse, which frequently hosts major events. Limerick offers a range of sporting events for enthusiasts and casual spectators alike.

Do most people in Limerick speak English?

Yes, most residents of Limerick, Ireland, speak English. Irish (also known as Gaelic) is the native language of Ireland, but English is the most commonly spoken language throughout the country, including Limerick. However, locals often speak Irish, especially in schools where it is a compulsory subject. As a tourist, however, you can be sure that virtually everyone understands and can communicate in English.

How can I get to Limerick from Dublin?

You have several options to travel from Dublin to Limerick. You can take a train from Dublin's Heuston Station directly to Colbert Station in Limerick. Alternatively, you can use buses such as Bus Éireann or private bus services that regularly travel this route. If you prefer to drive, the journey takes about 2.5 hours via the M7 freeway. Whichever mode of transport you choose, the lush Irish landscape is sure to delight you.

How is healthcare in Limerick for travelers?

Healthcare in Limerick, Ireland, is of a high standard and includes both private and public services. Travelers can seek medical assistance through numerous health centers and hospitals such as the University Hospital Limerick. There are also a large number of pharmacies for minor health problems. For more serious emergencies, the European Health Insurance Card is accepted or travel insurance is recommended. It is advisable to take out appropriate overseas health insurance in advance to avoid excessive costs.

Are there hiking trails near Limerick?

In fact, there are several scenic hiking trails near Limerick. The Ballyhoura Mountains offer extensive trails with varying degrees of difficulty for beginners and experienced hikers. Glenshelane Wood, just an hour's drive from the city, offers a tranquil setting for a leisurely stroll, while the trails in Curraghchase Forest Park promise a peaceful escape. In Clare Glens, you can enjoy views of a waterfall on your hike. Each of these places offers a unique walking experience surrounded by the natural beauty of Ireland.

Are there any famous authors or books from Limerick?

One of the most influential authors to come out of Limerick is certainly Frank McCourt, who wrote the Pulitzer Prize-winning memoir Angela's Ashes. This book is primarily about the author's poverty-stricken childhood in the slums of Limerick, which provides a vivid picture of the city in the 20th century. The memories of his troubled past make it an important part of Limerick's literary legacy.

Can I find gluten-free food in Limerick?

But safe! There are several restaurants in Limerick that cater to a gluten-free diet. Many restaurants, cafes and bakeries in the city offer a range of gluten-free dishes and treats. Places like The Grove Vegetarian Kitchen and The French Table are known for their gluten-free offerings. So, even with dietary restrictions, you won't have to miss out on delicious Irish cuisine in Limerick.

How is the coffee culture in Limerick?

Coffee culture in Lickerick is alive and growing with a growing number of specialty cafes popping up throughout the city. Not only do these cafes serve high-quality, locally roasted coffee, but they also serve as social gathering places where locals and tourists alike come to chat. The baristas are highly trained and dedicated to producing high-quality, delicious coffee that adds to Limerick's thriving food scene. Whether you prefer classic espressos or innovative coffees, Limerick's coffee scene has something for everyone.

Are credit cards commonly accepted in Limerick?

Yes, credit cards are generally accepted in Limerick, Ireland. Most hotels, restaurants and stores accept major credit cards such as Visa, MasterCard and American Express. However, it is always a good idea to carry some cash with you for small expenses or in case the card reader at a particular location does not work. Alternatively, there are numerous ATMs throughout the city where you can withdraw cash. Remember to inform your bank about your travel plans before you travel to avoid any potential problems with your card.

Feedback

I hope you found this article informative and helpful. I'm eager to improve the content and make it even more valuable for you. If you have any feedback or suggestions, I would love to hear from you.

Do you have any tips or hidden gems that you think should be added to the list? Are there any areas that you feel could use more explanation or clarification?

Your input is greatly appreciated and will help us to continue providing high-quality content that meets your needs and interests. Please feel free to share your thoughts.