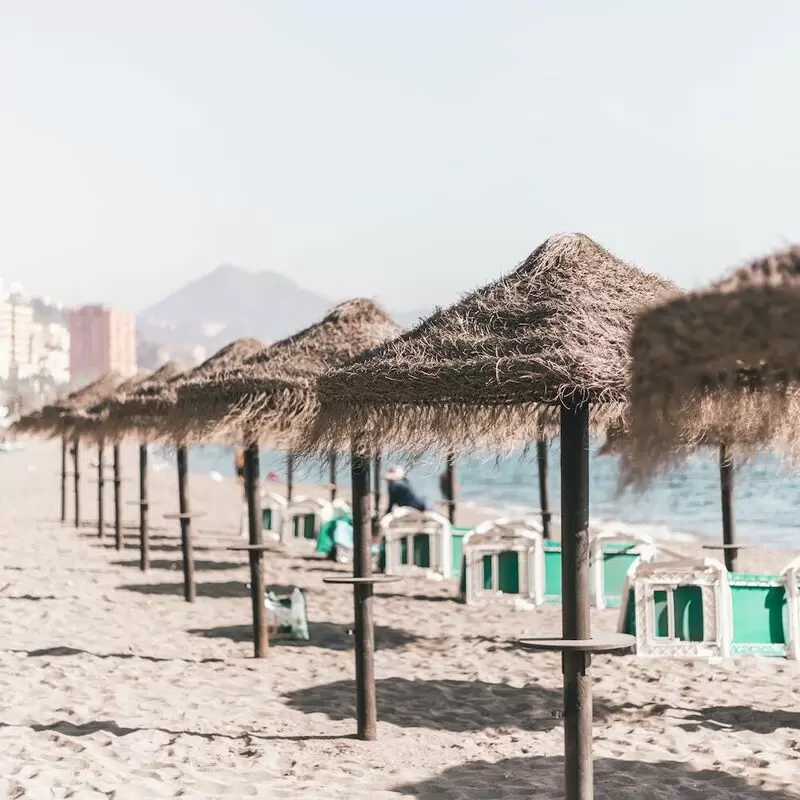 1. Alcazaba

Feel history enter your soul as you explore the stunning Alcazaba, one of Malaga's must-see jewels! Marvel at the magnificent Moorish architecture, lush greenery, and panoramic views of the sparkling Mediterranean Sea. Let the whispering winds of the past tell you the stories of the lost empires.

Insider tip: Try to visit at sunset, when the sky offers a symphony of colors over the city. A little further down the hill you will find the Roman Theater, another testimony to Malaga's rich history.

Alcazaba
C/ Alcazabilla, 2, 29012 Málaga
2. Catedral de la Encarnación de Málaga
Experience the sheer splendor of the Catedral de la Encarnación de Málaga, an epitome of Andalusian Renaissance architecture. Marvel at the choir stalls, made of mahogany and cedar by Pedro de Mena, and decorated with 42 intricately carved figures. Take a look at the mystical "unfinished tower" that has earned the cathedral the affectionate nickname "La Manquita" - the one-armed lady. The cathedral is a stone's throw from Picasso's birthplace, which has been transformed into a museum that combines the panache of contemporary art with venerable historical splendor. When visiting Málaga, this is an absolute must.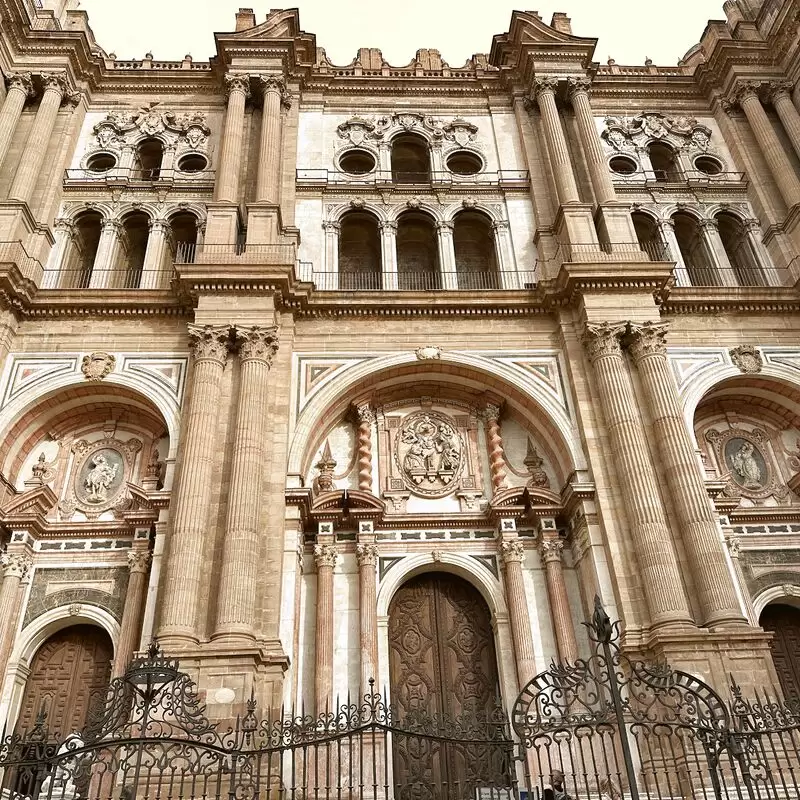 Catedral de la Encarnación de Málaga
C. Molina Lario, 9, 29015 Málaga
3. Museo Automovilístico de Málaga
Visit the Museo Automovilistico de Málaga for a unique journey through time. This automobile museum houses a collection of over 90 classic cars, each of which tells its own story of historic changes in design and technology. Here you can see royal vehicles, classic American gangster cars and futuristic retro concepts up close. You also shouldn't miss the haute couture exhibition. In addition, the exhibition is located in the old La Tabacalera tobacco factory, very close to La Misericordia beach and the Contemporary Art Center - the perfect place to continue your exploration of Malaga.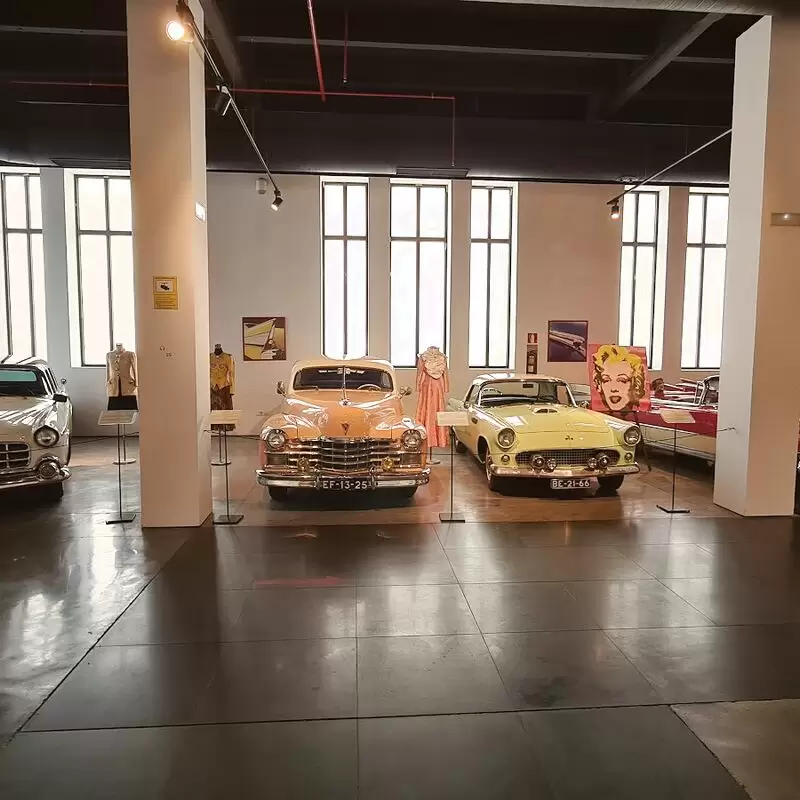 Museo Automovilístico de Málaga
Av de Sor Teresa Prat, 15, 29003 Málaga
Monday - Sunday: 10:00 AM – 2:30 PM, 4:00 – 7:00 PM
4. Jardín Botánico Histórico La Concepción
Let yourself be enchanted by the unique love affair between nature and Málaga at the Jardín Botánico-Histórico La Concepción! A paradise with over 2,000 species of exotic plants and romantic gardens from the 19th century. Century. A hidden jewel that invites you to leisurely walks and priceless photo opportunities. Don't miss the panoramic point, from which you can enjoy a breathtaking view of the city. Besides, it's only a stone's throw to the famous Gibralfaro Castle! So bring a pinch of tranquility to your lively visit to Spain!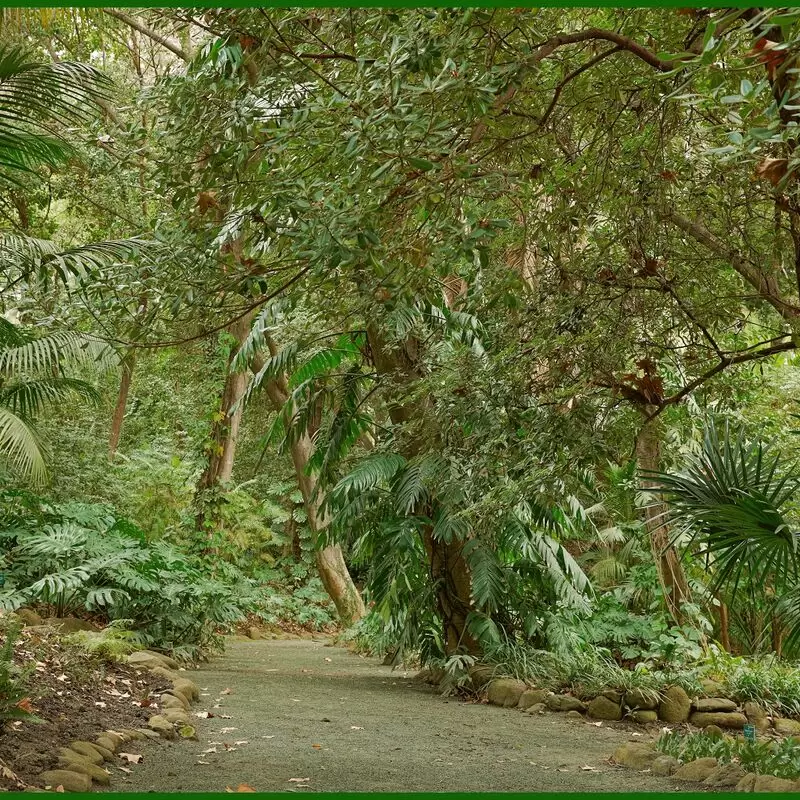 Jardín Botánico Histórico La Concepción
Cam. del Jardin Botanico, 3, 29014 Málaga
Monday: Closed
Tuesday - Sunday: 9:30 AM – 8:30 PM
5. Castillo de Gibralfaro
Venture up to the Castillo de Gibralfaro and experience a story of passion and power amid Moorish bastions. This historic fortress offers breathtaking panoramic views of sun-drenched Malaga below. A photographer's dream! Don't miss the small but interesting museum, where ancient armor and tools are on display. And just a short walk further downhill you'll find the magnificent Alcazaba, a palatial fortress linked to Castile and a perfect historical day trip. Visit in the early morning or late evening to escape the crowds and heat. Have fun exploring!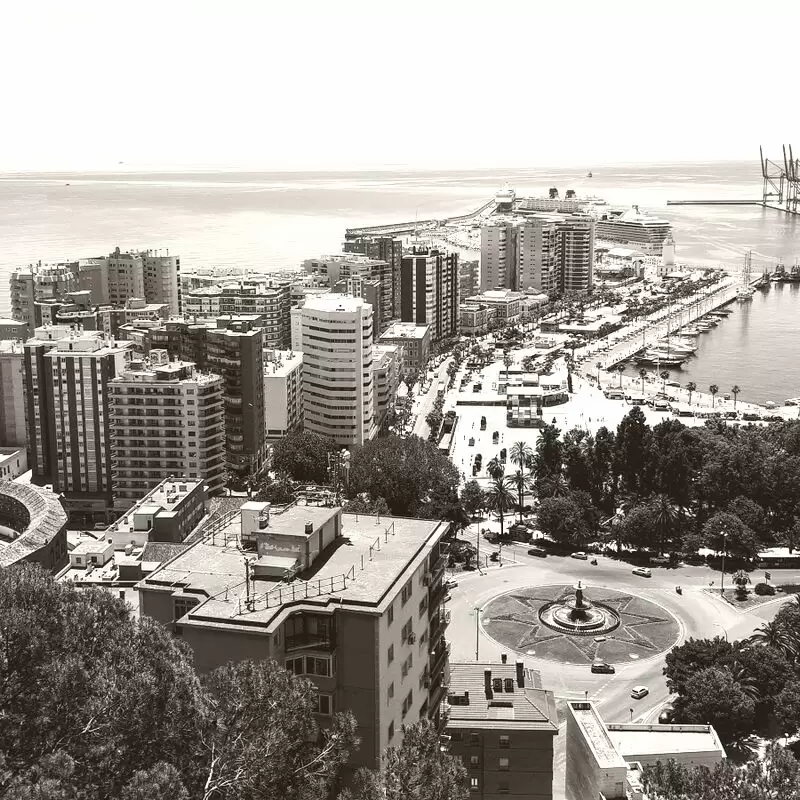 Castillo de Gibralfaro
Cam. Gibralfaro, 11, 29016 Málaga
Monday - Sunday: 9:00 AM – 8:00 PM
6. Mercado Central de Atarazanas
Step into the vibrant heart of Malaga, the "Mercado Central de Atarazanas," an intoxicating maze of fresh local produce, tantalizing tapas bars and vibrant culture. You'll marvel at the delicious seafood caught daily, the rainbow of regional fruits, and the life-affirming warmth of the vendors. Set amid a magnificent 19th-century Moorish archway, you can shop where the locals shop and soak up the Andalusian atmosphere. After exploring the market, the Picasso Museum is just a 10-minute walk away to enrich your Spanish adventure.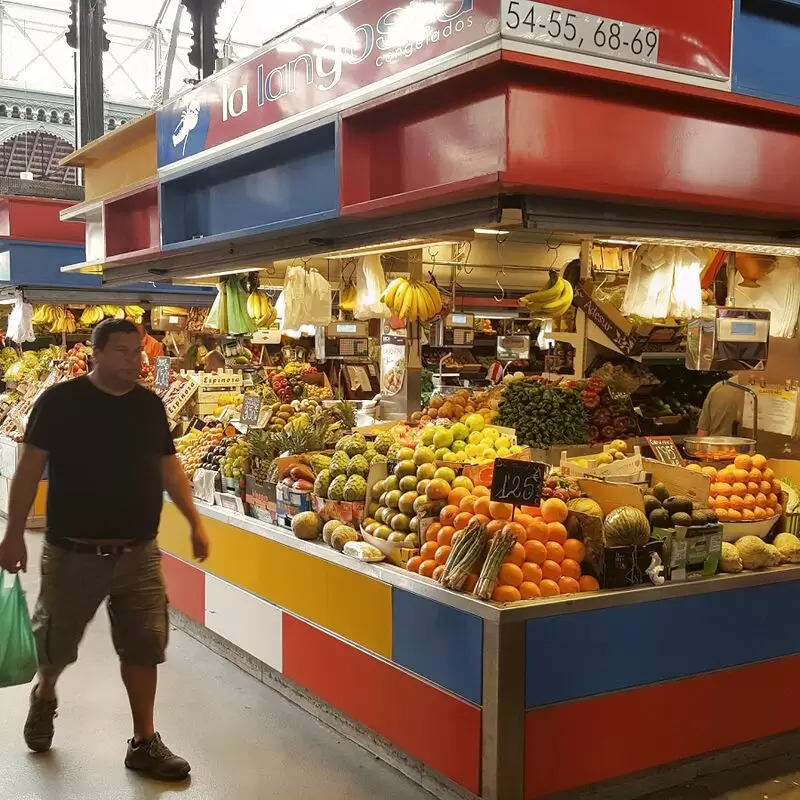 Mercado Central de Atarazanas
C. Atarazanas, 10, 29005 Málaga
Monday - Saturday: 8:00 AM – 3:00 PM
Sunday: Closed
7. Malaga Museum

The Museum of Málaga is an enriching fusion of art and history that reflects the essence of Málaga. It houses over 15,000 archaeological pieces and stunning fine arts exhibits, some of which are 3000 years old, giving visitors the opportunity to travel back in time.

Admission is free on Sundays - an insider tip. Nearby, Picasso's birthplace and the Picasso Museum beckon with their timeless appeal, reflecting Malaga's avant-garde spirit and commitment to art. Don't miss out on these enriching experiences!

Malaga Museum
Plaza de la Aduana, 29015 Málaga

Monday: Closed
Tuesday - Saturday: 9:00 AM – 9:00 PM
Sunday: 9:00 AM – 3:00 PM
8. Picasso Museum Málaga

Immerse yourself in the life of the famous artist at the Picasso Museum Málaga, which houses over 285 works by Picasso himself. Explore the Buenavista Palace, which houses a variety of Cubist sculptures, ceramics, sketches and paintings.

Discover an insider tip: Picasso's birthplace in Plaza de la Merced is just a short walk away. Deepen your artistic awakening by admiring the architectural beauty of Malaga Cathedral, which stands very close to the museum.

Picasso Museum Málaga
Palacio de Buenavista, C. San Agustín, 8, 29015 Málaga

Monday - Sunday: 10:00 AM – 8:00 PM
9. Montes de Málaga Natural Park
In the Montes de Málaga Natural Park you can immerse yourself in the heart of nature. This peaceful haven will spoil you with its diverse flora and fauna, panoramic views of the coast and fascinating waterfalls. Don't miss a walk along the Colorao Trail, famous for its beautiful landscapes, and the Lagar de Torrijos, an old oil mill that now serves as an environmental education center. Near the park you can explore the charming Andalusian villages of Casabermeja and Colmenar for a true local experience.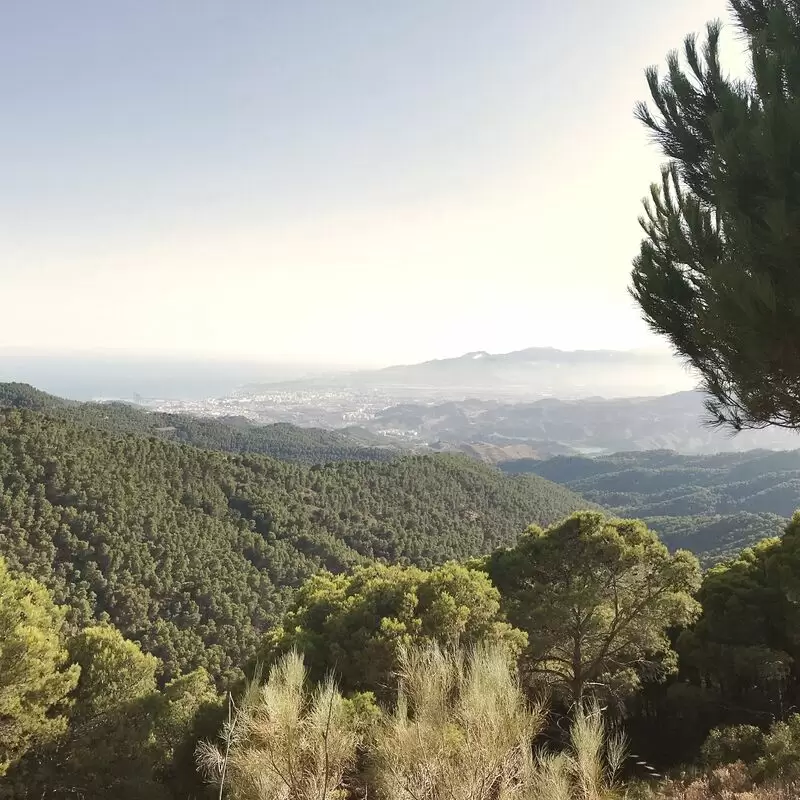 Montes de Málaga Natural Park
Casabermeja-Colmenar
Monday - Sunday: Open 24 hours
10. Parque de la Batería
Parque de la Batería offers a unique blend of cultural history and natural beauty. Marvel at the antique cannons on display, a reminder of when the park was a military fort. Stroll across the beautiful lake in one of the rentable rowboats or simply relax amidst the lush greenery. You can climb the watchtower for a breathtaking view of Torremolinos! Nearby, Playa de la Carihuela awaits you with local restaurants serving crispy seafood and a gorgeous coastline perfect for sunbathing after the park.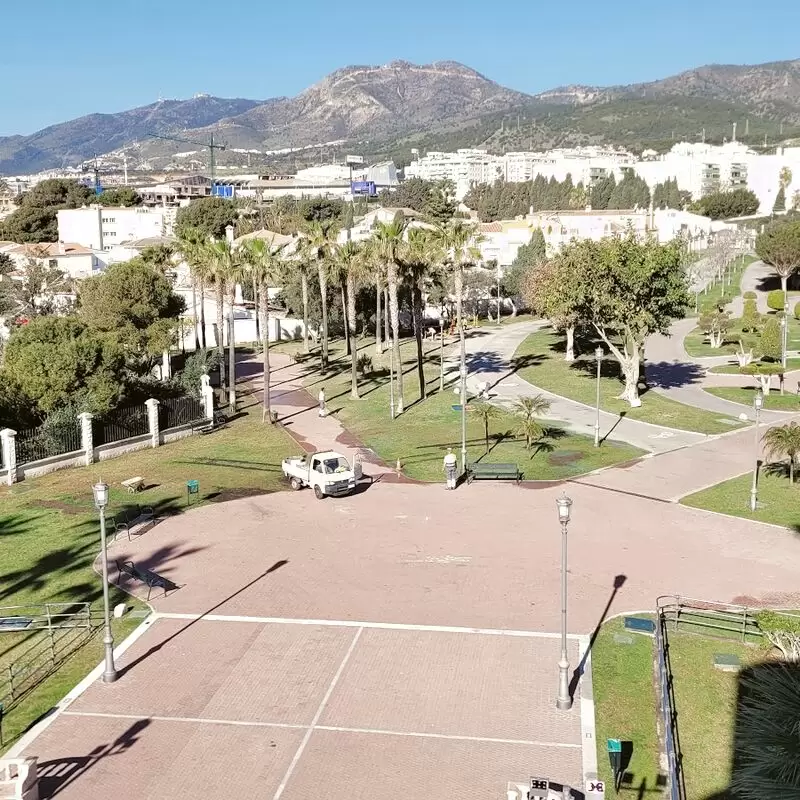 Parque de la Batería
C. Decano Antonio Seoane, s/n, 29620 Torremolinos
Monday - Sunday: 7:30 AM – 10:00 PM
11. Museo Carmen Thyssen Málaga
Visit the Museo Carmen Thyssen Málaga, an art lover's paradise, and discover an exquisite collection of 19th-century Spanish paintings, with a special emphasis on Andalusian art. Housed in a beautifully restored 16th-century palace, the museum offers a peaceful retreat with its tranquil courtyard. From Málaga, it's easy to drive to the nearby historic Castillo de Gibralfaro, which offers stunning panoramic views of the city. Malaga Cathedral, just a short walk away, complements your cultural excursion with its grandeur and intricate architectural design. Discover the soul of Andalusia through art and history!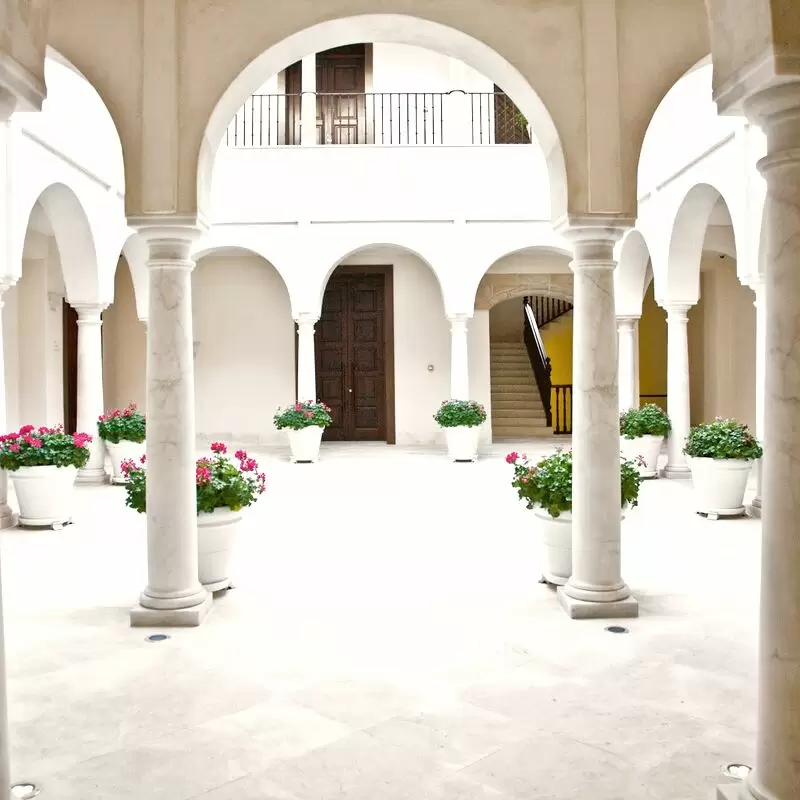 Museo Carmen Thyssen Málaga
Plaza Carmen Thyssen, Calle Compañía, 29008 Málaga
Monday: Closed
Tuesday - Sunday: 10:00 AM – 8:00 PM
12. Centre Pompidou Malaga
A trip to Málaga wouldn't be complete without exploring the lively and vibrant world of the Centre Pompidou Málaga! This colorful cultural cube, a branch of the famous Paris museum, offers a fascinating glimpse into 20th and 21st century art with works by over 90 artists. Take a peek at Picasso's masterpieces, an insider's detail that will delight art lovers. Just a stone's throw away, you can also admire the magnificent Malagueta bullring, also worth a visit.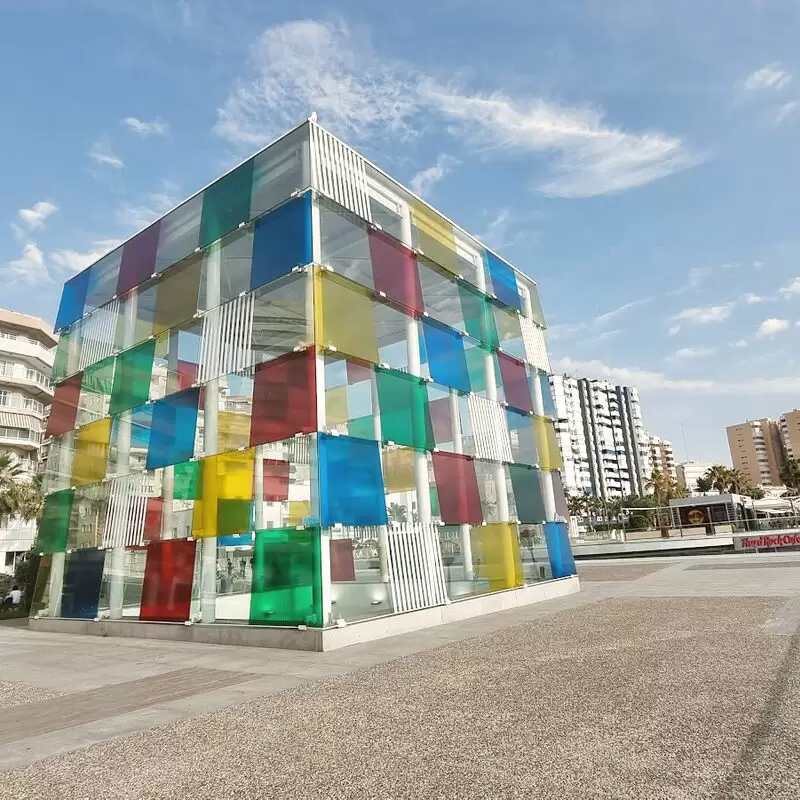 Centre Pompidou Malaga
Pje. del Dr. Carrillo Casaux, s/n, 29016 Málaga
Monday - Sunday: 9:30 AM – 8:00 PM
Tuesday: Closed
13. Molino de Inca
Molino de Inca is a living slice of Malaga's rich history, a dreamy botanical garden nestled around a centuries-old flour mill. Experience the tranquility away from urban noise as you wander through exotic plants, murmuring streams and lively peacocks. Enjoy the strange fascination of winding paths that lead to charming surprises. And, an insider detail, don't miss the labyrinth! Near Molino de Inca, you can also explore the enchanting Parque De La Paloma, just a 10-minute drive away!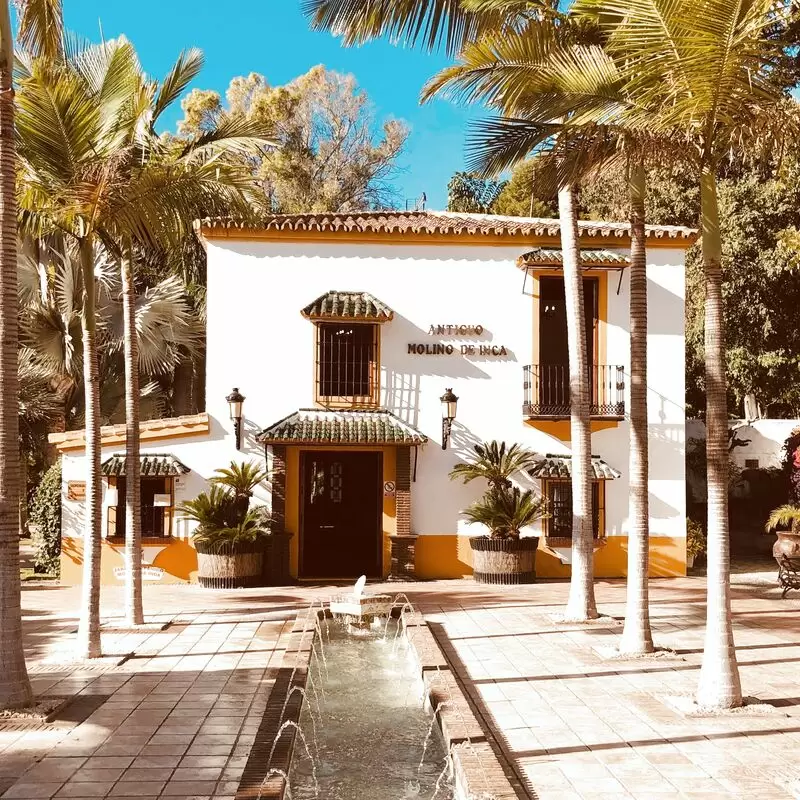 Molino de Inca
Cam. de los Pinares, 29620 Torremolinos
Monday: Closed
Tuesday - Sunday: 10:00 AM – 9:00 PM
14. Playa la Malagueta
For sun worshippers, Playa La Malagueta is a paradise! It is a huge, beautiful sandy beach near the center of Málaga. The pristine sand, breathtaking views and crystal clear waters of the Mediterranean Sea make it a must visit. Not to mention the chiringuitos, the local beach bars that offer delicious seafood practically right on the beach. Nearby is Muelle Uno, a chic shopping and restaurant complex ideal for post-beach activities! Capture the sunset from the historic Malaga Lighthouse and experience unforgettable moments in this Spanish paradise.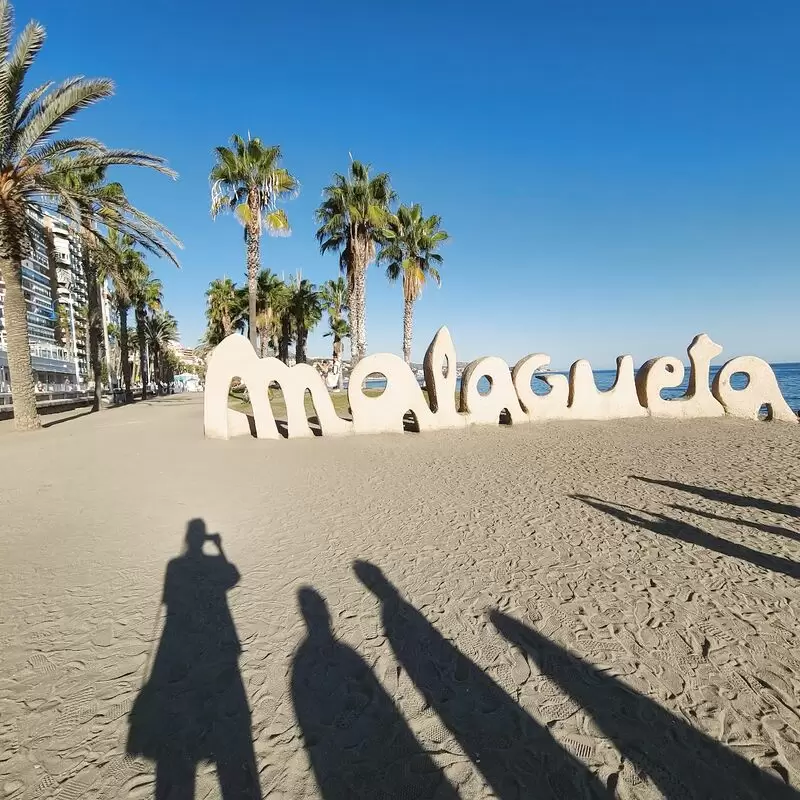 Playa la Malagueta
P.º Marítimo Pablo Ruiz Picasso, 29016 Málaga
15. Málaga Park
Malaga Park, with its tropical trees and picturesque walkways, is a lush oasis in the heart of the city. Decorative fountains and colorful peacocks add a magical touch to the picturesque landscape. It is also lined with magnificent historic landmarks such as the Alcazaba and the Malagueta bullring - a true insider's tip! Just a stone's throw away is the Centre Pompidou, which showcases modern art in a colorful, cube-shaped building. All in all, a perfect repertoire of nature, history and culture!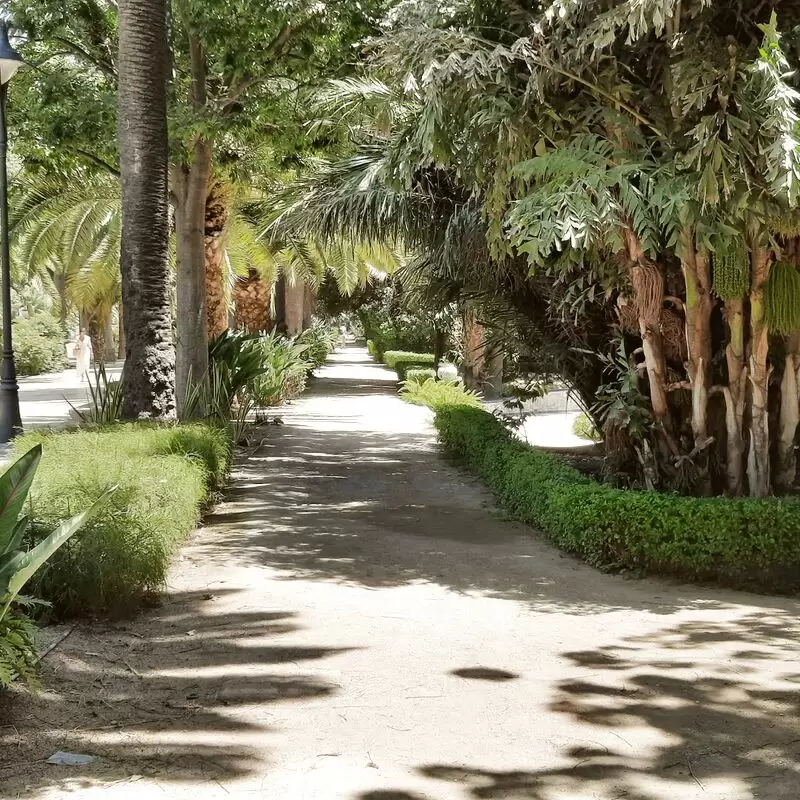 Málaga Park
Paseo del Parque, 1, 29015 Málaga
Monday - Sunday: Open 24 hours
16. CAC Málaga
The CAC Málaga - Center for Contemporary Art is an absolute must-see. This lively center for modern art showcases national and international talent, and the constantly changing, exciting exhibitions make every visit a unique experience. Plus, it's free to visit! Plus, it's just a stone's throw from the seductive streets of Soho Málaga, known for its colorful graffiti - perfect for art lovers! Don't forget to visit the Picasso Birthplace Museum nearby.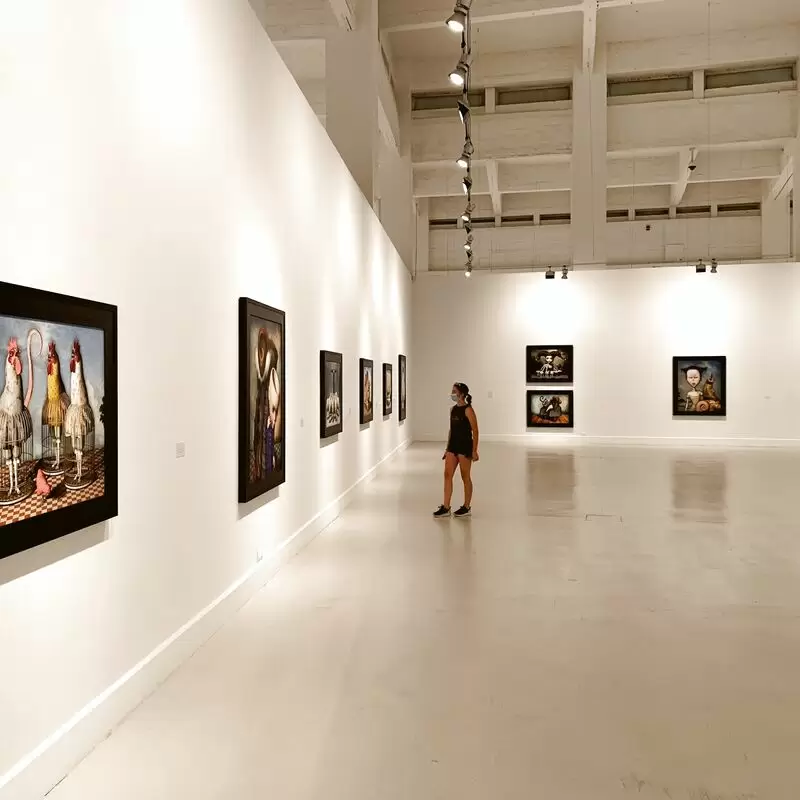 CAC Málaga
C. Alemania, S/N, 29001 Málaga
Monday: Closed
Tuesday - Sunday: 9:00 AM – 2:00 PM, 5:00 – 9:30 PM
17. Colección del Museo Ruso
The Colección del Museo Ruso gives you a glimpse of the great cultural heritage of Russia, right in Málaga! It houses over 100 masterpieces from the 15th to 20th centuries. Be sure to take a moment to admire Kandinsky's colorful abstract paintings. And don't miss the temporary exhibitions, which often make a splash! Just around the corner is the quirky Automobile and Fashion Museum, making this area a museum lover's paradise.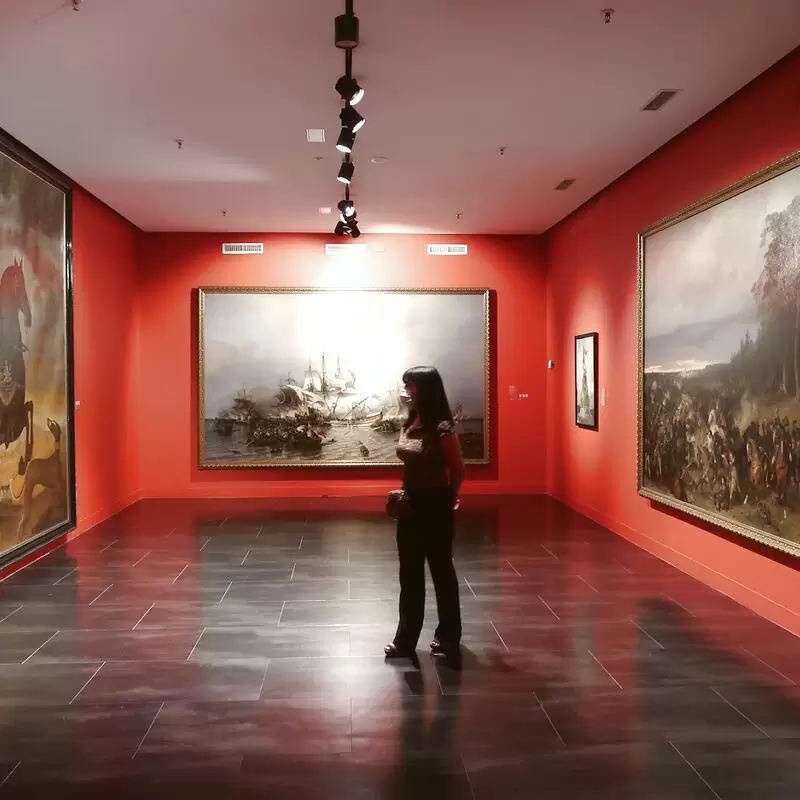 Colección del Museo Ruso
Edificio de Tabacalera, Av de Sor Teresa Prat, 15, 29003 Málaga
Monday: Closed
Tuesday - Sunday: 9:30 AM – 8:00 PM
18. Garden Of Eagles
The Garden of Eagles, perched high above the Costa del Sol, offers a unique opportunity to observe birds of prey in flight. You will see eagles, hawks and owls against an incomparable panoramic backdrop. A delight for photographers! Plan your visit to the flight shows well. The Stupa of Enlightenment in Benalmádena, a glittering Buddhist monument, is an ideal destination for an unforgettable day trip.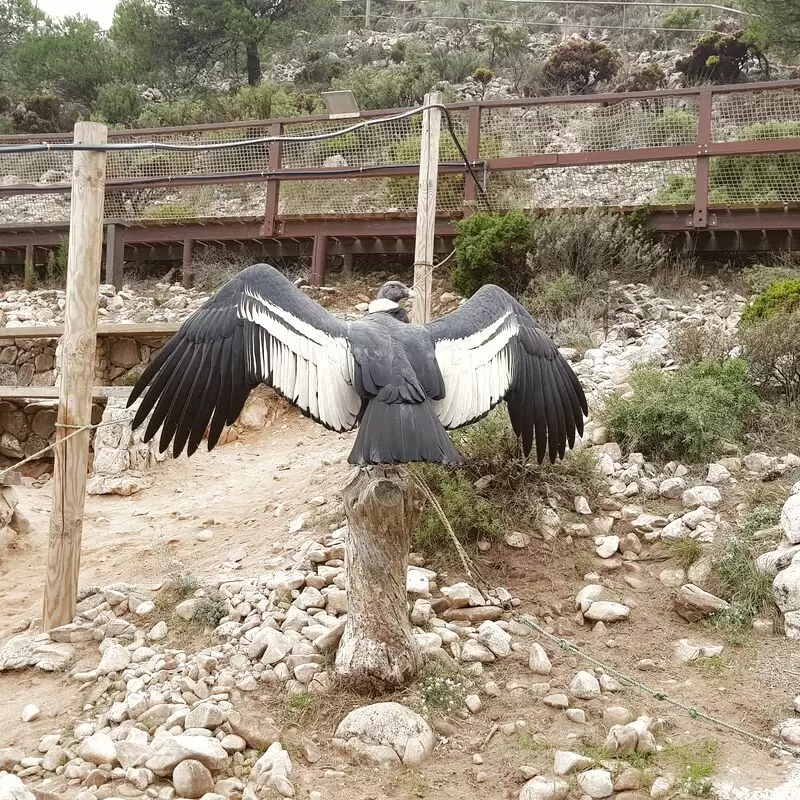 Garden Of Eagles
29631 Benalmádena
Monday - Friday: 9:00 AM – 5:00 PM
Saturday - Sunday: 11:00 AM – 5:00 PM
19. Museo del Vidrio y Cristal de Málaga
The "Museo del Vidrio y Cristal de Málaga" is a hidden gem in the quiet streets of Málaga, a museum that is a must visit. It displays an impressive collection of antique glass and crystal pieces, housed in a beautifully restored 18th century mansion. Here, every room tells a story and displays pieces that date back to Phoenician times! Don't miss the enchanting garden, a perfect place for rest and reflection. Just a stone's throw away, you can continue your cultural discovery tour at the Basilica of Santa Maria de la Victoria.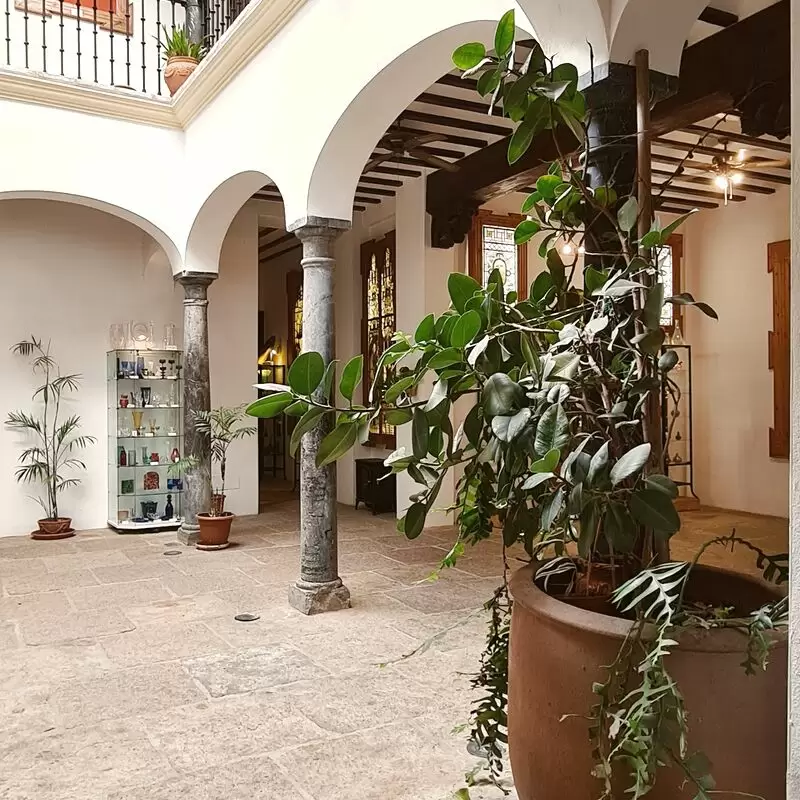 Museo del Vidrio y Cristal de Málaga
Plazuela Santísimo Cristo de la Sangre, 2, 29012 Málaga
Monday: Closed
Tuesday - Sunday: 11:00 AM – 7:00 PM
20. Port of Málaga

Discover the life and soul of Málaga at the bustling port of Málaga. Malaga Marina is a vibrant center of stores, restaurants and magnificent views, ideal for a leisurely stroll or bike ride. The Muelle Uno offers a first-class shopping experience, luxurious yachts and unique gastronomic options. Don't miss the Centre Pompidou Málaga, a contemporary art museum just a stone's throw away that features a rare multi-colored cuboid design.

Insider tip: Go to the port at sunset, the view is spectacular!

Port of Málaga
Port of Málaga
21. Interactive Music Museum
Immerse yourself in the melody of history at the Interactive Music Museum in Málaga! Here you can learn about more than 400 unique instruments from times past and feel the melodies of different cultures. Take advantage of the fact that you can touch and play the instruments - an exclusive hands-on experience. And as a bonus, the Picasso Museum is just a 10-minute walk away, where you can admire the Spanish artist's masterpieces and further enjoy the city's rich cultural offerings.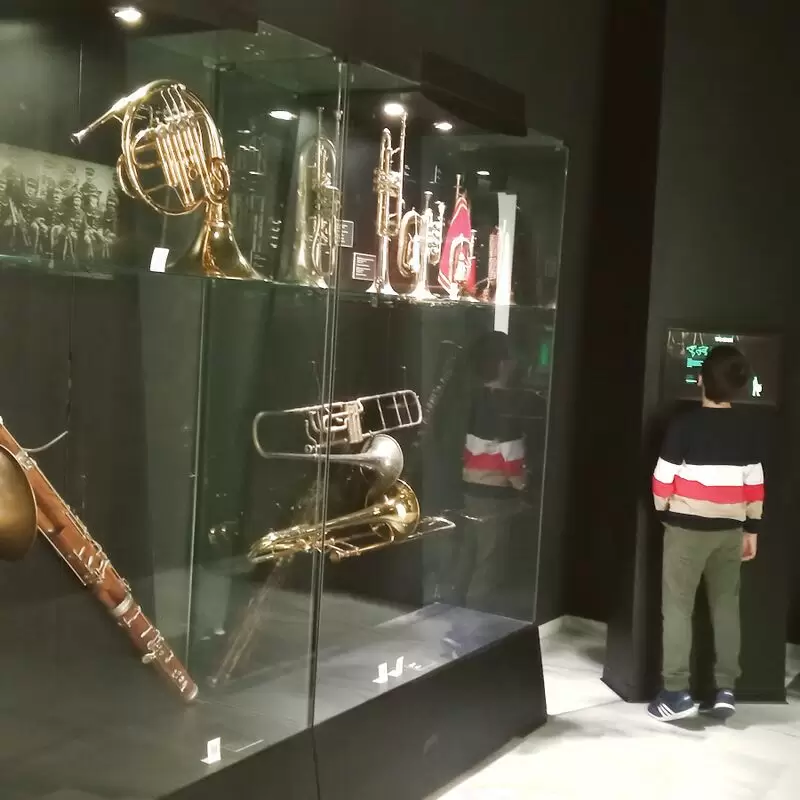 Interactive Music Museum
C. Beatas, 15, 29008 Málaga
Monday: 10:00 AM – 4:00 PM
Tuesday - Sunday: 10:00 AM – 7:00 PM
Best Time to Visit Malaga
The best time to visit Malaga, Spain, is spring (April to June) or fall (September and October), when the weather is warm and pleasant. Avoid the crowds during the summer months and enjoy the pleasant mild temperatures, blooming flowers and fewer tourists.
Annual Weather in Malaga
Malaga 3-Day Forecast
Tue, 26 September
Night
67 °F
19 °C
0%
Morning
66 °F
19 °C
0%
Afternoon
78 °F
26 °C
0%
Evening
73 °F
23 °C
0%
Wed, 27 September
Night
66 °F
19 °C
0%
Morning
65 °F
18 °C
0%
Afternoon
79 °F
26 °C
0%
Evening
73 °F
23 °C
0%
Thu, 28 September
Night
68 °F
20 °C
0%
Morning
66 °F
19 °C
0%
Afternoon
79 °F
26 °C
0%
Evening
72 °F
22 °C
0%
Questions & Answers

What's the local cuisine like in Malaga?

Malaga's local cuisine combines traditional Spanish cooking with Mediterranean influences. Expect lots of fresh seafood like grilled sardines, anchovies and clams, paired with local wines. Tapas, a delicious selection of small dishes ranging from albondigas (meatballs) to espetos (skewered sardines), are also popular. The region is also known for its sweet wines and delicious desserts, such as "arroz con leche", a Spanish-style rice pudding.

Is it safe to travel around Malaga?

Yes, Malaga is generally considered a safe city for travelers. As in any other city, the usual precautions should be taken to protect personal belongings and avoid deserted areas, especially at night. Police regularly patrol areas of the city frequented by tourists, such as the city center, to ensure a safe environment for visitors. It is a wonderful place to explore with a wealth of culture, history and Spanish charm.

Are there any local etiquette or social norms I should be aware of?

In Malaga, Spain, locals usually eat lunch late, around 2 to 3 in the afternoon, and not until 10 at night. A firm handshake in greeting is common for both men and women. If you know someone well, two kisses (one on each cheek) are usually acceptable. Tipping is not as common as in other countries, generally rounding up the bill is appreciated. In conversation, avoid sensitive topics such as politics and the country's past. You are also expected to respect religious practices, especially during sacred festivals.

What's the most efficient way to travel within the city?

Malaga's extensive public transportation system is the most efficient way to get around the city. It consists of buses, trains and subway lines that reach every corner of Malaga. In particular, the buses operated by EMT (Empresa Malagueña de Transportes) have an extensive route network. For shorter distances, it is recommended to walk, as the city is known for its pedestrian-friendly streets. Alternatively, there are numerous bicycle rentals throughout the city for those seeking a more active mode of transportation.

Can I drink the tap water in Malaga?

Yes, you can drink the tap water in Málaga because it is generally safe and subject to strict quality controls. However, due to its high mineral content, it might have a distinct taste that you might not like. Many locals and tourists opt for bottled water because of the better taste, but in terms of cleanliness and safety, tap water is acceptable.

Are areas outside of Malaga easy to access?

Yes, the areas outside of Málaga are very accessible. The city has an excellent transportation network, including reliable bus and train services that connect Malaga with nearby towns and cities. To have more freedom and flexibility, you can also rent a car. Tourists often visit wonderful places like Granada, Gibraltar and the beautiful beaches of the Costa del Sol, which are only a short drive away. The city's location also makes it a convenient gateway to the Andalusian region.

How common is English spoken in Malaga?

Although Spanish is the predominant language in Malaga, English is relatively widely spoken, especially in tourist areas, hotels and restaurants. Many locals in the service and hospitality industries speak English to accommodate international tourists. Street signs and menus are often in both Spanish and English. However, English is less commonly spoken in less touristy areas and among the older population. Therefore, knowing basic Spanish phrases can enrich your experience.

What traditional festivals are celebrated in Malaga?

Malaga is known for its lively traditional festivals. There is the Feria de Malaga, a lively fair with parades, music, dance and wine that reflects traditional Andalusian culture. Easter week - Semana Santa - is another celebration for the senses, with the faithful carrying religious images around the city. The year gets off to a festive start with the Three Kings Parade in January, while the Verdiales music contests on St. Lucia's Day in December keep the region's music alive.

How is the nightlife in Malaga?

Nightlife in Malaga is lively and diverse. Both locals and tourists enjoy the lively bar scene with its unique venues ranging from traditional Spanish tapas bars to upscale modern lounges. There is also a lively club scene with venues playing everything from electronic dance music to flamenco. In addition, Malaga has a tradition of dining late into the night and enjoying authentic Spanish cuisine until the wee hours of the morning. The city's nightlife offers a unique opportunity to experience Andalusian culture firsthand.

How can I get a local SIM card in Malaga?

When you arrive at Málaga Airport, you can buy a local SIM card at an electronics store in the terminal. Alternatively, you can visit phone stores or boutiques of official providers such as Movistar, Orange or Vodafone in the city center. All you need to register is your passport. Make sure you choose a tariff that suits your data needs for the duration of your stay.

What is unique about Malaga's culture?

Malaga offers a unique cultural blend of traditional Andalusian charm and modern cosmopolitan flair. Key features include its flamenco heritage, lively local festivals and delicious Mediterranean cuisine. The coastal city also boasts an impressive array of museums - one of which is dedicated to Picasso, who was born here - and its historic monuments, such as the Moorish Alcazaba fortress. The city also has a lively nightlife, with bars and terraces that are busy until dawn.

Are there any safety precautions for beachgoers in Malaga?

As a visitor to Malaga, it is important to remember that the sun can be very strong, so apply sunscreen often, drink plenty of fluids, and seek shade when necessary. Most of Malaga's beaches are safe, but always be careful, especially when swimming. Look for flags indicating water conditions: green for safe, yellow for cautious, and red for unsafe. Also, avoid secluded or deserted beaches, especially after sunset. Finally, watch your belongings, as pickpocketing can occur.

Do I need a visa to visit Malaga?

Whether you need a visa to visit Malaga depends largely on your nationality. If you are a citizen of an EU country, the USA, Canada, Australia or New Zealand, you can usually stay in Spain for up to 90 days without a visa. Travelers from non-EU countries may need a Schengen visa. It is recommended that you check with your local Spanish embassy or consulate for the latest and most accurate information.

What's the healthcare system like in Malaga?

Malaga, like the rest of Spain, offers a high standard of health care. The system is financed by Social Security, resulting in a wide range of public hospitals and medical centers. There are also numerous private health facilities known for their fast service and advanced treatments. All citizens and residents, including those living abroad, have access to the health care system. Emergency treatments are available to all, regardless of insurance status. Pharmacists are also trained to diagnose and treat common illnesses.

Is it customary to tip in Malaga?

In Malaga, as in most of Spain, tipping is not as common as in countries like the United States. However, good service is often rewarded with a small tip. If you leave a few coins on the table at restaurants or cafes, it is appreciated, but not mandatory. Rounding up the fare is also the norm with cab drivers. Overall, tipping in Malaga is a matter of personal choice and is by no means expected or required.

What's the local dress code in Malaga?

In Malaga, as in the rest of Spain, the dress code is quite casual and comfortable. However, locals tend to dress a little fancier when going out for the evening. In the summer, jeans, dressy tops, dresses or shorts are always a safe choice. For men, casual pants and shirts are always a good choice. Swimwear is generally limited to the beach or pool. It is also advisable to dress modestly when visiting religious sites to respect local customs.

Is Malaga tourist-friendly?

In any case, Malaga is very tourist friendly. The city offers a variety of attractions such as museums, historical landmarks and beautiful beaches. It is a manageable city with an efficient public transportation system and friendly locals. Staff in hotels and restaurants generally speak English, making it easier for international tourists. Also, Malaga is generally safe, even at night, making it an ideal destination for all types of travelers.

Are there cycling routes in Malaga?

Malaga, Spain, definitely offers several wonderful bike routes for adventurers. One of them is the coastal route from Málaga to Torremolinos, which offers beautiful views of the beach. Another, the route "Mount Gibralfaro and the Montes de Malaga Natural Park", is more demanding and perfect for those who love the mountains. The route "Estacion de Cartama to Alhaurin el Grande" goes through citrus groves and typical white villages. There are trails for all types of riders, from leisurely tours to more strenuous routes.

What local markets are worth visiting in Malaga?

When visiting Malaga, don't miss the Mercado Central Atarazanas, a bustling market where local butchers, fishmongers and greengrocers offer fine Spanish produce. Another favorite is the Mercadillo de la Merced in Plaza de la Merced, which offers an excellent selection of fresh foods, local crafts and antiques. El Rastro, a fascinating flea market, is ideal for secondhand goods, old clothing and antique furniture. These markets offer a real glimpse into Malaga's vibrant local culture.

Where can I find the best seafood in Malaga?

El Pimpi Marinero Seafood Bistro and Restaurant in Málaga is known for its excellent fish dishes. Located on the beach of Malagueta, here you can enjoy the freshest catch of the day while enjoying a panoramic view of the Mediterranean Sea. In this restaurant you can definitely enjoy the traditional Andalusian seafood, including the specialty of the house, the sardines espetos. A culinary trip to Málaga would not be complete without a visit to El Pimpi Marinero.

Are the museums in Malaga free of charge?

Not all museums in Málaga offer free admission. Most charge a small fee. However, the Centre Pompidou Málaga, the Russian Museum, and the Center for Contemporary Art (CAC) sometimes offer free admission at certain times. Museums also often offer discounted rates for students, seniors, and large groups. It is recommended that you check the websites of the museums you plan to visit for their current admission prices.

Can I easily find vegetarian food in Malaga?

Malaga is a place where you can easily find vegetarian food. Many restaurants offer a selection of vegetarian and even vegan options on their menus. Some restaurants are exclusively vegetarian and vegan, offering creative and delicious dishes made with the best local products. You can enjoy a wide variety of dishes, from traditional Spanish cuisine to international vegetarian delights. So for a vegetarian in Málaga, food is not a problem.

Is Malaga a good destination for family vacations?

Yes, Malaga is an excellent destination for family vacations. It is a Mediterranean paradise with countless activities for all ages. With its sandy beaches, sprawling parks, historic fortresses like the Alcazaba, and interactive museums like the Centre Pompidou, there's something for everyone. In addition, Malaga's family-friendly Spanish culture welcomes children of all ages to its many restaurants and public squares. It promises an enriching experience that combines fun and learning.

How are the locals in Malaga?

The locals in Málaga, known as Malagueños, are incredibly friendly, hospitable and warm. They exude a happy, relaxed vibe that matches the city's sunny climate. Malagueños are very proud of their rich heritage and local customs, which they are happy to share with visitors. Despite their laid-back attitude, they maintain a strong sense of community and are quick to lend a hand.

Do I need to get any vaccinations before traveling to Malaga?

In principle, it is always advisable to have routine vaccinations such as measles, mumps, rubella (MMR), diphtheria-tetanus-pertussis, varicella, polio and influenza refreshed before traveling. No vaccinations are required for Spain, especially Malaga. However, if you have certain health conditions, you should discuss them with your doctor. It is also advisable to take out travel insurance before you travel abroad.

Feedback

I hope you found this article informative and helpful. I'm eager to improve the content and make it even more valuable for you. If you have any feedback or suggestions, I would love to hear from you.

Do you have any tips or hidden gems that you think should be added to the list? Are there any areas that you feel could use more explanation or clarification?

Your input is greatly appreciated and will help us to continue providing high-quality content that meets your needs and interests. Please feel free to share your thoughts.