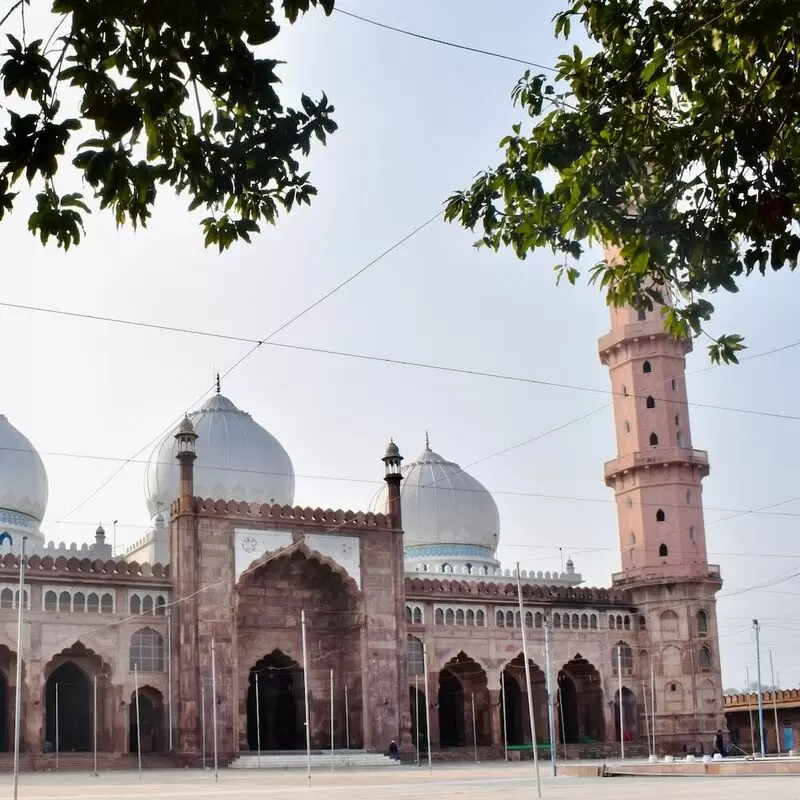 1. Madhya Pradesh Tribal Museum
Visit the Madhya Pradesh Tribal Museum and immerse yourself in the rich tribal culture of Madhya Pradesh! A visual spectacle with authentic life-size dioramas, artifacts, tribal arts and crafts, showcasing the untold stories of seven major tribes. Don't miss the impressive tribal festival exhibit - a stimulating immersion into their living traditions! Nearby, you'll find the equally enchanting State Museum and the stunning Van Vihar National Park. The Tribal Museum is not just a visit, but a captivating tribal odyssey!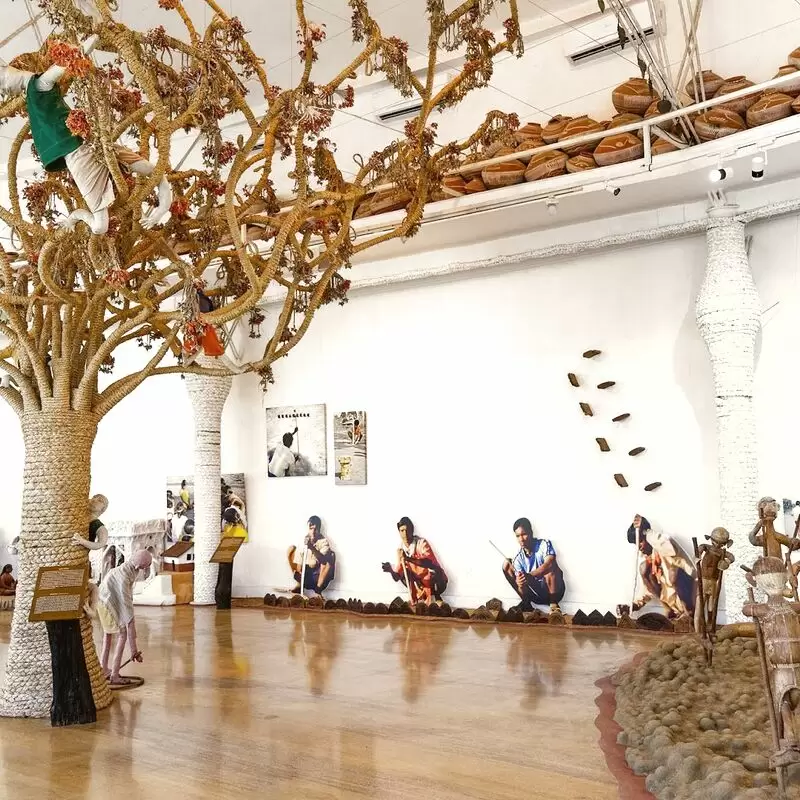 Madhya Pradesh Tribal Museum
69PP+52, Shyamla Hills Rd, near State Museum, Shymala Hills, Bhopal
Monday: Closed
Tuesday - Sunday: 12:00 – 8:00 PM
2. Bhimbetka rock shelters
The Bhimbetka Rock Shelters are living reminders of the life of early man! Take a step back in time and marvel at ancient Mesolithic rock paintings. Hear the echoes of a prehistoric era as you tread the same ground our ancestors walked on 30,000 years ago. Want to see more? Don't miss Bhojpur, just an hour's drive away, where the unfinished Bhojeshwar Temple holds its own magical secrets!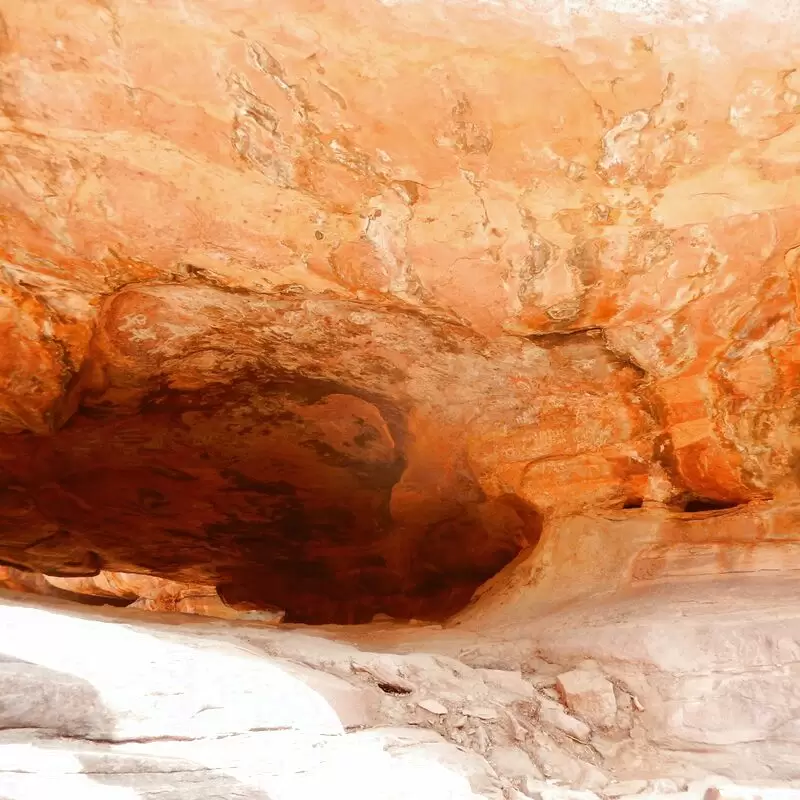 Bhimbetka rock shelters
Bhojpur Raisen
Monday - Sunday: 7:00 AM – 6:00 PM
3. Bhojeshwar Mahadev Temple Bhojpur Raisen
Unleash your inner historian at the Bhojeshwar Mahadev Temple, an incomplete but fascinating 11th-century relic in Bhopal. Century in Bhopal. Here you can admire the architectural brilliance of the magnificent Shiva Lingam, the largest of its kind in the world. Uniquely, the temple is incomplete, which adds an enigmatic charm to the visit. Don't forget to enjoy the mesmerizing view of the Betwa River. Just an hour's drive away are the Rock Shelters of Bhimbetka, a UNESCO World Heritage Site.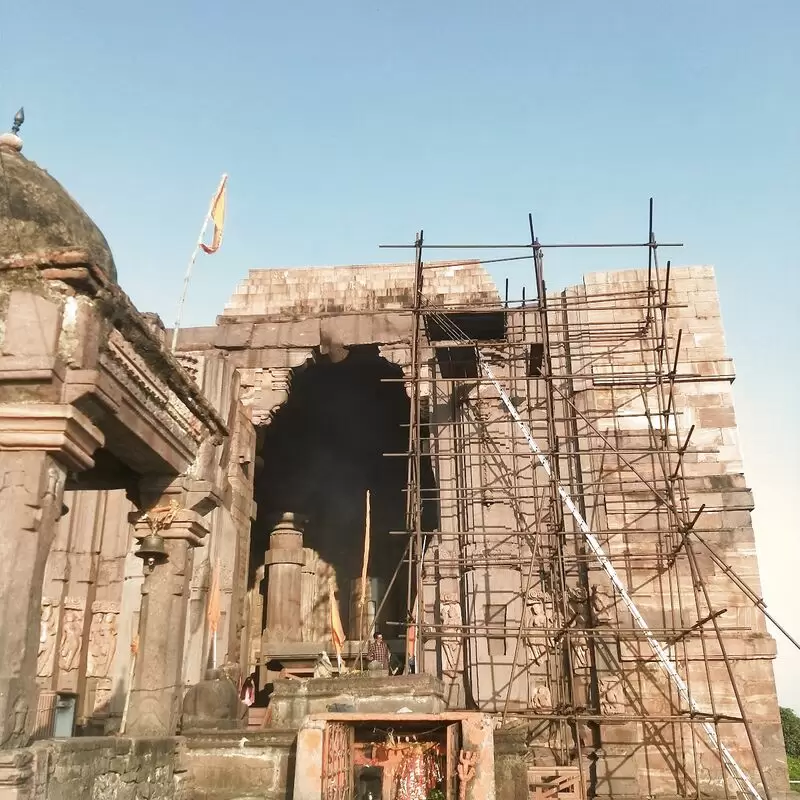 Bhojeshwar Mahadev Temple Bhojpur Raisen
Bhojpur Temple, Bhojpur Road, Bhojpur
Monday - Sunday: 6:00 AM – 6:00 PM
4. Van Vihar National Park Bhopal
Venture into Van Vihar National Park, Bhopal's wildlife paradise, where you can observe fascinating flora and fauna in their natural habitat. For bird watching enthusiasts, it is a paradise, home to over 200 species of birds. If you get close to tigers, lions and bears, you will experience the original wilderness. As an insider's tip, don't miss the fascinating view of the sunset over the big lake. The proximity to Sair Sapata, an entertainment complex with boat rides and fun games, makes this place an exciting day trip for travelers.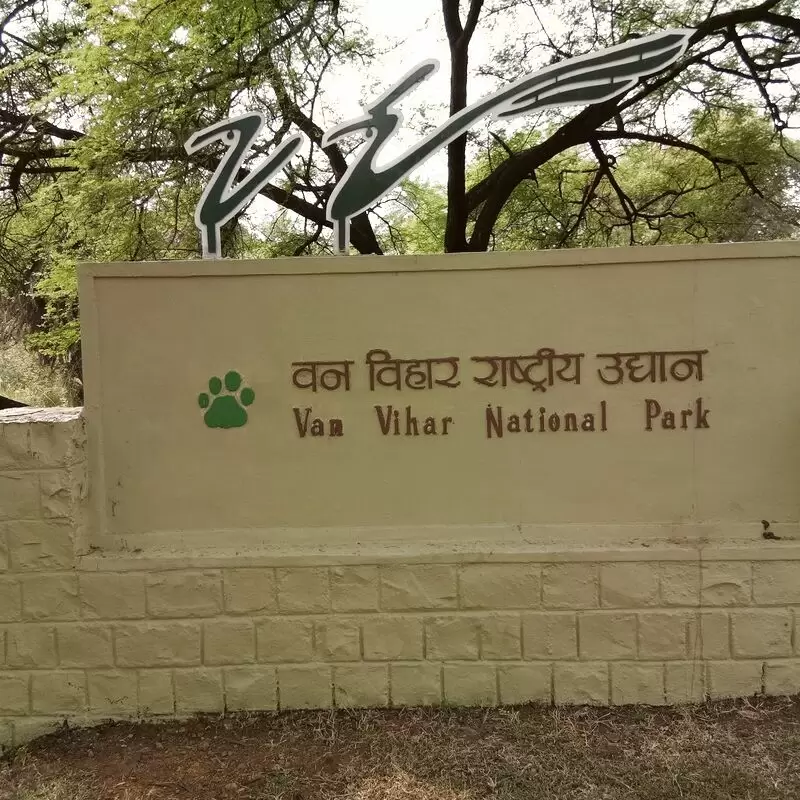 Van Vihar National Park Bhopal
69J8+VHM, Lake View Walk Path, Krishna Nagar, Shymala Hills, Bhopal
Monday - Sunday: 6:30 AM – 6:30 PM
Friday: Closed
5. Upper Lake View Point
Immerse yourself in the serenity of the "Upper Lake View Point" known as Bhojtaal, the majestic pride of Bhopal. Enjoy the breathtaking panorama of the largest man-made lake in Asia. The best kept secret? A spectacular golden haze at sunrise and sunset, offering picturesque scenes. Bring a picnic basket and enjoy at the local vendors selling hot "chaat". The nearby Boat Club offers exciting water sports. Just a stone's throw away, the enchanting "Van Vihar National Park" awaits your visit. Make your Bhopal trip unforgettable.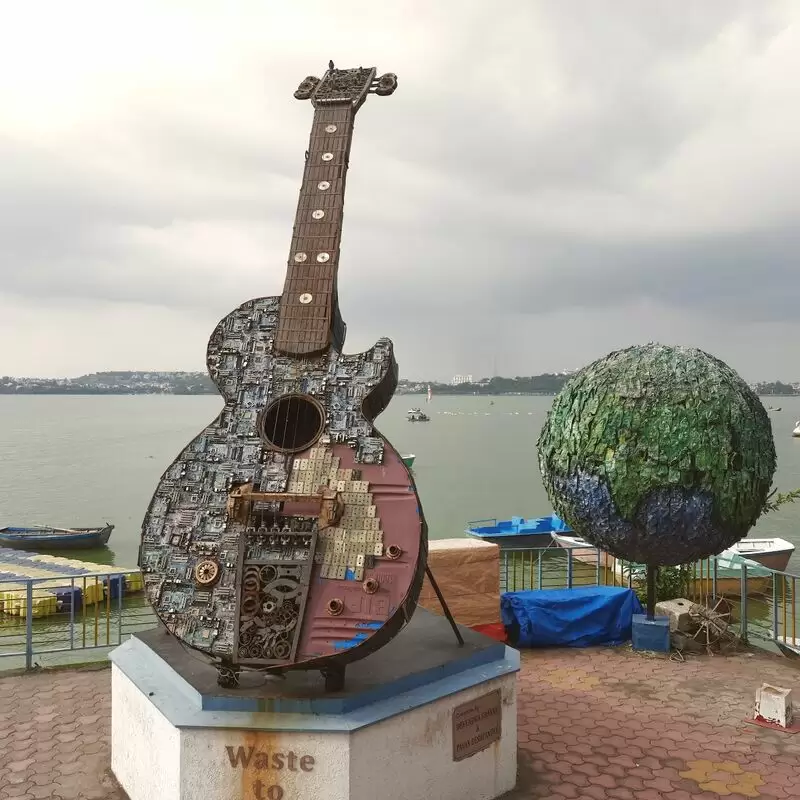 Upper Lake View Point
Upper Lake Area, Bhopal
Monday - Sunday: 8:30 AM – 6:00 PM
6. Shaurya Smarak Bhopal
Visit Shaurya Smarak in Bhopal for a blend of architecture, culture and military history. This war memorial honors Indian soldiers with displays explaining their courage and heroic deeds. You will be mesmerized by the sound and light show that depicts intense war scenes. Nearby, you can visit the picturesque Boat Club on Lake Superior, which offers breathtaking views and is ideal for nature photography. Don't forget to explore the lesser known huge underground room that reflects the life of soldiers during the war.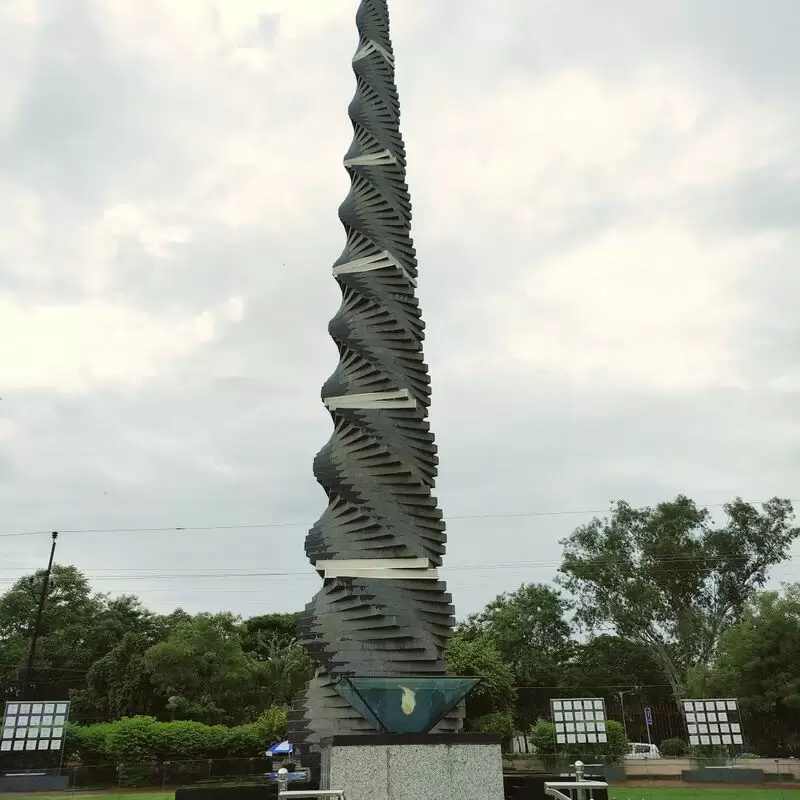 Shaurya Smarak Bhopal
Arera Hills, Opposite Courtyard Marriott, M P Nagar, Bhim Nagar Slums, Arera Hills, Bhopal
Monday - Sunday: 12:00 – 7:00 PM
Wednesday: Closed
7. Indira Gandhi Rashtriya Manav Sangrahalaya
Embark on an exciting journey through the rich tapestry of Indian tribal and folk cultures at the Indira Gandhi Rashtriya Manav Sangrahalaya. Take a walk through the open-air ethnographic museum, which spans over 200 acres, and discover various traditional habitats, living artworks and lifestyle exhibits. Don't miss the opportunity to watch artists at work - a special insight offered here. The proximity to the picturesque Lake Superior is an added bonus, perfect for a quiet evening after a day of cultural exploration.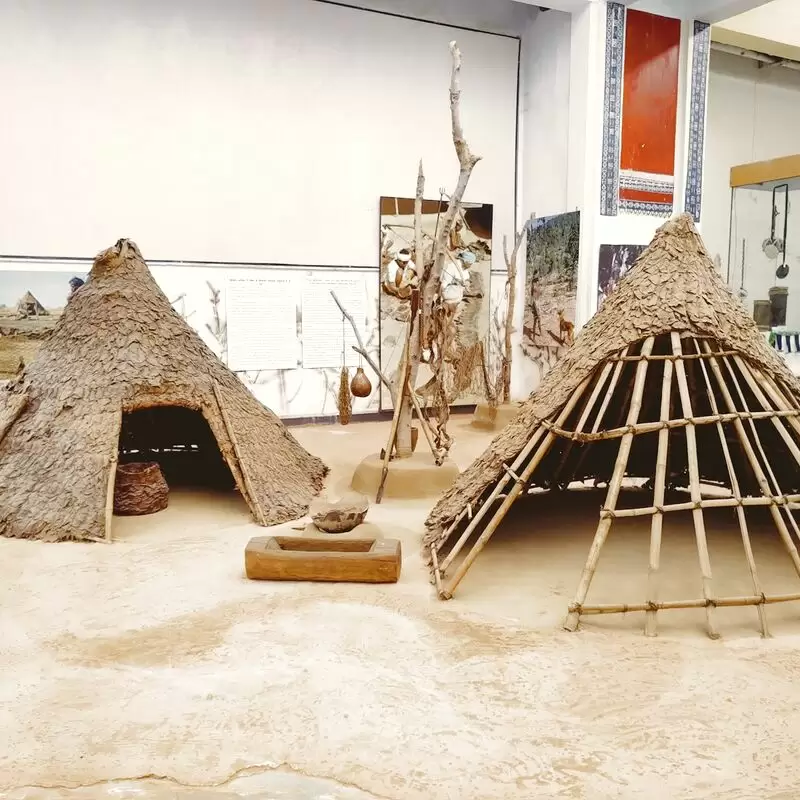 Indira Gandhi Rashtriya Manav Sangrahalaya
Lake View Road, next to RCE campus, Shymala Hills, Bhopal
Monday: Closed
Tuesday - Sunday: 10:00 AM – 6:30 PM
8. Birla Mandir

Birla Mandir, also known as Lakshmi Narayan Temple in Bhopal, is a must visit! Majestically situated on the Arera Hills, this divine place offers an outstanding panoramic view of the beautiful city and the serene Upper Lake. After immersing yourself in spiritual bliss, visit the temple's museum for a dose of Indian art and history. Nearby, you'll find the fascinating Manav Sangrahalaya (Museum of Man) and the scenic Van Vihar National Park.

An insider tip: be there at sunset for a breathtaking view!

Birla Mandir
6CQ5+8C4, Arera Hills, Bhopal

Monday - Sunday: 4:00 AM – 9:00 PM
9. Taj Ul Masajid Bhopal
Immerse yourself in the mystical atmosphere of the Taj Ul Masajid, one of the largest mosques in Asia. The mosque's sandstone structure with its tall minarets, ornate marble domes and large courtyard is a feast for the eyes. Admire the incredible Mughal architecture lined with Quranic inscriptions. If you linger until dusk, you can watch the mosque shimmer with the city lights - an impressive sight. Just a short walk away is the lively Chowk Bazaar - a must-see to get a taste of Bhopal's local culture.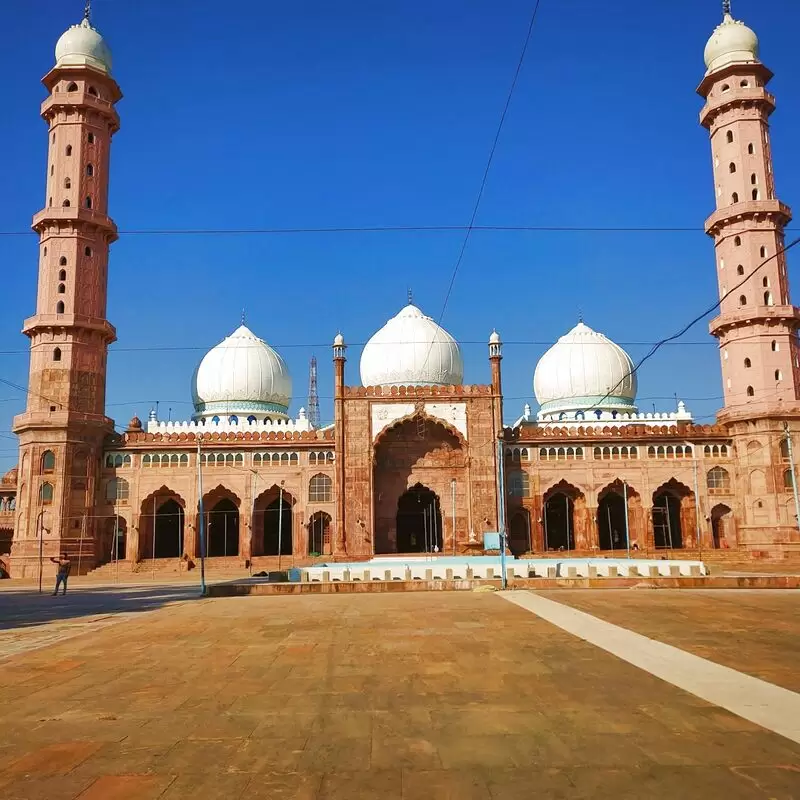 Taj Ul Masajid Bhopal
NH 12, Kohefiza, Bhopal
Monday - Sunday: Open 24 hours
10. Udaigiri Caves
Immerse yourself in the alluring history of the Udaigiri Caves, a collection of 20 rock-hewn caves dating back to the 5th century. The caves were built in the Gupta period and feature ornate carvings that tell stories of times past. The masterpiece here is the iconic Vishnu-Varaha avatar. An obscure detail, the Brahmi script inscriptions carved in these caves are a hidden gem for language lovers. Nearby is the remarkable Heliodorus Pillar, also known as Khamb Baba, a dedication by a Greek ambassador to Lord Vishnu.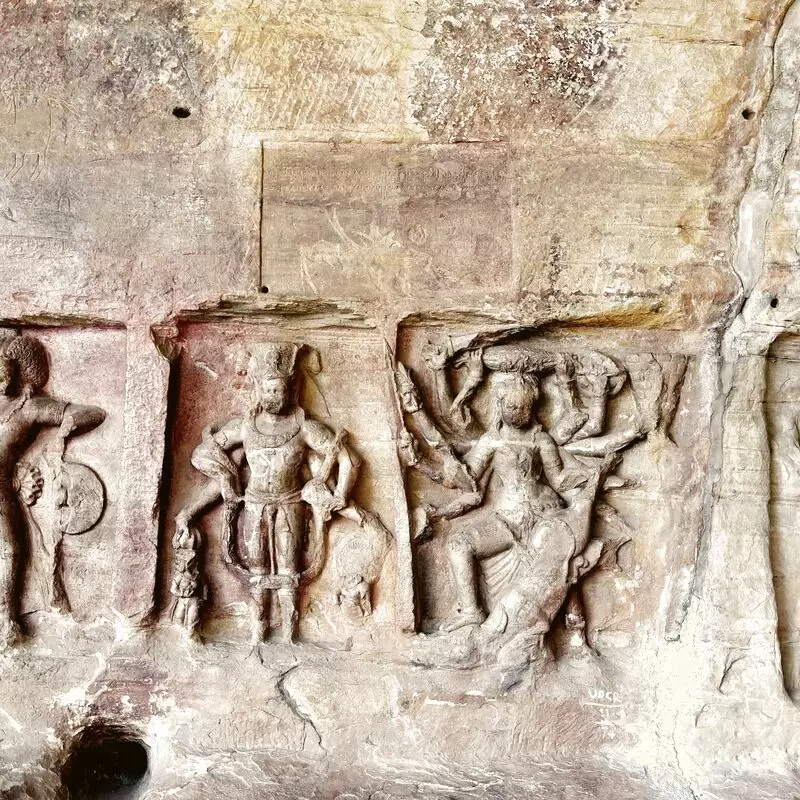 Udaigiri Caves
GQPC+GV4, Udaigiri
Monday - Saturday: 9:00 AM – 6:00 PM
Thursday: 9:00 AM – 8:00 PM
Sunday: 9:00 AM – 7:00 PM
11. Raja Bhoj Statue
Immerse yourself in the rich heritage of the Raja Bhoj statue, a colossal tribute to the 11th century ruler King Bhoj. The large effigy in the upper lake or Bhoj Valley provides a perfect photo opportunity, especially at sunset. Locals say that on a sunny day, the statue is surrounded by a rainbow-like aura. Just a short drive away is the picturesque VIP Street, which is worth a visit especially in the evening for its impressive view of the lake.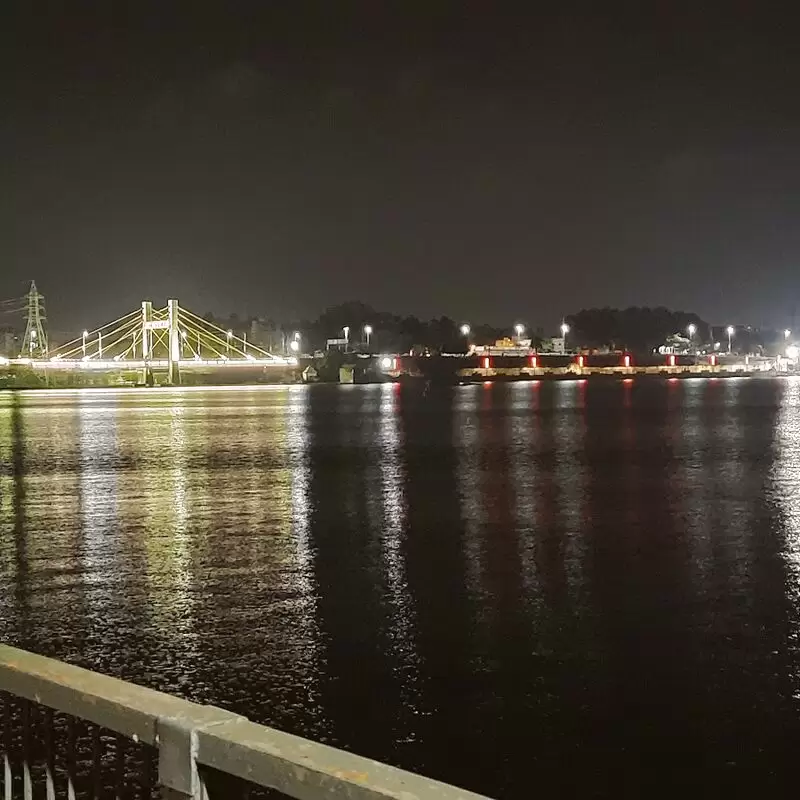 Raja Bhoj Statue
VIP Road, Upper Lake Area, Bhopal
Monday - Sunday: Open 24 hours
12. Manuabhan Tekri ropeway
A ride on the Manuabhan Tekri cable car will reward you with a breathtaking panoramic view of Bhopal! This exhilarating, tranquil ride takes you up Manuabhan Tekri, a hill where the revered Jain temple is located. The breathtaking view and cool breeze make this ride an unforgettable experience. The place is less known than other destinations, which gives it an intimate charm. P.S.: To enrich your visit, visit the nearby Lalghati area, which offers an array of vibrant local flavors and culture.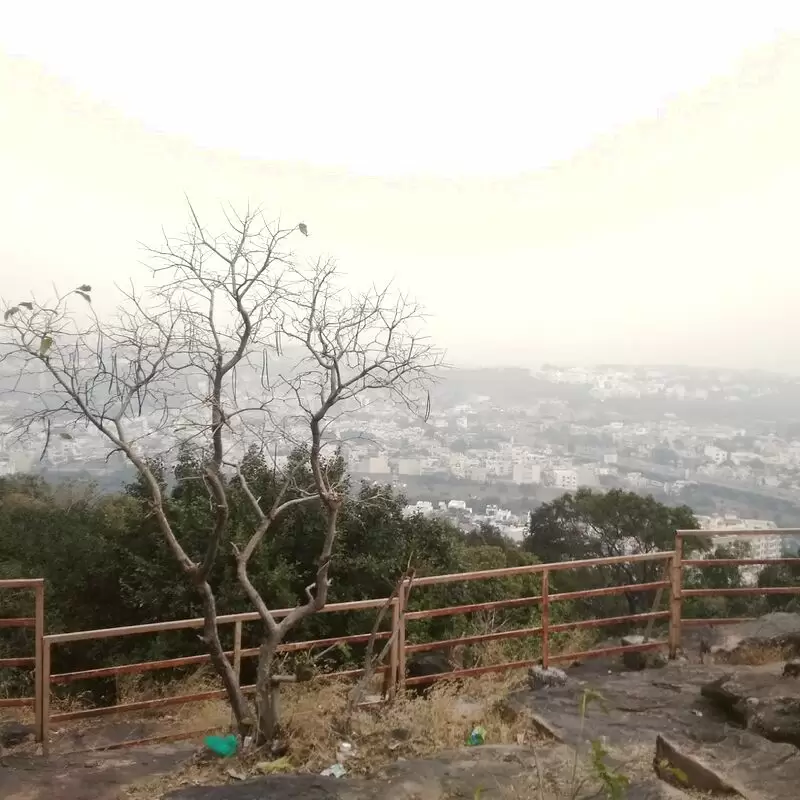 Manuabhan Tekri ropeway
D-4, Airport Rd, Indraprasth Suncity, Sun City, Lalghati, Bhopal
Monday - Sunday: 10:00 AM – 7:00 PM
13. Bharat Bhawan
Immerse yourself in the rich culture of India at Bharat Bhawan, Bhopal's vibrant center for arts and performance. Experience the diversity of Indian theater, music and art at this architectural marvel. Don't miss the mix of modern and tribal art by local artists at the Roopankar Museum. Just a stone's throw away is the tranquil Upper Lake, where you can relax after a day of cultural delights.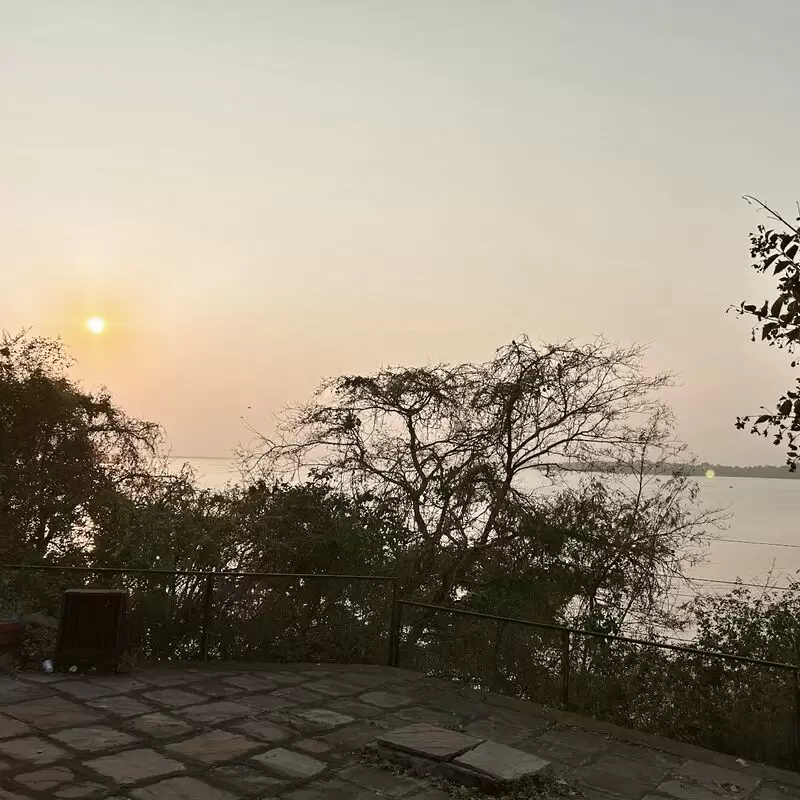 Bharat Bhawan
Bharat Bhawan Rd, Near Upper Lake, Krishna Nagar, Shymala Hills, Bhopal
Monday: Closed
Tuesday - Sunday: 2:00 – 8:00 PM
14. Tekri Bhopal View Point
Tekri - Bhopal View Point is the ideal place to enjoy the panoramic view of the City of Lakes. Situated at the highest point of the city, you can experience breathtaking sunrises and sunsets here. The temple and the vibrant local culture also add to the charm of the city. Be sure to bring your camera to take great snapshots! Closer to home, be sure to visit the Tribal Museum, just a 20-minute drive from the viewpoint, for a wonderful insight into the culture of the locals.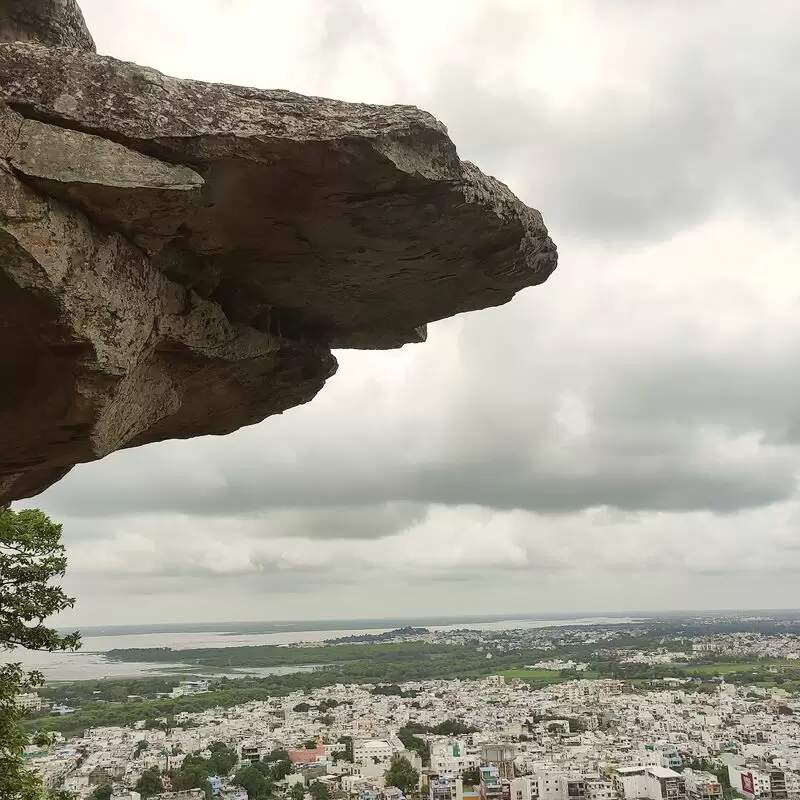 Tekri Bhopal View Point
Sun City, Lalghati, Bhopal
Monday - Sunday: 10:00 AM – 6:30 PM
15. Sair Sapata Bhopal
Immerse yourself in the exciting world of Sair Sapata Bhopal, a thriving amusement park with beautiful scenery, exciting adventure activities, and even a musical fountain for nighttime entertainment. A short trip to the suspension bridge offers a scenic view of Upper Lake. Afterwards, take a side trip to nearby Van Vihar National Park, where wilderness meets urbanity, and observe wildlife in the park's lush greenery. It's not just a visit, it's an experience!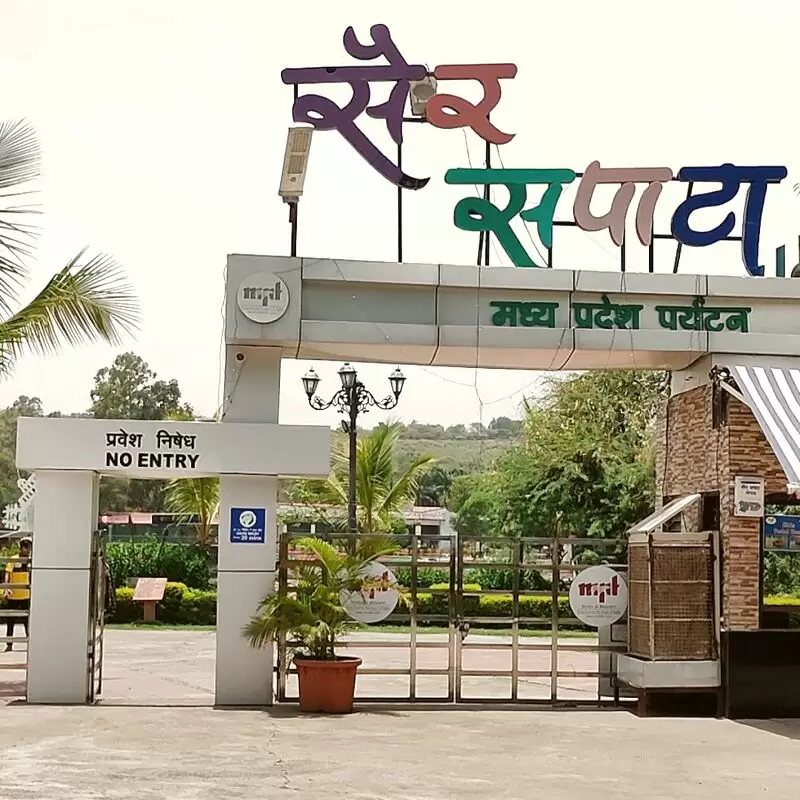 Sair Sapata Bhopal
698G+G94, Bhadbhada Rd, Prempura, Bhopal
Monday - Saturday: 11:00 AM – 10:00 PM
Tuesday: 5:00 – 10:00 PM
Sunday: 10:00 AM – 10:00 PM
16. Lake View Point
The "Lake View Point" in Bhopal is a must visit for its breathtaking panoramic view of the tranquil Upper Lake. It is a perfect place for nature lovers and photographers, offering mesmerizing sunset views, boat rides and serene surroundings. The pristine water reflecting the magical colors of the setting sun is an unforgettable sight. The many quaint restaurants make this place a foodie's paradise. Just a stone's throw away is the Van Vihar National Park, an additional adventure spot for animal lovers.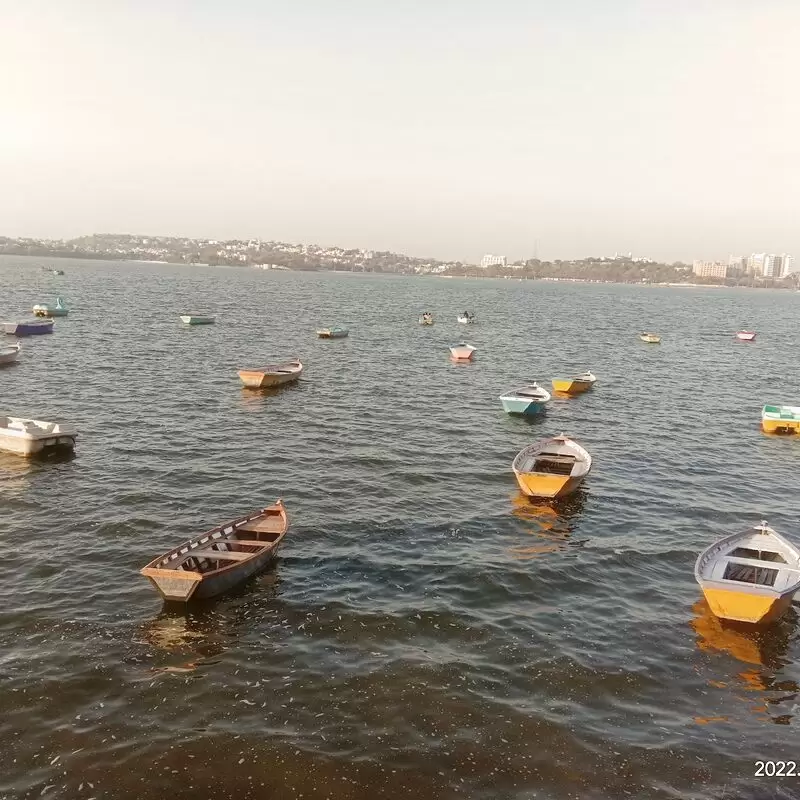 Lake View Point
69WQ+29W, Lake View Walk Path, Krishna Nagar, Shymala Hills, Bhopal
Monday - Sunday: 7:00 AM – 10:00 PM
17. Kamla Park
Kamla Park in the heart of Bhopal offers a magnificent view of the city's Upper Lake. Immerse yourself in this green oasis where locals enjoy their daily walks and children wallow in play. Feed the various ducks or sit on one of the stone benches and watch the sun sink below the horizon. Nearby is the Taj-ul-Masajid, one of Asia's largest mosques, surrounded by bustling, colorful markets that reflect the city's rich culture. Discover Bhopal beyond the ordinary!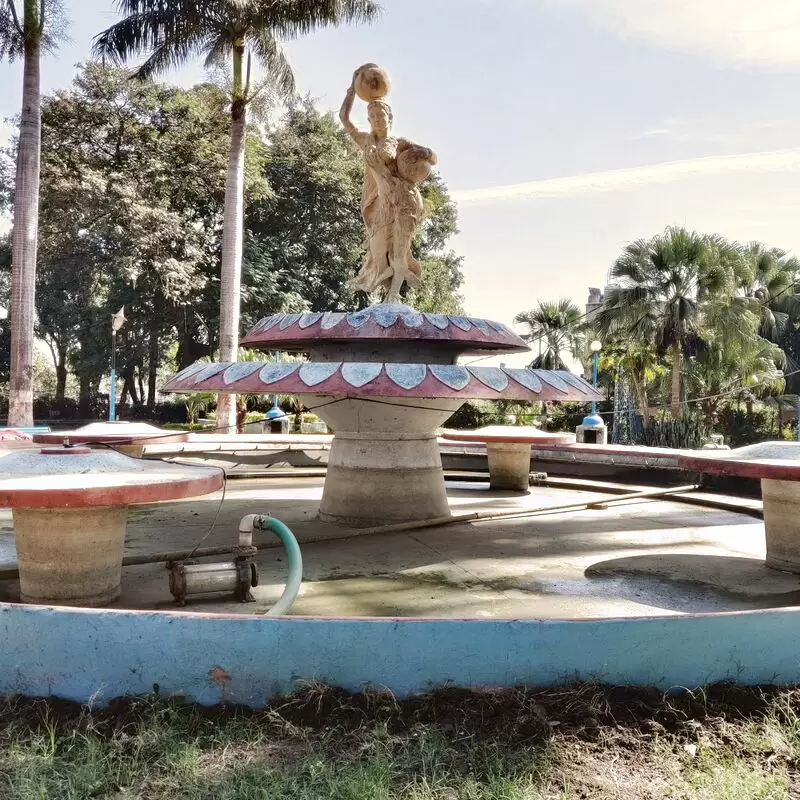 Kamla Park
Kamla park, Professors Colony, Bhopal
Monday - Friday: 10:00 AM – 10:00 PM
Saturday - Sunday: Open 24 hours
18. Upper Lake
Visit the majestic Upper Lake in Bhopal, affectionately known as "Bhojtal". This oldest man-made lake in India is a nature lover's paradise, offering spectacular sunsets, a tranquil atmosphere and rare bird sightings. A secret that many do not know: The lake is kept filled year-round by a huge underground spring. Near Upper Lake, you can explore the serene Van Vihar National Park and catch a glimpse of outer space at the Birla Planetarium, making Upper Lake the centerpiece of a truly eclectic getaway in Bhopal.
Upper Lake
Upper Lake, Madhya Pradesh
19. Veethi Sankul

Discover the living cultural heritage of India at the "Veethi Sankul" in Bhopal. It is an exhibition space showcasing rich traditional Indian art from different states.

An insider tip: try to buy unique handmade souvenirs at the in-house handicraft store. Don't forget to visit the Courtyard of Crafts, a lively platform for live folk performances just around the corner. An ideal retreat for art lovers! Discover the living tapestry of Indian traditions at Veethi Sankul in the city of Bhopal.

Veethi Sankul
69JG+VW5, Shymala Hills, Bhopal
20. Regional Science Center
The Regional Science Center in Bhopal is a treasure trove of educational entertainment. This popular venue houses numerous exhibits ranging from prehistoric life to wonders of science and technology. With its interactive exhibits, it is specifically designed to pique children's curiosity about science. Nearby, you can also visit the enchanting Van Vihar National Park to explore the wildlife. To make your day even more memorable, don't miss the 3D demonstrations at the science center.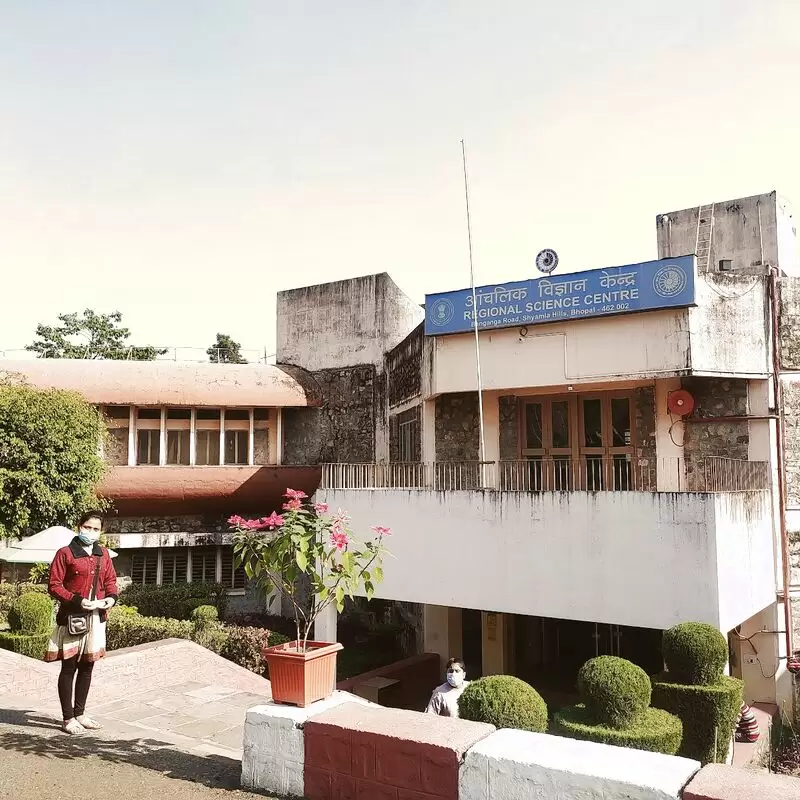 Regional Science Center
Banganga Rd, Banganga Slums, North TT Nagar, Shymala Hills, Bhopal
Monday - Sunday: 9:30 AM – 6:00 PM
21. Kerwa Dam Lake
Take a trip to Kerwa Dam Lake, Bhopal's hidden gem of tranquility and natural splendor. This spectacular spot is perfect for nature lovers, offering breathtaking views and opportunities for exciting adventure sports like rappelling and ziplining. Be sure to bring your camera to observe the exotic birds that add color and cheerfulness to this tranquil retreat. Just a short drive away, you can visit the Taj ul Masajid, one of Asia's largest mosques, for a glimpse of Bhopal's rich architectural heritage.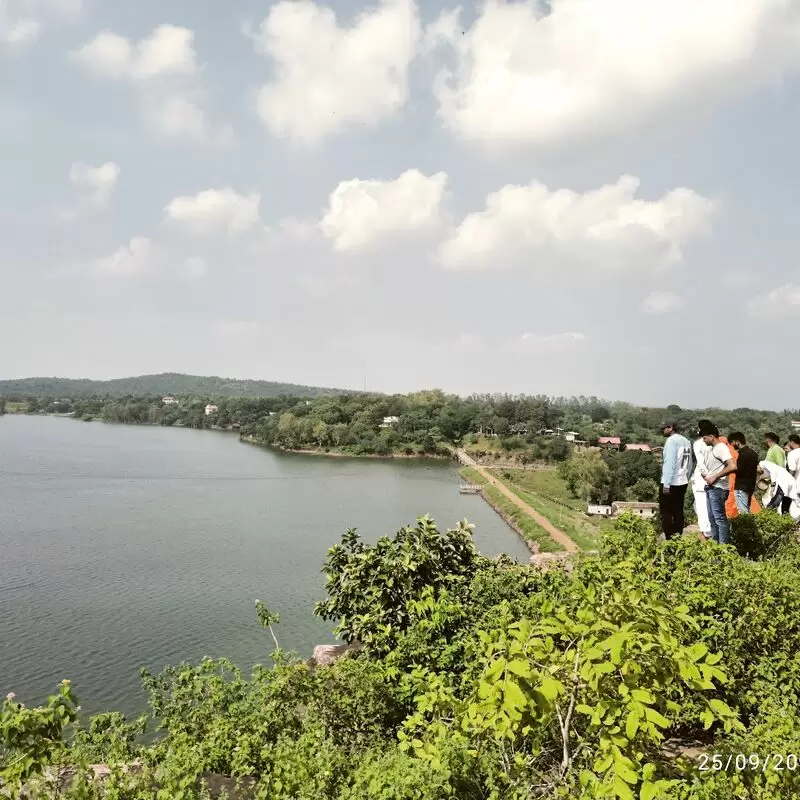 Kerwa Dam Lake
Kerwa Dam Rd Mendora, 598C+FW8, Mahua Kheda
Monday - Sunday: 9:00 AM – 6:00 PM
22. Kanha Fun City
Kanha Fun City in Bhopal is an exciting haven for thrill seekers and leisure travelers alike. With an extensive range of adrenaline-pumping rides, serene water slides, a special children's area, and serene surroundings around the park, this enchanting amusement park guarantees boundless fun. And what should you definitely try here? The culinary offer that will make your taste buds dance. Just 5 kilometers away is the exotic Van Vihar National Park. So let yourself be enchanted by Bhopal's energetic side at Kanha Fun City!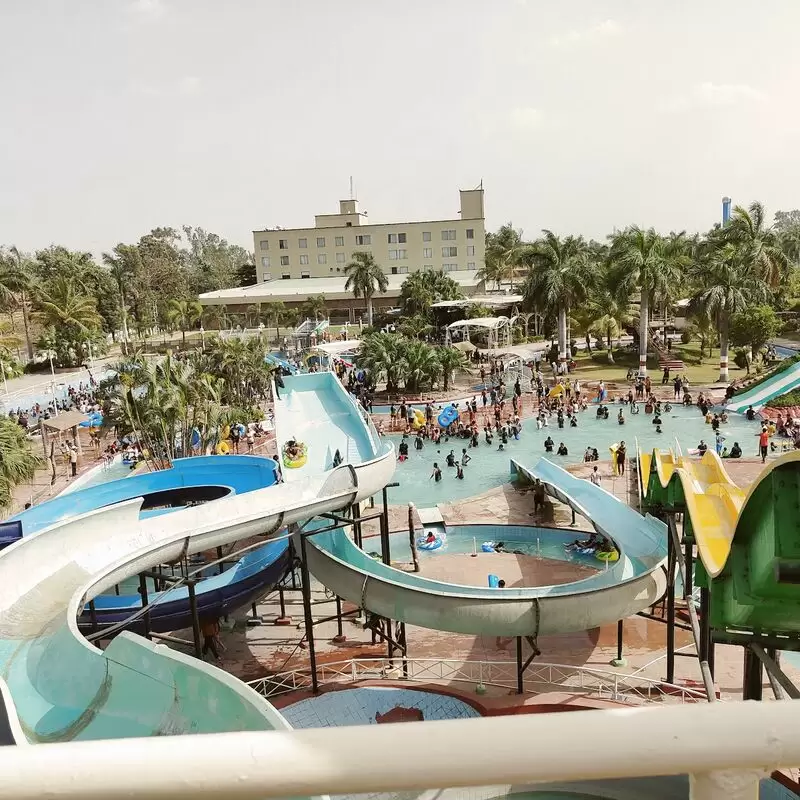 Kanha Fun City
Narmadapuram Rd, Indus Towne, Ratanpur Sadak, Bhopal
Monday - Sunday: 10:00 AM – 5:00 PM
23. Moti Masjid
The Moti Masjid in Bhopal is an architectural marvel in which the Adhan reverberates. It was designed by Sikander Begum in 1860 and is a reflection of Mughal architecture, similar to the Jama Masjid in Delhi. The enchanting view from the top is what makes it so beautiful. It is open day and night and invites you to linger in spiritual serenity at any time. Just a few steps away is another treasure, the historic Shaukat Mahal, an exotic blend of Indian and French architectural styles that is an added visual treat.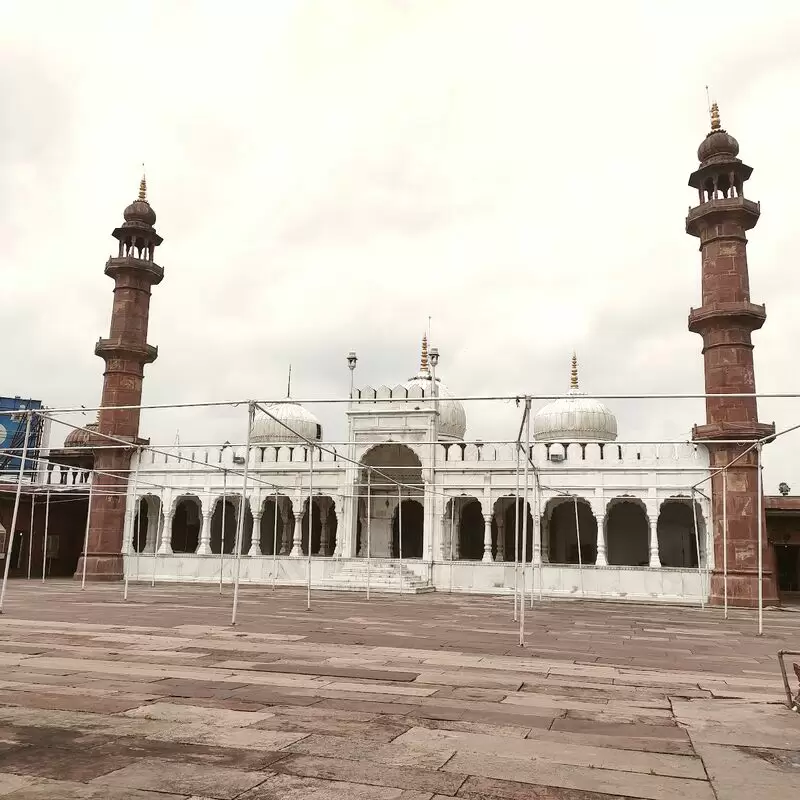 Moti Masjid
794X+6J7, Hawamahal Rd, Opposite Moti Masjid, Chowki Talaiya, Talaiya, Bhopal
24. Gauhar Mahal
A sublime blend of Islamic and Hindu architecture, Gauhar Mahal reflects the artistic splendor of bygone times in Bhopal. An eclectic treasure trove of culture, it hosts a plethora of art exhibitions, fairs and cultural events. Not to be missed is the rooftop terrace with a breathtaking panoramic view of the city and the tranquil Bada Talab. Right next door is the lively Chowk Bazaar, famous for its exquisite handicrafts and handicrafts - a true paradise for shoppers. The close proximity of these two wonderful places doubles the pleasure of your visit!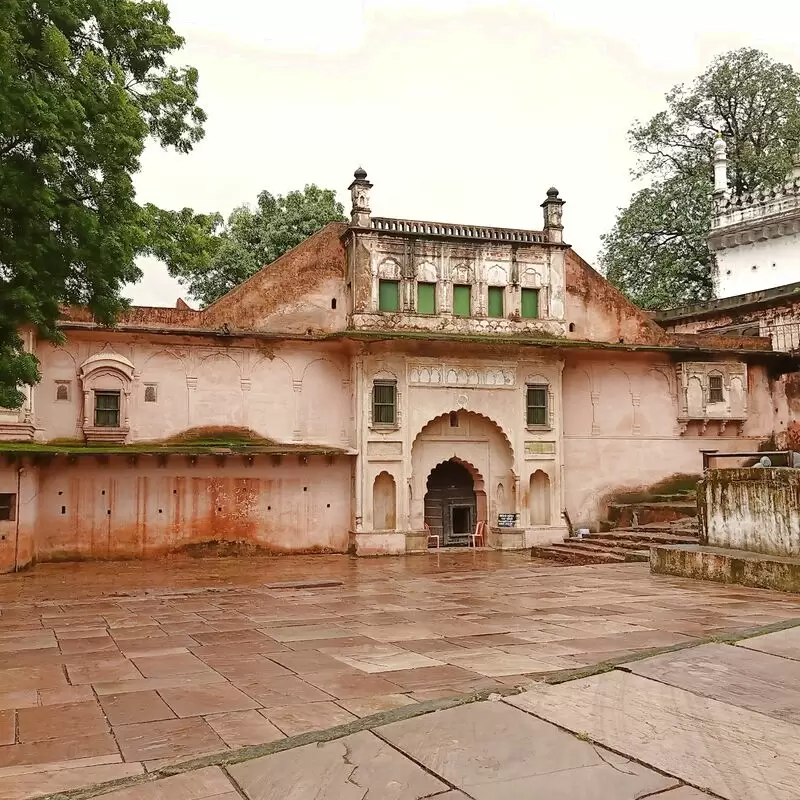 Gauhar Mahal
794X+C2M, VIP Road, Chowki Talaiya, Peer Gate Area, Bhopal
Monday - Sunday: 10:00 AM – 8:00 PM
Best Time to Visit Bhopal
The best time to visit Bhopal, India, is during the cooler months between October and March. During this time, the weather is pleasant and ideal for sightseeing and other outdoor activities. The monsoon season from July to September is also a good time to experience the scenic beauty of the city.
Annual Weather in Bhopal
Bhopal 3-Day Forecast
Thu, 21 September
Night
76 °F
24 °C
0%
Morning
74 °F
23 °C
80%
Afternoon
87 °F
30 °C
61%
Evening
78 °F
26 °C
94%
Fri, 22 September
Night
75 °F
24 °C
81%
Morning
74 °F
23 °C
86%
Afternoon
86 °F
30 °C
85%
Evening
78 °F
26 °C
63%
Sat, 23 September
Night
74 °F
24 °C
0%
Morning
73 °F
23 °C
73%
Afternoon
84 °F
29 °C
81%
Evening
77 °F
25 °C
79%
Questions & Answers

Is the city of Bhopal safe for tourists?

In general, Bhopal is considered safe for tourists. As in any city, it is advisable to be vigilant, especially at night, and avoid less populated areas. However, locals are generally friendly and accommodating to tourists. The city is well guarded and the protection of tourists is a top priority. Nevertheless, it is recommended to keep up with local news and take the usual safety precautions.

What is the primary language spoken in Bhopal?

In Bhopal, the capital of Madhya Pradesh in India, Hindi is the main language spoken. Hindi acts as a lingua franca and facilitates communication between the city's diverse population. In addition to Hindi, Urdu also occupies an important place due to the city's historical association with this language. In Bhopal, Hindi is generally used in daily life, offices, markets, and schools, while English is used more in formal and professional settings.

Is vegetarian food easily available in Bhopal?

Yes, vegetarian food is readily available in Bhopal. Many restaurants and street stalls in the city serve a variety of vegetarian dishes that reflect the rich and diverse culinary traditions of India. From traditional Indian thalis to modern fusion dishes, there are many vegetarian options in Bhopal. Since a large portion of the Indian population is vegetarian, most restaurants also offer extensive vegetarian menus. So, you will have no trouble finding delicious vegetarian dishes in Bhopal.

What is the currency and what's the conversion rate from USD to INR?

The local currency in Bhopal, India is the Indian Rupee (INR). Since exchange rates are subject to daily fluctuations, it is advisable to check them immediately before your trip. As a rough guide, recent exchange rates have ranged from 74 to 76 Indian rupees for 1 U.S. dollar (USD). Credit cards are accepted at many places in Bhopal, but it is always a good idea to have some cash on you.

Are credit cards widely accepted in Bhopal?

Yes, credit cards are generally accepted in Bhopal. Most restaurants, hotels and retail stores in the city accept credit cards as payment. However, some small local establishments or street vendors can only pay with cash. It is always advisable for visitors to carry some Indian rupees along with their cards for convenient payment. Also, ATMs are readily available for all cash needs.

How is the public transportation system in Bhopal?

Bhopal, India, offers a very efficient public transportation system. The Bhopal City Link Limited (BCLL) provides an extensive network of city buses connecting different parts of the city and suburbs. Auto rickshaws and cycle rickshaws are also common and affordable modes of transport. For longer distances, one can use the Bhopal Junction Railway Station or the Raja Bhoj Airport. However, traffic can be heavy, especially during peak hours, so it is advisable to allow extra time.

Are there any local customs I should be aware of?

As a traveler in Bhopal, it is important to respect local customs. When visiting religious sites, dress modestly - remove your shoes before entering and cover your head in Sikh or Muslim temples. It is customary to greet each other with a Namaste - a slight bow with the hands pressed together at chest level. Indian etiquette usually involves polite patience and avoiding public displays of affection. It is customary to tip in hotels and restaurants. Enjoy the rituals of the city, but keep a respectful distance if you are unfamiliar with them.

Is Bhopal a good place for shopping traditional Indian items?

Bhopal is a paradise for shopaholics who love traditional Indian products. There are several markets in the city like the bustling Chowk Bazaar, known for its chanderi silk sarees, beadwork and brassware. Mrignayani Emporium is another treasure trove of typical handlooms, handicrafts and unique tribal jewelry from Madhya Pradesh. With its vibrant commercial scene, Bhopal offers an unforgettable shopping experience full of authenticity.

What is the nightlife like in Bhopal?

Compared to other major Indian cities, Bhopal has a relatively quiet nightlife. Popular activities include eating at local restaurants that offer a variety of dishes and walking around the beautiful lakes. In addition, there are some trendy cafes and bars like Ten Downing Street where visitors can enjoy drinks and dance to the latest music. Despite its tranquil nature, Bhopal offers a serene and charming nighttime atmosphere that reflects the city's culture and history.

Can I drink tap water in Bhopal?

Although tap water is treated in Bhopal, India, foreigners are usually discouraged from drinking it because water treatment standards vary in different countries. It is safer to drink bottled mineral water, which is readily available throughout the city. Also, always check the seal on the bottle before buying to make sure it has not been tampered with.

Are guided tours available in Bhopal?

Yes, guided tours are indeed offered in Bhopal for travelers who want to comprehensively explore this historical and culturally rich city. These tours offer visitors a structured and comprehensive way to experience the attractions of Bhopal, including its historical landmarks, beautiful lakes, museums and other cultural sites. Whether you are interested in history, culture or nature, the guided tours cater to a variety of interests and provide a fulfilling sightseeing experience.

Is it common to tip in Bhopal?

Tipping is not customary in Bhopal, India. In some upscale restaurants and hotels, a service charge may be included in the bill, so additional tipping is not expected. However, in cases of exceptional service, tipping is entirely at the discretion of the guest. It is generally customary to give a small additional amount to the waitress or cab driver, but it is not mandatory. Always check your bill for included services and remember that tipping is welcome but not mandatory.

What type of electrical outlets are used in Bhopal?

In Bhopal, India, the standard voltage is 230 V and the frequency is 50 Hz. You can use your electrical appliances if the standard voltage in your country is between 220 and 240 V. The sockets and plugs are type D and M. Type D is mainly used in India, Sri Lanka, Nepal and some African countries. Type M is often used alongside Type D, but can also be found in countries such as South Africa and Swaziland.

How can I connect with local people in Bhopal?

In Bhopal, it is easy to strike up a conversation with the locals as they are warm and hospitable by nature. Visit local markets, cafes or temples where interactions occur naturally. You can also participate in community service or local workshops that will allow you to have more personal contact with the locals. A simple greeting in Hindi can also help break the ice. Finally, a local guide can contribute to richer and more meaningful interactions with locals.

Is it safe to use taxis in Bhopal?

Yes, it is generally safe to use a cab in Bhopal, India. Cab drivers are usually professional and the vehicles are well maintained. However, it is always advisable to use reputable companies or book through a hotel or travel agency to ensure safety. It is also advisable to negotiate the fare or make sure the taxi meter is working to avoid overcharging. For travelers who do not speak Hindi, a local guide or written address can help with communication.

Are there any famous food dishes to try in Bhopal?

Bhopal is known for its gastronomic ecstasy, where flavors come alive. Poha - a simple but delicious recipe - is a popular breakfast dish here. Bhopal cuisine is also known for its non-vegetarian dishes like Biryani Pilaf, Kebabs and Bhopali Gosht Korma that offer aromatic and rich flavors. Don't miss the sweet delicacies like Jalebi, Shahi Tukda and Mawa-Bati. Your culinary journey is not complete without also experiencing Bhopal's extraordinary chai culture at the numerous tea stalls.

How can I dress in Bhopal to respect local customs?

When visiting Bhopal, dress should be modest to show respect for the local culture. Women should avoid revealing clothing such as short skirts or sleeveless tops; a salwar kameez or long skirt combined with a blouse would be more appropriate. Men should opt for long pants and shirts rather than shorts or tank tops. Always remove your shoes before entering a religious site and cover your head if necessary. With this modest style of dress, you can mingle with the locals and pay respect to their customs.

Can I get a local SIM card in Bhopal?

Yes, you can easily purchase a local SIM card in Bhopal. Various network operators such as Airtel, Reliance Jio and Vodafone offer this service. These SIM cards can be purchased from a local mobile store, supermarkets or the airport. Remember that Indian law requires you to present relevant documents such as a passport and a valid Indian visa for registration. Remember that network connectivity may vary in different parts of the city or outside.

What's the emergency contact number in Bhopal?

For emergencies in Bhopal, India, dial the universal number 112. This number combines all existing emergency numbers such as police (100), fire department (101) and women's emergency (1090). For medical emergencies, you can dial 108. Remember that these numbers are toll-free and work 24 hours a day throughout India. Calls to these numbers are answered quickly to ensure public health and safety. It is always advisable to have these numbers handy during your stay.

Do many people speak English in Bhopal?

Yes, many people in Bhopal, especially those working in the tourism, hospitality and business sectors, speak English. Although Hindi is the predominant language, English is commonly used in educational institutions, offices, and among the younger population. However, not everyone is fluent in the language. Rest assured that you will find plenty of English-speaking locals to communicate with during your trip.

Are there any safety precautions for women travellers in Bhopal?

As in many urban areas, general caution is advised in Bhopal, especially for women traveling alone. It is advisable to respect local customs, dress modestly, and avoid walking alone at night in less crowded areas. Always keep your personal belongings safe and be aware of your surroundings. Use reliable transportation and share your travel plans with a trusted person. However, the people of Bhopal are known for their hospitality and are generally very helpful, making Bhopal a pleasant city to explore.

Is it easy to hire a car in Bhopal?

Yes, it is quite easy to rent a car in Bhopal, India. Several car rental companies offer their services to both tourists and locals. Car rental options range from cheap to luxurious, with some companies even offering chauffeur-driven vehicles for added convenience. Most car rental companies offer online booking options, making it easy to select and book a car, ensuring a smooth journey around the city and neighboring regions. Remember that international tourists usually need an international driver's license.

Is there a popular market in Bhopal?

Yes, of course! Chowk Bazaar is one of the most popular markets in Bhopal. This market is known for its traditional Indian handicrafts, handlooms and intricate jewelry designs. For food lovers, it offers various local street foods. From clothing to antique pieces to books, Chowk Bazaar is a lively place full of stalls and stores offering a variety of goods, ensuring an exciting shopping experience. It reflects the culture and vibrancy of Bhopal.

What is the prevalent religion in Bhopal?

Bhopal, the capital of the Indian state of Madhya Pradesh, is characterized by a great diversity of religious beliefs. However, the predominant faith practiced here is Islam, which is due to the city's historical importance as a Muslim dominion. In addition to Muslims, there are also a large number of Hindus, as well as smaller communities of Sikhs, Christians, Buddhists, Jains, and others, reflecting India's pluralistic religious landscape. These various religious practices contribute to Bhopal's rich cultural diversity.

Does Bhopal offer experiences for adventure tourists?

Absolutely! Bhopal offers a variety of exciting experiences for adventure seekers. You can test your nerves climbing the Kerwa Dam or go sailing and motor boating on the expansive Upper Lake. Van Vihar National Park offers wildlife viewing and jungle safaris. There are also several trekking routes around the city, including the hike to Ginnorgarh Fort, which promises breathtaking views. For adventure seekers, Bhopal is a playground.

Feedback

I hope you found this article informative and helpful. I'm eager to improve the content and make it even more valuable for you. If you have any feedback or suggestions, I would love to hear from you.

Do you have any tips or hidden gems that you think should be added to the list? Are there any areas that you feel could use more explanation or clarification?

Your input is greatly appreciated and will help us to continue providing high-quality content that meets your needs and interests. Please feel free to share your thoughts.