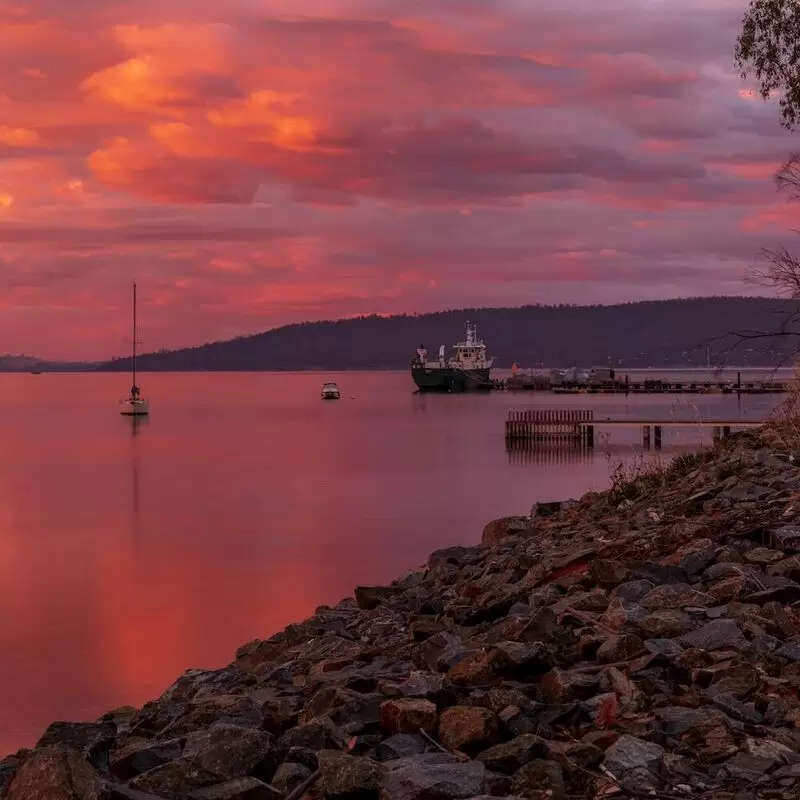 1. King George VI Memorial Park
King George VI Park in Margate is a beautiful green oasis with magnificent views of the sea. Explore the 24 acres of colorful flower beds, Italian-style greenhouse, charming woodland walks and wartime underground tunnels. Don't miss the whisper of the past - the Nash-designed sundial that adorns the grounds. Just a stone's throw away is the picturesque Shell Grotto with its mysteriously designed shell mosaics - an added touch of magic for an unforgettable day out!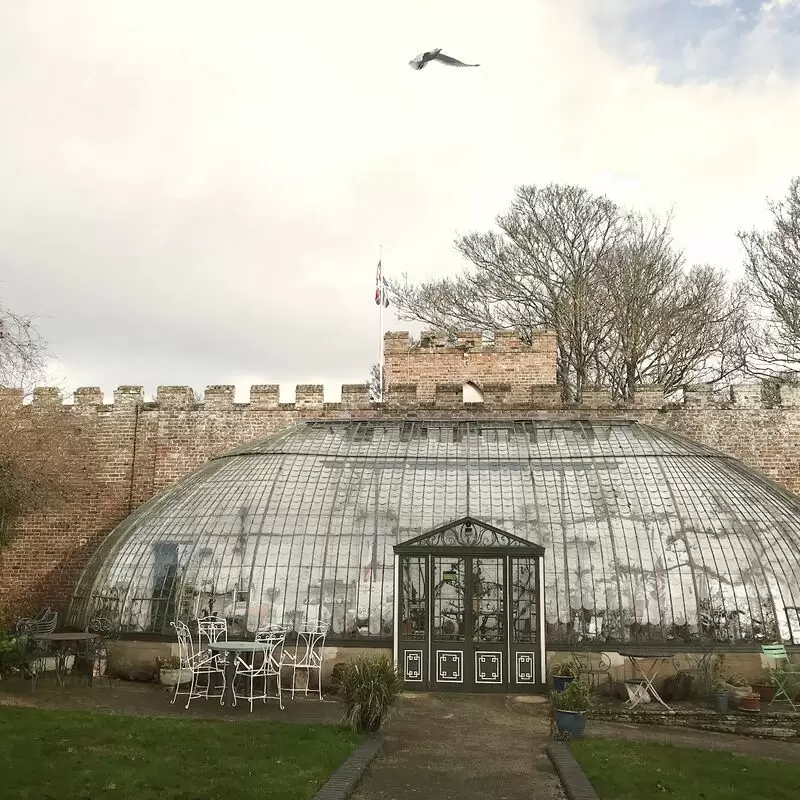 King George VI Memorial Park
Sir Moses Montefiore former vege plot. King George V1 Park, Ramsgate
Monday - Sunday: Open 24 hours
2. Ramsgate Tunnels
A marvel of engineering, the Ramsgate Tunnels are a tangible echo of World War II. The labyrinth of underground passages offers a remarkable insight into historic British resilience. And what's more? Each tunnel has its own compelling story, brought to life by knowledgeable guides. Just a short drive away, you can also visit the Turner Contemporary gallery in Margate, which showcases contemporary and historical art from around the world.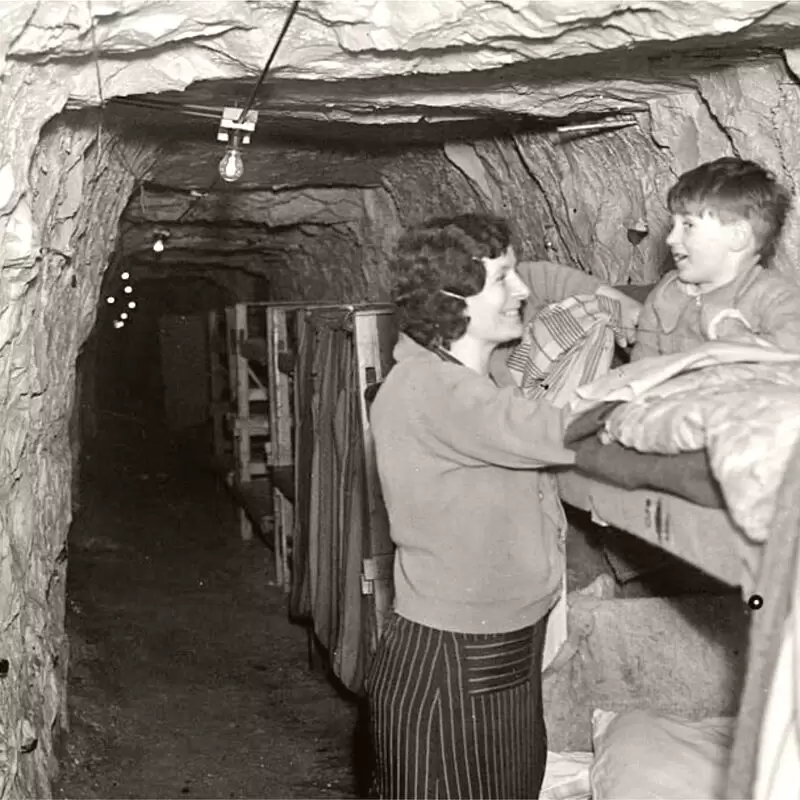 Ramsgate Tunnels
Marina Esplanade, Ramsgate CT11 8FH
Monday - Sunday: 9:30 AM – 4:00 PM
3. Shell Grotto
Be enchanted by the Shell Grotto in Margate, a stunning underground mosaic of millions of shells. This mystical underground passage, excavated in 1835 and unexplained to this day, adds a special flair to Margate's charm. Every corner holds a secret and whispers stories of ancient times. Nearby you can visit the fascinating Tudor House, whose charm dates back to the 16th century. Margate is a treasure chest full of wonders just waiting to be discovered.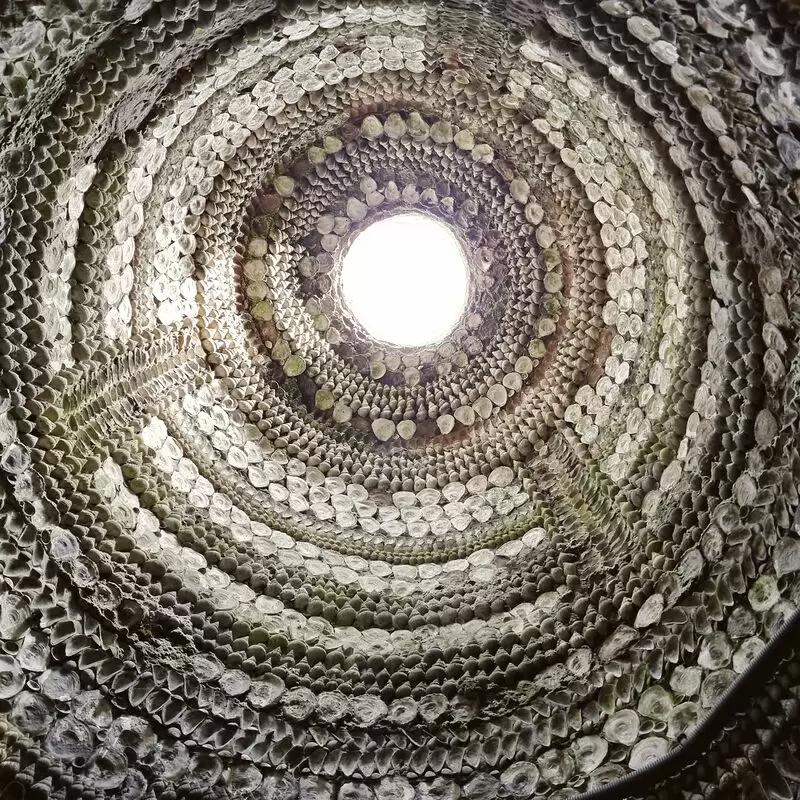 Shell Grotto
33 Grotto Hill, Cliftonville, Margate
Monday - Tuesday: Closed
Wednesday - Sunday: 10:00 AM – 5:00 PM
4. Spitfire & Hurricane Memorial Museum
At the Spitfire & Hurricane Memorial Museum you will find a great reminder of the history of aviation, marked by the bravery of the British in wartime. The special treat at Margate is not only to see the legendary Spitfire and Hurricane aircraft on display, but also to understand their indelible contribution to freedom. From captivating exhibits to personal items of secret agents, the story is told here in a very personal way. Just a short drive away is the Shell Grotto, an enticing network of mysterious shell-lined passageways. Step back in time and become part of history in Margate!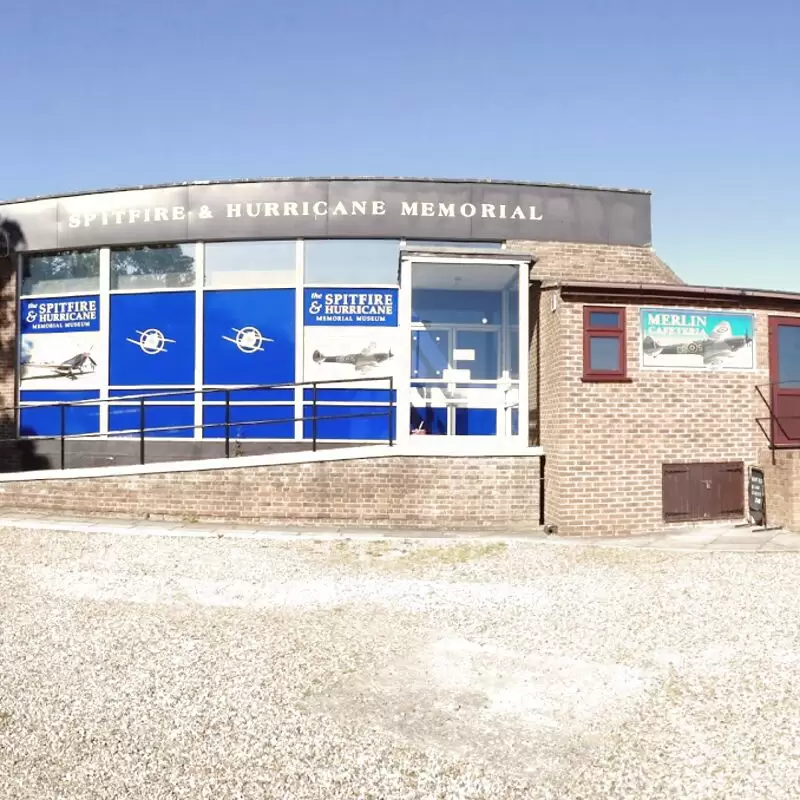 Spitfire & Hurricane Memorial Museum
Manston Road, Ramsgate
Monday: Closed
Tuesday - Sunday: 10:00 AM – 4:00 PM
5. Dreamland Margate
Be sure to visit Dreamland Margate, a timeless theme park with historic rides like the UK's oldest wooden roller coaster! The tasteful old-school aesthetics, exciting events, and live music will instantly transport you to another time. How about a different kind of art? The Turner Contemporary Gallery, with its modern art exhibitions, is just a short walk away. You haven't really experienced Margate until you've immersed yourself in the nostalgic charm of Dreamland.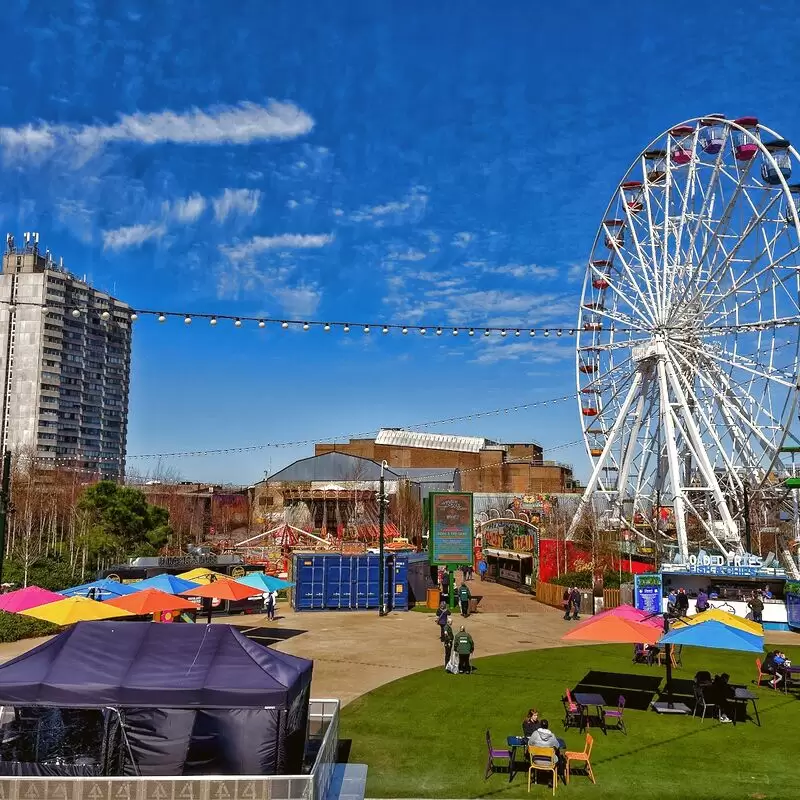 Dreamland Margate
49-51, Marine Terrace, Margate CT9 1XJ
Monday - Saturday: Closed
Sunday: 11:00 AM – 6:00 PM
6. Margate Beach

Experience the breathtaking beauty of Margate Beach, the jewel of Margate, UK. It is known for its vast sandy beaches that invite you to sunbathe and take a walk. Don't forget to bring your camera, because the picturesque sunset views are simply incomparable.

An insider tip: visit the nearby Nayland Rock refuge, where the famous writer T.S. Eliot wrote part of his works. Just a short walk away, you'll find Turner Contemporary, a gallery that showcases historic and cutting-edge art. This stunning juxtaposition is not to be missed!

Margate Beach
Margate Beach, Margate CT9
7. The Hornby Visitor Centre and Cafe
The Hornby Visitor Centre in Margate offers an irresistible journey into nostalgia. The center houses stunning miniature railroad displays, die-cast models and the popular Airfix kits, and showcases the fascinating history of Hornby hobbies. The café serves homemade, delicious treats and is perfect for a break during your visit. A great insider detail? An original 1930s O-gauge Hornby model train shines in a display case. Plus, the fascinating Shell Grotto, a mysterious underpass decorated with shells, is just a stone's throw from the center.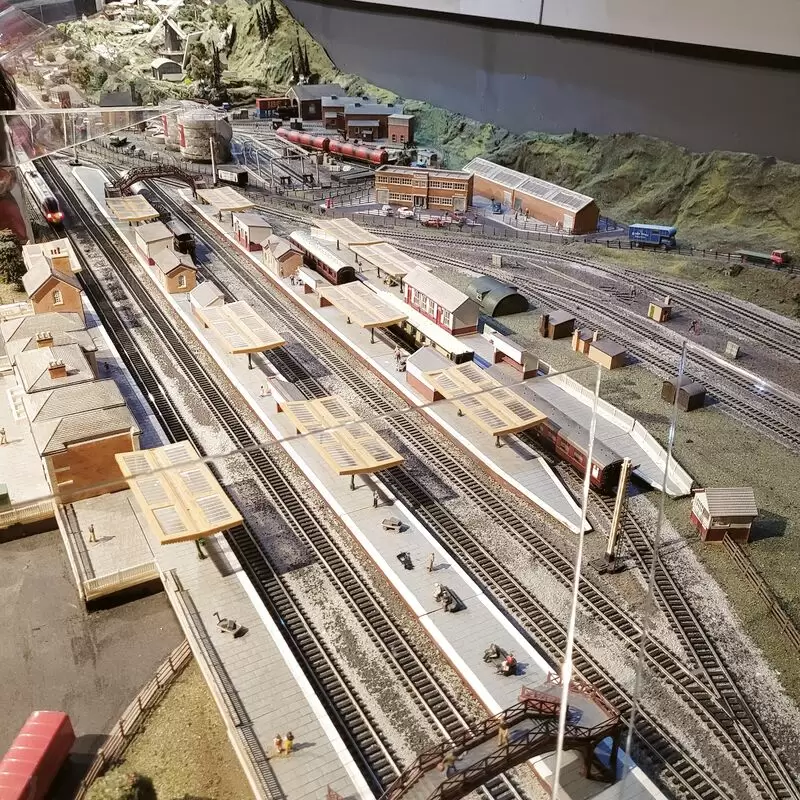 The Hornby Visitor Centre and Cafe
Westwood Industrial Estate, Westwood, Margate
8. Turner Contemporary
Visit the Turner Contemporary, the monumental art experience on Margate harbor that champions contemporary art and culture. Famous for its exhibitions, it hosts an ever-changing display of artists inspired by JMW Turner. Not only art lovers will get their money's worth here, but the view of the sea through the huge windows is breathtaking. Located within walking distance of Margate's historic Old Town, the gallery is a hidden treasure that hosts live events throughout the year. Often praised for the quality of its light, Turner Contemporary is a must-see in Margate.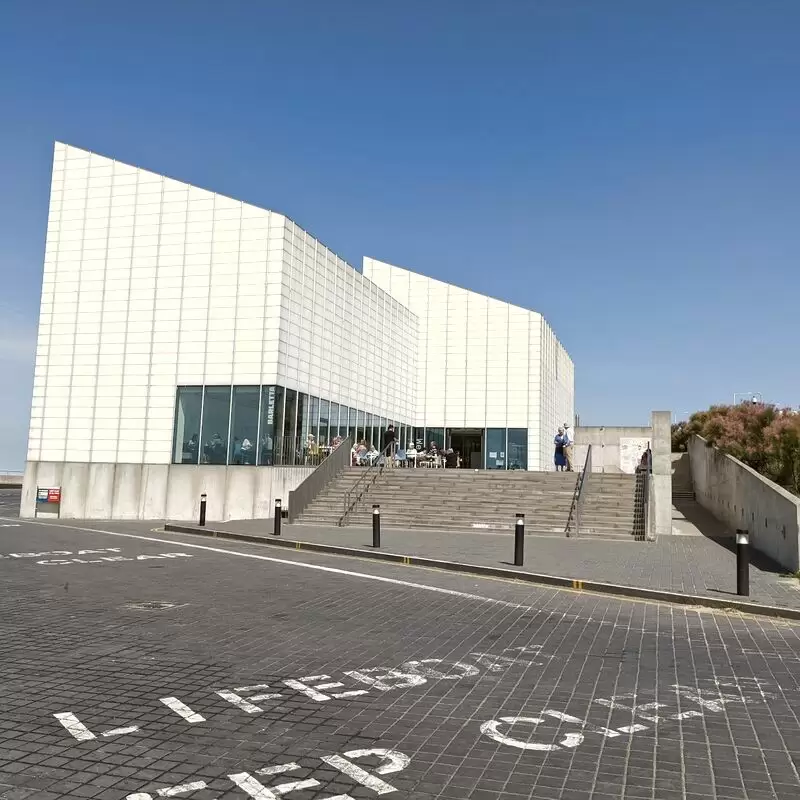 Turner Contemporary
Rendezvous, Margate
Monday: Closed
Tuesday - Sunday: 10:00 AM – 5:00 PM
9. Margate Harbour Arm

Immerse yourself in the charming Margate Harbour Arm, an iconic location with stunning panoramic views of the Thanet coastline. Experience its lively atmosphere with artists' studios, a lighthouse and the remarkable Shell Grotto. Don't miss the famous Anthony Gormley sculpture that stands guard here. Deepen your Margate experience with a short walk to the Turner Contemporary Gallery, which features contemporary and historic art.

Insider tip: Grab a bite to eat and enjoy live music at the Lighthouse Bar. Discover the irresistible charm of Margate, a world just a walk away!

Margate Harbour Arm
Harbour Arm, Margate

Monday - Thursday: 12:00 – 10:00 PM
Friday - Saturday: 12:00 – 11:00 PM
Sunday: 12:00 – 9:30 PM
10. Margate Main Sands
Experience the magnetic pull of Margate Main Sands, an award-winning, radiant beach famous for its soft, golden sands and sparkling blue waters. It's not just a beach, but also a fusion of art, culture and history with the Turner Contemporary Gallery nearby. Don't miss the Victorian tidal pool for a swim. Don't forget to cross the old Dreamland amusement park off your must-visit list. Enjoy a breathtaking sunset over the harbor, a sight that once inspired the great artist J.M.W. Turner and made the place a rhapsody of nature's colors.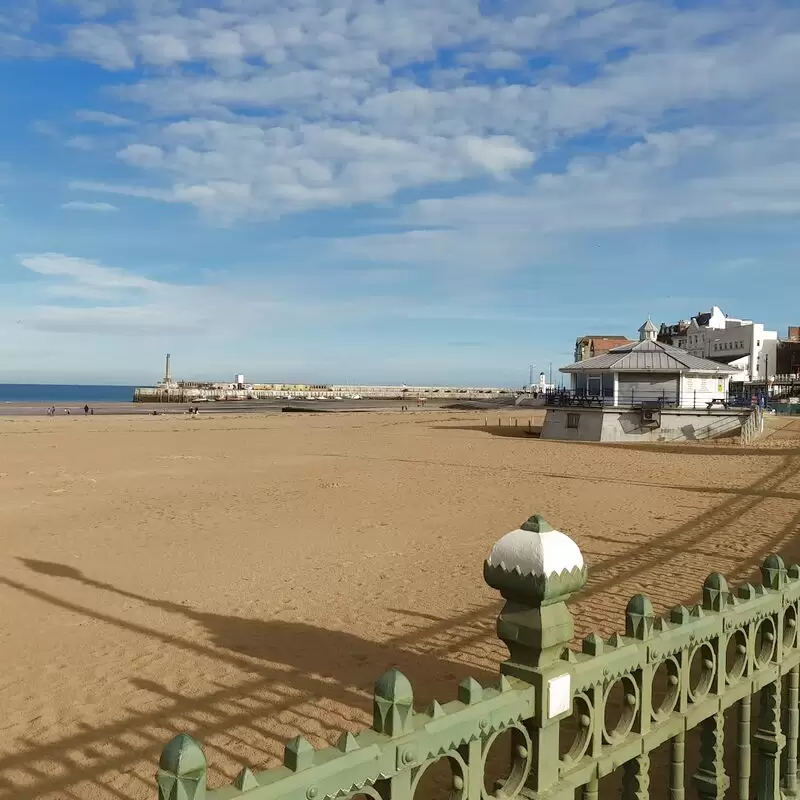 Margate Main Sands
Droit House, Stone Pier, Margate
Monday - Sunday: Open 24 hours
11. Margate Caves
Immerse yourself in the historic mystique of Margate Caves. Unlock the secrets etched into the cave walls over thousands of years. Embark on a fascinating journey through the centuries and discover intriguing tales of smugglers, delve into the serpentines of the caves that were carved out in the 18th century. Pack a picnic and enjoy it in the cave's community garden. Don't miss the nearby Shell Grotto, where you can marvel at wall-to-wall shell mosaics - a complete underground adventure in Margate!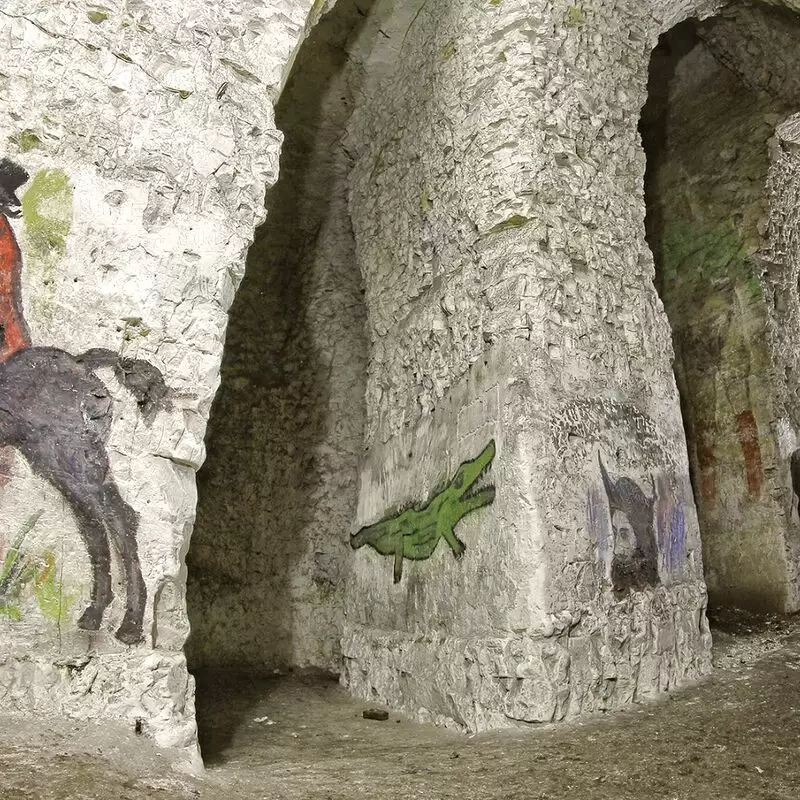 Margate Caves
1 Northdown Road, Margate
Monday - Sunday: 10:00 AM – 5:00 PM
12. The Old Kent Market
Visit the Old Kent Market, a charmingly renovated movie theater that is now a lively hub of independent merchants. Indulge in artisan foods, browse handmade jewelry, or enjoy a coffee while listening to live local music. The stunning Turner Contemporary Art Gallery and Margate's sandy beach are just a stone's throw away. Don't forget to take a selfie in the infamous red phone booth - a quirk much appreciated by visitors!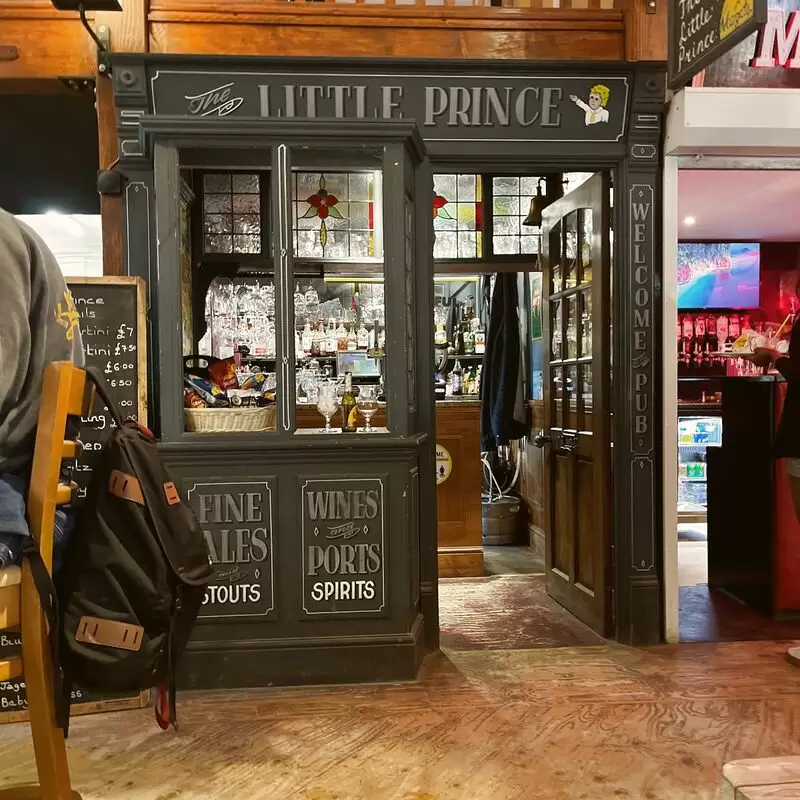 The Old Kent Market
8 Fort Hill, Margate
Monday - Sunday: 10:00 AM – 8:00 PM
13. Westbrook Bay
Westbrook Bay in Margate, United Kingdom, is an unmissable golden sandy beach with colorful Victorian beach huts. From here you have a breathtaking view of the sea, which deepens even more as the sun sets. The beachfront is an ideal place for leisurely strolls or invigorating jogs. Hints of a local secret - the bay insists on trying their delicious "Rossi's Ices". Plus, tranquil Westbrook Bay is just a stone's throw from the lively Margate Main Sands.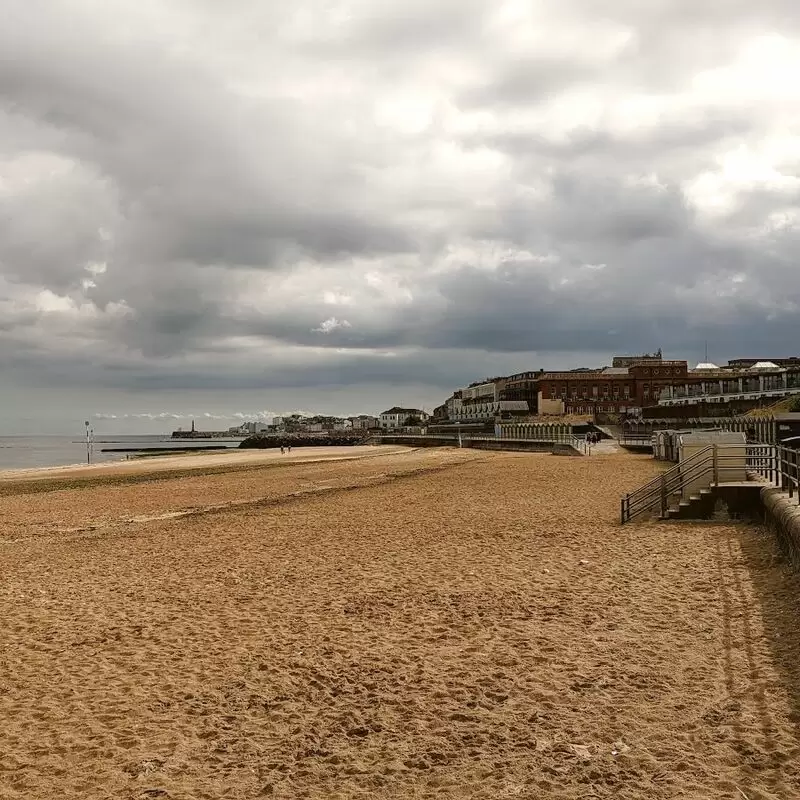 Westbrook Bay
12 Royal Esplanade, Westbrook, Margate
Monday - Sunday: Open 24 hours
Best Time to Visit Margate
The best time to visit Margate, United Kingdom, is between late spring and early fall, from May to September, when the weather is warm and pleasant and you can fully enjoy the city's beaches, outdoor events and vibrant arts scene.
Annual Weather in Margate
Margate 3-Day Forecast
Tue, 26 September
Night
62 °F
17 °C
0%
Morning
63 °F
17 °C
79%
Afternoon
67 °F
19 °C
68%
Evening
64 °F
18 °C
0%
Wed, 27 September
Night
61 °F
16 °C
0%
Morning
61 °F
16 °C
0%
Afternoon
65 °F
18 °C
0%
Evening
67 °F
19 °C
67%
Thu, 28 September
Night
59 °F
15 °C
0%
Morning
57 °F
14 °C
66%
Afternoon
63 °F
17 °C
50%
Evening
66 °F
19 °C
76%
Questions & Answers

How do I get to Margate from London?

To travel from London to Margate, take a Southeastern train from St. Pancras International station, which offers a direct connection to Margate. The journey usually takes about 1.5 hours. Alternatively, you can also travel by car. Head southeast on the M2 and follow the signs to Margate on the A299. The distance between London and Margate is about 75 miles and usually takes about 2 hours.

Are there direct trains available to Margate?

Yes, Margate is well connected to the UK rail network and you can take direct trains to Margate from various parts of the UK. Southeastern's high-speed trains from London St. Pancras International take about 90 minutes. There are other direct services from London's Victoria and Charing Cross stations. These direct trains ensure easy access to this iconic city by the sea. This seamless connection makes Margate easy to reach for both short trips and longer stays.

Is public transportation accessible in Margate?

Yes, public transport in Margate is easily accessible. The town has a well-developed bus network that connects it with other towns in Kent. There is also a centrally located train station with regular train services to London and other parts of the UK. Cabs are also readily available. For those wishing to explore the coast, there are numerous opportunities for leisurely bike rides and walks.

Can I find vegan or vegetarian food in Margate?

Absolutely! There are a number of places in Margate that offer vegan and vegetarian dishes. The Grain Grocer is very popular for its organic vegan dishes, while The Bus Cafe serves a delicious selection of vegetarian and vegan dishes. Elsewhere, you can enjoy vegan and vegetarian options at Fort's Cafe in Cliftonville. Vegan visitors can also try the plant-based dishes at Proper Coffee House. Vegetarian and vegan cuisine in Margate features fresh and local ingredients.

Is Margate a family-friendly place?

Margate is definitely very family friendly. There are gorgeous sandy beaches in the city where your family can enjoy traditional beach fun. And then there's Dreamland, an old amusement park that has been popular with families for generations. Younger kids will love the Shell Grotto, an underground maze filled with millions of shells. The Turner Contemporary art gallery offers interactive exhibits that kids can participate in, and there are plenty of family-friendly restaurants in the area.

Is Margate safe for solo travelers?

Margate, United Kingdom, is generally a safe destination for solo travelers. Like many other destinations, it has a low crime rate and the locals are generally helpful and hospitable. Regular safety precautions, such as being aware of your surroundings, not openly displaying valuable items, and returning to your accommodation before it is too late, should be followed. Emergency services are readily available, further ensuring the safety of travelers.

Does Margate have a nightlife?

Yes, Margate has a lively nightlife. There are several pubs, cocktail bars and clubs here where locals and visitors can enjoy a variety of music, drinks and events. The city's nightlife also features live performances, from local bands to theater shows. Despite its small size, Margate's vibrant and diverse nightlife is sure to provide entertainment for a variety of preferences.

Is there a local specialty dish I should try?

When in Margate, you must try the traditional English dish of fish and chips. This is freshly caught fish, usually cod or haddock, which is breaded and deep fried until crispy and golden brown and served with hand-cut fries. It tastes best with peas and a pinch of salt and vinegar. Many stores on Margate beach serve this dish with a fantastic view of the coast.

Can I get by in Margate with English?

Absolutely, English is the main language spoken in Margate, United Kingdom. You will have no problems communicating in English during your stay. Whether eating at restaurants, shopping, visiting museums, or using public transportation, most of the locals you will interact with will speak English, making for a smooth travel experience.

Are there accessible facilities for people with disabilities?

Yes, Margate is easily accessible for people with disabilities. Major attractions such as the Turner Contemporary Art Gallery and Dreamland amusement park are wheelchair accessible and have disabled toilets. Many local accommodations, restaurants, and stores also offer appropriate facilities. Public transportation such as buses and trains are equipped with special facilities for people with mobility issues. Always inquire in advance if the facilities are handicapped accessible.

Is there a beach I can visit in Margate?

Yes, Margate is known for Margate Main Sands, an award-winning sandy beach in the center of the busy boardwalk. The beach offers beautiful views, clear waters for swimming and traditional seaside amenities. It is a popular spot for locals and visitors to soak up the sun, build sandcastles and enjoy water sports. A walk along the boardwalk with its numerous cafes and restaurants is an ideal place for a day at the beach.

How's the seafood in Margate?

Margate is a traditional seaside town known for its fresh and excellent seafood. Restaurants in the area offer a variety of delicious dishes, locally sourced from the catch of the day. The town's specialty is oysters, but other tasty dishes, from traditional fish and chips to exquisite gourmet meals, are also available here. Locals and visitors alike appreciate the quality and freshness of Margate's seafood.

Can I bike around Margate?

Absolutely! Margate, United Kingdom, is bike-friendly, offering both dedicated bike paths and scenic beach routes. Popular tours include exploring the town's lively streets or riding the Viking Coastal Trail to explore the stunning coastline, open countryside and historic villages. Most parts of Margate are fairly flat, making it a pleasant and leisurely way to explore the sights by bicycle. There is a bike rental service in town if you don't want to bring your own bike.

Are there direct flights to Margate from abroad?

Margate, located in the southeast of the United Kingdom, unfortunately does not have its own international airport for direct flights from abroad. However, it is easily accessible from major international airports. The closest ones are London Gatwick and London Heathrow. From these airports, visitors can reach Margate by train, bus or car. Alternatively, you can fly into London Southend or Manston airports, which are closer to Margate but have fewer international connections.

Is there an airport in Margate?

Margate itself does not have an airport, but it is close to several. The most accessible are the London airports: Heathrow, Gatwick and London City, all easily reached by car or train. Nearby is Manston, a former international airport, but it does not currently offer commercial flights. Kent International Airport is another nearby alternative, but it too is not currently open for commercial flights. For domestic flights, London Southend Airport is a good option, about an hour away by car.

How do I use the local bus system?

Using the local bus system in Margate is easy. Route information and timetables can be found at local bus stops, with many routes running regularly throughout the day. You can pay for your ride directly to the bus driver, using both cash and card. You can also invest in a day pass for unlimited rides. If you have a smartphone, I recommend downloading the local bus app to plan your routes and get real-time updates.

What is the average cost of dining in Margate?

The cost of a meal in Margate can vary depending on the type of cuisine and restaurant you choose. On average, a meal at a budget restaurant will cost around £10 - £15 per person. A three-course meal at a mid-range restaurant will usually cost between £20 and £40 per person. Drinks and desserts will be charged extra. Please note that these are only average prices and may vary.

Will I need to tip for services in Margate?

Tipping is not mandatory in Margate, United Kingdom. Providers of services such as restaurants, cabs and hairdressers often include a service charge in your bill. If no service charge is included, it is usually at your discretion to tip. It is common to tip about 10-15% of the bill amount for outstanding service. Remember that tipping is always welcome, but not expected.

Are there any traditional festivals in Margate?

Yes, Margate celebrates several traditional festivals throughout the year. One of the most famous is the charming "Margate Meltdown", an annual motorcycle event and fair. Another is the "Margate Jazz Festival", a celebration of music that attracts internationally known artists. "Margate Pride" is a lively celebration of the local LGBTQ+ community with parades, music and parties. Each event brings its own energy and character to the city by the sea.

Is Margate LGBTQ+ friendly?

Yes, Margate is a popular LGBTQ+ friendly destination in the UK. The city embraces diversity and inclusion, creating an open and welcoming atmosphere for all. The city hosts an annual Pride event, and the nightlife offers numerous gay bars and clubs. Margate is home to the renowned Turner Contemporary gallery, which celebrates diverse art and artists. From the cultural activities to the social scenes, Margate offers everyone the opportunity to enjoy their stay with comfort and freedom.

Is there a local market I can visit?

Yes, the Margate Old Town Market is a must-see for any traveler. Located in the heart of the Old Town, it offers an abundance of local goods, vintage items, clothing and fresh food. The market is a charming mix of artisan vendors and small, quirky boutiques. It's the perfect place to find unique souvenirs or just enjoy some local color and browse the daily treasures.

What is Margate famous for?

Margate, a charming coastal town in the United Kingdom, is known for its sandy beaches that offer a quintessentially British seaside experience. The town is also famous for the Dreamland amusement park with historic rides and the Turner Contemporary gallery, which displays great works of contemporary art. Margate's Shell Grotto, an elaborate underground passageway decorated with shells, adds an air of mystery and fascination to this coastal gem.

Are the locals in Margate welcoming to tourists?

Yes, Margate has a diverse community that is generally very welcoming and friendly to tourists. People here value the role of tourism in their economy and are generally open, friendly and willing to share their local culture and heritage. Whether you're in stores, restaurants, galleries or strolling along the seafront, you can expect to meet warm, engaging locals who are ready to offer advice and assistance when needed.

How good is the shopping in Margate?

Margate offers a wide range of unique shopping experiences, from the traditional high street with its independent boutiques to the classic seaside gift stores. Visitors will be fascinated by the vintage and retro stores in the charming Old Town. The Turner Contemporary also houses a fantastic store with local arts and crafts. Shopping in Margate gives you the opportunity to discover locally made products, unique crafts, antiques and retro items - a treasure trove for those looking for something special.

Are there any nature walks in Margate?

Yes, Margate is home to the Viking Coastal Trail. It's a stunning 32-mile circular walk that offers panoramic views of the coast and passes through the villages of Broadstairs and Ramsgate. The section on the cliffs between Margate and Broadstairs offers some of the most spectacular views of the English Channel. The route is mostly flat and well signposted and suitable for all ages. You can enjoy the beauty of Margate's natural landscapes combined with the exciting history of the town.

Feedback

I hope you found this article informative and helpful. I'm eager to improve the content and make it even more valuable for you. If you have any feedback or suggestions, I would love to hear from you.

Do you have any tips or hidden gems that you think should be added to the list? Are there any areas that you feel could use more explanation or clarification?

Your input is greatly appreciated and will help us to continue providing high-quality content that meets your needs and interests. Please feel free to share your thoughts.