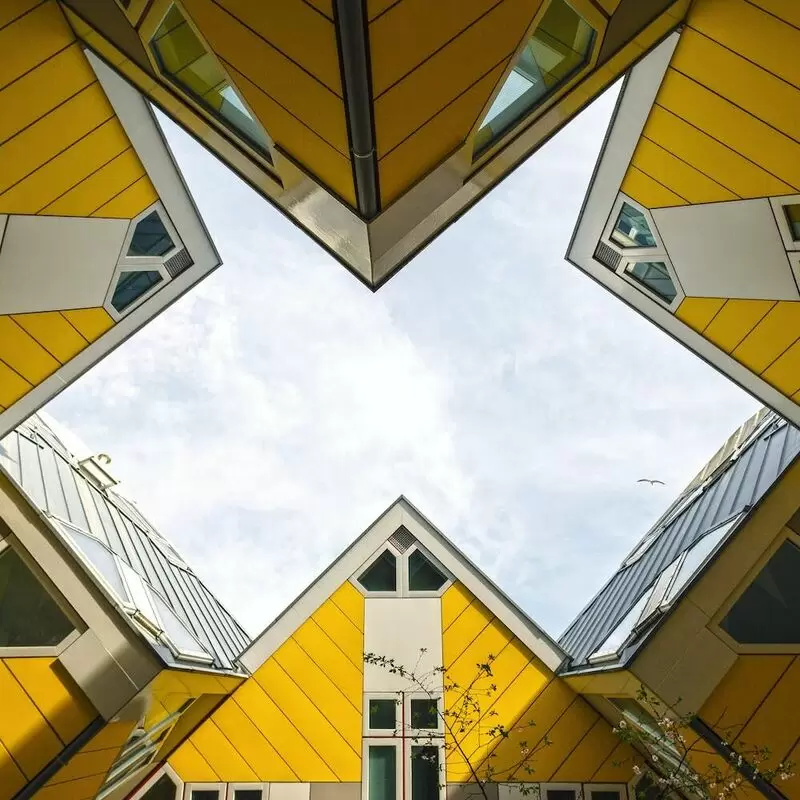 1. Rotterdam Zoo
Discover the wild wonders of the world in the heart of the city at Rotterdam Zoo. The zoo houses more than 2,000 animals from 200 species, from African lions to Humboldt penguins. The unique feature of the zoo is the Oceanium, an underwater course that shows life in the sea. It's a breathtaking experience that you won't want to miss! After your visit to the zoo, the famous Euromast with its panoramic view of the city is just a short streetcar ride away.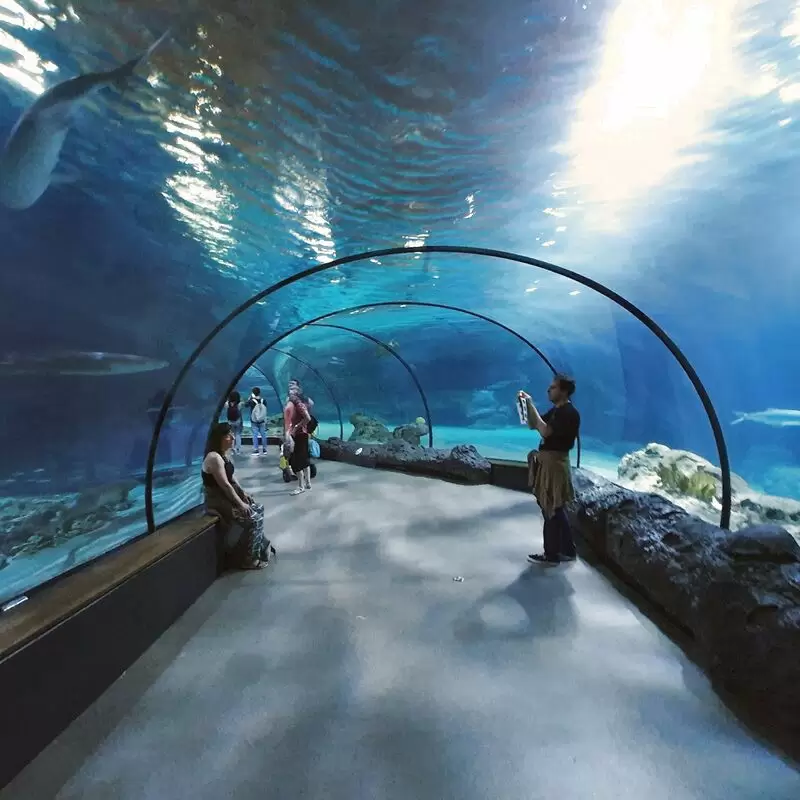 Rotterdam Zoo
Blijdorplaan 8, 3041 JG Rotterdam
Monday - Sunday: 9:00 AM – 6:00 PM
2. Markthal
Experience Rotterdam's culinary paradise at the Markthal, an architectural marvel and the Netherlands' first indoor market. With over 100 stalls offering delicacies from around the world, it's a foodie's paradise. The imposing ceiling with its colorful "Horn of Plenty" mural adds an artistic touch. Just a stone's throw away, you can also explore the iconic Cube Houses, which will also make your gastronomic journey an architectural adventure.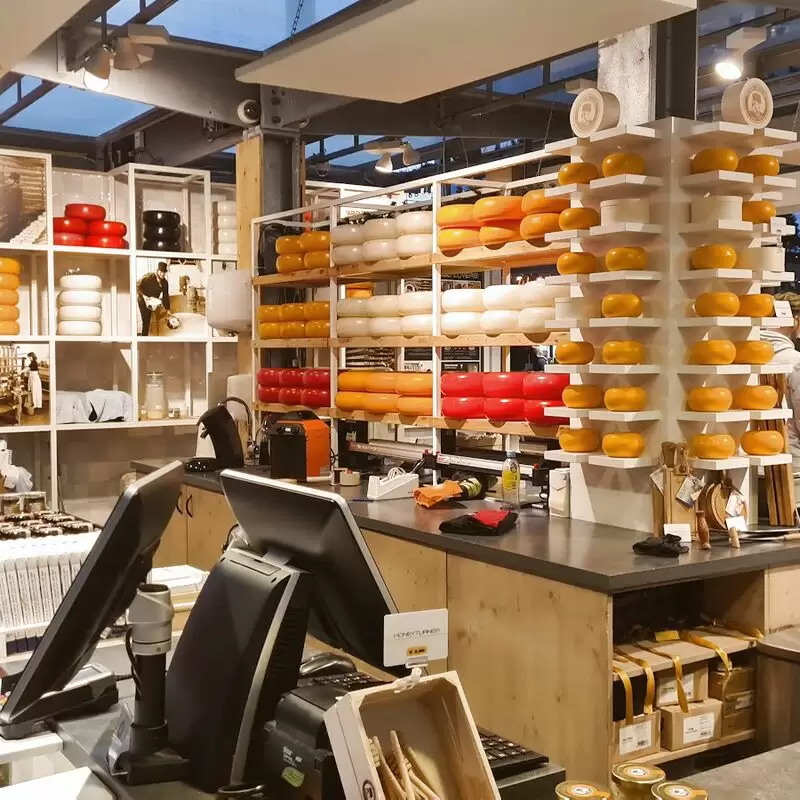 Markthal
Dominee Jan Scharpstraat 298, 3011 GZ Rotterdam
Monday - Saturday: 10:00 AM – 8:00 PM
Friday: 10:00 AM – 9:00 PM
Sunday: 12:00 – 6:00 PM
3. Cube Houses
The impressive "cube houses" in Rotterdam are a must-see! Avant-garde architectural marvels, these strange, quirky cubes offer a glimpse into innovative Dutch design. The Kijk Cube, a fully furnished museum house, is a real experience. And don't forget a well-kept secret: a cube is a quirky hostel. Just a short walk away, you can immerse yourself in the bustling life of the city at Markthal, famous for its lively food stalls and beautiful ceiling paintings.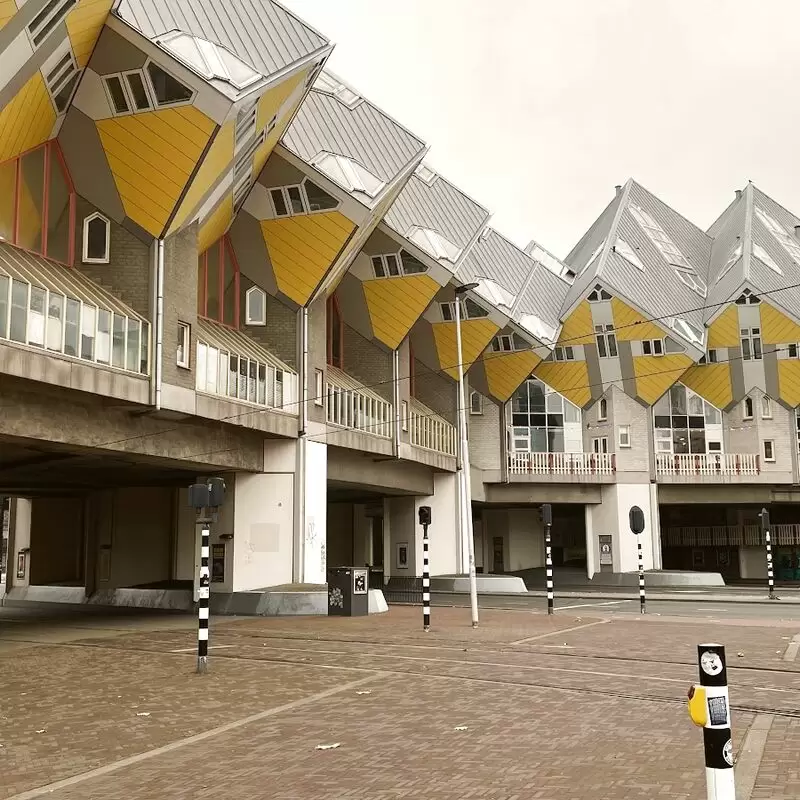 Cube Houses
Overblaak 70, 3011 MH Rotterdam
Monday - Sunday: 11:00 AM – 5:00 PM
4. Erasmusbrug
The iconic Erasmus Bridge, affectionately known as "The Swan" for its elegant design, exerts a magnetic pull. Overlooking the breathtaking Meuse River, the bridge beautifully illuminates the skyline at night. A must-see is the walkway on the bridge, which offers sweeping views of Rotterdam's vibrant cityscape. Nearby, you can explore the unique architecture of De Rotterdam and Cruise Terminal Rotterdam, which add different architectural styles to your trip.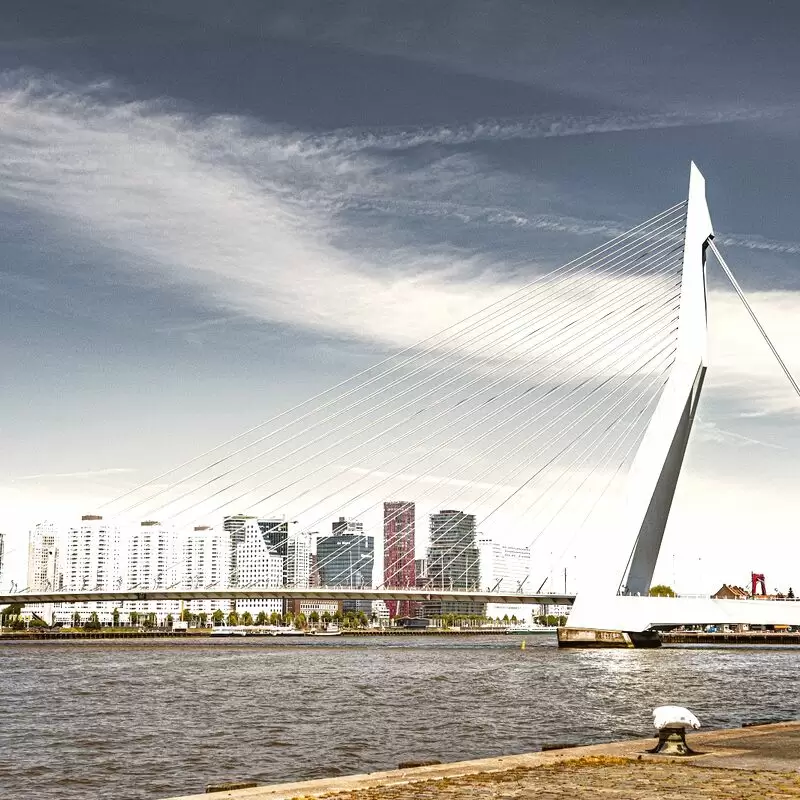 Erasmusbrug
Erasmusbrug, 3011 BN Rotterdam
5. Euromast
A visit to the Euromast in Rotterdam is a unique experience that you should not miss. It is the tallest watchtower in the Netherlands and offers a breathtaking 360-degree view of the entire city and port, making your trip an unforgettable visual experience. Be sure to visit the topmost Euroscoop at 185 meters. Adrenaline junkies can enjoy rappelling and ziplining. Just a short walk away, the tranquil Parkhaven invites you for a peaceful picnic.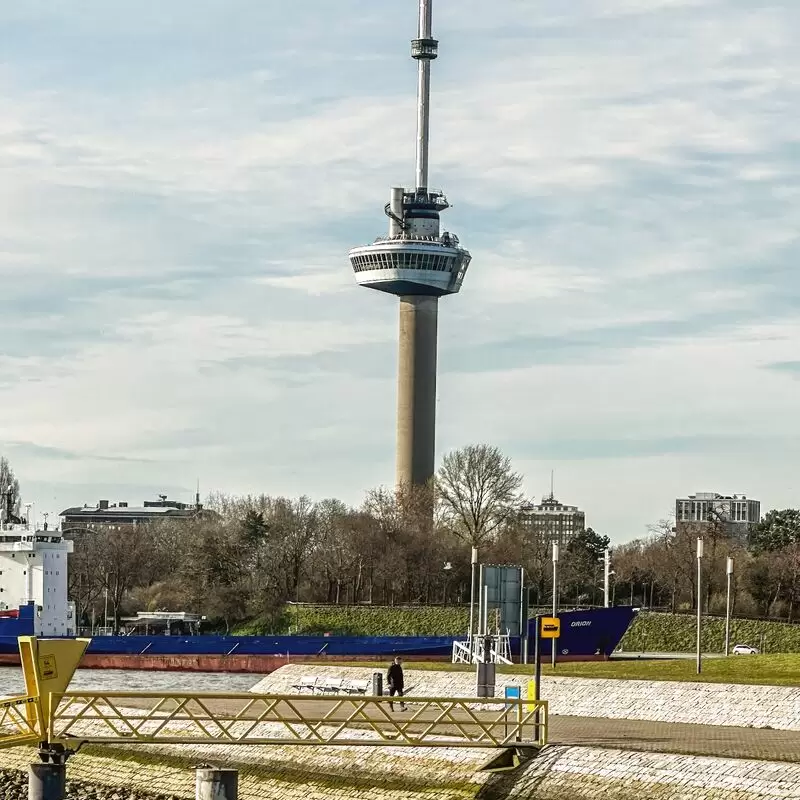 Euromast
Parkhaven 20, 3016 GM Rotterdam
Monday - Sunday: 9:30 AM – 10:00 PM
6. Kunsthal Rotterdam

Embark on a diverse journey of discovery through Kunsthal Rotterdam, a contemporary art space that offers groundbreaking, genre-bending exhibitions. With five different galleries and 20 exhibitions per year, no two visits are ever the same. Be sure to visit De Kunsthal Café, which overlooks the park. Don't miss the iconic Erasmus Bridge, just a 10-minute walk away.

Insider tip: Take your ticket with you to get discounted admission at the nearby Natural History Museum.

Kunsthal Rotterdam
Museumpark, Westzeedijk 341, 3015 AA Rotterdam

Monday: Closed
Tuesday - Sunday: 10:00 AM – 5:00 PM
7. Het Park

Het Park in Rotterdam is the ultimate urban oasis! This sprawling green space near the famous Euromast is filled with winding paths, timeless sculptures, elegant old trees, and seasonal flowers that create a picturesque retreat.

An insider tip: don't miss the Norwegian Seafarers' Monument, a reminder of centuries of maritime tradition. Just a short walk away is the lively historic district of Delfshaven. Here you can admire picturesque canals and historic buildings. A true jewel of Rotterdam that must be seen!

Het Park
Baden Powelllaan 2, 3016 GJ Rotterdam

Monday - Sunday: Open 24 hours
8. Museum Boijmans Van Beuningen
The Museum Boijmans Van Beuningen is a treasure chest of art, a must-see for any art lover. With an unparalleled collection of masterpieces from Bosch to Van Gogh and Dali to Dutch design, it offers a journey through time. Stroll through the building's fascinating architecture and catch a glimpse of the contemporary and future art world. Enjoy first-class art without the queues of the big city galleries. Right next door is Het Nieuwe Instituut, a playground for architecture and design lovers. Enjoy Dutch creativity at its best!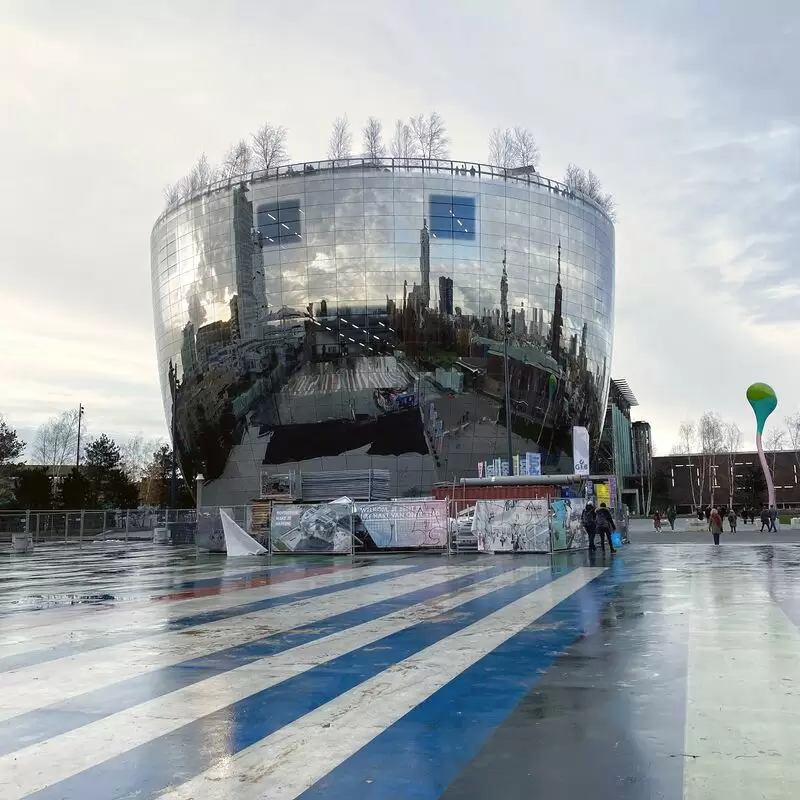 Museum Boijmans Van Beuningen
Museumpark 18, 3015 CX Rotterdam
Monday: Closed
Tuesday - Sunday: 9:00 AM – 5:00 PM
9. S.S. Rotterdam

Immerse yourself in maritime history by visiting the "S.S. Rotterdam", a legendary ship now converted into a hotel/restaurant. You can explore the fascinating captain's deck, historic engine rooms and luxurious accommodations.

Insider tip: Enjoy a drink at the Ocean Bar for a unique experience. Not far away you will also find Maasvlakte 2, one of the largest seaports in the world, an equally fascinating masterpiece of modern engineering.

S.S. Rotterdam
3e Katendrechtse Hoofd 25, 3072 AM Rotterdam

Monday - Sunday: Open 24 hours
10. Miniworld Rotterdam
Immerse yourself in a magical journey at Miniworld Rotterdam, a fascinating miniature park that faithfully recreates the cityscape of Rotterdam and its surroundings. With its lively harbors, animated characters, day-to-night lighting effects and trains that actually run on schedule, you can experience the vibrant life of the city in unprecedented detail. The iconic cube houses and the market hall are just a short walk away, immersing you even deeper in Rotterdam's unique architectural flair.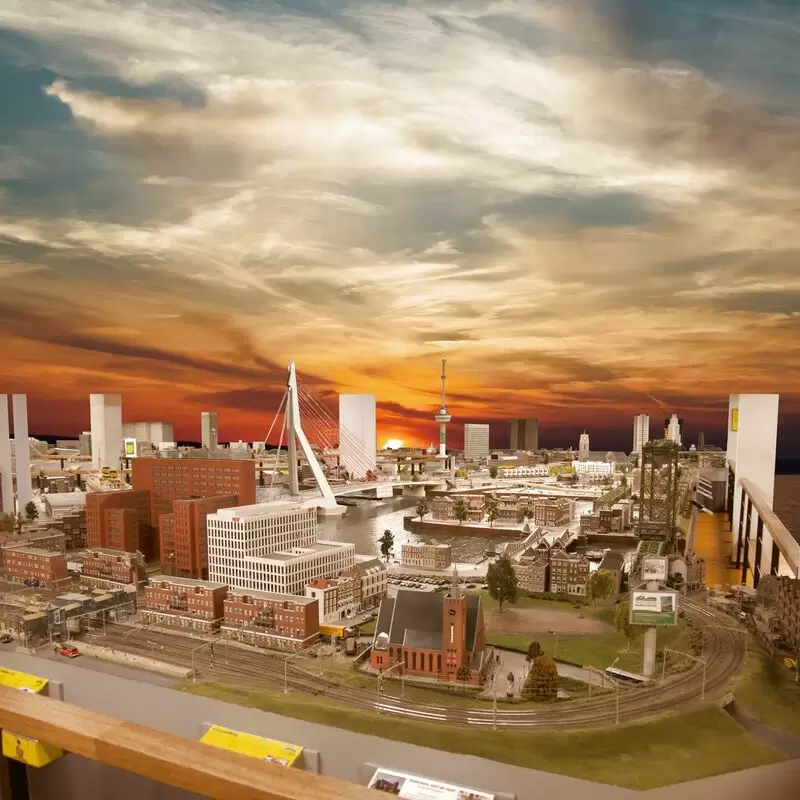 Miniworld Rotterdam
Weena 745, 3013 AL Rotterdam
Monday - Sunday: 10:00 AM – 5:00 PM
Friday: 12:00 – 5:00 PM
11. Maritime Museum
The Maritime Museum in Rotterdam is an exciting journey into the world history of shipping and shows the maritime past and present of the city with its large collection of historic ships. There are even interesting, interactive exhibits for children. Plus, the Erasmus Bridge is just a short walk away, so it's in a prime location! Don't miss the captivating outdoor area of the Leuvehaven, where historic ships dominate the view.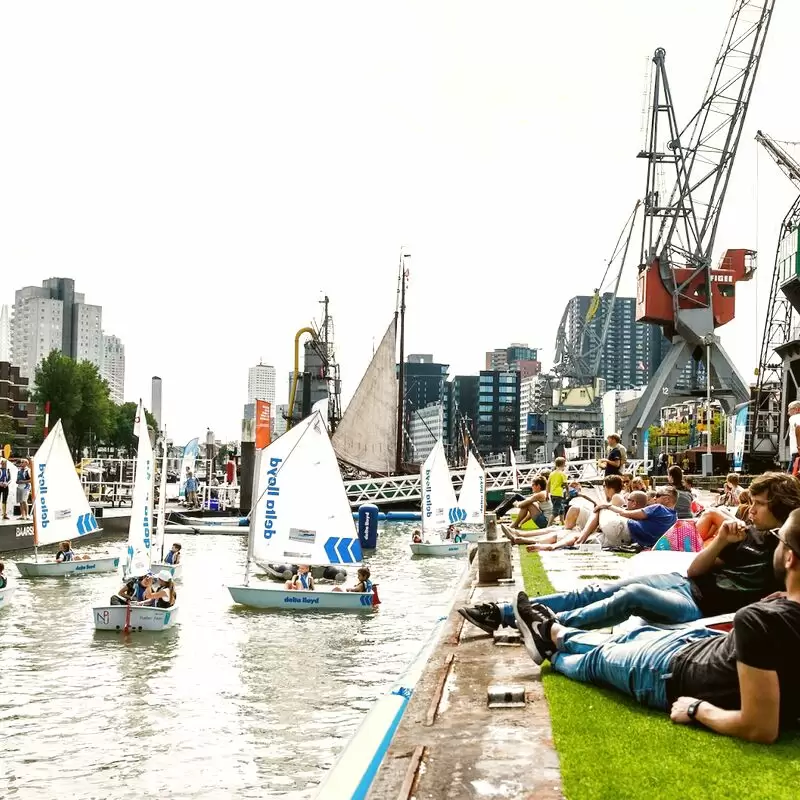 Maritime Museum
Leuvehaven 1, 3011 EA Rotterdam
Monday: Closed
Tuesday - Saturday: 10:00 AM – 5:00 PM
Sunday: 11:00 AM – 5:00 PM
12. St. Lawrence Church
A visit to St. Laurens Church, also known as Grote of Sint-Laurenskerk, is like a trip into Rotterdam's history. This late Gothic basilica is the oldest surviving building in the city (circa 1449). Note the famous historic organ, one of the largest in the country. Climb the church tower for a 360° view of Rotterdam. Nearby are the bustling Markthal and Cube houses, a lively, modern contrast to the splendor of St. Lawrence Church. An absolute must-see!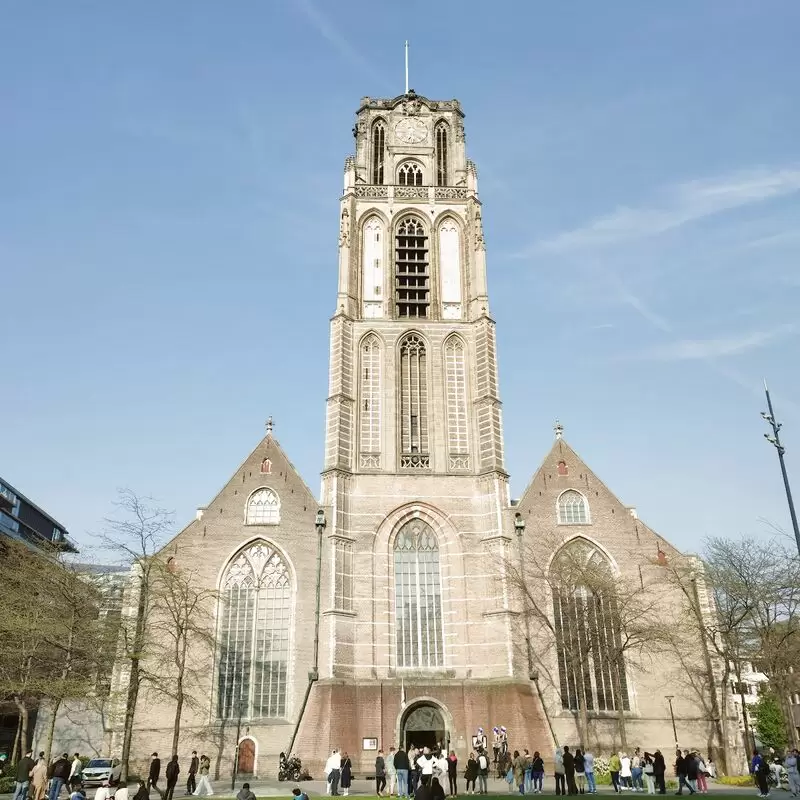 St. Lawrence Church
Grotekerkplein 27, 3011 GC Rotterdam
Monday - Sunday: Closed
Tuesday - Saturday: 10:00 AM – 5:00 PM
13. Havenrondvaart Spido Rotterdam
Havenrondvaart Spido Rotterdam offers a unique view of the vibrant and bustling port city. On their boat tours, you can explore the impressive industrial landscape, historic harbors, esteemed architecture and unique bridges. The city is a living tapestry of maritime splendor. Not to mention that just a walk away stands the towering Euromast, from which you can enjoy an eagle's eye view of the city. That's two unique perspectives of this diverse Dutch city at once!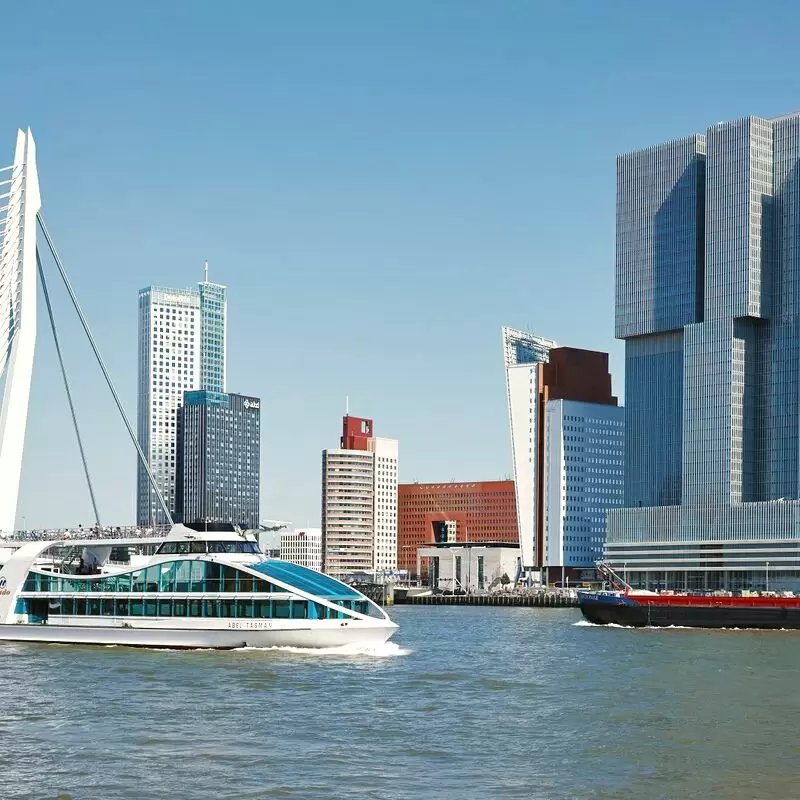 Havenrondvaart Spido Rotterdam
3016 DR Rotterdam
14. Rotterdam
A visit to Rotterdam is a fascinating journey into the world of avant-garde architecture. Explore the impressive variety of cutting-edge designs, such as the cube houses or the Erasmus Bridge. Be sure to stroll the bustling Markthal, where the painted ceilings are almost as fascinating as the artisanal foods on offer. Just a stone's throw away is the Maritime Museum harbor, a testament to Rotterdam's rich past as a maritime city. Don't forget to take the water bus to Kinderdijk to see the famous Dutch windmills in action.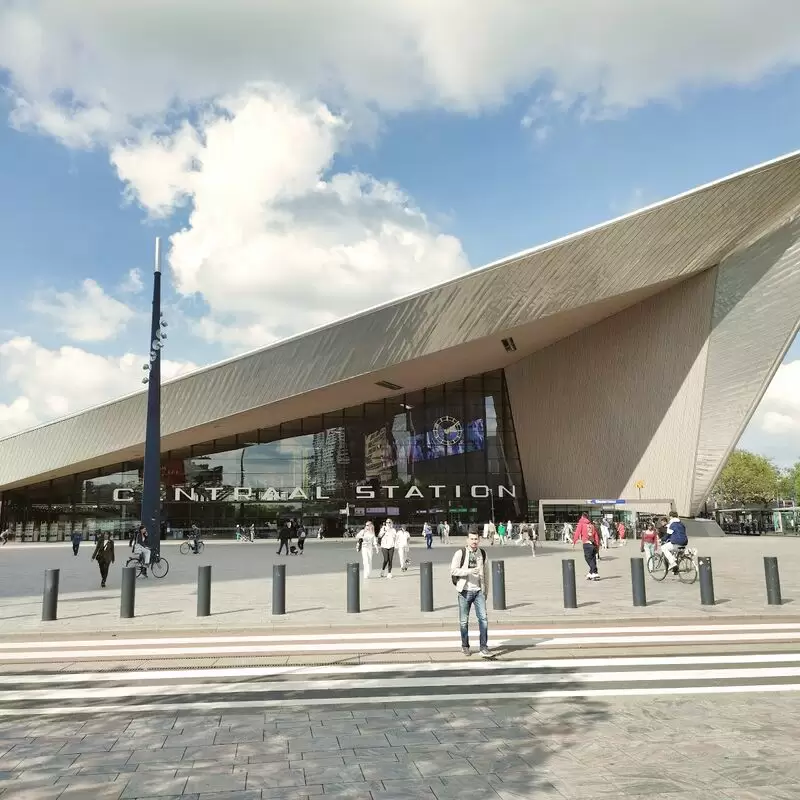 Rotterdam
3013 AJ Rotterdam
15. The Rotterdam

Visit "The Rotterdam", a unique marvel of contemporary architecture. It consists of three interconnected towers and is the largest building in the Netherlands. Don't miss the panoramic view of the city from the observation deck on the 44th floor.

An insider tip: Just a stone's throw away is the vibrant Wilhelminapier, with the Nederlands Fotomuseum and the LantarenVenster cinema for art lovers. And of course, you can indulge your taste buds at a waterfront café just steps away.

The Rotterdam
Wilhelminakade 139, 3072 AP Rotterdam
16. Wereldmuseum
The Wereldmuseum in the heart of Rotterdam offers a unique global cultural experience. Discover the rich diversity of our world in captivating exhibitions showcasing art and artifacts from far-flung corners. In keeping with the world traveler ethos, the on-site restaurant offers exquisite international cuisine. Local tip: Don't miss the fascinating Tibet exhibition! The Kunsthal Museum of Art is just a short walk away for a cultural double-header. Discover the beauty of our interconnected world at the Wereldmuseum!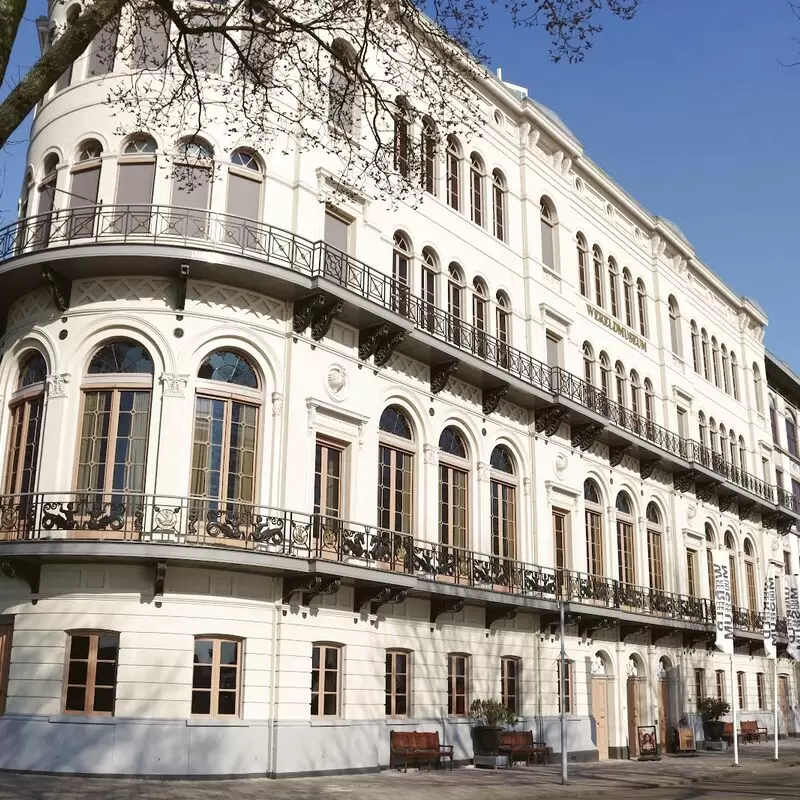 Wereldmuseum
Willemskade 25, 3016 DM Rotterdam
Monday: Closed
Tuesday - Friday: 10:00 AM – 5:00 PM
Saturday - Sunday: 11:00 AM – 5:00 PM
17. Witte Huis
Visit "Het Witte Huis", a true architectural jewel in Rotterdam. Marvel at Europe's first skyscraper, built in 1898, which impresses with its unique blend of Art Nouveau and American architecture. Marvel at the 45-meter-high building from its charming terrace café. A hidden gem - nearby is Markthal's sea of flowers. Just steps away, you can take a historic cruise from the old harbor, the Oude Haven, with its monumental ships.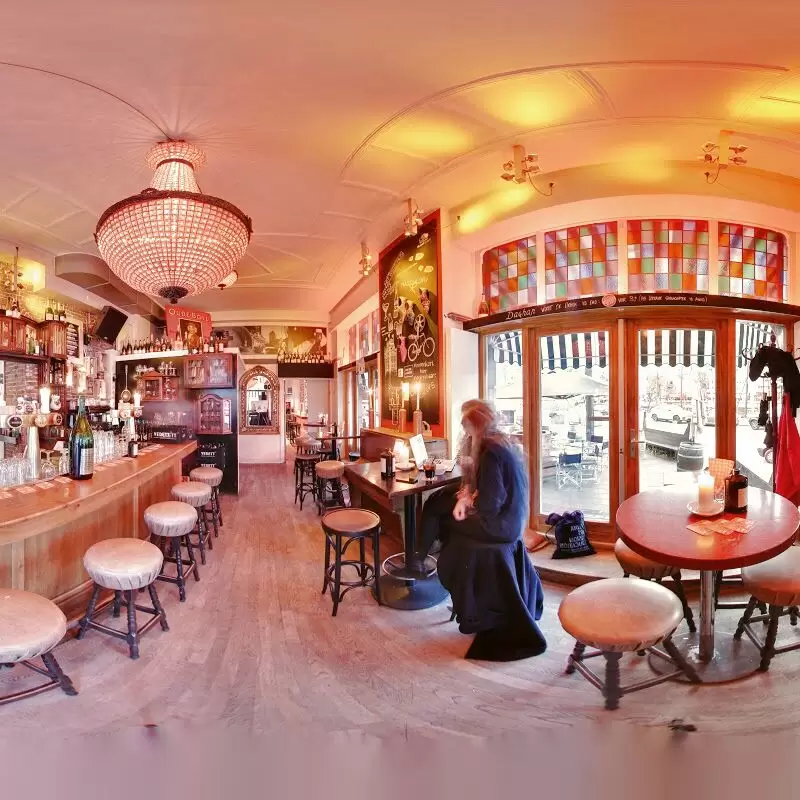 Witte Huis
Geldersekade 1C, 3011 WB Rotterdam
Monday - Sunday: Closed
Tuesday - Thursday: 12:00 PM – 1:00 AM
Friday: 12:00 PM – 4:00 AM
Saturday: 3:00 PM – 12:00 AM
18. Dutch Pinball Museum
The Dutch Pinball Museum is an absolute treat in the heart of Rotterdam, offering both nostalgia and entertainment. It is not just a museum, but here you can experience the history of pinball with equipment from around 1900 until today. It's even louder here than in a casino, so you get an authentic pinball experience. It's also right next to the impressive Fenix Food Factory, a trendy indoor market that offers artisan foods - perfect for grabbing a bite to eat after your captivating pinball adventure.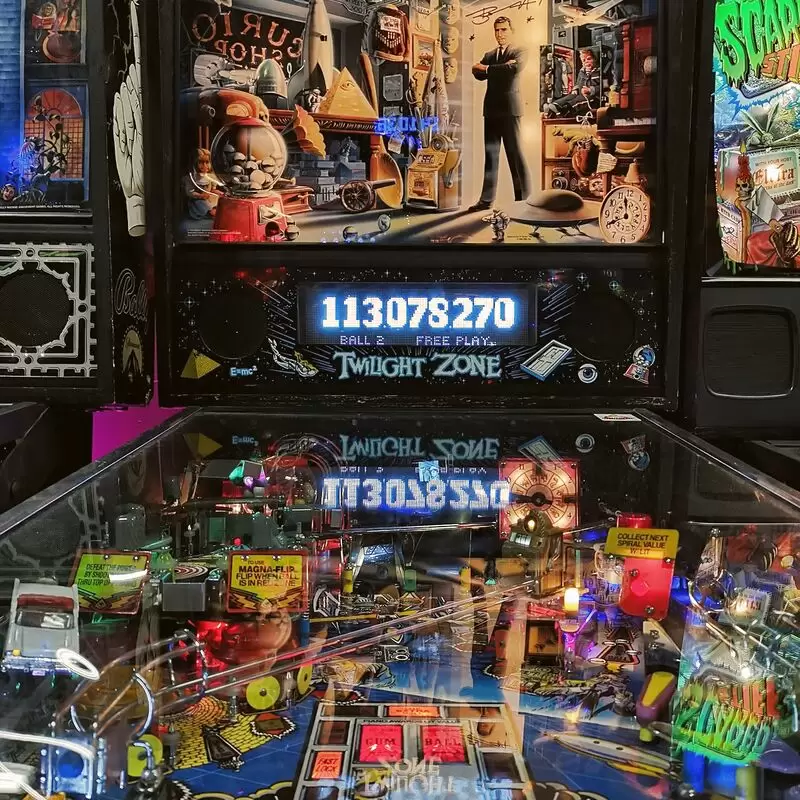 Dutch Pinball Museum
Voorhaven 12, 3024 RM Rotterdam
Monday - Friday: Closed
Wednesday: 12:00 – 5:00 PM
Saturday - Sunday: 11:50 AM – 6:10 PM
19. Natural History Museum Rotterdam
The Natural History Museum Rotterdam is an absolute must for nature and science enthusiasts. With a massive collection of over 400,000 zoological specimens, it takes its visitors on a fascinating journey through biodiversity. Don't miss the unique wall of 870 stuffed birds hung at eye level! Located near the museum district, you're just a stone's throw from other cultural attractions like the Kunsthal and the Museum Boijmans Van Beuningen.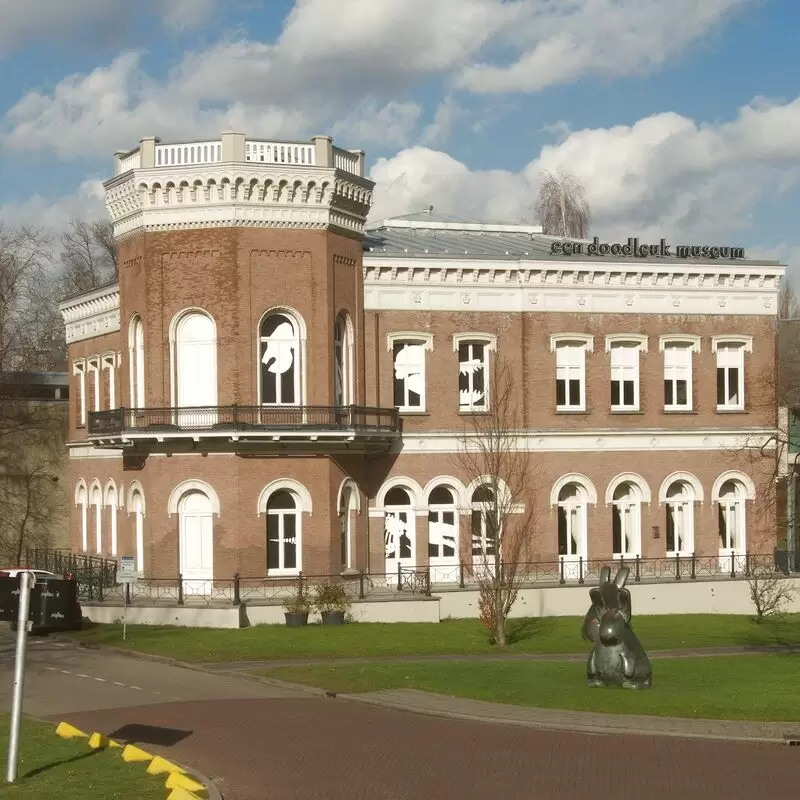 Natural History Museum Rotterdam
Westzeedijk 345, 3015 AA Rotterdam
Monday - Sunday: 11:00 AM – 5:00 PM
Best Time to Visit Rotterdam
The best time to visit Rotterdam is from April to October. During these months the weather is usually mild and pleasant, ideal for exploring the city's outdoor attractions and attending various festivals and events. However, keep in mind that July and August are also the busiest months for tourism.
Annual Weather in Rotterdam
Rotterdam 3-Day Forecast
Tue, 26 September
Night
62 °F
17 °C
0%
Morning
61 °F
16 °C
0%
Afternoon
69 °F
21 °C
0%
Evening
67 °F
19 °C
0%
Wed, 27 September
Night
61 °F
16 °C
0%
Morning
59 °F
15 °C
0%
Afternoon
70 °F
21 °C
0%
Evening
71 °F
22 °C
0%
Thu, 28 September
Night
68 °F
20 °C
78%
Morning
61 °F
16 °C
82%
Afternoon
59 °F
15 °C
61%
Evening
67 °F
20 °C
58%
Questions & Answers

What is the local language spoken in Rotterdam?

The local language spoken in Rotterdam is Dutch. However, since the city symbolizes a melting pot of cultures from all over the world, many other languages are also spoken, including English, Turkish, Arabic, etc. However, Dutch is still the generally accepted lingua franca, and locals appreciate it when tourists make an effort to communicate using simple Dutch words. However, most locals, especially in the city center, are also proficient in English.

What is the most common mode of transportation?

In Rotterdam, the bicycle is the most common mode of transport. The city is known for its extensive, safe and efficient network of bike paths, which encourages both citizens and tourists to ride their bikes. Rotterdam also has an excellent public transportation system with streetcars, buses and the metro. Water cabs and ferries are also a popular means of exploring the city's extensive network of canals and harbors.

Are credit cards widely accepted?

Yes, credit cards are widely accepted in Rotterdam, Netherlands. However, the preferred card is usually a Visa or MasterCard. It is important to note that some small stores, markets or cafes may only accept cash or Dutch debit cards. Also, American Express is less commonly accepted. To avoid inconvenience, it is advisable to always carry cash for small purchases or in places where credit cards are not accepted.

Can English be understood easily by locals?

Yes, English is widely understood by the locals in Rotterdam. The Netherlands has one of the highest rates of English as a second language in the world, and Rotterdam is no exception. Whether you're in stores, restaurants, museums, or train stations, you're likely to find someone who speaks English well enough to help you. However, learning a few basic Dutch phrases is always beneficial and can enhance your travel experience.

Is Rotterdam safe for tourists?

Yes, Rotterdam is generally considered safe for tourists. As in any major city, it is advisable to take the usual safety precautions, such as being aware of your surroundings, especially at night, and keeping an eye on your belongings. The neighborhoods are safe, and the local authorities provide security through their visible presence. In addition, the people of Rotterdam are friendly and willing to help tourists when needed.

What kind of food is Rotterdam known for?

Rotterdam is known for its diverse food culture due to its multicultural population. The city is known for traditional Dutch dishes such as stroopwafels (syrup waffles) and bitterballen (meat snack), as well as international cuisines such as Indonesian, Turkish and Surinamese. Rotterdam's fish market is known for its fresh seafood, especially raw herring served with pickles and onions - a Dutch delicacy.

How is the nightlife in Rotterdam?

Nightlife in Rotterdam is lively and varied, with something for everyone. The city has a wide range of trendy clubs, cozy pubs, chic cocktail bars and lively music venues. Many of the bars and clubs are open until the early hours of the morning, so visitors can dance the night away. For those looking for something cultural, the city offers excellent late night galleries and theater performances. However you spend your evening, Rotterdam's nightlife promises a great time.

Does Rotterdam have a dress code for tourists?

In Rotterdam there is no special dress code for tourists. Visitors can wear what they like. However, it is important to consider the season and weather conditions. In winter, warm clothes are a must because of the cold temperatures, while light clothes are suitable for summer. If you are planning to visit religious sites, modest clothing is often desirable. As a city known for its fashion and design, some may choose to dress more fashionably.

Where can I find local art in Rotterdam?

In Rotterdam, you can find local art in numerous places around the city. The Museum Boijmans Van Beuningen houses an impressive collection of paintings, sculptures and designs. Witte de Withstraat, a street in the city center, is considered the cultural axis of the city and is home to numerous art galleries such as the Witte de With Center for Contemporary Art. The cityscape of Rotterdam itself is also adorned with street art and innovative architectural structures.

Are there cycling routes in the city?

Yes, Rotterdam is an excellent city for cycling. There is an extensive network of bike paths with well-marked routes. Some routes take you through the city center with its skyscrapers, through lush parks and to popular tourist spots. On others, you can explore the port areas, historic districts or quiet suburbs. Just pick up a bike at one of the many rental stations and explore the city at your own pace!

How can I interact with locals?

During your stay in Rotterdam, the best way to get in touch with locals is to visit popular meeting places like food markets or cafes. Dutch people are known for their friendly nature, but also respect their privacy. Greet people with a smile, and when you talk to them, you can discuss topics such as art, culture, or food. Learn a few basic Dutch phrases like "Hoe gaat het?" (How are you?) or "Danke je" (Thank you very much) would be beneficial.

Can I drink tap water in Rotterdam?

Yes, you can definitely drink tap water in Rotterdam. The water quality in the Netherlands is very high and even among the best in the world. It is also subject to strict quality controls. The tap water is not only safe to drink, but it also tastes good. So you can save money and reduce plastic waste by drinking tap water instead of bottled water.

Is there a city pass for tourists in Rotterdam?

Yes, Rotterdam offers a city pass for tourists, the "Rotterdam Welcome Card". This pass gives you free or reduced admission to more than 50 sights, museums and restaurants in the city. It also provides unlimited access to public transportation. It is the optimal choice for travelers who want to explore and enjoy the main sights and experiences in Rotterdam at a reduced price.

What kind of wildlife is present in Rotterdam?

Thanks to nature parks such as Zuiderpark and Het Park, Rotterdam is teeming with urban wildlife, including many common and rare birds such as herons, swans, geese and the lively parakeet. Numerous fish and waterfowl can be seen in the canals and rivers. The city's green spaces, such as the Trompenburg Arboretum, are not wilderness, but they are home to small mammals, insects and an impressive variety of plants. Turtles, frogs and newts can often be seen in the city's ponds.

Can I rent a boat in Rotterdam?

In any case, renting a boat in Rotterdam is a popular activity. The city's extensive waterways offer a unique perspective on the urban landscape. Several companies offer boat rentals, from small handboats to larger motor yachts. Some boats can be rented without a boating license. It is also possible to rent a boat with a skipper. This is a great way to explore the historic harbors and modern architecture of the city. The duration of boat rental can range from a few hours to a whole day.

Are there any famous writers or artists from Rotterdam?

Yes, indeed. Rotterdam is the birthplace of many renowned artists and writers. One prominent figure is Willem de Kooning, a world-renowned abstract expressionist artist. Another is Jules Deelder, a Dutch poet who is also known as the "night mayor" of Rotterdam because of its vibrant nightlife. In addition, Rotterdam was the early home of Pierre Bayle, a famous philosopher and writer whose provocative thoughts reshaped the European Enlightenment. The city has made a significant contribution to the world of art and literature.

Do I need to tip in restaurants?

In Rotterdam, as in the rest of the Netherlands, tipping is not obligatory but is appreciated. In restaurants, the service charge is usually included in the bill. However, if you have experienced excellent service, it is generally acceptable to tip between 5% and 10% of the total bill. For bartenders, cab drivers and hotel staff, you can also give some change if you were satisfied with the service.

What is the local beer in Rotterdam?

Rotterdam is known for its thriving craft beer scene, with local breweries like Kaapse Brouwers leading the way. Kaapse Brouwers is popular with locals and tourists alike, offering a variety of unique and experimental beers. They are known for their passionately brewed craft beers that represent the intrepid spirit of the city. From bold, dark stouts to hoppy IPAs, there's something for every beer lover to enjoy in Rotterdam.

Are there any rules or laws specific to Rotterdam that I should know?

In Rotterdam, as in the rest of the Netherlands, it is illegal to carry or consume drugs of any kind, except in licensed coffee shops. Cycling is popular, but you must obey the traffic rules and also use the bike lanes. It is also important to validate public transportation tickets to avoid fines. If you consume alcohol in public, you should do so in designated areas, as drinking in public is prohibited. Public decency laws are enforced here, so avoid urinating in public.

Does Rotterdam have a good music scene?

Rotterdam is known for its vibrant and diverse music scene, appealing to a variety of musical tastes. The city is especially known for electronic and techno music, with top-notch DJs often performing at clubs like Annabel and Bird. There is also a wide range of live music venues such as Rotterdam Ahoy for larger concerts and De Doelen for classical performances. The city also hosts numerous music festivals each year, representing a wide range of genres.

Are the locals welcoming towards tourists?

Yes, the locals in Rotterdam, Netherlands, are usually very hospitable to tourists. They are known for their openness, friendliness and helpfulness. Many of them speak good English, which makes communication easier. They are usually enthusiastic about introducing visitors to their city and Dutch culture. The casual and relaxed atmosphere of the city also contributes to the fact that most tourists find Rotterdam pleasant.

Is it expensive to eat out in Rotterdam?

Eating out in Rotterdam can vary greatly in price, depending on what you want to eat. For less than €10, you can find cheap street food or student-friendly places. Mid-priced restaurants usually cost between €20 and €40 per person, while upscale restaurants can cost €50 or more per person. If you plan wisely and consider your budget, you can enjoy a variety of culinary experiences in Rotterdam. Rotterdam is a city that has something for every taste and budget.

Are there any unique traditions in Rotterdam?

A unique tradition in Rotterdam is the New Year's Dive (Nieuwjaarsduik), where locals welcome the New Year by jumping into the icy waters of the North Sea. Coffee house culture is also prevalent - locals love spending time in cozy cafes. On King's Day, everyone dresses in orange and participates in outdoor markets and parties. Rotterdam Carnival is also an annual spectacle with Caribbean influences, a lively parade and parties all over the city.

Is there sea access in Rotterdam?

Yes, Rotterdam does indeed have access to the sea. The city is home to Europe's largest port, the Port of Rotterdam, which stretches 40 kilometers and offers direct access to the North Sea. This strategic location at the mouth of the Rhine and Meuse rivers allows for easy transportation and trade routes all over the world. Access to the sea has made Rotterdam an important hub for international maritime trade and has turned the city into a vibrant, cosmopolitan metropolis.

What are the popular local dishes?

Rotterdam, the Netherlands, is teeming with delicious and unique local dishes. A favorite dish among locals is "Stamppot," a hearty dish of mashed potatoes mixed with various vegetables and served with smoked sausage. Raw herring" from the local fish market, garnished with onions and pickles, is also a classic. Pancakes (pannekoek) are loved for their variety, ranging from syrup to bacon. Finally, "bitterballen," deep-fried balls filled with a spicy ragout, are often enjoyed with a glass of Dutch beer in local pubs.

Feedback

I hope you found this article informative and helpful. I'm eager to improve the content and make it even more valuable for you. If you have any feedback or suggestions, I would love to hear from you.

Do you have any tips or hidden gems that you think should be added to the list? Are there any areas that you feel could use more explanation or clarification?

Your input is greatly appreciated and will help us to continue providing high-quality content that meets your needs and interests. Please feel free to share your thoughts.