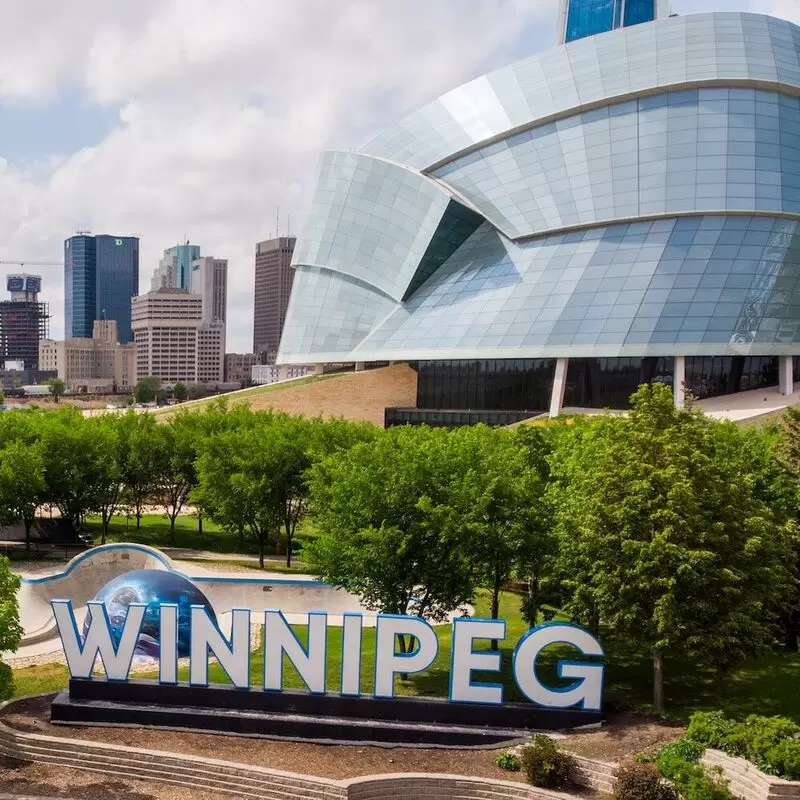 1. Assiniboine Park Zoo
A visit to Assiniboine Park Zoo in Winnipeg is a must for any nature lover. The Journey to Churchill exhibit offers a unique experience where you can meet polar bears, arctic foxes and even seals! If you like it warmer, you can meet colorful birds and monkeys in the Tropical House. Just a short walk away you will find the stunning English Garden, a hidden gem that will impress you with the colors and scents of a wide variety of flowers. Don't forget to visit the Pavilion Art Gallery there!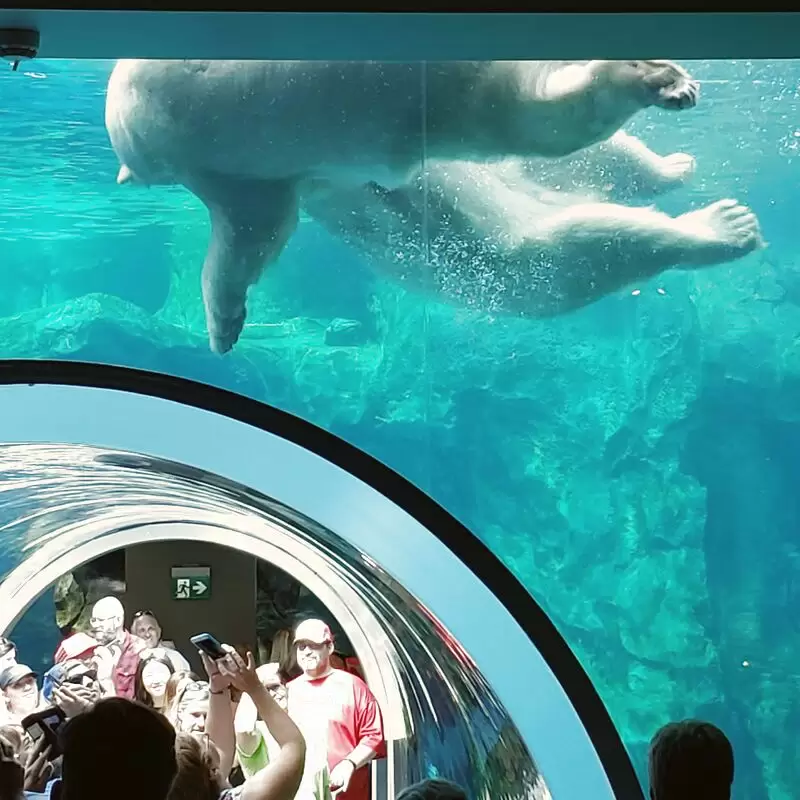 Assiniboine Park Zoo
2595 Roblin Blvd, Winnipeg
Monday - Sunday: 9:00 AM – 5:00 PM
2. The Forks Market
Immerse yourself in the vibrant ambiance of Winnipeg's Forks Market! Combining historic charm and modern appeal with locally sourced food and unique shopping, this bustling gathering place is a must-see. Browse the exclusive boutiques, sample Tall Grass Prairie's artisan bread and end your day with the best wine from The Common. Not had enough yet? Stroll along the river and detour to the nearby Canadian Museum of Human Rights for some cultural enrichment.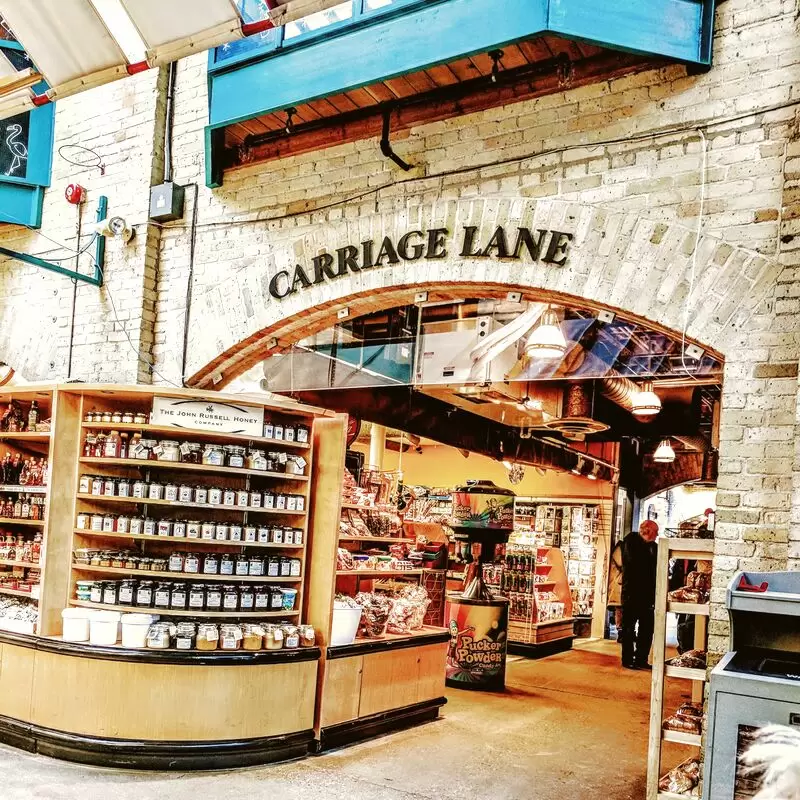 The Forks Market
1 Forks Market Rd, Winnipeg
Monday - Sunday: 10:00 AM – 9:00 PM
Friday - Saturday: 11:00 AM – 10:00 PM
3. Canadian Museum for Human Rights
The Canadian Museum of Human Rights is not just a museum, it is a journey into the heart of what it means to be human. From the stunning architecture to the emotional exhibits, it offers unique insights into the triumphs and tragedies of humanity's quest for equality. A special tip is to experience the panoramic view from the Tower of Hope. It's also just a short walk to the Forks, a must-see historical and culinary hotspot!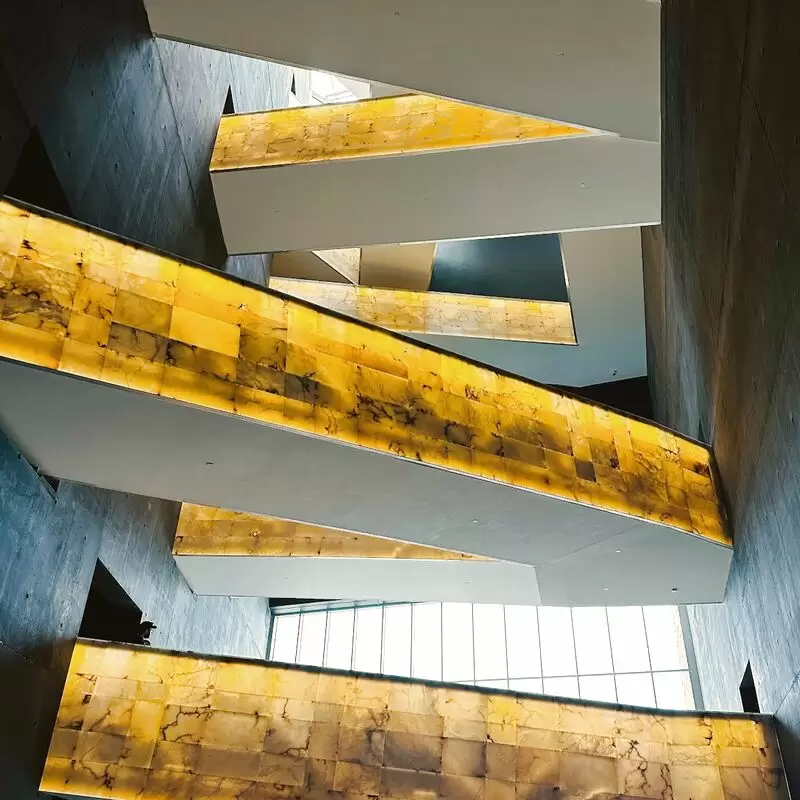 Canadian Museum for Human Rights
85 Israel Asper Way, Winnipeg
Monday: Closed
Tuesday - Sunday: 10:00 AM – 5:00 PM
Friday: 10:00 AM – 9:00 PM
4. Assiniboine Park
Assiniboine Park is a true treasure in Winnipeg. It beckons with lush gardens, magnificent sculptures and the adventurous Assiniboine Park Zoo. Don't forget the elaborate Pavilion Gallery Museum! Interesting detail: bring some snacks, because the friendly park geese might pay you a visit! Also treat yourself to a quiet walk along the river through the adjacent Assiniboine Forest, the largest urban nature park in Canada.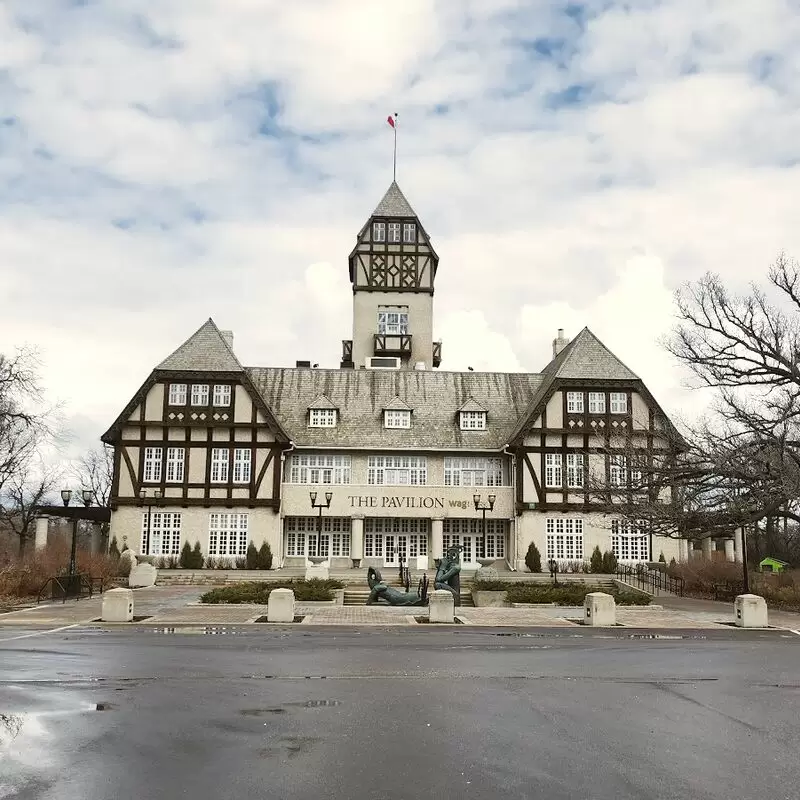 Assiniboine Park
55 Pavilion Crescent, Winnipeg
Monday - Sunday: Open 24 hours
5. Canada Life Centre

Visit the Canada Life Centre for an unforgettable experience! Home to the NHL's Winnipeg Jets and the AHL's Manitoba Moose, this arena offers fast-paced sports action. Experience the thrill of the enthusiastic crowd and the rousing live games.

Insider tip: Try the fan-favorite "Smitty's Chicken Fingers and Fries" while you're there. It's also just a short walk to The Forks - a neighborhood known for its food market, waterfront, and beautiful historic site. You'll love the atmosphere!

Canada Life Centre
300 Portage Ave, Winnipeg
6. Birds Hill Provincial Park
Birds Hill Provincial Park, a vibrant green oasis in Winnipeg, is a must for nature lovers. Explore the scenic hiking trails, observe native wildlife or enjoy a quiet picnic. In July, you can attend the world-famous Winnipeg Folk Festival here. Did you know that the park's towering hills were actually formed from ancient beach ridges? Nearby is historic Lower Fort Garry, which offers a fascinating glimpse into the history of the fur trade in the 19th century. Both locations are perfect for memorable vacation photos.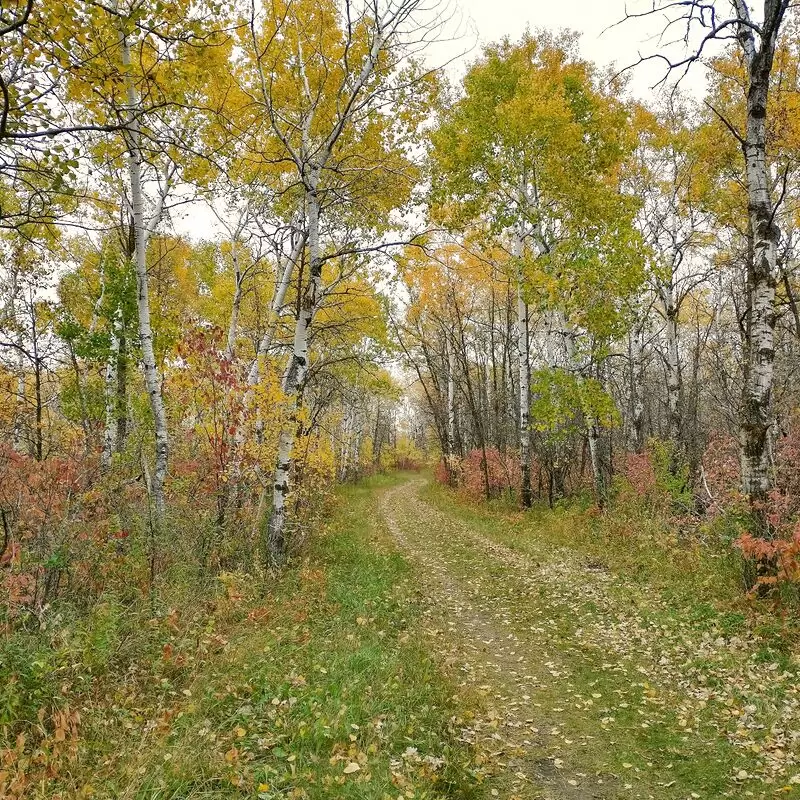 Birds Hill Provincial Park
Oakbank
Monday - Sunday: 7:00 AM – 11:00 PM
7. Manitoba Museum
Immerse yourself in the vastness of Canadian history at the Manitoba Museum. The museum is a must-see in Winnipeg. It takes you through millions of years, showcasing Manitoba's natural and cultural heritage. Get lost among fossils, see a replica of the 1800s Nonsuch ship, and take part in an immersive planetarium experience. Also, nearby is the Centennial Concert Hall for music enthusiasts. Want a unique souvenir? The lovely little gift store on the first floor is a treasure trove of curiosities. Don't miss it!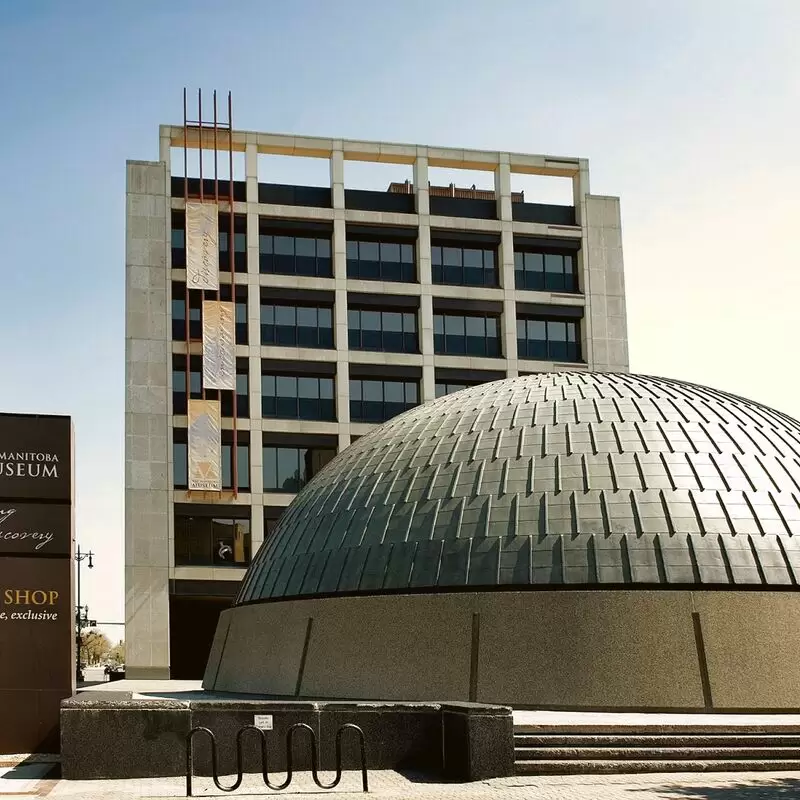 Manitoba Museum
190 Rupert Ave, Winnipeg
Monday - Sunday: 10:00 AM – 5:00 PM
8. Leo Mol Sculpture Garden
A visit to the Leo Mol Sculpture Garden is a must for all art and nature lovers. This hidden gem in the heart of Winnipeg houses more than 300 sculptures by renowned Ukrainian-Canadian artist Leo Mol amid beautifully landscaped gardens. There's also a gallery and schoolhouse where Mol's paintings and sketches are on display. Plus, the English Garden and Pavilion Gallery Museum are just a short walk away, so you can add to your cultural adventure.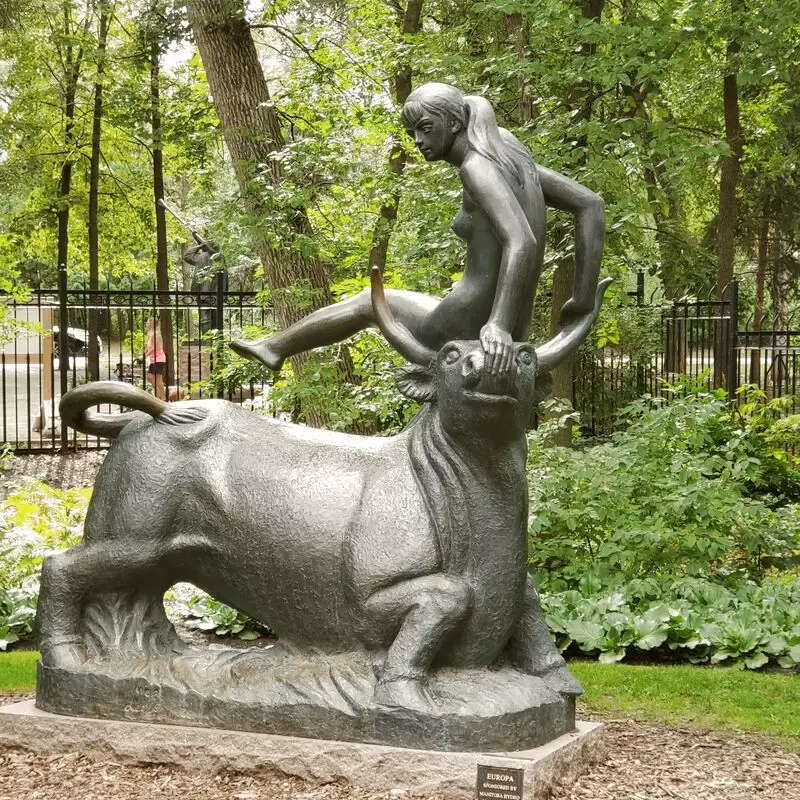 Leo Mol Sculpture Garden
Assiniboine Park Dr, Winnipeg
Monday - Sunday: 9:00 AM – 9:30 PM
9. St. Vital Park
A green oasis in Winnipeg, St. Vital Park is a must-see destination for nature lovers! With cozy picnic areas, an impressive duck pond, and exciting toboggan runs in the winter, it's a year-round retreat. Insider detail: try out the unique workout benefits of the outdoor fitness equipment. Afterwards, visit the nearby ruins of the Trappist Monastery, a historic site that offers an unforgettable sight full of mystique and serenity!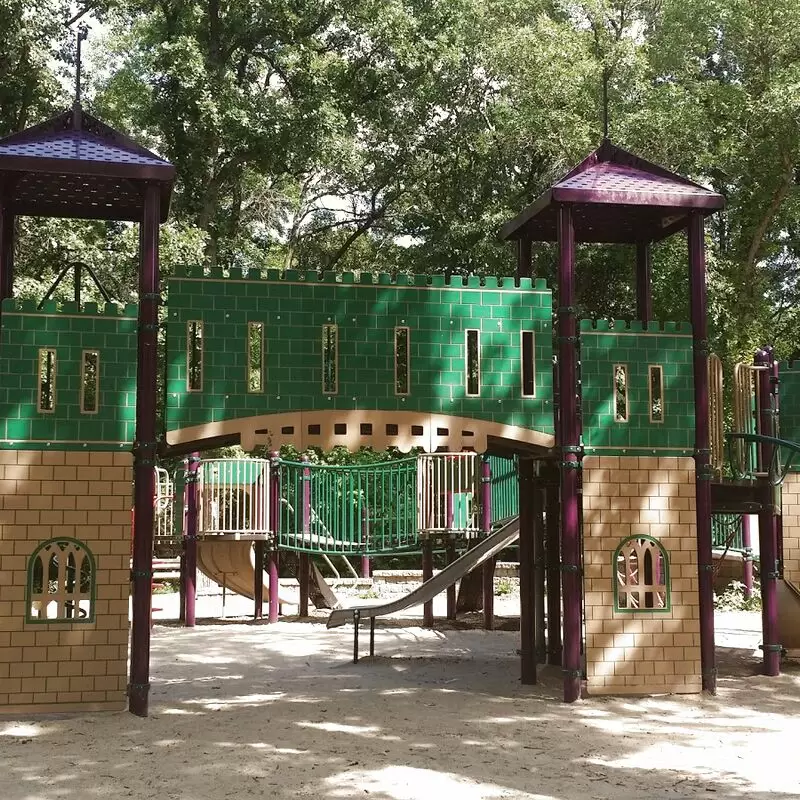 St. Vital Park
190 River Rd, Winnipeg
Monday - Sunday: 7:00 AM – 10:00 PM
10. Lower Fort Garry National Historic Site
Lower Fort Garry National Historic Site just outside Winnipeg is rich in history! Once a Hudson Bay Company trading post, the stone walls and historic furnishings transport you to the 19th century. A highlight: Treaty No. 1 was signed here, marking a turning point in Canadian governance. Don't miss the interpretive center, the paddlewheel riverboat S.S. Beaver. Nearby, you can also explore Oak Hammock Marsh and its fascinating wildlife.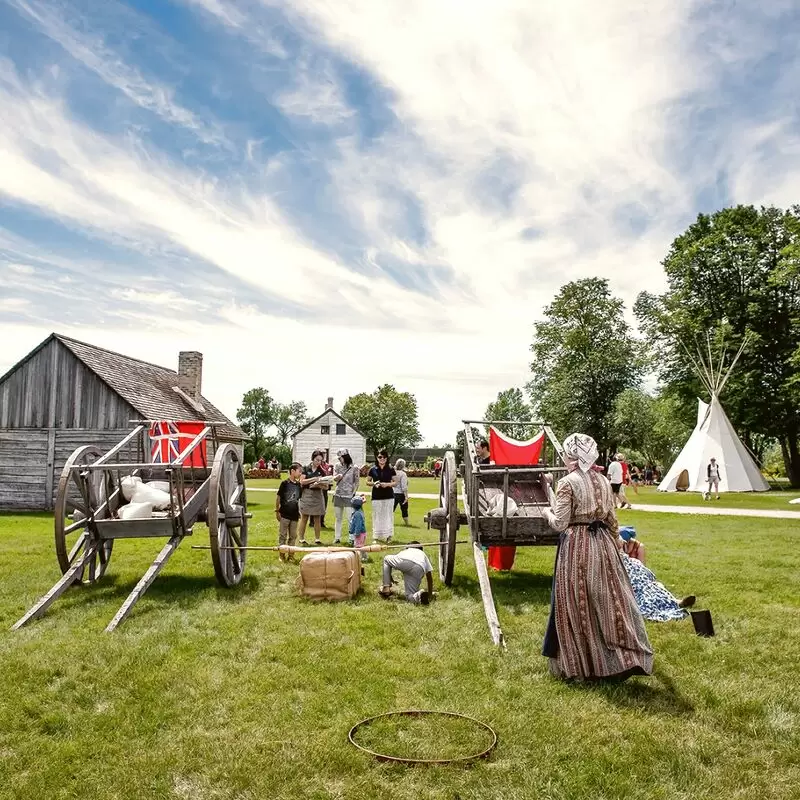 Lower Fort Garry National Historic Site
5925 Provincial Trunk Hwy 9, Saint Andrews
Monday - Sunday: 10:00 AM – 4:00 PM
11. The Forks National Historic Site
The Forks National Historic Site is an absolute must-see when visiting Winnipeg. At the intersection of the Red and Assiniboine Rivers, First Nations tribes traditionally gathered here - a site steeped in history. Enjoy the diverse dining options, exquisite crafts and events, from music festivals to a winter skate park. Don't miss the "Oodena Celebration Circle" to observe astral phenomena. Nearby is the famous Canadian Museum of Human Rights, a masterpiece of architectural symbolism.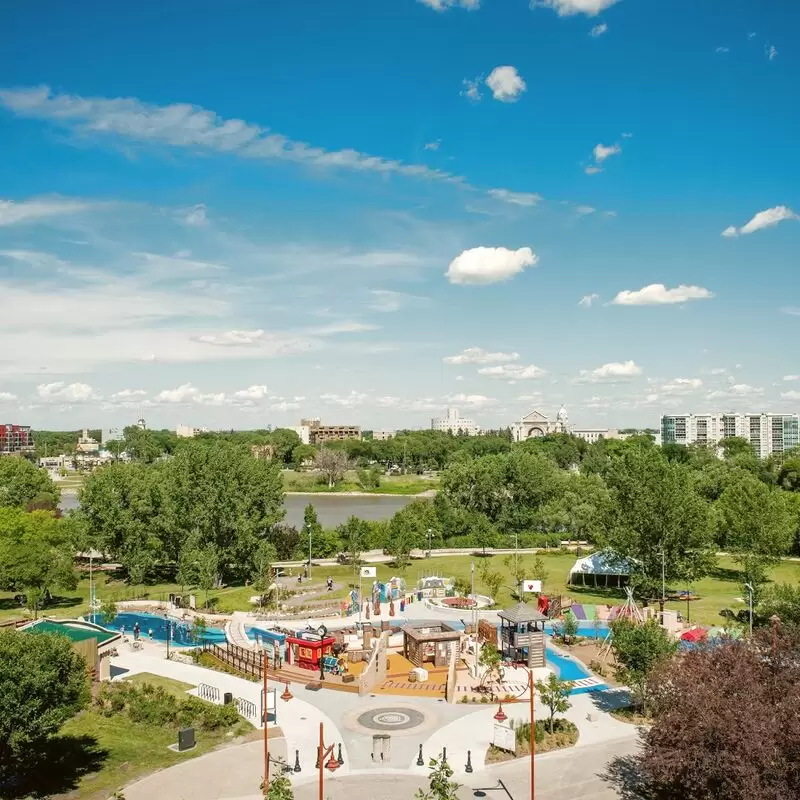 The Forks National Historic Site
Forks Market Rd, Winnipeg
Monday - Sunday: Open 24 hours
12. Assiniboine Forest
Venture into Assiniboine Forest, the emerald heart of Winnipeg, a lush, 700-acre urban nature retreat home to diverse wildlife species. Explore the peaceful trails amid trembling aspens and towering oaks and discover the magic of the forest. Discover the structure of Mother Nature in its unspoiled beauty. And remember that during a quiet winter walk, you may spot the delicate tracks of deer in the fresh snow, adding extra wonder to your excursion. Nearby, you can visit unique attractions like the Assiniboine Park Zoo and the peaceful Leo Mol Sculpture Garden.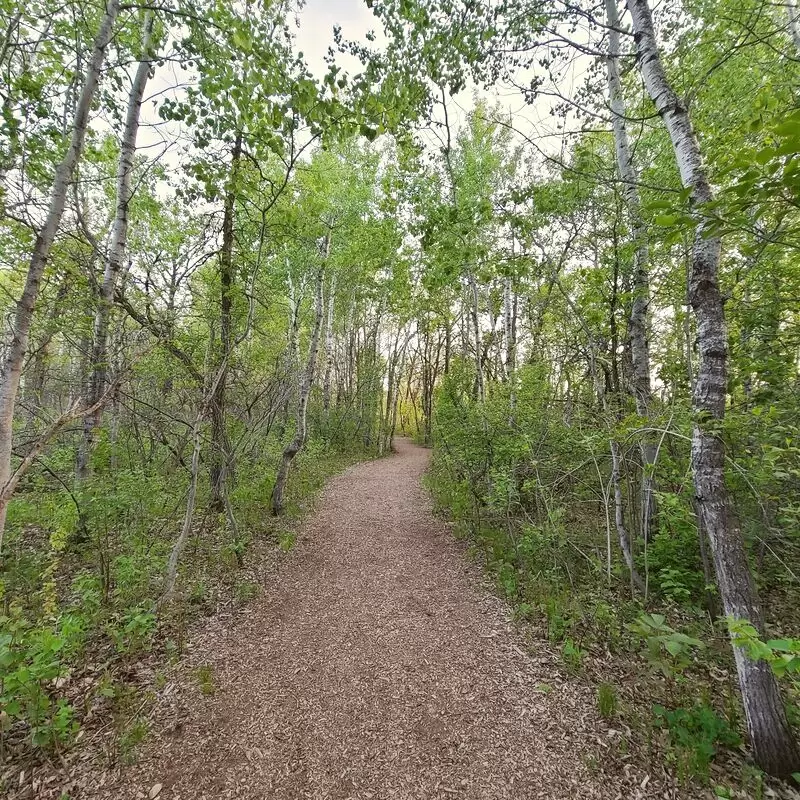 Assiniboine Forest
2595 Roblin Blvd, Winnipeg
Monday - Friday: 8:30 AM – 4:30 PM
Saturday - Sunday: Closed
13. Kildonan Park
Experience the serenity of nature at Kildonan Park, Winnipeg's personal oasis. The park features a beautiful English garden, picnic areas and a public swimming pool. In the summer, you can visit the Rainbow Stage, Canada's oldest outdoor theater. The Witch's Cottage, based on a Grimm Brothers fairy tale, is a must-see and popular with locals and tourists alike. Nearby, Canada's oldest operating ferry, the Historical Paddlewheel Queen River Cruise, offers enchanting views of the city skyline and lush riverbanks. Immerse yourself in the natural charm of Winnipeg!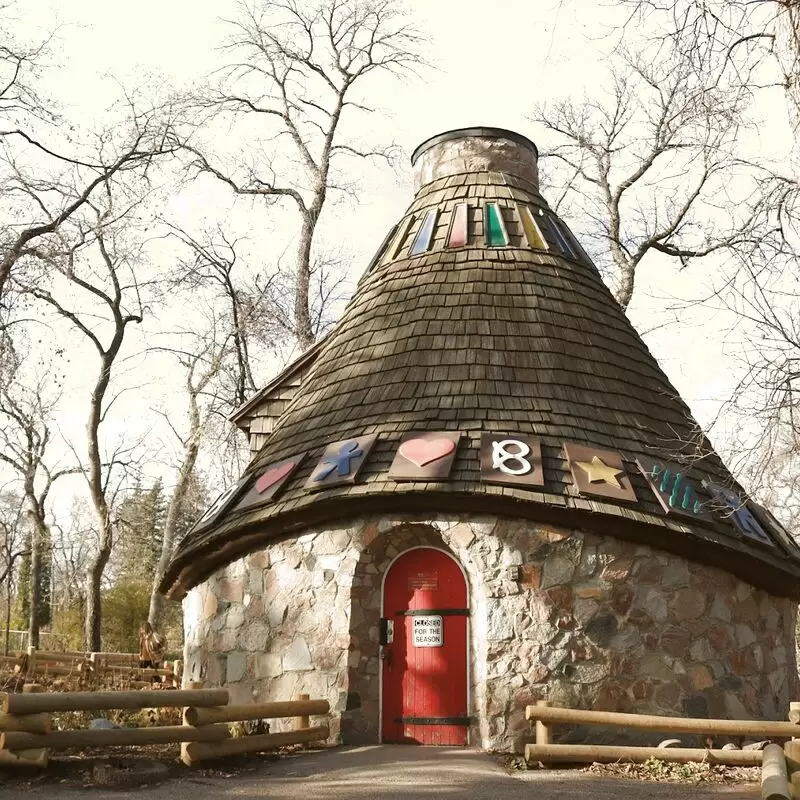 Kildonan Park
2015 Main St, Winnipeg
Monday - Sunday: Open 24 hours
14. FortWhyte Alive
A visit to FortWhyte Alive is a must when you're in Winnipeg! This urban nature oasis offers a vivid glimpse of Manitoba's natural beauty with scenic lakes, forested trails, and wildlife at every turn. You can experience local history and culture firsthand through exhibits such as the 1880 Grassoden House. Don't miss the chance to see a bison - a herd lives on the grounds! And just a stone's throw away is Assiniboine Forest, a natural gem with excellent hiking trails.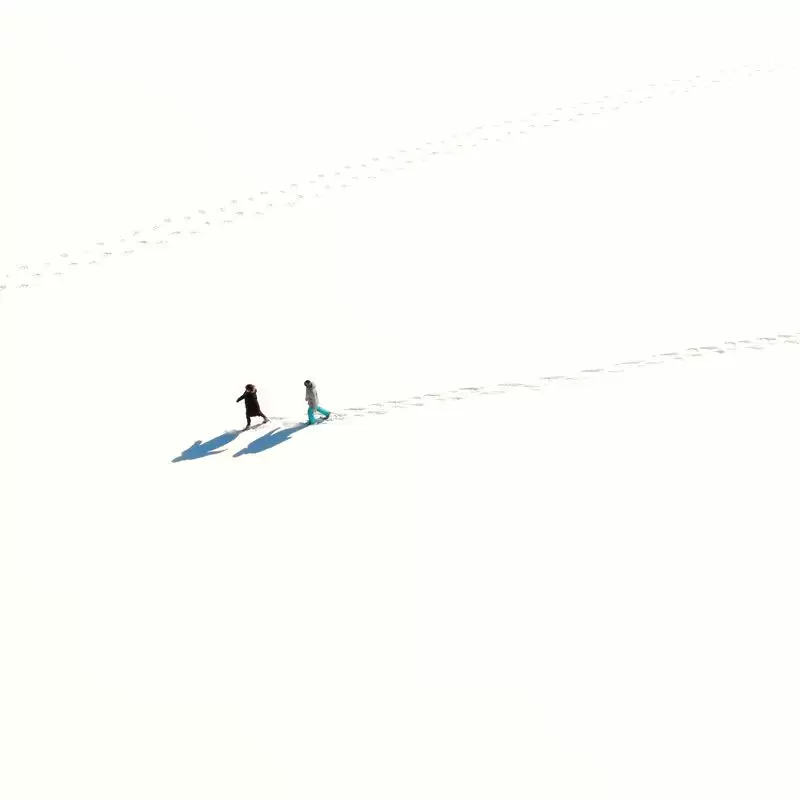 FortWhyte Alive
1961 McCreary Rd, Winnipeg
Monday - Thursday: 9:00 AM – 8:00 PM
Friday - Sunday: 9:00 AM – 5:00 PM
15. Winnipeg Art Gallery
One of the gems in the heart of Canada is the Winnipeg Art Gallery, which you must visit. It houses a remarkable selection of over 27,000 works and embodies the artistic spirit of Manitoba. The undisputed highlight is the world's largest exhibition of Inuit art. Marvel at the modernist exterior, which reflects an iceberg! Just a stone's throw away you'll find the Manitoba Legislature Building, an architectural marvel adorned with interesting historical anecdotes. Don't miss this duo when you're in Winnipeg!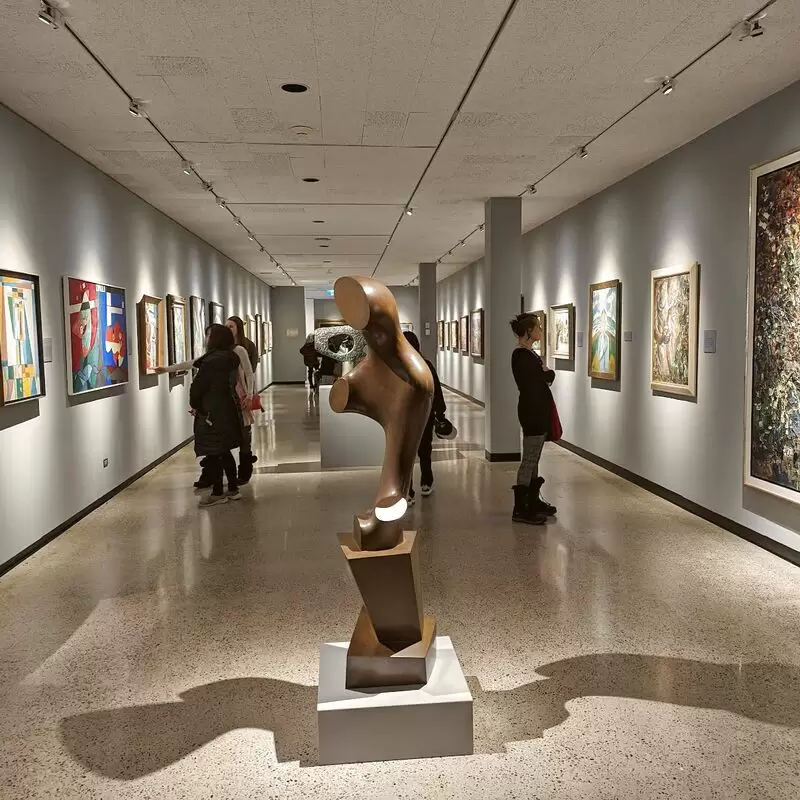 Winnipeg Art Gallery
300 Memorial Blvd, Winnipeg
Monday: Closed
Tuesday - Sunday: 11:00 AM – 5:00 PM
Friday: 11:00 AM – 9:00 PM
16. Kings Park

Kings Park in Winnipeg is a must-see if you want to get some fresh air. This tranquil oasis is a nature lover's paradise with its contemplative oriental gardens, green paths, ornamental ponds and towering trees. It's especially impressive in autumn, when the lush foliage turns fiery colors. The Chinese Pagoda is a unique photo motif that you should not miss.

An insider tip is the manicured lawns, perfect for a picnic. Nearby is the University of Manitoba, which offers a mix of modern and historic architecture.

Kings Park
198 Kings Dr, Winnipeg

Monday - Sunday: 8:00 AM – 9:00 PM
17. Royal Aviation Museum of Western Canada
The Royal Aviation Museum of Western Canada is a treasure trove for aviation enthusiasts. The museum displays an extensive collection of vintage aircraft, a testament to man's exploration of the skies. The opportunity to take a look inside the aircraft of the past is impressive. You can also observe restoration projects through viewing windows. Finish your tour with a leisurely stroll at the nearby Living Prairie Museum, just a seven-minute drive away, where you can learn about 30 different types of prairie plants.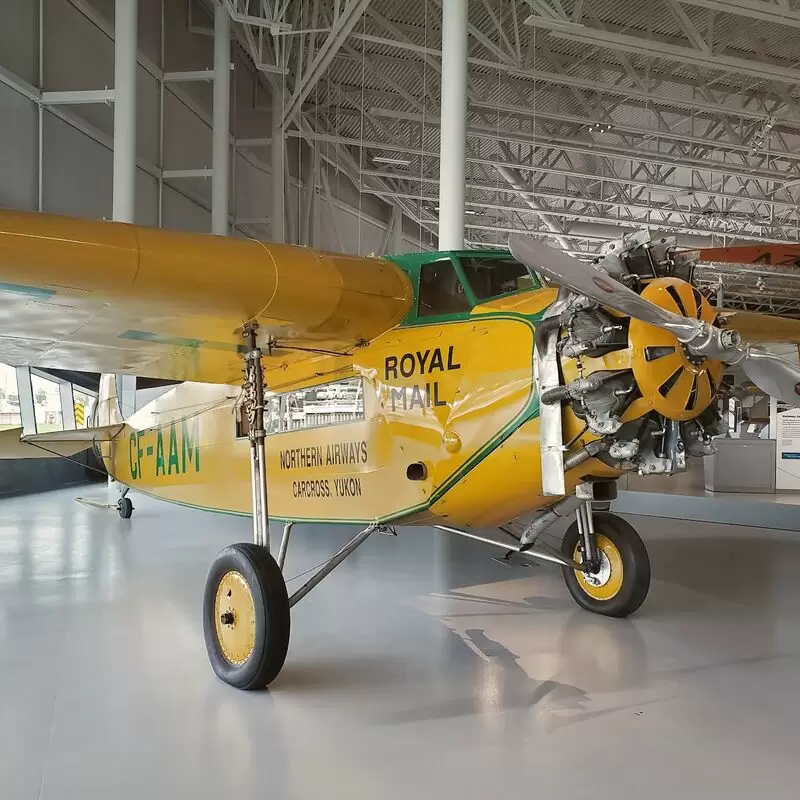 Royal Aviation Museum of Western Canada
2088 Wellington Ave, Winnipeg
Monday - Sunday: 10:00 AM – 5:00 PM
18. Shaw Park
Visit Shaw Park, the vibrant heart of Winnipeg. Home to Winnipeg's popular Goldeyes baseball team, this modern ball park offers an exciting sports spectacle. The park is decked out in the crowd's vibrant red and blue colors and is perfect for family fun. Located downtown near the famous Red River, Shaw Park is just a stone's throw from the vibrant Exchange District, with its historic architecture, unique stores and artistic flair, making it an ideal destination for your Winnipeg adventure.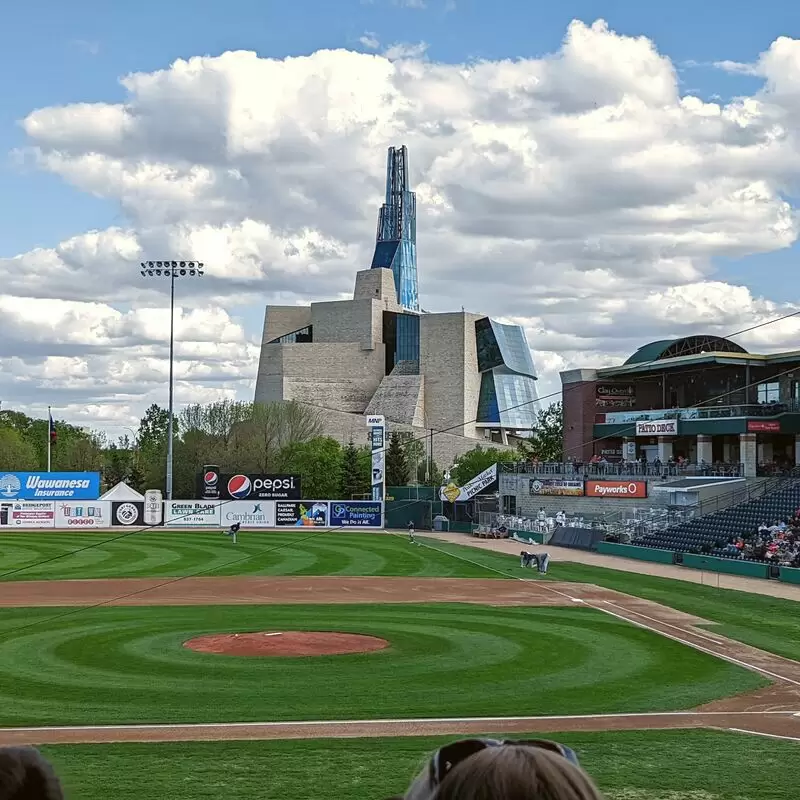 Shaw Park
1 Portage Ave E, Winnipeg
19. Bois des Esprits
Venture into the wild heart of Winnipeg and visit Bois-des-Esprits, the "woods where the spirits dwell." This hidden gem of the Seine River Greenway, with its wintry landscapes and iconic "Woody," the tree spirit, offers a scenic escape. It is ideal for kayaking or hiking and offers breathtaking biodiversity. Just a stone's throw away is the Royalwood Bridge, a perfect spot for a picturesque sunset. A visit here means experiencing a piece of Winnipeg's charming and eclectic spirit!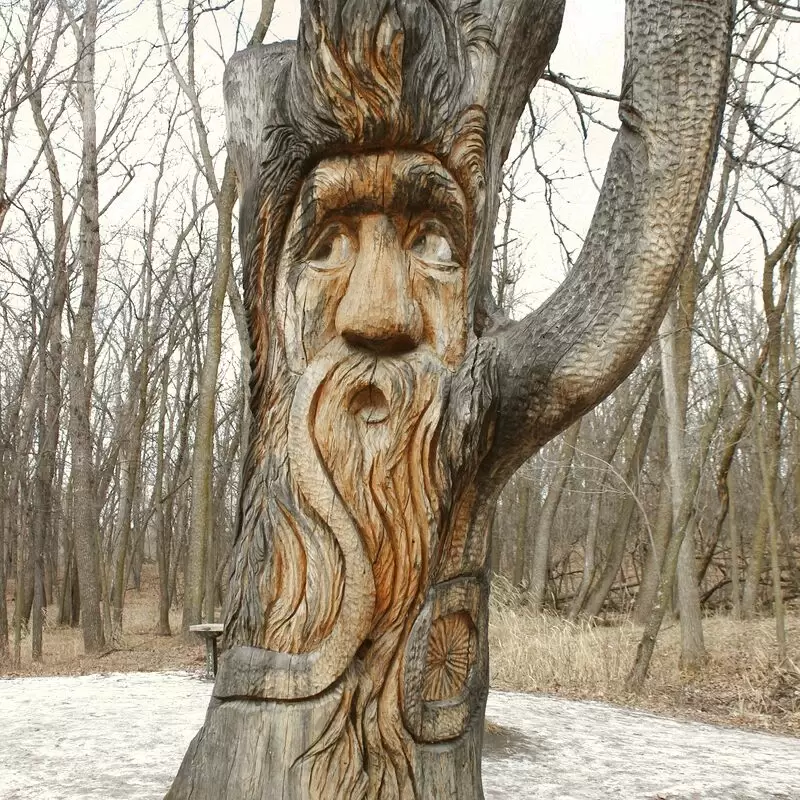 Bois des Esprits
650 Shorehill Dr, Winnipeg
Monday - Sunday: Open 24 hours
20. Manitoba Legislative Building
Discover the majestic Manitoba Legislative Building in Winnipeg, an architectural artifact that speaks volumes about Canada's history. Marvel at the statue of Golden Boy - a symbol of youthful vigor and optimism. Delight in the building's secret symbols and codes, marked by a complex mix of Egyptian, Greek and Masonic motifs. Nearby, other top-notch tourist attractions include the Millennium Library and the Assiniboine Park Zoo, which can be explored for a full day.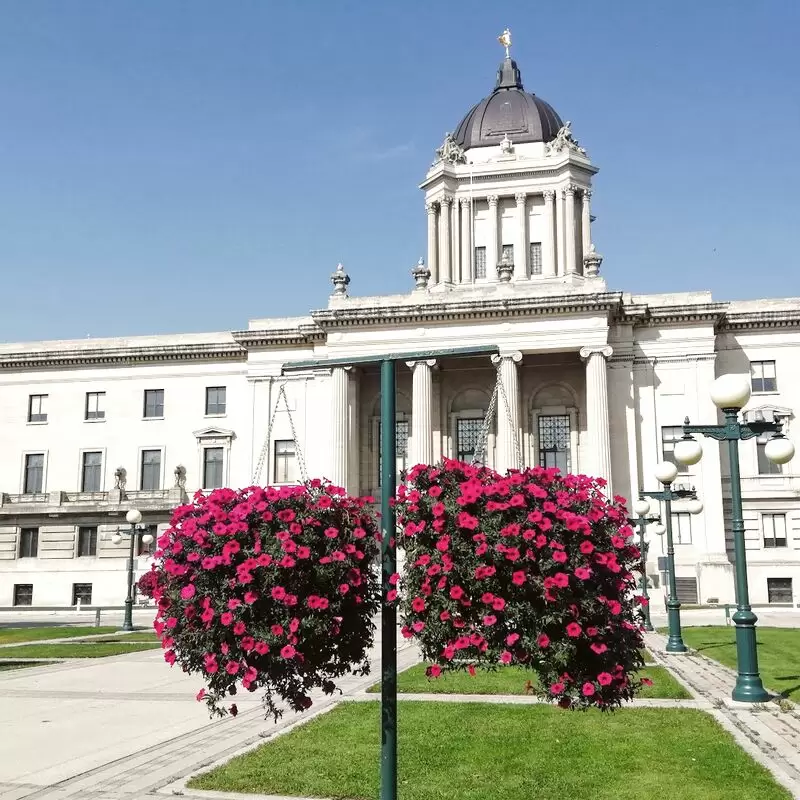 Manitoba Legislative Building
450 Broadway, Winnipeg
Monday - Sunday: 9:00 AM – 4:00 PM
21. Royal Canadian Mint
The Royal Canadian Mint in Winnipeg is a marvel in itself! You can witness millions of coins being made every day for countries around the world. Take a guided tour and learn about the history of coin making. See the fascinating 350-ton press in action - a sight that is sure to amaze you. An extra: enjoy the unique experience of lifting a real gold bar! Just a half hour away is Duff Roblin Provincial Park, a beautiful place to explore nature trails.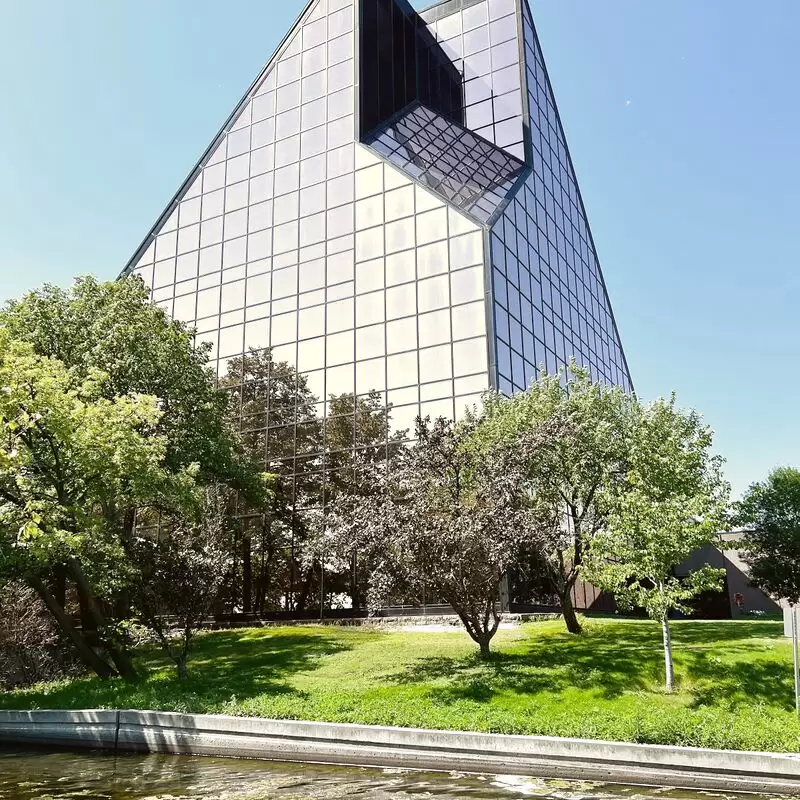 Royal Canadian Mint
520 Lagimodiere Blvd, Winnipeg
Monday - Sunday: 9:00 AM – 5:00 PM
22. English Garden
Experience serenity in Winnipeg's English Garden. Located in Assiniboine Park, the garden beautifully mimics English landscaping with a variety of colors from seasonal flowers. The winding paths and stone bridges blend seamlessly with nature's art. In summer, the garden blooms in full glory and fragrant scents. Be sure to visit the unique sundial, where tradition and chronology meet in the midst of nature. It's also just a stone's throw to the pavilion, which houses art galleries and a restaurant with a magnificent view - ideal to round off your visit!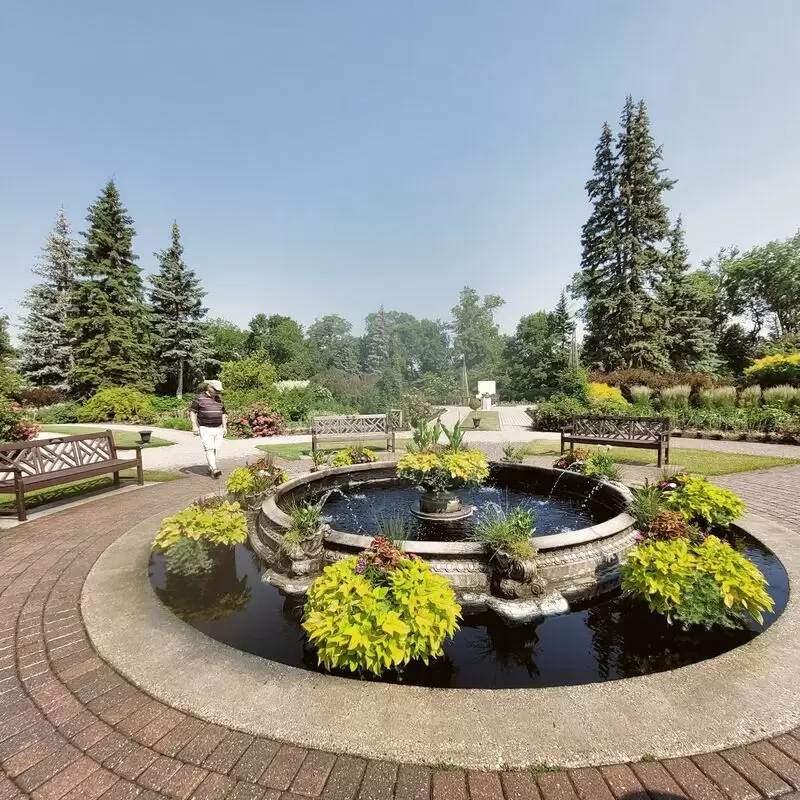 English Garden
460 Assiniboine Park Dr, Winnipeg
Monday - Sunday: 9:00 AM – 6:00 PM
23. Centennial Concert Hall
A visit to Winnipeg's Centennial Concert Hall is a feast for the senses. With a capacity of more than 2,000, this venue offers dynamic performances, from ballet to Broadway musicals. The acoustics are designed for absolute sonic precision and are often described by visitors as a center of cultural vitality. Its prime downtown location also puts it near the Exchange District, famous for its impressive old buildings and vibrant street art that is a must-see.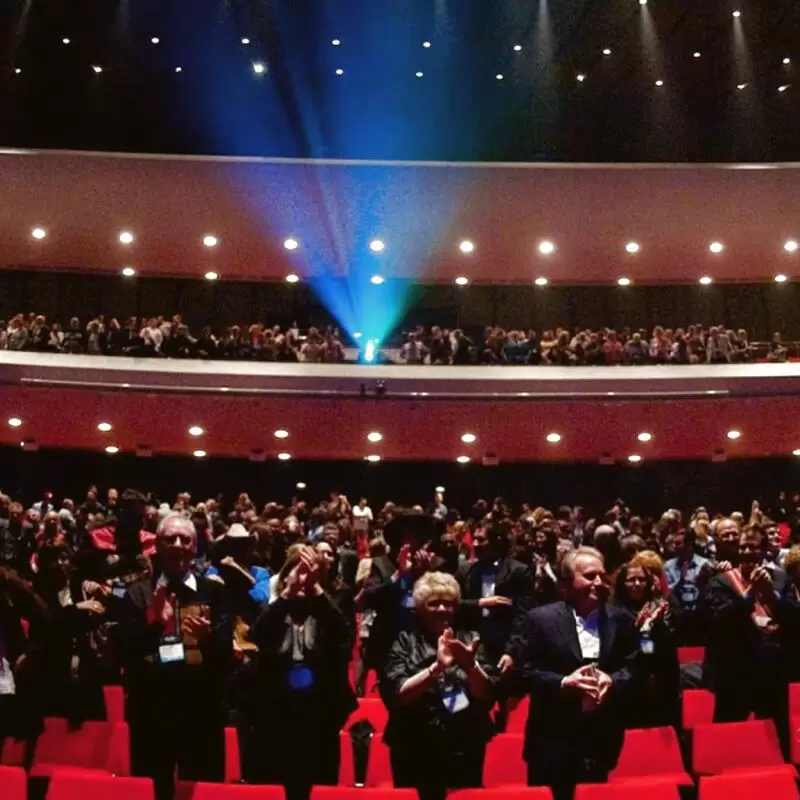 Centennial Concert Hall
555 Main Street, Winnipeg
Monday - Sunday: Closed
Wednesday - Saturday: 11:00 AM – 4:00 PM
Best Time to Visit Winnipeg
The best time to visit Winnipeg, Canada, is during the summer months from June to August. With temperatures averaging 20-30°C, this is the perfect time to explore outdoor attractions, enjoy festivals like the Winnipeg Folk Festival, and participate in river activities. For winter sports enthusiasts, the winter months are very attractive with ice skating, snowboarding and other winter activities.
Annual Weather in Winnipeg
Winnipeg 3-Day Forecast
Thu, 21 September
Night
62 °F
17 °C
0%
Morning
55 °F
13 °C
0%
Afternoon
66 °F
19 °C
0%
Evening
59 °F
15 °C
0%
Fri, 22 September
Night
55 °F
13 °C
0%
Morning
56 °F
14 °C
86%
Afternoon
65 °F
18 °C
0%
Evening
66 °F
19 °C
0%
Sat, 23 September
Night
59 °F
15 °C
79%
Morning
58 °F
15 °C
78%
Afternoon
64 °F
18 °C
77%
Evening
70 °F
21 °C
0%
Questions & Answers

What is the local cuisine like in Winnipeg?

Winnipeg's cuisine reflects the city's multicultural diversity, with a mix of British, French and Native American influences. Traditional dishes, such as turtière, pierogies and bannock, are popular. Game, native fish and Manitoba-grown vegetables play an important role in local recipes. The city has a burgeoning fine-dining scene with modern restaurants serving fusion and international cuisine. Winnipeg also prides itself on its craft beer culture with several local microbreweries offering unique tasting experiences.

What is the most common mode of transportation?

The most common mode of transportation in Winnipeg is by car, as most residents rely on cars for their daily commute. However, Winnipeg also has an extensive public transit system that is widely used, including city buses that run throughout the city. It is also easy to get around the downtown area on foot or by bicycle, especially in the warmer months. Cabs and ride-sharing services like Uber are also readily available.

Can we see the Northern Lights from Winnipeg?

While it is possible to see the Northern Lights (Aurora Borealis) from Winnipeg, it is not common. Light pollution in the city often obscures the view. However, on some clear nights with high solar activity, you may be lucky to catch a glimpse. The closer you get to rural areas or parklands outside the city, the better your chances of seeing this spectacular light show.

Where can we experience local music in Winnipeg?

In Winnipeg, you can immerse yourself in the local music scene at numerous venues. Local bands and touring musicians often perform at the West End Cultural Centre. The Times Change(d) High & Lonesome Club is known for its blues music. The Burton Cummings Theatre and the Royal Manitoba Theatre Centre are venues for a variety of local music events. Also visit the Exchange District, where several bars and clubs feature local bands. Don't forget the Winnipeg Folk Festival, which has a permanent place in the city's musical landscape.

How safe is Winnipeg for tourists?

Winnipeg is generally considered safe for tourists. As in any major city, there are areas where extra caution is needed, especially at night. Most tourist attractions are located in safe areas and crime rates are relatively low. Visitors are advised to take standard safety precautions, such as avoiding unpopulated areas at night and securing personal belongings. The general atmosphere is welcoming and community-oriented. Emergency services are efficient and easily accessible.

Are there guided tours available in Winnipeg?

Absolutely. Winnipeg offers a variety of guided tours that explore the city's rich culture and history. From the stunning architecture of the Exchange District to the fascinating exhibits at the Canadian Museum for Human Rights, there's plenty to see. Visitors can take leisurely walks along historic streets with knowledgeable guides or join a riverboat cruise on the Red and Assiniboine Rivers. Foodies can also join culinary tours and sample Winnipeg's diverse local cuisine.

Is Winnipeg walkable or do we need a car?

Downtown Winnipeg and the historic Exchange District offer numerous attractions to explore on foot. There are also numerous biking and hiking trails in the city. However, due to Winnipeg's large geographic footprint, a car is beneficial for visiting several locations or exploring areas outside of the city center, especially in the winter when temperatures can be extremely cold. Public transportation is also available and covers the city well.

What kind of animal life can we expect around Winnipeg?

Winnipeg in Manitoba, Canada, is home to a variety of wildlife. You can find both small and large mammals such as squirrels, raccoons and white-tailed deer. The area is also ideal for bird watching, with numerous species including the Great Horned Owl and Canada Goose. It is not uncommon to see a red fox, and if you are lucky (and safe), even a black bear or coyote. Fishing enthusiasts will be delighted by the variety of fish species in the surrounding rivers and lakes.

What's the local language of Winnipeg?

The local language in Winnipeg, Canada, is English, as it is the de facto national language of Canada. However, due to the diversity of the city, a variety of languages are spoken in Winnipeg, including Punjabi, Tagalog, German, and Ukrainian. French is also widely spoken, as Canada is officially bilingual. However, most signage, documents, business interactions, and everyday conversations are conducted in English.

How far is Winnipeg from Toronto?

Winnipeg, the capital of Manitoba, is located about 2,300 kilometers (about 1,429 miles) from Toronto, Ontario. This distance can take about 24 hours by car and about 2.5 hours by plane. However, the exact duration depends on the particular route, mode of transportation and possible delays such as traffic or weather conditions.

How do I rent a bike in Winnipeg?

If you want to rent a bike in Winnipeg, you can use the local bike rental service Winnipeg BikeShare. The service is free, a voluntary donation is requested for the rental. Alternatively, you can rent a bike from a store like Woodcock Cycle or Olympia Cycle and Ski. You will need to show identification and often pay a deposit. Choose a bike that suits your needs, arrange the rental period, and you're ready to explore Winnipeg. Helmets and locks may be available upon request.

How popular is ice hockey here in Winnipeg?

Ice hockey is very popular in Winnipeg, Canada. The city is home to the Winnipeg Jets, a National Hockey League team, and their games are a major event for locals. Many Winnipeg residents are devout hockey fans and are very knowledgeable about the sport. It is not uncommon for families to gather at hockey games, and the games are often a focal point for social gatherings. In essence, field hockey in Winnipeg is much more than a pastime; it's part of the fabric of the city.

What famous people come from Winnipeg?

Winnipeg, Canada, has produced a number of notable individuals. Terry Fox, a national hero and activist, hails from this city. Neil Young, the renowned musician and songwriter, spent his formative years in Winnipeg. Other famous residents include Hollywood actress Anna Paquin and magician Doug Henning. These personalities have helped Winnipeg achieve great recognition and underscored the city's contribution to the arts, culture and community involvement.

Are any films or TV shows filmed in Winnipeg?

Absolutely! Winnipeg has served as the backdrop for several movies and television shows. The city's diverse architecture and unique settings have been featured in films such as "K-19: The Widowmaker" and "The Assassination of Jesse James." On television, the CBC series "Less Than Kind" and the high-tension thriller "Cashing In" are set in Winnipeg. The city's vibrant film industry continues to attract a variety of productions.

What's a hidden gem in Winnipeg only locals would know about?

One of Winnipeg's hidden treasures is Thermëa by Nordik Spa-Nature, a Scandinavian-inspired oasis in the Crescentwood neighborhood. This relaxing retreat features thermal baths, saunas, relaxation areas and gourmet restaurants. Thermëa is ideal for a day of relaxation and brings a bit of luxury to the Prairies. Despite its quiet location, it is surprisingly close to downtown, making it a perfect getaway for locals and a wonderful discovery for seasoned travelers.

How's the cost of living in Winnipeg?

Living in Winnipeg, Canada, is relatively inexpensive compared to other major Canadian cities. Housing is much more affordable, as rent and real estate prices are significantly lower. Everyday expenses such as groceries, public transportation and restaurant meals are also less expensive. However, heating costs can skyrocket in the colder months. In general, Winnipeg offers a good balance of economic opportunity and moderate cost of living, making it an attractive place to live.

Is it easy to navigate around Winnipeg?

Yes, Winnipeg is relatively easy to navigate. The streets are laid out in a grid pattern, which makes it easy to find your way around. Public transportation is also efficient and includes options like buses and cabs. For cyclists, there are bike lanes and bike paths. However, driving can be challenging in the winter due to snow and ice. Remember that Winnipeg is a large city, so it is advisable to plan your route and travel times in advance.

Is the tap water safe to drink in Winnipeg?

Yes, tap water in Winnipeg is perfectly safe to drink. The City of Winnipeg's Water and Waste Division follows strict procedures to ensure that water quality meets all health and safety regulations. The water undergoes rigorous testing and inspection on a regular basis. So visitors can comfortably drink directly from the tap. Bottled water is not necessary unless you prefer it for taste or convenience when traveling.

What are local Winnipeg customs tourists should be aware of?

Winnipeg residents are known for their friendly, outgoing nature and often greet others, including strangers, with a warm "hello." Although the city is multicultural, English and French are the main languages spoken. Public manners are very important here, including waiting in line and respecting personal space. Tipping for service is common, usually around 15-20 percent. Sports are an important part of the local culture, especially field hockey and Canadian soccer, so wearing jerseys or talking about local teams can lead to friendly conversation.

How diverse is Winnipeg?

Winnipeg, the capital of the Canadian province of Manitoba, is known for its cultural diversity. People from diverse ethnic backgrounds live in the city, including Native Americans, Europeans, Filipinos, South Asians, Africans and Latin Americans. This multicultural heritage is celebrated throughout the year with a variety of festivals and culinary offerings, contributing to Winnipeg's vibrant community life. Whether through art, music, food or language, the city's multiculturalism is an integral part of its charm.

Where can we see indigenous art in Winnipeg?

At the Winnipeg Art Gallery, you can discover impressive Indigenous art, especially at the newly opened Qaumajuq Center. This innovative space is dedicated to Inuit art and houses the world's largest public collection of contemporary Inuit art. Expect thought-provoking works ranging from traditional carvings to modern multimedia installations. A must-see for anyone interested in indigenous cultures.

What's a local dish that I must try in Winnipeg?

A local dish that is a must try in Winnipeg is the delicious Tourtière. This is a traditional French-Canadian meat pie that has been given a Manitoban twist in Winnipeg with a variety of ingredients. It usually uses locally sourced pork or game such as elk or bison, which is mixed with a variety of spices and then baked in a flaky, buttery pastry crust. This savory pie is a true embodiment of Winnipeg culture and is especially popular during the Christmas season.

Is there a dress code in places of worship in Winnipeg?

In Winnipeg, as in many other cities, the dress code in houses of worship can vary. However, most appreciate modest dress that shows respect for the sanctity of the space. Some require head coverings, especially for women. It is recommended that knees and shoulders be covered and that revealing or revealing clothing be avoided. Always inquire in advance or look for signs indicating special requirements. When in doubt, it is best to opt for conservative and respectful clothing.

What are Winnipeg's busiest and least busy hours?

Winnipeg, like many other cities, has its busiest hours during the typical rush hour. The morning rush hour generally occurs between 7:30 a.m. and 9:30 a.m., and the evening rush hour occurs between 4:30 p.m. and 6:30 p.m., as this is when people commute to work. The busiest time in Winnipeg is generally between 11 p.m. and 5 a.m., when most residents are at home and most businesses are closed.

Is public wi-fi easily available in Winnipeg?

Yes, Winnipeg offers public WiFi in numerous locations throughout the city. Many cafes, restaurants, libraries, and shopping centers offer free WiFi access for customers. In addition, some public parks in Winnipeg offer free outdoor WiFi. Public WiFi hotspots are easy to find in the city center and other tourist areas, so visitors can stay connected while visiting Winnipeg. However, for consistent and secure internet access, it is always recommended to use personal data or secure private networks.

Feedback

I hope you found this article informative and helpful. I'm eager to improve the content and make it even more valuable for you. If you have any feedback or suggestions, I would love to hear from you.

Do you have any tips or hidden gems that you think should be added to the list? Are there any areas that you feel could use more explanation or clarification?

Your input is greatly appreciated and will help us to continue providing high-quality content that meets your needs and interests. Please feel free to share your thoughts.